architecture - engineering - construction

Entrances
---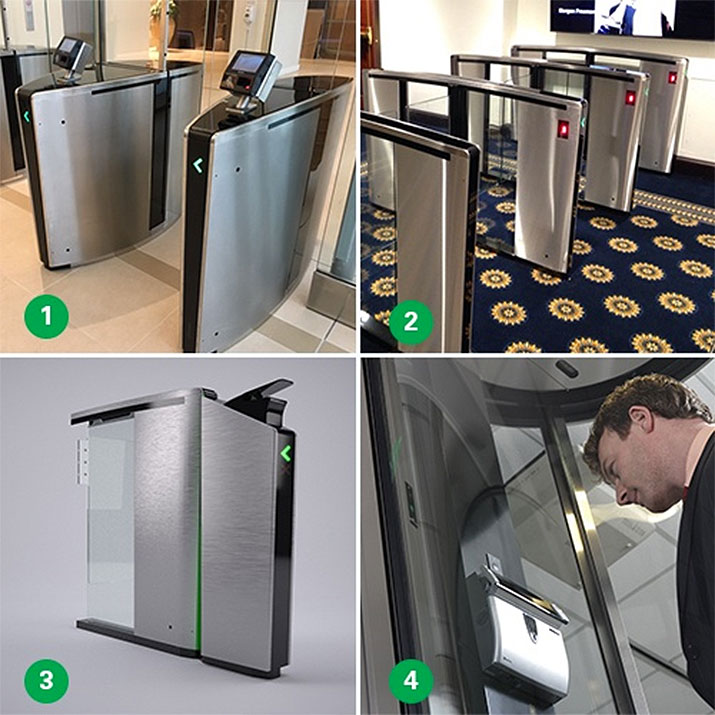 You are likely convinced that a physical security entrance is absolutely necessary in order to get the most out of your access control system and truly keep unwanted people out of your facility. Integration between door access control systems and security entrances can be a fine art; the perfect balance of functionality, space and aesthetics.
There are various types of access control systems available today, everything from bar code and QR code readers, to fingerprint and iris scanners, to traditional card readers and key pads. The size and shape of each individual device varies greatly based on both type and manufacturer. Let's discuss some ways you can integrate your access control system with your security entrances.
Four Integration Techniques
All physical security entrances have a designated place for your access control device – optical turnstiles: under the cabinet top; full height turnstiles, security revolving doors and portals: mounted on the side post. Yet, based primarily on space and what you are trying to achieve, these designated mounting places may not fit your needs. Here are some alternative options:
Top-mounted: For optical turnstiles, mounting an access control device on top of the cabinet is an integration method that is most intuitive for the user because the reader is visible when approaching the lane. Organizations that utilize lift or elevator notification devices (destination dispatch) have also found that top mounting is a viable option. They tend to place the access control device in the designated area (under the top), and the elevator notification device either on the turnstile top, or on a custom pedestal (read on to learn more about this option).

Panel Cut-outs: Another option for optical turnstiles, panel cut-outs are typically used due to space limitations on or under the top. This type of mounting can be used as the sole means of accessing the secure area, or in addition to the traditional, under-the-top mounting option (two-factor authentication). Some companies have even used the panel cut-out to mount a device that is used solely for visitor entry. While this option of mounting is aesthetically pleasing, (no big device on top of your turnstile), it does require user training because the reader is not always easily visible.

Custom Pedestal: For entrances of all types, pedestals are a common way to mount an access control device. We've seen some basic, standard pedestal designs, but some manufacturers are working with the end user to develop a sleek pedestal that imitates the curves and design of the entrance itself – true integration at its finest.

Interior-mounted: Security mantrap portals are a unique, high security entrance designed to protect the most sensitive of areas. This sophisticated portal can be equipped with a biometric post for an interior-mounted access control device. Often used in conjunction with an external, side post-mounted device, the interior biometric device allows organizations to achieve two-factor authentication.
Two-Factor and Multifactor Authentication
Large companies are implementing two-factor and multifactor authentication techniques at their facilities to decrease the possibility of an intruder infiltrating the building. According to LoginTC, two-factor authentication means, "an attacker needs to solve two fundamentally different problems, each in different dimensions, in order to compromise your identity."
Utilization of two-factor or multifactor authentication typically involves the integration of two different access control devices for access through a single security entrance. This level of integration requires proper preparation and planning. There are, however, some all-in-one devices that can accept two or three authentications, e.g., a single Morpho Sigma device can accept any combination of a card reader, unique pin and/or fingerprint.
The fusion of your access control device and your security entrances shouldn't be an afterthought, but an integral part of your building design from the very beginning. Speak to your security entrance manufacturer about the solution that will work the best for your organization.
Company: Boon Edam Inc.
Of: Amy Coulter
Source: http://blog.boonedam.us/door-access-control-security-entrance-integration-techniques
Tags: Design | Entrances | Security
---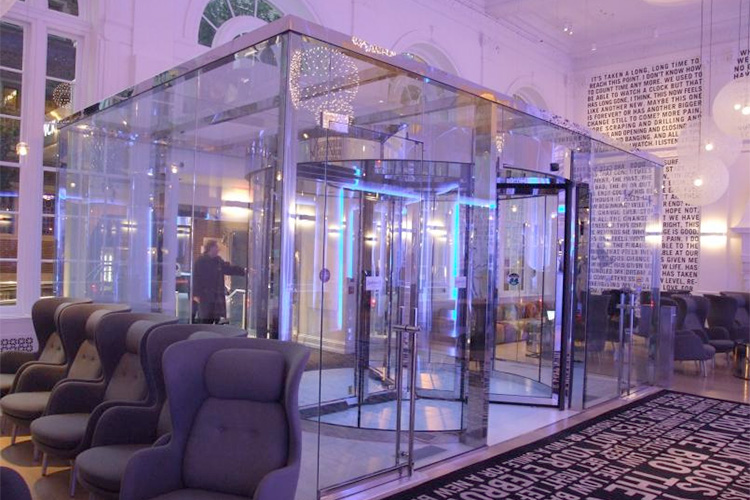 Boon Edam Inc., a global leader in security entrances and architectural revolving doors, today announced that the Warwick Hotel Rittenhouse Square in Philadelphia, PA, is quite satisfied with the functioning and cost savings of their Boon Edam Tournex revolving door. The Tournex is an example of a classic automatic revolving door and is designed to handle high capacity applications.
The historic building housing the Warwick Hotel Rittenhouse Square originally had a manual revolving door flush with the building's facade. Somewhere along the way, it was decided to remove the relatively smaller gauge revolving door and replace the entrance with a double set of sliding doors.
New Entrance Solution to Address Negative Pressure in Lobby
"Our HVAC system was designed for a revolving door entrance," said Ray Hewitt, the hotel's Director of Engineering, "we wanted to put a revolving door back in to address the negative pressure we were experiencing in the lobby." That negative pressure was pulling in cold air during the winter months, and cooled, conditioned air was escaping out the double doors in the summer.
During a complete lobby renovation project a few years back, designers worked to return to a revolving door lobby entrance. Because the Warwick is in a historic building, they could not change the facade of the building, so they pushed the entire entrance into the lobby itself. The architects and the designer chose a 12' diameter Boon Edam Tournex automatic revolving door, with three door wings and a highly polished (mirror) stainless steel finish. The Boon Edam door is enclosed in a stylish glass cube, accented with purple neon lighting.
Now, those entering the hotel first pass through a double set of sliding doors at the building envelope, leading to the revolving door. Swing doors are also available on either side of the revolving door to enter the lobby itself. The effect of the sliding doors and the revolving door in a cube is to virtually eliminate air flow from outside in, and vice versa.
The Warwick has 301 hotel rooms and 106 permanent residents. On any given day, between guests, residents, staff, and visitors, up to 1000 people are passing through the entrance. Since the installation of the new entrance, the effect has been night and day—guest and visitors utilize the lobby space longer and in greater numbers. A big community table is usually filled all day long and the lobby is accented with attractive fireplaces. The hotel lobby also offers two full service food and beverage outlets (Bluestone Lane & Prime Rib Steakhouse), with a third to be announced sometime this year.
Energy Savings Pays Off
In addition to a now grand sense of arrival and more useable, comfortable space, the new entrance is also paying dividends on energy savings. "With the old entrance, our HVAC was running constantly, it could not keep up. Now, the unit can shut down periodically; that's good for the health of the system, and we're seeing substantial savings on energy bills," said Hewitt.
The Boon Edam revolving door has an important feature for installations like a hotel or large office building—in the event of an emergency, the doors stop and the wings can be "book folded" to create wide open ingress and egress. The hotel has a maintenance contract with Advanced Door, but since installation the Boon Edam revolving door has been virtually trouble free.
Company: Boon Edam Inc.
Product: Revolving Doors
Source: http://www.boonedam.us/news/warwick-hotel-rittenhouse-square-boasts-unique-stylish-lobby-entrance-revolving-door
Tags: Design | Entrances | HVAC
---
Architects turn to Total Security Solutions for project support
Even if you've worked with bullet-resistant components before, it can be difficult to know how to manage that part of your project. Our bullet resistant experts can help with assessment, design and installation of a complete bulletproof barrier system, or individual bullet-resistant features and accessories. We've done thousands of projects across dozens of industries throughout the country, and our turnaround time is the fastest in the industry. Our work will fit in seamlessly with your design because we do our own field measurements and hand-craft our materials at our in-house manufacturing facility.
See our architect projects gallery

Strict proven process
Our bulletproof experts follow a strict proven process so that no detail is overlooked. We'll help you select the right glazing, accessories and materials for your project and deliver and install your barrier and components in half the time of our competition.
See How We Develop Custom Barriers
Industry experts add value.
As a trusted leader in the bulletproof industry with 12,000+ installations to date, we bring more to the table than just our bulletproof products. We bring experience that will help you make better decisions, and avoid commonly-made mistakes. If your project includes bulletproof features, you're going to need a partner you can rely on whose work speaks for itself.
Resources just for architects
Our Architect Resource Center has videos, CAD drawings, specs and data sheets for every possible bulletproof item you could need. From frames to counters, doors to windows, fiberglass and beyond — get the details and information necessary to plan a successful project.
Full line of bullet-resistant products
We design and manufacture every single bulletproof product we install. TSS offers a variety of ballistic windows, doors, drawers, trays, and 8 levels of UL-rated bulletproof glass. We have everything you need right here.
Company: Total Security Solutions Inc
Product: Bullet Resistant Barriers
Source: http://www.tssbulletproof.com/industries/architects/
Tags: Entrances | Interior Design | Safety | Security
---

Par-Kut provides guard houses used to shelter security personnel. Par-Kut guard houses are long-lasting, portable steel buildings.
Par-Kut provides the most rugged and well built guard houses, guard booths, guard shelters, border inspection booths, security access control checkpoints and observation towers. Par-Kut's guard houses are all prefabricated guard houses. Our customers include government, private industry, airports, nuclear power plants and U.S. Military facilities across the country and around the world. Par-Kut's all welded steel construction and use of durable, low maintenance materials ensure the guard booth's greatest longevity. Special security features are offered to customize the security guard booth to your location requirements and to keep your security officers comfortable as well as secure. Go to BULLET RESISTANT to learn more about Par-Kut's enhanced ballistic construction options for hi-risk environments.
In some industries, guard houses or guard booths are known as guard shacks. Whether described as a security guard shack, portable guard house, security guard house, or security guard booth, Par-Kut factory-assembled, portable steel buildings provide a ready-made solution to your security shelter problem.
Par-Kut offers guard house drawings and guard house designs to suit just about every application and if we haven't helped somebody with a similar requirement in the past, we will work with you to provide guard house designs to meet your site specific needs. In fact, the simplest way to start a productive dialogue is to send us a simple thumb nail sketch showing your guard booth drawing or guard house design. Par-Kut stands ready to assist you with your guard house architecture and guard shack floor plans.
For a guard house best for your location, and best for your guard house budget over the long run, call one of our sales professionals here at Par-Kut. Investing only a few minutes of time for discussion will enable you to receive a quotation for a guard booth or guard shack that is catered to your specific situation. Whether you need a standard, a bullet resistant or an elevated or highly portable trailer mounted guard house or security booth; a durable steel PAR-KUT guardhouse will meet your needs and provide you a service life unsurpassed by any competitor.
When you are speaking with a Par-Kut sales professional about your guard house, especially, a prefab guard house, it is important to identify the city and state where your guard booths are going to be installed. Codes regulating all types of factory assembled structures, including prefab guard houses, vary from state to state. Please have this information ready when you contact Par-Kut for a quote on your guard house. Prefabricated guard houses are lumped together with other pre manufactured structures for code purposes, although this practice does not take into consideration the vast differences in typical applications. However, a guard house from Par-Kut will meet or exceed most model building codes. Prefabricated guard booths can be amortized for tax purposes if recordable as the proper type of equipment. Check with your accounting dept, or financial advisor to see what steps should be taken for proper recording of your prefabricated guard booth. Prefab guard shacks and modular guard houses, when specified and purchased properly, will serve for decades. Par-Kut will work with you to outline your needs and a budget price for the guard shack or guard house that you need for a guard shelter.
Go to GALLERIES to view additional guard houses.
Company: Par-Kut International, Inc.
Product: PRESIDENTIAL
Source: http://www.parkut.com/booths/applications/guard-houses/
Tags: Design | Entrances | Safety | Security
---
Executives must handle large security decisions that affect the entire organization – and these choices are rarely easy.
One reason is that there are often competing goals – balancing security vs. convenience, or allocating budget to one priority area vs. another. To make it worse, these decisions – for example, on how to deal with potential security risks – can rely on data that the organization is not tracking.
That may sound hard to believe, but it's the exact problem Boon Edam found when we conducted a survey on tailgating, drawing responses from hundreds of end users, security integrators and consultants. Most respondents stated that the cost of a physical breach caused by tailgating could range from $150,000 to millions of dollars – even though the overwhelming majority (84%) of respondents weren't tracking tailgating or didn't know if they were.
While most businesses know the basic purpose of entrance solutions, many don't realize the huge number of benefits they can provide – from business analytics to the bottom line.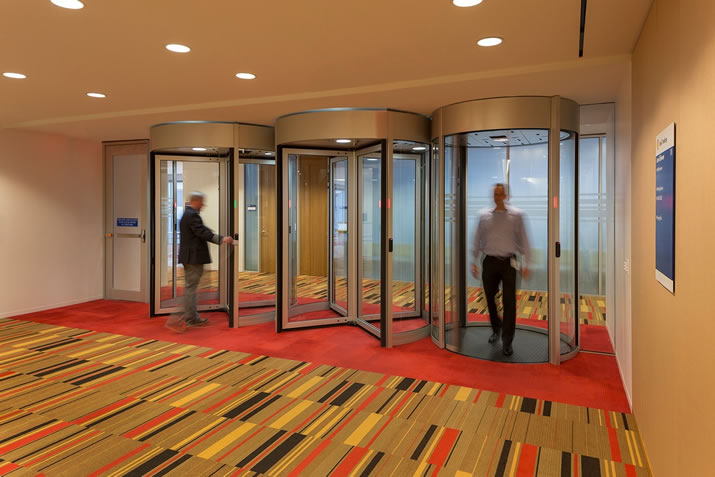 Cost-Effective Security and Efficient Access
Security entrances can range in purpose from simple crowd control all the way up to comprehensive detection/prevention. With regard to selection, many companies find simpler turnstiles attractive due to the relatively lower capital expenditures and reduced need for user training. While such systems can be an effective deterrent to threats, organizations should consider other costs the system may necessitate, such as those from guard staff or supplemental security systems. For this reason, often companies can achieve greater savings by opting for a security revolving door system: while the initial capital expenditure may be higher than a simpler turnstile system, the business can end up saving a great deal in annual operations costs by reducing the need for supplemental security staff.
In terms of access efficiency, organizations have multiple options as well. For example, a mantrap system may be ideal for a business that requires high security but generally has only a few people going through an entrance at a time. Meanwhile, if the business requires high security but must also accommodate a higher throughput at times (such as during lunch hours), a security revolving door system may end up being the better choice.
Impressive Business Intelligence
To maximize the effectiveness of your security program, it is helpful to remember the old adage: what can be measured can be managed. To that end, security entrances can help
achieve specific security objectives through relevant KPIs. Generally speaking, the level of intelligence received depends on how sophisticated the entrance system is. Simpler waist high turnstiles are useful for basic tracking, such as the number of people entering the facility, though the system may still be vulnerable to turnstile-hoppers. While guard staff can provide supplemental information (visitor data, infraction reports, etc.), data gathered through this approach may be affected by social engineering, including distractions or favoritism on the part of security staff. Ultimately this type of security entrance is best suited to lower-security areas of a facility.
On the opposite end of the spectrum, the sophisticated tailgating and piggybacking detection systems in security revolving doors and mantrap portal solutions provide a wealth of valuable data. These include a great deal of granular information that replaces what a guard could be asked to provide manually – e.g., number of passages, inbound/outbound tailgating and piggybacking rejections, biometric access control rejections, emergency button rejections and so on. Such information is very useful in providing very accurate intelligence on throughput, user education needs, etc.
The most provocative data is predictive data that can tell you your chances of being infiltrated. Security revolving doors and mantrap portals include anti-piggybacking detection technology sophisticated enough to provide a probability, expressed as a small percentage, that two people could piggyback through the door successfully. This capability is new territory for the security industry and allows executives a high degree of confidence that the places these doors protect are secure from infiltration.
Strengthening Corporate Image: Inside and Outside
Let's face it: perceptions matter. Organizational leaders are responsible for ensuring that their businesses are perceived as safe. And while actual safety and perceived safety are inter-related, they are not always identical. This is seen in other areas of life as well: for example, one YouGov poll showed that people believed that New York City is the second most dangerous city in the US, even though data shows that NYC is in fact the least dangerous large city in the United States.
While harder to measure, aesthetic perceptions matter for businesses as well. To that end, the perception-building process begins the moment a person walks through the door (and oftentimes before that). With that in mind, security entrances should foster confidence for all parties who rely on them: the system must not only protect employees but also help them feel safe on a day to day basis. Beyond actual safety, security entrances also create a feeling of prestige for the facility that impacts personnel and visitors alike. A new visitor's first interaction with your brand may be with the security system. That first interaction and every one after should foster a feeling of competence, sophistication, efficiency and safety. The more effective companies are at building a positive image in smaller ways, the more effective they'll be when doing so in bigger ways.
Company: Boon Edam Inc.
Product: Security Doors & Portals
Source: http://blog.boonedam.us/security-entrances-protect-your-bottom-line-and-more
Tags: Doors | Entrances | Security
---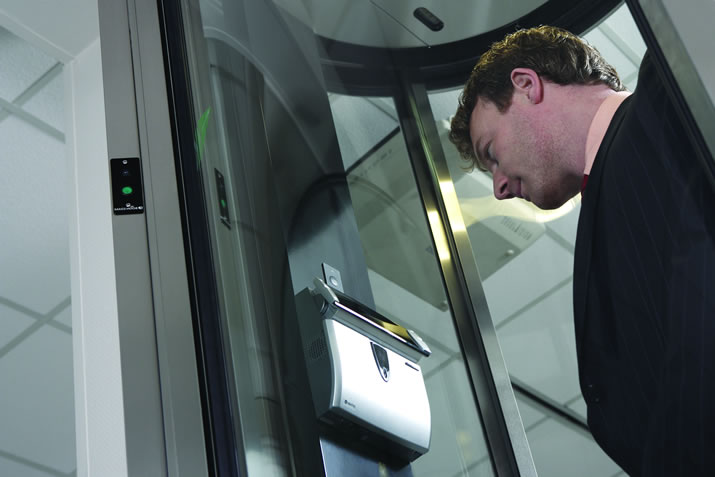 According to a study completed by the FBI, in 2014 and 2015 alone, there were 231 casualties as a result of mass shootings. Let's examine 4 enhancements you can make to security revolving doors or mantrap portals to thwart an active shooter's attempt at gaining access to your building, or worse, doing physical harm to people.
1) Anti-Piggybacking Technology
An active shooter with an agenda will be determined to infiltrate your building. He sees an innocent employee approaching the security revolving door or portal. His first thought? Hold them at gunpoint and force them, and himself, through the entrance.
This scenario describes a "piggybacking" event. When it comes to security revolving doors, the term "piggybacking" refers to an attempt to gain access to a secured area by jumping into the same compartment as an authorized user. For portals, piggybacking involves two users attempting to enter the door at the same time.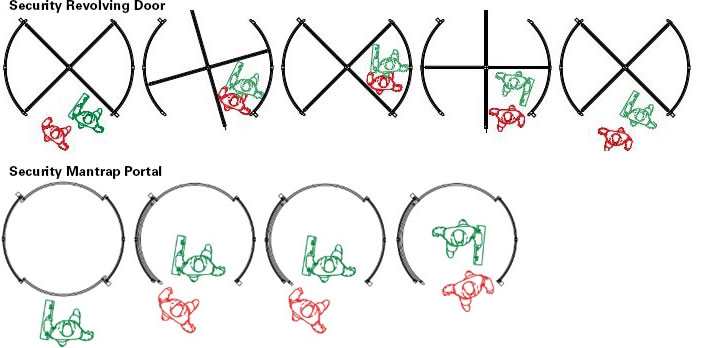 StereoVision 2 is a sophisticated technology from Boon Edam that puts a stop to piggybacking attempts. Using a combination of an optical camera and active, near-infrared sensors, StereoVision 2 technology can recognize shapes, sizes and volume in three dimensions. Simply put, the system is looking into the door's compartment and searching for a set of head and shoulders, as well as body shape. Based on a sampling algorithm, unusual shapes are rejected and the culprit(s) are required to exit the door.
2) Biometric Devices
But what if the active shooter doesn't stop there? If the shooter were to steal an employee's access card and attempt to proceed through the door - alone - he could gain access UNLESS you utilize one or more biometric devices.
Biometric devices identify unique physiological characteristics, such as fingerprints, hand geometry, facial features, and iris patterns. They also comply with two-factor authentication (2FA) regulations. These devices alone will not stop an active shooter from gaining access to a building, though (think about a swinging door opened by a registered user, and then held open for numerous people to pass through). But, when coupled with an anti-piggybacking technology, biometric devices provide a solid defense against unauthorized entry.
Security revolving doors can be equipped with an external biometric post placed immediately outside of the door, or as one of many leading up to the door. Security mantrap portals are available with an interior post, ideal for mounting the latest biometric technology directly inside the door. Both options provide a layered method of access and meet 2FA compliance. Keep in mind, though, that your throughput will be impacted by the type of biometric device you choose to incorporate.
3) Bullet-Resistant Glass
The common denominator between all mass shootings is a weapon. And it comes as no surprise that most active shooters choose the light, inexpensive and easy to conceal 9mm semiautomatic handgun to carry out their schemes, according to data compiled by The Washington Post. Bullet-resistant glass can safeguard the integrity of your door up to a certain point, and possibly save lives.
Bullet-resistant (BR) glass is the layer of armor your security door needs for protection against an active shooter attack. BR glass is made from layers of polycarbonate (tough plastic) sandwiched between pieces of toughened glass. And not all BR glass is created equal; there are different BR-rated protection levels.
Security revolving doors and mantrap portals can be outfitted in BR glass with protection Level 3. As mentioned, the weapon most commonly used by an active shooter is a 9mm handgun. According to Total Security Solutions, BR glass with a Level 3 rating is capable of stopping three .44 magnum bullets, or a bullet that is twice as heavy and moves significantly faster than the bullet of a 9mm handgun.
Level 3 BR glass is 1.04" thick, over 4 times the thickness of standard security door glass. The glass can be used on the outer drum glass and also, the moving door wings or panels. It's important to note that using thicker glass on moving door wings or panels will slow the movement significantly due to the extra weight and impact throughput levels.
4) Bullet-Resistant Curtain Wall or Storefront
Active shooter safety extends beyond your security door to include the adjacent walls or storefront area. To be prepared for a direct attack, and especially if people are constantly present on the inside of the storefront, you should consider replacing your curtain wall or storefront with BR glass.
Because they are flat and stationary, curtain walls and storefronts can accommodate a much higher level of BR glass than a security door (which has curved glass or moving glass in the door wings). BR glass for the curtain wall or storefront is available in up to a Level 8 rating which, according to Total Security Solutions, is capable of stopping 5 shots from a .308 caliber 7.62mm rifle.
Unfortunately, active shooter incidents are occurring at company locations across the nation, and the globe. The impact of such an event can be catastrophic to an organization if lives are lost. If you believe your organization could be at risk, these 4 enhancements for your security revolving door or mantrap portal can thwart an active shooter's attempt at infiltrating your building and wreaking havoc.
Company: Boon Edam Inc.
Product: Security Doors & Portals
Of: Amy Coulter
Source: http://blog.boonedam.us/active-shooter-safety-4-things-your-high-security-entrances-must-have
---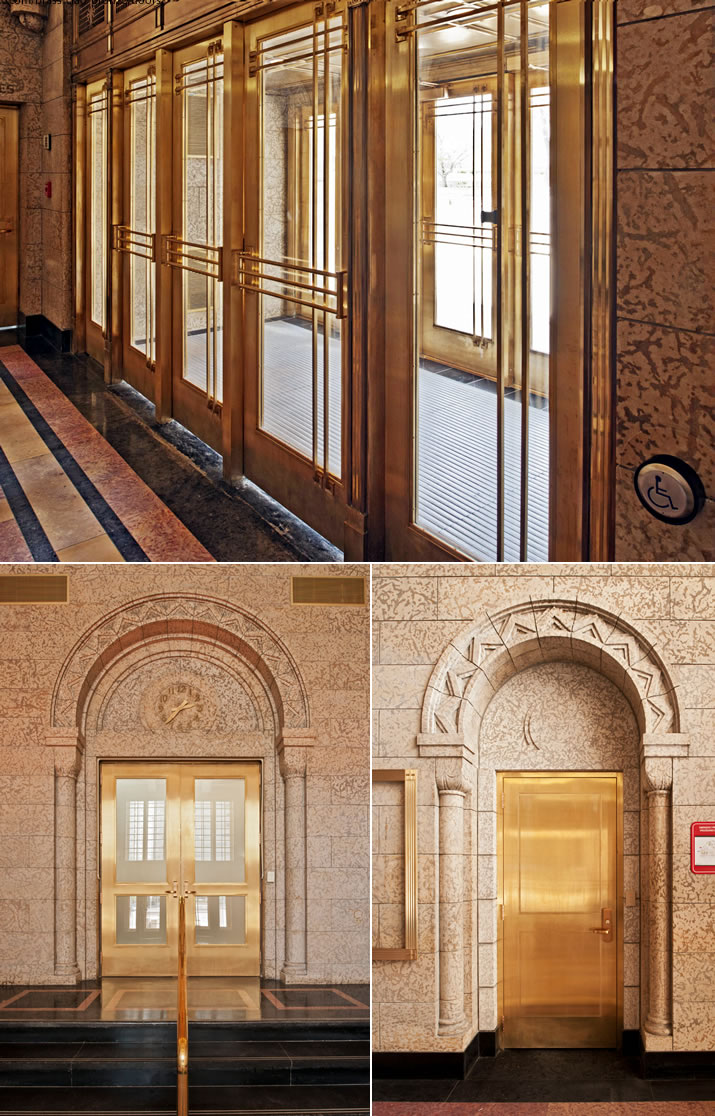 Ambico Limited was involved in retrofitting the Victory Building, a well-known piece of Winnipeg's downtown core that was constructed in the 1930s. Ambico was approached by the owner of the building to manufacture and retrofit doors at the entrance and lobby. Heritage architects of the Public Works Department of the Canadian government worked with AMBICO engineers to replicate doors that would complement the original design intent of the building's design team. This project was featured in DHI Magazine as a Case Study. Read the full case study.
Ambico decorative brass clad and bronze clad doors and frames combine outstanding visual appeal with rugged performance in the field. Products are designed in consultation with our project design team to meet the unique requirements of each job. Brass clad or bronze frame cladding is fastened to a heavy gauge steel sub-frame with a touch of craftsmanship. Decorative door face material is fastened to a rugged steel core with care and old world attention to detail. Door face can be manufactured in a stile and rail configuration or in a one piece seamless construction. Gleaming appearance of polished brass or bronze clad products projects an exclusive image at a surprisingly moderate cost. Antique finish of satin brass or bronze clad products suits the design requirements of historical renovation projects.
Company: Ambico
Product: Decorative Doors and Frames
Source: https://www.ambico.com/brass-clad-bronze-doors/
Tags: Design | Doors | Entrances | Metal
---
Proven Mantrap Portal Solutions Cost-Effectively Replace "Do-It-Yourself" Vestibules
Today, many companies build their own mantrap vestibules. However, they often overlook how expensive and difficult it can be to achieve consistent, error-free piggybacking prevention. They don't know that an alternative solution already exists - Boon Edam security portals!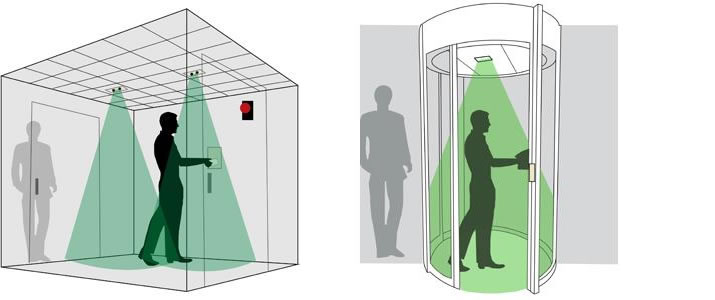 Do-It-Yourself Vestibule

Inability to measure false acceptance risks
Unpredictable false rejection rates
Must be manned and monitored at all times
High operational costs
Large footprint
Constant testing and troubleshooting

Mantrap Portal Solution

Proven solution with measurable false acceptance risks
Predictable and manageable false rejection rates
Completely unmanned solution
One-time investment with minimal operating costs
Space efficient
Quick and simple installation
Company: Boon Edam Inc.
Product: Security Doors & Portals
Source: http://www.boonedam.us/mantrap-portal-solutions-eliminate-piggybacking
Tags: Doors | Entrances | Safety | Security
---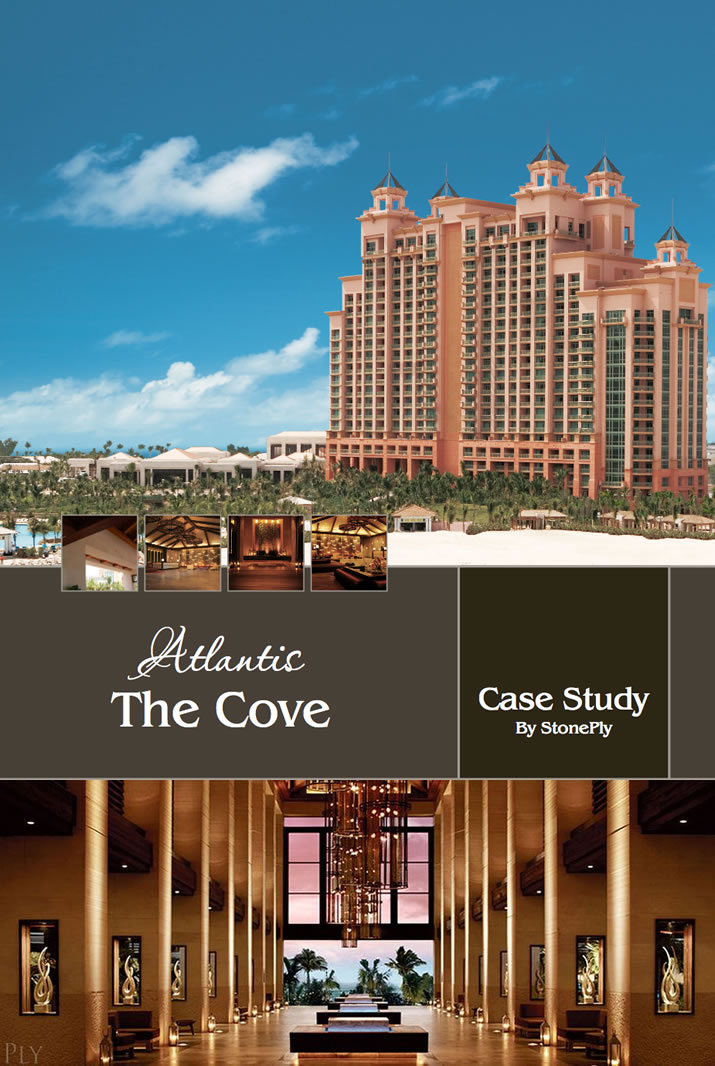 The largest stone clad building in the Caribbean meets the challenges of fast track schedule and hurricane proof construction
Sol Kerzner, resort entrepreneur, created a beautiful themed resort that features the lost city of Atlantis. StonePly was able to fabricate, deliver, and install over 144,000 square feet of custom exterior natural stone panels in The Cove Atlantis and The Reef Atlantis. These panels feature custom sawn and bush hammered textures to give the cladding depth and beauty.
Part of the reason for selecting StonePly for The Cove Atlantis was the success of the earlier cladding we supplied for Atlantis which survived numerous hurricanes, including one of which was a category 5, and has survived with minimal to no damage.
Customer's Needs
The customer needed a cladding that could both be used on the exterior and interior of the building, that matched the beauty of the resort, and added a high class feel to the resort. They were looking for a cladding that was easy to install, blended with the tropical feel of the resort, and minimized the disruption of the existing resort. The biggest challenge was to find a cladding that was impact resistant due to the weather that is inherent to the country.
StonePly Solution
StonePly was able to provide an impact resistant cladding that met the Miami requirements of hurricane resistance. The travertine was bonded to an aluminum honeycomb panel and attached using both Z-Clip extrusions and concealed screw attachments. All the attachments were attached in the field using #10 stainless steel TEK screws. Installation was completed on time and on budget by our qualified installation team.
StonePly was able to supply and install limestone panels that provided:
A luxurious stone cladding
Quick and easy installation
60X the impact strength of slab stone
Low maintenance
Impact resistant
Project Details
Client: Kerzner International
Date: December 2007
Download Case Study
Company: StonePly Co.
Product: StonePly Curtain Walls
Source: https://www.stoneply.com/en/projects/atlantis/
Tags: Design | Entrances | Safety | Wall Panels
---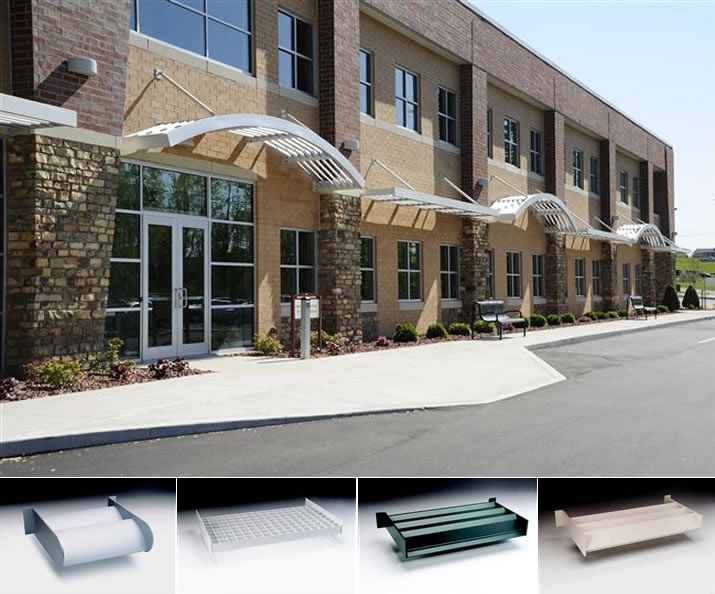 Aluminum Airfoil Blade Sunshade, Eggcrate Blade Sunshade, Louver Blade Sunshade, Rectangular Tube Blade Sunshade
Ruskin Sunshades offer energy savings by reducing solar heat gained through glazing. With a wide variety of available blade styles and configurations, they also provide aesthetic appeal to the building exterior.
Ruskin Sunshade models include airfoil, louver, tube and eggcrate blade styles. Custom Sunshade designs are also available. Ruskin Sunshades are constructed of extruded and/or formed aluminum components for reduced weight and excellent corrosion resistance. All models are available with a variety of Kynar or Anodize finishes.
Company: Ruskin
Product: Louvers
Source: http://www.ruskin.com/catalog/category/481~Sun-Control-Sunshades
Tags: Energy | Entrances | Exterior Design | LEED Certification | Windows
---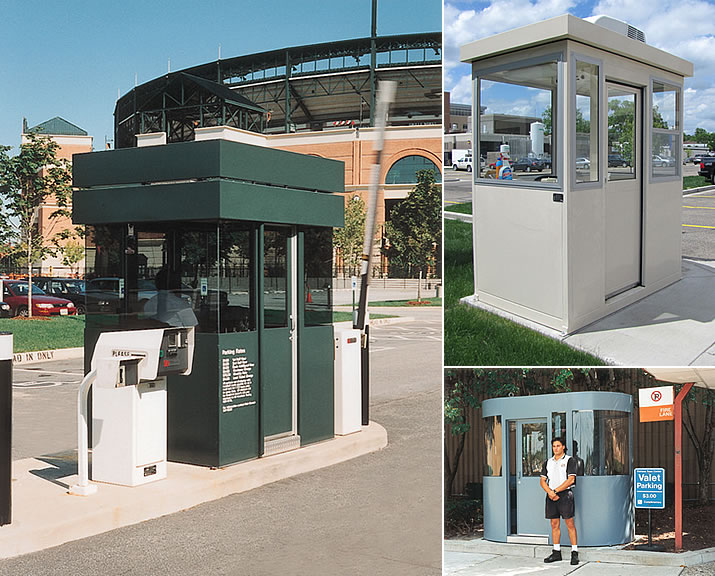 From single unit commercial structures to airport plazas and municipal parking facilities, Par-Kut builds quality parking booths that last regardless the location. Solid welded construction and corrosion resistant materials help Par-Kut parking booths battle physical and environmental abuse while keeping your operation and your attendants safe, secure and comfortable. Par-Kut portable steel buildings withstand adversity and remain looking good for up to 25 years with little or no maintenance.
When contacting your skilled Par-Kut sales person, please have some information ready for us. In order to make sure your parking booth can pass code requirements we'd like to know where the booth will be used. The geographic location, city and state are very important in the design of the parking booth. As we build every booth custom for every client, you can be positive that it'll meet or exceed all applicable code.
Par-Kut offers project specific drafting and design services in
addition to our exceptional manufacturing capabilities. This permits us to style and build you an ideal building that appears in-built, rather than "bolted on." Regardless of what the look is, from the most basic to high finish style, we'll work diligently to accommodate your style and parking booth requirements.
Parking lot booths from Par-Kut are built to your order and can be a simple shelter or valet booth, a parking cashier booth, or a security guard house. Factory assembled and delivered ready for easy hook up and immediate use, a Par-Kut parking booth provide the purchaser a secure parking lot office. Parking booths from Par-Kut can be outfitted with restrooms, bullet resistant construction, and platform mounting. Further, parking booths from Par-Kut can be standard, or architecturally enhanced to better blend with site surroundings.
Go to GALLERIES to view additional parking booths.
Company: Par-Kut International, Inc.
Source: http://www.parkut.com/booths/applications/parking-booths/
Tags: Entrances | Prefab | Safety | Security
---
We've installed thousands of campus entry solutions, talked to end users all over the world and have developed a comprehensive process for choosing the right security entrance. That said, no process is perfect, and we've come to observe that certain organizations will consider some of the decision criteria quite well but leave out one or two factors. We call these the "Gotchas," and when forgetting or ignoring any one of the criteria, you can end up with a security entrance that doesn't address the needs of your organization.
We divide the entrance solution decision-making process into two parts: before installation and after. Before Installation, purchase decisions are often weighted towards security, aesthetics and return on investment (ROI). After installation, however, and once there is no going back, throughput, training, service and safety play a more prominent role.
While initially aesthetics or security usually jump out as paramount, all seven decision factors contribute to an effective security solution. For most decisions, the criteria before installation are relatively prominent and well understood. Where the "Gotchas" rear their less-than-pleasant heads is in the pesky factors that often don't occur to the decision-makers until the new security entrance has been installed.
After installation, it is crucial to incorporate each of the following criteria into a comprehensive decision-making process so that you'll select the right solution for your campus.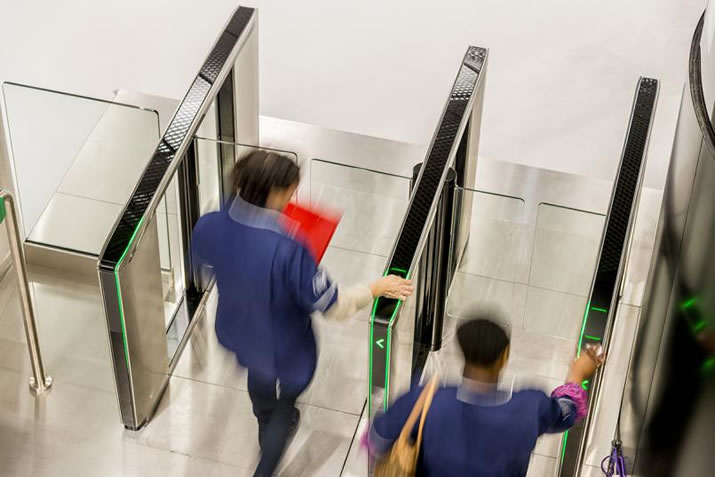 1) User Throughput
Throughput (how quickly authorized individuals can enter your facility) affects users directly on a daily basis and is critical to user acceptance of a new security entrance. Before you commit to a particular kind of entrance solution, carefully and manually calculate the throughput requirements for your entrances, ideally during a 5-minute rush hour period. Note deliveries and wheelchairs. Don't rely solely on access control numbers if you have swinging doors, as multiple tailgaters could enter on a single authorization and reduce the count. Once you have the counts, research security entrances' throughput specs. It's also worthwhile to inquire if a solution allows for card stacking, which is explained in the following example:
Example: A Houston-based company installed an array of optical turnstiles in their regional headquarters lobby. Unfortunately, they did not research throughput numbers, and the turnstiles they installed required each user to badge in, walk through the turnstile, and then for the turnstile barrier to reclose before the next user. During peak times, lines would form. Eventually, the company decided to replace the turnstiles in favor of a model that allowed multiple registrations with access control (card stacking) prior to entering and also kept its barriers open as long as all of the users were authorized. The difference was an increase in throughput from 22 to 60 people per minute per lane—and that made all the difference.
2) Technical & End User Training
Training usually isn't considered a major factor when choosing an entry product, yet it is key to long term success and customer satisfaction. Since most manufacturers do not directly install their products, they should provide a comprehensive technical training program and some form of certification to create successful service providers for end users.
Example: A financial services company purchased an array of high security portals to protect a sensitive area for records and data. A few months after installation, which had been supervised by the manufacturer, one of the portals required service because it was rejecting authorized users. When a technician from the local distributor arrived he took one look at the portal and said, "I've never seen one of these before." He then spent hours on the phone with the manufacturer to receive on-the-fly training. Clearly, there was a training disconnect between the manufacturer and the distributor.
3) Service Considerations
Service considerations typically come last or not at all when making a buying decision. Yet, during and after installation, the level of service directly impacts continued operations and ROI.
Example: A Philadelphia office tower installed two optical turnstiles in their main lobby that matched the building's aesthetics beautifully. After a few years, one of the turnstiles stopped working and a part had to be ordered from Europe — downtime was estimated at four weeks. With only two opticals in their lobby, having one out of service was unacceptable and the owner immediately began looking into replacing the turnstiles. Elsewhere in Pennsylvania, a Pittsburgh hospital had a security door that was out of service. Management was shocked to find out that the nearest authorized service provider was over eight hours away — gotcha!
Consider the negative impact of a delayed installation or service visit, or delayed parts availability on your building entrance procedures — all because service was left out of the decision-making process.
4) Product Safety
Safety, too, is rarely discussed during the bidding process. However, it is the one factor that could quickly and possibly tragically undermine the success of the project. Most security entrances use a barrier of some kind. The more sophisticated barriers use presence sensors to detect objects or users. Before buying, ask how a product prevents entrapment or contact, and how it responds to either event. The answers should then be weighed against your security vs. safety needs, your users and their ability to be trained, the product's response to an incident during peak periods (does it stop and require re-badging?), and whether large objects are typically carried or pulled behind.
Example: A California software company wanted a secure revolving door that only allowed authorized users to enter at night and also provided piggybacking prevention. During the day, however, they wanted the same door to allow the public to enter along with any children for a daycare center inside. The architect was unaware that piggybacking prevention and public use don't mix very well, especially with children involved. A security revolving door requires users to be trained. The door's small quadrants, which are ideal for a single person and piggybacking prevention, lack the trailing door wing sensors that large automatic revolvers must have for public safety. This is because such sensors would stop the door far too often. Due to frequent contact incidents, the company decided the public need was greater than the piggybacking prevention and they had to incur the expense of replacing it with a manual revolving door that had a night-locking feature with an access control system to allow off-hours employee access.
Forget Campus Culture at Your Own Peril
We've discussed seven crucial decision factors here, but there is one more factor to consider: culture. Culture permeates all the other decision factors and is critical to success. Do people care about their personal safety in Boise at the same level as those in Manhattan? Are all management stakeholders involved in the buying decision, from CEO to finance to HR to administration to residence life to the facility manager? Is there high employee turnover or students requiring recurring training? Campus safety decision makers should understand your campus or company culture and be willing to assist in implementing a culture shift through communication and training.
Example: A state university in North Carolina installed optical turnstiles with drop arm barriers at its recreational facility to prevent unauthorized access to gym equipment and reduce liability. A receptionist registers each student with the access control system and then opens the barriers. This ensures that freshman get an orientation to entrance procedures. Eventually, over several years the university will phase in a biometric access control system that will allow bypassing the receptionist. At first, it will be voluntary, rewarding those who register with an expedited entry. Eventually, it will be universal. This staged approach ensures a smooth culture shift.
Example: Another more drastic example of culture affecting the deployment of security solutions happened a few years ago at a West Coast internet company. A new CEO was hired, and he ordered the turnstiles in the front lobby to be removed because "this company isn't about barriers." So, it pays to inform the CEO of new security measures and why such measures were taken! Speaking of the West Coast, some companies allow dogs to come to work, which greatly affects which security entrances can be used safely and effectively.
The success (or failure) of a security entrance project must start and end with a comprehensive, consultative process that considers the full range of factors for the ultimate decision. As we've seen above, a conscientious leader can preside over a process that includes most of the eight essential criteria. However, forget one and even a careful, comprehensive effort can result in a big "gotcha" that brings a new security entrance project to a crashing halt.
Company: Boon Edam Inc.
Source: http://www.boonedam.us/news/4-gotchas-could-derail-your-front-entrance-security-upgrades
Tags: Design | Entrances | Security
---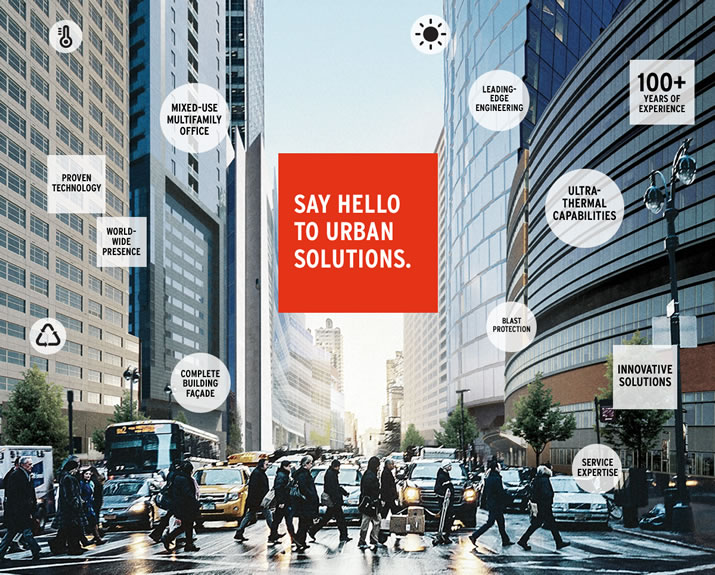 Say hello to urban solutions
Wherever you look, you will find us. Out of an office window. Walking into a shop. Looking up at an apartment building. Our range of solutions – from curtain walls and windows, to entrances, framing systems and architectural panels – are everywhere you need them to be, offering infinite possibilities in design, development and performance. We are here.
Explore our dynamic array of innovative solutions for new construction and renovation, like the all new MetroView™ window wall. Learn more about Kawneer and Traco windows featuring the high-performing OptiQ™ windows, GLASSvent™ UT windows and the Traco NX-4000 series. Wrap your imagination around the stylish and functional exterior/interior cladding design solutions of Reynobond/Reynolux panels.
ARCHITECTURAL ALUMINUM SYSTEMS | ENTRANCES + FRAMING | CURTAIN WALLS | WINDOWS | ARCHITECTURAL PANELS | INNOVATIVE FINISHES
Company: Kawneer Co., Inc.
Source: http://www.kawneer.com/bcs/aap_kawneer/en/urbanbrands.asp
Tags: Design | Entrances | Wall Panels | Windows
---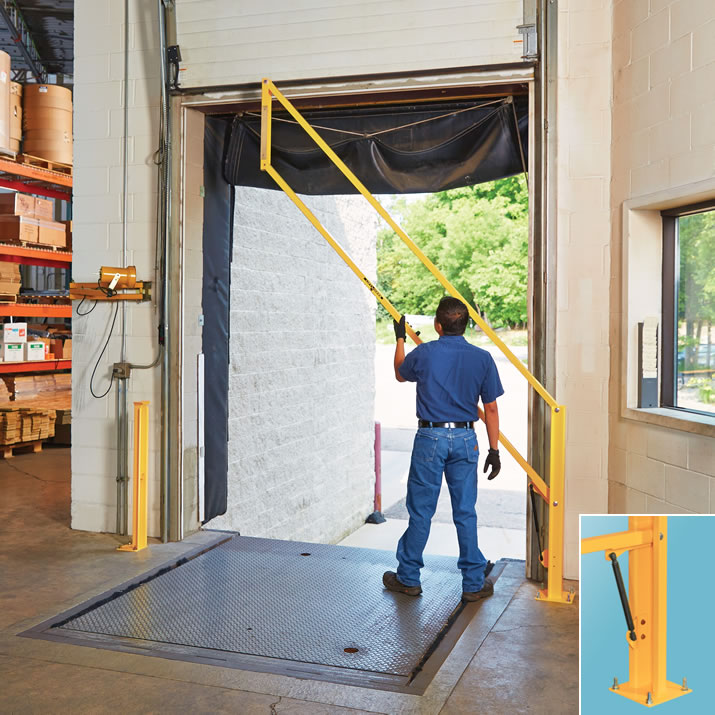 Gas Struts for ease of operation
DG Series - Carbon Steel Dock Gate
The Dock Gate provides protection against falls from loading docks. Custom gas struts make the vertical gate easy to open, and tapered guides on the receiver post make for easy alignment when closing.
The Dock Gate is available in 8' and 10' widths. It takes up minimal space and is easy to install using basic tools. Also available in stainless steel by special order. Meets or exceeds OSHA standards.
Determining the proper gate size for your application only requires the measurement of the inside clear opening.
Carbon Steel with Safety Yellow Powder Coat
Model No. DG14 - 96PC
Fits Clear Opening: 8'
Estimated Weight: 80 lbs.
Model No. DG14-120PC
Fits Clear Opening: 10'
Estimated Weight: 88 lbs.
Company: FabEnCo, Inc.
Source: https://www.safetygate.com/dg-series-carbon-steel.html
Tags: Entrances | Metal | Safety
---
Does your security system only detect tailgating? What if someone is determined to infiltrate your building? Would you be interested in a truly preventative solution?
As you enter the exhibits hall at ASIS or ISC West, take a moment to pause and scan the exhibits on the floor. I find that about 80% of the floor space and displays seem focused on video surveillance and access control and related products. Every year, there are new technologies and improvements that make surveillance more accurate at identification, and access control more integrated with other building technologies. Biometric technologies are no longer science fiction but instead are maturing and becoming a feasible option for more and more businesses.
Surveillance and access control systems have been essential for decades. Yet despite great strides in these technologies, we have seen time and time again security breaches where these systems are not enough. If someone is truly determined to get into a building, what will it take to prevent them from gaining access?
A great example of a determined individual happened a few years ago: a 16-year-old boy from New Jersey gained unauthorized entry at about 4 am to One World Trade Center, in New York, and roamed the premises for two hours before being caught. The building had a security system estimated to cost $20 million when it was installed. But none of that mattered when the security guard on duty fell asleep and the young man took the elevator up to the top floor to access the roof, take photos, and then brag on social media.
It was a big wake-up call because everyone realized that even after a significant investment, this landmark building was still vulnerable, and it could very easily have been someone other than a teenaged parkour addict looking for a thrill. Building owners and senior executives very often don't realize how vulnerable they are to infiltration—that they have a dangerous gap in prevention.
I use the word "prevent" very purposefully. If you have surveillance and access control systems, even biometrics, are you preventing infiltration? If the building has swinging doors at its access points the answer is, "No." Indeed, this is a deterrent situation, but it is not a preventative one. One of the most common methods of gaining unauthorized entry to a building is known as "piggybacking" or "tailgating." Many of us have badged into our building, and then held the door open for someone who looks like they also work there. You just created a serious security breach and you put yourself, your colleagues, the business and its future at risk. The best access control systems in the world can be defeated by exploiting the fact that people are nice and will often allow others to follow them through a door they've unlocked.
When we surveyed security professionals about tailgating, we asked them to estimate the potential costs of a physical breach from unauthorized entry: 54% believed the cost would range from $150,000 to "too high to measure." It doesn't take much imagination to think about the worst case scenario—sadly, they happen about every week. Without prevention, you are relying on human beings to remain vigilant, never get distracted or tired, remain at their post, follow the rules and never let anyone tailgate behind them. You are also assuming that no one is determined to get into your building. So, when a physical breach occurs, how will you know it happened and how quickly could you respond? One of our survey respondents put it this way, "[You] cannot depend on one technical solution to mitigate the risk...you need barriers, followed by surveillance, and appropriate response plans."
Only a small percentage of the exhibits at ASIS or ISC West offer such "barriers," also known as pedestrian security entrances, or turnstiles and security doors. I strongly encourage you to evaluate your current risk of infiltration and to learn more about the various types of barriers available. Some will need human supervision and will provide an alarm if breached. Others can physically prevent tailgating and operate without manned supervision, creating quicker ROI.
What is your stance on tailgating: do you want to detect it or prevent it?
Company: Boon Edam Inc.
Of: Mark Borto
Source: http://www.boonedam.us/blog/what-if-someone-determined-get-your-building
Tags: Doors | Entrances | Safety | Security
---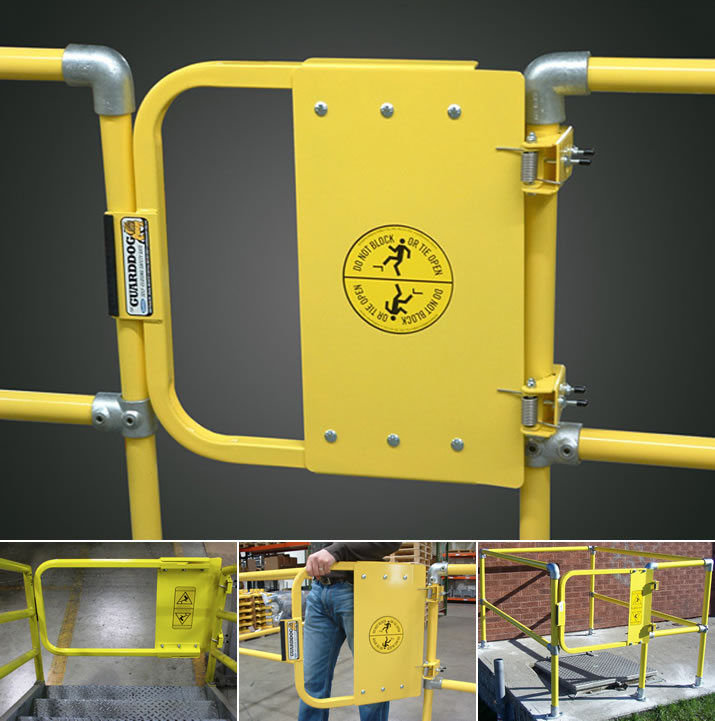 The GuardDog Self-Closing Gate is tough, durable and easy to install. Featuring a unique self-closing design with two stainless steel torsion springs, the GuardDog industrial safety gate can open in any direction. To meet diverse application requirements, the gate is available in 5 nominal sizes and is adjustable laterally to 6" (-3 to +3 of the nominal size).
The GuardDog Self-Closing Gate arm is dimensioned to match top- and mid-rail heights of an OSHA-compliant guardrail. When the gate is installed and the top of the gate is at the OSHA's recommended nominal height of 42", the bottom of the gate is positioned at a height of 21".
Gate comes fully assembled and includes securing hardware for standard installation on pipe
Requires only one 1/2'' wrench and a few minutes to install
Available in powder coat safety yellow, hot-dip galvanized or 316 stainless steel; Special colors available upon request
Our standard Hinge Assembly fits round pipe or square tubing measuring up to 2'' O.D, or it can also mount on angle iron or flat surfaces. For railings which are larger than 2" O.D, contact BlueWater Manufacturing and we will have an adapter kit available to use or provide a solution to mount the gate safely.
Applications range from ladder ways, mezzanines, pedestrian traffic, machine guarding, universal mount is designed to fit any hand post angle and direction. BlueWater's industrial safety gate is available in food grade stainless steel, carbon steel powder coated and galvanized.
Company: BlueWater Mfg
Source: http://bluewater-mfg.com/product/guarddog-self-closing-gate/
Tags: Doors | Entrances | Roof | Safety | Security
---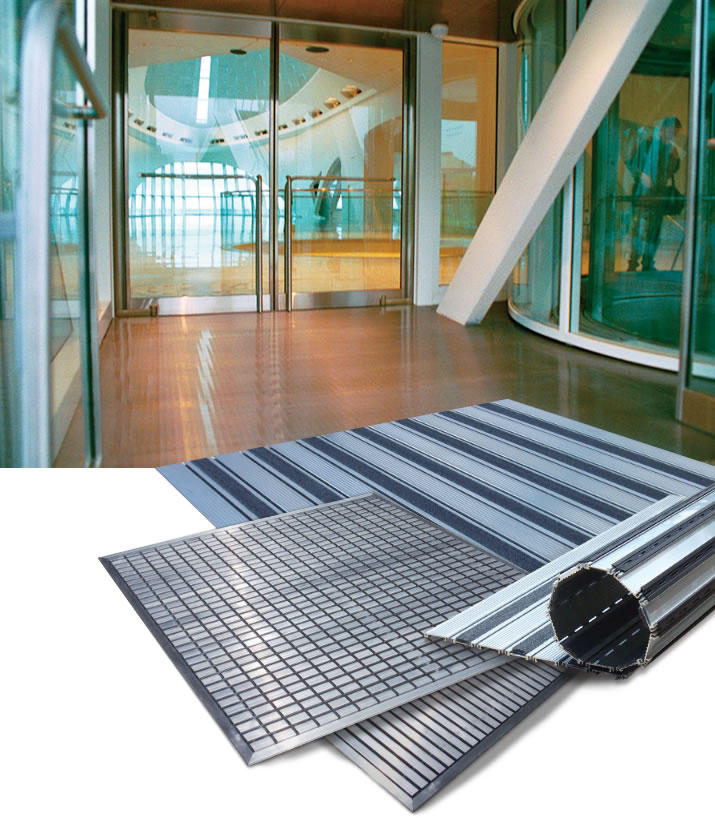 Babcock-Davis manufactures a full line of entrance flooring systems. From elegant stainless steel to rugged brushes we have the treads that meet your needs.
Keep It Clean
Protect your beautiful floors by keeping the dirt at the door. By adding and properly maintaining an entrance flooring system 18 feet in length, 90% of tracked dirt will be kept from polluting a building.
Entrance Flooring Systems
Making the right choice in an entrance flooring system will maintain your design, add years to your floor's life, ensure a safe entrance and significantly reduce maintenance costs. Entrance mats improve Interior Environmental Quality by stopping dirt from entering the building, improving Interior chemical and pollutant source control. Babcock-Davis' complete line of Entrance flooring systems includes architectural metal grates, roll up grates, rigid grates and roll-up mats.
The sleek appearance, strength and versatility of these metal grates are an architectural favorite. Architectural Metal Grates Include:
Stainless Steel proGRIL
Stainless Steel eleGRIL ®
Stainless Steel eleGRIL ® with carpet inserts
Aluminum alumaGRIL
Babcock-Davis' Rigid Grate is ideal for high traffic areas as they are the strongest and most versatile grate with various tread options. Babcock-Davis' Rigid Grates include:
GRATEdesign ®
EnvIRONtreadII ®
Ideal for medium traffic, the Roll-Up Grate is strong, easy to clean and versatile with multiple tread options. Babcock-Davis' Roll-Up Grates include:
Lightweight Roll-Up Mats are easy to clean, ideal for light traffic and versatile with many tread options. Babcock-Davis' Roll-Up Mats include:
QuietFLEX ®
MATdesign ®
MATrac
Browse the selection of frame styles available for each entrance flooring system.
Surface Mount
Surface Mount, Vinyl
Level Bed, Mech. Fastened
Level Bed, Cast-In
Deep Pit, Cast-In
Learn about the finish and tread options offered to customize your entrance flooring mats and grates. Available tread functions include scraping, absorbent and slip-resistant.
Dual Treads
Color Anodized
Premium Carpet
Rugged Scrub ®
EnvIRONtreadII ®
EcoTread
Vinyl
Aluminum Abrasive
Vinyl Abrasive
Brush
Babcock-Davis, a trusted name in the commercial construction industry, specializes in providing commercial building products. Architects, specifiers, general contractors, and distributors rely on the Babcock-Davis product line for a quality product with hassle-free fulfillment. No matter your project requirements, Babcock-Davis is Always right there.
Company: Babcock-Davis
Source: http://www.babcockdavis.com/entrance-flooring-systems
Tags: Entrances | Floor | Interior Design | Safety
---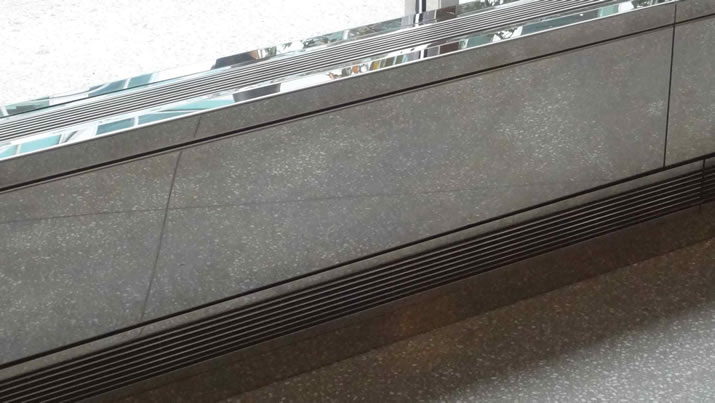 Our customer's objective was to have a stainless steel, linear bar grille manufactured to match the finish and style of a newly installed mirror polished stainless steel radiation enclosure within a renovated hospital lobby. Due to security and safety concerns, the grilles had to not only be structurally strong, but also firmly secured to the unit to prevent unintended removal.
Artistry in Architectural Grilles' engineering and manufacturing team designed a custom "C" style frame allowing for secure fastening as well as professional removal to access the unit's controls. This was accomplished with mechanically fastened frames in concert with mechanically fastened removable cores. All of which were given a #8 mirror polish finish to perfectly match the existing convector enclosure.
Grille Details
At a Glance
Type: Linear Bar Grille
Style: AAG100
Frame: Custom C Frame
Detail: Removable Cores
Material: Stainless Steel
Finish: Mirror Polish
Company: Artistry in Architectural Grilles by Advanced Arch Grilles
Source: http://www.aagrilles.com/project/nyc-hospital-lobby
Tags: Access Covers | Entrances | Floor | Interior Design | Metal
---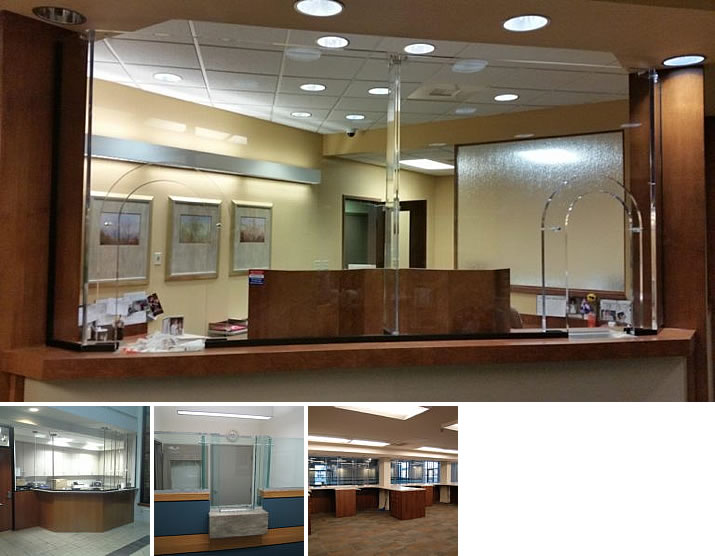 Clark Energy Utility Office
For Clark Energy—a regional utility cooperative serving 19,000 customers and maintaining 3,000 miles of line in 11 counties—it began when a customer attacked a worker at the nearby water utility office. As Holly S. Eades, vice president of finance for Clark Energy, explains, "There was a utility here in Winchester [Kentucky], and I had gone down there because we'd heard that one of their office people, a customer had slapped her in the head. And we were like, 'Oh, boy.' Because we have some customers that come in, and they get kind of irate."
Worker Safety in Utility Offices
Workplace violence is a serious problem, with roughly 2 million American workers assaulted each year. Clerks and customer service reps at utility offices are especially at risk, as their work includes several of the high-risk factors identified by OSHA (the Occupational Safety and Health Administration): handling money, fielding disputes about billing, and denying delinquent customers service. As a rule, when you are forced to cut off someone's electricity, water, cable TV, or other service, they are not happy, and they are not calm.
To Holly and her customer service reps at Clark Energy, it very much felt like just a matter of time: "Sometimes, [in] both [our] offices, there'll be just one office lady there. The men are out in the field, and she's just completely by herself. It wasn't probably two, three weeks later . . . some man comes in and he's cussing and screaming, and another customer actually stayed, saying 'There wasn't a way I'm leaving with this person acting like that.' When a big man is standing at the counter, screaming and cussing at a female customer service rep who's five-foot-four, there's something wrong with him . . . You just don't know what's going to happen."
Inviting, Professional Bullet Proof Barriers
Many utility companies and service providers worry that added security will both bog down business and give the customers the impression that workers are trying to separate themselves from their clientele.
Even Clark Energy had hesitated, despite harrowing first-hand experiences. "A lot of it was the way it needed to look... We'd actually tried to get somebody local [to install a bullet resistant barrier], but we couldn't find anybody in this area that would even come close to the product that Total Security Solutions has. Not as pleasing... I think a lot of times, when you put that up [a security barrier], customers get the feeling that you're trying to shield yourself, and I don't mean from robbers."
Jim Richards, Total Security Solutions CEO, has heard this often. "What we actually do and what everyone's perception is are two totally different things. The people at Clark Energy were more than ecstatic when they saw the other utility offices we've done, because it's not what people typically visualize when they think of bullet proof glass. They think of steel frames, big, thick glass, you can't talk through it. It's not aesthetically pleasing. It gets in the way of getting work done. But when they saw what we did at the other utility, it's like 'Oh, well we want one of those, too, if that's what it's gonna look like.'"
Positive Results with a Well-Designed Bullet Proof System
"We are tickled to death," Holly says, "It looks very nice, and when the customers came in... We had some customers saying, 'You know, y'all should have done that a long time ago.'"
While Holly is gratified to hear these positive responses from customers, she's even more pleased by the improvement to her employees' work day:
"It's really amazing, just the sense of security the girls feel. You know, now you get there and you've got somebody screaming at you, and there's some distance between you and their emotions. When you're turning people's electric off, you just don't know. You have 'em come in pretty upset. This felt 10 times better, at least knowing the girls are behind locked doors and behind bullet resistant glass. Because, I tell you, every day all you hear about is another incident somewhere."
Company: Total Security Solutions Inc
Source: http://www.tssbulletproof.com/peace-of-mind-rural-utility-offices
Tags: Entrances | Safety | Security | Windows
---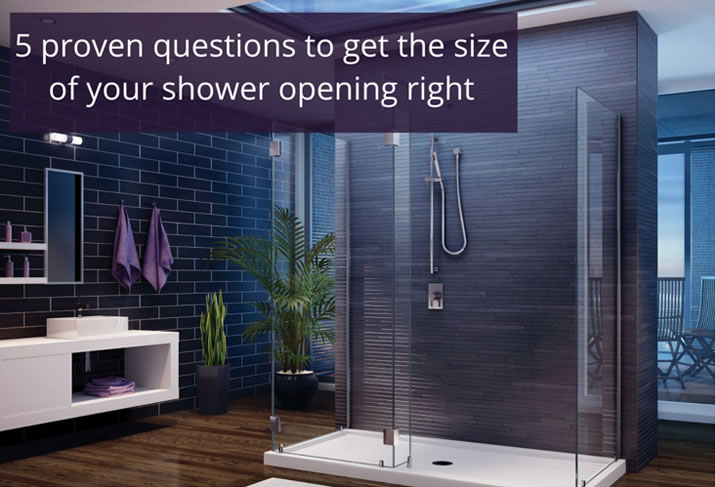 If I've been asked this question once I've been asked it a thousand times, " Mike – how big should I make the opening for my new shower?" OK – I'll give you my standard answer. It depends. Boy doesn't that sound like a cop-out!
In all seriousness designing a shower opening is a bit like being a politician -you're trading off competing interests. On one hand you want to have the biggest opening so it's simple to get into and out of the shower whether you're walking in, shuffling in or rolling in with a wheelchair. On the other hand you want the opening as small as possible so you don't get water pooling on the bathroom floor which could lead to leakage in the floor below. Given these competing benefits of a smaller vs. larger shower opening where does that leave you? How can you find just the right sized shower opening for you and your family? Explore the answers to the following 5 questions and you'll be assured to get the size and design of your shower opening correct.
Question #1 – Who is going to use this shower now and possibly in the future?
Start out by identifying who will use the shower today…and possibly in the future. Is your son whose claim to fame is being a "lean and mean" 350 lb. defensive tackle of the football team going to be the main user or is your daughter who is a pencil-thin gymnast using this space? Obviously if you're designing the shower opening for your son it will need to be significantly wider. What can/should you do if they are both going to share the shower? I would recommend to split the difference in the opening size – which may mean your son will step into the shower sideways vs. your daughter going in straight on.
While considering the here and now usage of this shower is critical – you will not want to lose sight of who may be using it down the road. Is it possible your Mom or Dad may come to live with you if their health starts to fail? If so – the new shower opening may need some design tweaks (possibly a ramped entry, a lower curb or one level base design) which will prevent you from ripping out the brand new shower you're putting in right now (see question 3 to get specific ideas).
Question #2 – What method are you going to use to get into the shower? Do you need to walk straight in or are you OK stepping in sideways?
This may seem like a funny question but it is important and practical. If you're walking straight into the shower you'll need significantly more space than if you're stepping in sideways. When determining the opening for a straight in entry – which is preferred by most- I recommend measuring across the shoulders of the people using this shower. You'll want to use the largest shoulder to shoulder measurement of all the people using the space to drive the size of the opening. On the other hand if you're OK with a sideways entry you can measure the "depth" of the person.
If you have a small shower the sideways entry may be required but in general the most common straight in entry for people walking in is 24" wide.If you're designing the opening for a wheelchair or walker for your home know you do not need to follow ADA (Americans with Disabilities Act) guidelines for public spaces which require a 36" wide opening. With that being said you do want to make the opening comfortable to get into. In this case I would recommend you get a measurement of your family member in their wheelchair and allow side to side clearance room for their hands.
Question #3 – Are you stepping over, ramping up or rolling in (designing for either a curb or curbless shower)?
Not all people using a shower are created equal – I'm sure you're saying tell me something I don't know. Your family (if it's like mine) – is definitely made up of some characters in both their personalities and physical capabilities. A "simple" 4" high shower curb which is a breeze to step over for your football playing son and gymnast daughter, could be a huge mountain to climb for your elderly Mom. So for the kids the 4" high step over curb (which does a great job keeping the water in) is no problem, could be the wrong shower entry design choice for Mom if she is mobility challenged. Here are 4 competing shower curb and entry options for you to consider depending on who(m) will be using the space:
Option 1 – The 4" tall step over curb – generally the preferred method for small showers because it keeps the water in well in small spaces. This is an unacceptable and dangerous choice for anyone with limited mobility.
Option 2 – Low profile curb – This lower curb (usually about 1 ½" tall) provides for a sleeker looking design and is safer than option 1. It has the benefit with a solid surface shower base of having the flexibility to add a curb extension should a family member need a ramped entry down the road.
Option 3 – Barrier free ramped entry – This ramped entry will have a slope up to get in and a slope down towards the shower drain. It creates a "curb free" design where you get in. This design works best with a base which is a bit wider.
Option 4 – One level wet room – This is a cool and underutilized approach in the United States. This design provides a shower floor which is at one level with the bathroom (note – the drain is still a bit lower than the floor level). It is super popular in European and Asian countries where space is limited. It can provide a sleek contemporary design – but better yet – it is safe and completely workable for small showers (my wife's Grandfather had this type of wet room shower in a 4' x 5' bathroom in Italy – now that's tiny!).
Question #4 – Will you use a doorless walk in shower or a framed or frameless glass shower door?
When you design a walk in shower the finished opening is not made smaller by any hinges or framework (basically the opening is the opening!). Walk in showers are growing rapidly today as people want to eliminate the cost of a door and hassle of cleaning them. With this being said walk in showers are not practical for every situation. This is usually true where there is only room for a small shower.
If you are looking at a shower door you'll want to think beyond the "rough opening" (the opening before you install the door) and focus on the "finished opening" (or the space which will be left minus any framework around the door). A frameless door will give you a larger finished opening than a door with a framed system around it. The frameless system looks more luxurious, but comes with a higher price tag.
Question #5 – Will you have more than one opening?
This one sounds like a trick question. How can you have more than one opening in a shower? The answer is – when the glass (or framed enclosure) has either a curved or L shaped design. Many walk in showers are not straight walls but have shape to them so the water will be directed back into the "wet area" (shower head area) of the shower. What this means is you actually have two openings. One is the "entry opening" where you step in and the other is the "interior opening" as you move towards what I like to call "the business side" of the shower.
While the entry opening is critical so is the "interior opening." If you make the interior opening too small you'll get a shower which feels cramped. I usually recommend the "interior opening" be at least 4" wider than the "entry opening" to make the shower feel like one continuous space. If your shower is large it can work out just fine to create a separate entry area vs. the main showering area, but for more compact spaces I recommend one continuous space.
Conclusion – how to size and design a shower opening
OK – how have I done? Do you feel you know the right questions to ask how to figure out the size and design of your shower opening (or openings)? If you're looking for more information or an estimate on remodeling a shower or nationwide material supply for the shower wall panels, shower bases or wet room systems call The Bath Doctor in Cleveland (216-531-6085), Columbus (614-252-7294) or for nationwide supply Innovate Building Solutions (877-668-5888).
Company: Innovate Building Solutions
Source: http://blog.innovatebuildingsolutions.com/2016/06/24/5-proven-questions-to-get-the-size-of-your-shower-opening-right/
Tags: Entrances | Glass | Interior Design
Evolution Of Revolving Door Security: Teaching Old Doors New Tricks (July 4, 2016), Turnstiles to Appear on Discovery Channel Show (May 6, 2016), The Plan to Turn NYC's Turnstiles Into Musical Instruments (February 29, 2016), Wisconsin Hospitals Use Boon Edam Revolving Doors in Special, Double Entrance Solution (February 15, 2016), The Ins and Outs of Revolving Doors (November 9, 2015), The Industry's 1st Monitored Light Curtain - Now Available (September 25, 2015), A perfect blend between revolving doors and transparent architecture (September 4, 2015), Ruskin Air Doors Protect Indoor Air Quality (August 28, 2015), Sweet Dreams, Courtesy of AMBICO Products (June 30, 2015), Quick Ship Booths (June 29, 2015), Revolving Doors and ROI for Retail (June 10, 2015), Entrance possibilities are endless! See the 7 elements of revolving door design (February 23, 2015)