architecture - engineering - construction

Entrances
---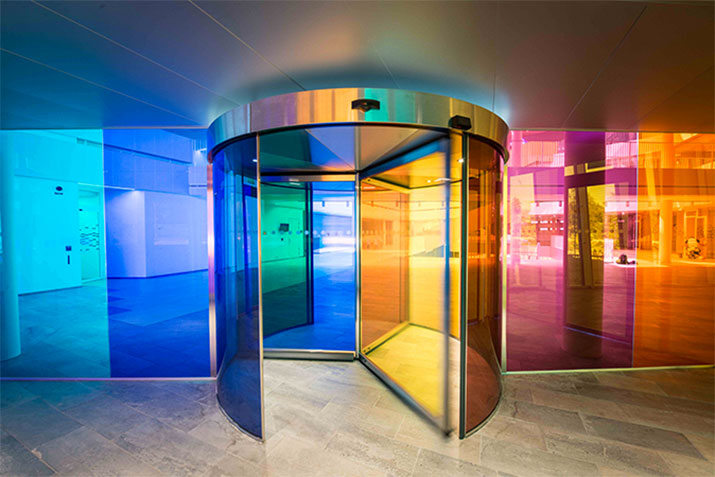 Uppsala University - The Segerstedthuset Building
When entering the new Segerstedthuset building at the Uppsala University in Sweden – guests, students and employees alike are cheerfully greeted by a colourful revolving door. This unique door is an art installation by renowned American artist Spencer Finch (http://www.spencerfinch.com) and is aptly named 'The Colour Wheel'. The artist is best known for installations that visualise his experience of the nature of light, colour, memory.
Turning Entrances and Turning Heads
The Uppsala University is the oldest university research university in the Nordic area and this large facility is located in Uppsala, Sweden - educating 45000 students. The new Segerstedthuset building, designed by 3XN is a multi-purpose extension to the university and was conceptualised and constructed as a modern workplace for researchers, university administration and management. Watch this show-stopping door in action below:
Color Wheel - Spencer Finch
Silver Level Swedish Green Building
The doors measure a diameter of 3000 mm and a total height of 2400 mm and the 6 glass door panels provide the canvas for the light installation artist to work his magic on. Colour film is fitted between the glass which creates a truly remarkable and memorable entry experience into this urban, communal space. The Segerstedthuset building was built as a sustainable building and proved to meet high environmental standards such as efficient energy use, sound material choices and a silent indoor environment. The building is environmentally certified according to the Sweden Green Building Council at the silver level.
A Strong Collaboration
Projects like these involve many collaborators, and for this one we are working with the below in our quest to secure the space:
Location: Uppsala, Sweden
Products: TQA Automatic Revolving Door
Segment: Education
Architect: 3XN
Company:

Boon Edam Inc.
Product: Revolving Doors
Source: https://www.boonedam.us/uppsala-university-segerstedthuset-building
Tags: Architecture | Color | Design | Doors | Entrances | Security
---
Many organizations spend a great deal of time and financial resources in making the entrances to their buildings artistic and beautiful, with designs and materials that inspire awe. They may work with an architect, engineer, or building contractor and ensure compliance to NFPA safety and fire guidelines regarding egress, along with the desire for user convenience and an overall aesthetic design. Often, they select standard swinging doors to make it more convenient for employees, visitors and vendors to enter. For security, they employ security officers to stand guard.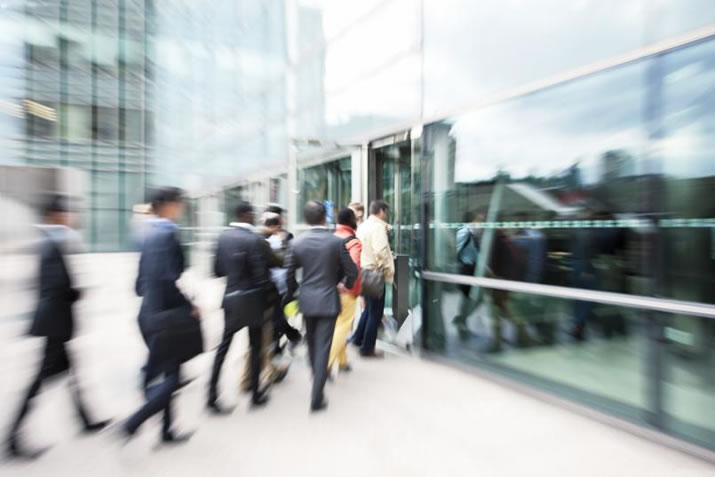 Standard Swinging Doors Introduce Risk
Unfortunately, there are a number of troubling issues surrounding the strategy mentioned above. Security officers are human and subject to distractions, absenteeism, fatigue, being spread too thin or overwhelmed during busy periods. No security officer can reliably "prevent" an intrusion incident at all times and in all locations – in fact, the term "social engineering" was coined to refer to commonly used techniques for getting around security officers. That introduces risk to the enterprise.
And a standard swinging door is often the choice when organizational management is under-informed of the security implications of that selection. The decision makers may also not have any security background. Swinging doors do not, and cannot, prevent unauthorized intrusions, and thus they place an organization squarely in the chain of liability should an intruder cause harm or physical or data loss.
Failure to Meet Physical Security Regulations Results in Fines and Penalties
The lack of clarity around how an entrance is designed and secured not only increases physical and cybersecurity risks, it also places a company at risk of liability that can lead to crippling fines and penalties. Laws and regulations such as HIPAA, HITRUST, PCI Data Security Standard, NERC CIP, FERC, FISMA, ISO, FDA, TAPPA and others have maintained a cyber-heavy emphasis. However, today virtually all regulations mandate some form of physical controls that address unauthorized entry and the control of access into a facility. Non-compliant firms may be subject to significant fines and other actions. Below are a few examples:
NERC Violation
As an example, electric utilities are subject to NERC CIP 14 5-6, which works to ensure the reliability of the North American power system. One utility was recently fined $1.7 million when NERC found a number of violations, including three perimeter doors that had been altered so they didn't lock "so people could enter without the burden of security," among other issues.
HIPAA Violation
Healthcare businesses must comply with HIPAA regulations regarding the protection of patient health information, including limiting physical access to the data. Individuals that knowingly obtain or disclose such information face criminal penalties including jail time. Even if a firm violates HIPAA rules unknowingly, they are still subject to fines up to $50,000 per violation, up to an annual maximum of $1.5 million. Firms that are negligent in protecting their physical points of entry could be found responsible for disclosures perpetrated by intruders.
GLBA Violation
Any firm that involves financial services, from banks to mortgage lenders to car dealers, has to comply with the Gramm-Leach-Bliley Act, or GLBA, which requires firms to take steps to protect the privacy of customers' financial data, including the development of a written security plan and "a thorough risk analysis" to protect the data. Non-compliance carries a fine of $100,000 per violation and includes potential jail time of 5 years. As is the case for HIPAA, firms that are negligent in their physical security could be found non-compliant.
Security Entrances Mitigate Risks and Liabilities
Security entrances are designed to prevent unauthorized intrusion and meet regulatory compliance. They provide for a range of assurance levels, from models designed to support guarded entrances all the way up to unstaffed entrances with very high security levels. High security entrances actually eliminate tailgating while ensuring, through biometric authorization, that the individual entering the facility is the one who is authorized – and not another person carrying their credentials. In every case, security entrances mitigate unauthorized entry while allowing for two-way traffic and emergency exit. When unauthorized entry is addressed, several risks are mitigated at once – including both the physical and cyber security threats. From a liability standpoint, blocking intruders reduces the risks to the personal safety and security of staff, visitors, and anyone else in the facility.
The entrances of your facility must be considered as part of your whole security solution, in the planning phase and then in an ongoing way. This is the best way to address and mitigate risk and avoid any potential liabilities, compliance violations, and expensive fines.
Written by Pierre Bourgeix
Pierre has over 20 years of solutions selling and consulting experience in the security industry, most recently as the owner of his own consulting company, ESICONVERGENT LLC. Pierre has an MBA in Business Administration from UCLA Anderson School of Management and resides in Cleveland, Ohio.
Company:

Boon Edam Inc.
Of: Pierre Bourgeix
Source: http://blog.boonedam.us/regulatory-compliance-how-the-lack-of-clarity-around-the-entry-leads-to-fines
Tags: Access Control | Doors | Entrances | Safety | Security
---
Organizations around the globe are looking for ways to reduce the risk of unauthorized entry due to tailgating and piggybacking. If not addressed appropriately, that risk can quickly turn into a liability, costing a company added time and expense, a bruised reputation and even the removal of members of the leadership team.
So how do you safeguard your building from the risk of intrusion? Security entrances are designed to provide a range of assurance levels, from guard assistance all the way up to very high security levels that are effective even when unstaffed. We'll be discussing the latter – the unmanned, high security mantrap portal.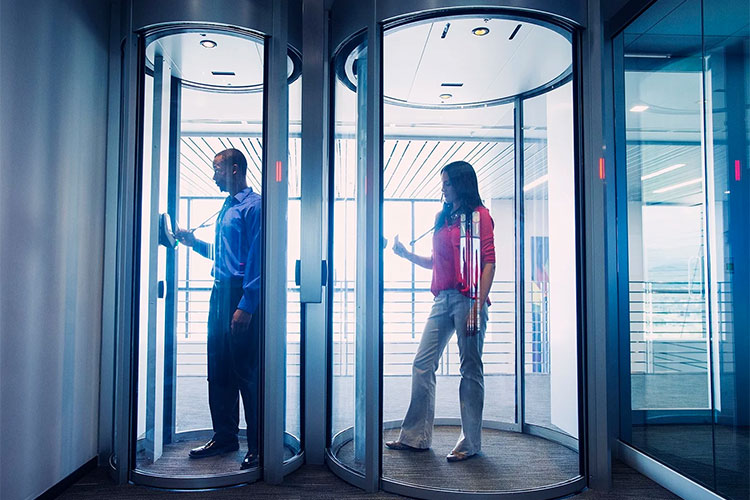 Risk Mitigation by Sheer Design
Offering the highest level of security available in an entrance, the portal was designed to completely prevent the wrong person from gaining access to a building. These doors are so good at what they do, that Fortune 500 technology, financial and insurance companies are using them to secure the confidential information stored at their data centers and corporate headquarters.
Here's how a security mantrap portal works:
Upon presenting a valid credential, the first door opens and the user steps inside.
An overhead system scans the compartment to ensure the user is alone.
Optional secondary verification: a biometric device (such as facial recognition) verifies the user's identity.
The second door opens to allow entry into the secure area.

But, what if someone tries to follow the authorized user into the compartment? What if an angry spouse or irate customer steals a credential and tries to pass through the portal? Let's take a deeper look into the integrated technologies that work alongside the portal to secure the most sensitive of assets.
Only One Person at a Time
It's understood that what makes a swinging door with an access device weak is that an authorized user can hold the door open for a number of others to enter. Security portals take the pressure off employees by completely preventing more than one person from passing through at a time.
Boon Edam mantrap portals enforce single entry using an overhead sensor system called StereoVision 2®. Once a user presents their credentials and the door opens, the StereoVision system begins an initial scan of the compartment, verifying the user is alone. Once the doors close completely behind the user, the system conducts a secondary scan, confirming that someone didn't jump into the portal at the last minute, as the door was closing.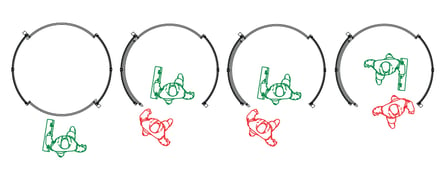 StereoVision during entry (inbound into the secure area) is a standard feature on Boon Edam mantrap portals, but organizations looking to closely monitor who is in the secure area at all times can select StereoVision for both inbound and outbound traffic.
Not Just One Person, But the Right Person
A user has presented a valid credential at the outside of the portal. A sensor system has confirmed they are inside the door alone. The next step involves the installation of an interior biometric device for secondary authentication. Why is this necessary?
Imagine this scenario: An employee's husband decides to drive to your facility. He is determined to confront one of his wife's colleagues. With his wife's access badge in hand, he steps up to the portal, presents her credentials, and enters the door. The portal verifies that he is alone. An interior biometric device is the difference between this unauthorized person getting to his wife's colleague, and not. How does it work?
The biometric device is capable of detecting two things in this scenario: (1) the husband isn't enrolled in the biometric system and (2) even if he was enrolled, his biometrics do not match the on-file biometrics of the badge owner. In short, it is much harder for the husband to steal his wife's eyes, fingerprint, face, etc. to gain access to the building.
To support two-factor authentication, Boon Edam's mantrap security portals can be equipped with a special internal post that can house virtually any biometric device made by any company.
Two-Factor Authentication in Action
A video is worth a thousand words. Watch the clip below to see how a mantrap portal coupled with a biometric device can mitigate security risk at your facility.
Company:

Boon Edam Inc.
Product: Security Doors & Portals
Source: http://blog.boonedam.us/how-are-mantrap-portals-designed-to-mitigate-security-risk
Tags: Access Control | Doors | Entrances | Security
---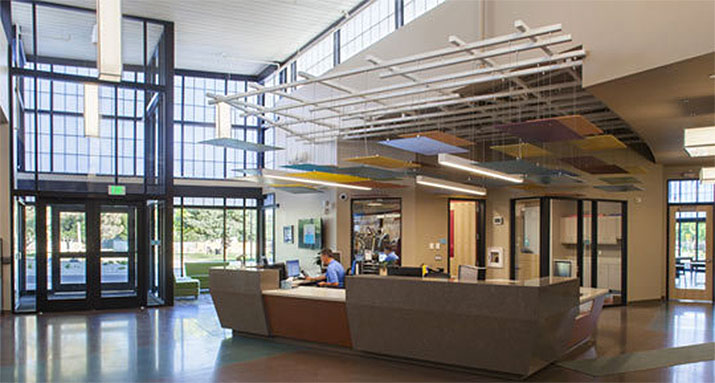 First impressions are important, and the same holds true for building entrances. Whether you're welcoming potential customers, trying to calm worried patients, or hosting teachers and students, their initial interaction with the space can set the overall mood and tenor of their experience.
As numerous studies have shown, natural light can improve moods, increase sales in retail settings, and, more generally, make people feel more relaxed and comfortable. Creating a welcoming entrance by adding side lighting and/or skylights is a great way to establish a positive initial experience. In some situations, however, you run the risk of adding too much uncontrolled light to a space, making it uncomfortable for front desk workers as well as those in waiting room areas located near the entryway. Bright glare from direct sunlight, along with increased solar heat gain, can negate many of the positive effects of daylighting quite quickly.
One way to make the best use of natural light is through the utilization of mixed glazed systems - as seen in the image above. In this example, the translucent panels at the top of the system diffuse the sun's direct rays and help illuminate the space, while the glass glazing below allows for unfettered views. This way, building staff can see guests as they come into the space, and those guests can easily see out to the parking lot as they await pick-up or try to anticipate weather conditions or other potential issues - all while reaping the benefits of soft, diffuse natural light.
No matter what the building's use, daylighting can be a great asset to entrances and entryways. Not sure where to start? We'd love to help you solve your design challenges! Call us at 888-759-2678, email sales@majorskylights.com, or check out our Architectural Consulting page and let us know how we can work with you to add beneficial daylight to your next project.
Company: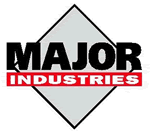 Major Industries Inc.
Source: https://majorskylights.com/architectural-consulting/
Tags: Canopy | Design | Entrances | Glass Walls | Skylights | Wall Panels
---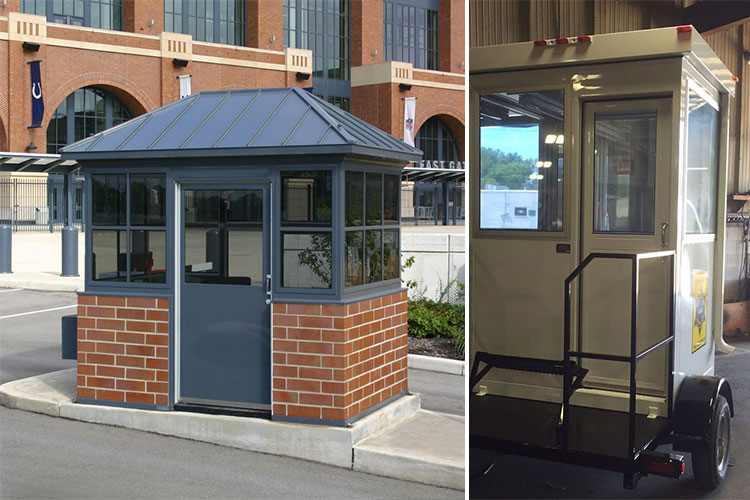 Security booth 0062-PRZ, security booth 15-170
If you need to secure multiple gates or entrances, it is essential to have a security booth, guard house or parking booth you can position and use immediately. Par-Kut portable security booths are perfect for guarding multiple entrances and gates. These security booths are easily moved from one place to another. So you can have these guard booths ready to use as soon as they are deployed or installed.
There are many advantages to having a portable security booth that is easy to transport. Par-Kut portable security booths are easy to order, and do not require assembly, because Par-Kut security booths are all factory-assembled. In addition, since there's no on-site construction, you will save time and money. These security booths can be moved easily with a fork lift or a crane. For even more rapid and frequent relocations, trailer mounted security booths are available. Bullet resistance can also be added.
Par-Kut's climate controlled and well insulated portable security booth can also reduce the officer's stress and fatigue. Further, a Par-Kut portable security booth provides a safe shelter for the security personnel. Moreover, your security booth can be enhanced to reflect architectural elements found on your facility. A variety of paint color schemes, various roof lines and styles, brick or stone wall treatments and even custom building shapes can be incorporated into a unique portable security booth design for your location. Interior options and lighting enhancements contribute to the aesthetics and function of the portable guard booth or guard building.
For more information about Par-Kut portable security booths, one of our skilled sales persons can help. Whatever your requirement for your security booths, contact Par-Kut today to discuss your particular operation.
Company:
Par-Kut International, Inc.
Product: PAR-KUT STANDARD
Source: http://www.parkutblog.com/security-booth/portable-security-booths/
Tags: Entrances | Prefab | Safety | Security
---
Security systems have long been in the business of risk mitigation. In addition to controlling potentially perilous situations as they occur and dealing with them safely and efficiently, a security system and its operators need to be able to identify problem areas and use the systems at their disposal to prevent issues, when possible, before they even occur.
A major source of risk for any facility—large or small, new or established—are the entrances and exits. Every facility has at least one entrance and an access control system alone cannot effectively mitigate the risk of unauthorized entry. Many buildings will have a number of different areas in their floorplan that require varying levels of security at the entrances to that area, even if it's as simple as locking an office before the weekend.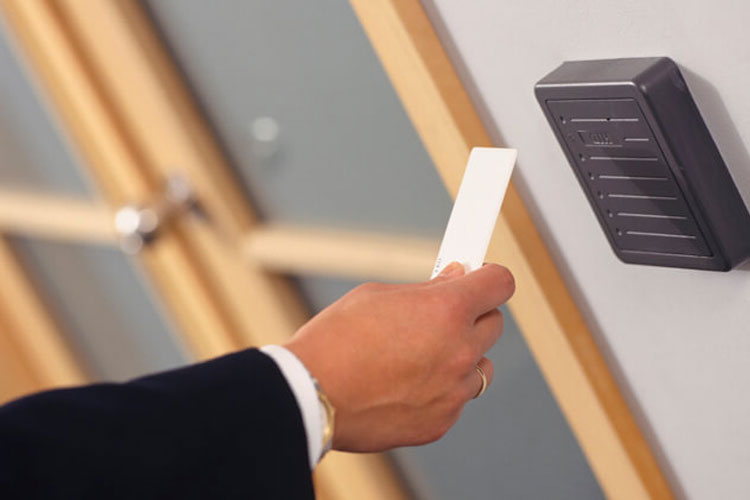 The Risks Present in Today's World
In light of the constant barrage in the news about shootings, data breaches, theft, violence in the workplace, smart mobs, and protests (are we missing anything?), the time of wide open, accessible lobbies and the simple, swinging door paired with an access control reader is coming to an end. The risk of the damage that could occur if the wrong person tailgates (follows an authorized user) into a facility is becoming too great. In fact, a 2014 survey we conducted revealed that 62% of security professionals polled believed one tailgating incident could cost their organization anywhere from $150,000 to "too high to measure." Obvious examples of tailgaters are thieves, shooters, corporate spies, disgruntled former employees, angry domestic partners. However, there's also Joe Q. Public getting into dangerous industrial areas, a journalist into a restricted area (bad PR), a teenager into a local gym or university recreation building (gets hurt and there's liability), a protester into a bank, and the list goes on.
Integrating the right type of security entrance with access control is the best way to prevent tailgating from occurring while reducing the cost of manning entrances. More security managers are realizing that a higher level of access control is a critical need for their security system. While you could deploy a solution using video surveillance integrated with analytics and alarming, without the additional presence of a security guard to respond, this system only can verify that tailgating led to an incident after the fact. It's therefore essential to proactively control who is going in and out of these areas, and ensure that only authorized people can enter.
Security entrances, when paired with access control systems, do exactly that.
Security Entrance Options
There are a number of different types of security entrances available to address differing tailgating mitigation needs. For example, an optical turnstile serves the purpose of verifying credentials while also adding a measure of deterrence against casual attempts to tailgate. However, optical turnstiles don't prevent unauthorized entry; supervision is needed to respond to determined intruders.
For more sensitive areas of a facility, you will want to consider a higher-security solution that actually prevents tailgating. For example, a portal (or mantrap) has two sets of doors; the user's credentials open the first door, but the second door will not open until the first has closed and the system has verified via analytics that only one individual is inside. Security revolving doors also rebuff tailgaters and piggybackers (two people sharing the same compartment) using the same technology, but operate about three times faster.
All security entrances provide a visual deterrent to tailgating and other physical breaches, particularly full height entrances that require significant effort to brute-force entry. The right choice for you depends on the security needs of your organization. Whether you need to deter, detect or prevent tailgating, working with your manufacturer or integrator is the best way to determine which security entrances are the best fit to optimize system costs and effectiveness.
Metrics and an Auditable, Reliable SOP
When integrated with your access control system, security entrances also deliver a variety of business benefits beyond risk mitigation. In addition to preventing tailgating, they can provide a wealth of data, including completed passages, safety rejections, and emergency button usage, to give you more insight into how entrances are being used. They also give your organization an auditable, reliable, and consistent standard operating procedure that can be tailored to support existing or new policies.
Businesses today have more complex facilities, more sensitive and expensive assets, and a greater need to protect themselves from liability. Security entrances that deter access control breaches and prevent tailgating from occurring can help you protect yourself from these threats. Considering security entrances—from turnstiles to biometrically-activated full height revolving doors – as a fundamental part of your security system helps ensure that you not only protect your business today, but mitigate risk in the future.
Company:

Boon Edam Inc.
Of: Greg Schreiber
Source: http://blog.boonedam.us/why-access-control-systems-will-never-be-enough-to-protect-your-premises
---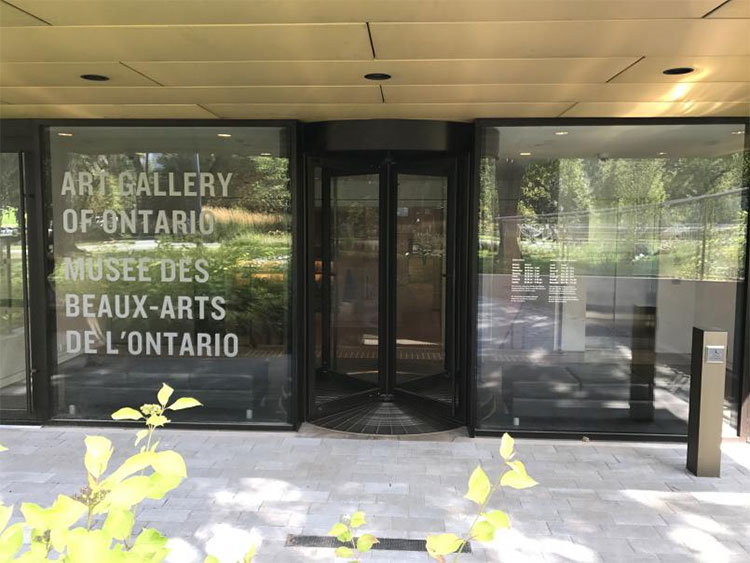 Located in Toronto, Canada's largest city of 6.5 million, the AGO is one of the largest art museums in North America. The AGO's collection of close to 95,000 works ranges from cutting-edge contemporary art to European masterpieces; from the vast collection by the Group of Seven to works by established and emerging Indigenous Canadian artists; with a photography collection that tracks the impact of the medium and with focused collections in Gothic boxwood miniatures and Western and Central African art. A major expansion designed by Frank Gehry in 2008 with lead support from the family of Ken Thomson makes the AGO a highly-photographed architectural landmark.
The AGO has been undergoing improvements and renovations for a number of years and the most recent project was an ambitious one. In a joint effort with the City of Toronto and the local community, the AGO worked to revitalize Grange Park, a 4.5 acre green space located behind the Gallery. Where there was only an emergency exit into the park before, the AGO and its architect, Harari Pontarini, devised a plan to tear out the existing interior stairwell and room and the double doors to create a new space with a 6 ½ foot diameter, 4-wing BoonAssist TQ revolving door that opens the Gallery to the park.
"We definitely had some space constraints in creating this new entrance," explained Warren Wilson, Manager of Facilities Services. "There was no room for a vestibule, so we decided on a revolving door configuration, and the Boon Edam entrance was recommended by our architects."
Boon Edam's BoonAssist TQ is a manual revolving door that has three distinct features: a "push and go" power assist drive that reduces user effort by up to 50%, automatic positioning of the door wings at the end posts upon completion of rotation, and speed control that prevents rotation faster than 12 rpm to help ensure safe operation.
Wilson explained that the park is one of the few green spaces surrounding the AGO and space is at a premium. "We're very conscious of our effect on the neighborhood and the fact that we could locate the entire door inside the building with its opening attached to the exterior wall minimized the impact on the surrounding area. I also really like the 'smart' feature of the door—after use it positions itself to close the opening to the outside automatically."
From Grange Park, one enters the South entrance through the BoonAssist door and travels 11 feet to a downward staircase that connects the entrance directly to the AGO's Weston Family Learning Centre. The space adjacent to the door also features prominently displayed artwork. "The South entrance is now our fourth entrance to the gallery, but it's unique in that it offers an additional art space while opening us to the park, offering our staff and visitors a new way to interact with this beautiful new green space."
Company:

Boon Edam Inc.
Product: Revolving Doors
Source: https://www.boonedam.us/news/art-gallery-ontario-enjoys-more-space-and-comfort-boonassist-tq-revolving-door-entrance
Tags: Architecture | Doors | Entrances
---
FROM BROWNFIELD TO SHINING STAR: "LEED"-ING THE WAY IN LITTLE ROCK
A non-profit organization dedicated to relieving global hunger and poverty, Heifer International provides livestock and plants, as well as education in sustainable agriculture, to financially disadvantaged families around the world. Based in Little Rock, Arkansas, the organization was faced with the need for larger headquarters, but wanted the project to remain true to the earth's resources. Heifer identified a long abandoned railroad yard in the city's old warehouse district, an environmentally dirty site known as a brownfield, and made the decision to transform it – the "green" way. One of the first of its kind in the area, the project was designed with careful consideration for the U.S. Green Building Council's Leadership in Energy and Environmental Design (LEED®*) certification standards.
Polk Stanley Rowland Curzon Porter Architects, Ltd., developed the building's design, capturing every opportunity to achieve LEED points and reflect the overall mission. Glazing contractor ACE Glass Company, Inc. and product manufacturer/design engineering team from Kawneer North America were called in to collaborate on the project. Completed in March 2006, the project is expected to receive its LEED certification in 2007.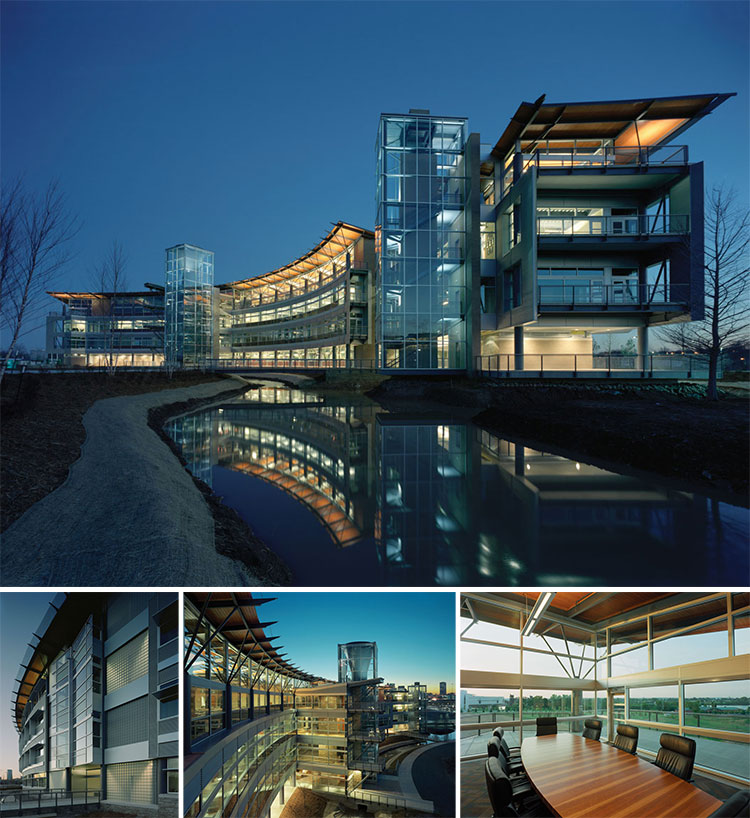 Photography: ©Timothy Hursley
Design Highlights
The curved shape of the building served to take advantage of the solar orientation by stretching in an east/west direction and maximizing sun exposure. To block excessive sunlight, the team integrated sunshades into the exterior, while Kawneer's InLighten™ Light Shelves were installed on the interior of the wall to "bounce" natural light up to the ceiling and reflect it into the building.
Deeper, custom sun shades were created to be hung vertically between the punchouts, a unique design feature that served to be both aesthetically pleasing and functional, as they protect the interior from both east and west sun exposure.
The combination of the building's narrow floor plate and the curtain wall allows natural light to penetrate to the center of every floor, while strategic interior glazing continues the indoor/outdoor aesthetic and keeps individual offices bright and open. Fixed and storefront framing systems, in conjunction with swing and sliding entrances, were used throughout the interior offices and conference rooms. In addition, clean glass, white frost and green glass added a light and modern aesthetic.
Challenges
The complex design required the customization of several existing Kawneer products, and the curved building footprint complicated fabrication.
The increased focus on recycled materials (per the Materials & Resources category under LEED required the coordination of a sizeable order of secondary aluminum billet necessary for the project. In fact, 97 percent of the building materials used for the project contain recycled content.
Featured products
Architect
Polk Stanley Rowland Curzon Porter Architects,
Ltd., Little Rock, Arkansas, USA
Glazing contractor
ACE Glass Co., Inc.
Little Rock, Arkansas, USA
Company:

Kawneer Co., Inc.
Product: Curtain Wall
Source: https://www.kawneer.com/kawneer/north_america/en/products/project_detail.asp?project=heifer_kna&bus=north_america&pc=Commercial_Office_Space
Tags: Doors | Entrances | Glass | LEED Certification | Sustainability | Wall Panels
---
Modern. Clean lines. High Visibility. Upscale. Bulletproof. Which one of these doesn't belong? While there is a strong perception that beauty and security cannot go hand-in-hand, attractive bulletproof barriers are totally possible.
In some situations, a more pronounced bulletproof barrier design is exactly what the space and company requires. If that's what your facility demands, we can achieve it. At Total Security Solutions, however, custom, detail-oriented jobs are where we truly shine.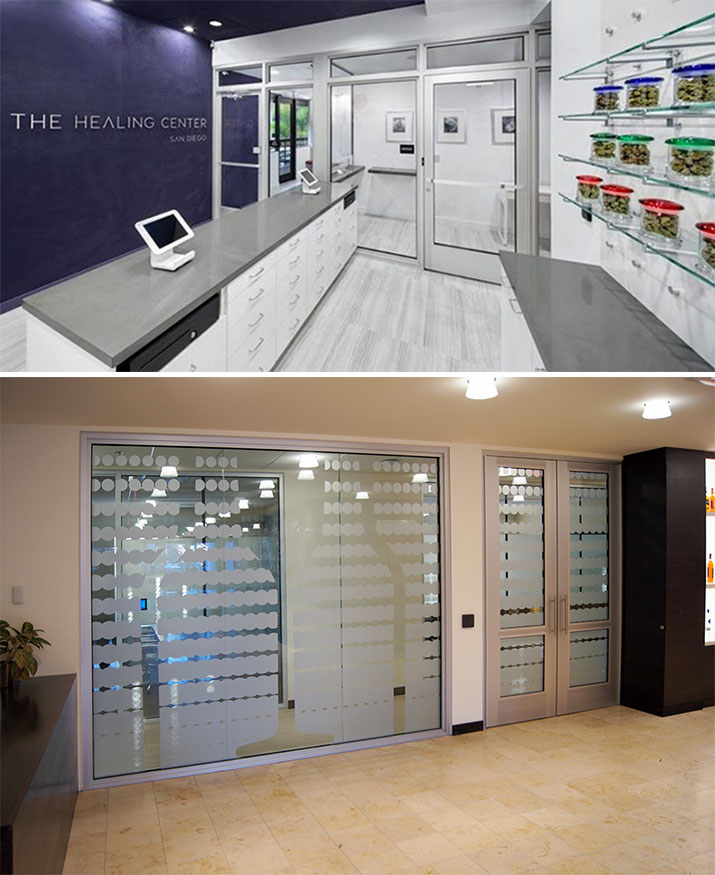 Balancing Design and Bulletproof Security
The Healing Center of San Diego challenged us to maintain a light airy feel in the design while achieving the desired security. A solid partnership with Element Construction ensured no detail was overlooked. The space features multiple access control points linking the showroom, the administrative area, and the lobby. We also supplied ballistic fiberglass for the storefront walls. The final result is a peaceful setting, both in its physical space and the peace-of-mind knowing employees and patients are secure.
The corporate headquarters of Brown-Forman are another shining example of upscale bulletproof barrier design. Oversize bullet-resistant glass panels are butt-glazed, eliminating visual barriers and conveying a more high-end appearance. Applied graphics further elevate the design. Despite the need for a bullet-resistant barrier to secure the lobby area, visitors still feel welcome thanks to the minimalist design.
Visually Enhancing Bulletproof Glass
The small design details on a project can make a major difference in the overall aesthetic. While bulletproof glass has some design limitations, it can be frosted or tinted. By adding a colored polycarbonate cap sheet as the outer layer of the security glass, the color of the glass can be changed. Similarly, a film added in between the layers achieves a frosted appearance. For outdoor use, glass-clad polycarbonate is also available with a mirror finish.
We enjoy working with architects to push the limits of bulletproof glass and achieve their vision. We are experts in bulletproof glass and the details are our specialty. Even if you have worked on a project with a bulletproof barrier before, each project is unique and we recognize that. Let us help you assess, design and install a bulletproof barrier that doesn't just secure a facility, but adds to its beauty.
Learn more about how Total Security Solutions partners with Architects and view our Architect Projects Gallery.
Company:
Total Security Solutions Inc
Product: Ballistic Security Glass
Source: http://www.tssbulletproof.com/attractive-bulletproof-barrier-design/
Tags: Bullet Resistant | Entrances | Glass | Security
---
The challenge: heat, humidity and sea breezes infiltrating the building. The solution: revolving doors.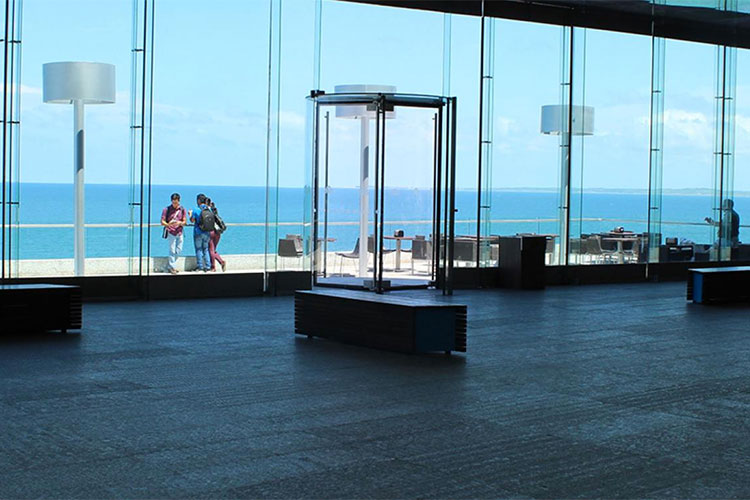 Since opening in October 2014, Andamar Lifestyle Center struggled to contain strong Veracruz winds, which consistently left its swinging doors open and exposed the facility to heat, humidity, and sea breezes. In turn, this allowed the shopping center's air conditioning to escape, resulting in a second challenge: higher electricity expenses.
Andamar Lifestyle Center is home to over 100 different stores spread throughout the nearly 2 million square feet of retail, restaurant, and lesiure space.Taking the mall's estimated 5.3 million annual visitors into account, and the fact that 40% of them are entering through the main entrance, the air infiltration and loss situation became unsustainable. As a result, Rosa María Bueno, director of Andamar, began looking for solutions.
"At first, we tried to find a way to solve the problem without getting rid of the manual doors that were already installed. So, we had about one guard at every door to make sure the doors were closed or to hold them shut against the wind. The reality is that we weren't going to solve the problem that way," Bueno explained.
Two important factors the center needed to consider were the location and use of each door. In addition to its main guest entrances, Andamar has entryways to its terraces and ocean views, which are primarily used by waiters in transit – making easy access a must. "Because we're beside the ocean, many people go outside to enjoy the air, take photos, and eat; as a result, waiters go in and out with their hands full of food, huge trays, etc. We needed to find the right entryway that wouldn't make this process any more difficult," Bueno said.
Andamar also had to consider its original architects' opinions. "The architects who designed the center were very worried that the new doors would change its visual design and obstruct the ocean views, two important points that were taken into account from the beginning. After a detailed search, we found the ideal solution with Boon Edam," the director said.
In total, the shopping center installed eight Boon Edam doors: three Crystal TQ automatic revolving doors, three Crystal TQ manual revolving doors, and two Crystal BoonAssist semi-automatic revolving doors. With the help of AVANCE Inteligente, a local door installation company, each door was installed with the specific entryway's purpose and location in mind.
Bueno affirmed that, in addition to receiving a customized analysis, the shopping center experienced nonstop assistance and dedication from Boon Edam support staff during the project's duration. This led to the right solutions, and gave the client complete confidence in the quality and adaptability of Boon Edam's team.
"We're very happy with the solution from all angles. It meets its functional and aesthetic purposes, it contributes to our positive image, and the doors have allowed for the flow of visitors to achieve a good rhythm," Bueno concluded.
Location:
Veracruz | Mexico
Products:
BoonAssist TQ
Crystal TQ
Segment:
Retail
Download Case Study Flyer:
Company:

Boon Edam Inc.
Product: Revolving Doors
Source: https://www.boonedam.us/andamar-shopping-mall
Tags: Entrances | Interior Design | Security | Sustainability
---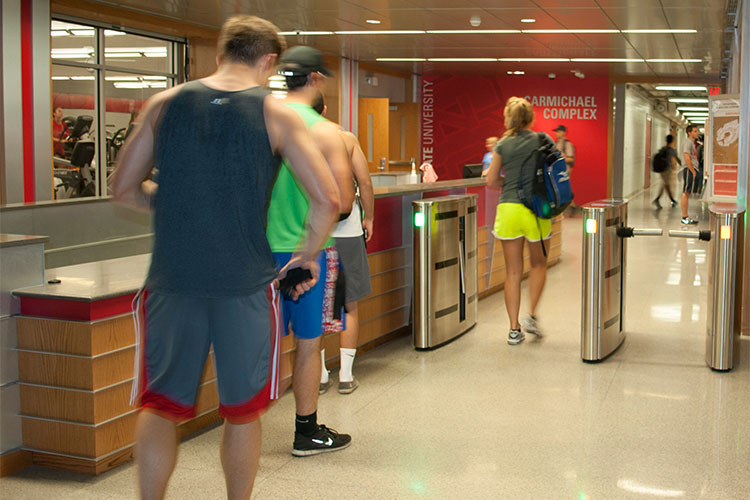 We recently sat down with Boon Edam's CEO, Mark Borto. Mark has more than 30 years in the entrance market, and he spends many weeks during the year on the road, listening to customers and installers, and keeping up to date on trends and where the market is headed. Here are some hot topics we put to Mark for his thoughts.
Safety in places of learning is never far from teachers and administrators' minds given how many incidents we've had to witness. At this time, what are the security challenges for schools and colleges?
There is a growing need for all manner of security at our schools and universities, especially those located in urban settings. These large campuses are open to hundreds, even thousands, of members of the public on a daily basis, and they want to increase security while still maintaining an atmosphere of openness. Often, students are employed to police fellow students in entering dorms and other facilities, so having a layer of technology between one student and another is quite effective in enhancing overall security. Increasingly, universities need to be able to prove to students' parents that they are committed to providing a safe environment, but they need to do so strategically, affordably.
In our business, we supply a lot of security entrances to higher education for dorms, recreation centers, cafeterias, and other locations. An interesting aspect to this component of security is that every year there is a 25% turnover on campus. In addition, many universities have large groups of new visitors, tour groups, groups that use facilities during the summers months, etc. So, the intuitive nature of security entrances like manual and optical turnstiles is crucial - there is a premium on effective technologies that are also easy to use. Another key consideration is thousands of 19 and 20-somethings and their backpacks smashing into entrances thousands of times a day or more. Easy to use, yes, but robust construction is also essential.
Security personnel are always a key component to any security strategy. Have recent developments in security systems made manpower more, or less, important to the equation?
In the security entrance industry segment, manpower is becoming more important when it is paired with the right technology because of increased efficiency and the potential to gain more value from your manpower. Our security entrances are used in a wide variety of settings - corporate and government facilities, industrial, universities - all so that management can do more with less. Security entrances put appropriate technology between security personnel and those seeking to gain entry - they can take the place of direct human intervention as people enter a facility, freeing manpower for other tasks such as analyzing the new data that is available today for potential risks or threats. They can also help people learn and embrace a security culture in a positive way. In general, doing what humans do best.
Without security entrances serving as barriers, manpower must supervise constantly and can easily get overwhelmed during rush periods and lose their effectiveness at preventing a breach. The greater the capability of the security entrance itself in preventing unauthorized entry unattended, the more efficient manpower can be doing other things that provide more value. In some instances, such as with security revolving doors, you don't need any direct supervision - fewer manpower resources are needed, and there is measurable ROI in terms of immediate, perpetual cost savings and/or a more efficient workforce - either way there is a solid return.
Manpower is one variable to overall security program costs. Is it possible to measure return on investment (ROI) in the security market?
In our market segment, it's all about the manpower aspect of the equation. Our ability to reduce or even eliminate manpower needs enables us to show ROI of a year, or an even shorter time frame. Not only do our solutions pay for themselves in this short amount of time, but the end user gets the "force multiplier" effect of not needing personnel at the entrances, so they can deploy them to higher value, higher impact tasks.
ROI brings to mind other metrics that are important to consider. For example, security revolving doors or mantrap portals, equipped with our StereoVision® piggybacking prevention technology, provide new metrics such as the probability of a successful piggybacking breach. This scientifically-derived information enables the end user to calculate quantitative risk assessment. When an entrance is manned, it is difficult to get accurate metrics like these. But knowing how well the entrance is accomplishing the objectives for which it was purchased is crucial information. If a Security Director is having a difficult time justifying a requested investment, ROI and other metrics are critical to making the case.
Company:

Boon Edam Inc.
Product: Optical Turnstiles
Of: Tracie Thomas
Source: http://blog.boonedam.us/security-trends-campus-manpower-roi
Tags: Entrances | Management | Security
---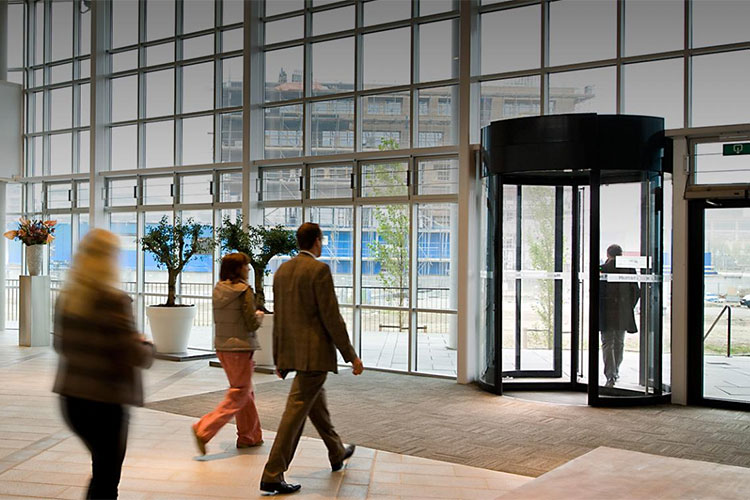 It is no secret that we're living in a time of great unrest. The news is laden with headlines publicizing 'lives matter' and 'occupy Wall Street' movements, political protests, active shooter incidents… the list goes on. As a result, businesses are seeing an urgent need to protect their customers and staff from the impacts of these disruptive, destructive, and even deadly acts.
You may have seen it on the news, a Fortune 500 financial firm fell victim to a smart mob after the firm provided funding to an unpopular project, bringing into question their stance on environmental sustainability, among other topics. Angry protestors walked right through the front door of one of the firm's offices and, with signs in tow, hooked arms in front of an elevator bank to prevent employees from getting to work. It wasn't until 4 hours later that the protestors finally vacated the lobby.
Tangible and Intangible Impacts of Unauthorized Entry
What could be the impacts of such an incident? The tangible, bottom line impacts include bad press, a loss of productivity, and potential property damage if things turn sour. There can also be some intangibles, like physical pain and suffering, and a feeling of anxiety, stress, and insecurity among employees as they wonder what could happen tomorrow. According to a study conducted by SHRM in 2016, over 88% of those surveyed stated that "feeling safe in the work environment" was either important or very important to their overall job satisfaction.
An Unlikely Solution to a Likely Problem
While these types of incidents are happening regularly across the nation, it shouldn't take the prospect of hundreds of picketing protestors outside your door, or looting and fire wielding on your street after sunset, to get you to start thinking about increased building protection. And, that protection starts right at the front doors. Could a plain old, manual revolving door provide that first layer of protection against unwanted building infiltration? The answer is "yes!"
While revolving doors are typically known for providing energy and space efficiency, certain manual revolving doors can be equipped with security features. These doors are being deployed in urban locations to safeguard residents in high-rise apartment buildings located near neighborhoods with more incidents of crime. They are popping up in both urban and rural areas where management wants to keep outside altercations from coming inside. Revolving doors are providing comfort to staff members entering office buildings or public spaces such as museums, afterhours, often alone and at night.
Four Security Features of Manual Revolving Doors
Take a look at what's new for manual revolving doors in these distressing times. These features are more applicable today than ever and some require electrical power to operate:
Exterior night locking doors. Perfect when you want to convey "this establishment is closed!" A set of bi-parting doors slide over the revolving door opening, closing off its compartments. The exterior doors act as a visual deterrent against infiltration afterhours.
Security lockdown. During normal business hours, in the event of an immediate security threat, facility or reception staff can electrically lock the door wings immediately, in any position, at the push of a remotely located button.
Remote locking. Door wings can be locked manually at the push of a remotely located button, or locked automatically at say, 5:00pm by an access control system. This method is different from the security lockdown feature, though. Overhead anti-entrapment sensors scan the compartments for user presence. If someone is inside the door while the lock is engaged, the door will continue to rotate until the compartments are clear rather than stopping on a dime. The door will stop in the "x" position, with its wings pointed at the end posts and then lock in place until unlocked.
Access control integration. Secure afterhours access is possible via an access control device mounted on the outside of the door. Upon valid authorization, usually by means of an access card reader, the door wings will unlock and the user can push to enter the facility. Once the user is clear, the door positions itself and locks.
It's a crazy world out there, but there is something that you can do today to safeguard your business, and it can begin right at the front door. Ask your revolving door provider which models are equipped with these security features (ours is called BoonAssist TQ).
Company:

Boon Edam Inc.
Product: Revolving Doors
Of: Amy Coulter
Source: http://blog.boonedam.us/mitigating-protests-smart-mobs-and-crime-with-manual-revolving-doors
Tags: Design | Doors | Entrances | Security | Sustainability
---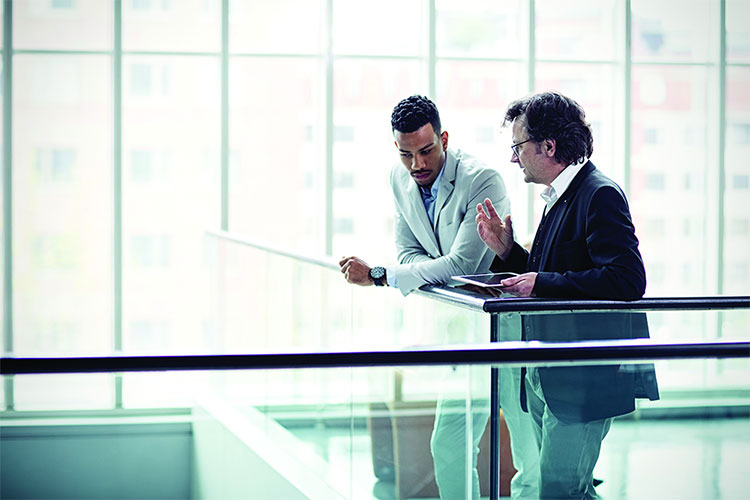 Today's security entrances can last 10 years or more, so your organization can go years without installing a single new entrance. This fact alone intensifies your need for a great experience during the buying process and beyond, so that you are assured the right entrance to meet your needs for years to come. How do you better your chances for such a great experience? Here are 10 factors a manufacturer should offer to create a stellar 360-degree customer experience.
Going global
Can the manufacturer deliver a premium service experience and quality entrance solutions on a global scale? Such a company will have manufacturing facilities around the world in strategic locations as well as subsidiaries and partners. Is there only one factory in China? How long does product delivery take compared to a regional/local manufacturing plant and how much of a premium is there on shipping everything from overseas?
Who you gonna call?
Most manufacturers have regional sales managers and that person is your initial main point of contact. Look for a manufacturer that has a large number of direct employees (not manufacturer's reps) in this role that have small territories so you get the attention you deserve. They can help you determine the right entrance for your specific security needs and even conduct a site walk in person.
Working like machines behind the scenes
The best firms have an inside sales/customer service team to manage your entire order from PO to shipment directly within the manufacturing facility. Ask if you will be assigned a dedicated representative that will communicate with you proactively, check your order for accuracy, liaise on your behalf internally about customizations, and keep you updated on production lead times and shipping timelines.
It's all about location, location, location
A manufacturer with a factory that shares the same continent with you has several advantages. They employ highly trained assembly technicians and source materials locally (lower costs than importing and lower carbon footprint). They also can conduct quality assurance in-house and will have better control over the finished product. Finally, you get faster lead times and lower freight costs.
Expect no surprises
Is there an in-house installation management team that works to ensure no surprises come up during the product installation? The best such teams will walk you through the scope of work so you are aware of exactly what the installation process entails. They also prepare the onsite contractors and installers to receive and properly install the entrance solution.
A second pair of eyes
The best companies will have a team of field service technicians around the country who are available, upon request, to check each entrance after installation for proper operation. The technician can also verify the entrance integrates properly with other components of the building, e.g., fire alarms and access control systems.
Back up and running in no time
How quickly can you get your issue resolved while potentially hundreds of people are being diverted to another entrance? Ask for an organizational chart for the Technical Support department: it should be robust, indicating investment in expertise and customer satisfaction. Ask if they measure their same-day call resolution percentage and parts fulfillment percentage.
Technical training for tuned-in teammates
The last thing you want is the repair call where, upon arrival you hear, "I've never seen this type of turnstile/door before." Where is the nearest service partner located? What kind of technical training resources does the manufacturer provide to educate and certify its service partners? Is there a dedicated full-time role or staff that educates and certifies the installer on the solution you've selected? The goal of the best training programs must be to prepare local partners for flawless installation.
Regular assessment of your investment
Look for some kind of preventive maintenance plan (PPM's). It's an optional service that brings in-house factory expertise to your site to perform annual and bi-annual maintenance checks on your entrance. PPM's ensure the longevity of your asset for maximum ROI.
Same experience, every time
With top, global manufacturers, you can save money, decrease time spent on training, and improve efficiency by planning and executing the same, high quality product line to all your building locations around the world. Being able to standardize on one manufacturer across your entire organization is a huge advantage in cost and time savings.
Company:

Boon Edam Inc.
Product: Security Doors & Portals
Source: http://blog.boonedam.us/you-deserve-to-be-delighted-10-essential-elements-to-look-for-in-a-security-entrance-manufacturer
Tags: Entrances | Exterior Design | Interior Design | Security
---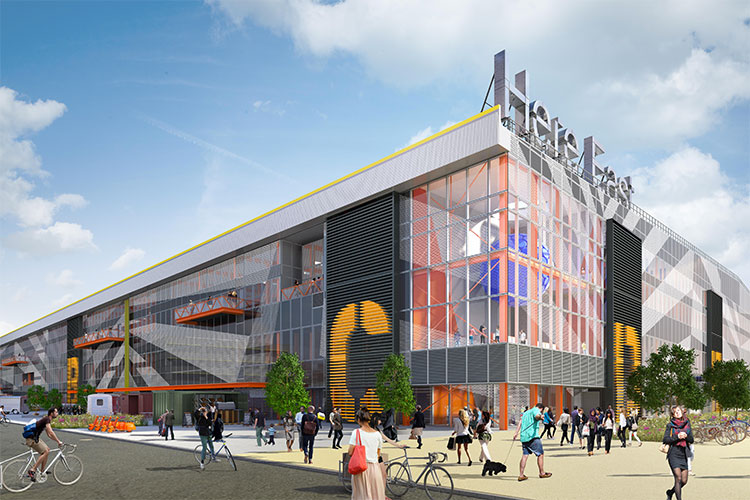 During the 2012 London Olympics and Paralympic Games the International Press and Broadcast Centre played host to the world's media. 20,000 journalists were at the heart of the action, reporting the latest triumphs and Olympian feats to a global audience estimated to be over 4 billion people.
Fast forward to 2017 and these key buildings continue to form a central element of the Queen Elizabeth Olympic Park. The Centre is undergoing a commercial redevelopment to become Here East – the exciting digital quarter for East London.
The transformation of the International Press and Broadcast Centre has created 1.2 million square feet for business, media, tech, education and data and over 7500 jobs on the site and in the local area. Dozens of businesses have already taken up residence in this digital heartland, including BT Sport, Infinity, Loughborough University and UCL.
Howe Green floor access covers were specified by architect Hawkins\Brown for one of the office spaces within BT Sport. Howe Green supplied twelve Medium Duty 7500 Series Stainless Steel Access Covers for the project.
The 7500 Series is Howe Green's flagship access cover and has evolved from the original 750 Series supplied to supermarkets when the company first started trading in 1983.
The covers specified for Here East were to be installed into a raised floor system. They were ordered with stainless steel Z profiles to provide support to the access cover within the raised floor.
The covers were installed in corridors throughout the building to provide safe and easy access to access junctions in the drainage systems. The 7500 Series was specified to match the existing raised floor system appearance. The access covers were initially covered with plywood and were then infilled with a vinyl flooring finish.
Whilst fitting access covers into a raised floor may at first appear counter intuitive it is no longer an unusual scenario. Historically a raised floor system provided access to a wide variety of mechanical and electrical services, data and connectivity cabling and underfloor air distribution concealed within the void created between the raised floor and the floor slab. Making it ideal for use in renovating existing buildings or retrofitting spaces for different uses.
In a traditional raised floor environment, such as a data centre, where functionality featured ahead of aesthetics, heavy duty removable floor panels could be removed with a tile lifter to allow access to underfloor services.
Over the years the use of raised floor systems has extended to commercial offices, educational institutions and hospitals. Aesthetics, security and flexibility are more important in these environments. The demand for different floor finishes, improved security and the ability to easily reconfigure space has led to an increase in demand for Howe Green access covers installed in raised flooring.
The 7500 Medium Duty Stainless Steel Access Covers provide safe and easy access to the drainage services located below the flooring. Supplied with a double seal they address the need for a secure solution in an office setting with relatively high pedestrian footfall. The vinyl infill offers a seamless floor finish which will reduce the slip or trip hazard.
The 7500 Series can be supplied as a single cover, a configuration of duct covers or multipart covers in standard sizes and loadings from stock, or can be precision made to order.
If you are looking to "raise the bar" with your raised flooring system installation, get in touch to see how Howe Green can help.
Find out more: 7500 Series Medium Duty Floor Access covers >
Company:

Howe Green US
Product: Medium Duty Floor Access Covers
Source: https://www.howegreen.com/access-covers/projects/international-press-broadcast-centre-london.php
Tags: Access Covers | Entrances | Floor
---
According to a study completed by the FBI, in 2014 and 2015 alone, there were 231 casualties as a result of mass shootings. Let's examine 4 enhancements you can make to security revolving doors or mantrap portals to thwart an active shooter's attempt at gaining access to your building, or worse, doing physical harm to people.
1) Anti-Piggybacking Technology
An active shooter with an agenda will be determined to infiltrate your building. He sees an innocent employee approaching the security revolving door or portal. His first thought? Hold them at gunpoint and force them, and himself, through the entrance.
This scenario describes a "piggybacking" event. When it comes to security revolving doors, the term "piggybacking" refers to an attempt to gain access to a secured area by jumping into the same compartment as an authorized user. For portals, piggybacking involves two users attempting to enter the door at the same time.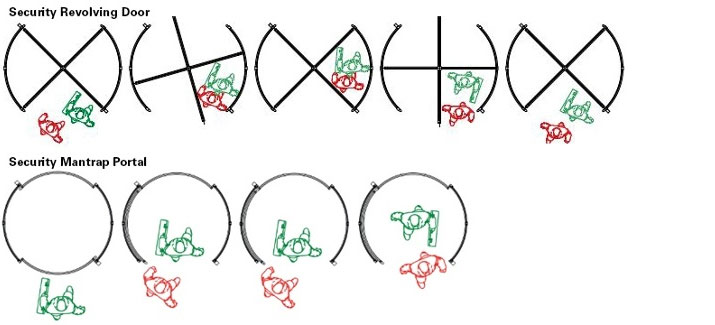 StereoVision 2 is a sophisticated technology from Boon Edam that puts a stop to piggybacking attempts. Using a combination of an optical camera and active, near-infrared sensors, StereoVision 2 technology can recognize shapes, sizes and volume in three dimensions. Simply put, the system is looking into the door's compartment and searching for a set of head and shoulders, as well as body shape. Based on a sampling algorithm, unusual shapes are rejected and the culprit(s) are required to exit the door.
2) Biometric Devices
But what if the active shooter doesn't stop there? If the shooter were to steal an employee's access card and attempt to proceed through the door - alone - he could gain access UNLESS you utilize one or more biometric devices.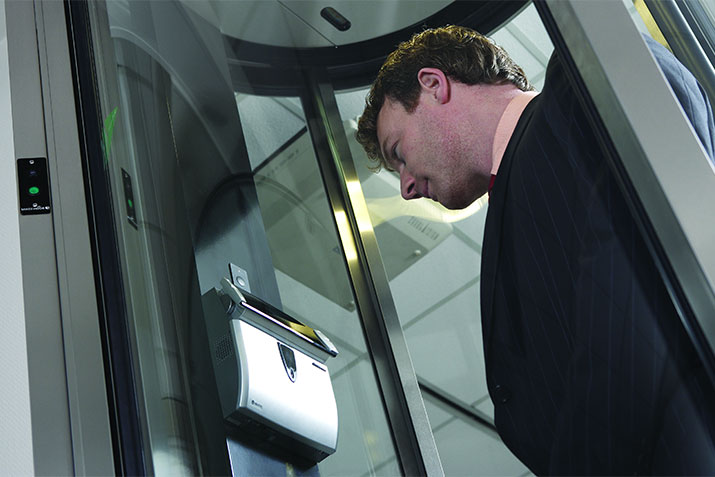 Biometric devices identify unique physiological characteristics, such as fingerprints, hand geometry, facial features, and iris patterns. They also comply with two-factor authentication (2FA) regulations. These devices alone will not stop an active shooter from gaining access to a building, though (think about a swinging door opened by a registered user, and then held open for numerous people to pass through). But, when coupled with an anti-piggybacking technology, biometric devices provide a solid defense against unauthorized entry.
Security revolving doors can be equipped with an external biometric post placed immediately outside of the door, or as one of many leading up to the door. Security mantrap portals are available with an interior post, ideal for mounting the latest biometric technology directly inside the door. Both options provide a layered method of access and meet 2FA compliance. Keep in mind, though, that your throughput will be impacted by the type of biometric device you choose to incorporate.
3) Bullet-Resistant Glass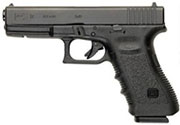 The common denominator between all mass shootings is a weapon. And it comes as no surprise that most active shooters choose the light, inexpensive and easy to conceal 9mm semiautomatic handgun to carry out their schemes, according to data compiled by The Washington Post. Bullet-resistant glass can safeguard the integrity of your door up to a certain point, and possibly save lives.
Bullet-resistant (BR) glass is the layer of armor your security door needs for protection against an active shooter attack. BR glass is made from layers of polycarbonate (tough plastic) sandwiched between pieces of toughened glass. And not all BR glass is created equal; there are different BR-rated protection levels.
Security revolving doors and mantrap portals can be outfitted in BR glass with protection Level 3. As mentioned, the weapon most commonly used by an active shooter is a 9mm handgun. According to Total Security Solutions, BR glass with a Level 3 rating is capable of stopping three .44 magnum bullets, or a bullet that is twice as heavy and moves significantly faster than the bullet of a 9mm handgun.
Level 3 BR glass is 1.04" thick, over 4 times the thickness of standard security door glass. The glass can be used on the outer drum glass and also, the moving door wings or panels. It's important to note that using thicker glass on moving door wings or panels will slow the movement significantly due to the extra weight and impact throughput levels.
4) Bullet-Resistant Curtain Wall or Storefront
Active shooter safety extends beyond your security door to include the adjacent walls or storefront area. To be prepared for a direct attack, and especially if people are constantly present on the inside of the storefront, you should consider replacing your curtain wall or storefront with BR glass.
Because they are flat and stationary, curtain walls and storefronts can accommodate a much higher level of BR glass than a security door (which has curved glass or moving glass in the door wings). BR glass for the curtain wall or storefront is available in up to a Level 8 rating which, according to Total Security Solutions, is capable of stopping 5 shots from a .308 caliber 7.62mm rifle.
Unfortunately, active shooter incidents are occurring at company locations across the nation, and the globe. The impact of such an event can be catastrophic to an organization if lives are lost. If you believe your organization could be at risk, these 4 enhancements for your security revolving door or mantrap portal can thwart an active shooter's attempt at infiltrating your building and wreaking havoc.
Company:

Boon Edam Inc.
Product: Security Doors & Portals
Of: Amy Coulter
Source: http://blog.boonedam.us/active-shooter-safety-4-things-your-high-security-entrances-must-have
---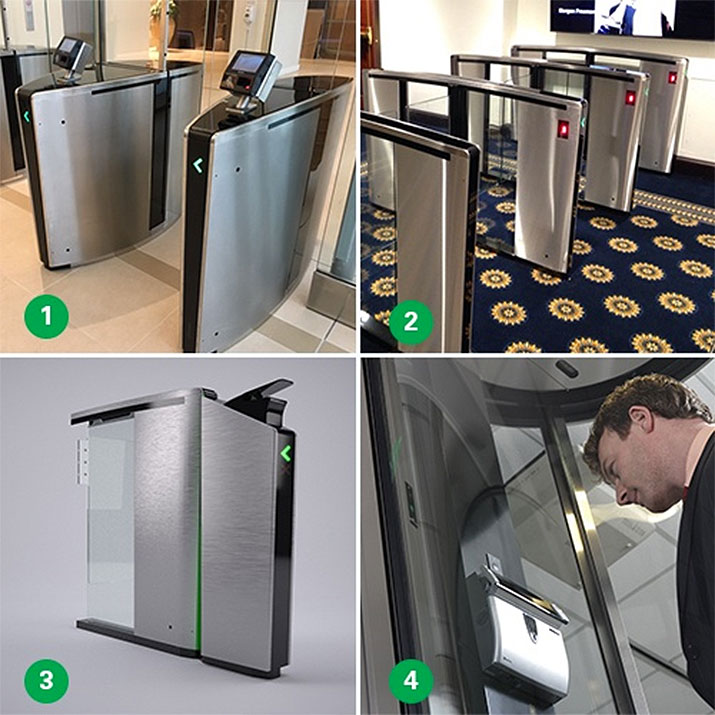 You are likely convinced that a physical security entrance is absolutely necessary in order to get the most out of your access control system and truly keep unwanted people out of your facility. Integration between door access control systems and security entrances can be a fine art; the perfect balance of functionality, space and aesthetics.
There are various types of access control systems available today, everything from bar code and QR code readers, to fingerprint and iris scanners, to traditional card readers and key pads. The size and shape of each individual device varies greatly based on both type and manufacturer. Let's discuss some ways you can integrate your access control system with your security entrances.
Four Integration Techniques
All physical security entrances have a designated place for your access control device – optical turnstiles: under the cabinet top; full height turnstiles, security revolving doors and portals: mounted on the side post. Yet, based primarily on space and what you are trying to achieve, these designated mounting places may not fit your needs. Here are some alternative options:
Top-mounted: For optical turnstiles, mounting an access control device on top of the cabinet is an integration method that is most intuitive for the user because the reader is visible when approaching the lane. Organizations that utilize lift or elevator notification devices (destination dispatch) have also found that top mounting is a viable option. They tend to place the access control device in the designated area (under the top), and the elevator notification device either on the turnstile top, or on a custom pedestal (read on to learn more about this option).

Panel Cut-outs: Another option for optical turnstiles, panel cut-outs are typically used due to space limitations on or under the top. This type of mounting can be used as the sole means of accessing the secure area, or in addition to the traditional, under-the-top mounting option (two-factor authentication). Some companies have even used the panel cut-out to mount a device that is used solely for visitor entry. While this option of mounting is aesthetically pleasing, (no big device on top of your turnstile), it does require user training because the reader is not always easily visible.

Custom Pedestal: For entrances of all types, pedestals are a common way to mount an access control device. We've seen some basic, standard pedestal designs, but some manufacturers are working with the end user to develop a sleek pedestal that imitates the curves and design of the entrance itself – true integration at its finest.

Interior-mounted: Security mantrap portals are a unique, high security entrance designed to protect the most sensitive of areas. This sophisticated portal can be equipped with a biometric post for an interior-mounted access control device. Often used in conjunction with an external, side post-mounted device, the interior biometric device allows organizations to achieve two-factor authentication.
Two-Factor and Multifactor Authentication
Large companies are implementing two-factor and multifactor authentication techniques at their facilities to decrease the possibility of an intruder infiltrating the building. According to LoginTC, two-factor authentication means, "an attacker needs to solve two fundamentally different problems, each in different dimensions, in order to compromise your identity."
Utilization of two-factor or multifactor authentication typically involves the integration of two different access control devices for access through a single security entrance. This level of integration requires proper preparation and planning. There are, however, some all-in-one devices that can accept two or three authentications, e.g., a single Morpho Sigma device can accept any combination of a card reader, unique pin and/or fingerprint.
The fusion of your access control device and your security entrances shouldn't be an afterthought, but an integral part of your building design from the very beginning. Speak to your security entrance manufacturer about the solution that will work the best for your organization.
Company:

Boon Edam Inc.
Of: Amy Coulter
Source: http://blog.boonedam.us/door-access-control-security-entrance-integration-techniques
Tags: Design | Entrances | Security
---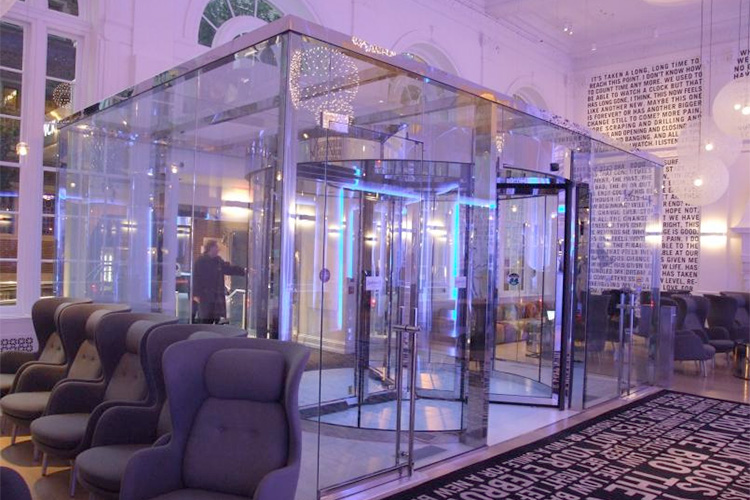 Boon Edam Inc., a global leader in security entrances and architectural revolving doors, today announced that the Warwick Hotel Rittenhouse Square in Philadelphia, PA, is quite satisfied with the functioning and cost savings of their Boon Edam Tournex revolving door. The Tournex is an example of a classic automatic revolving door and is designed to handle high capacity applications.
The historic building housing the Warwick Hotel Rittenhouse Square originally had a manual revolving door flush with the building's facade. Somewhere along the way, it was decided to remove the relatively smaller gauge revolving door and replace the entrance with a double set of sliding doors.
New Entrance Solution to Address Negative Pressure in Lobby
"Our HVAC system was designed for a revolving door entrance," said Ray Hewitt, the hotel's Director of Engineering, "we wanted to put a revolving door back in to address the negative pressure we were experiencing in the lobby." That negative pressure was pulling in cold air during the winter months, and cooled, conditioned air was escaping out the double doors in the summer.
During a complete lobby renovation project a few years back, designers worked to return to a revolving door lobby entrance. Because the Warwick is in a historic building, they could not change the facade of the building, so they pushed the entire entrance into the lobby itself. The architects and the designer chose a 12' diameter Boon Edam Tournex automatic revolving door, with three door wings and a highly polished (mirror) stainless steel finish. The Boon Edam door is enclosed in a stylish glass cube, accented with purple neon lighting.
Now, those entering the hotel first pass through a double set of sliding doors at the building envelope, leading to the revolving door. Swing doors are also available on either side of the revolving door to enter the lobby itself. The effect of the sliding doors and the revolving door in a cube is to virtually eliminate air flow from outside in, and vice versa.
The Warwick has 301 hotel rooms and 106 permanent residents. On any given day, between guests, residents, staff, and visitors, up to 1000 people are passing through the entrance. Since the installation of the new entrance, the effect has been night and day—guest and visitors utilize the lobby space longer and in greater numbers. A big community table is usually filled all day long and the lobby is accented with attractive fireplaces. The hotel lobby also offers two full service food and beverage outlets (Bluestone Lane & Prime Rib Steakhouse), with a third to be announced sometime this year.
Energy Savings Pays Off
In addition to a now grand sense of arrival and more useable, comfortable space, the new entrance is also paying dividends on energy savings. "With the old entrance, our HVAC was running constantly, it could not keep up. Now, the unit can shut down periodically; that's good for the health of the system, and we're seeing substantial savings on energy bills," said Hewitt.
The Boon Edam revolving door has an important feature for installations like a hotel or large office building—in the event of an emergency, the doors stop and the wings can be "book folded" to create wide open ingress and egress. The hotel has a maintenance contract with Advanced Door, but since installation the Boon Edam revolving door has been virtually trouble free.
Company:

Boon Edam Inc.
Product: Revolving Doors
Source: http://www.boonedam.us/news/warwick-hotel-rittenhouse-square-boasts-unique-stylish-lobby-entrance-revolving-door
Tags: Design | Entrances | HVAC
---
Architects turn to Total Security Solutions for project support
Even if you've worked with bullet-resistant components before, it can be difficult to know how to manage that part of your project. Our bullet resistant experts can help with assessment, design and installation of a complete bulletproof barrier system, or individual bullet-resistant features and accessories. We've done thousands of projects across dozens of industries throughout the country, and our turnaround time is the fastest in the industry. Our work will fit in seamlessly with your design because we do our own field measurements and hand-craft our materials at our in-house manufacturing facility.
See our architect projects gallery

Strict proven process
Our bulletproof experts follow a strict proven process so that no detail is overlooked. We'll help you select the right glazing, accessories and materials for your project and deliver and install your barrier and components in half the time of our competition.
See How We Develop Custom Barriers
Industry experts add value.
As a trusted leader in the bulletproof industry with 12,000+ installations to date, we bring more to the table than just our bulletproof products. We bring experience that will help you make better decisions, and avoid commonly-made mistakes. If your project includes bulletproof features, you're going to need a partner you can rely on whose work speaks for itself.
Resources just for architects
Our Architect Resource Center has videos, CAD drawings, specs and data sheets for every possible bulletproof item you could need. From frames to counters, doors to windows, fiberglass and beyond — get the details and information necessary to plan a successful project.
Full line of bullet-resistant products
We design and manufacture every single bulletproof product we install. TSS offers a variety of ballistic windows, doors, drawers, trays, and 8 levels of UL-rated bulletproof glass. We have everything you need right here.
Company:
Total Security Solutions Inc
Product: Bullet Resistant Barriers
Source: http://www.tssbulletproof.com/industries/architects/
Tags: Entrances | Interior Design | Safety | Security
---

Par-Kut provides guard houses used to shelter security personnel. Par-Kut guard houses are long-lasting, portable steel buildings.
Par-Kut provides the most rugged and well built guard houses, guard booths, guard shelters, border inspection booths, security access control checkpoints and observation towers. Par-Kut's guard houses are all prefabricated guard houses. Our customers include government, private industry, airports, nuclear power plants and U.S. Military facilities across the country and around the world. Par-Kut's all welded steel construction and use of durable, low maintenance materials ensure the guard booth's greatest longevity. Special security features are offered to customize the security guard booth to your location requirements and to keep your security officers comfortable as well as secure. Go to BULLET RESISTANT to learn more about Par-Kut's enhanced ballistic construction options for hi-risk environments.
In some industries, guard houses or guard booths are known as guard shacks. Whether described as a security guard shack, portable guard house, security guard house, or security guard booth, Par-Kut factory-assembled, portable steel buildings provide a ready-made solution to your security shelter problem.
Par-Kut offers guard house drawings and guard house designs to suit just about every application and if we haven't helped somebody with a similar requirement in the past, we will work with you to provide guard house designs to meet your site specific needs. In fact, the simplest way to start a productive dialogue is to send us a simple thumb nail sketch showing your guard booth drawing or guard house design. Par-Kut stands ready to assist you with your guard house architecture and guard shack floor plans.
For a guard house best for your location, and best for your guard house budget over the long run, call one of our sales professionals here at Par-Kut. Investing only a few minutes of time for discussion will enable you to receive a quotation for a guard booth or guard shack that is catered to your specific situation. Whether you need a standard, a bullet resistant or an elevated or highly portable trailer mounted guard house or security booth; a durable steel PAR-KUT guardhouse will meet your needs and provide you a service life unsurpassed by any competitor.
When you are speaking with a Par-Kut sales professional about your guard house, especially, a prefab guard house, it is important to identify the city and state where your guard booths are going to be installed. Codes regulating all types of factory assembled structures, including prefab guard houses, vary from state to state. Please have this information ready when you contact Par-Kut for a quote on your guard house. Prefabricated guard houses are lumped together with other pre manufactured structures for code purposes, although this practice does not take into consideration the vast differences in typical applications. However, a guard house from Par-Kut will meet or exceed most model building codes. Prefabricated guard booths can be amortized for tax purposes if recordable as the proper type of equipment. Check with your accounting dept, or financial advisor to see what steps should be taken for proper recording of your prefabricated guard booth. Prefab guard shacks and modular guard houses, when specified and purchased properly, will serve for decades. Par-Kut will work with you to outline your needs and a budget price for the guard shack or guard house that you need for a guard shelter.
Go to GALLERIES to view additional guard houses.
Company:
Par-Kut International, Inc.
Product: PRESIDENTIAL
Source: http://www.parkut.com/booths/applications/guard-houses/
Tags: Design | Entrances | Safety | Security
---
Executives must handle large security decisions that affect the entire organization – and these choices are rarely easy.
One reason is that there are often competing goals – balancing security vs. convenience, or allocating budget to one priority area vs. another. To make it worse, these decisions – for example, on how to deal with potential security risks – can rely on data that the organization is not tracking.
That may sound hard to believe, but it's the exact problem Boon Edam found when we conducted a survey on tailgating, drawing responses from hundreds of end users, security integrators and consultants. Most respondents stated that the cost of a physical breach caused by tailgating could range from $150,000 to millions of dollars – even though the overwhelming majority (84%) of respondents weren't tracking tailgating or didn't know if they were.
While most businesses know the basic purpose of entrance solutions, many don't realize the huge number of benefits they can provide – from business analytics to the bottom line.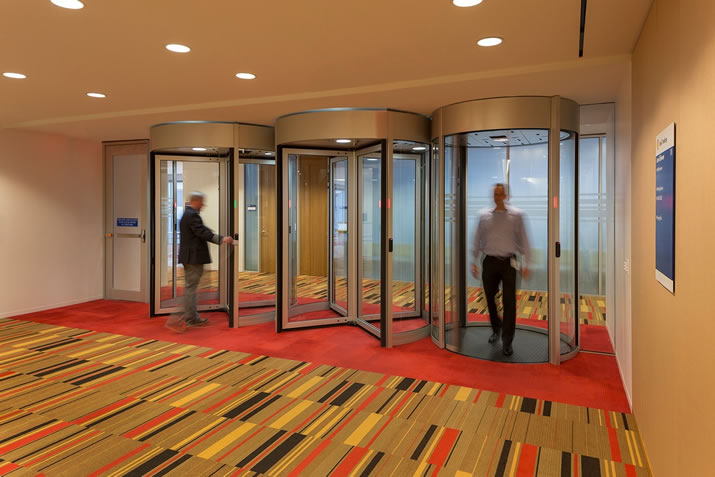 Cost-Effective Security and Efficient Access
Security entrances can range in purpose from simple crowd control all the way up to comprehensive detection/prevention. With regard to selection, many companies find simpler turnstiles attractive due to the relatively lower capital expenditures and reduced need for user training. While such systems can be an effective deterrent to threats, organizations should consider other costs the system may necessitate, such as those from guard staff or supplemental security systems. For this reason, often companies can achieve greater savings by opting for a security revolving door system: while the initial capital expenditure may be higher than a simpler turnstile system, the business can end up saving a great deal in annual operations costs by reducing the need for supplemental security staff.
In terms of access efficiency, organizations have multiple options as well. For example, a mantrap system may be ideal for a business that requires high security but generally has only a few people going through an entrance at a time. Meanwhile, if the business requires high security but must also accommodate a higher throughput at times (such as during lunch hours), a security revolving door system may end up being the better choice.
Impressive Business Intelligence
To maximize the effectiveness of your security program, it is helpful to remember the old adage: what can be measured can be managed. To that end, security entrances can help
achieve specific security objectives through relevant KPIs. Generally speaking, the level of intelligence received depends on how sophisticated the entrance system is. Simpler waist high turnstiles are useful for basic tracking, such as the number of people entering the facility, though the system may still be vulnerable to turnstile-hoppers. While guard staff can provide supplemental information (visitor data, infraction reports, etc.), data gathered through this approach may be affected by social engineering, including distractions or favoritism on the part of security staff. Ultimately this type of security entrance is best suited to lower-security areas of a facility.
On the opposite end of the spectrum, the sophisticated tailgating and piggybacking detection systems in security revolving doors and mantrap portal solutions provide a wealth of valuable data. These include a great deal of granular information that replaces what a guard could be asked to provide manually – e.g., number of passages, inbound/outbound tailgating and piggybacking rejections, biometric access control rejections, emergency button rejections and so on. Such information is very useful in providing very accurate intelligence on throughput, user education needs, etc.
The most provocative data is predictive data that can tell you your chances of being infiltrated. Security revolving doors and mantrap portals include anti-piggybacking detection technology sophisticated enough to provide a probability, expressed as a small percentage, that two people could piggyback through the door successfully. This capability is new territory for the security industry and allows executives a high degree of confidence that the places these doors protect are secure from infiltration.
Strengthening Corporate Image: Inside and Outside
Let's face it: perceptions matter. Organizational leaders are responsible for ensuring that their businesses are perceived as safe. And while actual safety and perceived safety are inter-related, they are not always identical. This is seen in other areas of life as well: for example, one YouGov poll showed that people believed that New York City is the second most dangerous city in the US, even though data shows that NYC is in fact the least dangerous large city in the United States.
While harder to measure, aesthetic perceptions matter for businesses as well. To that end, the perception-building process begins the moment a person walks through the door (and oftentimes before that). With that in mind, security entrances should foster confidence for all parties who rely on them: the system must not only protect employees but also help them feel safe on a day to day basis. Beyond actual safety, security entrances also create a feeling of prestige for the facility that impacts personnel and visitors alike. A new visitor's first interaction with your brand may be with the security system. That first interaction and every one after should foster a feeling of competence, sophistication, efficiency and safety. The more effective companies are at building a positive image in smaller ways, the more effective they'll be when doing so in bigger ways.
Company:

Boon Edam Inc.
Product: Security Doors & Portals
Source: http://blog.boonedam.us/security-entrances-protect-your-bottom-line-and-more
Tags: Doors | Entrances | Security
Active Shooter Safety: 4 Things Your High Security Entrances Must Have (February 20, 2017), Brass clad & bronze clad doors & frames (January 30, 2017), Mantrap Portal Solutions Eliminate Piggybacking (January 23, 2017), StonePly Success Story: Atlantis - The Cove (January 11, 2017), Sun Control Sunshades (January 5, 2017), Parking Booth (December 27, 2016), 4 'Gotchas' that could derail your front entrance security upgrades (December 16, 2016), Solutions for the entire building façade (December 9, 2016), The Dock Gate's custom gas struts make the vertical gate easy to open. Easy as 1, 2, 3! (September 21, 2016), What if Someone is Determined to Get into Your Building? (September 12, 2016), GuardDog Self-Closing Gate uses two stainless steel torsion springs so the gate can open in any direction (September 9, 2016), First Appearances Matter: remove the dirt | absorb the moisture | preserve your floors (August 31, 2016), Mirror polished stainless steel enclosure top and return grilles at New York City Hospital Lobby (August 26, 2016), Peace-of-Mind for Rural Utility Offices - Bulletproof barrier security tips & news (August 8, 2016), 5 Proven Questions to Get the Size of Your Shower Opening Right (July 29, 2016), Evolution Of Revolving Door Security: Teaching Old Doors New Tricks (July 4, 2016), Turnstiles to Appear on Discovery Channel Show (May 6, 2016), The Plan to Turn NYC's Turnstiles Into Musical Instruments (February 29, 2016), Wisconsin Hospitals Use Boon Edam Revolving Doors in Special, Double Entrance Solution (February 15, 2016), The Ins and Outs of Revolving Doors (November 9, 2015), The Industry's 1st Monitored Light Curtain - Now Available (September 25, 2015), A perfect blend between revolving doors and transparent architecture (September 4, 2015), Ruskin Air Doors Protect Indoor Air Quality (August 28, 2015), Sweet Dreams, Courtesy of AMBICO Products (June 30, 2015), Quick Ship Booths (June 29, 2015), Revolving Doors and ROI for Retail (June 10, 2015), Entrance possibilities are endless! See the 7 elements of revolving door design (February 23, 2015)