architecture - engineering - construction

Office
---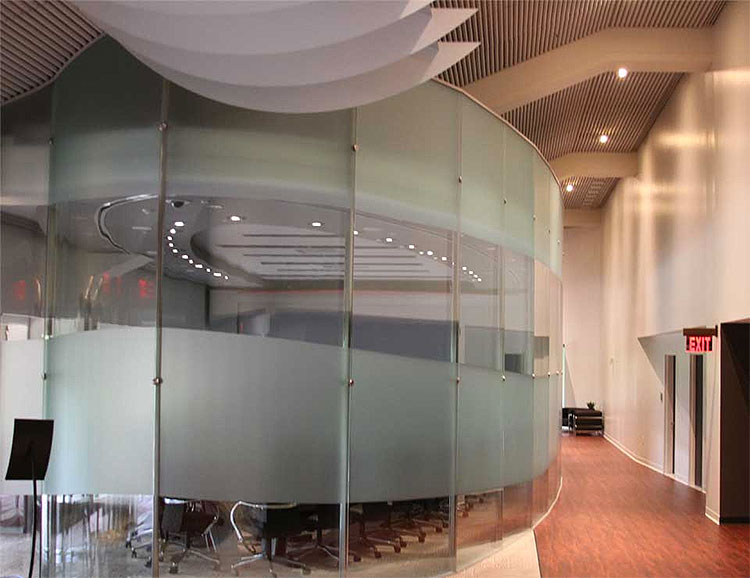 The Elevare™ Mullion High Wall System offers a flexible and modular separation of spaces with a contemporary look. It's design allows for the movement/reconfiguration/relocation the connection elements without making holes in the main support structure.
The Elevare™ Mullion High Wall System is an innovative, contemporary looking, complete supporting interior partition system based on the concept of structural facades with the use of vertical aluminum mullions. The system is a completely versatile and suitable for different needs and environments through the widest spectrum of possible combinations. Glass, poly-carbonate and wood are all compatible with the support components. All perimeters are fastened to solid walls. The Elevare™ Mullion High Wall System is especially suited for offices, retail spaces and trade fairs.
The maximum panel height is 30'-0", maximum panel width is 48" (panels may be larger with engineering). Configurations may be straight, angled or curved. LCD, pivot, sliding and hinged doors may be installed. The standard frame finish is Silver Anodized.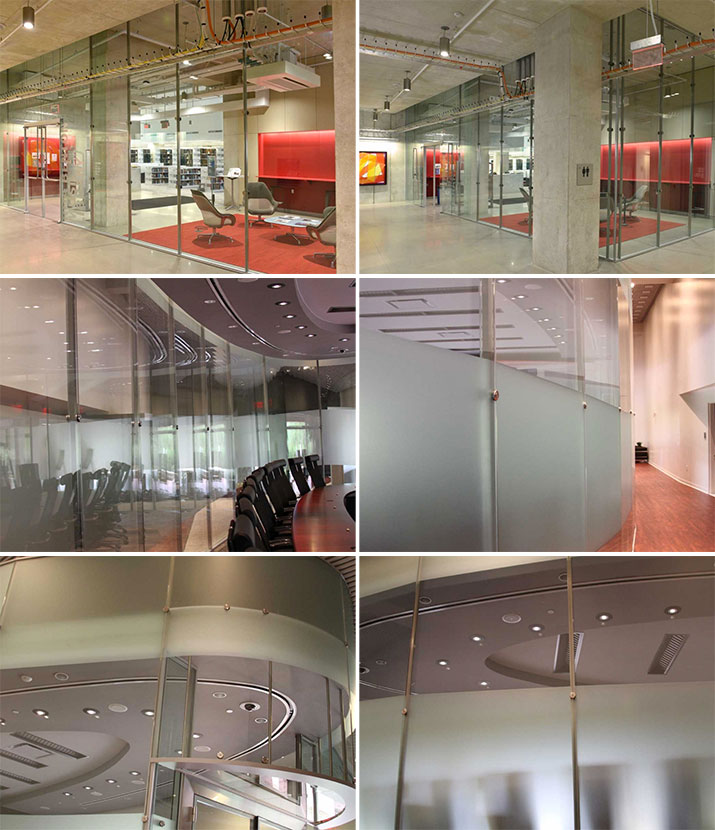 Maximum Glazing Panel Height: 30′-0″
Maximum Glazing Panel Width: 48″
Max Weight Supported per Arm: 110 lbs
Glazing Available: 3/8″, 1/2″, & 9/16″
Available Glazing Types: Clear Tempered, Low Iron, Laminated & LCD Privacy Glass
Standard Frame Finishes Available: Silver Anodized
Company:
Avanti Systems USA
Source: https://www.avantisystemsusa.com/glass-products/partition-systems/high-wall/mullion/
Tags: Glass | Interior Design | Office | Wall Panels
---
Ambient light rejection (ALR) projection screen technology has been around for a while now. Despite this, there is some confusion in the AV marketplace as to how ALR works. Some of this confusion is caused by manufacturers making inaccurate claims or promoting non-ALR surfaces as a solution. To help clear the confusion, here are some things to remember about ambient light rejection: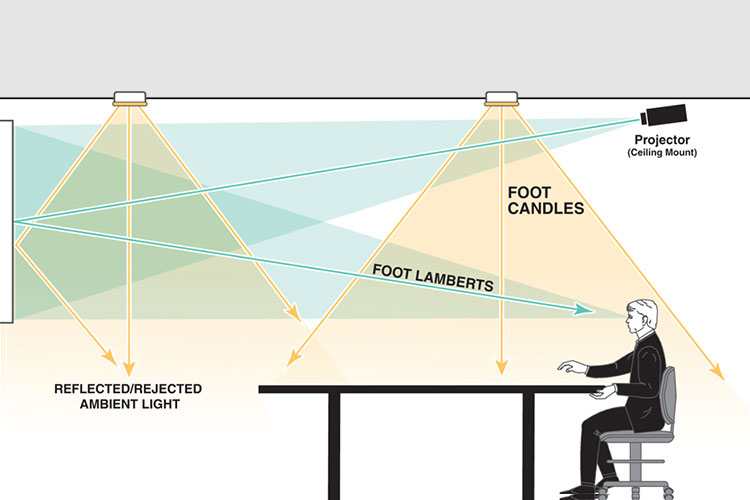 All screens have varying reflective characteristics
Every screen has a certain percentage of diffuse reflection and specular reflection. Diffuse reflection is when light hits a surface and is reflected at all angles. Specular reflection is when light hits a surface and is reflected away at the opposite angle. The amount of specular reflection is the indicator of ALR performance.
For example, Draper's Matt White XT1000E has 80% diffuse reflection and 20% specular reflection characteristics. This is definitely not the solution for ambient light since it is mostly a diffuser. Most ALR screen surfaces have a high percentage of specular reflection and reject 60% or more of ambient light while some—such as TecVision CS1200X ALR—has a high percentage of specular reflection at 82%, and a percentage of diffuse reflection at 18%.
Just because a manufacturer assigns an ALR value to a screen material doesn't mean that solution is right for ambient light. Draper only publishes ALR information for screens designed to be an ALR solution.
A grey tint doesn't make it ALR
Most grey screens have a grey tint, but are still mostly diffuse reflective surfaces. The grey tint only helps to improve contrast in moderate ambient light conditions. But that does not make it an ALR screen surface.
How an ALR screen works
ALR screen surfaces work to keep non-projector light from reflecting back to viewers. Most do this by using specular reflective elements in the screen formulation. These elements reflect off axis light away from viewers. As with everything else, there can be trade-offs. The more specular reflective a surface is, the more ambient light it will reject, but the narrower the optimal viewing cone will typically be.
The real numbers Matter
Draper frequently tests our own projection materials to make sure they are within our reported specifications. We also test those of our competitors, and unfortunately, as noted in a previous post, they often fail to verify the numbers they publicly use. This includes ALR performance. While differences in testing conditions and equipment could have some effect on the numbers, they are usually too far off for that to be the only factor.
There are two ways ambient light rejection is communicated: by reporting how much ambient light gets through or how much is rejected. Draper uses the amount of ambient light being rejected to communicate ALR performance. Whatever number is used, though, one thing you can be certain of: our numbers reflect what we actually make. Or you don't see that product.
For more information on choosing the ambient light-rejecting solution that's right for you, click here.
Company: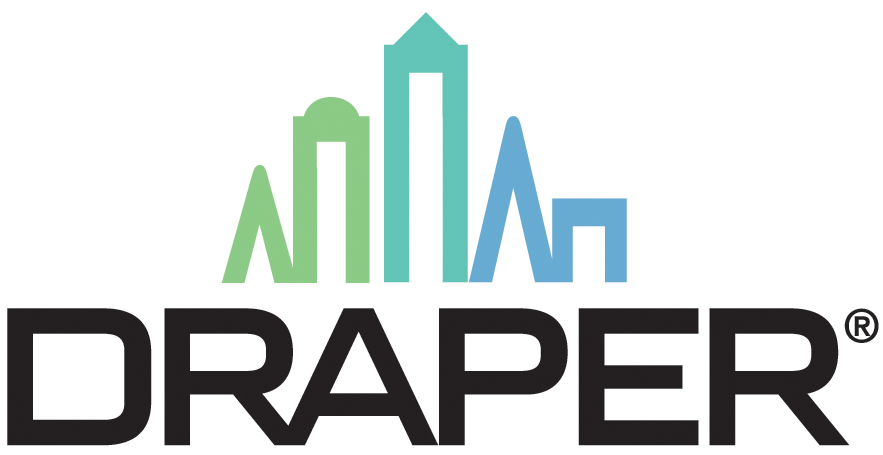 Draper, Inc.
Product: Projection Screens
Of: Terry Coffey
Source: http://blog.draperinc.com/2018/03/alr-clearing-confusion/
Tags: Audio Visual | Lighting | Office
---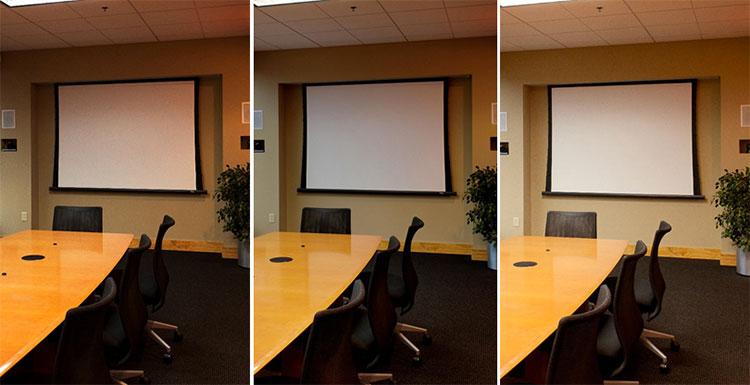 Over the past few years, the science of projection screens has made several major advances. Research and development of new methods and solutions have made the process of choosing a projection screen much different than it was just a few years ago.
To help architects and AV consultants keep up, Draper has released an updated version of our class on projection screen technology. Projection Screens 301: Updated Science of Projection Screens (PS301) contains the latest information on specifying the right screen solution.
The course objective is to provide a clear understanding of the various factors to consider when choosing a projection screen.
Among the factors taken into consideration are:
Content/Use of system
Seating Configuration
Ambient Light Levels
Room Dimensions
One of the biggest updates in screen science has been the ability to deal with ambient light conditions.
In the past, the majority of viewing surfaces had mostly diffuse reflection. These typically matte materials are best for extremely wide off-axis viewing, blending, and short throw projection. They reflect as much projected light as possible out to viewers at all angles. While this is great for spaces with low or no ambient light, if there is ambient light it will also be reflected out to viewers at all angles, "washing out" the image.
For a time, screen companies tackled ambient light with grey screens. While a grey tint can help improve contrast and absorb unwanted stray light scatter, it isn't a true ALR solution. Many grey screens are diffusive, so they are still reflecting ambient light to the viewers.
ALR surfaces are specular reflective. They reflect the projection light back to the viewers, but reflect off-axis ambient light away from the viewers. Most ambient light hits the surface and reflects at an opposite angle of incidence. For example, off-axis light at 65 degrees will mostly bounce 65 degrees in the opposite direction. The amount of light it reflects away from the viewer is dependent on the amount of reflective properties in the surface's formulation. The more specular reflective in performance, the better the ALR properties. However, this typically reduces off axis viewing performance. For instance, Draper offers screen surfaces that reflect 60%, 73%, and 82% of ambient light.
PS301 also covers contrast. Image contrast affects how well you can read, which means it affects detail and resolution. Low contrast reduces image detail and resolution, while high contrast increases detail and resolution. Image contrast is even more critical when the application involves high resolution graphics, medical imaging, control rooms, and CAD applications.
System contrast is an average of measurements of black at different locations on the screen, compared to white at different locations on the screen. This is measured in the existing lighting conditions of the application. Ambient light will affect the measurement of black. When measuring system contrast an ANSI checkerboard pattern is used.
Other subjects covered and updated include gain, hotspotting, throw distance, sizes, formats, and solution design using online calculators.
Updated Science of Projection Screens earns one AIA learning unit for architects, or one learning unit toward CTS renewal for those in the AV industry.
To learn more about all of Draper's continuing education offerings, and to register for in-house presentations, click here.
Company: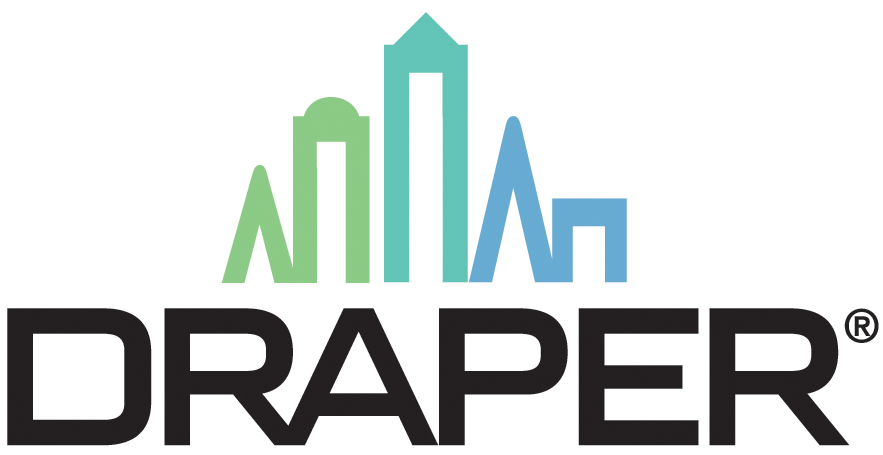 Draper, Inc.
Product: Projection Screens
Source: http://blog.draperinc.com/2017/12/updated-projection-screen-science/
Tags: Audio Visual | Office
---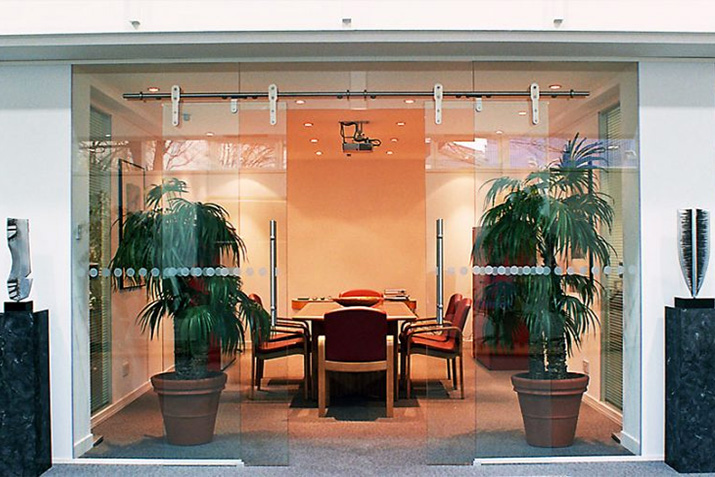 The typical point of entry into an interior environment tends to be simple, boring, and often mediocre. The primary purpose is to allow access, paying no attention to any crucial design attributes Avanti Eclipse sliding glass doors are a collection of quality Sliding Glass Door Systems that provide a contemporary solution to applying design and seamless flexibility.
Integrated Sliding Glass System
The Eclipse Sliding Glass Door incorporates a series of functional components, creating a unique system that fuses stainless steel hardware and single pane glass. This creates a simple sliding system that may be integrated with corresponding glass wall systems such as Elite or Solare Single Glazed. We also now carry the Eclipse Plus Sliding Glass Doors that functions with our Double Glazed Wall Systems. Eclipse utilizes a series of module and glass panel mounted stainless steel hardware components.
The Eclipse Sliding Glass Door system can be fixed on glass partitions and even solid walls. This provides a high degree of flexibility, creating practical solutions which satisfy specific requirements. This system provides a unique "floating" look, as the rollers glide on a track. Each Eclipse Sliding Glass Door System comes standard with a 4 Foot Stainless Steel Handle and includes other locking and pull options.
Single Elevation – Integrated with Solare Single Glazed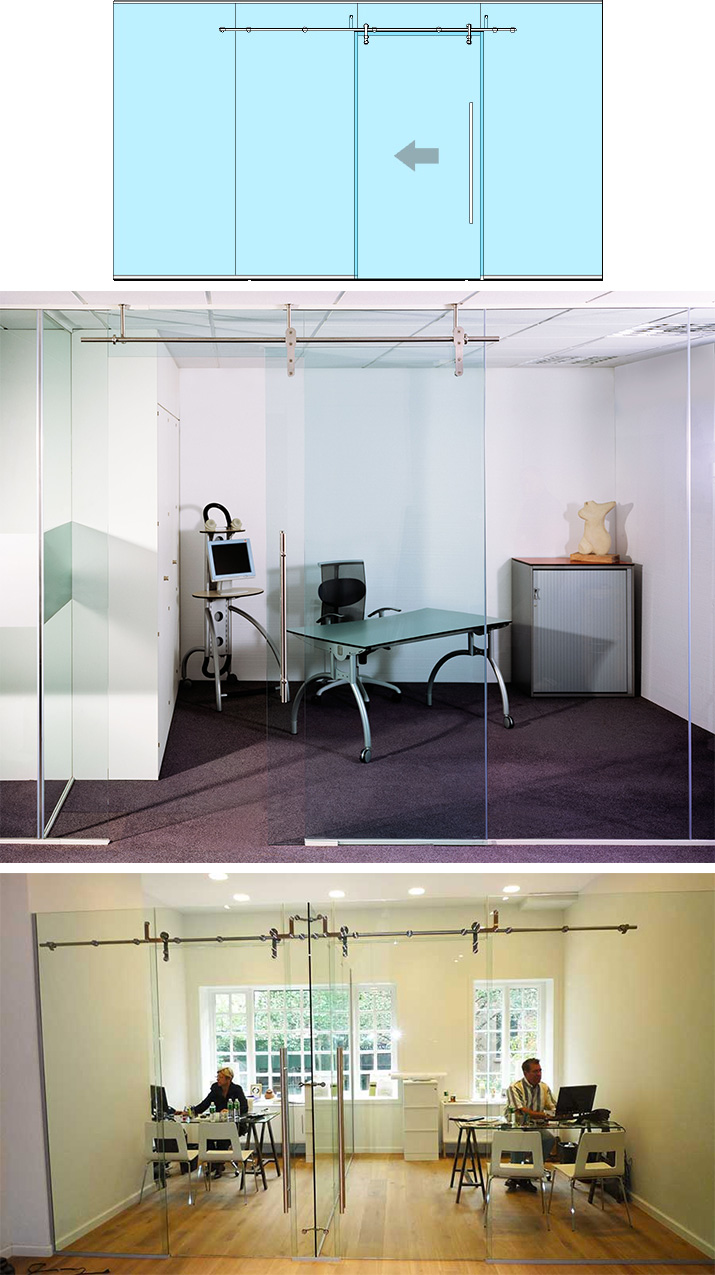 Pair Elevation (Barn Doors) – Integrated with Solare Single Glazed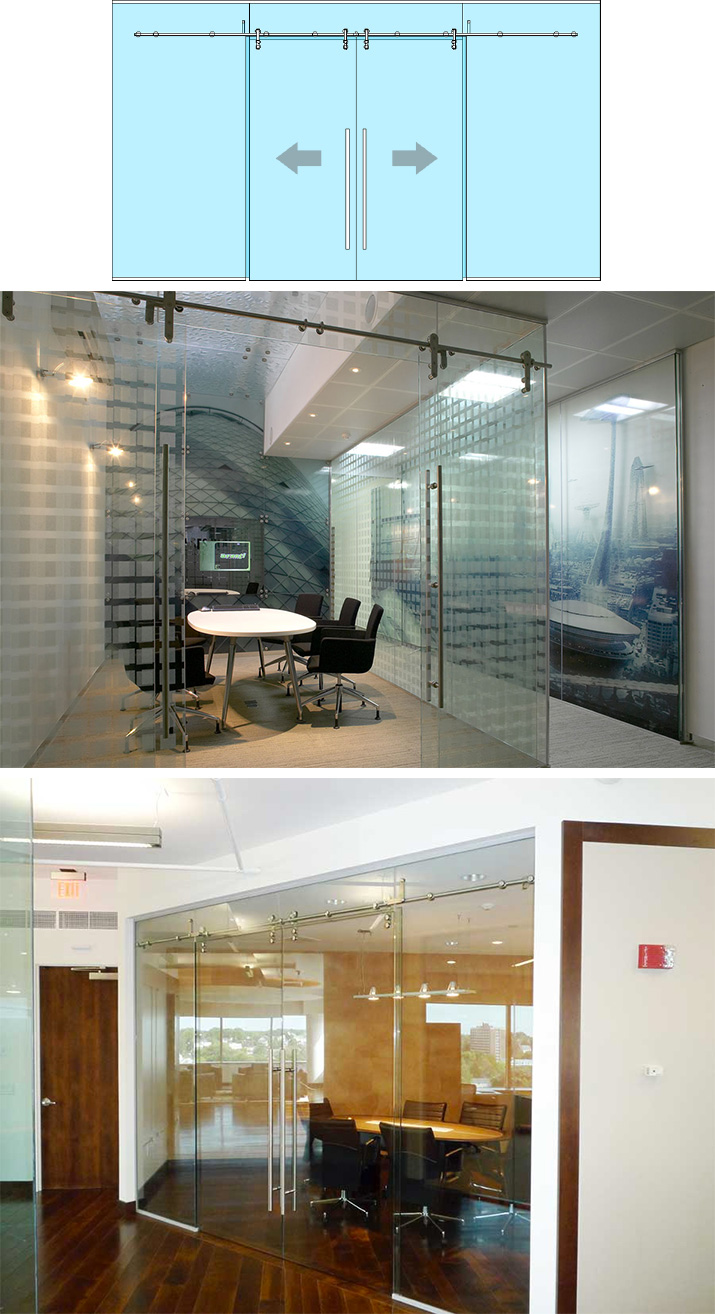 Assisted Close Glass Systems
Glide the Eclipse Sliding Glass Door System to the closed position and you will see a halo right before your eyes. This halo consists of a 1 1/2'' overlap at the top, left, and right of the system. The Eclipse Sliding Glass Door is a gateway to a translucent space, and is also a gateway to promoting a sustainable environment. Eclipse is compliant with LEED sections including recycled content, daylight and views, acoustic performance, and regional material.
Company:
Avanti Systems USA
Product: Eclipse Standard Doors
Source: https://www.avantisystemsusa.com/sliding-glass-doors/
Tags: Acoustics | Doors | Glass | Interior Design | LEED Certification | Office
---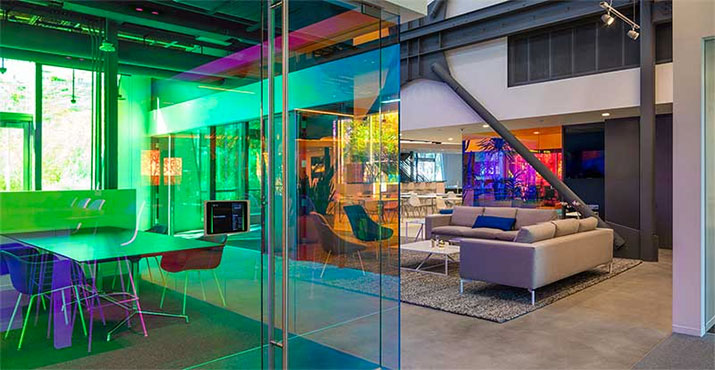 As the use of glass in offices and workspaces grows in popularity the world over, its many uses are being discovered and put to use in the most modern buildings and retail locations everywhere from Beijing to London, Barcelona to Zurich, and of course Los Angeles to New York City. From colored glass to sliding glass, textured glass to ceiling glass and much more, one thing is clear: glass interiors are on-trend and have the stylish staying power that will keep your office from needing a facelift forever.
Moveable Glass Walls: Creating More Spacious Settings as Needed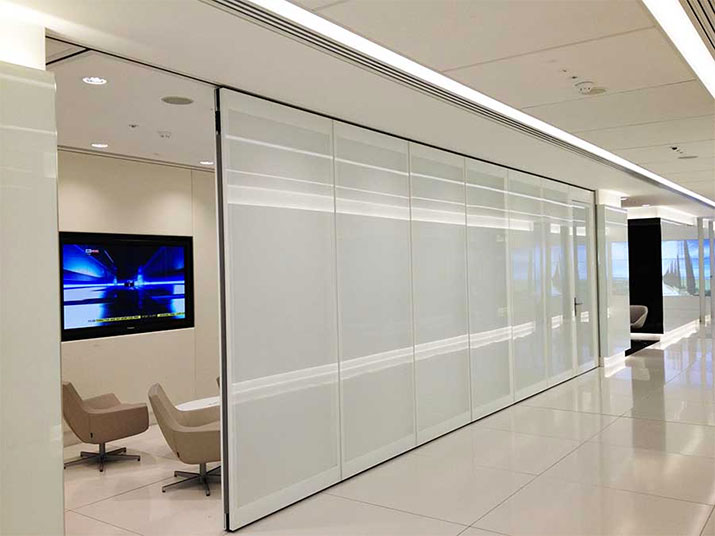 View Partition System: Movable Walls
When you have a large, open office layout, you have a great way of inviting in natural light and making people more accessible to one another. Open layouts are increasingly popular. However, drawbacks can occur as a result. Sometimes, workers need to break off into groups, or clients come in for a meeting and needs discretion, but also needs to meet with a group too large to fit into an office suite. The only other option is a conference room, which many workspaces with open layouts don't have, or may seem too large for the size of the group — this creates an awkward physical imbalance and disturbs the mood or flow of the meeting.
With the advent of the sliding glass wall, companies can work with architects or remodeling professionals to decide how many glass walls they want, where they will be placed, and the various sizes of spaces they can create. Glass walls move quickly, easily, and quietly, so different groups can create different-sized spaces throughout the day or week. This transformation of the workspace suits the needs of the team from a meeting to a breakout session, or from a meeting that requires discretion to a single-person project that requires a level of placidity.
Large, Ultramodern Interior Glass Doors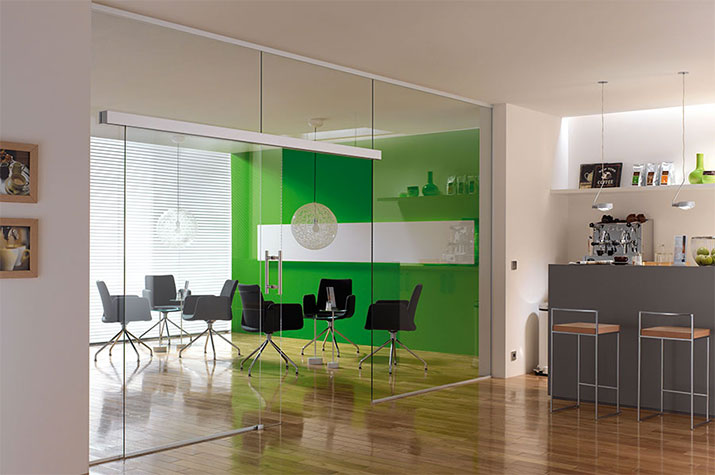 View Door System: Assisted Close
Glass doors have been around in offices for quite a while, but the glass doors of today are much more innovative in their style, design, and utility. For example, as part of the interior design motif in some offices in Japan, glass doors that lead to different offices and rooms are colored in different vivid hues. In American offices, the CEO's corner suite might have a larger glass door than those of others in the office as a show of their station as well as a way to accommodate higher foot traffic and meetings where multiple team members converge each morning.
Large glass doors add pop to the interior of the workspace and also create a more inviting atmosphere. For progressive companies that have an open-door policy, the translation is a literal one. Workers are more likely to take advantage of such a policy when their superiors have glass doors as opposed to wood doors that isolate senior executives inside. A closed solid wood door is intimidating, and makes the idea of knocking scary for junior associates.
Glass Meeting Rooms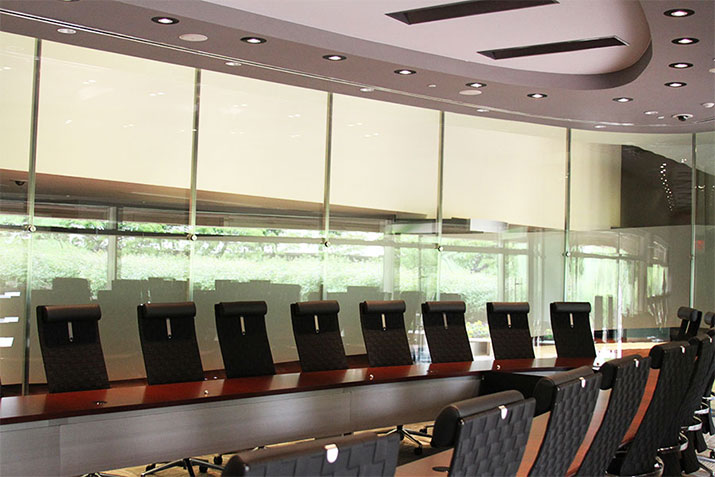 Partition System – Solare Double Glazed : View Verizon Case Study
Glass meeting rooms are a beautiful addition to any office space, and are usually comprised of glass walls, which may or may not be on sliding tracks and glass doors, which may open in the conventional way or operate on sliding tracks. Glass meeting rooms have replaced the solid, walled-off conference rooms of the past, and offer an inviting ambiance for newcomers and regular clients. Glass meeting rooms can be large enough to accommodate a partition or sliding glass wall — this turns one meeting room into two for busy days when the company is double-booked, or to create a smaller, more intimate space for a quiet meeting retreat.
Glass Floors and Ceilings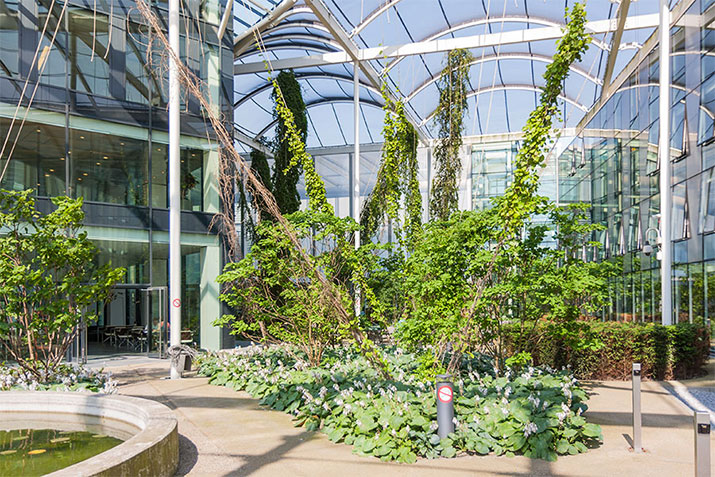 Creating suites using glass as the primary building material really opens up the atmosphere of the entire office. Allowing in more light, allowing workers to see whether or not the person inside is on a call or otherwise preoccupied, and creating the appearance of a more expansive floor plan are just some of the perks of glass office suites. Of course, for occasions that require privacy, beautiful custom shades can be added in any variety of colors that pair well with other office decor. Many glass office suites in Japan are interconnected with sliding glass walls: this allows inhabitants of each office to literally open up to one another. On days when no clients are expected, the whole office becomes one large space where everyone can hear each other and enjoy open, out loud communication and the ability to walk to each person's desk free of any encumbrances.
Glass Office Suites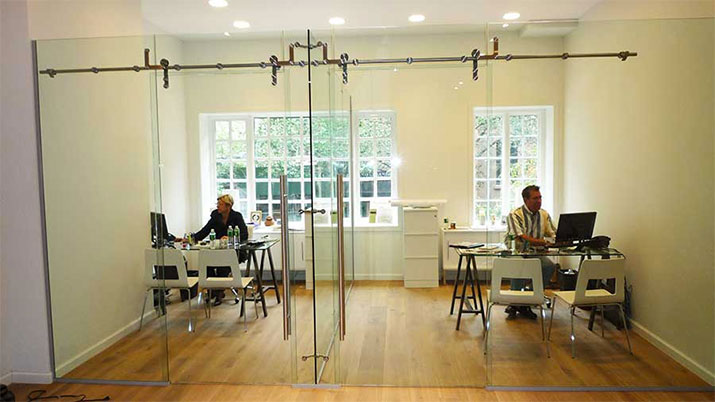 Elite Freestanding with Eclipse Sliding Barn Door
Today's ultra-progressive offices might incorporate glass floors or ceilings. In some instances, glass floors may be opaque or completely solidly colored to appear like wood or another material, while in other instances, glass floors may be left clear or translucent, which creates an even more modern interior design.
Glass ceilings are an incredible way to add a whole new perspective, as it adds the dimension of the outside world and draws it right into the office. This makes workers feel more in touch with their outdoor surroundings, and provides an incredible amount of light into the interior world. This is actually healthier for people who spend the majority of their time indoors, because glass ceilings provide natural sunlight, which is also proven to improve mental and physical health and make people more productive. Buildings with glass ceilings also have a shade, usually on the building's exterior, which allows the amount of light let into the space below to be controlled. In this way, everyone can benefit from natural light but also shutter some of it out on particularly bright days, in the morning, or when the workday is over.
Colored or Textured Glass for Privacy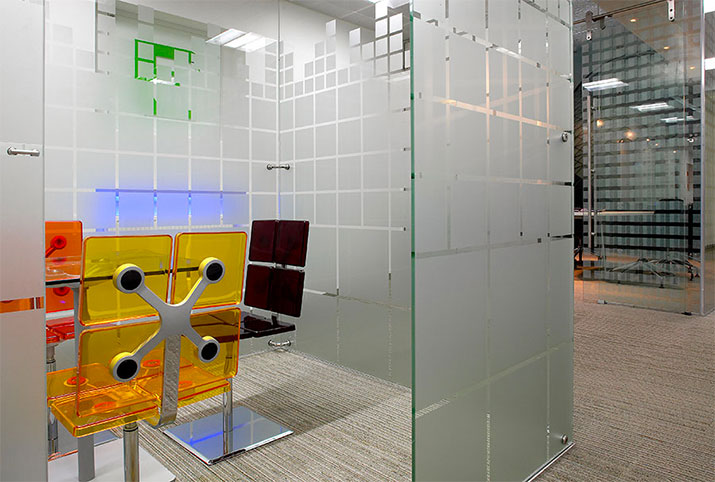 For offices that provide one-on-one therapy, physical examinations, or law firms and other workplaces where client privacy is paramount to the services rendered, colored glass is an excellent choice. It creates the same level of discretion that any heavier, thicker material will, and can be glazed to keep out any prying eyes. Most offices with glass doors and walls will choose one uniform color, though at a place like a pediatrician's office, different glass walls and doors might be a variety of fun, brilliant hues. When glazed glass is used, it actually lowers the cost of heating and cooling, lowers the carbon footprint of the structure, and does away with drywall, sheetrock, and old-fashioned insulation that can all cause allergy flare-ups and other discomforts. Office that utilize thick, opaque colored glass contain excellent spaces for confidential meetings and other dealings that protect the best interests of both clients and your enterprise.
Company:
Avanti Systems USA
Product: Elite Free Standing
Source: https://www.avantisystemsusa.com/using-glass-creatively-office-interiors/
Tags: Glass | Interior Design | Office | Walls
---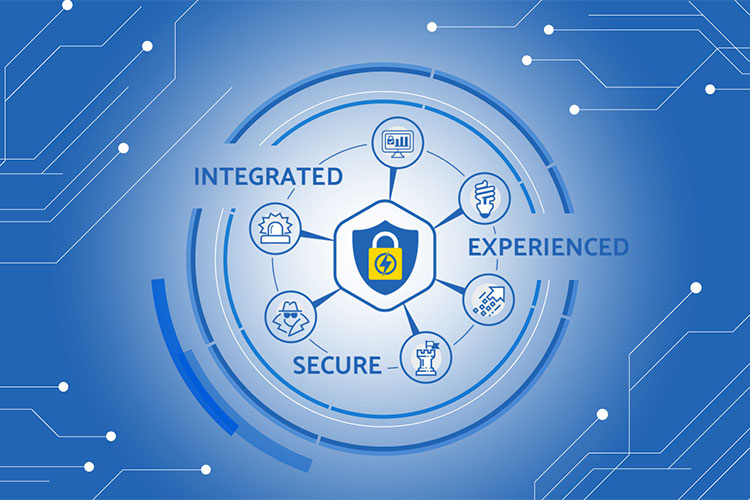 Accuride Integrated Access Solutions: The New Frontier of Access Control
While known for premium drawer slides, Accuride is also a major leader in access control solutions. Our electronic locking systems are found in many cabinet-level applications, from medical carts to inventory systems, and in countless industries, from automotive to healthcare.
Accuride Integrated Access Solutions (AIAS) feature "Intelligent Subversion Protection": multi-sensor systems that utilize onboard logic and two-way communication. These advanced systems verify that an application, such as a parcel locker or a CSA schedule drug cart, is truly secure.
Better still: Accuride access solutions are energy-efficient, silent, and emit little heat.
An Adaptable Solution

Another great aspect of Accuride Integrated Access Solutions is their adaptability. Each solution is tailored to fit a customer's needs, fitting all sorts of ancillary systems: RFID, biometric, keypad, retinal scanning, etc.
We've found our customers often need their solutions to comply with strict standards and certifications, such as those from the FDA, FAA, and HIPPA. Luckily, Accuride's global team of specialists are thoroughly experienced in compliance.
A Compact Wonder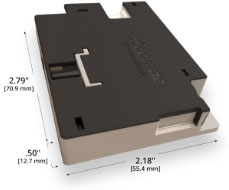 Cutting-edge electronic locks are a key component of Accuride Integrated Access Solutions. Each e-lock is the embodiment of efficiency, utilizing a lean, compact, low-profile design and consuming no more than 50mA per 200mS on 12v of power.
Don't let their size fool you: Accuride e-locks can resist hundreds of pounds of break-force.
Subtlety is Key
Another key aspect of Accuride Integrated Access Solutions is their subtlety. Each solution is meant to become part of the application, not an addition to it. Whether that application is a DNA analysis machine or a tool checking system, each Accuride solution works as part of the core design.
Download FREE Case Study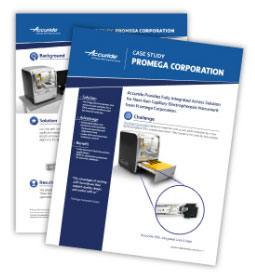 Learn how Accuride brought a new measure of access control and efficiency to a Next-Gen medical system
That's because Accuride engineers work closely with partners to achieve that seamless integration. From the conceptual stage to final production, Accuride technicians are there to make sure everything works flawlessly.
For more on Accuride Integrated Access Solutions, visit our dedicated page and speak to one of our experts today.
Company:

Accuride International
Source: https://www.accuride.com/blog/access-control/accuride-integrated-access-solutions-the-new-frontier-of-access-control/
Tags: Access Control | Furniture | Interior Design | Management | Office | Safety
---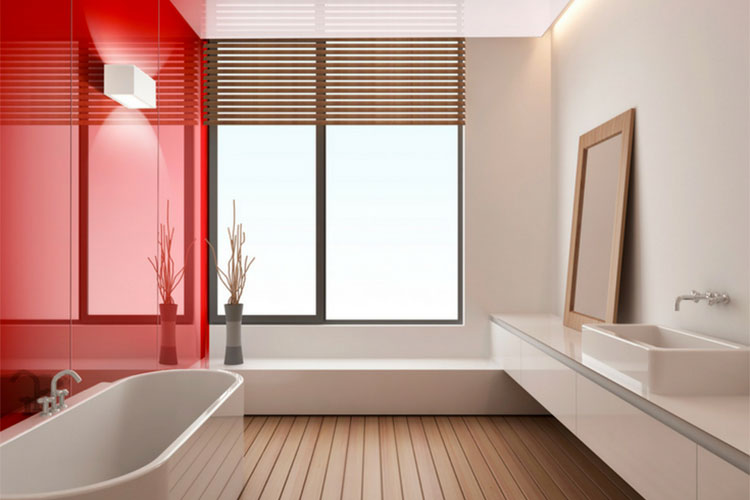 It's fun to look at the glass-like appearance of high gloss acrylic wall panels in a shower, kitchen backsplash or feature wall in an office and say, "Wow – that material is cool." Yes –gloss wall panels are striking in appearance – but just like you and I – there is a lot more to know about them than is evident on the surface. While these panels fly off the shelves in countries like Australia and Japan – they are still new to homeowners and business owners in the United States (and a bit of a mystery).
In this article, I'd like to dig "under the hood" to give you some little-known facts (at least in the United States) about these fun and functional high gloss wall panels. At the end of the article let me know if you have any questions which weren't covered in these 5 facts.
Little known high gloss acrylic wall panel fact #1 – They can be used in a steam room or behind a stove
When people think of acrylic and hot spaces most assume they can't be used in steam showers and behind stoves in the kitchen, however this is not the case with optical grade (hard coat) acrylic wall panels. If the temperature is lower than 130 degrees you can use these decorative colored wall panels in a steam room or behind an electric stove top. Standard acrylic wall panels (not high gloss) are not be recommended in these places.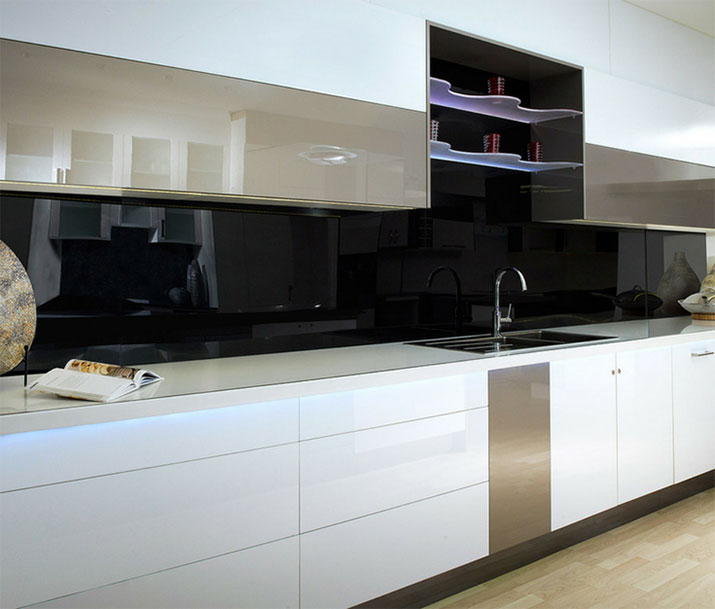 This high gloss kitchen is sleek. It is using a carbon black kitchen backsplash and mocha colored gloss cabinet fronts.
Little known high gloss acrylic wall panel fact #2 – They can be pre-cut if you want (or need) to do it yourself
If you're like a lot of parents and tell your kids to stay away from the skilled trades (carpentry, plumbing, electrical, masonry etc.) and go into fields like computer technology you are contributing to the problem of finding a decent contractor in your town to install a product they have not worked with before. So, when you ask a recommended contractor to install a product (like high gloss wall panels) don't be surprised if they tell you they are too busy – or they only work with tile showers or ceramic kitchen backsplashes. When there is a lot of demand for their services your contractor not be willing to try to install a hot new product like high gloss wall panels. The good news is there is something you can do about this problem (even if you're not the second reincarnation of Tim the Tool Man Taylor).
Simply get the high gloss panels precut and predrilled with holes you need for your shower heads and valves (in the case of a shower) or with the outlets cut out (in the case of a kitchen backsplash).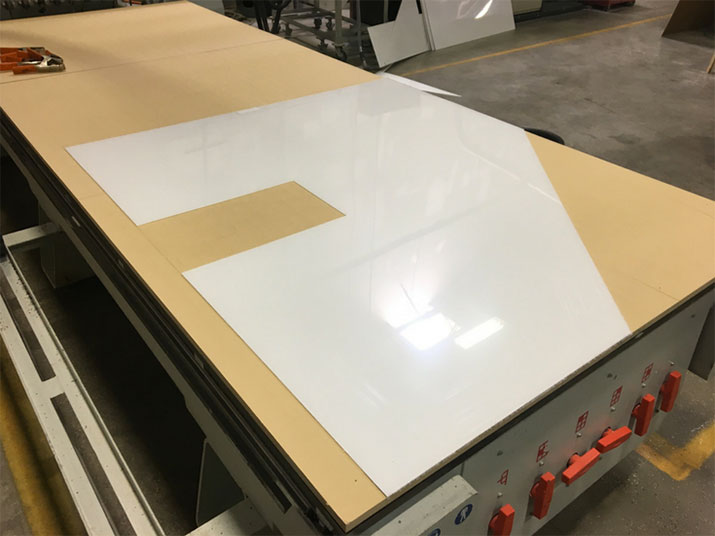 CNC equipment can pre-cut wall panels to make a shower kitchen or commercial installation of high gloss wall panels easier
In this way, all you need to do to self-install them is apply the silicone and double-sided tape on the back and slap them up.
Little known high gloss acrylic wall panel fact #3 – Not all acrylic wall panels are created equal
High gloss acrylic wall panels are not the same as the 1/8" thick acrylic walls used by nationwide "One Day Bathroom" franchises who focus in on lower end showers. High gloss wall panels have a hard coat applied to the front which allows them to create a mirror like look and pop out from the wall. The high gloss surface has 20 times the impact strength of back painted glass – but is only ½ the weight. In addition, the hard surface has superior scratch resistance to standard acrylic wall panels. They are sleek, contemporary, colorful and create a Euro-inspired look.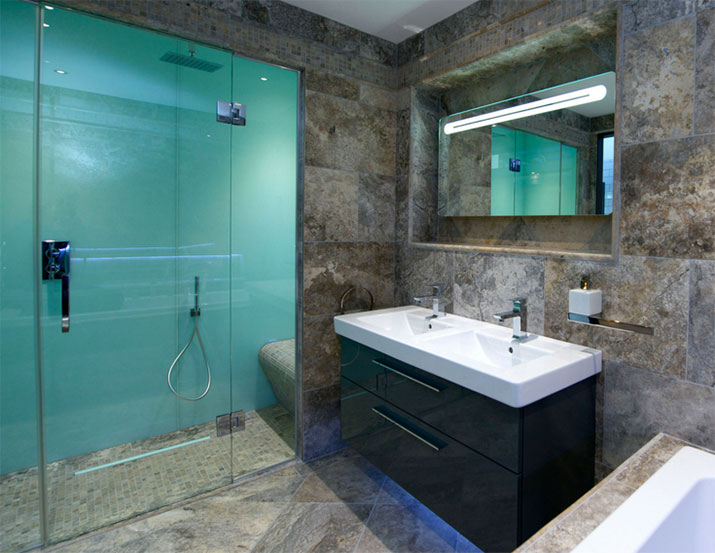 Where standard acrylic panels work well is they are low-priced alternative to a tile shower (which can be a good option in rental homes and investment properties).
Little known high gloss acrylic wall panel fact #4 – The "party's" in the back – and that's functional and stylish for you
Back in the 1970's and the 1980's the "mullet" style hairdo was popularized by the likes of Rod Stewart and David Bowie. It came to be known as the hairdo with the "party in the back." While that style has (fortunately) gone the way of the powder blue leisure suit I have to admit I wore (hey – I'll blame my Mom for buying me that!) in the 1970's, there are still some products where it is good if the "party" is in the back.
High gloss acrylic wall panels are one of those products. Putting the color (or the party) in the back of the panel makes sense because it is not subject to harmful UV rays and discoloration. The color in the back is the same approach as is used in more expensive back coated glass.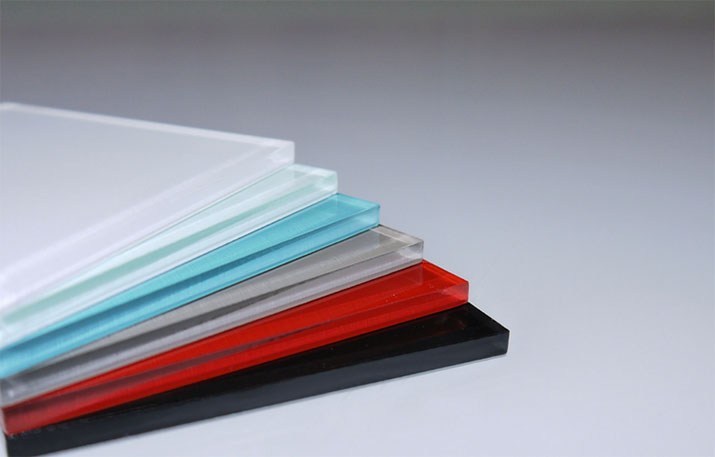 The color is on the back edge of these sample chips
Little known high gloss wall panel fact #5 – These panels go onto a wall, but they aren't the wall itself
High gloss wall panels have their place reflecting light off a wall and creating a mirrored light-filled contemporary look in a room They also help to block the view behind the wall surface (like tile you can't see through these panels or get any water through the surface either) to the wall backer material they are applied onto. That's the good news about high glass wall panels.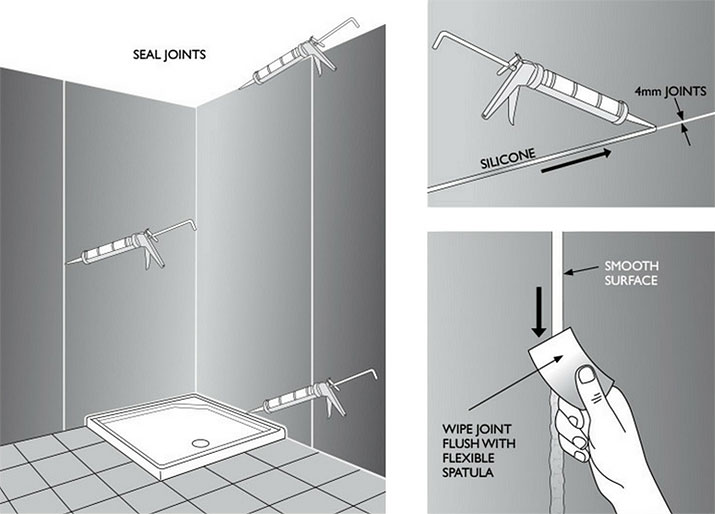 The bad news may be that they aren't a transparent or translucent glass material where light can transmit through the panels. If you're looking to move light through a glass wall you'll want to use real glass or a plexiglass.
Conclusion
Even though not a lot is known about high gloss acrylic wall panels in this country what can be agreed on is they are a fun, striking material which makes a visual impact on any room you choose to use them (a bathroom, kitchen, classroom or a front desk office area in commercial buildings are most common). I believe as you dig a little deeper into this material you'll also find they are easy to work with (especially if you have the panels pre-cut) and certainly not the same as the cheap acrylic you'll see advertised by "One Day Bathroom" companies. It is a stylish, contemporary and a luxury component to make your next bath, kitchen or office project distinctive.
How can I (or a member of my team help you)
If you're still uncertain how to use, cut or purchase this material I (or a member of my team) would love to help. For nationwide supply or material questions call Innovate Building Solutions at 877-668-5888. To use this product on a local bathroom or kitchen remodeling project in Cleveland call Cleveland Design and Remodeling at 216-658-1270 or in Columbus the Bath Doctor at 614-252-7294.
Company:

Innovate Building Solutions
Product: High Gloss Acrylic Wall Panels
Of: Mike Foti
Source: http://blog.innovatebuildingsolutions.com/2017/07/15/5-facts-high-gloss-acrylic-bath-kitchen-wall-panels
Tags: Color | Design | Kitchen | Office | Shower | Wall Panels
---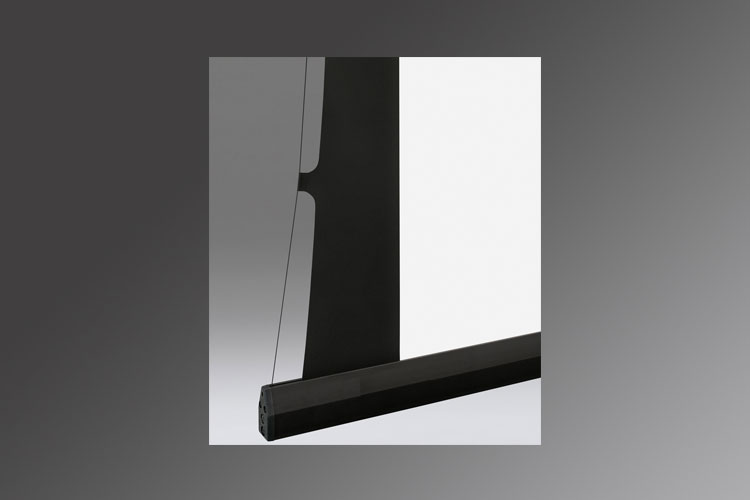 Who knew a series of small tabs could be so important to having a beautiful picture, and a durable product?
One of the most important elements of creating the ultimate projected image is having the flattest viewing surface possible. Great contrast, brightness, and vivid and correct colors are important, but without a perfectly flat surface those attributes of a great picture don't matter.
Fixed frame projection screens are one way to ensure the flattest viewing surface possible. Not everyone wants a huge screen hanging on the wall all the time, though, so they need a motorized screen. With motorized screens, however, the problem is how to keep the surface taut from the sides.
That's where Draper's innovative tab tensioning system is so important. A tab tensioning system uses a very thin cord running down each side of the screen through tabs, attached to the roller at the top and the dowel at the bottom. The cords are tightened, creating a flat viewing surface.
Most other manufacturers use adhesive to attach these tabs. This can lead to problems when the constant tension proves too much for the adhesive to handle, and it give way, creating "popped" tabs.
With Draper, you never have to worry about "popped" tabs. Here's why.
All of our tab tensioned screen surfaces—including the tabs—are cut on Computer Numerical Control (CNC) cutting tables, which means every cut is made with digital precision. CNC represents the highest level of precision available in the manufacturing process.
The tabs are then folded to the backside of the screen and Radio Frequency (RF) welded. In this RF heat sealing (AKA dielectric sealing) process, the tabs are folded back and placed between two dies (electrodes). The RF produces heat by exciting the molecules to the point that they melt and create the bond. We use the same technology to create seamed projection screens. The strength of the seal is determined by three factors-
Sealing current (radio frequency power)
Sealing time
Pressure
The result is a much stronger tab, with no possibility of separation, as the tab and surface are fused into a single layer of material. In-house laboratory testing of our tabs shows that this RF seal is in most cases stronger than the material itself.
Our tab tensioning system is also nicer looking. Making a tab tensioned surface in this manner eliminates the puckering that can characterized the edges of tab tensioned screens made using adhesives.
When we introduced this new system several years ago, it represented a unique and significant improvement in tab tensioned screen design. It still does. We were so confident of our system that we decided to warrant all Draper tab tensioned screens against tab separation for five years from date of manufacture. We still do.
Click here to find the perfect tab tensioned projection solution for your next project. Whatever model you choose, the perfectly flat surface will create the perfect image you want, and for a long time to come.
Company: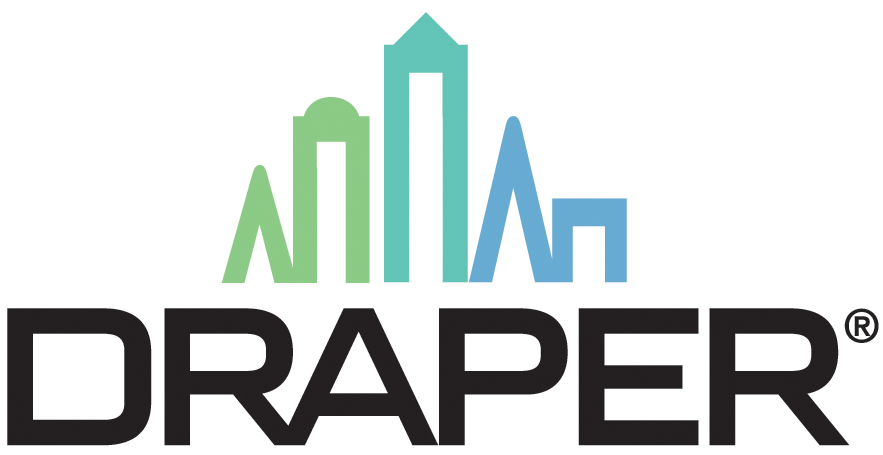 Draper, Inc.
Product: Projection Screens
Of: Terry Coffey
Source: http://blog.draperinc.com/2017/07/flat-viewing-surface/
Tags: Audio Visual | Color | Furniture | Interior Design | Lighting | Office
---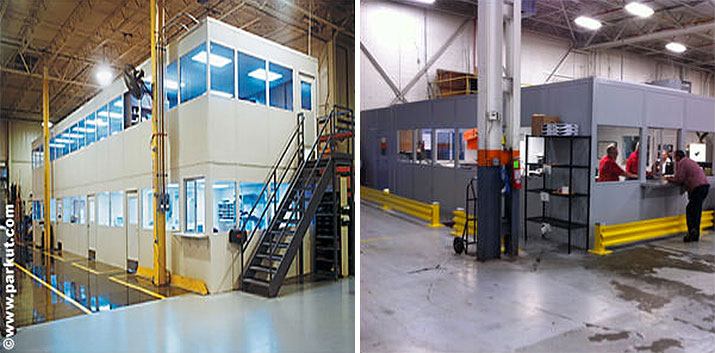 In Plant Office MODO-001, In Plant Office X11-166/ STR3020
Par-Kut supplies cost-effective in plant offices such as modular inplant offices with pre-engineered modular office systems that provide solutions for efficient space utilization. From a simple wall dividing system to a single office, multiple office or even a two-story multiple office system, no job is too small or too large.
We always seek better, faster and more economical ways to design, engineer and manufacturemodular in plant offices.
Assembly of units can be completed by the customer or Par-Kut can coordinate the assembly of the structure of the modular inplant office by an experienced crew. The panelized, site erected offices can include modular electrical systems, too.
There is also a tax advantage with an investment in in plant offices. Par-Kut's modular in plant offices can be fully dismantled, relocated, and reassembled. This mobility, under the Modified Accelerated Cost Recovery System (MACRS), allows the modular inplant office to be classified as "tangible property" with a shorter 7-year depreciable life.
The in plant office sold by Par-Kut are also available in noncombustible panel construction. The DL type panels have been tested in accordance to ASTM-E-84 (copies of the laboratory tests are available upon request). The other components of our Pre-Engineered office, i.e. suspended ceiling, dust cover, steel door and windows, are noncombustible, as well. Incorporating the DL type panels into the modular in plant office design will create a system in which all the components are noncombustible.
Go to GALLERIES to view additional Modular In Plant Offices.
Company:
Par-Kut International, Inc.
Product: Custom Solutions
Source: http://www.parkut.com/products/offices/modular-in-plant-offices/
Tags: Interior Design | Office