architecture - engineering - construction

Aluminum
---
Unlike most other aluminum posts on the market, which are too small and thin-walled to withstand the tension of cable infill, Stainless Cable & Railing™ products are uniquely engineered specifically for cable railing applications. Available in five powder-coat colors with three cap rail options, there's sure to be the right color and style combination for any given project.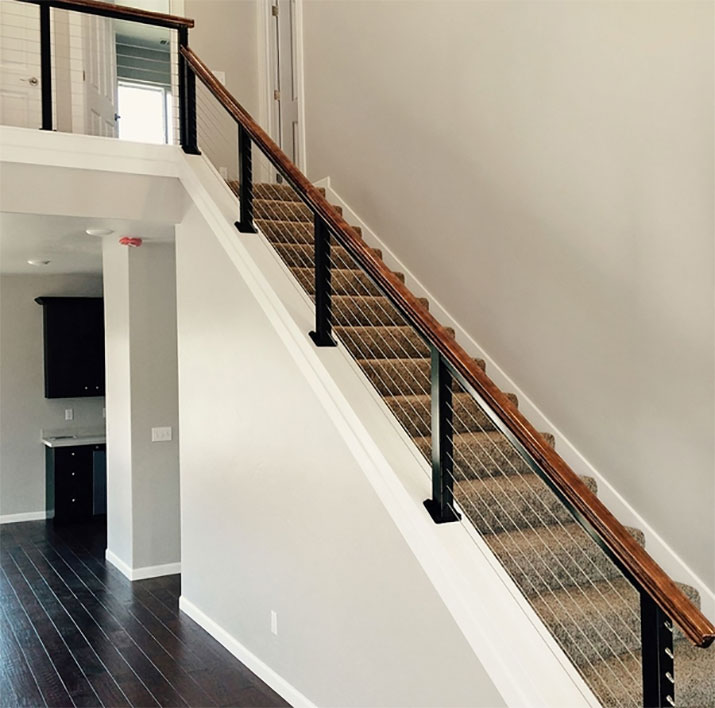 This customer from Fortuna, CA used the black aluminum cable railing.
Features & Benefits:
Reinforced aluminum system withstands the tension of cable infill without bending.
Black powder-coat provides a dramatic and high-contrast look while protecting the aluminum from the elements.
Post-to-Post Handrail supports customer's wood top rail.
Deck mount posts are easy to install.
Field assemblies have a low-profile look with no bulky turnbuckle.
Angled Stair Washers allow the field assemblies to properly handle the stair sections of this railing.
Company: Stainless Cable & Railing Inc.
Product: CableView® Aluminum Cable Railing System
Source: https://stainlesscablerailing.com/cable-railing-fortuna-california1.html
Tags: Aluminum | Color | Interior Design | Railing System | Safety
---
The architects at Gensler approached us with their design challenge: How to incorporate light weight, grille-style wall cladding, built to accommodate light diffusers, in an aesthetically pleasing way that would be appropriate in a high-end corporate environment. The grilles would need to run floor to ceiling, be easily mounted and have soft edges. In addition, budget constraints required all of the above to be incorporated into a cost effective solution.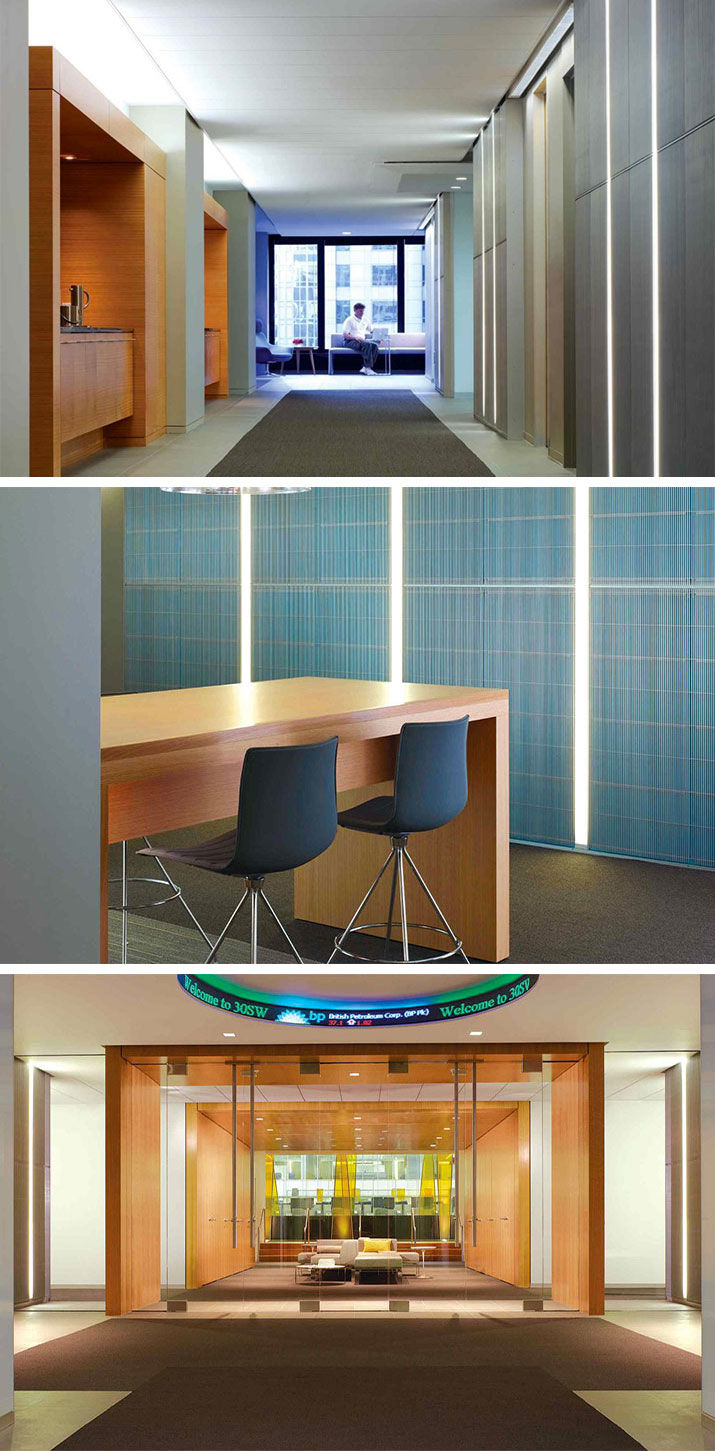 1. Wall Clad, 2. Work Area, 3. the Lobby
BP Bright Lights
This project was large and complex, and due to the time constraints faced by project management, Advanced Arch Grilles did not meet with the contractor for this phase of the project until design drawings were already approved. A solid partnership was quickly forged; within two weeks, the contractor had on-site two complete sets of AAG110 aluminum, press locked and welded, linear bar grille core with mounting tabs and reinforcing stiffener bars with a satin, clear anodized finish. Our quick response time enabled the contractor to devise a mounting method and plan for installation many weeks in advance of actual delivery of the grilles.
The prototype cycle also proved valuable to our production team. During fabrication of the prototypes, our team developed solutions to ensure the vertical grille panels would install completely flat, and when positioned top-to-bottom and side-to-side, would be perfectly aligned.
Our engineering team, working alongside our production personnel, designed a method of "back side" support to overcome any material twist or deflection and also created a series of alignment and test jigs that assured the grilles were uniform and unvarying once installed.
The project progressed as expected and we proudly delivered every grille ahead of schedule. We consider ourself privileged to work seamlessly with such a highly regarded company and such a talented group of people, and to contribute to the successful completion of this project.
At a glance
TYPE:
Linear Bar Grille
STYLE:
AAG110
FRAME:
Core Only
DETAIL:
Mounting Tabs
MATERIAL:
Aluminum
FINISH:
Satin
Company: Artistry in Architectural Grilles by Advanced Arch Grilles
Product: Linear Bar Grilles
Source: http://aagrilles.com/aag100-linear-grille-wall-cladding/
Tags: Aluminum | Grilles | Interior Design
---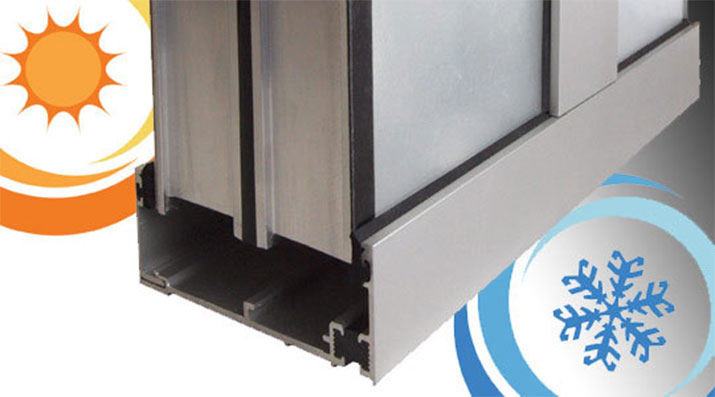 Heat conduction, or the transfer of heat through a solid material at the molecular level, is a problem that occurs in aluminum framing. Providing a thermal break in the aluminum is the most common solution for disconnecting the exterior and interior of the aluminum frame. The frame is literally split into two components and must be connected by a structural material that is of significantly less conductivity as the aluminum. Simultaneously the thermal break material must bond the two components together.
There are many ways to thermally break glazing materials and the frames that house the glazing. Insulated glazing generally uses multiple panes of glazing separated by air, gas or other fill. The glazing is then bonded at the edges with a material of low conductivity. The aluminum frame, most commonly used for storefront framing, skylights, and windows, is a highly dense material with great strength. Yet, aluminum is light in weight and durable. It is also a widely recyclable material and is readily available.
Aluminum, however, is highly conductive of heat and cold. For many decades thermal breaks have been a common and economical means of lowering temperature conductance in aluminum framing. Thermal breaks have taken numerous forms over the years, from plastic and Styrofoam to wood and nearly any material that had a lower thermal conductivity than aluminum.
The 1970s marked the beginning of the high performance, chemically manufactured and engineered thermal breaks that we see today. Standard to the storefront, window, skylight and curtainwall industry is the poured and debridged polyurethane thermal break. This material provides significant structural strength in shear, compression and tension, as well as integrity and resilience. The polyurethane polymer has a very low conductivity, allowing it to bridge the gap between the interior and exterior aluminum components of a frame. Due to polyurethane's structural strength, longer spans are capable and the integrity of the aluminum frame is not compromised.
The method for manufacturing the polyurethane thermal break has become standardized in the aluminum framing industry. A strategically placed open cavity is extruded as part of the aluminum frame. The cavity may be grooved or extruded in a way as to act as a lock when bonded with the polyurethane polymer. The liquid polymer is poured into the cavity, and upon solidifying, the bottom of the cavity is then removed, or debridged, creating the perfect thermal break for all forces of extreme weather conditions.
So where are thermal breaks necessary? The short answer is that they are necessary in all climates where there is a difference in temperature from exterior to interior. Cold climates benefit from aluminum thermal breaks by providing protection from cold temperatures entering the building and causing condensation build-up on the interior face. In these situations, aluminum frames can also become very cold to the touch and uncomfortable to be near. Hot climates benefit from aluminum thermal breaks by providing protection from hot temperatures entering the building. Not only does a thermal break affect air temperature and cooling demands on HVAC systems, but aluminum frames can become very hot to the touch, causing issues for people, plants, animals, and objects nearby.
While thermal breaks add some up-front costs, technological advances have made them an economical solution. This is especially true when you consider that they can prolong the lifespan of materials around them and provide a more comfortable environment for building occupants. Whether you're in a hot or cold climate, thermal breaks are well worth it.
For more information on our thermally broken system options, visit us online. Our Clima-Tite™ system with pultruded fiberglass framing, is also available and provides an even higher level of thermal performance and condensation resistance.
Company: Major Industries Inc.
Product: Clima-Tite™
Of: Courtesy of Amy Stalbosky, National Corporate Architect, Major Industries, Inc.
Source: http://majorskylights.com/
Tags: Aluminum | Climate | HVAC | Skylights | Sustainability | Windows
---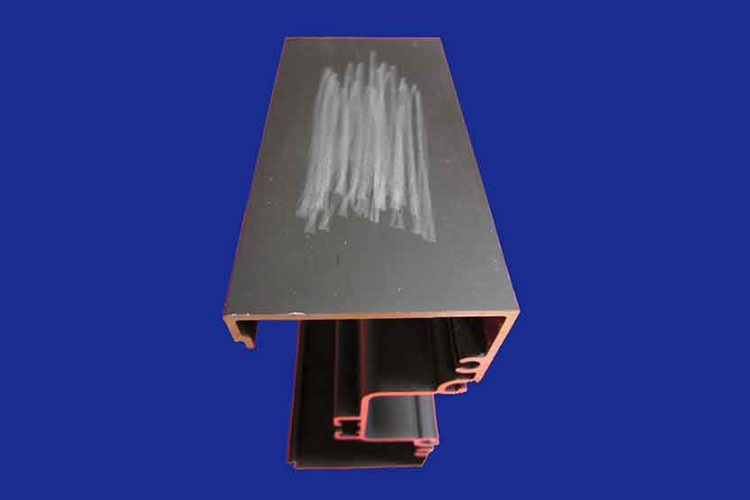 When extreme hardness is required for aluminum building components, such as in high-traffic areas, like entranceways and railings, an AAMA 611-14 anodized aluminum finish should be specified.
The hardness of anodized aluminum rivals that of the diamond.
This "Nickel Test" demonstrates why a Class I high-performance anodize coating is the perfect choice for exterior architectural applications.
LINETEC'S ANODIZE
Architectural Class I Anodize
Class I anodize is used on the exterior of architectural projects. It has a higher mil thickness than Class II anodize; it is more resistant to salt spray and the sea coast; and it is more durable in high traffic areas.
Class I anodize, with a minimum mill thickness of 0.7 (18 microns), can be a suitable choice for coastal climates as it possesses exceptional resistance to corrosion, discoloration and wear; however, its natural beauty can be marred by harsh chemicals, rough conditions or neglect. These conditions may only affect the surface finish and not reduce the service life of the aluminum, but mortar, cement, and other alkaline materials will quickly corrode an anodize finish if allowed to dry on the metal surface.
Class I anodize meets or exceeds all requirement of AAMA 611 "Voluntary Specification for Anodized Architectural Aluminum.
Linetec utilizes a more eco-friendly etching method within the anodizing process. Eco friendly anodize improves the finishes ability to hide small defects in the the aluminum and works exceptionally well with recycled billet. ;
Read more
Copper anodize offers the look of rich, real copper without such shortcomings as salt run-off stains, galvanic corrosion and patina. This unique and consistent process involves using actual copper to color the aluminum while isolating the copper in the coating.
Read more
Company: Linetec
Product: Anodizing
Source: https://linetec-blog.com/2017/08/16/anodize-nickel-test/
Tags: Aluminum | Coating | Exterior Design | Metal
---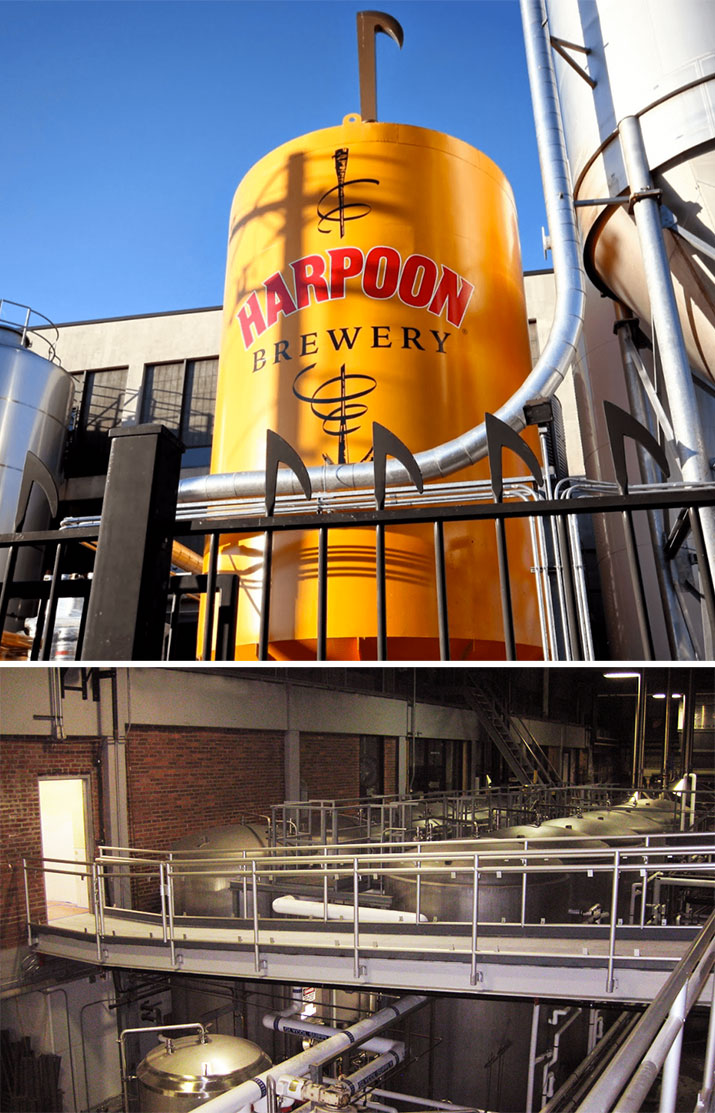 THE SITUATION
Harpoon Brewery began in 1986 when owners Rich and Dan, beer lovers, sought more quality beer choices. They received the fist permit in 25 years issued by the Commonwealth of Massachusetts to brew and package beer commercially. Without knowledge of what craft brewing would become they set out to introduce a local brew to Boston drinkers operating on the docks of South Boston where they still brew to this day. They maintain a spirit of fun and hope the joy of beer drinking resonates through their beer and breweries.
The Visitor Center now features Brewery tours and a Beer Hall and Store selling merchandise, beer, and growlers. For this project, they contacted their fabricator for ADA compliant walkways; SlipNOT® aluminum plate was recommended to provide slip resistant compliance for maximum safety.
THE SOLUTION
Capone Iron Corporation took all of Harpoon Brewery's needs into consideration to design the most appropriate solution for this application by recommending SlipNOT® aluminum plate. Brewing safety is not just for the protection of the brewers but goes hand-in-hand with the quality of your finished liquid beverage. SlipNOT® products are 100% grit-free and will not flake off causing damage to machinery and end products, an ideal solution for food and beverage facility safety.
For this instance, SlipNOT® provided (10) 3/8" x 4' x 8' aluminum plates, (7) 3/8" x 4' x 12' aluminum plates, and (11) 3/8" x 5' x 12' aluminum plates in a Grade 2 mill finish. Capone Iron was committed to not only install aesthetically pleasing walkways for their customer, but also provide a permanent safety solution.
THE IMPACT
A Project Manager from Capone Iron reported that the plates were ordered to be installed in the tour route platforms and metal catwalk areas. Harpoon Brewery now has custom platform designed to meet their needs and provide safe tours to the public through their facility. SlipNOT®'s coefficient of friction which is 0.85 or greater surpasses the of ADA recommendation of 0.6 for flat surfaces and 0.8 for ramps this project had both flat and inclined surfaces and all safety requirements were exceeded.
Company: SlipNOT® Metal Safety Flooring Div.
Source: http://www.slipnot.com/case-studies/aluminum-catwalk-harpoon-brewery-tours/
Tags: Aluminum | Floor | Safety
---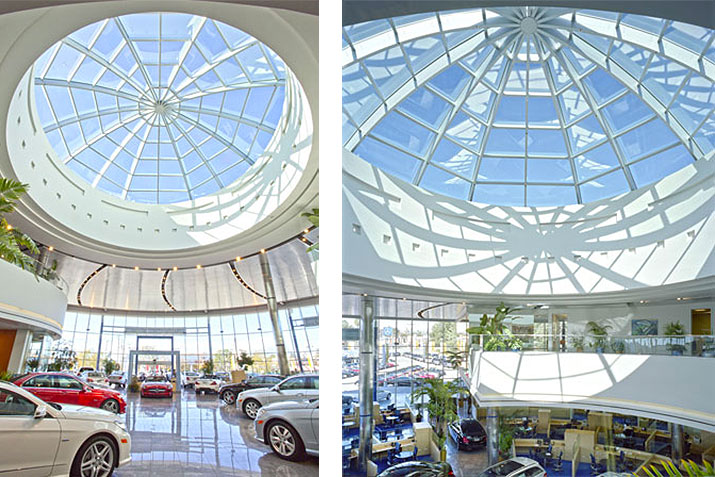 Photos by: William Lemke, courtesy of Super Sky Products Enterprises, LLC
Commercial Architecture magazine's June Portfolio section spotlights California's Keyes Automotive's European Mercedes-Benz Dealership featuring a 41-foot-diameter, custom, multi-slope dome skylight from Super Sky Products. The skylight's durable finishes were applied by Linetec to the aluminum framing members. The finish's resilient attributes combine with daylight, views and high thermal performance glass to support the dealership's LEED® Silver certification.
Designed by Dennis J. Flynn Architects, the skylight's fluid, circular design respects the European Bauhaus style of design highlighted within the dealership's 235,000-square-foot facility. "As a highly visible property on a major auto row that is back-dropped with residences, the owners' sensitivity to the community and commitment to state-of-the-art design solution is displayed in this space," described Flynn. "Crisp finishes complement a work environment that's equal parts private office and open plan, reflecting the Mercedes-Benz brand in all aspects."
Contributing to the project's sustainable, high-end design, Linetec applied a 70 percent PVDF resin-based, two-coat, liquid, mica coating to the skylight's aluminum framing members. The resulting appearance emphasizes a metallic aesthetic befitting the luxury vehicles sold and serviced at Keyes European.
These painted coatings applied by Linetec meet the American Architectural Manufacturers Association's (AAMA) 2605 industry standards, as well as minimize buildings' maintenance costs and maximize long lifecycles. These high-performance architectural coatings exhibit outstanding resistance to humidity, color change, chalk, gloss loss and chemicals. They will ensure a long-lasting, durable finish. No other coating system can withstand the rigors of nature and time like these."
As a recognized, innovative and environmentally responsible finisher, Linetec captures the liquid paints' volatile organic compounds (VOCs) content using a 100 percent air capture system and safely destroys the VOCs with a regenerative thermal oxidizer.
Enhancing thermal performance for Keyes European, the skylight's 1,650 square feet glass area is composed of insulated glass units with Solarban® 80 low-e coating. The low-e coating mitigates unwanted solar heat gain that could make potential car buyers uncomfortably warm and minimizes fading caused by damaging ultraviolet radiation.
Click here to learn more about Linetec's durable painted finishing.
Company: Linetec
Source: https://linetec-blog.com/2017/07/03/in-the-news-keyes-dealership/
Tags: Aluminum | Finishes | Glass | Roof | Sustainability | Windows
---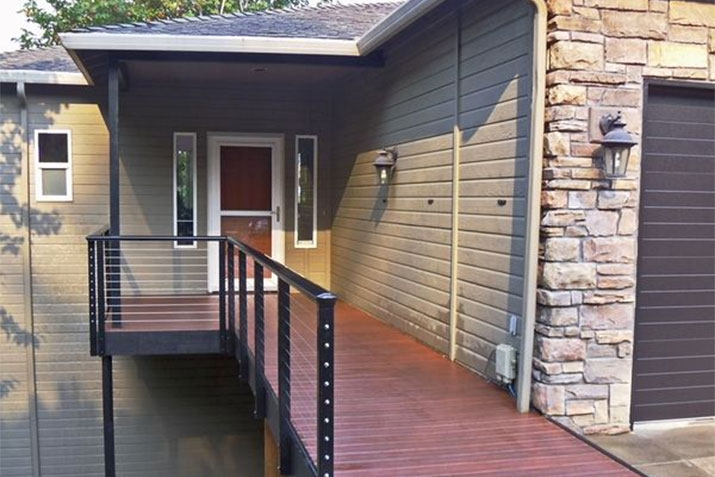 The shaped Aluminum Top Rail used in this photo captures the perfect look for this home in Happy Valley, OR.
Signature line of uniquely reinforced aluminum posts, matching top rails, and inline handrails. All aluminum products are available in five color options: black, bronze, white, natural, and clay.
These uniquely designed aluminum posts and top rails offer an economical alternative to our stainless steel and premium wood frame options, without compromising architectural resilience. Designed specifically for cable railing applications, these products are reinforced to have greater strength and durability than standard aluminum posts. With two top rail options, a handrail that can double as support for a wood top rail, and five color options, this line offers the greatest number of options.
Five powder-coat color options: black, bronze, natural, clay, and white
Two top rail design options: rectangular or shaped
Posts are available for 36", 42", and custom height systems and can be deck, fascia, or core mounted
Posts are compatible with any of our assemblies and can be ordered pre-drilled. Grommets are recommended to keep the stainless steel cables from reacting with the aluminum.
The aluminum handrail runs between posts for use in any system regardless of shape or slope. Can be used as a standalone, inline, or stair handrail.
Handrail can also be used as inline support for a wood top rail.
Company: Stainless Cable & Railing Inc.
Product: CableView® Aluminum Cable Railing System
Source: http://stainlesscablerailing.com/cable-railing-happy-valley-oregon.html
Tags: Aluminum | Exterior Design | Landscape Design | Railing System
---
The University of Iowa (UI) School of Music in Iowa City celebrated its 110th anniversary with a new home – Voxman Music Building. Designed for durability, sustainability and the highest acoustic performance, the 190,000-square-foot project features energy-efficient window and curtainwall systems, finished and thermally improved by Linetec.
The $152 million project is targeting LEED® for New Construction Gold certification. Wausau Window and Wall Systems worked closely with glazing contractor Architectural Wall Systems (AWS) to achieve the design intent set by LMN Architects and Neumann Monson Architects. Mortenson Construction served as the construction manager agent for UI.
"We conceived the project as a means of extending the public space inside the building, and we do that with glass," says LMN partner and project designer, Stephen Van Dyck, AIA, LEED AP. "The window systems play a huge part in creating the visual transparency between the public and the performers, and the connection from within and without of this educational and cultural building."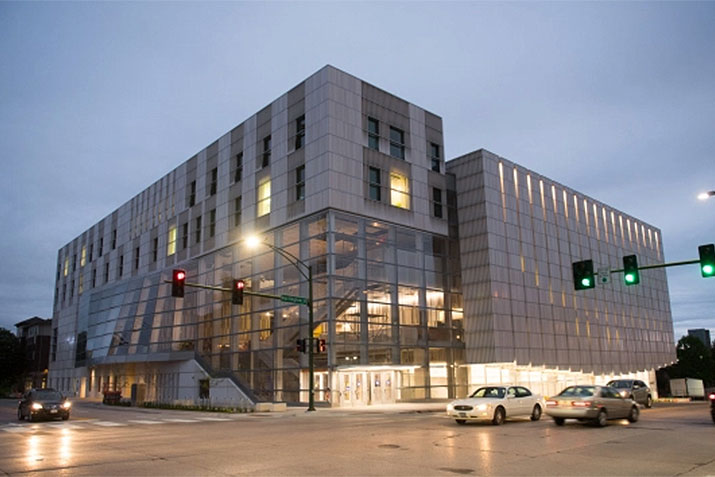 A Highly Anticipated New Home for the UI Music Department
Linetec Products Support Project Sustainability Goals
Linetec's thermal improvement services and anodize finishing are key contributors to the window systems' energy-efficiency, visual appeal and durability. The anodizing process produces a uniform, hard and protective finish. Linetec's anodize finishes meet the requirements of the American Architectural Manufacturers Association's stringent Class I specification standard, AAMA 611-14. The anodized aluminum resists the ravages of time, temperature, corrosion, humidity and warping, for a long product life cycle. Anodized aluminum may be specified with recycled content and is 100 percent recyclable.
In addition to durable finishes and recyclable materials, Linetec helped support the project's sustainable and LEED goals for thermal comfort and energy performance by providing thermal barriers for Wausau's window and curtainwall systems. Both Linetec and Wausau also are considered local suppliers, as they are located within a 500-mile radius of the UI campus.
Unique Window Systems Supply Natural Light and Visual Appeal
Wausau's systems also contribute to recognized benefits of daylight and views, and are a main visual feature of the building. The glass exterior begins beneath the concert hall, wraps around and up to the main entrance and continues over the recital hall, reaching heights of 50 feet.
One of the building's most unique features is the shingled curtainwall – called the "warped wall" – overlaying the recital hall, in which construction of glass and metal units are layered to create an undulating slope that appears to gently pour from the building's roof to its base. On the interior, a central atrium funnels natural light into the building.
Large-scale window systems are rare in musical spaces due to the acoustic challenges they can present. By choosing a low-iron glass with a low roller wave and horizontal orientation, acoustic and visual distortion was minimized. Large panes of glass diffuse sound at different rates on the shingled wall, and tall and narrow windows minimize vibration throughout.
Prioritizing Acoustic Isolation and Performance
"The acoustic requirements for this project are of utmost relevance," emphasizes Chucho Loria, AIA, with Neumann Monson Architects. "Wausau's team looked at the various conditions in the project. They developed details, during the shop drawing review process, to ensure that their system would meet the design intent of the project. It was apparent in those details that Wausau was taking efforts to make their system interact with the rest of the building."
"We prefer an integrated, whole building approach – especially with complicated engineered projects," says Doug Laffin, Wausau's architectural sales representative serving Iowa. "Our systems may be just one part of that whole, but everything must work together to successfully deliver the architectural vision and critical functionality."
"Almost all of the job was acoustically sensitive," says Lee Ebel, AWS project manager. "Wausau produced and had tested units that verified the system would meet the necessary STC ratings at the corresponding frequency."
Sound Transmission Class (STC) is a single-number rating system for acoustical performance, where a higher number indicates better performance. The Voxman Music Building's design specified an STC 55, which is suitable for blocking loud noises including musical instruments.
"Almost every room is acoustically isolated," explains Van Dyck. "This means that instead of the usual one wall, one floor between each room, there are two or three walls and two floors to separate most of the rooms and keep sound from transferring between them. We're also trying to keep the sound from passing from the outside into the building's interior. The windows are a big part of that equation."
Adding glazing mass, increasing air space and improving damping by the addition of a laminated interlayer achieve improvement in acoustical performance. Of course, maintaining an airtight assembly to reduce "flanking" noise is critical, especially at high frequency. All three approaches were used to meet the acoustic requirements of the Voxman Music Building.
"The goal was to have virtually no outside noise in the recital hall," says Randy Arneson, Wausau's senior estimator on the project. "There's 5-inch airspace between the inside and outside glass lites of our curtainwall to decrease sound transmittance. For the majority, we used Viracon's 1-5/16-inch OptiWhite laminated, insulating, specialty glass."
In the concert hall, the glass was glazed into the window system's interior-facing plane with a 3-inch airspace. On the exterior-facing plane, electrochromic SageGlass was installed. Electrochromic (EC) glass darkens or clears when a low-voltage DC current is applied. Wausau incorporated the necessary wiring paths to connect the windows' EC glass with a user-controlled switch. This enhanced functionality allows the faculty and students to reversibly control the sunlight entering their space and to maintain their outside view without shades or blinds.
"Wausau provided these elegant, tall, thin windows with EC glass. They're really cool. When the windows are turned 'on' and tinted, they produce this really nice, diffused light," says Van Dyck.
"They're very narrow – some are only 1 foot wide, but 40 feet tall. The smaller span actually helps with the acoustics. The stiffer it is, the less it wants to vibrate."
Ensuring Quality, Durability and Sustainability
Beyond acoustic performance, Ebel says, "The curtainwall system went through a rigorous performance mock-up test at a certified laboratory in Miami, Florida. The testing included air, water, dynamic, structural, seismic racking and thermal cycling."
Ebel adds, "The typical LEED requirements applied to this project." The window systems' high performance features contribute to quiet, comfortable spaces that promote concentration and creativity, as well as a whole building approach to energy-efficiency, daylighting and outside views.
AWS installed Wausau's SuperWall™ curtainwall, custom-engineered fixed and operable windows, and nearly 23,000 square feet of INvision™ 1050i-UW Series unitized curtainwall. Glazing and sealing in a factory-controlled environmental ensures that conditions are maintained to achieve the intended performance required for the project. Shipped one lite wide by one floor tall, the interlocking, pre-assembled units make the system easy to install on the job site. This saves labor, time and associated costs.
The curtainwall and window systems' installation was finished on time and on budget. "It took a lot of coordination between all parties, and modeling of the curtainwall and structure to ensure that everything would fit correctly in the field once installation started," Ebel says.
"Aesthetically, the project looks great," concluded Van Dyck. "But, let's face it, for this project, it wouldn't matter how great it looks if doesn't sound great, too. The window systems are a critical part of that success."
UI's new music facility replaces its former location, which was damaged by the 2008 flood. Programming and schematic design began in 2011. In 2014, the new building's essential structure was completed and the building envelope could begin taking shape.
The Voxman Music Building was substantially completed in July 2016 and welcomed its 450 music students and 60 full-time faculty on Aug. 22, 2016. The grand opening and ribbon-cutting event was held on Oct. 21, 2016. The 324-room space includes classrooms, teaching studios, a library, offices, recital spaces, a rooftop terrace, a 700-seat concert hall and a 200-seat recital hall.
David Gier is the first to serve as the UI School of Music's director in the Voxman Music Building. The facility's name honors one of his predecessors, the late clarinetist Himie Voxman who served as the school's director from 1954-1980. Gier and the School of Music have eagerly awaited their new home.
Company: Linetec
Source: https://linetec-blog.com/2017/05/16/designed-for-resiliency-and-acoustic-performance-university-of-iowa-voxman-music-building-features-linetecs-anodize-finishing-and-thermal-improvement-services/
Tags: Acoustics | Aluminum | Energy | Glass | Sustainability | Wall Panels | Windows
---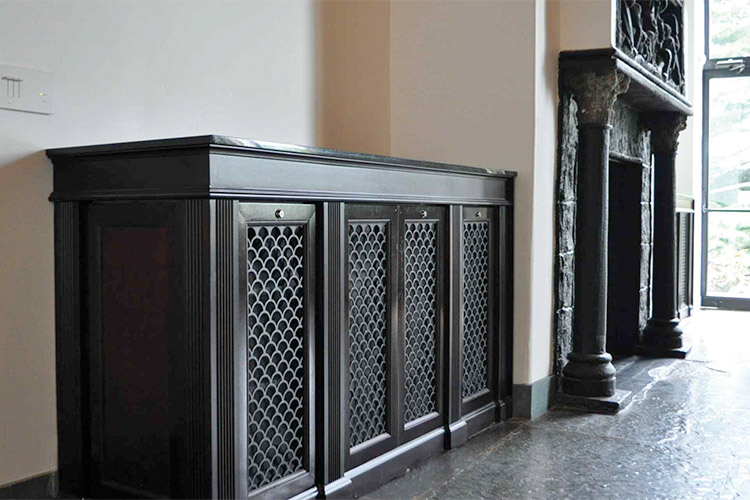 Fireplace
Historic House Restored To Former Glory
This stately fieldstone mansion, built in the mid-1800's, was a vacation home to famous Presidents and Authors. Artisans at Advanced Arch Grilles, working alongside our architect and contractor partners, assisted in the renovation that helped restore its rooms and pay homage to its historical and cultural significance.
Custom fabricated bronze perforated grilles blended nicely with the rich mahogany woodwork that has stood for over 100 years.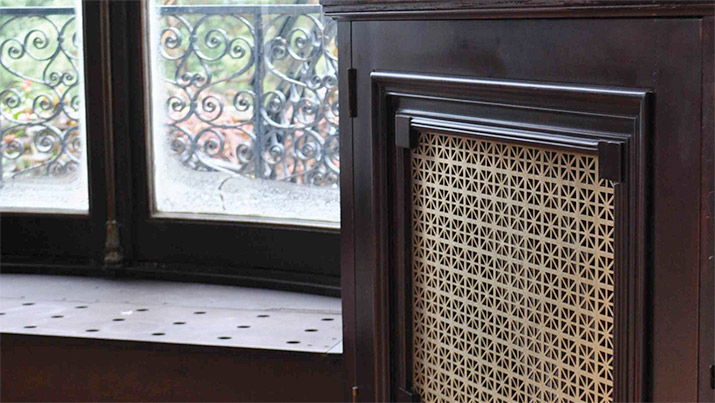 Cabinet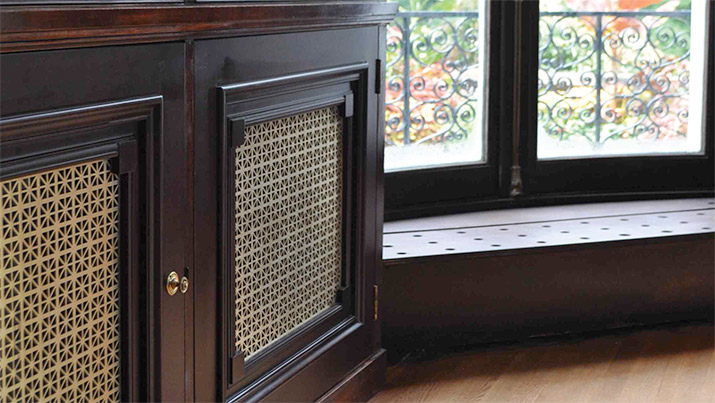 Custom built-in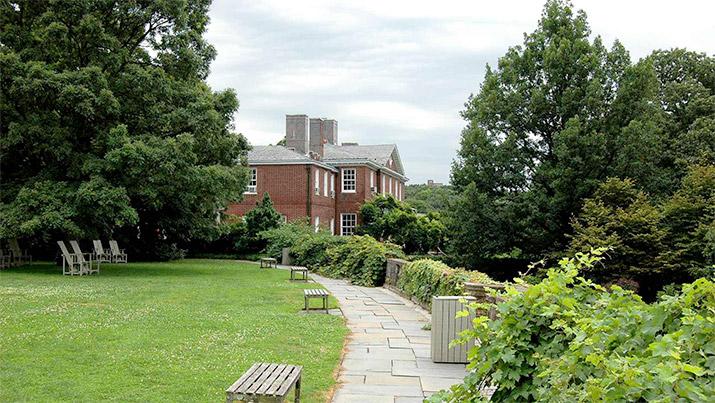 The house
Company: Artistry in Architectural Grilles by Advanced Arch Grilles
Source: http://aagrilles.com/custom-period-matched-perforated-grilles/
Tags: Access Covers | Aluminum | HVAC | Interior Design | Wood
---
A Howe Green 7500 Series Medium Duty Aluminum Floor Access Cover was recently installed at the Lennox Addington County General Hospital in Napanee, Ontario.
The hospital, which first opened in 1966, provides General Medicine and General Surgery, a 24 hour emergency service and an increasing number of outpatient clinics to the population of Lennox and Addington and the surrounding towns.
Over 270 people are employed at the busy hospital and they provide high quality health care for around 24,000 patients a year. The safety and comfort of patients is paramount.
Howe Green is one of the world's leading manufacturers of fabricated metal floor, wall and ceiling access covers, panels and hatches. Established in 1983 the company has a long pedigree when it comes to supplying access solutions for the healthcare sector.
Notable healthcare projects include the supply of over 100 Visedge Series Flexible Floor Access Covers for the state of the art Southmead Hospital in Bristol and 200 Visedge floor covers for the Queen's Hospital in Romford.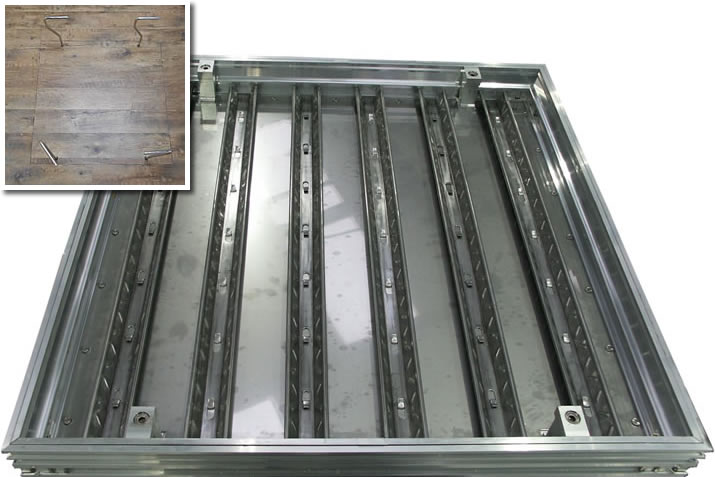 The access challenge:
Ensuring the smooth operation of mechanical and electrical services 24/7 is a challenge in any environment. Within a hospital the demands on providing an ambient temperature for patients, reducing the risk of infections and ensuring that systems are energy efficient adds greater complexity to daily maintenance schedules.
The Building Trades Coordinator Lennox and Addington County General Hospital required easy access to a shaft that concealed mechanical and electrical services running through the underfloor void of the building. With heavy footfall of patients, visitors and staff it was imperative that the access solution was secure but could be easily and quickly removed when required.
After direct discussions with Howe Green's Canadian distributor - FF Systems in Ontario - it was agreed that the 7500 Series was the perfect solution for the challenge in hand.
Why the 7500 Series Medium Duty Access Cover was ideal for this project:
Suitable for heavily trafficked pedestrian areas, cars and light delivery vehicles as it will accept up to a 5 ton pneumatic wheel load
Can be used with all types of hard flooring including terrazzo, ceramic tiles, marble, resin, concrete, wood and parquet floors. In this case the access cover was filled with concrete ready for a wood floor to be laid over the top.
Available in a range of standard size access covers from stock. Where a non-standard size is required this can be manufactured to order to meet the exact specification
The cover provides easy access to the mechanical and electrical services located underneath the floor. It can be safely removed, with the minimum of disruption, using a set of lifting keys
Option for a double seal to provide a tamper proof solution with enhanced levels of security
The cover fits flush into the surrounding wooden floor removing the risk of slips and trips.
Over to the customer for the last word…
"I chose to work with FF Systems because they were able to supply a product that met our specific requirements. The Access Panels are of superior quality and easy to install. I look forward to working with FF Systems in the future." - Bill Harrison, Building Trades Coordinator, Lennox and Addington County General Hospital, Napanee, Ontario
Find out more:
Visit the Howe Green US website or call Howe Green's distributor - FF Systems Inc in the US on 239 689 5334 or for Canada 519 896 0888.
Company: Howe Green US
Product: Medium Duty Floor Access Covers
Source: https://howegreen.us/
Tags: Access Covers | Aluminum | Floor
---
Seaside and coastal areas are beautiful locations for commercial and residential buildings, but also pose the greatest challenges in protecting exterior-facing architectural aluminum products from corrosion. Without proper precautions and finishes, corrosion to these aluminum components can damage the building envelope's structural integrity, leading to systemic failure.
One of the most aggressive outdoor environments for aluminum is the seacoast. Of the seacoasts, Florida's coastal regions represent the most corrosive in the continental United States, with Cape Canaveral cited as the most corrosive atmospheric environment.
Corrosion rates vary from place to place and during different times at the same location. Such wide variability makes definitive conclusions difficult.
The primary variables affecting corrosion rates near the coast are the salt content in the air, the time of wetness of the metal surface, the temperature and the level of other atmospheric pollutants. Several environmental factors control these variables, including distance to the ocean, elevation, wind direction, wave action, rainfall, humidity, the degree of shelter and the level of industrial air pollution.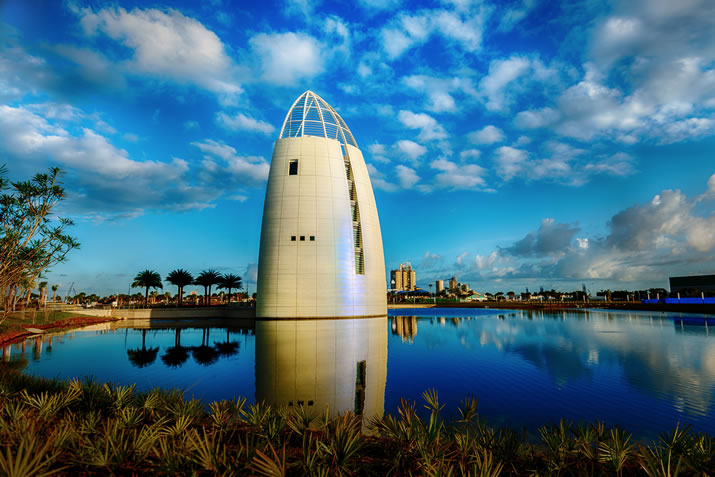 Exploration Tower at Port Canaveral (courtesy of Valspar. Photo by Rip Noel, Noel Studios Inc.)
Durable Finishes
Painted coatings and anodized finishes are among the most durable finishes for exterior-facing architectural aluminum products.
As a prominent part of the building's exterior, the coated aluminum adds color and design to the project. This coating also protects the building from unsympathetic surroundings. When selecting a coating to withstand harsh corrosive environments, one should specify either:
the highest-performing organic paint coating that meets AAMA 2605-13, Voluntary Specification, Performance Requirements and Test Procedures for Superior Performing Organic Coatings on Aluminum Extrusions and Panels; or
a Class I anodize coating that meets AAMA 611-14, Voluntary Specification for Anodized Architectural Aluminum.
These two options continue to set the highest standard for architectural coatings, especially in a coastal or highly corrosive environment.
Paint
High-performance 70 percent PVDF coatings offer the capability to select nearly any conceivable color or combination of colors, while shielding the building against weathering, pollution and aging.
The carbon-fluorine bond used in 70 percent PVDF coating is one of the strongest kn own. These paint coatings can withstand enduring and intense UV radiation, which supports their long-term color- and gloss-retention, and chalk-resistance.
The first, and one of the most important, defenses against a paint failure is proper pretreatment of the aluminum. Without proper pretreatment, premature failure of the finish is almost guaranteed. Paint systems are designed to be applied over clean metal that has been properly pretreated.
Pretreatment of the aluminum building components to be used in severely corrosive or coastal environments is crucial.
The most time-tested, proven pretreatment system for architectural aluminum products is a chrome phosphate conversion coating. This process conforms to Type B, Method 5 of ASTM D1730-09 (Reapproved 2014), Standard Practices for Preparation of Aluminum and Aluminum-Alloy Surfaces for Painting, as required by AAMA 2605-13.
Offering the longest lifecycle and true sustainability, chrome phosphate conversion coatings continue to be recognized by the world-class coating manufacturers, Akzo-Nobel, PPG, and Valspar, as the most effective, robust pretreatments for aluminum. As a result, products installed along the seacoast and in other harsh industrial environments may not be warranted-or the warranty length and coverage could be compromised-when a chrome pretreatment system is not employed.
These highest-performing 70 percent PVDF are required to perform to rigorous testing performance standards, including more than 4,000 hours of salt spray, and heat- and humidity-resistance to meet the AAMA 2605-13 specification.
Special Considerations
The shape and machining of the architectural aluminum products also may facilitate or deter corrosion. As examples:
Machined holes and cut ends of factory-finished aluminum components are protected by thin, naturally forming aluminum oxide. This oxide, while tenacious in its bond to the underlying aluminum substrate, may be susceptible to attack from strong cleaners or heavy salt deposits.
Hems and seams on aluminum components may be formed in a way that will collect sand. With movement, over time, this sand can erode away the painted coating or anodized finish.
Components may be shaped with areas that are left holding pooling or ponding water. This often can become a major issue for corrosion.
Specific to curtainwall and window systems' aluminum framing, ensure the weeps are large enough to avoid becoming plugged by salt deposits.
Anodize
When extreme hardness is required for the aluminum building components, such as in high-traffic areas like entranceways and railings, an anodized aluminum finish should be specified to meet AAMA 611-14. The hardness of anodized aluminum rivals that of the diamond. (On the Moh scale of hardness, a diamond is 10 and anodized aluminum is 9.)
Architectural anodize is specified for its natural beauty, but also for its long life and low maintenance. It provides excellent wear and abrasion resistance with minimal maintenance in most environments. It resists the ravages of time, temperature, corrosion, humidity and warping.
Anodized aluminum should meet the strict guidelines of Class I specifications of AAMA 611-14, including a minimum oxide coating thickness of 0.018 mm (0.7 mil); minimum of 10 years color retention on the South Florida on-fence testing site; and 3,000 hours corrosion resistance.
Cleaning and Maintenance
Studies have shown increasing levels of atmospheric pollution can have a negative effect on finish longevity in the absence of periodic maintenance. Runoff from adjacent site materials must be considered in a corrosion prevention plan. For example, mortar, cement and even gypsum dust can accumulate as alkaline deposits on aluminum surfaces and must be promptly rinsed. This is especially true of mill finish or anodized surfaces. While somewhat more resistant to alkaline attack than anodized surfaces, high-performance paint finishes can be managed by rough attempts to remove such buildup.
AAMA 609 and 610-15, Cleaning and Maintenance Guide for Architecturally Finished Aluminum, and AAMA CW 10-15, Care and Handling of Architectural Aluminum from Shop to Site, are general guides for these precautions and cleaning activities.
Corrosion of architectural aluminum materials is a fact that must be recognized; proper steps must be taken to minimize the potential for its occurrence. With these building considerations and preventive measures in place, finished architectural aluminum retains its intended look and long life, while providing the desired performance in the harshest environments, including the highly-corrosive seacoast. These qualities reduce the need to replace materials and components, conserve resources, optimize labor and save money.
Company: Linetec
Product: Anodizing
Source: http://www.linetec.com/Finishing_Facts/The-right-finish-for-coastal-projects.pdf
Tags: Aluminum | Building | Coating | Color | Design | Sustainability