architecture - engineering - construction

Aluminum
---
May 3, 2021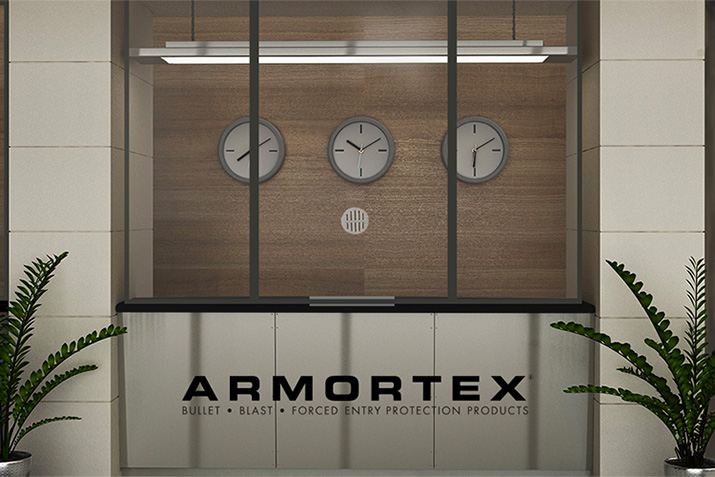 When replacing the windows and doors in a commercial building, the first consideration is always cost. Does a potential replacement provide tangible benefits to the business? New window frames can refresh the look of your building, particularly if you opt for uPVC fittings. Unplasticized polyvinyl chloride, typically abbreviated to uPVC, is the go-to material for refurbishing tired windows and doors. It can lend a refreshed feel to building exteriors while improving the insulation considerably. Yet uPVC windows leave something to be desired from the perspective of security.
---
March 22, 2021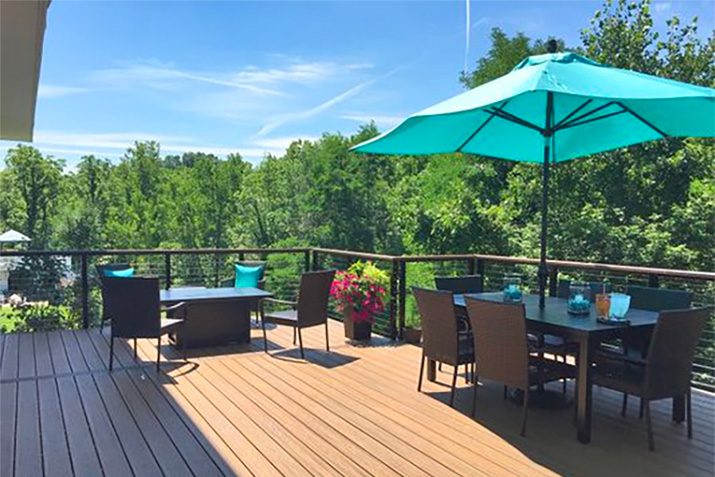 This stylish deck in Albany, New York was built for entertainment. With multiple areas for lounging and socializing, the homeowners chose a fascia-mount railing that keeps the space open. The dark aluminum contrasts nicely with a light wood deck and vivid accent colors to create a refreshing, contemporary look.
---
March 12, 2021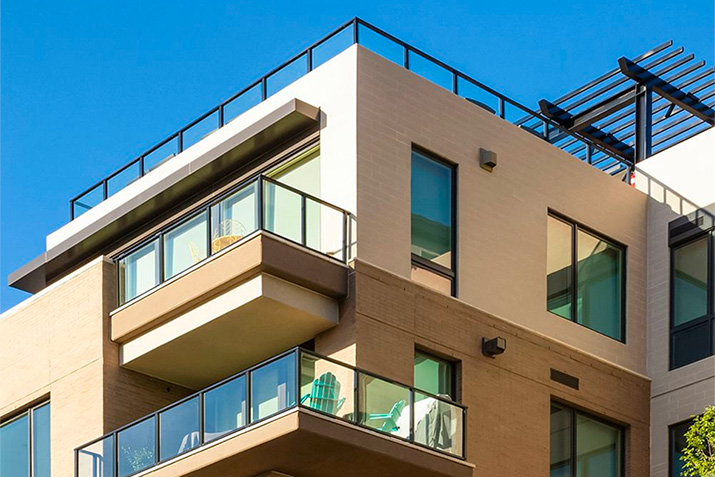 Black Solid glass railing is used to line the various decks and balconies of this shopping and multi-family housing building in Denver, CO.
---
November 24, 2020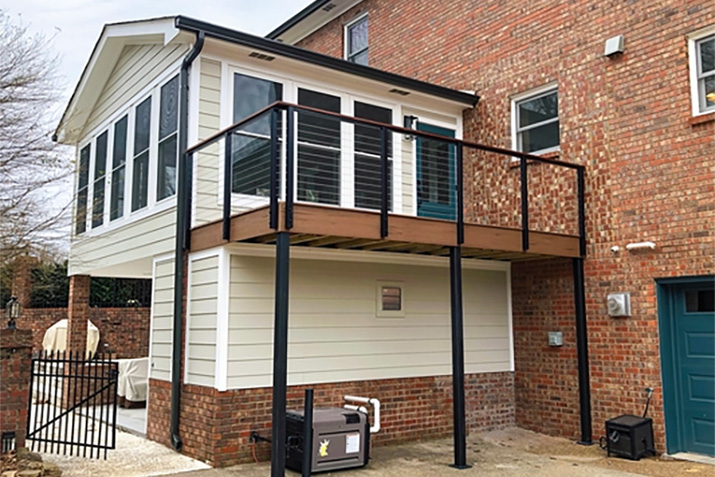 Old-fashioned meets contemporary at this Clarksville home. The ipe wood rail blends nicely with the brick façade while the black posts stand out dramatically against it. The end result elegantly updates this brick home. The reinforced aluminum system withstands the tension of cable infill without bending.
---
October 9, 2020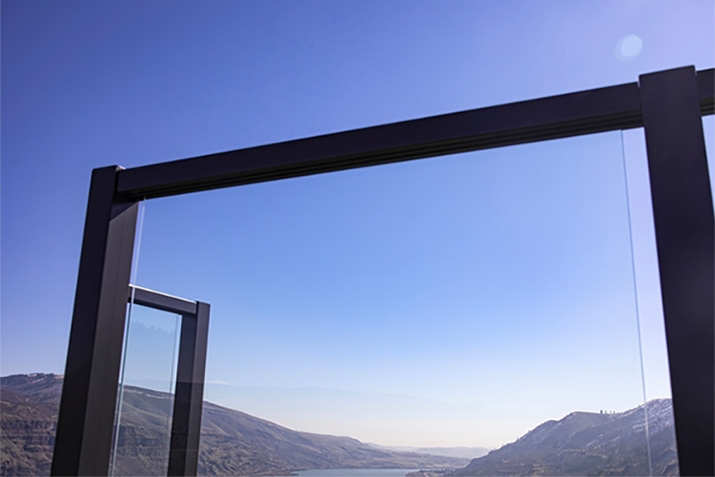 Offering the thinnest top rail and combined with full glass panels, this glass railing option focuses on a beautiful view while providing the safety and durability you expect from a railing system. Designed for minimal view obstruction, eGlass Element™ exposes the splendor of your surroundings, whether indoors or outdoors.
---
June 12, 2020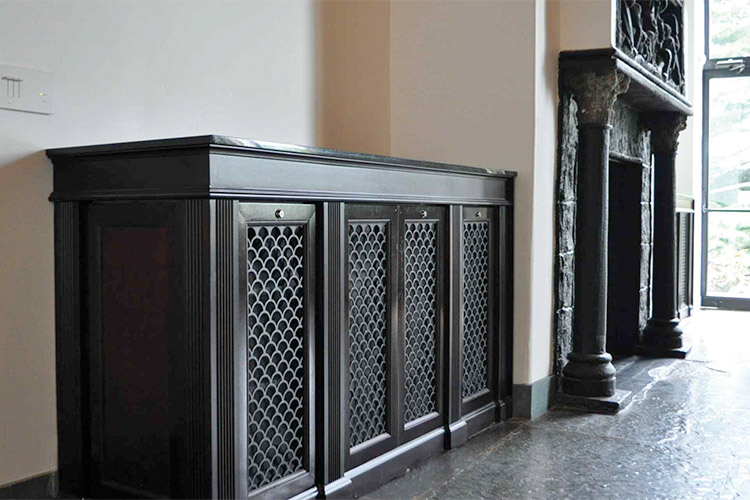 This stately fieldstone mansion, built in the mid-1800's, was a vacation home to famous Presidents and Authors. Custom Period-Matched Perforated Grille PatternsCustom fabricated bronze perforated grilles blended nicely with the rich mahogany woodwork that has stood for over 100 years.
---
January 17, 2020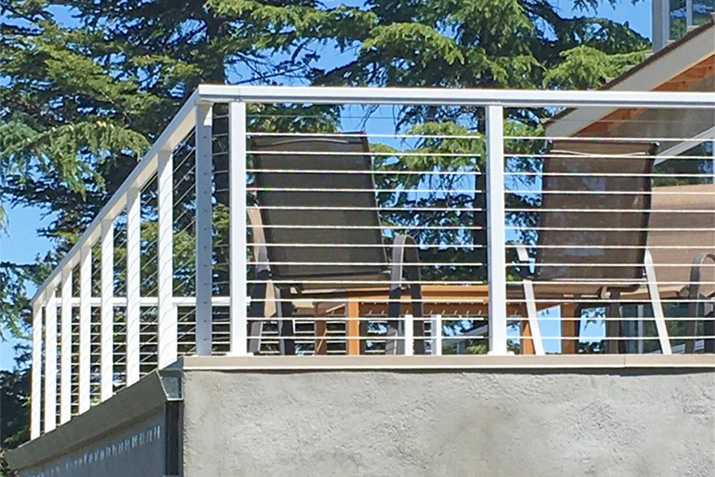 This Bay Area home had recently undergone a yard and deck renovation to update the outdoor space into something more modern and open. The customers wanted a railing solution that fit this contemporary theme while maintaining an open view of their newly landscaped yard.
---
November 11, 2019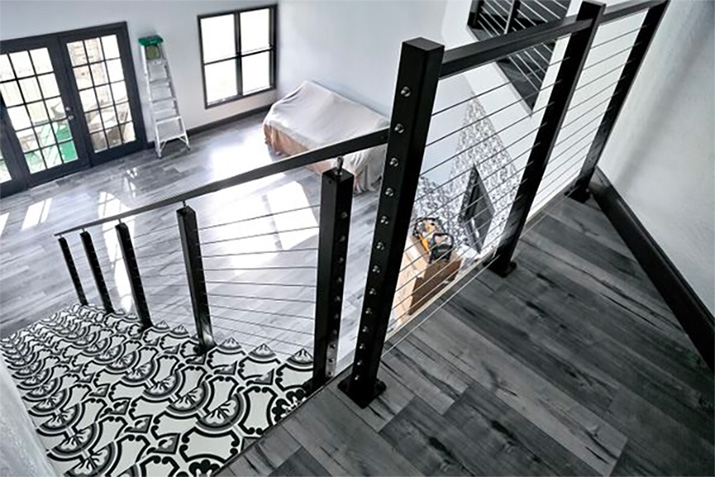 Sporting a stark black-and-white color scheme and eye-catching tile designs, this interior certainly makes a statement. Our black aluminum cable railing is the perfect accent. Black aluminum cable railing looks amazing against the intricate design of these tiles.
---
October 14, 2019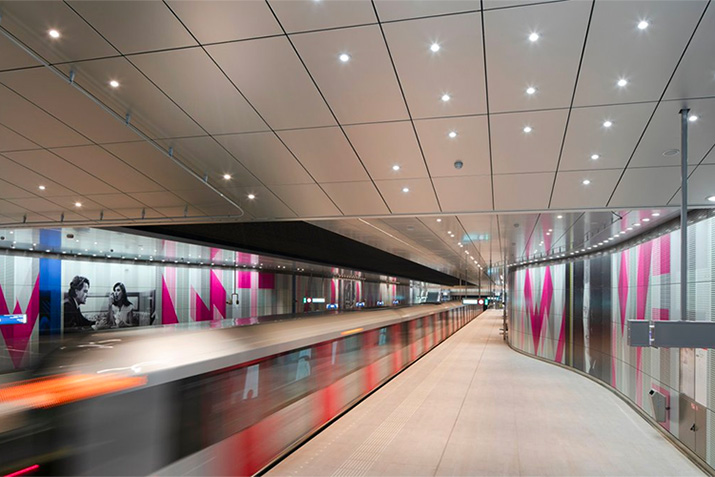 Monolithic look, acoustic performance, easy installation, and best of all - long-term stability. Plaza large-format acoustic panels by Hunter Douglas Ceilings & Walls are engineered with a lightweight perforated aluminum construction and an innovative honeycomb core, so panels remain ultra-flat.
---
September 20, 2019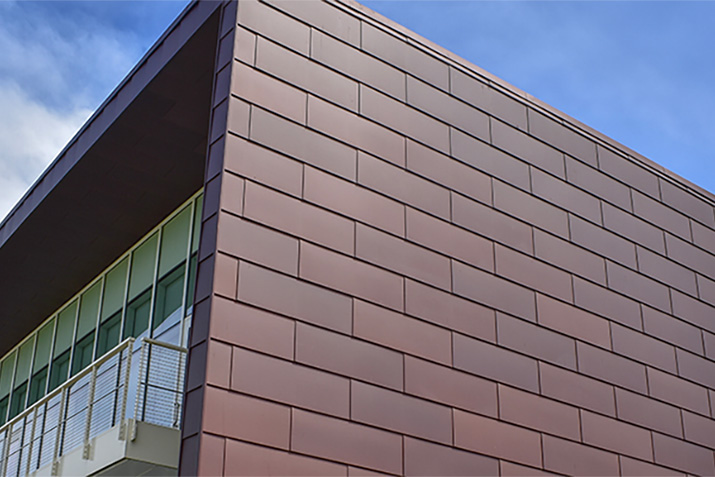 Linetec continues to grow its expansive palette with the introduction of Bordeaux Anodize. This new color is available as another of Linetec's proprietary finishes for architectural aluminum products. As the name describes, the hue leans toward rich burgundy tones and is created using organic tin and copper metals in the anodizing process. "Architects appreciate this unique, bold, earthy finish for a wide range of projects: from eye-catching modern designs to historic restoration projects," said Linetec's marketing manager Tammy Schroeder, LEED® Green Associate.
---
August 9, 2019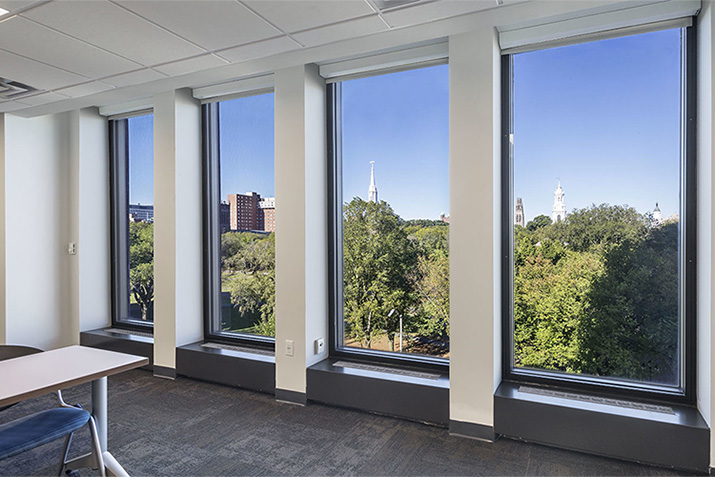 While many are aware of the wide selection of finishing choices available for architectural aluminum products installed on buildings' exteriors, some may not know that they have the same creative freedom and performance reliability for interior finishing options. With Linetec as your single-source solution for finishing, not only is the color selection practically unlimited, so are the combinations of shades, textures and patterns for distinctive exterior and interior applications. Interior applications for finished architectural aluminum products go beyond the inside surfaces of curtainwall, storefront, window, entrance and skylight systems. Aluminum also is a top material of choice for interior wall cladding, framing systems, doors, column covers, handrails and light shelves.
---
April 17, 2019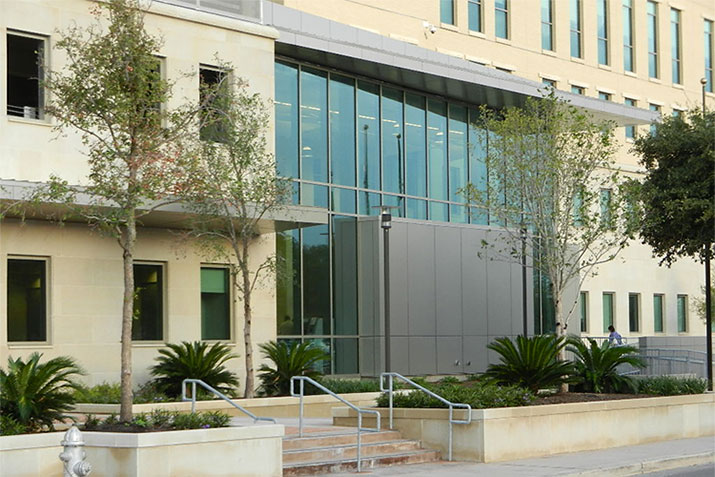 Bullet-resistant security windows are comprised of a composite system of alternating glass and polymeric layers – typically polyvinyl butyral (PVB) or ethylene-vinyl acetate (EVA). These dissipate the force of an impacting projectile before it penetrates through the other side of the window. Bullets are captured within the composite, providing effective protection for personnel from a variety of small arms fire.
---
April 5, 2019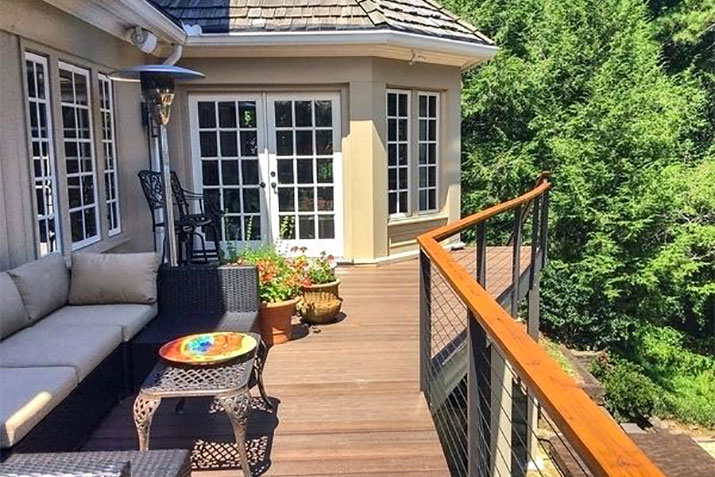 This backyard deck follows the curves of its house and overlooks a nearby river. Our bronze aluminum cable railing system keeps this beautiful view open and perfectly matches the deck furniture. The cedar top rail adds a natural touch that livens up the living space with its bright color.
---
January 18, 2019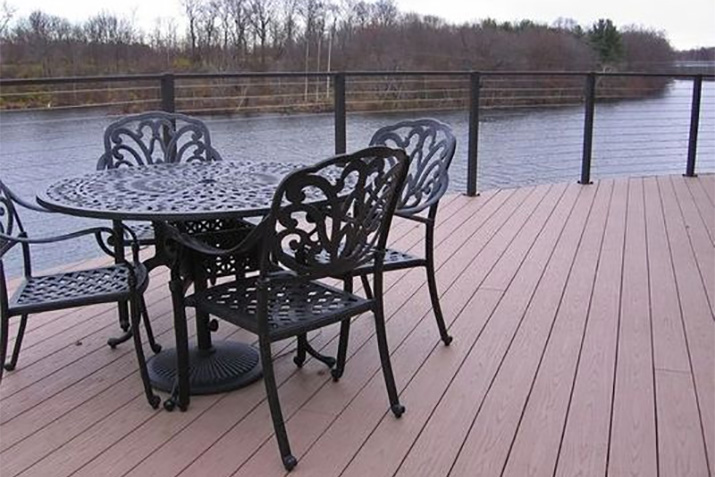 Featuring: reinforced aluminum system withstands the tension of cable infill without bending; Bronze powder-coat compliments rustic, woodsy, and old-world surroundings while protecting the aluminum from the elements; Post-to-Post Handrail runs between posts, allowing the railing to follow the curves of the deck; Deck mount posts are easy to install; Field assemblies have a low-profile look with no bulky turnbuckle.
---
October 15, 2018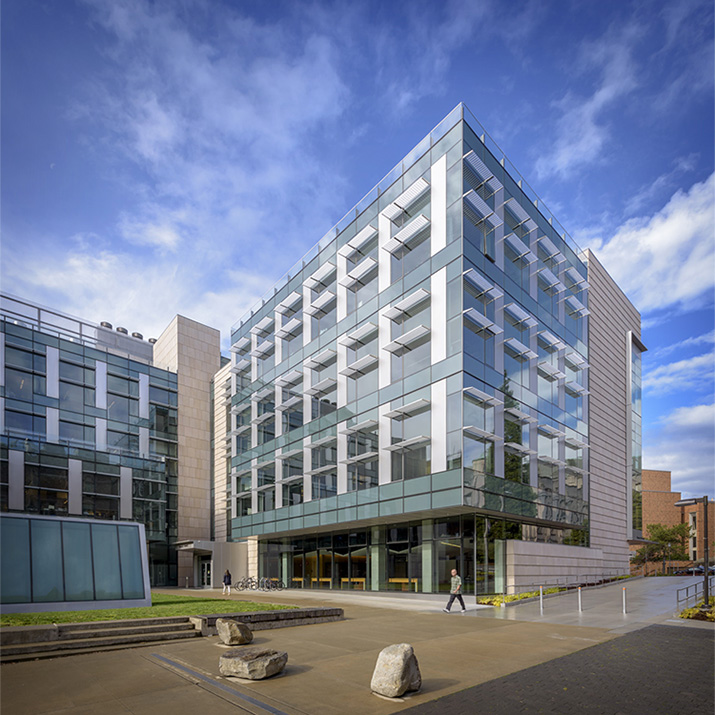 The University of Washington's recently opened Nano Engineering and Sciences Building (UW NanoES) provides modern performance and visual continuity with the adjacent Molecular Engineering and Sciences Building (MolES). Demonstrating its energy-efficiency and daylight-focused design, the project is pursuing LEED® Silver certification through the U.S. Green Building Council.
---
June 15, 2018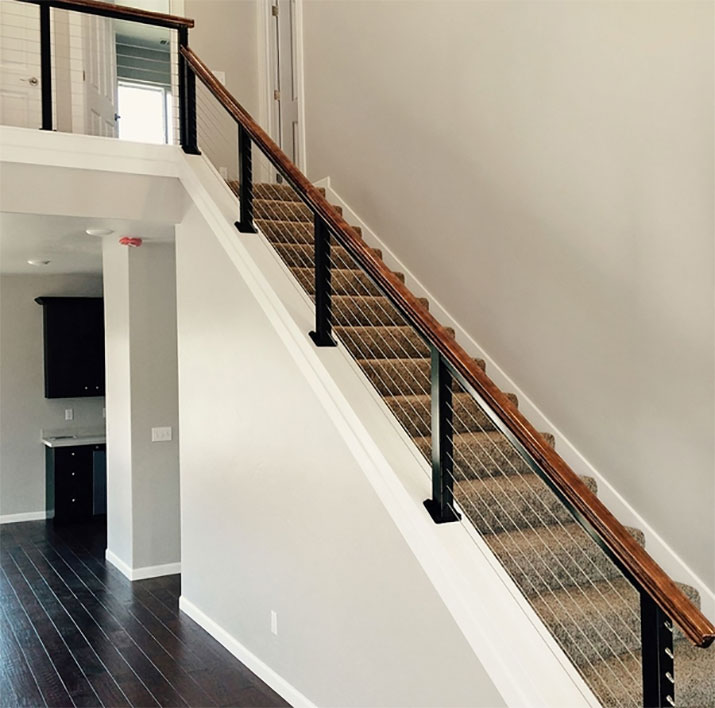 Unlike most other aluminum posts on the market, which are too small and thin-walled to withstand the tension of cable infill, Stainless Cable & Railing™ products are uniquely engineered specifically for cable railing applications.
---
March 14, 2018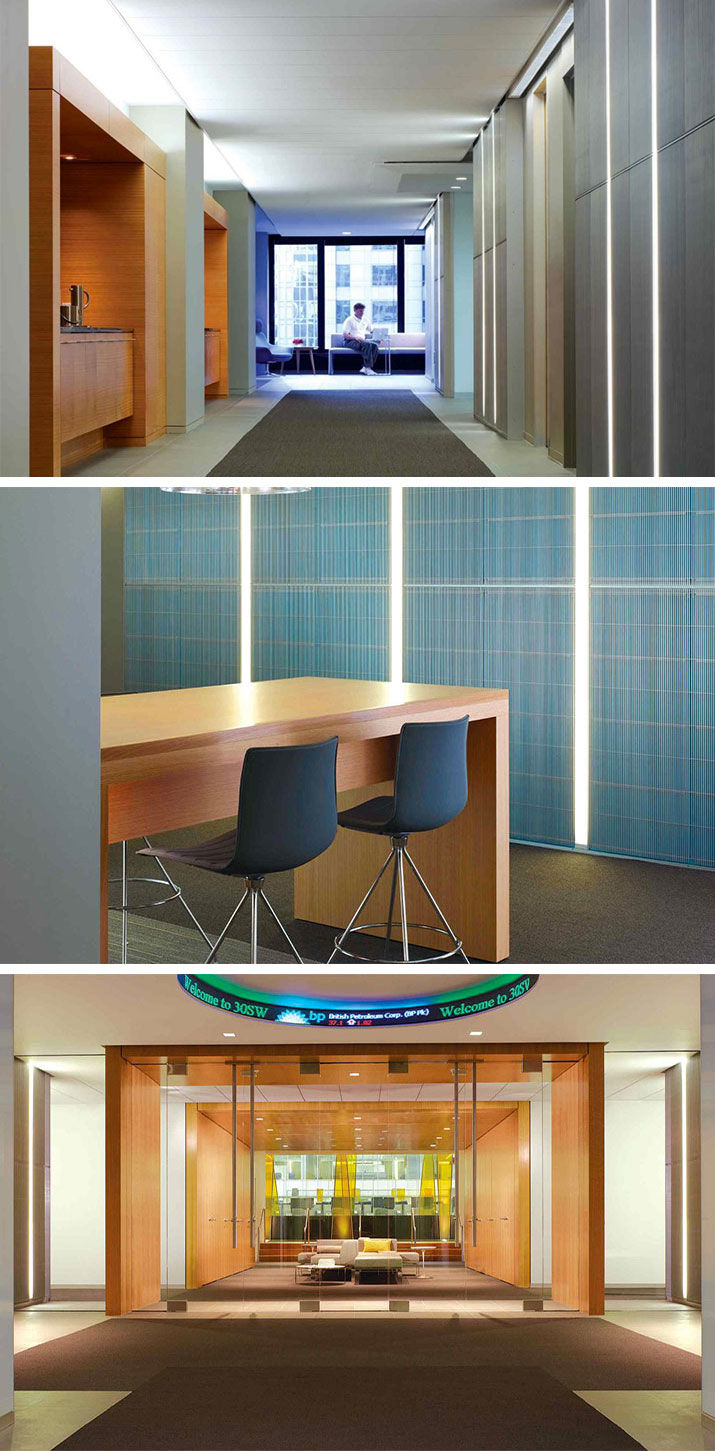 Design challenge: how to incorporate light weight, grille-style wall cladding, built to accommodate light diffusers, in an aesthetically pleasing way that would be appropriate in a high-end corporate environment. The grilles would need to run floor to ceiling, be easily mounted and have soft edges. In addition, budget constraints required all of the above to be incorporated into a cost effective solution.
---
November 7, 2017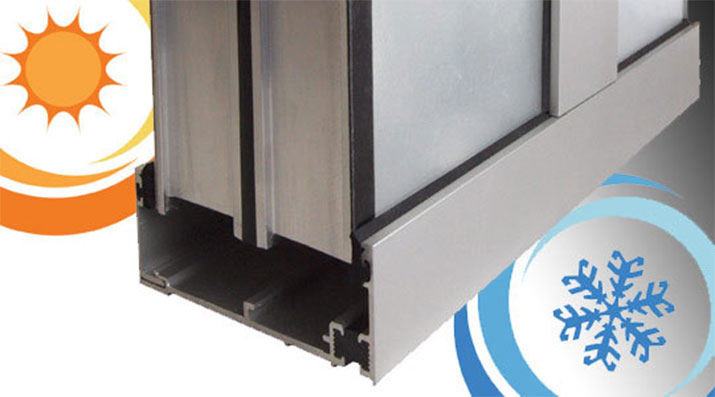 Heat conduction, or the transfer of heat through a solid material at the molecular level, is a problem that occurs in aluminum framing. Providing a thermal break in the aluminum is the most common solution for disconnecting the exterior and interior of the aluminum frame. The frame is literally split into two components and must be connected by a structural material that is of significantly less conductivity as the aluminum. Simultaneously the thermal break material must bond the two components together.
---
August 17, 2017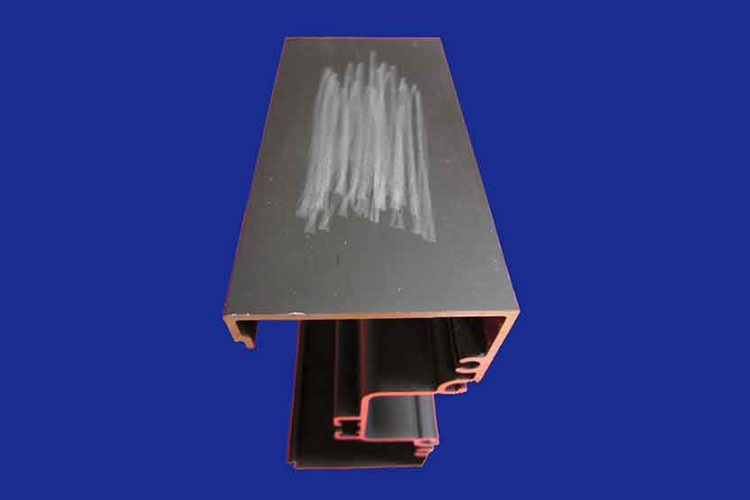 When extreme hardness is required for aluminum building components, such as in high-traffic areas, like entranceways and railings, an AAMA 611-14 anodized aluminum finish should be specified. The hardness of anodized aluminum rivals that of the diamond. This "Nickel Test" demonstrates why a Class I high-performance anodize coating is the perfect choice for exterior architectural applications.
---
July 5, 2017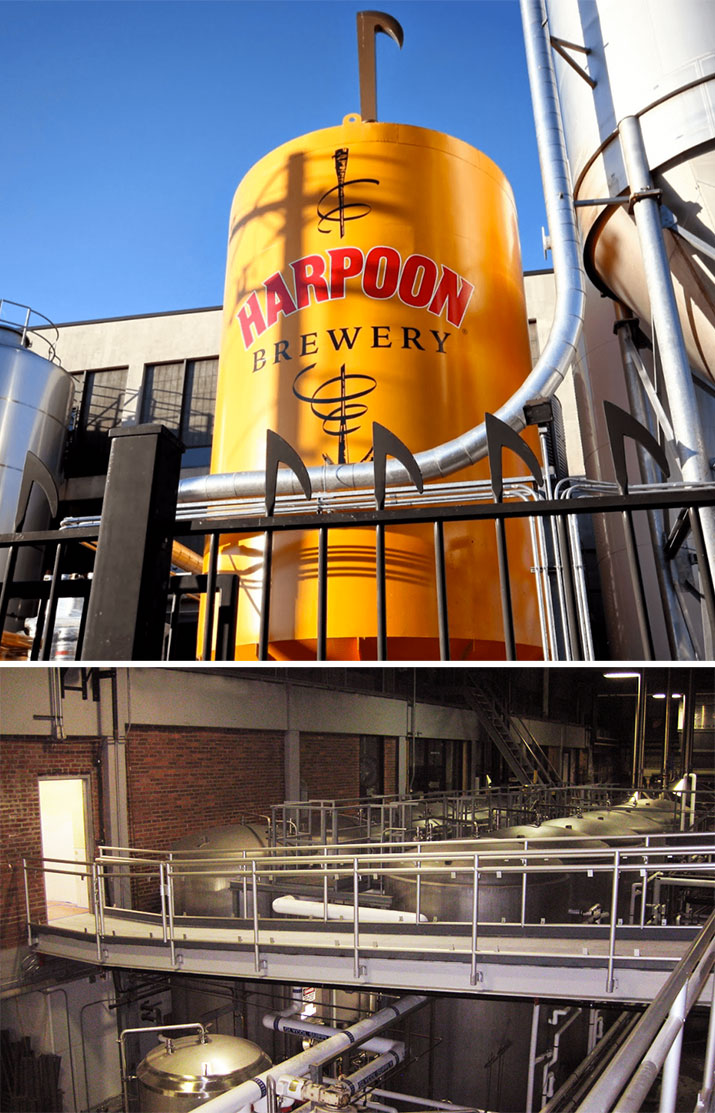 SlipNOT® provided (10) 3/8" x 4' x 8' aluminum plates, (7) 3/8" x 4' x 12' aluminum plates, and (11) 3/8" x 5' x 12' aluminum plates in a Grade 2 mill finish. Capone Iron was committed to not only install aesthetically pleasing walkways for their customer, but also provide a permanent safety solution.