architecture - engineering - construction

Insulation
---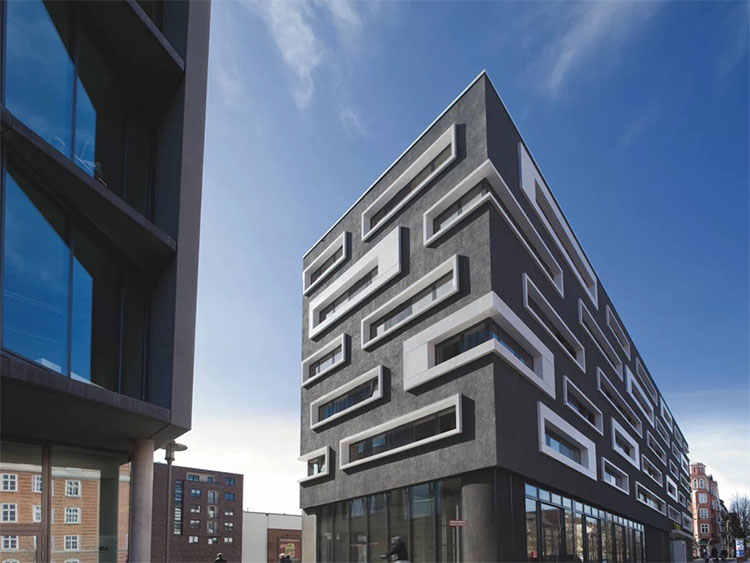 High performance insulated wall systems like the innovative StoTherm® ci XPS provide the air, weather and thermal tightness required for today's most energy-efficient architecture, but are also cost-effective and provide designers with a wide range of aesthetic options.
Sto Corp. has joined forces with insulation specialists Owens Corning and Dow to produce one of the most technically advanced exterior wall systems available. The innovative StoTherm® ci XPS wall system is designed to provide the air, weather and thermal tightness required for today's most energy-efficient architecture, but also makes for exterior walls that look good, and are cost-effective.
One of the first things architects will notice about the product is its design flexibility. The multi-layered system offers a wide range of finishes from the natural look of raw materials to boldly colored finishes, allowing for a variety of looks from traditional textured surfaces to limestone, concrete, metal and many more.
Hidden behind the beautiful outer skin, are important energy efficient properties; StoTherm® ci XPS meets rigorous sustainable design standards, including ASHRAE 90.1-2010, the new International Green Construction Code (IGCC), and the International Energy Conservation Code (IECC) requirements for continuous insulation.
This smart architectural product combines high quality, technologically advanced materials, including Dow and Owens Corning insulation with a closed cell structure which helps prevent liquid movement through the material and provides exceptional thermal performance with an R-value of 5.0 per 1". The final result is a combination of layers that delivers exceptional air and moisture control, that also meets the latest building code requirements for energy efficient continuous insulation and fire testing. The highly durable system also provides significant impact resistance that exceeds IBC and IECC codes.
How can such a high-performance product, also be economical? The high R-value of Sto's system (R5/inch) makes for a thinner wall, reducing the overall weight and cost-per-square foot for the building envelope. Add this to lifetime savings from superior energy-efficiency, and you have a product that offers both short- and long-term cost benefits to the client.
StoTherm® ci XPS is truly a system designed with the architect in mind –its versatile and seamless combination of energy-efficient qualities and aesthetically pleasing finishes provide a true "end-to-end" solution for architects.
Company: Sto Corp.
Product: ci Systems
Source: http://blog.stocorp.com/
Tags: Architecture | Insulation | Walls
---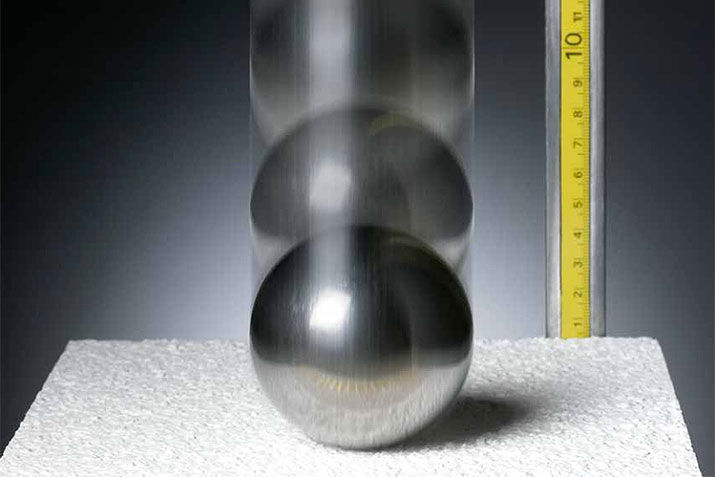 Sto is pleased to announce the formal launch of its Impact Resistance Program designed to provide information about its leading impact- and hurricane-resistant, continuous insulation wall systems.
StoTherm ci has a proven history of delivering impact resistance for code-approved buildings in storm-prone, coastal areas, such as Florida's Miami-Dade County, as part of its Hurricane Impact System Program (see our website and brochure for more information). A variety of prominent projects across the country designed to stand up to both extreme weather and everyday abuse provide even more examples.
While these systems are built to withstand the most severe weather conditions, StoTherm ci can also be configured to meet various impact levels consistent with the everyday requirements of a specific location or type of use. Employed in entryways, staircases, lower-level, street-facing walls and many more applications, Sto's Impact Resistant System can provide an excellent solution for keeping exterior wall surfaces intact, clean and fresh.
Impact Resistance is just one of many benefits offered by StoTherm ci Systems. Please also refer to our HP Colorant Program to find out more about our unique finish designs, Sto Studio design services and the superior fade-resistance that characterizes the entire line of Sto finishes.
For more information, see our program brochure and video.
Company: Sto Corp.
Product: ci Systems
Source: http://www.stocorp.com/sto_news/sto-sponsors-exhibits-at-fwcca-convention-2/
Tags: Hurricane | Insulation | Walls
---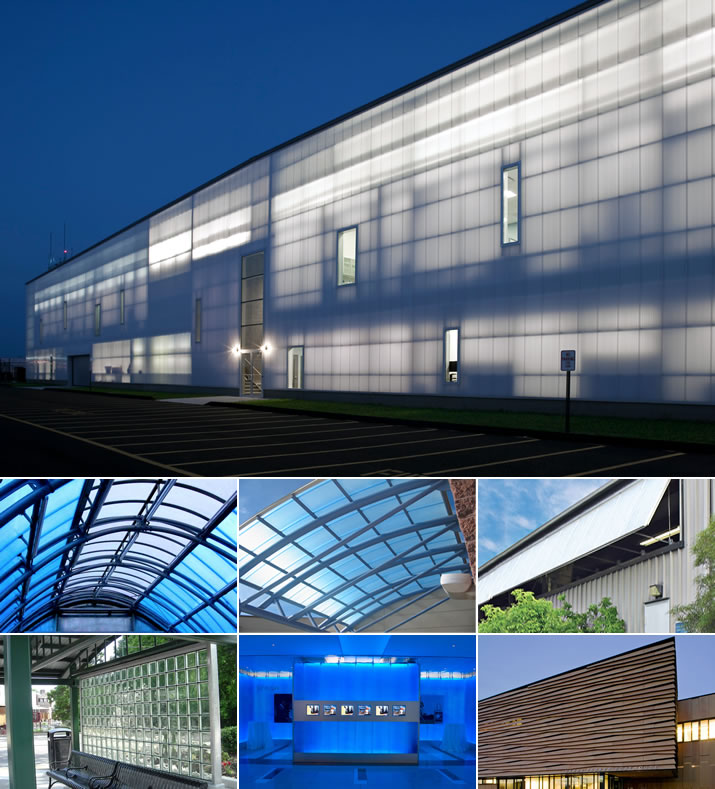 Translucent Walls, Skylights, Canopies, Windows, Mortarless glass block, Interiors, Custom Facades, Porcelain Systems
Cellular Polycarbonate Specialists
EXTECH specializes in the use of cellular polycarbonate for its host of benefits including daylighting, energy savings, superior impact resistance and insulation properties.
We provide a variety of translucent wall and interior panels, windows, skylights, and canopies for industrial and commercial clients. We also provide mortarless glass block systems and porcelain walls for use in outdoor rain/windscreens or interior applications, both of these products are extremely resistant to vandalism.
All of our products are designed for ease of installation and maintenance, including 10 year manufacturer warranties. Our group of dedicated staff who "like to build things" are also happy to provide custom facade work based on over 35 years of award-winning engineering excellence.
Our Product Lines
Polycarbonate walls
Polycarbonate windows and skylights for industrial or architectural use. Our skylights are capable of incomparable spans, without leaks.
Mortarless glass block and porcelain walls, perfect for windscreens, transit stations/shelters
Custom facades and building envelope
We make you AND your buildings look good
with our uniquely designed polycarbonate products for building exteriors
The Many Uses and Benefits of Cellular Polycarbonate
Diffused daylighting saves on energy costs, prevents glare and provides optimum visibility
High Levels of Impact Resistance
Lightweight material demands less structural support and requires less energy to operate when used as doors
Highly insulating with values up to U-.25 (R-4) for 40 mm thick panels
100% Recyclable panels and aluminum framing is LEED Credit friendly
Panels can be cold formed to a radius, unlike glass
Easy maintenance and cleaning
10 Year Manufacturer Warranties
The most advanced aluminum perimeter framing systems in the industry in a wide range of finishes
Air/water/structural testing
Company: EXTECH/Exterior Technologies, Inc.
Source: http://www.extechinc.com/polycarbonate-products.html
Tags: Building | Design | Energy | Insulation | Lighting | Wall Panels
---

This interactive mobile app lets you explore the areas where high performance Icynene spray foam insulation can be applied throughout your home. Plus, you can:
learn about the immediate and long-term benefits of Icynene
get answers to some of the more commonly asked questions
understand more about the installation process and much more!
This free app is available for download on the Google Play Store and Apple's App Store.
Company: Icynene
Source: http://info.icynene.com/download-icynene-homeowner-app?utm_campaign=Homeowner%20APP&utm_content=32256318&utm_medium=social&utm_source=twitter
Tags: Building | Insulation
---
The world-class building-science experts at Sto continue to lead the way in advancing energy efficiency, durability and aesthetic appeal. Today's energy codes and regulations reflect many of the design principles embodied in our Continuous Insulation (ci) Systems, and the proven performance of Sto's next-generation EIFS appeals to designers, contractors and owners alike.
StoTherm® ci Wall Systems (EIFS)
Integrated Wall Systems that deliver the best in performance, sustainability and design flexibility
Sto's next-generation StoTherm® ci systems integrate the following key elements: continuous insulation (ci), an air/moisture barrier, drainage and a variety of textured finish options to create a superior, sustainable wall cladding. This high-performing, eye-catching system saves energy and stays attractive for years. StoTherm® ci improves indoor comfort and air quality while maintaining maximum curb appeal and lowering overall life-cycle costs.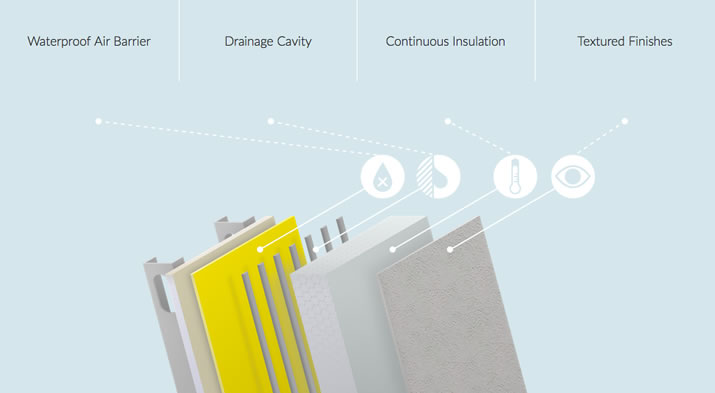 Key Components of the Sto Continuous Insulation (ci) System
System Features
High R-Value
Continuous insulation with high R-values provides significant energy cost savings by eliminating thermal bridging.
Code Approved
Complies with both ICC and IECC code requirements for continuous insulation.
Outbound Dew Point
Prevents condensation and freeze damage by placing the dew point outside the stud wall cavity.
Reduced Structural Loads
StoTherm® claddings are very lightweight, resulting in reduced structural cost requirements.
No Mechanical Fasteners
No penetrating nails or screws to attach the insulation means no thermal bridging.
Low Maintenance Cost
Coatings and finishes with advanced acrylic and Lotus-Effect technologies resist dirt pickup, peeling and cracking.
Lowest Life-Cycle Cost
StoTherm® ci claddings have the lowest life cycle costs compared to non-insulated brick and stucco claddings.
Premium Finishes & Coatings
Sto high performance finishes and coatings provide superior weatherability and resistance to UV fading, mold and mildew.
Explore the Continuous Insulation Configuration Tool to help guide you to what products are right for your project.
Company: Sto Corp.
Source: http://www.stocorp.com/continuous-insulation-systems/
Tags: Energy | Insulation | Sustainability | Wall Panels
---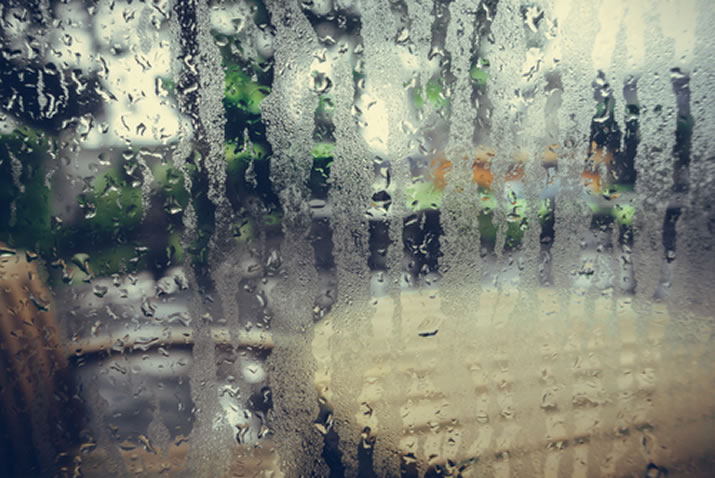 When you live in a part of the country with a high humidity level, whether it be warm or cool, airborne moisture can potentially affect the comfort of you and your family. Believe it or not, the type of insulation you choose to install in your home can make a difference in your home's moisture level. Spray foam insulation like Icynene can help play a role in addressing moisture entry into your home.
But how can spray foam insulation help reduce humidity? Icynene spray foam expands just seconds after application to fill all gaps and holes, creating an effective air barrier wherever it's applied. This air barrier helps to reduce the passage of moisture-laden air into the home, which helps to reduce overall humidity levels inside your home.
Secondly, when you live in a humid region, the presence of mold everywhere is a constant challenge. The great thing about Icynene spray foam is that it's not considered a source of food for mold, making it a better insulation choice than traditional materials.
Find a licensed Icynene spray foam insulation contractor in your area to discover more reasons to choose Icynene.
Company: Icynene
Source: http://www.icynene.com/en-us/news/spray-foam-insulation-humid-region
Tags: Insulation
---

Watch this 14-day time lapse video which shows how Icynene spray foam insulation does not absorb water compared to other spray foams. Icynene spray foam insulation won't absorb or retain moisture like others. Icynene maintains an air seal even after seasonal building contractions.
Company: Icynene
Source: http://www.icynene.com/en-us/architects/products/product-portfolio-USA
Tags: Design | Energy | Insulation
---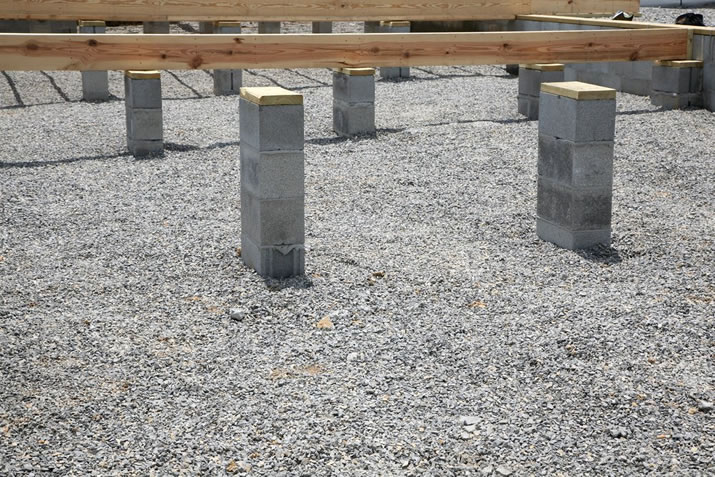 If you own an older home with an uninsulated crawlspace, you may be facing all kinds of problems you didn't realize were gradually creeping in. You may be thinking that you and your family have managed without insulating it until now, why spend the extra money? Here are three reasons to invest in spray foam insulation for your crawlspace.
Moisture buildup. When you choose to insulate your crawlspace with spray foam insulation like Icynene, you are taking a step toward controlling moisture buildup in your home. The dampness of bare ground, along with moisture seeping through permeable concrete, can make for a breeding ground for mold and mildew. If mold or mildew finds its way into your home, all kinds of problems can develop which can be costly.
Air quality. Moisture is kept out of the crawlspace area, thanks to the air seal that Icynene spray foam insulation can provide. There is little or no opportunity for mold and mildew to develop.
Temperature regulation. Deciding to insulate your crawlspace with Icynene spray foam insulation will also help to lighten the load that your heating and cooling systems take in controlling the temperature in your home.
Talk to a licensed Icynene spray foam insulation contractor in your area, to discover more reasons to insulate your crawlspace.
Company: Icynene
Source: http://www.icynene.com/en-us/news/3-reasons-insulate-your-crawlspace-spray-foam-insulation
Tags: Building | Insulation
---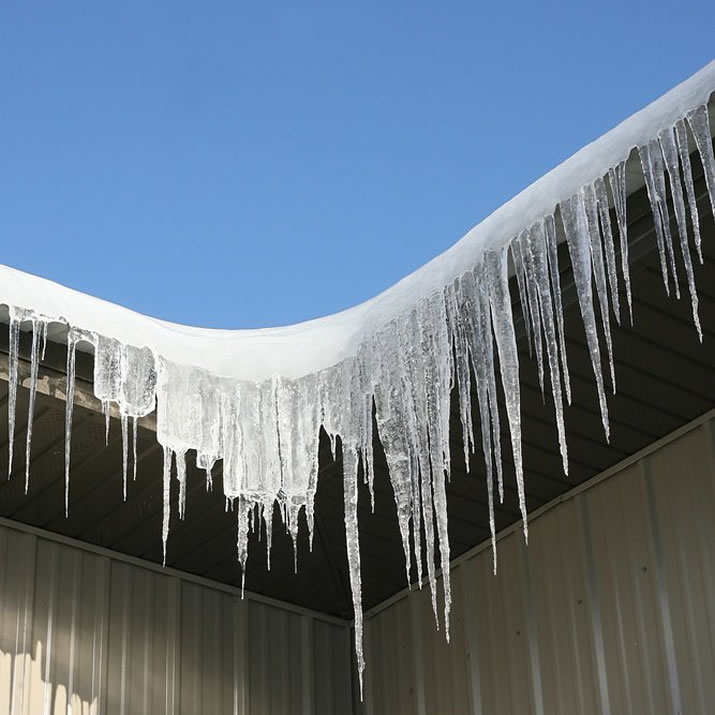 With winter in full effect now, your children may be admiring the curtains of icicles hanging from neighbors' roofs, but you know better. Those icicles can mean one very damaging possibility: ice dams. But is your home at risk?
Ice dams develop when the snow on the roof of your home melts, due to the heat your house is giving off, that is, the air that escapes from your ceiling. The snow melt runs down and then freezes as it hits the colder gutters, resulting in a buildup of ice, which prevents any further snow melt from draining. Eventually, this back up of water can result in damage to your roof, shingles and ceilings, as water has nowhere else to go.
How do you know if your home is risking this type of damage, each winter? By examining how effective your attic and ceiling insulation is. Any gaps in your insulation can result in heat escaping up through your ceiling and heating your roof, which can contribute to the development of ice dams.
Icynene spray foam insulation, when used to seal air leaks in your home and insulate your attic, can help reduce the possibility of ice dams developing. That's because Icynene spray foam air seals the areas where it is applied, which helps stop heat from escaping your home.
Find a licensed Icynene spray foam insulation contractor in your area, to discover more reasons to choose Icynene.
Company: Icynene
Source: http://www.icynene.com/en-ca/news/your-home-risk-ice-dams
Tags: Insulation
---
Ever wondered how efficient your home really is? The U.S. Department of Energy has created a comprehensive and educational infographic that breaks down what a home energy audit is, what's involved and how the results can help you and your clients determine the best investments to improve the home's energy efficiency.
For instance, spray foam can be a wise investment to curb air leakage since the average home has enough gaps that add up to the size of a basketball. These gaps allows air leakage to occur. Check out the infographic below and then discover how spray foam insulation can help play a role in addressing common problems relating to interior comfort and air leakage.

Company: Icynene
Source: http://www.icynene.com/en-us/blog/understanding-home-energy-audits
Tags: Energy | Insulation
---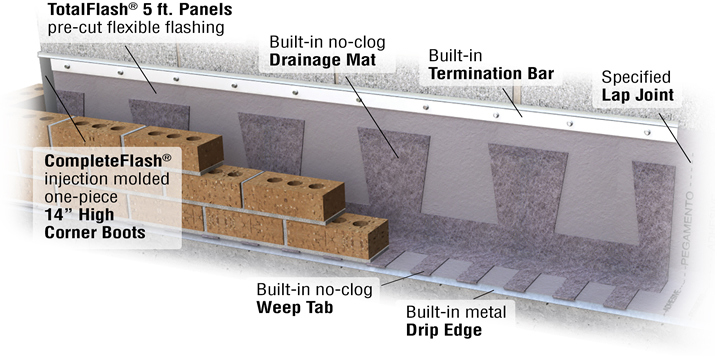 Installing a masonry cavity wall flashing system? The TotalFlash cavity wall drainage solution saves you time and reduces headaches, and our free takeoff service saves you even more time. Send us your plans and we'll send you exactly how many TotalFlash panels and CompleteFlash 14" High Corner Boots and end dams you'll need. Plus we'll precut all your TotalFlash panels for your exterior wall openings at no charge, making it easy for one worker to quickly and easily install flashing over wall openings. Email technicalservices@mortarnet.com, or call 219-850-4514 to learn how to use this valuable, free service.
Company: Mortar Net Solutions®
Source: http://www.mortarnet.com/products/totalflash-panel
Tags: Building | Insulation
---
Architects today find themselves in a sometimes difficult spot. Growing demand for sustainable buildings is putting more emphasis on quality building materials, while the demand for aesthetically pleasing designs remains the same. For architects, this requires a proper balance of creativity and practicality. The good news is now that energy efficient buildings are growing increasingly popular, there are more ways than ever to create structures that are both sustainable and aesthetically pleasing by using the best insulation, without compromising design. Let's explore this new wave of construction:
1. The New School University Center, New York, NY
A recent development for the New School, the Observer found the University Center a sight to behold. Located in the crawling metropolitan area in Greenwich Village, this school has a modern flair to its look and its energy-efficient design. The very structure and dimensions of the exterior have surreal, Escher-like qualities to them and host unique double-banded windows. At the very top rests a 13,500-square-foot green roof, which Curbed National purports is a favorite amongst students. Observer also reported the New School has reduced its potable water consumption by 75 percent since producing a state-of-the-art blackwater treatment system.
2. The Bullitt Center, Seattle, WA
The Bullitt Center is a six-story commercial building squared straight in Seattle. Oh yeah, and it's a miracle of sustainable building. This green building is littered with long windows and boasts a rotating solar panel system on the roof. Seattle Times states it is projected to have a resounding 250-year lifespan. All the water they use is collected from rainfall and Bullitt CEO Denis Hayes told the Seattle Times that in 2014, the Bullitt Center generated 60 percent more energy than it used. The company's electricity bill? $0. This should be no surprise as it is both energy and carbon neutral. Suffice to say, this building is a marvel that houses thriving businesses and is improving the area around it.
A cutting-edge solar panel system allows the Bullitt Center to be completely energy-efficient.
3. The Collaborative Life Sciences Building, Portland, OR
This medical and dental school looks like it is straight out of the future. It was built near an old, decaying industrial section of Portland, partially because of the cheap location, but also so the building could inspire others to develop there and jumpstart the restoration process. A unique element of interior design is that the different sections of the building are connected through a series of crisscrossing ramps. The mastermind behind this building, Paul Zajfen, design principal at CO Architects stated to Archpaper, "We want to make buildings act like great cities." Archpaper also wrote that in addition to being LEED-certified, the firm looks to innovate by cutting down light pollution, helping clean water initiatives, and finding new methods for heat recovery.
Whether you're involved in the design process, the construction phase or the maintenance side, getting to work on buildings like these is an amazing balance of craft and results. Major projects like these might be far and few at the moment, but their notable success shows there are changes in the works. As more businesses begin to adopt designs like these, the demand will follow. Innovation and sustainability are where aesthetics meet performance.
Company: Sto Corp.
Source: http://buildingwithconscience.com/2015/10/3-buildings-that-balance-aesthetics-and-performance/
Tags: Building | Design | Insulation | Sustainability
---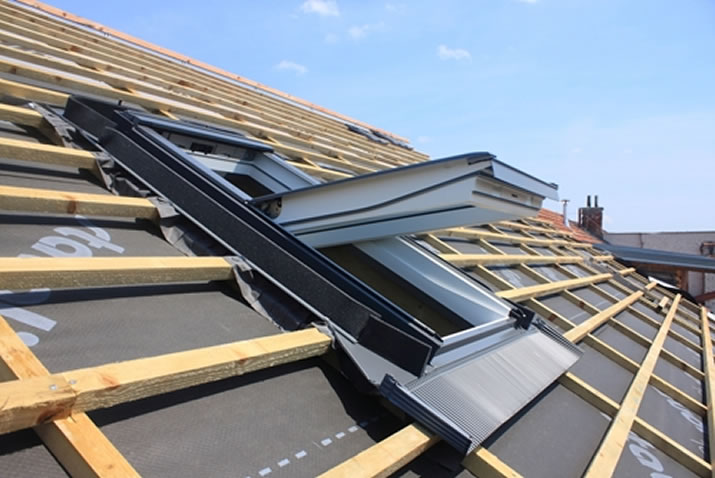 There are several types of specialty systems crafted to meet the specific style of architecture featured on your build. Different types of structures can necessitate a unique approach, and Sto Corp takes this to the next level by treating every enclosure and substrate a little differently. Here are some examples:
Building substrates
Winter is approaching, and if you're expecting cold, you can often anticipate higher energy bills. One way to prepare for this is through better insulation. Giving your walls the best insulation is a great way to retain warmth in your house and to reduce your heating bills. Sto's Insulated Concrete Form Finish Systems use reinforcing mesh in the wall's base coat, ensuring standard-impact resistance and superior protection for your walls.
On the flip side, if what you need is better circulation, look no further than Sto's Aerated Autoclave Concrete Finish System. Whether your home features brick, stucco, vinyl or other types of material, it is important to find the right substrate to complement the material you're working with.The best decorative and resistant cladding is quick, is easy to install and produces a moisture barrier you can count on.
Interior finishes
Sometimes houses need more interior protection. Without proper inserts, the fumes and moisture from your bathroom can cause problems on the surrounding walls. Home Advisor warned that unchecked moisture can mean mold, mildew and warped wood. Don't spend all that money on repairing and remodeling your bathroom when you can use StoQuik® Gold Soffit. This is a direct-applied exterior finish system that features five layers of protection for use on weather-protected walls, ceilings and soffits.
When constructing an indoor pool for a home or a commercial building, the surrounding walls and ceilings need to accommodate the pool chemicals. If they don't, you might have a problem on your hands. Tim O'Neil, operations manager of Downes Swimming Pool Co. in Chicago, told Aqua Magazine that pool builders have to factor in architecture when developing a new installation. If vapor barriers aren't used correctly, the surrounding walls will suffer, he stated. Using Sto's Interior Finish System for Pool Rooms, we design a proper resistant enclosure that matches your aesthetic choices while anticipating humidity, chlorine and other chemicals.
Building enclosure
Anyone who lives near the coastline has to be mindful of tropical storm winds. According to the Insurance Information Institute, a major hurricane can cost homeowners tens of thousands of dollars. If you want to best prepare your home for the impacts of the weather, take advantage of StoTherm® Hurricane Impact Systems. Our exterior cladding meets the most stringent standards and is perfect for protecting homes from debris and water intrusion.
Investing in these specialty systems can improve standing architecture, while being proactive on combating the elements can save you money by preventing damage and exposure. Head to this page to learn more about how Sto's specialty systems are right for you.
Company: Sto Corp.
Source: http://buildingwithconscience.com/2015/11/specialty-systems-improve-on-standing-architecture/
Tags: Coating | Insulation
---
The innovation and performance behind 100 percent water-blown closed cell spray foam insulation, Icynene ProSeal Eco, continues to resonate with professionals in the building industry. Icynene ProSeal Eco was awarded the Gold Innovation Award in the Spray Foam Insulation category by respected industry magazine, Home Builder Executive.

The innovation and performance behind 100 percent water-blown closed cell spray foam insulation, Icynene ProSeal Eco, continues to resonate with professionals in the building industry. Icynene ProSeal Eco was awarded the Gold Innovation Award in the Spray Foam Insulation category by respected industry magazine, Home Builder Executive.
Icynene ProSeal Eco provides an excellent thermal insulating value, superior adhesion performance and can be applied at temperatures as low as 5 degrees Fahrenheit. Icynene ProSeal Eco has been comprehensively tested in a range of ASTM E119 approved wall assemblies with cost effective materials resulting in a wider range of commercial application possibilities. The closed cell spray foam product is also a faster, better and more cost effective alternative to traditional rigid foam board products for continuous insulation applications.
Company: Icynene
Source: http://www.icynene.com/en-us/architects/products/product-portfolio/proseal-eco-md-r-210-overview-architects
Tags: Insulation
---

Architectural design firms primarily focused on commercial design and commercial construction can discover how to 'future proof' design approaches from the sometimes confusing requirements they encounter. The latest Icynene Building Genius presented by Icynene VP Engineering, Paul Duffy explains continuous insulation and weather barriers. Watch the webinar for free below by clicking the link.
About the Webinar
Recent changes to Building Codes such as the IBC and IRC have been significant and substantial. Over the last 10 years we have witnessed the "Codification" of new requirements for Continuous Insulation, Air Barriers, Vapor Retarders and Water Resistive Barriers plus a proliferation of new materials, tests and quality assurance procedures. What does this mean for design? What does this mean for construction? Where are we going and why? Starting from a Building Science and Materials Science basis, this presentation will attempt to sort through the sometimes confusing requirements, suggesting design approaches with a view to simplifying and improving the likelihood of successful projects.
Company: Icynene
Source: http://www.icynene.com/en-us/blog/future-proofing-your-design-approaches-webinar
Tags: Building | Insulation
---
Did you know that more than 40% of energy loss escaping the average American home is through air leakage? Gaps and cracks in the home's walls, roof and floors can impact monthly cooling costs during summer due to increased output from air conditioning systems. The following infographic highlights some key insights and tips how energy efficient HVAC systems and spray foam insulation can work together to improve efficiency, minimize air leaks and allow homeowners to enjoy the summer without hurting their wallet.

Company: Icynene
Source: http://www.icynene.com/en-us/blog/curb-air-leakage-spray-foam-insulation-summer
Tags: Insulation