architecture - engineering - construction

2017 April
---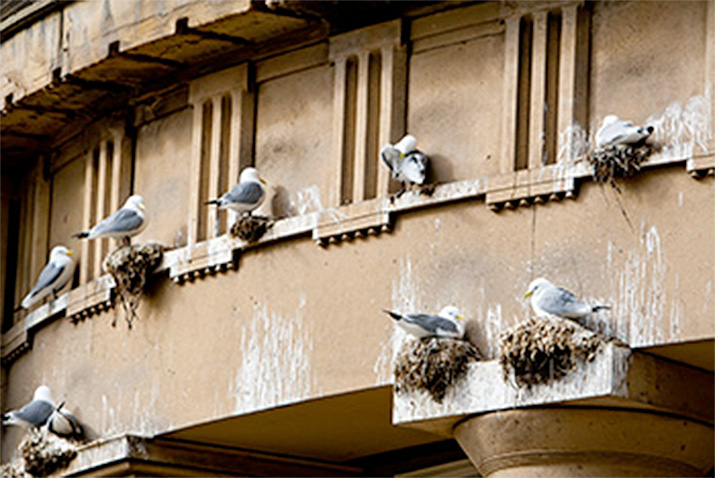 Pest birds are always looking for a place to roost and nest on buildings and commercial property. They need a place that's high enough from ground predators and close enough to food and water sources. Most buildings provide these things. Signage offers warmth, security and shelter for nests. Rooftop AC units do the same, offering the warmth of electrical motors/compressors and shelter from the elements. Rooftop water towers provide all sorts of nooks and crannies for birds to build nests. Many buildings essentially invite pest birds through their open attics.
The most effective way to prevent birds from nesting around your property is to be proactive. And that means making your property less of a bird magnet. Remove any standing water or food scraps, and close all trash containers. Seal up any attics and other lofty holes and cracks where birds can enter. Once you've done that, it's best to install some effective and humane bird deterrents to keep birds away.
Need help choosing the right product for your bird control problems? Contact the experts in bird control.
Company:

Bird-B-Gone, Inc.
Product: Bird Spikes
Source: https://www.birdbgone.com
---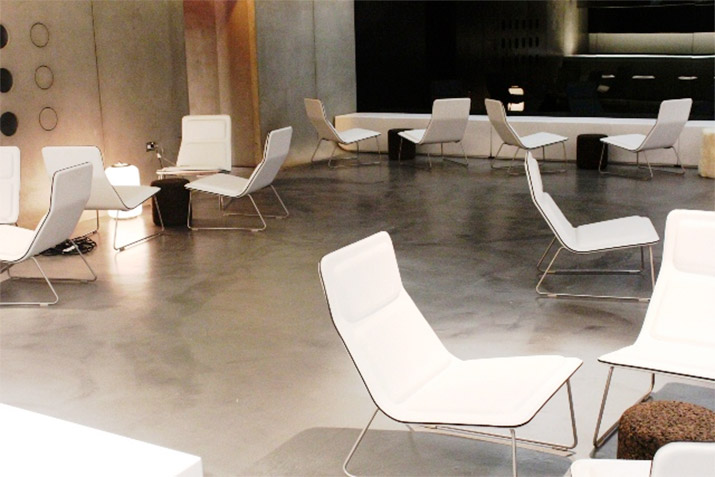 The interior and exterior aspects of the decorative concrete and resinous flooring industry has never been busier or in higher demand. Property owners, builders and architects are looking for something new. Something with more durability and better appeal than conventional tile, hardwood, carpet and terrazzo and Elite Crete Systems is leading the way with our award winning products and systems.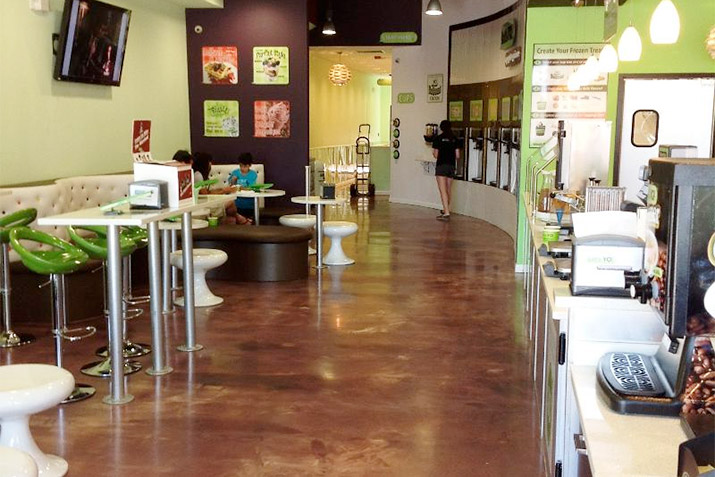 Custom, seamless, unique and durable... Those are the words used by this business owner when describing the type of floor they wanted for their for yogurt shop. By using THIN-FINISH, MICR-FINISH, HYDRA-STONE Dye Stain and E100-PT1 Clear Epoxy, that is exactly what they got.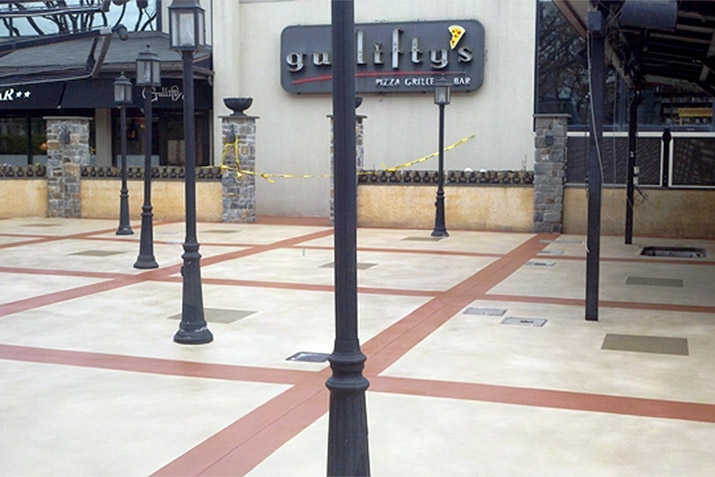 The courtyard at this pizza restaurant was in poor shape. The concrete was pitted, stained and otherwise needed taken out and replaced. With THIN-FINISH however a durable, permanent and decorative finish was made possible in just a few days and at a fraction of the cost of replacement.
REFLECTOR Enhancer Flooring Systems used in conjunction with a custom made stencil to create an ultra durable, easy to clean floor that resembles that of a high end carpet.
If you are a designer, architect or specifier and need assistance with an up coming project, we have over 90 technical support and specification assistance offices world wide
Company:

Elite Crete Systems, Inc. (Headquarters)
Source: http://elitecrete.com/
Tags: Coating | Concrete | Floor | Waterproofing
---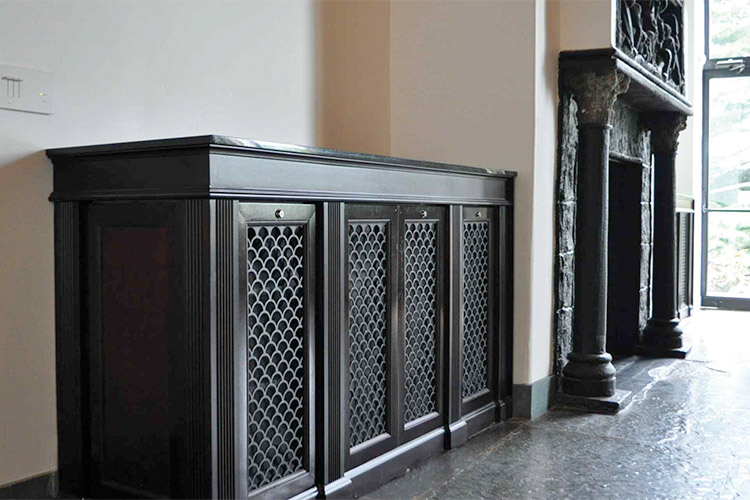 Fireplace
Historic House Restored To Former Glory
This stately fieldstone mansion, built in the mid-1800's, was a vacation home to famous Presidents and Authors. Artisans at Advanced Arch Grilles, working alongside our architect and contractor partners, assisted in the renovation that helped restore its rooms and pay homage to its historical and cultural significance.
Custom fabricated bronze perforated grilles blended nicely with the rich mahogany woodwork that has stood for over 100 years.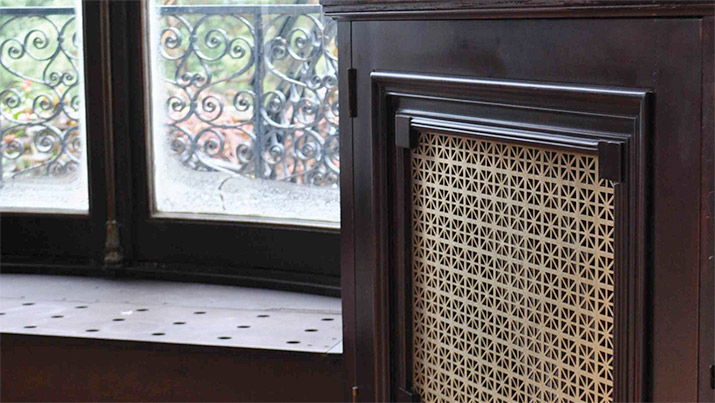 Cabinet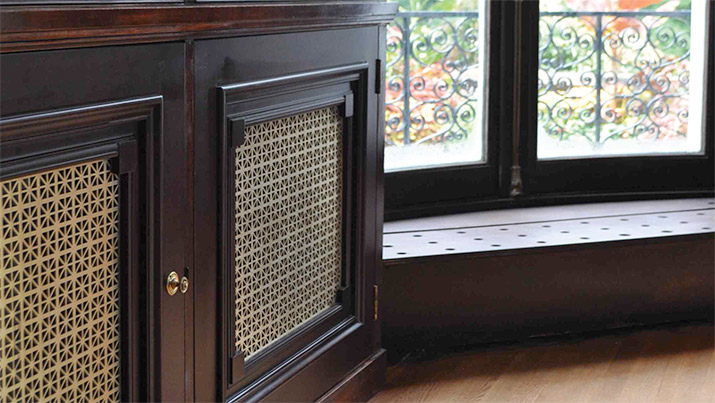 Custom built-in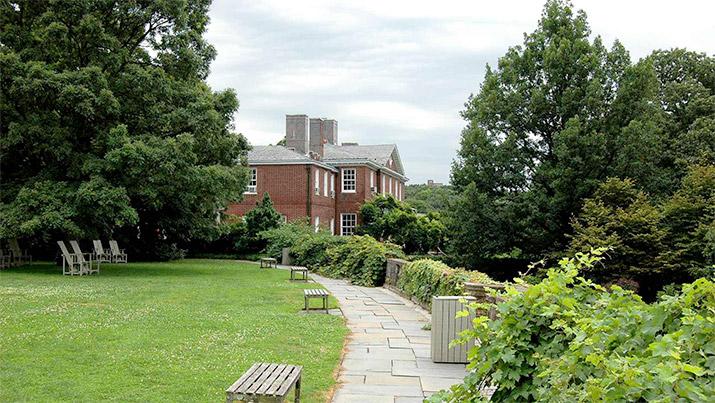 The house
Company:
Artistry in Architectural Grilles by Advanced Arch Grilles
Source: http://aagrilles.com/custom-period-matched-perforated-grilles/
Tags: Access Covers | Aluminum | HVAC | Interior Design | Wood
---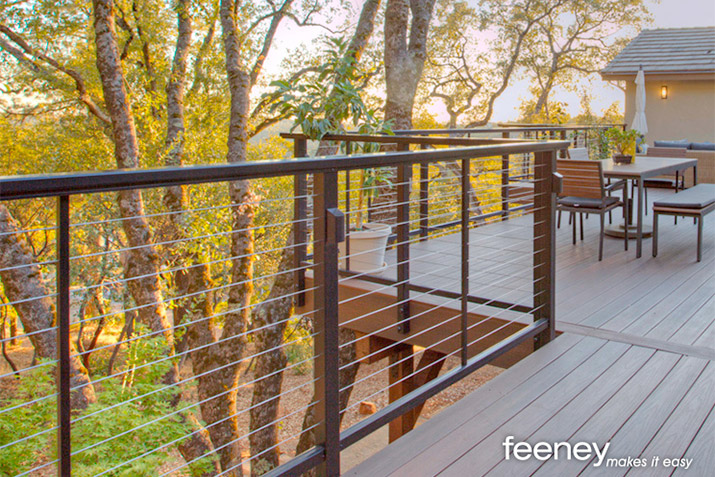 Bobby Parks loves decks and the people who build them. So much so, Parks sold Peachtree Decks and Porches, his successful suburban Atlanta-based deck-building business two and a half years ago to "live the dream" of helping fellow contractors succeed in the business too. Today he does that with his consulting company, BP Consulting and Design LLC.
Parks knows the deck trade like few do. He delivered $30 million in deck construction prior to his Peachtree days and has delivered $10 million in composite decks, including a $350,000 commercial deck project. Today he travels the country observing what's working from region to region, then presenting that winning, field-tested insight to fellow contractors.
What does Parks say to contractors looking to grow their business? "A homeowner doesn't expect a contractor to be a super-smooth talker or an Einstein," Parks says. "I was never a salesperson but I sold over a million dollars a year in deck projects from the get-go. You've got to want to do better." Here are some of Bobby Parks' thoughts on the art of doing better:
Creativity
"You can't just be a deck builder today. You've got to offer outdoor living areas. For us, it was offering some limited hardscapes. We did a lot of porches because I'm in the Southeast. Become more creative. Think about high value up-sells like outdoor kitchens, fire pits, and cable and aluminum railing systems like the ones Feeney makes."
Marketing
"I used to spend $40,000 to $50,000 a year on marketing. Then I got smart and started spending just $2,500 a year and generating far more leads than I could run down. I even charged $75 just to set an appointment. What changed? My website. I can't overstate how important the photo quality of your deck projects are. If you want to be in the top 10 to 20 percent of your market, you have to look like you belong there. That starts with your website."
Referrals
"I remember one of my first pro training trips. Some of the contractors said, 'Well, I don't need a website. I work from referrals.' Maybe so. But I saw what they parked out front. I know they're not getting rich off referrals. Yes, referrals can be great. But sometimes you need work, so the temptation is to low-ball to get it. You end just turning dollars and not a profit. It comes back to your website. If your website is done right, a contractor can expect a lot more proposals at fatter margins and with a higher close rate. A good website is a huge difference-maker."
Materials
"Wood is always going to be a factor. But the wood today, especially southern yellow pine, isn't what it used to be. Ask any builder. You might have to go through 40 studs to find two or three you'd actually use. I think there's a gradual turn to capstock composites as the southern yellow pine issues sink in.
"Low-maintenance aluminum railings provide design versatility with a variety of in-fill options like tempered glass, vertical pickets, and vertical or horizontal cables. Aluminum top rails can also be customized with a wood or composite cap rail."
Company:
Feeney, Inc
Source: http://media.feeneyinc.com/blog/the-art-of-profitable-deck-building
Tags: Landscape Design
---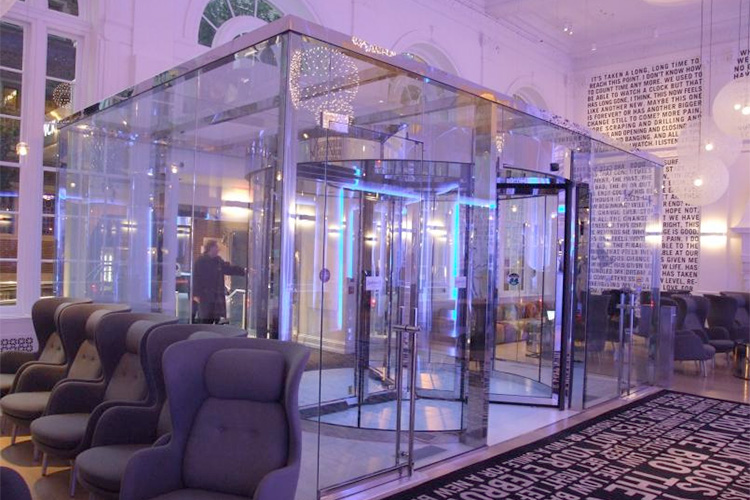 Boon Edam Inc., a global leader in security entrances and architectural revolving doors, today announced that the Warwick Hotel Rittenhouse Square in Philadelphia, PA, is quite satisfied with the functioning and cost savings of their Boon Edam Tournex revolving door. The Tournex is an example of a classic automatic revolving door and is designed to handle high capacity applications.
The historic building housing the Warwick Hotel Rittenhouse Square originally had a manual revolving door flush with the building's facade. Somewhere along the way, it was decided to remove the relatively smaller gauge revolving door and replace the entrance with a double set of sliding doors.
New Entrance Solution to Address Negative Pressure in Lobby
"Our HVAC system was designed for a revolving door entrance," said Ray Hewitt, the hotel's Director of Engineering, "we wanted to put a revolving door back in to address the negative pressure we were experiencing in the lobby." That negative pressure was pulling in cold air during the winter months, and cooled, conditioned air was escaping out the double doors in the summer.
During a complete lobby renovation project a few years back, designers worked to return to a revolving door lobby entrance. Because the Warwick is in a historic building, they could not change the facade of the building, so they pushed the entire entrance into the lobby itself. The architects and the designer chose a 12' diameter Boon Edam Tournex automatic revolving door, with three door wings and a highly polished (mirror) stainless steel finish. The Boon Edam door is enclosed in a stylish glass cube, accented with purple neon lighting.
Now, those entering the hotel first pass through a double set of sliding doors at the building envelope, leading to the revolving door. Swing doors are also available on either side of the revolving door to enter the lobby itself. The effect of the sliding doors and the revolving door in a cube is to virtually eliminate air flow from outside in, and vice versa.
The Warwick has 301 hotel rooms and 106 permanent residents. On any given day, between guests, residents, staff, and visitors, up to 1000 people are passing through the entrance. Since the installation of the new entrance, the effect has been night and day—guest and visitors utilize the lobby space longer and in greater numbers. A big community table is usually filled all day long and the lobby is accented with attractive fireplaces. The hotel lobby also offers two full service food and beverage outlets (Bluestone Lane & Prime Rib Steakhouse), with a third to be announced sometime this year.
Energy Savings Pays Off
In addition to a now grand sense of arrival and more useable, comfortable space, the new entrance is also paying dividends on energy savings. "With the old entrance, our HVAC was running constantly, it could not keep up. Now, the unit can shut down periodically; that's good for the health of the system, and we're seeing substantial savings on energy bills," said Hewitt.
The Boon Edam revolving door has an important feature for installations like a hotel or large office building—in the event of an emergency, the doors stop and the wings can be "book folded" to create wide open ingress and egress. The hotel has a maintenance contract with Advanced Door, but since installation the Boon Edam revolving door has been virtually trouble free.
Company:

Boon Edam Inc.
Product: Revolving Doors
Source: http://www.boonedam.us/news/warwick-hotel-rittenhouse-square-boasts-unique-stylish-lobby-entrance-revolving-door
Tags: Design | Entrances | HVAC
---
Nystrom introduces a 1 inch Pan Architectural Floor Door as part of the non-drainable Floor Door product line. The new floor door cover is designed to accept a variety of infill, including terrazzo, tile, concrete or wood panels. The narrow-reveal design allows for seamless integration into the surrounding floor.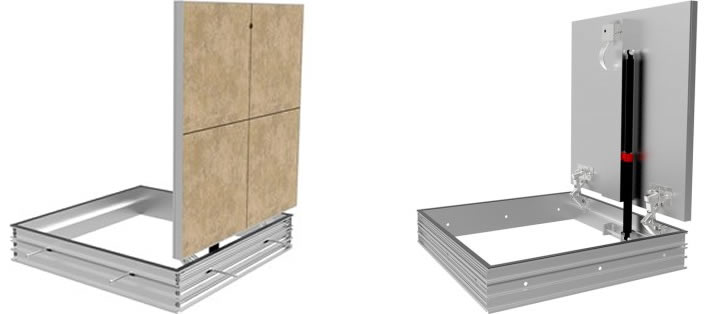 Tile Filled Pan Cover – Cast-In Installation, Inside View – Retrofit Installation
Features:
The aluminum access door is fully gasketed to prevent both water and odor penetration.
The concealed hinge design allows for a 1/8 inch reveal.
Designed for pedestrian traffic with a 300psf load.
Gas spring with integral hold open with quick release
Can be installed as cast-in or bolt-in for new construction or renovation.
Available with a single door configuration with sizes up to 36 inches by 36 inches.
For more information or to request a quote, please visit www.Nystrom.com or call 1.800.547.2635.
Company:

Nystrom
Product: Floor Doors
Source: https://news.nystrom.com/2017/03/16/nystrom-launches-1-inch-pan-floor-door/
Tags: Access Covers | Interior Design
---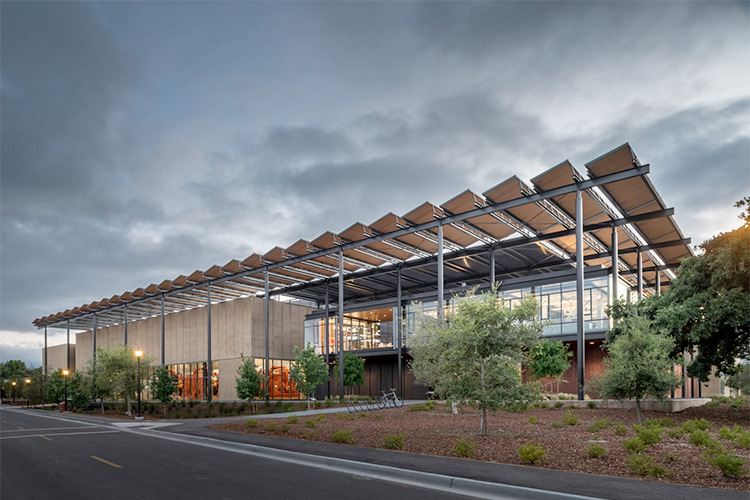 The Stanford University Central Energy Facility replaces a 100 percent fossil-fuel-based cogeneration plant with primarily electrical power—65 percent of which comes from renewable sources. Image credits: Matthew Anderson
AIA and the Committee on the Environment (COTE) announce this year's recipients of the COTE Top Ten Awards, the industry's premier program celebrating sustainable design excellence. Now in their 21st year, the Top Ten Awards highlight projects that exemplify the integration of great design and great performance. Submissions are required to demonstrate how the project aligns with COTE's rigorous criteria for social, economic, and ecological value.
Since 2014, past Top Ten recipients have been invited to submit post-occupancy data and narratives to be recognized with a single COTE Top Ten Plus award each year. In 2017, these separate tracks are merged: The 'Plus' designation now denotes projects with exemplary performance data and post occupancy lessons.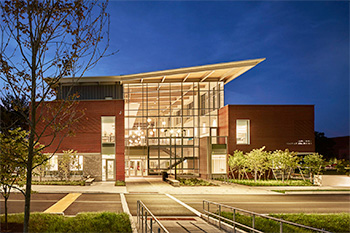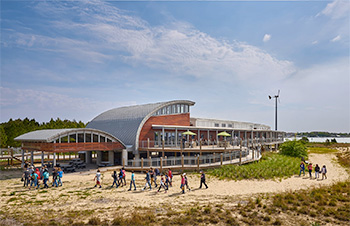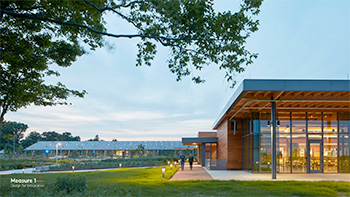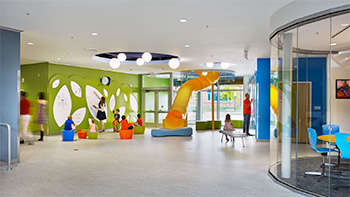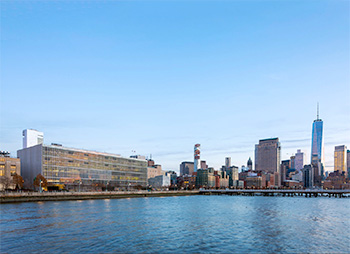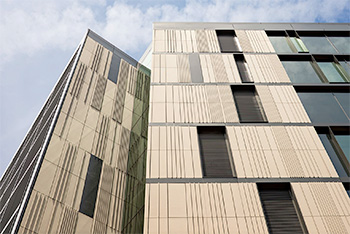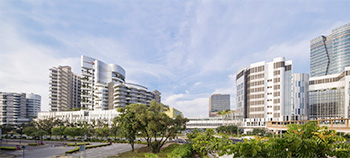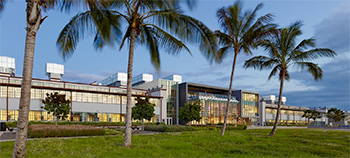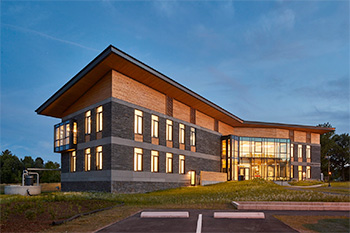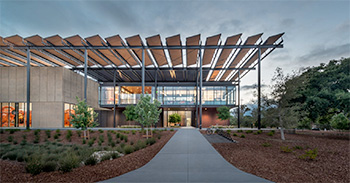 Company: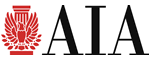 AIA (American Institute of Architects)
Source: https://www.aia.org/resources/73026-2017-cote-top-ten
Tags: Design | Energy | Sustainability
---
EXTECH is incredibly honored to announce that the KINETICWALL dynamic facade system was chosen as the winner of the Architizer A+ Awards Jury prize! With entries from over 100 countries, the KINETICWALL was chosen as the best product in the Building Envelopes & Cladding category by a jury of designers, artists, architects, and business professionals. The KINETICWALL and all other winners will be honored as part of NYCxDESIGN week at the A+Awards Gala on May 11, 2017 in New York City.
We are thrilled that so many luminaries from the design and architecture communities considered the KINETICWALL a worthy competitor among so many great products. For it to be chosen as the winner in its category is truly an honor. If you would like to learn more about the KINETICWALL, you can visit the KINETICWALL product page, read the case study on the Logan Airport Parking Expansion, or contact us.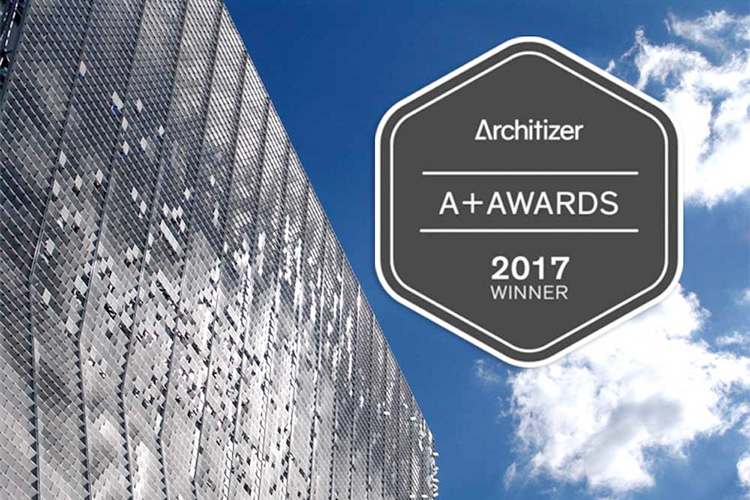 EXTECH's KINETICWALL is a dynamic moving building façade that creates an eye-catching aesthetic. Made of 6-inch flappers attached to stainless steel rods, the KINETICWALL responds to wind currents and undulates to create the look of rolling waves. The wall is customizable and can be designed to accommodate square or curved polycarbonate, glass, aluminum, or steel flappers. It is structurally designed to withstand hurricane-force winds and torrential rainfall, yet it is light enough to enable easy installation, air flow, and visibility from the inside. The KINETICWALL alsodeflects sunlight, thus preventing solar heat gain, and the spacers between the flappers remove the chance for collateral noise.
KINETICWALL can be used on small- and large-scale façades. It's a popular design choice for a wide range of uses, including cultural institutions, transit facilities, and artistic installations. Due to its aesthetic qualities, the wall can help municipalities save money on Arts in Transit and percent-for-art compliance. KINETICWALL is a state-of-the-art yet economical way to create breathtaking, beautiful designs.
Further benefits and details
Dynamic flappers move with the wind, creating an eye-catching aesthetic that lends itself to 'smart design'
Due to its aesthetic qualities, the wall can help save money on Arts in Transit and percent-for-art compliance
Customizable; can incorporate a variety of materials including polycarbonate, glass, aluminum, and steel
Can be used on small and large-scale façades
Light-weight flappers allow for easy installation
Designed to withstand hurricane force winds and rainfall
Facilitates easy air flow for ventilation
Permits interior visibility
Deflects the sun, preventing solar heat gain
Spacers between flappers prevent collateral noise
LEED credits available for 100% recyclable aluminum and stainless steel flappers and framing
Manufactured in the U.S.A.
Company: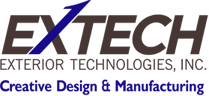 EXTECH/Exterior Technologies, Inc.
Product: KINETICWALL™ Dynamic Facade
Source: https://extechinc.com/kineticwall-wins-2017-architizer-a-award/
Tags: Design | LEED Certification | Louvers
---
Architects turn to Total Security Solutions for project support
Even if you've worked with bullet-resistant components before, it can be difficult to know how to manage that part of your project. Our bullet resistant experts can help with assessment, design and installation of a complete bulletproof barrier system, or individual bullet-resistant features and accessories. We've done thousands of projects across dozens of industries throughout the country, and our turnaround time is the fastest in the industry. Our work will fit in seamlessly with your design because we do our own field measurements and hand-craft our materials at our in-house manufacturing facility.
See our architect projects gallery

Strict proven process
Our bulletproof experts follow a strict proven process so that no detail is overlooked. We'll help you select the right glazing, accessories and materials for your project and deliver and install your barrier and components in half the time of our competition.
See How We Develop Custom Barriers
Industry experts add value.
As a trusted leader in the bulletproof industry with 12,000+ installations to date, we bring more to the table than just our bulletproof products. We bring experience that will help you make better decisions, and avoid commonly-made mistakes. If your project includes bulletproof features, you're going to need a partner you can rely on whose work speaks for itself.
Resources just for architects
Our Architect Resource Center has videos, CAD drawings, specs and data sheets for every possible bulletproof item you could need. From frames to counters, doors to windows, fiberglass and beyond — get the details and information necessary to plan a successful project.
Full line of bullet-resistant products
We design and manufacture every single bulletproof product we install. TSS offers a variety of ballistic windows, doors, drawers, trays, and 8 levels of UL-rated bulletproof glass. We have everything you need right here.
Company:
Total Security Solutions Inc
Product: Bullet Resistant Barriers
Source: http://www.tssbulletproof.com/industries/architects/
Tags: Entrances | Interior Design | Safety | Security
---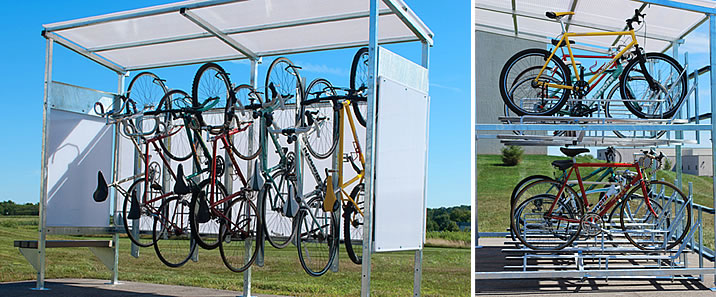 The new Bike Sheds offer protection from the elements and versatility in their many applications. Whether you need covered bike parking or a place to sit and wait for the bus, these new sheds can be customized to complete your vision.
Bike Sheds are constructed of 2 X 2" steel leg tubing for the base, and a 16MM thick polycarbonate opal color top. The bike shed has many additional options available, including optional side panels and various bike parking combinations.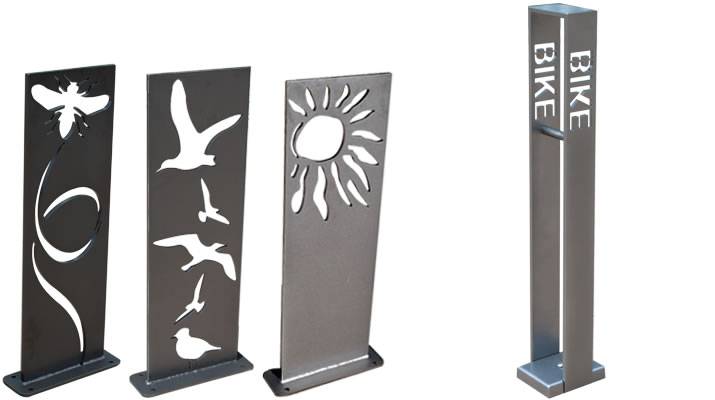 The Shadow™ Rack plays on the natural elements of its environment. The sculpted steel creates silhouettes on the pavement, while providing secure parking for your bike.
New! Pierce™ Rack is not your ordinary bike rack. This edgy art piece doubles as a functional and secure bike parking solution.

Whether you are seeking to transform your environment, promote your organization, or just express your creativity, our custom bicycle racks are your best resource. We will work with your idea, your sketch, or your blueprint to bring your vision to life.
Company:

Madrax Bike Racks
Product: Bike Shelters
Source: http://www.madrax.com
Tags: Design | Furniture | Landscape Design
---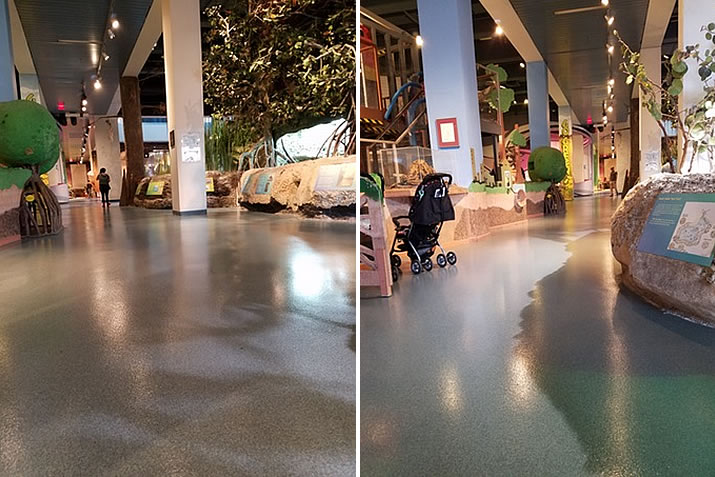 Seamless decorative quartz floors can be used anywhere that durable, attractive flooring is required. Research labs, manufacturing plants, bathrooms, locker rooms, kitchens, restaurants, healthcare facilities, showrooms, garages, warehouses and schools are just a few uses for decorative quartz flooring.
The installation of a decorative quartz floor involves the application of a resin body coat over a surface (usually a primed concrete substrate) and broadcasting (or troweling) colored quartz granules to achieve a seamless high performance floor. The body coat may be applied in one layer (single broadcast) or applied in two layers (double broadcast) to provide a thicker, stronger floor.
In the interest of versatility, manufacturers provide a few different options of resin body coats to choose from. The three most commonly used resin body coats are Epoxy, Urethane Concrete (also called Cementitious Urethane) and Methyl Methacrylate (MMA).
Contractors, do-it-yourselfers or anyone else who wants to install a decorative quartz floor may have questions about which type of resin-based quartz flooring to purchase. If this is you, keep reading. Below we explain the advantages of each of the three most popular resin body coat choices for seamless quart flooring.
1. Epoxy Based Quartz Flooring
The biggest advantage of using an Epoxy resin based quartz flooring system is cost. Epoxy resin is less expensive than its urethane and Methyl Methacrylate (MMA) resin counterparts. Epoxy resin flooring provides a super-strong and durable surface that is impact, moisture and abrasion resistant. It can be made chemically resistant with the use of a polyaspartic topcoat. Watch this video to see the installation of an epoxy based double broadcast quartz system.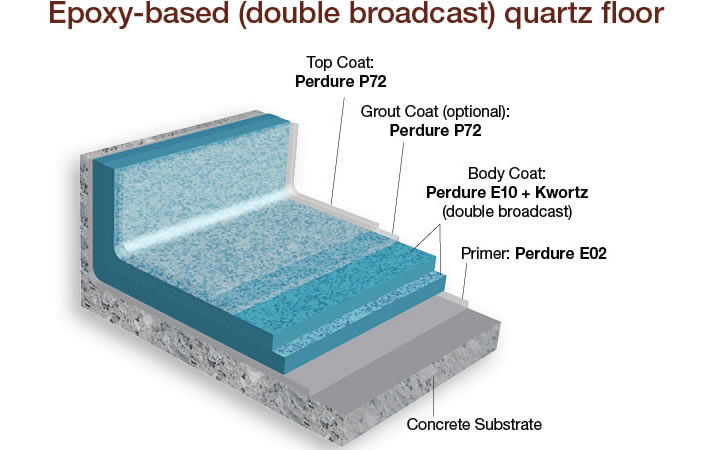 If your deadline is tight or you have moisture issues with the substrate, one of the other options below may better suit your needs.
2. Urethane Concrete Based Quartz Flooring
If you suspect your project's concrete substrate has a moisture vapor emission problem, or may develop one, then choose a Urethane concrete based quartz flooring system. In addition to the strength and durability of epoxy flooring, Urethane concrete will not bubble or crack on high-moisture substrates. Old, new, on grade, or suspended slab—just about any concrete substrate can be beautified with a Urethane based floor. When applied at a thickness of 1/4" or greater, it is generally accepted that Urethane Concrete systems are unaffected by substrate moisture. It is important to follow the installation instructions exactly to ensure a trouble-free floor for years to come.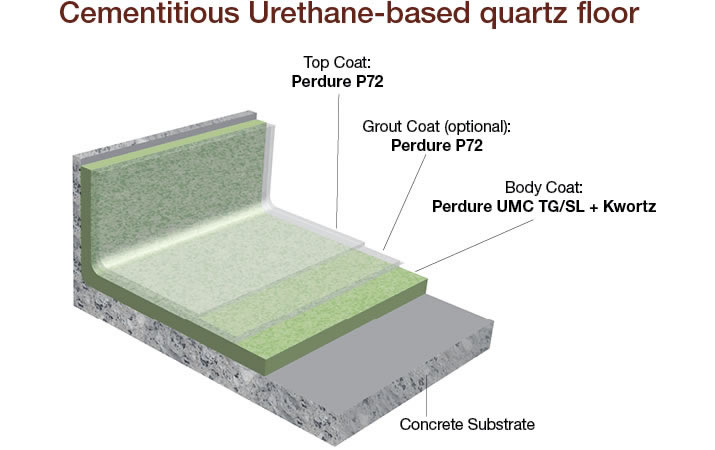 3. MMA Based Quartz Flooring
When a speedy installation and quick return to service are your primary project requirements, look no further than Methyl Methacrylate (MMA) resin based decorative quartz systems. Since MMA resins cure at extremely low temperatures, they are excellent for use in freezers and cold storage areas. MMA resin based decorative quartz floors are also suitable for exterior surfaces like pool decks, driveways and walkways. One limitation of MMA is that it cannot be installed in occupied buildings due to its strong odor.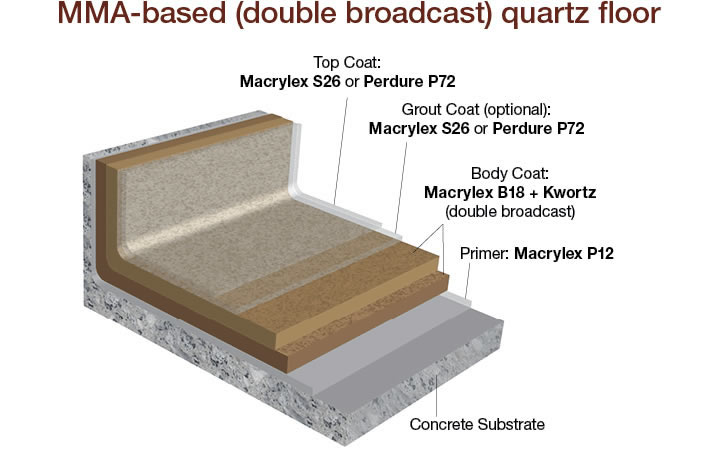 Duraamen Industrial and Polished Concrete Flooring Products are designed to provide labor saving and long lasting flooring solutions. Talk to an expert about your flooring challenges call +1 973-230-1301 or email us.
Company:
Duraamen Engineered Products Inc.
Source: https://www.duraamen.com/blog/quartz-flooring-resin-epoxy-urethane-mma#.WO8sbY4lEUE
Tags: Coating | Floor | Interior Design
---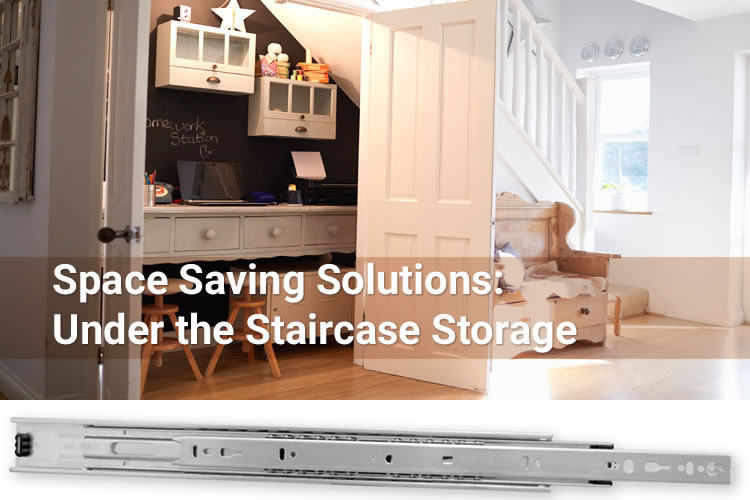 3832E full extension slides are suitable for drawers and pull-out shelves enhanced for better strength and more reliable movement.
Accuride Drawer Slides Maximizing Space
Micro living has been gaining a mainstream following throughout North America lately. Though it's been the European norm for ages, many North Americans are making the choice to sacrifice the comfort of a large living space. Whatever the reason, micro living or living in small spaces doesn't mean you have to be limited when it comes to your storage space. Micro-living simply requires innovative use of space—and it doesn't get much more innovative than under-stair storage.
The brilliance of Touchwood Designs' under-staircase solution was creating a functional storage space. A pair of full extension drawer slides is mounted at the base of the unit and a single slide is mounted at the top to stabilize and guide the movement of the pullout units. These unique storage drawers can also have enhanced features such as Touch Release (held closed until the front is pressed open) and Self-Close (closes drawers and keeps them closed).
Touch Release Mechanism
Self-Close Mechanism
Touchwood Designs founder Paul O'Regan—who has been a successful carpenter in Ireland since 1992—claims the challenge was not only the length of telescopic drawer runners but also the weight.
"The best solution for my initial under-staircase storage drawers was the 5321SC self-close heavy-duty slide."
Paul stated. "They're load rated up to 120kg and provide full-extension." The 5321SC slide solved the fitting and load problems, plus it also prevented the units from creeping out as the self-close mechanism holds the units closed. On some of the larger units, Paul utilized the heavy-duty 9301 runners.
"Accuride slides greatly improve the quality and performance of my under-staircase storage system"
Paul said. "The product provides confidence and peace of mind that the runners will work time and time again."
Accuride has a number of recommended movement solutions for just these kinds of applications. Take our newly enhanced 3800 slide family for example. The addition of longer ball retainers and added ball bearings make these slides smoother and more resilient than before. Also, a face-frame mounting hole has been added to make installation easier. Perfect for your next staircase storage space project.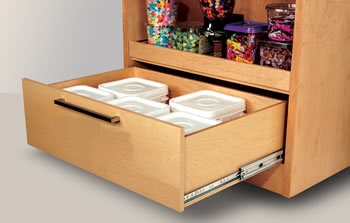 What about wider drawer applications to accommodate dry goods and cookware? Accuride has an answer for that, too—the 7957 Full Extension Slide. It's a great heavy-duty alternative that can handle drawers up to 42" wide in a .75" cross-section slide space and has a load rating of 350 lbs.
Whatever your storage application, visit our website to learn more. Together, we'll find just the right solution to ensure your project is a sliding success.
Company:

Accuride International
Product: Heavy Duty Slides » 7957
Source: https://www.accuride.com/blog/news/space-saving-ideas-under-staircase-storage-slides/
Tags: Furniture | Interior Design
---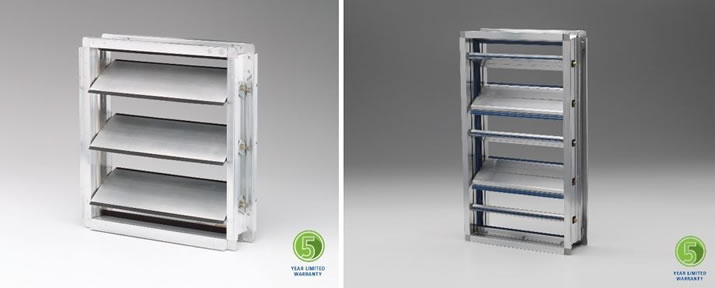 The Ruskin® CD50CE (left) and TED50CE (right) critical environment dampers combine the strength of stainless steel and protection of anodized aluminum to withstand coastal and corrosive applications.
A new critical environment damper series from Ruskin® is designed and manufactured to withstand the elements of coastal and corrosive applications. The CD50CE and TED50CE combine the strength of stainless steel and protection of anodized aluminum to combat salt water elements.
"Our reps can now easily select a damper model with features suitable for coastal or corrosive applications," said Mike Coyazo, commercial and life safety product manager at Ruskin. "Stainless steel linkage and anodized aluminum frames and blades come standard in these new models, making them perfect for harsh applications where salt water is present."
The CD50CE is Air Movement and Control Association (AMCA) licensed as Class 1A and, thanks to low-leak extruded aluminum, meets the International Energy Conservation Code (IECC). The damper features low-maintenance, non-corrosive bearings and shake-proof linkage; airfoil blades for high-velocity heating, ventilation and air-conditioning (HVAC) systems, low pressure drop and quieter performance; and mechanically-fastened blade edge seals.
The thermal-efficient TED50CE eliminates thermal transfer and the potential for condensation. The damper also meets the IECC, features the same non-corrosive bearings and shake-proof linkage as the CD50CE and includes twin seals to ensure no thermal path.
The CD50CE and TED50CE are covered under the Ruskin five-year limited warranty program. The program – recently extended from one year to five years from the date of delivery – demonstrates the company's commitment to quality and makes it easier for engineers to specify Ruskin products.
To learn more about the Ruskin CD50CE and TED50CE dampers, visit http://www.ruskin.com/catalog/category/995~critical-environment-dampers.
Company:

Ruskin
Product: Control Dampers
Source: http://www.ruskin.com/NewsArticles/entryid/756/press-release-new-critical-environment-damper-series-from-lt-span-style-quot-font-style-italic-quot-gt-ruskin-174-lt-span-gt-withstands-coastal-and-corro
---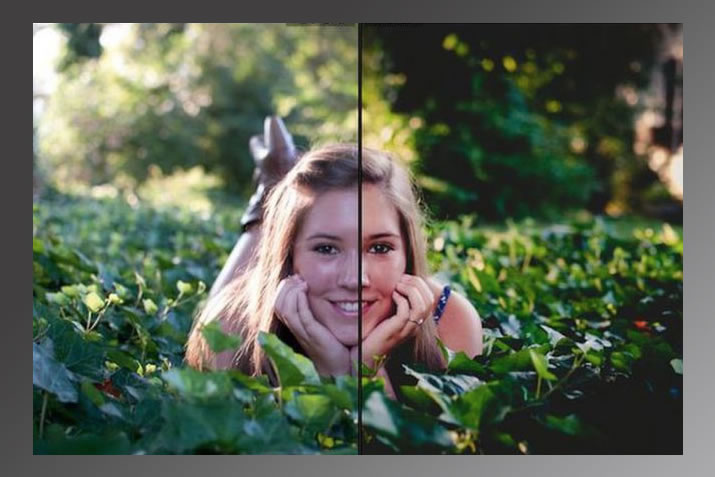 When looking for an ambient light rejecting projection screen, don't forget to consider color accuracy as well as ALR properties
Color balance plays a vital role throughout the world around us. So don't sacrifice color accuracy when it comes to ambient light rejecting (ALR) projection screens.
The majority of ALR projection screens on the market today play with color balance in order to reject as much light as possible away from the eyes of the viewer. In doing so, this creates an image that doesn't look quite right, although it's hard to say why—at least, until you do a side-by-side comparison with an ALR screen that is reflecting colors accurately. Then you notice how blue the typical ALR screen image is.
We depend on the correct colors not only to visualize, but also to understand our world. It's believed that our ability to see in color evolved, so we can sense emotion or health on the skin of others. Getting the wrong color signal could lead to misreading an enemy's intentions or being exposed to illness. Color balance can even mean the difference between right or wrong diagnoses using a microscope in the lab.
In nature, showing off the correct brilliant color warns possible predators that a South American arrow poison frog isn't a good idea for dinner. Being the right color to blend in with tree branches gets the mantis its insect meals. If a male peacock's tail feathers are bright and colorful then females know he's healthy.
So why is this need for proper color accuracy sacrificed when choosing an ALR projection screen?
Draper was the first screen manufacturer to make ALR screens that are certified by the Imaging Science Foundation (ISF) for color accuracy. All of our ALR screens have this certification, which means they are proven to have no impact on the image color.
When used in conjunction with an ISF-certified (or correctly calibrated) projector, the colors you see are as they are meant to be, so you can have confidence that no matter how mission-critical the situation, there won't be any mistakes due to bad color balance.
To find out more about our 8K-ready, ISF-certified TecVision screen viewing surfaces, including our ALR solutions, click here.
Company: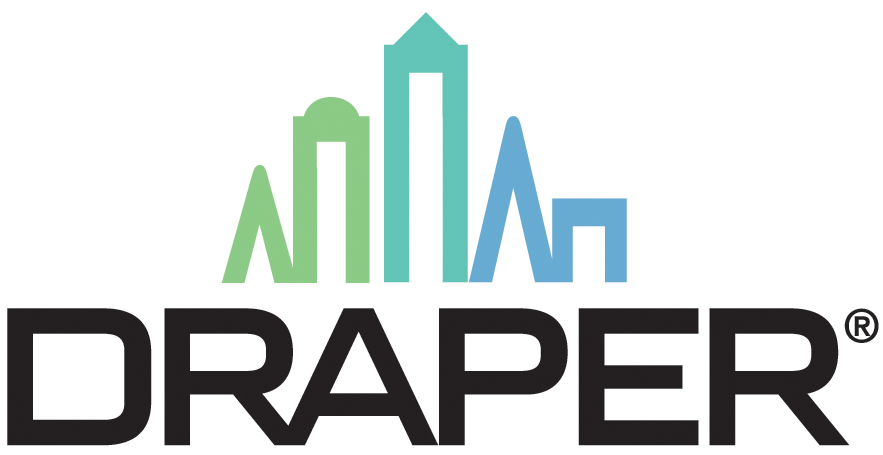 Draper, Inc.
Of: Terry Coffey
Source: http://blog.draperinc.com/2017/04/color-balance-alr-screens/
Tags: Audio Visual | Color | Design
---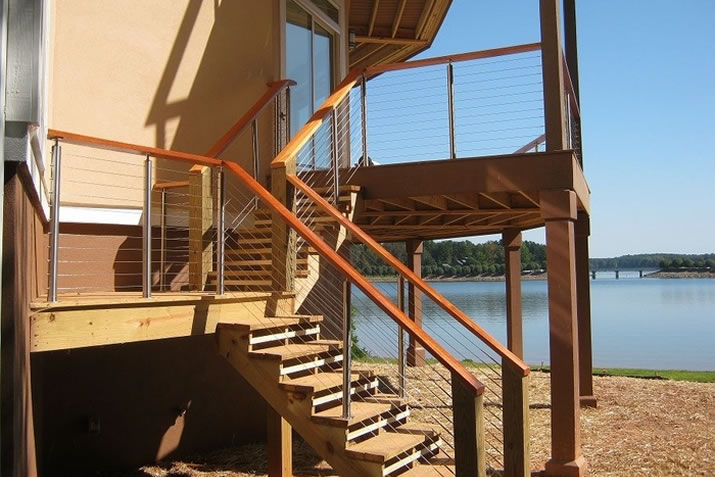 Need inspiration for a deck railing? Look no further than cable railing systems by Stainless Cable & Railing Inc. Available across a spectrum of material, shape, and color options, you're sure to find the right posts and top rail for the job. Even if you plan to supply your own frame, cable infill and fittings work with any architecture style or décor.
The images below provide a small sample of completed cable railing projects submitted by our customers, all of which include our marine grade stainless steel cable and cable end fittings. For more images organized by materials used, see our Photo Gallery. Think one of our railings will be perfect for your deck? Give Stainless Cable & Railing Inc. a call or fill out our Estimate Request Form to get started.
Contemporary Deck Railing Ideas

Black Aluminum Railing for Entrance Stairs and Deck / Natural Aluminum Posts for Elevated Porch
Traditional Deck Railing Ideas

Customer Frame with Cable Infill for Balcony Over Pool / White Aluminum Railing For Deck Covering Patio
Rustic Deck Railing Ideas

Bronze Aluminum Cable Railing for Covered Deck / Stainless Steel Round Posts & Infill for Log Cabin
Tropical Deck Railing Ideas

Beachside Stainless Steel Square Posts with Wood Top Rail / Bronze Aluminum Posts for Curved Railing
CableView® railing systems are defined by the craftsmanship, value, and enjoyment they provide
Craftsmanship
We build quality products, using durable, low-maintenance materials, including marine grade 316L stainless steel. Our state of the art in-house fabrication ensures quality control and allows us to accommodate the specific needs of any project.
Value
As both manufacturer and retailer, we skip the middleman entirely. This allows us to offer our customers economical, factory-direct prices for premium products. Our durable systems will stand the test of time, providing dependable safety.
Enjoyment
Your deck, loft, staircase, or porch railing is an integral part of your home, providing safety, visual appeal, and a great view. Simply give us a call or fill out our estimate request form, and we'll handle the rest. The clean lines and versatility of cable railing emphasize your view.
Company:

Stainless Cable & Railing Inc.
Product: CableView® Aluminum Cable Railing System
Source: http://stainlesscablerailing.com/cable-deck-railing-ideas.html
Tags: Exterior Design | Landscape Design | Railing System
---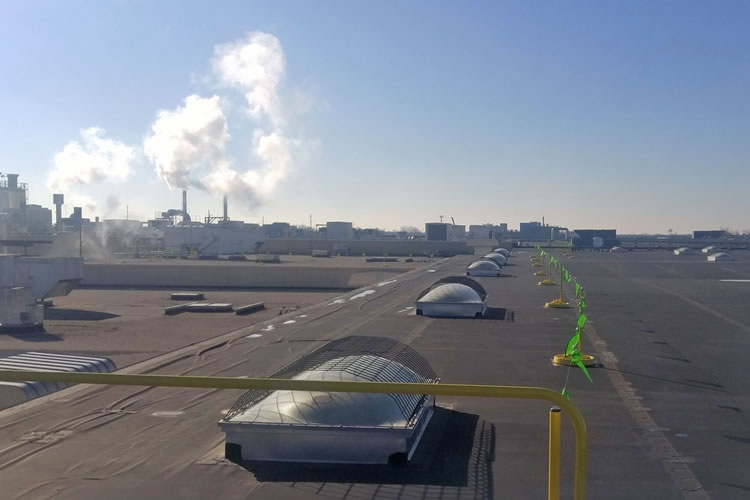 Enduraline warning lines installed at 15 feet from leading edge
EnduraLine Mobile is Safety Rail Company's most robust warning line system yet for permanent demarcation of hazardous areas. Cast iron base plates, steel stanchions, and plastic-coated galvanized cable with aluminum pennants means the EnduraLine warning line system is built for long-term exposure to the elements.
The EnduraLine Mobile system goes a step further. This non-penetrating warning line system is also designed to integrate perfectly with our SRC-360 Mobile railing system. The minimum OSHA requirement for warning line is that they be placed 15' feet or more away from a leading edge. Any closer to the leading edge, and fall protection railings or other fall protection devices must be provided. EnduraLine combined with our SRC 360 Mobile Rail answer both requirements and provide a complete, comprehensive, OSHA-compliant perimeter guarding solution.
When personnel need access to ladders or equipment within 15' of the edge, install the SRC 360 Mobile Railing system from the 15' mark out toward the leading edge and around the area that needs access. Attach the EnduraLine Mobile Warning Line System to the SRC 360 Mobile rail at the 15' mark and continue along perimeter to the next area that needs access. This configuration offers a cost-effective solution to 100% perimeter protection, designed to keep workers away from areas they shouldn't be and protected in areas where they need to be.
Features:
104 lb. base plate
25' stanchion spacing
Powder-coated yellow or galvanized finish
39" flag height per OSHA
100' galvanized cable with aluminum pennants
Safety Railing Solutions - Smarter. Better. Easier.
Safety Rail Company makes OSHA-compliant fall protection safety railings and guard rail systems that are durable and innovative, but still affordable. With years of industry experience, our fall protection products are engineered first and foremost to save lives! Beyond the primary goal of safety, we take our products a step further, making them easier to assemble, configure, use, and store.
Service Beyond Compare
Our team of safety experts takes pride in our 100% American-made fall protection systems and the personal service we give to our customers. We are firmly committed to providing:
Dedicated one-on-one customer service
Free in-depth consultations to ensure you have the exact system you need
Free, fast 3D CAD project plan modeling
100% OSHA-compliant & made in the USA products
Full installation services with factory trained, in-house personnel
Ongoing partnerships that you can depend on for years to come
Let Safety Rail Company be your turn-key provider. Project design, engineering, testing, manufacturing, and installation from one trusted source.
Company:
Safety Rail Company
Product: Visual Warning Line Systems
Source: http://www.safetyrailcompany.com/enduraline-mobile-permanent-warning-line-system/
Tags: Railing System | Roof | Safety
---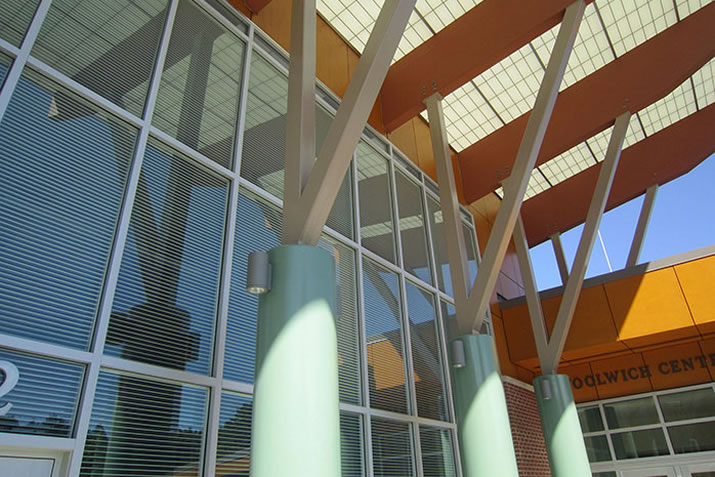 Unicel Architectural, the leading manufacturer of vision and daylight control solutions, today outlined how its Vision Control® integrated louvers can help attain multiple credits for high-performance green building certification through optimized energy performance, thermal comfort, acoustic performance, daylighting and more. Leadership in Energy and Environmental Design (LEED) is the foremost program for the design, construction and operation of green buildings.
"The operation of a building has a huge impact on the environment," said Samuel Doyon-Bissonnette, Engineer and LEED Accredited Professional at Unicel Architectural. "Our Vision Control® integrated louvers can contribute significantly toward obtaining LEED certification and/or improving a building's LEED score. In addition to environmental benefits, this also means long-term cost savings which are especially important for commercial and institutional spaces that need to optimize efficiencies and operations."
LEED is a third-party verification system for green buildings developed by the U.S. Green Building Council (USGBC). The operation of buildings and the construction of new buildings have had a negative impact on the environment for years. As a result, builders and building owners alike are now turning to LEED to assist them in retrofitting and designing more environmentally conscious buildings and communities.
Use of Vision Control® integrated louvers can contribute to LEED certification credits as follows:
Energy & Atmosphere (EA) a. Optimize energy performance (up to 18 points)
Indoor Environmental Quality (IEQ)
a. Thermal comfort (up to 1 point)
b. Interior lighting (up to 2 points)
c. Daylight (up to 3 points)
d. Quality Views (up to 1 point)
e. Acoustic performance (up to 1 point)
Innovation (IN)
a. Intelligent control of louver tilt angle is used for controlling solar heat gain and enhancing daylighting (up to 5 points)
For more information, visit: http://www.unicelarchitectural.com/en/specialty-glazing.html
Company:
UNICEL Architectural Corp.
Product: Specialty Glazing
Source: http://www.unicelarchitectural.com/en/specialty-glazing.html
Tags: Glass | LEED Certification | Window Shades
---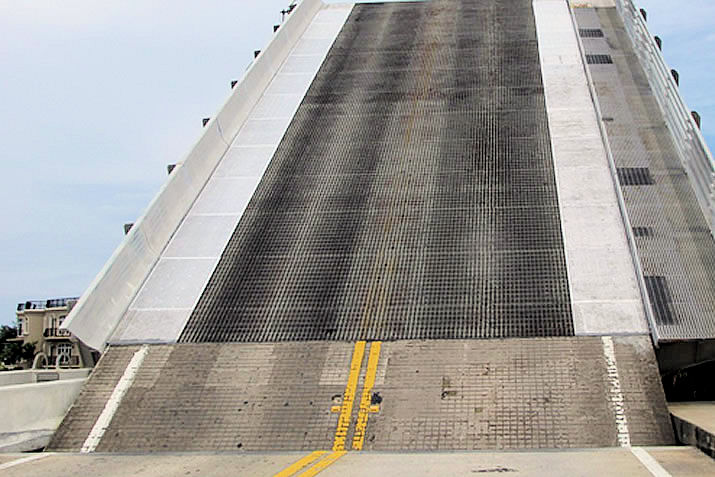 SlipNOT® Metal Safety Flooring, a manufacturer of non-slip metal flooring products, recently released a Florida Department of Transportation (FDOT) case study addressing bicycle lane safety.
T.Y. Lin International, an architectural firm, was hired to study the inventory of metal grate bridges and their link to bicycle safety. The introduction of the report states: "These metal grate bridges…can be difficult and intimidating for a bicyclist to cross. Depending on the type and direction of the grating, grooves can cause a "channeling effect" or "sliding" for bike tires, and narrow tires can be lodged in gaps between the bridge grates. In addition, the metal can become increasingly slippery when wet, making these bridges even more difficult for bicyclists to safely cross in rain or snow."
In order to prevent these hazardous situations, FDOT has proactively sought to improve public safety by specifying SlipNOT® on various applications including expansion joint covers, subway emergency exit doors, pedestrian bridge plates, bicycle safety lanes, and vault covers. Specifically, FDOT specified SlipNOT®'s galvanized steel perforated plates to retrofit over an existing grating deck on a bascule bridge in Fort Lauderdale, FL. The perforated plates were bolted down, providing a durable and secure lane for bicyclists. The perforation allows drainage and since this is an outdoor application, FDOT chose a galvanized finish for corrosion resistance. The high traction SlipNOT® surface provides a safe transit way for cyclists in all weather conditions.
SlipNOT® continues to provide slip resistant solutions for FDOT projects whether it's directly through the agency or various contractors such as Steel Tech, Inc. of Charlotte, NC. Following successful installations, Steel Tech has continued to utilize SlipNOT® for innovative solutions on complex projects. David Schultz, the owner of Steel Tech Inc., said "The problem of bicycles safely traversing open steel grid bridge decks has been an ongoing issue in many areas of the country. Superimposing slip resistant perforated plates over existing open steel grid installations may prove to be a viable solution. Durability and ease of installation is the key."
SlipNOT® perforated plates provide increased safety for bicyclists and other bridge patrons throughout Florida with minimal disruption on bridge operations. The flexibility of SlipNOT® products allow companies such as Steel Tech Inc. the ability to creatively address complex safety and operational issues.
To download a copy of the study with images, please visit http://www.slipnot.com/case-studies/fdot-bicycle-lanes/.
Company: SlipNOT® Metal Safety Flooring Div.
Source: http://www.slipnot.com/all-news/fdot-improving-bicyclist-safety-with-slipnot/
---

Par-Kut provides guard houses used to shelter security personnel. Par-Kut guard houses are long-lasting, portable steel buildings.
Par-Kut provides the most rugged and well built guard houses, guard booths, guard shelters, border inspection booths, security access control checkpoints and observation towers. Par-Kut's guard houses are all prefabricated guard houses. Our customers include government, private industry, airports, nuclear power plants and U.S. Military facilities across the country and around the world. Par-Kut's all welded steel construction and use of durable, low maintenance materials ensure the guard booth's greatest longevity. Special security features are offered to customize the security guard booth to your location requirements and to keep your security officers comfortable as well as secure. Go to BULLET RESISTANT to learn more about Par-Kut's enhanced ballistic construction options for hi-risk environments.
In some industries, guard houses or guard booths are known as guard shacks. Whether described as a security guard shack, portable guard house, security guard house, or security guard booth, Par-Kut factory-assembled, portable steel buildings provide a ready-made solution to your security shelter problem.
Par-Kut offers guard house drawings and guard house designs to suit just about every application and if we haven't helped somebody with a similar requirement in the past, we will work with you to provide guard house designs to meet your site specific needs. In fact, the simplest way to start a productive dialogue is to send us a simple thumb nail sketch showing your guard booth drawing or guard house design. Par-Kut stands ready to assist you with your guard house architecture and guard shack floor plans.
For a guard house best for your location, and best for your guard house budget over the long run, call one of our sales professionals here at Par-Kut. Investing only a few minutes of time for discussion will enable you to receive a quotation for a guard booth or guard shack that is catered to your specific situation. Whether you need a standard, a bullet resistant or an elevated or highly portable trailer mounted guard house or security booth; a durable steel PAR-KUT guardhouse will meet your needs and provide you a service life unsurpassed by any competitor.
When you are speaking with a Par-Kut sales professional about your guard house, especially, a prefab guard house, it is important to identify the city and state where your guard booths are going to be installed. Codes regulating all types of factory assembled structures, including prefab guard houses, vary from state to state. Please have this information ready when you contact Par-Kut for a quote on your guard house. Prefabricated guard houses are lumped together with other pre manufactured structures for code purposes, although this practice does not take into consideration the vast differences in typical applications. However, a guard house from Par-Kut will meet or exceed most model building codes. Prefabricated guard booths can be amortized for tax purposes if recordable as the proper type of equipment. Check with your accounting dept, or financial advisor to see what steps should be taken for proper recording of your prefabricated guard booth. Prefab guard shacks and modular guard houses, when specified and purchased properly, will serve for decades. Par-Kut will work with you to outline your needs and a budget price for the guard shack or guard house that you need for a guard shelter.
Go to GALLERIES to view additional guard houses.
Company:
Par-Kut International, Inc.
Product: PRESIDENTIAL
Source: http://www.parkut.com/booths/applications/guard-houses/
Tags: Design | Entrances | Safety | Security