architecture - engineering - construction

2017 July
---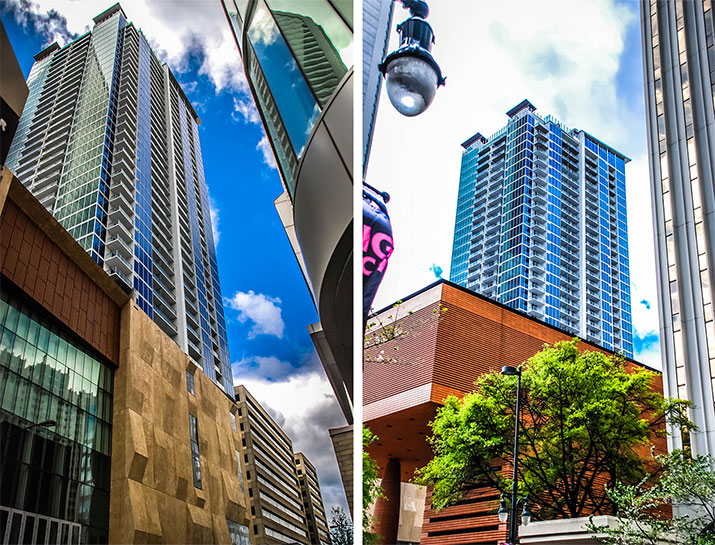 This 40+ story tower sitting atop the Mint Museum utilized 2-Line aluminum and glass balcony railing offering incredible city views, and double-sided acid etched dividers adding privacy between residences
Though the structural support for Museum Tower apartments was already in place by 2009, the recession and a stalled residential sales market indefinitely halted construction. Then, in late 2015, the tower began to rise – at a pace of one floor every four days, in fact! In just a year-and-a-half, we have witnessed Museum Tower come to life in Charlotte, North Carolina. [1]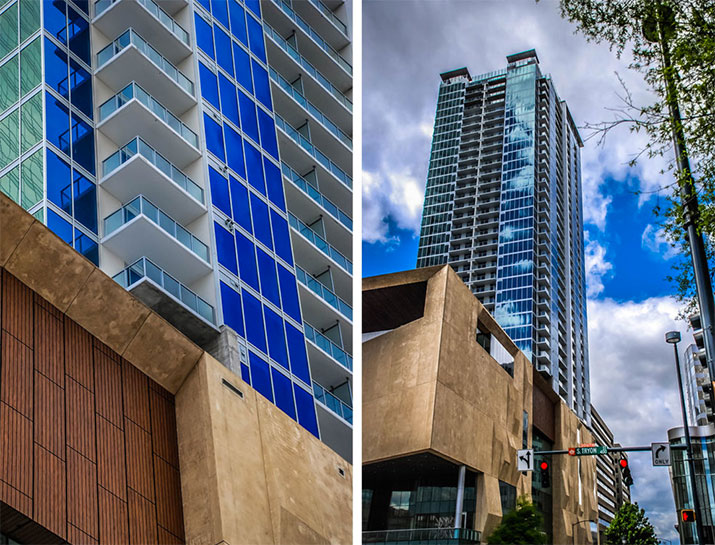 SC Railing provided over 8,000 combined lf of railing, windscreen and balcony dividers to this LEED Silver project
Owner/Developer, Childress Klein, had long planned for this 394-unit apartment tower to be constructed some 43 stories above the existing Mint Museum Uptown Charlotte. Juxtaposed with the luminous Duke Energy Center, Museum Tower apartments inherited a hefty responsibility; as any building sharing space with the Duke Energy skyscraper had better be worthy of the real estate it occupies. We believe Museum Tower earns that appointment, and then some!
SC Railing Company provided more than 8,000 combined linear feet of 2-line aluminum and glass balcony railing, along with balcony dividers and custom rooftop windscreen. Museum Tower marries a refined interior design aesthetic and floor-to-ceiling windows with glass balcony railings, for sweeping city views. Balcony railings were constructed using 3/8" clear tempered glass, and 1/4" tempered, double-sided acid etched balcony dividers for added privacy between residences.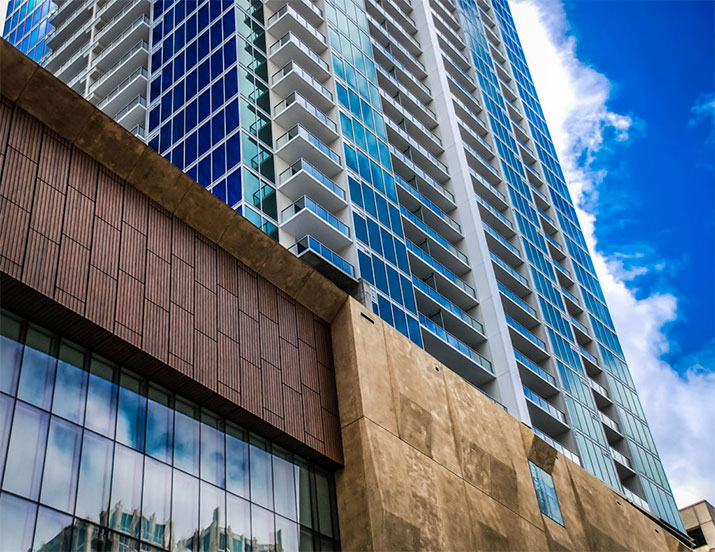 Mint Museum features 2-Line Glass and aluminum balcony railing with glass dividers
Museum Tower's rooftop lounge includes a heated saltwater pool with cabanas, indoor and outdoor fireplaces, and a game room. The amenity area's perimeter is wrapped with 8' high, 1/2" clear tempered glass panels, for which SC Railing Company provided custom aluminum segmented base shoe mounts. Transporting these panels, weighing upwards of 125 pounds, was one of the challenges of this high-rise project. Getting glass to the project safely became an issue early on, as one of our glass delivery trucks was struck by another vehicle on I-77, a mere couple of miles from the jobsite. Fortunately, there were no injuries, but we lost nearly an entire shipment of glass in the collision. For an already fast-tracked project, this threw us into high gear. We worked very hard to adhere to rigid timelines, replacing damaged glass, and getting all materials to the Museum Tower safely. Hurdle by hurdle, we endured!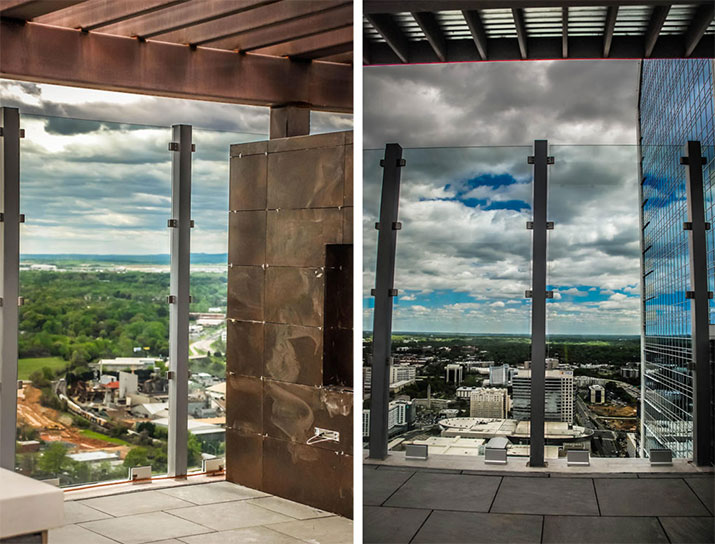 A post supported windscreen with custom aluminum segmented base shoe mounts secures 125-pound, 8-foot tall glass panels surrounding the pool and amenity area located on the 42nd floor
Bringing the Museum Tower project to a close has us coming full-circle, as this was the final phase of construction of the Mint Museum Uptown Charlotte project, which we provided railings for in 2010. This builiding's completion has been more than seven years in the making! SC Railing Company is pleased to have partnered with General Contractor, Batson-Cook, in providing our glass railing products for this LEED Silver project, a veritable crowning jewel of the Queen City skyline.
Architect: Rule Joy Trammell + Rubio
Owner/Developer: Childress Klein
General Contractor: Batson-Cook
---
[1] How is the Mint Museum apartment tower going up so fast?!?
Click Here for Project Information!
Company: Architectural Railings & Grilles, Inc.
Product: Civic 2-Line
Source: http://www.sc-railing.com/news/sc-railing-company-offering-view-top/
Tags: Architecture | Design | Glass | LEED Certification | Railing System | Safety
---

Step Planters NYC
TerraCast Products dazzle reclaimed public spaces with installations of planter pots across various pedestrian plazas in New York City. Following in the wake of the NYC Department of Transportation's success, other municipalities have taken to tactical urbanism utilizing the loose guidelines which help their citizens safely hang outside more.
The New York Department of Transportation (DOT) in collaboration with the NYC Plaza Program, along with Baruch College in NYC, and the Los Angeles City Planning Commission launched independent projects to transform community spaces utilizing innovative resin based planters. Designed by Florida-based TerraCast Products, an American owned and operated company; the planters are manufactured in the United States from a durable resin blend that resists sun and salt as well as the abuses of both vehicular and pedestrian traffic. The lightweight material allows for easy relocation during events or with seasonal changes.
"Areas all over the country are utilizing tactical urbanism for emerging public spaces, such as pedestrian plazas, streetscapes and parklets," said Brad Goldring, TerraCast Products' CEO. "We are incredibly excited to have worked with NYDOT, many colleges, business improvement districts and the LA City Planning Commission to help design these new sites. We hope they highlight distinct approaches to public space management, and that these projects initiate other entities to succeed in creating thriving public spaces in their communities."
Successful public spaces require modernization, acceptance and maintenance: These projects implement all three. Under NYDOT and the NYC Plaza Program, Union Square, Madison Square and Times Square all feature TerraCast planters, which adhere to New York City's exacting design requirements while ensuring the areas to be energetic centers of activity.
Baruch College introduced TerraCast commercial planters to convert a road located between two of their campus buildings into a student plaza. The planters were chosen as decorative barriers which best met the needs of the college because they are maintenance free and durable. The LA City Planning Commission accomplished something similar at Sunset Triangle Plaza when they renovated a street in Silver Lake into a pedestrian plaza utilizing TerraCast Products step planters. These planters separated Sunset Boulevard from people walking and dining outside.
"In the last decade, these initiatives have breathed new life into the spaces within these cities," stated Lou Blondin, TerraCast Products' CMO. "In collaboration with these organizations, we are reimagining public spaces in a more pioneering and comprehensive way, and our products align with these concepts."
TerraCast Products' modern resin planters contribute to this new approach to city building that integrates the reinforcing benefits of vibrant public spaces with tactical urbanism. TerraCast Planters last longer than products made from other materials, and they are cost-effective for project budgets. Constructed to not require any maintenance, TerraCast planters can withstand a variety of weather, including intense heat and harsh winter climates. The lightweight planters can be moved and loaded by hand, which allow for easy shipping and transporting on the job site.
Community organizations and cities are invited to find more information about TerraCast Products at http://www.terracastproducts.com.
Company: TerraCast Products LLC
Product: Planters
Source: http://www.terracastproducts.com/terracast-products-featured-in-innovative-city-redevelopment-projects/
Tags: Design | Furniture | Landscape Design
---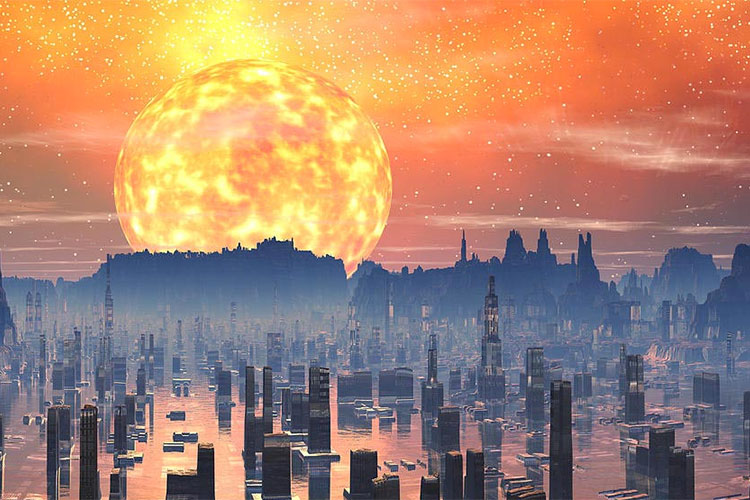 With the effects of global warming upon us, architects and building owners need to mitigate its impact in the built environment. This is not a new idea, but the necessity for design that protects against volatile weather, rising temperatures, and insect-borne diseases is now more pressing than ever. Last year, the U.S. Army Corps of Engineers created the Building Resilience website, a tool that connects community planners, home builders, architects, and engineers with building science, climate data, and community resilience resources. This is crucial information designers and building owners need if they want to confront the effects of climate change.
As daylighting manufacturers, we have some thoughts on how daylighting can be used to reduce the impact of global warming on the built environment.
Daylighting that can withstand Severe Weather
Because of global warming, weather events like hurricanes, flooding, and tornadoes have become more powerful (Superstorm Sandy in 2012 and Supertyphoon Haiyan in 2013 have both been partly attributed to global warming).
But just because nature has become more dangerous doesn't mean we should barricade behind steel walls. Instead, robust daylighting systems should be utilized. By incorporating daylighting into architecture, occupants remain connected to the outdoors, and the structure reduces its carbon footprint.
It's important to use daylighting systems and materials that possess excellent water weepage and can withstand high wind loads. These attributes will be determined by the system's glazing and framing.
Polycarbonate is one of the best forms of glazing when it comes to strength and durability, and it by far outperforms glass (polycarbonate is 250 times more resistant to impact than safety glass), as well as fiberglass reinforced panels, or FRP (polycarbonate is 4 times more resistant to impact than FRP).
Additionally, the system framing must have elements that facilitate excellent water control and leak resistance, like properly placed weep holes and water stops. An example of a highly resilient daylighting system is EXTECH's LIGHTWALL 3100LSpolycarbonate wall system, which meets ASTM E-1886 and E-1996 tests for hurricane impact / windborne debris at clear spans of 8 feet. It is an excellent daylighting product in the face of torrential weather.
Protection Against Intense Heat
With global warming comes rising temperatures. Data has uncovered a long-term warming trend, and at this rate, temperatures could rise as much as 8 degrees by the end of this century (though that does not sound like much, a global increase in this scale would have dire outcomes). Even if carbon emissions worldwide are drastically cut, escalating temperatures are a factor humans must face.
With warmer temperatures comes the threat of increased solar heat gain (the temperature inside a structure that results from solar radiation). If precautions are not taken when choosing the daylighting glazing, people will either bake in a convection oven, or the cooling system will have to run at non-stop full capacity – neither choice is ideal. To protect against these scenarios, glazing that blocks infrared rays is recommended for daylighting structures. Polycarbonate is one of the few materials that can effectively and economically block infrared radiation.
Though humans can take many actions to reduce global warming, its effects will never be completely vanquished; mitigation is the only way forward. By accepting this, architects and building owners can be a leading force in climate change preparation – if they have the foresight now to build structures that deal with global warming's impact, humankind will be safer, happier, and quite possibly, live to one day stop climate change for good.
Company: EXTECH/Exterior Technologies, Inc.
Product: Translucent Walls
Source: https://extechinc.com/global-warming-how-architects-building-owners-can-prepare-the-world/
Tags: Energy | Exterior Design | Lighting | Louvers | Sustainability | Wall Panels
---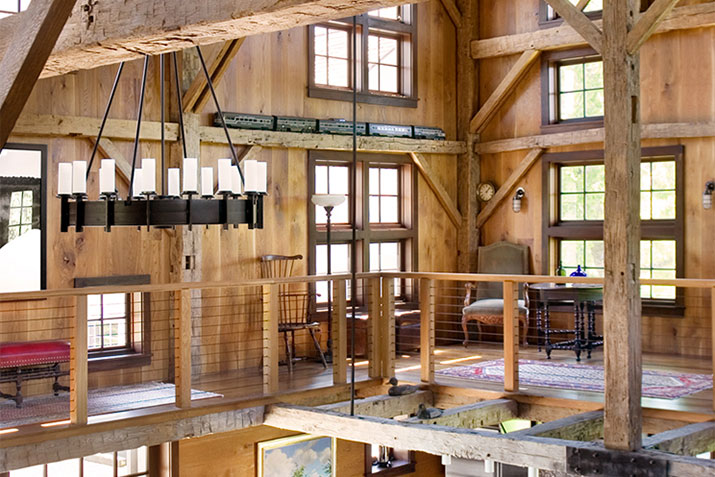 Paul Gleicher, acclaimed architect and published author, is a man of exceptional taste. Owners of high-end residential properties, including townhouses, penthouses, apartments, and houses seek out the New York City-based architect for his sophisticated, award-winning design sense. There are even Gleicher-designed barns.
"I think there's a growing interest in barns," Gleicher says. "There's a real sense of history when you step into these structures. They're large, open spaces that favor today's lifestyle."
Four Barns Farm Project
Take Gleicher's Four Barns Farm project in rural Millbrook, N.Y., about a 90-minute drive outside of New York City. A prominent investment industry executive and his family took Gleicher's advice to look at Millbrook for their weekend retreat. Within short order, the executive purchased a 40-acre estate formerly owned by composer Marvin Hamlisch. The property included a cluster of four dilapidated barns from the mid-1800s.
Gleicher remembers the initial chat with the new owner well. "'Paul, let's turn these barns into a family compound.' It was my first barn project," says the recipient of The Franklin Report's top five-star rating.
Architectural Counterpoint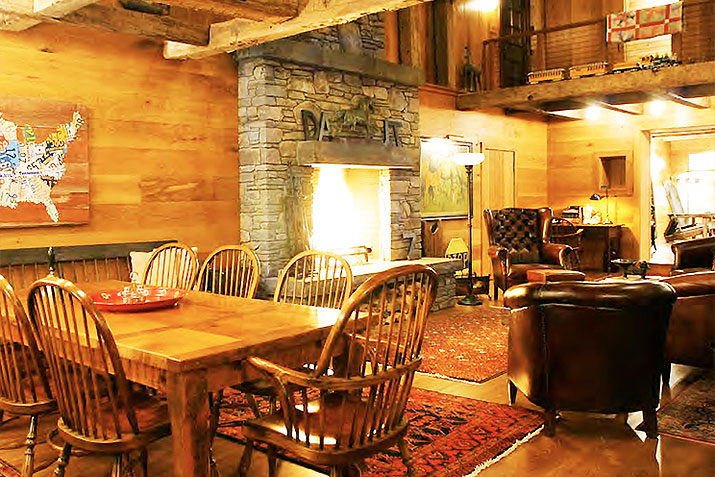 The interior scale offered Gleicher a rich palette to showcase beautifully-restored oak and pine floors, ceilings, and walls. To help dramatize the interior, Gleicher turned to CableRail by Feeney after considering traditional wood balustrades.
"CableRail is a really nice counterpoint to all the wood. Wood has warmth, but timber also has a certain heaviness to it. CableRail became a natural component. It made a lot of sense," Gleicher says.
Gleicher liked the idea of setting off the balcony spaces with a light, open look. "CableRail afforded that visual connection from the upper stories to the lower stories and vice-versa. It's really important to maintain that if you have a lot of people in the space. It helps communication," he observes.
Uparalleled Support
Gleicher notes this was his "first go-around with CableRail" and the experience didn't disappoint him in any respect. Feeney proved to be exceptionally helpful and easy to work with. In fact, Gleicher is quick to contrast his Feeney experience with another buildings products manufacturer. He was researching ceiling fans for another project and had a couple technical questions. He was told by the manufacturer 'That's up to you. It's your responsibility.' In contrast, Feeney's friendly technical staff were on call to answer all of his CableRail questions.
Installation proved to be a snap. "We just had the general contractor install the in-fill system. It's not complicated at all," says Gleicher.
Dream Come True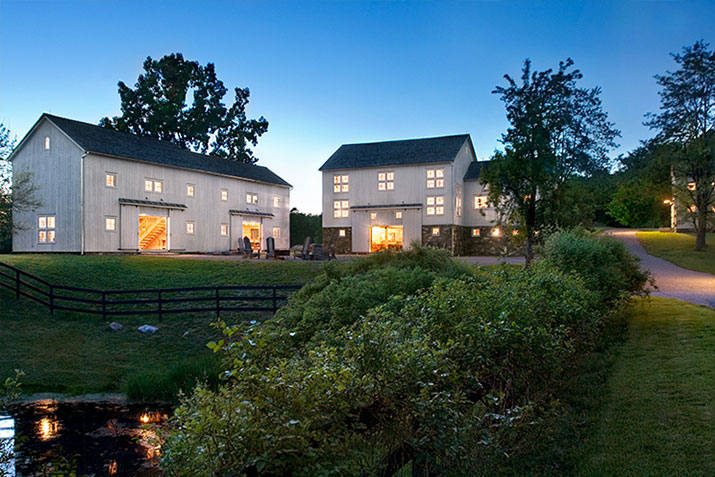 The owner "absolutely loves" the Four Barns Farm project Gleicher delivered. "They take every opportunity to talk about the project, invite people over. For the family, it's a dream come true," he reports.
It has also won its share of fans on Houzz. Gleicher states that the Four Barns Farm is one of the firm's most popular projects on the renovation website, generating over 30,000 views and added to more than 250 Ideabooks.
The idea of blending the open lightness of CableRail in stylish interior settings is now a top consideration for the award-winning architect. "I'm very happy with the product and will always keep it in mind." Who says you can't mix classy urban sophistication with friendly down-home charm? Just ask Paul Gleicher.
To Learn More:
Company: Feeney, Inc
Product: CableRail Stainless Steel Standard Assemblies
Source: http://media.feeneyinc.com/blog/top-nyc-architect-selects-feeney-for-notable-barn-project
Tags: Architecture | Interior Design | Railing System
---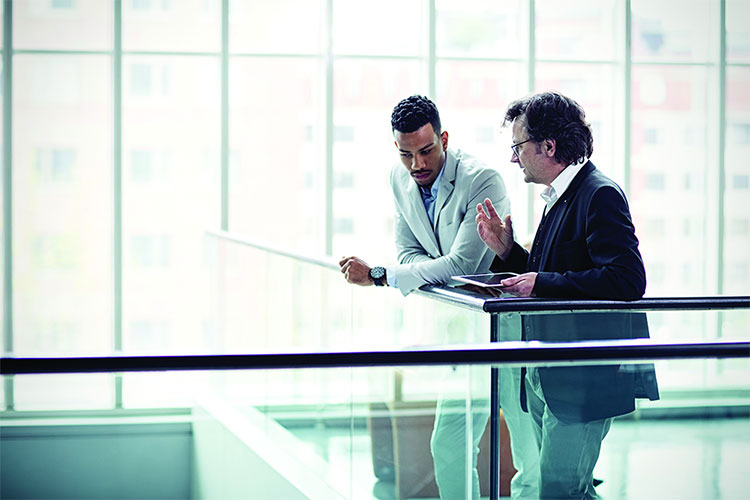 Today's security entrances can last 10 years or more, so your organization can go years without installing a single new entrance. This fact alone intensifies your need for a great experience during the buying process and beyond, so that you are assured the right entrance to meet your needs for years to come. How do you better your chances for such a great experience? Here are 10 factors a manufacturer should offer to create a stellar 360-degree customer experience.
Going global
Can the manufacturer deliver a premium service experience and quality entrance solutions on a global scale? Such a company will have manufacturing facilities around the world in strategic locations as well as subsidiaries and partners. Is there only one factory in China? How long does product delivery take compared to a regional/local manufacturing plant and how much of a premium is there on shipping everything from overseas?
Who you gonna call?
Most manufacturers have regional sales managers and that person is your initial main point of contact. Look for a manufacturer that has a large number of direct employees (not manufacturer's reps) in this role that have small territories so you get the attention you deserve. They can help you determine the right entrance for your specific security needs and even conduct a site walk in person.
Working like machines behind the scenes
The best firms have an inside sales/customer service team to manage your entire order from PO to shipment directly within the manufacturing facility. Ask if you will be assigned a dedicated representative that will communicate with you proactively, check your order for accuracy, liaise on your behalf internally about customizations, and keep you updated on production lead times and shipping timelines.
It's all about location, location, location
A manufacturer with a factory that shares the same continent with you has several advantages. They employ highly trained assembly technicians and source materials locally (lower costs than importing and lower carbon footprint). They also can conduct quality assurance in-house and will have better control over the finished product. Finally, you get faster lead times and lower freight costs.
Expect no surprises
Is there an in-house installation management team that works to ensure no surprises come up during the product installation? The best such teams will walk you through the scope of work so you are aware of exactly what the installation process entails. They also prepare the onsite contractors and installers to receive and properly install the entrance solution.
A second pair of eyes
The best companies will have a team of field service technicians around the country who are available, upon request, to check each entrance after installation for proper operation. The technician can also verify the entrance integrates properly with other components of the building, e.g., fire alarms and access control systems.
Back up and running in no time
How quickly can you get your issue resolved while potentially hundreds of people are being diverted to another entrance? Ask for an organizational chart for the Technical Support department: it should be robust, indicating investment in expertise and customer satisfaction. Ask if they measure their same-day call resolution percentage and parts fulfillment percentage.
Technical training for tuned-in teammates
The last thing you want is the repair call where, upon arrival you hear, "I've never seen this type of turnstile/door before." Where is the nearest service partner located? What kind of technical training resources does the manufacturer provide to educate and certify its service partners? Is there a dedicated full-time role or staff that educates and certifies the installer on the solution you've selected? The goal of the best training programs must be to prepare local partners for flawless installation.
Regular assessment of your investment
Look for some kind of preventive maintenance plan (PPM's). It's an optional service that brings in-house factory expertise to your site to perform annual and bi-annual maintenance checks on your entrance. PPM's ensure the longevity of your asset for maximum ROI.
Same experience, every time
With top, global manufacturers, you can save money, decrease time spent on training, and improve efficiency by planning and executing the same, high quality product line to all your building locations around the world. Being able to standardize on one manufacturer across your entire organization is a huge advantage in cost and time savings.
Company: Boon Edam Inc.
Product: Security Doors & Portals
Source: http://blog.boonedam.us/you-deserve-to-be-delighted-10-essential-elements-to-look-for-in-a-security-entrance-manufacturer
Tags: Entrances | Exterior Design | Interior Design | Security
---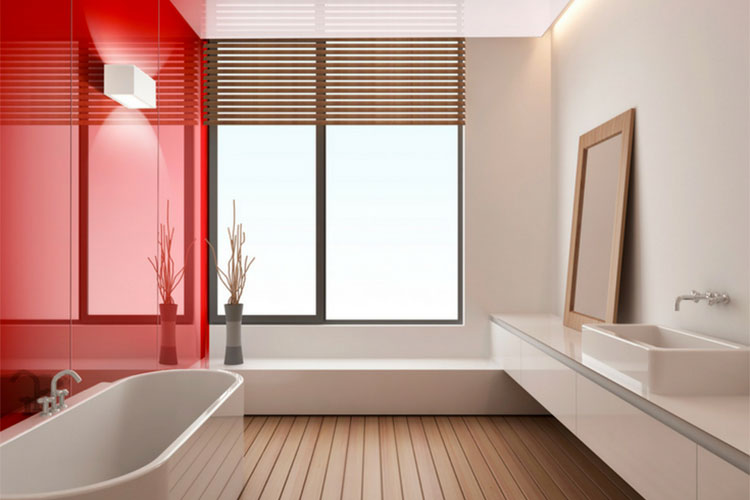 It's fun to look at the glass-like appearance of high gloss acrylic wall panels in a shower, kitchen backsplash or feature wall in an office and say, "Wow – that material is cool." Yes –gloss wall panels are striking in appearance – but just like you and I – there is a lot more to know about them than is evident on the surface. While these panels fly off the shelves in countries like Australia and Japan – they are still new to homeowners and business owners in the United States (and a bit of a mystery).
In this article, I'd like to dig "under the hood" to give you some little-known facts (at least in the United States) about these fun and functional high gloss wall panels. At the end of the article let me know if you have any questions which weren't covered in these 5 facts.
Little known high gloss acrylic wall panel fact #1 – They can be used in a steam room or behind a stove
When people think of acrylic and hot spaces most assume they can't be used in steam showers and behind stoves in the kitchen, however this is not the case with optical grade (hard coat) acrylic wall panels. If the temperature is lower than 130 degrees you can use these decorative colored wall panels in a steam room or behind an electric stove top. Standard acrylic wall panels (not high gloss) are not be recommended in these places.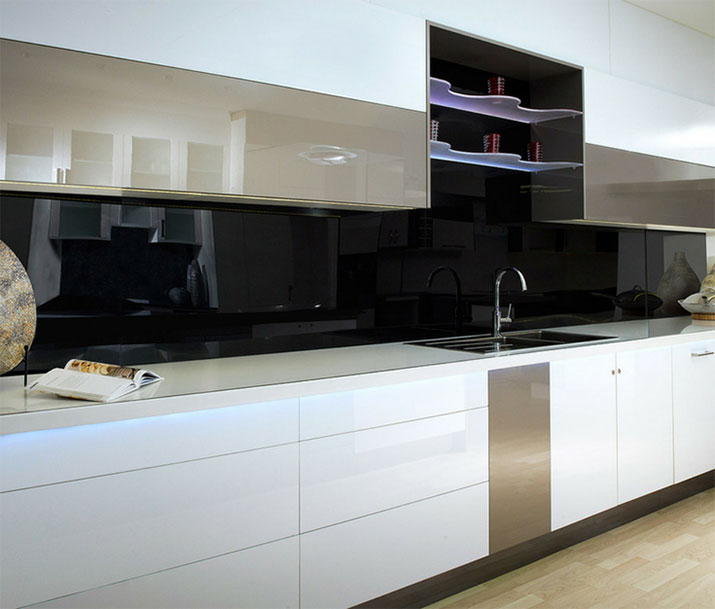 This high gloss kitchen is sleek. It is using a carbon black kitchen backsplash and mocha colored gloss cabinet fronts.
Little known high gloss acrylic wall panel fact #2 – They can be pre-cut if you want (or need) to do it yourself
If you're like a lot of parents and tell your kids to stay away from the skilled trades (carpentry, plumbing, electrical, masonry etc.) and go into fields like computer technology you are contributing to the problem of finding a decent contractor in your town to install a product they have not worked with before. So, when you ask a recommended contractor to install a product (like high gloss wall panels) don't be surprised if they tell you they are too busy – or they only work with tile showers or ceramic kitchen backsplashes. When there is a lot of demand for their services your contractor not be willing to try to install a hot new product like high gloss wall panels. The good news is there is something you can do about this problem (even if you're not the second reincarnation of Tim the Tool Man Taylor).
Simply get the high gloss panels precut and predrilled with holes you need for your shower heads and valves (in the case of a shower) or with the outlets cut out (in the case of a kitchen backsplash).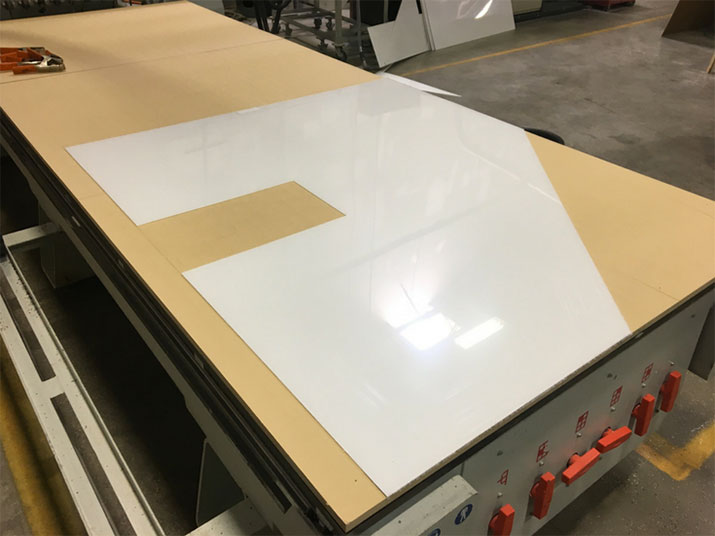 CNC equipment can pre-cut wall panels to make a shower kitchen or commercial installation of high gloss wall panels easier
In this way, all you need to do to self-install them is apply the silicone and double-sided tape on the back and slap them up.
Little known high gloss acrylic wall panel fact #3 – Not all acrylic wall panels are created equal
High gloss acrylic wall panels are not the same as the 1/8" thick acrylic walls used by nationwide "One Day Bathroom" franchises who focus in on lower end showers. High gloss wall panels have a hard coat applied to the front which allows them to create a mirror like look and pop out from the wall. The high gloss surface has 20 times the impact strength of back painted glass – but is only ½ the weight. In addition, the hard surface has superior scratch resistance to standard acrylic wall panels. They are sleek, contemporary, colorful and create a Euro-inspired look.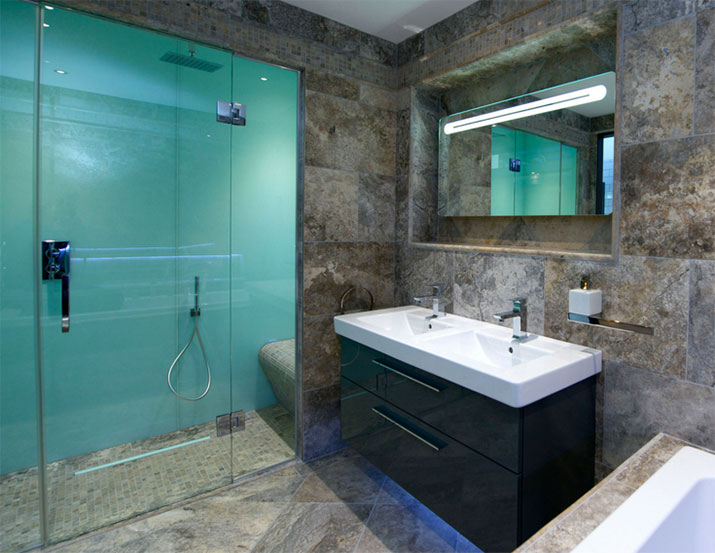 Where standard acrylic panels work well is they are low-priced alternative to a tile shower (which can be a good option in rental homes and investment properties).
Little known high gloss acrylic wall panel fact #4 – The "party's" in the back – and that's functional and stylish for you
Back in the 1970's and the 1980's the "mullet" style hairdo was popularized by the likes of Rod Stewart and David Bowie. It came to be known as the hairdo with the "party in the back." While that style has (fortunately) gone the way of the powder blue leisure suit I have to admit I wore (hey – I'll blame my Mom for buying me that!) in the 1970's, there are still some products where it is good if the "party" is in the back.
High gloss acrylic wall panels are one of those products. Putting the color (or the party) in the back of the panel makes sense because it is not subject to harmful UV rays and discoloration. The color in the back is the same approach as is used in more expensive back coated glass.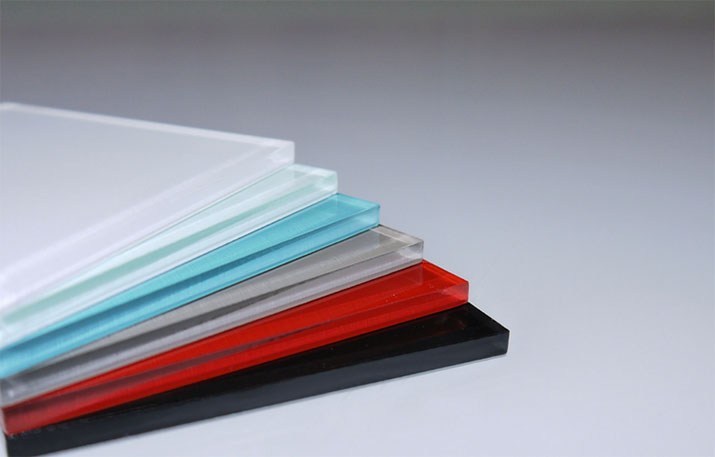 The color is on the back edge of these sample chips
Little known high gloss wall panel fact #5 – These panels go onto a wall, but they aren't the wall itself
High gloss wall panels have their place reflecting light off a wall and creating a mirrored light-filled contemporary look in a room They also help to block the view behind the wall surface (like tile you can't see through these panels or get any water through the surface either) to the wall backer material they are applied onto. That's the good news about high glass wall panels.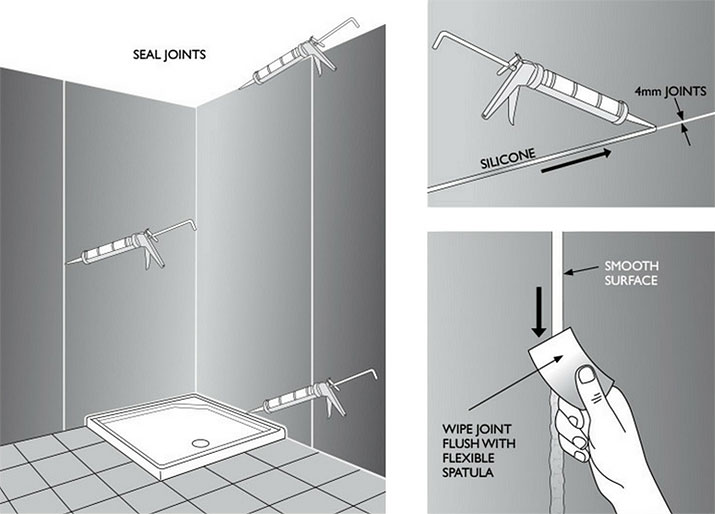 The bad news may be that they aren't a transparent or translucent glass material where light can transmit through the panels. If you're looking to move light through a glass wall you'll want to use real glass or a plexiglass.
Conclusion
Even though not a lot is known about high gloss acrylic wall panels in this country what can be agreed on is they are a fun, striking material which makes a visual impact on any room you choose to use them (a bathroom, kitchen, classroom or a front desk office area in commercial buildings are most common). I believe as you dig a little deeper into this material you'll also find they are easy to work with (especially if you have the panels pre-cut) and certainly not the same as the cheap acrylic you'll see advertised by "One Day Bathroom" companies. It is a stylish, contemporary and a luxury component to make your next bath, kitchen or office project distinctive.
How can I (or a member of my team help you)
If you're still uncertain how to use, cut or purchase this material I (or a member of my team) would love to help. For nationwide supply or material questions call Innovate Building Solutions at 877-668-5888. To use this product on a local bathroom or kitchen remodeling project in Cleveland call Cleveland Design and Remodeling at 216-658-1270 or in Columbus the Bath Doctor at 614-252-7294.
Company: Innovate Building Solutions
Product: High Gloss Acrylic Wall Panels
Of: Mike Foti
Source: http://blog.innovatebuildingsolutions.com/2017/07/15/5-facts-high-gloss-acrylic-bath-kitchen-wall-panels
Tags: Color | Design | Kitchen | Office | Shower | Wall Panels
---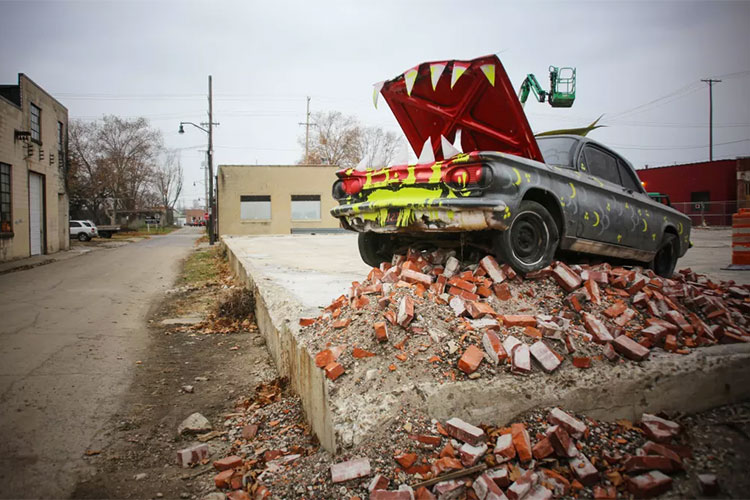 A recently demolished building in the franklinton neighborhood of Columbus, Ohio, an area that will be targeted by the strategic council's Capnua initiative. Image credits: Paul Sableman.
How AIA's Strategic Council is encouraging communities to embrace sustainable urbanization
The United Nations convened its Conference on Housing and Sustainable Urban Development, referred to as UN Habitat III, in Quito, Ecuador in October of 2016. This is the third international Habitat conference, with each meeting occurring 20 years apart. The conference was attended by 30,000 representatives from 167 countries, and AIA sent a delegation that included 2016 AIA President Russell A. Davidson, FAIA, along with staff and members.
The outcome of the Quito conference is a document titled the New Urban Agenda. The agenda is focused towards renewing the global commitment to sustainable urbanization, building on the initiatives adopted at Habitat II held in Istanbul, Turkey in 1996. When Habitat I convened in 1976, the percentage of the world's population living in cities was 37.9; it was 45.1 percent at the convening of Habitat II in 1996; and this past year in Quito, it was 54.5 percent. By 2050, that number is projected to increase to 75 percent. It is estimated that two billion people will require housing by 2030 alone. These numbers demonstrate the massive migration of people to cities across the globe, driven by matters such as employment opportunities, war, political strife, and climatic changes. Ultimately, the impacts on urban and rural environments will be monumental.
The New Urban Agenda is not a checklist but a modifiable guide that can be tailored to the specific needs and issues unique to any community. It is wholly scalar and simultaneously applicable to mega cities, peri-urban, and rural communities. It serves to assist local and regional governments in addressing challenges such as creating sustainable development designed with sensitivity to urban ecology and resiliency, with a keen eye towards optimizing infrastructure and transportation.
It also speaks to inclusiveness of underrepresented populations in the process of urban development, addressing their "rights to the city" and aligning with issues of housing tenure, health, women's and children's rights, diversity, access to services, urban space and cultural amenities, to name but a few. In addition to being inclusive of the spectrum of the populace that will be inhabiting these places, the planning process must also represent diverse constituencies, including economists, financiers, planners, governmental organizations, and architects.
The New Urban Agenda, simply stated, is a call to action for all architects.
Architects, with our "design thinking" expertise and desire to engage in visionary work, are uniquely qualified to be at the forefront of engaging the New Urban Agenda within our communities. It will act as a natural extension of the skills architects already possess within our existing expertise in areas like sustainability and resiliency. We need to be at the forefront of this effort in our communities; it is a moral imperative for the human populace and the planet. The New Urban Agenda, simply stated, is a call to action for all architects.
AIA plots a course forward
As such, AIA's Strategic Council is working to prototype an engagement initiative called Communication, Advocacy, and Policy of the New Urban Agenda (CAPNUA), which will heighten interest in the New Urban Agenda, educate communities to the potential associated with planning, and strengthen future design outcomes across the country. This initiative will be administered in geographically and culturally diverse locations of various scales. Plans are currently in place in Columbus, Ohio; Austin, Texas; Omaha, Nebraska; Honolulu; Indianapolis; and Miami. Each city will bring a unique, localized structure to their engagement project. In Indianapolis and Austin, the program will be linked to regional architectural conferences. In other communities, the engagement will be jointly supported by organizations representing landscape architects and planners and focused on compelling local issues.
In Columbus, the CAPNUA initiative will focus on Franklinton, a historically neglected neighborhood within the urban core of this growing metropolis. Columbus CAPNUA organizers seek to expand the Franklinton dialogue and planning efforts to factor in principles of the New Urban Agenda. Event planners will include architects, landscape architects, and planners.
The CAPNUA initiative will test engagement in a variety of settings in 2017 and seek to extract lessons in preparation for a larger, more robust engagement program role in 2018. How can AIA members help? We are currently looking for small- (50,000 or less) and medium- (around 100,000) scale communities in the northeast or western United States to participate in this endeavor. If your community fits this description and you are interested in participating, please contact Chere LeClair or Tim Hawk.
Tim Hawk, FAIA, is president at WSA Studio. Chere LeClair, AIA, is president at LeClair Architects and an associate professor at Montana State University's School of Architecture. Derek Washam is manager of international relations at AIA.
Company: AIA (American Institute of Architects)
Of: By Tim Hawk, FAIA; Chere LeClair, AIA; and Derek Washam
Source: https://www.aia.org/articles/87826-what-the-new-urban-agenda-means-for-architec
Tags: Architecture | Design | Sustainability
---
There are few design elements more visually imposing and spatially awe-inspiring than a properly implemented atrium. They provide large volumes of vertical space that are used by hotels, office buildings, and museums to not only open-up the floor plan, but address concerns of fire protection, systems integration, and indoor air quality. Atriums institute a rigor in design aesthetic and circulation that make them an entirely unique programmatic element.
Here are 7 gorgeous atrium buildings that not only suspend visual disbelief, they go beyond the standards of providing proper fire and life-safety protection.
1. Conservatorium Hotel in Amsterdam. Designed by Piero Lissoni.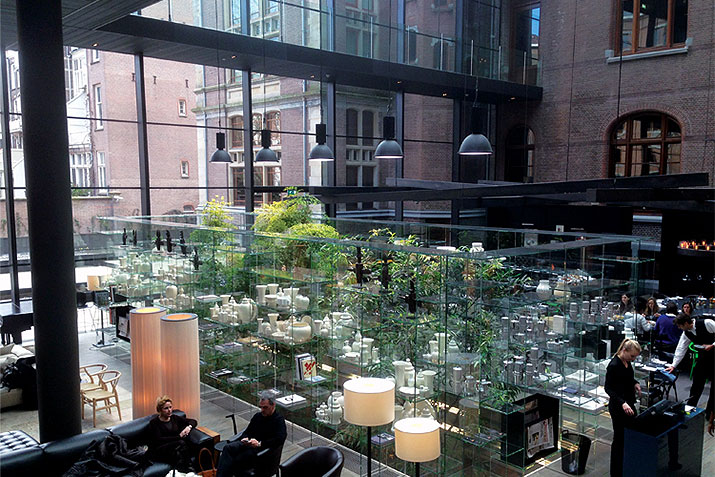 It's rare to see atriums be implemented in adaptive reuse projects, as the existing structures and space don't typically lend themselves to large open areas. However, in this case, an atrium acts as a towering glass shell that encloses a portion of a historic hotel and provides light, visually appealing gathering and circulation spaces. The atrium does well to champion the added space, but not detract from the traditional architecture it adheres to. It's a great example of how an atrium can add visual interest and functional interior space.
2. Facebook Office in Mountain View. Fire Protection by Smoke Guard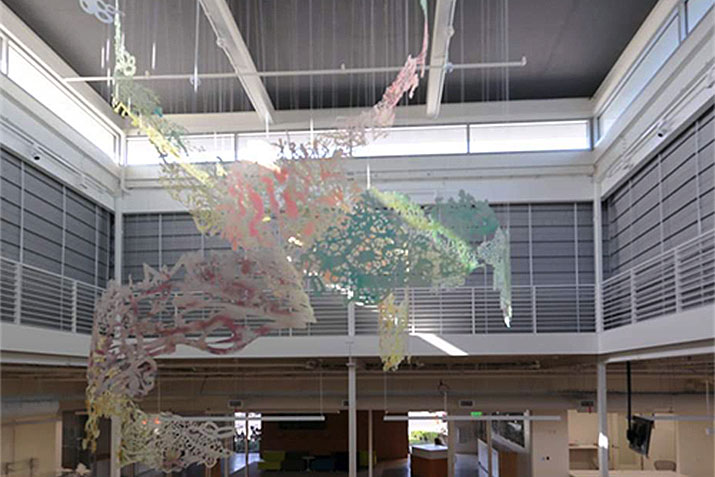 Facebook and the other tech giants in silicon valley are known for having unique, healthy, enjoyable places to work. This atrium design opens up a collaborative work environment in a way that promotes productivity, reduces noise, and gives employees a good reason to be enthusiastic about what they are doing. And, to promote life safety, this atrium uses atrium smoke baffle separation by Smoke Guard, allowing the space to meet required fire code while maintaining its inherent aesthetic quality.
3. Pacific House in Reading, Berkshire. Designed by Lusted Green.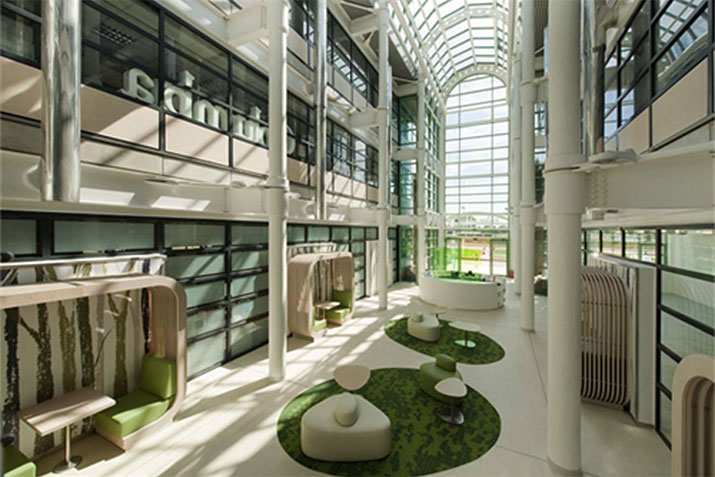 This atrium conversion of an existing office space was meant to breathe new life into an outdated and underutilized common area. The renovated space features a circular reception desk and several isolated 'pods' that are meant to hold open-air meetings. The atrium is open four stories to the sky, where an arched glass ceiling lets in an abundance of light and air. Flanking steel columns are painted white in order to highlight structural elements that hold the atrium together, and culminate in a majestic focal point for the entire office to circulate around.
4. Shepherd's Bush Pavilion Hotel in London. Design by Flanagan Lawrence.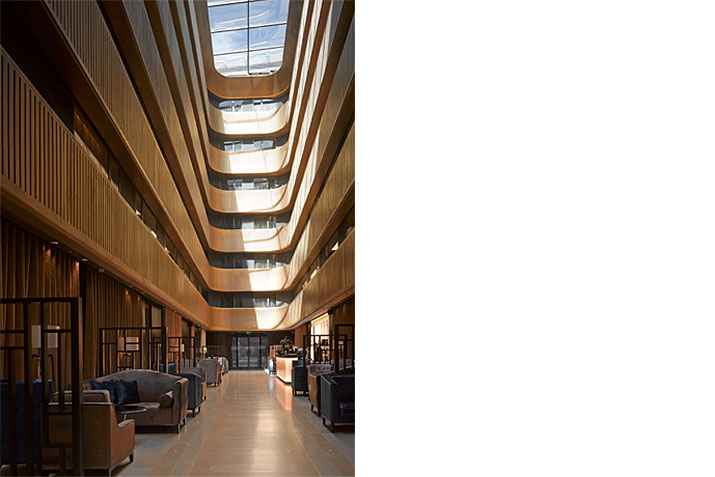 This conversion of a historic 1920's era cinema into a 320 room luxury hotel is nothing short of showstopping. The project features an eight story central atrium open to a class ceiling, with towering rows of curvilinear walkways wrapping the entire space. The atrium is the definitive focal point of the conversion, and its design points attention back towards the importance of the existing cinema, while at the same time celebrating the building being thrust into the next century of its lifespan. It promotes health, movement, and the physical manifestation of historic preservation.
5. Lowe Campbell Ewald's Office in Detroit. Designed by Neumann/Smith Architecture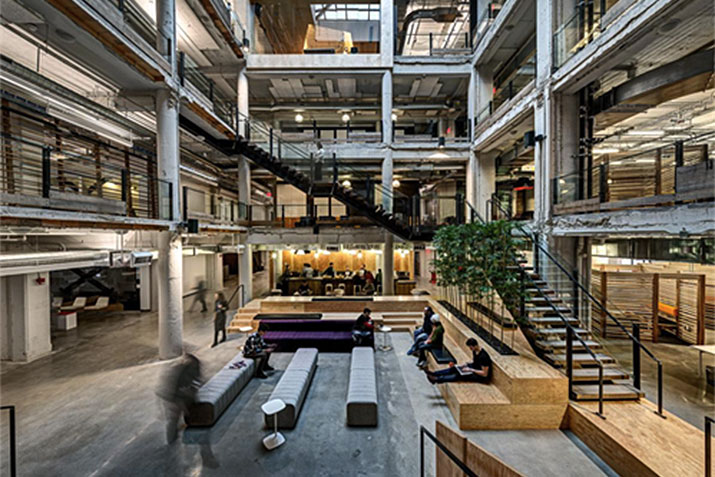 The atrium design for this creative ad agency in Detroit, Michigan is truly remarkable. The new office is built within a 100 year old, crumbing industrial building that would have likely been sent six feet under if this remarkable revitalization project never happened. Specifically, the atrium offers a unique look at the existing concrete post and beam structure, while also creating a bright, visually interesting central gathering space that all other private offices revolve around. The atrium space is punctuated by a visually imposing staircase that wraps an entire corner of the volume.
6. Allen Institute in Seattle. Designed by Perkins + Will Architects.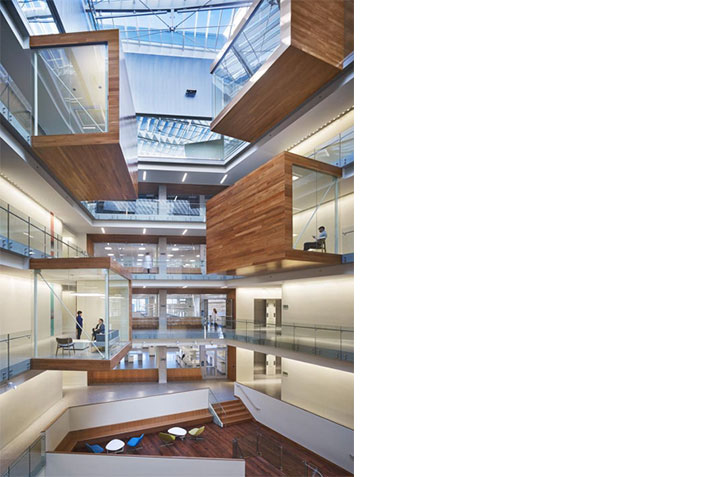 The atrium in this office structure features several floating cubes clad in wood and glass that protrude from the sides of the atrium walls. A spindly glass ceiling looms above the cubes, which hover above a collaborative gathering space below that offers a central hub for students and employees. The floor plan consists of three primary rectangular volumes that wrap around the central atrium. It becomes the hub that connects all activity from the three separate wings, and is treated as such with such a distinct knack for visual flair. The atrium can be vented through the ceiling, which promotes the natural flow of air and light deep into the more isolated areas of the building.
7. The Atrium in Victoria, BC. Designed by D'Ambrosio Architecture.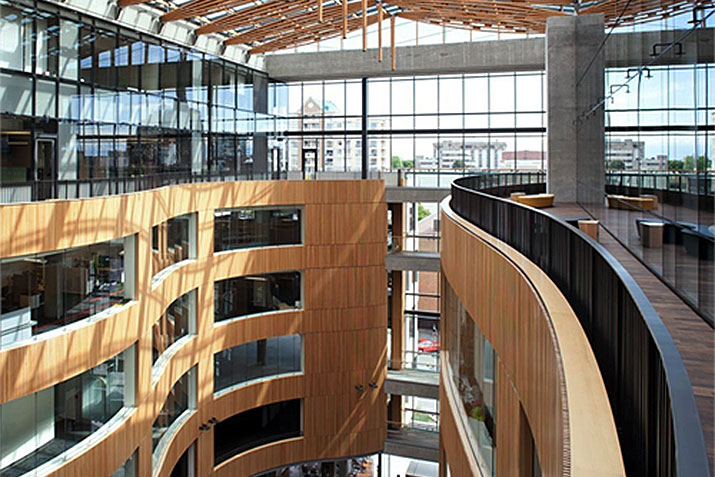 An atrium so great they decided to name the building after it. This high-density office building aimed to bring new and inventive energy to an urban area of Victoria that was in desperate need of a face-lift. This towering atrium features sweeping curved walkways that sit atop closed-off offices and conference rooms. The structure also contains a mixture of restaurants and shops, making this mixed-use project a cultural focal point for an entirely new generation of Canadians. The central atrium stands tall as the building's most impressive feature, and effectively brings life, light, and air to an underappreciated area of town.
Company: Smoke Guard, Inc.
Source: http://www.smokeguard.com/blog/2017/june/20/gorgeous-atriums-that-meet-design-aesthetic-and-safety-code/
Tags: Architecture | Design | Safety
---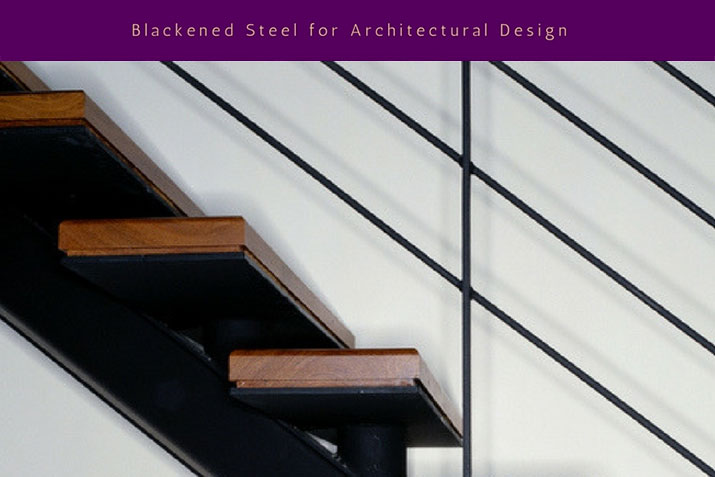 Some say the beauty is in the details. Along with custom metal work for your projects, Coco Architectural Grilles & Metalcraft offers a variety of finish options like antiqued, brushed, mirrored and even blackened finishes to bring the project together for a complete look.
What is a blackened finish
Black oxide or blackening is a conversion coating for various materials like stainless steel, copper and copper based alloys, zinc, powdered metals and silver solder. It is used to add mild corrosion resistance for appearance and to minimize light reflection. The process includes a series of chemical baths or heat until it reaches the desired color.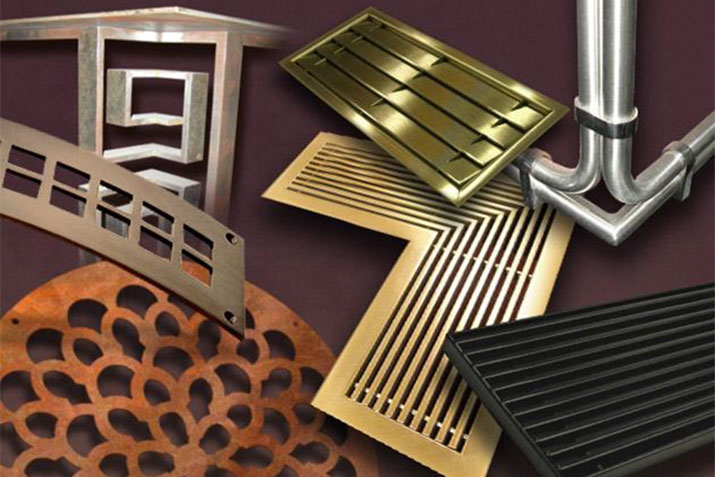 How it works
The process of blackening is done in primarily two different ways. Cold blackening is a process we use here at Coco Architectural. We add a cold finish on mechanically polished metals and then submerged it in a blackening chemical. We also add a clear lacquer to the metal to add an extra layer of protection. Hot blackening is the process of using a machine that spreads a thin layer of black oxide onto a product's surface and is heated to the desired black finish.
Why blackened steel
Blackening not only protects the steel from rusting, but the look is undeniably chic. The blackened finish also gives projects an industrial, edgy look in commercial or high-end residential projects.You may have seen black accents on a fireplace or stairwell or blackened pieces that complement large commercial facilities to create unique architectural elements.
We can create customized fabrication options for unique installations. Our offerings are adaptable to all of your job requirements including new construction, remodeling, and historic renovations.
Like the Linear Bar Grilles and Perforated Grilles, our custom metal products are manufactured with the same standard of excellence and our commitment to total customer satisfaction. If you're thinking about adding blackened steel to your project, download our catalog and request a free quote.
Company: Coco Architectural Grilles & Metalcraft
Source: http://www.cocometalcraft.com/blackened-steel-for-architectural-design
Tags: Access Covers | Grilles | HVAC | Metal | Ventilation
---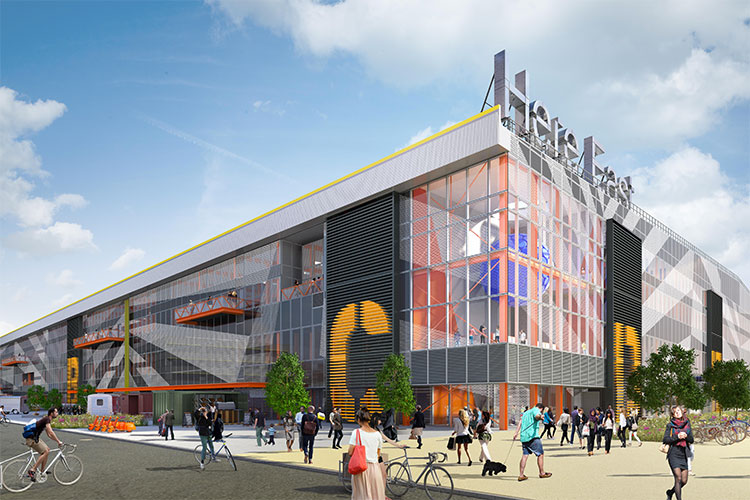 During the 2012 London Olympics and Paralympic Games the International Press and Broadcast Centre played host to the world's media. 20,000 journalists were at the heart of the action, reporting the latest triumphs and Olympian feats to a global audience estimated to be over 4 billion people.
Fast forward to 2017 and these key buildings continue to form a central element of the Queen Elizabeth Olympic Park. The Centre is undergoing a commercial redevelopment to become Here East – the exciting digital quarter for East London.
The transformation of the International Press and Broadcast Centre has created 1.2 million square feet for business, media, tech, education and data and over 7500 jobs on the site and in the local area. Dozens of businesses have already taken up residence in this digital heartland, including BT Sport, Infinity, Loughborough University and UCL.
Howe Green floor access covers were specified by architect Hawkins\Brown for one of the office spaces within BT Sport. Howe Green supplied twelve Medium Duty 7500 Series Stainless Steel Access Covers for the project.
The 7500 Series is Howe Green's flagship access cover and has evolved from the original 750 Series supplied to supermarkets when the company first started trading in 1983.
The covers specified for Here East were to be installed into a raised floor system. They were ordered with stainless steel Z profiles to provide support to the access cover within the raised floor.
The covers were installed in corridors throughout the building to provide safe and easy access to access junctions in the drainage systems. The 7500 Series was specified to match the existing raised floor system appearance. The access covers were initially covered with plywood and were then infilled with a vinyl flooring finish.
Whilst fitting access covers into a raised floor may at first appear counter intuitive it is no longer an unusual scenario. Historically a raised floor system provided access to a wide variety of mechanical and electrical services, data and connectivity cabling and underfloor air distribution concealed within the void created between the raised floor and the floor slab. Making it ideal for use in renovating existing buildings or retrofitting spaces for different uses.
In a traditional raised floor environment, such as a data centre, where functionality featured ahead of aesthetics, heavy duty removable floor panels could be removed with a tile lifter to allow access to underfloor services.
Over the years the use of raised floor systems has extended to commercial offices, educational institutions and hospitals. Aesthetics, security and flexibility are more important in these environments. The demand for different floor finishes, improved security and the ability to easily reconfigure space has led to an increase in demand for Howe Green access covers installed in raised flooring.
The 7500 Medium Duty Stainless Steel Access Covers provide safe and easy access to the drainage services located below the flooring. Supplied with a double seal they address the need for a secure solution in an office setting with relatively high pedestrian footfall. The vinyl infill offers a seamless floor finish which will reduce the slip or trip hazard.
The 7500 Series can be supplied as a single cover, a configuration of duct covers or multipart covers in standard sizes and loadings from stock, or can be precision made to order.
If you are looking to "raise the bar" with your raised flooring system installation, get in touch to see how Howe Green can help.
Find out more: 7500 Series Medium Duty Floor Access covers >
Company: Howe Green US
Product: Medium Duty Floor Access Covers
Source: https://www.howegreen.com/access-covers/projects/international-press-broadcast-centre-london.php
Tags: Access Covers | Entrances | Floor
---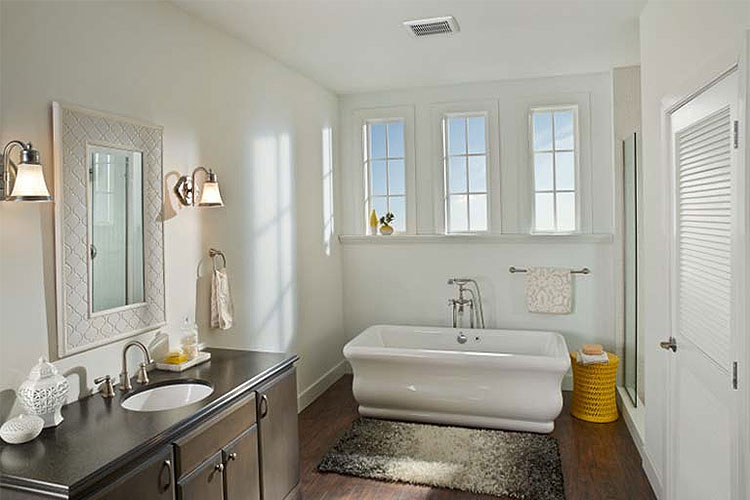 Broan® InVent™ Series now offers Humidity Sensing Fans, featuring Sensaire Sense-on-Rise Technology
Bathroom fans are great at fighting moisture which can lead to mold, but only if used properly. Broan's innovative Sensaire Sense-on-Rise Technology is now available on the InVentTM Series ventilation fans. Homeowners can now have a worry free solution for excess humidity combined with the great InVent features.
Sensaire Sense-on-Rise Technology is designed to detect humidity before condensation occurs. The humidity sensor automatically turns fans on when a rapid rise in humidity is sensed, or when humidity rises above the homeowner's pre-set humidity set point. The humidity sensing technology quickly works to eliminate fogged mirrors and manage moisture, providing exceptional indoor air quality for bathrooms, laundry rooms and mud rooms. Sensaire Sense-on-Rise technology detects an increase in humidity up to 40% faster *to automatically turn the fan on before moisture forms on mirrors.
"At Broan, we're incredibly proud of the enhanced InVent Series. Homeowners are now able to have superb ventilation and humidity sensing technology from a mid-range fan," said Ann Roever, Senior Global Marketing Director, household ventilation, for Broan. "The product line truly represents Broan's continuing tradition of superior indoor air quality products with the technology consumers want and need."
As the industry leader in residential ventilation, Broan-NuTone has a long history of developing products that provide superior indoor air quality. It is this reputation and commitment to innovation and quality that led Broan to enhance the revolutionary and easy to install InVent Series.
Broan InVent Series ventilation fans feature FoldAway mounting ears and the EzDuct Connector, which allow for easy installation. The FoldAway mounting ears allow contractors to use just one fan for both new construction or retrofit applications. The EzDuct Connector makes connecting the fan housing to the duct easier than ever before, with no attic access required.
With the new TrueSeal Damper Technology, InVent fans reduce air leakage by up to 50 percent compared to competitive models**, resulting in better home energy efficiency as measured via blower door tests.
The ENERGY STAR options provide contractors and homeowners with a full range of choices, all at a mid-range price point. In addition, the InVent Series is manufactured in the USA***, offering service levels and responsiveness that customers demand.
For more information, visit: www.Broan.com/InVent.
Company: Broan-NuTone LLC
Source: http://www.broan.com/InVent
Tags: HVAC | Interior Design | Lighting | Ventilation
---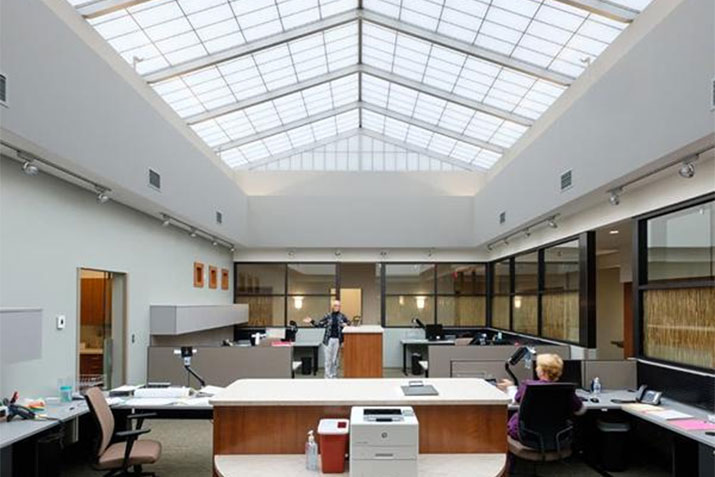 Images courtesy of DSGW Architects and Weston Imaging
Daylighting can be dramatic… and it can also be a hassle. Too much direct light can cause glare and hot-spots, leading to eye strain and an uncomfortable environment for building occupants. But there is a way to control solar heat gain and diffuse direct sunlight, making for a bright, evenly lit space that welcomes visitors and creates a more comfortable work and learning environment. What's the solution? Translucent panel daylighting systems!
When designing the new Lac Vieux Desert Health Center in Watersmeet, Michigan, DSGW Architects met with Indian Health Service staff, tribal community members, clinic staff and providers, clinic task force members and the Tribal Council to help define and create a health center that includes 12 exam rooms, two procedure rooms, a nine-chair dental suite with lab services, retail pharmacy, imaging suite, clinical lab, chiropractic and physical therapy department, optical department, behavior health and family services, a community gathering room and more.
An integral part of the space is natural light – from both windows and skylights. A Guardian 275® skylight, as shown in the image above, helps bring light to a nurse's station where uncontrolled light could cause an uncomfortably hot work environment and wreak havoc on computer screens. It also lessens the need for artificial light sources and makes for an inviting and welcoming space. (Not to mention the numerous studies that show access to natural light is beneficial to both staff and patients in healthcare environments.)
What can a translucent skylight do for your space? Call and talk with one of our staff members for more information @ 888-759-2678.
Company: Major Industries Inc.
Product: Guardian 275® - Translucent Panel Skylights & Curtainwall
Source: http://majorskylights.com/2017/06/project-spotlight-work-friendly-daylight/
Tags: Exterior Design | Interior Design | Skylights | Windows
---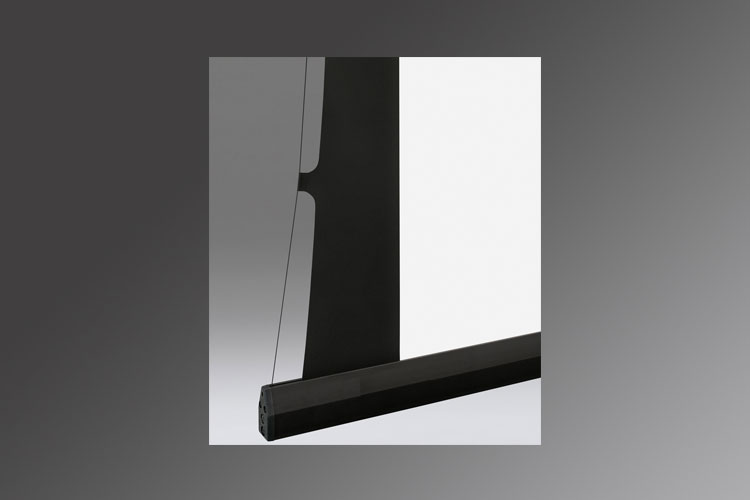 Who knew a series of small tabs could be so important to having a beautiful picture, and a durable product?
One of the most important elements of creating the ultimate projected image is having the flattest viewing surface possible. Great contrast, brightness, and vivid and correct colors are important, but without a perfectly flat surface those attributes of a great picture don't matter.
Fixed frame projection screens are one way to ensure the flattest viewing surface possible. Not everyone wants a huge screen hanging on the wall all the time, though, so they need a motorized screen. With motorized screens, however, the problem is how to keep the surface taut from the sides.
That's where Draper's innovative tab tensioning system is so important. A tab tensioning system uses a very thin cord running down each side of the screen through tabs, attached to the roller at the top and the dowel at the bottom. The cords are tightened, creating a flat viewing surface.
Most other manufacturers use adhesive to attach these tabs. This can lead to problems when the constant tension proves too much for the adhesive to handle, and it give way, creating "popped" tabs.
With Draper, you never have to worry about "popped" tabs. Here's why.
All of our tab tensioned screen surfaces—including the tabs—are cut on Computer Numerical Control (CNC) cutting tables, which means every cut is made with digital precision. CNC represents the highest level of precision available in the manufacturing process.
The tabs are then folded to the backside of the screen and Radio Frequency (RF) welded. In this RF heat sealing (AKA dielectric sealing) process, the tabs are folded back and placed between two dies (electrodes). The RF produces heat by exciting the molecules to the point that they melt and create the bond. We use the same technology to create seamed projection screens. The strength of the seal is determined by three factors-
Sealing current (radio frequency power)
Sealing time
Pressure
The result is a much stronger tab, with no possibility of separation, as the tab and surface are fused into a single layer of material. In-house laboratory testing of our tabs shows that this RF seal is in most cases stronger than the material itself.
Our tab tensioning system is also nicer looking. Making a tab tensioned surface in this manner eliminates the puckering that can characterized the edges of tab tensioned screens made using adhesives.
When we introduced this new system several years ago, it represented a unique and significant improvement in tab tensioned screen design. It still does. We were so confident of our system that we decided to warrant all Draper tab tensioned screens against tab separation for five years from date of manufacture. We still do.
Click here to find the perfect tab tensioned projection solution for your next project. Whatever model you choose, the perfectly flat surface will create the perfect image you want, and for a long time to come.
Company: Draper, Inc.
Product: Projection Screens
Of: Terry Coffey
Source: http://blog.draperinc.com/2017/07/flat-viewing-surface/
Tags: Audio Visual | Color | Furniture | Interior Design | Lighting | Office
---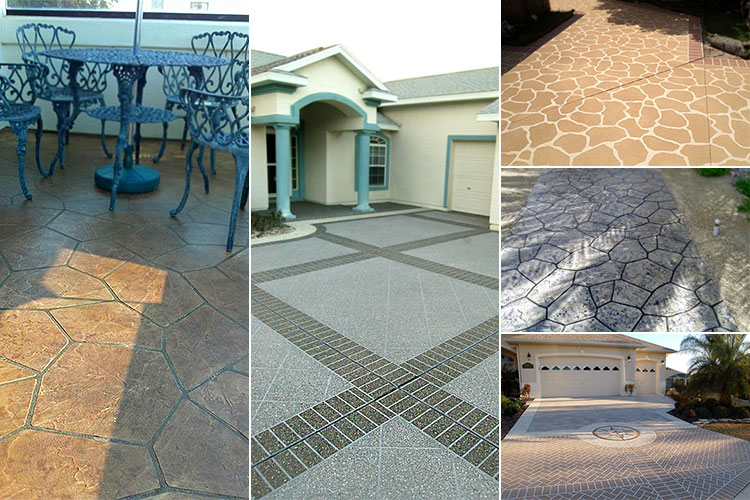 Stenciled concrete is a great option for pool decks, patios and driveways
How can concrete become brick? Or be turned into fan-shaped cobblestone? Or have your company logo "painted" on? The answer to all of those questions is stencils. Stenciled concrete is popular for exterior surfaces like driveways, patios and pool decks because there are a lot of varied patterns available, and they are pretty DIY friendly.
Plain concrete is no longer interesting to homeowners who have seen the creative design options on Pinterest and the home and garden TV shows. Concrete that has a pattern, in different colors and shapes, enhances property value of the property. Concrete that is already in good shape can be stenciled in any design and sealed to make the surface long-lasting. Stencils are easy to install—a dedicated DIY-er can do it themselves and be successful, and contractors can make very good profit.
Many companies sell stenciled concrete patterns. These are available in classic patterns like herringbone brick or the fan-shaped cobblestone patterns of European streets. Design companies also sell stencils that can be cut using high-tech CNC machinery that can be made in any specification—your monograms, a company logo, a horse for the driveway of a stable, or wine grapes for the floor of a winery tasting room. The options are endless!
Next time you see a patio, pool deck or driveway with a beautiful and intricate pattern on top of concrete, take a closer look! It's likely a stencil. Many patterns can be cut into concrete with concrete saws. For large-scale concrete, such as courtyards and plazas, colors can be mixed into concrete as it is poured. But for details such as brick edging, a pattern that looks like Ashlar slate, herringbone brick, or even octagonal tiles, it's often stenciled concrete.
Use a product like Duraamen's Uberdeck polymer-modified, concrete overlay or Skraffino Portland cement skim coat to the top of concrete you already have. First, apply the stencil pattern. Then apply the concrete coating in the colors you want. It can be that simple to have a durable concrete surface that looks brand new!
Please click here to learn the detailed installation process.
Company: Duraamen Engineered Products Inc.
Source: https://www.duraamen.com/blog/stenciled-concrete-for-your-pool-decks-patios-and-driveways
Tags: Coating | Concrete | Exterior Design | Floor
---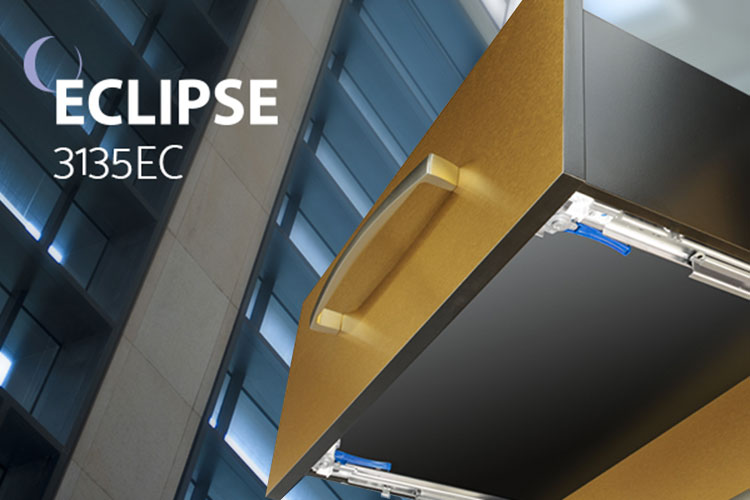 The 3135EC Eclipse is here! We re-engineered this undermount slide with a series of changes to offer premium performance. We've made a series of changes to this slide to make a big difference in the overall performance of this fully-concealed undermount slide.
Equipped with soft–close functionality, these slides won't bounce back even when you slam them. Say you find yourself in a rush to get to work and you slam the drawer. Hard. Harder than you would if you weren't in a rush.
With the 3135EC, you don't have to worry about the contents inside getting thrashed around. The 3135EC's soft-close action brings drawers to a gentle close every time. And we mean every time.
But how have we achieved this soft-close feature?
We've added an internal fluid dampener that catches the drawer in the last two inches and brings it to a gentle close over and over again. This feature also reduces the envelope of the slide. All of this with just 4.8 lbs. of pull force. Talk about easy!
When you open this drawer, you'll notice how effortless it is to open it. That effortlessness is thanks to new lower spacer clips. These clips now carry additional ball bearings that help provide extra lateral support, reducing migration.
The 3135EC slide is great for retail display cabinets because of how easy it is to conceal. This slide will allow you to keep a drawer in an open position and have no visible functional hardware.
Additional features include a front lever disconnect for easy drawer removal and improved full extension. And, like many Accuride products, the 3135EC is manufactured in compliance with the Restriction of Hazardous Substances (RoHS) Directive.
Visit 3135EC Product Information Page
Company: Accuride International
Product: Medium Duty Slides » 3135EC Eclipse Easy-Close
Of: Claudia Tuttle
Source: https://www.accuride.com/blog/news/3135ec-eclipse-undermount-slide/
Tags: Furniture | Interior Design | Metal
---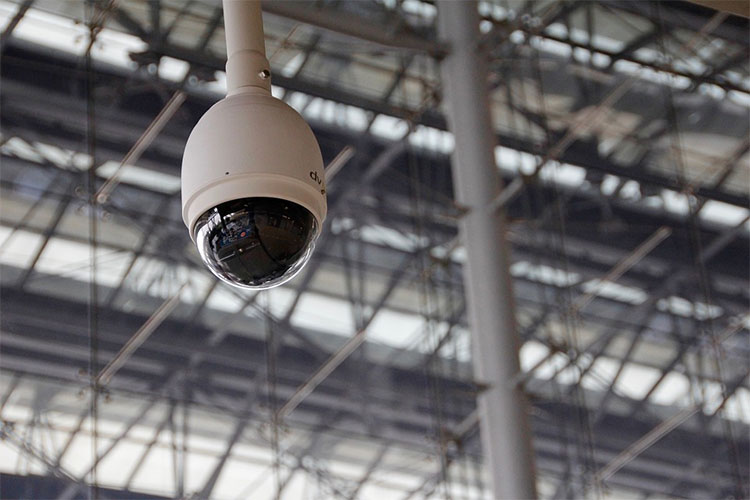 Photo credit: Pixabay
Video surveillance systems have, for years, been excellent tools to protect the safety of your staff and your clients. Updates in technology have served to make them more effective and less expensive at the same time. Newer video systems have capabilities that were only dreamed of in the past. Is it time to update your video surveillance system? Keep these developments in mind:
1. Many sectors need a video surveillance update
The publication Business Systems reports that 80% of hospitals, for instance, need to update their video surveillance systems. These systems can help organizations cut their liability in cases like slip and fall accidents. They can also significantly extend the capabilities of overstretched nursing staff; video cameras can capture events when it is not possible for an individual to be in the room. Other industries with similar liabilities and risks can mitigate them through the use of video surveillance. Newer technology and lower prices mean that you can afford to provide more coverage throughout your buildings to keep a better eye on what is going on.
2. Analog is out; IP is in
Still using analog tapes for your security footage? Experts report that the tipping point has come and that IP cameras are now the more common option, and with good reason. IP cameras that send surveillance video to digital storage offers the ability to store far more footage. These cameras are far easier to place in your facility than older, bulkier models. They offer much higher resolutions, with high definition cameras becoming far more affordable. These can be much more useful if there is a need to identify someone in the face of an act of theft, violence or another security issue.
3. Biometrics and smart cameras will play a bigger part
Instead of an individual buzzing in personnel, what if the camera could recognize an individual and provide access? Face recognition has long been used to identify criminals; now, it can also be used for tasks like access control in your buildings.
New cameras with intelligence embedded will be able to offer analytics that can be used not just for security but for business purposes. For instance, a system can help you analyze foot traffic into a business during specific times of day.
4. There will be a strong focus on cyber security
With the growth of the internet of things and a large number of recent high-profile cyber incursions, security of the data that is collected will be as important as the physical security in the building. To ensure that your clients and staff continue to enjoy privacy and safety, it is vital that the data from your cameras be well-secured. Experts in the field recommend keeping up to date on cyber security issues, such as newly discovered vulnerabilities in operating systems and commonly used software. By attending to these, you can reduce the chances that your video will be improperly accessed.
Video camera technology continues to improve, offering more to concerned facility runners and business owners at a lower cost than ever. Look into the latest upgrades available for your video surveillance system to ensure that you are offering the best possible protection to the people who work for you and the people who come to your location.
Company: Total Security Solutions Inc
Product: Accessories
Source: http://www.tssbulletproof.com/things-know-video-surveillance/
Tags: Audio Visual | Safety | Security
---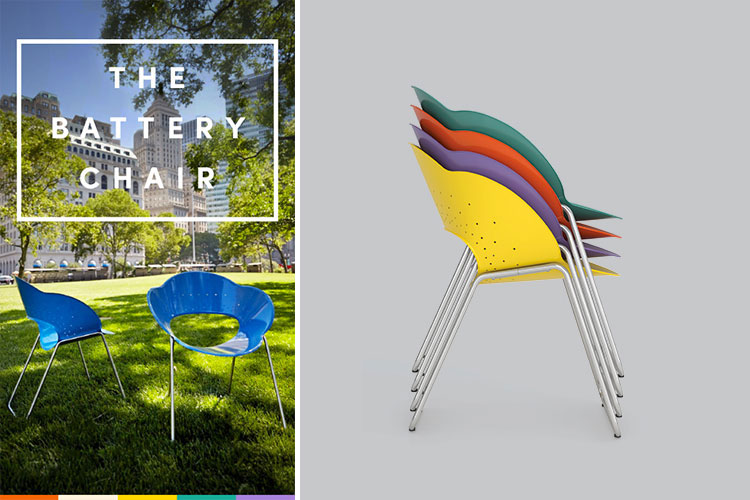 The Battery Oval
In June 2016, the Battery Conservancy of New York City proudly cut the ribbon and opened the Battery Oval; the revitalized grand lawn in The Battery (formerly Battery Park), one of Manhattan's most historic public spaces. The Oval's new signature outdoor furniture was also debuted. Formed into the shape of a blooming flower, hundreds of blue Battery Chairs filled the Oval that day.
Manufactured by Maglin Site Furniture, the Battery Chair was unlike typical New York City outdoor seating. These chairs were moveable, stackable and suitable for people of all abilities. Visitors to the park could easily pick up and reposition a chair anywhere within the Oval. The moveable chairs gave park visitors a chance to create their own outdoor space within the country's most heavily populated city.
The Past
For hundreds of years The Battery played an important role in the growth of New York City, and the United States. In fact, The Battery was the country's first immigrant receiving center, pre-dating Ellis Island and the Statue of Liberty. But over the years the historic space had fallen into disrepair. "(T)his park was not a destination; it was the bleak area you hurried through to get to the ferries going to the Statue of Liberty and Ellis and Staten Islands.1 In 1994 things started to change for The Battery. Warrie Price, a veteran of New York City's government and community planning boards, founded The Battery Conservancy; a not–for–profit educational corporation to rebuild and revitalize The Battery.
Price stated, "I was drawn to The Battery because it is the first or second impression people around the world have of New York City. This is a birthplace park—the park land most continuously in use in all of the five boroughs.2 The Battery was on its way to becoming a newly invigorated and sustainable public space in Lower Manhattan.
The Battery Contest
Four years before the Battery Chair's debut, the Battery Conservancy put a call out to designers across the Americas to "Draw Up A Chair." The contest challenged them to "Design an iconic moveable outdoor seat for The Battery." The chair was going to be a major element in The Battery's journey to becoming an outdoor space where "Downtown will come to rest, eat, and enjoy live performances.3 Nearly 700 submissions to the "Draw Up A Chair" challenge arrived from across North and South America. The entries were narrowed down to 50, and then to 5. The public was invited to a "See, Sit and Select" exhibit within the park, to give feedback on the five chair prototypes. Finally, an internationally renowned jury, with members from the Museum of Modern Art and the New York Times, chose Canadian designer Andrew Jones' submission.
Jones' design for the iconic chair was inspired by "imagining how a field of chairs could poetically respond to the lawn of the Battery Oval, a major meeting ground for Lower Manhattan. Using a single chair in repetition, the view across the Battery Oval is transformed by the whimsical suggestion of sun-loving flowers.4 About the chair, Warrie Price proudly stated, "The Battery Conservancy is known for design excellence. This award-winning design helps us build the brand for The Battery."
Maglin's Role
With the design in place, Maglin Site Furniture was brought on to manufacture the Battery's iconic blue chairs. Price stated, "We have Maglin as the manufacturer, known for extraordinarily well designed and well-constructed furniture."
Working closely with Jones, the Maglin team efficiently streamlined the design for production purposes. "At first glance the chair may appear as more of an ornamental piece," said Aaron Dawson, Maglin's Director of Manufacturing, "but the slightly reclined seat and single piece stainless steel frame form an extremely comfortable and durable product." A total of 300 chairs were built in three shades of blue exclusive to The Battery.
Once the Oval chairs were complete, Maglin Site Furniture moved forward as the sole manufacturer and distributor of the Battery Chair. Keeping the signature shades of blue exclusive to the park, Maglin introduced their Battery line in a variety of colors: orange, green, purple, yellow and ivory. The line was expanded to include Café and Lounge Tables that kept with Jones' design properties. Upon introducing the collection, Ian McAskile, president and founder of Maglin Site Furniture, stated, "The Battery Collection is not only a new line for Maglin, it is a fresh new approach to thinking about the ways that color and ornamental aspects can bring a touch of playfulness to the whole (site furniture) industry."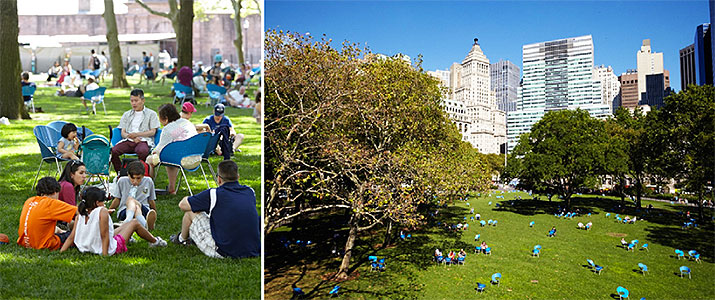 The Future
Since its launch, the story of the Battery Collection has captured the attention of the design community. About the journey from concept to completion, Warrie Price says, "For Maglin and ourselves the focus was on bringing great design to the public, to use freely and openly in a public park – and the fact that now it is offered to others is thrilling. It belongs in terraces, balconies, backyards, front yards, (and) sunrooms.5
By satisfying the needs of New York City's Battery Oval, the Battery Chair proved its worth in any public environment. From campuses to courtyards, the clean design and solid construction of the Battery Collection lends itself to an endless variety of styles and spaces.
For more information on The Battery Conservancy and Battery Oval, visit http://www.thebattery.org/
For more information on Maglin's Battery Collection visit http://www.maglin.com/products/battery/batterycollection.html
1 https://womensvoicesforchange.org/warrie-price-a-woman-whos-made-a-difference.htm
2 https://womensvoicesforchange.org/warrie-price-a-woman-whos-made-a-difference.htm
3 http://www.thebattery.org/wp-content/uploads/2014/11/TBC-RFEI-Battery-Chair.pdf
4 http://www.thebattery.org/about-fleurt/
5 Maglin Site Furniture. (2016). Introducing The Battery Collection: Maglin Site Furniture launches exclusive competition-winning design from famed Manhattan park [Press Release]
Company: Maglin Site Furniture
Product: The Battery Collection
Source: http://www.maglin.com/products/battery/batterycollection.html
Tags: Color | Design | Furniture | Sustainability
---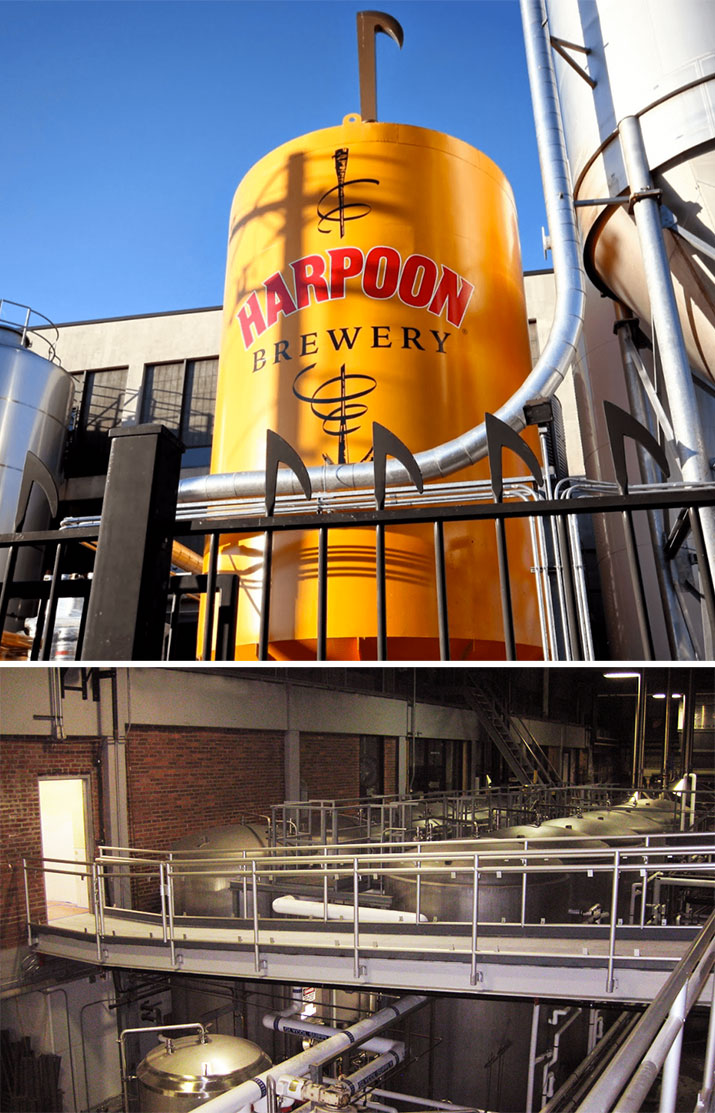 THE SITUATION
Harpoon Brewery began in 1986 when owners Rich and Dan, beer lovers, sought more quality beer choices. They received the fist permit in 25 years issued by the Commonwealth of Massachusetts to brew and package beer commercially. Without knowledge of what craft brewing would become they set out to introduce a local brew to Boston drinkers operating on the docks of South Boston where they still brew to this day. They maintain a spirit of fun and hope the joy of beer drinking resonates through their beer and breweries.
The Visitor Center now features Brewery tours and a Beer Hall and Store selling merchandise, beer, and growlers. For this project, they contacted their fabricator for ADA compliant walkways; SlipNOT® aluminum plate was recommended to provide slip resistant compliance for maximum safety.
THE SOLUTION
Capone Iron Corporation took all of Harpoon Brewery's needs into consideration to design the most appropriate solution for this application by recommending SlipNOT® aluminum plate. Brewing safety is not just for the protection of the brewers but goes hand-in-hand with the quality of your finished liquid beverage. SlipNOT® products are 100% grit-free and will not flake off causing damage to machinery and end products, an ideal solution for food and beverage facility safety.
For this instance, SlipNOT® provided (10) 3/8" x 4' x 8' aluminum plates, (7) 3/8" x 4' x 12' aluminum plates, and (11) 3/8" x 5' x 12' aluminum plates in a Grade 2 mill finish. Capone Iron was committed to not only install aesthetically pleasing walkways for their customer, but also provide a permanent safety solution.
THE IMPACT
A Project Manager from Capone Iron reported that the plates were ordered to be installed in the tour route platforms and metal catwalk areas. Harpoon Brewery now has custom platform designed to meet their needs and provide safe tours to the public through their facility. SlipNOT®'s coefficient of friction which is 0.85 or greater surpasses the of ADA recommendation of 0.6 for flat surfaces and 0.8 for ramps this project had both flat and inclined surfaces and all safety requirements were exceeded.
Company: SlipNOT® Metal Safety Flooring Div.
Source: http://www.slipnot.com/case-studies/aluminum-catwalk-harpoon-brewery-tours/
Tags: Aluminum | Floor | Safety
---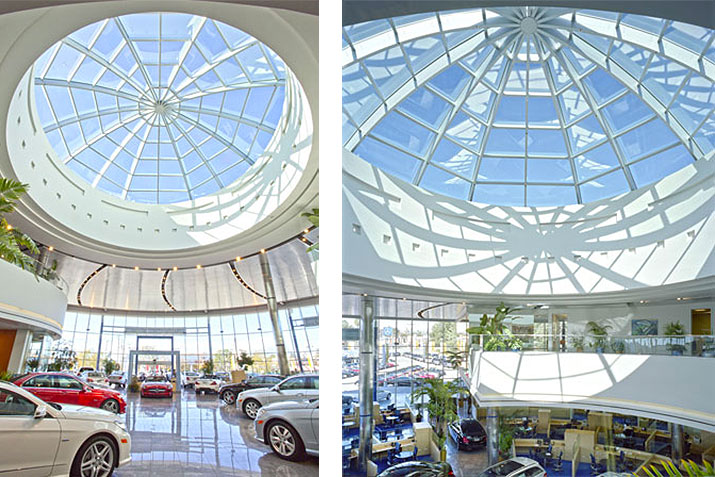 Photos by: William Lemke, courtesy of Super Sky Products Enterprises, LLC
Commercial Architecture magazine's June Portfolio section spotlights California's Keyes Automotive's European Mercedes-Benz Dealership featuring a 41-foot-diameter, custom, multi-slope dome skylight from Super Sky Products. The skylight's durable finishes were applied by Linetec to the aluminum framing members. The finish's resilient attributes combine with daylight, views and high thermal performance glass to support the dealership's LEED® Silver certification.
Designed by Dennis J. Flynn Architects, the skylight's fluid, circular design respects the European Bauhaus style of design highlighted within the dealership's 235,000-square-foot facility. "As a highly visible property on a major auto row that is back-dropped with residences, the owners' sensitivity to the community and commitment to state-of-the-art design solution is displayed in this space," described Flynn. "Crisp finishes complement a work environment that's equal parts private office and open plan, reflecting the Mercedes-Benz brand in all aspects."
Contributing to the project's sustainable, high-end design, Linetec applied a 70 percent PVDF resin-based, two-coat, liquid, mica coating to the skylight's aluminum framing members. The resulting appearance emphasizes a metallic aesthetic befitting the luxury vehicles sold and serviced at Keyes European.
These painted coatings applied by Linetec meet the American Architectural Manufacturers Association's (AAMA) 2605 industry standards, as well as minimize buildings' maintenance costs and maximize long lifecycles. These high-performance architectural coatings exhibit outstanding resistance to humidity, color change, chalk, gloss loss and chemicals. They will ensure a long-lasting, durable finish. No other coating system can withstand the rigors of nature and time like these."
As a recognized, innovative and environmentally responsible finisher, Linetec captures the liquid paints' volatile organic compounds (VOCs) content using a 100 percent air capture system and safely destroys the VOCs with a regenerative thermal oxidizer.
Enhancing thermal performance for Keyes European, the skylight's 1,650 square feet glass area is composed of insulated glass units with Solarban® 80 low-e coating. The low-e coating mitigates unwanted solar heat gain that could make potential car buyers uncomfortably warm and minimizes fading caused by damaging ultraviolet radiation.
Click here to learn more about Linetec's durable painted finishing.
Company: Linetec
Source: https://linetec-blog.com/2017/07/03/in-the-news-keyes-dealership/
Tags: Aluminum | Finishes | Glass | Roof | Sustainability | Windows
---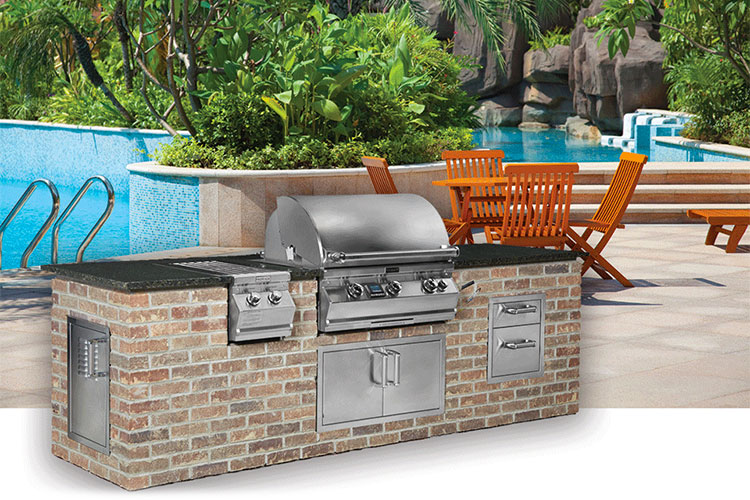 Transform your yard, patio, or outdoor cafe into majestic gathering places with these beautiful brick outdoor entertainment pieces. Crafted from quality and made to stand up to the elements, these distinctive furnishings are meant to be enjoyed season after season. Choose from a variety of rich-color tones and eye-catching textures for your uniquely manufactured outdoord living product.
Fire Pits
Mailboxes
Outdoor Grills
Trash Containers
Fence Posts
Pizza Ovens
Custom Laser Cut Signs
Fireplaces
Company: Belden Brick Co.
Product: BrickScapes Outdoor Living Products
Source: http://www.brickscapes.co/outdoor-living-products/
Tags: Exterior Design | Landscape Design