architecture - engineering - construction

2015 January
---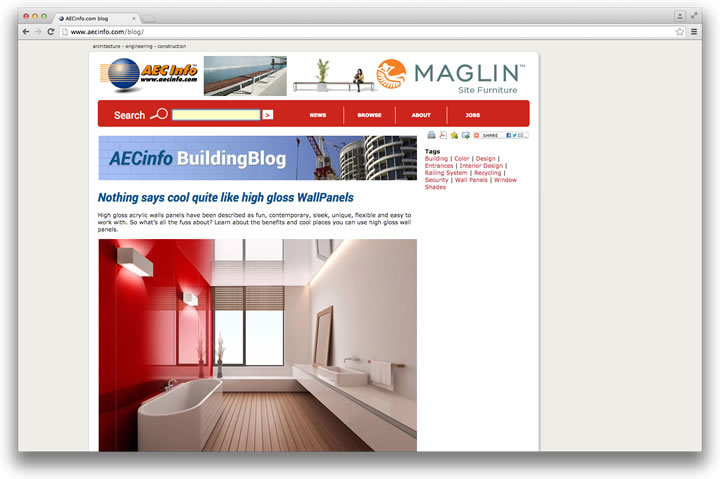 AECinfo.com, the original online resource for architecture/engineering/construction professionals, today announced that it has launched its new BuildingBlog, featuring the latest AEC news, analysis and opinion from selected companies and organizations.

The blog is available at https://www.aecinfo.com/blog/. An RSS feed is available at https://www.aecinfo.com/rss/blogrss.xml.

All blog posts will be published to AECinfo.com's pages on Facebook, Twitter and LinkedIn, as well.
Tags: Building
---
DesignRail® Aluminum Railing Frame Systems combine the durability of aluminum with innovative design details to ensure lasting beauty, structural integrity, and affordability while drastically reducing long term maintenance expenses. All rails and stanchions are made from high strength 6000-series aluminum extrusions that can be cut and assembled on site using pre-engineered components that snap and screw together. DesignRail® Aluminum Railing Systems are easily adaptable to any project: interior or exterior, commercial or residential. Simply choose the style options that are best for your project to custom design your railing.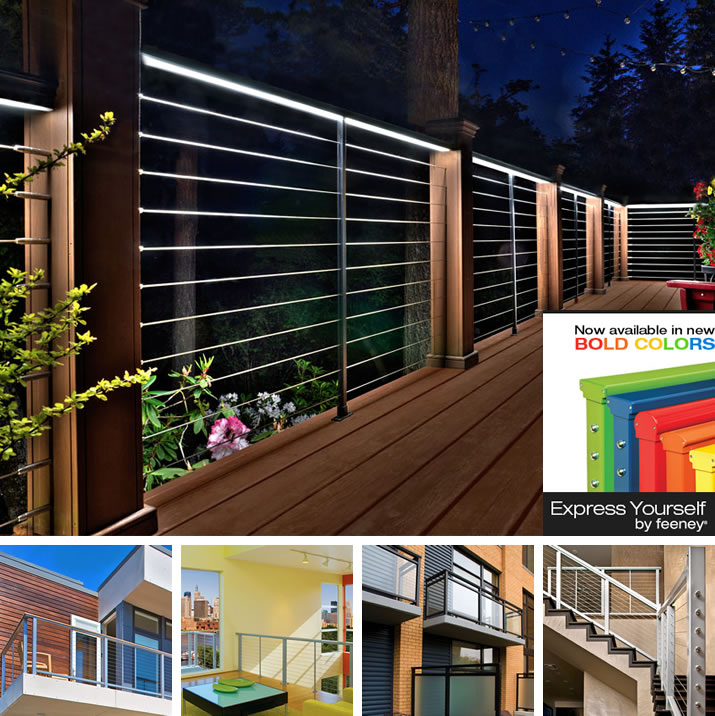 Durable powder-coated finishes offer superior color retention, impact resistance, and weather protection.
Available in an assortment of colors that meet rigorous AAMA-2604 coating specifications
Low maintenance with long use cycle: no rusting, cracking, peeling, or repainting
Detail drawings and 3-part specifications available, along with toll-free design assistance and technical support
Product contains recycled materials
Express Yourself Now DesignRail® comes in BOLD beautiful colors:

Red Hot Red, Orange You Sassy,
Not a Mellow Yellow, Margarita Green and Blazing Blue
Company: Feeney, Inc
Product: DesignRail® Aluminum Railings
Source: http://www.feeneyinc.com/Architectural/DesignRail-Railings
Tags: Design | Railing System
---
High gloss acrylic walls panels have been described as fun, contemporary, sleek, unique, flexible and easy to work with. So what's all the fuss about? Learn about the benefits and cool places you can use high gloss wall panels.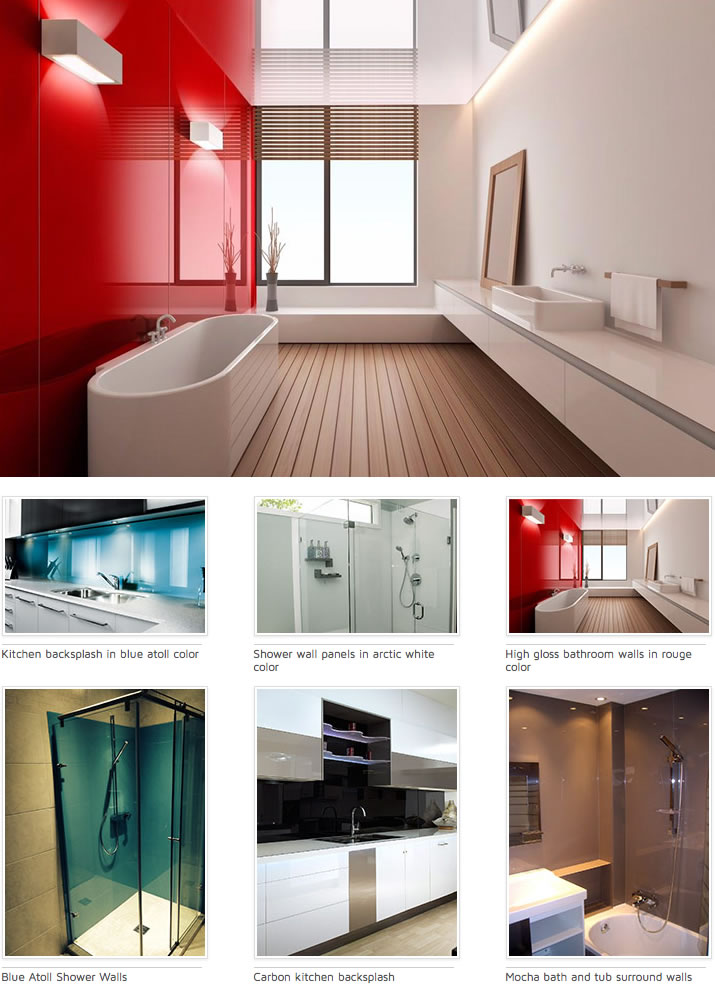 Creates a clean, contemporary look
The high gloss acrylic wall panels created a fresh clean European look with a luxurious and elegant finish.
Unique colors adds a stylish touch for a backsplash or tub or shower wall
Choose from a wide range of fun colors like arctic, blue atoll, glacier, mocha, carbon and rouge to dress up any indoor residential or commercial space.
Flexible material can be used in a wide range of remodeling and new construction
Lustrolite panels from Innovate Building Solutions can be used in bathrooms, bedrooms, media rooms, hallways and commercial lobbies to name just a few rooms. Cool, eclectic and exciting are just some of the words used to describe these panels.
Easy to clean with no grout to maintain
While tile is the most commonly used material in shower and tub wall panels and kitchen backsplashes most people hate the cost and hassle of cleaning and resealing grout! With these innovative wall panels you'll get a sleek euro look and eliminate the effort and cost of maintaining grout. These smooth/non-stick walls are easily cleaned with warm water and a soft cloth.
Glass type look with the benefits of acrylic
High gloss acrylic panels are 25 times tougher than glass with 1/2 the weight.
Durable long lasting material
High resistance to UV light, cracking and chipping makes this is popular materials vs. glass, ceramic tiles, aluminum or wood.
Simple installation process
These high gloss acrylic panels can be cut drilled and shaped with common woodworking materials and the panels can be set with double sided foam tape and neutral cure silicone. Installation will take 1/3 of the time of a tile job.
100% waterproof
In wet applications likes showers, tubs and backsplashes it's nice to know with high gloss acrylic walls you don't have to worry about moisture growing behind the wall.
Multiple panels sizes for design flexibility
4 panels sizes help to minimize costs and make more efficient designs.
Free shipping, nationwide supply or professional installation
If you're a DIY person Innovate Building Solutions can wholesale these panels direct to you and provide free nationwide shipping as well. On regional basis we provide professional installation service as well.
Company: Innovate Building Solutions
Product: High Gloss Acrylic Wall Panels
Source: http://innovatebuildingsolutions.com/products/bathrooms/high-gloss-acrylic-wall-panels
Tags: Interior Design | Wall Panels