architecture - engineering - construction

2015 May
---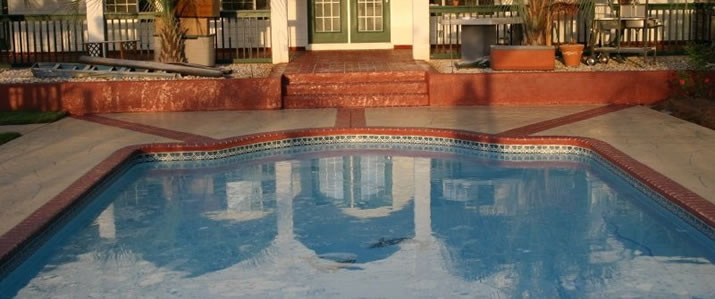 Whether you want to add a pool to your backyard or refurbish your existing pool deck, consider applying a professional pool deck coating. A pool deck coating will give you the design you want and the safety and durability you need. If you've already installed your concrete pool deck, no need to worry. Pool deck coatings can be installed to new and existing pool decks, despite their condition.
Our pool deck coating is a time tested, polymer modified cement that chemically bonds to a concrete surface. Our professional pool deck coating will not only provide anti-slip protection and beauty, but also it's extremely strong and resistant to spills and abrasions, so it will last for many years to come.
Consider these other major benefits of our pool deck coatings:
Weather resistant – With our pool deck finish, your pool deck will not be damaged or affected by the weather. Unlike epoxy rock finishes, your pool deck will maintain its beauty and strength despite strong UV rays or below freezing and scorching hot climates.
Unlimited designs – Elite Crete Systems can create any design you want for your pool deck coating. Whether you want stone, brick, tile or wood, we can create any texture, pattern and color you envision.
Low maintenance – Concrete pool coatings require very little maintenance. Because it's strong and resistant to spills and abrasions, you can simply wipe up anything that falls on your pool deck with soap and water.
Extremely durable – Our concrete pool coating is extremely durable. In addition to residential pool decks, our coating is used in all kinds of commercial and municipal spaces, including schools and universities and water parks. Our pool deck coating is designed to withstand high traffic areas, so it's beyond durable enough for your residential space.
Cost-effective – Because it's extremely durable, our pool coating is a cost-effective option for your pool deck. With our pool deck coating, you can make your concrete pool deck look like stone or tile.
Reap the countless benefits of pool deck coatings. Contact us for a free consultation today!
Company: Elite Crete Systems, Inc. (Headquarters)
Source: http://elitecrete.com/reasons-youll-love-residential-pool-deck-coating/
Tags: Exterior Design | Floor
---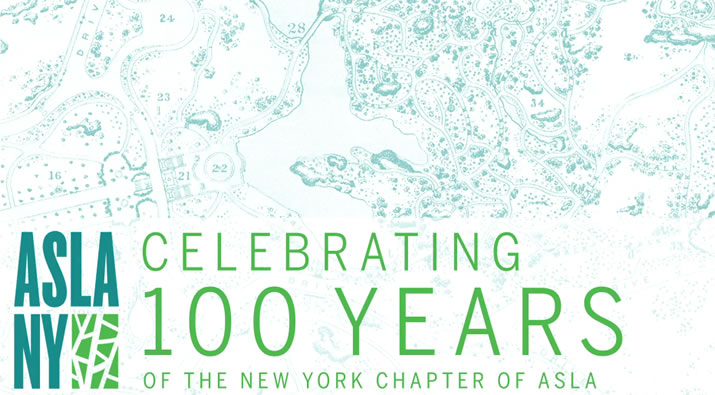 Founded in 1914, the American Society of Landscape Architects, New York Chapter (ASLA-NY) celebrated the 100th Anniversary milestone in a way that captures the moment and will stand the test of time. The intention for the film is to highlight historical events and persons that helped shape landscape architecture in NYC in the last 100 years, illustrate key accomplishments of the chapter and its members and offer a glimpse of what the future holds for our profession. As the film reveals some of the important moments in history, like the chapter's involvement in the development of the Great Lawn in Central Park, it also demonstrates the importance of membership and how the organization strengthens the profession. Reaching audiences beyond landscape architects, the film also gives insight into what landscape architecture truly is, raising public awareness in one of the most widely reaching forms of communication - the online video.
Company: Landscape Forms Inc.
Source: https://vimeo.com/123474012
Tags: Landscape Design
---
Fuel your color inspiration and get painting with the Sherwin-Williams ColorSnap Studio app. Browse over 1,500 colors, match paint colors from photos and virtually paint your own walls. Before you paint it, you have to see it.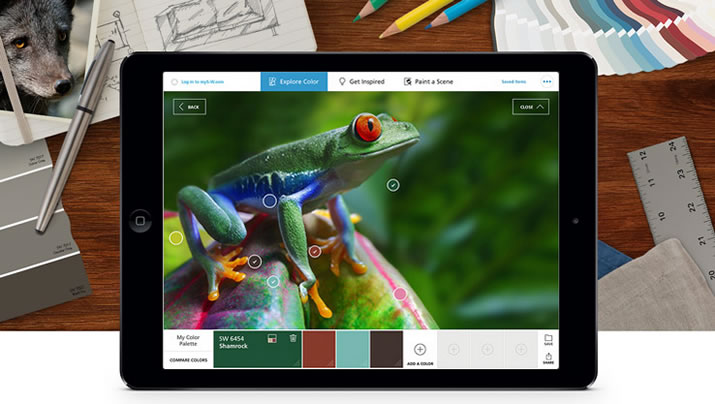 Available on the App Store
Features
Try paint colors on your walls
Try colors on your walls right from your iPad. Use the Match a Photo and Explore Color functions to build a color palette, then virtually paint your own walls or a sample scene.
Match colors to your inspiration
Match colors from your own pictures to find your favorite paint colors. Simply tap anywhere on your photo and drag until you've found the Sherwin-Williams paint color for your project.
Find the perfect paint color
We've made it easy to browse through our more than 1,500 paint colors from your iPad. Explore the Digital Color Wall with a swipe of your finger or search for a specific color to narrow your choices.
View your saved items from anywhere
Register or log in to your myS-W.com account to save your favorite colors and access them on other Sherwin-Williams digital color tools, such as ColorSnap Visualizer and ColorSnap Mobile.
Company: The Sherwin-Williams Company
Source: http://www.sherwin-williams.com/architects-specifiers-designers/color/color-tools/color-snap-studio-for-ipad/
Tags: Color | Interior Design
---
The concept of smart glass is not new and in fact has been around for decades. This so-called "smart" glass has the ability to adjust its properties in response to the surrounding environment to block out heat or light. Some of the most basic smart glass applications are a self-tinting rearview car mirror or eyeglasses that adjust to sunlight. It is proving beneficial in construction applications because it can save costs for heating or air conditioning, as well as block ultraviolet rays that may fade fabrics.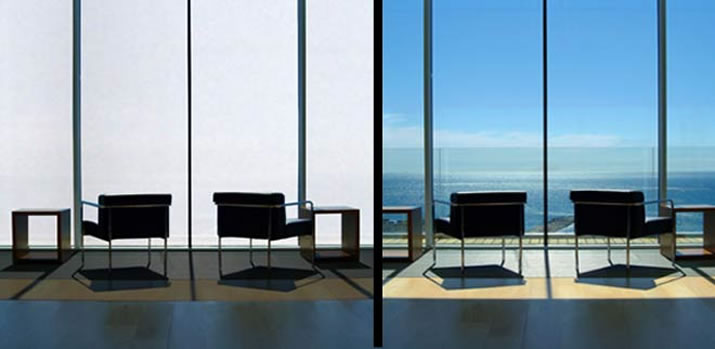 Powering Smart Glass Windows
There are currently two main technology methods to power smart windows. Electrochromic glazing, which is powered by an electric current, offers the flexibility to be manually turned on and off, as well as programmed to respond to weather conditions. Thermochromic glazing, however, automatically darkens as the glass heats up and becomes clear again as the glass cools. Going "green" and finding more eco-friendly approaches to existing solutions is a hot topic in all industries and the evolution of smart windows has also moved in that direction. Batteries and outlet plugs are obviously not the most environmentally sensitive methods of creating power and while solar panels are definitely a step in the right direction, they can negatively impact the clarity of the glass.
The Future of Smart Glass Windows Is Found in Static
The newest form of smart glass is actually powered by static electricity, produced by friction when two materials touch. Using two layers of extremely small generators attached to the outside of a pane of glass, an electric current is emitted between the units enabling the clear window to be tinted a dark blue.
The static electricity to operate the outside layer of generators is harvested from the friction between raindrops and air. When these two materials connect, a positive charge is created within the raindrop. The positively charged droplet then interacts with the negatively charged silicone-coated glass, creating an electric current.
The inner layer of generators harvests energy from the wind. Formed by two sheets of clear plastic separated by plastic coils that compress as the wind pushes against the window, an electric current is created as the plastic sheets get closer together.
In addition to turning a dark blue color, the glass also has the ability to produce up to 130 milliwatts of electricity, enough to charge a sleeping smartphone. There are still hurdles to overcome, however, before this next generation smart glass can be commercialized, particularly the ability to store the energy created. Cost could potentially be prohibitive as well.
Company: Total Security Solutions Inc
Source: http://www.tssbulletproof.com/april-showers-bring-flowers-eco-friendly-smart-glass/
---
What was once three disparate rooftop sheds are now one breathtaking space that Calder Foundation president Alexander S.C. Rower compares to a Parisian artist's garret.
The Calder Foundation's new office suite/gallery in New York City has garnered the attention of the design world and architect Stephanie Goto's project was honored with a 2015 Architizer A+ Award. Kalwall translucent panels are a key feature in the design, bathing the works of Alexander Calder and the other artists on display in museum-quality daylight™.
The project was the Popular Choice winner in the Gallery division and will be celebrated with the other winners during NYCxDesign, May 14 at Highline Stages in New York City and the A+ Awards Gala on May 15.
"Our mission was to light the spaces that we created effortlessly and naturally," Goto said. "We achieve this in how we integrated Kalwall with our architecture. The Kalwall was an integral part in the architecture for the skylights and clerestories."
Rower said the space would have reminded Calder, his grandfather, of an artist's loft in France, where Calder had a studio. The space was featured in Architectural Digest and Architectural Record.
Goto said Kalwall daylighting offered a perfect solution to the skylights and clerestories that line the 4,000-square foot space.
"The quality of the natural light illumination and the energy efficiency of the product was what we were attracted to," Goto said.
Company: Kalwall Corporation
Source: http://www.kalwall.com/2015/04/08/suitable-for-framing-kalwall-brings-distinct-lighting-to-calder-foundation/
---
Ruskin Architectural Products provide function and beauty to State Farm Insurance Company's new Regional Customer Center in the Dallas/Ft. Worth area. The $500 million campus-style project is located in the CityLine mixed-use development in Richardson, TX, roughly 10 miles northeast of downtown Dallas. The new facility will replace several smaller State Farm facilities located throughout North Texas and may employ up to 8,000 when complete. The project includes 4 office towers and approximately 2 million square feet of floor space that will serve State Farm along with residential, health and retail businesses.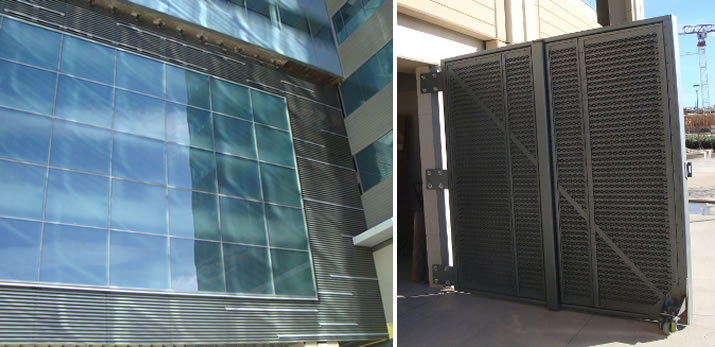 Ruskin architectural representative Steve Bryan with ADW Corporation in Carrollton, TX secured orders on the project for EME520DD Wind Driven Rain Louvers and Hinged Doors, and EV811 Equipment Screens. Steve's customer was Armetco Systems, a prominent installer of exterior cladding & curtainwall systems based in Dallas. The project posed many challenges for Ruskin engineering and manufacturing. The 4" deep EV811 Equipment Screens required 6" deep blades to be integrated at strategic locations to fulfill the architect's aesthetic concept. In addition to the aesthetic requirements, Ruskin engineers designed the 45' tall "picture frame" screen to withstand an elevated 57 psf windload. Over 300 lineal feet of 9 ½" tall EME520DD louvers are utilized to protect ventilation openings from wind driven rain penetration. But perhaps the biggest engineering and manufacturing challenge were the large, hinged EME520DD louver doors. Three sets of double doors were required, the largest being roughly 17'-6" wide by 8'-6" tall. Each hinged leaf of the double door weighs approximately 500 lbs and utilizes special heavy duty hinges & rolling casters to help support their weight.
The engineering and submittal process for the project required close coordination between ADW Corp, Armetco and Ruskin engineers. A 17-page set of shop drawings were generated showing elevations, assembly views and installation details for the installer. The success of the project is due in part to the expert assistance provided Steve Bryan who has been one of Ruskin's leading architectural reps for over 20 years. Steve's experience combined with Ruskin's capabilities and know-how ensured the smooth completion of the project and a satisfied customer.
Company: Ruskin
Source: http://www.ruskin.com/CaseStudies/entryid/691/state-farm-regional-customer-center-richardson-texas.aspx
Tags: Exterior Design
---
If you have ever seen an aerial picture of a city, you may have noticed what looks like grass growing on the roof of some of the buildings. Well, that is grass, and it is part of what is known as a green or living roof. People all around the world are starting to utilize living roofs, although not everyone who has a living roof also owns a city high-rise building. Still, a living roof is something for you to consider if you are looking for a way to save the environment and lower your operational costs.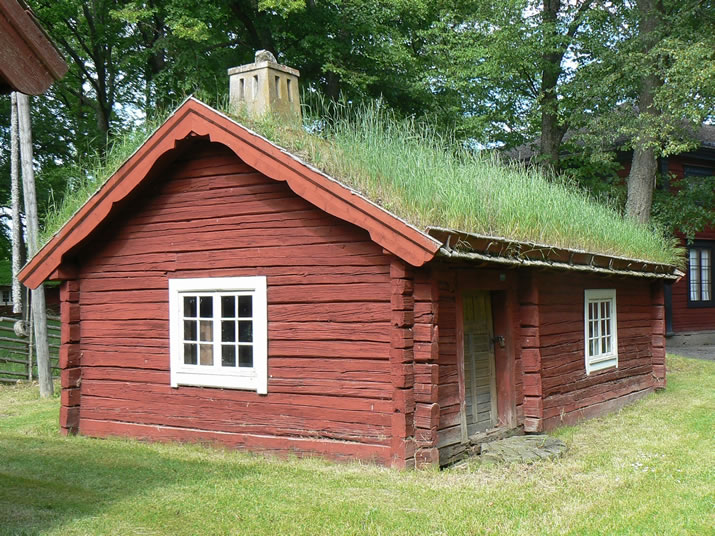 Photo by Phototouring (Flickr)
Intensive Versus Extensive Living Roofs
Those living roofs you see on the top of city buildings are intensive living roofs. Their job is to provide vegetation and living space in areas where those two important features may not exist. The picture above shows an extensive living roof, which is basically a roof used to reap the benefits of a living roof and not for supporting human life. On an intensive living roof, people plant gardens and sit out in the sun. They become the little piece of heaven city dwellers need from time to time to escape the confinement of the city.
Benefits of a Living Roof
As we just mentioned, a living roof can create living space where there was none before. Both intensive and extensive living roofs help to absorb rain water and protect the main roof, and they also act as natural insulation against the heat and the cold. A living roof also adds more oxygen to an area and can help improve the overall air quality. An intensive roof can also be a source of food for people who might otherwise not be able to grow fresh vegetables of their own.
Drawbacks to a Living Roof
The most immediate drawback to a living roof is that it is expensive to install. In order to have a living roof, you must first put a waterproof covering over the main roof and make sure that the vegetation and moisture do not damage the roof itself. An intensive roof requires a considerable amount of cost to build, especially because of the reinforcement required for the main roof to support the weight of the intensive roof.
If you have a flat roof and have a particularly rainy year, then the water retention of the living roof could cause damage to the main roof and even cause major leaks. Living roofs also require ongoing maintenance that can become expensive and tricky to pull off. You do not want the vegetation on your extensive living roof to start growing out of control because the increased weight could cause problems for your main roof. A living roof could also attract bugs and other pests that would cause a variety of issues for your home.
There are all kinds of innovative ideas out there that can add character and functionality to your home. A living roof could be the best way for you to lower your energy bills and help handle excess water from those spring rain storms. But a living roof is a tremendous responsibility, and you should understand what you are getting into before making the decision to turn your roof green.
Company: Decorative Ceiling Tiles, Inc.
Source: http://blog.decorativeceilingtiles.net/2015/04/21/why-you-should-have-a-green-roof/
Tags: Exterior Design
---
Planning a longer-span structural roof deck? New Tectum V Structural-Acoustical Roof Deck spans up to 12 feet.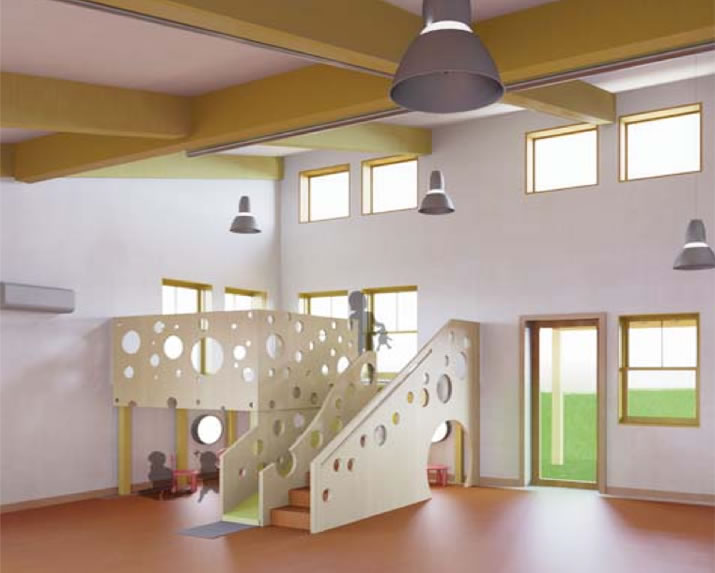 Introducing the newest innovation in longer-span structural roof decks: Tectum V
The Tectum V roof deck panel is a composite of a 1½" Tectum substrate, ½" NEOPOR® GPS (Graphite Enhanced Polystyrene) insulation, 7/16" OSB sheathing, 6" NEOPOR® GPS insulation, and 7/16" OSB sheathing with a slip-resistant surface. Components are bonded with code-listed structural adhesives. The NEOPOR® GPS core exceeds the requirements of ASTM C-578 Type I and bears the UL classification mark. Tectum V can span up to 12 feet.
® = registered trademark of BASF
Company: Armstrong Building Solutions
Source: http://www.tectum.com/roof-deck-tectum-v.html
Tags: Interior Design
---
It's called the Cluster Box Unit (or CBU). As you can see from the picture above, a USPS approved CBU has several mailboxes in one unit. So why the change? Installing CBU has many benefits for all parties involved.

Post Office:
The Post Office benefits because delivering to one CBU rather than several traditional (individual) curbside mailboxes saves the carriers both time and fuel. Most CBU units have between 8-20 mailboxes in one unit.
Builders & Developers:
Builders and Developers benefit in their pocketbooks. Most of the time, the "cost per mailbox" is much cheaper than installing the typical curbside mailbox and post unit. Installers of CBU's like Estes Designs can pass along savings to the builders and developers because they only have to make one trip to the site to install one unit that serves several homes.
Homeowners:
The homeowner benefits from using the CBUs because it is one less thing they have to maintain, repair, replace or mow around in their front yard.
CBUs are made out of corrosive resistant aluminum with a beautiful and durable powder coated finish. These are designed to last for many years. Typical mailbox units require regular maintenance (e.g. painting, etc.) whereas the CBUs are virtually maintenance free.
Estes Designs is a proud authorized dealer of Florence Manufacturing Cluster Box Units. Call Estes today at (317) 899-5556 to discuss how you community can benefit from installing CBUs.
Company: Florence Manufacturing Company
Product: Cluster Box Units
Source: http://estesmailbox.com/estes-designs-is-a-florence-authorized-dealer-of-cluster-mailbox-units/
Tags: Exterior Design | Interior Design
---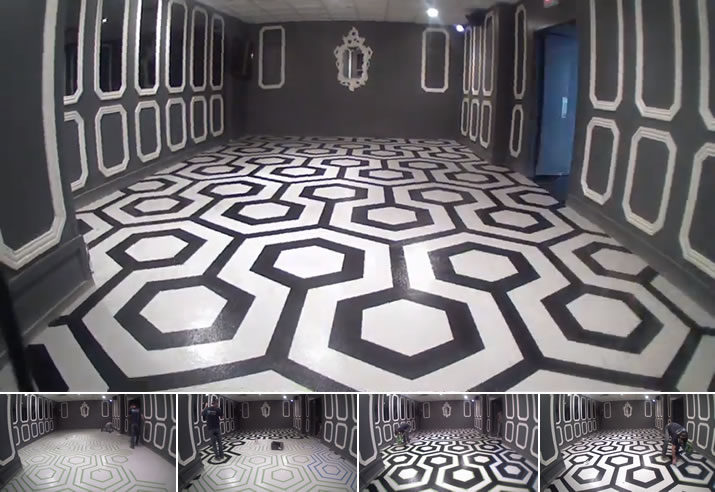 Watch an entire project from beginning to end in just 3 and a half minutes! Beautiful finished floor with custom pattern at The Belmont in downtown Austin, Texas - Super-Krete Products installed by Ground Effects.
Source: http://www.super-krete.com/
Tags: Floor | Interior Design
---
Increasingly, builders are learning that the best way to construct an efficient building may largely occur on the factory floor and not on the construction site. Prefabricated building panels offer several benefits over onsite, from-scratch construction. As construction picks up, builders should give the prefab approach serious consideration.
The primary advantages of prefab building materials are as follows:
Consistency: Contractors won't have to worry that the panels are built to spec because they are machined in the factor in the exact same way. They will always match the exact blueprints.
Efficiency: Each panel can be optimized to include the best insulation, air and moisture barrier systems and any other exterior wall systems.
Reliability: There need be no unseen delays with prefab. The panels are generally lightweight and can be shipped straight to the construction site whenever necessary.
Versatility: Prefab materials can be fitted to almost any design plan and make up a significant portion of anything from a small home to a skyscraper.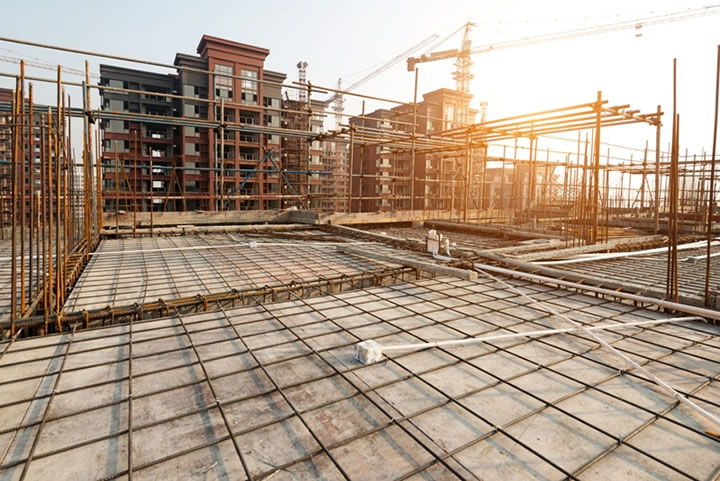 Prefab supplies can benefit building construction.
"Builders should give the prefab approach serious consideration."
As the forthcoming examples demonstrate, prefab materials can be crucial components in high-performing buildings of all types.
Australian architects design first carbon-positive prefab home
In today's economy, energy efficiency is key. Some U.S. states even have long-term goals for all new buildings to meet net-zero requirements. Now, Australian architectural group Archiblox proved that it can construct small homes capable of generating more energy than they use by incorporating prefab materials, Gizmag reported.
Prefabricated buildings are generally quicker and more affordable to construct, meaning the home is inexpensive compared to other high-performance buildings. But those same prefab materials help the home maintain its internal temperature and restrict unwanted air and moisture flow.
Attempt at world's tallest building to feature prefab materials
On the other end of the spectrum is the world's tallest prefab apartment building, standing at 57 stories, in suburban Changsa, China. The same architect, Zhang Yue, is also behind the plans for the world's tallest building – Sky City, which projects to be 200 stories and also feature prefab panels.
Prefabricated materials allowed Yue to erect this 57-floor, 800-apartment skyscraper at the impressive pace of three floors per day. The supplies are produced in a factory 90 minutes away and trucked to the construction site when necessary. That level of control also ensures the panels are the correct size and shape so the construction may carry on uninhibited.
Through the use of prefab technology, builders have more control, fewer overheads and better materials at their disposal – all at a lower cost for the end consumer.
Company: Sto Corp.
Of: Valerie Mayer
Source: http://www.stocorp.com/blog/architects-turn-to-prefab-materials
Tags: Building | Prefab | Sustainability