architecture - engineering - construction

Design
---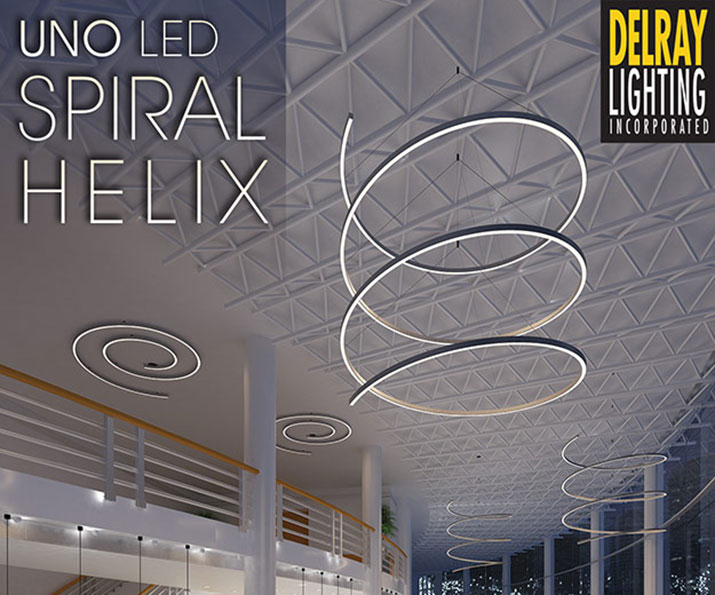 New from Delray Lighting: UNO Helix / Spiral large scale LED fixtures
HELIX is a 3, 4, and 5-foot vertical corkscrew of light suspended in cylindrical space. SPIRAL is a flat, wall/ceiling surface mount, gradually widening 5-foot diameter coil of light. Both feature efficient Nichia 90 CRI, 3000, 3500, and 4000K white LED chips, and are designed for spacious interiors with high ceilings.
Company: Delray Lighting
Source: http://www.delraylighting.com/uno_dos_linear_circular_led_delray.html
---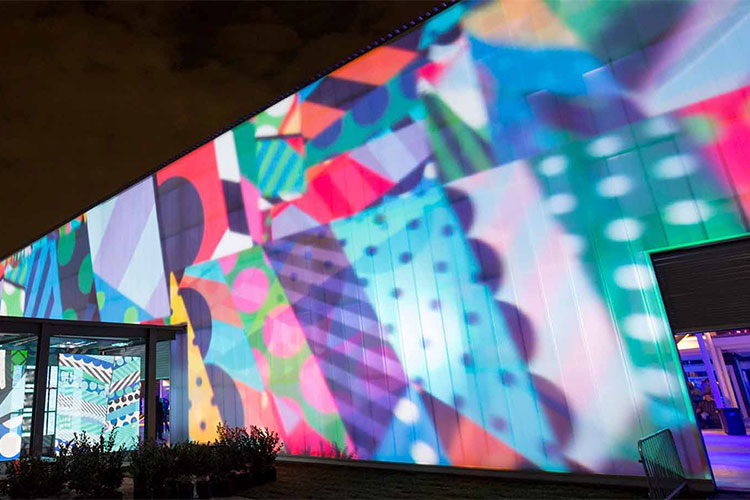 EXTECH provided anti-reflective (AR) polycarbonate glazing and its LIGHTWALL 3440 system for this entertainment venue. AR polycarbonate enabled lighting effects to be projected onto the translucent facade
Three new polycarbonate glazing options are available for the LIGHTWALL 3440® interlocking translucent wall panel system from Exterior Technologies, Inc. (EXTECH): Anti-Reflective, Infrared-Blocking and Anti-Graffiti.
Anti-Reflective – When high-efficient light transmission is paramount for a building's design, EXTECH offers anti-reflective polycarbonate glazing. Systems using this UV matte option facilitate a better distribution of light throughout a building's interior, while reducing reflections and glare. This option is also ideal for entertainment venues that want to project high-resolution images and lighting effects onto a translucent backdrop.
Infrared (IR) blocking – When high light levels and solar control are equally important, EXTECH provides polycarbonate glazing with an external surface that filters out unwanted IR and UV waves. EXTECH systems use this material to reduce solar heat gain, ensure comfortable interior temperatures, protect interior finishes from accelerated fading, reduce demand on the HVAC system and save on electric lighting costs.
Anti-Graffiti – When a project is in a high-traffic area and is at risk of damage or vandalism, EXTECH can enhance daylighting systems with anti-graffiti glazing that resists vandalism and scratching. Anti-graffiti glazing is also more resistant to natural weathering and typical chemicals, and is easier to clean.
In addition to these functional glazing choices, EXTECH's LIGHTWALL systems contribute to commercial buildings' aesthetic, performance, and sustainability goals. Lightweight and easy to install, the LIGHTWALL system helps construction teams facing condensed schedules, and facility managers seeking low-maintenance longevity.
"As our most popular product, the LIGHTWALL 3440 offers beauty, durability and economy with vertical panels that can extend up to 54 feet long and eliminate leak-prone horizontal joints," says EXTECH Director of Product Application and Development Kevin Smith, R.A. "Our LIGHTWALL system does not require framing members within the field of the glazing, which allows for a clean, modern architectural aesthetic."
In addition to enhancing a building's appearance, the LIGHTWALL 3440 meets demanding performance specifications, including high wind loads, impact resistance, fire rating, air infiltration, water penetration, thermal (0.25 U-Factor) and structural performance – the LIGHTWALL 3440 possesses some of the highest performance numbers in the industry due to its advanced framing. These attributes support energy efficiency and sustainability goals, such as the U.S. Green Building Council's LEED® rating systems.
Smith adds, "The diffusing characteristics of the cellular polycarbonate reduces dependence on electric lighting and reduces solar heat gain into the building envelope, as well as reduces light pollution emanating from the building. Because it is a dry-glazed system, VOC emissions also are reduced."
LIGHTWALL 3440 also uses highly insulating, 100 percent recyclable, 40 mm structural cellular polycarbonate and 38.95 percent recycled aluminum framing manufactured in Pittsburgh.
To order a sample and learn about EXTECH's LIGHTWALL 3440, please visit the product web page. For more information on EXTECH's products and services, please call 800-500-8012 or email info@extechinc.com.
Exterior Technologies, Inc. (EXTECH) is an award-winning manufacturer and designer of wall, window, skylight, canopy and custom façade systems. The company delivers solutions for a variety of industries and applications, and is committed to collaboration, innovation, and exceptional engineering.
Company: EXTECH/Exterior Technologies, Inc.
Product: Translucent Walls
Source: https://extechinc.com/lightwall-3440-polycarbonate-wall-panels/
Tags: Building | Design | Lighting | Wall Panels
---
Calling all color enthusiasts! Starting today, Sherwin-Williams is issuing a challenge to easily and temporarily remove color from social media photos, web browsers and personal websites.
It is all part of an effort to showcase the impact color has in our lives and to get DIYers ready for National Painting Week later this month. But wait, there's more: Sherwin-Williams will turn all digital color "donations" into fresh coats of paint for deserving community organizations during National Painting Week, May 19-29 and throughout the year.
"Sometimes, we don't appreciate something until it's gone, and that applies to color as well," said Ellen Moreau, senior vice president, marketing communications at Sherwin-Williams. "For several years now, Sherwin-Williams has been celebrating the benefit of a fresh coat of paint with National Painting Week. This year, we're inviting our fans to get involved in a new way, and for a good cause, as we illustrate the role color plays in our communities, homes and everyday lives."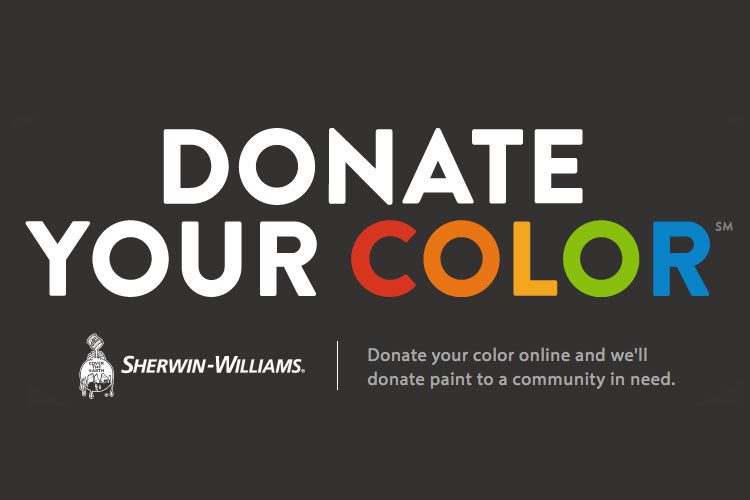 How it works
Visitors to DonateYourColor.com will have three options for donating: giving the color from a photo that can be easily shared on their social media channels; searching the internet in black and white with a Chrome browser extension; or, turning a personal website into black and white with an easy-to-use application. Depending on the option a user chooses, Sherwin-Williams will donate between 500 and 5,000 square feet of paint.
Participants who donate will be in good company, joining DIY influencers Vintage Revivals, Curbly, City Farmhouse and Thistlewood Farms, plus Apartment Therapy, Brit+Co and many others who are donating their color from website home pages, social media sites and more.
In addition, as part of National Painting Week, an annual celebration of protecting and beautifying the things and places we love, Sherwin-Williams employees will volunteer their time and expertise to revitalize spaces throughout the U.S. and Canada. Sherwin-Williams will also be sharing findings from proprietary research on color preferences, expert advice from Sherwin-Williams director of color marketing Sue Wadden, and key insights from color psychologist, Dr. Sally Augustin.
To get involved or for more information on how to donate your color, visit DonateYourColor.com. For more information on Sherwin-Williams products and services, or National Painting Week, visit: NationalPaintingWeek.com.
Company: The Sherwin-Williams Company
Source: https://www.donateyourcolor.com/
---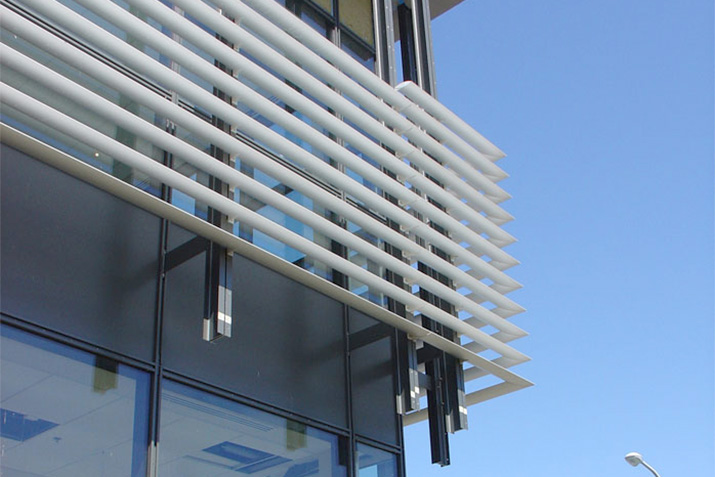 North American weather ranges from extreme cold to extreme heat, with many variations in-between. Today's design approaches need to consider weather patterns and how to best maximize energy efficiencies to address these. Unicel's solar shading systems provide optimal weather protection for the harshest climates and temperature extremes, while ensuring interior comfort and desired levels of vision.
Key Solar Shading Benefits:
Daylight control - Glare reduction and greater comfort
Heat control - Optimal solar heat gain and energy efficiency
Sound control - Acoustic insulation and enhanced tranquility
Visual appeal - State of the art aesthetic features that enhance overall design
Low maintenance - Durable and easy to maintain
Flexibility - Adaptable to many building and architectural designs
Solar Shading Features:
6063-T5 aluminum alloy extrusions
Hardware fits aluminum blade solutions
Custom colors in painted or anodized finishes
Fixed or mobile blades
Available in vertical , horizontal and cantilevered configurations
Remote controlled system
The fixed or motorized louvers can be installed as an independent structure or connected to the main facade system. Additionally, they can be painted in any color to enhance their visual impact.
When designing an architectural envelope, interior and exterior design requirements need to work together as a dynamic system to respond to variations in temperature, daylight and vision requirements. Unicel's solar shading solutions complement almost any design and are highly adaptable to the most rigorous heat and vision control requirements.
Company: UNICEL Architectural Corp.
Product: Louvers
Source: http://www.unicelarchitectural.com/en/louvers.html
Tags: Design | Energy | Louvers | Window Shades
---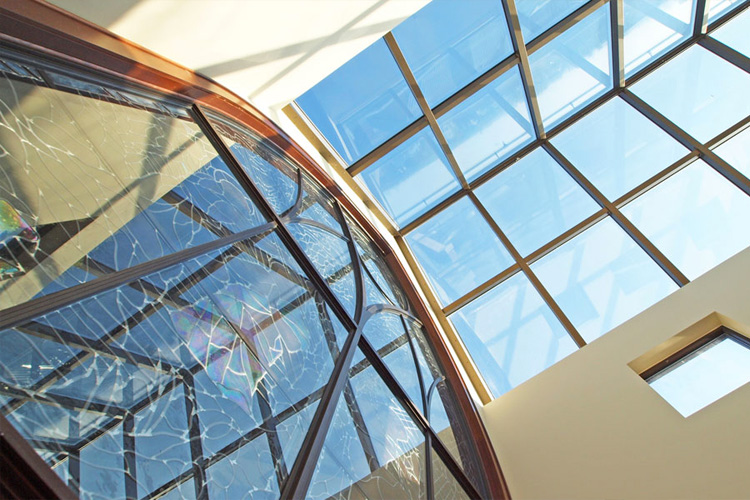 Auburn® skylights are designed and engineered for long-term performance, and make a great daylighting choice if you're looking for the durability and longevity of glass, or simply enjoy dramatic views of the sky. They're available in custom and pre-engineered configurations, and also offer mixed glazing options as they can also incorporate polycarbonate multi-wall and acrylic glazing as well as Guardian 275® translucent panels.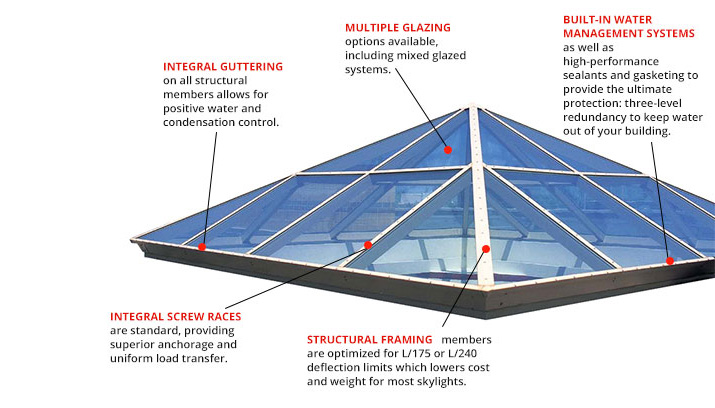 Auburn® systems aren't designed to span the largest openings; they're optimized for small and medium projects and are engineered to save time, money, and weight in your next daylighting project. Auburn® engineered skylights feature high-performance sealants, built-in water management, and time-proven EPDM gasketing to provide the ultimate protection: three-level redundancy to keep water out of your building. In addition, they are available in a wide variety of configurations, along with numerous glass and finish options.
New single slope skylights with thermal strut technology!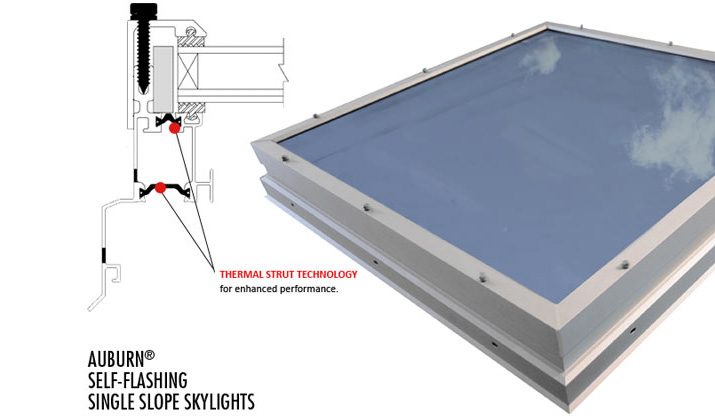 For smaller openings and standard sizes, consider our newly updated Auburn® Self-flashing Single Slope skylights, available in sizes up to 25 square feet, with pre-assembled options available for ease of installation and quick lead times. These new single slope skylights feature thermal strut technology in the framing, allowing for a versatile combination of strength and high thermal performance, including improved condensation resistance and U-factors over traditional aluminum framed systems.
No matter which option is right for you – custom or pre-engineered – Auburn® skylights are a smart choice to solve your daylighting challenges. Other benefits include:
Low initial cost and long-term energy savings.
Possible LEED® credit opportunities for both new construction and existing buildings.
High-performance gaskets and sealants provide peace of mind and long-term performance.
Auburn® Engineered custom systems feature universal "slope adapters" fit all standard rafters, creating precise slope control.
Auburn® Engineered custom systems come standard with tubular rafters that frequently eliminate the need for support tubes.
Guaranteed against defective materials and construction for one year from date of purchase (exclusions apply – see final warranty for details).
Company: Major Industries Inc.
Product: Auburn® Engineered Glass, Polycarbonate Multi-wall and Acrylic Skylights
Source: http://majorskylights.com/products/skylights/auburn/
Tags: Design | Glass | LEED Certification | Windows
---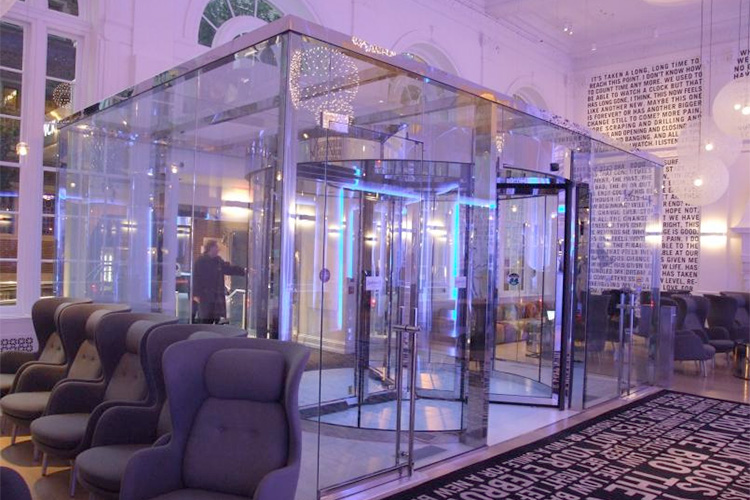 Boon Edam Inc., a global leader in security entrances and architectural revolving doors, today announced that the Warwick Hotel Rittenhouse Square in Philadelphia, PA, is quite satisfied with the functioning and cost savings of their Boon Edam Tournex revolving door. The Tournex is an example of a classic automatic revolving door and is designed to handle high capacity applications.
The historic building housing the Warwick Hotel Rittenhouse Square originally had a manual revolving door flush with the building's facade. Somewhere along the way, it was decided to remove the relatively smaller gauge revolving door and replace the entrance with a double set of sliding doors.
New Entrance Solution to Address Negative Pressure in Lobby
"Our HVAC system was designed for a revolving door entrance," said Ray Hewitt, the hotel's Director of Engineering, "we wanted to put a revolving door back in to address the negative pressure we were experiencing in the lobby." That negative pressure was pulling in cold air during the winter months, and cooled, conditioned air was escaping out the double doors in the summer.
During a complete lobby renovation project a few years back, designers worked to return to a revolving door lobby entrance. Because the Warwick is in a historic building, they could not change the facade of the building, so they pushed the entire entrance into the lobby itself. The architects and the designer chose a 12' diameter Boon Edam Tournex automatic revolving door, with three door wings and a highly polished (mirror) stainless steel finish. The Boon Edam door is enclosed in a stylish glass cube, accented with purple neon lighting.
Now, those entering the hotel first pass through a double set of sliding doors at the building envelope, leading to the revolving door. Swing doors are also available on either side of the revolving door to enter the lobby itself. The effect of the sliding doors and the revolving door in a cube is to virtually eliminate air flow from outside in, and vice versa.
The Warwick has 301 hotel rooms and 106 permanent residents. On any given day, between guests, residents, staff, and visitors, up to 1000 people are passing through the entrance. Since the installation of the new entrance, the effect has been night and day—guest and visitors utilize the lobby space longer and in greater numbers. A big community table is usually filled all day long and the lobby is accented with attractive fireplaces. The hotel lobby also offers two full service food and beverage outlets (Bluestone Lane & Prime Rib Steakhouse), with a third to be announced sometime this year.
Energy Savings Pays Off
In addition to a now grand sense of arrival and more useable, comfortable space, the new entrance is also paying dividends on energy savings. "With the old entrance, our HVAC was running constantly, it could not keep up. Now, the unit can shut down periodically; that's good for the health of the system, and we're seeing substantial savings on energy bills," said Hewitt.
The Boon Edam revolving door has an important feature for installations like a hotel or large office building—in the event of an emergency, the doors stop and the wings can be "book folded" to create wide open ingress and egress. The hotel has a maintenance contract with Advanced Door, but since installation the Boon Edam revolving door has been virtually trouble free.
Company: Boon Edam Inc.
Product: Revolving Doors
Source: http://www.boonedam.us/news/warwick-hotel-rittenhouse-square-boasts-unique-stylish-lobby-entrance-revolving-door
Tags: Design | Entrances | HVAC
---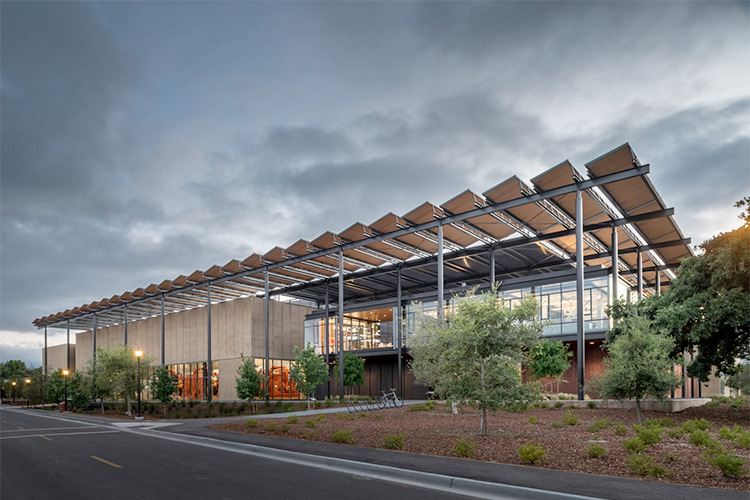 The Stanford University Central Energy Facility replaces a 100 percent fossil-fuel-based cogeneration plant with primarily electrical power—65 percent of which comes from renewable sources. Image credits: Matthew Anderson
AIA and the Committee on the Environment (COTE) announce this year's recipients of the COTE Top Ten Awards, the industry's premier program celebrating sustainable design excellence. Now in their 21st year, the Top Ten Awards highlight projects that exemplify the integration of great design and great performance. Submissions are required to demonstrate how the project aligns with COTE's rigorous criteria for social, economic, and ecological value.
Since 2014, past Top Ten recipients have been invited to submit post-occupancy data and narratives to be recognized with a single COTE Top Ten Plus award each year. In 2017, these separate tracks are merged: The 'Plus' designation now denotes projects with exemplary performance data and post occupancy lessons.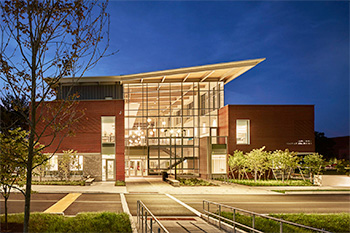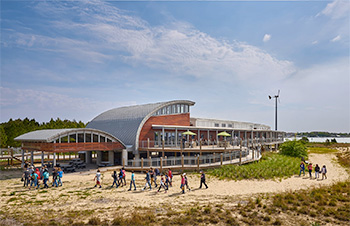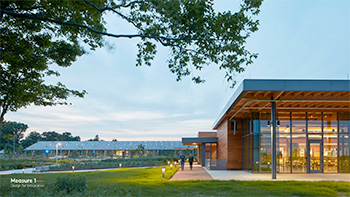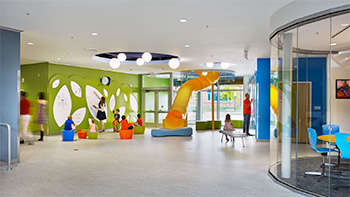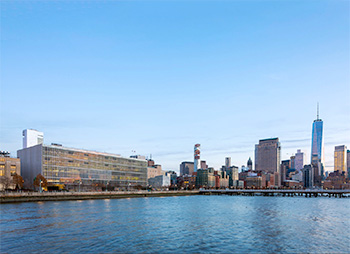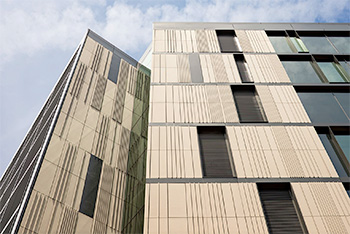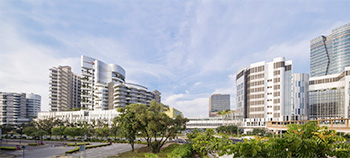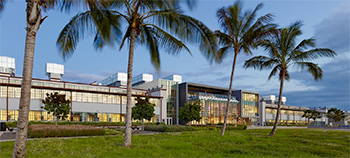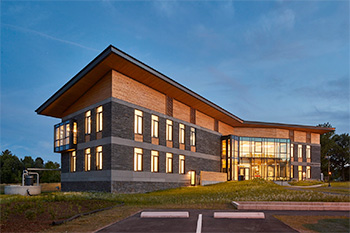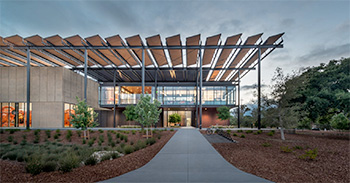 Company: AIA (American Institute of Architects)
Source: https://www.aia.org/resources/73026-2017-cote-top-ten
Tags: Design | Energy | Sustainability
---
EXTECH is incredibly honored to announce that the KINETICWALL dynamic facade system was chosen as the winner of the Architizer A+ Awards Jury prize! With entries from over 100 countries, the KINETICWALL was chosen as the best product in the Building Envelopes & Cladding category by a jury of designers, artists, architects, and business professionals. The KINETICWALL and all other winners will be honored as part of NYCxDESIGN week at the A+Awards Gala on May 11, 2017 in New York City.
We are thrilled that so many luminaries from the design and architecture communities considered the KINETICWALL a worthy competitor among so many great products. For it to be chosen as the winner in its category is truly an honor. If you would like to learn more about the KINETICWALL, you can visit the KINETICWALL product page, read the case study on the Logan Airport Parking Expansion, or contact us.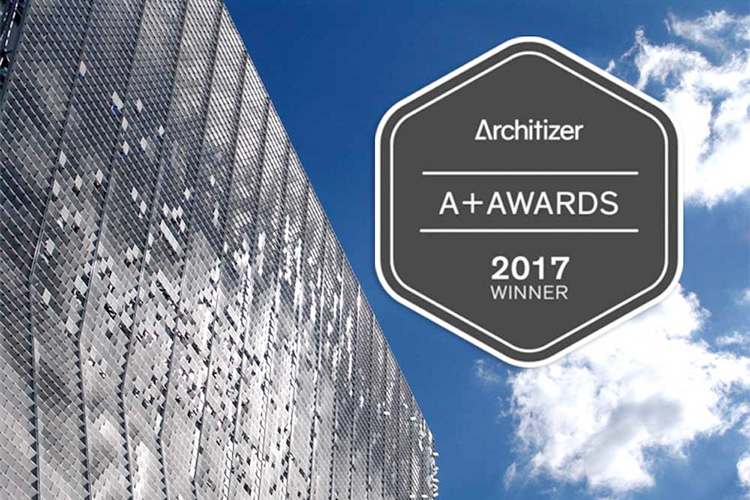 EXTECH's KINETICWALL is a dynamic moving building façade that creates an eye-catching aesthetic. Made of 6-inch flappers attached to stainless steel rods, the KINETICWALL responds to wind currents and undulates to create the look of rolling waves. The wall is customizable and can be designed to accommodate square or curved polycarbonate, glass, aluminum, or steel flappers. It is structurally designed to withstand hurricane-force winds and torrential rainfall, yet it is light enough to enable easy installation, air flow, and visibility from the inside. The KINETICWALL alsodeflects sunlight, thus preventing solar heat gain, and the spacers between the flappers remove the chance for collateral noise.
KINETICWALL can be used on small- and large-scale façades. It's a popular design choice for a wide range of uses, including cultural institutions, transit facilities, and artistic installations. Due to its aesthetic qualities, the wall can help municipalities save money on Arts in Transit and percent-for-art compliance. KINETICWALL is a state-of-the-art yet economical way to create breathtaking, beautiful designs.
Further benefits and details
Dynamic flappers move with the wind, creating an eye-catching aesthetic that lends itself to 'smart design'
Due to its aesthetic qualities, the wall can help save money on Arts in Transit and percent-for-art compliance
Customizable; can incorporate a variety of materials including polycarbonate, glass, aluminum, and steel
Can be used on small and large-scale façades
Light-weight flappers allow for easy installation
Designed to withstand hurricane force winds and rainfall
Facilitates easy air flow for ventilation
Permits interior visibility
Deflects the sun, preventing solar heat gain
Spacers between flappers prevent collateral noise
LEED credits available for 100% recyclable aluminum and stainless steel flappers and framing
Manufactured in the U.S.A.
Company: EXTECH/Exterior Technologies, Inc.
Product: KINETICWALL™ Dynamic Facade
Source: https://extechinc.com/kineticwall-wins-2017-architizer-a-award/
Tags: Design | LEED Certification | Louvers
---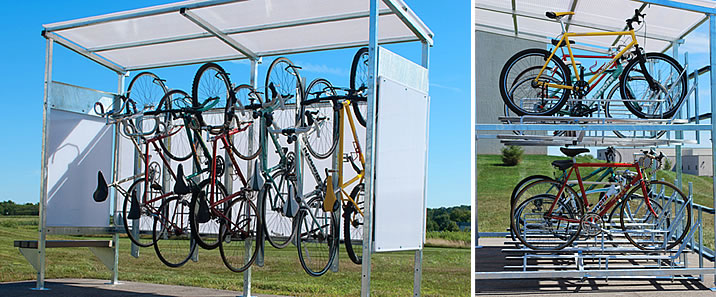 The new Bike Sheds offer protection from the elements and versatility in their many applications. Whether you need covered bike parking or a place to sit and wait for the bus, these new sheds can be customized to complete your vision.
Bike Sheds are constructed of 2 X 2" steel leg tubing for the base, and a 16MM thick polycarbonate opal color top. The bike shed has many additional options available, including optional side panels and various bike parking combinations.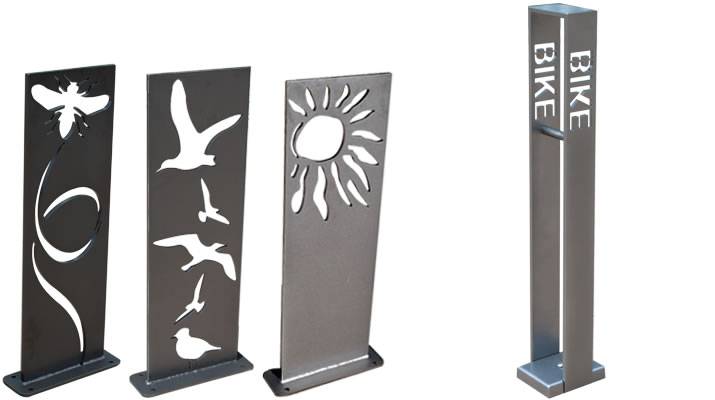 The Shadow™ Rack plays on the natural elements of its environment. The sculpted steel creates silhouettes on the pavement, while providing secure parking for your bike.
New! Pierce™ Rack is not your ordinary bike rack. This edgy art piece doubles as a functional and secure bike parking solution.

Whether you are seeking to transform your environment, promote your organization, or just express your creativity, our custom bicycle racks are your best resource. We will work with your idea, your sketch, or your blueprint to bring your vision to life.
Company: Madrax Bike Racks
Product: Bike Shelters
Source: http://www.madrax.com
Tags: Design | Furniture | Landscape Design
---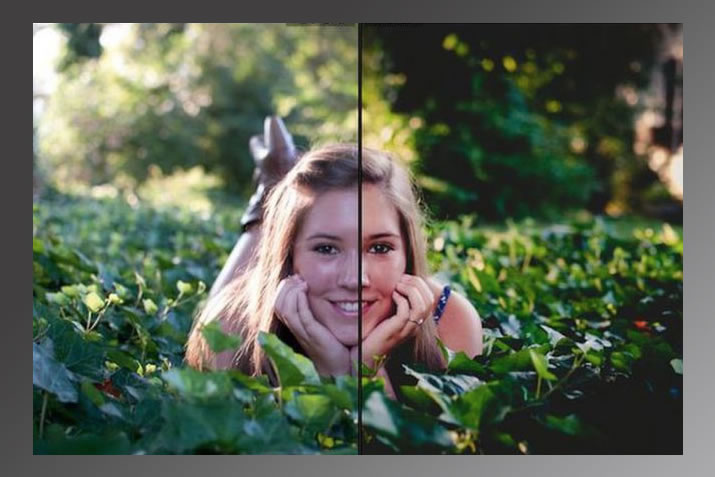 When looking for an ambient light rejecting projection screen, don't forget to consider color accuracy as well as ALR properties
Color balance plays a vital role throughout the world around us. So don't sacrifice color accuracy when it comes to ambient light rejecting (ALR) projection screens.
The majority of ALR projection screens on the market today play with color balance in order to reject as much light as possible away from the eyes of the viewer. In doing so, this creates an image that doesn't look quite right, although it's hard to say why—at least, until you do a side-by-side comparison with an ALR screen that is reflecting colors accurately. Then you notice how blue the typical ALR screen image is.
We depend on the correct colors not only to visualize, but also to understand our world. It's believed that our ability to see in color evolved, so we can sense emotion or health on the skin of others. Getting the wrong color signal could lead to misreading an enemy's intentions or being exposed to illness. Color balance can even mean the difference between right or wrong diagnoses using a microscope in the lab.
In nature, showing off the correct brilliant color warns possible predators that a South American arrow poison frog isn't a good idea for dinner. Being the right color to blend in with tree branches gets the mantis its insect meals. If a male peacock's tail feathers are bright and colorful then females know he's healthy.
So why is this need for proper color accuracy sacrificed when choosing an ALR projection screen?
Draper was the first screen manufacturer to make ALR screens that are certified by the Imaging Science Foundation (ISF) for color accuracy. All of our ALR screens have this certification, which means they are proven to have no impact on the image color.
When used in conjunction with an ISF-certified (or correctly calibrated) projector, the colors you see are as they are meant to be, so you can have confidence that no matter how mission-critical the situation, there won't be any mistakes due to bad color balance.
To find out more about our 8K-ready, ISF-certified TecVision screen viewing surfaces, including our ALR solutions, click here.
Company: Draper, Inc.
Of: Terry Coffey
Source: http://blog.draperinc.com/2017/04/color-balance-alr-screens/
Tags: Audio Visual | Color | Design
---

Par-Kut provides guard houses used to shelter security personnel. Par-Kut guard houses are long-lasting, portable steel buildings.
Par-Kut provides the most rugged and well built guard houses, guard booths, guard shelters, border inspection booths, security access control checkpoints and observation towers. Par-Kut's guard houses are all prefabricated guard houses. Our customers include government, private industry, airports, nuclear power plants and U.S. Military facilities across the country and around the world. Par-Kut's all welded steel construction and use of durable, low maintenance materials ensure the guard booth's greatest longevity. Special security features are offered to customize the security guard booth to your location requirements and to keep your security officers comfortable as well as secure. Go to BULLET RESISTANT to learn more about Par-Kut's enhanced ballistic construction options for hi-risk environments.
In some industries, guard houses or guard booths are known as guard shacks. Whether described as a security guard shack, portable guard house, security guard house, or security guard booth, Par-Kut factory-assembled, portable steel buildings provide a ready-made solution to your security shelter problem.
Par-Kut offers guard house drawings and guard house designs to suit just about every application and if we haven't helped somebody with a similar requirement in the past, we will work with you to provide guard house designs to meet your site specific needs. In fact, the simplest way to start a productive dialogue is to send us a simple thumb nail sketch showing your guard booth drawing or guard house design. Par-Kut stands ready to assist you with your guard house architecture and guard shack floor plans.
For a guard house best for your location, and best for your guard house budget over the long run, call one of our sales professionals here at Par-Kut. Investing only a few minutes of time for discussion will enable you to receive a quotation for a guard booth or guard shack that is catered to your specific situation. Whether you need a standard, a bullet resistant or an elevated or highly portable trailer mounted guard house or security booth; a durable steel PAR-KUT guardhouse will meet your needs and provide you a service life unsurpassed by any competitor.
When you are speaking with a Par-Kut sales professional about your guard house, especially, a prefab guard house, it is important to identify the city and state where your guard booths are going to be installed. Codes regulating all types of factory assembled structures, including prefab guard houses, vary from state to state. Please have this information ready when you contact Par-Kut for a quote on your guard house. Prefabricated guard houses are lumped together with other pre manufactured structures for code purposes, although this practice does not take into consideration the vast differences in typical applications. However, a guard house from Par-Kut will meet or exceed most model building codes. Prefabricated guard booths can be amortized for tax purposes if recordable as the proper type of equipment. Check with your accounting dept, or financial advisor to see what steps should be taken for proper recording of your prefabricated guard booth. Prefab guard shacks and modular guard houses, when specified and purchased properly, will serve for decades. Par-Kut will work with you to outline your needs and a budget price for the guard shack or guard house that you need for a guard shelter.
Go to GALLERIES to view additional guard houses.
Company: Par-Kut International, Inc.
Product: PRESIDENTIAL
Source: http://www.parkut.com/booths/applications/guard-houses/
Tags: Design | Entrances | Safety | Security
---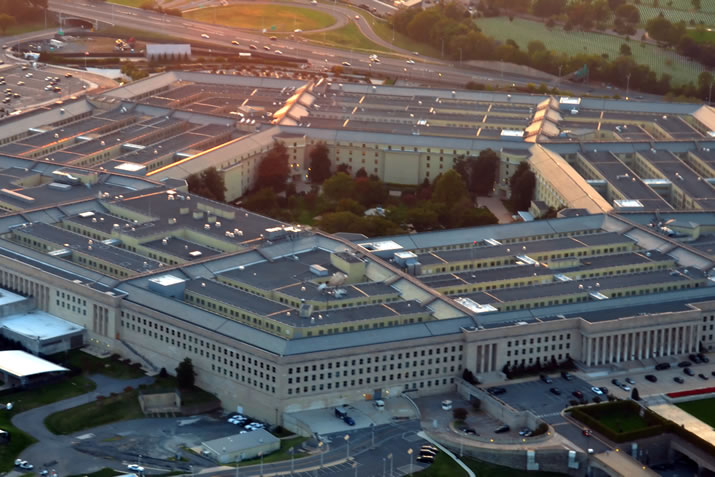 The Role of Commercial Steel Doors in Resilient Design
AMBICO now offers a new AIA certified course currently available for architects online through AEC Daily. The Role of Commercial Steel Doors in Resilient Design is our first course to qualify for 1.5 CEU credits. In addition, it qualifies for LU, HSW, GBCI, and more. You can view the course here.
Why Resilient Design?
Resiliency is a growing necessity. It's important to understand the impacts natural and man-made disasters have on the built environment and to design for those impacts now. This course will provide an overview of the benefits of using steel doors in resilient design strategy. This includes applications requiring resistance to blasts, tornadoes, and ballistics.
Company: Ambico
Source: https://www.ambico.com/blog/
---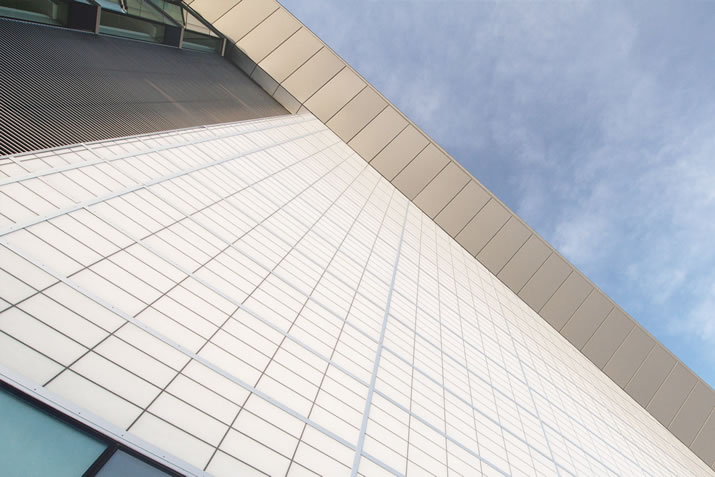 What happens when you bring together 250,000 people from around the world for six days in Munich, Germany?
Ideas are exchanged.
Best practices are shared.
Deeper levels of understanding are reached.
That was, in a nutshell, BAU 2017, the world's leading trade fair for architecture, materials and systems with the 2,210 exhibitors from 45 countries. More than 80,000 people had, like us, travelled overseas.
From our vantage point at the Kalwall® exhibit – our first time exhibiting at BAU (German for `construction') – we could see how much the world beyond the borders of the United States is changing and this was a chance to see how architects, owners, contractors and other business people are responding to those changes.
Here are three key takeaways from BAU 2017 affecting daylighting and fenestration globally.
1. Safety and security is no longer just about airports and government buildings
The safety, security and privacy of guests at hotels, students at schools and employees at banks and high finance institutions are becoming harder to ensure. While airport administrators and government facilities have been working with Kalwall for years to find solutions to similar problems, it was interesting to see the volume of private business owners looking for similar answers.Kalwall's specialty systems meet UFC 4-010-01 blast requirements and can, for example, provide an extra level of safety for guests in a hotel lobby from a car bombing in the street outside. The translucent panels also afford more privacy while providing museum-quality daylighting™ for interior spaces.
2. Canopies need to be rugged and resistant to pollution
Pollution and heat in certain regions of the world take their toll on canopies meant to provide shelter and shade, leaving architects and construction managers searching for alternatives to less durable polycarbonates.The ruggedness and capacity to resist fading in intense heat, along with its ability keep clean where pollution is a concern made Kalwall canopies an appealing option to business people in desert climates as well as industrial cities.
3. Energy is expensive and daylighting solutions are more important than ever
Technology was a dominant part of the conversation at BAU and a major reason why the world is seeking better ways to produce and store energy. I think my grandfather, Kalwall founder Robert R. Keller, would have been smiling. After all, energy efficiency was one of the reasons he developed his translucent sandwich panel in 1955.
Our technology, with its best in industry thermal and solar heat gain performance, was a conversation starter for business people concerned with the high cost of energy and the ways to be efficient. Renovations, in particular, present cladders the challenge of finding energy efficient solutions.
BAU 2017 was an opportunity to expose more people globally to the benefits of Kalwall. They came looking for the latest advancements, but some technology stands the test of time. This was re-affirmation of a technology we developed 62 years ago.
Company: Kalwall Corporation
Of: Amelia Keller
Source: https://www.kalwall.com/2017/02/13/a-kellers-bau-insights/
Tags: Building | Construction | Design | Energy | Lighting | Safety | Security
---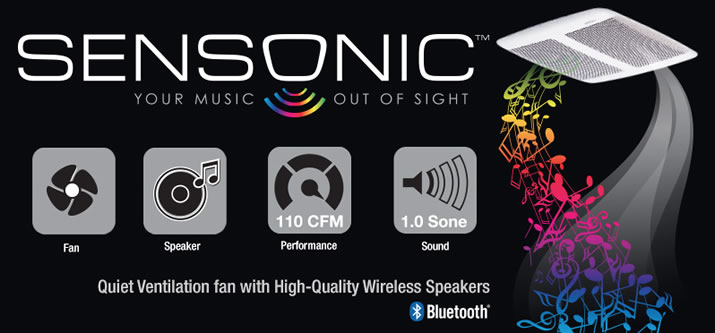 It's your music-out of sight. Unlike wireless speakers that require counter space, Sensonic™ speakers with Bluetooth® wireless technology fill your room with rich sound from above. From hard rock to news talk, play any audio through the dual high-fidelity speakers and enjoy entertainment and privacy at the touch of a button.
Enjoy entertainment and privacy at the touch of a button
Dual High-Fidelity Sensonic™ Speakers
Bluetooth® wireless technology
Brilliant audio performance concealed behind your fan grille
Play any audio through most Bluetooth®-enabled devices
Quiet, powerful QT ventilation fan
Effective, extremely quiet ventilation clears humidity and odors quickly
ENERGY STAR® qualified
Motor engineered for continuous operation
UL Listed for use over bathtub or shower when installed with a GFCI protected branch circuit
Type IC for use in direct contact with thermal insulation
Fits 2"x 8" ceiling construction
Includes unique spacer for easy I-joist mounting
Mounts between joists with optional QTHB1 Hanger Bar Kit (sold separately)
Features + Benefits | Videos | Models + Specs
Company: Broan-NuTone LLC
Product: Bath and Ventilation Fans
Source: http://www.broan.com/sensonic
Tags: Audio Visual | Design | HVAC
---
Seaside and coastal areas are beautiful locations for commercial and residential buildings, but also pose the greatest challenges in protecting exterior-facing architectural aluminum products from corrosion. Without proper precautions and finishes, corrosion to these aluminum components can damage the building envelope's structural integrity, leading to systemic failure.
One of the most aggressive outdoor environments for aluminum is the seacoast. Of the seacoasts, Florida's coastal regions represent the most corrosive in the continental United States, with Cape Canaveral cited as the most corrosive atmospheric environment.
Corrosion rates vary from place to place and during different times at the same location. Such wide variability makes definitive conclusions difficult.
The primary variables affecting corrosion rates near the coast are the salt content in the air, the time of wetness of the metal surface, the temperature and the level of other atmospheric pollutants. Several environmental factors control these variables, including distance to the ocean, elevation, wind direction, wave action, rainfall, humidity, the degree of shelter and the level of industrial air pollution.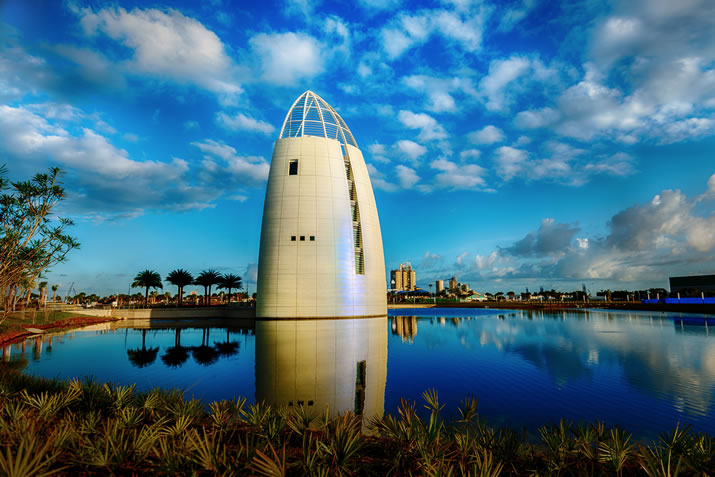 Exploration Tower at Port Canaveral (courtesy of Valspar. Photo by Rip Noel, Noel Studios Inc.)
Durable Finishes
Painted coatings and anodized finishes are among the most durable finishes for exterior-facing architectural aluminum products.
As a prominent part of the building's exterior, the coated aluminum adds color and design to the project. This coating also protects the building from unsympathetic surroundings. When selecting a coating to withstand harsh corrosive environments, one should specify either:
the highest-performing organic paint coating that meets AAMA 2605-13, Voluntary Specification, Performance Requirements and Test Procedures for Superior Performing Organic Coatings on Aluminum Extrusions and Panels; or
a Class I anodize coating that meets AAMA 611-14, Voluntary Specification for Anodized Architectural Aluminum.
These two options continue to set the highest standard for architectural coatings, especially in a coastal or highly corrosive environment.
Paint
High-performance 70 percent PVDF coatings offer the capability to select nearly any conceivable color or combination of colors, while shielding the building against weathering, pollution and aging.
The carbon-fluorine bond used in 70 percent PVDF coating is one of the strongest kn own. These paint coatings can withstand enduring and intense UV radiation, which supports their long-term color- and gloss-retention, and chalk-resistance.
The first, and one of the most important, defenses against a paint failure is proper pretreatment of the aluminum. Without proper pretreatment, premature failure of the finish is almost guaranteed. Paint systems are designed to be applied over clean metal that has been properly pretreated.
Pretreatment of the aluminum building components to be used in severely corrosive or coastal environments is crucial.
The most time-tested, proven pretreatment system for architectural aluminum products is a chrome phosphate conversion coating. This process conforms to Type B, Method 5 of ASTM D1730-09 (Reapproved 2014), Standard Practices for Preparation of Aluminum and Aluminum-Alloy Surfaces for Painting, as required by AAMA 2605-13.
Offering the longest lifecycle and true sustainability, chrome phosphate conversion coatings continue to be recognized by the world-class coating manufacturers, Akzo-Nobel, PPG, and Valspar, as the most effective, robust pretreatments for aluminum. As a result, products installed along the seacoast and in other harsh industrial environments may not be warranted-or the warranty length and coverage could be compromised-when a chrome pretreatment system is not employed.
These highest-performing 70 percent PVDF are required to perform to rigorous testing performance standards, including more than 4,000 hours of salt spray, and heat- and humidity-resistance to meet the AAMA 2605-13 specification.
Special Considerations
The shape and machining of the architectural aluminum products also may facilitate or deter corrosion. As examples:
Machined holes and cut ends of factory-finished aluminum components are protected by thin, naturally forming aluminum oxide. This oxide, while tenacious in its bond to the underlying aluminum substrate, may be susceptible to attack from strong cleaners or heavy salt deposits.
Hems and seams on aluminum components may be formed in a way that will collect sand. With movement, over time, this sand can erode away the painted coating or anodized finish.
Components may be shaped with areas that are left holding pooling or ponding water. This often can become a major issue for corrosion.
Specific to curtainwall and window systems' aluminum framing, ensure the weeps are large enough to avoid becoming plugged by salt deposits.
Anodize
When extreme hardness is required for the aluminum building components, such as in high-traffic areas like entranceways and railings, an anodized aluminum finish should be specified to meet AAMA 611-14. The hardness of anodized aluminum rivals that of the diamond. (On the Moh scale of hardness, a diamond is 10 and anodized aluminum is 9.)
Architectural anodize is specified for its natural beauty, but also for its long life and low maintenance. It provides excellent wear and abrasion resistance with minimal maintenance in most environments. It resists the ravages of time, temperature, corrosion, humidity and warping.
Anodized aluminum should meet the strict guidelines of Class I specifications of AAMA 611-14, including a minimum oxide coating thickness of 0.018 mm (0.7 mil); minimum of 10 years color retention on the South Florida on-fence testing site; and 3,000 hours corrosion resistance.
Cleaning and Maintenance
Studies have shown increasing levels of atmospheric pollution can have a negative effect on finish longevity in the absence of periodic maintenance. Runoff from adjacent site materials must be considered in a corrosion prevention plan. For example, mortar, cement and even gypsum dust can accumulate as alkaline deposits on aluminum surfaces and must be promptly rinsed. This is especially true of mill finish or anodized surfaces. While somewhat more resistant to alkaline attack than anodized surfaces, high-performance paint finishes can be managed by rough attempts to remove such buildup.
AAMA 609 and 610-15, Cleaning and Maintenance Guide for Architecturally Finished Aluminum, and AAMA CW 10-15, Care and Handling of Architectural Aluminum from Shop to Site, are general guides for these precautions and cleaning activities.
Corrosion of architectural aluminum materials is a fact that must be recognized; proper steps must be taken to minimize the potential for its occurrence. With these building considerations and preventive measures in place, finished architectural aluminum retains its intended look and long life, while providing the desired performance in the harshest environments, including the highly-corrosive seacoast. These qualities reduce the need to replace materials and components, conserve resources, optimize labor and save money.
Company: Linetec
Product: Anodizing
Source: http://www.linetec.com/Finishing_Facts/The-right-finish-for-coastal-projects.pdf
Tags: Aluminum | Building | Coating | Color | Design
---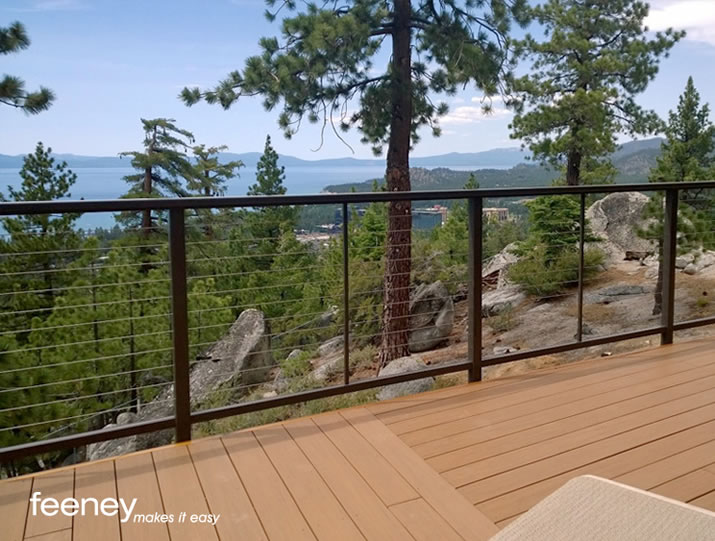 Composite decks are on the rise, with more options for consumers than ever before. Photo: DesignRail® aluminum railing on composite deck
What happened to the great backyard star, the deck? Today more and more decking contractors, remodelers, and dealers have quietly morphed into outdoor lifestyle specialists. While the deck still plays a leading role, it's now supported by a large backyard cast.
So reports Charlie Wardell, a contributing editor at Hanley Wood, the folks behind widely-read trade publications like PROFESSIONAL DECK BUILDER, BUILDER, and REMODELER. Recently Wardell shared his 2017 decking and railing outlook, gained from observations and exclusive interviews at the Deck Expo. The big takeaway: "A lot of companies are switching their marketing focus from decking and railing to outdoor living," Wardell told us in a private chat. "They're selling lifestyle rather than product."
The idea isn't new, of course, but the speed of transition may be. Mike Beaudry, executive director of NADRA (North American Deck and Railing Association), told Wardell their annual deck design award candidates used to be "deck after deck." Beaudry says "… it's now patios with connected decks and pools, screened-in porches, arbors, and outdoor kitchens." It's not your grandfather's backyard anymore. The new normal features LED lighting, pergolas, weather-proof storage cabinets, and other indoor amenities.
What else to look for this year:
Composite Decking
This year watch for composite boards that mimic distressed wood flooring, complete with variegated streaking. The rough-hewn rustic look appears in patterns won't repeat for up to 12 feet. Homeowners have never had so many composite choices for color, texture, installation ease, and price points.
User-Friendly
One composite flooring manufacturer says their boards have conquered a new frontier: They're bare-foot friendly … or at least, friendlier. They say the new composites don't give you the hot foot like standard composites. A special capstock technology reduces heat absorption by up to 35 percent. Even a cool new feature like this isn't always obvious to pros, much less consumers. "At first glance, most the composite decking products look very similar," Wardell tells us. "You have to ask questions to understand the differences."
Railings
"Buyers also want classier railings, which is reflected in the explosion of railing products," his states. Notable among them are cable rails, which Wardell says were especially prominent at the Expo. Lighting also features prominently in outdoor spaces, and is a great add-on to any railing.
Wardell likes the direction of industry innovation and rush to serve a mushrooming outdoor lifestyle segment. But, as he quickly adds, repositioning yourself in an evolving marketplace doesn't guarantee success. That still comes down to old-fashioned service, quality, and performance.
Company: Feeney, Inc
Product: DesignRail® Aluminum Railings
Source: http://media.feeneyinc.com/blog/backyard-2.0-2017-deck-and-railings-forecast
Tags: Design | Railing System | Safety
---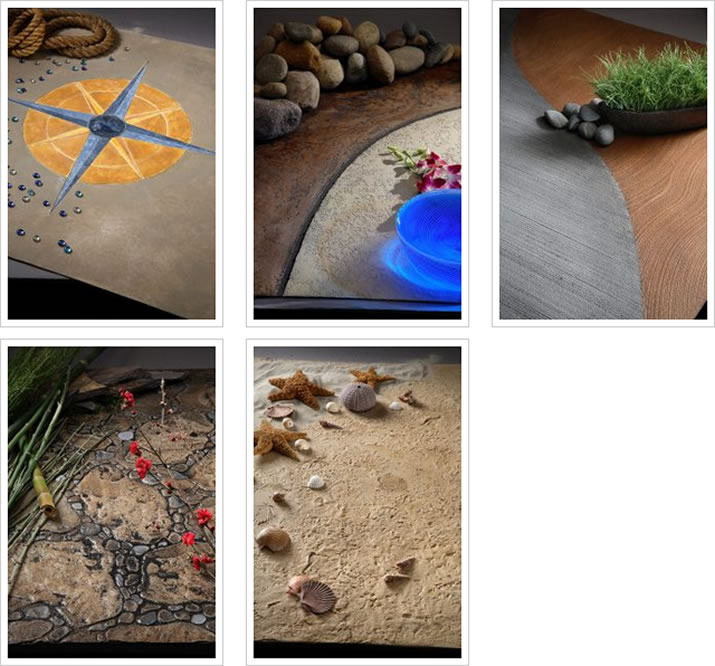 While cement-based overlays have been around for decades, many of the systems widely available today blend polymer resins with cement, sand and other additives to create a highly durable, attractive and easily maintained flooring overlay systems to be used over concrete.
With so many choices available on the market today, many questions arise as to the differences among polymer overlays, specifically in application and material, to achieve the functionality and appearance wanted by a client. Among the most popular choices:
Broom Finishes with Sealer and Optional Coloring
This type of overlay system finish is achieved by applying a base coat of thin-set resurfacing material over the surface by either squeegee or cement trowel. A second application is applied, and the surface is broom finished as new concrete is poured. The surface is then sealed with a sealer appropriate for the type of traffic that is anticipated.
Textured Finishes
This system is achieved by using two different types of application systems. Commonly known as a "knock-down" finish, it's applied using a standard compressor and drywall hopper gun. More specifically, thin-set resurfacing material is sprayed over the surface and flattened using a standard cement swivel trowel, leaving various high/low spots. This allows surface water to pool in the lower un-troweled areas, which is better known as "cool deck," since water sitting in the un-troweled areas allows water to stand and cools the deck. It's also frequently used on pool decks and areas where skid resistance is required.
The second method of texturing is probably the most common type of decorating finish used by contractors nationwide. With this particular coating, a base coat of thin-set material is applied to the surface by hand trowel or spray to creating different designs that simulate the appearance of either stone or limestone. It is then stained and sealed with the appropriate type of sealer specific to traffic area.
Decorative Overlays (?" and ¼")
These type of overlays are applied by trowel or screed rake. The ?" overlay is normally a seamless type of texture, giving the appearance of large simulated stone textures without grout joints, with hundreds of stamping mats area available in different designs and textures. Grout joints are cut into the surface after curing has taken place, and then the surface is stained and sealed with the appropriate sealer. The ¼" stamped overlay is very similar to the ?" overlay, except the pattern creates the simulation or design of individual stones with grout joints. The surface is then colored and sealed with the appropriate type of sealer depending upon the traffic.
Stain & Sealer Finishes
Staining and sealing of concrete surfaces is very popular in a wide range of environments. The system consists of staining the surface using water-based color-stains, dyes or acid stains, and then it's typically saw-cut in patterns, shapes or designs, color applied and sealed to meet the traffic needs of the area.
Of: Leane Owen
Source: http://super-krete.com/blog-navigating-the-wide-selection-of-polymer-overlays-over-concrete-substrates
Tags: Coating | Design | Finishes | Floor
---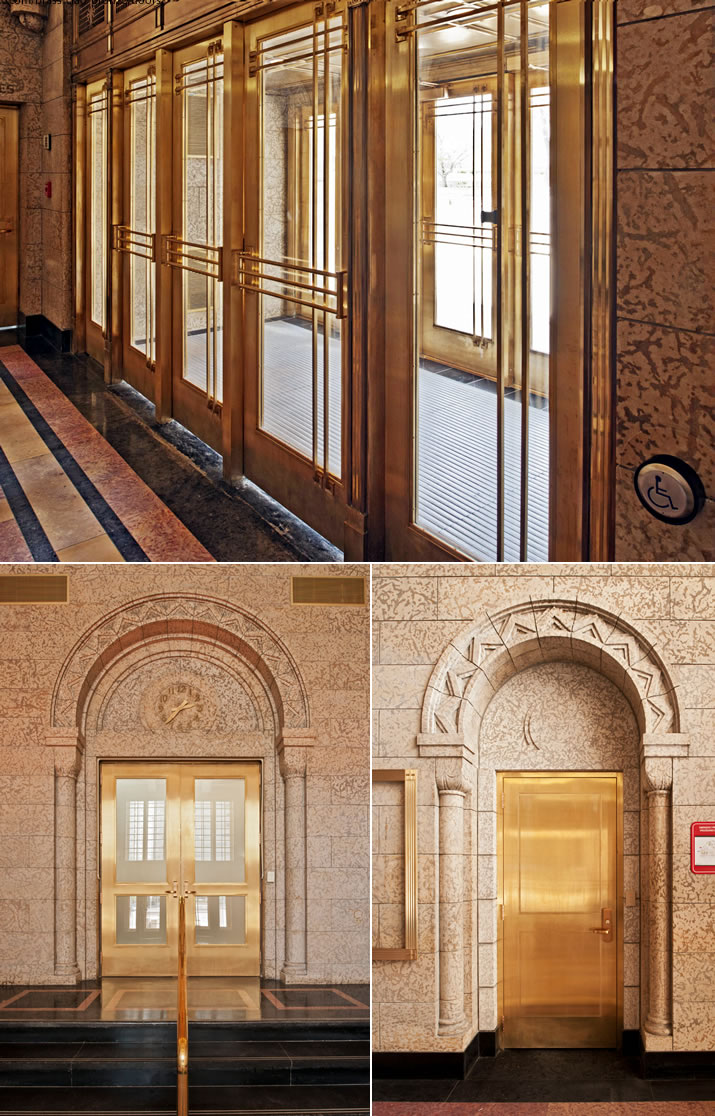 Ambico Limited was involved in retrofitting the Victory Building, a well-known piece of Winnipeg's downtown core that was constructed in the 1930s. Ambico was approached by the owner of the building to manufacture and retrofit doors at the entrance and lobby. Heritage architects of the Public Works Department of the Canadian government worked with AMBICO engineers to replicate doors that would complement the original design intent of the building's design team. This project was featured in DHI Magazine as a Case Study. Read the full case study.
Ambico decorative brass clad and bronze clad doors and frames combine outstanding visual appeal with rugged performance in the field. Products are designed in consultation with our project design team to meet the unique requirements of each job. Brass clad or bronze frame cladding is fastened to a heavy gauge steel sub-frame with a touch of craftsmanship. Decorative door face material is fastened to a rugged steel core with care and old world attention to detail. Door face can be manufactured in a stile and rail configuration or in a one piece seamless construction. Gleaming appearance of polished brass or bronze clad products projects an exclusive image at a surprisingly moderate cost. Antique finish of satin brass or bronze clad products suits the design requirements of historical renovation projects.
Company: Ambico
Product: Decorative Doors and Frames
Source: https://www.ambico.com/brass-clad-bronze-doors/
Tags: Design | Doors | Entrances | Metal
---
Flexible bollards are more than just traffic pylons. Rigid on their own, flexible bollards are designed to bend under vehicles—flexing up to 90 degrees—repeatedly, without losing their shape or form.
Flexible plastic minimizes damage
Prevent collision damage to vehicles, bollards and road surfaces
Save time and money
No need for upkeep or replacement—even after multiple impacts
Removable hardware available
View compatible bollards and hardware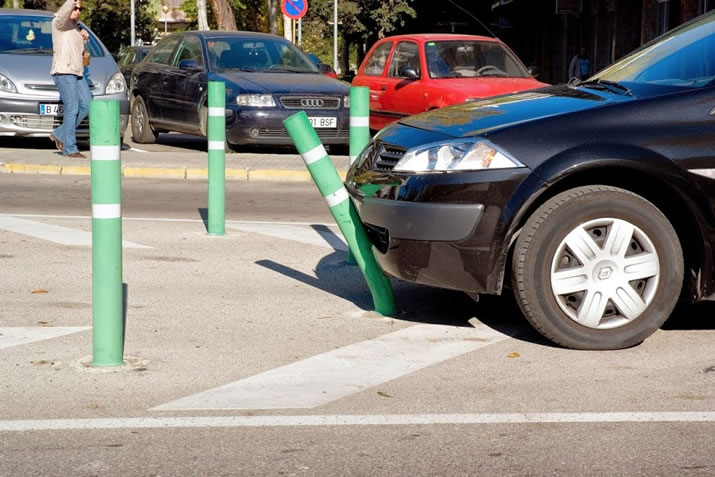 Flexible bollards
Flexible bollards indicate traffic boundaries and off-limit areas, while minimizing vehicle damage in case of collision. Install flexible bollards with inground mountings—fixed or removable—to avoid tampering or theft.
Flexible plastic bollards provide strong visual indicators, standing at an ideal height for drivers. While standard traffic cones are easily damaged or kicked out of place, quality bollards withstand heavy use in high-traffic environments for extended periods of time. Use flexible posts with other traffic-calming infrastructure such as medians, extended sidewalks and crosswalks.
Versatile installation
Flexible bollards can be installed with fixed or removable mounting hardware. For fixed installations, embed bollards in new concrete or bolt down into existing concrete surfaces. Removable hardware can be embedded into concrete to allow quick installation and removal. See individual item pages for installation options, or view all flexible bollards with removable features.
Durable plastic materials
Flexible bollards are made from durable polyurethane plastic to ensure lasting performance—tested to withstand full 90-degree flexion up to 50 impacts and partial 45-degree flexion up to 500 impacts. Coloring permeates throughout internal structures, so any scratches, scrapes or dents from extended use or impacts will show minimal markings. All bollards feature UV protection to minimize maintenance and prevent fading in sunlight.
High visibility
Flexible bollards ship in standard black to complement any contemporary or traditional architectural and landscape design. A selection of alternative colors are available—see individual item pages for details. All flexible bollards feature optional reflector strips in 1 of 4 colors.
Company: Reliance Foundry Co. Ltd.
Product: Flexible Bollards
Source: http://www.reliance-foundry.com/bollard/flexible-bendable
---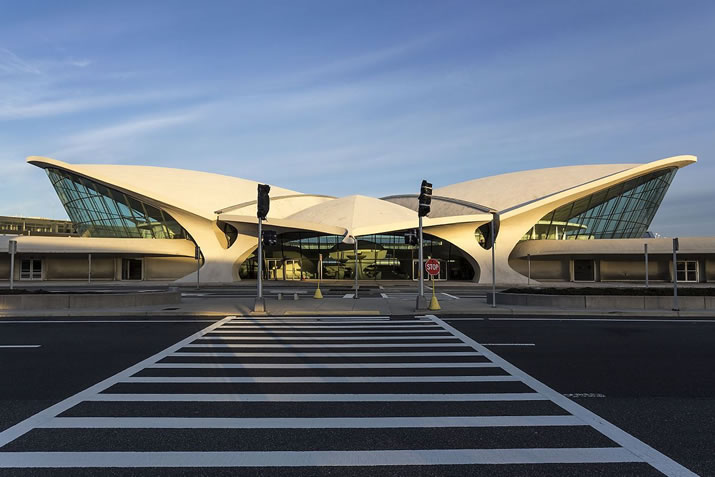 The TWA Flight Center at John F. Kennedy International Airport. Photo: Acroterion
After sitting vacant for 15 years, the Trans World Airlines (TWA) Terminal, located at New York's John F. Kennedy International Airport, will receive new life as a 505-room hotel. It will be the first on-site hotel for the JFK Airport and is set to open in 2018.
The TWA terminal originally opened its doors in 1962 and was designed by architect Eero Saarinen to resemble a bird in flight. Its layout, featuring a central main terminal with clusters of gates that branch out, was one of the first of its kind. The TWA terminal also featured enclosed passenger jetways, baggage carousels and electronic flight schedule boards. The main terminal is constructed of four curved steel-reinforced concrete shells that radiate out from a central point. Two of the curved concrete shells, the "wings of the bird," feature purple-tinted glass windows that angle out as they extend upward toward the roof line and offer views of planes landing and departing. The interior spaces maintain the same fluidity as the curved exterior with floors that swoop into stairwells and walls that curve seamlessly into the floors.
Despite its architectural beauty, the functionality of the TWA Terminal was hindered by its ability to accommodate the development of larger airplanes and an increase in passenger traffic. In 1994, the building was voted as an official landmark by the Landmarks Preservation Commission, but after continued financial trouble, TWA filed bankruptcy and the original terminal was shut down in 2001. While ideas were proposed to repurpose the building, most were rejected or failed and the building was left dormant. It was listed on the National Register of Historic Places in 2005 and efforts later began to restore the building to its original beauty.
The iconic main TWA terminal will remain intact and become a showcase element in the development of the new TWA Hotel. It will be flanked by two crescent-shaped buildings, which will be home to guest rooms, eight restaurants, and conference rooms. A new cocktail bar and nightclub will also be incorporated into the original building. The ambitious project plans to incorporate technology which will enable the building to generate its own power and is expected to be LEED-certified.
Company: Total Security Solutions Inc
Source: http://www.tssbulletproof.com/iconic-twa-terminal-receives-life/
Tags: Building | Design | Security
StonePly Success Story: Atlantis - The Cove (January 11, 2017), The Benefits of Water-Based Concrete Stains (January 2, 2017), Architectural Glass Takes on a New Shape (December 23, 2016), The Grand Louvre - Phase I - honored with AIA Twenty-five Year Award (December 22, 2016), 4 'Gotchas' that could derail your front entrance security upgrades (December 16, 2016), Case study: Otterbein University's STEAM Innovation Center featuring Extech's Lightwall 3000 series curtain wall system (December 15, 2016), Solutions for the entire building façade (December 9, 2016), Architects empowered to drive positive change at SXSW Eco (December 5, 2016), Major announces new Auburn® skylight option (November 25, 2016), Don't Make Color Decisions at Sunset (November 2, 2016), Roman Brick: for architects and homeowners aspiring for a unique look (October 26, 2016), Kelly Edwards' Tiny Home: Shipping container turned elegant living space with rooftop deck (October 21, 2016), Battery Life: introducing a new way to energize your outdoor space (October 12, 2016), Images in Concrete: Reckli Artico® (October 7, 2016), The future of insulated wall panels has arrived (September 28, 2016), Color Rendering Index: Why It's important in Outdoor Lighting (September 23, 2016), Make your buildings look good with uniquely designed polycarbonate products for building exteriors (September 19, 2016), Red, traditional brick color for traditional architecture (September 7, 2016), Armortex Waterjet Cutting (August 24, 2016), Summer 2016 in the Hamptons (August 19, 2016), AIA and Autodesk Introduce New Feature to Automate 2030 Commitment Reporting Data (August 15, 2016), The Feng Shui of Kalwall (July 11, 2016), Blackout & mesh shades in the same window? Dual Roller Shades are the solution! (July 5, 2016), Evolution Of Revolving Door Security: Teaching Old Doors New Tricks (July 4, 2016), Balancing Bulletproof Security and Design (June 21, 2016), Cut solar energy getting into buildings by up to 92% - stop it before it hits the glazing (June 17, 2016), Architects create tactical urbanism with AIA Design Competition (June 1, 2016), Turnstiles to Appear on Discovery Channel Show (May 6, 2016), Icynene Spray Foam: Water absorption comparison to other insulations (May 4, 2016), Cochran Expands and Enhances Landscape Forms Lifestyle Furniture for Terrace Life (April 29, 2016), Another Award-Winner: Verti-kal™ and the John Fry Sports Park Pavilion (April 22, 2016), Broan NuTone invents new mosquito barriers for decks (April 13, 2016), Guardian 275® translucent skylights provide a wide range of color, thermal performance and specialty application options (April 6, 2016), Creative Bike Racks That Make Your Space Stand Out (March 14, 2016), Better than real wood planks (March 9, 2016), The Plan to Turn NYC's Turnstiles Into Musical Instruments (February 29, 2016), 2016 Color Forecast (February 22, 2016), Maximize views with generous exterior glazing, while ensuring privacy and thermal efficiencies (February 19, 2016), Great Glazing: Rogers Memorial Hospital Brown Deer (February 8, 2016), Partnering with Architects to Make BulletProof Beautiful (February 3, 2016), Online Color Selection and Specification Tool (January 11, 2016), Kalwall Featured: Guide Dogs for the Blind New Student Residence (December 30, 2015), Designing Outdoor Public Spaces is Vital to the Future of our Cities (December 28, 2015), Active Design Guidelines for Walkable Communities (December 23, 2015), 3 buildings that balance aesthetics and performance (December 16, 2015), Making History: The National Constitution Center (December 11, 2015), Earn LEED Points With Florence Mailboxes (November 18, 2015), Data Center HVAC Design Considerations (October 26, 2015), Helping to retrofit Bronx Community College (October 5, 2015), A perfect blend between revolving doors and transparent architecture (September 4, 2015), Custom Mill Work, Bullet Resistant Barriers, and Inconspicuous Perfection (July 24, 2015), Structural Acoustic Roof Deck (July 3, 2015), Revolving Doors and ROI for Retail (June 10, 2015), April Showers Bring May Flowers… And Eco-Friendly Smart Glass (May 18, 2015), Suitable for framing: Kalwall brings distinct lighting to award-winning design (May 15, 2015), Mid-century modern design in Los Angeles (April 27, 2015), 5 Tips For How To Fill Perfect Looking Large Planters (April 22, 2015), Light your way with environmentally friendly solar lighting bollards (April 20, 2015), 10 Key Questions about Exterior Shading - free white paper (April 15, 2015), Make a Statement With Your Mailboxes (April 6, 2015), Beautiful, High Performance Finished Floor Solutions (April 1, 2015), Design Meets Security: Launching New Revolutionary Access Control Barrier Series at ISC West (March 27, 2015), Sunshades provide aesthetic appeal to the building exterior (March 23, 2015), Unique and secure bicycle storage (March 18, 2015), New product launched minutes ago! Central Park Conservancy (March 12, 2015), Entrance possibilities are endless! See the 7 elements of revolving door design (February 23, 2015), Architecture and Design for Today's Schools: Secure and Inviting (February 10, 2015), Aluminum Railing Frame Systems (January 28, 2015)