architecture - engineering - construction

Design
---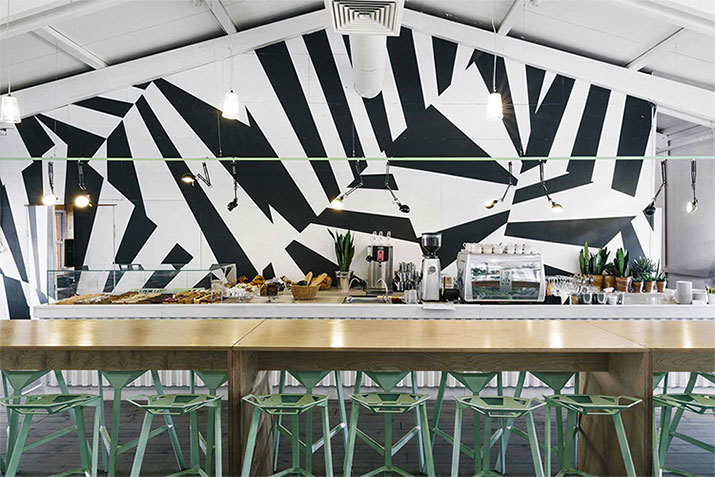 What was once the mainstay of paint design on World War I warships has transformed into an interior design trend that can add a punch of bold, modern elements to your next client project.
---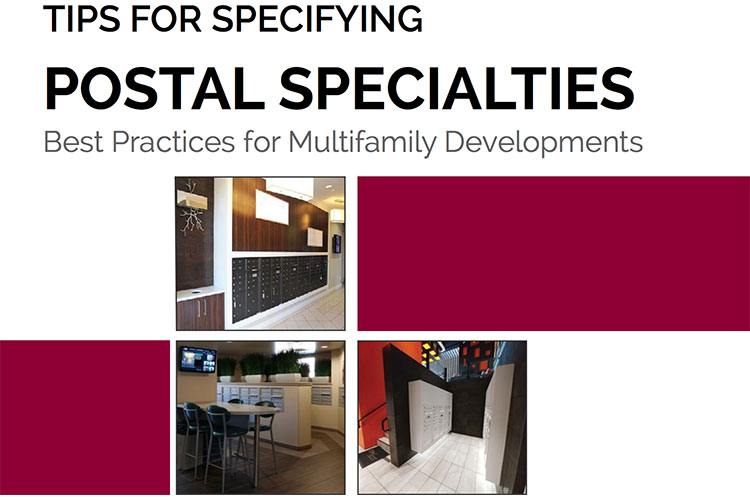 Florence Corporation has launched its new 20-page eBook with tips for specifying Postal Specialties and best practices for multifamily developments. This is a top resource for architects who are new to this line of work or long-time architects who want to ensure they are on track with current trends and requirements.
---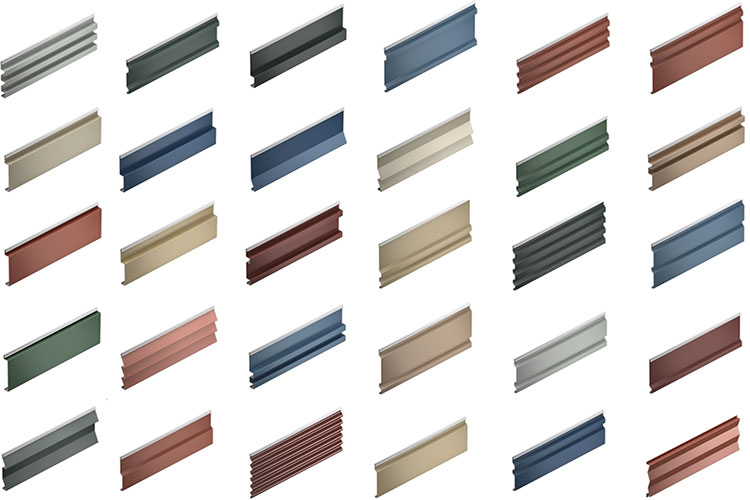 At Morin, we recognize that when you choose to design with Single Skin Metal, it's to get a particular look. Our job is to convert those CAD concepts into metal reality. We understand that choosing a Color and Profile for a building is a part of the signature look. Over the years, we have seen the evolution and increase of using multiple profiles and combining colors for a specific effect. We saw more demand for combining profiles, we wanted to expand our offering to match that demand. We wanted to give Architects a large simple palette of profiles to use with an infinite color selection. To that end, we share three concepts.
---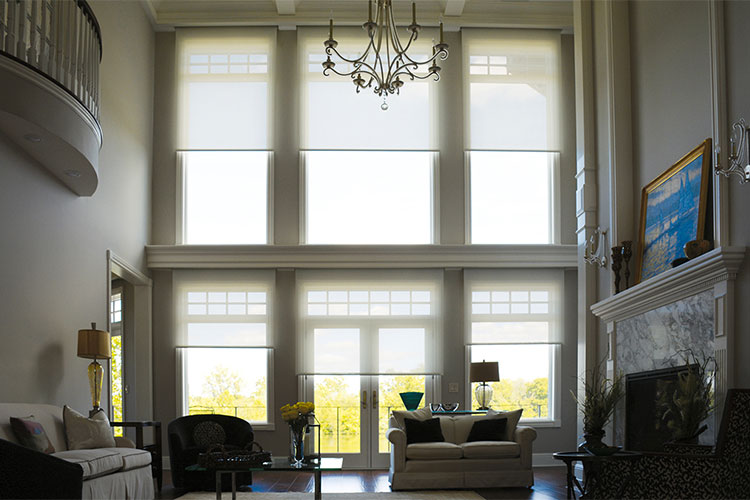 A plethora of choices exist when it comes to customizing window shades. From color combinations and openness factor to panels built to fit individual window specs and environmental benefits, window shades are one of the most customizable design solutions you can find. And they add a personalized touch, especially when it comes to their controls. Control systems give users the ability to personalize shades to their needs and preferences. Here are just a few examples of how the right shade control system can create a custom experience.
---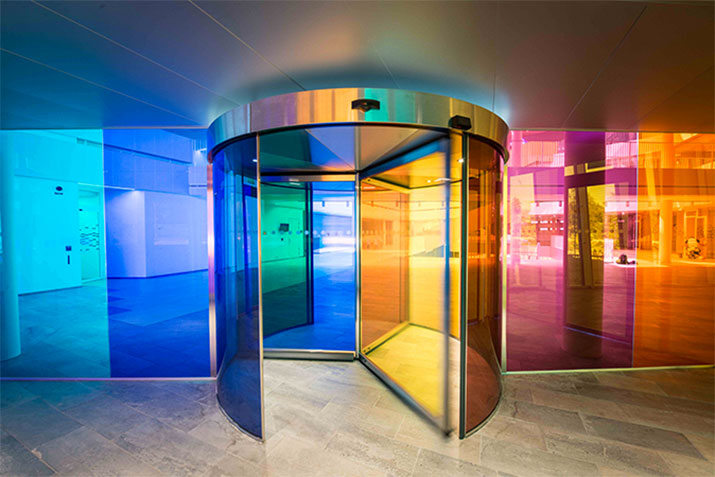 When entering the new Segerstedthuset building at the Uppsala University in Sweden – guests, students and employees alike are cheerfully greeted by a colourful revolving door. This unique door is an art installation by renowned American artist Spencer Finch (http://www.spencerfinch.com/) and is aptly named 'The Colour Wheel'. The artist is best known for installations that visualise his experience of the nature of light, colour, memory.
---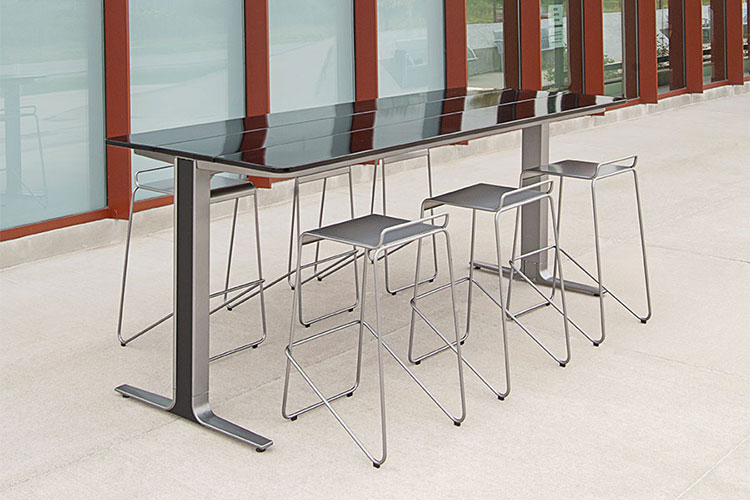 Bring people together where ideas, insight and inspiration can be shared with the new Ancora table by Maglin. This bar height table is available in 6 FT and 8 FT lengths and pairs well with Bar Height Foro and Kontur Stools. Available in steel and recycled plastic, this modern table leaves a lasting impression.
---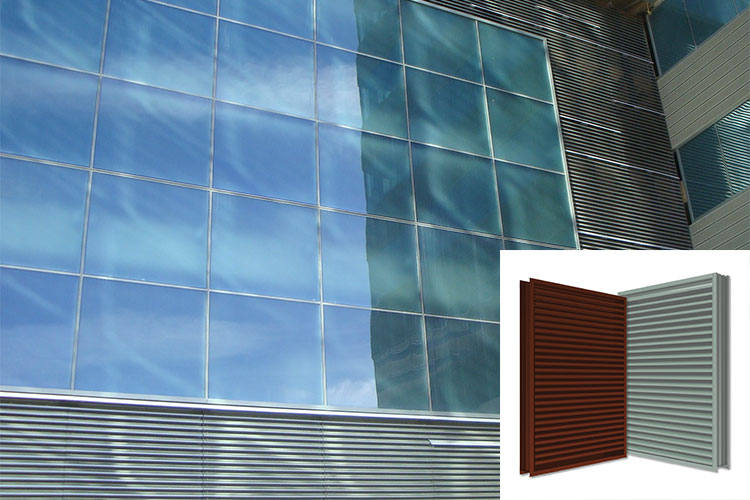 Wind-driven rain louvers provide the maximum amount of protection in keeping wind-driven rain from egressing past an opening. Wind-driven rain louver models have both horizontal and vertical orientations and utilize a chevron style rain resistant blade that rejects horizontal rain as it comes in contact with the louver. These louvers are tested per AMCA 500-L at wind velocities of 29 and 50 miles per hour. Based on the results of the testing, the louvers are then graded from A to D, with A being the best performance at 99% effective or better at repelling wind-driven rain, B being 98.9% to 95% effective, C being 94.9% to 80% effective, and D being below 80% effective. Additionally, some wind-driven rain models have also been tested for impact and qualify as louvers that can be installed in states like Florida where hurricane conditions exist.
---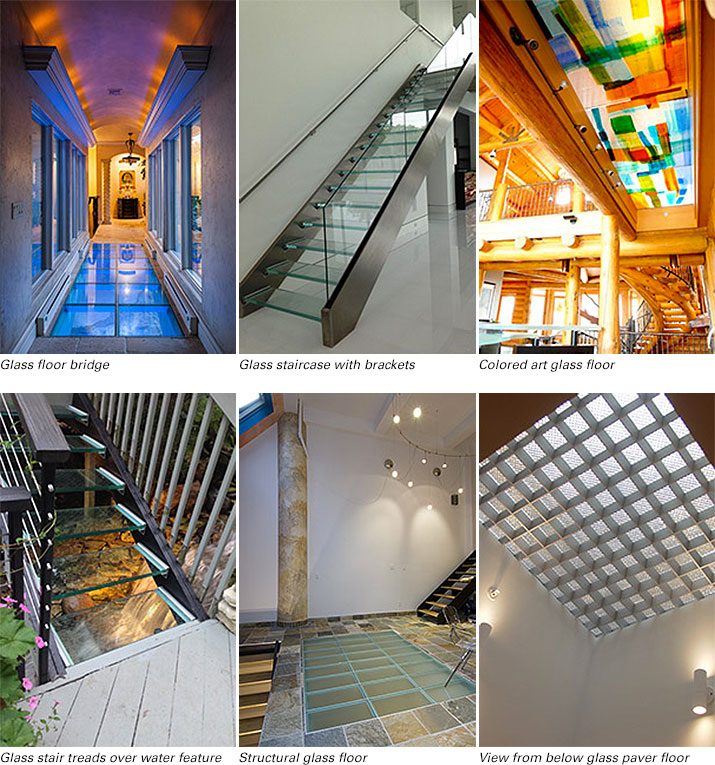 Glass flooring provides an exciting combination of style and function, making a dramatic impression in both residential and commercial spaces. Structural glass floors, bridges, landings and stair treads can add light to lower level spaces and provide a unique design element to any interior.
---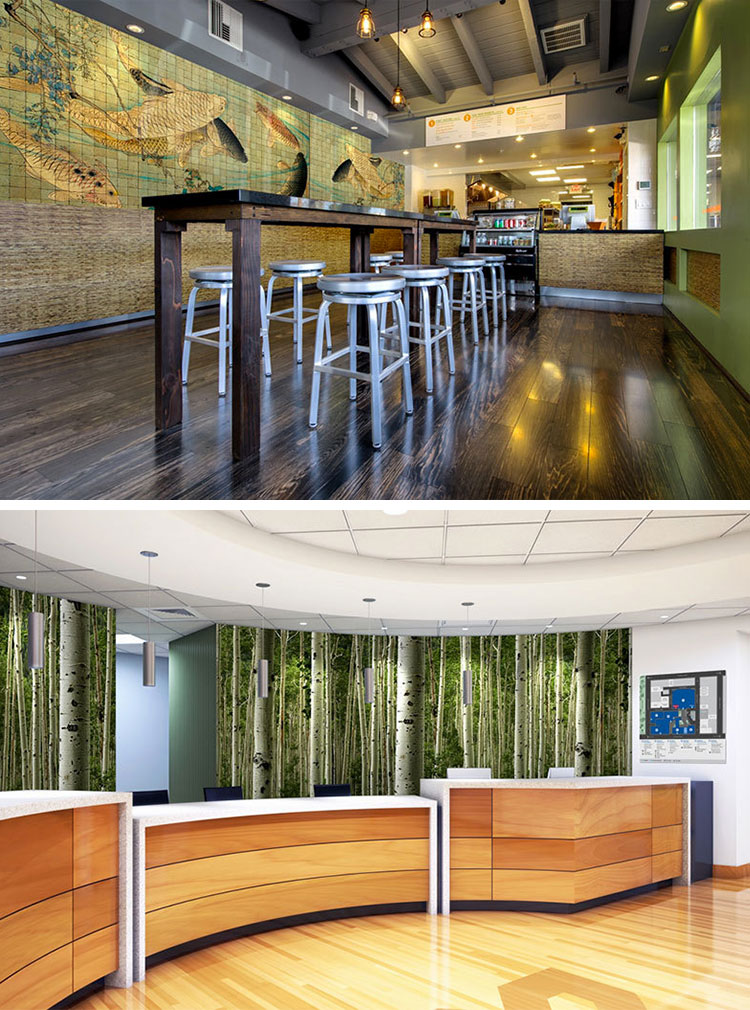 LuxCore are translucent panels that pass sanitary codes and are easy to clean. Therefore, it is suitable for wet environments such as commercial kitchens and baths. LuxCore resists scratching and is highly durable, making it perfect Wall protection in high traffic areas.
---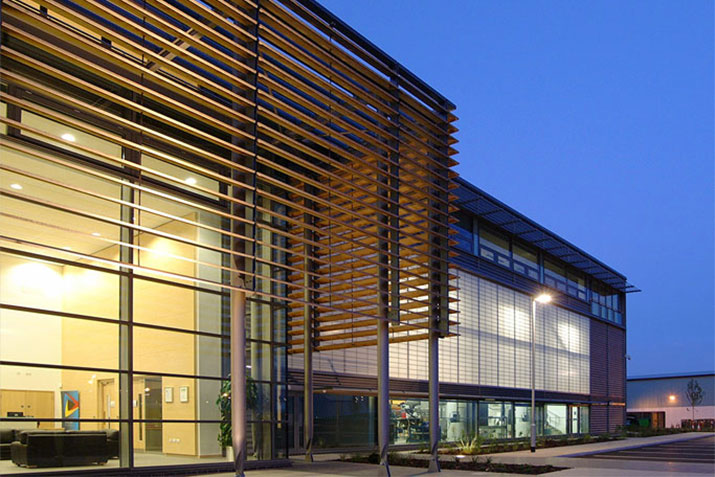 Daylighting is essential to any modern manufacturing facility as a proven way to increase productivity. Incorporating diffused natural daylight challenges architects to find creative ways to design aesthetically pleasing, yet functional and, in many cases, secure and protected spaces. Kalwall allows that creativity while meeting the most demanding manufacturing requirements for areas that need high visual acuity and visual privacy, in addition to reducing maintenance and energy costs.
---
Do you understand the five phases of design? Here is some insight:
---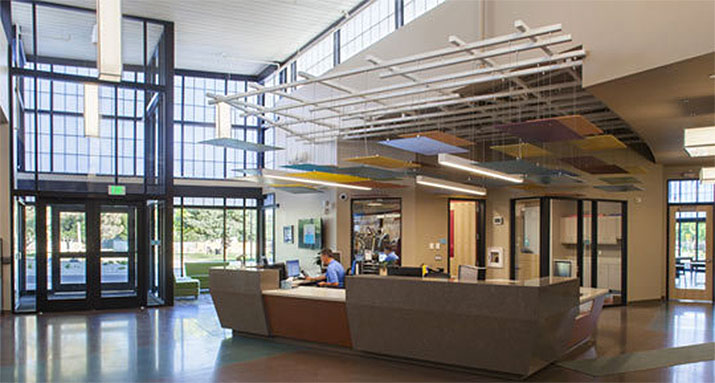 First impressions are important, and the same holds true for building entrances. Whether you're welcoming potential customers, trying to calm worried patients, or hosting teachers and students, their initial interaction with the space can set the overall mood and tenor of their experience.
---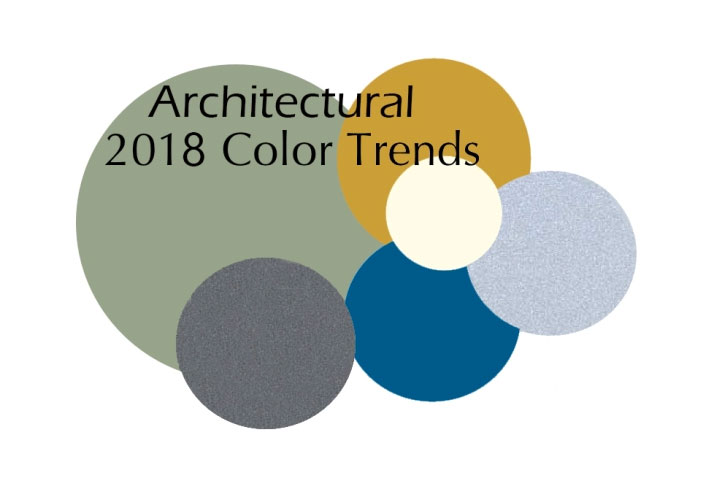 When it comes to color predictions and trends for each new year, everyone is releasing their new "it" color or shade, from the fashion scene to home décor to automotive to the architectural and construction industry. This includes Valspar; they do intense research to create distinct trends and themes for the architectural coatings industry. Valspar's color trends closely align with those of the CMG's International Key Colors for 2018.
---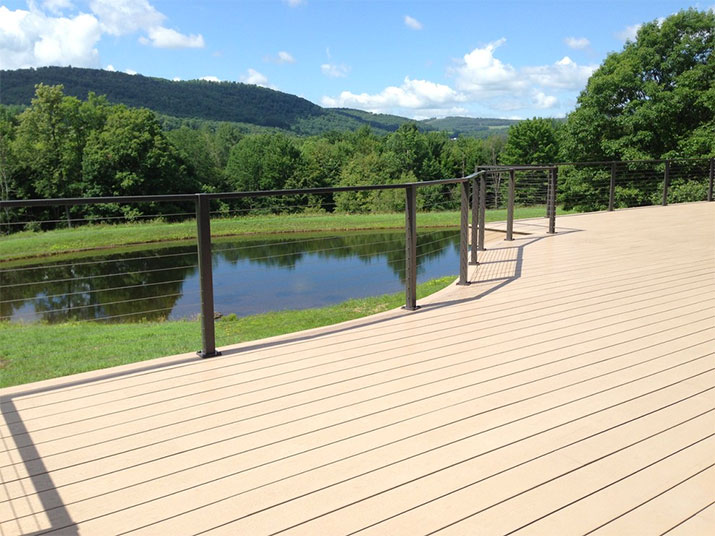 Cable railings have become a popular choice in recent years for completing decks, stairways and other projects in homes, commercial buildings and public spaces. They are easy to install and designed to withstand weather extremes, providing a low-maintenance railing with many benefits. In fact, many buildings that incorporate cable railings through remodeling or retrofitting see an increase in resale value.
---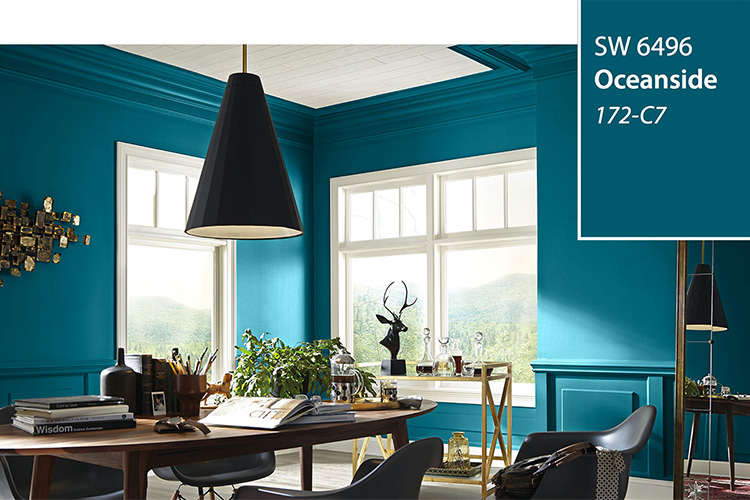 It's a blue unlike any other — Oceanside SW 6496 (172-C7) offers all the intrigue of blue, but with added depth. Imagine the possibilities.
---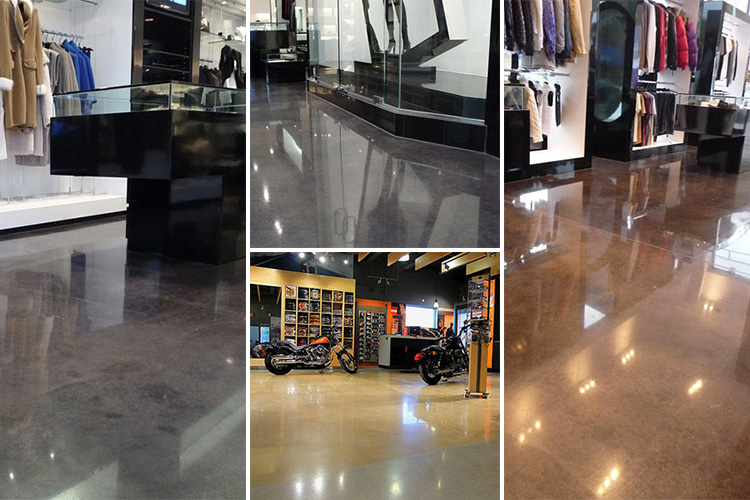 Polished concrete flooring is one of the hottest trends for homeowners and business owners alike. Thanks to recent advancements in equipment and technology, the process of polishing concrete is more efficient and economical than ever. Concrete surfaces, both old and new, can be polished to a high-luster finish. When compared to other types of flooring: marble, tile, linoleum, wood and coated concrete, polished concrete is more durable and better performing. Polished concrete never needs waxing and is therefore low maintenance as well.
---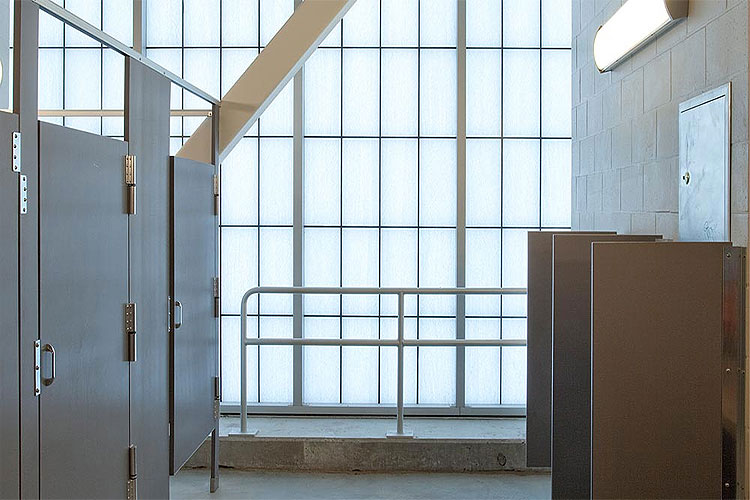 When we talk about daylighting, the first thing that comes to mind is often the image of natural light pouring into a space... but what happens when you need to bring light to a area that also demands privacy?
---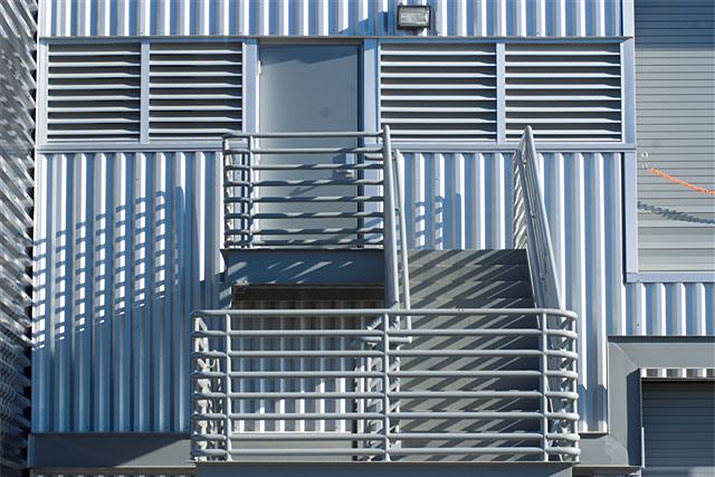 Architectural Wall Louvers are used to allow air into a building, while keeping out undesirable elements from mother nature like rain, water, dirt, and debris. They also add the extra element of aesthetic design to a building exterior. Use your air intake or ventilation requirements to improve the look of any building.
---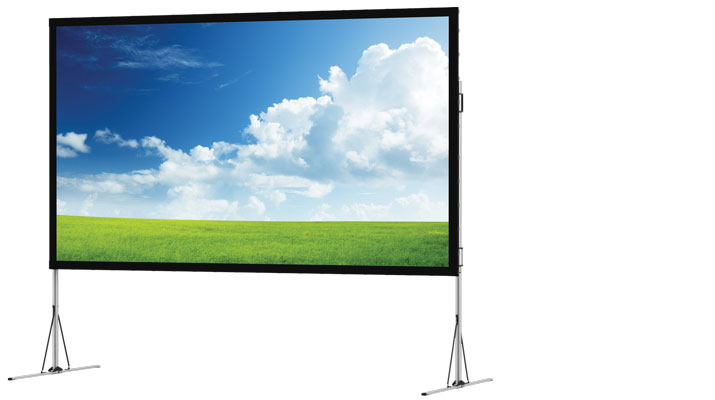 Fast-Fold NXT is a stronger, faster and simpler screen system for rental and staging environments. The re-invented design features a stronger extrusion, hinge and corner as well as new height adjustment that allows the viewing area to be raised and lowered easily. A new case design upgrades the storage and transport capabilities, and a foldable 4K-ready surface is the first and only available on the market.
---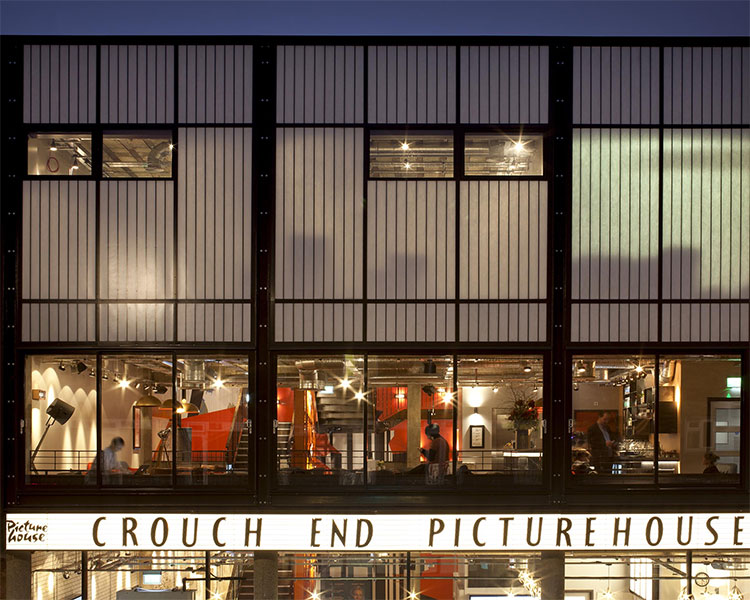 The design challenges facing architects and builders when renovating older buildings are considerable from increasing energy efficiency, to navigating inherited structural and building code changes. Here are five projects highlighting how such issues were solved, and illustrate some incredible transformations.
Builder Spotlight: Jordan Iverson - Pride of Eugene, Oregon (November 13, 2017), Custom outdoor furniture that reflects your vision (November 10, 2017), Not all access covers are created equal (November 6, 2017), Lines, grids & aesthetics in translucent panel systems (November 3, 2017), Translucent Panels | Chesapeake Boathouse, Oklahoma City (October 31, 2017), Draper takes new angle to solve glare and heat gain (October 30, 2017), Sto Werkstatt features alternative glass architecture by Space Popular (October 20, 2017), ViuLite® insulating glass with integrated premium quality blinds (October 17, 2017), Armstrong® Ceilings Taps Broad Range of Capabilities To Bring One-of-a-Kind Ceiling Ideas to Life (October 4, 2017), Special Brick Shapes (October 3, 2017), Linetec finishes Loewen windows for Canada's Windermere House (September 27, 2017), 4 Major Advantages of Decorative Concrete in Commercial Settings (September 25, 2017), New facility at Dupage Airport in Chicago features Extech's systems (September 21, 2017), Stagescreen Portable Projection Screen® (September 12, 2017), Mitigating Protests, Smart Mobs and Crime with Manual Revolving Doors (September 6, 2017), Green: The Color that Became a Building Philosophy (September 5, 2017), Ogden by Maglin Site Furniture offers flexible straight, curved or circular bench options to suit any style (August 25, 2017), Visual Blog: Kalwall in the Cultural Market (August 22, 2017), Ruskin's acoustical louvers are AMCA licensed for water penetration and air performance (August 21, 2017), Not all access covers are created equal (August 14, 2017), Little things make a big difference (August 14, 2017), How to deliver true color to your clients (August 11, 2017), Sustainable and small: The tiny house movement (August 9, 2017), Architectural Series Roof Guardrail System (August 8, 2017), Slipnot® provides slip resistance and aesthetic display for Times Square spotlight on Broadway project (August 7, 2017), Lake Avenue light poles restoration - Pasadena, California (August 2, 2017), SC Railing Company: Offering a View from the Top (July 31, 2017), TerraCast Step Planters Bring Innovation to Reclaim Public Spaces in Major U.S. Locations (July 28, 2017), 5 Little Known Facts about High Gloss Acrylic Wall Panels (July 24, 2017), What the New Urban Agenda means for architects (July 21, 2017), Gorgeous Atriums that Meet Design Aesthetic and Safety Code (July 19, 2017), Maglin Moves Manhattan (July 6, 2017), Great thermal performance + corrosion resistance = Clima-Tite™ translucent wall systems with fiberglass framing (June 29, 2017), Swedish hospital 'takes a chance' on Howe Green (June 21, 2017), Summer Birds Nesting on Your Property? (June 6, 2017), Glazing Over Global Trends: Larger Formats and Smaller Sight Lines (May 29, 2017), Door Access Control & Security Entrance Integration Techniques (May 24, 2017), UNO Helix / Spiral large scale LED fixtures (May 23, 2017), EXTECH offers LIGHTWALL 3440 translucent wall system with three new glazing options (May 15, 2017), Sherwin-Williams converts digital color into fresh coats of paint for a good cause (May 11, 2017), Solar shading systems: fixed & motorized louvers (May 3, 2017), Auburn® custom & pre-engineered skylights (May 1, 2017), Warwick Hotel Rittenhouse Square boasts unique, stylish lobby entrance with revolving door (April 24, 2017), 2017 COTE Top Ten - Setting the standard in design and sustainability (April 20, 2017), KINETICWALL wins 2017 Architizer A+ Award (April 19, 2017), Bicycle security solutions (April 14, 2017), Striking the Right Color Balance in ALR Screens (April 10, 2017), Guard Houses (April 3, 2017), New AIA Certified Course on Resilient Design (March 6, 2017), Global changes in construction: Kalwall's insights from BAU (March 1, 2017), Ventilation for you the music fan: Brilliant audio performance concealed behind your fan grille (February 27, 2017), Choosing the right finish for coastal projects (February 24, 2017), Backyard 2.0: 2017 Deck and Railings Forecast (February 8, 2017), Navigating the wide selection of polymer overlays over concrete substrates (February 2, 2017), Brass clad & bronze clad doors & frames (January 30, 2017), Flexible bollards guide traffic while avoiding costly collision damage and repairs (January 27, 2017), Iconic TWA Terminal Receives New Life (January 18, 2017), StonePly Success Story: Atlantis - The Cove (January 11, 2017), The Benefits of Water-Based Concrete Stains (January 2, 2017), Architectural Glass Takes on a New Shape (December 23, 2016), The Grand Louvre - Phase I - honored with AIA Twenty-five Year Award (December 22, 2016), 4 'Gotchas' that could derail your front entrance security upgrades (December 16, 2016), Case study: Otterbein University's STEAM Innovation Center featuring Extech's Lightwall 3000 series curtain wall system (December 15, 2016), Solutions for the entire building façade (December 9, 2016), Architects empowered to drive positive change at SXSW Eco (December 5, 2016), Major announces new Auburn® skylight option (November 25, 2016), Don't Make Color Decisions at Sunset (November 2, 2016), Roman Brick: for architects and homeowners aspiring for a unique look (October 26, 2016), Kelly Edwards' Tiny Home: Shipping container turned elegant living space with rooftop deck (October 21, 2016), Battery Life: introducing a new way to energize your outdoor space (October 12, 2016), Images in Concrete: Reckli Artico® (October 7, 2016), The future of insulated wall panels has arrived (September 28, 2016), Color Rendering Index: Why It's important in Outdoor Lighting (September 23, 2016), Make your buildings look good with uniquely designed polycarbonate products for building exteriors (September 19, 2016), Red, traditional brick color for traditional architecture (September 7, 2016), Armortex Waterjet Cutting (August 24, 2016), Summer 2016 in the Hamptons (August 19, 2016), AIA and Autodesk Introduce New Feature to Automate 2030 Commitment Reporting Data (August 15, 2016), The Feng Shui of Kalwall (July 11, 2016), Blackout & mesh shades in the same window? Dual Roller Shades are the solution! (July 5, 2016), Evolution Of Revolving Door Security: Teaching Old Doors New Tricks (July 4, 2016), Balancing Bulletproof Security and Design (June 21, 2016), Cut solar energy getting into buildings by up to 92% - stop it before it hits the glazing (June 17, 2016), Architects create tactical urbanism with AIA Design Competition (June 1, 2016), Turnstiles to Appear on Discovery Channel Show (May 6, 2016), Icynene Spray Foam: Water absorption comparison to other insulations (May 4, 2016), Cochran Expands and Enhances Landscape Forms Lifestyle Furniture for Terrace Life (April 29, 2016), Another Award-Winner: Verti-kal™ and the John Fry Sports Park Pavilion (April 22, 2016), Broan NuTone invents new mosquito barriers for decks (April 13, 2016), Guardian 275® translucent skylights provide a wide range of color, thermal performance and specialty application options (April 6, 2016), Creative Bike Racks That Make Your Space Stand Out (March 14, 2016), Better than real wood planks (March 9, 2016), The Plan to Turn NYC's Turnstiles Into Musical Instruments (February 29, 2016), 2016 Color Forecast (February 22, 2016), Maximize views with generous exterior glazing, while ensuring privacy and thermal efficiencies (February 19, 2016), Great Glazing: Rogers Memorial Hospital Brown Deer (February 8, 2016), Partnering with Architects to Make BulletProof Beautiful (February 3, 2016), Online Color Selection and Specification Tool (January 11, 2016), Kalwall Featured: Guide Dogs for the Blind New Student Residence (December 30, 2015), Designing Outdoor Public Spaces is Vital to the Future of our Cities (December 28, 2015), Active Design Guidelines for Walkable Communities (December 23, 2015), 3 buildings that balance aesthetics and performance (December 16, 2015), Making History: The National Constitution Center (December 11, 2015), Earn LEED Points With Florence Mailboxes (November 18, 2015), Data Center HVAC Design Considerations (October 26, 2015), Helping to retrofit Bronx Community College (October 5, 2015), A perfect blend between revolving doors and transparent architecture (September 4, 2015), Custom Mill Work, Bullet Resistant Barriers, and Inconspicuous Perfection (July 24, 2015), Structural Acoustic Roof Deck (July 3, 2015), Revolving Doors and ROI for Retail (June 10, 2015), April Showers Bring May Flowers… And Eco-Friendly Smart Glass (May 18, 2015), Suitable for framing: Kalwall brings distinct lighting to award-winning design (May 15, 2015), Mid-century modern design in Los Angeles (April 27, 2015), 5 Tips For How To Fill Perfect Looking Large Planters (April 22, 2015), Light your way with environmentally friendly solar lighting bollards (April 20, 2015), 10 Key Questions about Exterior Shading - free white paper (April 15, 2015), Make a Statement With Your Mailboxes (April 6, 2015), Beautiful, High Performance Finished Floor Solutions (April 1, 2015), Design Meets Security: Launching New Revolutionary Access Control Barrier Series at ISC West (March 27, 2015), Sunshades provide aesthetic appeal to the building exterior (March 23, 2015), Unique and secure bicycle storage (March 18, 2015), New product launched minutes ago! Central Park Conservancy (March 12, 2015), Entrance possibilities are endless! See the 7 elements of revolving door design (February 23, 2015), Architecture and Design for Today's Schools: Secure and Inviting (February 10, 2015), Aluminum Railing Frame Systems (January 28, 2015)