architecture - engineering - construction

Design
---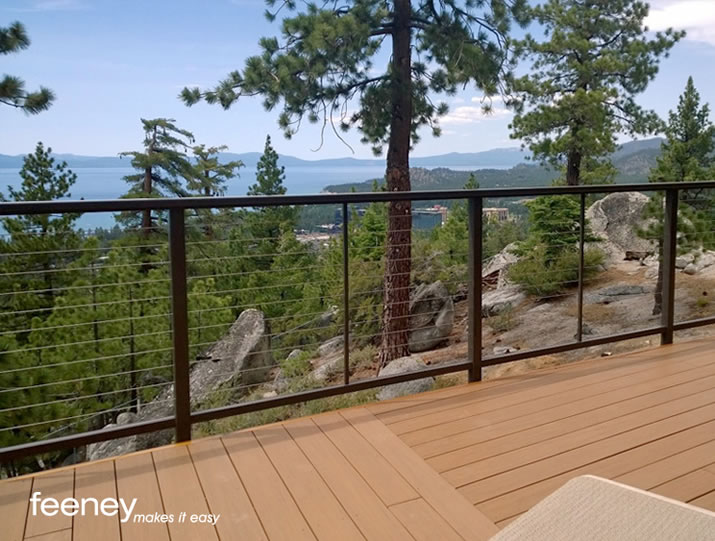 Composite decks are on the rise, with more options for consumers than ever before. Photo: DesignRail® aluminum railing on composite deck
What happened to the great backyard star, the deck? Today more and more decking contractors, remodelers, and dealers have quietly morphed into outdoor lifestyle specialists. While the deck still plays a leading role, it's now supported by a large backyard cast.
So reports Charlie Wardell, a contributing editor at Hanley Wood, the folks behind widely-read trade publications like PROFESSIONAL DECK BUILDER, BUILDER, and REMODELER. Recently Wardell shared his 2017 decking and railing outlook, gained from observations and exclusive interviews at the Deck Expo. The big takeaway: "A lot of companies are switching their marketing focus from decking and railing to outdoor living," Wardell told us in a private chat. "They're selling lifestyle rather than product."
The idea isn't new, of course, but the speed of transition may be. Mike Beaudry, executive director of NADRA (North American Deck and Railing Association), told Wardell their annual deck design award candidates used to be "deck after deck." Beaudry says "… it's now patios with connected decks and pools, screened-in porches, arbors, and outdoor kitchens." It's not your grandfather's backyard anymore. The new normal features LED lighting, pergolas, weather-proof storage cabinets, and other indoor amenities.
What else to look for this year:
Composite Decking
This year watch for composite boards that mimic distressed wood flooring, complete with variegated streaking. The rough-hewn rustic look appears in patterns won't repeat for up to 12 feet. Homeowners have never had so many composite choices for color, texture, installation ease, and price points.
User-Friendly
One composite flooring manufacturer says their boards have conquered a new frontier: They're bare-foot friendly … or at least, friendlier. They say the new composites don't give you the hot foot like standard composites. A special capstock technology reduces heat absorption by up to 35 percent. Even a cool new feature like this isn't always obvious to pros, much less consumers. "At first glance, most the composite decking products look very similar," Wardell tells us. "You have to ask questions to understand the differences."
Railings
"Buyers also want classier railings, which is reflected in the explosion of railing products," his states. Notable among them are cable rails, which Wardell says were especially prominent at the Expo. Lighting also features prominently in outdoor spaces, and is a great add-on to any railing.
Wardell likes the direction of industry innovation and rush to serve a mushrooming outdoor lifestyle segment. But, as he quickly adds, repositioning yourself in an evolving marketplace doesn't guarantee success. That still comes down to old-fashioned service, quality, and performance.
Company: Feeney, Inc
Product: DesignRail® Aluminum Railings
Source: http://media.feeneyinc.com/blog/backyard-2.0-2017-deck-and-railings-forecast
Tags: Design | Railing System | Safety
---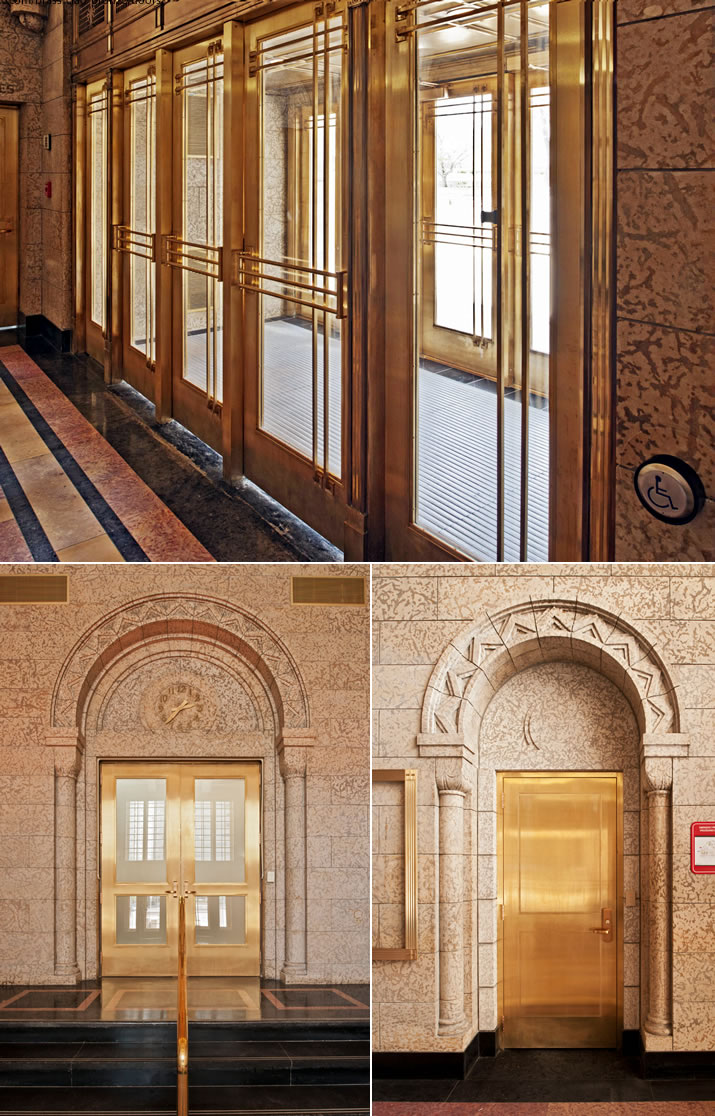 Ambico Limited was involved in retrofitting the Victory Building, a well-known piece of Winnipeg's downtown core that was constructed in the 1930s. Ambico was approached by the owner of the building to manufacture and retrofit doors at the entrance and lobby. Heritage architects of the Public Works Department of the Canadian government worked with AMBICO engineers to replicate doors that would complement the original design intent of the building's design team. This project was featured in DHI Magazine as a Case Study. Read the full case study.
Ambico decorative brass clad and bronze clad doors and frames combine outstanding visual appeal with rugged performance in the field. Products are designed in consultation with our project design team to meet the unique requirements of each job. Brass clad or bronze frame cladding is fastened to a heavy gauge steel sub-frame with a touch of craftsmanship. Decorative door face material is fastened to a rugged steel core with care and old world attention to detail. Door face can be manufactured in a stile and rail configuration or in a one piece seamless construction. Gleaming appearance of polished brass or bronze clad products projects an exclusive image at a surprisingly moderate cost. Antique finish of satin brass or bronze clad products suits the design requirements of historical renovation projects.
Company: Ambico
Product: Decorative Doors and Frames
Source: https://www.ambico.com/brass-clad-bronze-doors/
Tags: Design | Doors | Entrances | Metal
---
Flexible bollards are more than just traffic pylons. Rigid on their own, flexible bollards are designed to bend under vehicles—flexing up to 90 degrees—repeatedly, without losing their shape or form.
Flexible plastic minimizes damage
Prevent collision damage to vehicles, bollards and road surfaces
Save time and money
No need for upkeep or replacement—even after multiple impacts
Removable hardware available
View compatible bollards and hardware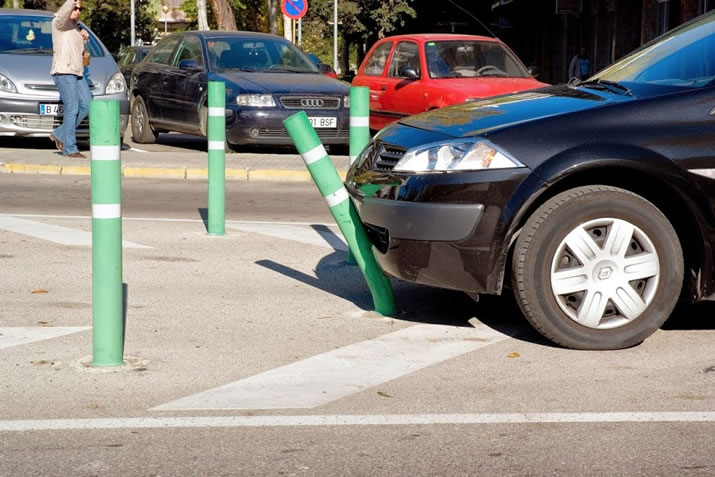 Flexible bollards
Flexible bollards indicate traffic boundaries and off-limit areas, while minimizing vehicle damage in case of collision. Install flexible bollards with inground mountings—fixed or removable—to avoid tampering or theft.
Flexible plastic bollards provide strong visual indicators, standing at an ideal height for drivers. While standard traffic cones are easily damaged or kicked out of place, quality bollards withstand heavy use in high-traffic environments for extended periods of time. Use flexible posts with other traffic-calming infrastructure such as medians, extended sidewalks and crosswalks.
Versatile installation
Flexible bollards can be installed with fixed or removable mounting hardware. For fixed installations, embed bollards in new concrete or bolt down into existing concrete surfaces. Removable hardware can be embedded into concrete to allow quick installation and removal. See individual item pages for installation options, or view all flexible bollards with removable features.
Durable plastic materials
Flexible bollards are made from durable polyurethane plastic to ensure lasting performance—tested to withstand full 90-degree flexion up to 50 impacts and partial 45-degree flexion up to 500 impacts. Coloring permeates throughout internal structures, so any scratches, scrapes or dents from extended use or impacts will show minimal markings. All bollards feature UV protection to minimize maintenance and prevent fading in sunlight.
High visibility
Flexible bollards ship in standard black to complement any contemporary or traditional architectural and landscape design. A selection of alternative colors are available—see individual item pages for details. All flexible bollards feature optional reflector strips in 1 of 4 colors.
Company: Reliance Foundry Co. Ltd.
Product: Flexible Bollards
Source: http://www.reliance-foundry.com/bollard/flexible-bendable
---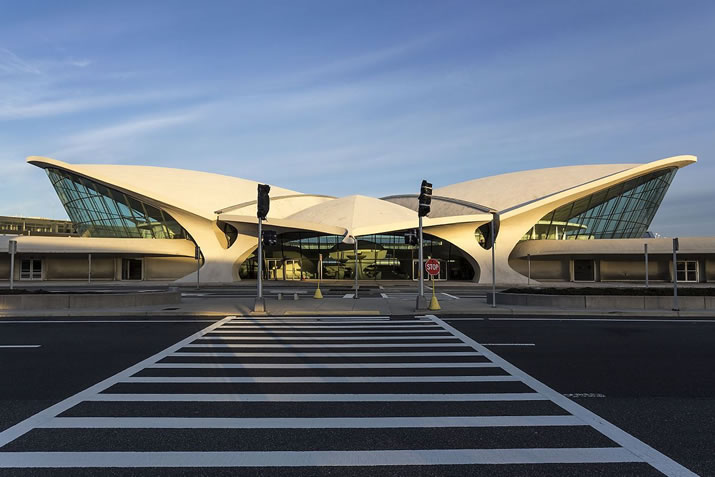 The TWA Flight Center at John F. Kennedy International Airport. Photo: Acroterion
After sitting vacant for 15 years, the Trans World Airlines (TWA) Terminal, located at New York's John F. Kennedy International Airport, will receive new life as a 505-room hotel. It will be the first on-site hotel for the JFK Airport and is set to open in 2018.
The TWA terminal originally opened its doors in 1962 and was designed by architect Eero Saarinen to resemble a bird in flight. Its layout, featuring a central main terminal with clusters of gates that branch out, was one of the first of its kind. The TWA terminal also featured enclosed passenger jetways, baggage carousels and electronic flight schedule boards. The main terminal is constructed of four curved steel-reinforced concrete shells that radiate out from a central point. Two of the curved concrete shells, the "wings of the bird," feature purple-tinted glass windows that angle out as they extend upward toward the roof line and offer views of planes landing and departing. The interior spaces maintain the same fluidity as the curved exterior with floors that swoop into stairwells and walls that curve seamlessly into the floors.
Despite its architectural beauty, the functionality of the TWA Terminal was hindered by its ability to accommodate the development of larger airplanes and an increase in passenger traffic. In 1994, the building was voted as an official landmark by the Landmarks Preservation Commission, but after continued financial trouble, TWA filed bankruptcy and the original terminal was shut down in 2001. While ideas were proposed to repurpose the building, most were rejected or failed and the building was left dormant. It was listed on the National Register of Historic Places in 2005 and efforts later began to restore the building to its original beauty.
The iconic main TWA terminal will remain intact and become a showcase element in the development of the new TWA Hotel. It will be flanked by two crescent-shaped buildings, which will be home to guest rooms, eight restaurants, and conference rooms. A new cocktail bar and nightclub will also be incorporated into the original building. The ambitious project plans to incorporate technology which will enable the building to generate its own power and is expected to be LEED-certified.
Company: Total Security Solutions Inc
Source: http://www.tssbulletproof.com/iconic-twa-terminal-receives-life/
Tags: Building | Design | Security
---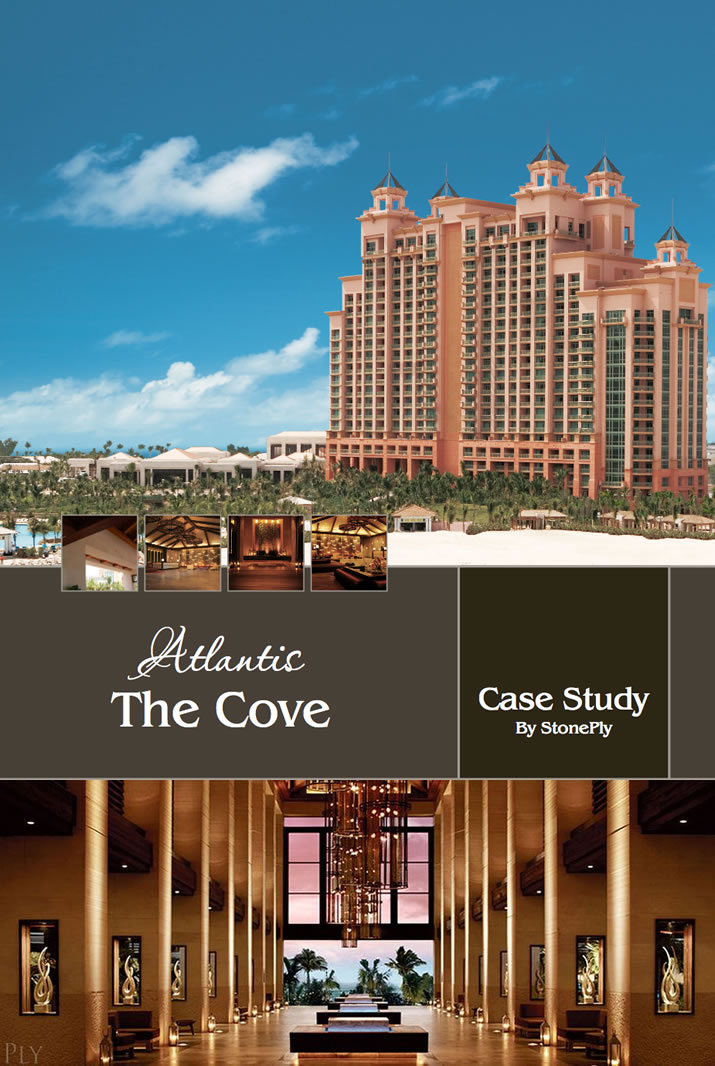 The largest stone clad building in the Caribbean meets the challenges of fast track schedule and hurricane proof construction
Sol Kerzner, resort entrepreneur, created a beautiful themed resort that features the lost city of Atlantis. StonePly was able to fabricate, deliver, and install over 144,000 square feet of custom exterior natural stone panels in The Cove Atlantis and The Reef Atlantis. These panels feature custom sawn and bush hammered textures to give the cladding depth and beauty.
Part of the reason for selecting StonePly for The Cove Atlantis was the success of the earlier cladding we supplied for Atlantis which survived numerous hurricanes, including one of which was a category 5, and has survived with minimal to no damage.
Customer's Needs
The customer needed a cladding that could both be used on the exterior and interior of the building, that matched the beauty of the resort, and added a high class feel to the resort. They were looking for a cladding that was easy to install, blended with the tropical feel of the resort, and minimized the disruption of the existing resort. The biggest challenge was to find a cladding that was impact resistant due to the weather that is inherent to the country.
StonePly Solution
StonePly was able to provide an impact resistant cladding that met the Miami requirements of hurricane resistance. The travertine was bonded to an aluminum honeycomb panel and attached using both Z-Clip extrusions and concealed screw attachments. All the attachments were attached in the field using #10 stainless steel TEK screws. Installation was completed on time and on budget by our qualified installation team.
StonePly was able to supply and install limestone panels that provided:
A luxurious stone cladding
Quick and easy installation
60X the impact strength of slab stone
Low maintenance
Impact resistant
Project Details
Client: Kerzner International
Date: December 2007
Download Case Study
Company: StonePly Co.
Product: StonePly Curtain Walls
Source: https://www.stoneply.com/en/projects/atlantis/
Tags: Design | Entrances | Safety | Wall Panels
---


Water-based Stain, Acid Stain
Concrete stains are a quick, easy and cost effective way to transform a dull slab. While most decorative concrete contractors opt for water-based stains (and for good reason), acid stains still have their place in the market. Water-based stains offer numerous advantages from environmental, aesthetic and functional standpoints.
Environmental Benefits
Simply put, water-based stains are better for environment. Acid stains contain potentially hazardous materials and require additional containment cleanup in regulated areas such as California where there is extra attention paid to storm water runoff. Water-based stains are environmentally safe and do not require special handling during application, nor do they carry disposal concerns.
Aesthetic Outcomes
Water-based stains typically have a larger color palette and offer versatility to the applicator with the ability to blend or dilute colors. Vibrancy can be achieved with water-based stains, while acid stains are typically in the natural, earth tone range. Water-based stains allow the applicator to decide how solid or opaque the color will become based on the amount of water used. With an acid stain, you really are at the mercy of the reaction that occurs. To achieve deeper tones with acid stain, multiple applications may be required, or you may need to bring in other products.
Functionality
Water-based stains possess additional functional benefits that are attractive to both the applicator and end-user. For instance, they do not discolor or fade over time, or radically change color due to UV rays. When applied to properly prepared concrete substrates, water-based stains will not exhibit cracking, crazing, spalling, delamination, softening or other deteriorating effects.
Since acids chemically react with concrete, and because no two concretes are the same, an acid stain reaction yields a different look or color on different batches of concrete. Contractors who are familiar with acid stains are comfortable explaining to their clients that they may not exactly get the intended appearance when using an acid stain. Various shades will be produced based on the concrete matrix, it's age, it's porosity or density, chemicals it has been exposed to, etc. The anticipated variation can be exciting to some. While to others, it can be disastrous. For those looking for something totally unique and custom, acid stain may be the solution. For those conservative folks who prefer a 'what you see is what you get' kind of outcome, water-based stains are the way to go.
Acid stains require the extra steps of cleaning and neutralizing after 24 hours, then additional time for the concrete to dry prior to sealing. Water-based stains don't require neutralizing or cleaning after the stain has been applied, so sealers may be installed the following day.
When Acid Stains Make Sense
Acid stains are predominantly used out of habit these days. The exception would be that water-based stains cannot be used in conjunction with polished concrete. Acid stains can.
Acid stains do become a permanent part of the concrete, and therefore will not fade, peel or crack over time.
Both types of topical stains can be applied to interior and exterior surfaces, as they are ultraviolet light stable. As with all stains, acid and water-based stains are translucent in appearance and therefore the concrete slab's surface textures and variations are visible.
Some installers actually prefer to use a blend of both materials. Often, acid stains are used as a base color and a water-based stain is then used to antique or create additional mottling.
Regardless which type of stain, always remember the importance of sealing these products with a protective sealer that will endure the chemicals, UV and traffic that a decorative stained surface is exposed to.
Company: Super-Krete Products
Product: Waterbased Stain & Seal System
Of: Tracey Lackovich & Paul Scheidmantel
Source: http://www.super-krete.com/the-benefits-of-water-based-concrete-stains/
Tags: Color | Concrete | Design | Finishes | Floor
---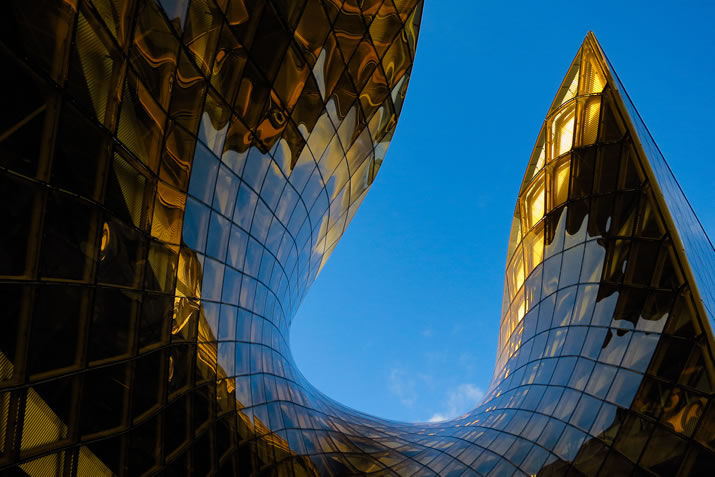 Glass has become such a common material in modern buildings, it's often easy to forget that we are relatively early in understanding the extent of its capabilities. It wasn't even until the early 1950s, with the development of an automated float glass manufacturing process that provided consistent high quality at a moderate cost, that glass was truly made available to the masses. The future of architectural glass, however, is taking on a new shape. The ability to curve and bend glass has helped to evolve this material from a means of allowing natural light within interior spaces to an artistic focal point.
Earlier this year, the design for the new Little Caesars Headquarters in Detroit, Michigan was unveiled, featuring 14-foot tall formed laminated glass shapes that loosely resemble a piece of pizza, the hallmark product of the company's success. What seems so visually simplistic–a pane of glass bent down the middle–is actually an engineering marvel. The double-curved glass walls of the Emporia Shopping Mall, located in Sweden, is an example of the intricacies involved in manufacturing a large scale curved glass structure.
The Art of Bending Glass
There are several methods of curving or bending glass, including bending and tempering, hot bending, cold bending and lamination bending. In the case of lamination bending, the glass is first layered with other interlayer materials and then bent before ultimately being placed inside an autoclave at temperatures near 280°F to complete the lamination process. The extreme temperature causes the interlayer to soften to the consistency of honey and fill the crystalline of the glass, resulting in a laminated safety glass. Due to the autoclave process, however, the glass must actually be bent at a tighter radius than is ultimately desired because the heat will cause it to spring slightly back to its original shape.
The 804 double panes of glass installed at the Emporia Shopping Mall were manufactured by heating the glass, causing it to soften and through its own weight, take the shape of a mold. Almost 600 different molds were used to create the intricate curve pattern. Equally as important as the heating process, the glass had to be properly cooled to ensure there was no residual stress within the panel. The final step was laminating the panes of glass together using an amber or blue plastic film, which provided the desired color and safety characteristics.
Photo Credit: Emporia Shopping Center, by Håkan Dahlström
Company: Total Security Solutions Inc
Source: http://www.tssbulletproof.com/architectural-glass-takes-shape/
Tags: Design | Glass | Safety | Security
---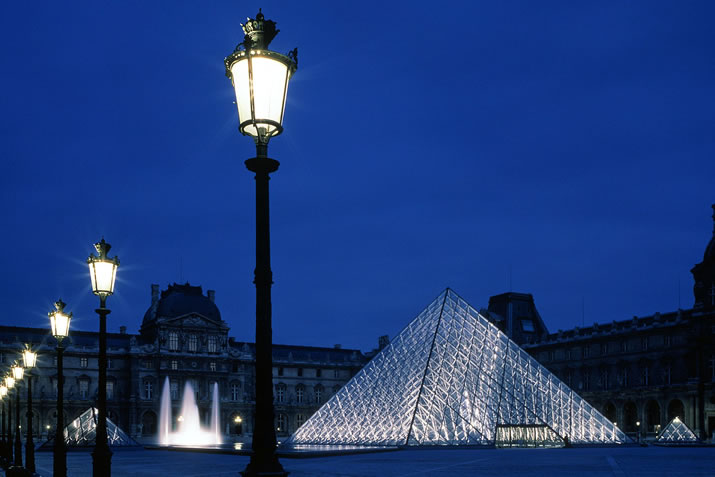 The Grand Louvre – Phase I - in Paris has been selected for the 2017 AIA Twenty-five Year Award. Designed by I.M. Pei, FAIA, and his firm Pei Cobb Freed & Partners, the 71-foot-high glass and stainless steel pyramid now rivals the Eiffel Tower as one of France's most recognizable architectural icons. Recognizing architectural design of enduring significance, the Twenty-five Year Award is conferred on a building project that has stood the test of time by embodying architectural excellence for 25 to 35 years. Projects must demonstrate excellence in function, in the distinguished execution of its original program, and in the creative aspects of its statement by today's standards. The project will be honored in April at the AIA National Convention in Orlando.
Greeted with hostility and derided as a Modernist affront when it was first proposed as the main entrance to Paris' Musée du Louvre, the project was born of President François Mitterrand's quest to modernize the Louvre in the early 1980s. Pei's pyramid thrust the 800-year-old Palais complex into the modern era while simultaneously making the museum more accessible to larger crowds.
When he was selected as the architect, Pei faced a seemingly insurmountable challenge: reorganizing and expanding the museum without compromising the historic integrity of one of France's cherished monuments. To execute the project, Pei wove together an unprecedented amount of cultural sensitivity, political acumen, innovation, and preservation skill. As one juror noted, the project has become "an internationally renowned symbol for Paris and an example of the prowess and legacy of I.M. Pei."
The entirety of the project, known as the Grand Louvre, was executed in two phases over the course of a decade. For the first phase, which gave rise to the pyramid, Pei reorganized the museum around the central courtyard, the Cour Napoléon, transforming it from a parking lot to one of the world's great public spaces. Twenty-seven years since the project was completed, Pei's success has been reaffirmed in the museum's visitorship, which has more than tripled since the expansion. To accommodate the influx, the museum undertook its first renovation of the reception area directly beneath the pyramid recently and took distinct measures to maintain the integrity of Pei's design.
Despite the rancor that surrounded the design's unveiling, Pei gave France an unexpected treasure that its citizens and visitors from around the globe value as much as the priceless works of art contained within the Louvre. Bringing "life, action, and beauty to what was already beautiful," as one juror noted, the project fused modernity with a swell in national pride for a historic building.
The jury for the 2017 Twenty-five Year Award includes: Mark Reddington, FAIA (Chair), LMN Architects; Gregory P. Baker, AIA, HNTB Architecture; David Cordaro, AIAS Representative; Leslie K. Elkins, FAIA, Leslie K. Elkins Architect; Timothy J. Johnson, AIA, NBBJ; William Q. Sabatini, FAIA, Dekker/Perich/Sabatini; Adrian D. Smith, FAIA, Adrian Smith + Gordon Gill Architecture; Beatrice Spolidoro, Assoc. AIA, Rothschild Doyno Collaborative and Marilyn Terranova, PhD, Interim Superintendent, Pocantico Hills CSD.
Company: AIA (American Institute of Architects)
Source: https://www.aia.org/press-releases/25096-the-grand-louvre---phase-i-honored-with-aia-
---
We've installed thousands of campus entry solutions, talked to end users all over the world and have developed a comprehensive process for choosing the right security entrance. That said, no process is perfect, and we've come to observe that certain organizations will consider some of the decision criteria quite well but leave out one or two factors. We call these the "Gotchas," and when forgetting or ignoring any one of the criteria, you can end up with a security entrance that doesn't address the needs of your organization.
We divide the entrance solution decision-making process into two parts: before installation and after. Before Installation, purchase decisions are often weighted towards security, aesthetics and return on investment (ROI). After installation, however, and once there is no going back, throughput, training, service and safety play a more prominent role.
While initially aesthetics or security usually jump out as paramount, all seven decision factors contribute to an effective security solution. For most decisions, the criteria before installation are relatively prominent and well understood. Where the "Gotchas" rear their less-than-pleasant heads is in the pesky factors that often don't occur to the decision-makers until the new security entrance has been installed.
After installation, it is crucial to incorporate each of the following criteria into a comprehensive decision-making process so that you'll select the right solution for your campus.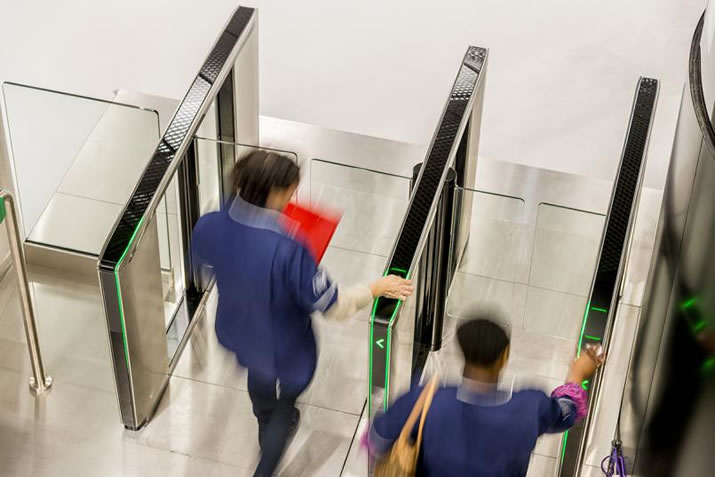 1) User Throughput
Throughput (how quickly authorized individuals can enter your facility) affects users directly on a daily basis and is critical to user acceptance of a new security entrance. Before you commit to a particular kind of entrance solution, carefully and manually calculate the throughput requirements for your entrances, ideally during a 5-minute rush hour period. Note deliveries and wheelchairs. Don't rely solely on access control numbers if you have swinging doors, as multiple tailgaters could enter on a single authorization and reduce the count. Once you have the counts, research security entrances' throughput specs. It's also worthwhile to inquire if a solution allows for card stacking, which is explained in the following example:
Example: A Houston-based company installed an array of optical turnstiles in their regional headquarters lobby. Unfortunately, they did not research throughput numbers, and the turnstiles they installed required each user to badge in, walk through the turnstile, and then for the turnstile barrier to reclose before the next user. During peak times, lines would form. Eventually, the company decided to replace the turnstiles in favor of a model that allowed multiple registrations with access control (card stacking) prior to entering and also kept its barriers open as long as all of the users were authorized. The difference was an increase in throughput from 22 to 60 people per minute per lane—and that made all the difference.
2) Technical & End User Training
Training usually isn't considered a major factor when choosing an entry product, yet it is key to long term success and customer satisfaction. Since most manufacturers do not directly install their products, they should provide a comprehensive technical training program and some form of certification to create successful service providers for end users.
Example: A financial services company purchased an array of high security portals to protect a sensitive area for records and data. A few months after installation, which had been supervised by the manufacturer, one of the portals required service because it was rejecting authorized users. When a technician from the local distributor arrived he took one look at the portal and said, "I've never seen one of these before." He then spent hours on the phone with the manufacturer to receive on-the-fly training. Clearly, there was a training disconnect between the manufacturer and the distributor.
3) Service Considerations
Service considerations typically come last or not at all when making a buying decision. Yet, during and after installation, the level of service directly impacts continued operations and ROI.
Example: A Philadelphia office tower installed two optical turnstiles in their main lobby that matched the building's aesthetics beautifully. After a few years, one of the turnstiles stopped working and a part had to be ordered from Europe — downtime was estimated at four weeks. With only two opticals in their lobby, having one out of service was unacceptable and the owner immediately began looking into replacing the turnstiles. Elsewhere in Pennsylvania, a Pittsburgh hospital had a security door that was out of service. Management was shocked to find out that the nearest authorized service provider was over eight hours away — gotcha!
Consider the negative impact of a delayed installation or service visit, or delayed parts availability on your building entrance procedures — all because service was left out of the decision-making process.
4) Product Safety
Safety, too, is rarely discussed during the bidding process. However, it is the one factor that could quickly and possibly tragically undermine the success of the project. Most security entrances use a barrier of some kind. The more sophisticated barriers use presence sensors to detect objects or users. Before buying, ask how a product prevents entrapment or contact, and how it responds to either event. The answers should then be weighed against your security vs. safety needs, your users and their ability to be trained, the product's response to an incident during peak periods (does it stop and require re-badging?), and whether large objects are typically carried or pulled behind.
Example: A California software company wanted a secure revolving door that only allowed authorized users to enter at night and also provided piggybacking prevention. During the day, however, they wanted the same door to allow the public to enter along with any children for a daycare center inside. The architect was unaware that piggybacking prevention and public use don't mix very well, especially with children involved. A security revolving door requires users to be trained. The door's small quadrants, which are ideal for a single person and piggybacking prevention, lack the trailing door wing sensors that large automatic revolvers must have for public safety. This is because such sensors would stop the door far too often. Due to frequent contact incidents, the company decided the public need was greater than the piggybacking prevention and they had to incur the expense of replacing it with a manual revolving door that had a night-locking feature with an access control system to allow off-hours employee access.
Forget Campus Culture at Your Own Peril
We've discussed seven crucial decision factors here, but there is one more factor to consider: culture. Culture permeates all the other decision factors and is critical to success. Do people care about their personal safety in Boise at the same level as those in Manhattan? Are all management stakeholders involved in the buying decision, from CEO to finance to HR to administration to residence life to the facility manager? Is there high employee turnover or students requiring recurring training? Campus safety decision makers should understand your campus or company culture and be willing to assist in implementing a culture shift through communication and training.
Example: A state university in North Carolina installed optical turnstiles with drop arm barriers at its recreational facility to prevent unauthorized access to gym equipment and reduce liability. A receptionist registers each student with the access control system and then opens the barriers. This ensures that freshman get an orientation to entrance procedures. Eventually, over several years the university will phase in a biometric access control system that will allow bypassing the receptionist. At first, it will be voluntary, rewarding those who register with an expedited entry. Eventually, it will be universal. This staged approach ensures a smooth culture shift.
Example: Another more drastic example of culture affecting the deployment of security solutions happened a few years ago at a West Coast internet company. A new CEO was hired, and he ordered the turnstiles in the front lobby to be removed because "this company isn't about barriers." So, it pays to inform the CEO of new security measures and why such measures were taken! Speaking of the West Coast, some companies allow dogs to come to work, which greatly affects which security entrances can be used safely and effectively.
The success (or failure) of a security entrance project must start and end with a comprehensive, consultative process that considers the full range of factors for the ultimate decision. As we've seen above, a conscientious leader can preside over a process that includes most of the eight essential criteria. However, forget one and even a careful, comprehensive effort can result in a big "gotcha" that brings a new security entrance project to a crashing halt.
Company: Boon Edam Inc.
Source: http://www.boonedam.us/news/4-gotchas-could-derail-your-front-entrance-security-upgrades
Tags: Design | Entrances | Security
---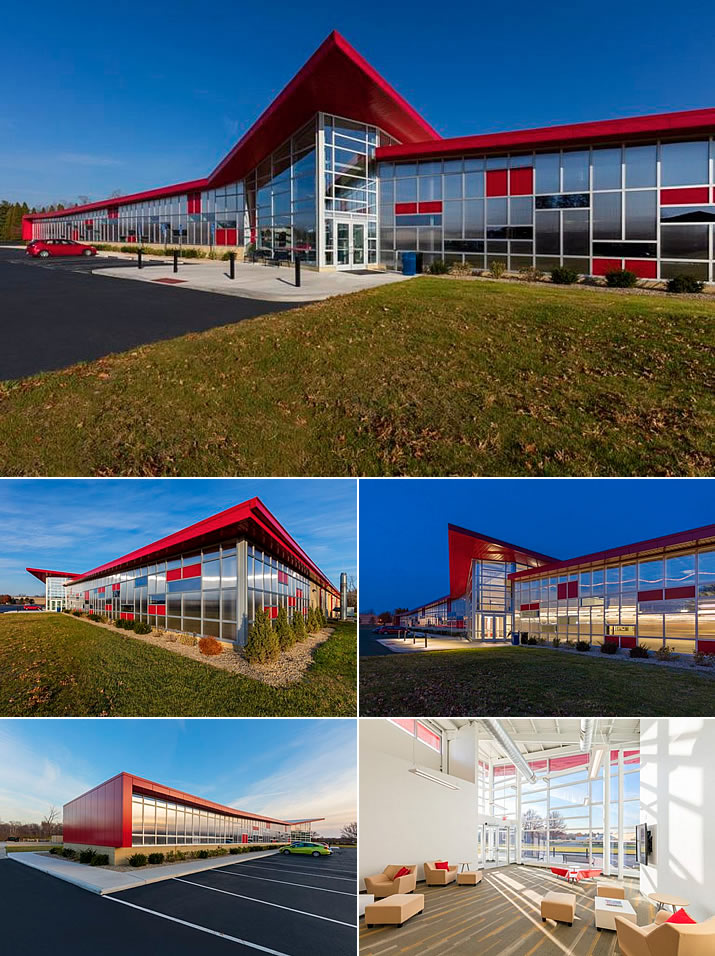 Images by Andy Spessard Photography
A State-of-the-Art Renovation in Central Ohio
Project: Otterbein University's STEAM Innovation Center
Location: Westerville, OH
Architect: Moody Nolan
General Contractor: Corna Kokosing
System: LIGHTWALL 3000
In a world where factory jobs are being replaced with smart technology and globalization has made the manufacturing industry increasingly competitive, Otterbein University saw an opportunity. The plan was to partner with leading organizations from the private and public sectors in central Ohio to build a hands-on curriculum focused on teaching – and innovating – cutting-edge skills in engineering, technology, science, and math. To achieve this, a laboratory that fostered experimentation and possessed state-of-the-art tools was necessary. To further complement the innovative facility, a state-of-the-art architectural design was developed.
The decision was made to renovate an older campus building in time for the 2016 fall semester, and with groundbreaking delayed into early 2016, the project timeline would be tight. Moody Nolan architects had a unique design in mind – a multi-paneled, geometric façade that would deliver daylighting with minimized solar heat gain and glare. Their plan was to use a curtain wall that could incorporate metal, polycarbonate, and glass that delivered diffused daylight with visual clarity in key locations.
EXTECH's LIGHTWALL 3000 series curtain wall system was selected for the project because it is one of the few that properly accommodates both polycarbonate and glass glazing within the same system. This is accomplished by using deep glazing pockets and low friction gaskets that allow for the thermal movement of polycarbonate, while still providing superior water and air infiltration performance.
To create Moody Nolan's distinctive geometric design, EXTECH fabricated a new horizontal mullion that allowed for the inclusion of non-continuous vertical framing members. The new mullion "flushed out" the interior surface of the system and allowed it to span up to 8 feet between vertical mullions – typical span lengths are only 4-5 feet. It also allowed for the application of point loads from vertical framing members without additional structural reinforcing - horizontals typically deliver their loads to verticals.
The STEAM Innovation Center's "wire-cutting" (a technology pun on "ribbon-cutting") was just in time for Otterbein's fall semester. All told, the center is a 61,000 square foot building that provides classes and training in areas such as 3D printing, advanced electronics, metal and machinery, and also provides office space for lease. If you would like to learn more about this project or EXTECH's LIGHTWALL 3000, please contact us.
Company: EXTECH/Exterior Technologies, Inc.
Product: Translucent Walls
Source: https://extechinc.com/case-study-photos-otterbein-universitys-steam-innovation-center/
Tags: Design | Glass | Wall Panels | Windows
---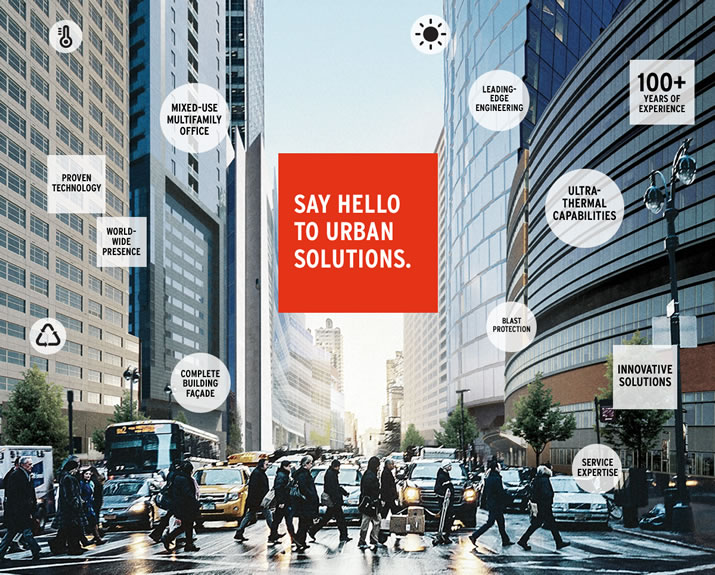 Say hello to urban solutions
Wherever you look, you will find us. Out of an office window. Walking into a shop. Looking up at an apartment building. Our range of solutions – from curtain walls and windows, to entrances, framing systems and architectural panels – are everywhere you need them to be, offering infinite possibilities in design, development and performance. We are here.
Explore our dynamic array of innovative solutions for new construction and renovation, like the all new MetroView™ window wall. Learn more about Kawneer and Traco windows featuring the high-performing OptiQ™ windows, GLASSvent™ UT windows and the Traco NX-4000 series. Wrap your imagination around the stylish and functional exterior/interior cladding design solutions of Reynobond/Reynolux panels.
ARCHITECTURAL ALUMINUM SYSTEMS | ENTRANCES + FRAMING | CURTAIN WALLS | WINDOWS | ARCHITECTURAL PANELS | INNOVATIVE FINISHES
Company: Kawneer Co., Inc.
Source: http://www.kawneer.com/bcs/aap_kawneer/en/urbanbrands.asp
Tags: Design | Entrances | Wall Panels | Windows
---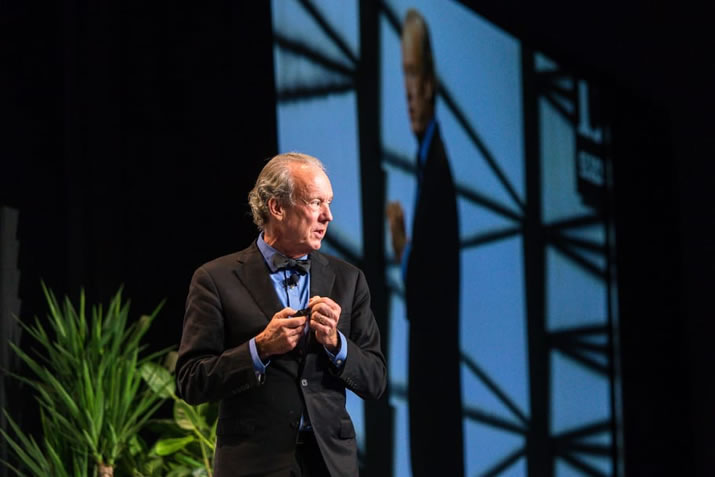 William McDonough, FAIA, gave a keynote at the 2016 SXSW Eco conference that emphasized the need for urban revolution. Image credits: Steve Rogers.
Carbon-positive cities, biophilia, and data-centric decisions define the next American city that architects can help create
In discussing solar orchards, biophilic cities, and illustrative mapping of everything from water surges to public protests, architects at the 2016 SXSW Eco conference brought the audience a dynamic voice for change. In its fourth year, the sister conference to the larger South by Southwest festival has grown into a three-day convergence of all things driving global change under the umbrella of design, technology, and business. Its basic premise is a forum for ideation and connection across industries. Participants arrive from around the globe, united by aspirations to establish new ways of dealing with health, food, water, climate change, clean air, energy, and development.
"Architects provide a fundamental voice in this conference," notes SXSW executive producer Morgan Catalina. "We are talking about environmental and social change. It is a realm that architects can shape, change, and influence through design." In fact, design thinking and problem-solving were a priority in much of the conference discussions. Topics ranged from idea-driven calls to action to explanations of developing software tools. Creative solutions involving cross- and multi-disciplinary teams were billed as the most effective ways to address many of the world's pressing problems.
Time for a (sustainability) revolution
In his keynote, William McDonough, FAIA, of William McDonough + Partners, called for a revolution as he emphasized the need for carbon-positive cities and work toward climate change reversal. A visionary for more than 40 years, McDonough has been a pioneer in sustainability. He co-created the Cradle to Cradle philosophy, and all his work promotes a complete understanding of material health in the design process coupled with built-in renewable energy and social fairness.
He is currently working on concepts for a Chinese city that can feed and power itself. In Mongolia, McDonough's "solar orchards" allow industry and agriculture to live in the same place. Solar collectors are elevated six feet, allowing for grazing animals to occupy the same land. "This is beautiful … grasses come back by themselves," stressed McDonough. His is a call for a new language to deal with carbon that promotes constant improvement and a reevaluation of the current framework from which architects and designers evaluate their impacts on the environment and the future of human health.
Connections to nature
Likewise, Amanda Sturgeon, FAIA, chief executive officer of the International Living Future Institute, noted that architects should change the way they are designing, and recognize that "people are a part of nature, not separate from it." As part of the workshop on biophilic cities, she presented her research related to biophilic design emphasizing the reconnection of humans and the natural world. Biophilic cities prioritize the integration of green and blue ways throughout urban zones, urban farming initiatives to support food deserts, and integration of wildlife preservation in planning efforts, among others.
"We are talking about environmental and social change. It is a realm that architects can shape, change, and influence through design." - SXSW executive producer Morgan Catalina
Sturgeon summarized her argument for new design thinking: "Most of architecture is being created with no connection to place, climate, geography, or regional context. With increasing urbanization, and the fact that we spend 90 percent of our time inside, our fundamental connection with nature is disappearing. At the same time, the Paris climate agreement requires that buildings radically reduce their energy use, past the incremental efficiencies that we have been achieving. If we don't design our buildings to adapt to our climate, we will not get there. I believe this is an urgent issue for the creation of our buildings. Architects must change the way that they design, and we must train our young architects to have the skills and abilities to design in this way."
Tools to further the profession
Going beyond just understanding a building's site was part of the inspiration for Perkins+Will associate principal Leigh Christy to develop Hazel, a software tool for optimizing planning for stormwater infiltration, collection, and reuse. Christy sees part of her role as an architect is to engage in larger questions about the future of the environment. "Hazel is a tool for architects and planners," she said. "The data help analyze cost, identify policy needs, streamline water detention practices, reduce carbon emissions, improve pedestrian thermal comfort, and create new habitats for wildlife."
Ultimately, the platform provides data fundamental for project site selection. After being awarded a grant from the AIA College of Fellows Latrobe Prize, Hazel was developed collaboratively by the Arid Lands Institute of Woodbury University, Perkins+Will, the Nature Conservancy, and the City of Los Angeles. The design team is still refining Hazel. Christy notes that after presenting Hazel to architects and city planners, the response from the multidisciplinary audience was refreshing. "It was the first time I had someone come up to me and ask if I needed help coding," she said.
Another software tool called SPEA (Spatial Practice as Evidence and Advocacy) was developed by a landscape architect–led team. "[We] are of course influenced by the architectural designers that we work with," said McKenna Cole, research associate at SITU Studio. SPEA visualizes complex spatial narratives like the Euromaidan protests in Ukraine, often using three-dimensional renderings.
"Developing accurate 3-D models allows us to understand events spatially, enabling us to establish known protester and police locations that draws from citizen-captured videos," explained Cole. The usual outlets for dissemination of the data collected and compiled with SPEA are in the courtroom, through specific publication, or in advocacy reports. SPEA received an honorary mention in the Equity + Inclusion category of the Place by Design competition at the conference.
If this most recent SXSW Eco was an illustration of the prominent role architects can play both as visionaries and as team players working to effect change, the conference also clearly demonstrated that opportunities abound and that people value design thinking. As William McDonough noted, "I'm an architect, and an architect's job … is to change the way we see, then we rearrange the furniture, and then we build."
Company: AIA (American Institute of Architects)
Of: Catherine Gavin
Source: http://new.aia.org/articles/22151-architects-empowered-to-drive-positive-chang
Tags: Building | Design | Energy | Sustainability
---
Major Industries, in conjunction with Greenbuild 2016, announced the release of a new line of Auburn® single slope skylights. These new high-performance glass skylights feature thermal strut technology for enhanced thermal performance, including better condensation resistance. These new Auburn® skylights are available in a variety of custom sizes and configurations, with custom finish options and more, and will also soon be available to purchase online at shopmajorskylights.com in select standard sizes.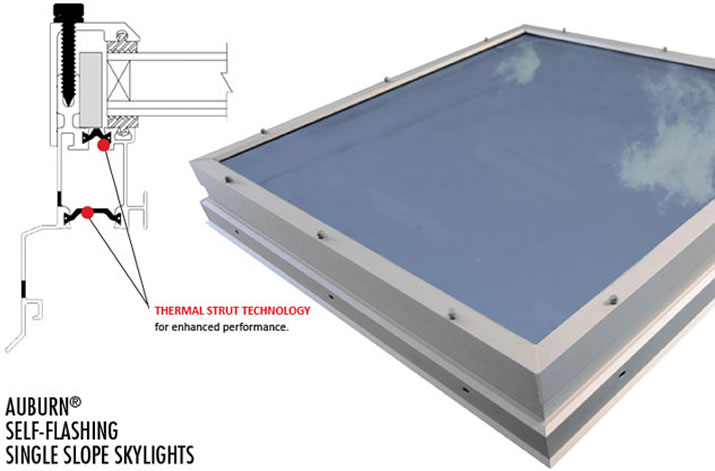 Easy to install high performance glass skylights
Auburn® glass single slope skylights have always been a dependable, low-maintenance daylighting solution, but Major Industries has enhanced these versatile skylights with thermal strut technology for enhanced thermal performance and improved condensation resistance. Now you can get the best of both worlds - energy-saving daylighting and a glass skylight with performance designed to handle any environment.
Auburn® self-flashing single slope skylights are available with a variety of glass configurations and numerous finish color options from anodized to Kynar®.
Features & benefits
THERMAL STRUT TECHNOLOGY provides improved thermal performance and condensation resistance
DESIGNED for smaller openings up to 25 square feet
TESTED to ASTM E283/330/331 standards
.27 - .29 center of glass u-factor with SHGC of .22-.39 (varies with glazing selection - check with Major for additional options)
PRE-ASSEMBLED options available for quicker lead times and simple installation
Company: Major Industries Inc.
Product: Auburn® Quick Ship™ Single Slope Glass Skylights
Source: http://majorskylights.com/2016/10/major-announces-new-auburn-skylight-option/
Tags: Design | Energy | Windows
---

Color perception changes throughout the day. Here's what you need to know about the sun's changing influence.
Is that wall yellow, beige or tan?
Depending on the time of day, it could be any of the three.
As the angle and intensity of the sun shift, the wavelengths reflected from the objects around us shift along with them. In order for design professionals to accurately account for these subtle but constant changes, it helps to understand what our eyes and brains are doing when they process color.
Human beings are what's called "diurnal," which means our eyes have evolved to see better during the day than night. Over the course of a day, your brain spends a lot of time sorting through light waves, assessing so-called "chromatic bias" to figure out what color you're really observing.
According to Bevil Conway, associate professor of neuroscience at Wellesley College in Massachusetts, "Every natural light source has a chromatic bias, and the brain is surprisingly good at removing this bias to determine color." Much better than a camera, for instance.
Morning and evening have an orange bias, while midday light under a clear sky has a blue bias. As the quality and angle of light changes, the brain automatically adjusts for these shifts by subtracting the prevailing bias — orange or blue in natural light — to maintain accurate color perception.
But the system isn't perfect. Where the brain must work hardest, Conway says, is during transition periods from dawn to early morning, and from twilight and dusk to dark, when the timing of the light changes is the most rapid.
"One of the reasons our brains find sunsets so thrilling is that we can see the color biases changing," Conway says. But if you are assessing colors in a room, these are also the times of day when the brain's perception of color are constantly in flux and, hence, the worst times to make color decisions.
Experience does matter, though. According to Conway, the brain not only uses the immediate color data coming through the eye at any given moment, it also compares that information to a vast database of prior experience to arrive at its best color guess. Though the brain can be fooled, Conway says, its previous experience guides it toward more accurate perceptions of color in the future.
Tips to Improve Your Color Confidence
The only way to be absolutely sure what a color will look like under different lighting conditions is to observe it firsthand. The sun's angle and direction, as well as the amount and quality of artificial light, can have dramatic impact on color perception. Northern-facing rooms tend to skew blue during the day, and western-facing windows are affected most by the orange shift at sunset.
Colors appear truest in the middle of the day under indirect natural sunlight. Too much sunlight can wash them out, however, while too little (morning and evening) tends to darken them. Oranges and reds can intensify later in the day, and as the light dims, darker colors become duller and harder to distinguish.
What we perceive as "colors" are really surfaces reflecting and absorbing various wavelengths of light. Everything in a room can affect color perception — furniture, carpet, drapes, bookshelves — which is why a blank wall in an empty room can look dramatically different when that same room is furnished.
Use window blinds to control the amount of direct light entering a room. While opening and closing them, pay careful attention to subtle shifts in color. This will help you anticipate other color shifts as the light changes throughout the day.
Like natural light, artificial light has its own color biases. Incandescent bulbs have a warm orange shift. Fluorescent bulbs provide a cool blue light. LED light is whiter and more neutral but can also be programmed for different wavelengths and intensities, making it an increasingly popular indoor lighting option.
Most pigments aren't 100 percent light-stable. This means that they actually break down with prolonged light exposure, especially under UV light. So, if you have a richly colored object or painting, keep it out of direct sunlight, or put it under UV-conservation glass.
Company: The Sherwin-Williams Company
Of: Tad Simons
Source: http://www.sherwin-williams.com/architects-specifiers-designers/inspiration/styles-and-techniques/sw-art-stir-color-perception.html
Tags: Coating | Color | Design
---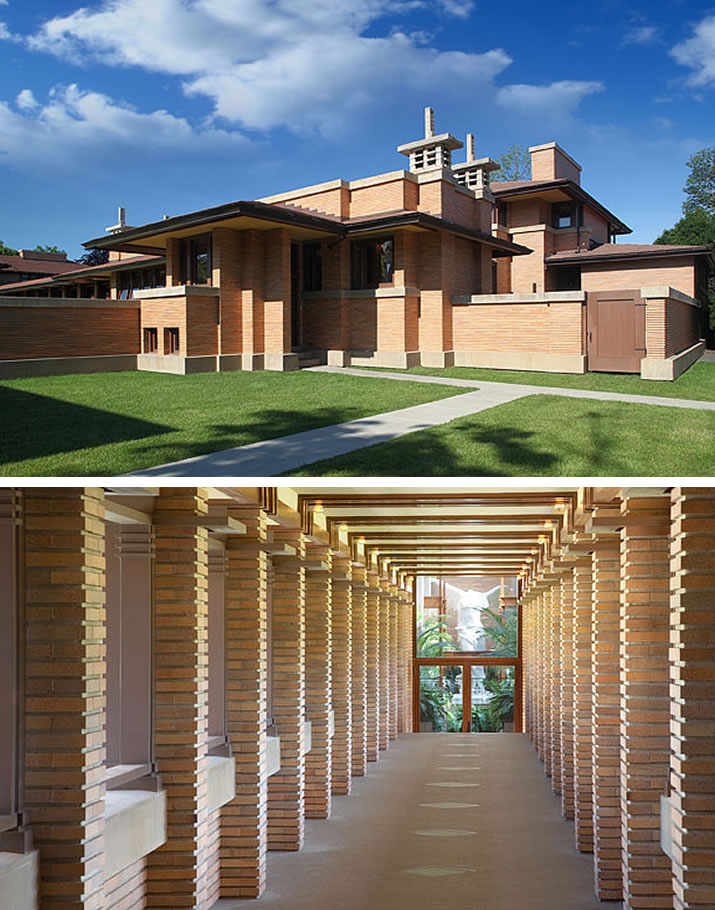 Project: The Martin House
Roman Brick is ideal for creating a distinct and different look to any structure. It characteristically has longer and more linear dimensions than those of standard modern brick. Belden Roman Brick was used on the restoration of the Famous Frank Lloyd Wright "Martin House Complex" in Buffalo, New York. The dimensions of Belden Roman Face Brick are 3-5/8" x 1-5/8" x 11-5/8".
Belden offers Roman face brick in a wide variety of colors and textures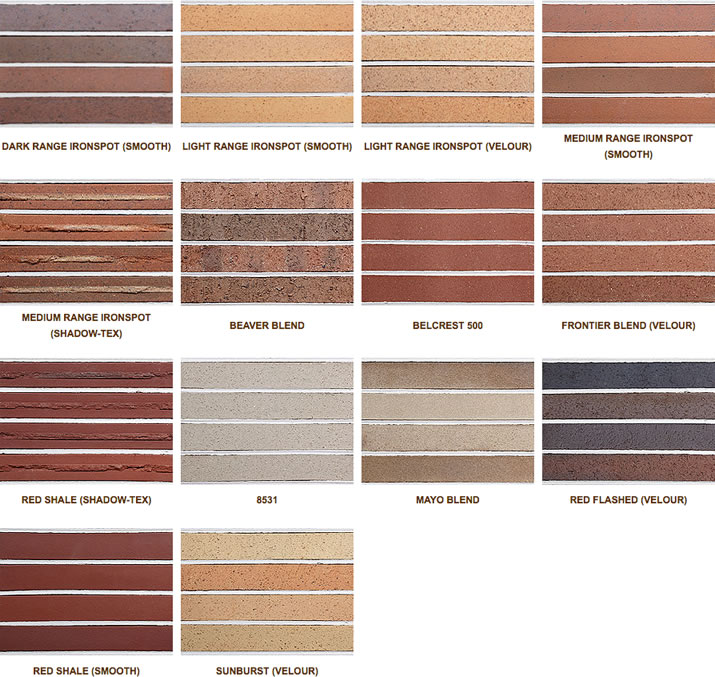 Company: Belden Brick Co.
Product: Roman Brick
Source: http://www.beldenbrick.com/roman-brick.asp
Tags: Building | Color | Design
---
Feeney has teamed up with Kelly Edwards, television host, designer and lifestyle expert, on an elegant new container home project. The finished tiny home was featured on the Hallmark Channel's "Home & Family" show on July 26. The tiny house movement has gained significant momentum this past year, and container homes are leading the charge. More people are finding out how tiny home living can reduce costs, while still affording the comfort they enjoy.
Embracing the trend, Edwards and her contractor Art Steedle, co-owner of Steedle Brothers Construction in Long Beach, California, have transformed a 160 square-foot container into a fully-functional, compact dwelling featuring a living room with a hidden bed, bathroom and kitchen. To complete the project, the home includes a rooftop deck with Feeney's DesignRail® railing system, in a black powder coat finish with CableRail infill.
"Our first choice was using Feeney's rail system to make this possible. I can't even begin to tell you how it changed the look of the container," said Edwards. "It's sleek, modern, durable, and easy to install; everything we wanted this container to be."
Edwards and Steedle designed the home with outdoor living in mind, with the rooftop deck as the focal point of the project. "By incorporating this space, the home just feels much larger," explained Edwards.
Feeney's DesignRail® system combines the durability of aluminum with innovative design details to ensure lasting beauty, structural integrity, and affordability while drastically reducing long term maintenance expenses. All rails and stanchions are made from high-strength 6000-series aluminum extrusions that can be cut and assembled on site using pre-engineered components that snap and screw together.
"Tiny homes are definitely trending among homeowners right now, and our DesignRail® is a perfect addition to these spaces because of its versatile and low-maintenance qualities," said Andy Penny, Feeney's vice president of marketing and advertising.

Company: Feeney, Inc
Product: DesignRail® Aluminum Railings
Source: http://media.feeneyinc.com/blog/kelly-edwards-tiny-home-shipping-container-elegant-living-rooftop-deck
Tags: Design | Railing System
---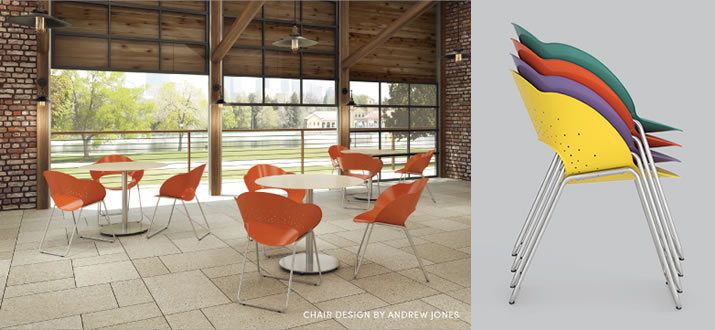 Energize your outdoor space with The Battery Collection from Maglin. Featuring the exclusive chair design of New York's The Battery Conservancy, this collection delivers the perfect combination of fresh, unique design and comfortable ease.
Comfort and style go hand in hand- The Battery Collection lets guests mingle, move around and gather in arrangements of any size, from solitary to sociable.
Recharge your space with a splash of color
Available in five vibrant colors, The Battery Collection lets you mix and match for the effect you want. (Also available in Maglin standard colors.)
Flower Power
Chairs Designer Andrew Jones created The Battery Chair in response to The Conservancy's need for moveable outdoor seating on the Oval Lawn. His model was crowned the winner of The Conservancy's chair design competition, having been selected out of 679 entries from 15 countries. Imagining a field of chairs creating a changeable, exciting landscape, he developed a design that is poised to become a contemporary icon: playful yet refined, comfortable yet elegant.
Contact Maglin today to learn more about The Battery Collection.
Company: Maglin Site Furniture
Source: http://www.maglin.com/products/battery/batterycollection.html
Tags: Design | Furniture | Landscape Design
---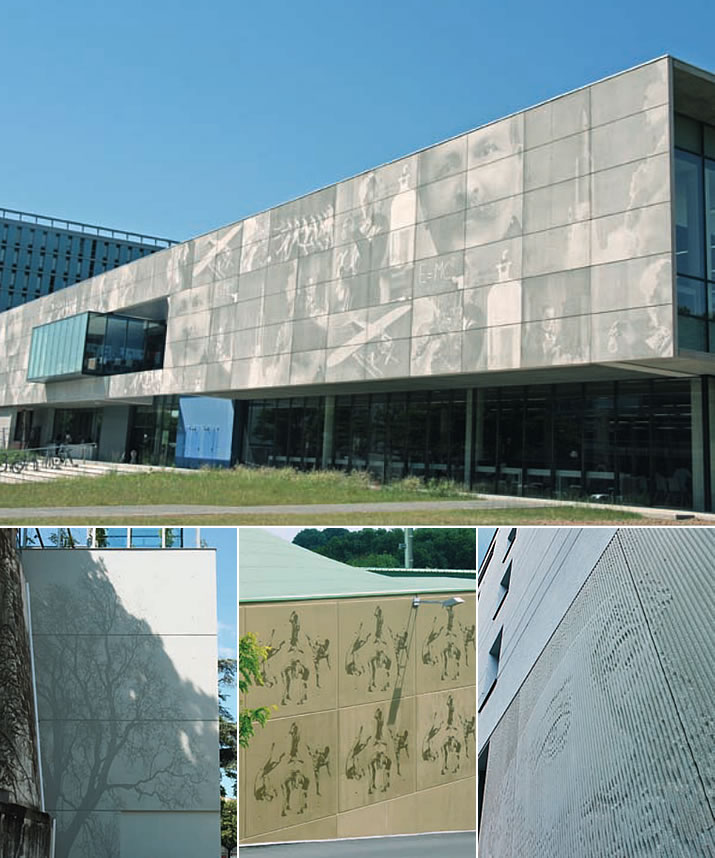 At Nawkaw, we enjoy coloring and staining architectural elements to achieve unique finishes for our clients. If you are looking for a way to personalize your concrete in addition to using a concrete stain, US Formliner (USF), our sister company, now offers a product that allows you to transfer virtually any image onto concrete.
The product, Artico®, was launched by Reckli®, cofounder of USF. Through the use of this new product, photographs, graphics, artistic elements, etc. can be made visible in concrete.
The system uses a retarding agent that is applied to a specialized film onto which any desired image is transferred. The film is then secured to the concrete formwork and the concrete is poured on top of it. The retarding agent slows the cure rate of the concrete with which it comes in contact. When the surface is power-washed, the design element is revealed as exposed aggregate. When the process is complete, the concrete is transformed with an elegant, permanent image etched into the concrete itself.
This product is suitable for both indoor and outdoor use. To learn more, visit USFormliner.com.
Company: Nawkaw Corporation
Source: http://usformliner.com
Tags: Building | Concrete | Design
---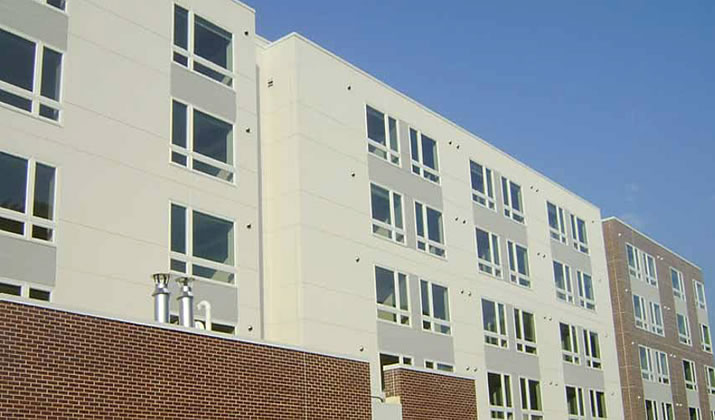 Sto Panels are the next generation of exterior wall panels, delivering superior energy ef ciency and performance along with beauty and ease of installation.
Sto, the leader in wall cladding systems, now offers the most advanced technology in prefabricated insulated wall panel solutions. Our systemized approach to panelized construction offers many benefitts over traditional precast panels, including speed, value and superior performance. Sto Panels are lightweight, energy efficient and durable, and are available in a wide variety of aesthetic options. The technical design expertise of experienced panelizers and the service you expect from Sto make Sto Panels the preferred choice for new construction as well as renovation projects.
Speed
Pre-determined and carefully controlled installation time.
Increased productivity as a result of experienced fabricators.
Construction schedule compression: panels can be manufactured while your site is being excavated and are ready for installation as soon as the site is ready.
Reduced onsite clutter and interference (i.e., scaffolding and debris).
Value
Lower structural requirements than precast due to lightweight prefabrciated panels.
Reduced jobsite manpower needed for exterior wall installation.
Jobsite scaffolding unnecessary for exterior wall installation.
Quality
Precisely engineered prefabricated panels and connections.
Quality controlled fabrication: skilled craftsmen fabricate panels in a climate-controlled environment and materials adhere to strict manufacturers' recommendations (including temperature and humidity requirements) under a stringent QA/QC program.
Extensive shipping protection prevents damage to the panels' factory-precise finish.
Code compliant systems.
Single source warranty.
Experienced panel installers.
Sto Panel Technology - Panel Assembly Animation
Design Freedom and Versatility
Sto Panel Technology helps transform architectural vision into reality in a sustainable, integrated solution
Sto Panel systems are available in a range of beautiful, durable finish options. Choose from Sto's proven line of architectural coatings and textured finishes, metal panels, thin brick veneer or precast concrete. With factory application of materials you can count on a consistent, high quality finish that will last.
Sto Architectural Coatings and Finishes
Sto has you covered in a wide range of beautiful, durable finishes for a strong, flexible layer of protection. Our finishes are manufactured in ISO-certified facilities to meet extremely strict quality control standards, contain pure white marble aggregate and 100% acrylic polymers, and come in virtually unlimited colors.
Specialty Finishes
Sto's line of artistic, protective nishes provide the look you want including brick, granite, stone, limestone and metal panels.
Lotus-Effect®
Featuring the Lotus-Effect, a patented breakthrough technology modeled on the unique self-cleaning lotus leaf, Sto Lotusan nishes and coatings are incomparable to any exterior product on the market. Like the lotus leaf, the nish is rinsed clean with rainfall, thereby reducing maintenance costs.
Company: Sto Corp.
Source: http://www.stopanels.com
Tags: Building | Design | Wall Panels
---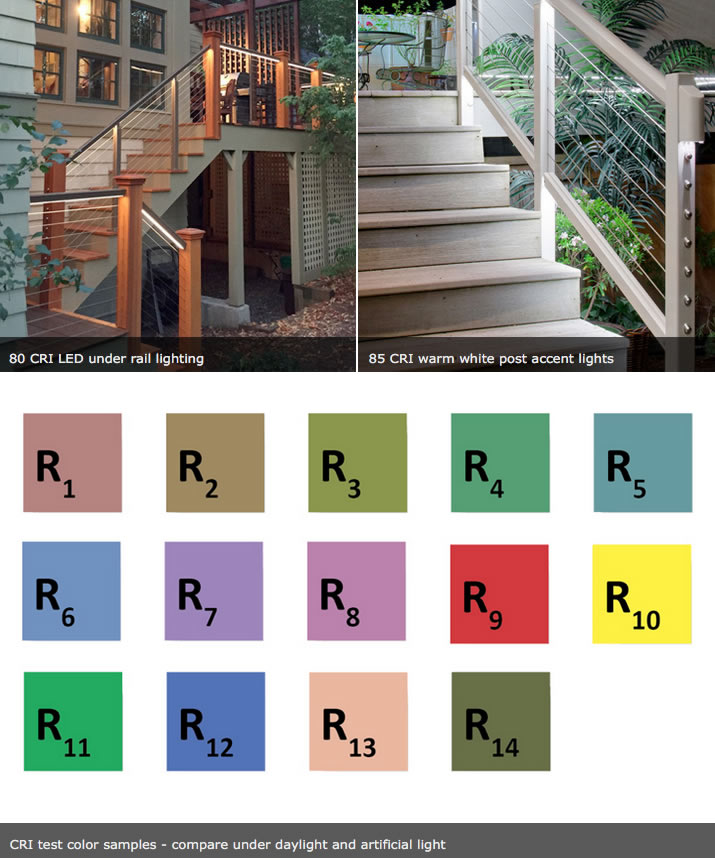 When it comes to design, the Color Rendering Index (CRI) is an important aspect of any lighting consideration. Different light bulbs emit different colors of light – ranging from cool tones to warm. The CRI of a bulb is determined by comparing the appearance of a colored object under an artificial light source to its appearance under natural light. The higher the CRI, the truer the color presentation.
Why is CRI important in outdoor lighting?
When you select lighting options with high CRI, colors will pop, textures will stand out, and finishes have depth and luster. As such, many architects refer to lighting as the fourth element of good design.
Selecting a high CRI is important when designing outdoor spaces, too, because it allows us to create the desired ambiance – whether it be warm and inviting for entertainment or a tranquil niche for relaxing after a long day. With the onset of the vast capabilities of LEDs, outdoor features within a space can be accented by focusing the position of the light, as pictured here with post accent lights – and it all starts with the right bulb that shines a natural (high-CRI) light.
Great outdoor lighting design, however, is more than just varying the warmth of color coming from a bulb. A high CRI allows designers to create layers and textures of light. Outdoor LEDs can be used to create complex layers of light throughout your garden. Some of the more popular lighting techniques include spotlighting, highlighting, silhouetting, shadowing and grazing (with lights mounted at or above the ceiling). Using light to designate what's most important intuitively draws attention to specific spaces. For instance, a home may be lit on the outside, but good lighting design will incorporate layers of light to clearly denote the pathway to the entrance.
The right lighting can turn a potential hazard, such as steps and walkways, into areas that are more easily navigated after dark. This is especially important for businesses that provide services for older individuals who have poor eyesight. In fact, more and more thought is being given to the type of lighting used in parking lots, parking garages and pedestrian walkways. Facilities that install high-CRI lighting feel more secure to pedestrians and drivers, and as more institutions, such as educational, medical and commercial, run operations after dark, this is an important consideration to creating a secure and welcoming environment.
As lighting technology continues to advance, we expect awareness to grow and the importance of the Color Rendering Index to continue to be a key element in outdoor lighting design.
Company: Feeney, Inc
Source: http://media.feeneyinc.com/blog/color-rendering-index-why-its-important-in-outdoor-lighting
Tags: Color | Design | Lighting | Railing System
Make your buildings look good with uniquely designed polycarbonate products for building exteriors (September 19, 2016), Red, traditional brick color for traditional architecture (September 7, 2016), Armortex Waterjet Cutting (August 24, 2016), Summer 2016 in the Hamptons (August 19, 2016), AIA and Autodesk Introduce New Feature to Automate 2030 Commitment Reporting Data (August 15, 2016), The Feng Shui of Kalwall (July 11, 2016), Blackout & mesh shades in the same window? Dual Roller Shades are the solution! (July 5, 2016), Evolution Of Revolving Door Security: Teaching Old Doors New Tricks (July 4, 2016), Balancing Bulletproof Security and Design (June 21, 2016), Cut solar energy getting into buildings by up to 92% - stop it before it hits the glazing (June 17, 2016), Architects create tactical urbanism with AIA Design Competition (June 1, 2016), Turnstiles to Appear on Discovery Channel Show (May 6, 2016), Icynene Spray Foam: Water absorption comparison to other insulations (May 4, 2016), Cochran Expands and Enhances Landscape Forms Lifestyle Furniture for Terrace Life (April 29, 2016), Another Award-Winner: Verti-kal™ and the John Fry Sports Park Pavilion (April 22, 2016), Broan NuTone invents new mosquito barriers for decks (April 13, 2016), Guardian 275® translucent skylights provide a wide range of color, thermal performance and specialty application options (April 6, 2016), Creative Bike Racks That Make Your Space Stand Out (March 14, 2016), Better than real wood planks (March 9, 2016), The Plan to Turn NYC's Turnstiles Into Musical Instruments (February 29, 2016), 2016 Color Forecast (February 22, 2016), Maximize views with generous exterior glazing, while ensuring privacy and thermal efficiencies (February 19, 2016), Great Glazing: Rogers Memorial Hospital Brown Deer (February 8, 2016), Partnering with Architects to Make BulletProof Beautiful (February 3, 2016), Online Color Selection and Specification Tool (January 11, 2016), Kalwall Featured: Guide Dogs for the Blind New Student Residence (December 30, 2015), Designing Outdoor Public Spaces is Vital to the Future of our Cities (December 28, 2015), Active Design Guidelines for Walkable Communities (December 23, 2015), 3 buildings that balance aesthetics and performance (December 16, 2015), Making History: The National Constitution Center (December 11, 2015), Earn LEED Points With Florence Mailboxes (November 18, 2015), Data Center HVAC Design Considerations (October 26, 2015), Helping to retrofit Bronx Community College (October 5, 2015), A perfect blend between revolving doors and transparent architecture (September 4, 2015), Custom Mill Work, Bullet Resistant Barriers, and Inconspicuous Perfection (July 24, 2015), Structural Acoustic Roof Deck (July 3, 2015), Revolving Doors and ROI for Retail (June 10, 2015), April Showers Bring May Flowers… And Eco-Friendly Smart Glass (May 18, 2015), Suitable for framing: Kalwall brings distinct lighting to award-winning design (May 15, 2015), Mid-century modern design in Los Angeles (April 27, 2015), 5 Tips For How To Fill Perfect Looking Large Planters (April 22, 2015), Light your way with environmentally friendly solar lighting bollards (April 20, 2015), 10 Key Questions about Exterior Shading - free white paper (April 15, 2015), Make a Statement With Your Mailboxes (April 6, 2015), Beautiful, High Performance Finished Floor Solutions (April 1, 2015), Design Meets Security: Launching New Revolutionary Access Control Barrier Series at ISC West (March 27, 2015), Sunshades provide aesthetic appeal to the building exterior (March 23, 2015), Unique and secure bicycle storage (March 18, 2015), New product launched minutes ago! Central Park Conservancy (March 12, 2015), Entrance possibilities are endless! See the 7 elements of revolving door design (February 23, 2015), Architecture and Design for Today's Schools: Secure and Inviting (February 10, 2015), Aluminum Railing Frame Systems (January 28, 2015)