architecture - engineering - construction

Design
---
When we talk about daylighting, the first thing that comes to mind is often the image of natural light pouring into a space... but what happens when you need to bring light to a area that also demands privacy?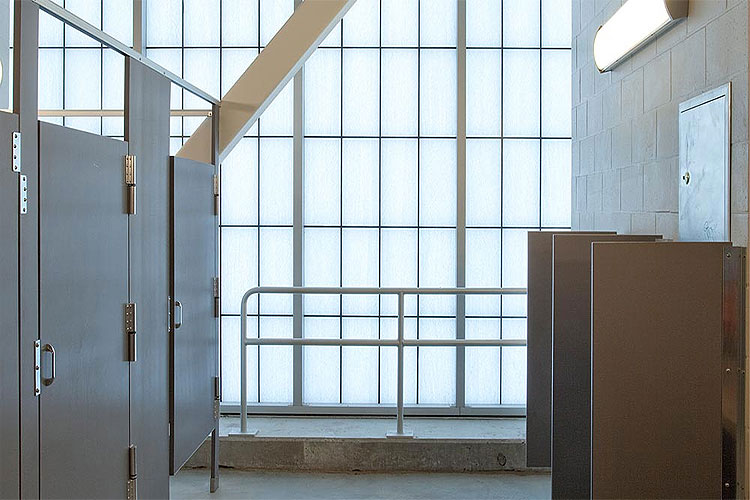 HDR/TD Ameritrade Park, Omaha, NE - Guardian 275® Wall System - Mix Natural Light and Privacy!
Translucent panel systems, like the Guardian 275® wall system above, allow for building occupants to enjoy controlled, glare-free light while eliminating direct lines of sight from the exterior and maintaining a feeling of safety and security. This can be a great asset to traditionally dark and window-less areas like public restrooms, hallways, in waiting areas in medical centers and hospitals (for patient confidentiality), or in secure facilities where it's of up-most importance to maintain a certain level of secrecy.
Translucent systems can also benefit schools as they allow students the advantages of natural light while affording them privacy from outside eyes. And while there are other options in the market such as fritted or channel glass, these systems are often on the higher end of the cost scale. Electrochromic glass options are also available, but can cost even more and may require additional maintenance and upkeep.
Their versatility, light weight and design flexibility make translucent panel systems a great choice for letting light in and keeping prying eyes out. From simple wall panels to curved systems to our Verti-Lite™ option that has an appearance similar to channel glass, we have a system that will fit your needs.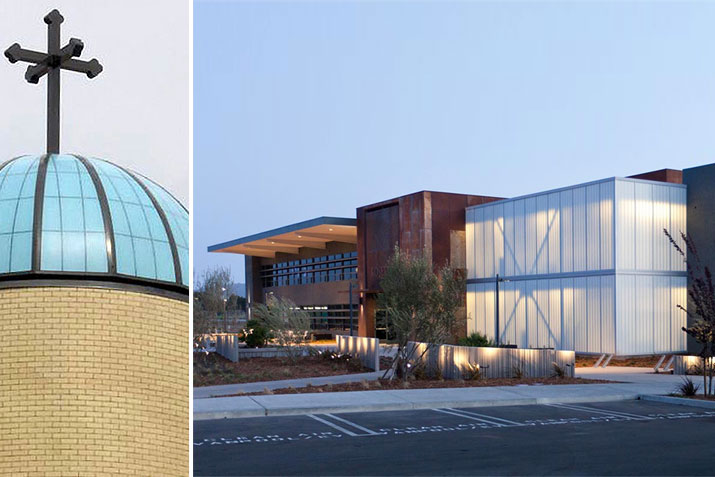 Bruns General Contracting/St. Mina and St. Abanoub Church/Miamisburg, OH - Guardian 275® TransCURVE® Dome; Garcia Architecture and Design/Rosetta/San Luis Obispo, CA - Guardian 275® with Verti-Lite™ Grid Pattern
For additional information on our full line of daylighting systems, as well as thermal performance and testing information, visit our website.
Company: Major Industries Inc.
Product: Guardian 275® - Translucent Panel Skylights & Curtainwall
Source: https://majorskylights.com/products/wall-systems/guardian-275/
Tags: Architecture | Design | Lighting | Wall Panels | Window Shades | Windows
---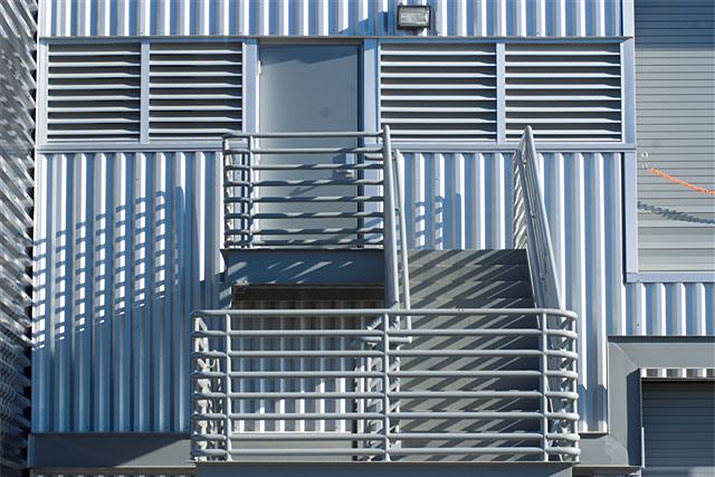 Architectural Wall Louvers are used to allow air into a building, while keeping out undesirable elements from mother nature like rain, water, dirt, and debris. They also add the extra element of aesthetic design to a building exterior. Use your air intake or ventilation requirements to improve the look of any building.
What if I want more rain protection?
Gain the utmost protection against water penetration by using one of our Wind Driven Rain Louvers. These louvers will protect your building from water damage, even under heavy wind and rain conditions.
What if I have high wind loads?
Any of our louvers can be modified to handle higher wind loads (within limits). However, if you are in Florida or other coastal states with hurricane force winds, use one of our Hurricane Louvers to gain the highest levels of protection.
Louvers are commonly specified in project documents under these divisions:
08 90 00 Louvers and Vents (sometimes listed as 08 9000, 089000)
08 91 00 Louvers (sometimes listed as 08 9100, 089100)
08 91 19 Fixed Louvers (sometimes listed as 08 9119, 089119)
Company: Architectural Louvers
Source: http://www.archlouvers.com/Louver_Applications.htm
Tags: Architecture | Design | Louvers | Ventilation
---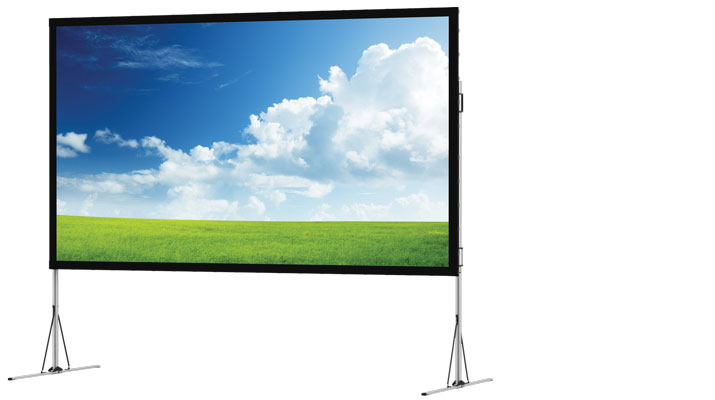 Fast-Fold NXT is a stronger, faster and simpler screen system for rental and staging environments. The re-invented design features a stronger extrusion, hinge and corner as well as new height adjustment that allows the viewing area to be raised and lowered easily. A new case design upgrades the storage and transport capabilities, and a foldable 4K-ready surface is the first and only available on the market.
Key Features
New Extrusion
More aluminum means a slightly larger frame and more strength
Channels give additional strength where you need it and prevent bowing
Shape improves aesthetic of frame and streamlines accessories by centralizing the location of all attachments
Fly any model with fly kit
New Hinge
Internal hinge improves durability and aesthetic
Increased strength in design that uses epoxy instead of exposed rivets
Push Button release for easy tear down
New Corner
Push Button release for easy tear down
Fixed corner design improves durability
Welded insert for additional reinforced strength
Surface alignment that is the same every time
New Legs
No speedy cranks. Easily adjust screen height while screen is assembled and upright with micro-tooth height adjustment
Easily add height adjustment sections when additional height is needed
Latch-attach to frame
Independently leveling feet for uneven floors
New Reinforced Case
Reinforced for increased strength
Updated internal organization to protect surface and components
New design featuring 4 wheels
Designed to be stored upright or stacked horizontally
New Surface Binding
New vinyl binding design replaces a woven binding and allows for easier attachment and flexibility
Smaller 1" white binding wrap-around option for borderless viewing area
RF Weld for clean lines
Easy attachment with new clip design
Company: Da-Lite
Product: Fast-Fold®Portable Screens
Source: https://www.milestone.com/en/products/da-lite/screens/fastfold_portable_screens/fastfold_screen_systems/fastfold_nxt_screen_system
Tags: Audio Visual | Design
---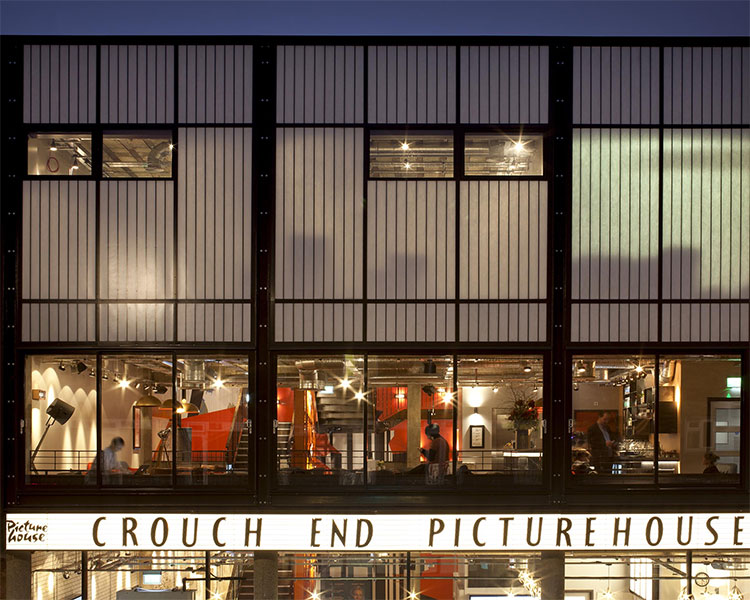 The design challenges facing architects and builders when renovating older buildings are considerable from increasing energy efficiency, to navigating inherited structural and building code changes. Here are five projects highlighting how such issues were solved, and illustrate some incredible transformations.
Charles H. Shaw Technology & Learning Center
Chicago, Illinois, U.S.A
Farr Associates converted a century-old industrial powerhouse into a modern learning center filled with natural diffuse daylight, while preserving key structural elements, including brick walls and floor tile, as well as some of the original machinery.

Buurtsporthal Parkloods
Antwerp, Belgium
This neighborhood sports park utilized Kalwall for its ability to provide balanced daylight and line of sight for athletes inside. The translucent panels help ensure the safety & security of athletes with visual privacy and impact resistance. As an extremely lightweight option in retrofit design, Kalwall offered large clear spans and accommodated the existing brick walls of a historical munitions factory.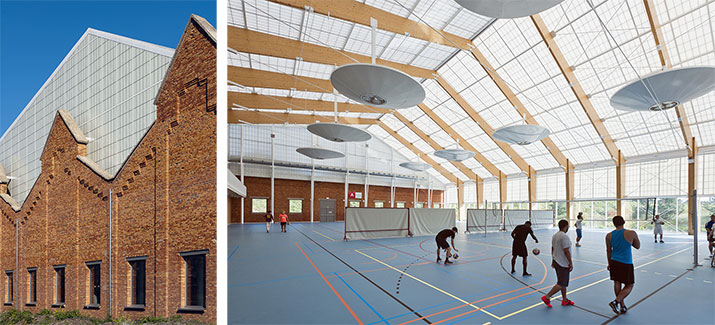 Crouch End Picturehouse
London, UK
VertiKal™ panels were factory unitized with sash, for a sleek, energy efficient recladding of the Crouch End Picturehouse – a renovated 1950s factory building. The Panter Hudspith design, which won three industry awards, uses the curtainwall to create gentle backlighting at night as a visual marquis.

1060 Redwood Office Building
Mill Valley, California, U.S.A.
An ordinary commercial box building was transformed by adding top-lighting from Kalwall skylights. This modern workspace is now filled with natural, diffuse daylight, creating an ambiance that ensures a healthy work environment that boosts productivity. The OSHA fall-through compliant (`man-safe') translucent skylights enable effective and easy maintenance without the need for safety cages.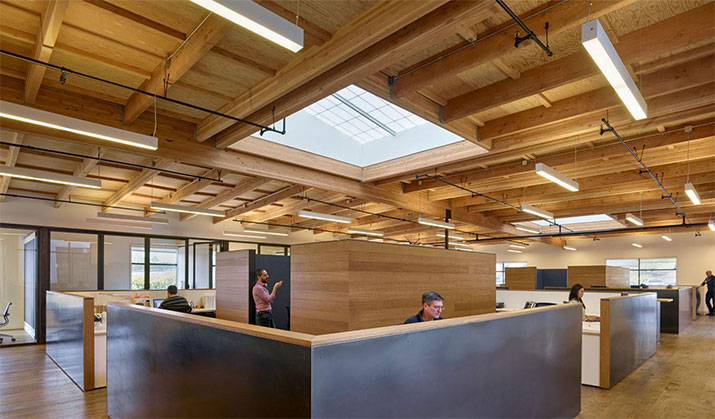 Featherstone High School
London, UK
Kalwall window replacements were an economical energy upgrade for an old school building that was failing due to decay and ingress of water. The highly-insulated translucent sandwich panels bathe the classrooms in diffuse natural daylight while reducing HVAC and artificial lighting costs. Unitized construction allowed for fast installation and minimal disruption to school operation.

Company: Kalwall Corporation
Product: Wall Systems
Source: https://www.kalwall.com/2017/11/02/visual-blog-kalwall-retrofit/
Tags: Architecture | Design | Skylights | Walls | Windows
---
To get an idea of Jordan Iverson's growing reputation as a world-class home designer and builder, Houzz.com is a good place to start. All 18 of his reviewers share a common verdict: A 5-star rating. Perhaps more telling is the fact his home designs, voted on by the vast Houzz community, have earned the Best of Houzz – Design Award the last five years running.
Iverson's work has appeared in print in Eugene Magazine as well as Portrait of Seattle magazine. And cable TV powerhouse HGTV also recognizes Iverson's design skills. In the popular home design channel's Faces of Design, Iverson is one of six top U.S. designers in their "Kitchen + Dining" category. As Iverson's reputation has spread worldwide, he has had to politely decline numerous commission opportunities from nearly all points across the globe, including some from as far away as Australia, Dubai, Canada, and South America. "With a wife and three kids, leaving home for a month or two at a time just wouldn't work," the owner and designer of Jordan Iverson Signature Homes quietly observes.
This is Jordan Iverson, the do-it-all home-building designer, interior designer, and builder that's rapidly emerging as Eugene, Oregon's go-to custom home builder. International praise just happens to be a well-earned by-product of delighting Eugene-area homebuyers for the last 16 years.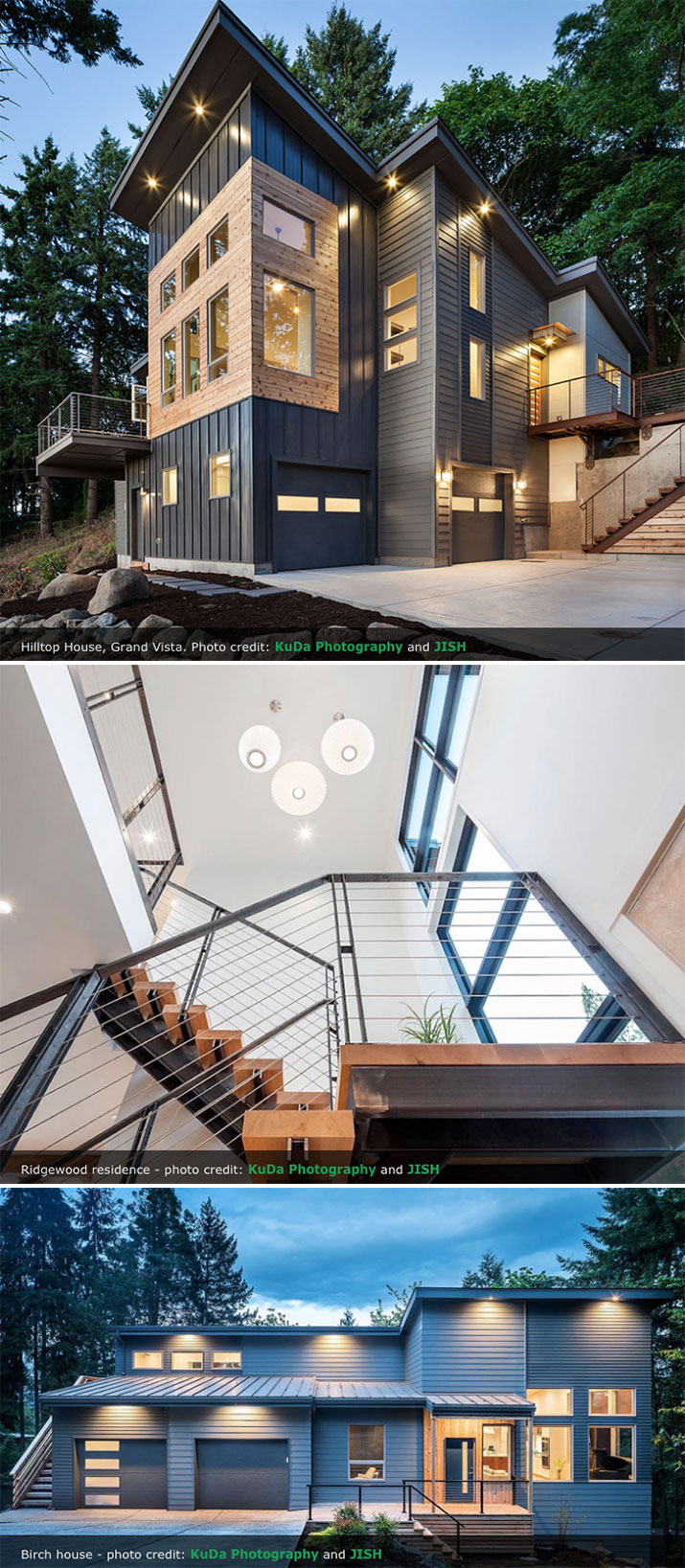 Self-Taught
"My dad was a builder so I grew up around it," Iverson explains. "When I married at 22, I decided to strike out on my own. We do every square inch of the design, inside and out. Each home we build is from the ground up. We've never built the same home twice."
If you detect a hint of pride, you wouldn't be mistaken. Iverson is a self-taught home and interior designer, claiming magna cum laude in the unforgiving school of the marketplace. Today Steve Wright, licensed architect, Driana Zehr, interior designer, and Chris Langenberg, project manager/site supervisor, round-out the Jordan Iverson Signature Homes team.
Deliberate Design
Iverson describes his design aesthetic as "warm modern" and "very Northwest inspired with warm wood materials and warmer gray colors that are never cold or harsh."
As home building auteurs, Iverson and his team work will happily honor the owner's wishes but are more accustomed to making nearly all design decisions. After all, that's what the owner is buying: A superbly-integrated design vision.
That vision routinely includes a signature design statement … the use of cable rail systems inside and out.
Feeney Makes It Easy
"Almost every design has had stainless steel cable rail of some kind. It really opens up views with a really nice, slim profile. The maintenance-free benefit is also great," Iverson says.
"Longevity and style are big benefits," he adds. "We don'''t sell upgrades or issue change orders. If it'''s right, we do it. The value of cable rail is very easy to present."
For Iverson, Feeney is more than his supplier of choice for cable rail systems. The Feeney name itself is morphing from a noun into a verb. "Feeney is the industry standard. A Feeney system has the clean look we're after. Quality and budget are also important considerations where Feeney shines.
"The Feeney name is synonymous with cable rail systems. They're the Kleenex® or Xerox® of cable rail," Iverson declares. Can 'Let's Feeney those steps' be far behind?
What's Next?
Today Iverson is broadening his brand to include four subdivisions that are expected to open later this year. "We're excited by that," Iverson says.
And so are the home buyers of Eugene, Oregon.
Company: Feeney, Inc
Product: CableRail Stainless Steel Standard Assemblies
Source: http://media.feeneyinc.com/blog/builder-spotlight-jordan-iverson-pride-of-eugene-oregon
Tags: Design | Railing System | Safety
---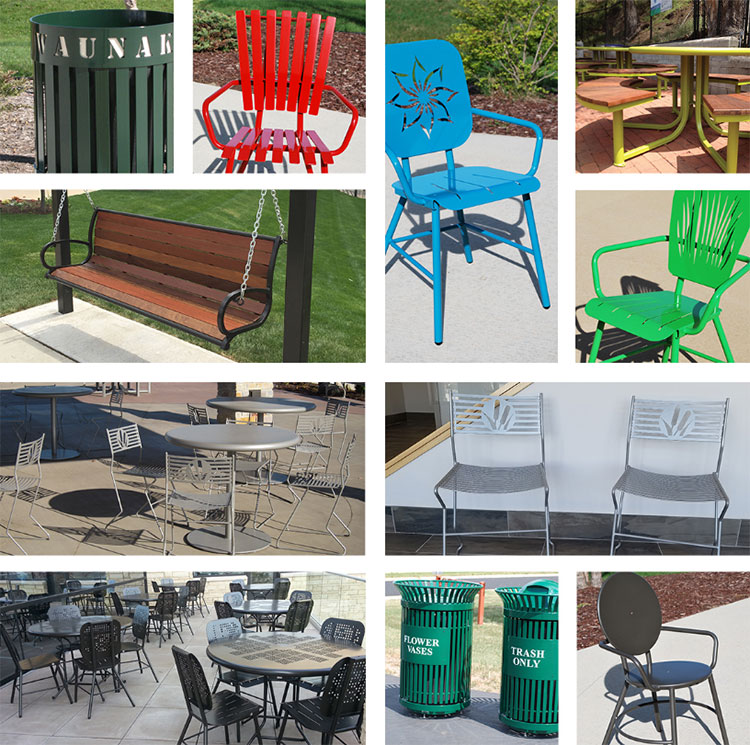 Let Thomas Steele help make your vision come alive
Your project requires more than generic, mass-produced site furnishings—it yearns for handcrafted custom outdoor furniture products that are as innovative and unique as your vision. Bringing your vision to life requires hard work and dedication to ensure that every particular aspect of your design is met to your exact specifications.
Our passion is to take your vision from concept to creation by custom designing site furnishings that aren't completed on an assembly line, but shaped, welded, assembled, and finished one at a time by our skilled and experienced team. Our custom outdoor furniture is fabricated with care from the finest materials available, and we offer a unique e-Steele™ technology that you can choose for your custom project for a durable finish and backed by an unsurpassed 5-year warranty.
For more than a decade, we have helped hundreds of clients develop custom designs that are not only unique but also functional, durable, and striking in appearance. We have built our reputation on our ability to provide our clients with custom site furnishings that bring their vision and design project to life. Located in Waunakee, Wisconsin, we take pride in our efficient ordering, local manufacturing, and speedy shipping processes that get you your products right on time.
Contact a Thomas Steele site furnishings expert at 608-849-1080 or at sales@thomas-steele.com with questions or custom design needs.
Company: Thomas Steele
Source: https://www.thomas-steele.com/custom-outdoor-furniture/
Tags: Color | Design | Furniture | Landscape Design
---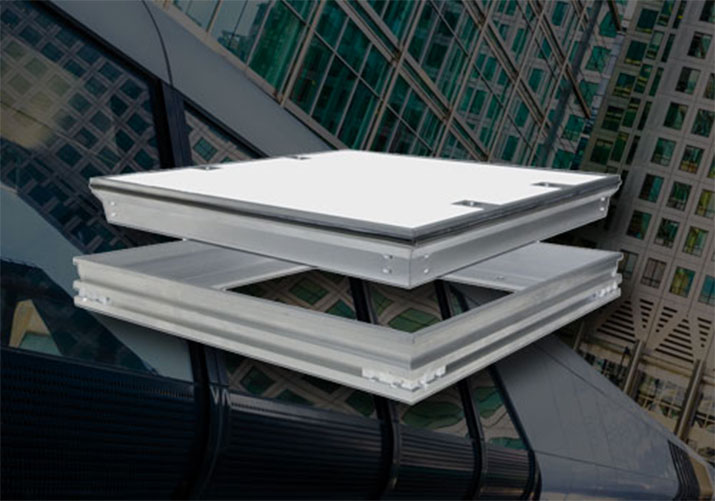 When it comes to solving the problem of accessing concealed services under floors, behind walls or above ceilings there are an abundance of products on the market that could do the job. However, if your requirement is for a quality access cover or panel that will provide quick and easy access to concealed services safely then those 'cheap' foreign imports are unlikely to make the grade!
In the world of construction the old adage, 'You get what you pay for' definitely rings true. Of course the majority of building services professionals involved in the specification process clearly understand that principle. A building component, such as an access cover, is just one of hundreds of constituent parts that make up a building. However insignificant the component to the overall structure it still has to possess certain attributes, satisfy stringent criteria and integrate positively with the other products being used.
As a busy architect or specifier how do you determine the best solution to the access scenario in your particular project?
PERFORMANCE
The level of performance required from an access cover is generally dictated by the type of environment where the concealed services are to be located.
Is it internal or external?
Loading requirement - will it be used by pedestrian traffic only or vehicular traffic?
Is access required frequently or just occasionally?
What size of aperture is needed to access the concealed services?
What type of material will cover the services?
How important is security?
At Howe Green we offer a wide range of floor, wall and ceiling access solutions designed to satisfy all of these performance criteria.
Need a single access panel for emergency access to a stopcock in a ceramic tiled bathroom wall? Or a duct run of floor access covers for regular maintenance of underfloor drainage systems beneath vinyl flooring in a hospital?
Whatever your performance specification Howe Green can provide the solution.
AESTHETICS
Whether you are working on a new build or refurbishment project the impact that an access solution has on the overall look and feel of the building is a consideration for the vast majority of projects.
By using the latest CNC and CAD technology access covers can be precision engineered to your exact specification. A perfectly sized access cover removes any hassle from the installation process and ensures that the cover fits seamlessly into the flooring, reducing the risk of slips and trips.
With options available for all types of hard floor finishes and the Visedge flexible floor access cover, Howe Green can be specified whatever the flooring finish.
STANDARD OR BESPOKE?
Many of the projects that cross your desk may well require a standard size access solution. At Howe Green standard size floor, wall and ceiling covers are available to order from stock, ensuring a speedy delivery to site when required.
Other projects may require a bespoke solution. This is where over 35 years of experience combined with continual investment in equipment, technology and processes ensures that whatever bespoke solution is required it can be supplied. If you need to specify a custom size, loading or finish Howe Green can accommodate your requirements without cost or time penalty.
MAKING THE DECISION
Whether you have most of the knowledge and information you need to prepare your specification or you are looking at our product ranges from scratch, the team at Howe Green are available to help.
The quality and performance of our products, flexibility of our service and the expertise of the team is what sets Howe Green access covers apart from our competition. Architects, specifiers, building engineers, flooring and tiling specialists and contractors have put their trust in Howe Green to deliver a tried and tested access solution since 1983.
If you are looking for an access solution to concealed services look no further than the industry standard and you will soon discover that "Not all Access Covers are created equal".
Company: Howe Green US
Source: https://www.howegreen.com/howe-green/news/not-all-access-covers-created-equal.php
Tags: Access Covers | Design
---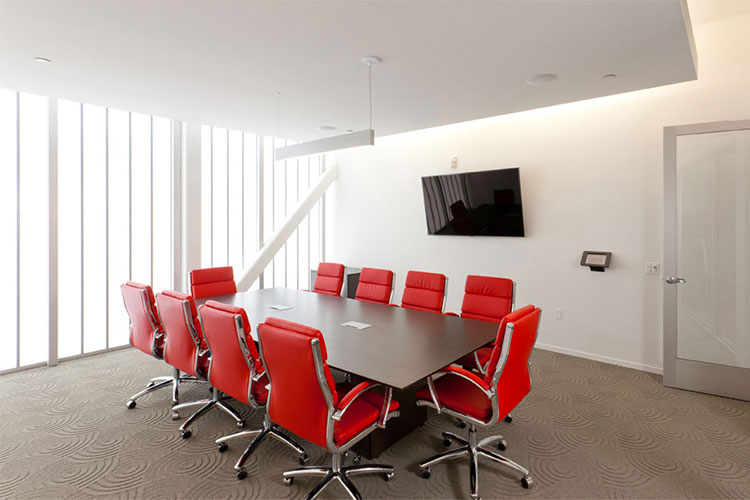 Major offers a wide range of glazing options, but even within translucent panel systems there are numerous ways to add customization to meet your project's needs.
In the shop recently was a project that utilized a 7″ x 7″ grid pattern (left side of image left), giving the panels a distinct geometric look. If you'd prefer to see less grid in the panel, choosing a white face sheet and opting for a larger grid pattern or our Verti-Lite™ option is the way to go. Verti-Lite™ (image) features vertical grids only, providing a channel glass look but with numerous insulation options as well as a lower cost.
Don't forget that we can also custom color insulation for a unique way to incorporate school colors into a building (or to mimic stained glass), and we can match finish colors as well if you're looking to tie the daylighting system into another part of the building. Contact our sales team today at 888-759-2678 to find out how we can customize your daylighting experience.
Company: Major Industries Inc.
Product: Guardian 275® - Translucent Panel Skylights & Curtainwall
Source: http://majorskylights.com/2017/09/lines-grids-aesthetics/
Tags: Design | Glass | Wall Panels | Window Shades
---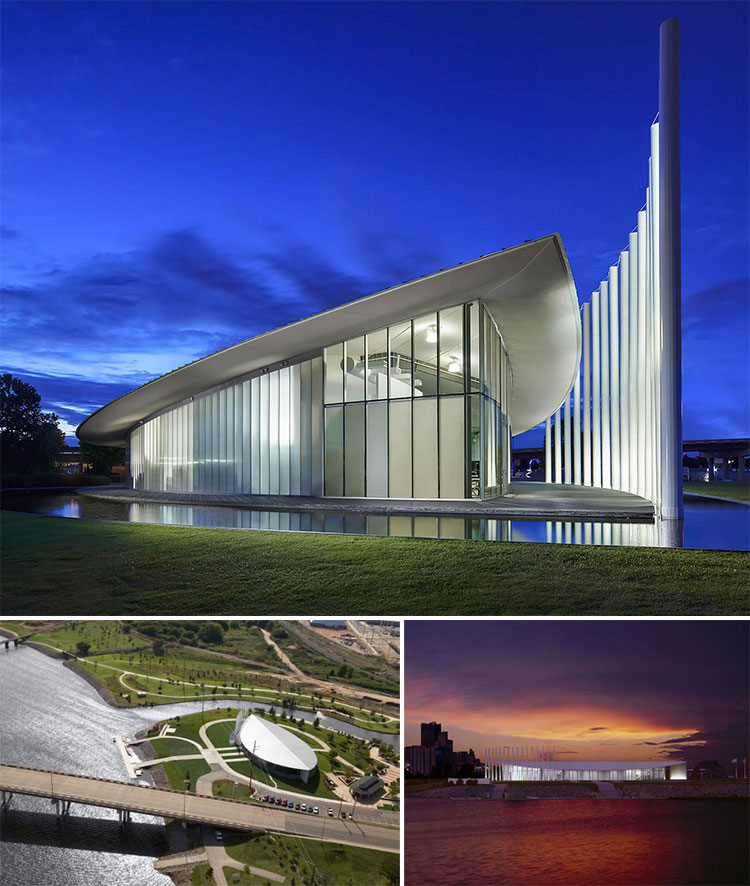 Location: Oklahoma City, OK
Architect: Elliot + Associates Architects
System: LIGHTWALL
The Chesapeake Boathouse shows the design capabilities of combining translucent cellular polycarbonate with glass vision panels. Framing systems that can accommodate both polycarbonate and glass effectively are a rare commodity, but EXTECH's systems possess this capability.
To create this sparkling facade, EXTECH's LIGHTWALL standing seam panels were connected directly to steel studs, nominally 2 feet on center. To create the smooth exterior, the standing seams were turned inward.
Due to the lightness of the polycarbonate panels, the installation time for the application was minimized. The end result not only delivered natural daylighting for the daytime hours, but it also provides a charming aesthetic by glowing like a constellation at night.
Company: EXTECH/Exterior Technologies, Inc.
Product: Translucent Walls
Source: https://extechinc.com/project-gallery/translucent-walls/translucent-panels-chesapeake-boathouse-oklahoma-city-ok/
Tags: Architecture | Building | Design | Lighting | Wall Panels
---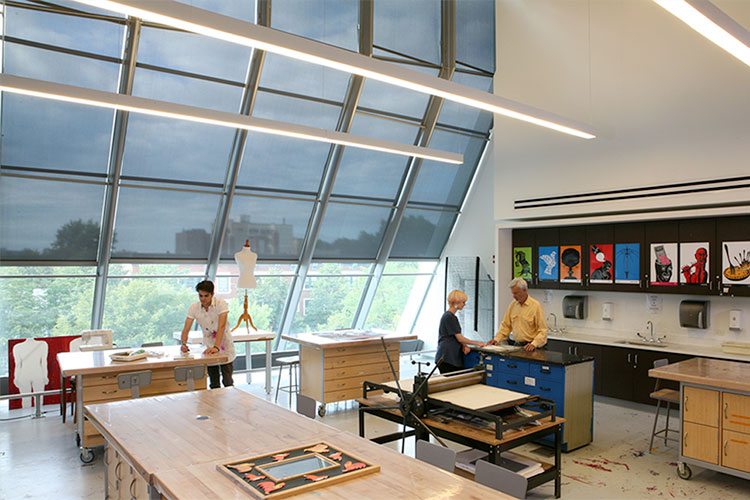 The University of Chicago Lab School had a problem. The school was building a brand new arts facility, the Gordon Parks Arts Hall, funded in part by a donation from the George Lucas Family Foundation. It was a high-profile project, making use of daylighting.
"They had a beautiful facade design with unique angles and breaks in the glass," Clint Childress, LEED®AP, solar control solutions product manager at Draper, Inc. "With this design, they had a problem with finding any solar shading that would work."
Bryan B. Biggers III, the president of Beverly Venetian Blind Company, agrees it was a complex project.
"We weren't the only people asked to bid on this project but we seemed to be the only ones that were willing to take on the complexity of this project with its unique angled windows," Biggers said. "It's something we had never done before but I felt that it would be a great opportunity to do something very special even though we really didn't know how we were going to accomplish it."
Biggers and his team talked to the designers in charge of the project to share some ideas on how to approach a solution for the project.
"This is where my thoughts went straight to Draper, Inc.," he said. "I knew that if anyone could help pull this off, it would be Draper."
Biggers' request came to Draper's Solar Control Solutions (SCS) division, which designs and manufactures custom solutions for customers around the globe.
"SCS is about bringing solutions to solar shading problems," Childress said. "There may be too much heat gain, a unique glazing design, an operation which is not standard, or anything that makes standard products not an ideal option."
Draper's designers discussed the project with Biggers and, after several conversations, proposed a solution. After some back-and-forth exchange of ideas and on-site meetings, a final design was agreed upon: a custom motorized shade system on tracks, with re-directional rollers to help the shades follow the changes in slope. The shades would be operated via wall switch, and feature Mermet E Screen Charcoal/Gray with a 3% openness factor.
To read the rest of this case study, and download a free pdf copy, click here.
Company: Draper, Inc.
Product: Window Shades
Of: Terry Coffey
Source: http://blog.draperinc.com/2017/10/draper-university-chicago-lab-school/
Tags: Design | LEED Certification | Solar control | Window Shades
---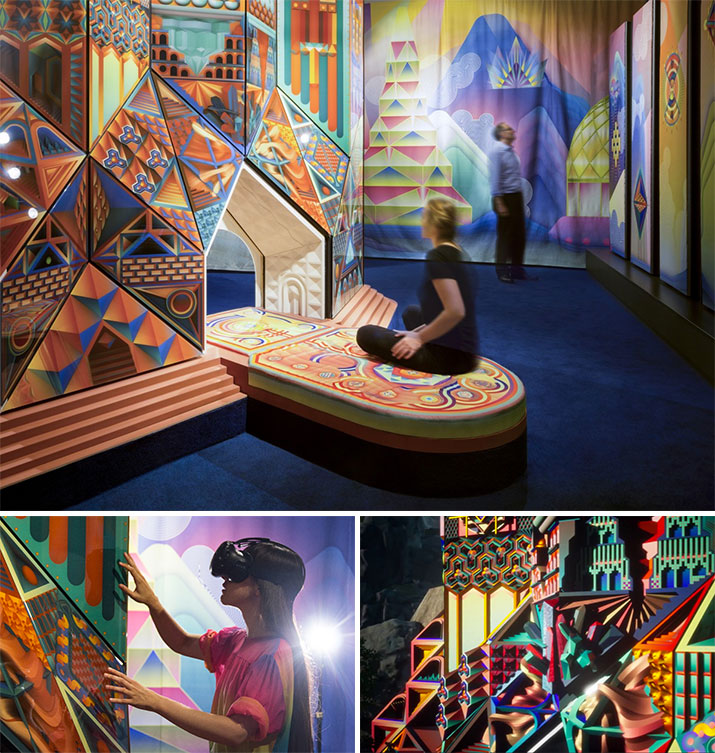 Werkstatt – which means workshop in German – is a showcase and test center in London for Sto's innovative facade and interior materials. In addition to the workshop's extensive resource library, the center offers technical consultations, exhibitions, speakers and seminars.
The current exhibit, "The Glass Chain", is by Space Popular, a Bangkok-based multidisciplinary design and research practice led by Lara Lesmes & Fredrik Hellberg. The exhibit, which will run until December 14, features StoVentec Glass that can be used as an external rain screen cladding system, and as an interior decorative option. In their UK debut at Werkstatt, Space Popular has redefined the potential of the material with its colorful and energizing installation, which encourages the imaginative use of glass in building design.
The title "The Glass Chain" is a reference to the infamous exchange of letters by a group of German architects from 1919-1920 initiated by Bruno Taut, who fantasized about the vast possibilities of an incredible new construction material: glass. He believed that all architecture, and even furniture, could be made of glass. His vision of the material was never realized, and glass simply became a solution for windows and walls.
Now, almost 100 years later, Space Popular – inspired by Taut's vision — is taking glass applications to a new level. Working with Sto technical experts, they have created a kaleidoscopic glass construction that explores different ranges of scale, playing with our visual perception of glass doorways as grand arches and small steps as giant pediments.
Curated exhibitions such as this at Sto Werkstatt are an opportunity to explore the changing nature of collaboration, between architects, materials manufacturers and applicators.
Materials on display include glass and rendered rain screen cladding, seamless acoustics, facade elements and intelligent interior and exterior paint coatings.
Company: Sto Corp.
Product: Specialty Systems
Source: http://blog.stocorp.com/2017/10/sto-werskstatt-features-alternative-glass-architecture-by-space-popular/
Tags: Architecture | Design | Glass
---
ViuLite® is a system of blinds that are permanently sealed within a double-glazed cavity for a completely dust-free and maintenance-free environment. ViuLite® ensures total protection against dirt, germs and weather conditions.
ViuLite® provides protection from solar radiation and can quickly regulate the internal environmental lighting levels. It filters light transmission and controls the effects of daylight with a simple tilting of the blinds. Heat and visual comfort are easily adjusted to accommodate the changing seasonal conditions.
Hermetically sealed, ViuLite® Venetian blinds are produced with 1/2" (12.5mm) wide aluminum slats featuring a choice of colors. The versatility of both product choice and control mechanisms makes ViuLite® suitable for all types of framing systems.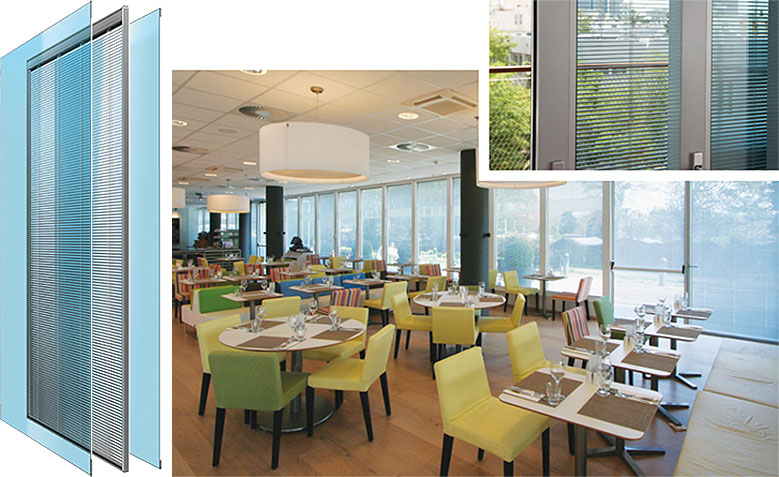 Ideally suited for healthcare, commercial, educational and residential building or renovation projects
Applications
Unicel provides various aluminum framing systems, glass stops, and door trim kit options to glaze Viulite® in:
Interior partitions
Sidelights
Doors
Windows
Curtain walls
Benefits
Blinds are sealed in an insulating glass unit for a germ-free, hygienic environment with reduced risk of infection and allergies
Enhanced solar shading features, blocks unwanted glare, heat, and harmful UV rays
Blinds can tilt and raise (tilt-only also available)
No cleaning or maintenance required
Protected from damage unlike exterior blinded systems
Variable control of vision (the blinds can be angled such that vision is permitted from one area to another, but limited in the opposite direction)
Esthetically pleasing design element for daylight and vision control
Features
Made with industry-leading ScreenLine® technology, 100% original Pellini Design
Custom-manufactured with any glazing types (tempered, heat-strengthened, tinted, laminated, wired, polycarbonate, leaded, glass-clad polycarbonate, and more)
Warm-edge spacers for enhanced energy efficiencies
Argon filled airspace for up to 25% in U-value improvements
27/32" (21.4mm) airspace to fit into tighter glass pocket depths
Between-glass-blinds can be readily installed in exterior and interior applications
SL20A/SL20C/SL20P/SL20B/SL20S/SL20M models available
Options for both external and internal motors
Electric accessories are available for control networks
Standard warranty: 5 years on blinds (10 years with premium), 2 years on electrical accessories
Supported by Unicel's 50+ years record of exemplary customer service
Company: UNICEL Architectural Corp.
Product: ViuLite™
Source: http://viulite.com/
Tags: Blinds | Design | Health | Windows
---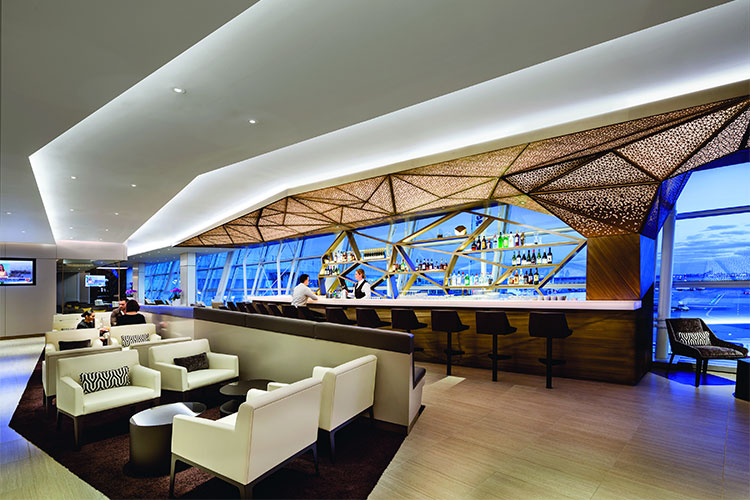 With the broadest portfolio in the industry and over a century of design and installation experience, Armstrong® Ceiling Solutions now offers more ways for architects and designers to make out-of-the-ordinary ceilings a reality.
Whether its modifying standard product shapes and sizes or creating custom sizes, shapes, colors, finishes, images, or perforations, no other ceiling manufacturer offers the broad range of options available from Armstrong Ceilings.
The You Inspire™ Solutions Center, a free service which provides collaborative design and pre-construction assistance, rounds out the full range of capabilities Armstrong taps to bring one-of-a-kind ceilings to life.
"Whatever your idea for a ceiling is — no matter how unique — bring it to us", says Nick Taraborelli, vice-president, commercial marketing, for Armstrong Ceilings. "We will do whatever we can to make it happen and help you to create your next great space."
New Capabilities
Some of the new capabilities Armstrong recently added to its portfolio include:
New cloud, striated, and other custom profiles for SoundScapes® Blades™ panels
Larger 4' x 4' sizes for MetalWorks™ Torsion Spring panels
More options in panels with Total Acoustics™ performance, including more standard Ultima sizes, FastSize™ options, and wood and metal offerings.
Colorations® Colors now for Lyra® Concealed PB (plant-based) ceiling panels.
Drywall linear lighting and intersection down lighting
To be inspired by the broad range of capabilities Armstrong offers, visit https://www.armstrongceilings.com/capabilities. There you can view "Unleash Your Imagination," a colorful, 18-page brochure that illustrates the many unique ceiling designs that have been brought to life utilizing the capabilities of Armstrong Ceilings.
Company: Armstrong Building Solutions
Source: https://www.armstrongceilings.com/capabilities
Tags: Acoustics | Architecture | Ceiling | Design
---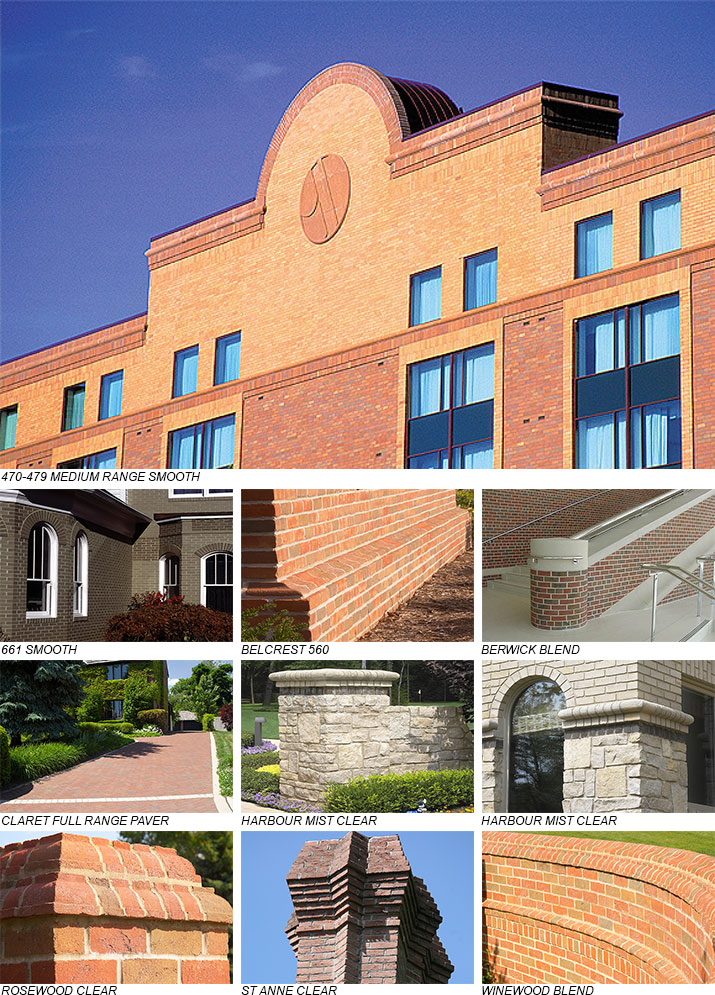 The experts at Belden Brick's Special Shapes Division are prepared to move new brick concepts from your mind to the mason's hand. Architects and designers need not let their creativity be stifled by existing ideas of what a special shape brick should look like. We invite you to explore the artistic impact that special shape brick can have on your design. We have already created an amazing array of shapes, sizes, colors and textures for projects across the country. The brick you have in mind may already be here for your use. If not, we are prepared to offer you design and production services customized to your exact needs. You can rely on our special shape brick to provide unique design elements - corners, angles, curves, slopes and other dramatic effects that go on to become signature pieces of residential and commercial architecture. We can also provide unique colors, making your next building project stand out as a one-of-a-kind structure or blend in with its surroundings or existing companion buildings. For those elements of your project that need to stand out, you require unique products like Belden Brick special shapes.
Company: Belden Brick Co.
Product: Face bricks
Source: http://www.beldenbrick.com/Gallery/special-brick-shapes
Tags: Architecture | Design | Masonry
---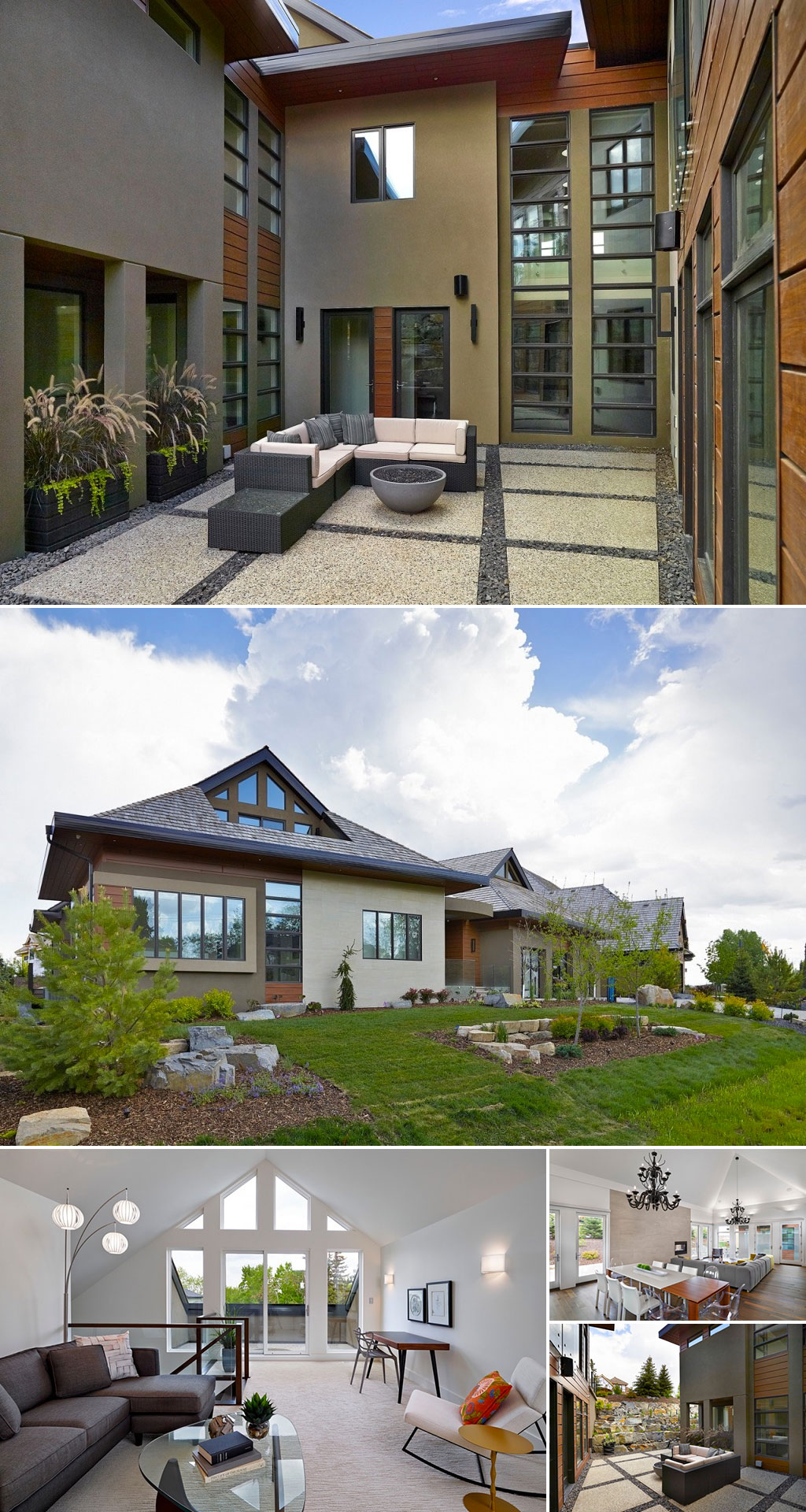 Designed by E3 Architecture and builder Birkholz Homes
Located in a high-end residential suburb of Edmonton, Alberta, the Windermere House serves as a luxury show home with top-notch, European-inspired finishes – inside and out. Designed by E3 Architecture and builder Birkholz Homes, the prestigious residence blends metal, glass, wood, warm hues and natural light. Completed in 2014, this 8,000-square-foot house features Loewen's aluminum-clad windows painted by Linetec to ensure the intended, high-quality presentation with minimal maintenance.
Conforming to the neighborhood's Victorian-Georgian strict architectural standards, E3 changed the perimeter of the house from a square to a U-shape to maximize the Windermere House's daylight and views with glass balconies, patio doors and Loewen's custom-made, triple-glazed windows. To optimize placement, the architectural drawings incorporated 3-D renderings of Loewen's products from the project's earliest phases.
Linetec finished Loewen's windows in a Tuscany Brown color using a 70 percent polyvinylidene fluoride (PVDF) resin-based coating. These coatings meet the stringent requirements of AAMA 2605 and exhibit outstanding resistance to humidity, color change, chalk, gloss loss and chemicals. The resulting finish provides durability and requires minimal maintenance throughout the show home's lifespan.
Learn more about Linetec's paint finishing services by clicking here. For personalized assistance in selecting the right coating for your aluminum building products, please contact Linetec's regional sales managers , email sales@linetec.com or call 888-717-1472.
Company: Linetec
Product: High-Performance Fluoropolymer Paint Coatings
Source: https://linetec-blog.com/2017/09/25/linetec-finishes-loewen-windows-for-canadas-windermere-house/
Tags: Architecture | Coating | Color | Design
---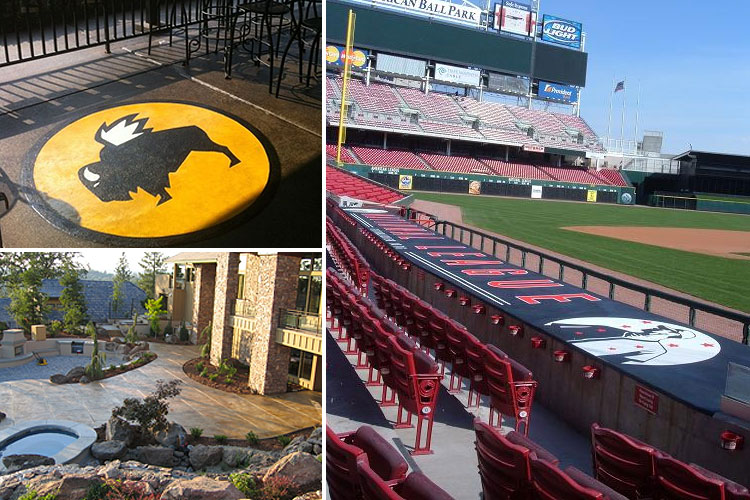 Known for its incredible beauty, strength and affordability, thousands of retailers, restaurants and showrooms nationwide are choosing decorative concrete. With decorative concrete coatings and finishes, your business can transform a dull slab of grey concrete into a work of art and extend the life of your flooring. While decorative concrete coatings offer many great benefits, here are some of the key advantages:
1. Design flexibility
Decorative concrete can be applied to new or existing concrete surfaces, and the design options are virtually limitless. Due to advances in concrete mixing and setting, contractors can create any color and texture you can think of. Decorative concrete coatings can be applied through a variety of methods, including acid staining, thin stamp overlays, splatter texture, and slate trowel down finishes, which can be used to create decorative textural patterns or custom designs. Decorative concrete can even be made to resemble natural stone.
2. Strength and longevity
Along with its aesthetic appeal, decorative concrete coatings will increase the strength, durability and longevity of concrete surfaces. It's stronger than many comparable materials and will deteriorate at a much slower rate. Decorative concrete will make your floor resistant to heavy loads, weather, and mold and dust.
3. Low maintenance
Decorative concrete is easy to clean and requires very little maintenance. There's no regular polishing or coating, and spills can easily be cleaned up with soap and water. You just need to apply a sealer about every 4 years. The low maintenance and durable properties of decorative concrete will save you valuable time and money on maintenance and repairs.
4. Affordability
Despite all its amazing benefits, decorative concrete coatings are very low cost and affordable. Decorative concrete is inexpensive to install, and with its extreme durability, resistance to most damages and low maintenance requirements, it's the most economical flooring solution.
Protect and beautify your concrete surfaces with decorative concrete. If you are interested in installing decorative concrete at your business, contact Elite Crete Systems today: 1-888-323-4445.
Company: Elite Crete Systems, Inc. (Headquarters)
Product: Decorative Concrete Finishes
Source: http://www.elitecrete.com/4-major-advantages-decorative-concrete-commercial-settings/
Tags: Concrete | Design | Floor
---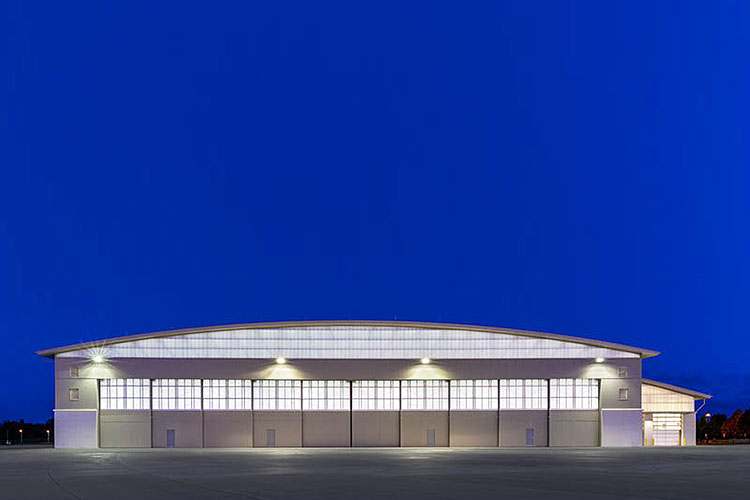 Images ©balloggphoto.com
Chicagoland's DuPage Airport Authority is home to the largest concentration of corporate aircraft in Illinois. It supports more than 400 based aircraft and is the only general aviation airport in Illinois with four active runaways, two instrument landing system approaches and a 24-hour FAA Air Control Tower, U.S. Customs and 24-hour onsite rescue and firefighting capabilities.
In addition to the aircraft on site, the airport receives daily transient aircraft. To better accommodate their aviation needs, the DuPage Airport Authority opened a new hangar in August 2017, reflecting its goal to build and maintain a world-class facility in the heart of the United States.
The new 31,000-square-foot hangar spans 244 feet wide by 134 feet deep with 29-foot-high doors. It features EXTECH's LIGHTWALL 3440 and SKYGARD 3300 polycarbonate systems. Mark Doles, the Director of Aviation Facilities and Properties and DuPage Flight Center, says of the new facility and EXTECH's systems: "We chose EXTECH's systems to give us the architecturally attractive look we wanted and the translucent polycarbonate lets us take advantage of the borrowed light. With the natural light, we usually will not have to utilize any electric lighting at all during the day. When we do illuminate the hangar, it's stunning to see at night."
Company: EXTECH/Exterior Technologies, Inc.
Product: Custom Facades
Source: https://extechinc.com/see-photos-dupage-airport-chicago/
Tags: Design | Skylights | Wall Panels | Window Shades
---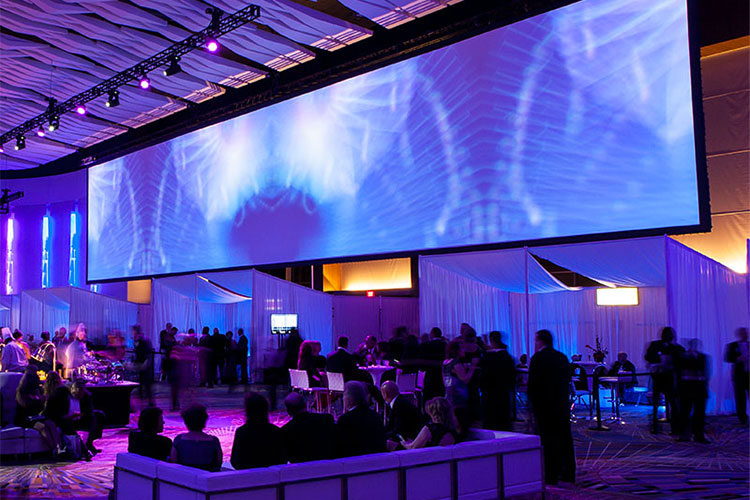 In response to requests from leading AV rental dealers, the StageScreen® is a totally new concept in projection screen design. It is designed specifically to be flown, but can also be used with legs. Either way, it is the strongest and most rigid screen on the market.
The truss system is completely modular. All available sizes of StageScreen® are built from combinations of the same 6 standard color-coded frame sections pictured in the images above. Not only does this make screen assembly faster and easier, but if a frame section should ever become damaged you can replace it in seconds without tools.
AV rental dealers can easily streamline their inventory with the StageScreen®. You can change a Multiformat to an NTS.
The StageScreen® utilizes an 8" truss that is significantly stronger than traditional truss folding screens
It is engineered to hold tolerance after repeated usage.
Color coded frame sections ensure fast and easy assembly.
Draper performed in-house testing of the strength of the StageScreen® truss compared to a folding truss screen. The results were dramatic: StageScreen® proved to be over 60% stronger, holding strong long after the folding truss failed.
The image area of each screen is exact and true to format.
StageScreen® can be assembled in about half the time of a comparable truss folding screen. See video below.
No hinges, no snaps, and no Handy Cranks are required.
Frame sections are connected with permanently attached threaded links and guide pins. No lost handy cranks.
Easy to follow color-coded assembly instructions are included with each StageScreen®
StageScreen® features a revolutionary new viewing surface attachment method. Using the attached DuraLoop™ bungee cord loops with handy nylon pull-tabs, simply hook the surface to the posts on the frame. DuraLoops are longer lasting than traditional snaps, and provide even self-centering tension for the viewing surface. You'll never want to use snaps again.
The viewing surface is stretched perfectly flat, resulting in the highest picture quality.
Sizes available are listed in charts below and depend on surface selected.
Company: Draper, Inc.
Product: Projection Screens
Source: https://innovative.draperinc.com/projectionscreens/productdetail.aspx?detail=581
Tags: Audio Visual | Color | Design | Lighting
---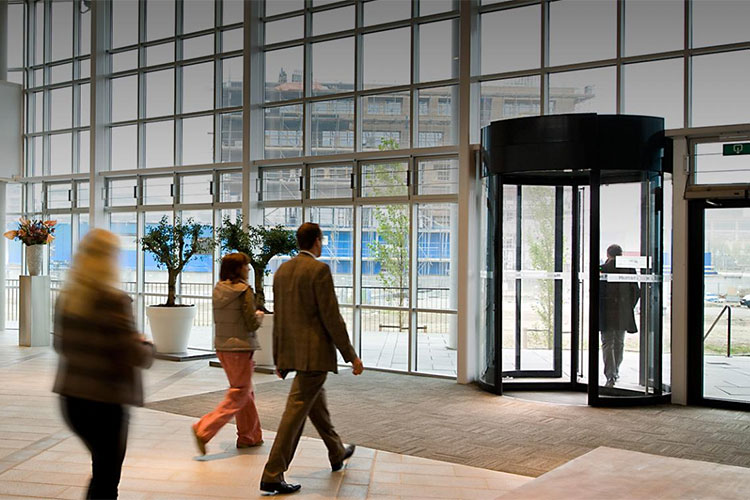 It is no secret that we're living in a time of great unrest. The news is laden with headlines publicizing 'lives matter' and 'occupy Wall Street' movements, political protests, active shooter incidents… the list goes on. As a result, businesses are seeing an urgent need to protect their customers and staff from the impacts of these disruptive, destructive, and even deadly acts.
You may have seen it on the news, a Fortune 500 financial firm fell victim to a smart mob after the firm provided funding to an unpopular project, bringing into question their stance on environmental sustainability, among other topics. Angry protestors walked right through the front door of one of the firm's offices and, with signs in tow, hooked arms in front of an elevator bank to prevent employees from getting to work. It wasn't until 4 hours later that the protestors finally vacated the lobby.
Tangible and Intangible Impacts of Unauthorized Entry
What could be the impacts of such an incident? The tangible, bottom line impacts include bad press, a loss of productivity, and potential property damage if things turn sour. There can also be some intangibles, like physical pain and suffering, and a feeling of anxiety, stress, and insecurity among employees as they wonder what could happen tomorrow. According to a study conducted by SHRM in 2016, over 88% of those surveyed stated that "feeling safe in the work environment" was either important or very important to their overall job satisfaction.
An Unlikely Solution to a Likely Problem
While these types of incidents are happening regularly across the nation, it shouldn't take the prospect of hundreds of picketing protestors outside your door, or looting and fire wielding on your street after sunset, to get you to start thinking about increased building protection. And, that protection starts right at the front doors. Could a plain old, manual revolving door provide that first layer of protection against unwanted building infiltration? The answer is "yes!"
While revolving doors are typically known for providing energy and space efficiency, certain manual revolving doors can be equipped with security features. These doors are being deployed in urban locations to safeguard residents in high-rise apartment buildings located near neighborhoods with more incidents of crime. They are popping up in both urban and rural areas where management wants to keep outside altercations from coming inside. Revolving doors are providing comfort to staff members entering office buildings or public spaces such as museums, afterhours, often alone and at night.
Four Security Features of Manual Revolving Doors
Take a look at what's new for manual revolving doors in these distressing times. These features are more applicable today than ever and some require electrical power to operate:
Exterior night locking doors. Perfect when you want to convey "this establishment is closed!" A set of bi-parting doors slide over the revolving door opening, closing off its compartments. The exterior doors act as a visual deterrent against infiltration afterhours.
Security lockdown. During normal business hours, in the event of an immediate security threat, facility or reception staff can electrically lock the door wings immediately, in any position, at the push of a remotely located button.
Remote locking. Door wings can be locked manually at the push of a remotely located button, or locked automatically at say, 5:00pm by an access control system. This method is different from the security lockdown feature, though. Overhead anti-entrapment sensors scan the compartments for user presence. If someone is inside the door while the lock is engaged, the door will continue to rotate until the compartments are clear rather than stopping on a dime. The door will stop in the "x" position, with its wings pointed at the end posts and then lock in place until unlocked.
Access control integration. Secure afterhours access is possible via an access control device mounted on the outside of the door. Upon valid authorization, usually by means of an access card reader, the door wings will unlock and the user can push to enter the facility. Once the user is clear, the door positions itself and locks.
It's a crazy world out there, but there is something that you can do today to safeguard your business, and it can begin right at the front door. Ask your revolving door provider which models are equipped with these security features (ours is called BoonAssist TQ).
Company: Boon Edam Inc.
Product: Revolving Doors
Of: Amy Coulter
Source: http://blog.boonedam.us/mitigating-protests-smart-mobs-and-crime-with-manual-revolving-doors
Tags: Design | Doors | Entrances | Security | Sustainability
---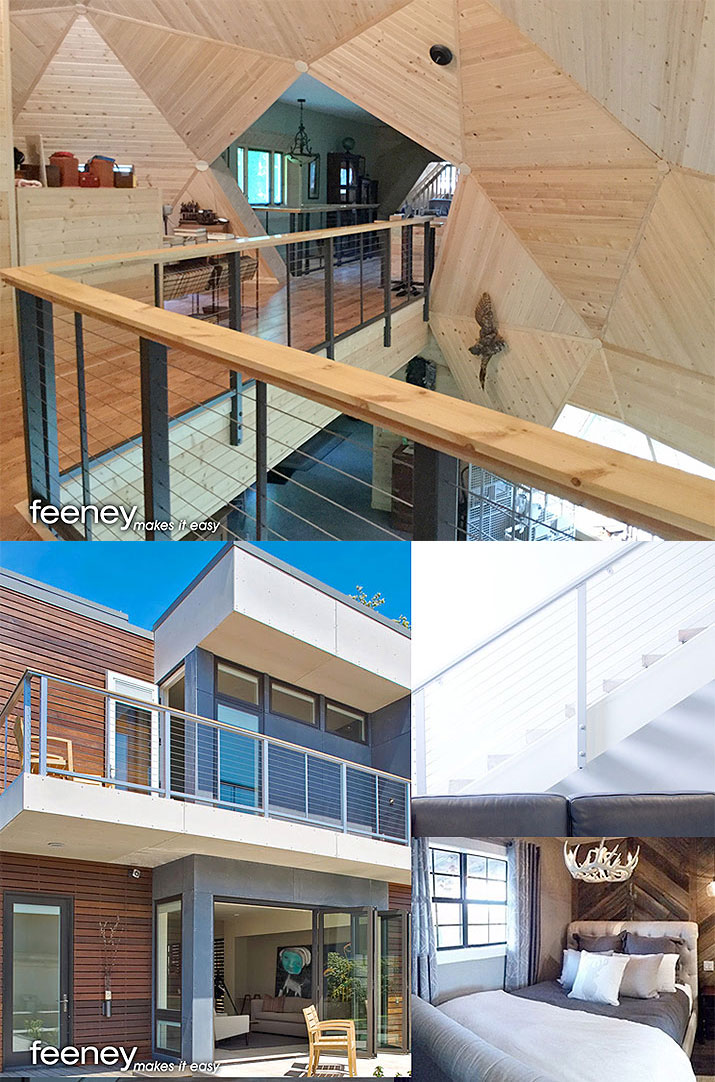 Solar panel arrays. Reclaimed wood. Ultra low-flow toilets. Smart thermostats.Continuous insulation. Volatile organic compound (VOC)-free paint. Recyclable railings. The list of ways American home designers, developers, builders, and owners slash energy expense, promote household comfort and health, and embrace green building practices grows by the day.
The U.S. Green Building Council (USGBC) is carefully monitoring these practices, too. The people behind the widely known LEED (Leadership in Energy and Environmental Design) certification program for commercial and residential structures say more than 121,900 residential units have now earned LEED certification worldwide.
USGBC research also indicates more than of half of consumers rank green and energy-efficiency as top requirements for their next home. Even renters say a LEED-certified property is topped only by a prime central business district location as a desirable feature, according to USGBC studies. Today the USGBC predicts a whopping 84 percent of all 2018 residential construction will have sustainable features.
High on that list of sustainable features are the Feeney's CableRail stainless steel cable infill and DesignRail® aluminum railing systems.
"All of our architectural products are made from stainless steel and/or aluminum which are among the most recycled materials on the planet," says Brad Adsit, Feeney's Product Development/Engineering Manager. "But that's just the beginning of how we support a green building ethic."
Feeney may have one of the most comprehensive, earth-friendly manufacturing programs in the architectural products business. Points of proof:
The grade 316 stainless steel cable used with Feeney CableRail products contains 70 percent pre-consumer recycled content.
The aluminum extrusions used in the DesignRail® railing system contain 40% pre-consumer and 30% post-consumer recycled content.
Low maintenance requirements mean no treatments, stains, solvents, varnishes, or preservative that may contain harmful chemicals.
CableRail fittings and cables use less raw material and allow easier handling, lower shipping costs, and less transit fuel consumption.
Feeney's California manufacturing facility is nearly energy self-sufficient thanks to an immense 5,000 square foot solar panel array.
Feeney's powder coating facility in Nebraska emits no V.O.C.s or heavy metal waste, uses a non-chromium pre-treatment wash, and reclaims 93 percent of the wastewater.
This is only a partial list. As you consider railing system options as part of a green homebuilding project, keep Feeney in mind as a LEED-friendly supplier.
"Feeney contributes points to the various LEED version 4 rating systems in the Materials and Resources credit category, by disclosing product ingredients to demonstrate raw material optimization," according to Adsit.
"We work hard to be thoughtful stewards of our natural resources," notes Adsit. "Improving our ability to deliver greener building solutions is a continuous, relentless priority."
To learn more, read the Feeney Environmental Statement and Feeney LEED info.
Company: Feeney, Inc
Product: CableRail Stainless Steel Standard Assemblies
Source: http://media.feeneyinc.com/blog/the-color-that-became-a-building-philosophy
Tags: Design | LEED Certification | Metal | Railing System | Sustainability
Ogden by Maglin Site Furniture offers flexible straight, curved or circular bench options to suit any style (August 25, 2017), Visual Blog: Kalwall in the Cultural Market (August 22, 2017), Ruskin's acoustical louvers are AMCA licensed for water penetration and air performance (August 21, 2017), Not all access covers are created equal (August 14, 2017), Little things make a big difference (August 14, 2017), How to deliver true color to your clients (August 11, 2017), Sustainable and small: The tiny house movement (August 9, 2017), Architectural Series Roof Guardrail System (August 8, 2017), Slipnot® provides slip resistance and aesthetic display for Times Square spotlight on Broadway project (August 7, 2017), Lake Avenue light poles restoration - Pasadena, California (August 2, 2017), SC Railing Company: Offering a View from the Top (July 31, 2017), TerraCast Step Planters Bring Innovation to Reclaim Public Spaces in Major U.S. Locations (July 28, 2017), 5 Little Known Facts about High Gloss Acrylic Wall Panels (July 24, 2017), What the New Urban Agenda means for architects (July 21, 2017), Gorgeous Atriums that Meet Design Aesthetic and Safety Code (July 19, 2017), Maglin Moves Manhattan (July 6, 2017), Great thermal performance + corrosion resistance = Clima-Tite™ translucent wall systems with fiberglass framing (June 29, 2017), Swedish hospital 'takes a chance' on Howe Green (June 21, 2017), Summer Birds Nesting on Your Property? (June 6, 2017), Glazing Over Global Trends: Larger Formats and Smaller Sight Lines (May 29, 2017), Door Access Control & Security Entrance Integration Techniques (May 24, 2017), UNO Helix / Spiral large scale LED fixtures (May 23, 2017), EXTECH offers LIGHTWALL 3440 translucent wall system with three new glazing options (May 15, 2017), Sherwin-Williams converts digital color into fresh coats of paint for a good cause (May 11, 2017), Solar shading systems: fixed & motorized louvers (May 3, 2017), Auburn® custom & pre-engineered skylights (May 1, 2017), Warwick Hotel Rittenhouse Square boasts unique, stylish lobby entrance with revolving door (April 24, 2017), 2017 COTE Top Ten - Setting the standard in design and sustainability (April 20, 2017), KINETICWALL wins 2017 Architizer A+ Award (April 19, 2017), Bicycle security solutions (April 14, 2017), Striking the Right Color Balance in ALR Screens (April 10, 2017), Guard Houses (April 3, 2017), New AIA Certified Course on Resilient Design (March 6, 2017), Global changes in construction: Kalwall's insights from BAU (March 1, 2017), Ventilation for you the music fan: Brilliant audio performance concealed behind your fan grille (February 27, 2017), Choosing the right finish for coastal projects (February 24, 2017), Backyard 2.0: 2017 Deck and Railings Forecast (February 8, 2017), Navigating the wide selection of polymer overlays over concrete substrates (February 2, 2017), Brass clad & bronze clad doors & frames (January 30, 2017), Flexible bollards guide traffic while avoiding costly collision damage and repairs (January 27, 2017), Iconic TWA Terminal Receives New Life (January 18, 2017), StonePly Success Story: Atlantis - The Cove (January 11, 2017), The Benefits of Water-Based Concrete Stains (January 2, 2017), Architectural Glass Takes on a New Shape (December 23, 2016), The Grand Louvre - Phase I - honored with AIA Twenty-five Year Award (December 22, 2016), 4 'Gotchas' that could derail your front entrance security upgrades (December 16, 2016), Case study: Otterbein University's STEAM Innovation Center featuring Extech's Lightwall 3000 series curtain wall system (December 15, 2016), Solutions for the entire building façade (December 9, 2016), Architects empowered to drive positive change at SXSW Eco (December 5, 2016), Major announces new Auburn® skylight option (November 25, 2016), Don't Make Color Decisions at Sunset (November 2, 2016), Roman Brick: for architects and homeowners aspiring for a unique look (October 26, 2016), Kelly Edwards' Tiny Home: Shipping container turned elegant living space with rooftop deck (October 21, 2016), Battery Life: introducing a new way to energize your outdoor space (October 12, 2016), Images in Concrete: Reckli Artico® (October 7, 2016), The future of insulated wall panels has arrived (September 28, 2016), Color Rendering Index: Why It's important in Outdoor Lighting (September 23, 2016), Make your buildings look good with uniquely designed polycarbonate products for building exteriors (September 19, 2016), Red, traditional brick color for traditional architecture (September 7, 2016), Armortex Waterjet Cutting (August 24, 2016), Summer 2016 in the Hamptons (August 19, 2016), AIA and Autodesk Introduce New Feature to Automate 2030 Commitment Reporting Data (August 15, 2016), The Feng Shui of Kalwall (July 11, 2016), Blackout & mesh shades in the same window? Dual Roller Shades are the solution! (July 5, 2016), Evolution Of Revolving Door Security: Teaching Old Doors New Tricks (July 4, 2016), Balancing Bulletproof Security and Design (June 21, 2016), Cut solar energy getting into buildings by up to 92% - stop it before it hits the glazing (June 17, 2016), Architects create tactical urbanism with AIA Design Competition (June 1, 2016), Turnstiles to Appear on Discovery Channel Show (May 6, 2016), Icynene Spray Foam: Water absorption comparison to other insulations (May 4, 2016), Cochran Expands and Enhances Landscape Forms Lifestyle Furniture for Terrace Life (April 29, 2016), Another Award-Winner: Verti-kal™ and the John Fry Sports Park Pavilion (April 22, 2016), Broan NuTone invents new mosquito barriers for decks (April 13, 2016), Guardian 275® translucent skylights provide a wide range of color, thermal performance and specialty application options (April 6, 2016), Creative Bike Racks That Make Your Space Stand Out (March 14, 2016), Better than real wood planks (March 9, 2016), The Plan to Turn NYC's Turnstiles Into Musical Instruments (February 29, 2016), 2016 Color Forecast (February 22, 2016), Maximize views with generous exterior glazing, while ensuring privacy and thermal efficiencies (February 19, 2016), Great Glazing: Rogers Memorial Hospital Brown Deer (February 8, 2016), Partnering with Architects to Make BulletProof Beautiful (February 3, 2016), Online Color Selection and Specification Tool (January 11, 2016), Kalwall Featured: Guide Dogs for the Blind New Student Residence (December 30, 2015), Designing Outdoor Public Spaces is Vital to the Future of our Cities (December 28, 2015), Active Design Guidelines for Walkable Communities (December 23, 2015), 3 buildings that balance aesthetics and performance (December 16, 2015), Making History: The National Constitution Center (December 11, 2015), Earn LEED Points With Florence Mailboxes (November 18, 2015), Data Center HVAC Design Considerations (October 26, 2015), Helping to retrofit Bronx Community College (October 5, 2015), A perfect blend between revolving doors and transparent architecture (September 4, 2015), Custom Mill Work, Bullet Resistant Barriers, and Inconspicuous Perfection (July 24, 2015), Structural Acoustic Roof Deck (July 3, 2015), Revolving Doors and ROI for Retail (June 10, 2015), April Showers Bring May Flowers… And Eco-Friendly Smart Glass (May 18, 2015), Suitable for framing: Kalwall brings distinct lighting to award-winning design (May 15, 2015), Mid-century modern design in Los Angeles (April 27, 2015), 5 Tips For How To Fill Perfect Looking Large Planters (April 22, 2015), Light your way with environmentally friendly solar lighting bollards (April 20, 2015), 10 Key Questions about Exterior Shading - free white paper (April 15, 2015), Make a Statement With Your Mailboxes (April 6, 2015), Beautiful, High Performance Finished Floor Solutions (April 1, 2015), Design Meets Security: Launching New Revolutionary Access Control Barrier Series at ISC West (March 27, 2015), Sunshades provide aesthetic appeal to the building exterior (March 23, 2015), Unique and secure bicycle storage (March 18, 2015), New product launched minutes ago! Central Park Conservancy (March 12, 2015), Entrance possibilities are endless! See the 7 elements of revolving door design (February 23, 2015), Architecture and Design for Today's Schools: Secure and Inviting (February 10, 2015), Aluminum Railing Frame Systems (January 28, 2015)