architecture - engineering - construction

Design
---
The right light is essential to experience and enhance the viewing of art, and Kalwall® has become the preferred choice of architects to provide museum-quality daylighting™ for cultural projects worldwide.
Calder Foundation Gallery
New York, New York, U.S.A.
The diffuse daylight of Kalwall panels cleverly showcase the unique sculptures and mobiles of Alexander Calder and the other artists on display. Softly balanced, glare-free light envelops the art from every angle. The use of Kalwall turns what was once three disparate rooftop sheds into a breathtaking space.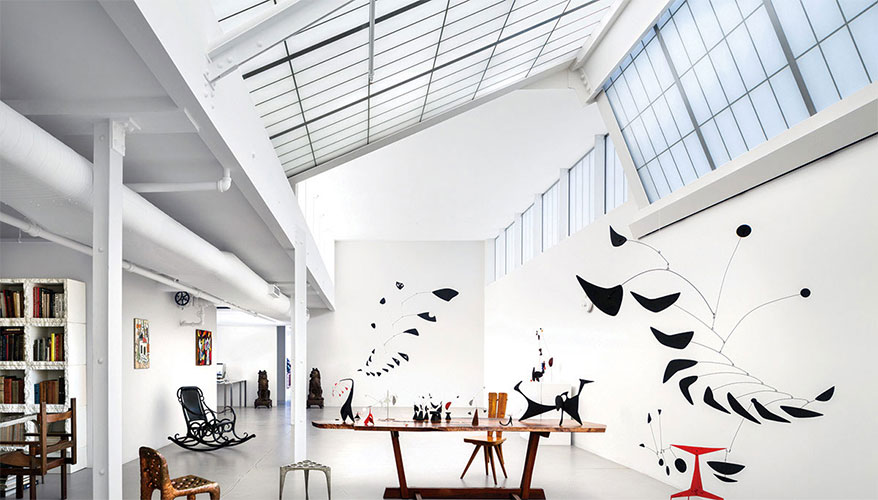 Luxembourg Freeport
Niederanven, Luxembourg
The ability to provide necessary temperature control, along with safety and security, made Kalwall the choice for this duty-free storage unit where wealthy art investors can store their valuable collections. Kalwall provides museum-quality daylighting for viewing artwork as well as privacy and superior structural integrity that allows peace of mind.
Elgin Artspace Lofts
Elgin, Illinois, U.S.A.
A centerpiece Kalwall skylight was reintegrated into a 1908 Sears building being converted to a mixed-use space. Kalwall panels with .10 U values were chosen to provide exceptional thermal performance and low solar heat gain. The skylight provides diffuse daylight to both levels of this historic building and beautifully highlights the central gallery.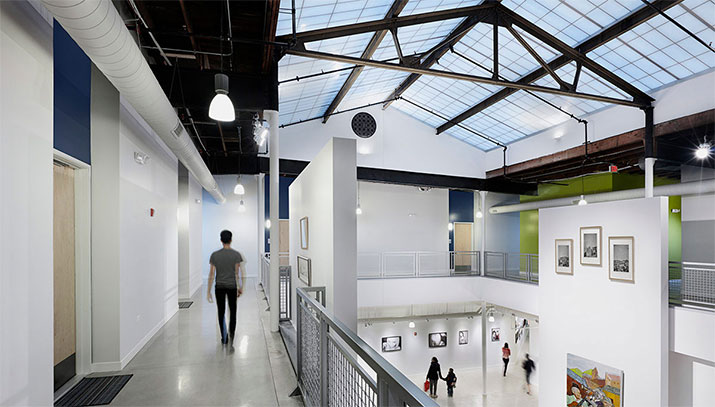 Crocker Art Museum
Sacramento, California, U.S.A.
Perfectly diffuse top lighting by Kalwall allows the vibrant colors of the artwork below to come through naturally, as opposed to the harsh effects of artificial lighting.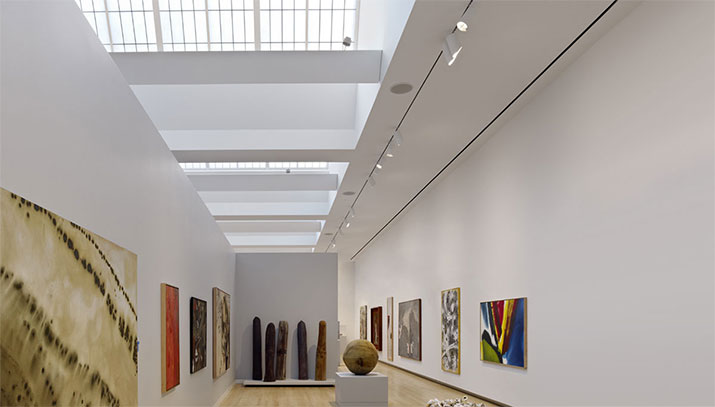 Blackfoot Crossing Historical Park
Sisika, Alberta, Canada
The architect of this breathtaking building viewed his design as "a reinterpretation of a vast range of Blackfoot cultures," and Kalwall is a dominant feature in that design. Kalwall panels are used to create the central teepee that greets visitors as they enter this historical center that promotes and preserves the culture of the Siksika Nation Peoples. The panels emit an ethereal glow at night reminiscent of traditional lanterns created by ancient cooking fires, reflecting the functionality of teepees as well as a connectedness to earth and sky.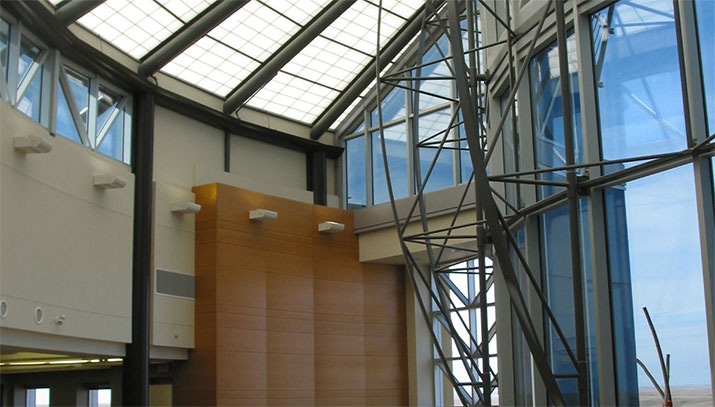 Company: Kalwall Corporation
Source: https://www.kalwall.com/2017/08/09/visual-blog-kalwall-in-the-cultural-market/
Tags: Design | Lighting | Skylights | Window Shades | Windows
---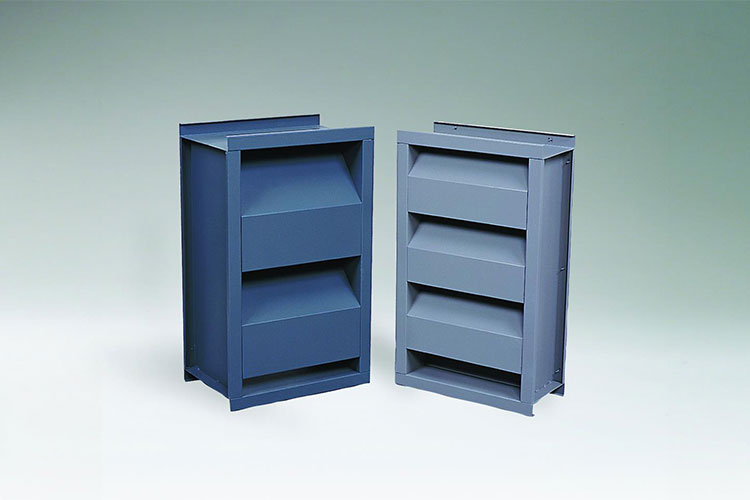 Acoustical louvers
Ruskin Sound Control offers the most complete line of acoustical louvers on the market. All products are AMCA licensed for water penetration and air performance. The product is offered in standard galvanized steel or alternative aluminum construction, and can be offered in a wide variety of finishes. The LAS louver family includes standard or airfoil blade design and depths between 4" and 12".
Primary Applications
Cooling towers, mechanical rooms, tunnel ventilation, parking garage ventilation, general ventilation
Characteristics
Acoustical attenuation across all eight octave bands
Good water penetration performance
May be provided with a number of variations such as filter racks, security bars, and insect and bird screens
Key Design Features
Architecturally appealing appearance
AMCA licensed water penetration performance
AMCA licensed air performance
Acoustically transparent perforated liner
Acoustical grade fibrous media
Company: Ruskin
Product: Louvers
Source: http://www.ruskin.com/category/336~Acoustical-Louvers
Tags: Acoustics | Design | Louvers
---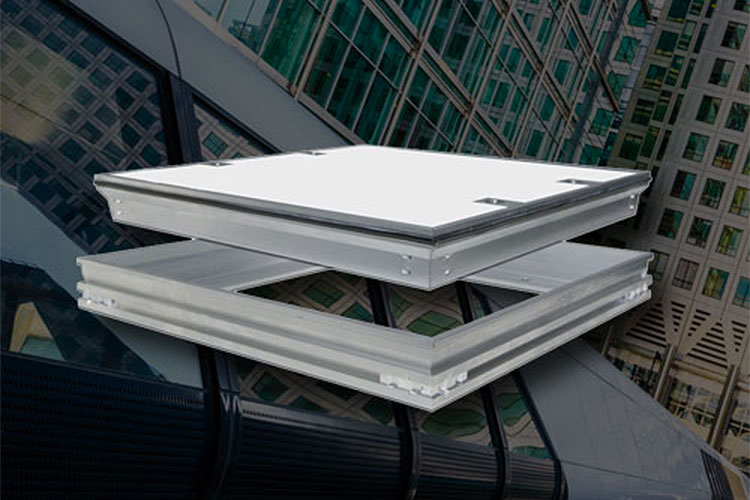 When it comes to solving the problem of accessing concealed services under floors, behind walls or above ceilings there are an abundance of products on the market that could do the job. However, if your requirement is for a quality access cover or panel that will provide quick and easy access to concealed services safely then those 'cheap' foreign imports are unlikely to make the grade!
In the world of construction the old adage, 'You get what you pay for' definitely rings true. Of course the majority of building services professionals involved in the specification process clearly understand that principle. A building component, such as an access cover, is just one of hundreds of constituent parts that make up a building. However insignificant the component to the overall structure it still has to possess certain attributes, satisfy stringent criteria and integrate positively with the other products being used.
As a busy architect or specifier how do you determine the best solution to the access scenario in your particular project?
PERFORMANCE
The level of performance required from an access cover is generally dictated by the type of environment where the concealed services are to be located.
Is it internal or external?
Loading requirement - will it be used by pedestrian traffic only or vehicular traffic?
Is access required frequently or just occasionally?
What size of aperture is needed to access the concealed services?
What type of material will cover the services?
How important is security?
At Howe Green we offer a wide range of floor, wall and ceiling access solutions designed to satisfy all of these performance criteria.
Need a single access panel for emergency access to a stopcock in a ceramic tiled bathroom wall? Or a duct run of floor access covers for regular maintenance of underfloor drainage systems beneath vinyl flooring in a hospital?
Whatever your performance specification Howe Green can provide the solution.
AESTHETICS
Whether you are working on a new build or refurbishment project the impact that an access solution has on the overall look and feel of the building is a consideration for the vast majority of projects.
By using the latest CNC and CAD technology access covers can be precision engineered to your exact specification. A perfectly sized access cover removes any hassle from the installation process and ensures that the cover fits seamlessly into the flooring, reducing the risk of slips and trips.
With options available for all types of hard floor finishes and the Visedge flexible floor access cover, Howe Green can be specified whatever the flooring finish.
STANDARD OR BESPOKE?
Many of the projects that cross your desk may well require a standard size access solution. At Howe Green standard size floor, wall and ceiling covers are available to order from stock, ensuring a speedy delivery to site when required.
Other projects may require a bespoke solution. This is where over 35 years of experience combined with continual investment in equipment, technology and processes ensures that whatever bespoke solution is required it can be supplied. If you need to specify a custom size, loading or finish Howe Green can accommodate your requirements without cost or time penalty.
MAKING THE DECISION
Whether you have most of the knowledge and information you need to prepare your specification or you are looking at our product ranges from scratch, the team at Howe Green are available to help.
The quality and performance of our products, flexibility of our service and the expertise of the team is what sets Howe Green access covers apart from our competition. Architects, specifiers, building engineers, flooring and tiling specialists and contractors have put their trust in Howe Green to deliver a tried and tested access solution since 1983.
If you are looking for an access solution to concealed services look no further than the industry standard and you will soon discover that "Not all Access Covers are created equal".
For more information about any of our products or for assistance with your specification please call 01920 463 230, we are always happy to help.
Company: Howe Green US
Source: https://www.howegreen.com/howe-green/news/not-all-access-covers-created-equal.php
Tags: Access Covers | Design | Safety | Security
---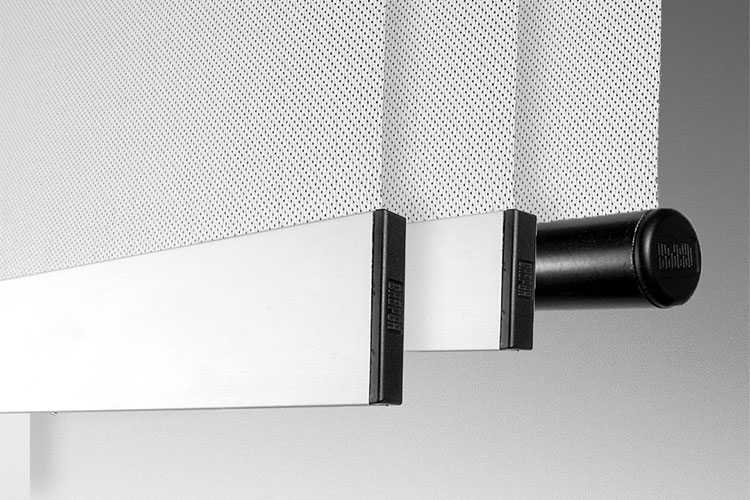 Draper's exposed hem bar options
Sometimes the smallest detail can make a huge difference in our perception of interior design—even something as small as the pocket and hem bar on window shades. That's why we have a hem bar solution for every design need.
Since introducing Draper's shade line at the 2016 CEDIA Expo, reaction has been overwhelmingly positive. But one comment we've noticed on occasion is that our standard hem bar option has too much of an "industrial" look.
Truth be told, we have several options to choose from. Yes, we have some options that have a more industrial look, but whatever your personal design preference, Draper has a hem bar solution for you.
Our standard hem bar is low profile, and designed to blend in with the shade. We'll provide it with a 1″ elliptical slat inside the 1-5/8″ heat seamed pocket, with heat sealed ends, or with open pocket ends and decorative end caps on the hem bar. These options do look more "industrial" to some of our dealers—especially on the residential side. These are often found in commercial settings.
If you want the hem bar to be a more visible and elegant part of your design, we also have three options for exposed hem bars:
A 1-1/2 inch x 5/16 inch rectangular hem bar with end caps. A
A 7/8 x 5/16 inch version that brings the same clean look in a smaller package to residential and well-designed commercial applications.
A ¾ inch round hem bar with end caps for another elegant alternative.
All three of these options are available in our five standard colors. For an upgrade, we can provide custom powder coat.
These hem bar options give our dealers a wider variety of cosmetic choices, so our shades can better compliment many various room styles. There is also a functional benefit when using a shade with side channels. With the open hem pocket or flat hem bar, the fabric and hem bars are the same width, allowing more bar to travel in the side channel.
These hem bar options are available on Draper Motorized, Clutch, Clutch XD, and Techmatic FlexShades. They are not available on Spring Roller or Bottom-Up FlexShades.
Click here for more information on our shades, and all the various options to give them that special look you want..
Company: Draper, Inc.
Product: Window Shades
Of: Amy Madden
Source: http://blog.draperinc.com/2017/08/little-things-make-a-big-difference/
Tags: Design | Window Shades
---
Simple tips to help you improve your understanding of color performance in the paint — ultimately allowing you to deliver more accurate, consistent hues to your clients' projects.
When creating a specification, how can you ensure the color sample you're using will ultimately match the final tinted paint?
How can you be confident the color in the first gallon of paint applied on a job site matches the final gallon applied?
How can you get custom color matches to be as true as possible to the swatch or sample you're working from?
The answers to all of these questions come down to two things: color accuracy and color consistency. They're two sides of the same coin, and knowing the right things to look for from your paint and coatings provider is the best way to ensure you can deliver color excellence to your clients.
"First of all, you want to be sure you're working with paint products, colors and color formulas that are all designed to work as an integrated system," says Sue Wadden, director of color marketing at Sherwin-Williams.
For example, color formulas should be programmed to flex subtly and precisely depending on the product and finish combination you specify, ensuring the most accurate color result in the final tinted paint.
Another tip: Avoid working with paint providers that use third-party manufacturing.
"The paint manufacturer should control its own manufacturing and quality," says Steve Revnew, senior vice president of product innovation at Sherwin-Williams. "That includes the colorant it uses to tint its paint."
When paint providers turn to third parties to manufacture base products or colorants, the color results in the final tinted paint can show wider variances.
Ultimately, color accuracy and consistency are a lot like cooking: Success depends on trained experts and repeatable systems. When you work with a paint and coatings provider that has the human and technical expertise to manage color accuracy and consistency at every stage — product design, quality manufacturing, color formula management, final tinting — you radically reduce the possibility of color issues on the job site.
"Ask a contractor," Revnew says. "They're the ones who have experience with gallon-to-gallon color consistency and reliable color touchups."
ColorSnap Precision
When you specify Sherwin-Williams, your designs are powered by ColorSnap® Precision, our exclusive system for ensuring exceptional color accuracy and consistency in the paint.
ColorSnap provides you with:
Color samples engineered to match the final tinted paint
Paints and colorants designed as an interlocked system
Consistent gallon-to-gallon color delivery via our 4,000-plus locations
State-of-the-art technology to precision match custom colors
Real-time color formula updates
To learn more, contact your local Designer or Architectural Account Executive, or call our Information Line at 800-321-8194.
ColorSnap color selection tools are available both online and in-store. Visit swcolorsnap.com to learn more.
Company: The Sherwin-Williams Company
Source: https://www.sherwin-williams.com/architects-specifiers-designers/inspiration/stir/sw-art-stir-cs-precision
Tags: Coating | Color | Design | Finishes
---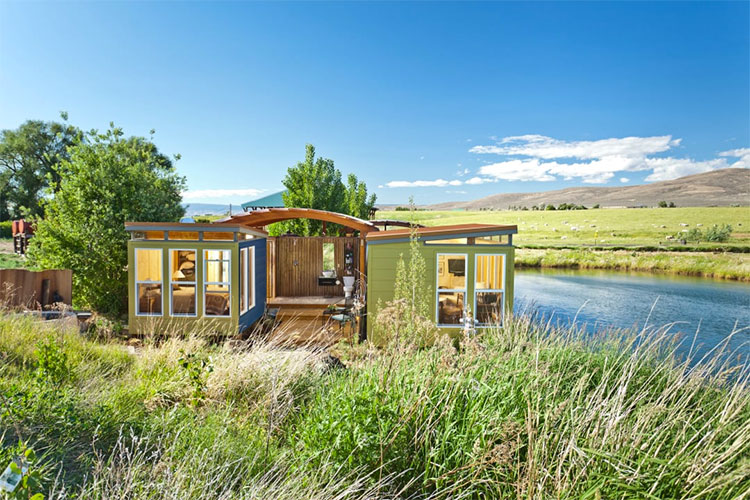 These two sheds showcase the outdoor beauty of ellensburg, washington. The shed on the left serves as a bedroom and the one on the right is a living room, both designed by modern shed.
As the trend to downsize picks up speed, vertical and lap siding from AIA partner James Hardie has the look, efficiency, and durability to fit right into a tiny design
After years of buying bigger homes, the trend to downsize is picking up speed. You can see it in the tiny house communities across the United States, the slew of reality TV shows on the subject, and an increase in the number of architects specializing in tiny living spaces.
In 2013, the average new house size was 2,598 square feet, 41 percent larger than the average new house size in 1973—and those homes were filled with more family members. Just four years later, the zeitgeist steers toward scaling down on square footage, which includes benefits such as reduced cost and environmental impact. Tiny homes, which typically range from 100-400 square feet, produce about 2,000 pounds of CO2 emissions each year as compared to the 28,000 pounds produced by an average-sized home.
Architects designing for small living spaces, including Ryan Smith of Modern Shed, focus on creating a mixed-use space with a stripped back aesthetic that relates to its surroundings in a big way.
"We design to solve needs for space," Smith says. "Sometimes singular use, sometimes a full home." Smith has designed hundreds of customizable sheds that have served as summer homes, winter cabins, offices, meditation rooms, a Seattle Seahawks-colored man-cave, even a sound-resistant recording studio and a sauna.
His structures are panelized and completely adaptable for the client's needs. All components—the doors, windows and roofing—are all designed and made under one roof, as part of a streamlined and efficient system. Any leftover materials roll into the next shed, which means hardly any scraps, Smith says. Everything else is used as firewood to heat the space.
"There's a wonderful modularity and flexibility around the structure itself," Smith says.
The panels can be carried into and around tight spaces, like between your house and your fence, for fast backyard assembly, or can be completely dismantled and reassembled in a new location.
"You can literally take it apart. So if you wanted to make modifications to it, you can pull the puzzle pieces off," Smith says.
Smith uses HardiePanel vertical siding and HardiePlank lap siding because they feels right for the design of the structure, and they're durable and energy conscious, he says.
When it comes to designing sustainably, modular construction is an interesting way to save it and use it again, Smith says. Small structures like these can have a different lifespan than a larger home.
One project in Central Washington [pictured above] combined two Modern Sheds to create one summer compound for working farmers. The space on the left side—tucked into the hillside with a wall of windows—is the bedroom, and the structure on the right—with a standout water view—is a living space with an office and a living/dining room. The center of the home is the outdoor kitchen, connected and covered by a pergola with a sky-view polycarbonate protection but wall-less and open to interact with the outdoors. Because the spaces are so small, the windows help to heat and light the indoor rooms, which makes having a tiny footprint simple.
"Living small doesn't mean you have to sacrifice," Smith adds. "Quite the opposite, if you do it right. Living small could mean what's left is the most important part of the experience."
The AIA does not sponsor or endorse any enterprise, whether public or private, operated for profit. Further, no AIA officer, director, committee member, or employee, or any of its component organizations in his or her official capacity, is permitted to approve, sponsor, endorse, or do anything that may be deemed or construed to be an approval, sponsorship, or endorsement of any material of construction or any method or manner of handling, using, distributing, or dealing in any material or product.
Company: AIA (American Institute of Architects)
Of: James Hardie Building Products
Source: https://www.aia.org/articles/141631-sustainable-and-small-the-tiny-house-moveme
Tags: Architecture | Building | Design
---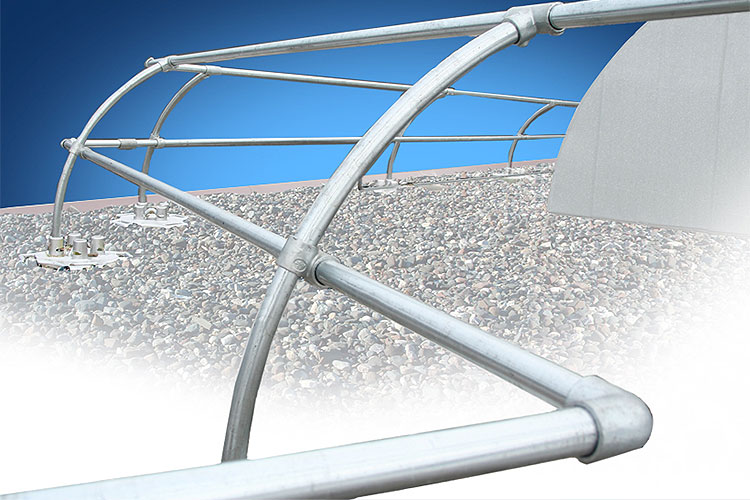 The BlueWater Architectural Series combines our OSHA compliant non-penetrating guardrail system with an aesthetically pleasing architectural appeal. Full protection with visual appeal. Optional Straight and Incline Stanchions available.
The Architectural Series combines our non-penetrating guardrail system with an architectural appeal for those applications where appearance of the railing is important. The Architectural Series has a pleasing sightline and can enhance the overall appearance of your building while maintaining a fall protection barrier around the roof edge that meets OSHA Regulations. Since the Architectural Series utilizes the same patented, non-penetrating base as the SafetyRail 2000, your roof system will maintain its integrity and not be compromised by having to penetrate the roof surface for installation. The Architectural Series is ideal for new building construction, adding passive fall protection to an existing building or as an addition to existing guardrails.
More pleasing sightlines
No holes need to be drilled
Three uprights available: Curved, Incline or Straight
Meets and exceeds OSHA Regulations for Fall Protection
No intermediate counterweights required
Up to 10 foot spacing between uprights
Special orders for powder coated rail sections
Custom engineering / manufacturing available for special applications
Architectural Series has been tested by a nationally-known engineering firm and found to be in accordance with OSHA regulations
These regulations are in fall protection for guardrail; sections 1910.23 and sections 1926.500 -1926.503
Company: BlueWater Mfg
Product: SafetyRail 2000 Architectural Series
Source: http://bluewater-mfg.com/product/safetyrail-2000-architectural-series/
Tags: Design | Railing System | Roof | Safety
---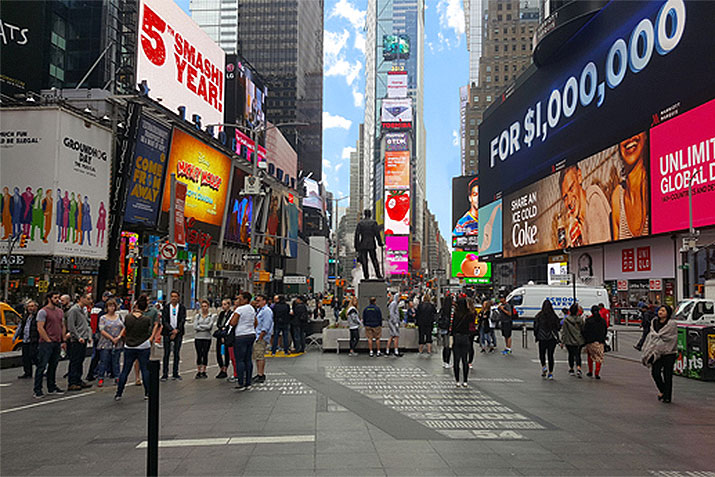 The situation
The presence of Broadway began in 1750, and has since shaped the essential character of New York City. Spotlight on Broadway is a multimedia project of NYC's Mayor's Office of Media & Entertainment located in the heart of Times Square. The project celebrates the unique charm and incredible legacy of Broadway and its forty theaters. It displays an in-ground map, made out of steel and granite, allowing visitors to engage and visualize the density of the world's largest and most recognized theater district.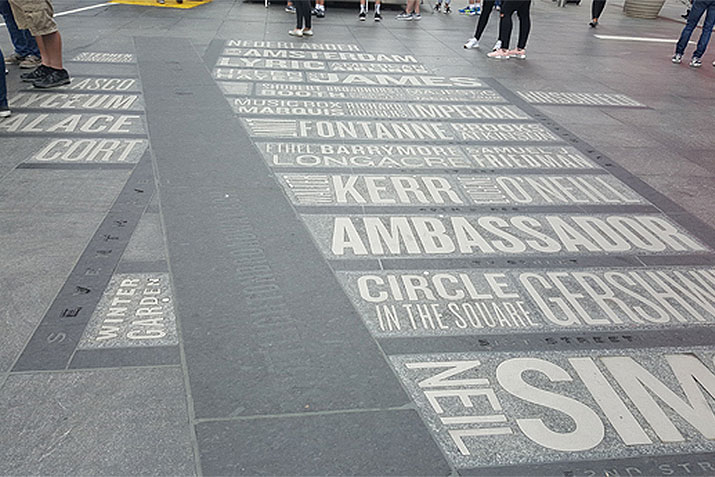 The solution
The designers at Creative Edge Master Shop contacted SlipNOT® for a solution to the bare steel lettering that presented a safety hazard when made slippery due to wet weather or other outdoor elements. The fabricating company sent in custom cut 3/8" thick letters which were blasted for imperfections, then coated with SlipNOT®'s Grade 2 stainless steel. Stainless steel is easy to clean and offers corrosion resistant properties that are exceptionally functional in wet environments both indoors and outdoors. The gripped surface of the coating not only provided higher traction for pedestrians, but also added another dimension to the piece, exhibiting a sleek and modern aesthetic.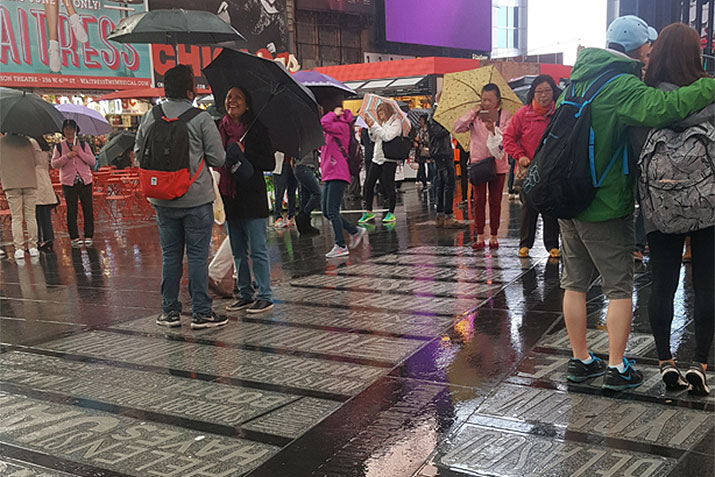 The impact
Creative Edge is a world leader in creative architectural water jet fabrication and has been in business for over 27 years. The Spotlight on Broadway project won a Pinnacle Award, which honors companies for a job that "stands above the rest." The Award Institute declared the project a "Clever design that pays homage to timeless Times Square," which was ultimately awarded merit for "Commercial Exterior".
Due to the slip resistant surface provided by SlipNOT®, tourists from all over the world can enjoy the innovative and engaging map of Broadway and its 40 theaters without having to worry about possible injuries due to slip, trips, and falls.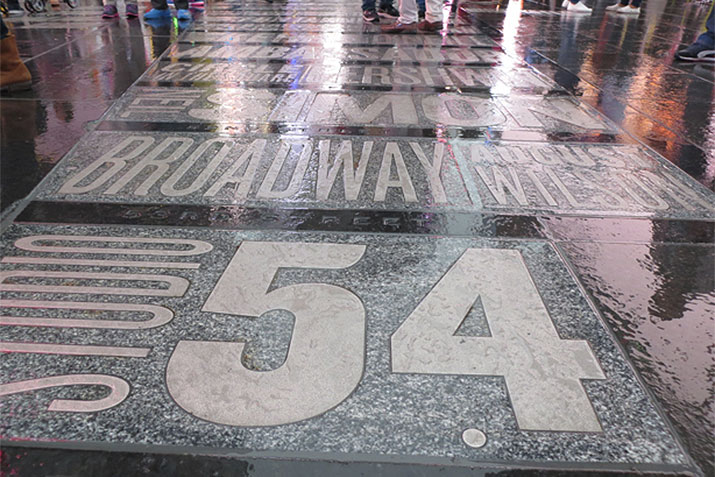 Award Recognition:
http://www.marble-institute.com/default/assets/File/awards/2014_MIA_pinnacle_brochure_FINAL_lo.pdf
Company: SlipNOT® Metal Safety Flooring Div.
Product: Slip Resistant Metal Safety Flooring
Source: http://www.slipnot.com/case-studies/slip-resistant-stainless-steel-letters-for-times-square-spotlight-on-broadway/
Tags: Award | Design | Floor | Metal | Safety
---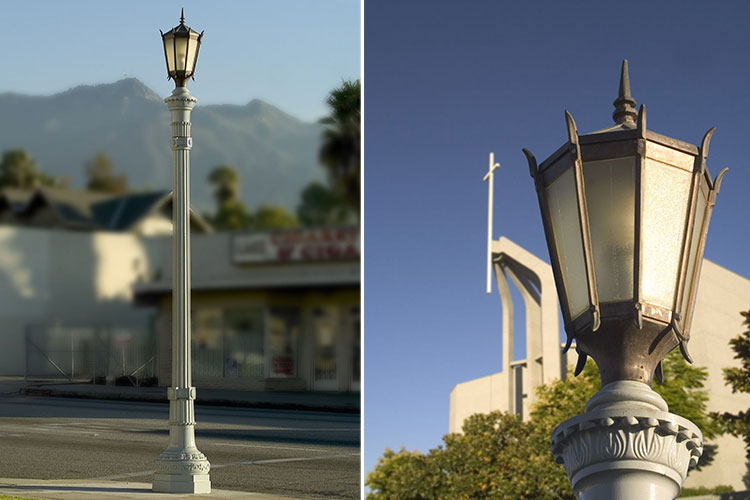 Niland's in-house pattern and machine shop recreated the cast iron foundry tooling needed for an exact replication
This light pole was originally installed in the City of Pasadena in the early 1920s. Its design consists of intricately detailed cast iron sections. After 85 years of service the need for additional light poles down Pasadena's famous Lake Avenue Drive became apparent. Representatives with the city expressed a desire to duplicate this early design and provide a period luminaire cast in solid bronze. Our in-house pattern and machine shop recreated the cast iron foundry tooling needed for an exact replication. Each section of the iron casting was sand blasted and several layers of paint removed revealed the raw iron casting.
Secrets of the early artisans that created the original tooling began to surface. The master journeyman of that era indeed had a story to tell and their work and creative ingenuity came to light. We estimated the original carvings in the original all wood tooling to be just over 4,000 man-hours back in 1920. Each individual section of detail had to be individually hand carved back then. The use of pillow blocks and triple radii shrink ratios allowed for a tight level uniform fit with an "as cast" casting. We came to discover this "trick of the trade" through careful analyzing the core prints after the old paint layers had been completely removed. We pulled sections of original detail out of the castings with a high performance non-shrinking reproduction polymer resin. The shrink ratios were added back to the wood turnings and the detail added back to the top of the pattern to bring the castings back into original tolerance. With the use of reproduction polymer resins and fine dental tools we were able to complete all the tooling on this job in less than 1,000 man-hours, allowing us the luxury of winning this work and learning from the master craftsmen of a bygone era.
Innovations in the casting process have come along way in the last century. One hundred years ago, wet "green sand" was the standard method of production. Erratic shrinks and tooling pulls would justify the use of triple radii shrink and pillow blocks. Today modern chemistry has given the age old foundry process the ability to control shrink more accurately. The use of chemically bonded "dry sand" to cast the individual parts allowed us to tighten up the tolerances and ensured a crisp detail throughout every pour. Very little machine time was spent preparing these castings for their final end use, yet the rich grain texture of fine iron castings gives each pole an individuality unique to itself. High performance acrylic primers and finish coatings completed this pole which will provide a maintenance free finish for at least 20 years.
The luminaire itself was also duplicated, only Niland was able to cast this tool in bronze, keeping with the original design from 85 years ago. Over the years most of the luminaires had been replaced with cast aluminum recreations. Our ability to cast this luminaire in bronze got the design back to its original historical intention. The light source recommended to the city utilizes electronic ballasts fully enclosed and potted in resin. This ballast allows increased life of the lamp and increased performance due to the decreased light loss factor associated with these high performance products.
Company: Niland Co.
Source: http://www.nilandco.com/project-gallery/lake-avenue-restoration
Tags: Design | Landscape Design | Lighting
---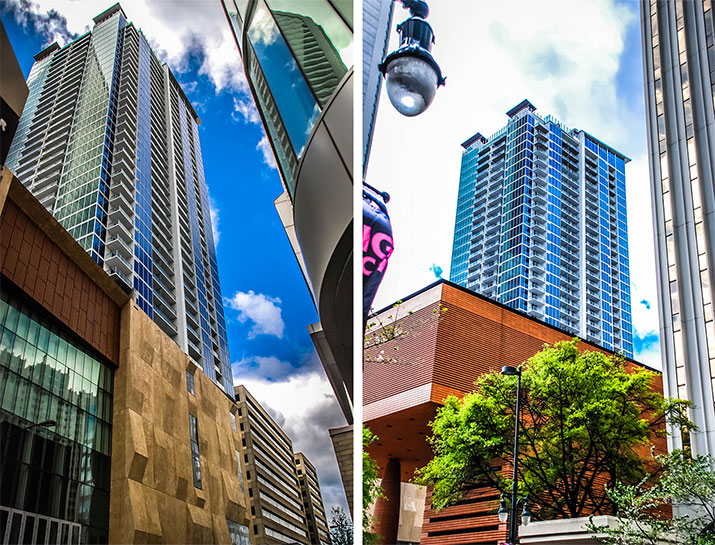 This 40+ story tower sitting atop the Mint Museum utilized 2-Line aluminum and glass balcony railing offering incredible city views, and double-sided acid etched dividers adding privacy between residences
Though the structural support for Museum Tower apartments was already in place by 2009, the recession and a stalled residential sales market indefinitely halted construction. Then, in late 2015, the tower began to rise – at a pace of one floor every four days, in fact! In just a year-and-a-half, we have witnessed Museum Tower come to life in Charlotte, North Carolina. [1]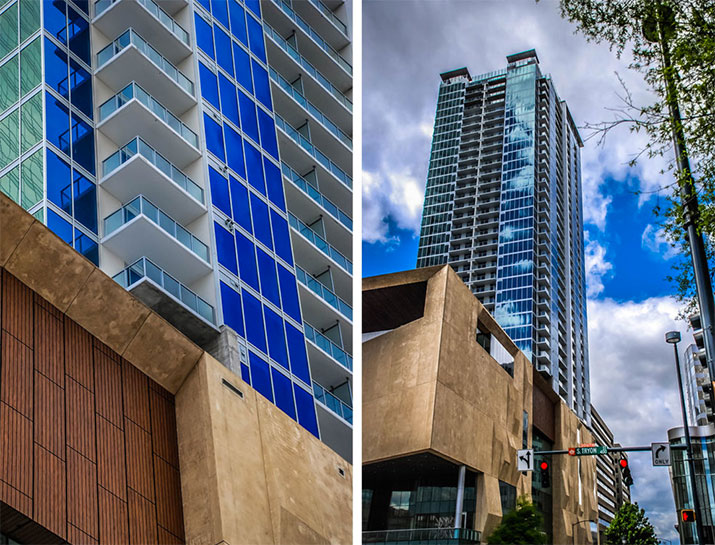 SC Railing provided over 8,000 combined lf of railing, windscreen and balcony dividers to this LEED Silver project
Owner/Developer, Childress Klein, had long planned for this 394-unit apartment tower to be constructed some 43 stories above the existing Mint Museum Uptown Charlotte. Juxtaposed with the luminous Duke Energy Center, Museum Tower apartments inherited a hefty responsibility; as any building sharing space with the Duke Energy skyscraper had better be worthy of the real estate it occupies. We believe Museum Tower earns that appointment, and then some!
SC Railing Company provided more than 8,000 combined linear feet of 2-line aluminum and glass balcony railing, along with balcony dividers and custom rooftop windscreen. Museum Tower marries a refined interior design aesthetic and floor-to-ceiling windows with glass balcony railings, for sweeping city views. Balcony railings were constructed using 3/8" clear tempered glass, and 1/4" tempered, double-sided acid etched balcony dividers for added privacy between residences.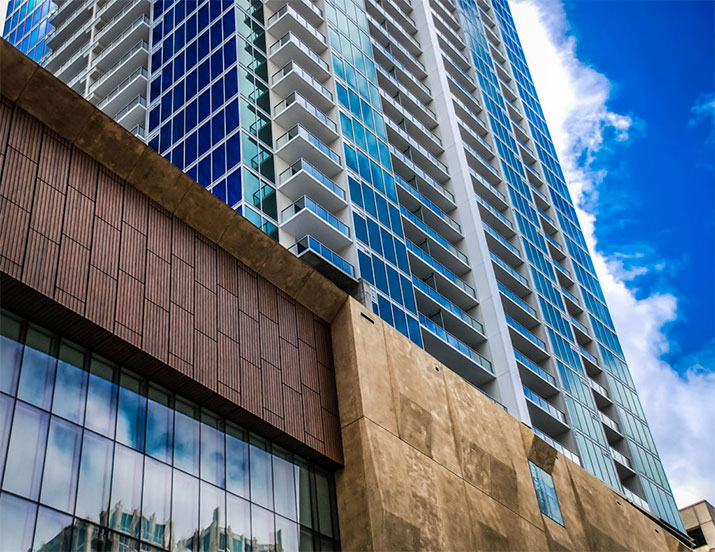 Mint Museum features 2-Line Glass and aluminum balcony railing with glass dividers
Museum Tower's rooftop lounge includes a heated saltwater pool with cabanas, indoor and outdoor fireplaces, and a game room. The amenity area's perimeter is wrapped with 8' high, 1/2" clear tempered glass panels, for which SC Railing Company provided custom aluminum segmented base shoe mounts. Transporting these panels, weighing upwards of 125 pounds, was one of the challenges of this high-rise project. Getting glass to the project safely became an issue early on, as one of our glass delivery trucks was struck by another vehicle on I-77, a mere couple of miles from the jobsite. Fortunately, there were no injuries, but we lost nearly an entire shipment of glass in the collision. For an already fast-tracked project, this threw us into high gear. We worked very hard to adhere to rigid timelines, replacing damaged glass, and getting all materials to the Museum Tower safely. Hurdle by hurdle, we endured!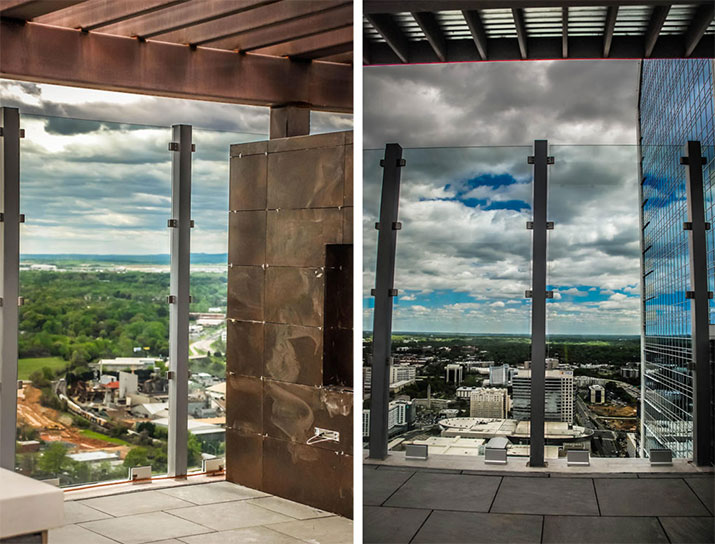 A post supported windscreen with custom aluminum segmented base shoe mounts secures 125-pound, 8-foot tall glass panels surrounding the pool and amenity area located on the 42nd floor
Bringing the Museum Tower project to a close has us coming full-circle, as this was the final phase of construction of the Mint Museum Uptown Charlotte project, which we provided railings for in 2010. This builiding's completion has been more than seven years in the making! SC Railing Company is pleased to have partnered with General Contractor, Batson-Cook, in providing our glass railing products for this LEED Silver project, a veritable crowning jewel of the Queen City skyline.
Architect: Rule Joy Trammell + Rubio
Owner/Developer: Childress Klein
General Contractor: Batson-Cook
---
[1] How is the Mint Museum apartment tower going up so fast?!?
Click Here for Project Information!
Company: Architectural Railings & Grilles, Inc.
Product: Civic 2-Line
Source: http://www.sc-railing.com/news/sc-railing-company-offering-view-top/
Tags: Architecture | Design | Glass | LEED Certification | Railing System | Safety
---

Step Planters NYC
TerraCast Products dazzle reclaimed public spaces with installations of planter pots across various pedestrian plazas in New York City. Following in the wake of the NYC Department of Transportation's success, other municipalities have taken to tactical urbanism utilizing the loose guidelines which help their citizens safely hang outside more.
The New York Department of Transportation (DOT) in collaboration with the NYC Plaza Program, along with Baruch College in NYC, and the Los Angeles City Planning Commission launched independent projects to transform community spaces utilizing innovative resin based planters. Designed by Florida-based TerraCast Products, an American owned and operated company; the planters are manufactured in the United States from a durable resin blend that resists sun and salt as well as the abuses of both vehicular and pedestrian traffic. The lightweight material allows for easy relocation during events or with seasonal changes.
"Areas all over the country are utilizing tactical urbanism for emerging public spaces, such as pedestrian plazas, streetscapes and parklets," said Brad Goldring, TerraCast Products' CEO. "We are incredibly excited to have worked with NYDOT, many colleges, business improvement districts and the LA City Planning Commission to help design these new sites. We hope they highlight distinct approaches to public space management, and that these projects initiate other entities to succeed in creating thriving public spaces in their communities."
Successful public spaces require modernization, acceptance and maintenance: These projects implement all three. Under NYDOT and the NYC Plaza Program, Union Square, Madison Square and Times Square all feature TerraCast planters, which adhere to New York City's exacting design requirements while ensuring the areas to be energetic centers of activity.
Baruch College introduced TerraCast commercial planters to convert a road located between two of their campus buildings into a student plaza. The planters were chosen as decorative barriers which best met the needs of the college because they are maintenance free and durable. The LA City Planning Commission accomplished something similar at Sunset Triangle Plaza when they renovated a street in Silver Lake into a pedestrian plaza utilizing TerraCast Products step planters. These planters separated Sunset Boulevard from people walking and dining outside.
"In the last decade, these initiatives have breathed new life into the spaces within these cities," stated Lou Blondin, TerraCast Products' CMO. "In collaboration with these organizations, we are reimagining public spaces in a more pioneering and comprehensive way, and our products align with these concepts."
TerraCast Products' modern resin planters contribute to this new approach to city building that integrates the reinforcing benefits of vibrant public spaces with tactical urbanism. TerraCast Planters last longer than products made from other materials, and they are cost-effective for project budgets. Constructed to not require any maintenance, TerraCast planters can withstand a variety of weather, including intense heat and harsh winter climates. The lightweight planters can be moved and loaded by hand, which allow for easy shipping and transporting on the job site.
Community organizations and cities are invited to find more information about TerraCast Products at http://www.terracastproducts.com.
Company: TerraCast Products LLC
Product: Planters
Source: http://www.terracastproducts.com/terracast-products-featured-in-innovative-city-redevelopment-projects/
Tags: Design | Furniture | Landscape Design
---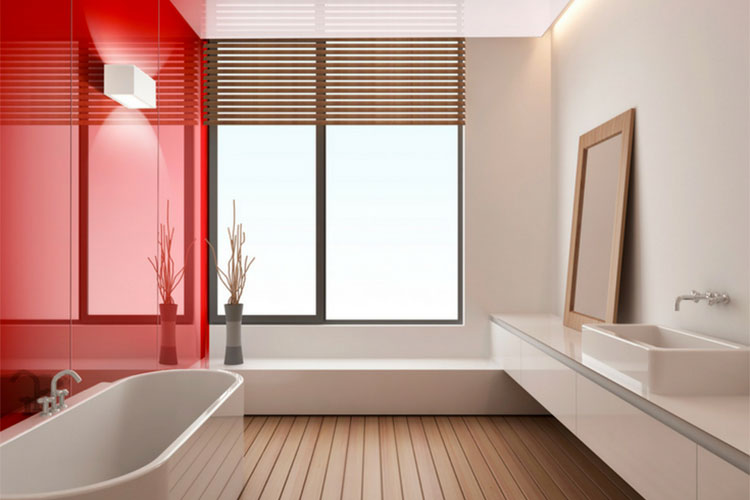 It's fun to look at the glass-like appearance of high gloss acrylic wall panels in a shower, kitchen backsplash or feature wall in an office and say, "Wow – that material is cool." Yes –gloss wall panels are striking in appearance – but just like you and I – there is a lot more to know about them than is evident on the surface. While these panels fly off the shelves in countries like Australia and Japan – they are still new to homeowners and business owners in the United States (and a bit of a mystery).
In this article, I'd like to dig "under the hood" to give you some little-known facts (at least in the United States) about these fun and functional high gloss wall panels. At the end of the article let me know if you have any questions which weren't covered in these 5 facts.
Little known high gloss acrylic wall panel fact #1 – They can be used in a steam room or behind a stove
When people think of acrylic and hot spaces most assume they can't be used in steam showers and behind stoves in the kitchen, however this is not the case with optical grade (hard coat) acrylic wall panels. If the temperature is lower than 130 degrees you can use these decorative colored wall panels in a steam room or behind an electric stove top. Standard acrylic wall panels (not high gloss) are not be recommended in these places.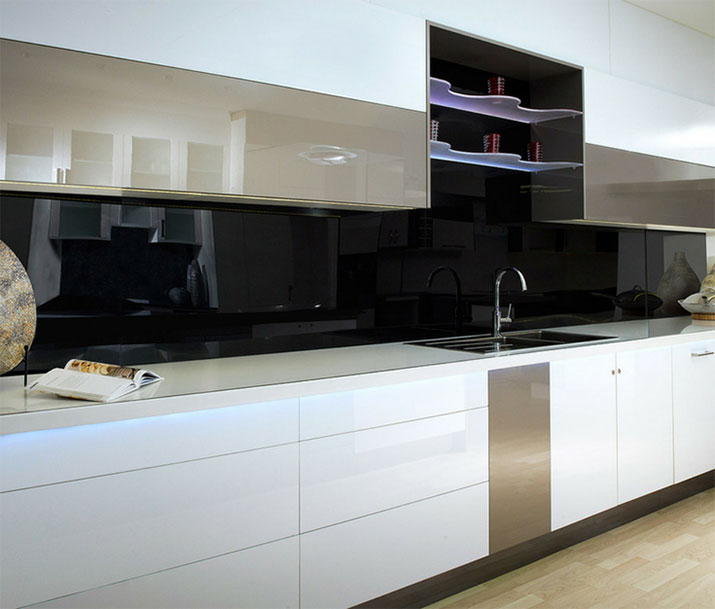 This high gloss kitchen is sleek. It is using a carbon black kitchen backsplash and mocha colored gloss cabinet fronts.
Little known high gloss acrylic wall panel fact #2 – They can be pre-cut if you want (or need) to do it yourself
If you're like a lot of parents and tell your kids to stay away from the skilled trades (carpentry, plumbing, electrical, masonry etc.) and go into fields like computer technology you are contributing to the problem of finding a decent contractor in your town to install a product they have not worked with before. So, when you ask a recommended contractor to install a product (like high gloss wall panels) don't be surprised if they tell you they are too busy – or they only work with tile showers or ceramic kitchen backsplashes. When there is a lot of demand for their services your contractor not be willing to try to install a hot new product like high gloss wall panels. The good news is there is something you can do about this problem (even if you're not the second reincarnation of Tim the Tool Man Taylor).
Simply get the high gloss panels precut and predrilled with holes you need for your shower heads and valves (in the case of a shower) or with the outlets cut out (in the case of a kitchen backsplash).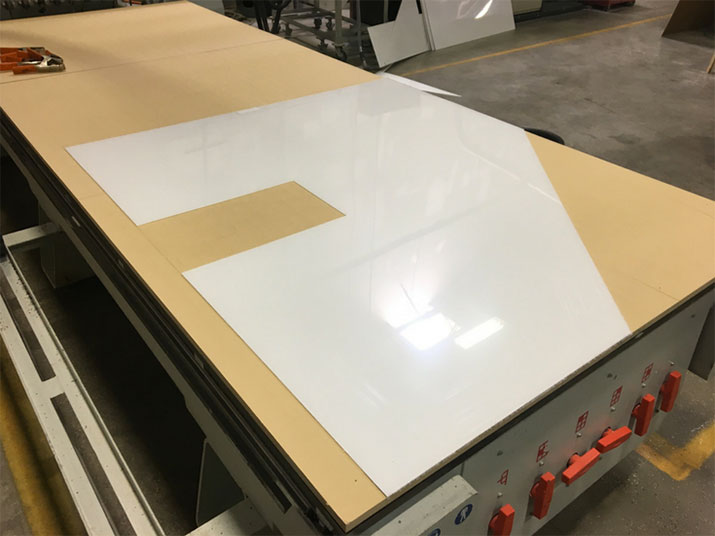 CNC equipment can pre-cut wall panels to make a shower kitchen or commercial installation of high gloss wall panels easier
In this way, all you need to do to self-install them is apply the silicone and double-sided tape on the back and slap them up.
Little known high gloss acrylic wall panel fact #3 – Not all acrylic wall panels are created equal
High gloss acrylic wall panels are not the same as the 1/8" thick acrylic walls used by nationwide "One Day Bathroom" franchises who focus in on lower end showers. High gloss wall panels have a hard coat applied to the front which allows them to create a mirror like look and pop out from the wall. The high gloss surface has 20 times the impact strength of back painted glass – but is only ½ the weight. In addition, the hard surface has superior scratch resistance to standard acrylic wall panels. They are sleek, contemporary, colorful and create a Euro-inspired look.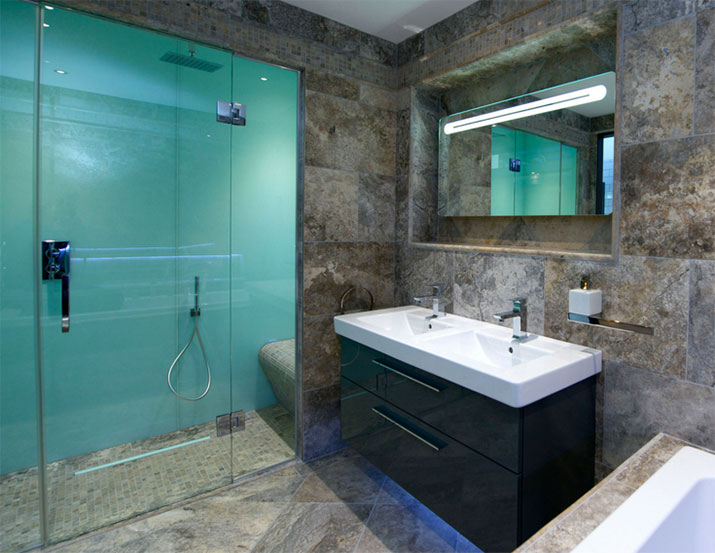 Where standard acrylic panels work well is they are low-priced alternative to a tile shower (which can be a good option in rental homes and investment properties).
Little known high gloss acrylic wall panel fact #4 – The "party's" in the back – and that's functional and stylish for you
Back in the 1970's and the 1980's the "mullet" style hairdo was popularized by the likes of Rod Stewart and David Bowie. It came to be known as the hairdo with the "party in the back." While that style has (fortunately) gone the way of the powder blue leisure suit I have to admit I wore (hey – I'll blame my Mom for buying me that!) in the 1970's, there are still some products where it is good if the "party" is in the back.
High gloss acrylic wall panels are one of those products. Putting the color (or the party) in the back of the panel makes sense because it is not subject to harmful UV rays and discoloration. The color in the back is the same approach as is used in more expensive back coated glass.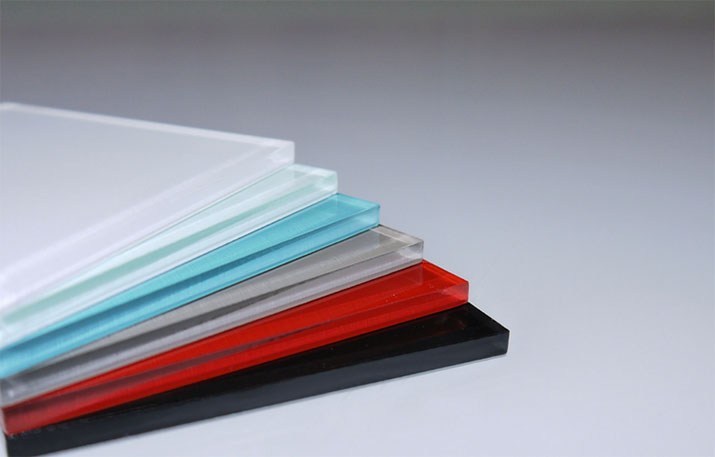 The color is on the back edge of these sample chips
Little known high gloss wall panel fact #5 – These panels go onto a wall, but they aren't the wall itself
High gloss wall panels have their place reflecting light off a wall and creating a mirrored light-filled contemporary look in a room They also help to block the view behind the wall surface (like tile you can't see through these panels or get any water through the surface either) to the wall backer material they are applied onto. That's the good news about high glass wall panels.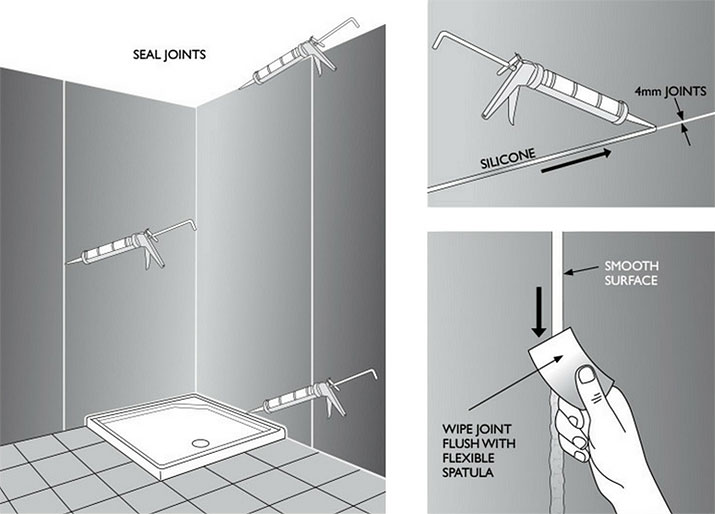 The bad news may be that they aren't a transparent or translucent glass material where light can transmit through the panels. If you're looking to move light through a glass wall you'll want to use real glass or a plexiglass.
Conclusion
Even though not a lot is known about high gloss acrylic wall panels in this country what can be agreed on is they are a fun, striking material which makes a visual impact on any room you choose to use them (a bathroom, kitchen, classroom or a front desk office area in commercial buildings are most common). I believe as you dig a little deeper into this material you'll also find they are easy to work with (especially if you have the panels pre-cut) and certainly not the same as the cheap acrylic you'll see advertised by "One Day Bathroom" companies. It is a stylish, contemporary and a luxury component to make your next bath, kitchen or office project distinctive.
How can I (or a member of my team help you)
If you're still uncertain how to use, cut or purchase this material I (or a member of my team) would love to help. For nationwide supply or material questions call Innovate Building Solutions at 877-668-5888. To use this product on a local bathroom or kitchen remodeling project in Cleveland call Cleveland Design and Remodeling at 216-658-1270 or in Columbus the Bath Doctor at 614-252-7294.
Company: Innovate Building Solutions
Product: High Gloss Acrylic Wall Panels
Of: Mike Foti
Source: http://blog.innovatebuildingsolutions.com/2017/07/15/5-facts-high-gloss-acrylic-bath-kitchen-wall-panels
Tags: Color | Design | Kitchen | Office | Shower | Wall Panels
---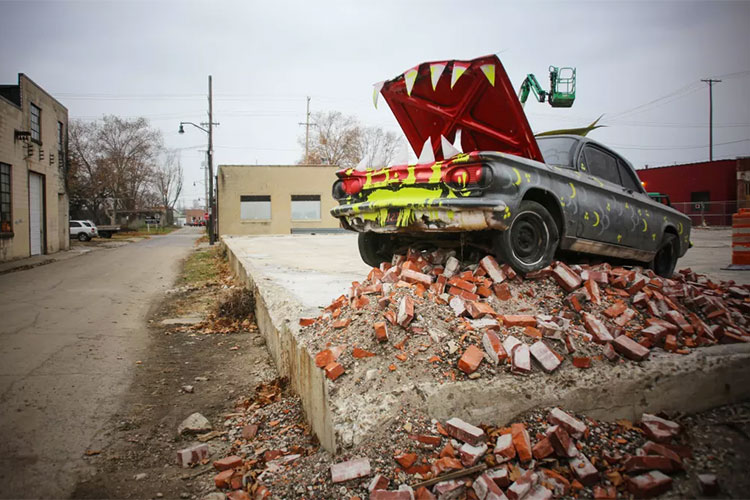 A recently demolished building in the franklinton neighborhood of Columbus, Ohio, an area that will be targeted by the strategic council's Capnua initiative. Image credits: Paul Sableman.
How AIA's Strategic Council is encouraging communities to embrace sustainable urbanization
The United Nations convened its Conference on Housing and Sustainable Urban Development, referred to as UN Habitat III, in Quito, Ecuador in October of 2016. This is the third international Habitat conference, with each meeting occurring 20 years apart. The conference was attended by 30,000 representatives from 167 countries, and AIA sent a delegation that included 2016 AIA President Russell A. Davidson, FAIA, along with staff and members.
The outcome of the Quito conference is a document titled the New Urban Agenda. The agenda is focused towards renewing the global commitment to sustainable urbanization, building on the initiatives adopted at Habitat II held in Istanbul, Turkey in 1996. When Habitat I convened in 1976, the percentage of the world's population living in cities was 37.9; it was 45.1 percent at the convening of Habitat II in 1996; and this past year in Quito, it was 54.5 percent. By 2050, that number is projected to increase to 75 percent. It is estimated that two billion people will require housing by 2030 alone. These numbers demonstrate the massive migration of people to cities across the globe, driven by matters such as employment opportunities, war, political strife, and climatic changes. Ultimately, the impacts on urban and rural environments will be monumental.
The New Urban Agenda is not a checklist but a modifiable guide that can be tailored to the specific needs and issues unique to any community. It is wholly scalar and simultaneously applicable to mega cities, peri-urban, and rural communities. It serves to assist local and regional governments in addressing challenges such as creating sustainable development designed with sensitivity to urban ecology and resiliency, with a keen eye towards optimizing infrastructure and transportation.
It also speaks to inclusiveness of underrepresented populations in the process of urban development, addressing their "rights to the city" and aligning with issues of housing tenure, health, women's and children's rights, diversity, access to services, urban space and cultural amenities, to name but a few. In addition to being inclusive of the spectrum of the populace that will be inhabiting these places, the planning process must also represent diverse constituencies, including economists, financiers, planners, governmental organizations, and architects.
The New Urban Agenda, simply stated, is a call to action for all architects.
Architects, with our "design thinking" expertise and desire to engage in visionary work, are uniquely qualified to be at the forefront of engaging the New Urban Agenda within our communities. It will act as a natural extension of the skills architects already possess within our existing expertise in areas like sustainability and resiliency. We need to be at the forefront of this effort in our communities; it is a moral imperative for the human populace and the planet. The New Urban Agenda, simply stated, is a call to action for all architects.
AIA plots a course forward
As such, AIA's Strategic Council is working to prototype an engagement initiative called Communication, Advocacy, and Policy of the New Urban Agenda (CAPNUA), which will heighten interest in the New Urban Agenda, educate communities to the potential associated with planning, and strengthen future design outcomes across the country. This initiative will be administered in geographically and culturally diverse locations of various scales. Plans are currently in place in Columbus, Ohio; Austin, Texas; Omaha, Nebraska; Honolulu; Indianapolis; and Miami. Each city will bring a unique, localized structure to their engagement project. In Indianapolis and Austin, the program will be linked to regional architectural conferences. In other communities, the engagement will be jointly supported by organizations representing landscape architects and planners and focused on compelling local issues.
In Columbus, the CAPNUA initiative will focus on Franklinton, a historically neglected neighborhood within the urban core of this growing metropolis. Columbus CAPNUA organizers seek to expand the Franklinton dialogue and planning efforts to factor in principles of the New Urban Agenda. Event planners will include architects, landscape architects, and planners.
The CAPNUA initiative will test engagement in a variety of settings in 2017 and seek to extract lessons in preparation for a larger, more robust engagement program role in 2018. How can AIA members help? We are currently looking for small- (50,000 or less) and medium- (around 100,000) scale communities in the northeast or western United States to participate in this endeavor. If your community fits this description and you are interested in participating, please contact Chere LeClair or Tim Hawk.
Tim Hawk, FAIA, is president at WSA Studio. Chere LeClair, AIA, is president at LeClair Architects and an associate professor at Montana State University's School of Architecture. Derek Washam is manager of international relations at AIA.
Company: AIA (American Institute of Architects)
Of: By Tim Hawk, FAIA; Chere LeClair, AIA; and Derek Washam
Source: https://www.aia.org/articles/87826-what-the-new-urban-agenda-means-for-architec
Tags: Architecture | Design
---
There are few design elements more visually imposing and spatially awe-inspiring than a properly implemented atrium. They provide large volumes of vertical space that are used by hotels, office buildings, and museums to not only open-up the floor plan, but address concerns of fire protection, systems integration, and indoor air quality. Atriums institute a rigor in design aesthetic and circulation that make them an entirely unique programmatic element.
Here are 7 gorgeous atrium buildings that not only suspend visual disbelief, they go beyond the standards of providing proper fire and life-safety protection.
1. Conservatorium Hotel in Amsterdam. Designed by Piero Lissoni.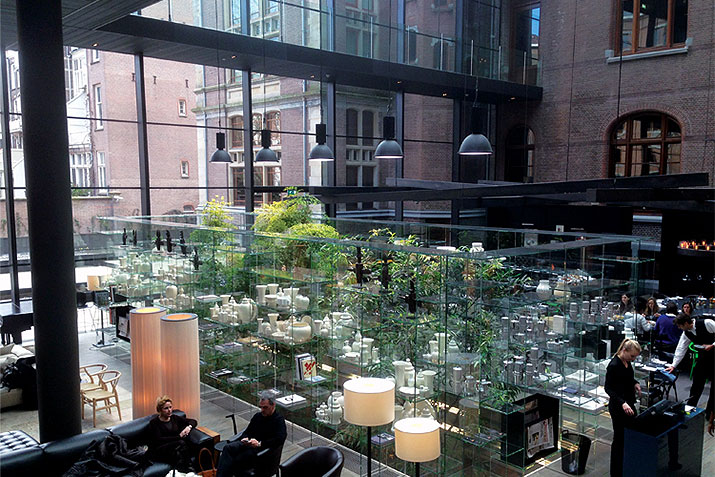 It's rare to see atriums be implemented in adaptive reuse projects, as the existing structures and space don't typically lend themselves to large open areas. However, in this case, an atrium acts as a towering glass shell that encloses a portion of a historic hotel and provides light, visually appealing gathering and circulation spaces. The atrium does well to champion the added space, but not detract from the traditional architecture it adheres to. It's a great example of how an atrium can add visual interest and functional interior space.
2. Facebook Office in Mountain View. Fire Protection by Smoke Guard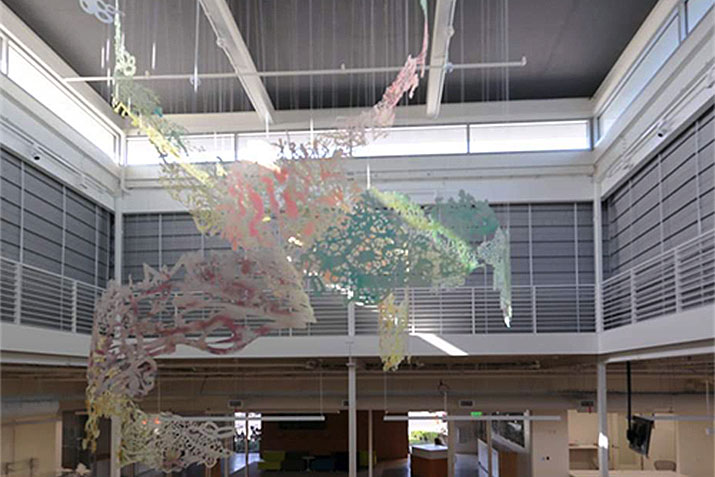 Facebook and the other tech giants in silicon valley are known for having unique, healthy, enjoyable places to work. This atrium design opens up a collaborative work environment in a way that promotes productivity, reduces noise, and gives employees a good reason to be enthusiastic about what they are doing. And, to promote life safety, this atrium uses atrium smoke baffle separation by Smoke Guard, allowing the space to meet required fire code while maintaining its inherent aesthetic quality.
3. Pacific House in Reading, Berkshire. Designed by Lusted Green.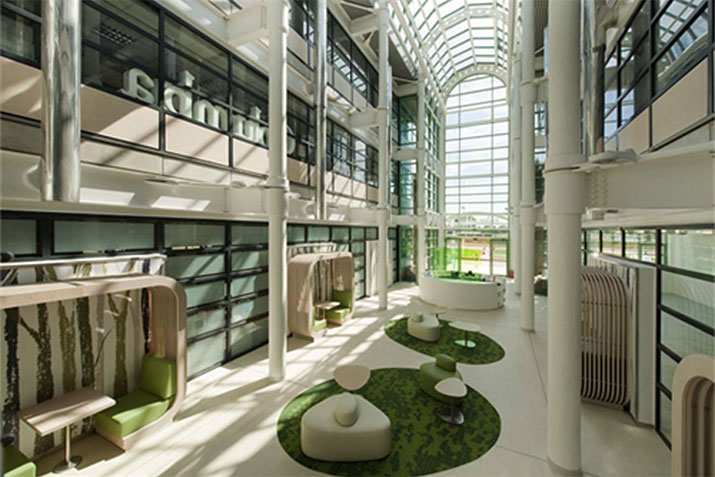 This atrium conversion of an existing office space was meant to breathe new life into an outdated and underutilized common area. The renovated space features a circular reception desk and several isolated 'pods' that are meant to hold open-air meetings. The atrium is open four stories to the sky, where an arched glass ceiling lets in an abundance of light and air. Flanking steel columns are painted white in order to highlight structural elements that hold the atrium together, and culminate in a majestic focal point for the entire office to circulate around.
4. Shepherd's Bush Pavilion Hotel in London. Design by Flanagan Lawrence.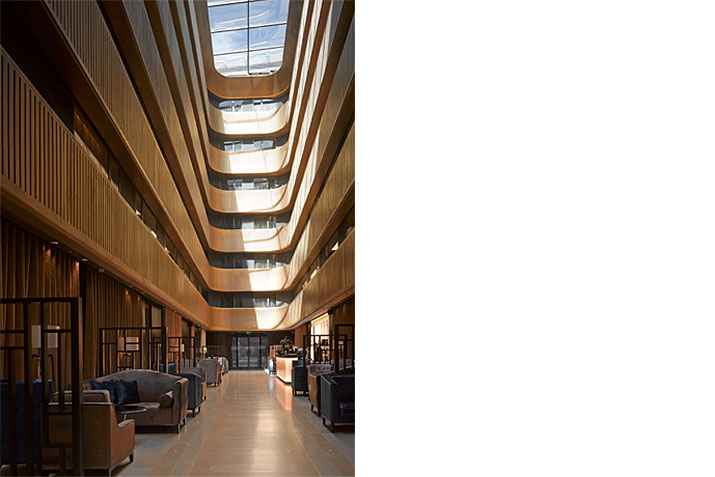 This conversion of a historic 1920's era cinema into a 320 room luxury hotel is nothing short of showstopping. The project features an eight story central atrium open to a class ceiling, with towering rows of curvilinear walkways wrapping the entire space. The atrium is the definitive focal point of the conversion, and its design points attention back towards the importance of the existing cinema, while at the same time celebrating the building being thrust into the next century of its lifespan. It promotes health, movement, and the physical manifestation of historic preservation.
5. Lowe Campbell Ewald's Office in Detroit. Designed by Neumann/Smith Architecture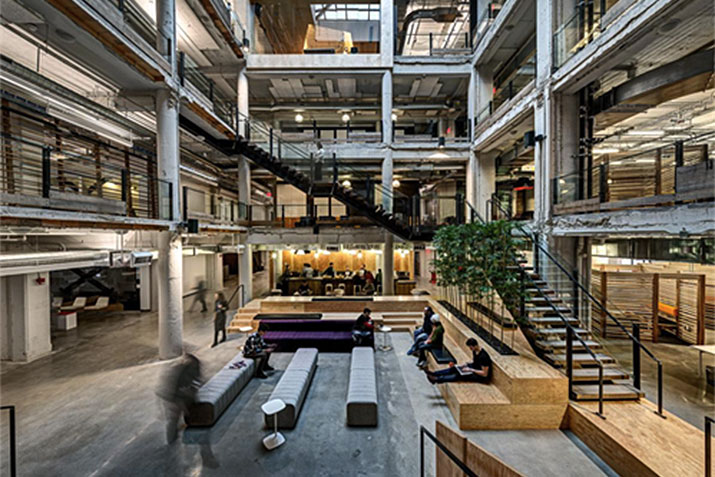 The atrium design for this creative ad agency in Detroit, Michigan is truly remarkable. The new office is built within a 100 year old, crumbing industrial building that would have likely been sent six feet under if this remarkable revitalization project never happened. Specifically, the atrium offers a unique look at the existing concrete post and beam structure, while also creating a bright, visually interesting central gathering space that all other private offices revolve around. The atrium space is punctuated by a visually imposing staircase that wraps an entire corner of the volume.
6. Allen Institute in Seattle. Designed by Perkins + Will Architects.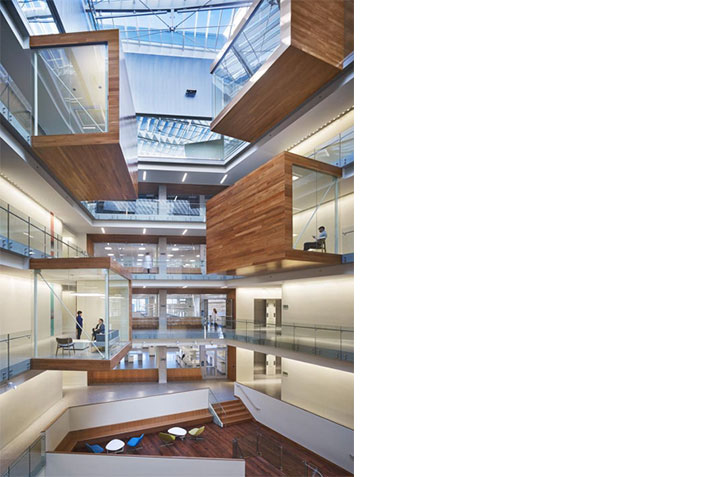 The atrium in this office structure features several floating cubes clad in wood and glass that protrude from the sides of the atrium walls. A spindly glass ceiling looms above the cubes, which hover above a collaborative gathering space below that offers a central hub for students and employees. The floor plan consists of three primary rectangular volumes that wrap around the central atrium. It becomes the hub that connects all activity from the three separate wings, and is treated as such with such a distinct knack for visual flair. The atrium can be vented through the ceiling, which promotes the natural flow of air and light deep into the more isolated areas of the building.
7. The Atrium in Victoria, BC. Designed by D'Ambrosio Architecture.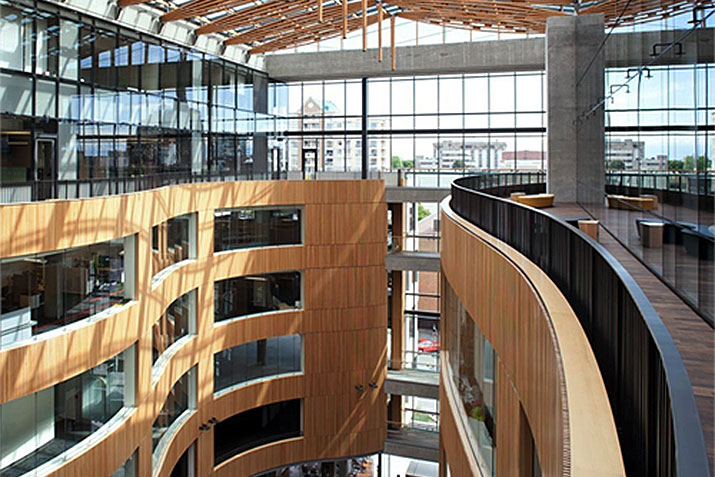 An atrium so great they decided to name the building after it. This high-density office building aimed to bring new and inventive energy to an urban area of Victoria that was in desperate need of a face-lift. This towering atrium features sweeping curved walkways that sit atop closed-off offices and conference rooms. The structure also contains a mixture of restaurants and shops, making this mixed-use project a cultural focal point for an entirely new generation of Canadians. The central atrium stands tall as the building's most impressive feature, and effectively brings life, light, and air to an underappreciated area of town.
Company: Smoke Guard, Inc.
Source: http://www.smokeguard.com/blog/2017/june/20/gorgeous-atriums-that-meet-design-aesthetic-and-safety-code/
Tags: Architecture | Design | Safety
---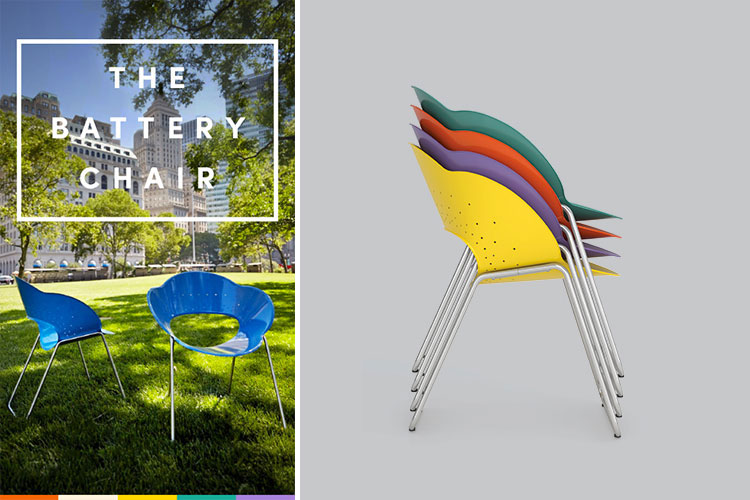 The Battery Oval
In June 2016, the Battery Conservancy of New York City proudly cut the ribbon and opened the Battery Oval; the revitalized grand lawn in The Battery (formerly Battery Park), one of Manhattan's most historic public spaces. The Oval's new signature outdoor furniture was also debuted. Formed into the shape of a blooming flower, hundreds of blue Battery Chairs filled the Oval that day.
Manufactured by Maglin Site Furniture, the Battery Chair was unlike typical New York City outdoor seating. These chairs were moveable, stackable and suitable for people of all abilities. Visitors to the park could easily pick up and reposition a chair anywhere within the Oval. The moveable chairs gave park visitors a chance to create their own outdoor space within the country's most heavily populated city.
The Past
For hundreds of years The Battery played an important role in the growth of New York City, and the United States. In fact, The Battery was the country's first immigrant receiving center, pre-dating Ellis Island and the Statue of Liberty. But over the years the historic space had fallen into disrepair. "(T)his park was not a destination; it was the bleak area you hurried through to get to the ferries going to the Statue of Liberty and Ellis and Staten Islands.1 In 1994 things started to change for The Battery. Warrie Price, a veteran of New York City's government and community planning boards, founded The Battery Conservancy; a not–for–profit educational corporation to rebuild and revitalize The Battery.
Price stated, "I was drawn to The Battery because it is the first or second impression people around the world have of New York City. This is a birthplace park—the park land most continuously in use in all of the five boroughs.2 The Battery was on its way to becoming a newly invigorated and sustainable public space in Lower Manhattan.
The Battery Contest
Four years before the Battery Chair's debut, the Battery Conservancy put a call out to designers across the Americas to "Draw Up A Chair." The contest challenged them to "Design an iconic moveable outdoor seat for The Battery." The chair was going to be a major element in The Battery's journey to becoming an outdoor space where "Downtown will come to rest, eat, and enjoy live performances.3 Nearly 700 submissions to the "Draw Up A Chair" challenge arrived from across North and South America. The entries were narrowed down to 50, and then to 5. The public was invited to a "See, Sit and Select" exhibit within the park, to give feedback on the five chair prototypes. Finally, an internationally renowned jury, with members from the Museum of Modern Art and the New York Times, chose Canadian designer Andrew Jones' submission.
Jones' design for the iconic chair was inspired by "imagining how a field of chairs could poetically respond to the lawn of the Battery Oval, a major meeting ground for Lower Manhattan. Using a single chair in repetition, the view across the Battery Oval is transformed by the whimsical suggestion of sun-loving flowers.4 About the chair, Warrie Price proudly stated, "The Battery Conservancy is known for design excellence. This award-winning design helps us build the brand for The Battery."
Maglin's Role
With the design in place, Maglin Site Furniture was brought on to manufacture the Battery's iconic blue chairs. Price stated, "We have Maglin as the manufacturer, known for extraordinarily well designed and well-constructed furniture."
Working closely with Jones, the Maglin team efficiently streamlined the design for production purposes. "At first glance the chair may appear as more of an ornamental piece," said Aaron Dawson, Maglin's Director of Manufacturing, "but the slightly reclined seat and single piece stainless steel frame form an extremely comfortable and durable product." A total of 300 chairs were built in three shades of blue exclusive to The Battery.
Once the Oval chairs were complete, Maglin Site Furniture moved forward as the sole manufacturer and distributor of the Battery Chair. Keeping the signature shades of blue exclusive to the park, Maglin introduced their Battery line in a variety of colors: orange, green, purple, yellow and ivory. The line was expanded to include Café and Lounge Tables that kept with Jones' design properties. Upon introducing the collection, Ian McAskile, president and founder of Maglin Site Furniture, stated, "The Battery Collection is not only a new line for Maglin, it is a fresh new approach to thinking about the ways that color and ornamental aspects can bring a touch of playfulness to the whole (site furniture) industry."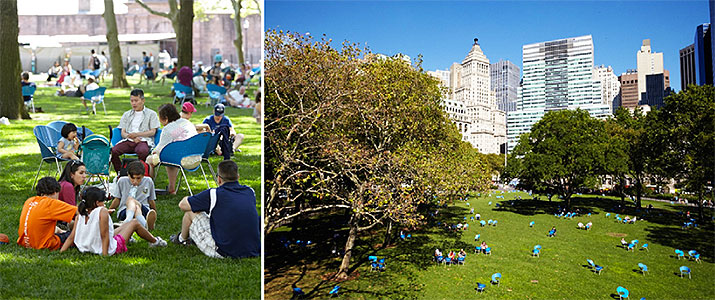 The Future
Since its launch, the story of the Battery Collection has captured the attention of the design community. About the journey from concept to completion, Warrie Price says, "For Maglin and ourselves the focus was on bringing great design to the public, to use freely and openly in a public park – and the fact that now it is offered to others is thrilling. It belongs in terraces, balconies, backyards, front yards, (and) sunrooms.5
By satisfying the needs of New York City's Battery Oval, the Battery Chair proved its worth in any public environment. From campuses to courtyards, the clean design and solid construction of the Battery Collection lends itself to an endless variety of styles and spaces.
For more information on The Battery Conservancy and Battery Oval, visit http://www.thebattery.org/
For more information on Maglin's Battery Collection visit http://www.maglin.com/products/battery/batterycollection.html
1 https://womensvoicesforchange.org/warrie-price-a-woman-whos-made-a-difference.htm
2 https://womensvoicesforchange.org/warrie-price-a-woman-whos-made-a-difference.htm
3 http://www.thebattery.org/wp-content/uploads/2014/11/TBC-RFEI-Battery-Chair.pdf
4 http://www.thebattery.org/about-fleurt/
5 Maglin Site Furniture. (2016). Introducing The Battery Collection: Maglin Site Furniture launches exclusive competition-winning design from famed Manhattan park [Press Release]
Company: Maglin Site Furniture
Product: The Battery Collection
Source: http://www.maglin.com/products/battery/batterycollection.html
Tags: Color | Design | Furniture
---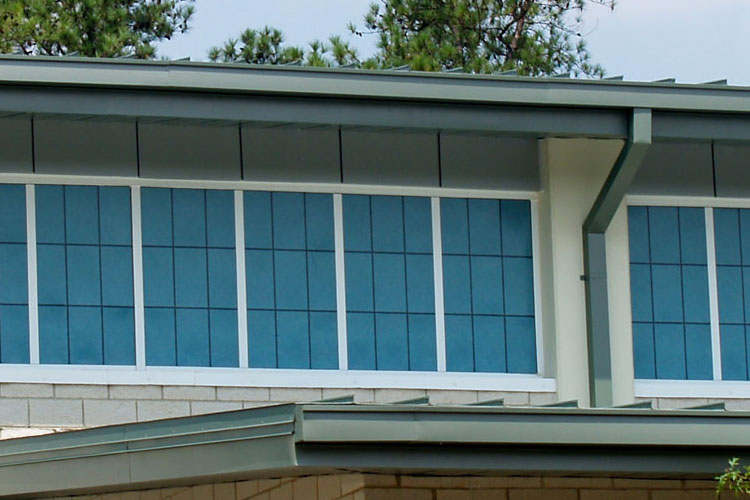 Clima-Tite™ is a unique – the only translucent panel system that features pultruded fiberglass framing for better thermal performance, including enhanced u-factors and better condensation resistance than similar aluminum-framed systems. Pultruded fiberglass also has other advantages over aluminum, including dimensional stability and increased corrosion resistance, making it a great choice for harsh environments like water treatment plants or aquatic facilities.
Utilizing fiberglass is also an environmentally sound choice, as the manufacturing processes require less energy compared to aluminum (about 80% less embodied energy). The main ingredient in fiberglass is silica sand, an abundant natural material. Once properly converted, the inherent thermal properties of fiberglass allow for reduced HVAC loads, which can reduce greenhouse emissions. The long lifespan and durability of pultruded fiberglass also delivers reduced costs over the lifetime of the system.
Company: Major Industries Inc.
Product: Clima-Tite™
Source: http://majorskylights.com/products/wall-systems/clima-tite/
Tags: Design | Energy | Glass | Lighting | Windows
---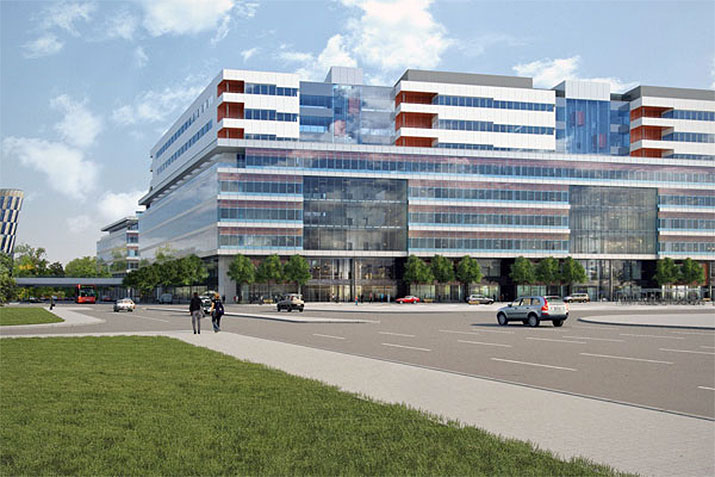 The New Karolinska Solna University Hospital (NKS) in Stockholm has been hitting the headlines for over a decade. The original Karolinska University Hospital was founded in 1930. Since the 1930's the hospital campus has expanded to cover a vast area with an estate of over 40 separate buildings.
In 2005 Stockholm County Council, who are responsible for delivering healthcare in the city, ran a design competition inviting "visionary thinking, modern design and unconventional ideas to form the basis of the creation of the new hospital". The competition was won by White Architects from Sweden with their 'Forum Karolinska'.
In 2008 Stockholm County Council took the decision to go ahead with the new hospital. They were the first Swedish healthcare project to adopt the Public Private Partnership (PPP) framework to finance, build and manage a hospital. In 2010 the PPP agreement was made between the County Council and the project company - Swedish Hospital Partner AB, a consortium of Skanska and their investment partner UK based Innisfree.
Skanska employed White Architects and Tengbom Architects to execute the design and coordinate the construction of the £1.5 billion facility.
A significant aim of the project was to create a purpose built environment with a strong focus on energy efficiency and sustainability. Phase One of the building has attained LEED Gold and the Swedish system "Miljöbyggnad" Gold certification
The ethos is to put the patient first and the list of facilities is impressive. It has 730 in-patient beds, 100 rooms for day care, 36 operating theatres, 168 out-patient clinic rooms and 8 radiation treatment rooms.
Howe Green Ltd supplied a number of HSE75 Hinged Aluminium Floor Access Covers for the hospital through their Swedish distributor, Elkington AB. From their base in Stockholm, Elkington have been distributing Howe Green access covers for projects across Sweden since 1999.
The gas assisted hinged HSE75 hatches provide easy and safe access to the underground power stations and escape routes located underneath the hospital. They have been installed in the various areas of the hospital and infilled with both concrete and tiled flooring to provide a seamless, flush floor finish.
The hinged access hatches are ideal for environments where regular access to concealed services is required for maintenance purposes and in public places where health and safety is crucial.
The HSE75 can be infilled with ceramic tiles, marble, terrazzo, concrete, resin, wood or parquet floors and is suitable for pedestrian and vehicle traffic up to a 5 tonne pneumatic tyre wheel load. Supplied as a single cover or a configuration of duct covers in standard sizes from stock or precision made to order.
Options include a top and underside release latch, for added security and safety, a double seal and fire rating up to 3 hours BS 476: Part 20: 1987.
The Howe Green range of access covers are tried and tested in a healthcare setting. They have been specified in hospitals around the world including Southmead Hospital in Bristol, Queen's Hospital in Romford, Great Ormond Street Hospital and the Lennox Addington Hospital in Ontario, Canada.
Company: Howe Green US
Product: Hinged Access Cover
Source: https://www.howegreen.com/access-covers/projects/nks-hospital-stockholm.php
Tags: Access Covers | Building | Design | Floor
---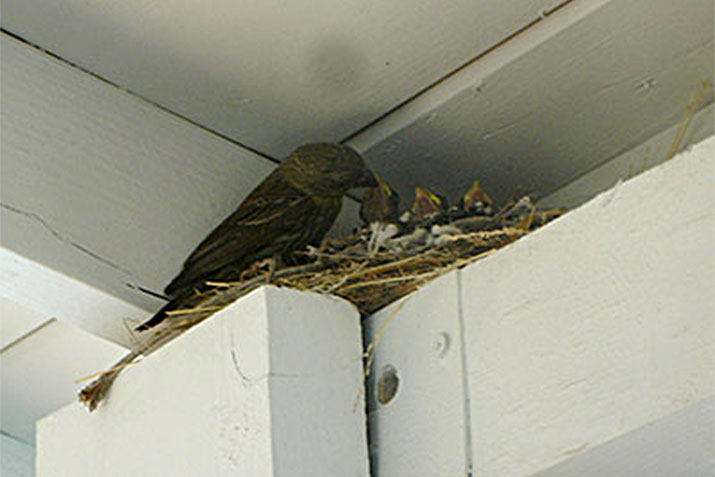 Pest birds are always looking for a place to roost and nest on buildings and commercial property. They need a place that's high enough from ground predators and close enough to food and water sources. Most buildings provide these things. Signage offers warmth, security and shelter for nests. Rooftop AC units do the same, offering the warmth of electrical motors/compressors and shelter from the elements. Rooftop water towers provide all sorts of nooks and crannies for birds to build nests. Many buildings essentially invite pest birds through their open attics.
The most effective way to prevent birds from nesting around your property is to be proactive. And that means making your property less of a bird magnet. Remove any standing water or food scraps, and close all trash containers. Seal up any attics and other lofty holes and cracks where birds can enter. Once you've done that, it's best to install some effective and humane bird deterrents to keep birds away.
Need help choosing the right product for your bird control problems? Contact the experts in bird control.
Company: Bird-B-Gone, Inc.
Source: https://www.birdbgone.com/
Tags: Building | Design | Safety
---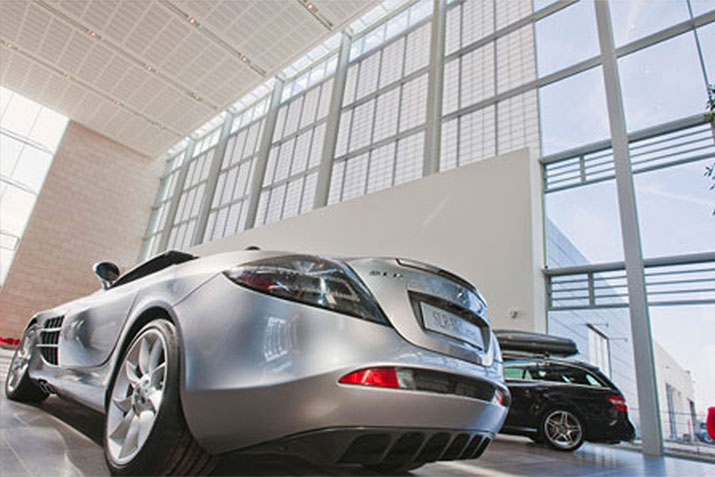 Big and bold. Curvaceous and intelligent.
If you are looking for the latest industry insights and trends in building design for 2017, getting together with architects and builders throughout the world is a sure way to fill up your notebook and keep you current.
During the conferences we have recently attended – BAU, the world's leading trade fair for architectural materials and systems in Munich, Germany; Facades+ in New York City and the AIA Conference on Architecture in Orlando, Fla. – common themes have emerged.
For instance, there are new trends in glazing technologies, including larger formats and smaller sight lines. Elegance will always be in, but people really want big units for aesthetics and performance.
Here are four takeaways from the 2017 conference circuit:
Architects are looking for a more monolithic feel and they are finding it by incorporating glazing and products such as Kalwall® that can push the envelope by delivering large panel formats (up to 5' x 20' | 1.5m x 6m) set within more attenuated framing.
It used to be about curb appeal. Now it's about curve appeal. We found significant interest in our Kalcurve® System as curved glazing, even double curve glazing, is becoming more and more popular.
Smart technology continues to be in demand, but the ways technologies are making buildings more intelligent is expanding. We can imagine sensors someday being incorporated into our panels to help regulate light levels and communicate information to the HVAC systems to regulate heating and cooling.
Energy efficiency is still a first order priority for architects, contractors and owners alike. Exhibiting at BAU for the first time was a great way to see how Kalwall's superior thermal properties drew global interest and admiration.
Getting the opportunity to attend multiple conferences, listening to the different points of view on how to make buildings more beautiful, safer and efficient, helps bring a truly global perspective to what we do.
Sam Keller is the Creative Director for Kalwall. You can reach him at skeller@kalwall.com.
Company: Kalwall Corporation
Of: Sam Keller
Source: https://www.kalwall.com/2017/05/09/glazing-over-global-trends-larger-formats-and-smaller-sight-lines/
---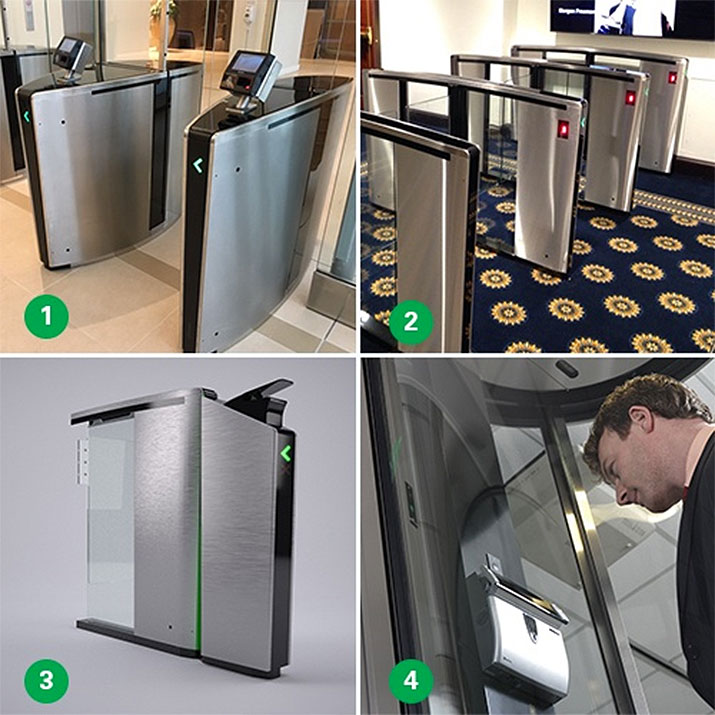 You are likely convinced that a physical security entrance is absolutely necessary in order to get the most out of your access control system and truly keep unwanted people out of your facility. Integration between door access control systems and security entrances can be a fine art; the perfect balance of functionality, space and aesthetics.
There are various types of access control systems available today, everything from bar code and QR code readers, to fingerprint and iris scanners, to traditional card readers and key pads. The size and shape of each individual device varies greatly based on both type and manufacturer. Let's discuss some ways you can integrate your access control system with your security entrances.
Four Integration Techniques
All physical security entrances have a designated place for your access control device – optical turnstiles: under the cabinet top; full height turnstiles, security revolving doors and portals: mounted on the side post. Yet, based primarily on space and what you are trying to achieve, these designated mounting places may not fit your needs. Here are some alternative options:
Top-mounted: For optical turnstiles, mounting an access control device on top of the cabinet is an integration method that is most intuitive for the user because the reader is visible when approaching the lane. Organizations that utilize lift or elevator notification devices (destination dispatch) have also found that top mounting is a viable option. They tend to place the access control device in the designated area (under the top), and the elevator notification device either on the turnstile top, or on a custom pedestal (read on to learn more about this option).

Panel Cut-outs: Another option for optical turnstiles, panel cut-outs are typically used due to space limitations on or under the top. This type of mounting can be used as the sole means of accessing the secure area, or in addition to the traditional, under-the-top mounting option (two-factor authentication). Some companies have even used the panel cut-out to mount a device that is used solely for visitor entry. While this option of mounting is aesthetically pleasing, (no big device on top of your turnstile), it does require user training because the reader is not always easily visible.

Custom Pedestal: For entrances of all types, pedestals are a common way to mount an access control device. We've seen some basic, standard pedestal designs, but some manufacturers are working with the end user to develop a sleek pedestal that imitates the curves and design of the entrance itself – true integration at its finest.

Interior-mounted: Security mantrap portals are a unique, high security entrance designed to protect the most sensitive of areas. This sophisticated portal can be equipped with a biometric post for an interior-mounted access control device. Often used in conjunction with an external, side post-mounted device, the interior biometric device allows organizations to achieve two-factor authentication.
Two-Factor and Multifactor Authentication
Large companies are implementing two-factor and multifactor authentication techniques at their facilities to decrease the possibility of an intruder infiltrating the building. According to LoginTC, two-factor authentication means, "an attacker needs to solve two fundamentally different problems, each in different dimensions, in order to compromise your identity."
Utilization of two-factor or multifactor authentication typically involves the integration of two different access control devices for access through a single security entrance. This level of integration requires proper preparation and planning. There are, however, some all-in-one devices that can accept two or three authentications, e.g., a single Morpho Sigma device can accept any combination of a card reader, unique pin and/or fingerprint.
The fusion of your access control device and your security entrances shouldn't be an afterthought, but an integral part of your building design from the very beginning. Speak to your security entrance manufacturer about the solution that will work the best for your organization.
Company: Boon Edam Inc.
Of: Amy Coulter
Source: http://blog.boonedam.us/door-access-control-security-entrance-integration-techniques
Tags: Design | Entrances | Security
UNO Helix / Spiral large scale LED fixtures (May 23, 2017), EXTECH offers LIGHTWALL 3440 translucent wall system with three new glazing options (May 15, 2017), Sherwin-Williams converts digital color into fresh coats of paint for a good cause (May 11, 2017), Solar shading systems: fixed & motorized louvers (May 3, 2017), Auburn® custom & pre-engineered skylights (May 1, 2017), Warwick Hotel Rittenhouse Square boasts unique, stylish lobby entrance with revolving door (April 24, 2017), 2017 COTE Top Ten - Setting the standard in design and sustainability (April 20, 2017), KINETICWALL wins 2017 Architizer A+ Award (April 19, 2017), Bicycle security solutions (April 14, 2017), Striking the Right Color Balance in ALR Screens (April 10, 2017), Guard Houses (April 3, 2017), New AIA Certified Course on Resilient Design (March 6, 2017), Global changes in construction: Kalwall's insights from BAU (March 1, 2017), Ventilation for you the music fan: Brilliant audio performance concealed behind your fan grille (February 27, 2017), Choosing the right finish for coastal projects (February 24, 2017), Backyard 2.0: 2017 Deck and Railings Forecast (February 8, 2017), Navigating the wide selection of polymer overlays over concrete substrates (February 2, 2017), Brass clad & bronze clad doors & frames (January 30, 2017), Flexible bollards guide traffic while avoiding costly collision damage and repairs (January 27, 2017), Iconic TWA Terminal Receives New Life (January 18, 2017), StonePly Success Story: Atlantis - The Cove (January 11, 2017), The Benefits of Water-Based Concrete Stains (January 2, 2017), Architectural Glass Takes on a New Shape (December 23, 2016), The Grand Louvre - Phase I - honored with AIA Twenty-five Year Award (December 22, 2016), 4 'Gotchas' that could derail your front entrance security upgrades (December 16, 2016), Case study: Otterbein University's STEAM Innovation Center featuring Extech's Lightwall 3000 series curtain wall system (December 15, 2016), Solutions for the entire building façade (December 9, 2016), Architects empowered to drive positive change at SXSW Eco (December 5, 2016), Major announces new Auburn® skylight option (November 25, 2016), Don't Make Color Decisions at Sunset (November 2, 2016), Roman Brick: for architects and homeowners aspiring for a unique look (October 26, 2016), Kelly Edwards' Tiny Home: Shipping container turned elegant living space with rooftop deck (October 21, 2016), Battery Life: introducing a new way to energize your outdoor space (October 12, 2016), Images in Concrete: Reckli Artico® (October 7, 2016), The future of insulated wall panels has arrived (September 28, 2016), Color Rendering Index: Why It's important in Outdoor Lighting (September 23, 2016), Make your buildings look good with uniquely designed polycarbonate products for building exteriors (September 19, 2016), Red, traditional brick color for traditional architecture (September 7, 2016), Armortex Waterjet Cutting (August 24, 2016), Summer 2016 in the Hamptons (August 19, 2016), AIA and Autodesk Introduce New Feature to Automate 2030 Commitment Reporting Data (August 15, 2016), The Feng Shui of Kalwall (July 11, 2016), Blackout & mesh shades in the same window? Dual Roller Shades are the solution! (July 5, 2016), Evolution Of Revolving Door Security: Teaching Old Doors New Tricks (July 4, 2016), Balancing Bulletproof Security and Design (June 21, 2016), Cut solar energy getting into buildings by up to 92% - stop it before it hits the glazing (June 17, 2016), Architects create tactical urbanism with AIA Design Competition (June 1, 2016), Turnstiles to Appear on Discovery Channel Show (May 6, 2016), Icynene Spray Foam: Water absorption comparison to other insulations (May 4, 2016), Cochran Expands and Enhances Landscape Forms Lifestyle Furniture for Terrace Life (April 29, 2016), Another Award-Winner: Verti-kal™ and the John Fry Sports Park Pavilion (April 22, 2016), Broan NuTone invents new mosquito barriers for decks (April 13, 2016), Guardian 275® translucent skylights provide a wide range of color, thermal performance and specialty application options (April 6, 2016), Creative Bike Racks That Make Your Space Stand Out (March 14, 2016), Better than real wood planks (March 9, 2016), The Plan to Turn NYC's Turnstiles Into Musical Instruments (February 29, 2016), 2016 Color Forecast (February 22, 2016), Maximize views with generous exterior glazing, while ensuring privacy and thermal efficiencies (February 19, 2016), Great Glazing: Rogers Memorial Hospital Brown Deer (February 8, 2016), Partnering with Architects to Make BulletProof Beautiful (February 3, 2016), Online Color Selection and Specification Tool (January 11, 2016), Kalwall Featured: Guide Dogs for the Blind New Student Residence (December 30, 2015), Designing Outdoor Public Spaces is Vital to the Future of our Cities (December 28, 2015), Active Design Guidelines for Walkable Communities (December 23, 2015), 3 buildings that balance aesthetics and performance (December 16, 2015), Making History: The National Constitution Center (December 11, 2015), Earn LEED Points With Florence Mailboxes (November 18, 2015), Data Center HVAC Design Considerations (October 26, 2015), Helping to retrofit Bronx Community College (October 5, 2015), A perfect blend between revolving doors and transparent architecture (September 4, 2015), Custom Mill Work, Bullet Resistant Barriers, and Inconspicuous Perfection (July 24, 2015), Structural Acoustic Roof Deck (July 3, 2015), Revolving Doors and ROI for Retail (June 10, 2015), April Showers Bring May Flowers… And Eco-Friendly Smart Glass (May 18, 2015), Suitable for framing: Kalwall brings distinct lighting to award-winning design (May 15, 2015), Mid-century modern design in Los Angeles (April 27, 2015), 5 Tips For How To Fill Perfect Looking Large Planters (April 22, 2015), Light your way with environmentally friendly solar lighting bollards (April 20, 2015), 10 Key Questions about Exterior Shading - free white paper (April 15, 2015), Make a Statement With Your Mailboxes (April 6, 2015), Beautiful, High Performance Finished Floor Solutions (April 1, 2015), Design Meets Security: Launching New Revolutionary Access Control Barrier Series at ISC West (March 27, 2015), Sunshades provide aesthetic appeal to the building exterior (March 23, 2015), Unique and secure bicycle storage (March 18, 2015), New product launched minutes ago! Central Park Conservancy (March 12, 2015), Entrance possibilities are endless! See the 7 elements of revolving door design (February 23, 2015), Architecture and Design for Today's Schools: Secure and Inviting (February 10, 2015), Aluminum Railing Frame Systems (January 28, 2015)