architecture - engineering - construction

2017 December
---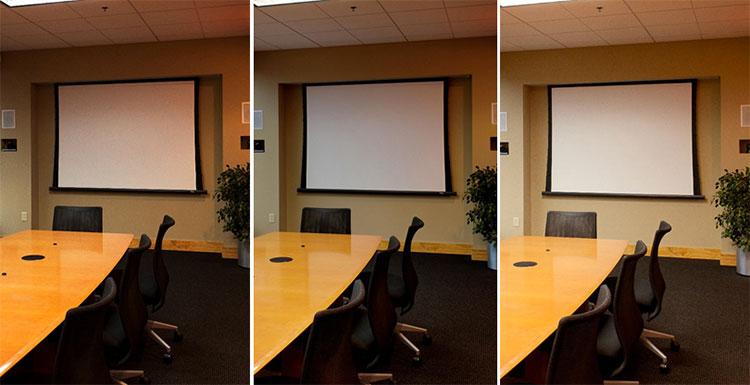 Over the past few years, the science of projection screens has made several major advances. Research and development of new methods and solutions have made the process of choosing a projection screen much different than it was just a few years ago.
To help architects and AV consultants keep up, Draper has released an updated version of our class on projection screen technology. Projection Screens 301: Updated Science of Projection Screens (PS301) contains the latest information on specifying the right screen solution.
The course objective is to provide a clear understanding of the various factors to consider when choosing a projection screen.
Among the factors taken into consideration are:
Content/Use of system
Seating Configuration
Ambient Light Levels
Room Dimensions
One of the biggest updates in screen science has been the ability to deal with ambient light conditions.
In the past, the majority of viewing surfaces had mostly diffuse reflection. These typically matte materials are best for extremely wide off-axis viewing, blending, and short throw projection. They reflect as much projected light as possible out to viewers at all angles. While this is great for spaces with low or no ambient light, if there is ambient light it will also be reflected out to viewers at all angles, "washing out" the image.
For a time, screen companies tackled ambient light with grey screens. While a grey tint can help improve contrast and absorb unwanted stray light scatter, it isn't a true ALR solution. Many grey screens are diffusive, so they are still reflecting ambient light to the viewers.
ALR surfaces are specular reflective. They reflect the projection light back to the viewers, but reflect off-axis ambient light away from the viewers. Most ambient light hits the surface and reflects at an opposite angle of incidence. For example, off-axis light at 65 degrees will mostly bounce 65 degrees in the opposite direction. The amount of light it reflects away from the viewer is dependent on the amount of reflective properties in the surface's formulation. The more specular reflective in performance, the better the ALR properties. However, this typically reduces off axis viewing performance. For instance, Draper offers screen surfaces that reflect 60%, 73%, and 82% of ambient light.
PS301 also covers contrast. Image contrast affects how well you can read, which means it affects detail and resolution. Low contrast reduces image detail and resolution, while high contrast increases detail and resolution. Image contrast is even more critical when the application involves high resolution graphics, medical imaging, control rooms, and CAD applications.
System contrast is an average of measurements of black at different locations on the screen, compared to white at different locations on the screen. This is measured in the existing lighting conditions of the application. Ambient light will affect the measurement of black. When measuring system contrast an ANSI checkerboard pattern is used.
Other subjects covered and updated include gain, hotspotting, throw distance, sizes, formats, and solution design using online calculators.
Updated Science of Projection Screens earns one AIA learning unit for architects, or one learning unit toward CTS renewal for those in the AV industry.
To learn more about all of Draper's continuing education offerings, and to register for in-house presentations, click here.
Company: Draper, Inc.
Product: Projection Screens
Source: http://blog.draperinc.com/2017/12/updated-projection-screen-science/
Tags: Audio Visual | Office
---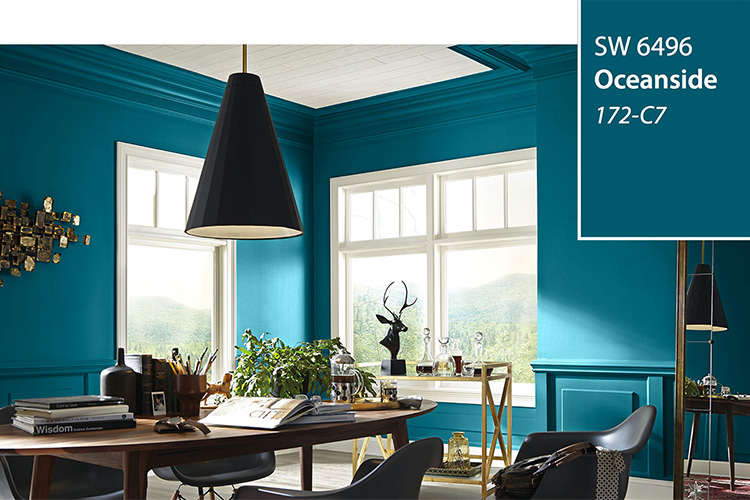 A collision of rich blue with jewel-toned green, a color that is both accessible and elusive, Oceanside SW 6496, is our 2018 Color of the Year. A complex, deep color that offers a sense of the familiar with a hint of the unknown, Oceanside, bridges together a harmonious balance of blues and greens that can be found in what's old and new.
The color blue evokes a multitude of moods and associations depending on hue, shade and application. Despite this variety, blues are universally perceived as intelligent, honest and interesting—making blue the most beloved color worldwide.
Oceanside's multi-dimensional, marine-inspired look can create a welcoming statement as a lively color for a front door. Its green-meets-blue tone can also boost creative thinking and clarity of thought in a home office, or invite meditation and introspection into a bedroom or reading nook.
Oceanside is universal when it comes to design style from mid-century modern to Mediterranean-inspired, traditional to contemporary.
Using the Sherwin-Williams ColorSnap® Visualizer, you can explore the Color of the Year and with the swipe of a finger see it on any wall.
Tag your Oceanside Twitter and Instagram posts with #SWCOLORLOVE or upload a photo.

#SWColorLove Terms of Use
2018 Key color combinations featuring Oceanside
Oceanside's versatility allows it to play well with many colors. It is a bright counterpart to equally eye-catching colors like Exuberant Pink SW 6840 or Honey Bees SW 9018 or it can rest relaxingly alongside other blues like In the Navy SW 9178 or Adrift SW 7608. It is also the ideal companion for corals and copper metallic tones because of its timeless association with nature.

Company: The Sherwin-Williams Company
Product: High Performance Architectural Coatings
Source: https://www.sherwin-williams.com/architects-specifiers-designers/inspiration/color-forecast/2018-color-forecast/2018-color-of-the-year-oceanside
Tags: Color | Design | Finishes
---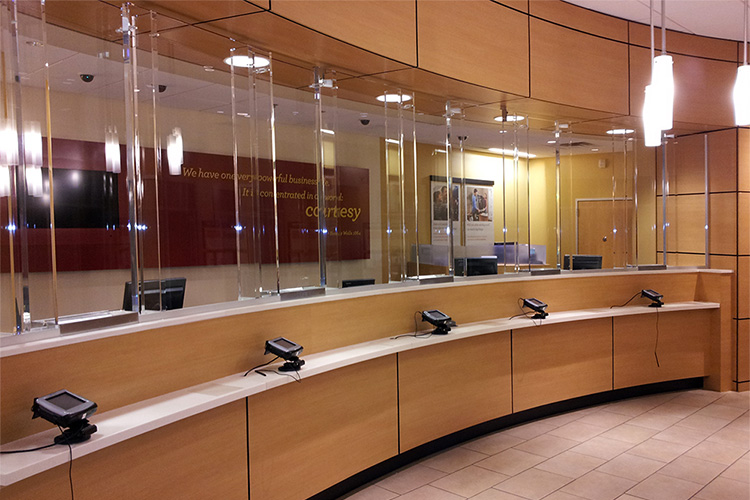 As 2017 draws to a close and we look forward to the promise of a new year, we thought it might be a perfect time to pause and reflect on something very important to us – the do's and don'ts of cleaning your bulletproof glass. While that might not make the top three on most people's list of resolutions for 2018, here's why it should. Bulletproof glass is an investment and at Total Security Solutions, we want to protect that investment. We know that more than bullets, the thing that most often spoils a beautiful, crystal-clear sheet of bullet proof glass is an unlikely culprit: Windex.
When bullet proof polycarbonate or acrylic are cut, drilled, or flame-polish, microscopic fractures form in the plastic. These are not visible to the naked eye, and are structurally inconsequential. "But Windex attacks the edges of those fractures," Jim Richards, CEO of Total Security Solutions explains, "and it will look like there's cracks going into the glass. It's what's called crazing, and it makes the material look terrible," even though it has no impact on the material's bullet resistance.
With proper maintenance, bulletproof glass will look great for years, but crazing creates a haze that penetrates the surface and according to Jim, "when it's done, it's done."
Another important tip, skip the paper towel! One downside of polycarbonates is that they are prone to scratches. This scratch potential is why you'll get a cleaning cloth with eyeglasses or sunglasses you purchase, and why computer and TV screens have special cleaning products as well. Should a scratch occur on your bulletproof glass, it can often be buffed out, but it's best to avoid them all together and stick to a soft cloth for cleaning.
Proper Care and Cleaning of Bullet Proof Glass
Gently dust with a soft lint-free cloth (like an old t-shirt).
Wash with a solution of warm water and mild soap or detergent, using a soft cloth or natural sponge. Keep the sponge sopping wet. Blot dry with clean soft cloth.
Remove grease and oil using hexane, kerosene, or naphtha, not aromatic compounds like benzene.
Surface scratches can be buffed out of acrylic by hand.
Polish acrylic or polycarbonate with quality commercial wax. This fills minor scratches, restoring the original smooth surface.
Never use paper towels on bullet proof glass.
Never use scouring compounds or abrasive cloth.
NEVER USE WINDEX®!
Company: Total Security Solutions Inc
Product: Bullet Resistant Barriers
Source: http://www.tssbulletproof.com/securing-bulletproof-glass-investment-2017/
Tags: Bullet Resistant | Security | Windows
---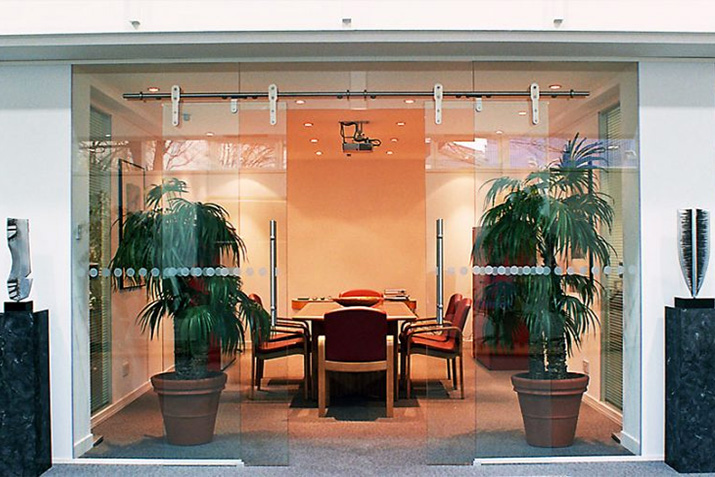 The typical point of entry into an interior environment tends to be simple, boring, and often mediocre. The primary purpose is to allow access, paying no attention to any crucial design attributes Avanti Eclipse sliding glass doors are a collection of quality Sliding Glass Door Systems that provide a contemporary solution to applying design and seamless flexibility.
Integrated Sliding Glass System
The Eclipse Sliding Glass Door incorporates a series of functional components, creating a unique system that fuses stainless steel hardware and single pane glass. This creates a simple sliding system that may be integrated with corresponding glass wall systems such as Elite or Solare Single Glazed. We also now carry the Eclipse Plus Sliding Glass Doors that functions with our Double Glazed Wall Systems. Eclipse utilizes a series of module and glass panel mounted stainless steel hardware components.
The Eclipse Sliding Glass Door system can be fixed on glass partitions and even solid walls. This provides a high degree of flexibility, creating practical solutions which satisfy specific requirements. This system provides a unique "floating" look, as the rollers glide on a track. Each Eclipse Sliding Glass Door System comes standard with a 4 Foot Stainless Steel Handle and includes other locking and pull options.
Single Elevation – Integrated with Solare Single Glazed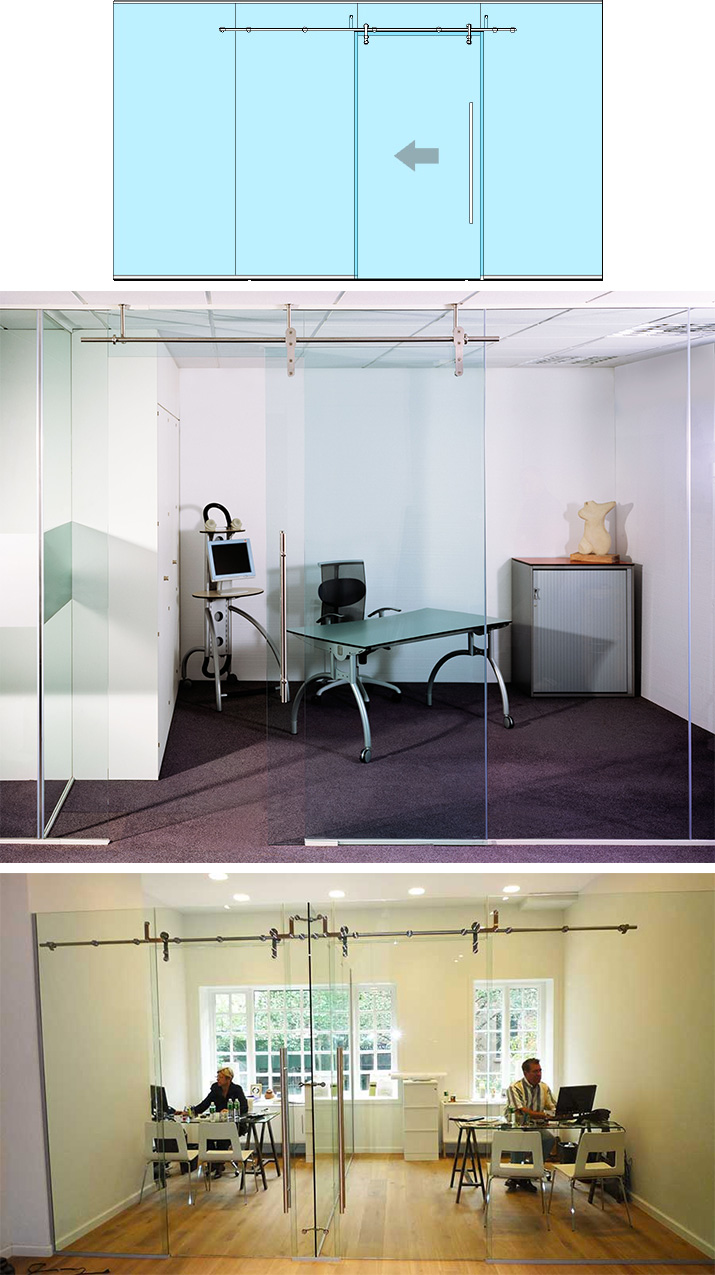 Pair Elevation (Barn Doors) – Integrated with Solare Single Glazed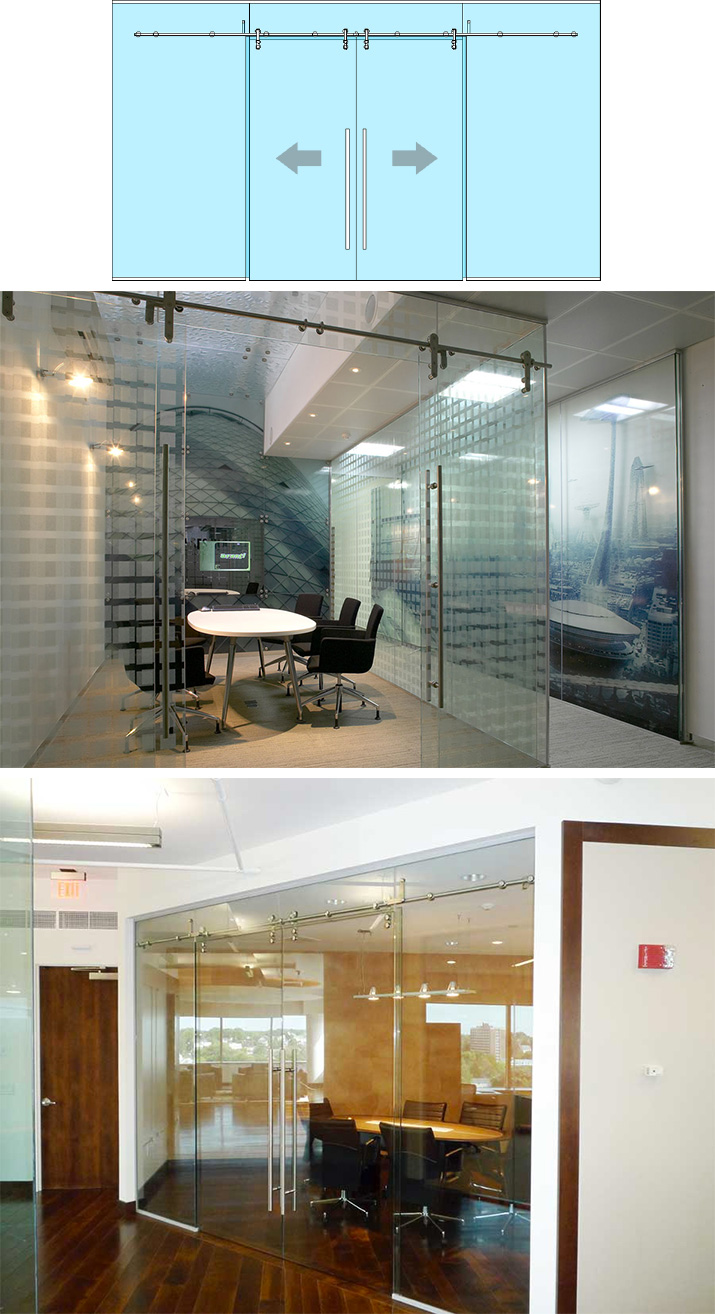 Assisted Close Glass Systems
Glide the Eclipse Sliding Glass Door System to the closed position and you will see a halo right before your eyes. This halo consists of a 1 1/2'' overlap at the top, left, and right of the system. The Eclipse Sliding Glass Door is a gateway to a translucent space, and is also a gateway to promoting a sustainable environment. Eclipse is compliant with LEED sections including recycled content, daylight and views, acoustic performance, and regional material.
Company: Avanti Systems USA
Product: Eclipse Standard Doors
Source: https://www.avantisystemsusa.com/sliding-glass-doors/
Tags: Acoustics | Doors | Glass | Interior Design | LEED Certification | Office
---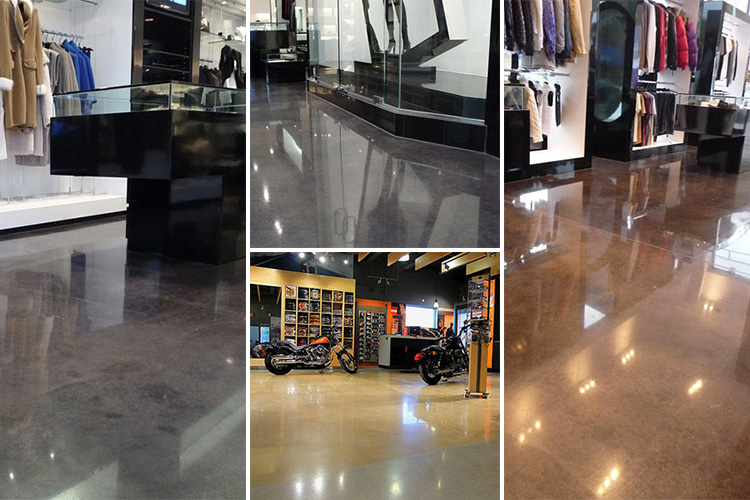 Polished concrete flooring is one of the hottest trends for homeowners and business owners alike. Thanks to recent advancements in equipment and technology, the process of polishing concrete is more efficient and economical than ever. Concrete surfaces, both old and new, can be polished to a high-luster finish. When compared to other types of flooring: marble, tile, linoleum, wood and coated concrete, polished concrete is more durable and better performing. Polished concrete never needs waxing and is therefore low maintenance as well.
Aesthetically pleasing, polished concrete flooring has a striking high-luster appearance. The exposure of aggregate in the substrate reveals beautiful textures and natural looking patterns. It can also be stained or colorized in some other way to achieve a one-of-a-kind look that resembles natural stone.
One of the keys to achieving a beautiful high-luster polished concrete floor is to obtain a less porous concrete substrate. This is the job of a product known as a concrete densifier or colloidal silica densifier. Concrete densifiers have been around for nearly 100 years and are specifically designed for this task.
Modern concrete densifiers contain microscopic colloidal silica particles suspended in a low-tension liquid. When the densifier is applied to concrete, it is immediately absorbed into the concrete's pores. The colloidal silica reacts with the soft calcium in the concrete. This reaction creates a new hard material that is not water-soluble and expands to fills the pores in the concrete. The newly hardened concrete will take a better polish and is more durable providing better abrasion resistance.
Hermetix Densifier is Duraamen's high performance concrete densifier product. It penetrates more deeply and reacts faster than other brands. Once applied, it starts working in 1-2 minutes. After the application there is nothing to broom off and nothing to dispose of. Hermetix is non-hazardous as well.
To obtain an ultra-high luster, it is recommended that a colloidal silica finishing conditioner is also applied to the finished floor. Hermetix Shield is Duraamen's protective finishing conditioner that further hardens the polished concrete by adding additional colloidal silica while helping to protect the finished floor with specifically engineered polymers.
Company: Duraamen Engineered Products Inc.
Product: Concrete Flooring: Concrete Densifier
Source: https://www.duraamen.com/p/polished-concrete/
Tags: Color | Concrete | Design | Finishes | Floor
---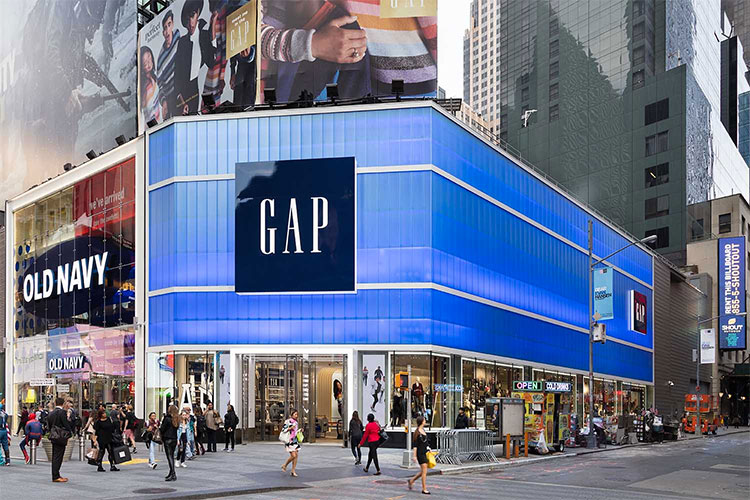 The Gap store in Times Square, NYC. The blue facade is EXTECH's LIGHTWALL 3440 translucent wall system coupled with custom-colored polycarbonate. Image by Vanni Archive Architectural Photography
The new Gap store in Times Square, NYC is clad in EXTECH's LIGHTWALL 3440. Nearly 5,000 square feet, the blue polycarbonate panels are a custom hue that matches Gap's color palette and was chosen based on polycarbonate samples provided by EXTECH. To ensure even light transmission, the facade utilizes specialized mounting clips that EXTECH developed and the panels are treated with an anti-glare coating that promotes balanced light filtration.
The LIGHTWALL 3440 polycarbonate wall panel system offers beauty, durability, and economy with vertical panels that can extend up to 54 feet long and eliminate leak-prone horizontal joints.
Translucent polycarbonate wall panels offer a host of benefits including energy savings via daylighting, outstanding insulating value, and elimination of leak-prone horizontal joints. LEED credits are also available for 100% recyclable polycarbonate and aluminum framing. The LIGHTWALL 3440 has provided façade solutions for a wide range of structures in a wide range of industries, and has been subjected to a complete battery of air, water, and structural testing to ensure it offers superior insulation, durability, and weather-tight performance.
Company: EXTECH/Exterior Technologies, Inc.
Product: Translucent Walls
Source: https://extechinc.com/lightwall-3440-gap-times-square-nyc/
Tags: Architecture | Color | Lighting | Wall Panels
---
When we talk about daylighting, the first thing that comes to mind is often the image of natural light pouring into a space... but what happens when you need to bring light to a area that also demands privacy?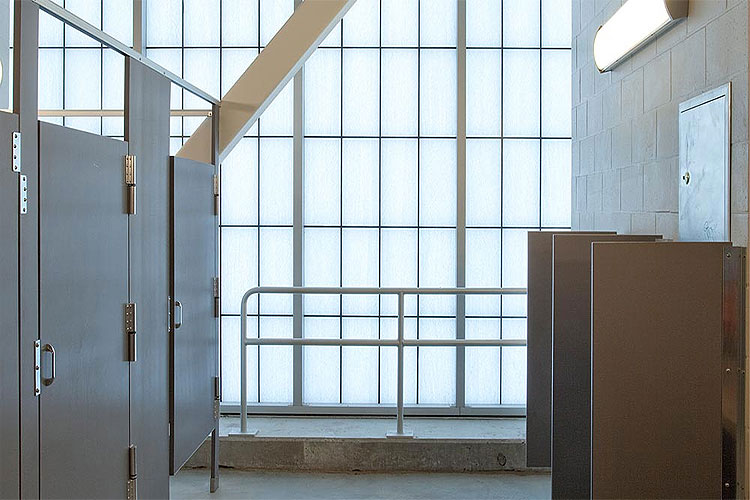 HDR/TD Ameritrade Park, Omaha, NE - Guardian 275® Wall System - Mix Natural Light and Privacy!
Translucent panel systems, like the Guardian 275® wall system above, allow for building occupants to enjoy controlled, glare-free light while eliminating direct lines of sight from the exterior and maintaining a feeling of safety and security. This can be a great asset to traditionally dark and window-less areas like public restrooms, hallways, in waiting areas in medical centers and hospitals (for patient confidentiality), or in secure facilities where it's of up-most importance to maintain a certain level of secrecy.
Translucent systems can also benefit schools as they allow students the advantages of natural light while affording them privacy from outside eyes. And while there are other options in the market such as fritted or channel glass, these systems are often on the higher end of the cost scale. Electrochromic glass options are also available, but can cost even more and may require additional maintenance and upkeep.
Their versatility, light weight and design flexibility make translucent panel systems a great choice for letting light in and keeping prying eyes out. From simple wall panels to curved systems to our Verti-Lite™ option that has an appearance similar to channel glass, we have a system that will fit your needs.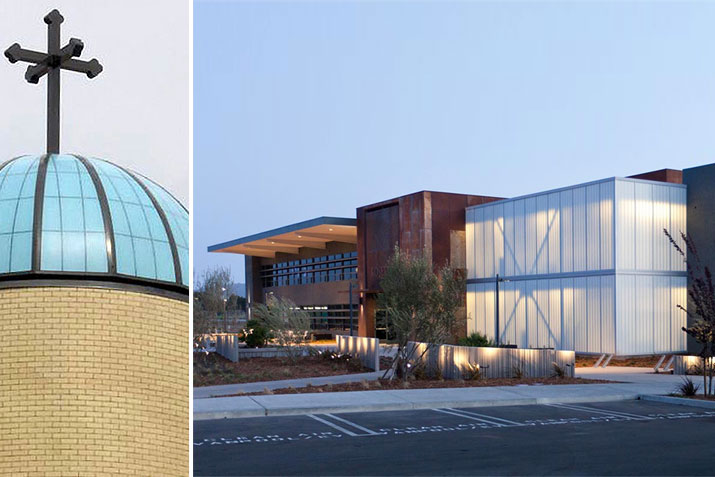 Bruns General Contracting/St. Mina and St. Abanoub Church/Miamisburg, OH - Guardian 275® TransCURVE® Dome; Garcia Architecture and Design/Rosetta/San Luis Obispo, CA - Guardian 275® with Verti-Lite™ Grid Pattern
For additional information on our full line of daylighting systems, as well as thermal performance and testing information, visit our website.
Company: Major Industries Inc.
Product: Guardian 275® - Translucent Panel Skylights & Curtainwall
Source: https://majorskylights.com/products/wall-systems/guardian-275/
Tags: Architecture | Design | Lighting | Wall Panels | Window Shades | Windows