architecture - engineering - construction

Skylights
---
April 20, 2023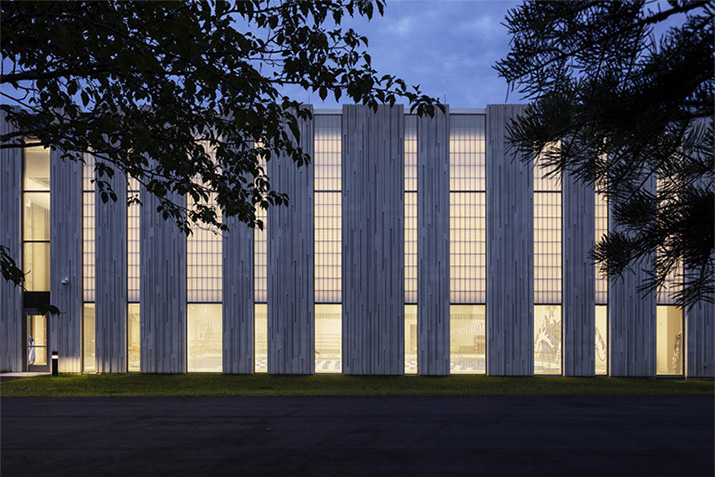 Major Industries has been manufacturing translucent panel skylights, canopies and wall systems since 1980. Their popularity is driven by the fact that they're a great way to bring soft, diffuse daylighting into interior spaces. They're also lightweight, easy to install, don't require expensive internal or external shading devices, are impact resistant and affordable. Lets take a look at what makes up a translucent panel, and how they can benefit your next project.
---
April 18, 2023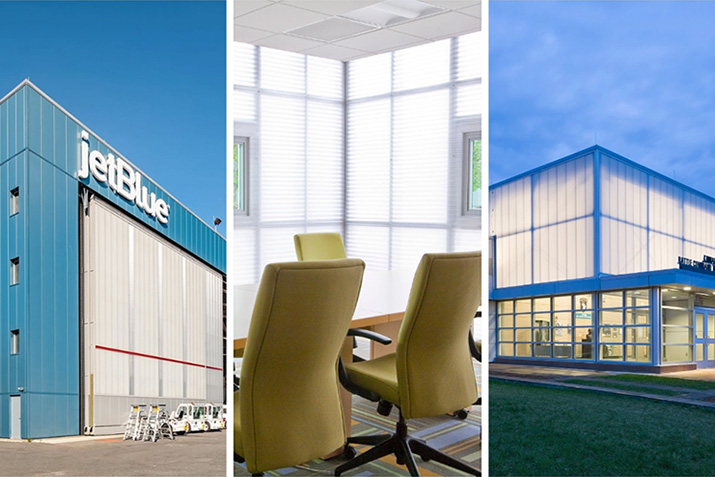 Translucent wall systems have been around for decades, often replacing windows or existing structures. Buildings began using fiberglass reinforced plastics (FRP) for daylighting applications in the mid 20th century. FRP systems offered insulation and light transmission that provided benefits where additional light was needed.
---
September 28, 2022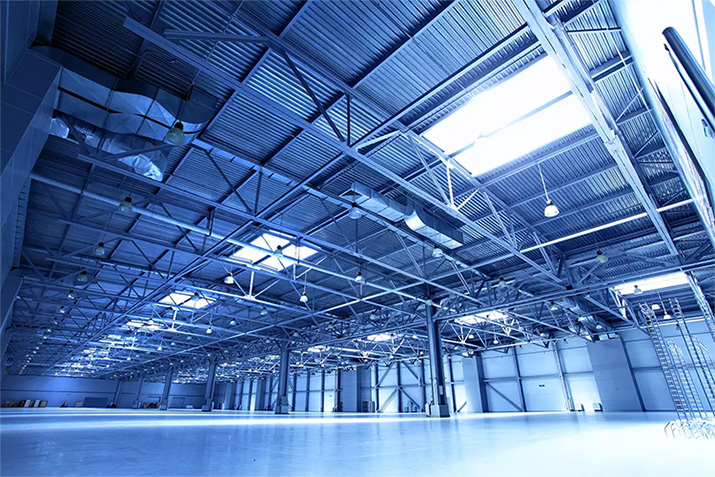 When you look at your industrial facility rooftop, the fall hazard you immediately notice is likely the leading edge. In fact, you probably already have fall protection equipment like guardrails in place at your roof edge to protect workers. However, its important to recognize that other fall hazards exist on your rooftop that require specialized roof safety equipment ranging from a roof hatch safety rail to skylight fall protection cages.
---
September 13, 2021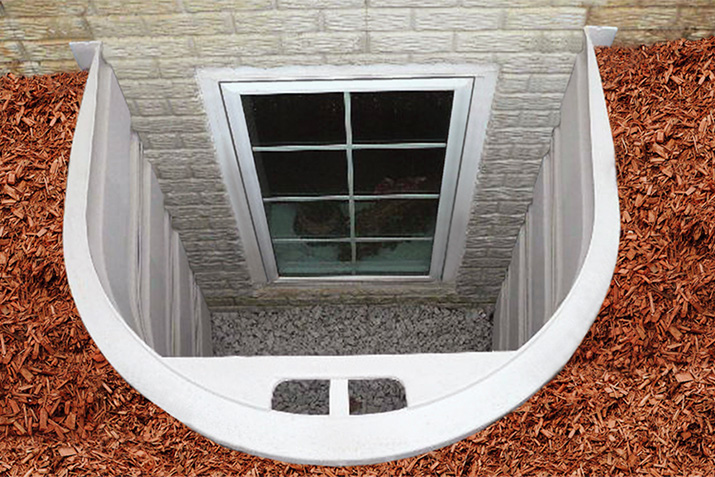 Looking to brighten your basement? Window Wells add natural daylight to any underground space. Depending upon your budget, BILCO has an egress window well system that is right for you. Products are available in a planter design for added beauty inside your home or in a modular design that is the fastest, easiest and most cost effective way to add basement egress.
---
June 23, 2021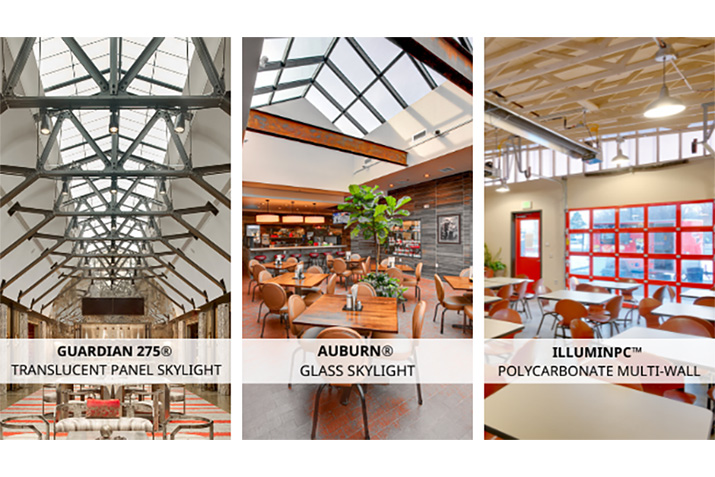 A restaurant's lighting plays a key role in how a customer feels during their meal; and how a customer feels will impact how they perceive the quality of both the food and the facility as well as whether or not they will return. For restaurants that specialize in sit-down dinners, dim artificial lighting helps to set the mood for a more intimate dining experience where customers are more likely to eat slower and stay longer. For other types of eateries like cafes and diners that operate primarily during daylight hours, natural lighting is the best way to create a bright, buoyant atmosphere where customers can come to wake up and leave feeling refreshed. Restaurants with a greener or more nutritious menu may also benefit from natural lighting as customers tend to feel healthier and eat healthier in naturally lit environments.
---
May 5, 2021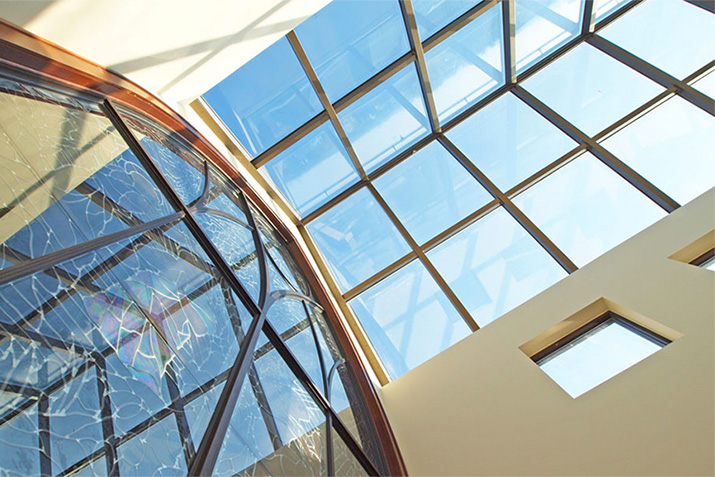 Places of worship often play a central role in people's lives and are more than just spiritual venues – they often serve as important social centers, gathering places, and community hubs. They also carry with them some unique design challenges, so lets take a look at daylighting systems and how to best incorporate them into these types of spaces.
---
April 5, 2021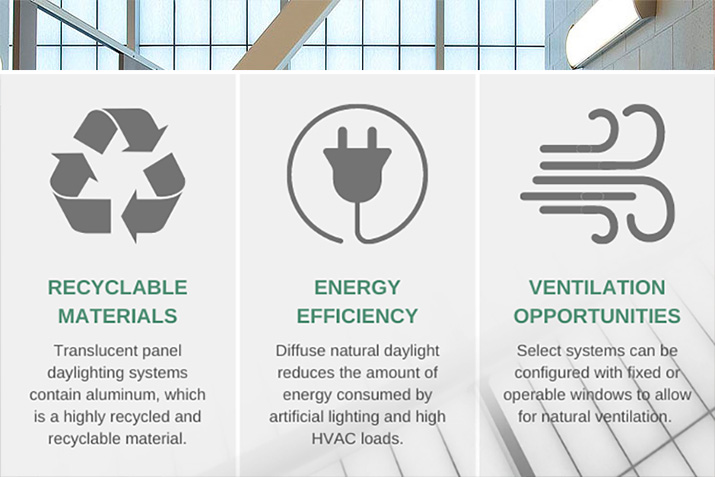 Optimize energy performance and improve the quality of your indoor environment without sacrificing strength or beauty with translucent panel systems. Illuminating large indoor spaces – from military hangars to school gymnasiums – with diffuse natural daylight not only decreases a facility's dependence on artificial lighting, but also further conserves energy by cutting back on air conditioning.
---
March 8, 2021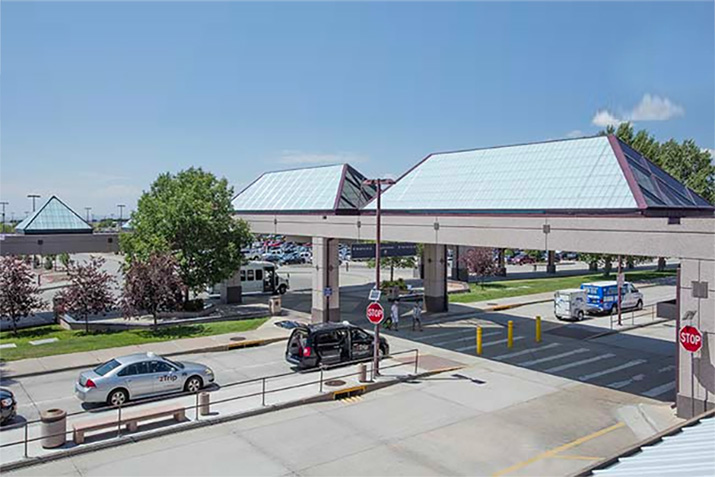 From the welcoming environment that natural light creates to the privacy afforded by the use of translucent panel systems, nearly every type of transportation-related facility can benefit from access to daylight. Everything from transfer facilities and train stations to maintenance depots and airplane hangars can take advantage of the benefits of a well designed skylight, canopy or translucent wall system.
---
January 6, 2021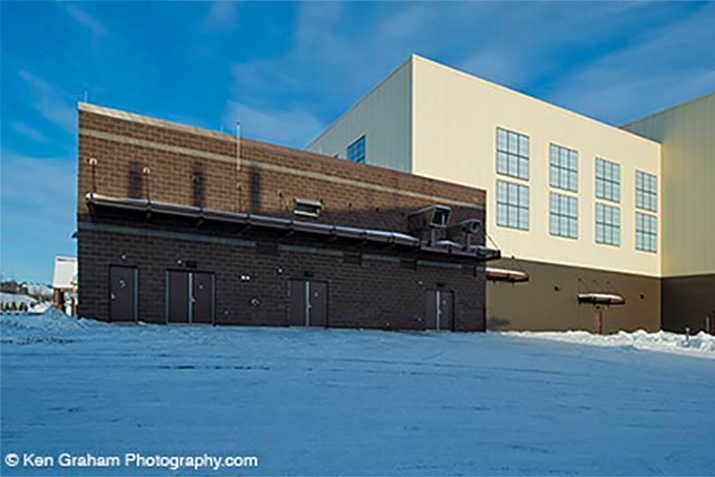 Since Major is based in central Wisconsin, we're all too familiar with cold weather and snow. But is your daylighting system up to the challenge? Is the space losing $$ in the colder months due to heat loss? Do you need a skylight or wall system solution that will stand up to the toughest environments?
---
December 4, 2020
It's that time of year again - and not just the holiday season! For many of us in more northern climates, winter marks not only the end of fall, but a reduction in access to sunlight. With the sun creeping lower on the horizon, and the days shorter, the lack of access to natural light can add to issues like Seasonal Affective Disorder, otherwise known as SAD.
---
October 14, 2020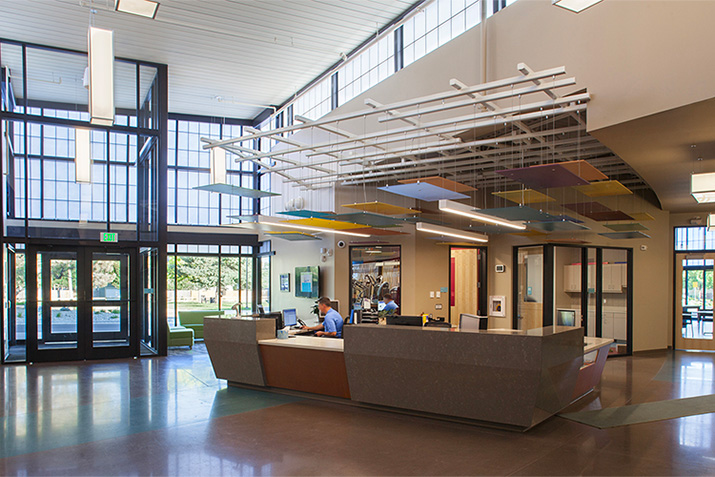 October is National Energy Awareness Month, and Major Industries is looking at a few of the ways that translucent panel systems help an organization lower its energy use and save on electrical costs. Fortunately, one of the largest consumers of electricity is also one of the most easily replaced. According to the U.S. Energy Information Administration (EIA), artificial lighting in the commercial and residential sectors is responsible for approximately 5% of the total U.S. electricity consumption in 2019 and makes up approximately 10.3% of all commercial electricity use. By decreasing their dependence on artificial lighting and utilizing natural daylight instead, organizations can lower operational costs while also helping to conserve the environment. And one of the best ways to do that is through translucent panel skylights and wall systems.
---
August 4, 2020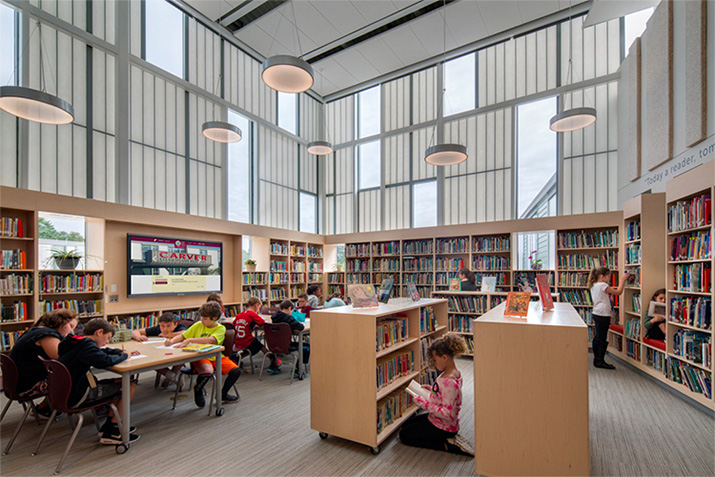 What happens when you combine the dramatic views and user operability of glass with the thermal performance and light control of a translucent panel? You get a unique, versatile and practical daylighting system!
---
May 4, 2020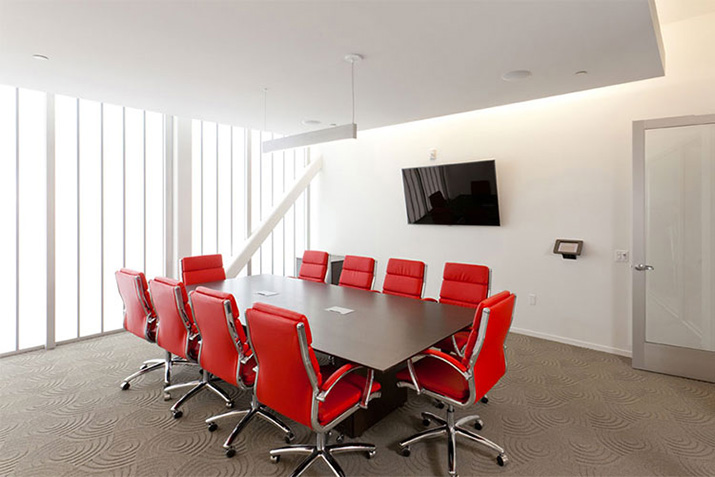 Employee compensation is often one of a company's largest operational costs; and given the high percentage of revenue that it consumes, it is only sensible that an employer seeks to optimize that investment by improving staff productivity. An unengaged, unproductive staff member can cost a company thousands of dollars in lost time and revenue. Unfortunately, lack of productivity remains a common complaint among office workers with only 13 percent of respondents feeling engaged in their work according to Gallup statistics [1]. The good news, however, is that many of the causes behind a lack of productivity - including drowsiness, physical discomfort, and emotional distractions - can be mitigated with a daily dose of natural daylight in the workplace.
---
April 13, 2020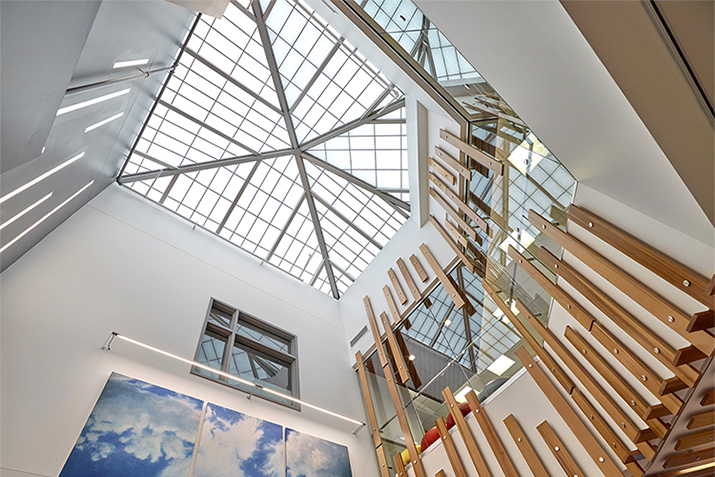 Given that a large fraction of greenhouse gas emissions are the result of burning fossil fuels to produce electricity, one of the most significant steps a company can take towards a sustainable future is curbing its electricity use. Fortunately, one of the largest consumers of electricity is also one of the most easily replaced.
---
March 16, 2020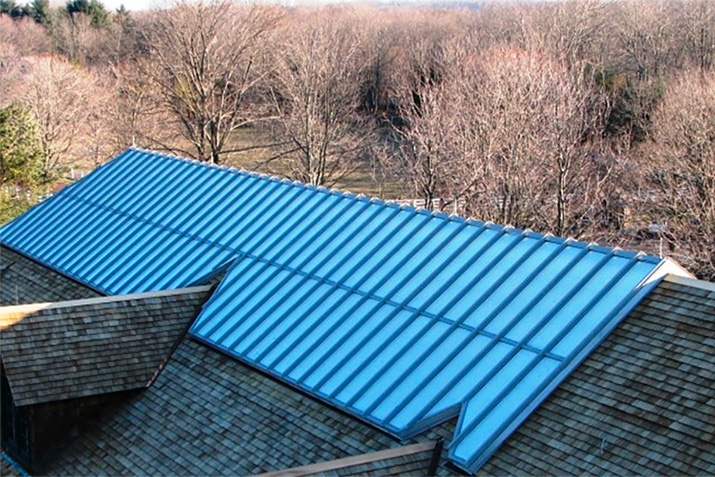 Glass skylights can provide many benefits when installed in commercial buildings. There are various criteria to consider when planning a glass skylight installation; however, we've highlighted the five points that we believe are the most commonly overlooked. While a successful glass skylight installation involves the culmination of efforts by an experienced team, considering the following items in the early stages of project development can help get your skylight installation in the right direction.
---
January 13, 2020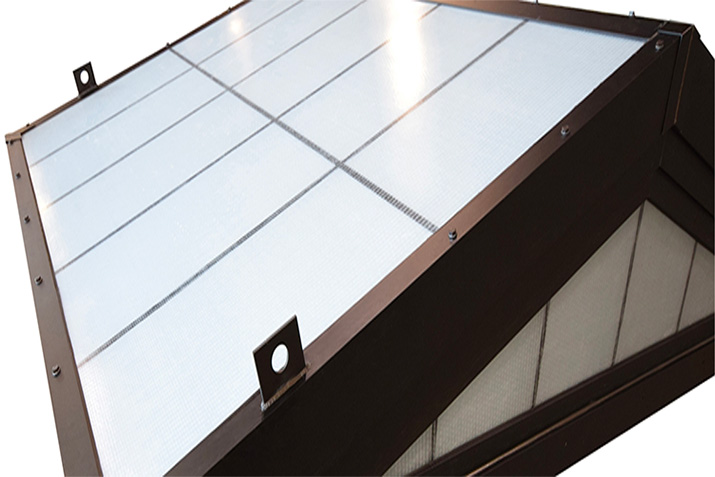 Hospitals and medical centers have found a unique way to utilize removable skylights by placing them over equipment like MRI machines that are too large to move and occasionally need to be serviced. In these applications, the skylight, or a portion of it, is simply removed and workers are provided with easy access to the machinery.
---
October 4, 2019
In an urban age when most waking hours are spent indoors, Biophilic design strives to satisfy the innate human tendency to hunt for and associate with the natural ingredients for human health and survival. People have evolved to instinctively associate with the natural features and processes that, though no longer as relevant to survival, contribute to their livelihood and well-being – and few things were and continue to be as integral to human health as the sun. The sun a source of both light and warmth, we have become biologically encoded to seek out its rays; and more than that, our body also relies on the sun to stimulate Vitamin D production and regulate the body's daily rhythms.
---
September 4, 2019
Children need sunlight; and because most children and adolescents spend the majority of their daylight hours in school, it's important that students have access to sunlight by incorporating daylighting systems into classroom design. Exposure to natural light not only contributes to a student's physical well-being by boosting their daily intake of Vitamin D, but also enriches their mental health by regulating the Circadian Rhythm and the release of influential hormones that, for adolescents in particular, can be difficult to manage on their own. Studies show these students sleep better, think more positively, concentrate longer, and miss fewer days of school due to illness. Studies also show that happier, healthier children perform better academically; and by diffusing daylight through halls and classrooms, schools can improve test scores, support student well-being, reallocate saved energy costs for school supplies and other needs, and promote sustainability.
---
June 7, 2019
Learn how Unicel Architectural Corp. supplied 32,500 sq. ft. of curtain wall, skylights and 1 km of glass railing during a tight 10-month construction timeline over a tough winter season.
---
February 8, 2019
Introducing diffuse natural daylighting into a retail space has proven to increase sales and productivity. Full spectrum, glare-free daylight encourages consumers to spend more time shopping by creating a better mood and allowing products to be seen in sharper detail. The bottom line benefit extends to any commercial building: From reducing energy costs to increasing employee production, a space enhanced by diffuse natural daylighting increases in value per square foot. Here are five retail/commercial projects across the globe where Kalwall translucent sandwich panels have been used to provide a diffuse natural daylighting solution.