architecture - engineering - construction

Skylights
---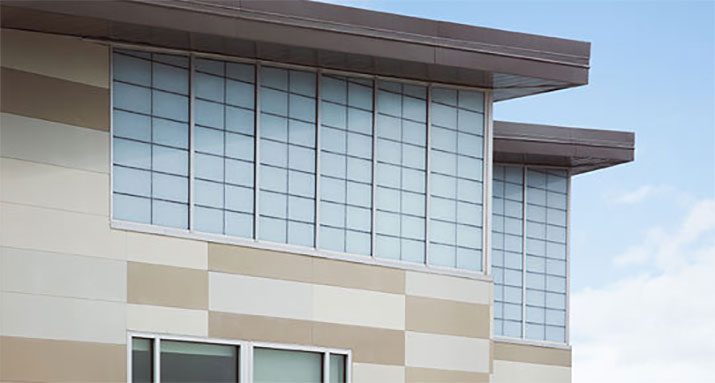 There are a variety of daylighting and glazing options in the market today, but one of the stand-out features of translucent panel systems is their grid pattern. Translucent panels, like the Guardian 275® system shown in the image above, feature an aluminum grid that supports the interior and exterior fiberglass face sheets. This gives the panels their strength and allows for panel sizes up to 5 feet wide by 20 feet long in some instances.
But while the classic grid pattern is a necessity, it also has a distinct look that has its supporters and detractors. In the project above - Barkley Elementary School in Kentucky - the U.S. Army Corp of Engineers and Woolpert were able to take the strong geometric shapes in the grid pattern and smartly echo them in the exterior wall design, adding emphasis to their look and making them a more integrated part of the exterior. (To learn more about the award-winning project, you can also visit the Woolpert site where you'll find a short video about the school's open-plan design.)
Also keep in mind that the grid pattern shown above isn't the only option for translucent panels. Whether you prefer staggered lines, a vertical-only grid to simulate a channel glass look, or a completely custom geometric pattern, we will work with you to find the right solution. Call us at 888-759-2678, email sales@majorskylights.com, or check out our Architectural Consulting page for more on how we can help with your next project.
Company: Major Industries Inc.
Product: Guardian 275® - Translucent Panel Skylights & Curtainwall
Source: http://majorskylights.com/architectural-consulting/
Tags: Architecture | Glass | Glass Walls | Skylights | Wall Panels
---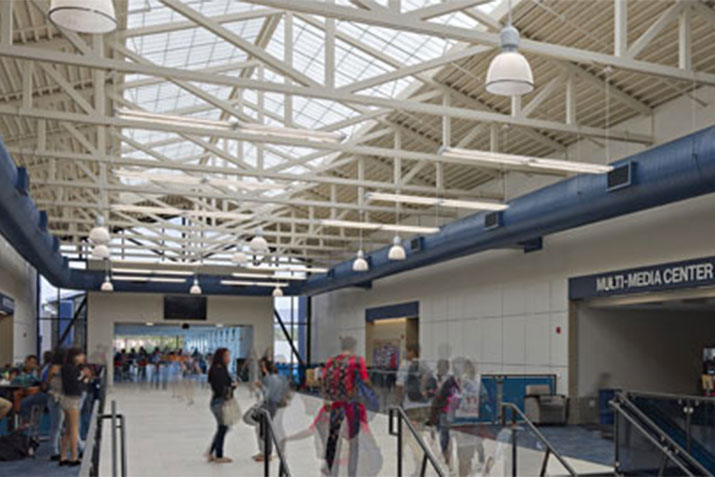 When Las Cruces High School, the oldest high school in Las Cruces, New Mexico, needed an update and expansion, emphasis was placed on carving out new classroom space, more administrative space, a new library, a performing arts center, and a pedestrian bridge connecting the old and new sides of the facility.
Daylight and natural light also play a crucial role in the design, and along with wide expanses of glass is a large Guardian 275® translucent skylight. The image above shows how this main corridor and gathering area gets a substantial amount of soft, diffuse natural light courtesy of the ridge skylight, and how it makes the entire space feel open and welcoming. The natural light also limits the need for artificial lighting during peak sun hours (when students are most often using the facility), which can bring a fair amount of energy savings.
Translucent panel skylights are a great solution for education facilities, especially since schools often feature interior areas that don't have access to exterior walls and traditional windows. A properly designed and implemented skylight can transform a space from dull and dark to eye-catching and bright – and ultimately give students a place where they want to gather and learn. Translucent panel skylights are also cost-effective, and effectively block hot-spots from wreaking havoc on students and staff as well as keeping glare from making it hard to read both printed pages and computer screens.
Designing daylighting solutions for a school but aren't sure where to start? We'd love to help you solve your design challenges! Call us at 888-759-2678, email sales@majorskylights.com, or check out our Architectural Consulting page and let us know how we can work with you to add beneficial daylight to your next education facility project.
Company: Major Industries Inc.
Product: Guardian 275® - Translucent Panel Skylights & Curtainwall
Source: https://majorskylights.com/2018/04/daylight-learning/
Tags: Architecture | Roof | Skylights | Windows
---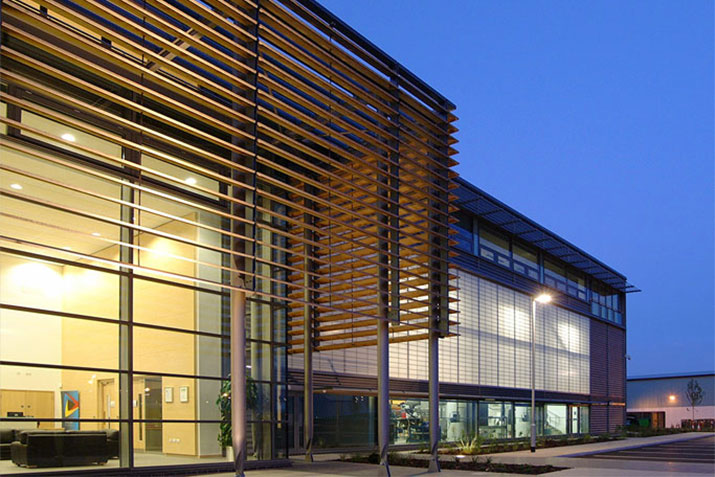 Daylighting is essential to any modern manufacturing facility as a proven way to increase productivity. Incorporating diffused natural daylight challenges architects to find creative ways to design aesthetically pleasing, yet functional and, in many cases, secure and protected spaces. Kalwall allows that creativity while meeting the most demanding manufacturing requirements for areas that need high visual acuity and visual privacy, in addition to reducing maintenance and energy costs.
Middle West Spirits
Columbus, OH, U.S.A
In addition to being a distinctive feature, Kalwall translucent sandwich panels provide the owners with a bright space for superior visual accuracy critical to monitoring and performing quality inspections within the distillery. Kalwall's daylight modelling service allowed the architects to design the building so that different elevations transmit different amounts of light to provide completely balanced, museum-quality daylighting™.

Design Prototyping and Testing Center
University of Sheffield, UK
Kalwall's highly-insulated translucent wall system is the centerpiece of the DPTC, which earned a BREEAM Excellent rating for sustainable building design, construction and operation. The building's mezzanine level is encased by Kalwall panels, engulfing the facility in naturally diffuse daylight. Rapid prototyping facilities and collaborative research parks are growing markets that benefit from our unique panel technology.

Woodward Aircraft Turbine Systems
Loves Park, IL, U.S.A
International manufacturer Woodward unveiled a 450,000-square-foot (137,000m) campus in Loves Park, IL that will employ over 2,000 people. Kalwall panels serve as a key architectural feature, providing a memorable backdrop to the main entrance, while bathing the massive workspace inside with diffuse natural daylight.

Advanced Manufacturing Research Centre with Boeing
Rotherham, UK
Creating an atmosphere of creativity and cooperation is at the heart of this 6,400-square-foot (1,950m) open-plan workshop. A Kalwall wall system dominates the sides of the building, creating a highly-productive atmosphere by bathing the workshop in diffuse natural daylight. More and more, Kalwall is being specified for high-tech manufacturing projects that include mixed-programs like office spaces, research labs, and manufacturing and warehouse areas.

Pfizer Hydrogenation Building | Janssen Pharmaceuticals
Cork, Ireland | Geel, Belgium
With vast amounts of natural daylight sought in many industrial buildings, Kalwall is a preferred choice because of the diffuse natural daylighting it allows in and the protection it provides. As with major pharmaceutical companies Pfizer and Janssen, installing explosion venting panels can save a building from implosion by immediately relieving pressure and limiting damage in the case of an explosion. Our FM rated panels are cable attached and are frequently a required safety feature in many manufacturing projects.

Company: Kalwall Corporation
Product: Wall Systems
Tags: Architecture | Design | Lighting | Skylights | Wall Panels | Windows
---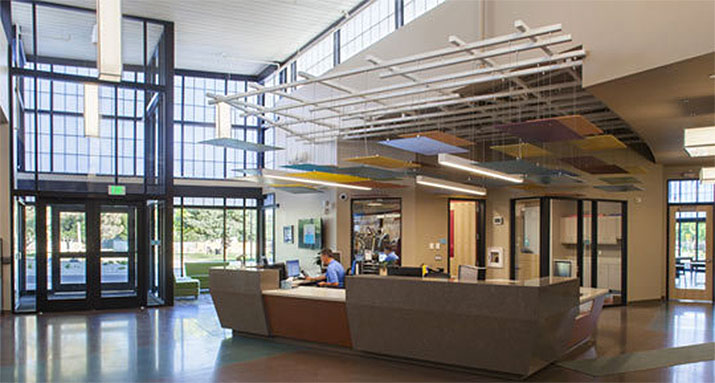 First impressions are important, and the same holds true for building entrances. Whether you're welcoming potential customers, trying to calm worried patients, or hosting teachers and students, their initial interaction with the space can set the overall mood and tenor of their experience.
As numerous studies have shown, natural light can improve moods, increase sales in retail settings, and, more generally, make people feel more relaxed and comfortable. Creating a welcoming entrance by adding side lighting and/or skylights is a great way to establish a positive initial experience. In some situations, however, you run the risk of adding too much uncontrolled light to a space, making it uncomfortable for front desk workers as well as those in waiting room areas located near the entryway. Bright glare from direct sunlight, along with increased solar heat gain, can negate many of the positive effects of daylighting quite quickly.
One way to make the best use of natural light is through the utilization of mixed glazed systems - as seen in the image above. In this example, the translucent panels at the top of the system diffuse the sun's direct rays and help illuminate the space, while the glass glazing below allows for unfettered views. This way, building staff can see guests as they come into the space, and those guests can easily see out to the parking lot as they await pick-up or try to anticipate weather conditions or other potential issues - all while reaping the benefits of soft, diffuse natural light.
No matter what the building's use, daylighting can be a great asset to entrances and entryways. Not sure where to start? We'd love to help you solve your design challenges! Call us at 888-759-2678, email sales@majorskylights.com, or check out our Architectural Consulting page and let us know how we can work with you to add beneficial daylight to your next project.
Company: Major Industries Inc.
Source: https://majorskylights.com/architectural-consulting/
Tags: Canopy | Design | Entrances | Glass Walls | Skylights | Wall Panels
---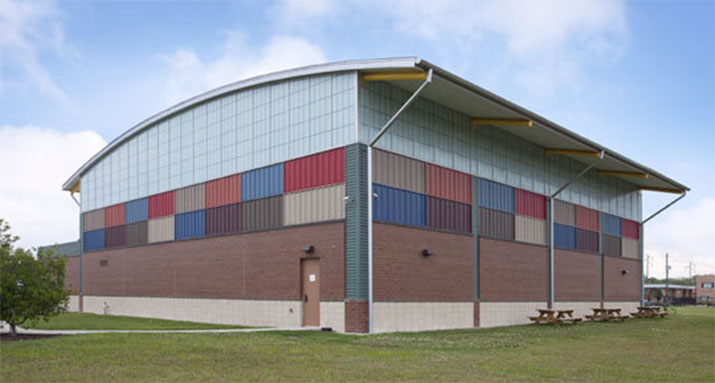 Designing natural daylighting in a building can be difficult if the building is an existing structure or if the property has a difficult orientation. There are a few things to consider when working with difficult building layouts.
Windows facing north offer the best building orientation for reducing heat gain and glare. This orientation should be the key location for using clear vision glazing. True north glazing, at or above the Tropic of Cancer (23.4 degrees north of the Equator), will receive no direct sun. Therefore, northern light into a building is considered indirect. While you still need to consider building adjacencies and reflections, northern windows can be clear glass with minimal overhang, and blinds or shades may not be needed.
Southern glazing can often be an equally good orientation for proper daylighting, though in many cases it should be protected by building overhangs (computerized daylighting analysis can evaluate how low the sun's angle will be in the winter months). That said, direct sunlight into a building from south facing glazing isn't necessarily a bad element. Sunlight is often psychologically lifting to the spirit, and with southern exposure, sunlight angles will travel across an interior space, creating drama and adding intrigue to design elements. There are, however, particular spots like circulation areas, stairwells, and intersections where direct sunlight can create glare and hot spots and can make life uncomfortable for people maneuvering within the building. In these spaces, diffuse daylighting materials are recommended.
Sometimes a building's orientation cannot avoid or reduce eastern and western exposures. East and west facing spaces will receive the most direct sun glare of any direction, and even building overhangs and horizontal sunshades cannot reduce glare into windows. Evergreen trees are often the easiest natural solution to reduce direct sun glare. Rooms facing east and west should be daylit using diffuse daylighting materials, instead of clear glass, as much as possible. Diffuse daylighting materials will not only reduce light, but most importantly bend the light, spreading out the quantity of light to a larger space. This can certainly be a benefit when designed properly! Breakfast rooms with diffuse daylighting are best oriented to the eastern side of a building, while evening sitting rooms work well with diffuse daylighting on the western side of a building.
Company: Major Industries Inc.
Of: Courtesy of Amy Stalbosky, National Corporate Architect, Major Industries, Inc.
Source: https://majorskylights.com/
Tags: Canopy | Glass Walls | Skylights | Wall Panels | Windows
---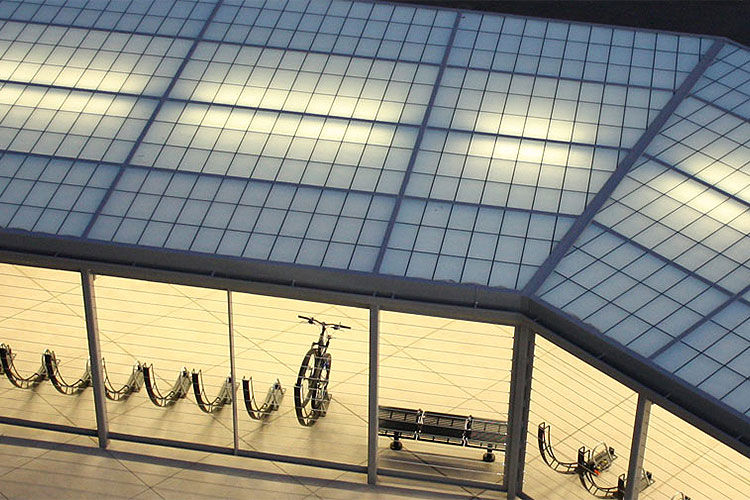 Common areas and entryways are an important element to consider when designing any space. In retail settings, attracting the attention of passers-by is key to maintaining business traffic, while commercial settings demand a space where occupants can gather while remaining sheltered from the elements. Offer them a bright, open and inviting space with a custom canopy from Major Industries.
Major provides a variety of glazing options that can help you make the most out of outdoor spaces.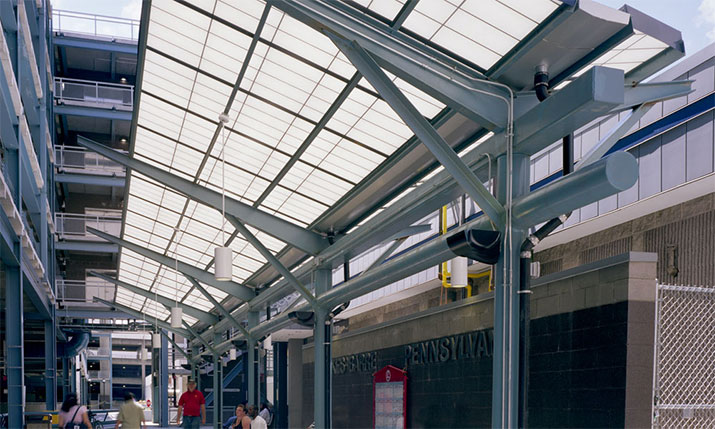 From lightweight and durable Guardian 275® translucent panel systems to more traditional glass systems to eye-catching TransCURVE™ curved panel systems and IlluminPC™ polycarbonate multi-wall options, we have the right canopy solution for your design considerations and budget. Whether you're looking for a simple single-slope solution or a complex and eye-catching polygon, all of our daylighting products feature advanced material technology for enhanced durability, and are backed by industry-long warranties.
Below are just a few examples of how Major's systems can be incorporated into a building's design, as well as their benefits compared to traditional opaque canopies and awnings.
Click here to view our gallery.
Entrances & Walkways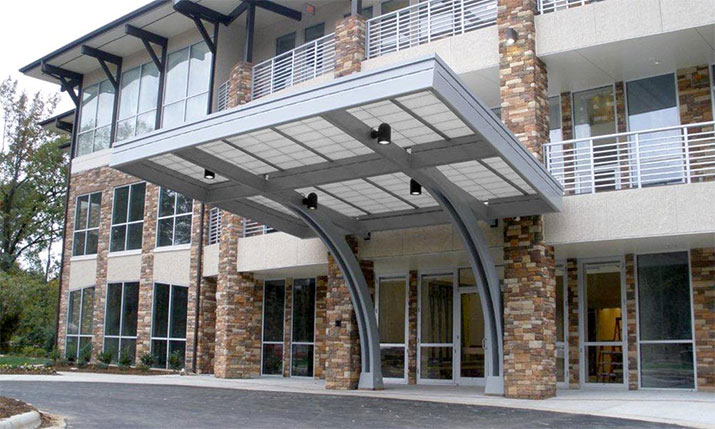 Welcome customers and protect them from the elements with an outdoor canopy or "pass-through" skylight that leads visitors into indoor spaces. Our translucent panel systems can also be utilized as a variety of attention-grabbing design elements, including covered archways and cantilevered awnings, and can be incorporated into your building's signage. Translucent panel canopies, when backlit during nighttime hours, also allow soft, diffuse light to pass through, attracting passers-by with a unique look.
Exterior Courtyards & Gathering Areas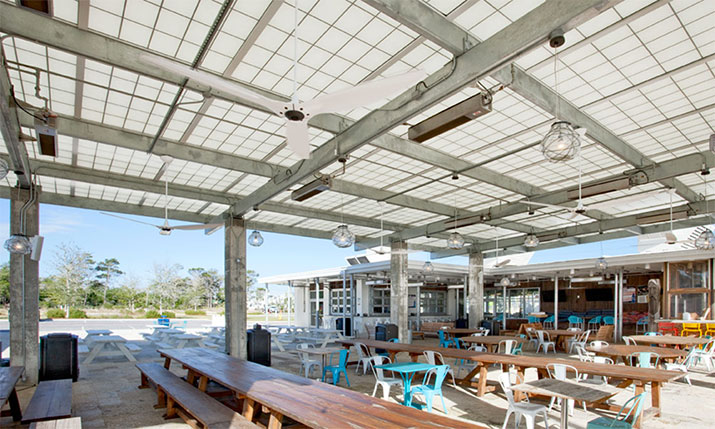 Outdoor common use areas are more welcoming when they're protected from the elements—but don't settle for a standard light-blocking system that forces you to use artificial lighting even during the middle of the day. Translucent panel canopies offer strong protection against the elements while allowing controlled natural light to penetrate the space.
Company: Major Industries Inc.
Product: Guardian 275® - Translucent Panel Skylights & Curtainwall
Source: http://majorskylights.com/products/canopies/
Tags: Canopy | Exterior Design | Skylights
---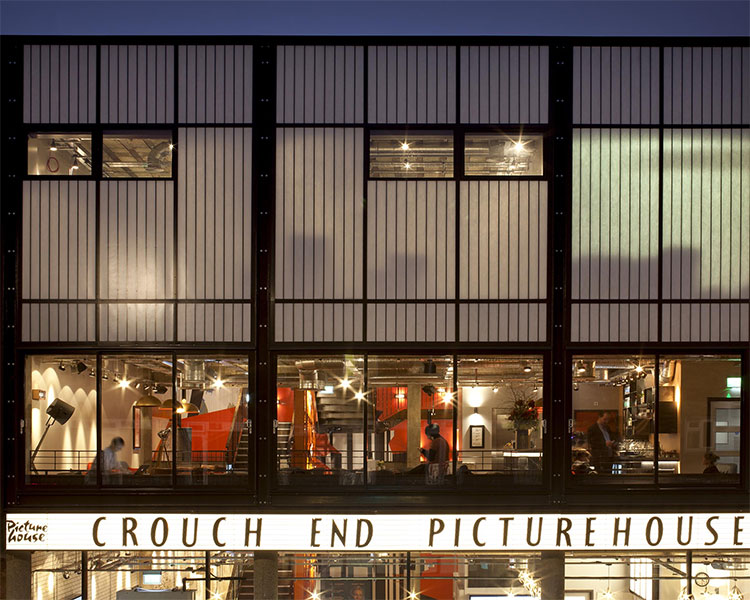 The design challenges facing architects and builders when renovating older buildings are considerable from increasing energy efficiency, to navigating inherited structural and building code changes. Here are five projects highlighting how such issues were solved, and illustrate some incredible transformations.
Charles H. Shaw Technology & Learning Center
Chicago, Illinois, U.S.A
Farr Associates converted a century-old industrial powerhouse into a modern learning center filled with natural diffuse daylight, while preserving key structural elements, including brick walls and floor tile, as well as some of the original machinery.

Buurtsporthal Parkloods
Antwerp, Belgium
This neighborhood sports park utilized Kalwall for its ability to provide balanced daylight and line of sight for athletes inside. The translucent panels help ensure the safety & security of athletes with visual privacy and impact resistance. As an extremely lightweight option in retrofit design, Kalwall offered large clear spans and accommodated the existing brick walls of a historical munitions factory.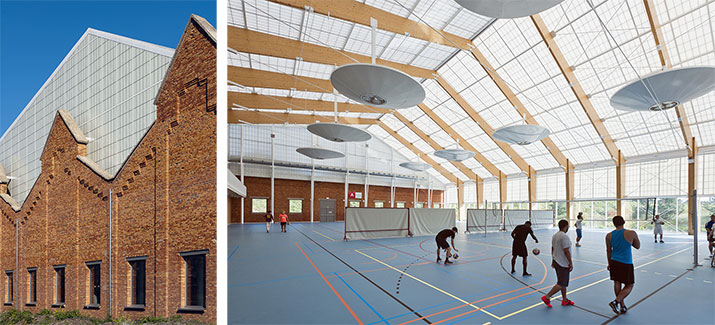 Crouch End Picturehouse
London, UK
VertiKal™ panels were factory unitized with sash, for a sleek, energy efficient recladding of the Crouch End Picturehouse – a renovated 1950s factory building. The Panter Hudspith design, which won three industry awards, uses the curtainwall to create gentle backlighting at night as a visual marquis.

1060 Redwood Office Building
Mill Valley, California, U.S.A.
An ordinary commercial box building was transformed by adding top-lighting from Kalwall skylights. This modern workspace is now filled with natural, diffuse daylight, creating an ambiance that ensures a healthy work environment that boosts productivity. The OSHA fall-through compliant (`man-safe') translucent skylights enable effective and easy maintenance without the need for safety cages.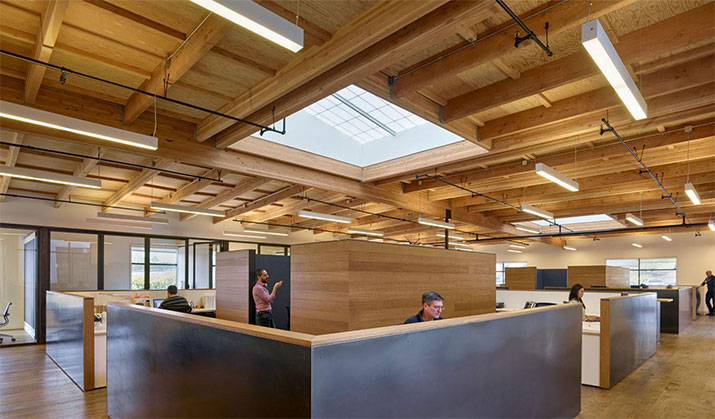 Featherstone High School
London, UK
Kalwall window replacements were an economical energy upgrade for an old school building that was failing due to decay and ingress of water. The highly-insulated translucent sandwich panels bathe the classrooms in diffuse natural daylight while reducing HVAC and artificial lighting costs. Unitized construction allowed for fast installation and minimal disruption to school operation.

Company: Kalwall Corporation
Product: Wall Systems
Source: https://www.kalwall.com/2017/11/02/visual-blog-kalwall-retrofit/
Tags: Architecture | Design | Skylights | Walls | Windows
---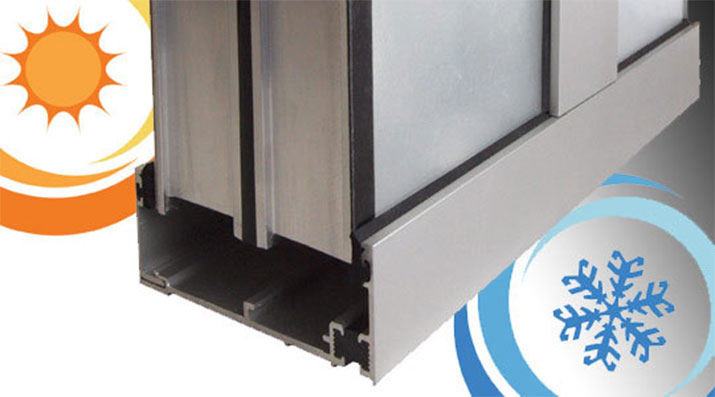 Heat conduction, or the transfer of heat through a solid material at the molecular level, is a problem that occurs in aluminum framing. Providing a thermal break in the aluminum is the most common solution for disconnecting the exterior and interior of the aluminum frame. The frame is literally split into two components and must be connected by a structural material that is of significantly less conductivity as the aluminum. Simultaneously the thermal break material must bond the two components together.
There are many ways to thermally break glazing materials and the frames that house the glazing. Insulated glazing generally uses multiple panes of glazing separated by air, gas or other fill. The glazing is then bonded at the edges with a material of low conductivity. The aluminum frame, most commonly used for storefront framing, skylights, and windows, is a highly dense material with great strength. Yet, aluminum is light in weight and durable. It is also a widely recyclable material and is readily available.
Aluminum, however, is highly conductive of heat and cold. For many decades thermal breaks have been a common and economical means of lowering temperature conductance in aluminum framing. Thermal breaks have taken numerous forms over the years, from plastic and Styrofoam to wood and nearly any material that had a lower thermal conductivity than aluminum.
The 1970s marked the beginning of the high performance, chemically manufactured and engineered thermal breaks that we see today. Standard to the storefront, window, skylight and curtainwall industry is the poured and debridged polyurethane thermal break. This material provides significant structural strength in shear, compression and tension, as well as integrity and resilience. The polyurethane polymer has a very low conductivity, allowing it to bridge the gap between the interior and exterior aluminum components of a frame. Due to polyurethane's structural strength, longer spans are capable and the integrity of the aluminum frame is not compromised.
The method for manufacturing the polyurethane thermal break has become standardized in the aluminum framing industry. A strategically placed open cavity is extruded as part of the aluminum frame. The cavity may be grooved or extruded in a way as to act as a lock when bonded with the polyurethane polymer. The liquid polymer is poured into the cavity, and upon solidifying, the bottom of the cavity is then removed, or debridged, creating the perfect thermal break for all forces of extreme weather conditions.
So where are thermal breaks necessary? The short answer is that they are necessary in all climates where there is a difference in temperature from exterior to interior. Cold climates benefit from aluminum thermal breaks by providing protection from cold temperatures entering the building and causing condensation build-up on the interior face. In these situations, aluminum frames can also become very cold to the touch and uncomfortable to be near. Hot climates benefit from aluminum thermal breaks by providing protection from hot temperatures entering the building. Not only does a thermal break affect air temperature and cooling demands on HVAC systems, but aluminum frames can become very hot to the touch, causing issues for people, plants, animals, and objects nearby.
While thermal breaks add some up-front costs, technological advances have made them an economical solution. This is especially true when you consider that they can prolong the lifespan of materials around them and provide a more comfortable environment for building occupants. Whether you're in a hot or cold climate, thermal breaks are well worth it.
For more information on our thermally broken system options, visit us online. Our Clima-Tite™ system with pultruded fiberglass framing, is also available and provides an even higher level of thermal performance and condensation resistance.
Company: Major Industries Inc.
Product: Clima-Tite™
Of: Courtesy of Amy Stalbosky, National Corporate Architect, Major Industries, Inc.
Source: http://majorskylights.com/
Tags: Aluminum | Climate | HVAC | Skylights | Sustainability | Windows
---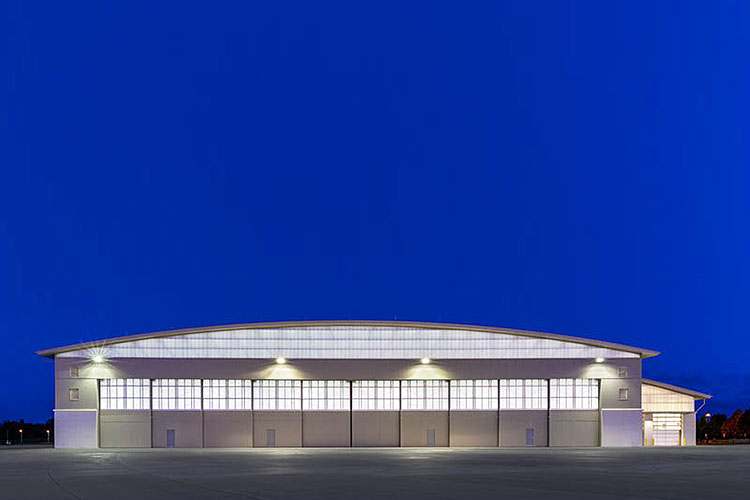 Images ©balloggphoto.com
Chicagoland's DuPage Airport Authority is home to the largest concentration of corporate aircraft in Illinois. It supports more than 400 based aircraft and is the only general aviation airport in Illinois with four active runaways, two instrument landing system approaches and a 24-hour FAA Air Control Tower, U.S. Customs and 24-hour onsite rescue and firefighting capabilities.
In addition to the aircraft on site, the airport receives daily transient aircraft. To better accommodate their aviation needs, the DuPage Airport Authority opened a new hangar in August 2017, reflecting its goal to build and maintain a world-class facility in the heart of the United States.
The new 31,000-square-foot hangar spans 244 feet wide by 134 feet deep with 29-foot-high doors. It features EXTECH's LIGHTWALL 3440 and SKYGARD 3300 polycarbonate systems. Mark Doles, the Director of Aviation Facilities and Properties and DuPage Flight Center, says of the new facility and EXTECH's systems: "We chose EXTECH's systems to give us the architecturally attractive look we wanted and the translucent polycarbonate lets us take advantage of the borrowed light. With the natural light, we usually will not have to utilize any electric lighting at all during the day. When we do illuminate the hangar, it's stunning to see at night."
Company: EXTECH/Exterior Technologies, Inc.
Product: Custom Facades
Source: https://extechinc.com/see-photos-dupage-airport-chicago/
Tags: Design | Skylights | Wall Panels | Window Shades
---
This visual blog highlights how architects incorporate Kalwall® as a centerpiece in projects across a wide range of industries.
Buckeye-Woodhill Rapid Transit Station
Cleveland, Ohio, U.S.A.
The canopy covering the platform area for waiting passengers adds a backlit feature at night to define the space and acts as a waypoint for travelers.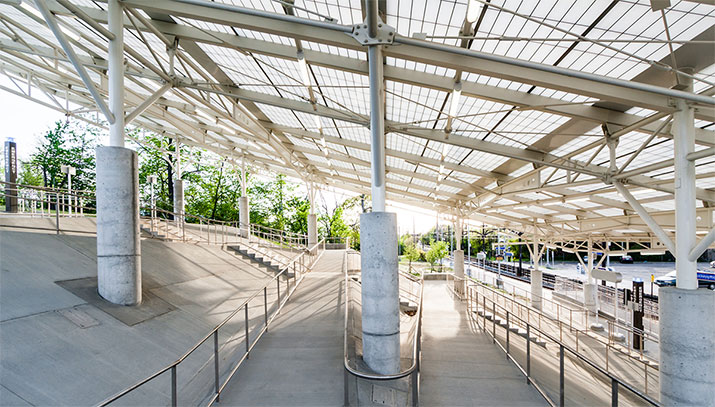 Translink
Belfast, Northern Ireland
The train depot utilizes energy efficient, balanced daylighting and low contrast ratios for high visual acuity for maintenance crews working on the resting trains.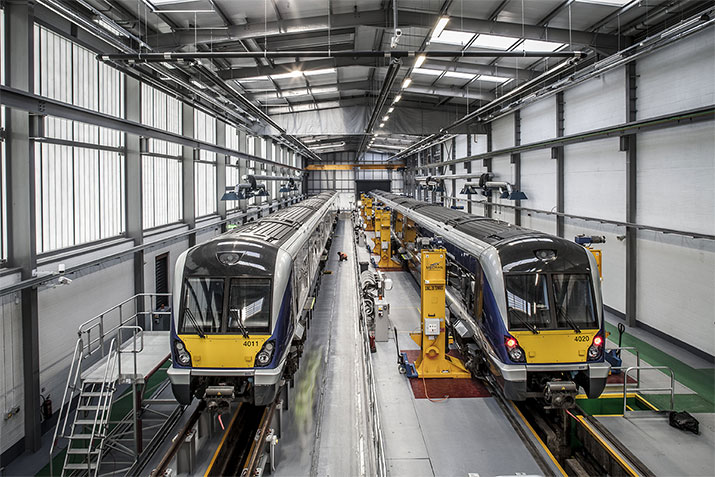 Glasgow International Airport
Glasgow, Scotland
Passenger safety and security was at the heart of the design goal for this airport terminal, which was the target of a horrific car bombing in 2007. Kalwall was specifically called for in the new terminal design because of its anti-terrorism force protection/blast resistance.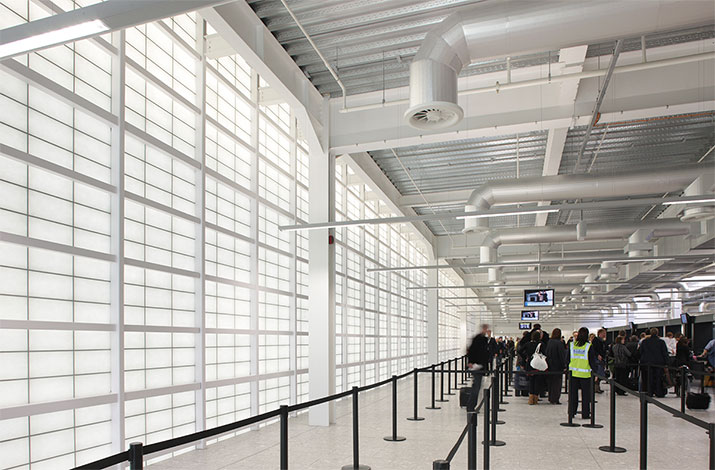 Southbend Regional Airport
South Bend, Indiana, U.S.A.
The large Skyroof® is a signature feature of the airport terminal. In addition to superb solar heat gain control, the Skyroof bathes the grand hall in diffuse usable light and offers low maintenance and easy cleaning, in addition to masking rooftop debris and bird droppings that are more visible on glass.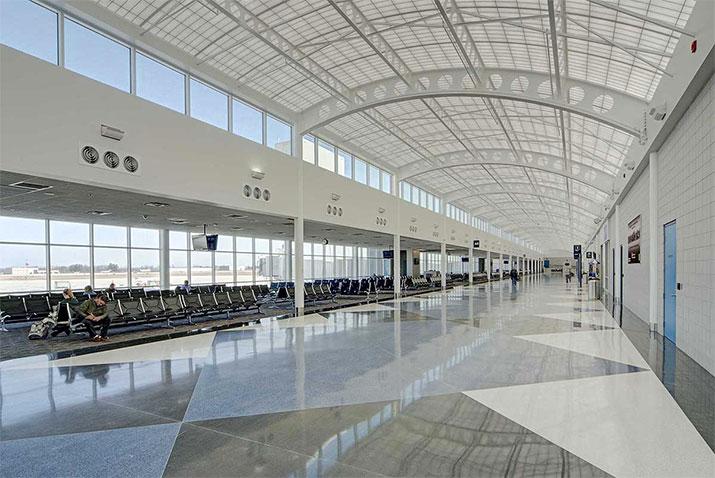 Raleigh-Durham International Airport
Morrisville, North Carolina, U.S.A.
The nationally-renowned architectural firm of Clark Nexsen won several awards for its Terminal 1 renovation. A re-clad and re-imagined landside building elevation features Kalwall panels and provides a light-filled interior space that not only provides privacy, but gives off a soft glowing lantern effect at night that enhances the airport landscape.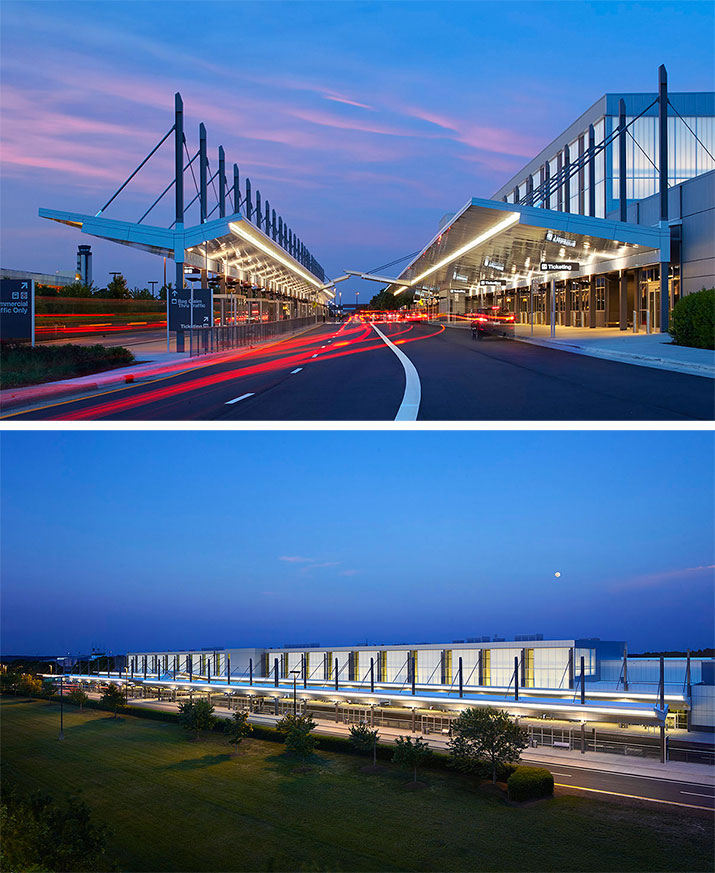 Company: Kalwall Corporation
Product: Roofs — Specialty Applications
Source: https://www.kalwall.com/2017/06/14/visual-blog-transportation/
Tags: Architecture | Louvers | Skylights | Walls
---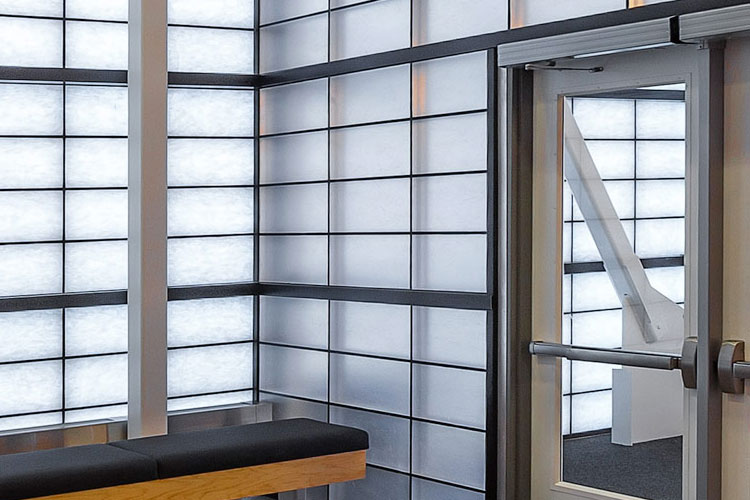 Explosives have become the weapon of choice for terrorists around the world, and the force of these blasts can wreak havoc on standard building materials. As an explosion impacts your building, a flying debris field is created which can cause a variety of injuries to your building's occupants. In fact, studies show that lacerations due to high-speed flying glass fragments are responsible for a significant number of injuries sustained in explosions. Less flying debris equals less chance of injury, and because they're designed to "flex" with the force of an explosive blast while remaining intact and secure in the opening, Guardian 275® Translucent Daylighting Panels can reduce the amount of dangerous fragments created by an explosion.
Guardian 275® translucent daylighting systems also shield occupants from a direct line of sight. Potential terrorists observing from busy streets and other uncontrolled locations are offered few clues to the activity within occupied spaces while interior spaces are enhanced with glare-free, energy-saving daylighting.
Tested, Abused – and Performance Verified
During a series of tests conducted by Baker Engineering and Risk Consultants Inc., a world-renowned engineering and testing firm, a variety of Guardian 275® panels were attached to a large shock tube, a test device that creates specific pressures and applied impulses (an applied impulse, measured in psi-msec, is equal to the net force on the panel times the time period over which this force is applied) to simulate the effects of an actual explosive device.
Guardian 275® panel configurations were put through a range of pressures and impulses in order to thoroughly evaluate their blast resistance and safety. A machine-generated blast pressure range of 5 to 6 psi, with applied impulses between 41 and 69 psi-msec, was chosen to test commonly specified blast loads for anti-terrorism protection of buildings in the United States. To put these numbers into a real-world scenario, a similar blast load of 5 psi could snap a wooden utility pole. A larger applied pressure of 10 psi with an applied impulse of 90 psi-msec was used to generate a medium level blast load that studies show could cause significant structural damage and serious health risks. Testing conducted in the 5 to 6 psi range showed that Guardian 275® panels resisted the applied loads over a range of impulses and retained their structural integrity. The largest applied pressure, used to recreate a devastating medium level blast, was 10 psi with an applied impulse of 90 psi-msec. The Guardian 275® panel once again "flexed" with the pressure and remained intact.
Please view below for high-speed video of a Guardian 275® panel "flexing" with the force of a blast.
Department of Defense (DoD) Minimum Anti-terrorism Standards for Buildings (UFC 4-010-01) for conventional building standoff distances and ISC Security Design Criteria Level C loadingGuardian 275® panels, after going through the most punishing blast tests in the translucent daylighting industry, meet or exceed the following related performance requirements:
US General Services Administration (GSA) Standard Test Method for Glazing and Window Systems Subject to Dynamic Overpressure Loadings – Condition "1", Hazard Level "None"
ASTM F 1642-04 Standard Test Method for Glazing and Glazing Systems Subject to Airblast Loading
AAMA 510-06 Voluntary Specification Guide for Blast Hazard Mitigation for Fenestration Systems
Since specific system configurations are dependent on a variety of factors, including stand-off distances and additional conditions, please contact us at 888-759-2678 or sales@majorskylights.com for more information.
Pressure Release Systems
For test laboratories, research facilities and other high risk areas, Guardian 275® systems can also be fitted with third-party certified fasteners that relieve sudden pressure surges by releasing the panels before structural damage occurs. Stainless steel safety lanyards keep the panels attached to the framing, minimizing the risk to people and property.
Company: Major Industries Inc.
Product: Guardian 275® - Translucent Panel Skylights & Curtainwall
Source: http://majorskylights.com/products/specialty-applications/blast-protection-pressure-relief-systems/
Tags: Glass | Safety | Security | Skylights | Wall Panels | Windows
---
The right light is essential to experience and enhance the viewing of art, and Kalwall® has become the preferred choice of architects to provide museum-quality daylighting™ for cultural projects worldwide.
Calder Foundation Gallery
New York, New York, U.S.A.
The diffuse daylight of Kalwall panels cleverly showcase the unique sculptures and mobiles of Alexander Calder and the other artists on display. Softly balanced, glare-free light envelops the art from every angle. The use of Kalwall turns what was once three disparate rooftop sheds into a breathtaking space.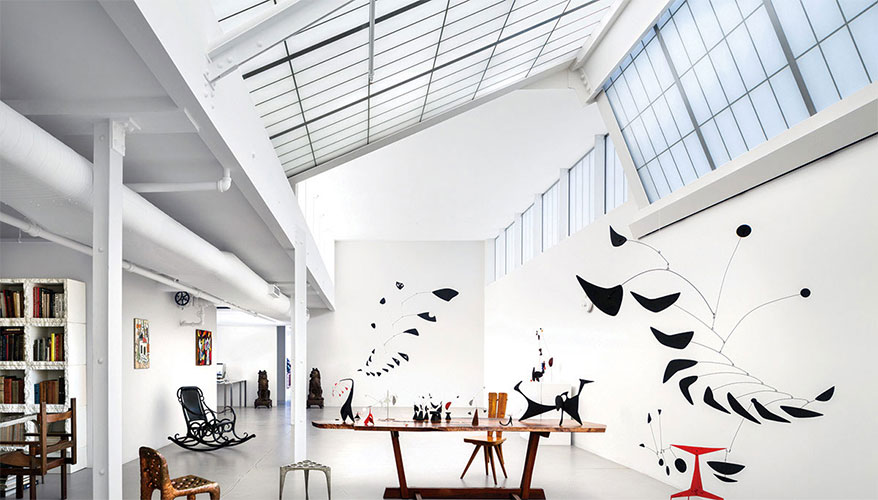 Luxembourg Freeport
Niederanven, Luxembourg
The ability to provide necessary temperature control, along with safety and security, made Kalwall the choice for this duty-free storage unit where wealthy art investors can store their valuable collections. Kalwall provides museum-quality daylighting for viewing artwork as well as privacy and superior structural integrity that allows peace of mind.
Elgin Artspace Lofts
Elgin, Illinois, U.S.A.
A centerpiece Kalwall skylight was reintegrated into a 1908 Sears building being converted to a mixed-use space. Kalwall panels with .10 U values were chosen to provide exceptional thermal performance and low solar heat gain. The skylight provides diffuse daylight to both levels of this historic building and beautifully highlights the central gallery.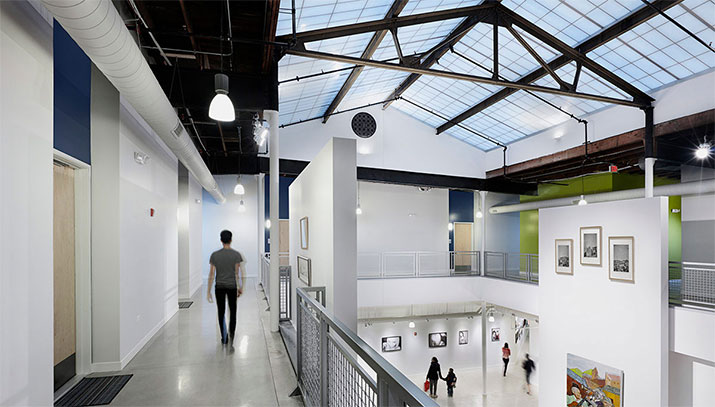 Crocker Art Museum
Sacramento, California, U.S.A.
Perfectly diffuse top lighting by Kalwall allows the vibrant colors of the artwork below to come through naturally, as opposed to the harsh effects of artificial lighting.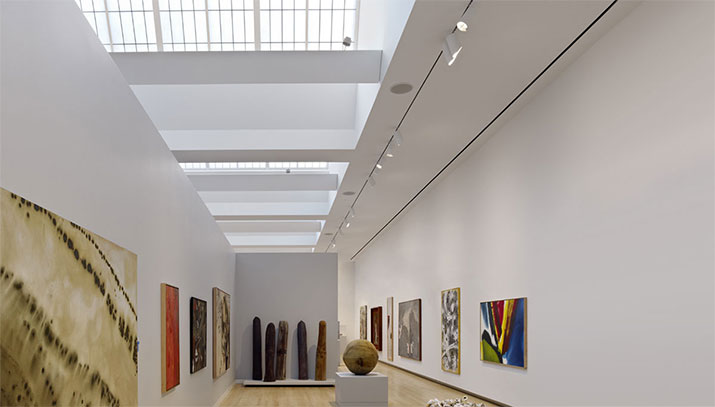 Blackfoot Crossing Historical Park
Sisika, Alberta, Canada
The architect of this breathtaking building viewed his design as "a reinterpretation of a vast range of Blackfoot cultures," and Kalwall is a dominant feature in that design. Kalwall panels are used to create the central teepee that greets visitors as they enter this historical center that promotes and preserves the culture of the Siksika Nation Peoples. The panels emit an ethereal glow at night reminiscent of traditional lanterns created by ancient cooking fires, reflecting the functionality of teepees as well as a connectedness to earth and sky.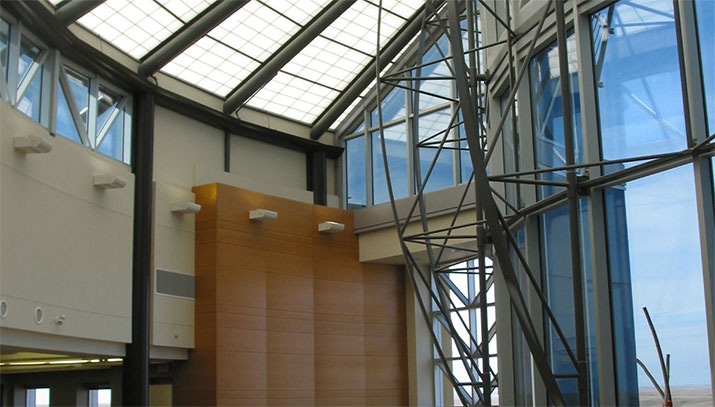 Company: Kalwall Corporation
Source: https://www.kalwall.com/2017/08/09/visual-blog-kalwall-in-the-cultural-market/
Tags: Design | Lighting | Skylights | Window Shades | Windows
---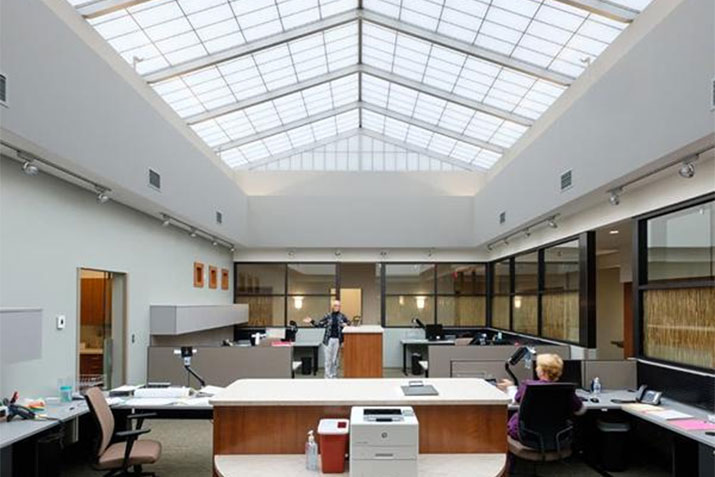 Images courtesy of DSGW Architects and Weston Imaging
Daylighting can be dramatic… and it can also be a hassle. Too much direct light can cause glare and hot-spots, leading to eye strain and an uncomfortable environment for building occupants. But there is a way to control solar heat gain and diffuse direct sunlight, making for a bright, evenly lit space that welcomes visitors and creates a more comfortable work and learning environment. What's the solution? Translucent panel daylighting systems!
When designing the new Lac Vieux Desert Health Center in Watersmeet, Michigan, DSGW Architects met with Indian Health Service staff, tribal community members, clinic staff and providers, clinic task force members and the Tribal Council to help define and create a health center that includes 12 exam rooms, two procedure rooms, a nine-chair dental suite with lab services, retail pharmacy, imaging suite, clinical lab, chiropractic and physical therapy department, optical department, behavior health and family services, a community gathering room and more.
An integral part of the space is natural light – from both windows and skylights. A Guardian 275® skylight, as shown in the image above, helps bring light to a nurse's station where uncontrolled light could cause an uncomfortably hot work environment and wreak havoc on computer screens. It also lessens the need for artificial light sources and makes for an inviting and welcoming space. (Not to mention the numerous studies that show access to natural light is beneficial to both staff and patients in healthcare environments.)
What can a translucent skylight do for your space? Call and talk with one of our staff members for more information @ 888-759-2678.
Company: Major Industries Inc.
Product: Guardian 275® - Translucent Panel Skylights & Curtainwall
Source: http://majorskylights.com/2017/06/project-spotlight-work-friendly-daylight/
Tags: Exterior Design | Interior Design | Skylights | Windows