architecture - engineering - construction

Sustainability
---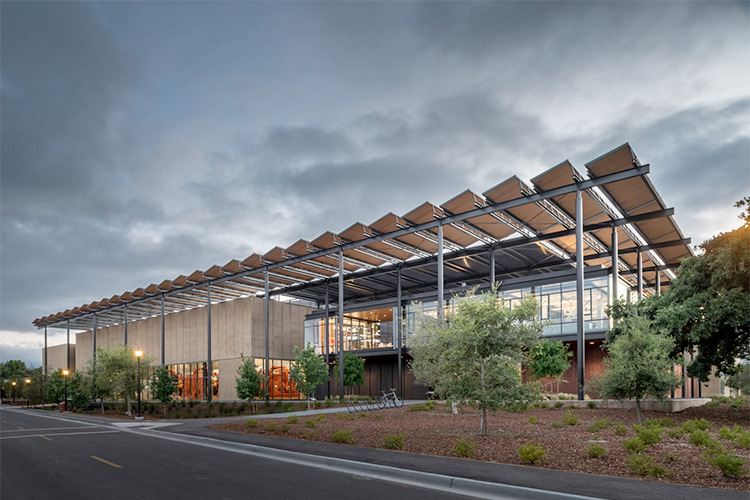 The Stanford University Central Energy Facility replaces a 100 percent fossil-fuel-based cogeneration plant with primarily electrical power—65 percent of which comes from renewable sources. Image credits: Matthew Anderson
AIA and the Committee on the Environment (COTE) announce this year's recipients of the COTE Top Ten Awards, the industry's premier program celebrating sustainable design excellence. Now in their 21st year, the Top Ten Awards highlight projects that exemplify the integration of great design and great performance. Submissions are required to demonstrate how the project aligns with COTE's rigorous criteria for social, economic, and ecological value.
Since 2014, past Top Ten recipients have been invited to submit post-occupancy data and narratives to be recognized with a single COTE Top Ten Plus award each year. In 2017, these separate tracks are merged: The 'Plus' designation now denotes projects with exemplary performance data and post occupancy lessons.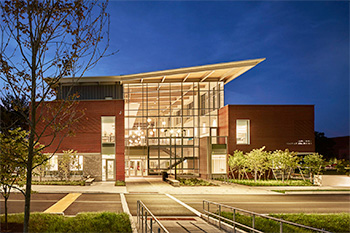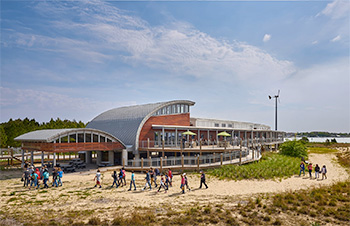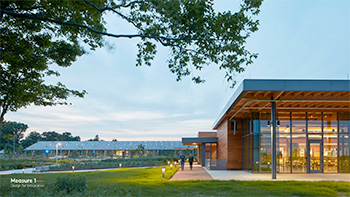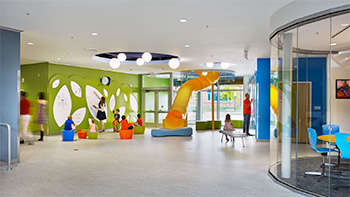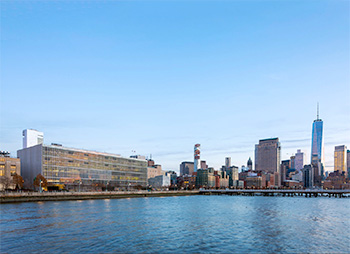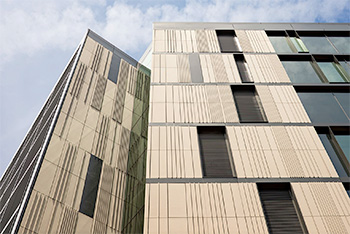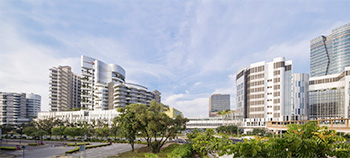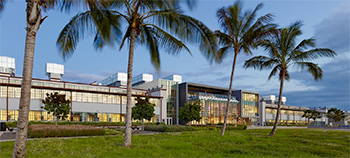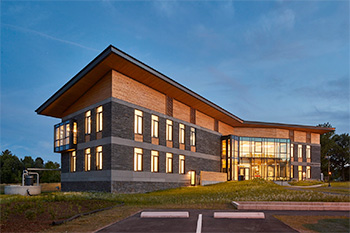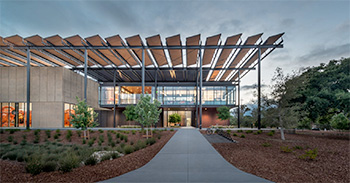 Company: AIA (American Institute of Architects)
Source: https://www.aia.org/resources/73026-2017-cote-top-ten
Tags: Design | Energy | Sustainability
---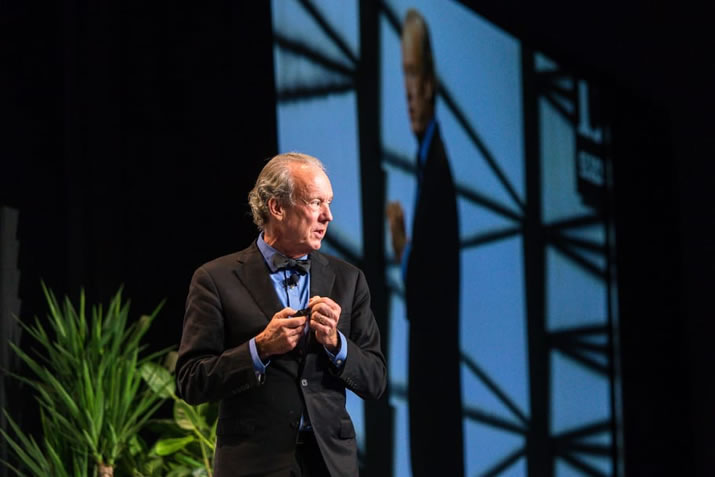 William McDonough, FAIA, gave a keynote at the 2016 SXSW Eco conference that emphasized the need for urban revolution. Image credits: Steve Rogers.
Carbon-positive cities, biophilia, and data-centric decisions define the next American city that architects can help create
In discussing solar orchards, biophilic cities, and illustrative mapping of everything from water surges to public protests, architects at the 2016 SXSW Eco conference brought the audience a dynamic voice for change. In its fourth year, the sister conference to the larger South by Southwest festival has grown into a three-day convergence of all things driving global change under the umbrella of design, technology, and business. Its basic premise is a forum for ideation and connection across industries. Participants arrive from around the globe, united by aspirations to establish new ways of dealing with health, food, water, climate change, clean air, energy, and development.
"Architects provide a fundamental voice in this conference," notes SXSW executive producer Morgan Catalina. "We are talking about environmental and social change. It is a realm that architects can shape, change, and influence through design." In fact, design thinking and problem-solving were a priority in much of the conference discussions. Topics ranged from idea-driven calls to action to explanations of developing software tools. Creative solutions involving cross- and multi-disciplinary teams were billed as the most effective ways to address many of the world's pressing problems.
Time for a (sustainability) revolution
In his keynote, William McDonough, FAIA, of William McDonough + Partners, called for a revolution as he emphasized the need for carbon-positive cities and work toward climate change reversal. A visionary for more than 40 years, McDonough has been a pioneer in sustainability. He co-created the Cradle to Cradle philosophy, and all his work promotes a complete understanding of material health in the design process coupled with built-in renewable energy and social fairness.
He is currently working on concepts for a Chinese city that can feed and power itself. In Mongolia, McDonough's "solar orchards" allow industry and agriculture to live in the same place. Solar collectors are elevated six feet, allowing for grazing animals to occupy the same land. "This is beautiful … grasses come back by themselves," stressed McDonough. His is a call for a new language to deal with carbon that promotes constant improvement and a reevaluation of the current framework from which architects and designers evaluate their impacts on the environment and the future of human health.
Connections to nature
Likewise, Amanda Sturgeon, FAIA, chief executive officer of the International Living Future Institute, noted that architects should change the way they are designing, and recognize that "people are a part of nature, not separate from it." As part of the workshop on biophilic cities, she presented her research related to biophilic design emphasizing the reconnection of humans and the natural world. Biophilic cities prioritize the integration of green and blue ways throughout urban zones, urban farming initiatives to support food deserts, and integration of wildlife preservation in planning efforts, among others.
"We are talking about environmental and social change. It is a realm that architects can shape, change, and influence through design." - SXSW executive producer Morgan Catalina
Sturgeon summarized her argument for new design thinking: "Most of architecture is being created with no connection to place, climate, geography, or regional context. With increasing urbanization, and the fact that we spend 90 percent of our time inside, our fundamental connection with nature is disappearing. At the same time, the Paris climate agreement requires that buildings radically reduce their energy use, past the incremental efficiencies that we have been achieving. If we don't design our buildings to adapt to our climate, we will not get there. I believe this is an urgent issue for the creation of our buildings. Architects must change the way that they design, and we must train our young architects to have the skills and abilities to design in this way."
Tools to further the profession
Going beyond just understanding a building's site was part of the inspiration for Perkins+Will associate principal Leigh Christy to develop Hazel, a software tool for optimizing planning for stormwater infiltration, collection, and reuse. Christy sees part of her role as an architect is to engage in larger questions about the future of the environment. "Hazel is a tool for architects and planners," she said. "The data help analyze cost, identify policy needs, streamline water detention practices, reduce carbon emissions, improve pedestrian thermal comfort, and create new habitats for wildlife."
Ultimately, the platform provides data fundamental for project site selection. After being awarded a grant from the AIA College of Fellows Latrobe Prize, Hazel was developed collaboratively by the Arid Lands Institute of Woodbury University, Perkins+Will, the Nature Conservancy, and the City of Los Angeles. The design team is still refining Hazel. Christy notes that after presenting Hazel to architects and city planners, the response from the multidisciplinary audience was refreshing. "It was the first time I had someone come up to me and ask if I needed help coding," she said.
Another software tool called SPEA (Spatial Practice as Evidence and Advocacy) was developed by a landscape architect–led team. "[We] are of course influenced by the architectural designers that we work with," said McKenna Cole, research associate at SITU Studio. SPEA visualizes complex spatial narratives like the Euromaidan protests in Ukraine, often using three-dimensional renderings.
"Developing accurate 3-D models allows us to understand events spatially, enabling us to establish known protester and police locations that draws from citizen-captured videos," explained Cole. The usual outlets for dissemination of the data collected and compiled with SPEA are in the courtroom, through specific publication, or in advocacy reports. SPEA received an honorary mention in the Equity + Inclusion category of the Place by Design competition at the conference.
If this most recent SXSW Eco was an illustration of the prominent role architects can play both as visionaries and as team players working to effect change, the conference also clearly demonstrated that opportunities abound and that people value design thinking. As William McDonough noted, "I'm an architect, and an architect's job … is to change the way we see, then we rearrange the furniture, and then we build."
Company: AIA (American Institute of Architects)
Of: Catherine Gavin
Source: http://new.aia.org/articles/22151-architects-empowered-to-drive-positive-chang
Tags: Building | Design | Energy | Sustainability
---
The world-class building-science experts at Sto continue to lead the way in advancing energy efficiency, durability and aesthetic appeal. Today's energy codes and regulations reflect many of the design principles embodied in our Continuous Insulation (ci) Systems, and the proven performance of Sto's next-generation EIFS appeals to designers, contractors and owners alike.
StoTherm® ci Wall Systems (EIFS)
Integrated Wall Systems that deliver the best in performance, sustainability and design flexibility
Sto's next-generation StoTherm® ci systems integrate the following key elements: continuous insulation (ci), an air/moisture barrier, drainage and a variety of textured finish options to create a superior, sustainable wall cladding. This high-performing, eye-catching system saves energy and stays attractive for years. StoTherm® ci improves indoor comfort and air quality while maintaining maximum curb appeal and lowering overall life-cycle costs.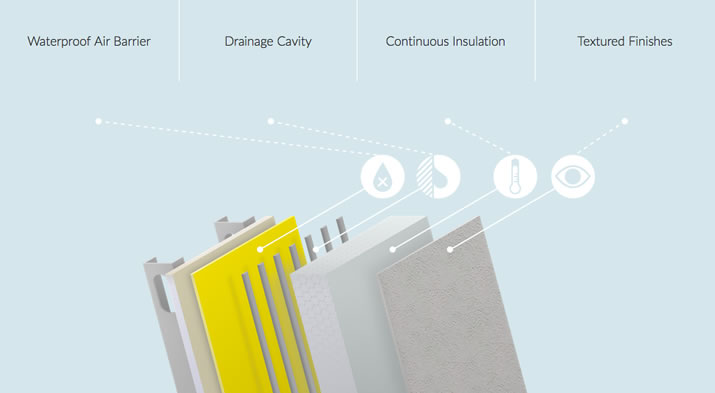 Key Components of the Sto Continuous Insulation (ci) System
System Features
High R-Value
Continuous insulation with high R-values provides significant energy cost savings by eliminating thermal bridging.
Code Approved
Complies with both ICC and IECC code requirements for continuous insulation.
Outbound Dew Point
Prevents condensation and freeze damage by placing the dew point outside the stud wall cavity.
Reduced Structural Loads
StoTherm® claddings are very lightweight, resulting in reduced structural cost requirements.
No Mechanical Fasteners
No penetrating nails or screws to attach the insulation means no thermal bridging.
Low Maintenance Cost
Coatings and finishes with advanced acrylic and Lotus-Effect technologies resist dirt pickup, peeling and cracking.
Lowest Life-Cycle Cost
StoTherm® ci claddings have the lowest life cycle costs compared to non-insulated brick and stucco claddings.
Premium Finishes & Coatings
Sto high performance finishes and coatings provide superior weatherability and resistance to UV fading, mold and mildew.
Explore the Continuous Insulation Configuration Tool to help guide you to what products are right for your project.
Company: Sto Corp.
Source: http://www.stocorp.com/continuous-insulation-systems/
Tags: Energy | Insulation | Sustainability | Wall Panels
---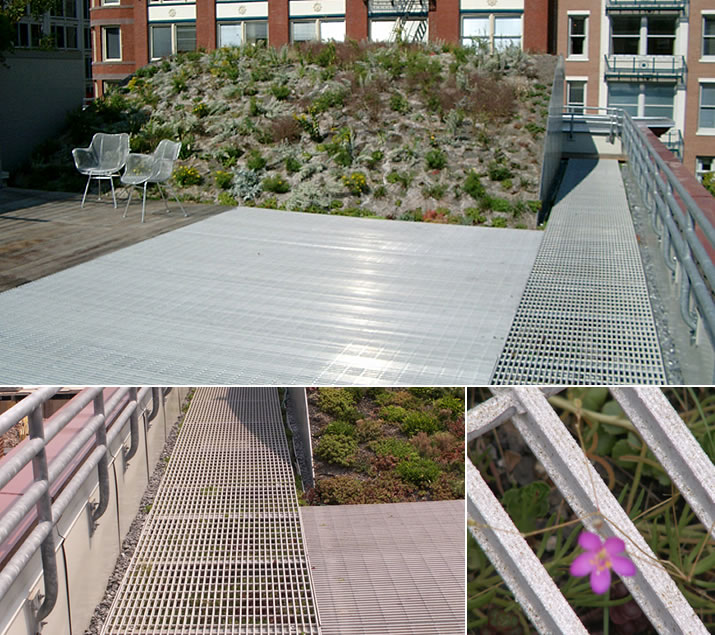 The Situation:
A general contractor was chosen by the American Society of Landscape Architects (ASLA) to provide grating for ASLA's green roof at their headquarters in Washington D.C. The green roof is a part of the ASLA's commitment to promote environmentally friendly designs to make green roofs a more widely accepted option for architects and contractors. The 3,000 sq. ft. green roof will grow a variety of plants and also have a viewing area for the public. The ASLA was looking for a walking surface that would allow plants to grow up and through the floor surface to maximize the roof space, allow people to walk on the space without damaging the plants and for a product that would remain slip resistant against transpiration from the growing plants. The general contractor contacted Ohio Gratings for a flooring solution.
The Solution:
SlipNOT®slip resistant aluminum grating was chosen as the optimal grating for the project. Slip resistant aluminum was the ideal substrate because it is a light weight material that reduced the overall weight of the grating on the roof while still being extremely durable. The aluminum coating also remains slip resistant against transpiration from plants and other outdoor elements providing a safe walking area for pedestrians. SlipNOT® slip resistant aluminum grating is corrosion resistant and will be able to withstand installation in an outside environment with minimal maintenance. Ohio Gratings worked extensively with the general contractor to provide the appropriate dimensions for the project.
The Impact:
SlipNOT® aluminum grating has provided the American Society of Landscape Architects with an aesthetically pleasing slip resistant walking surface for the green roof. The aluminum grating has proven to be the ideal solution to help the ASLA's showcase their green roof.
Download this case study as a PDF
Company: SlipNOT® Metal Safety Flooring Div.
Source: http://www.slipnot.com/industries/commercial/case-studies/
Tags: Landscape Design | Metal | Safety | Sustainability
---
The world's best buildings are not only measured by their security or design, today sustainability plays a vital role in the longevity and attraction of office space. In fact the sustainability trend is here to stay. From the entry point where energy consumption and carbon footprint are minimized to waste management, water recycling and light fittings, buildings are now built with five and six star sustainability design factors in mind.
Boon Edam recently worked with construction group Skanska on Sweden's Green Tower Office Building. Henrik Ahnström, project leader says, "Green Tower Office Center is a new Green landmark. This new office project is the first LEED platinum building in Gothenburg, Sweden and in Skanska's own property register.
Boon Edam installed the TQ revolving door, which works along the "always open, always closed" principle that ensures that the entry remains open and welcoming to visitors but keeps heat or cold, rain and noise out. As there is less opportunity for the outside air and the conditioned inside air to mix, a more comfortable working environment can be achieved and energy can be saved on heating or cooling the building. On average this ensures that eight times less air is exchanged through a revolving door than through a normal sliding or swinging door.
Behind foundation, energy and waste management is now one of the most important factors in construction. Here are 7 of the most sustainable buildings in the world: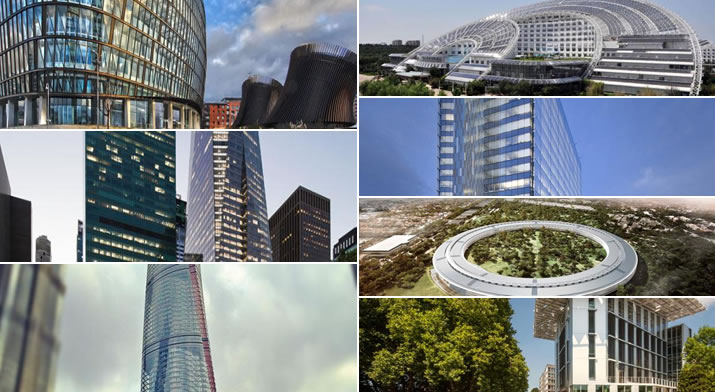 One Angel Square, Manchester, UK
Manchester's One Angel Square is the headquarters of the Co-operative Group. The building houses 3,000 employees and has been awarded an "Outstanding" Building Research Establishment Environmental Assessment Methodology (BREEAM) rating. It is powered by pure plant oil fed Combined Heat and Power (CHP) system and utilizes grapeseed oil that is grown on The Co-operative's own farmland.
Excess energy is sent back to the grid. Other features include LED lighting and a system to recycle waste and rain water.
One Bryant Park, New York City, US
Bryant Park was the first high rise building to be given LEED Platinum certification, with the Bank of America Tower, in Manhattan, being one of the world's greenest skyscrapers. As well as having CO2 monitors, waterless urinals and LED lighting, the building also has its own generation plant that produces 4.6 megawatts of clean, sustainable, energy.
Shanghai Tower, Shanghai, China
Shanghai Tower, stands 632 meters tall and is the second-tallest building on the planet, after Dubai's Burj Khalifa. Wind turbines located near the top of the structure power its outer lighting as well as park areas, while transparent inner and outer "skins" will allow natural light to flood the building, cutting down the need for artificial lighting.
Smart controls will monitor everything from ventilation to heating and lighting, helping to cut energy bills in the process.
Micro Emission Sun-Moon Mansion, Dezhou, China
Resembling a sundial, the Sun-Moon Mansion, in Dezhou, Shandong province, is 75,000 square meters in size and one of the world's largest solar powered structures. The building contains offices, a hotel and a conference center, all powered by solar energy and featuring a solar powered hot water supply, energy saving glass, and 50,000 square feet of solar paneling.
Manitoba Hydro Place, Winnipeg, Canada
Located in Winnipeg, Manitoba Hydro Place makes use of "passive design and natural ventilation" to make it one of North America's most energy efficient office buildings. The building has a geothermal system to heat and cool the building, roof gardens and triple-glazed windows. Thanks to these features, over 60 percent of energy savings have been made.
Apple Campus 2, Silicon Valley, USA
It isn't finished yet, but Apple CEO Tim Cook is already calling it the greenest building on the planet. Apple's strategy is to power the entire campus with 100% renewable energy and it promises to plant at least 7,000 new trees and use recycled materials.
Apple projects its maximum energy use across the entire 5.9m sq. ft. (548,000 sq. meters) campus – including office spaces, research centers, parking structures and other buildings – to be around 142,000,000 kilowatt-hours per year. Based on the total area of all the buildings on site, Apple Campus 2 will have an energy use intensity of about 257 kWh per sq meter per year.
That easily beats typical office buildings in the United States, which use around 500 kWh per sq. meter a year.
Bullitt Centre, Seattle, USA
The Bullitt Centre is the greenest commercial building in the world. Nestled into Seattle's Capitol Hill neighborhood, it used only about 32 kWh per sq. meter in its first full year of operation. Producing more electricity from rooftop solar than it consumes in kilowatt-hours per year, the Bullitt Center is unique even among the greenest buildings in the world.
Energy positive buildings are no longer pie-in-the sky dreams; in fact, construction organizations are now tasked with building the greenest possible structures. From revolving doors to waste management and energy conservation systems, there are myriad ways to save energy.
Company: Boon Edam Inc.
Source: http://www.boonedam.us/news/building-sustainability-world%E2%80%99s-7-best-green-buildings
Tags: Building | Sustainability