architecture - engineering - construction

Sustainability
---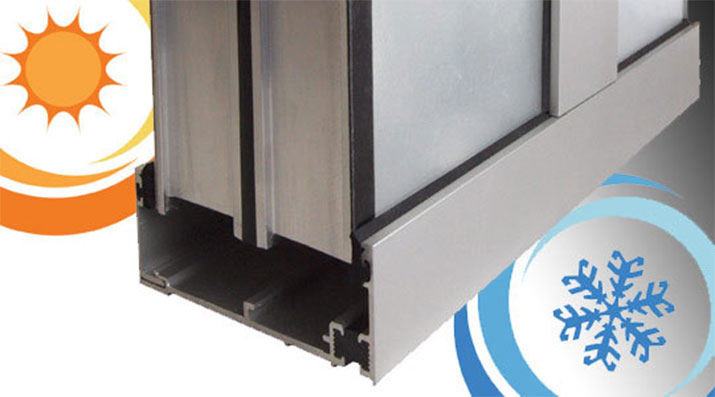 Heat conduction, or the transfer of heat through a solid material at the molecular level, is a problem that occurs in aluminum framing. Providing a thermal break in the aluminum is the most common solution for disconnecting the exterior and interior of the aluminum frame. The frame is literally split into two components and must be connected by a structural material that is of significantly less conductivity as the aluminum. Simultaneously the thermal break material must bond the two components together.
There are many ways to thermally break glazing materials and the frames that house the glazing. Insulated glazing generally uses multiple panes of glazing separated by air, gas or other fill. The glazing is then bonded at the edges with a material of low conductivity. The aluminum frame, most commonly used for storefront framing, skylights, and windows, is a highly dense material with great strength. Yet, aluminum is light in weight and durable. It is also a widely recyclable material and is readily available.
Aluminum, however, is highly conductive of heat and cold. For many decades thermal breaks have been a common and economical means of lowering temperature conductance in aluminum framing. Thermal breaks have taken numerous forms over the years, from plastic and Styrofoam to wood and nearly any material that had a lower thermal conductivity than aluminum.
The 1970s marked the beginning of the high performance, chemically manufactured and engineered thermal breaks that we see today. Standard to the storefront, window, skylight and curtainwall industry is the poured and debridged polyurethane thermal break. This material provides significant structural strength in shear, compression and tension, as well as integrity and resilience. The polyurethane polymer has a very low conductivity, allowing it to bridge the gap between the interior and exterior aluminum components of a frame. Due to polyurethane's structural strength, longer spans are capable and the integrity of the aluminum frame is not compromised.
The method for manufacturing the polyurethane thermal break has become standardized in the aluminum framing industry. A strategically placed open cavity is extruded as part of the aluminum frame. The cavity may be grooved or extruded in a way as to act as a lock when bonded with the polyurethane polymer. The liquid polymer is poured into the cavity, and upon solidifying, the bottom of the cavity is then removed, or debridged, creating the perfect thermal break for all forces of extreme weather conditions.
So where are thermal breaks necessary? The short answer is that they are necessary in all climates where there is a difference in temperature from exterior to interior. Cold climates benefit from aluminum thermal breaks by providing protection from cold temperatures entering the building and causing condensation build-up on the interior face. In these situations, aluminum frames can also become very cold to the touch and uncomfortable to be near. Hot climates benefit from aluminum thermal breaks by providing protection from hot temperatures entering the building. Not only does a thermal break affect air temperature and cooling demands on HVAC systems, but aluminum frames can become very hot to the touch, causing issues for people, plants, animals, and objects nearby.
While thermal breaks add some up-front costs, technological advances have made them an economical solution. This is especially true when you consider that they can prolong the lifespan of materials around them and provide a more comfortable environment for building occupants. Whether you're in a hot or cold climate, thermal breaks are well worth it.
For more information on our thermally broken system options, visit us online. Our Clima-Tite™ system with pultruded fiberglass framing, is also available and provides an even higher level of thermal performance and condensation resistance.
Company: Major Industries Inc.
Product: Clima-Tite™
Of: Courtesy of Amy Stalbosky, National Corporate Architect, Major Industries, Inc.
Source: http://majorskylights.com/
Tags: Aluminum | Climate | HVAC | Skylights | Sustainability | Windows
---
FROM BROWNFIELD TO SHINING STAR: "LEED"-ING THE WAY IN LITTLE ROCK
A non-profit organization dedicated to relieving global hunger and poverty, Heifer International provides livestock and plants, as well as education in sustainable agriculture, to financially disadvantaged families around the world. Based in Little Rock, Arkansas, the organization was faced with the need for larger headquarters, but wanted the project to remain true to the earth's resources. Heifer identified a long abandoned railroad yard in the city's old warehouse district, an environmentally dirty site known as a brownfield, and made the decision to transform it – the "green" way. One of the first of its kind in the area, the project was designed with careful consideration for the U.S. Green Building Council's Leadership in Energy and Environmental Design (LEED®*) certification standards.
Polk Stanley Rowland Curzon Porter Architects, Ltd., developed the building's design, capturing every opportunity to achieve LEED points and reflect the overall mission. Glazing contractor ACE Glass Company, Inc. and product manufacturer/design engineering team from Kawneer North America were called in to collaborate on the project. Completed in March 2006, the project is expected to receive its LEED certification in 2007.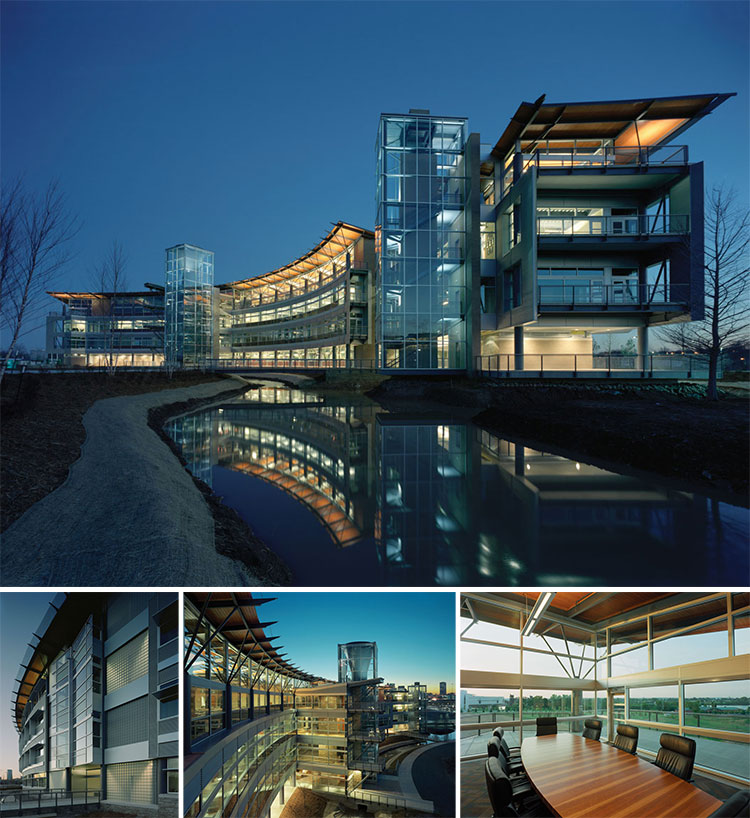 Photography: ©Timothy Hursley
Design Highlights
The curved shape of the building served to take advantage of the solar orientation by stretching in an east/west direction and maximizing sun exposure. To block excessive sunlight, the team integrated sunshades into the exterior, while Kawneer's InLighten™ Light Shelves were installed on the interior of the wall to "bounce" natural light up to the ceiling and reflect it into the building.
Deeper, custom sun shades were created to be hung vertically between the punchouts, a unique design feature that served to be both aesthetically pleasing and functional, as they protect the interior from both east and west sun exposure.
The combination of the building's narrow floor plate and the curtain wall allows natural light to penetrate to the center of every floor, while strategic interior glazing continues the indoor/outdoor aesthetic and keeps individual offices bright and open. Fixed and storefront framing systems, in conjunction with swing and sliding entrances, were used throughout the interior offices and conference rooms. In addition, clean glass, white frost and green glass added a light and modern aesthetic.
Challenges
The complex design required the customization of several existing Kawneer products, and the curved building footprint complicated fabrication.
The increased focus on recycled materials (per the Materials & Resources category under LEED required the coordination of a sizeable order of secondary aluminum billet necessary for the project. In fact, 97 percent of the building materials used for the project contain recycled content.
Featured products
Architect
Polk Stanley Rowland Curzon Porter Architects,
Ltd., Little Rock, Arkansas, USA
Glazing contractor
ACE Glass Co., Inc.
Little Rock, Arkansas, USA
Company: Kawneer Co., Inc.
Product: Curtain Wall
Source: https://www.kawneer.com/kawneer/north_america/en/products/project_detail.asp?project=heifer_kna&bus=north_america&pc=Commercial_Office_Space
Tags: Doors | Entrances | Glass | LEED Certification | Sustainability | Wall Panels
---

Photography: Joshua Jay Elliott, courtesy: Works Progress Architecture, LLP
The 10-story, LEED® Gold certified, mixed-use, transit-oriented development known as Slate is helping revitalize the Burnside Bridgehead area in Portland, Oregon. Formerly a vacant lot called Block 75, the new building features window, entrance, unitized curtainwall and panel systems finished by Linetec. Contributing to the building's high energy-efficiency and sustainability goals, Linetec also provided the thermal improvement services for the glazing systems' aluminum framing.
Opened last year, the project spans 147,000 square feet and offers 75 market-rate apartment units on the upper six floors; 35,000 square feet of creative co-working office workspace on floors 2-4; and 7,800 square feet of retail space at street level.
Articulated Aesthetics
Designed by Works Progress Architecture for co-developers Urban Development Partners and Beam Development, the property conveys a "push and pull" theme exemplifying the location's vibrancy. The glass, metal and concrete façade consists of articulated, modulated, rectangular shapes, including some that are setback and some that project over the sidewalks below.
"The building adheres to a carefully considered, cohesive, unified design concept that promotes the building as a bold, permanent fixture of the Burnside Bridgehead, the larger Central Eastside Subdistrict, and the larger Central City Plan District," noted Portland's Design Commission.
"It creates the illusion of a shifting stack," describes Works Progress Architecture's Ian Roll. "On the North and South sides, the curtainwall has a flat, clean, crisp look that transitions to a sculpted, figural texture on the East and West elevations. The curtainwall is crucial in registering the intentional lines and visual elements."
Enhancing the aesthetics and durability of these elements, Linetec used six colors and two finishing methods. The aluminum framing members' for the curtainwall, window and entrance systems were fabricated by Wausau Window and Wall Systems, and finished in Slate Gray Fluropon® and Dark Bronze FluroponAAMA-2605 fluoropolymer paint coatings, plus AAMA-611 Class I blackanodize. In addition, Linetec painted the aluminum panel system from Firestone in AAMA-2605 fluoropolymer coatings of Stone White Duranar®, Gun Barrel Fluropon Classic II and Block 45 Silver Fluropon Classic II.
Leaders in Energy and Environmental Design
Supporting Slate, and other projects seeking the U.S. Green Building Council's LEED certification, Linetec's finishing and thermal improvement services can contribute to the building envelope's energy-efficiency, visual appeal and durability.
Supporting environmentally sound practices, Linetec's high-performance painted coatings are applied in a controlled facility that safely captures and destroys the VOCs present in liquid solvent-based paints before the finished products' arrival on the building site. Anodize finishes do not contain VOCs and process byproducts are recyclable.
The finished architectural aluminum components may be specified with recycled content and are 100 percent recyclable after its useful life on the building. The high-performance fluoropolymer painted coatings and anodize finish help protect against the intense sunlight, heavy rains, high humidity and salt spray, for a long product life cycle.
To match Portland's climate and the project's goals for energy efficiency and comfort, Wausau's anodized aluminum-framed products have beenthermally improved by Linetec using a polyamide barrier. Combining the thermal barrier with solar-control, low-e, insulating glass achieves the specified performance for low solar heat gain coefficient, low U-Factor, highcondensation resistance factor and high visible light transmittance.
There are numerous LEED credits that recognize the advantages and benefits of high-performance windows and curtainwall. Seasonal opportunities for natural ventilation also help reduce the demand on HVAC systems and associated energy use. Weather permitting, the operable windows on Slate allow tenants to enjoy fresh air, natural light and views.
Within sight are downtown Portland, the Willamette River, landmark bridges, the West Hills and Mount Hood. According to the City of Portland's Design Commission, Slate's design features floor-to-ceiling curtainwall "placed at the most important – in other words, the most visually prominent and functionally significant parts" and "aids in the success of the space by fostering a visually seamless relationship between the building's interior and the exterior environment."
Further improving the overall comfort for those living, working and shopping at Slate: Retail spaces with natural light have reported higher sales. Workplaces have documented lower absenteeism, higher productivity and greater job satisfaction . Access to light has shown to be important for biological circadian rhythm and lead to a more restful night 's sleep and daytime alertness. Having a view outside also helps people feel better connected to with their environment and their community.
Balancing Appearance and Performance
Works Progress' Roll credits the project's success, in part, to working closely with Wausau Window and Wall Systems from the project's earliest stages. He highlights Wausau's architectural sales representative Brad Glauser as his primary contact in working through the project's complexities.
"Brad assisted us with selecting the system, and fine-tuning it to achieve the building envelope's glassine openness and meet the energy code," says Roll. "With digital modeling, we were able to get inside the units before anything was built to balance where the glass and metal panels should be placed for the right performance and look."
Bringing the architectural vision to reality, Yorke & Curtis, Inc. served as the general contractor. They broke ground in Jan. 2015 and coordinated the phased construction schedule with Oregon-based glazing contractor Dallas Glass.
Dallas Glass began installing Wausau's products in April 2015 and was substantially completed by Jan. 2016. Wausau provided more than 40,000 square feet of INvision™ 7250i-HRX SSG Series unitized curtainwall and 7250 Series SuperWall™; 240 project-out awning 4250Z zero sightline windows; and 4250i-TD Series terrace doors and D5100 Series sliding patio doors. Smooth, Fast, Accurate Installation
The aluminum panels and frames, and bronze-toned and clear glass, were factory-fabricated as a unitized curtainwall helping ensure the intended appearance and performance, and to simplify and accelerate their installation.
"The curtainwall's interlocking frame design accommodates seismic, live load and thermal building movements. Low U-Factors allow broad expanses of vision glass to meet Model Energy Codes. Transmission of unwanted noise is reduced by heavy architectural glass and low air infiltration," adds Glauser.
Slate was the glazing contractor's first experience with a unitized curtainwallsystem. "We loved it," says Darand Davies, president of Dallas Glass. "I think it went really well for being our first time working with a unitized system. It was rather amazing that, on average, we have just five guys in field who were capable of completing a full floor every two weeks."
Now that Slate is open and leasing, Glauser concludes, "Along with the great location and comfortable interiors, tenants also are drawn to the building's attractive appearance. And building owners and property managers will appreciate the ease in maintaining the window systems' appearance and functionality."
Slate, 321 N.E. Couch St., Portland, OR 97232; http://www.udplp.com/slate
Company: Linetec
Product: Thermal Improvement – Pour & Debridge and Thermal Strut
Source: http://www.linetec.com/Press_Release/LEED-Gold,-Slate,-features-Linetec-anodize-finish.html
Tags: Architecture | Coating | Energy | Finishes | Sustainability
---
The challenge: heat, humidity and sea breezes infiltrating the building. The solution: revolving doors.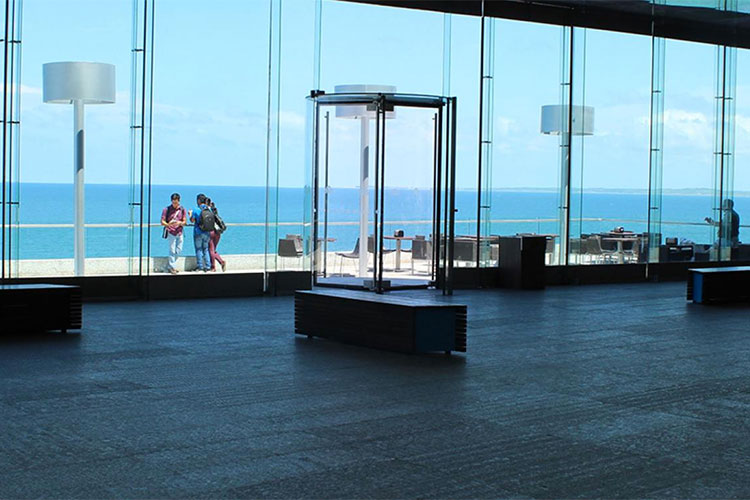 Since opening in October 2014, Andamar Lifestyle Center struggled to contain strong Veracruz winds, which consistently left its swinging doors open and exposed the facility to heat, humidity, and sea breezes. In turn, this allowed the shopping center's air conditioning to escape, resulting in a second challenge: higher electricity expenses.
Andamar Lifestyle Center is home to over 100 different stores spread throughout the nearly 2 million square feet of retail, restaurant, and lesiure space.Taking the mall's estimated 5.3 million annual visitors into account, and the fact that 40% of them are entering through the main entrance, the air infiltration and loss situation became unsustainable. As a result, Rosa María Bueno, director of Andamar, began looking for solutions.
"At first, we tried to find a way to solve the problem without getting rid of the manual doors that were already installed. So, we had about one guard at every door to make sure the doors were closed or to hold them shut against the wind. The reality is that we weren't going to solve the problem that way," Bueno explained.
Two important factors the center needed to consider were the location and use of each door. In addition to its main guest entrances, Andamar has entryways to its terraces and ocean views, which are primarily used by waiters in transit – making easy access a must. "Because we're beside the ocean, many people go outside to enjoy the air, take photos, and eat; as a result, waiters go in and out with their hands full of food, huge trays, etc. We needed to find the right entryway that wouldn't make this process any more difficult," Bueno said.
Andamar also had to consider its original architects' opinions. "The architects who designed the center were very worried that the new doors would change its visual design and obstruct the ocean views, two important points that were taken into account from the beginning. After a detailed search, we found the ideal solution with Boon Edam," the director said.
In total, the shopping center installed eight Boon Edam doors: three Crystal TQ automatic revolving doors, three Crystal TQ manual revolving doors, and two Crystal BoonAssist semi-automatic revolving doors. With the help of AVANCE Inteligente, a local door installation company, each door was installed with the specific entryway's purpose and location in mind.
Bueno affirmed that, in addition to receiving a customized analysis, the shopping center experienced nonstop assistance and dedication from Boon Edam support staff during the project's duration. This led to the right solutions, and gave the client complete confidence in the quality and adaptability of Boon Edam's team.
"We're very happy with the solution from all angles. It meets its functional and aesthetic purposes, it contributes to our positive image, and the doors have allowed for the flow of visitors to achieve a good rhythm," Bueno concluded.
Location:
Veracruz | Mexico
Products:
BoonAssist TQ
Crystal TQ
Segment:
Retail
Download Case Study Flyer:
Company: Boon Edam Inc.
Product: Revolving Doors
Source: https://www.boonedam.us/andamar-shopping-mall
Tags: Entrances | Interior Design | Security | Sustainability
---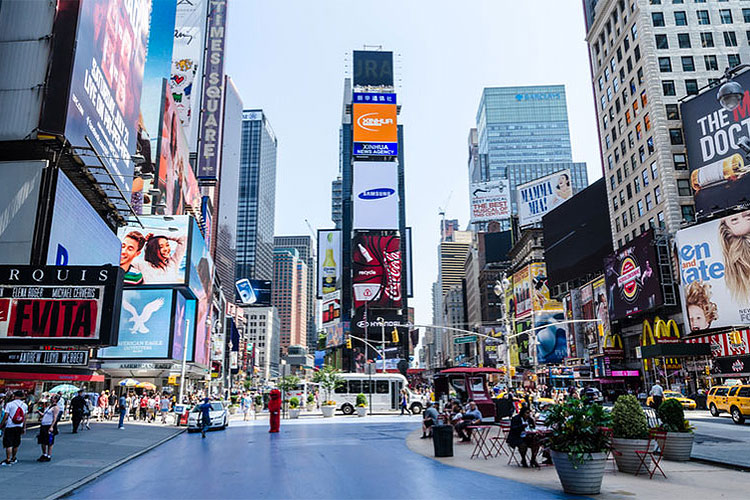 Innovative public square design can improve neighborhood morale, increase home values, generate more retail sales, plus so much more. No space needs to go wasted, not with these great public square design ideas implemented in some of the world's most highly trafficked locations, such as Times Square in New York City.
TerraCast played a role in the development of all projects listed below. TerraCast durable planters were used to complete each picture-perfect public square. There's a reason our planters are continually chosen for high traffic areas:
They are impervious to the elements.
They can withstand impact damage, drastic temperature fluctuations, and just about anything else thrown their way.
Thanks to their resin-based non-porous material, graffiti does not stain planters. You can wipe surfaces clean using a little elbow grease and a Mr. Clean® Magic Eraser® Wipe.
They are lightweight + easy and affordable to transport.
Our products are made right here in the USA using sustainably sourced materials and earth-conscious manufacturing processes.
5 Pedestrian Plazas Created With Our Planters
1. Times Square Plaza in Manhattan, New York
Times Square is one of the most popular tourist destinations on the planet and as a result it's congested with people every single second of every single day. The famous Square's previous design left it highly crowded with cars and pedestrians. The redesigned Times Square is a much more functional space with wider pedestrian walkways and a plaza complete with seating.
"We saw retail sales soar along the corridors where we put bus lanes and bike lanes and pedestrian plazas," Janette Sadik-Khan, New York City's transportation commissioner between 2007 and 2013, told NPR station KCR. Shortly after renovations were complete, Times Square was awarded as one of Crain's Top 10 Retail Locations around the globe.
TerraCast planters are used throughout Times Square to beautify the space. Our planters were specifically chosen for their durability—you can hit, throw and even mark our planters with graffiti, and yet still, they remain in supreme condition.
2. Pearl Street Triangle Plaza, in Brooklyn, New York
Pearl Street was the first public square redevelopment project Ms. Sadik-Khan worked on in NYC. The success of this project helped fuel the redevelopment of other sections of New York, such as Times Square. Back in the day, Pearl Street contained small sidewalks, roadways and an awkward collection of parking spots. Post renovation, Pearl Street offers a nice public square for people to congregate, hail an Uber, jump on the bus, or just enjoy the neighborhood.
Our planters are proudly featured at this public space, because what's a square without some pretty pops of color from plants and trees?
3. 6 ½ Avenue in Manhattan
This revamped public square earned itself a street marker that reads 6 ½ Avenue, a tribute to Harry Potter's Platform 9 ¾. The renovation included the expansion of pedestrian space and the addition of large TerraCast planters overflowing with greenery.
4. Baruch College
Baruch College had a largely unused road running between campus buildings and so they decided to turn it into a public square for students. The renovated student plaza includes TerraCast commercial planters, which are used as a beautiful barrier to outline the space.
5. Sunset Triangle Plaza
In Los Angeles, the City Planning Commission turned a generic street in Silver Lake into a pedestrian plaza that features TerraCast step planters. The planters provide a barrier between Sunset Boulevard and the people walking and dining outside.
What Do These Successful Public Squares Have in Common?
1. Public Square Planters
First and foremost, we are proud to point out they all include TerraCast planters!
2. A Place to Sit
If a public square is large enough, add at least one or two areas where people can sit and enjoy the space, wait for a friend or the next bus. This will encourage people to congregate here, as opposed to just passing through.
3. Something Worth Talking About
Maybe it's a unique name like 6 ½ Avenue, or a fun installation people can climb inside of, whatever is, the best public squares have something unique to offer. Give people something worth talking about, something that sets your square apart from the rest.
4. Sustainability
A successful public square must pass the test of time. It's important to consider the longevity of each feature and product used to outfit public squares. Maintenance is something else you want to avoid as much as possible. Go with native plants, rust-free furniture and no-maintenance planters– or else run the risk of spending a fortune on maintenance all the time.
Sustainability also relates to how products, labor and materials are sourced. Public squares are all about brightening areas for everyone, we believe this level of care should be engrained into everything about a project. That's why we make all our planters right here in the USA using sustainable materials and earth-conscious manufacturing processes.
5. New Opportunities
Most importantly, public squares should breathe new life to a location. For instance, Baruch College turned a hardly-used street into a popular student plaza. Utilize every inch of space to your advantage and watch the benefits pour in. We are here to help any way we can; shop our vast selection of planters: http://www.terracastproducts.com/our-shop/planters/
Company: TerraCast Products LLC
Product: Planters
Source: http://www.terracastproducts.com/5-innovative-public-square-design-ideas/
Tags: Furniture | Landscape Design | Planters | Sustainability
---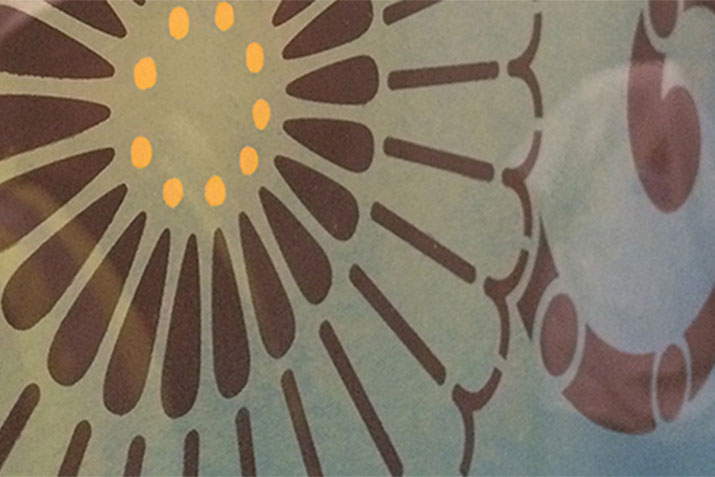 How one designer used Emerald® Interior Acrylic Latex and color to help create a LEED-certified and gorgeous apartment complex.
Sustainable. Sophisticated. Luxurious. Those words aren't often used to describe rental properties in Frederick, Maryland, but they capture the brand-new East of Market Apartments complex to a T. The five-building, 160-unit property is the first Energy Star and LEED-certified property in the area — a charming, historic community that's less than an hour from Washington, D.C. — not to mention the only one with amenities ranging from stone countertops to a pet wash station.
"It's all about quality construction — and quality of life," says Shane Pollin, director of development for The Duffie Companies, East of Market's developer. "We're a family company and we're invested for the long term. So we care about the durability of the project and its impact on the community. Sustainable building is just the right thing to do."
Pollin worked with designer Alice Sydney Minkoff of Alice Sydney, LLC, to construct a LEED-certified, yet design-conscious, complex. Throughout the buildings, Minkoff and her team used Sherwin-Williams Emerald Interior Acrylic Latex paint, which meets the most stringent VOC regulations. "Emerald was the natural choice because of the green aspects of this particular job, as well as the durability requirements," she says.
In addition, Pollin's developers used cutting-edge construction techniques and materials, first creating a tightly sealed envelope and then outfitting it with the resource-conserving systems and materials: ultra-efficient heating and cooling, water-saving fixtures, and LED lighting, to name a few. Next came the lifestyle amenities, a long list of luxuries including garages with vehicle charging stations, and a showplace clubhouse with a fitness center, pool, business center, and even a "simulation center" where you can play simulated games of golf or basketball.
"The look of the property was also very important to us," Pollin says. "We wanted it to be comfortable but elegant." Minkoff realized that vision, relying heavily on color throughout the design process. "Color is essential to creating the right mood," Minkoff says. "And in this case, we turned to paint for much of that impact."
The color palette began with a single piece of upholstery fabric. From that swatch, Minkoff built the entire palette: Moody Blue (SW 6221), Anew Gray (SW 7030) and Dovetail (SW 7018) for the walls; Wool Skein (SW 6148) for the apartment units' trim and clubhouse walls; Gingery (SW 6363) as the accent in the clubhouse; gradations of Amazing Gray (SW 7044) for the apartment building hallways; and energetic splashes of Goldenrod (SW 6677) throughout.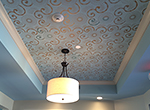 For extra "wow" factor in the clubhouse, Minkoff brought in decorative painter Laura Farrell of LMI Studios to create hand-stenciled wall borders. "Alice liked the border so much, she had us do the clubhouse ceiling, too. Then, we used a similar motif to create custom art pieces to hang in the foyers of each building," Farrell says. "We used Emerald Interior Acrylic Latex for all the decorative painting. It's really easy to work with and has a great depth of color."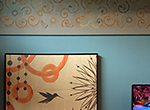 The result is a property that's unique in its market. "You'd never believe these are rental apartments," Minkoff says. "The level of finish is that high." Evidently, the locals agree: East of Market was 30 percent leased by the end of its first day of business. "It feels great to build a different kind of building," Pollin says. "People can see the difference, and we're excited to help raise the bar."
Company: The Sherwin-Williams Company
Product: Interior Paints
Of: Amanda Lecky
Source: https://www.sherwin-williams.com/architects-specifiers-designers/inspiration/inspiration-project-profiles/SW-ART-STIR-ACHIEVE-SUSTAIN
Tags: Coating | Color | Finishes | Interior Design | Sustainability
---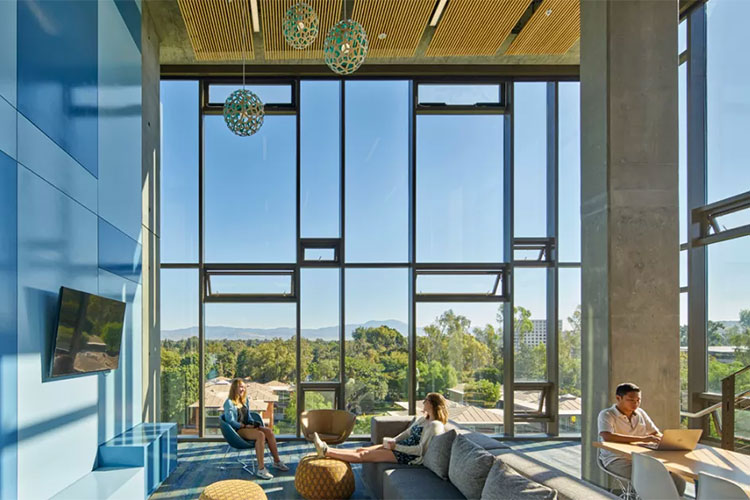 Mesa Court Towers at University of California, Irvine, a project designed by Mithun under LEED 2009 that aligns with the new integrative process for health promotion credit.
The first in a series on green building rating systems and human health examines the latest iteration of LEED
The sustainability conversation in the building industry is broadening from an intense focus on energy and resource consumption to a dialogue that actively engages individual health impacts and outcomes. Public health practitioners typically consider issues relating to social equity, community, environmental justice, and quality of life when talking about public health. Green building conversations are starting to move in that direction, as well.
While health has always been included in the green building conversation, it's been somewhat difficult to quantify when compared to energy and water consumption. But as the relationship between climate change and human health is further demonstrated—along with an interest in living healthy lives—both business owners and individuals are more mindful of fostering holistic health and well-being in their built environments. As the most well-known green building rating system, the US Green Building Council's LEED (Leadership in Energy and Environmental Design) rating system is the first stop in exploring how health and well-being are being incorporated into the green building dialogue.
Since its conception, LEED has included several strategies and metrics addressing health issues, though the health benefits at first were not as well-documented as they are now. LEED credits directly addressing physical health resided mostly in the Indoor Environmental Quality (IEQ) category and included opportunities that were obviously targeted at mitigating harmful practices, such as the Environmental Tobacco Smoke Control prerequisite and credits like Low-Emitting Materials and Indoor Chemical and Pollutant Source Control, all of which deal with the inhalation of documented noxious, harmful chemicals.
Other credits—including Thermal Comfort, Daylight and Views, Public Transportation Access, and Open Space—have also addressed health and well-being, though the impacts are often seen as "softer" than those associated with the inhalation of harmful chemicals. These credits focused more on well-being than on measurable physical health impacts, though the conversation now has almost fully integrated physical and mental health issues. Both types of credits, addressing mental and physical well-being, have been included in each of the subsequent iterations of LEED.
A project pursuing LEED certification will not get a specific focus on the health and well-being of the user, as you would from newer systems such as the WELL Building Standard.
The LEED rating system has evolved over the years to continue to help drive the market and the movement. With the implementation of LEED 2009, USGBC developed and integrated an analytical framework across the rating system to allocate points in accordance with the credits' abilities to reduce environmental problems. These impact categories were based on the Environmental Protection Agency's TRACI (Tool for the Reduction and Assessment of Chemical and Other Environmental Impacts) categories, and were adopted to include issues of health and issues particular to the built environment and the green building movement. With LEED v4, released in late 2017, this framework was updated to address social, environmental, and economic goals, resulting in the following LEED v4 Impact Categories:
Reverse Contribution to Climate Change
Enhance Human Health and Well-being
Protect and Restore Water Resources
Protect Biodiversity and Ecosystem Services
Promote Sustainable and Regenerative Resource Cycles
Build a Greener Economy
Enhance Community, Social Equity, Environmental Justice and Quality of Life
While only one of the seven LEED v4 Impact Categories specifically calls out a reference to human health, it can be easily argued that an improvement in each of the other six would provide better environments, which would then lead to improved levels of health. Enhancing the quality of life and social equity over all would certainly lead to a healthier population. Reversing climate change would absolutely improve health, as major weather events are mitigated and air quality improves. Protecting and restoring water resources would undoubtedly improve the both quality of life and health outcomes for the human population, across urban and rural, developed and underdeveloped areas.
Additionally, USGBC has developed a new Integrative Process for Health Promotion pilot credit for the LEED v4 BD+C rating system. This pilot credit encourages project teams to systematically consider the relationships between health and traditional environmental outcomes in their projects, starting in pre-design. The overall goal of the credit is for teams to systematically assess how a project's design and construction can holistically impact physical, mental, and social health. The credit requires a partnership with a public health professional, and includes analysis strategies addressing community health needs and health inequalities.
LEED is still the front-runner across the green building rating systems, and as such is the easiest to engage. However, a project pursuing LEED certification will not get a specific focus on the health and well-being of the user, as you would from newer systems such as the WELL Building Standard. It should be noted, though, that USGBC is a close friend of WELL, particularly with Rick Fedrizzi—CEO and founding chair of USGBC since 2001—recently stepping down from the helm of USGBC and becoming chairman and CEO of the International WELL Building Institute. The newer system could, ultimately, become the new IEQ section for LEED after it becomes more established, providing a stronger emphasis on health in the built environment within the familiar LEED structure.
Traci Rose Rider, Ph.D., Assoc. AIA, is the research associate at North Carolina State University's Design Initiative for Sustainability & Health and a research assistant professor of architecture at North Carolina State University's College of Design.
Image credits: Bruce Damonte.
Company: AIA (American Institute of Architects)
Of: Traci Rose Rider, Assoc. AIA
Source: https://www.aia.org/articles/142541-how-health-factors-into-green-building-rati
Tags: LEED Certification | Sustainability
---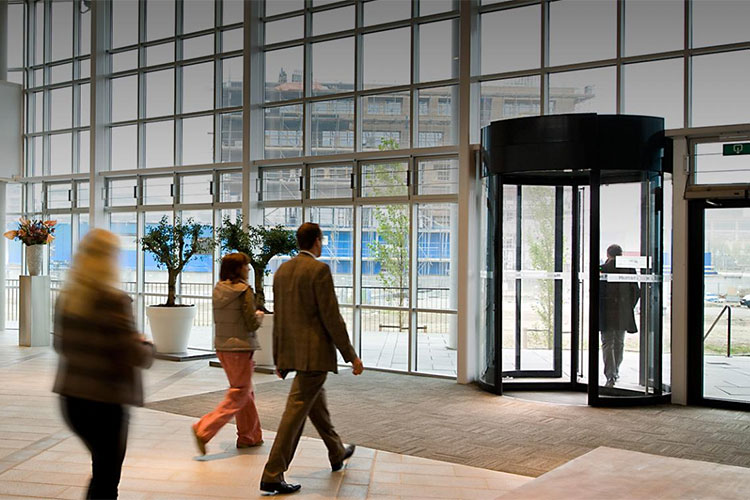 It is no secret that we're living in a time of great unrest. The news is laden with headlines publicizing 'lives matter' and 'occupy Wall Street' movements, political protests, active shooter incidents… the list goes on. As a result, businesses are seeing an urgent need to protect their customers and staff from the impacts of these disruptive, destructive, and even deadly acts.
You may have seen it on the news, a Fortune 500 financial firm fell victim to a smart mob after the firm provided funding to an unpopular project, bringing into question their stance on environmental sustainability, among other topics. Angry protestors walked right through the front door of one of the firm's offices and, with signs in tow, hooked arms in front of an elevator bank to prevent employees from getting to work. It wasn't until 4 hours later that the protestors finally vacated the lobby.
Tangible and Intangible Impacts of Unauthorized Entry
What could be the impacts of such an incident? The tangible, bottom line impacts include bad press, a loss of productivity, and potential property damage if things turn sour. There can also be some intangibles, like physical pain and suffering, and a feeling of anxiety, stress, and insecurity among employees as they wonder what could happen tomorrow. According to a study conducted by SHRM in 2016, over 88% of those surveyed stated that "feeling safe in the work environment" was either important or very important to their overall job satisfaction.
An Unlikely Solution to a Likely Problem
While these types of incidents are happening regularly across the nation, it shouldn't take the prospect of hundreds of picketing protestors outside your door, or looting and fire wielding on your street after sunset, to get you to start thinking about increased building protection. And, that protection starts right at the front doors. Could a plain old, manual revolving door provide that first layer of protection against unwanted building infiltration? The answer is "yes!"
While revolving doors are typically known for providing energy and space efficiency, certain manual revolving doors can be equipped with security features. These doors are being deployed in urban locations to safeguard residents in high-rise apartment buildings located near neighborhoods with more incidents of crime. They are popping up in both urban and rural areas where management wants to keep outside altercations from coming inside. Revolving doors are providing comfort to staff members entering office buildings or public spaces such as museums, afterhours, often alone and at night.
Four Security Features of Manual Revolving Doors
Take a look at what's new for manual revolving doors in these distressing times. These features are more applicable today than ever and some require electrical power to operate:
Exterior night locking doors. Perfect when you want to convey "this establishment is closed!" A set of bi-parting doors slide over the revolving door opening, closing off its compartments. The exterior doors act as a visual deterrent against infiltration afterhours.
Security lockdown. During normal business hours, in the event of an immediate security threat, facility or reception staff can electrically lock the door wings immediately, in any position, at the push of a remotely located button.
Remote locking. Door wings can be locked manually at the push of a remotely located button, or locked automatically at say, 5:00pm by an access control system. This method is different from the security lockdown feature, though. Overhead anti-entrapment sensors scan the compartments for user presence. If someone is inside the door while the lock is engaged, the door will continue to rotate until the compartments are clear rather than stopping on a dime. The door will stop in the "x" position, with its wings pointed at the end posts and then lock in place until unlocked.
Access control integration. Secure afterhours access is possible via an access control device mounted on the outside of the door. Upon valid authorization, usually by means of an access card reader, the door wings will unlock and the user can push to enter the facility. Once the user is clear, the door positions itself and locks.
It's a crazy world out there, but there is something that you can do today to safeguard your business, and it can begin right at the front door. Ask your revolving door provider which models are equipped with these security features (ours is called BoonAssist TQ).
Company: Boon Edam Inc.
Product: Revolving Doors
Of: Amy Coulter
Source: http://blog.boonedam.us/mitigating-protests-smart-mobs-and-crime-with-manual-revolving-doors
Tags: Design | Doors | Entrances | Security | Sustainability
---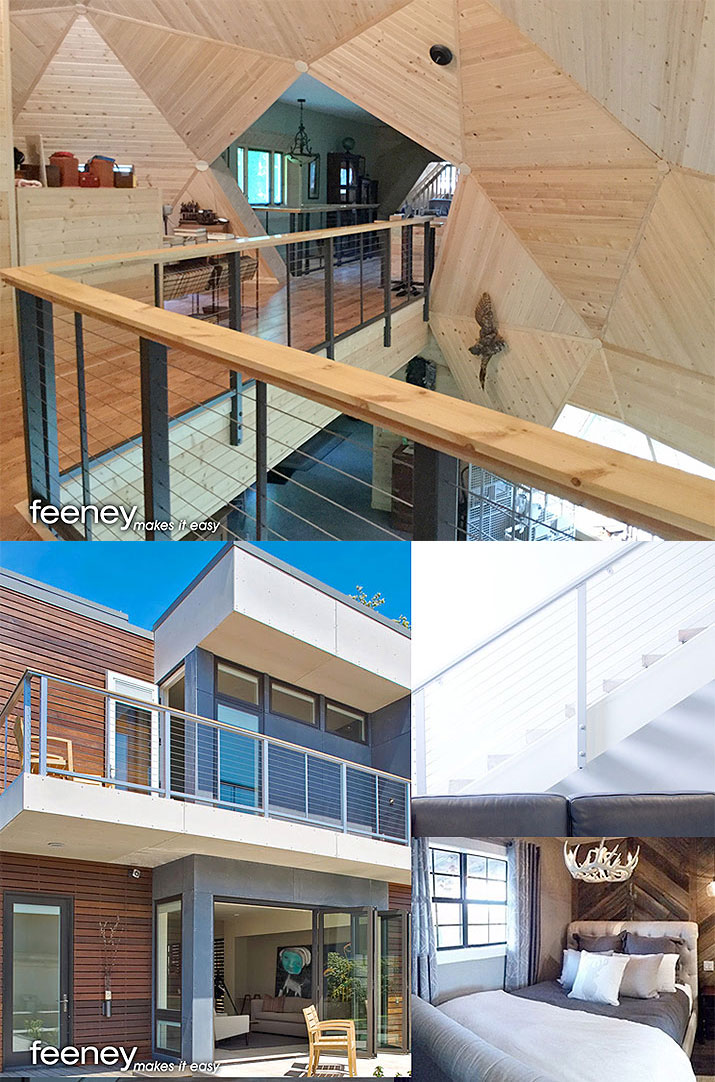 Solar panel arrays. Reclaimed wood. Ultra low-flow toilets. Smart thermostats. Continuous insulation. Volatile organic compound (VOC)-free paint. Recyclable railings. The list of ways American home designers, developers, builders, and owners slash energy expense, promote household comfort and health, and embrace green building practices grows by the day.
The U.S. Green Building Council (USGBC) is carefully monitoring these practices, too. The people behind the widely known LEED (Leadership in Energy and Environmental Design) certification program for commercial and residential structures say more than 121,900 residential units have now earned LEED certification worldwide.
USGBC research also indicates more than of half of consumers rank green and energy-efficiency as top requirements for their next home. Even renters say a LEED-certified property is topped only by a prime central business district location as a desirable feature, according to USGBC studies. Today the USGBC predicts a whopping 84 percent of all 2018 residential construction will have sustainable features.
High on that list of sustainable features are the Feeney's CableRail stainless steel cable infill and DesignRail® aluminum railing systems.
"All of our architectural products are made from stainless steel and/or aluminum which are among the most recycled materials on the planet," says Brad Adsit, Feeney's Product Development/Engineering Manager. "But that's just the beginning of how we support a green building ethic."
Feeney may have one of the most comprehensive, earth-friendly manufacturing programs in the architectural products business. Points of proof:
The grade 316 stainless steel cable used with Feeney CableRail products contains 70 percent pre-consumer recycled content.
The aluminum extrusions used in the DesignRail® railing system contain 40% pre-consumer and 30% post-consumer recycled content.
Low maintenance requirements mean no treatments, stains, solvents, varnishes, or preservative that may contain harmful chemicals.
CableRail fittings and cables use less raw material and allow easier handling, lower shipping costs, and less transit fuel consumption.
Feeney's California manufacturing facility is nearly energy self-sufficient thanks to an immense 5,000 square foot solar panel array.
Feeney's powder coating facility in Nebraska emits no V.O.C.s or heavy metal waste, uses a non-chromium pre-treatment wash, and reclaims 93 percent of the wastewater.
This is only a partial list. As you consider railing system options as part of a green homebuilding project, keep Feeney in mind as a LEED-friendly supplier.
"Feeney contributes points to the various LEED version 4 rating systems in the Materials and Resources credit category, by disclosing product ingredients to demonstrate raw material optimization," according to Adsit.
"We work hard to be thoughtful stewards of our natural resources," notes Adsit. "Improving our ability to deliver greener building solutions is a continuous, relentless priority."
To learn more, read the Feeney Environmental Statement and Feeney LEED info.
Company: Feeney, Inc
Product: CableRail Stainless Steel Standard Assemblies
Source: http://media.feeneyinc.com/blog/the-color-that-became-a-building-philosophy
Tags: Design | LEED Certification | Metal | Railing System | Sustainability
---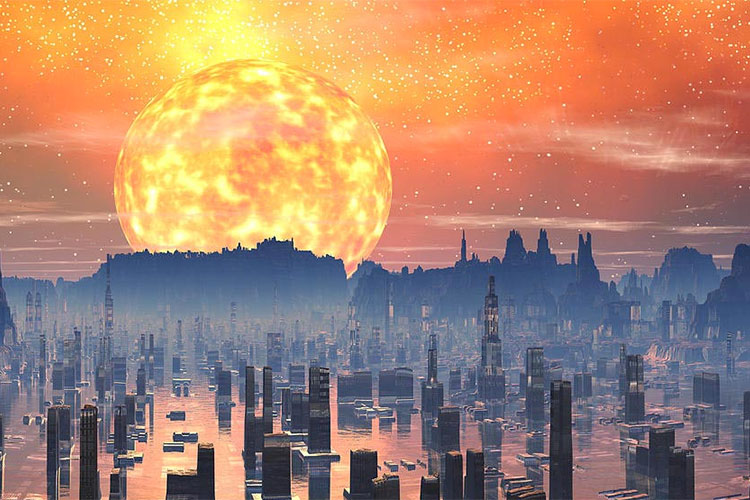 With the effects of global warming upon us, architects and building owners need to mitigate its impact in the built environment. This is not a new idea, but the necessity for design that protects against volatile weather, rising temperatures, and insect-borne diseases is now more pressing than ever. Last year, the U.S. Army Corps of Engineers created the Building Resilience website, a tool that connects community planners, home builders, architects, and engineers with building science, climate data, and community resilience resources. This is crucial information designers and building owners need if they want to confront the effects of climate change.
As daylighting manufacturers, we have some thoughts on how daylighting can be used to reduce the impact of global warming on the built environment.
Daylighting that can withstand Severe Weather
Because of global warming, weather events like hurricanes, flooding, and tornadoes have become more powerful (Superstorm Sandy in 2012 and Supertyphoon Haiyan in 2013 have both been partly attributed to global warming).
But just because nature has become more dangerous doesn't mean we should barricade behind steel walls. Instead, robust daylighting systems should be utilized. By incorporating daylighting into architecture, occupants remain connected to the outdoors, and the structure reduces its carbon footprint.
It's important to use daylighting systems and materials that possess excellent water weepage and can withstand high wind loads. These attributes will be determined by the system's glazing and framing.
Polycarbonate is one of the best forms of glazing when it comes to strength and durability, and it by far outperforms glass (polycarbonate is 250 times more resistant to impact than safety glass), as well as fiberglass reinforced panels, or FRP (polycarbonate is 4 times more resistant to impact than FRP).
Additionally, the system framing must have elements that facilitate excellent water control and leak resistance, like properly placed weep holes and water stops. An example of a highly resilient daylighting system is EXTECH's LIGHTWALL 3100LSpolycarbonate wall system, which meets ASTM E-1886 and E-1996 tests for hurricane impact / windborne debris at clear spans of 8 feet. It is an excellent daylighting product in the face of torrential weather.
Protection Against Intense Heat
With global warming comes rising temperatures. Data has uncovered a long-term warming trend, and at this rate, temperatures could rise as much as 8 degrees by the end of this century (though that does not sound like much, a global increase in this scale would have dire outcomes). Even if carbon emissions worldwide are drastically cut, escalating temperatures are a factor humans must face.
With warmer temperatures comes the threat of increased solar heat gain (the temperature inside a structure that results from solar radiation). If precautions are not taken when choosing the daylighting glazing, people will either bake in a convection oven, or the cooling system will have to run at non-stop full capacity – neither choice is ideal. To protect against these scenarios, glazing that blocks infrared rays is recommended for daylighting structures. Polycarbonate is one of the few materials that can effectively and economically block infrared radiation.
Though humans can take many actions to reduce global warming, its effects will never be completely vanquished; mitigation is the only way forward. By accepting this, architects and building owners can be a leading force in climate change preparation – if they have the foresight now to build structures that deal with global warming's impact, humankind will be safer, happier, and quite possibly, live to one day stop climate change for good.
Company: EXTECH/Exterior Technologies, Inc.
Product: Translucent Walls
Source: https://extechinc.com/global-warming-how-architects-building-owners-can-prepare-the-world/
Tags: Energy | Exterior Design | Lighting | Louvers | Sustainability | Wall Panels
---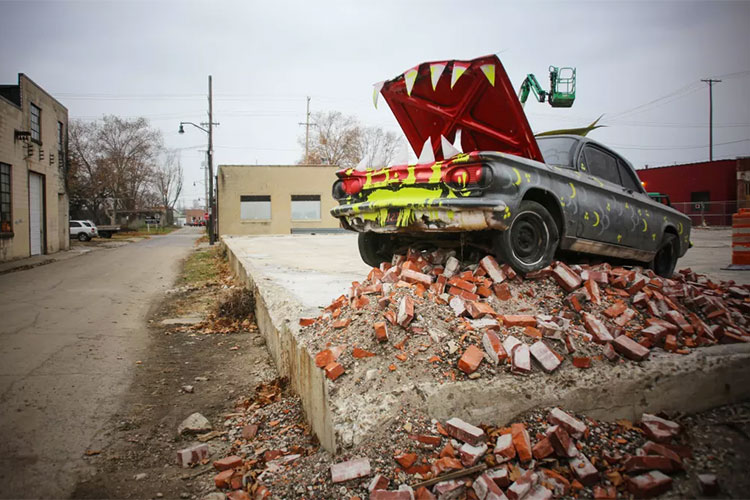 A recently demolished building in the franklinton neighborhood of Columbus, Ohio, an area that will be targeted by the strategic council's Capnua initiative. Image credits: Paul Sableman.
How AIA's Strategic Council is encouraging communities to embrace sustainable urbanization
The United Nations convened its Conference on Housing and Sustainable Urban Development, referred to as UN Habitat III, in Quito, Ecuador in October of 2016. This is the third international Habitat conference, with each meeting occurring 20 years apart. The conference was attended by 30,000 representatives from 167 countries, and AIA sent a delegation that included 2016 AIA President Russell A. Davidson, FAIA, along with staff and members.
The outcome of the Quito conference is a document titled the New Urban Agenda. The agenda is focused towards renewing the global commitment to sustainable urbanization, building on the initiatives adopted at Habitat II held in Istanbul, Turkey in 1996. When Habitat I convened in 1976, the percentage of the world's population living in cities was 37.9; it was 45.1 percent at the convening of Habitat II in 1996; and this past year in Quito, it was 54.5 percent. By 2050, that number is projected to increase to 75 percent. It is estimated that two billion people will require housing by 2030 alone. These numbers demonstrate the massive migration of people to cities across the globe, driven by matters such as employment opportunities, war, political strife, and climatic changes. Ultimately, the impacts on urban and rural environments will be monumental.
The New Urban Agenda is not a checklist but a modifiable guide that can be tailored to the specific needs and issues unique to any community. It is wholly scalar and simultaneously applicable to mega cities, peri-urban, and rural communities. It serves to assist local and regional governments in addressing challenges such as creating sustainable development designed with sensitivity to urban ecology and resiliency, with a keen eye towards optimizing infrastructure and transportation.
It also speaks to inclusiveness of underrepresented populations in the process of urban development, addressing their "rights to the city" and aligning with issues of housing tenure, health, women's and children's rights, diversity, access to services, urban space and cultural amenities, to name but a few. In addition to being inclusive of the spectrum of the populace that will be inhabiting these places, the planning process must also represent diverse constituencies, including economists, financiers, planners, governmental organizations, and architects.
The New Urban Agenda, simply stated, is a call to action for all architects.
Architects, with our "design thinking" expertise and desire to engage in visionary work, are uniquely qualified to be at the forefront of engaging the New Urban Agenda within our communities. It will act as a natural extension of the skills architects already possess within our existing expertise in areas like sustainability and resiliency. We need to be at the forefront of this effort in our communities; it is a moral imperative for the human populace and the planet. The New Urban Agenda, simply stated, is a call to action for all architects.
AIA plots a course forward
As such, AIA's Strategic Council is working to prototype an engagement initiative called Communication, Advocacy, and Policy of the New Urban Agenda (CAPNUA), which will heighten interest in the New Urban Agenda, educate communities to the potential associated with planning, and strengthen future design outcomes across the country. This initiative will be administered in geographically and culturally diverse locations of various scales. Plans are currently in place in Columbus, Ohio; Austin, Texas; Omaha, Nebraska; Honolulu; Indianapolis; and Miami. Each city will bring a unique, localized structure to their engagement project. In Indianapolis and Austin, the program will be linked to regional architectural conferences. In other communities, the engagement will be jointly supported by organizations representing landscape architects and planners and focused on compelling local issues.
In Columbus, the CAPNUA initiative will focus on Franklinton, a historically neglected neighborhood within the urban core of this growing metropolis. Columbus CAPNUA organizers seek to expand the Franklinton dialogue and planning efforts to factor in principles of the New Urban Agenda. Event planners will include architects, landscape architects, and planners.
The CAPNUA initiative will test engagement in a variety of settings in 2017 and seek to extract lessons in preparation for a larger, more robust engagement program role in 2018. How can AIA members help? We are currently looking for small- (50,000 or less) and medium- (around 100,000) scale communities in the northeast or western United States to participate in this endeavor. If your community fits this description and you are interested in participating, please contact Chere LeClair or Tim Hawk.
Tim Hawk, FAIA, is president at WSA Studio. Chere LeClair, AIA, is president at LeClair Architects and an associate professor at Montana State University's School of Architecture. Derek Washam is manager of international relations at AIA.
Company: AIA (American Institute of Architects)
Of: By Tim Hawk, FAIA; Chere LeClair, AIA; and Derek Washam
Source: https://www.aia.org/articles/87826-what-the-new-urban-agenda-means-for-architec
Tags: Architecture | Design | Sustainability
---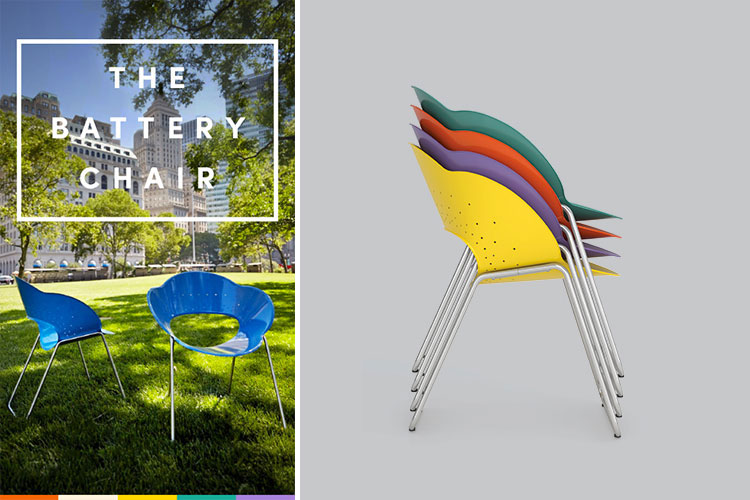 The Battery Oval
In June 2016, the Battery Conservancy of New York City proudly cut the ribbon and opened the Battery Oval; the revitalized grand lawn in The Battery (formerly Battery Park), one of Manhattan's most historic public spaces. The Oval's new signature outdoor furniture was also debuted. Formed into the shape of a blooming flower, hundreds of blue Battery Chairs filled the Oval that day.
Manufactured by Maglin Site Furniture, the Battery Chair was unlike typical New York City outdoor seating. These chairs were moveable, stackable and suitable for people of all abilities. Visitors to the park could easily pick up and reposition a chair anywhere within the Oval. The moveable chairs gave park visitors a chance to create their own outdoor space within the country's most heavily populated city.
The Past
For hundreds of years The Battery played an important role in the growth of New York City, and the United States. In fact, The Battery was the country's first immigrant receiving center, pre-dating Ellis Island and the Statue of Liberty. But over the years the historic space had fallen into disrepair. "(T)his park was not a destination; it was the bleak area you hurried through to get to the ferries going to the Statue of Liberty and Ellis and Staten Islands.1 In 1994 things started to change for The Battery. Warrie Price, a veteran of New York City's government and community planning boards, founded The Battery Conservancy; a not–for–profit educational corporation to rebuild and revitalize The Battery.
Price stated, "I was drawn to The Battery because it is the first or second impression people around the world have of New York City. This is a birthplace park—the park land most continuously in use in all of the five boroughs.2 The Battery was on its way to becoming a newly invigorated and sustainable public space in Lower Manhattan.
The Battery Contest
Four years before the Battery Chair's debut, the Battery Conservancy put a call out to designers across the Americas to "Draw Up A Chair." The contest challenged them to "Design an iconic moveable outdoor seat for The Battery." The chair was going to be a major element in The Battery's journey to becoming an outdoor space where "Downtown will come to rest, eat, and enjoy live performances.3 Nearly 700 submissions to the "Draw Up A Chair" challenge arrived from across North and South America. The entries were narrowed down to 50, and then to 5. The public was invited to a "See, Sit and Select" exhibit within the park, to give feedback on the five chair prototypes. Finally, an internationally renowned jury, with members from the Museum of Modern Art and the New York Times, chose Canadian designer Andrew Jones' submission.
Jones' design for the iconic chair was inspired by "imagining how a field of chairs could poetically respond to the lawn of the Battery Oval, a major meeting ground for Lower Manhattan. Using a single chair in repetition, the view across the Battery Oval is transformed by the whimsical suggestion of sun-loving flowers.4 About the chair, Warrie Price proudly stated, "The Battery Conservancy is known for design excellence. This award-winning design helps us build the brand for The Battery."
Maglin's Role
With the design in place, Maglin Site Furniture was brought on to manufacture the Battery's iconic blue chairs. Price stated, "We have Maglin as the manufacturer, known for extraordinarily well designed and well-constructed furniture."
Working closely with Jones, the Maglin team efficiently streamlined the design for production purposes. "At first glance the chair may appear as more of an ornamental piece," said Aaron Dawson, Maglin's Director of Manufacturing, "but the slightly reclined seat and single piece stainless steel frame form an extremely comfortable and durable product." A total of 300 chairs were built in three shades of blue exclusive to The Battery.
Once the Oval chairs were complete, Maglin Site Furniture moved forward as the sole manufacturer and distributor of the Battery Chair. Keeping the signature shades of blue exclusive to the park, Maglin introduced their Battery line in a variety of colors: orange, green, purple, yellow and ivory. The line was expanded to include Café and Lounge Tables that kept with Jones' design properties. Upon introducing the collection, Ian McAskile, president and founder of Maglin Site Furniture, stated, "The Battery Collection is not only a new line for Maglin, it is a fresh new approach to thinking about the ways that color and ornamental aspects can bring a touch of playfulness to the whole (site furniture) industry."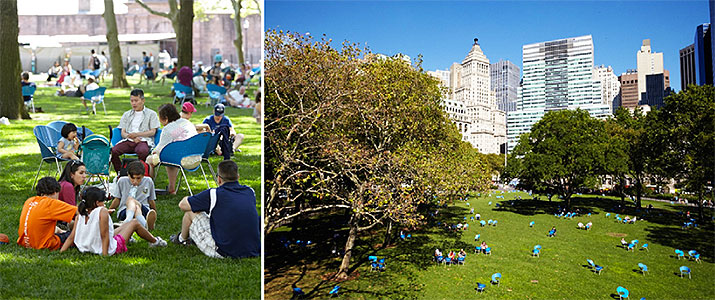 The Future
Since its launch, the story of the Battery Collection has captured the attention of the design community. About the journey from concept to completion, Warrie Price says, "For Maglin and ourselves the focus was on bringing great design to the public, to use freely and openly in a public park – and the fact that now it is offered to others is thrilling. It belongs in terraces, balconies, backyards, front yards, (and) sunrooms.5
By satisfying the needs of New York City's Battery Oval, the Battery Chair proved its worth in any public environment. From campuses to courtyards, the clean design and solid construction of the Battery Collection lends itself to an endless variety of styles and spaces.
For more information on The Battery Conservancy and Battery Oval, visit http://www.thebattery.org/
For more information on Maglin's Battery Collection visit http://www.maglin.com/products/battery/batterycollection.html
1 https://womensvoicesforchange.org/warrie-price-a-woman-whos-made-a-difference.htm
2 https://womensvoicesforchange.org/warrie-price-a-woman-whos-made-a-difference.htm
3 http://www.thebattery.org/wp-content/uploads/2014/11/TBC-RFEI-Battery-Chair.pdf
4 http://www.thebattery.org/about-fleurt/
5 Maglin Site Furniture. (2016). Introducing The Battery Collection: Maglin Site Furniture launches exclusive competition-winning design from famed Manhattan park [Press Release]
Company: Maglin Site Furniture
Product: The Battery Collection
Source: http://www.maglin.com/products/battery/batterycollection.html
Tags: Color | Design | Furniture | Sustainability
---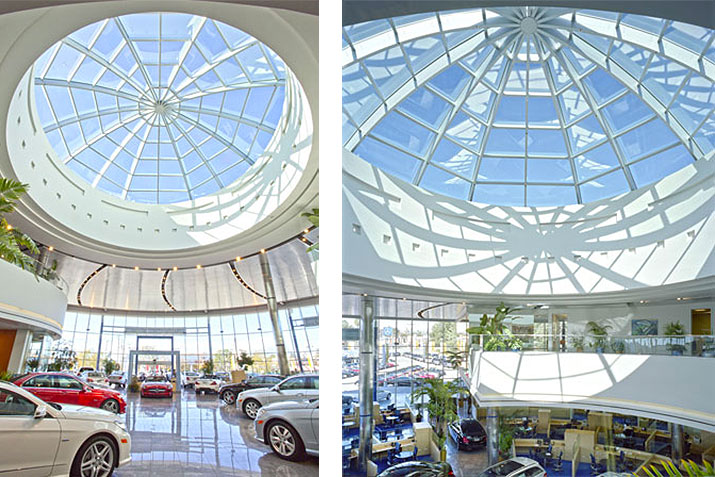 Photos by: William Lemke, courtesy of Super Sky Products Enterprises, LLC
Commercial Architecture magazine's June Portfolio section spotlights California's Keyes Automotive's European Mercedes-Benz Dealership featuring a 41-foot-diameter, custom, multi-slope dome skylight from Super Sky Products. The skylight's durable finishes were applied by Linetec to the aluminum framing members. The finish's resilient attributes combine with daylight, views and high thermal performance glass to support the dealership's LEED® Silver certification.
Designed by Dennis J. Flynn Architects, the skylight's fluid, circular design respects the European Bauhaus style of design highlighted within the dealership's 235,000-square-foot facility. "As a highly visible property on a major auto row that is back-dropped with residences, the owners' sensitivity to the community and commitment to state-of-the-art design solution is displayed in this space," described Flynn. "Crisp finishes complement a work environment that's equal parts private office and open plan, reflecting the Mercedes-Benz brand in all aspects."
Contributing to the project's sustainable, high-end design, Linetec applied a 70 percent PVDF resin-based, two-coat, liquid, mica coating to the skylight's aluminum framing members. The resulting appearance emphasizes a metallic aesthetic befitting the luxury vehicles sold and serviced at Keyes European.
These painted coatings applied by Linetec meet the American Architectural Manufacturers Association's (AAMA) 2605 industry standards, as well as minimize buildings' maintenance costs and maximize long lifecycles. These high-performance architectural coatings exhibit outstanding resistance to humidity, color change, chalk, gloss loss and chemicals. They will ensure a long-lasting, durable finish. No other coating system can withstand the rigors of nature and time like these."
As a recognized, innovative and environmentally responsible finisher, Linetec captures the liquid paints' volatile organic compounds (VOCs) content using a 100 percent air capture system and safely destroys the VOCs with a regenerative thermal oxidizer.
Enhancing thermal performance for Keyes European, the skylight's 1,650 square feet glass area is composed of insulated glass units with Solarban® 80 low-e coating. The low-e coating mitigates unwanted solar heat gain that could make potential car buyers uncomfortably warm and minimizes fading caused by damaging ultraviolet radiation.
Click here to learn more about Linetec's durable painted finishing.
Company: Linetec
Source: https://linetec-blog.com/2017/07/03/in-the-news-keyes-dealership/
Tags: Aluminum | Finishes | Glass | Roof | Sustainability | Windows
---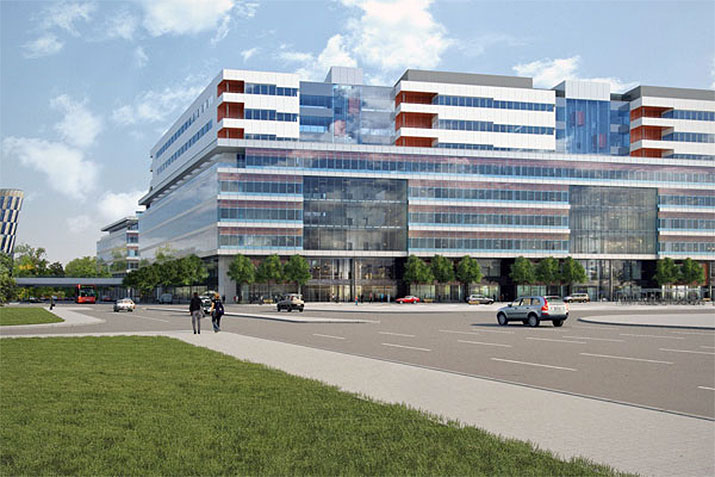 The New Karolinska Solna University Hospital (NKS) in Stockholm has been hitting the headlines for over a decade. The original Karolinska University Hospital was founded in 1930. Since the 1930's the hospital campus has expanded to cover a vast area with an estate of over 40 separate buildings.
In 2005 Stockholm County Council, who are responsible for delivering healthcare in the city, ran a design competition inviting "visionary thinking, modern design and unconventional ideas to form the basis of the creation of the new hospital". The competition was won by White Architects from Sweden with their 'Forum Karolinska'.
In 2008 Stockholm County Council took the decision to go ahead with the new hospital. They were the first Swedish healthcare project to adopt the Public Private Partnership (PPP) framework to finance, build and manage a hospital. In 2010 the PPP agreement was made between the County Council and the project company - Swedish Hospital Partner AB, a consortium of Skanska and their investment partner UK based Innisfree.
Skanska employed White Architects and Tengbom Architects to execute the design and coordinate the construction of the £1.5 billion facility.
A significant aim of the project was to create a purpose built environment with a strong focus on energy efficiency and sustainability. Phase One of the building has attained LEED Gold and the Swedish system "Miljöbyggnad" Gold certification
The ethos is to put the patient first and the list of facilities is impressive. It has 730 in-patient beds, 100 rooms for day care, 36 operating theatres, 168 out-patient clinic rooms and 8 radiation treatment rooms.
Howe Green Ltd supplied a number of HSE75 Hinged Aluminium Floor Access Covers for the hospital through their Swedish distributor, Elkington AB. From their base in Stockholm, Elkington have been distributing Howe Green access covers for projects across Sweden since 1999.
The gas assisted hinged HSE75 hatches provide easy and safe access to the underground power stations and escape routes located underneath the hospital. They have been installed in the various areas of the hospital and infilled with both concrete and tiled flooring to provide a seamless, flush floor finish.
The hinged access hatches are ideal for environments where regular access to concealed services is required for maintenance purposes and in public places where health and safety is crucial.
The HSE75 can be infilled with ceramic tiles, marble, terrazzo, concrete, resin, wood or parquet floors and is suitable for pedestrian and vehicle traffic up to a 5 tonne pneumatic tyre wheel load. Supplied as a single cover or a configuration of duct covers in standard sizes from stock or precision made to order.
Options include a top and underside release latch, for added security and safety, a double seal and fire rating up to 3 hours BS 476: Part 20: 1987.
The Howe Green range of access covers are tried and tested in a healthcare setting. They have been specified in hospitals around the world including Southmead Hospital in Bristol, Queen's Hospital in Romford, Great Ormond Street Hospital and the Lennox Addington Hospital in Ontario, Canada.
Company: Howe Green US
Product: Hinged Access Cover
Source: https://www.howegreen.com/access-covers/projects/nks-hospital-stockholm.php
Tags: Access Covers | Building | Design | Floor | Sustainability
---
The University of Iowa (UI) School of Music in Iowa City celebrated its 110th anniversary with a new home – Voxman Music Building. Designed for durability, sustainability and the highest acoustic performance, the 190,000-square-foot project features energy-efficient window and curtainwall systems, finished and thermally improved by Linetec.
The $152 million project is targeting LEED® for New Construction Gold certification. Wausau Window and Wall Systems worked closely with glazing contractor Architectural Wall Systems (AWS) to achieve the design intent set by LMN Architects and Neumann Monson Architects. Mortenson Construction served as the construction manager agent for UI.
"We conceived the project as a means of extending the public space inside the building, and we do that with glass," says LMN partner and project designer, Stephen Van Dyck, AIA, LEED AP. "The window systems play a huge part in creating the visual transparency between the public and the performers, and the connection from within and without of this educational and cultural building."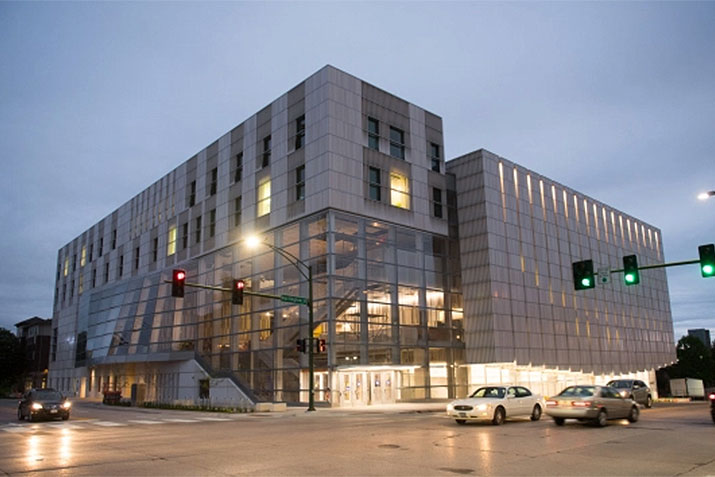 A Highly Anticipated New Home for the UI Music Department
Linetec Products Support Project Sustainability Goals
Linetec's thermal improvement services and anodize finishing are key contributors to the window systems' energy-efficiency, visual appeal and durability. The anodizing process produces a uniform, hard and protective finish. Linetec's anodize finishes meet the requirements of the American Architectural Manufacturers Association's stringent Class I specification standard, AAMA 611-14. The anodized aluminum resists the ravages of time, temperature, corrosion, humidity and warping, for a long product life cycle. Anodized aluminum may be specified with recycled content and is 100 percent recyclable.
In addition to durable finishes and recyclable materials, Linetec helped support the project's sustainable and LEED goals for thermal comfort and energy performance by providing thermal barriers for Wausau's window and curtainwall systems. Both Linetec and Wausau also are considered local suppliers, as they are located within a 500-mile radius of the UI campus.
Unique Window Systems Supply Natural Light and Visual Appeal
Wausau's systems also contribute to recognized benefits of daylight and views, and are a main visual feature of the building. The glass exterior begins beneath the concert hall, wraps around and up to the main entrance and continues over the recital hall, reaching heights of 50 feet.
One of the building's most unique features is the shingled curtainwall – called the "warped wall" – overlaying the recital hall, in which construction of glass and metal units are layered to create an undulating slope that appears to gently pour from the building's roof to its base. On the interior, a central atrium funnels natural light into the building.
Large-scale window systems are rare in musical spaces due to the acoustic challenges they can present. By choosing a low-iron glass with a low roller wave and horizontal orientation, acoustic and visual distortion was minimized. Large panes of glass diffuse sound at different rates on the shingled wall, and tall and narrow windows minimize vibration throughout.
Prioritizing Acoustic Isolation and Performance
"The acoustic requirements for this project are of utmost relevance," emphasizes Chucho Loria, AIA, with Neumann Monson Architects. "Wausau's team looked at the various conditions in the project. They developed details, during the shop drawing review process, to ensure that their system would meet the design intent of the project. It was apparent in those details that Wausau was taking efforts to make their system interact with the rest of the building."
"We prefer an integrated, whole building approach – especially with complicated engineered projects," says Doug Laffin, Wausau's architectural sales representative serving Iowa. "Our systems may be just one part of that whole, but everything must work together to successfully deliver the architectural vision and critical functionality."
"Almost all of the job was acoustically sensitive," says Lee Ebel, AWS project manager. "Wausau produced and had tested units that verified the system would meet the necessary STC ratings at the corresponding frequency."
Sound Transmission Class (STC) is a single-number rating system for acoustical performance, where a higher number indicates better performance. The Voxman Music Building's design specified an STC 55, which is suitable for blocking loud noises including musical instruments.
"Almost every room is acoustically isolated," explains Van Dyck. "This means that instead of the usual one wall, one floor between each room, there are two or three walls and two floors to separate most of the rooms and keep sound from transferring between them. We're also trying to keep the sound from passing from the outside into the building's interior. The windows are a big part of that equation."
Adding glazing mass, increasing air space and improving damping by the addition of a laminated interlayer achieve improvement in acoustical performance. Of course, maintaining an airtight assembly to reduce "flanking" noise is critical, especially at high frequency. All three approaches were used to meet the acoustic requirements of the Voxman Music Building.
"The goal was to have virtually no outside noise in the recital hall," says Randy Arneson, Wausau's senior estimator on the project. "There's 5-inch airspace between the inside and outside glass lites of our curtainwall to decrease sound transmittance. For the majority, we used Viracon's 1-5/16-inch OptiWhite laminated, insulating, specialty glass."
In the concert hall, the glass was glazed into the window system's interior-facing plane with a 3-inch airspace. On the exterior-facing plane, electrochromic SageGlass was installed. Electrochromic (EC) glass darkens or clears when a low-voltage DC current is applied. Wausau incorporated the necessary wiring paths to connect the windows' EC glass with a user-controlled switch. This enhanced functionality allows the faculty and students to reversibly control the sunlight entering their space and to maintain their outside view without shades or blinds.
"Wausau provided these elegant, tall, thin windows with EC glass. They're really cool. When the windows are turned 'on' and tinted, they produce this really nice, diffused light," says Van Dyck.
"They're very narrow – some are only 1 foot wide, but 40 feet tall. The smaller span actually helps with the acoustics. The stiffer it is, the less it wants to vibrate."
Ensuring Quality, Durability and Sustainability
Beyond acoustic performance, Ebel says, "The curtainwall system went through a rigorous performance mock-up test at a certified laboratory in Miami, Florida. The testing included air, water, dynamic, structural, seismic racking and thermal cycling."
Ebel adds, "The typical LEED requirements applied to this project." The window systems' high performance features contribute to quiet, comfortable spaces that promote concentration and creativity, as well as a whole building approach to energy-efficiency, daylighting and outside views.
AWS installed Wausau's SuperWall™ curtainwall, custom-engineered fixed and operable windows, and nearly 23,000 square feet of INvision™ 1050i-UW Series unitized curtainwall. Glazing and sealing in a factory-controlled environmental ensures that conditions are maintained to achieve the intended performance required for the project. Shipped one lite wide by one floor tall, the interlocking, pre-assembled units make the system easy to install on the job site. This saves labor, time and associated costs.
The curtainwall and window systems' installation was finished on time and on budget. "It took a lot of coordination between all parties, and modeling of the curtainwall and structure to ensure that everything would fit correctly in the field once installation started," Ebel says.
"Aesthetically, the project looks great," concluded Van Dyck. "But, let's face it, for this project, it wouldn't matter how great it looks if doesn't sound great, too. The window systems are a critical part of that success."
UI's new music facility replaces its former location, which was damaged by the 2008 flood. Programming and schematic design began in 2011. In 2014, the new building's essential structure was completed and the building envelope could begin taking shape.
The Voxman Music Building was substantially completed in July 2016 and welcomed its 450 music students and 60 full-time faculty on Aug. 22, 2016. The grand opening and ribbon-cutting event was held on Oct. 21, 2016. The 324-room space includes classrooms, teaching studios, a library, offices, recital spaces, a rooftop terrace, a 700-seat concert hall and a 200-seat recital hall.
David Gier is the first to serve as the UI School of Music's director in the Voxman Music Building. The facility's name honors one of his predecessors, the late clarinetist Himie Voxman who served as the school's director from 1954-1980. Gier and the School of Music have eagerly awaited their new home.
Company: Linetec
Source: https://linetec-blog.com/2017/05/16/designed-for-resiliency-and-acoustic-performance-university-of-iowa-voxman-music-building-features-linetecs-anodize-finishing-and-thermal-improvement-services/
Tags: Acoustics | Aluminum | Energy | Glass | Sustainability | Wall Panels | Windows
---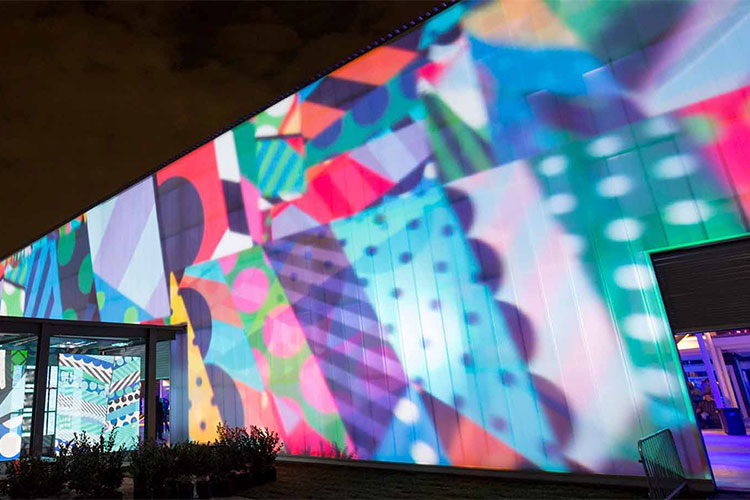 EXTECH provided anti-reflective (AR) polycarbonate glazing and its LIGHTWALL 3440 system for this entertainment venue. AR polycarbonate enabled lighting effects to be projected onto the translucent facade
Three new polycarbonate glazing options are available for the LIGHTWALL 3440® interlocking translucent wall panel system from Exterior Technologies, Inc. (EXTECH): Anti-Reflective, Infrared-Blocking and Anti-Graffiti.
Anti-Reflective – When high-efficient light transmission is paramount for a building's design, EXTECH offers anti-reflective polycarbonate glazing. Systems using this UV matte option facilitate a better distribution of light throughout a building's interior, while reducing reflections and glare. This option is also ideal for entertainment venues that want to project high-resolution images and lighting effects onto a translucent backdrop.
Infrared (IR) blocking – When high light levels and solar control are equally important, EXTECH provides polycarbonate glazing with an external surface that filters out unwanted IR and UV waves. EXTECH systems use this material to reduce solar heat gain, ensure comfortable interior temperatures, protect interior finishes from accelerated fading, reduce demand on the HVAC system and save on electric lighting costs.
Anti-Graffiti – When a project is in a high-traffic area and is at risk of damage or vandalism, EXTECH can enhance daylighting systems with anti-graffiti glazing that resists vandalism and scratching. Anti-graffiti glazing is also more resistant to natural weathering and typical chemicals, and is easier to clean.
In addition to these functional glazing choices, EXTECH's LIGHTWALL systems contribute to commercial buildings' aesthetic, performance, and sustainability goals. Lightweight and easy to install, the LIGHTWALL system helps construction teams facing condensed schedules, and facility managers seeking low-maintenance longevity.
"As our most popular product, the LIGHTWALL 3440 offers beauty, durability and economy with vertical panels that can extend up to 54 feet long and eliminate leak-prone horizontal joints," says EXTECH Director of Product Application and Development Kevin Smith, R.A. "Our LIGHTWALL system does not require framing members within the field of the glazing, which allows for a clean, modern architectural aesthetic."
In addition to enhancing a building's appearance, the LIGHTWALL 3440 meets demanding performance specifications, including high wind loads, impact resistance, fire rating, air infiltration, water penetration, thermal (0.25 U-Factor) and structural performance – the LIGHTWALL 3440 possesses some of the highest performance numbers in the industry due to its advanced framing. These attributes support energy efficiency and sustainability goals, such as the U.S. Green Building Council's LEED® rating systems.
Smith adds, "The diffusing characteristics of the cellular polycarbonate reduces dependence on electric lighting and reduces solar heat gain into the building envelope, as well as reduces light pollution emanating from the building. Because it is a dry-glazed system, VOC emissions also are reduced."
LIGHTWALL 3440 also uses highly insulating, 100 percent recyclable, 40 mm structural cellular polycarbonate and 38.95 percent recycled aluminum framing manufactured in Pittsburgh.
To order a sample and learn about EXTECH's LIGHTWALL 3440, please visit the product web page. For more information on EXTECH's products and services, please call 800-500-8012 or email info@extechinc.com.
Exterior Technologies, Inc. (EXTECH) is an award-winning manufacturer and designer of wall, window, skylight, canopy and custom façade systems. The company delivers solutions for a variety of industries and applications, and is committed to collaboration, innovation, and exceptional engineering.
Company: EXTECH/Exterior Technologies, Inc.
Product: Translucent Walls
Source: https://extechinc.com/lightwall-3440-polycarbonate-wall-panels/
Tags: Building | Design | Lighting | Sustainability | Wall Panels
---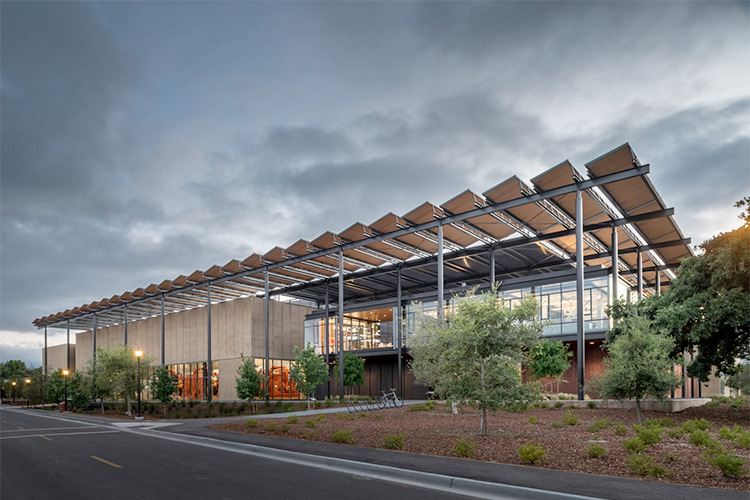 The Stanford University Central Energy Facility replaces a 100 percent fossil-fuel-based cogeneration plant with primarily electrical power—65 percent of which comes from renewable sources. Image credits: Matthew Anderson
AIA and the Committee on the Environment (COTE) announce this year's recipients of the COTE Top Ten Awards, the industry's premier program celebrating sustainable design excellence. Now in their 21st year, the Top Ten Awards highlight projects that exemplify the integration of great design and great performance. Submissions are required to demonstrate how the project aligns with COTE's rigorous criteria for social, economic, and ecological value.
Since 2014, past Top Ten recipients have been invited to submit post-occupancy data and narratives to be recognized with a single COTE Top Ten Plus award each year. In 2017, these separate tracks are merged: The 'Plus' designation now denotes projects with exemplary performance data and post occupancy lessons.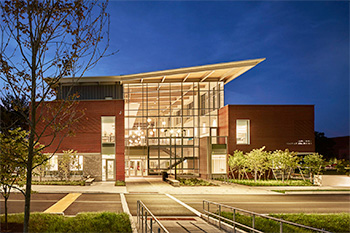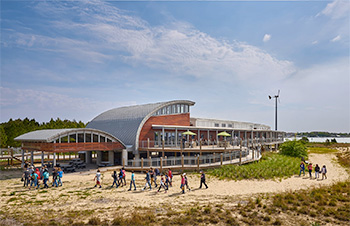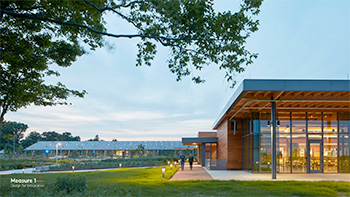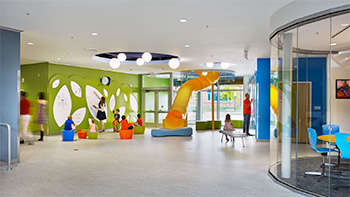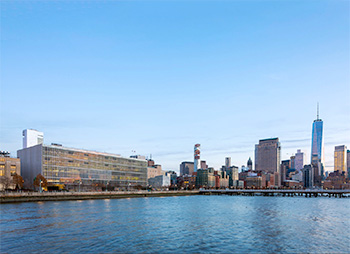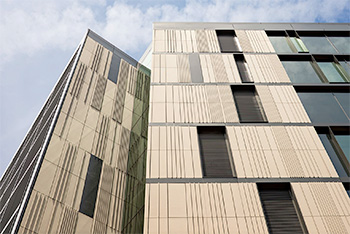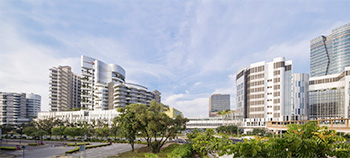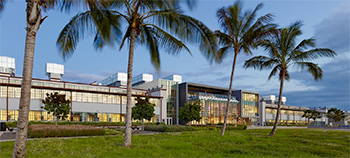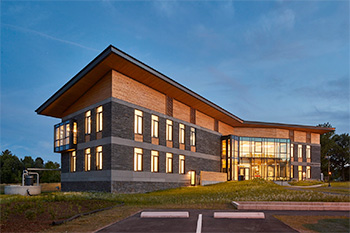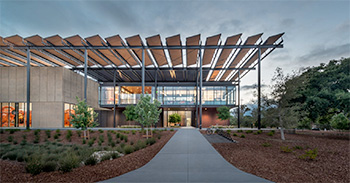 Company: AIA (American Institute of Architects)
Source: https://www.aia.org/resources/73026-2017-cote-top-ten
Tags: Design | Energy | Sustainability
---

A recent ASID study identified health and well-being and sustainability as two macro-trends defining the industry. To support your evolving design practice in these areas, Sherwin-Williams is not only developing innovative coatings that meet the most stringent environmental guidelines, we're also creating tools and joint partnerships that make it easier for you to meet program guidelines and provide transparency for your projects.
Here are the latest tools and partnerships that will help you meet green guidelines:
What does it do? Sherwin-Williams announced that it is the first paint manufacturer to be certified in the new Product Lens™ program from UL. The Product Lens report is an ingredient disclosure tool that provides hazard information across the entire lifecycle of a product and also considers risk and exposure, fulfilling industry demands for transparency.
How will it help your practice? The Product Lens program was designed specifically with LEED v4 in mind and targets the Material Ingredients disclosure credit within the Building Product Design and Optimization grouping. Product Lens reports are third-party certified by UL Environment, which means that the materials have been independently evaluated for transparency and disclosure — making it easier for you to understand if the products you spec are meeting green guidelines. Sherwin-Williams ProMar 200 Zero VOC Interior Latex Paint is the first product to be certified by the program.
"By partnering with UL on its innovative Product Lens program, we can provide credible information to architects, specifiers and other purchasers in a format that is easy to understand and act upon," said Steve Revnew, senior vice president of product innovation at Sherwin-Williams. "We felt strongly about partnering with UL on Product Lens because its approach is both rigorous and relevant to the coatings industry."
Need to satisfy LEED v4 requirements?
Check out these products.
What does it do? These specification guides — which include Sherwin-Williams products — are written in CSI format and can be included in their entirety, or selectively, in a master specification for a variety of credit cateogries.
How will it help your practice? Meeting criteria for credit categories can be a complicated process, but these specification guides help make it easier. Simply go to the Green Program Specification page to download the PDF that matches the criteria your project needs to meet. Also visit the Green Program and VOC Regulation Tools page (see below for more information on this page) to learn about exceeding the toughest VOC regulations. As with any standard specifications, they should be reviewed by the specifier and edited to suit the particular needs of a given project and its respective location.
What does it do? We've found innovative ways to make coatings that are compliant in the most stringent regulatory requirements, and a wide selection of our products meet VOC guidelines for industrial and architectural applications. These green program guides and VOC regulation tools, including our popular Green Programs and VOC Coatings Reference Guide, help you navigate through a number of "green specification" possibilities.
How will it help your practice? Whether you're specifying wood finishing, painting, a waterproofing system, interior and exterior finishes, or stains, these tools and guides will help you find the products you need quickly and accurately, while meeting and exceeding standards, as well as the toughest VOC regulations.
Did you know?
We offer an array of other tools and resources, including:
Guide specifications. If you need "off the shelf" guide specifications created for a particular type of commercial facility, simply go to swspecs.com.
Hands-on consulting. We have more architectural account representatives than any other North American paint manufacturer — all trained to help you spec. You can locate your rep at sherwin-williams.com/architects-specifiers-designers or email specifications@sherwin.com. Our reps offer product consultations, specification reviews, compliance and standards questions, and competitive crossovers.
Color specification. Our color specification tools, services and Sherwin-Williams ColorSnap® — our integrated color selection system — are available at swcolor.com.
Company: The Sherwin-Williams Company
Of: Molly Burke
Source: https://www.sherwin-williams.com/architects-specifiers-designers/inspiration/styles-and-techniques/sw-art-stir-green-guidelines
Tags: Color | Finishes | Interior Design | Sustainability
---
Moorgate Exchange is one of the first buildings in the UK to achieve both BREEAM Excellent and LEED Platinum ratings, and is an excellent example of how Xypex Admix can be used to simplify the production process of waterproofing and concreting.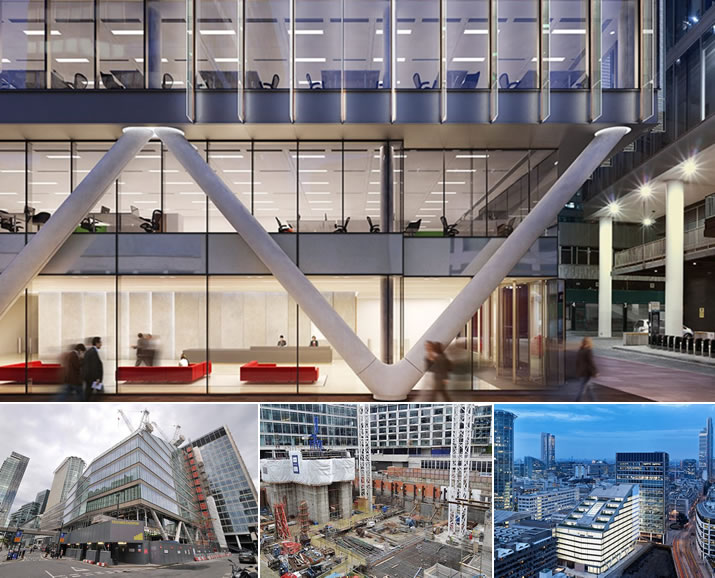 Moorgate Exchange is a striking 344,000 sq ft building in the City of London. This commercial development has a green roof, strategic views of St. Paul's and a two-story basement. Designed for large City occupiers, the building creates open plan floor plates and six green-terraced stepped back roof garden tiers. Floating on V columns, it is designed to cantilever the floors over the Crossrail tunnel beneath. Materials with sustainable properties, such as recycled aggregates in the concrete, were used in the construction process. Recycled rainwater and grey water storage systems have been installed to reduce the amount of potable water used in the toilets and the irrigation system for the 'living' walls on the terraces. The building is one of the first in the UK to achieve both BREEAM Excellent and LEED Platinum ratings.
This Skanska project is an excellent example of how Xypex Admix can be used to simplify the production process of waterproofing and concreting—both to be achieved simultaneously. One of the key influences for the decision making process of adopting the Xypex system as the waterproofing strategy was the total cost saving that was achieved through the whole package. Site attendance and quality assurance procedures were implemented to ensure a trouble-free installation of the waterproofing. The entire basement is cast utilising Xypex Admix and Xypex Concentrate for sealing the joints.
Company: Xypex Chemical Corporation
Source: http://xypex.com/projects/project-search/Detail?projectid=6303
Tags: Building | Concrete | Sustainability | Waterproofing
---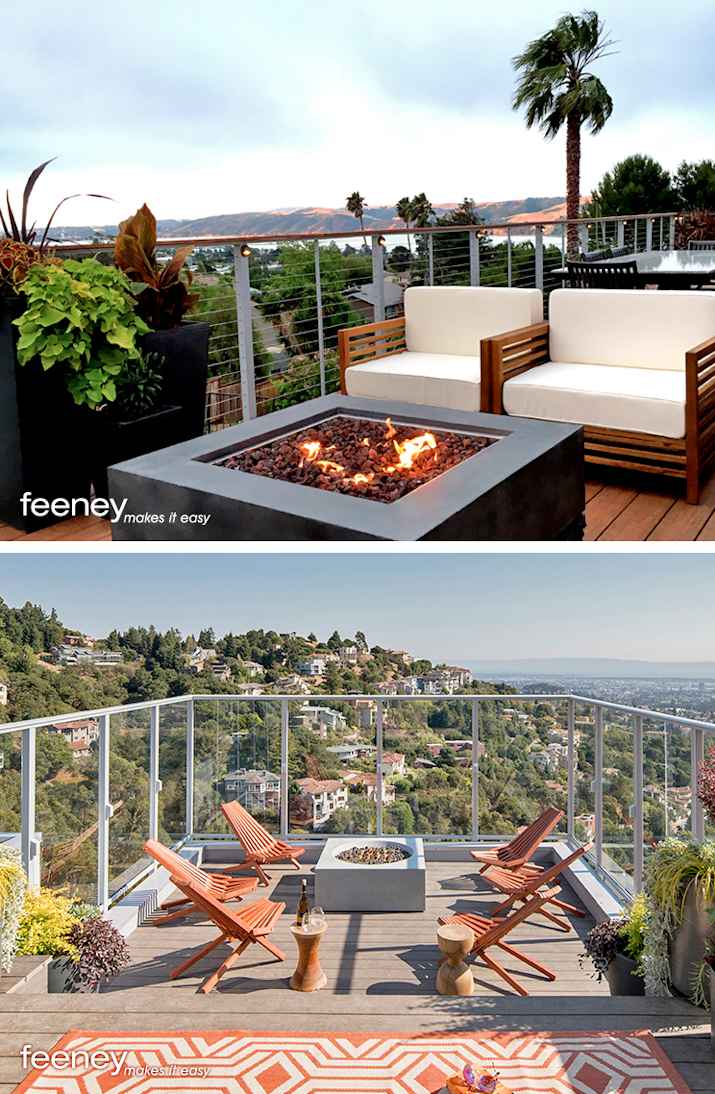 With all the direct work we do with residential and commercial architects, we know meeting your design vision is at the heart of our business. That's why we offer a premium palette of posts, top rails, frame colors, and infill options for your specification needs.
When that interior or exterior aesthetic calls for maximum transparency, as it often does, the usual railing infill defaults are a cable or a tempered glass system. It may come as a mild surprise to some to learn our DesignRail® system offers designers both view-friendly systems. Yes, we're a single-source, infill agnostic when it comes to meeting your project goals and budget.
Both glass and cable railing systems offer style, proven performance, and unfettered sight lines for interior or exterior applications. As you consider the best infill solution for your project, keep this in mind:
Cable Infill
Wind
Allows full air flow across the deck or balcony area.
Installation
CableRail is easy to install with patented automatic locking jaw Quick-Connect® fittings. No crimp tools or wedge-type compression fittings required.
Sustainability
Stainless steel cables contain 70% pre-consumer content and 0% post-consumer content.
Safety
Compliant with the International Building Code and International Residential Code when vertical or horizontal cable spacing is 3 inches or less.
Maintenance
Minimal. Periodic treatment with a stainless steel cleaner and protectant is recommended. Occasional cable tightening is a routine procedure.
Tempered Glass Infill
Wind
Offers a full or partial wind break, which can be a consideration in coastal projects.
Transparency
Can be modulated from clear to custom tinted, helping manage light flow and privacy.
Environmental impact
Clear tempered exterior glass panels can prove to be a hazard to birds.
Durability
Tempered laminated glass can be specified for varying safety and security levels.
Maintenance
Requires periodic cleaning, though higher quality glass can help reduce cleaning time and frequency.
Tempered glass or cable... both infill msystems offer important design advantages. Feeney is at your service with winning solutions for both.
Company: Feeney, Inc
Source: http://media.feeneyinc.com/blog/railing-infill-face-off-cable-vs.-glass
Tags: Exterior Design | Glass | Metal | Railing System | Safety | Sustainability
Choosing the right finish for coastal projects (February 24, 2017), Despite economic uncertainties, healthy outlook for the nonresidential construction market (February 3, 2017), Is polycarbonate the future of architecture? (February 2, 2017), Louvers Play Key Role in Passive Air Management (December 14, 2016), An Introduction to Access Covers (December 12, 2016), Architects empowered to drive positive change at SXSW Eco (December 5, 2016), Kalwall Featured in Major Award-Winning College Project (November 28, 2016), 8 Questions You Need Answered Before Buying Commercial Grade Outdoor Furniture (October 24, 2016), New Unicel white paper provides guidance for specifying privacy and shading solutions (October 19, 2016), The future of insulated wall panels has arrived (September 28, 2016), AIA and Autodesk Introduce New Feature to Automate 2030 Commitment Reporting Data (August 15, 2016), Evolution Of Revolving Door Security: Teaching Old Doors New Tricks (July 4, 2016), Continuous Insulation (ci) Systems (June 27, 2016), Architects create tactical urbanism with AIA Design Competition (June 1, 2016), Slip Resistant Aluminum Grating Utilized on ASLA Green Roof (May 23, 2016), Cochran Expands and Enhances Landscape Forms Lifestyle Furniture for Terrace Life (April 29, 2016), Green Building Tips: How To Create Eco-Friendly Landscaping (April 25, 2016), Premium Ballistic Frames Offer Huge Boosts in Sustainability and Multi-Threat Risk Mitigation (April 12, 2016), High Performance Coatings (March 7, 2016), Maglin has collaborated with Philips Lumec to offer a design-integrated line of sustainable site furniture (February 17, 2016), Partnering with Architects to Make BulletProof Beautiful (February 3, 2016), Amager Resource Center (January 13, 2016), Kalwall Featured: Guide Dogs for the Blind New Student Residence (December 30, 2015), 3 buildings that balance aesthetics and performance (December 16, 2015), Earn LEED Points With Florence Mailboxes (November 18, 2015), LEED-ing The Way in Sustainable Building (November 6, 2015), Stadium Design Sustainability (November 4, 2015), Data Center HVAC Design Considerations (October 26, 2015), Linetec mimics terra cotta's look and feel in new painted finish (October 21, 2015), They're here! Glass countertops from Innovate Building Solutions (October 14, 2015), Feeding the Planet, Energy for Life (September 21, 2015), Building Sustainability: The World's 7 Best Green Buildings (September 16, 2015), MultipliCITY wins a 2015 IDEA Goldaward (August 25, 2015), Case Study: Sustainability without Sacrificing Beauty - the Linstroth Residence (July 22, 2015), The FGP Collection by Francisco Gomez Paz (July 6, 2015), Composite, Synthetic Decking and Deck Railing Materials (June 1, 2015), Architects turn to prefab materials (May 1, 2015)