architecture - engineering - construction

2016 January
---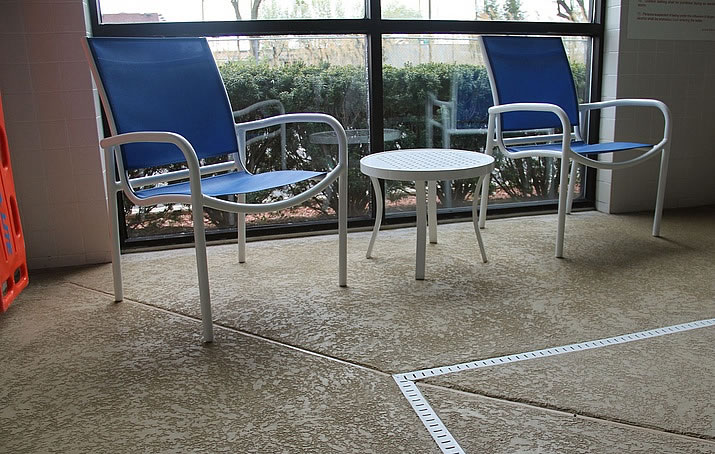 For a Great Looking Pool deck or Patio at an Equally Attractive Price
With any new design or renovation project, the most important considerations are how will your new floor look and perform, and how much it will cost. On all three counts, decorative spray-texture concrete overlays are hard to beat.
No rip and replace. Just a great space
What makes a decorative spray-texture concrete overlay such a popular flooring solution is that it enables you to leverage your existing concrete substrate. The process simply entails overlaying color on top of the concrete you already have. Not having to rip and replace it keeps your costs down considerably.
It's called 'Decorative' for a reason
Decorative spray-texture concrete is also a popular color overlay solution because it offers tremendous design versatility. In addition to achieving a range of color, or the ability to refresh or touch up your existing color, a stencil can be used to create a pattern, design, your favorite symbol, or company logo.
Create almost anything
We can expertly create intricate details such as borders, inlaid motifs, or tiles with a pattern or embossing. A variety of looks can also be achieved, such as brick, tile or stone, and slip resistance finishes can easily be added. Decorated tile can often be more affordable than purchasing more costly, high-end imported tile.
The versatility of decorative spray-texture concrete overlays make is perfect for:
Indoor and outdoor spaces
High-traffic interior floors
Pool decks and patios
Corporate driveways or entranceways
Concrete masonry
Drywall
Plaster
Other advantages ofdecorative spray-textureconcrete overlays:
Excellent durability — It has a high bond strength, and can be given a high slip-resistant finish, and a resistance to abrasion and water — perfect for pool decks or public areas where you are liable in case of a fall.
Easy to maintain— Keeping your floor looking high-quality for as long as possible will only required minor cleaning or occasional power washing — not much else.
Easy to repair — If damage occurs, your color or texture can easily be re-created and repaired without having to re-do the entire area. It's also easy to re-seal.
Quick to install — We will work hard to complete your concrete overlay design project in two or three days. Timing factors include the size of the surface and complexity of your design, onsite conditions, the weather, and if the space is public and requires access during the installation period.
Company:
Duraamen Engineered Products Inc.
Source: http://www.duraamen.com/blog/decorative-spray-texture-concrete-overlays
Tags: Exterior Design | Floor | Interior Design
---
Ever wondered how efficient your home really is? The U.S. Department of Energy has created a comprehensive and educational infographic that breaks down what a home energy audit is, what's involved and how the results can help you and your clients determine the best investments to improve the home's energy efficiency.
For instance, spray foam can be a wise investment to curb air leakage since the average home has enough gaps that add up to the size of a basketball. These gaps allows air leakage to occur. Check out the infographic below and then discover how spray foam insulation can help play a role in addressing common problems relating to interior comfort and air leakage.

Company: Icynene
Source: http://www.icynene.com/en-us/blog/understanding-home-energy-audits
Tags: Energy | Insulation
---

Images courtesy of wikipedia.org and commons.wikimedia.org
Biometric technology isn't just for James Bond. In fact, it is already part of our daily lives. You've likely used it to sign into your iPhone with your thumbprint, or used the facial recognition feature on Facebook to tag your friends in a photo.
Today, a growing number of private and public organizations (including schools, banks, and businesses) are using biometric technology to verify the identities of students, customers and employees. More and more students are accessing buildings and school-provided iPads with facial recognition software, and many corporations have already replaced old school employee ID badges with fingerprint technology.
What are Biometrics?
The Biometrics Institute defines biometrics as:
"A variety of technologies in which unique identifiable attributes of people are used for identification and authentication. These include (but are not limited to) a person's fingerprint, iris print, hand, face, voice, gait or signature, which can be used to validate the identity of individuals seeking to control access to computers, airlines, databases and other areas which may need to be restricted."
In short, biometrics are unique, hard to replicate, and in a few years they will likely replace the easy-to-forget sea of personal passwords we struggle to protect today.
Types of Biometric Authentication:
Did you know that our ears are as unique as our fingerprints? Some of the stranger forms of biometric authentication currently in R&D include vein and scent recognition, eye movement — even "butt matching." Research has shown that we all have a unique sitting style, prompting a Japanese car seat manufacturer to research how to identify drivers by their posterior prints. Eventually their research could translate into cool features like automatically starting the vehicle or re-setting mirrors and seat positions.
Let's take a look at commonly used forms of biometric security technology:
Facial Recognition
Facial recognition technology uses cameras to map facial features and compare them to information in a database. The technology has come a long way since its humble beginnings in 1964. Today's algorithms can distinguish between identical twins!
Finger/Palm Prints
Finger and palm prints are like snowflakes—no two are alike. This form of authentication has been studied for over a century and is usually collected via a scanner or latent approach using powder. Unlike other forms of biometrics, fingerprinting is cost effective and widely used.
Voice Authentication
Voice authentication technology uses the sound produced by your unique combination of vocal tract, lips, nasal cavities and mouth to make a 1:1 match. It is sometimes confused with voice recognition, which is used to identify an unknown speaker, by making a 1 to many match, again, using a database.
Iris Scans
Iris scans have eclipsed retinal scans in accuracy and are now a preferred technology. When magnified, our irises resemble a beautiful web of strands and fibers that can be mapped to a database, and used to identify us.
Is Biometric Technology Foolproof?
We've talked about how biometric technologies rely on distinctiveness (the unique swirls of your fingerprint) but they also rely on permanence. In other words, something as simple as a head cold or blister can distort our palm and voice prints. Our faces grow and change as we age, and could confuse facial recognition software. Certain eye surgeries that leave scars over the iris (such as intraocular lens implants) could impact iris recognition. No system is perfect.
The rate at which we adopt biometric security into our lives will depend on variables such as cost, evolving technology, and user-friendliness. The death of the password may (literally) be at hand.
Company:
Total Security Solutions Inc
Source: http://www.tssbulletproof.com/biometric-technologies-access-control-solutions/
Tags: Security
---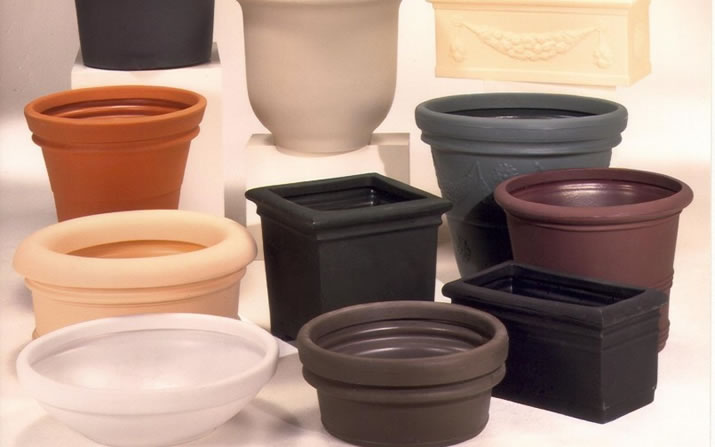 Did you know that the materials your garden planters are made out of impact the success of your plants? It's true! People tend to focus on the plants as opposed to the planter, but you don't have to make the same mistake. Planter materials are hugely important and will make a difference in the outcome of your plants. Planter materials include wood, resin, plastic, terra-cotta and more. Here's an overview of some of the more common types of garden planter materials on the market, including pros and cons of each.
TerraCast Resin Commercial and Residential Planters
You aren't going to find our specially formulated planter anywhere else other than TerraCast Products. TerraCast planters are the highest quality on the market thanks to our innovative process and uniquely curated materials. Our planters are truly made to withstand the elements, and surprisingly most planters on the market are not.
Pros:
Non-porous, meaning our planters are far less susceptible to things like cracking and even stains from graffiti.
Resistant to a great deal of wear and tear thanks to a tough exterior. Our planters can withstand high heat and extreme cold.
UV-inhibitors are baked right into the resin, greatly reducing the amount of fading and color deterioration planters undergo even when placed in direct sunlight. This keeps planters looking like new for longer.
Despite how durable our planters are they are incredibly lightweight, making it easier to move them around as need be.
A long lasting planter equals happier plants that don't have to go through the traumatic experience of repotting more often than necessary.
We also offer an additional attachment piece that transforms any one of our planters into a self-watering planter. Depending on the type plants you have and your local climate, you may want to consider this option.
All of our planters are approved for use on LEED certified products thanks to the fact they are recyclable, made from recycled materials, and manufactured with an eye on the environment.
They can be customized to look any way you want including a wide variety of colors, shapes, sizes, and even personalized logos or graphics.
Cons:
We might be a bit partial, but there are truly little to no cons to our planters. Sure, they might cost more than the plastic planters at your local hardware store, but they are going to last so much longer that they virtually pay for themselves.
Terra-Cotta Planters
Terra-cotta planters are very popular and are pretty much what you picture when you think of the word 'garden planter.'
Pros:
They are good looking planters.
They are affordable and can be purchased at many stores.
They can be personalized to fit a wide range of styles.
Yet… the low-end price is there for several reasons.
Cons:
Terra-cotta is relatively heavy, making it difficult to move large planters once they are full of moist soil and foliage.
Perhaps the biggest drawback is how easily they break. All it takes is one tumble and the pot is likely to crack and split down the center.
Most types of terra-cotta can not withstand freezing cold temperatures and will need to be moved indoors during the winter.
Terra-cotta is a porous material, meaning it will lose water faster, thus causing the need to water plants more frequently. Due to being porous it will also absorb stains faster and easier than non-porous materials.
TerraCast planters can be made to imitate the classically cool look of terra-cotta, but without all of the major drawbacks.
Plastic Planters
Traditional plastic planters are available everywhere you look because they are cheap to manufacture.
Pros:
Cheap and available at many locations
Available in a wide range of colors, styles and sizes.
Cons:
Traditional plastic planters are made from the cheapest plastic materials around, meaning they will easily become brittle and break.
Won't last a long time.
Can't withstand extreme temperatures.
TerraCast planters are made from a type of plastic, but not the same cheap plastic you will find mass marketed.
Wood Planters
Wood is a unique planter choice gaining more popularity in recent years as people go for a more rustic look. Considering wood and water make a bad pair, it's an interesting choice for a planter, but wood planters can be made using rot-resistant treated hardwood to help keep out water damage.
Pros:
Provide a nice, rustic look.
Plenty of options in terms of size and shape of wood planters.
Can withstand freezing temperatures.
Cons:
Not all wood planters are made to proper specifications, meaning they may be susceptible to rot rather quickly as they are constantly exposed to moisture.
Wood planters are one of the heavier options, meaning moving them around isn't an easy task.
Metal Planters
Metal planters offer a contemporary look that's becoming increasingly popular.
Pros:
You can find metal containers just about anywhere, from the store to the junkyard.
Cheap and easy for DIY planters.
They provide a unique style statement.
Cons:
While metal containers border being indestructible, they could destruct your plants. Since metallic surfaces naturally absorb more heat, this causes soil to dry out faster and plant roots to overheat.
Some fertilizer salts are known to corrode the finish off of certain metal types.
Glazed Ceramic Planters
Glazed ceramic planters are basically terra-cotta planters with a coat of shiny gloss on top.
Pros:
Thanks to this top layer of sheen, they are pretty planters.
The top coating generally makes them non-porous, which is one thing they do have over terra-cotta.
Can withstand freezing temperatures if they are coated inside and outside, but many are not.
Cons:
Tend to be pricier than other planters thanks to their glossy topcoat.
They break easily if dropped or tipped over.
If the interior of the pot is not coated it will not withstand freezing temperatures.
The Best Planters On The Market
There's one common thread connecting almost all planter materials… and that's the fact that they all come with plenty of drawbacks. That's where TerraCast Products stand out amongst the competition; our planters don't come with a laundry list of drawbacks. Instead, we created a quality planter truly made to withstand everything garden planters are routinely exposed to. Plus, our planters can be made to imitate the look of any material from terra-cotta to stone. Check out our huge selection of planters here: http://www.terracastproducts.com/product-category/planter/
Company: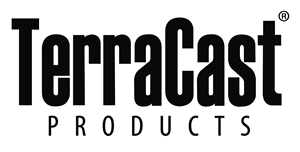 TerraCast Products LLC
Source: http://www.terracastproducts.com/importance-of-outdoor-garden-planter-materials/
Tags: Landscape Design
---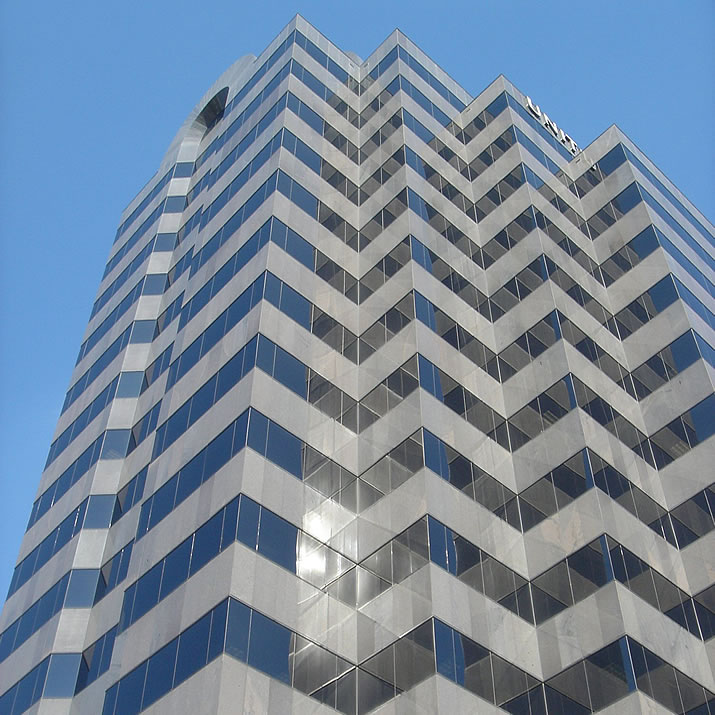 The Dallas office building, 10,000 N. Central Expressway, stands as a 30-year testament to the strength, beauty, and durability of StoneLite® panels.
Project name: 10,000 N. Central Expressway
Project location: Dallas, Texas
Year: 1984
Architecture Firm: HKS Architects
Developer: Paragon
Exterior Product: StoneLite® Swedish Mahogany Granite
Overview
During the 70s and 80s, granite was a popular architectural specification throughout the DFW Metroplex. Together, developer Paragon and HKS Architects dreamed up a 15-story commercial property that exhibited the recognizable natural stone exterior. With 70,000 sq. ft. of StoneLite® Swedish Mahogany Granite, 10,000 N. Central Expressway became an aesthetic fixture on the Dallas commute. The Swedish Mahogany Granite was also extended into the lobby interior. According to Peter Myles (Stone Panels Director of International Sales), "The building looks just as good today as it did 30 years ago when it was completed."
The challenge
The barrel vault roof structure on top of the building, while not unique, was one of the first of its kind. It presented some significant installation challenges, especially with the large StoneLite® panels on a reverse 45-degree slope at the ends of the roof structure. During construction, the contractor had difficulties with the foundation and the post-tensioned concrete slabs; this required additional steel work on the underside of the slab in the parking garage. Paragon was in search of an exterior stone panel that was both cost-efficient and lightweight.
"If we had used dimensional stone, we would have had to add so much structure underneath the parking garage," says Henry C. Beck. "It would have been too restricted in clearance, and lacking enough for the larger vehicles."
At one-fifth the weight of dimensional stone, StoneLite® panels provided the lightweight alternative that ultimately saved the building's functionality. Had they gone with dimensional stone, the necessary underlying structure of the parking garage would have restricted the clearance of large vehicles. Little did the project team know, the StoneLite® panels would soon be put through the ultimate test of durability with 150-mph hurricane-like winds, just six years after construction.
The storm
In the early 1990s, a powerful storm plowed through North Texas, estimating straight line winds of 150 mph. The strong, rotating winds penetrated the North Central corridor causing the building to lose about 25% of its glass. The interior offices experienced significant damage, losing ceiling tiles, equipment, and documents that were sucked out of the offices. However, no StoneLite® panels were damaged during the storm, and no panel had to be repaired or replaced. The building across the road, La Sierra, was built with solid Travertine Limestone cladding and lost virtually all of its cladding.
The outcome
According to Paragon, the developer on the project, the aesthetics of granite mixed with its unmatched durability made for the ideal stone panel. The result was a "rich-looking building that would not be mistaken for a cheap manufactured cladding material," says Paragon. "The Swedish Mahogany has a lot of character unlike synthetic cladding materials." Since the 1990 storm, StoneLite® panels have been rigorously tested and proven to withstand very high hurricane wind and impact damage, as well as blast resistance to a very high explosive load—none of which have caused any damage to StoneLite® panels. Stone Panels Inc. is the only natural stone supplier accepted by the Miami-Dade Building Code Compliance office (responsible for testing exterior wall systems for their ability to resist hurricane wind and large missile impact). Video of StoneLite® panels blast test can be found here.
The product
This 15-story commercial property built in 1984 exhibits over 70,000 sq. ft. of StoneLite® Swedish Mahogany granite (over 4,950 panels) in interior and exterior applications. Stone Panels Inc. also pre-panelized the 10,000 N. Central project by attaching StoneLite® panels to steel-stud frames (typically 6 ft. high, 25 ft. long) using structural silicone attachments; no mechanical attachments were used. Stone Panels Inc. installed a floor of panels per week, and pre-panelizing allowed this to be achieved with only four men.
Company:
Stone Panels International LLC
Product: StoneLite®
Source: http://www.stonepanels.com/the-test-of-time-10000-n-central-expressway-30-years-later/
Tags: Building | Exterior Design | Wall Panels
---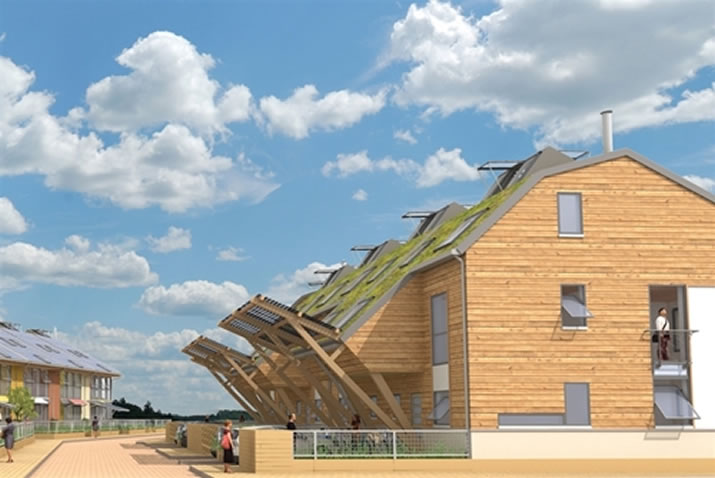 When it comes to energy efficiency in the U.S., many people point to automotive carbon dioxide emissions as ground zero. It's a fair point – according to the EPA, between 1990 and 2012, the transportation sector accounted for 32 percent of all carbon emissions in the U.S. But in the realm of overall energy consumption, another industry is even higher.
The buildings sector – both residential and commercial – made up 41 percent of energy consumption in 2010, according to data from the Department of Energy. Those energy sources consist of coal, natural gas, petroleum, nuclear and renewables. Regardless of the source, building owners would be better served if they could conserve as much energy as possible without sacrificing comfort or aesthetics.
As it turns out, there are reliable, modern techniques that materials architects can rely upon to help reduce the amount of energy consumed by the buildings industry in the U.S. New buildings outfitted with air and moisture barrier systems and continuous insulation wall systems help maintain a comfortable interior by preventing unwanted airflow and heat transfer.
For builders, zero is the magic number
Net-zero homes – those that produce at least as much electricity as they use – are nothing new. However, only recently have they emerged as something other than a custom home for the supremely wealthy, reported The Wall Street Journal. That prior perception is not unwarranted, as net-zero homes often are expensive to build. But a few architects have made a push to bring the net-zero building to the mainstream.
These pioneers are driven by increasing demand, both from individual consumers and by way of increasing regulations regarding building emissions. With that said, the market is not yet to the point where every home and business owner is clamoring for a net-zero project. But some of that could be influenced simply by letting consumers know what is available.
Net-zero price point on the decline
As it stands, a net-zero house is still out of the price range for many. But where it was once the solely available to multi-millionaires, developers are working on homes that would appeal to upper-middle income families. Blue Heron Design/Build LLC told The Wall Street Journal it could build net-zero homes at a cost of around $700,000 – not low-income housing, but certainly more affordable than the designer homes that net-zero had become associated with.
"Net-zero is technologically and financially solved," C.R. Herro, vice president of environmental affairs at Meritage, explained to the WSJ. "It's now a matter of the consumer catching up to that potential. That's probably another three years."
In addition, the cost of energy-efficient systems has fallen in recent years as technology and installation methods improve. For example, solar-power systems' average installation cost has declined by 50 percent since 2010. Exterior wall insulation and similar systems provide financial benefits that help offset the initial cost.
While zero is difficult to achieve, many builders that seek energy neutrality will, at the very least, greatly reduce energy consumption. Last year, the Department of Energy certified a mere 370 homes as net-zero. But another 14,500 fell just short of net-zero specifications. For now, even the attempt at net-zero will yield significant energy savings.
Company:
Sto Corp.
Source: http://buildingwithconscience.com/2015/02/green-architecture-key-to-nationwide-energy-savings/
---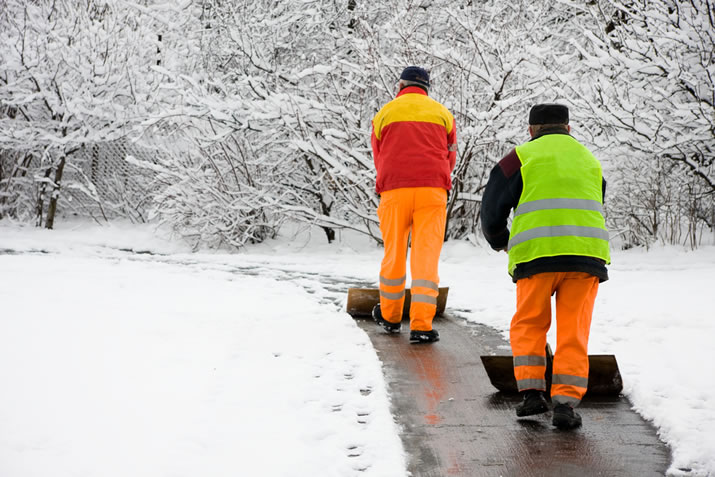 In many parts of the country, it's starting to get cold. Winter has officially begun. If your workers are exposed to cold temperatures for long periods of time, they are at risk for such health conditions as trench foot, frostbite and hypothermia. Extreme exposure can also lead to death, in some cases.
OSHA notes these warning signs that a worker may be suffering from an illness related to exposure to the cold: uncontrolled shivering, slurred speech, clumsy movements, fatigue and confused behavior. Here are some tips from OSHA on how to keep workers safe from cold weather conditions:
Recognize the environmental and workplace conditions that may be dangerous.
Learn the signs and symptoms of cold-induced illnesses and injuries and what to do to help workers.
Train workers about cold-induced illnesses and injuries.
Encourage workers to wear proper clothing for cold, wet and windy conditions, including layers that can be adjusted to changing conditions.
Be sure workers in extreme conditions take a frequent short break in warm, dry shelters to allow their bodies to warm up.
Try to schedule work for the warmest part of the day.
Avoid exhaustion or fatigue because energy is needed to keep muscles warm.
Use the buddy system—work in pairs so that one worker can recognize danger signs.
What extra steps do you take to ensure your workers stay safe in the cold weather? What more can you do to protect them and help them recognize the signs of cold weather illness?
Company:

Seton
Source: http://www.seton.com/blog/2015/12/stay-warm-how-to-protect-workers-from-cold-weather-hazards
Tags: Safety
---

Photo courtesy of Bjarke Ingels Group
Kalwall ® translucent sandwich panels are the industry leaders in diffuse natural daylighting and energy efficiency, but that's not what made them desirable for one of the highest profiled sustainable design projects in the world currently underway, the Amager Resource Center in Copenhagen, Denmark.
The explosion venting capabilities of Kalwall panels proved to be a practical solution for Amager. The energy-from-waste plant is a transformative project in the movement of energy production and urban design, and the 79 Kalwall panels are part of the distinct checkerboard grid exterior on the sides of the 300-plus foot tall building.
Kalwall panels are recognized globally for providing museum-quality daylighting™ and superior thermal performance. In addition to delivering glare-free, diffuse daylight deeper and more evenly into spaces, Kalwall panels and wall systems are rugged, flexible and offer specialty applications such as explosion venting.
Explosion venting panels are used in areas of buildings where a potentially volatile event could occur. The panels work to vent pressure out of the building, allowing it to withstand an explosion without collapsing roofs or floors. They are designed to release from their mounting system, but remain attached to the side of the building to avoid becoming falling debris.
What makes the Amager design of the Bjarke Ingels Group – BIG (the world-renowned architecture firm based out of Copenhagen and New York) most notable is the innovative use of space. The outside of the structure will be used for recreational purposes, including a ski slope and climbing wall that scales one side of the building. In addition to keeping the building from collapsing in the event of a blast, Kalwall explosion venting panels were incorporated to ensure the safety of the recreational users.
Working through Sipral, a leading supplier of external building envelopes based out of Prague, the panels were delivered on schedule and required no on-site modifications.
"We were honored to be included in such a project," says Amy Keller, vice president of international sales for Kalwall. "This BIG- Bjarke Ingels Group project is inspiring and visionary in the world of architecture and urban design."
The Amager Resource Center will produce heat for approximately 160,000 households and electricity for 62,500 homes. The facility covers just over 1 million square feet and will annually process 400,000 tons of commercial, industrial and residential waste.
The project is expected to be completed in late 2016 or early 2017.
Company:

Kalwall Corporation
Source: https://www.kalwall.com/2016/01/07/amager-resource-center/
Tags: Exterior Design | Sustainability | Wall Panels | Window Shades
---
Linetec offers a "Select and Spec" tool for architects and design professionals seeking long-lasting finishes for architectural aluminum products. Visitors to www.Linetec.com, click on the link to the tool where they may choose from the color palettes and order their painted aluminum samples.
With more than 30,000 colors in our palette and the ability to match almost any hue in-house, we wanted to help simplify the selection process for customers, architects and specifiers. When Linetec is the chosen applicator, this online tool will make it even easier to ensure the project's architectural products are painted to the exact specification for lasting color and performance.
Eight color families with interactive "chips." have been established. Clicking on a chip, you can see a larger image and immediately order up to five samples. These 3.5-by-2-inch painted metal samples are mailed to the contact information provided by the user. Each sample is labeled with an "LT" paint code for reference when specifying the finish for future architectural projects.
Linetec finishes are specified on windows and curtainwall, column covers, canopies and panel systems, door and entranceways in thousands of building projects every year.
Company: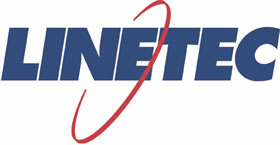 Linetec
Source: http://linetec-blog.com/2015/12/18/online-color-selection-and-specification-tool/
Tags: Coating | Color | Design
---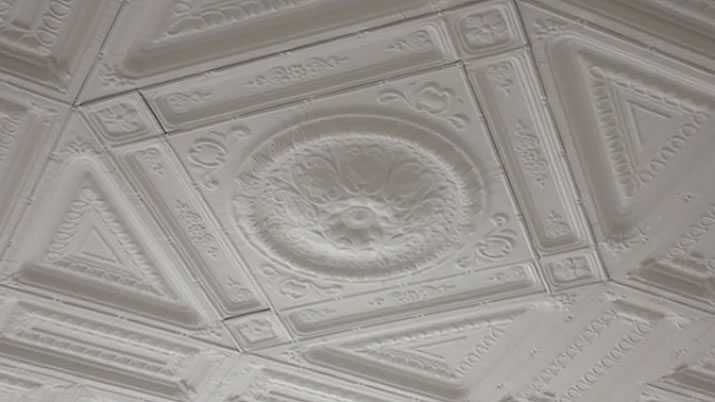 This year's Ceiling Project Award goes to Ricasoli&Santin Contracting for their contribution to the Duffy School-Senior Housing Project in Florence. The idea is pretty interesting: take an existing public school building constructed in the early 1900's and convert it into a modern senior living facility while maintaining its historic character.
During the planning stage, it was discovered the acoustical tile drop ceiling found throughout the building hid classic, formed tin ceilings. The town's historical society saw not only the beauty of these ceilings but also their historical significance and incorporated their repair and replacement into the building plan.
Bob: Ricasoli&Santin was hired to do the tin ceilings in the hallway and the bedroom, and living room areas at the living units. We were required to help come up with the patterning that matched the original historic ceilings in each of the areas.
Over the course of four months, Ricasoli&Santin's crew worked to install large expanses of tin ceiling, running the length of the long hallways on two floors of the building. These incorporated not only ceiling tiles, but complex tin moldings as well. Making matters even more difficult was the fact that many of the components came from different manufacturers, as opposed to being part of an integrated single system.
During this time, the crew also worked installing additional elaborate tin ceilings in former classrooms that would become individual apartments. Six of these had medallion ceilings where the medallion alone was made up of sixteen separate tin pieces that had to fit together exactly. Even alcoves, originally used as coat rooms received tin ceilings and moldings. The variety of ceiling patterns and the building structure make each residence at the Duffy School Senior Housing facility unique. The vertical relief of the tin ceilings is enhanced by the tall windows, typical of school buildings at the time. It's a rather dramatic effect.
Bob: I'm really proud of the work that Ricasoli&Santin did on this project, duplicating the historic value and atmosphere of the original building when it was built in the early-1900's.
Company:
Decorative Ceiling Tiles, Inc.
Source: http://library.decorativeceilingtiles.net/2015-nj-disca-excellance-in-construction-awards-tin-ceiling-project/#.Vo5pyvGaQUE
Tags: Ceiling | Interior Design
---
When most people think about a one level (curbless) shower the words which come to mind are – Grandma, wheelchair, roll in, walker and handicapped. While a curbless shower certainly can be a need for grandma in a wheelchair or a person with mobility challenges to safely enjoy their shower, it's about much more than that. From my experience a one level shower can be cool, contemporary, stylish all while providing a functional design which will work for life. Let's take a look at 7 myths about one level showers and bust them wide open.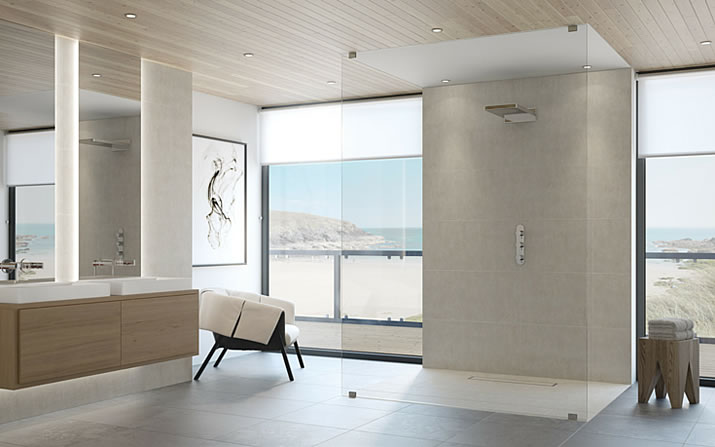 Myth 1 – Barrier free showers aren't contemporary
As a person who loves a sleek, minimalist contemporary design (you'll see a lot of these if you check out my company Pinterest account) the one level design does an excellent job breaking down the barriers between spaces in a bathroom. This is helpful because bathroom spaces are usually small and one larger room can create a sense of room, comfort and style.
In one design my remodeling business (Cleveland Design and Remodeling) installed the owners Robin and Pat Baranack specifically chose a one level shower because they wanted to create the clean design of a hip hotel room they stayed in while vacationing in San Diego California. You can see from the picture below even their dog Lucy loves the shower!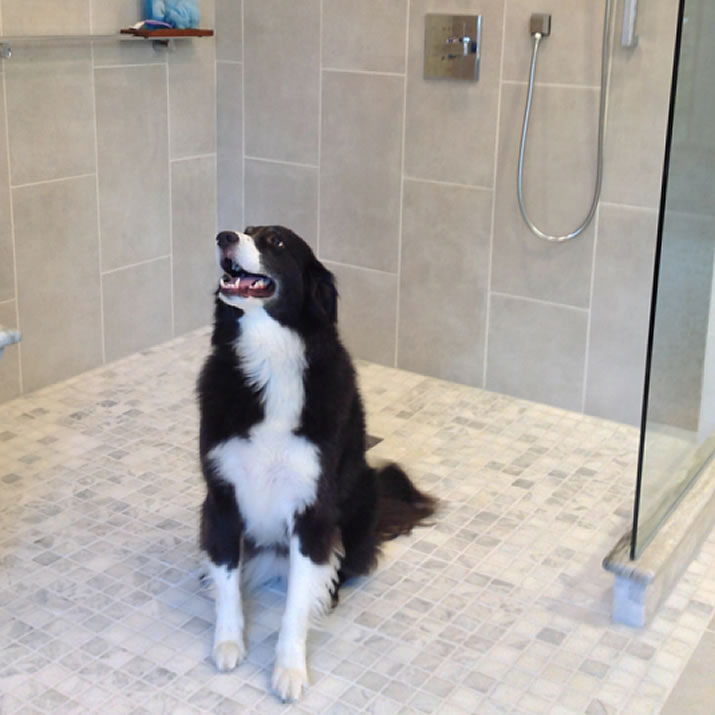 Myth 2 – You need a big bathroom for a one level shower
I will grant you creating a one level shower in a small bathroom does take more planning than picking up a standard fiberglass pan at your local home center store. With that being said a wet room (also called a one level curbless shower) is not as mystifying as some contractors make it out to be. They key is to have the right system so you're not going through a major ordeal cutting joists and dropping the height of your subfloor.
The simplest way our company has found to make a wet room one level shower in a small space is to use a shower base former and waterproofing kit. The base former comes in sizes as small as 32" x 32" to accommodate very small showers. As Adam Droesller (National Sales Manager of ARC Inc. a supplier of these systems) says, "Actually one of the top features of curbless showers is the fact they open up the bathroom by 20-25% vs. designing with a curb."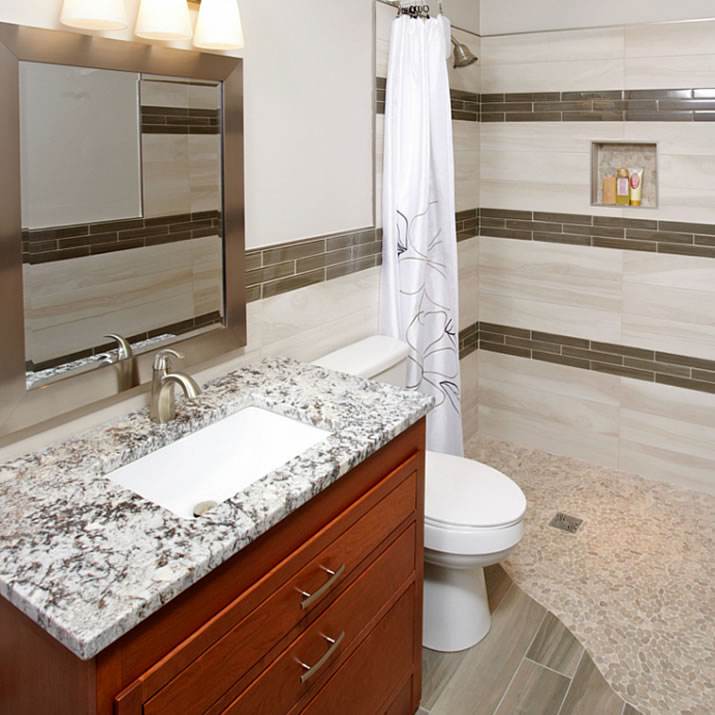 One level shower in a 5′ x 7′ bathroom
Myth 3 – You can't add a door in a curb free shower
Some people love the design aesthetic of a clean-looking doorless walk in shower, but others are passionate about having a door to keep the showering space warmer – especially during the cold winter months (and we have a few of those where I live in Ohio). You're question might be, "Can I have the best of both worlds?" The answer is yes. For a luxurious one level shower choose either a frameless glass enclosure or a shower screen (also called a shower shield).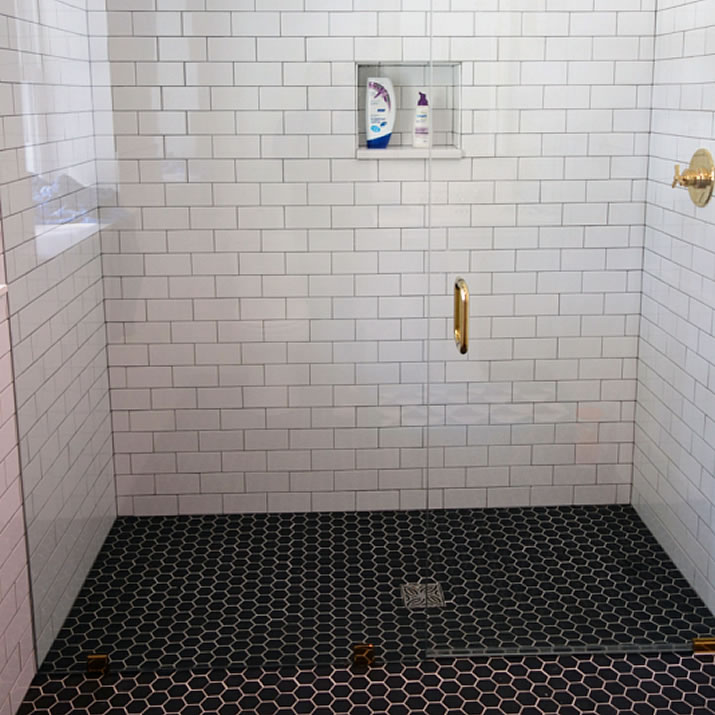 A frameless door does not take away from the looks of this open curbless shower
Myth 4 – There is no one in my town who knows what they are doing installing a curbless shower
While this may be true there is research you can do which can provide you with a list of potential contractors who are knowledgeable and skilled at this work. The power of the Internet can help you be victorious over crotchety old-school contractors in your town.
First I'd recommend going to the National Association of Home Builders web site and look for contractors with a CAPS designation (this stands for Certified Aging in Place Specialist). Yes I personally have this CAPS certification but I have to admit I hate the name because as a 55 year old guy I have no plans to "age in place!" People with this designation have deepened their knowledge in topics like curbless showers and universal and accessible design approaches.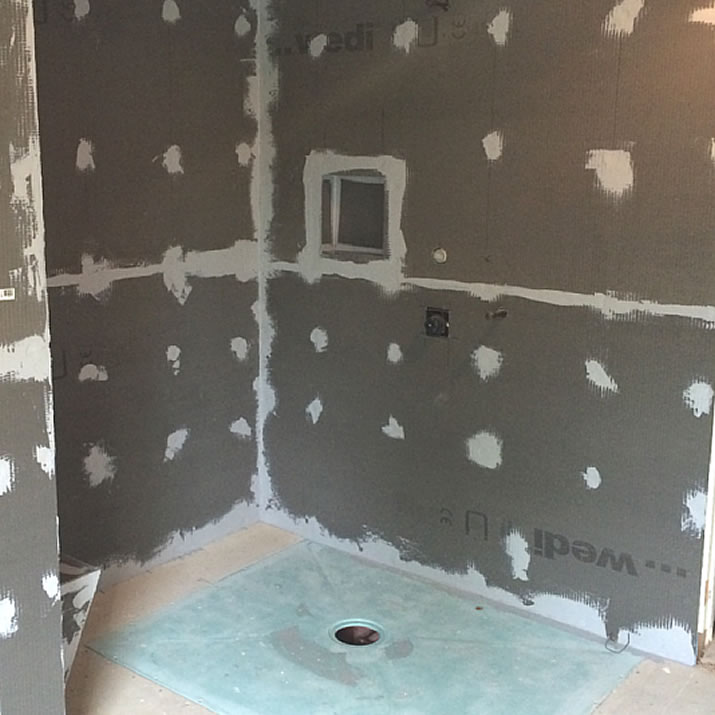 This in process job was installed by Cleveland Design and Remodeling (a CAPS) contractor
Another recommendation from Rosemarie Rossetti (a nationally known speaker on universal and accessible design and owner of the Universal Design Living Laboratory) is, "Installers need to watch the manufacturers' videos and read the instructions on curbless showers. If my husband, Mark can do it, a seasoned contractor can certainly make it happen."
Myth 5 – There are not many products on the market for one level showers
As the need (healthcare advances are helping us to live longer – but not always age as gracefully as we might like) and desire (one level bathrooms provide a sleek contemporary look which is a hot trend in bath remodeling today) the products have grown consistently with demand. Some options include the shower base former I discussed in Myth 2 and extruded and expanded polystyrene base systems as well.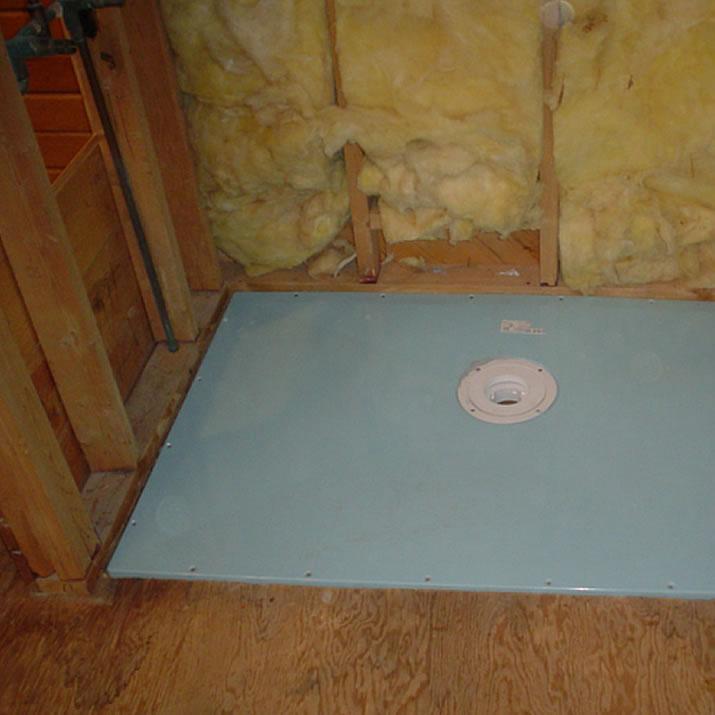 A popular one level curbless shower base former system
Myth 6 – You can't have a lot of water sources in an open shower
Definitely not true! If you use a wet room system – where you waterproof the entire bathroom floor – you can create a spa-like environment like something out of the Jetsons cartoon from the 70's and spray yourself into the next galaxy.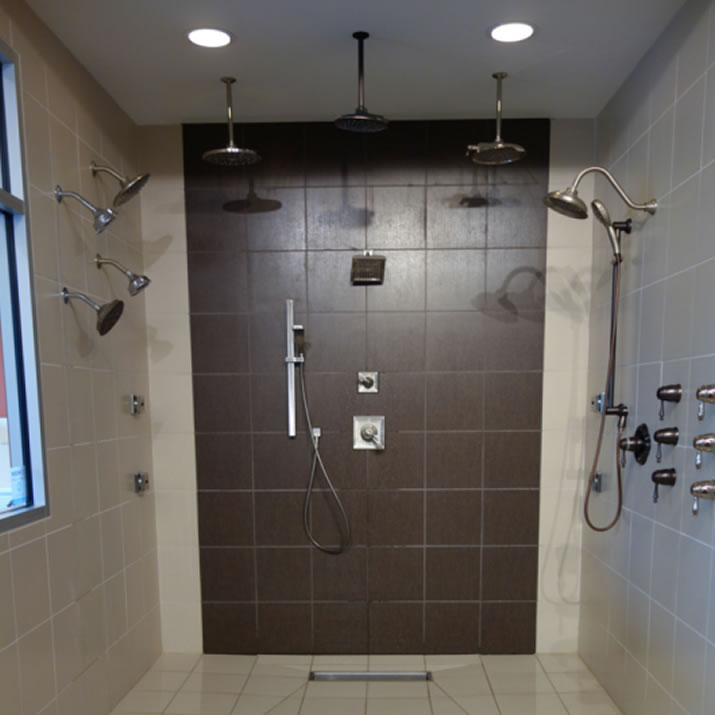 Like something out of the Jetsons!
While lots of water may be fun it is also environmentally responsible to be mindful of water conservation. As Rosemarie Rossetti commented to me, "We put in a single hand held shower in our bathroom. This unit was a WaterSense faucet (meeting the EPA criterion) which saves water and is forceful enough to get the shampoo out of your hair quickly as well."
Myth 7 – A bath and shower design must be simple for a one level shower –
In many ways I think it is easier to create a more elaborate tile design with an open shower because the bathroom embraces a more "continuous" space without having to "enclose" the shower. Check out this design below – does it look simple to you?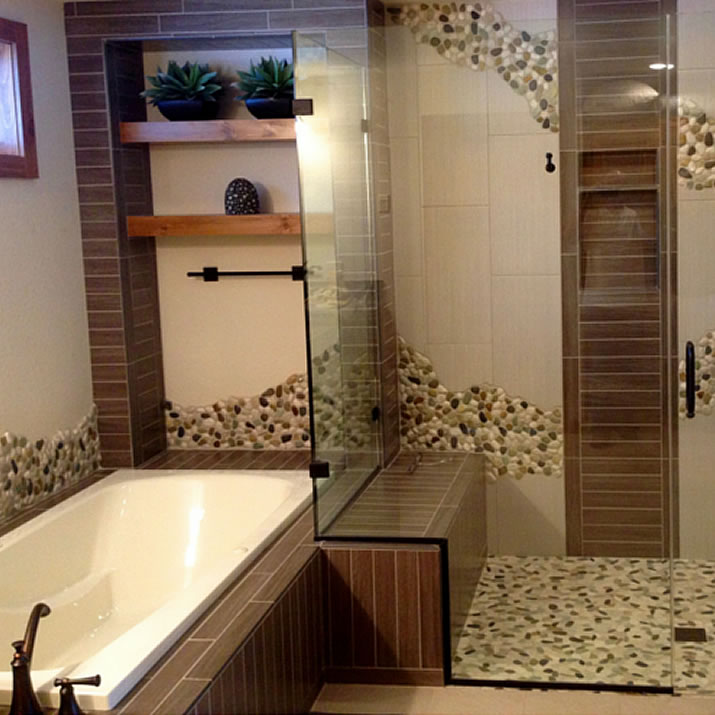 Did this article dispel any of the myths you had about a one level shower? Please comment or call one of the numbers below for additional input or a quote on products for a one level shower.
For nationwide supply of one level showers and other bathroom products call Innovate Building Solutions (877-668-5888). For regional installation service contact The Bath Doctor in Cleveland (216-531-6085) or Columbus (614-252-7294).
Mike Foti is a passionate entrepreneur who happens to be in the remodeling and national construction supply business. Follow Mike on Twitter @Mike_Foti and his company @InnovateBuild.
Company:

Innovate Building Solutions
Of: Mike Foti
Source: http://blog.innovatebuildingsolutions.com/2015/11/26/7-myths-level-curbless-showers/
Tags: Glass | Interior Design
---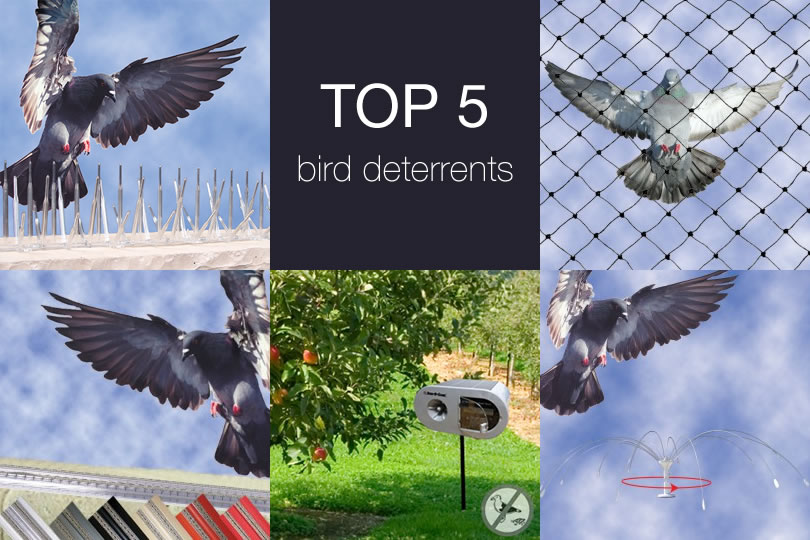 You've put it off long enough. Time to admit you've got a growing pest bird problem. As a responsible building owner/manager, you've come to realize that birds can and do deface and damage property. The cleanup and maintenance bills keep going up. And pest birds are one big reason. Time to take action. Bird B Gone offers a wide range of bird control solutions for buildings and structures. Humane and effective, the top five solutions most often recommended for most pest bird problems include:
Ideal for keeping pigeons and other larger birds off rooftops, parapet walls, light fixtures and other flat or curved surfaces, Bird B Gone bird spikes have been proven worldwide. They come in 1-, 3-, 5- and 8-inch splay widths to provide increasingly wider areas of protection—up to 10 inches wide. These rugged spiked strips feature a patented "bend-and-crush" design, which means the spikes are firmly embedded in an unbreakable UV-protected polycarbonate base. This flexible base bends a full 360 degrees, so it can easily "follow" a variety of curved mounting surfaces (e.g., signage letters).
This rugged netting creates a physical barrier that won't allow pest birds through. Recommended for excluding pest birds from overhangs and other semi-enclosed areas, Bird Net 2000 is easy to install using Bird B Gone's complete line of professional grade installation hardware. Made of a tough UV-stabilized polyethylene mesh, this industrial strength netting is extremely durable, rot and waterproof, and flame resistant. The netting comes in several area sizes and mesh densities to deter the full range of pest bird types. Bird Net 2000 is often specified in architectural plans, is backed by a 10-Year Guarantee and comes in black, stone or white to blend in with its background
This low-profile, electric track system produces a harmless electric shock that "educates" pest birds to stay off horizontal surfaces. Lightweight and flexible, the track is easy to install—it bends 360° without compromising its electrical integrity. It's the only electric track bird deterrent system with patented anti-arcing and glue troughs designs for improved safety and performance. Available in six colors.
This device emits pre-recorded distress and predator calls that intimidate as many as 22 species of birds. The sounds emitted resemble natural birdcalls, so they won't bother students. The device is water resistant, programmable, and comes with a built-in speaker to cover up to an acre. Additional speakers can be added to cover up to 5 acres. Because it's solar powered, no AC access is needed, so it can be where pest birds gather most often.
This multi-legged "Daddy Long Legs" device intimidates birds to prevent them from landing on HVAC units, lights, signs and rooftops. Ruggedly designed for outdoor use, it features marine grade stainless steel "arms" in four leg lengths to protect diameters up to 8 feet. A PVC base allows the Spider to be easily placed wherever birds gather most often.
Backed by Expert Assistance
If you're unsure about which product would work best for your specific situation, Bird B Gone has over 80 years of combined experience in the field of bird control. We can help you with product selection, installation and cleanup. Just call us at (888) 570-0360 for a catalog, pricing, or product samples or email us at nobirds@birdbgone.com. We also work with a network of authorized installers, call today for a trained bird control professional in your area.
Company:

Bird-B-Gone, Inc.
Of: Alex Kecskes
Source: https://www.birdbgone.com/blog/got-a-pest-bird-problem-get-these-top-5-bird-deterrents/
Tags: Roof