architecture - engineering - construction

Hurricane
---
May 11, 2023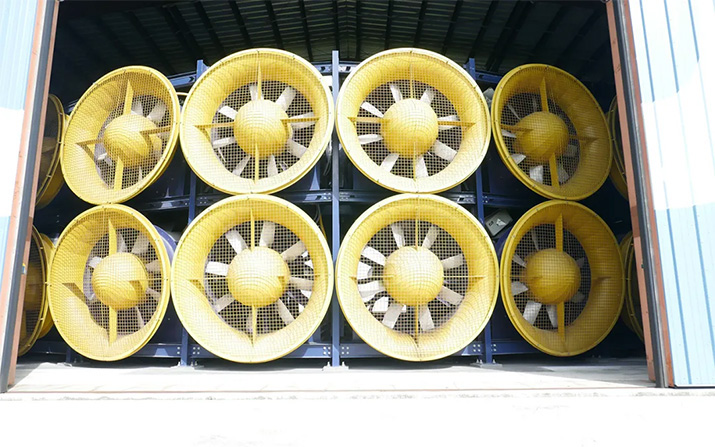 Outdoor shades should be as resistant as possible to wind and weather. But while shades should never be deployed during damaging winds, the question remains: How wind resistant are they? And how do you prove it?
---
March 9, 2023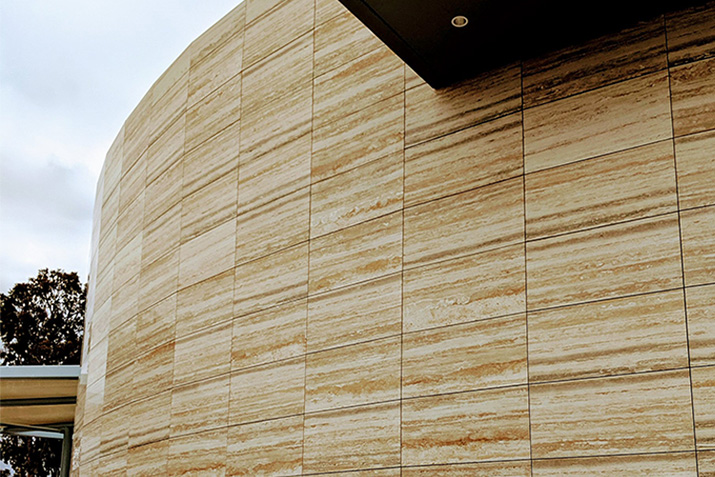 StoneLite® panels have over four decades of proven performance on the exterior of buildings throughout the world. After many years of exposure to many different environments and being subjected to extreme heat, bitter cold, earthquakes and hurricanes, the panels not only retain their natural beauty but remain durable and continue to perform.
The StoneLite® exterior stone paneling system and its installation components have been thoroughly tested by leading independent testing laboratories. They have proven performance in bond strength and flexural strength following acid freeze/thaw and UV radiation exposure. They are accepted by I.C.C. (formerly ICBO) and other code bodies for unrestricted use as exterior cladding for Type I buildings.
---
September 1, 2022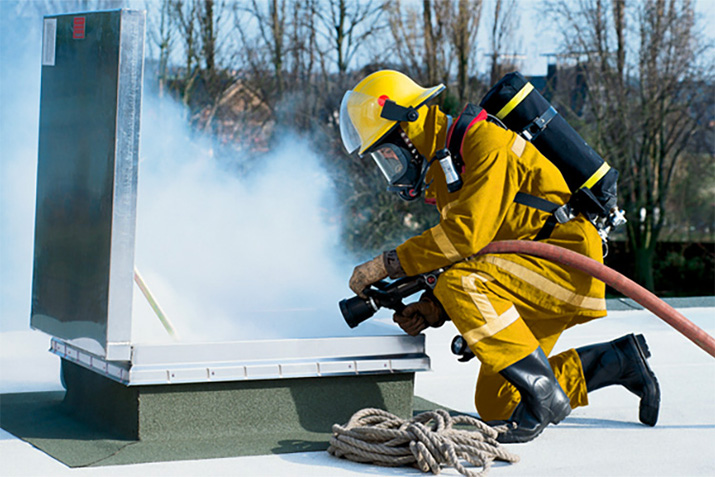 Automatic Smoke Vents protect property and aid firefighters in bringing a fire under control by removing smoke, heat, and gases from a burning building. Smoke vents are ideally suited for large expanses of unobstructed space such as factories, warehouses, auditoriums, and retail facilities. Mechanical smoke vents are activated upon the melting of a fusible link and options are available for smoke detector and fire alarm activation.
---
April 22, 2022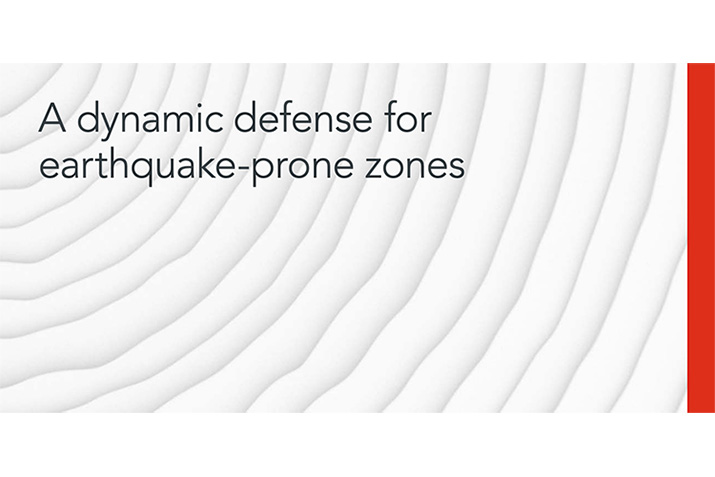 Withstanding the seismic forces on buildings is one of the major drivers in the construction industry and has recently become part of regular structural engineering practice, even in regions that are not prone to earthquakes. As a pioneering manufacturer of curtain wall systems, we invest in the most up-to-date seismic testing to industry standards. The AAMA 501.6 test determines the horizontal racking displacement amplitude of the exterior wall system, that would cause glass fallout within a controlled environment.
---
April 18, 2022
Simple to operate, the Folding Accordion Shutter provides immediate protection from hurricanes, storm, and burglary/intrusion. It is economical without sacrificing performance. The shutter glides along extruded aluminum tracks using nylon rollers mounted on stainless steel carriages, and can be secured from the inside or outside using aluminum locking rods and an optional key-lock. When open, blades stack neatly like an "accordion" at the sides of the opening. It's easily adapted to most window and door openings, and widely used to protect large areas like sliding glass doors, balconies, and lanais. The folding design allows for virtually unlimited left to right runs, and gives the product the unique ability to enclose entire areas from a single set of blades.
---
March 28, 2022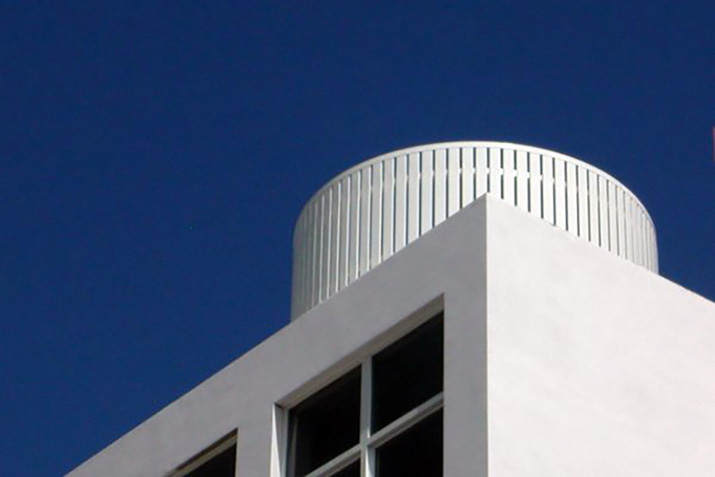 22-1/2° Pitched Louvered screens offer maximum visual concealment while allowing for adequate ventilation. This louver configuration allows for 30% free airflow, and the louver can be inverted (flipped upside down) to provide even more concealment from line of sight if needed. This very effective design is very attractive and convenient for large projects.
---
February 7, 2022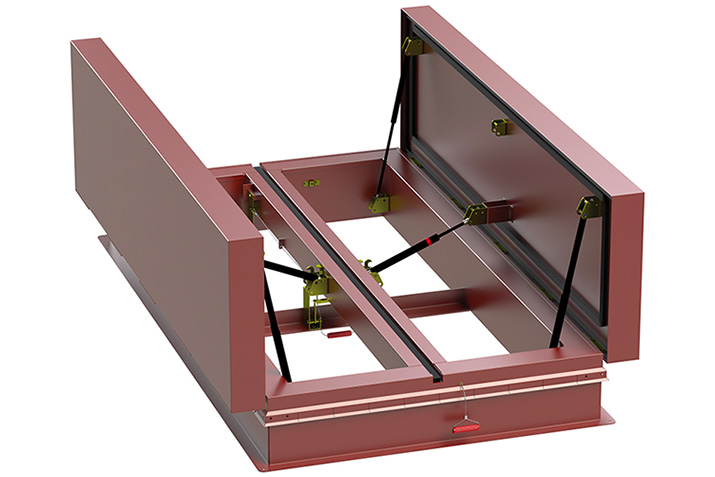 BILCO's ACDSV acoustical smoke vent is designed to guard against noise intrusion while providing the security of automatic smoke venting. Acoustical vents feature industry-high STC 50 and OITC-46 sound ratings. They are ideal for concert halls, theaters and other interior applications that require limited noise from the outside. Vents are available in steel construction and in a number of UL-Listed standard sizes.
---
September 24, 2021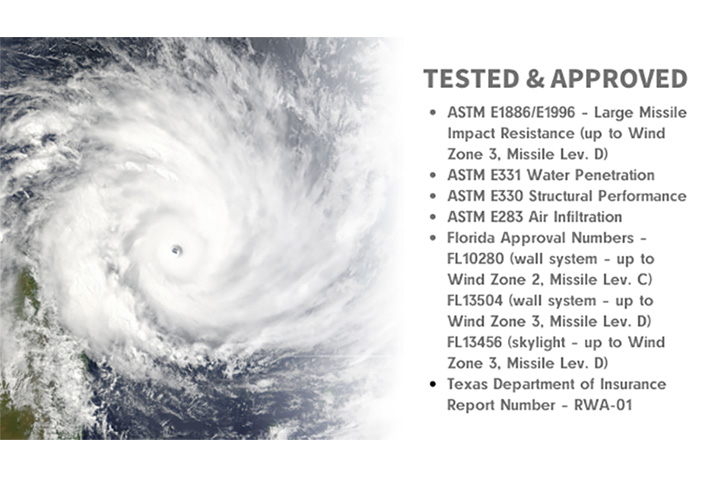 Falling at the height of hurricane season in the United States, September is recognized as National Preparedness Month and a reminder that natural disasters will happen - and without the proper protections the consequences could be catastrophic. This is especially true when it comes to architectural design and choosing the right materials for building a strong, dependable structure that is able to withstand and defend against damaging winds, flying debris, and other destructive forces. Poorly constructed buildings can cost a community not only thousands (or millions!) of dollars in damage, but also lives.
---
August 13, 2021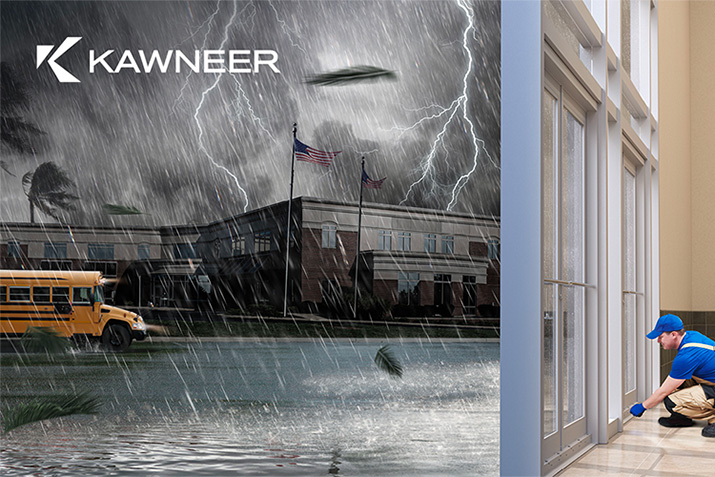 Kawneer's enhanced 350/500 IR Entrances with the new Water Performance Option are high performing, aluminum hurricane impact doors that meet the latest requirements of the Florida Building Code TAS-202 Standard.
---
April 30, 2021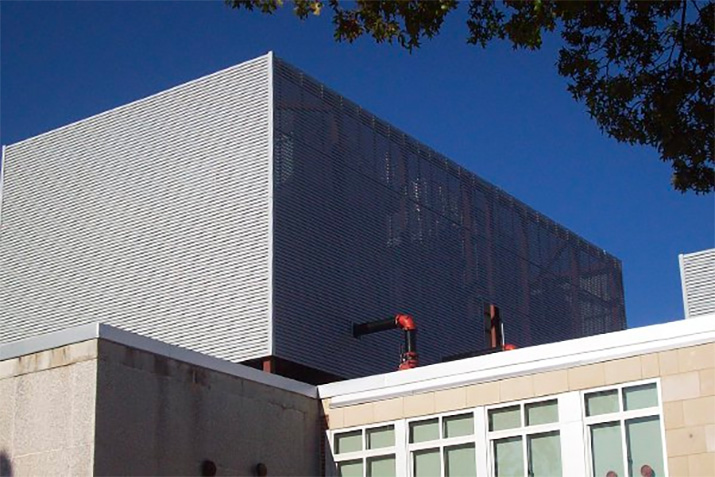 The EconoSpan® louver and screen system is a continuous louver product comprised mainly of roll formed louvers that snap firmly onto 'double-gripped' stringers or posts installed on pre-determined intervals. This system is ideal for roof top equipment screening or other applications with large areas requiring concealment and ventilation. Along with being very attractive, it is also one of the industry's most affordable systems.
---
September 14, 2020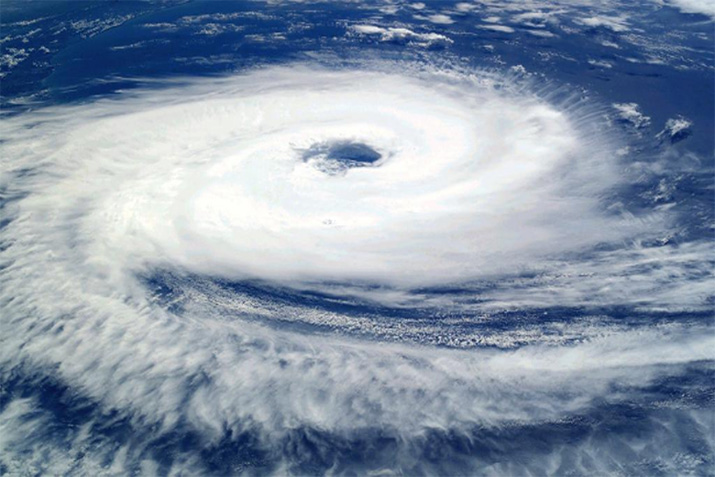 Every September, National Preparedness Month reminds us that disaster can strike at any time and how important it is to be prepared for when it does. And that means having a strong, dependable structure able to withstand damaging winds, flying debris, and other destructive forces. The built environment is often a community's first line of defense against natural disasters, and is not only relied upon for protection, but also for preservation.
For additional protection on your next project, Major Industries' Guardian 275® Translucent Systems - approved for use in most Florida counties, the Texas Gulf Coast and more than 95% of the hurricane zones in North America - can be configured to provide unmatched protection from the elements while allowing glare-free natural light to illuminate building interiors.
---
September 9, 2020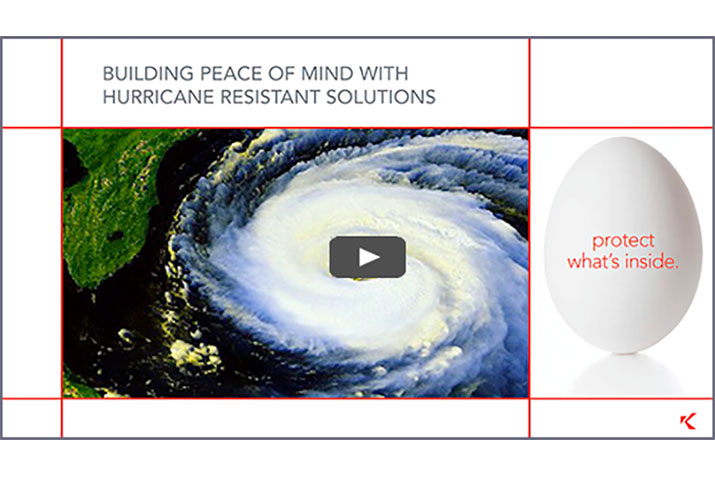 Nature can create high-impact damage that poses a threat to a facility's integrity and occupants' wellbeing; that's why we've developed a range of products designed to withstand the wrath of hurricanes and help provide increased protection throughout the year. Whether new construction or retrofit applications, Kawneer helps build a legacy around defending against damage and devastation, helping protect what's inside. After all, it's what's on the inside that matters the most.
---
May 18, 2020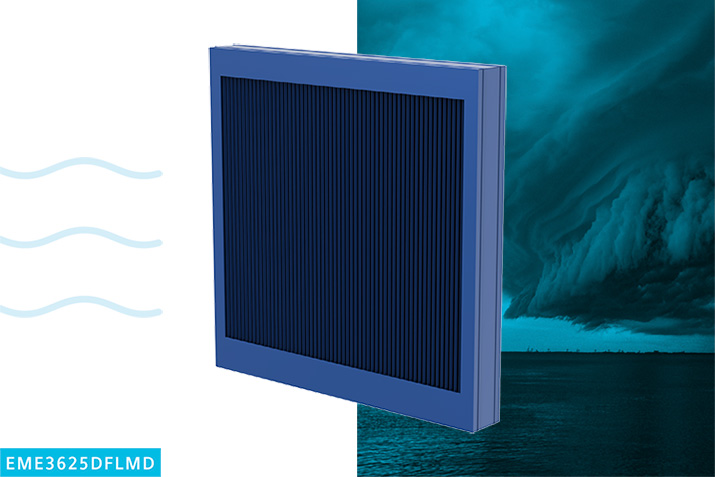 The EME3625DFLMD is the only 3-inch louver to be listed to Air Movement and Control Association (AMCA) standards 540 for impact testing and 550 for high velocity, wind-driven rain. In compliance with Miami-Dade standards, the EME3625DFLMD is constructed of extruded aluminum for low maintenance and high resistance to corrosion. Ruskin® brings you the EME3625DFLMD louver, which is the thinnest and lightest wind-driven rain louver on the market, earning a Class A efficiency rating at 29 mph and 50 mph.
---
November 4, 2019
Major's Guardian 275® Hurricane Systems make it possible to protect your building from the damage of natural disasters without sacrificing the benefits of natural daylight.
---
December 3, 2018
Specialty Shape Louvers are available for stationary drainable and non-drainable, wind-driven rain and hurricane Miami-Dade louver models. If desired, architectural or hidden mullions are also available.
---
April 15, 2018
The Natural Resources Defense Council states that Data centers can be regarded as the back bone of a modern economy serving businesses and communications. Defending data means not only protecting it from Mother Nature but also giving back to her with sustainable designs. A question that must be considered during the design of a data center, is 'How likely could the facility be compromised in extreme weather conditions such as tornadoes and hurricanes?'
When evaluating potential HVAC equipment it is advisable to use FEMA rated louvers and grilles. FEMA rated grilles and hurricane-resistant louvers have been tested against high windloads and large missile impacts. Outside air control dampers can seal up the center when necessary to reduce humidity and heat.
---
September 4, 2017
Sto is pleased to announce the formal launch of its Impact Resistance Program designed to provide information about its leading impact- and hurricane-resistant, continuous insulation wall systems.
---
August 30, 2017
Removable storm shutters and panels are designed to be 'put up' in the event of a hurricane or storm by placing them into a pre-installed panel mounting system over a window, door, or other area to be protected. The mounting system may incorporate a 'direct mount' hardware combination, or a more convenient, header and sill track.