architecture - engineering - construction

Finishes
---
February 23, 2023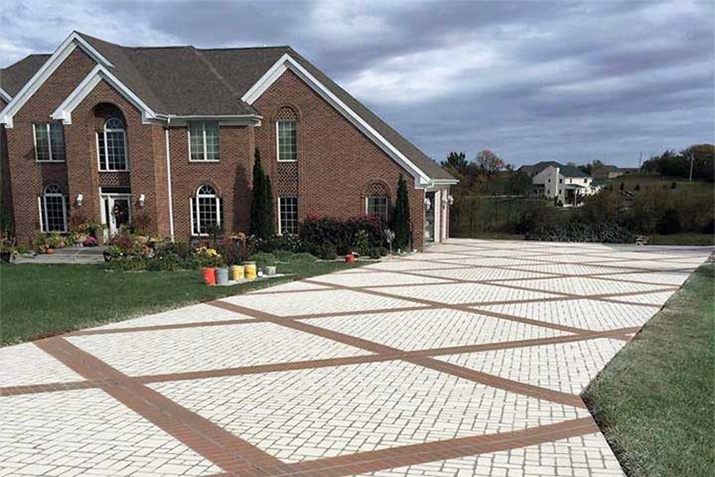 Concrete surfaces require durable and long-lasting performance in parks and public spaces. These exterior repair coatings must withstand high traffic and extreme weather conditions, including abuse from snow removal equipment and de-icing salts and chemicals. These finishes also maintain color and appearance despite being exposed to extreme UV.
---
November 2, 2022
Sensitive electronics manufacturing facilities specify flooring in the dissipative range 1×10/6 – 1×10/9 ohms. Ohms = Resistance to Electrical Flow. In industries where electronic components are involved, static electricity can cause damage to electronic components, readings and data. Conduction through fingertips is the most common form for static electricity, while induction is the transfer of static electricity between certain types of materials.
---
October 3, 2022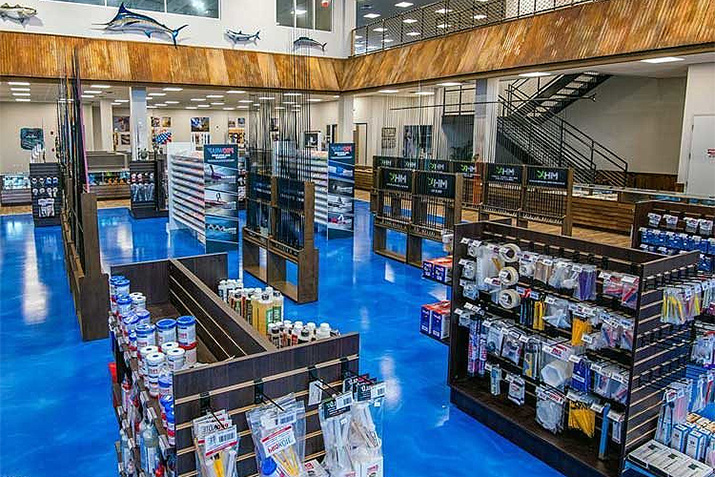 Elite Crete Systems custom flooring solutions for commercial and retail spaces offer endless design options to meet your interior design requirements and durability needs. These seamless surfaces are fluid-applied in place and can be installed with minimal downtime. Not only can these flooring systems match your brand's color scheme they can also be designed to incorporate your company's logo. These coatings can achieve coefficient of friction (COF) to meet or exceed ADA Flat Surfaces, ADA Inclined Surfaces, OSHA and NFPA requirements.
---
August 8, 2022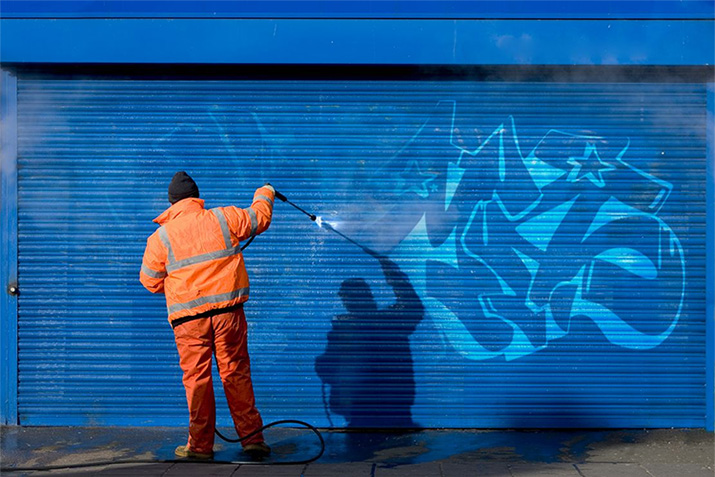 A masterpiece by the artist that causes considerable damage for those affected. Maliciously sprayed graffiti and the resulting damage to property pose a costly challenge.
---
March 23, 2022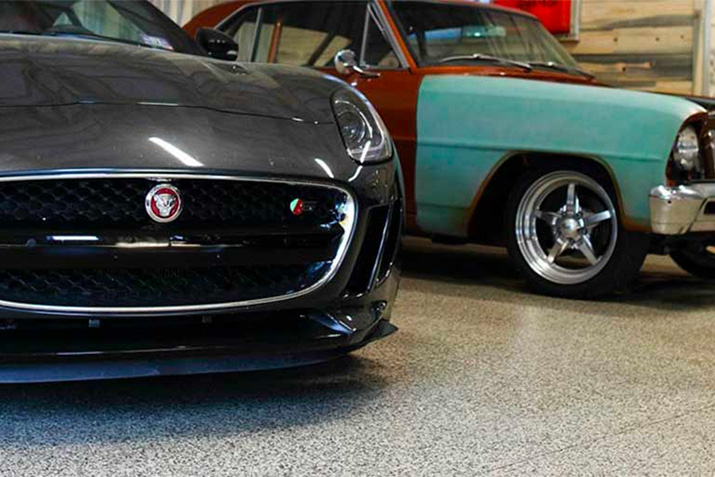 Epoxy resins have been used to coat garage floors for over a decade. In contrast, polyurethane (polyurea) and polyaspartic resins are relatively new. All three resinous coatings are highly durable, and each has advantages and disadvantages. Epoxy resins are used extensively in heavy-duty industries and are easier to install due to their slower setting time. Polyurea and Polyaspartic coatings provide a faster return-to-service than Epoxy. Polyaspartic coatings provide resistance against fading due to the sun's UV rays. So, how do you decide which type of coating to use for your garage floor project? There are several considerations.
---
November 3, 2021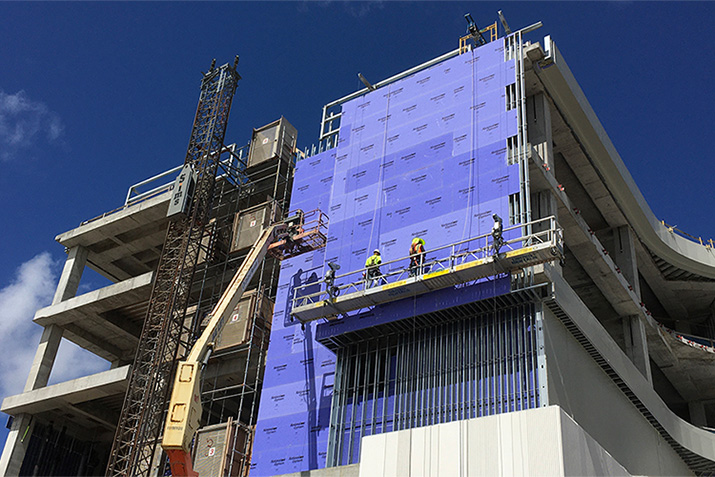 Good acoustics, access to natural light, pleasing aesthetics, and sustainable materials all play a role in adding wellness to your designs. Yet in any business or residential environment, indoor air quality (IAQ) may have the most important effect on an individual's productivity and health.
---
October 29, 2021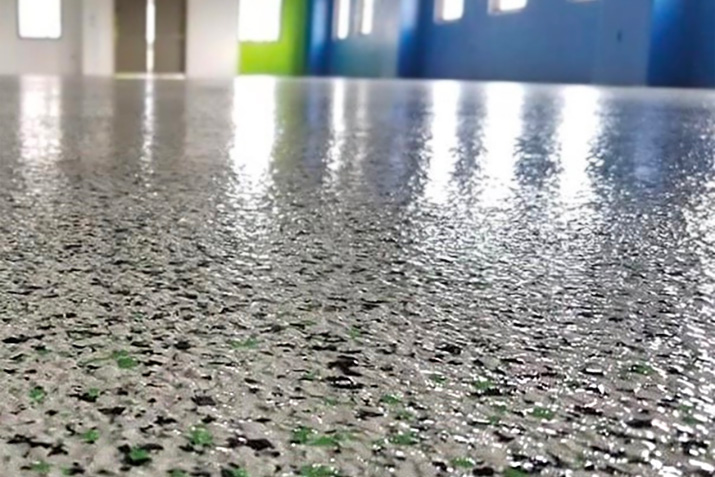 The HERMETIC™ Flake Flooring System is a durable, seamless, chemical resistant floor providing adjustable levels of slight texture and color to match any design theme or surroundings. This aesthetic floor includes multi-colored vinyl flakes (size options available) imbedded and fused between product layers providing an appealing look and increase slip resistance.
---
September 29, 2021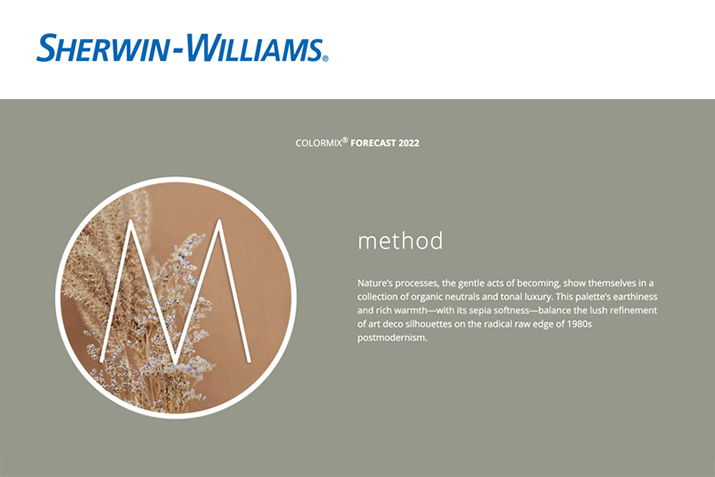 With influences from the art deco era and modern organic design, the 2022 Colormix® Forecast's Method palette brings warmth to workspaces and restaurants alike. Explore all the colors in this collection:
---
September 10, 2021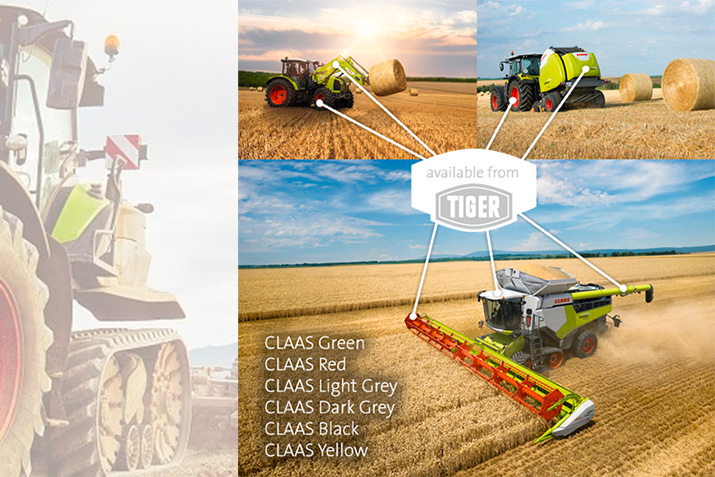 Today, about one-third of the earth's surface area is used for agriculture and forestry. Technological progress is also advancing in the agricultural industry. Agricultural machinery that assists with farming and harvesting is becoming increasingly functional and high-quality. TIGER Drylac® powder coatings help our customers maintain the quality and durability of their agricultural machinery for decades.
---
August 30, 2021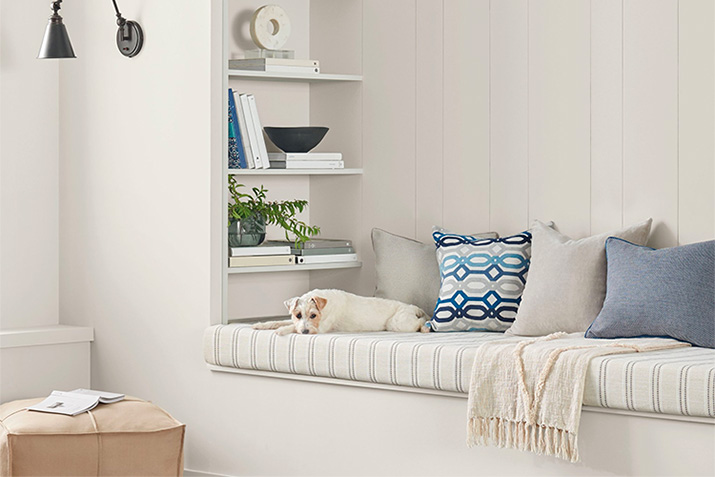 Explore the possibilities of neutrals with the Reflect palette from the Sherwin-Williams Living Well™ collection, full of airy whites and soft grays. See the full color collection:
---
August 9, 2021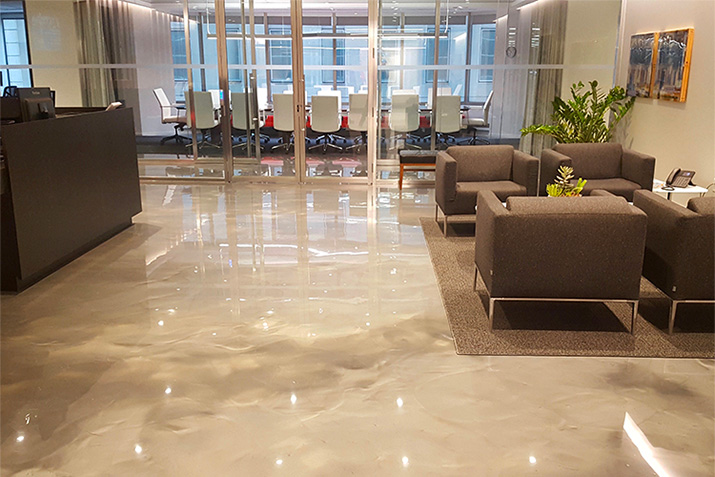 The REFLECTOR™ Enhancer Flooring System is a specialty, high build, self-leveling, fluid-applied floor coating. Engineered for commercial, industrial and residential applications where a durable, long-lasting, aesthetically unique, easy to maintain and completely custom floor is required. Due to the unique and unrepeatable nature of these flooring systems, consult with a technical representative before installing or specifying.
---
July 7, 2021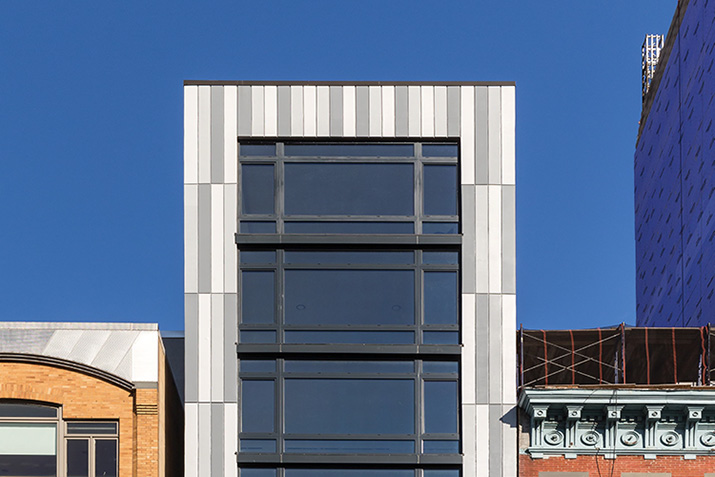 The East Village is one of New York City's trendiest neighborhoods, and Houston Street is one of the busiest thoroughfares. For the Houston House project, Jeffrey Cole of Jeffrey Cole Architects needed a design that was stylish enough for the East Village residents who would call it home while simultaneously addressing the issues that come with traffic noise. And that's before we even begin talking about dealing with New York City's blustery winters and brutal summers. Through creative design, clever use of the StoTherm ci exterior wall system and expert application of a Stolit Milano finish, Cole made quick work of all three challenges in spectacularly successful fashion.
---
June 30, 2021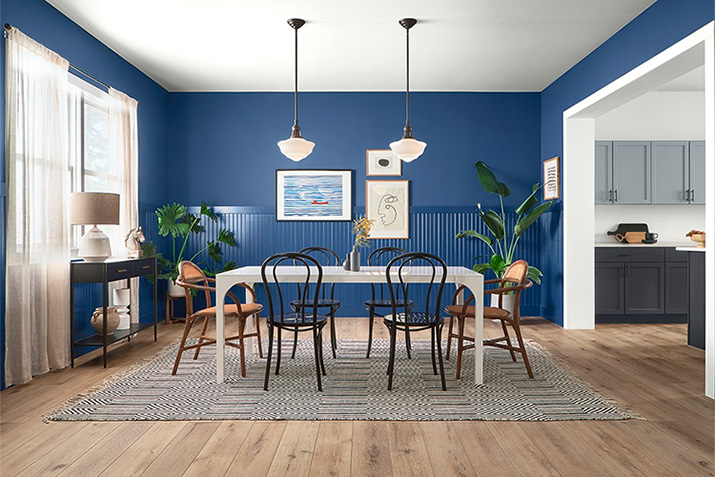 June's Color of the Month, Commodore SW 6524 (185-C7), creates a wave of clarity and calm. Coordinating colors and wood, black and brass finishes combine effortlessly to further the hue's feeling of comfort.
---
June 7, 2021
When faced with the question to used anodized substrates or an anodized effect powder coating -what would you choose? There are advantages in both, but this article highlights the benefits of the anodized powder coating effect. When considering why to convert to the powder coating anodized effect one should understand the anodizing process and its limitations.
---
April 28, 2021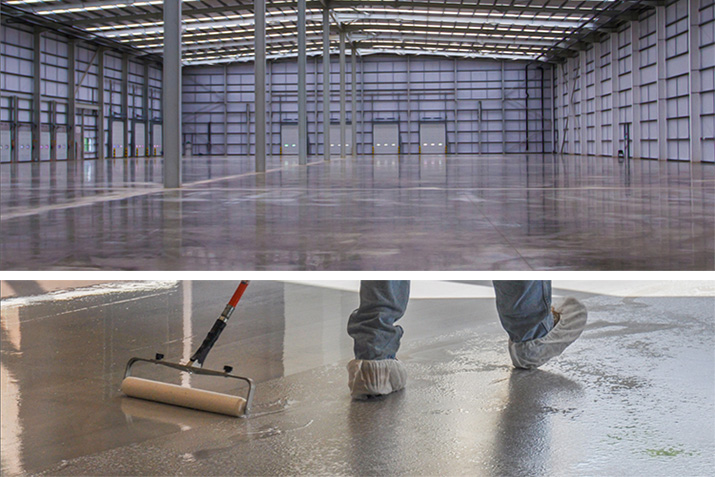 Maxxon® Commercial MVP One Primer is a ready-to-use, zero VOC moisture barrier and primer. When applied to concrete substrates, Maxxon® Commercial MVP One Primer addresses moisture-related issues (high MVER, RH, and pH) and primes the surface for an underlayment or patch. It has a typical re-coat time of less than one hour, allowing for rapid turnaround on fast-track projects.
---
April 16, 2021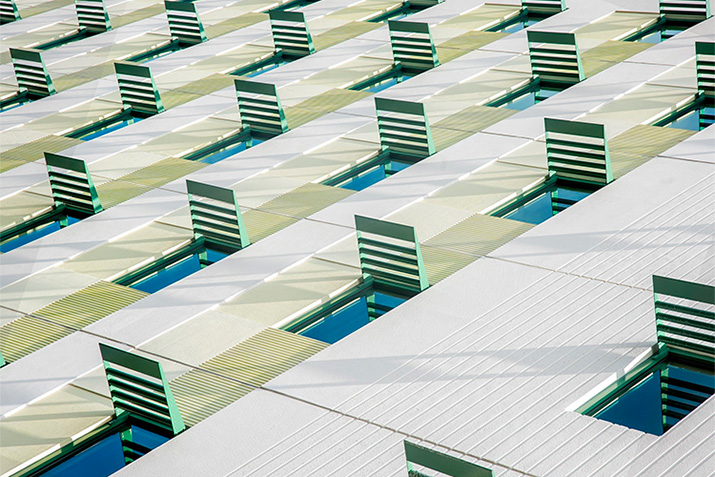 Compared to different building materials, concrete is known for its durability, easy use, and longevity. These are all of the reasons why it's become so popular in the construction industry. Often, architects must create buildings with a life span of over 100 years. Concrete structures will easily achieve this when maintenance is done correctly. Yet, architects yearn for beautiful, stunning buildings. After all, those buildings represent each architect individually. Naturally, they want to be able to be proud of what they have created. For that particular reason, architectural concrete finishes come in handy.
---
October 5, 2020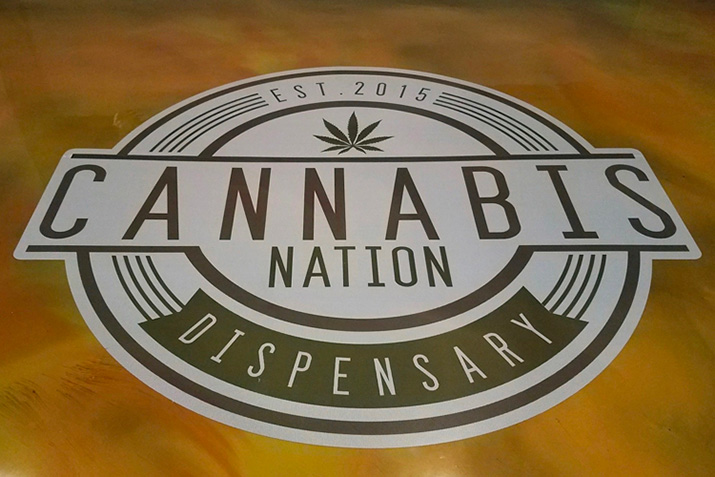 These flooring systems are resinous finishes engineered for various applications in the medical cannabis industry. These applications include cosmetically appealing floors for retail medical dispensaries, ultra-durable surfaces for indoor cultivation areas and laboratory-clean flooring for processing and extraction facilities as well as testing labs.
---
August 7, 2020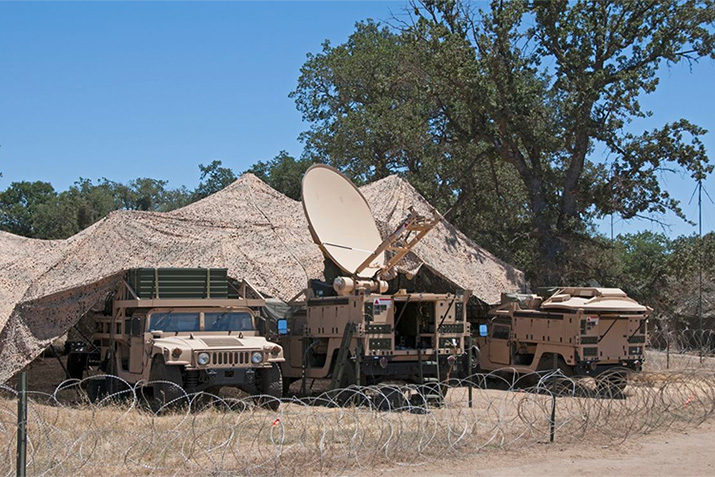 The U.S military has many demanding specifications to fulfill when it comes to the finish of their products. Color and gloss are very important aspects - from concealing equipment in the desert to camouflage patterns that reduce detection in the field. However, in order to sustain certifications these color finishes must also protect the equipment from the harsh environmental aspects. Therefore, in 1985, most military vehicles and equipment required a topcoat applied with camouflaged CARCs. These topcoats produced a non-porous finish that acted as a protectant against radioactive, biological and chemical contamination. CARC repelled the chemical by preventing absorption, with chemicals beading up on the finish surface where they could be easily washed away.
---
July 15, 2020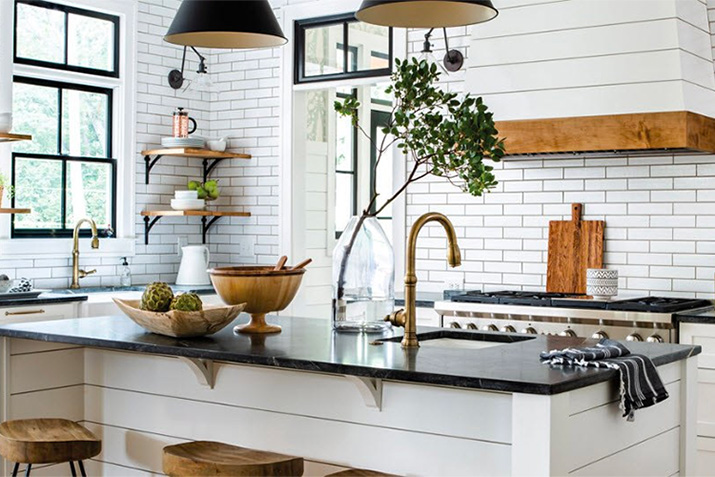 Colorful moments - from a dining room painted Still Water SW 6223 (219-C7) to a bedroom with an accept stripe of Arugula SW 6446 (157-C6) - give the modern farmhouse style a fun update.
---
July 8, 2020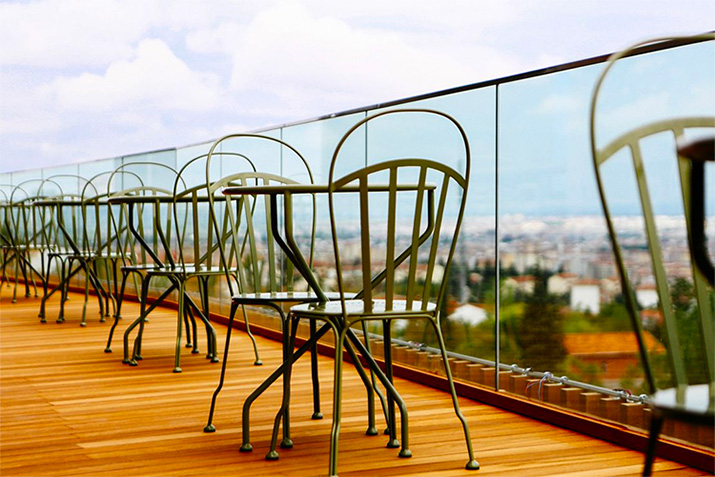 Did you know that TIGER Drylac® Super Durable products are ideal for patio furniture finishes that require long-term protection? Patio furniture is often exposed to harsh weather conditions such as rain, sun, dust, pollen, sand, salt, and especially the sun, which means that your investment in comfort can fade away quickly. Although your metal patio furniture was once in pristine condition, over time it can start to deteriorate. Chips in the finish, rust, and faded colors are good indicators that it is time to consider the benefits of TIGER Drylac® Super Durable powder coating products.