architecture - engineering - construction

Finishes
---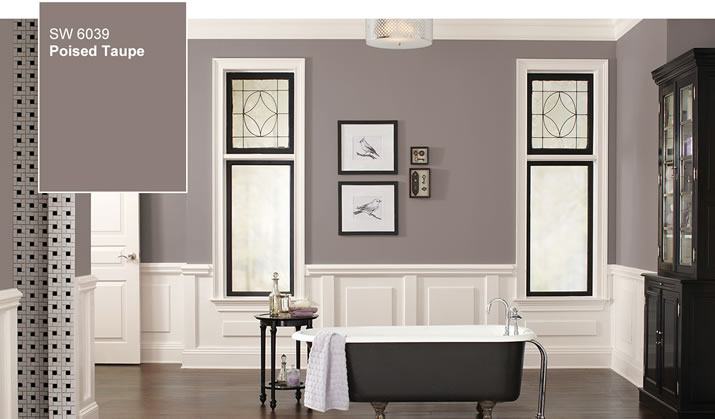 2017 Color of the Year
Sherwin-Williams doesn't usually like to play color favorites, but in this case we can't resist. The color we anticipate defining 2017 is Poised Taupe SW 6039. Here's why: This timeless neutral is modern, classic and a beautiful balance of warm and cool.
The 2016 industry shows revealed a surprising transition from grey to taupe. Both contract and consumer color and products have been focused on grey as the key neutral — although grey is still important, we have seen a significant shift in materials and finish color to warmer expressions of neutral.
Using the Sherwin-Williams ColorSnap® Visualizer, you can explore the Color of the Year, and with the swipe of a finger see it on any wall.
Tag your Poised Taupe Twitter and Instagram posts with #SWCOLORLOVE or upload a photo.
2017 Key color combinations featuring Poised Taupe…
In addition to the "warming up" of neutrals in general, 2017 will see several key colors emerge in combination with taupe.
Cornflower Hues
Faded indigo and lighter cornflower hues pair with modern white and Poised Taupe for a charming palette, reminiscent of the French countryside.

Organic Re-imagined
Vegetal green, citrus green, weathered bronze and mustard yellow pair with Poised Taupe to create a contemporary organic palette — re-imagined for the modern world.

Vintage Pastels
Pastels take on a vintage vibe with dusty ink, amber, Poised Taupe, sage and oxidized yellow.

Wine & Taupe
Deep wine, purple and Poised Taupe bring warmth to the dark tones favored in 2017. Silvery grey and intense teal provide balance and drama to this rich, mysterious palette.

Eroded
Red and coral are vibrant and ore rich when combined with Poised Taupe and dusky rose. There is a natural feel to this palette, reminiscent of silt, clay and red stained bedrock.

Yellow POP
Yellow takes bold direction when paired with black, white, Poised Taupe and deep teal for a super graphic look.

Company: The Sherwin-Williams Company
Source: https://www.sherwin-williams.com/architects-specifiers-designers/color-forecast/2017-color-forecast/2017-color-of-the-year
Tags: Coating | Color | Finishes | Interior Design
---

Now homeowners have the freedom to choose the color they really want for painting their vinyl siding. Thanks to its strength, durability, versatility and ease of maintenance, vinyl siding is the No. 1 choice of exterior covering for homes across the country. According to U.S. Census Bureau statistics, twice as many homeowners side their homes with vinyl than with any other material.
However, vinyl siding colors traditionally range from white to sandstone, with maybe a Wedgewood blue thrown in for variety. In the past, if a homeowner wanted to change the color of his or her vinyl siding by painting, color choice was limited to the same range as or lighter than the existing color. Why? Because darker colors absorb more heat, causing the plastic vinyl to warp, buckle and distort.
But thanks to Sherwin-Williams new VinylSafe® colors, which ensures that darker colors don't absorb heat, this is no longer the case. Innovative VinylSafe® paint colors solve that problem by allowing you the freedom to choose from 100 colors options, including darks such as Ground Hog and Green Mountain, and brights named Frilly and Nikko Blue formulated to resist warping or buckling when applied to sound, stable vinyl siding. Plus, they can get custom matches by using Sherwin-Williams ColorSnap® Precision, our exclusive technology for ensuring exceptional color accuracy and consistency. Each vinyl siding color is available in Sherwin-Williams SuperPaint® Exterior and Duration® Home Exterior product lines. With the new VinylSafe® color palette, you can offer your customers both an economical way to achieve fresh curb appeal and a world of color choices.
Company: The Sherwin-Williams Company
Product: Exterior Paints
Source: https://www.sherwin-williams.com/architects-specifiers-designers/education/paint-and-color-technology/sw-art-pro-vinylsafecolortech
Tags: Coating | Color | Exterior Design | Finishes
---


Water-based Stain, Acid Stain
Concrete stains are a quick, easy and cost effective way to transform a dull slab. While most decorative concrete contractors opt for water-based stains (and for good reason), acid stains still have their place in the market. Water-based stains offer numerous advantages from environmental, aesthetic and functional standpoints.
Environmental Benefits
Simply put, water-based stains are better for environment. Acid stains contain potentially hazardous materials and require additional containment cleanup in regulated areas such as California where there is extra attention paid to storm water runoff. Water-based stains are environmentally safe and do not require special handling during application, nor do they carry disposal concerns.
Aesthetic Outcomes
Water-based stains typically have a larger color palette and offer versatility to the applicator with the ability to blend or dilute colors. Vibrancy can be achieved with water-based stains, while acid stains are typically in the natural, earth tone range. Water-based stains allow the applicator to decide how solid or opaque the color will become based on the amount of water used. With an acid stain, you really are at the mercy of the reaction that occurs. To achieve deeper tones with acid stain, multiple applications may be required, or you may need to bring in other products.
Functionality
Water-based stains possess additional functional benefits that are attractive to both the applicator and end-user. For instance, they do not discolor or fade over time, or radically change color due to UV rays. When applied to properly prepared concrete substrates, water-based stains will not exhibit cracking, crazing, spalling, delamination, softening or other deteriorating effects.
Since acids chemically react with concrete, and because no two concretes are the same, an acid stain reaction yields a different look or color on different batches of concrete. Contractors who are familiar with acid stains are comfortable explaining to their clients that they may not exactly get the intended appearance when using an acid stain. Various shades will be produced based on the concrete matrix, it's age, it's porosity or density, chemicals it has been exposed to, etc. The anticipated variation can be exciting to some. While to others, it can be disastrous. For those looking for something totally unique and custom, acid stain may be the solution. For those conservative folks who prefer a 'what you see is what you get' kind of outcome, water-based stains are the way to go.
Acid stains require the extra steps of cleaning and neutralizing after 24 hours, then additional time for the concrete to dry prior to sealing. Water-based stains don't require neutralizing or cleaning after the stain has been applied, so sealers may be installed the following day.
When Acid Stains Make Sense
Acid stains are predominantly used out of habit these days. The exception would be that water-based stains cannot be used in conjunction with polished concrete. Acid stains can.
Acid stains do become a permanent part of the concrete, and therefore will not fade, peel or crack over time.
Both types of topical stains can be applied to interior and exterior surfaces, as they are ultraviolet light stable. As with all stains, acid and water-based stains are translucent in appearance and therefore the concrete slab's surface textures and variations are visible.
Some installers actually prefer to use a blend of both materials. Often, acid stains are used as a base color and a water-based stain is then used to antique or create additional mottling.
Regardless which type of stain, always remember the importance of sealing these products with a protective sealer that will endure the chemicals, UV and traffic that a decorative stained surface is exposed to.
Company: Super-Krete Products
Product: Waterbased Stain & Seal System
Of: Tracey Lackovich & Paul Scheidmantel
Source: http://www.super-krete.com/the-benefits-of-water-based-concrete-stains/
Tags: Color | Concrete | Design | Finishes | Floor
---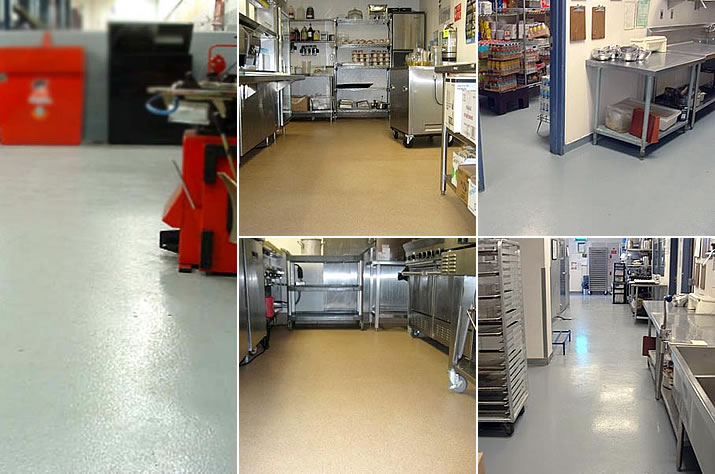 Take a look at the California Retail Food Code Section 114268, where it talks about the requirements of flooring for a food facility: "...the floor surfaces in all areas in which food is prepared, prepackaged, or stored, where any utensil is washed, ... shall be smooth and of durable construction, and nonabsorbent material that is easily cleanable. Floor surfaces shall be coved at the juncture of the floor and wall with a 3/8 inch minimum radius coving and shall extend up the wall at least 4 inches..."
There aren't many flooring options for a food facility that meets those very exacting requirements. Seamless resinous flooring systems best meets these needs. Let's look at why that is.
First of all, flooring for a food facility washdown area must be able to meet the ordinary requirements of workplace safety and floor longevity. The flooring must be able to withstand frequent cleaning and sanitization that might happen multiple times each day. Cleaning standards require some sort of chemical cleaner, so the floor must not be damaged by these chemicals which may be harsh and abrasive to flooring surfaces.
In addition, the washdown area will have high-pressure sprayers that are scouring equipment and the floor at close range, with very hot water. The floors are repeatedly flooded from cleaning. This means the floors must be anti-slip even through a potential near-constant layer of hot water and soap or chemicals on the floor.
Resinous floor coatings like decorative quartz systems or urethane concrete systems meet and exceed these needs. Duraamen has a variety of resinous flooring materials with exceptionally high abrasion resistance and chemical resistance. If these floors can withstand chemical cleaners, they can definitely withstand water from a power washer or sprayer. In fact, there's very little than can affect these floors, which makes them perfect flooring options for a food facility washdown area. Urethane Concrete Screeds also provide thermal shock resistance to the floors. The floors are cleaned with hot water or steam followed by cold water. Most of the flooring systems dis-bond from the substrate. Urethane Concrete Screeds have the ability to withstand this hot-cold water washing.
A seamless resinous system like urethane concrete can be applied over existing flooring concrete substrate. Urethane concrete systems are a fast application and a fast cure that can be ready for traffic in 24 to 36 hours. These flooring systems can have additives which can be non-slip and anti-microbial. Because the additives are mixed in with the entire flooring system, if for some reason your floor is gouged, you would still be protected. Urethane Concrete flooring systems do not easily deteriorate, so they can withstand the abuse of any commercial environment. They are applied in one homogeneous layer, so there's nowhere for bacteria to hide. Get in touch with Duraamen to find out more about Duraamen's floor coatings for a food facility washdown area.
Company: Duraamen Engineered Products Inc.
Product: Resinous Flooring: Self Leveling Polyurethane
Source: https://www.duraamen.com/blog/what-are-the-flooring-options-for-a-food-facility-washdown-area
Tags: Concrete | Finishes | Floor
---
While cement-based overlays have been around for decades, many of the systems widely available today blend polymer resins with cement, sand and other additives to create a highly durable, attractive and easily maintained flooring overlay systems to be used over concrete.
With so many choices available on the market today, many questions arise as to the differences among polymer overlays, specifically in application and material, to achieve the functionality and appearance wanted by a client.
Among the most popular choices: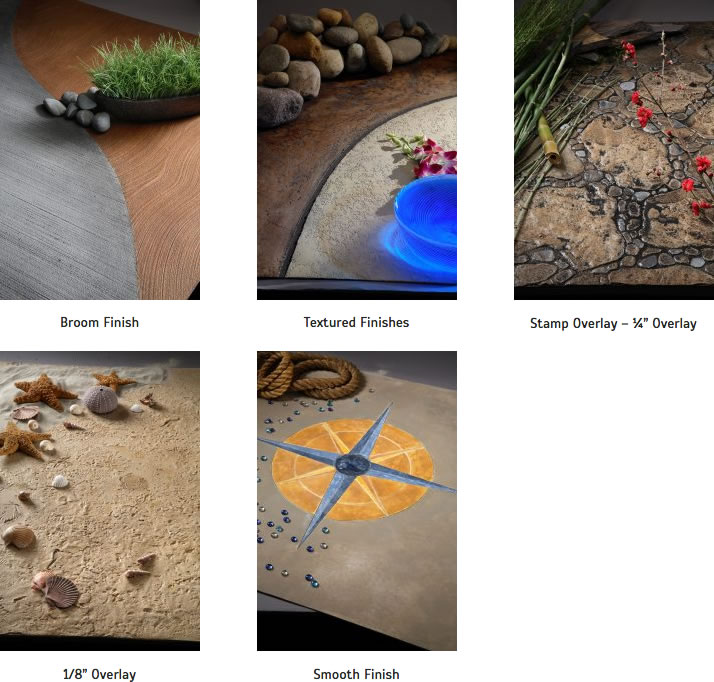 Broom Finishes with Sealer and Optional Coloring
This type of overlay system finish is achieved by applying a base coat of thin-set resurfacing material over the surface by either squeegee or cement trowel. A second application is applied, and the surface is broom finished as new concrete is poured. The surface is then sealed with a sealer appropriate for the type of traffic that is anticipated.
Textured Finishes
This system is achieved by using two different types of application systems. Commonly known as a "knock-down" finish, it's applied using a standard compressor and drywall hopper gun. More specifically, thin-set resurfacing material is sprayed over the surface and flattened using a standard cement swivel trowel, leaving various high/low spots. This allows surface water to pool in the lower un-troweled areas, which is better known as "cool deck," since water sitting in the un-troweled areas allows water to stand and cools the deck. It's also frequently used on pool decks and areas where skid resistance is required.
The second method of texturing is probably the most common type of decorating finish used by contractors nationwide. With this particular coating, a base coat of thin-set material is applied to the surface by hand trowel or spray to creating different designs that simulate the appearance of either stone or limestone. It is then stained and sealed with the appropriate type of sealer specific to traffic area.
Decorative Overlays (⅛" and ¼")
These type of overlays are applied by trowel or screed rake. The ⅛" overlay is normally a seamless type of texture, giving the appearance of large simulated stone textures without grout joints, with hundreds of stamping mats area available in different designs and textures. Grout joints are cut into the surface after curing has taken place, and then the surface is stained and sealed with the appropriate sealer. The ¼" stamped overlay is very similar to the ⅛" overlay, except the pattern creates the simulation or design of individual stones with grout joints. The surface is then colored and sealed with the appropriate type of sealer depending upon the traffic.
Stain & Sealer Finishes
Staining and sealing of concrete surfaces is very popular in a wide range of environments. The system consists of staining the surface using water-based color-stains, dyes or acid stains, and then it's typically saw-cut in patterns, shapes or designs, color applied and sealed to meet the traffic needs of the area.
Company: Super-Krete Products
Of: John Holwitz
Source: http://www.super-krete.com/navigating-the-wide-selection-of-polymer-overlays-over-concrete-substrates/
Tags: Concrete | Finishes | Floor