architecture - engineering - construction

Landscape Design
---
January 8, 2020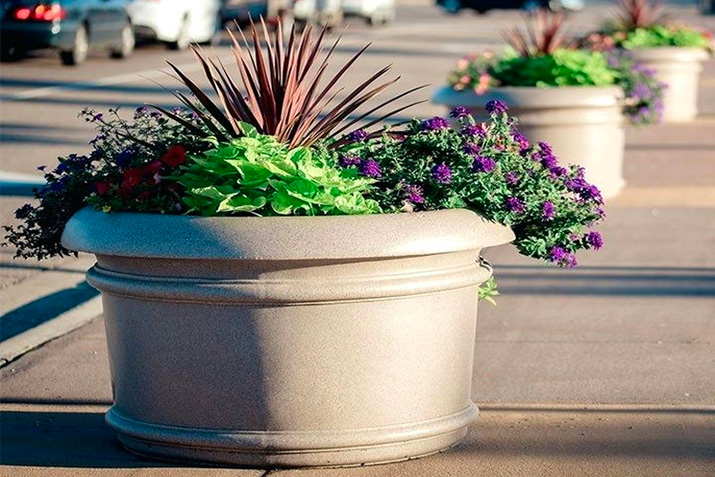 Investing in commercial planters is no small undertaking, and so the goal is always to get planters to last as long as possible. First and foremost, buying the right planters made from long lasting materials will make a huge difference in how long your planters last. In this article, we will go over the best material for planters that outlive the competition, as well as things you can do to make just about any commercial planter last longer.
---
December 11, 2019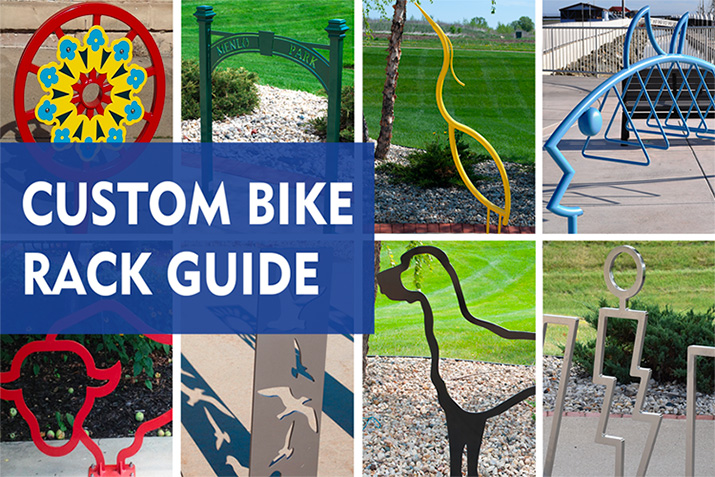 If a custom bike rack has been something you've been considering, you're in the right spot. We're taking our dozens of years of custom bike rack design and creation and sharing what you need to know to make it a smooth process.
These insights will help you take a concept and turn it into a custom rack that will stand as a proud embodiment of your business, community, school or other organization.
---
October 30, 2019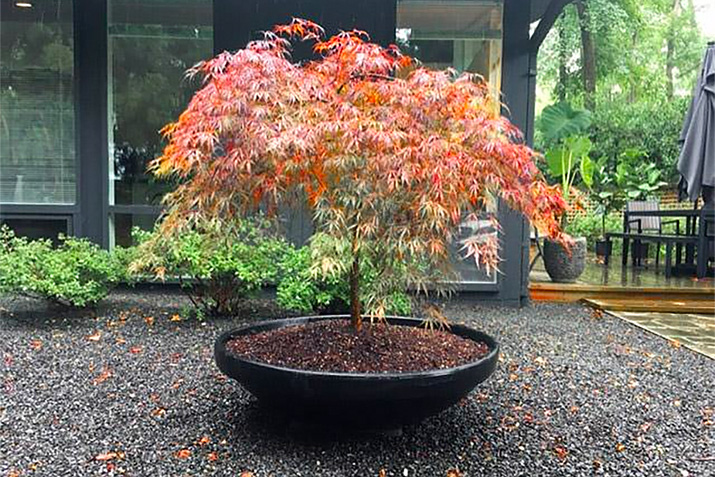 Now that the summer has ended, it is time to transition your landscape design for the autumn season. Your landscaping is ready for a revamp once your summer blooms come to an end. This season is all about spending time outdoors and enjoying the landscapes. The maintenance-free TerraCast® resin products will enable an effortless transition to autumn and even winter landscaping.
---
October 23, 2019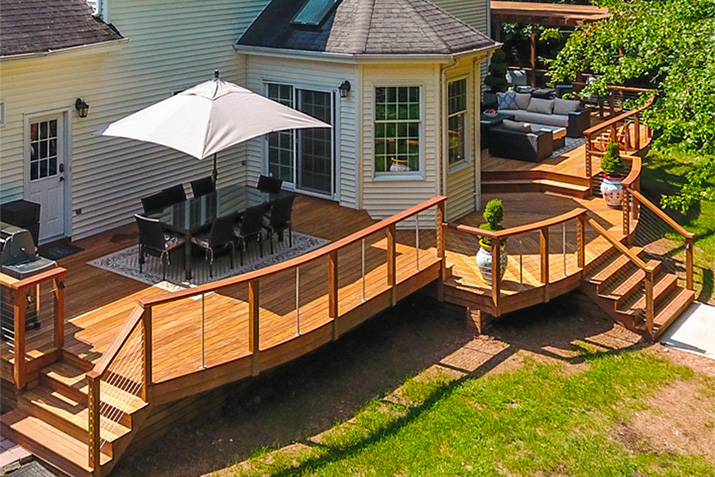 Cable railing can be particularly striking when combined with wood frames. However, it's crucial to take care when constructing the frames to reduce the chance for bowing and possible failure – and accompanying callbacks.
---
August 16, 2019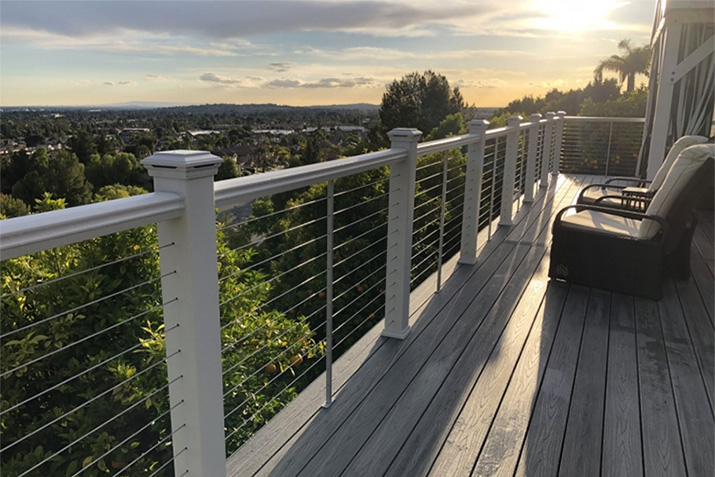 CableRail and Trex, together in one fantastic residential deck! Nestled in the hills of Anaheim, California, this deck more than doubled the homeowner's outdoor living and entertaining space. The contractor, Michael Walter of MLW Construction had this to say:
---
July 10, 2019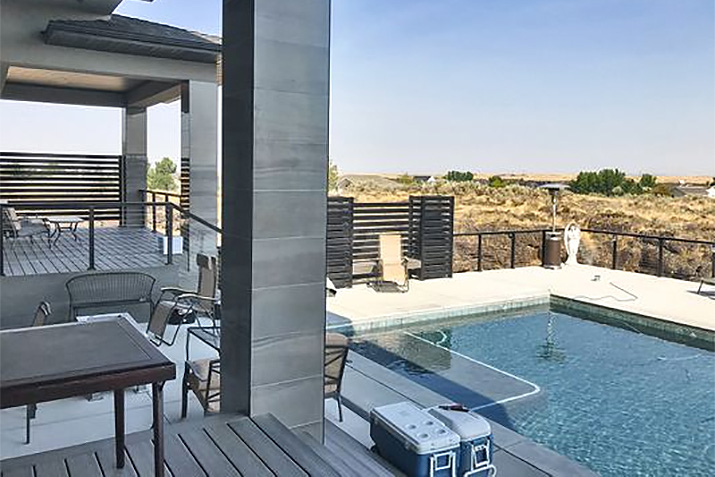 With mirror-finish columns, geometric shapes, and dark rails, this backyard patio and pool area has a strong contemporary presence that stands out dramatically against fields of grass and stone.
---
June 25, 2019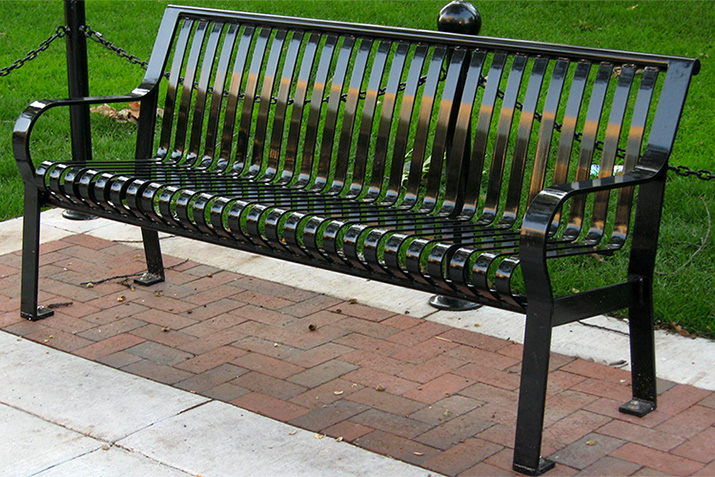 When it comes to ensuring the long-lasting beauty and durability of your commercial site furnishings, the e-Steele™ metal finishing process used on Thomas Steele products stands apart from others. The process used on almost every single piece of steel used by Thomas Steele produces a finish that resists corrosion for a longer period of time and improves the overall appearance. The result is Thomas Steele's ability to produce outdoor commercial benches, tables, litter receptacles and planters with smooth, uniform finishes that are able to withstand scratching, impact, chemicals, humidity and high levels of corrosion from salt.
---
June 24, 2019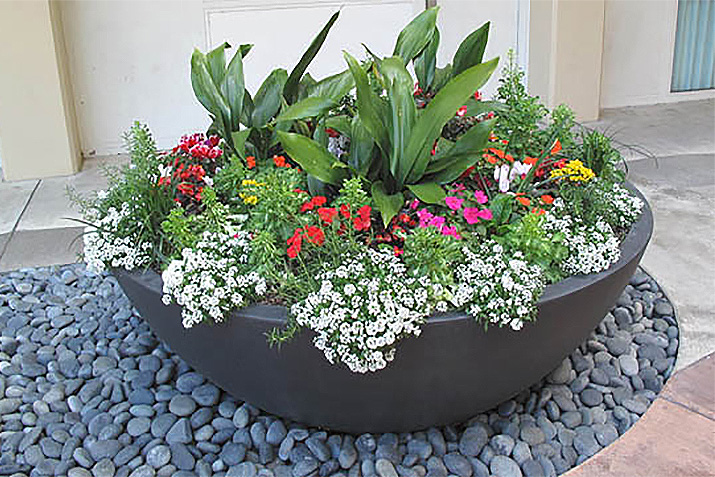 The difference is recognizable when you invest in TerraCast®'s high quality resin planters. TerraCast® Planters will withstand many years of exposure to climate changes and daily abuse in high traffic areas without problems. The picture on the left is our Californian planter installed in Wisconsin over 20 years ago. It has been hit with wheel chairs, gurneys, strollers, and exposed to ice melt and salt, snow shovels and snow blowers. The planter still looks good as new! What makes it so durable?
---
May 27, 2019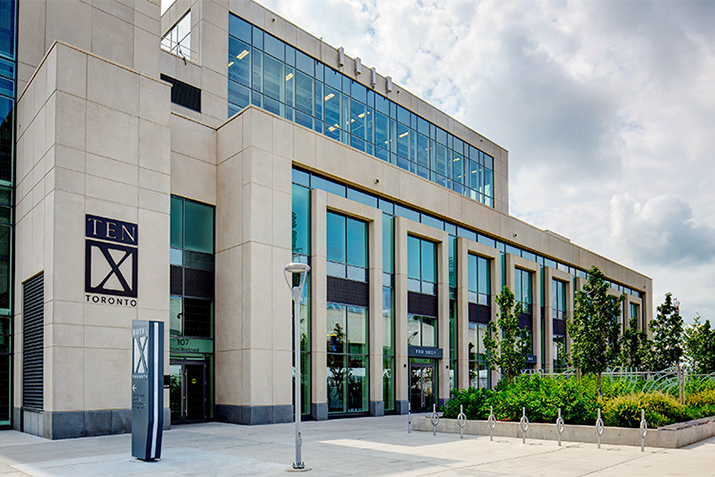 High style and eco-conscious design are often perceived as mutually exclusive. Hotel X Toronto—the latest addition to the Library Hotel Collection's portfolio of international boutique hotel properties—boldly challenges this assumption.
---
May 10, 2019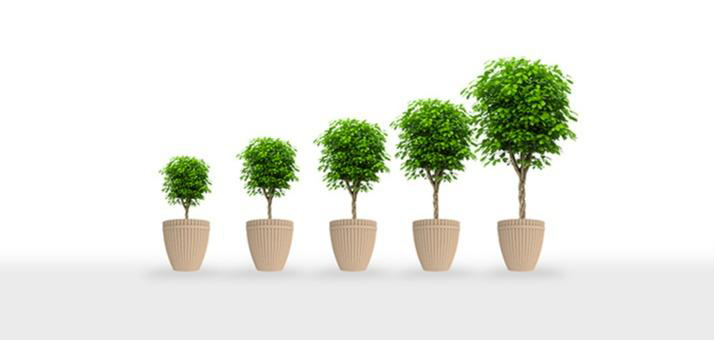 TerraCast® Products cares about the environment and supports green practices! Our line of planters are available with self watering reservoirs. Minimize the amount of water waste by utilizing our self watering system! Reduce your watering cycles from days to weeks. Our self watering system is made in the USA from the same durable and long lasting resin material our planters are made of. Keep your flowers beautifully bloomed, not over-watered and damaged.
---
April 12, 2019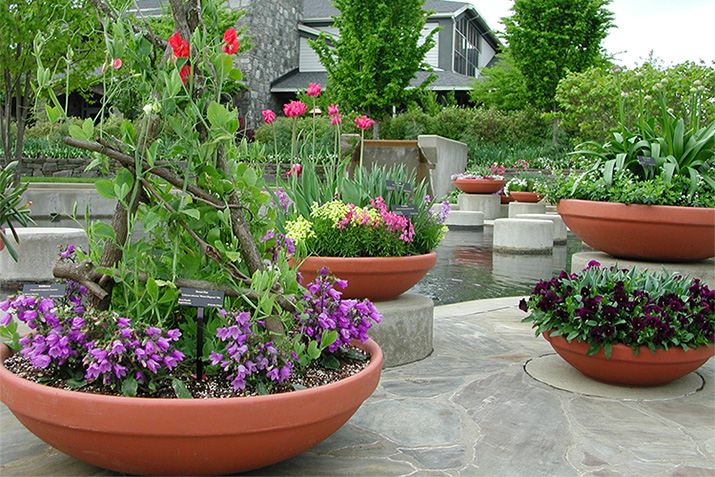 Equivalent to using a safe material for food packaging, finding planters made from safe material is the most important factor in growing edible plants. TerraCast® planters are made from Linear Low Density Polyethylene (LLDPE) resin, which is the material known to be used extensively in food packaging and other consumer products. Our planters are labeled with a 4 for recycling and they are safe to grow edible plants.
---
March 13, 2019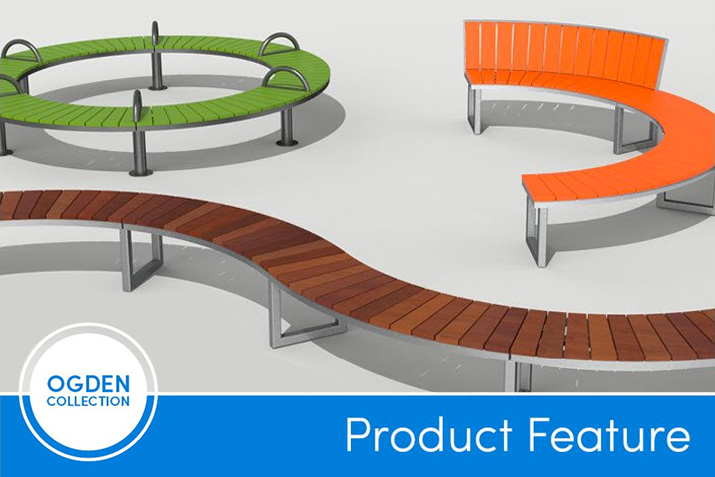 Think you can handle unlimited curves? We're talking curved to virtually any radii in one-inch increments! The Ogden Collection offers all this flexibility with four mounting options, gorgeous & durable seat material options, and it's a standard product!
---
March 11, 2019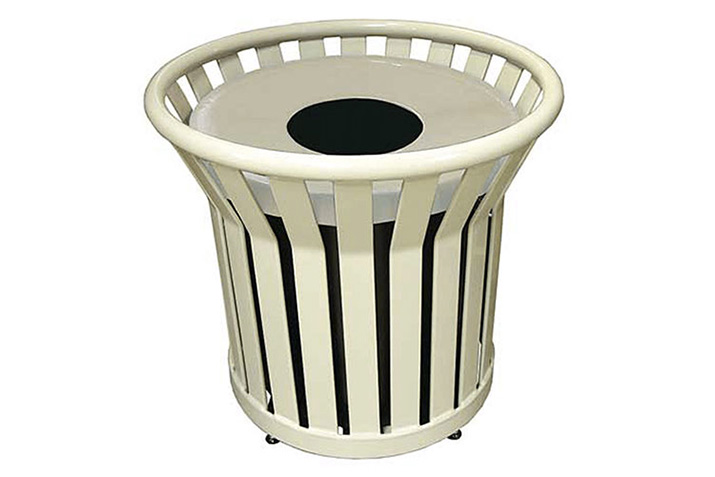 Is your business constantly covered in litter? Commercial trash receptacles can help fix littering issues and promote recycling. In fact, one of the biggest contributors to littering is a lack of trash receptacles. If people cannot find a place to throw away their garbage, and most people won't look that hard, they will toss it wherever they can. Some may assume there is no consequence for littering and that someone else will pick it up as part of their job. You can help make the decision to responsibly dispose of trash easy by ensuring there are plenty of commercial trash cans and receptacles around your property.
---
February 18, 2019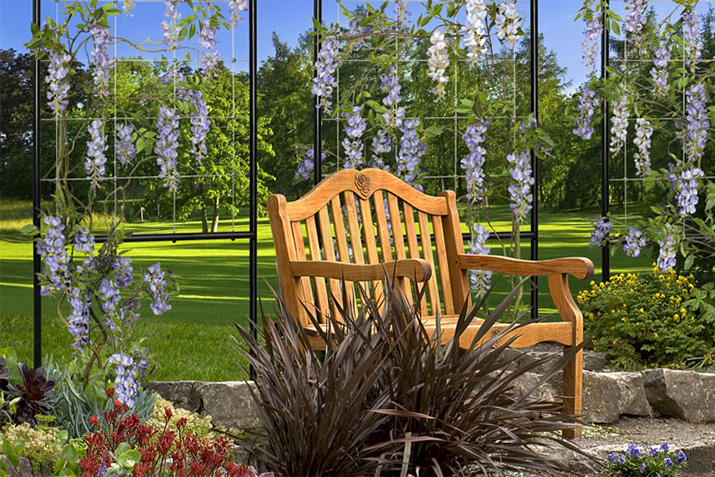 here are few things in garden culture quite as showy as a plant-laden trellis. The latticework is a natural way to partition a garden and provide an element of privacy. A trellis can even act as an insulating blanket when positioned alongside a home. Roses, grapevines, clematis, tomatoes, raspberries, and ivy love these wonderful vertical supports. For landscape architects, deck builders and do-it-yourselfers, the trellis is a quick and practical way to frame a backyard element or serve as a natural wall, say for an elevated deck.
---
February 13, 2019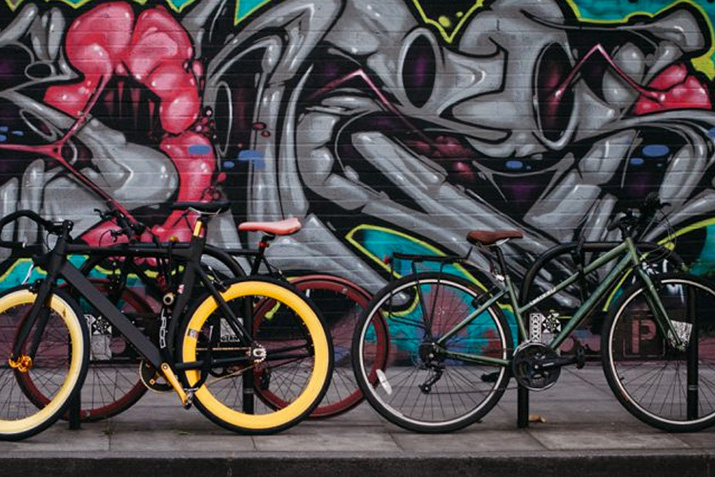 There are a lot of commercial bike racks to choose from. But not all bike racks are created equal. There are key features that make certain types of bike racks better options for securing and properly supporting bicycles than others. In this guide you'll learn what those key features are, other considerations for bike racks, as well as examples of good bike racks, and bike racks to avoid.
---
February 11, 2019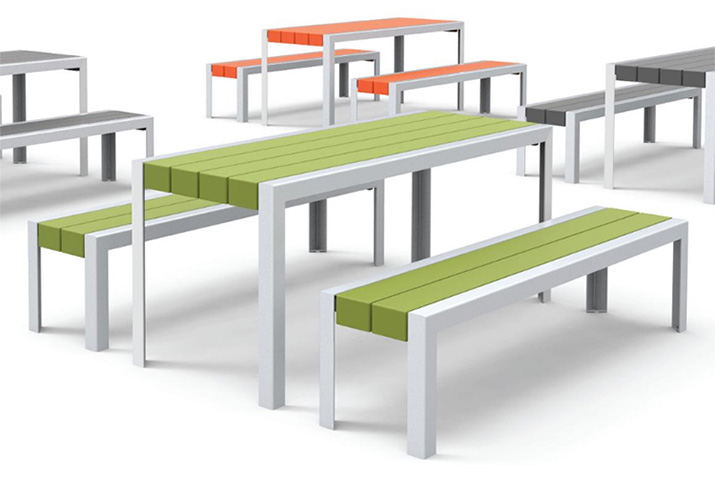 Maglin Site Furniture offers recycled High-Density Polyethylene in two textures: wood grain and orange peel. This creates a durable environmentally friendly alternative to traditional lumber that is perfect for most outdoor applications.
---
January 25, 2019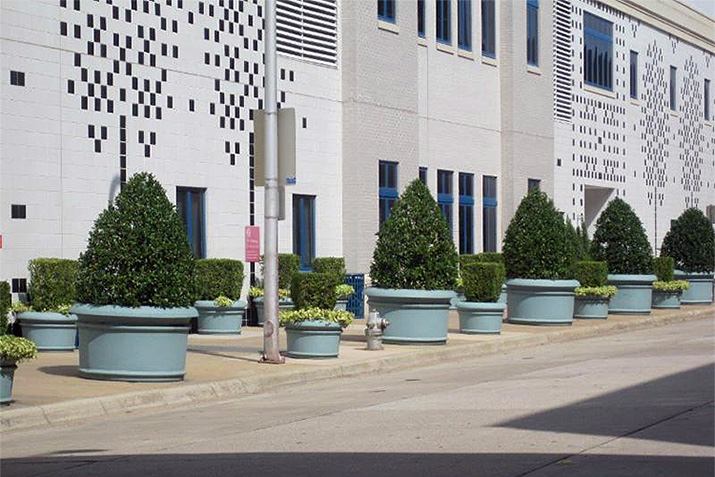 Extra-large planters are used for the instant "wow" factor in many landscaping designs. However, the cost of these heavy duty planters, shipping and handling, and installation can be astronomical. TerraCast ® creates products with usability in mind to make the process easier at the job site. With our lightweight planters, the cost of shipping is more affordable and they can be moved by hand.
---
January 18, 2019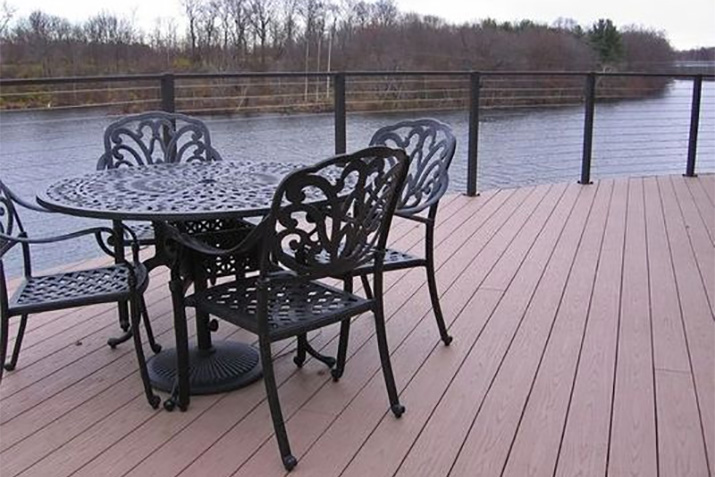 Featuring: reinforced aluminum system withstands the tension of cable infill without bending; Bronze powder-coat compliments rustic, woodsy, and old-world surroundings while protecting the aluminum from the elements; Post-to-Post Handrail runs between posts, allowing the railing to follow the curves of the deck; Deck mount posts are easy to install; Field assemblies have a low-profile look with no bulky turnbuckle.
---
December 19, 2018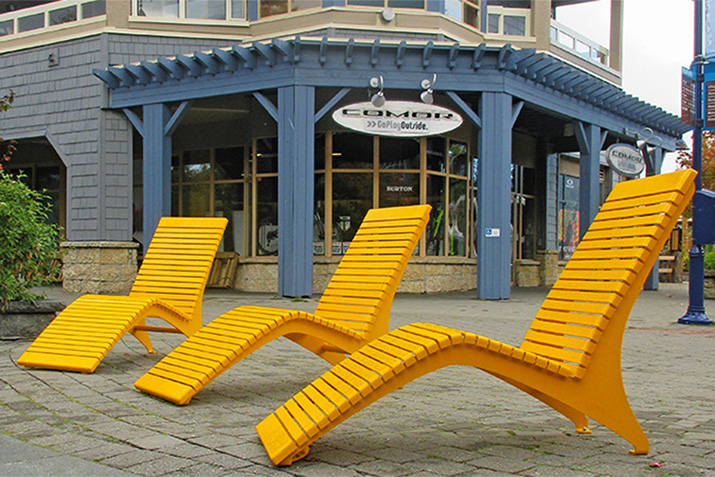 In 2014, as the Resort Municipality of Whistler was planning for the future, they began by looking back at the past. They wanted to highlight another side of their resort town, one that invited people to slow down and appreciate the natural beauty and unexpected history of the breathtaking location...
---
December 12, 2018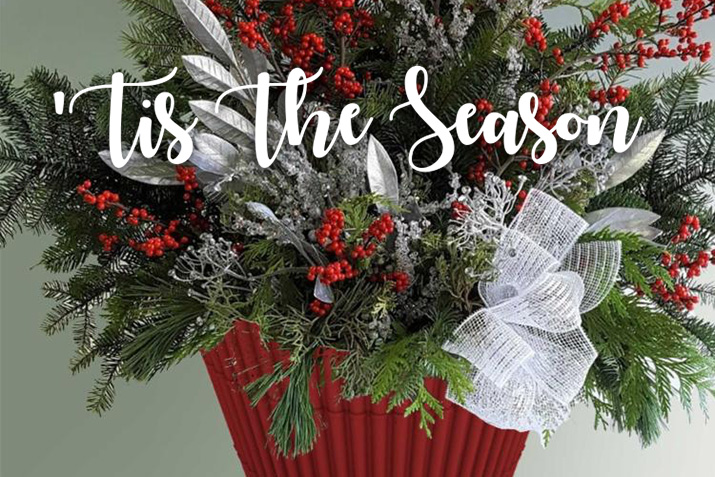 Immerse yourself in the holiday spirit! TerraCast® offers a wide selection of outdoor products that will last through extreme weathers and many winters to come! Create a statement piece for your projects by personalizing the planter with a custom graphic.
Why Choose Glass Deck Railing? (November 26, 2018), Working Inside Out (November 14, 2018), An alternative to union metal light poles: resin-based lampposts (November 2, 2018), Resin planters and lampposts: easy to maintain and graffiti resistant (October 1, 2018), Gateway Arch Expansion (September 22, 2018), Landscape lighting solutions: 7 signs your business should upgrade lighting systems (September 13, 2018), 'Megadeck' transforms outdated home into vacation retreat (August 29, 2018), How do lightweight planters change the game? (August 17, 2018), 7 Fun ideas using glass to jazz up your outdoor patio or deck this summer (July 27, 2018), Commercial landscape lighting (July 20, 2018), Modern Heirlooms - Historic Urban Mixed-Use Developments (June 25, 2018), Connect with Ancora (June 4, 2018), These custom outdoor planters are the most durable on the market–find out why! (May 14, 2018), Educational design: Connecting people and place (March 28, 2018), Your Guide to Salt Resistant Outdoor Lighting Fixtures (March 7, 2018), 7 Types of landscape lighting your property could benefit from (February 16, 2018), Using security bollards and barriers to protect property and pedestrians (February 2, 2018), Railing color: a hidden choice (January 24, 2018), Brick Stairways (November 20, 2017), Custom outdoor furniture that reflects your vision (November 10, 2017), 5 Innovative Public Square Design Ideas (September 29, 2017), Ogden by Maglin Site Furniture offers flexible straight, curved or circular bench options to suit any style (August 25, 2017), Concrete Resurfacing (August 23, 2017), Bike lockers: The right bike parking for your site (August 16, 2017), Modular Seating - Volare™ (August 10, 2017), Lake Avenue light poles restoration - Pasadena, California (August 2, 2017), TerraCast Step Planters Bring Innovation to Reclaim Public Spaces in Major U.S. Locations (July 28, 2017), Transform your yard, patio, or outdoor cafe into majestic gathering places with these beautiful brick outdoor entertainment pieces (July 3, 2017), CableView® Aluminum Cable Railing System by Stainless Cable & Railing Inc. (June 23, 2017), Kalwall Featured In Winning 2017 RIBA London Award Project (June 20, 2017), Starlings And The Grain/Agriculture Industry (June 16, 2017), 2017 Excellence in Hardscape Awards Recognizes County Materials' Concrete Pavers, Slabs and Retaining Walls (May 4, 2017), The Art of Profitable Deck Building (April 25, 2017), Bicycle security solutions (April 14, 2017), Deck Railing Ideas (April 7, 2017), 6 Ways To Overcome Coastal Landscape Installation Challenges (March 3, 2017), The evolution of the educational landscape (February 17, 2017), New from Thomas Steele: Monona benches, chairs, side tables and litter receptables (February 13, 2017), Waldorf™ Benches (January 12, 2017), How To Avoid The Most Common Problems With Commercial Lampposts (December 30, 2016), New designs from Victor Stanley: Camille Table & Benches (November 29, 2016), 8 Questions You Need Answered Before Buying Commercial Grade Outdoor Furniture (October 24, 2016), Battery Life: introducing a new way to energize your outdoor space (October 12, 2016), An orderly revolution in waste control (August 3, 2016), Smart Ways to Upgrade Your Deck (July 8, 2016), Turn your backyard into a haven (June 15, 2016), The Rise of Outdoor Lighting: Enhancing Aesthetics and Extending Entertainment (May 26, 2016), Slip Resistant Aluminum Grating Utilized on ASLA Green Roof (May 23, 2016), How To Upgrade Light Poles With Decorative Bases (May 19, 2016), New Colors for DesignRail® Kits! (May 2, 2016), Cochran Expands and Enhances Landscape Forms Lifestyle Furniture for Terrace Life (April 29, 2016), Green Building Tips: How To Create Eco-Friendly Landscaping (April 25, 2016), Lakeside Planter (March 4, 2016), Maglin has collaborated with Philips Lumec to offer a design-integrated line of sustainable site furniture (February 17, 2016), Safety Bollards Protect Storefronts (February 9, 2016), Importance Of Outdoor Garden Planter Materials (January 22, 2016), Designing Outdoor Public Spaces is Vital to the Future of our Cities (December 28, 2015), 10 Major Benefits To Installing LED Tree Ring Lighting (December 9, 2015), Reeder Illuminated Sign (November 23, 2015), Stop unauthorized parking using Reliance Foundry's Fold-Down Bollards (November 16, 2015), Please be Seated: New York City expands its CityBench program and grows 'Street Seat' parklets in Brooklyn (October 23, 2015), Flexible Bollards: Traffic & Parking Lot Posts (September 9, 2015), MultipliCITY wins a 2015 IDEA Goldaward (August 25, 2015), Plastic Bollard Covers: Security Post Sleeves (August 7, 2015), Benefits of Precast Concrete Bollards (July 10, 2015), The FGP Collection by Francisco Gomez Paz (July 6, 2015), How To Create The Best Large Flower Pots On The Block (June 22, 2015), Introducing a whole new personalized approach to site furnishing... (June 15, 2015), Must watch video! Landscape design and the history of ASLA-NY (May 22, 2015)