architecture - engineering - construction

Landscape Design
---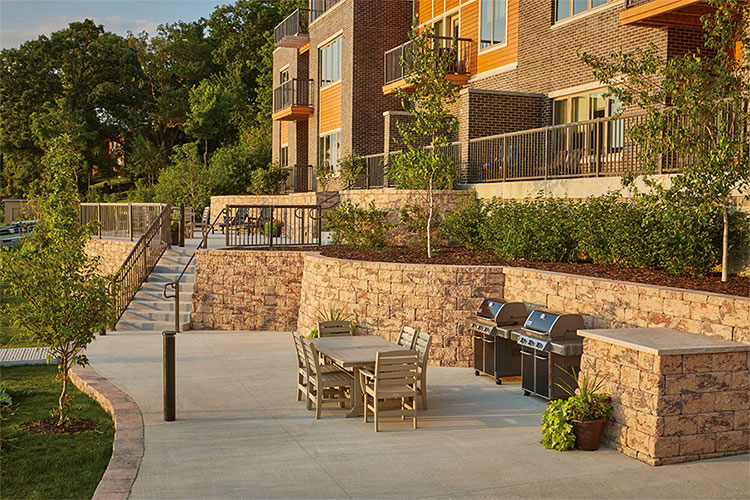 The innovation and beauty of County Materials' hardscape products were recognized at the 2017 Wisconsin Masonry Alliance Excellence in Hardscape Awards. Five projects with concrete pavers, slabs and retaining walls manufactured by County Materials received awards at the 2017 gala, hosted at Lambeau Field in Green Bay, WI.
A panel of industry judges selected winners from an entry pool of many exceptional landscape projects located in Wisconsin and Michigan's Upper Peninsula. Landscape projects were judged on their overall excellence in design, creativity, functionality, selection and quality of hardscape materials, installation techniques, craftsmanship and finished appearance.
Three projects featuring County Materials' pavers, slabs and retaining walls took top honors with Gold Awards in different categories.
Church Mutual
In the category for Best Concrete Paver Commercial Application Over 2,500 sq ft, Gold went to the patio at the Church Mutual office in Mosinee, Wis. completed by CW Terramaster.
Lake Edge Apartments
Also earning the top Gold Award was the Madison, Wis. Lake Edge Apartments in the Best Structural Retaining Wall Commercial Application Over 2,500 sq ft completed by TMS Landscape Inc.
Menasha Corporation
Finally, the Neenah, Wis. Menasha Corp earned the Best Permeable Paver Commercial Application category, completed by Miron Construction.
Smoke Tree Pass Residence
In the Best Driveway Application category, Wolfrath's Nursery & Landscaping of Hortonville, Wis. earned the Silver Award for their Smoke Tree Pass residential driveway project in Appleton, Wis.
Shawano Lawn and Stone
The Bronze Award was given for Best Permeable Paver Residential Application to Shawano Lawn and Stone for their work on the lakeside Emile Court residence in Gillett, Wis.
County Materials is a leading supporter of the Wisconsin Masonry Alliance and the Excellence in Hardscape Award competition, and partner with professional landscape installers and designers. We congratulate each of the winners for their excellence in the industry.
Company: County Materials Corporation
Product: Landscaping
Source: https://www.countymaterials.com/en/news/item/2017-eih
Tags: Concrete | Landscape Design
---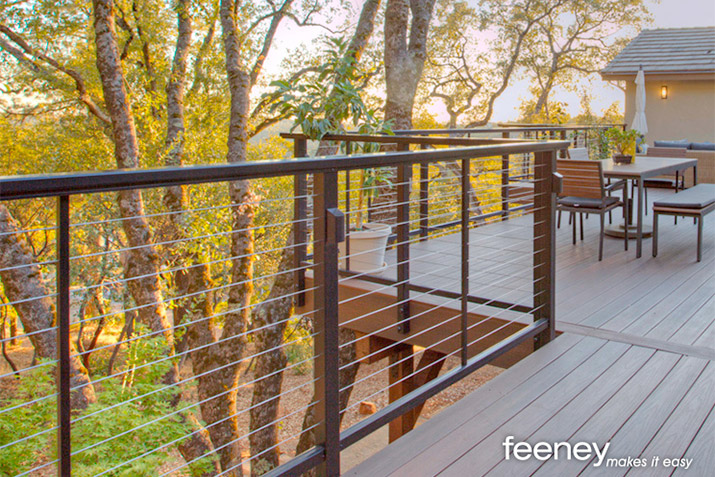 Bobby Parks loves decks and the people who build them. So much so, Parks sold Peachtree Decks and Porches, his successful suburban Atlanta-based deck-building business two and a half years ago to "live the dream" of helping fellow contractors succeed in the business too. Today he does that with his consulting company, BP Consulting and Design LLC.
Parks knows the deck trade like few do. He delivered $30 million in deck construction prior to his Peachtree days and has delivered $10 million in composite decks, including a $350,000 commercial deck project. Today he travels the country observing what's working from region to region, then presenting that winning, field-tested insight to fellow contractors.
What does Parks say to contractors looking to grow their business? "A homeowner doesn't expect a contractor to be a super-smooth talker or an Einstein," Parks says. "I was never a salesperson but I sold over a million dollars a year in deck projects from the get-go. You've got to want to do better." Here are some of Bobby Parks' thoughts on the art of doing better:
Creativity
"You can't just be a deck builder today. You've got to offer outdoor living areas. For us, it was offering some limited hardscapes. We did a lot of porches because I'm in the Southeast. Become more creative. Think about high value up-sells like outdoor kitchens, fire pits, and cable and aluminum railing systems like the ones Feeney makes."
Marketing
"I used to spend $40,000 to $50,000 a year on marketing. Then I got smart and started spending just $2,500 a year and generating far more leads than I could run down. I even charged $75 just to set an appointment. What changed? My website. I can't overstate how important the photo quality of your deck projects are. If you want to be in the top 10 to 20 percent of your market, you have to look like you belong there. That starts with your website."
Referrals
"I remember one of my first pro training trips. Some of the contractors said, 'Well, I don't need a website. I work from referrals.' Maybe so. But I saw what they parked out front. I know they're not getting rich off referrals. Yes, referrals can be great. But sometimes you need work, so the temptation is to low-ball to get it. You end just turning dollars and not a profit. It comes back to your website. If your website is done right, a contractor can expect a lot more proposals at fatter margins and with a higher close rate. A good website is a huge difference-maker."
Materials
"Wood is always going to be a factor. But the wood today, especially southern yellow pine, isn't what it used to be. Ask any builder. You might have to go through 40 studs to find two or three you'd actually use. I think there's a gradual turn to capstock composites as the southern yellow pine issues sink in.
"Low-maintenance aluminum railings provide design versatility with a variety of in-fill options like tempered glass, vertical pickets, and vertical or horizontal cables. Aluminum top rails can also be customized with a wood or composite cap rail."
Company: Feeney, Inc
Source: http://media.feeneyinc.com/blog/the-art-of-profitable-deck-building
Tags: Landscape Design
---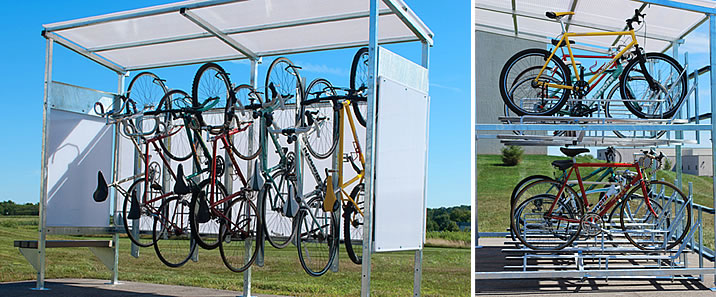 The new Bike Sheds offer protection from the elements and versatility in their many applications. Whether you need covered bike parking or a place to sit and wait for the bus, these new sheds can be customized to complete your vision.
Bike Sheds are constructed of 2 X 2" steel leg tubing for the base, and a 16MM thick polycarbonate opal color top. The bike shed has many additional options available, including optional side panels and various bike parking combinations.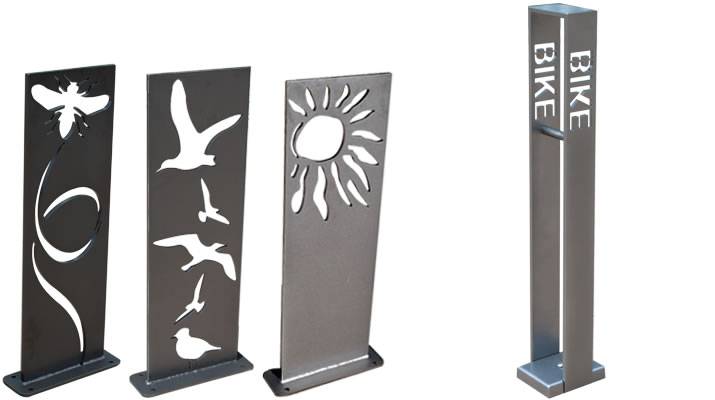 The Shadow™ Rack plays on the natural elements of its environment. The sculpted steel creates silhouettes on the pavement, while providing secure parking for your bike.
New! Pierce™ Rack is not your ordinary bike rack. This edgy art piece doubles as a functional and secure bike parking solution.

Whether you are seeking to transform your environment, promote your organization, or just express your creativity, our custom bicycle racks are your best resource. We will work with your idea, your sketch, or your blueprint to bring your vision to life.
Company: Madrax Bike Racks
Product: Bike Shelters
Source: http://www.madrax.com
Tags: Design | Furniture | Landscape Design
---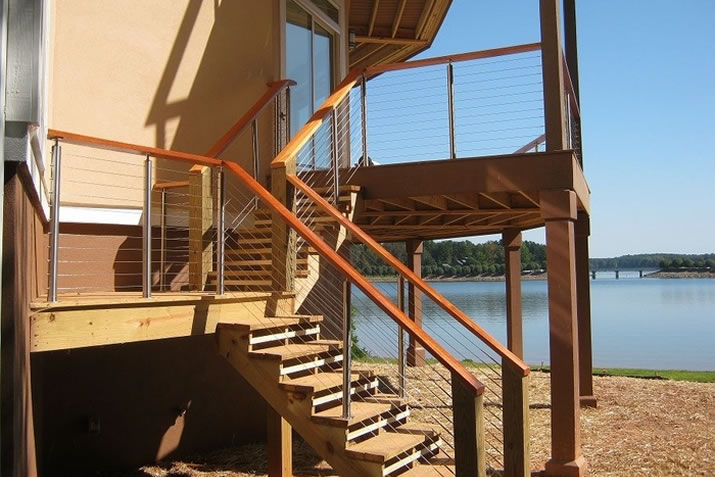 Need inspiration for a deck railing? Look no further than cable railing systems by Stainless Cable & Railing Inc. Available across a spectrum of material, shape, and color options, you're sure to find the right posts and top rail for the job. Even if you plan to supply your own frame, cable infill and fittings work with any architecture style or décor.
The images below provide a small sample of completed cable railing projects submitted by our customers, all of which include our marine grade stainless steel cable and cable end fittings. For more images organized by materials used, see our Photo Gallery. Think one of our railings will be perfect for your deck? Give Stainless Cable & Railing Inc. a call or fill out our Estimate Request Form to get started.
Contemporary Deck Railing Ideas

Black Aluminum Railing for Entrance Stairs and Deck / Natural Aluminum Posts for Elevated Porch
Traditional Deck Railing Ideas

Customer Frame with Cable Infill for Balcony Over Pool / White Aluminum Railing For Deck Covering Patio
Rustic Deck Railing Ideas

Bronze Aluminum Cable Railing for Covered Deck / Stainless Steel Round Posts & Infill for Log Cabin
Tropical Deck Railing Ideas

Beachside Stainless Steel Square Posts with Wood Top Rail / Bronze Aluminum Posts for Curved Railing
CableView® railing systems are defined by the craftsmanship, value, and enjoyment they provide
Craftsmanship
We build quality products, using durable, low-maintenance materials, including marine grade 316L stainless steel. Our state of the art in-house fabrication ensures quality control and allows us to accommodate the specific needs of any project.
Value
As both manufacturer and retailer, we skip the middleman entirely. This allows us to offer our customers economical, factory-direct prices for premium products. Our durable systems will stand the test of time, providing dependable safety.
Enjoyment
Your deck, loft, staircase, or porch railing is an integral part of your home, providing safety, visual appeal, and a great view. Simply give us a call or fill out our estimate request form, and we'll handle the rest. The clean lines and versatility of cable railing emphasize your view.
Company: Stainless Cable & Railing Inc.
Product: CableView® Aluminum Cable Railing System
Source: http://stainlesscablerailing.com/cable-deck-railing-ideas.html
Tags: Exterior Design | Landscape Design | Railing System
---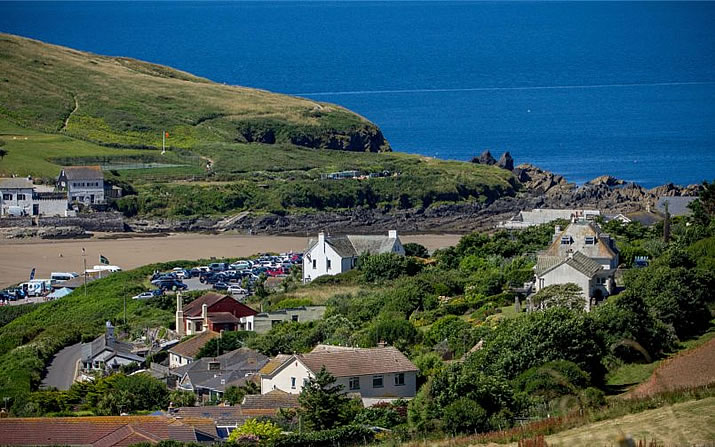 Coastal landscapes face additional pressures from things like high winds, floods, salty air and so forth. In order to overcome coastal landscape challenges, certain precautions must be taken during the installation process.
Super storms are bigger than ever before. Recent super storms have caused a shift of attention towards building structures near hazardous coastal environments that can actually withstand these challenges. Even on a good day, coastal properties face a variety of challenges from the salty air and intense sun. Add assaulting winds, hurricanes, floods, tropical storms and storm surges on top of daily wear and tear.
Failing to use the appropriate landscaping materials will result in quick degradation of landscaping and costly repairs and replacement. It's so important for architects and landscape designers to pick the right types of plants and installation techniques in order to ensure the long-term survival of coastal landscaping.
#1. Use Native Coastal Plants
First and foremost, you want to select native coastal plants that are naturally capable of surviving harsh winds, salty air and all of the other extremes faced by coastal plants. Native vegetation lowers the cost of maintenance and irrigation, plus native plants are more likely to bounce back following a storm or even a hurricane. Utilizing native plants also encourages local wildlife to flourish.
An LAF Case Study Investigation included site analysis of several coastal properties in South Florida, all of which were found to incur big time benefits from native plants. One of the properties included in the study was 1100 Block Streetscape of Lincoln Road Mall. This property faced coastal issues as well as challenges associated with heavy urban environments. The redesign involved adding 30-40 foot native canopy trees that were transplanted directly on site. The trees provided immediate shade to the public plaza because they were full-grown at the time they were transplanted. The fact that they are a native species (live oaks and bald cypresses) continues to help ensure their survival no matter what Florida's wild coastal weather throws their way.
Beach sand is not the most fertile soil and doesn't retain moisture very well, making it rather undesirable for most plant types. The goal is to find plants with multiple tolerances. According to Meg Whitmer, CEO of Meg Whitmer Landscape Architecture located in Tampa, Florida, "I use hardy plants that can withstand high winds, salt spray (if applicable), flooding, drought, sandy alkaline soil and cold tolerant." She adds, "Most of these plants are native, but several ornamentals are also hardy enough for coastal location if planted in the right place."
Depending on where you are located, different plants do better than others. For instance, in the Pacific Northwest, succulents and grasses such as Miscanthus and Mexican Feather Grass do very well in coastal environments. While red mother of thyme makes a hardy ground covering. If you aren't a huge fan of how hardy plants look, use them as a protective barrier surrounding more ornamental plants closer to the home or building.
#2. Be Familiar With Coastal Lighting Regulations
Coastal lighting is regulated in regards to the creatures we share the land with. Bright lights that shine all night can distract coastal marine animals and even jeopardize their survival. For instance, in the Hamptons local regulations against lighting prevent home owners and business owners from putting lights too far from their home or building, and never near the dunes. While in Florida, there are similar regulations in place, largely revolving around sea turtles.
Lighting fixtures should be strategically placed close to the structure to prevent interference with nature as much as possible.
#3. Use Hardy Hardscapes
If waves repeatedly crash down on your property, it will wash away your hardscapes within a relatively short amount of time. 2-inch gravel walkways are a great solution because they are not easily displaced. Plus, since they are not set into place it's much easier to make repairs and replace as needed. Try using large stones with an aggregate to help hold everything together.
#4. Make The Switch To Resin-Based Materials
Avoid metals because they are quick to rust and corrode from the salty moist air. Our resin-based materials are incredibly durable and non-permeable, which means no salt or water is able to seep within materials and cause damage. Everything from planters to site furnishings to lampposts lasts a lot longer when made from our unique resin-based material.
Learn more about the benefits of our resin-based products: http://www.terracastproducts.com/why-resin/
#5. Invest In Structures That Can Survive High Powered Winds
One of the biggest challenges is creating structures capable of standing up to the dramatic winds that pick up during hurricanes and other large-scale storms. When winds can easily reach over 100 miles per hour, sheds, buildings and any other structures must be reinforced with a steel moment frame.
High forced winds come with high-flying debris capable of shattering windows and letting the storm inside. Windows should be equipped with easy to use storm shutters, or other approved measures, in order to protect against windborne debris. An impact-rated glazing may be suitable to windows that are less prone to damage, while motorized roll-down shutters are a great way to protect windows at greater risk for damage.
It's important that all of your structures, site furnishings and landscaping materials are able to withstand getting pummeled by sand, chairs or anything else that gets caught up in the wind. The majority of commercial and residential lighting fixtures, planters and site furnishings are not capable of withstanding these types of forces. TerraCast Products are highly durable, making them ideal in some of the toughest environments.
#6. Work With The Breeze For Unexpected Benefits
While wind can be viewed as a negative factor, you can actually use it to your advantage. Incorporate plants that flow with the wind, such as long grasses and other loosely textured plants. As a result, your landscape will flow with the wind and create a lot of natural movement.
Should You Build On The Coast?
Some argue that homes and other buildings shouldn't be built in risky coastal areas. Others argue the key is to position structures so that they respect the native landscape and ensure structural resilience and longevity.
TerraCast Products are built to withstand just about anything, including extreme coastal weather. Let us help you create winning coastal landscapes that last for many years to come, no matter how many storms blow onto shore.
Company: TerraCast Products LLC
Source: http://www.terracastproducts.com/6-ways-overcome-coastal-landscape-installation-challenges/
Tags: Landscape Design | Safety
---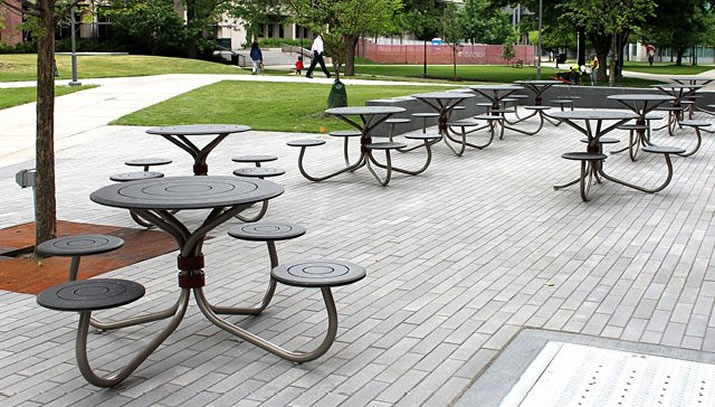 Photo credit: Maglin Site Furniture
From the first formal lectures held in medieval universities, to the online mobile classrooms of today, learning spaces are always growing to meet the needs of society; a study lounge can be a classroom; a cafeteria can become a library. Students can work from almost any location, on or off campus. Educational facilities strive to keep students engaged with their campus, and are embracing the notion of flexible learning environments. Single purpose spaces are becoming obsolete, and many facilities have moved closer to building comfortable and versatile environments that foster collaboration for their students.
An example of a school that has taken student requirements to heart is the University of Chicago. "They recognized the need to redesign their learning environments to meet the needs of today's students by creating learning spaces outside the walls of the lecture hall, library cubicles, and classrooms."i The flexible and customizable products that Maglin Site Furniture provides have played a part in helping the University reach this goal. "We needed specially designed cluster seating for a project, and I just wasn't finding what I wanted in the market, so I called (Maglin Sales Manager) Jill Roberts and we began working on the design," said Richard Bumstead, Associate Director for Campus Environment at the University of Chicago. "The final product ended up being a home run! It's fun, innovative, and works so well in the location."
Maglin provided custom versions of their MLPT1100B-W cluster seating to "jazz up" a prominent location in the heart of the University of Chicago campus. "We did a twist on the standard model and literally twisted the frame and used HDPC (high density paper composite) to create circular table tops and seats," explains Jill Roberts. ADA compliance was also required, so a matching 3-seat cluster unit was created. When asked why he wanted to work with Maglin on this project, Bumstead said, "The Maglin team is great fun to work with — the entire group is engaged in the work they do and more than willing to take a look at all requests for special orders or customization of products."
"The Maglin team is great fun to work with"
With regard to working on school campuses, Roberts stated, "Maglin loves to be involved in education projects! They give us the opportunity to assist in the creation of spaces and overall environments. Campuses have changed over time. Students and learning facilities don't just demand seating and trash collection anymore — they look for innovative spaces that promote collaboration, engagement, and community."
In order to keep up in today's mobile world, learning spaces must be able to adapt quickly and easily. The flexibility of Maglin Site Furniture's products, as well as their readiness to take on special projects, makes Maglin the right partner for your education plans.
Company: Maglin Site Furniture
Product: Tables and Seating
Of: Article originally written for and distributed by Maglin Site Furniture
Source: https://www.linkedin.com/pulse/evolution-educational-landscape-camilla-hansen
Tags: Exterior Design | Furniture | Landscape Design
---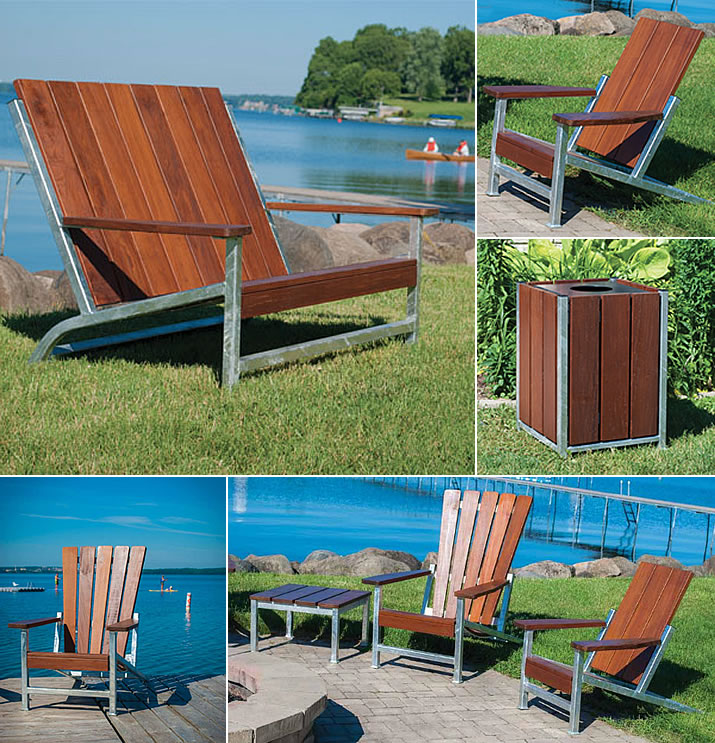 The Monona bench is perfect for any relaxed outdoor space. It features top-notch materials and has a fully welded steel tubular frame. The Monona™ bench seating materials features Accoya, Ipe Wood, and Recycled Plastic profiles. The Steel frame can be finished with powder coat paint or hot dip galvanize.
The new Monona chair is perfect for any relaxed outdoor space. It features top-notch materials and has a fully welded steel tubular frame. The Monona™ chair seating materials features Accoya, Ipe Wood, and Recycled Plastic profiles. The Steel frame can be finished with powder coat paint or hot dip galvanize.
The Monona youth chair is perfect for any relaxed outdoor space. It features top-notch materials and has a fully welded steel tubular frame. The Monona™ youth chair seating materials features Accoya, Ipe Wood, and Recycled Plastic profiles. The Steel frame can be finished with powder coat paint or hot dip galvanize.
The Monona™ litter receptacles are durable with a fresh clean design. Relax and let Monona™ receptacles do your dirty work. Monona receptacles are constructed with the following materials; 1 X 6" wood profiles and a steel plate all welded frame.
Architects/Engineers
Whether your area of expertise is residential, commercial, industrial, or landscape architecture or engineering, Thomas Steele products offer you creative, innovative, site furnishing solutions to meet your clients' needs. Our six different family styles are the perfect complement to any setting. We can help you provide the best possible combinations to suit your and your clients' requirements. Spending a few minutes on our web site can save you hours of research. Cut your specification time while getting site amenities that set the standard for craftsmanship, durability, and aesthetics. Partner with Thomas Steele for site furnishings that reflect your vision.
Company: Thomas Steele
Product: Monona Series
Source: http://www.thomas-steele.com/
Tags: Exterior Design | Furniture | Landscape Design
---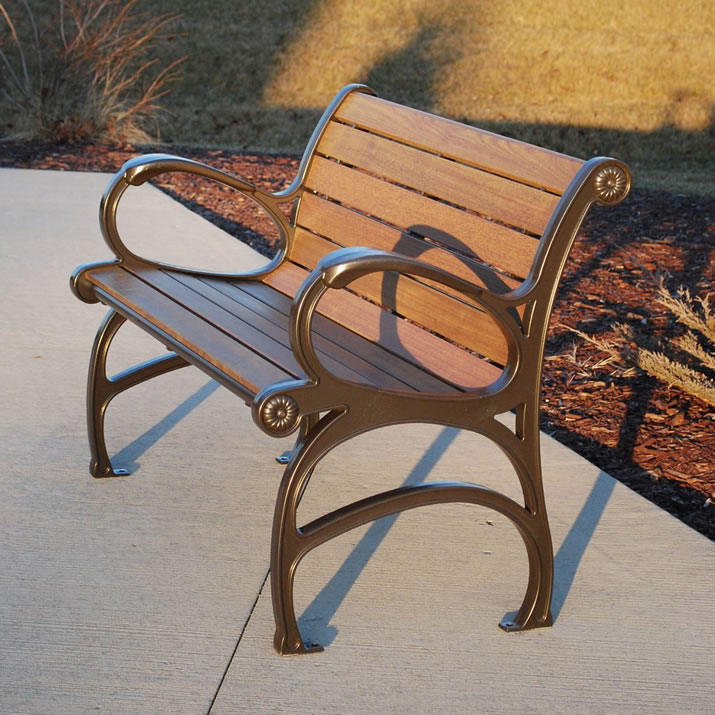 Isn't she a beauty?! Thomas Steele's Waldorf bench is a great and classic piece that we know you will love!
The new Waldorf bench is elegant with sensible function. It features top-notch materials and construction. The Waldorf™ bench frames are made of durable cast, and come with a wide variety of seating materials. The Waldorf™ bench seating materials feature 5/8" Diameter Steel Rod or ¼ x 1 ½" Steel Bar or 1 x 2 1/2 and 1 x 3 Board Profiles. The frame is constructed of 3 ½" Wide Cast. The benches are available in lengths of 2, 4, 5, 6, and 8 feet. The 8 foot bench has an optional center arm and leg. Seating material choices include Steel Rod, Horizontal Straps, Vertical Straps, Ipe Wood, and Recycled Plastic, with powder coat finish in a wide choice of colors.
Company: Thomas Steele
Product: Benches
Source: http://www.thomas-steele.com/ShopSiteFurnishings/Benches/tabid/212/ProductID/89/Default.aspx
Tags: Exterior Design | Furniture | Landscape Design
---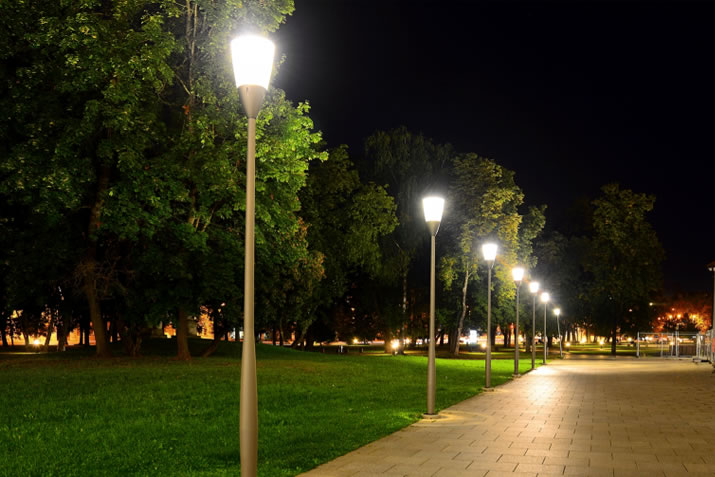 There are three main components to commercial lampposts: The actual post, the lighting fixture, and the light bulb. The post, the fixture and the light bulb can create a multitude of common issues that impact the functionality of your commercial lighting systems.
Common Problems With Light Bulbs
There are a number of problems that arise from using traditional incandescent bulbs as well as CFL bulbs. While LED bulbs can also have issues, they tend to be fewer and far between. LED bulbs are the most energy efficient, cost effective and long lasting option on the market. That's why most businesses have already made the switch. According to Energy.gov, LED bulbs have the greatest potential impact on energy savings in the US. By the year 2027, it's estimated that LEDs could save over $33 billion a year at today's electrical costs.
Common Problems With CFL Bulbs
Problem: Bulb burns out without cause.
Some CFL bulbs are defective, in which case that could be your issue and you just need a replacement bulb. Higher quality bulbs are less likely to fail. You should also check the packaging to make sure the bulb works with your particular fixture. Some bulbs are only meant to be used indoors and/or not with dimmers.
Problem: The bulb burns out prematurely.
When your bulb goes out earlier than it should, it may have something to do with vibrations and impact, both of which CFL bulbs are sensitive to. These vibrations can come from something as seemingly simple as a door routinely slamming shut. If lights are frequently used, an LED bulb may offer a better solution.
Problem: The bulb is flickering or buzzing.
CFL bulbs rely on a ballast to spark voltage and provide light. If the ballast is not supplying sufficient electricity, the bulb may start buzzing and flickering. If the ballast is faulty or loose this issue may also occur. Try changing the bulb and if the problem persists the issue is likely the ballast. You will need to call an electrician for repairs.
Common Problems With Incandescent Bulbs
Problem: The bulb burns out faster than it should.
The bulb you are using might not have the correct wattage for the fixture. Double check the rating on your fixture and use a bulb that supplies the appropriate wattage. Using incorrectly matched bulbs and fixtures will result in the bulb overheating and burning out much sooner than it should.
Problem: The bulb is not turning on at all.
The bulb could be burned out, or if it's new it could be faulty. It may also just be too loose in the socket to form a proper connection. If a new bulb or tighter connection doesn't address the problem, the issue might be with the fixture, outlet, cord or the switch could be defective.
Problem: The bulb is flickering.
If the bulb is loose it may cause the light to flicker. If a ceiling fan is attached to the fixture, vibrations from the fan may cause the bulbs to jiggle loose and subsequently flicker. If the bulb or connection is corroded, this can also create flickering. Other issues might relate to the cord, fixture, outlet or a defective switch.
Common Problems With LED Bulbs
Problem: The bulb burns out too early.
LED bulbs should last much longer than any other bulbs. But there are cheap LED bulbs on the market that do not last as long as high quality LED bulbs. These cheaper bulbs are not able to disperse heat as quickly as they create it, which ultimately leads to an early demise.
Problem: The bulb will not work with a dimmer.
Not all LED bulbs work with a standard dimmer. That's because the wattage is lower than what's necessary for dimming features to work. Look for LED bulbs with a dimmable LED driver and use electronic dimmers as opposed to magnetic dimmers.
Common Problems With Light Posts
Your lampposts are just as important as the bulbs inside of them, without one the other isn't going to do its job. Plus, lampposts create a style that reflects your business, which means you don't want an unattractive fixture.
Problem: Lamppost is breaking down quicker than expected.
Our resin-based lampposts are far superior to traditional lampposts. In general, most light poles have seams and the inside of the base is neither powder coated nor enamel finished. As a result, it's very easy for moisture and salt to get inside and create a world of problems. We manufacture our lampposts differently so that they are resistant to moisture, salt, corrosion, impact damage and so forth.
Problem: The post base is corroded or damaged.
The first place that traditional lampposts show wear and tear is at the bottom of the pole. That's because this is where water has the greatest chance to penetrate through surfaces. It's also where the most bumps occur from cars, pedestrians, golf carts and so forth. It only takes a bump or two to form tiny fractures in the surface that allow moisture to easily sneak inside and create further damage.
Our specially manufactured lampposts do not rust or corrode and are very resistant to impact damage. Yet, just because the bottom of your lamppost is looking less than its best, doesn't mean you need to invest in replacing your entire lamppost. That's why we created a lamppost base that can be attached to almost any standard sized pole. Our lamppost base adds years onto your lightpole by preventing additional corrosion and other issues from further damaging the post. Plus, it dramatically improves outward appearances. Our motto is: If you can't replace, rebase! Learn more: Light Post Bases
Problem: Lampposts are not providing sufficient light.
Your property likely requires more than just lampposts to be considered sufficiently lit. Tree ring lights, in-ground lights and bullet lights are just some of your many lighting fixture options. Adding a variety of different lighting fixtures helps evenly disperse light throughout your property, shinning light on different heights and angles. Shop our full collection of long lasting landscape lighting: Landscape Lighting
Common Problems With Light Fixtures
Light Fixtures offer a multitude of design solutions for a wide array of lighting installations. Whether one is trying to achieve a particular theme feature by selecting a traditional or modern design or one is selecting a fixture that offers the correct light distribution for the application, there are fixtures to solve most challenges. Be sure to ask if the city or community participates in Dark-Sky initiatives or if it's a coastal project, if there are Turtle-Friendly regulations to comply with. A TerraCast Lighting representative can help guide you through these challenges.
Company: TerraCast Products LLC
Product: Classic Lamps Posts
Source: http://www.terracastproducts.com/avoid-common-problems-commercial-lampposts/
Tags: Landscape Design | Lighting
---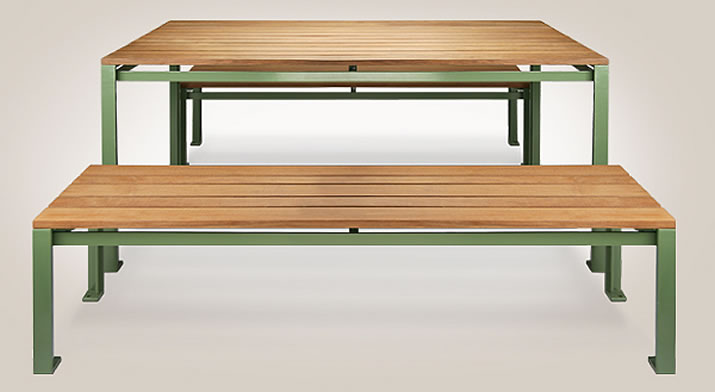 In the true spirit of the Reverie collection, Camille provides functionality with a minimalistic design aesthetic. Its slim profile, solid steel frame with exceptionally high recycled content, and use of genuine IPE wood slats, makes for sleek design, with longevity in mind.
The 31 in (787 mm) tall tables are available with either a 3 x 3 ft (.91 x .91 m), 4 x 3 ft (1.2 x .91 m), 6 x 3 ft (1.8 x .91 m) or 8 x 3 ft (2.4 x .91 m) rectangle table top. 8 ft (2.4 m) length includes center leg.
Backless bench is available in 2, 4, 6 or 8 ft (.61, 1.2, 1.8 or 2.4 m) length. 8 ft (2.4 m) length includes center leg.
Company: Victor Stanley
Source: http://www.victorstanley.com/product/camt/
Tags: Furniture | Landscape Design
---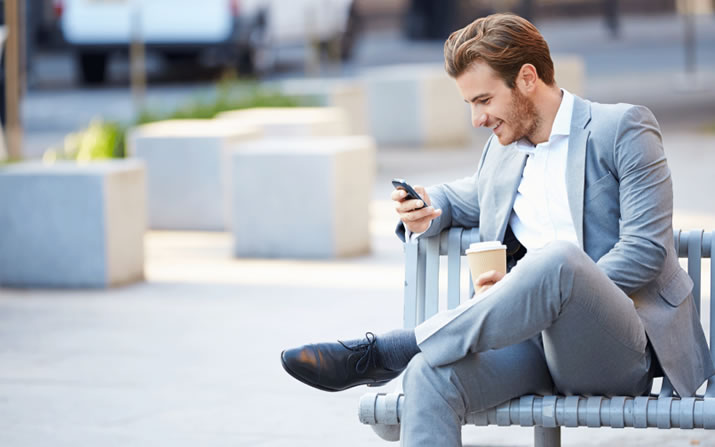 Durability, strength, appearance, and overall maintenance are some of the most important things to consider before purchasing just any outdoor commercial grade furnishings.
There is a difference between residential furniture and commercial furniture. Commercial site furnishings get a lot more wear and tear, and as a result need to be much stronger. After all, you could be held liable if something happens to one of your customers while using furniture at your place of business.
Commercial grade furnishings need to be strong enough to support all sizes of people. The last thing you want is for someone to fall and become injured due to an improperly made bench or chair.
Ask These Questions When Buying Commercial Grade Outdoor Furniture
1. How Durable Is It?
Quality commercial furniture should be highly durable. While a regular old plastic chair may last a few years in someone's backyard, it may not last more than a week at a commercial location. For one, it will get consistent use day in and day out. Secondly, people are much harder on commercial furniture than on their furniture at home. Commercial furniture must be prepared to take on constant hits, knocks and stains.
2. Is The Design Functional And Representative Of Your Clientele?
What age group does your establishment serve? A preschool is going to need different site furnishings than a retirement home or trendy restaurant. The outdoor furniture you purchase must align with the needs of your target audience. For instance, benches are available in different heights and sizes; some are backless while others offer additional back support.
Know all of your options and ask yourself: Which is going to be the most comfortable, safe and overall effective option for the people that'll use it most?
Do you want chairs attached to benches or welded into the ground? Or, do you prefer more portable options? If your business is located in an area with theft concerns, you may want to consider the attached option to help prevent potential criminal activity.
3. Is It Made From Recycled Materials?
Going green is on everyone's radar right now, which means you're in luck when it comes to finding quality commercial furnishings made from recycled materials. Our products are recyclable and they are made from recycled materials. Our darkest furnishings can be made from 100% post-consumer recycled materials. We value the American economy, which is why we manufacture all of our products right here in the States with a focus on eco-friendly and sustainable practices.
4. How Much Weight Can Furniture Withstand?
Commercial furniture must be able to withstand more weight than your typical residential furniture. It's always a good idea to inquire about weight limits to ensure there are no issues.
5. Is 5% Of Your Seating Wheelchair Accessible?
The Americans with Disabilities Act enforces the implementation of wheelchair and handicapped accessible facilities for all businesses. This important Act covers everything from movie theaters to restaurants to grocery stores. Regardless of business size or location, if it's in the US and open to the public, it must comply with the laws outlined by the ADA. This applies to restaurants, playgrounds, patios, picnic areas and so forth.
There are no "grandfather provisions" that can get existing facilities around these regulations, which includes doors, entrances, parking lots and many other aspects of your business, including fixed seating and tables.
If your business provides tables, benches or other seating that is affixed to the wall or floor, you must ensure that 5% are wheelchair accessible. If there are less than 20 tables provided, you must have at least one that is wheelchair accessible. One way to accomplish this is to use portable chairs that can be moved out of the way in exchange for a wheelchair.
A wheelchair-accessible table is no more than 34-inches tall and no shorter than 28-inches tall. The distance between the floor and the underside of the table must measure at least 27-inches. If you have multiple wheelchair-friendly site furnishings, they must be evenly distributed. It's illegal to segregate people with disabilities to one section of your establishment.
6. How Much Maintenance Will It Require?
Maintenance will vary based upon the materials used to craft outdoor furniture. Some materials require a lot more maintenance than others. For instance, wood furniture is going to require regular coats of protective sealant and consistent inspections to ensure it is not splintering or rotting.
On the other hand, our specially formulated resin made from LLDPE is one of the lowest maintenance materials on the market. There is virtually nothing you have to do to preserve it, and it'll last a long time without any additional effort or maintenance. Not to mention, it can be made to imitate a wide variety of materials, such as stone, without the added maintenance concerns.
7. How Long Will It Last?
The average life expectancy of commercial grade outdoor furnishings will clue you in to when you'll have to replace furniture. Outfitting a business in all new furniture is no small expense, so it's better for your bank account if furniture lasts a long time. Inquire about warranties in order to get a good idea of how long furniture really lasts. For instance, if a company claims a certain chair can last 10-years, but it is only covered by a 3-month warranty, it's time to get suspicious.
8. Is It Made By TerraCast?
TerraCast Products remain the proud leaders of long-lasting, sustainable commercial site furnishings for outdoors or indoors. All of our products are made in the US using the highest quality materials and most sustainable manufacturing processes. We take great pride in the long-term durability of our unmatched resin-based products.
Company: TerraCast Products LLC
Source: http://www.terracastproducts.com/8-questions-need-answered-buying-commercial-grade-outdoor-furniture/
Tags: Exterior Design | Furniture | Landscape Design
---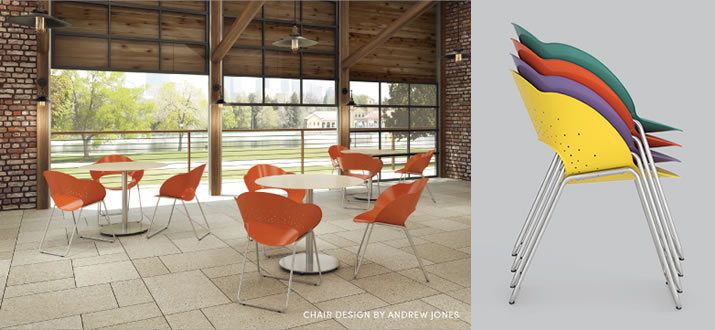 Energize your outdoor space with The Battery Collection from Maglin. Featuring the exclusive chair design of New York's The Battery Conservancy, this collection delivers the perfect combination of fresh, unique design and comfortable ease.
Comfort and style go hand in hand- The Battery Collection lets guests mingle, move around and gather in arrangements of any size, from solitary to sociable.
Recharge your space with a splash of color
Available in five vibrant colors, The Battery Collection lets you mix and match for the effect you want. (Also available in Maglin standard colors.)
Flower Power
Chairs Designer Andrew Jones created The Battery Chair in response to The Conservancy's need for moveable outdoor seating on the Oval Lawn. His model was crowned the winner of The Conservancy's chair design competition, having been selected out of 679 entries from 15 countries. Imagining a field of chairs creating a changeable, exciting landscape, he developed a design that is poised to become a contemporary icon: playful yet refined, comfortable yet elegant.
Contact Maglin today to learn more about The Battery Collection.
Company: Maglin Site Furniture
Source: http://www.maglin.com/products/battery/batterycollection.html
Tags: Design | Furniture | Landscape Design
---
Introducing the Victor Stanley Relay™ Sensor and Service, which continuously monitors fill level. But that's just the beginning. Powered by Street Level Sensing™ technology, Relay also…
Street Level Sensing™
Continuously monitors fill level, weight, location and collection status
Tracks location via GPS, so you always know where receptacles were moved and where they belong
Allows you to log on and view collection data in real-time and historically
Boosts efficiency in planning, scheduling and routing collections
Saves an estimated 20-40% in collection expenses
Is built for reliability and durability, along with everything we manufacture
Victor Stanley Relay™ uses technology, sensors and web services which we designed, built, and own, so you can rely on our product whether you retrofit Relay or make it part of your new receptacle orders. Make a statement about the way your community handles waste. Talk to your Victor Stanley rep today.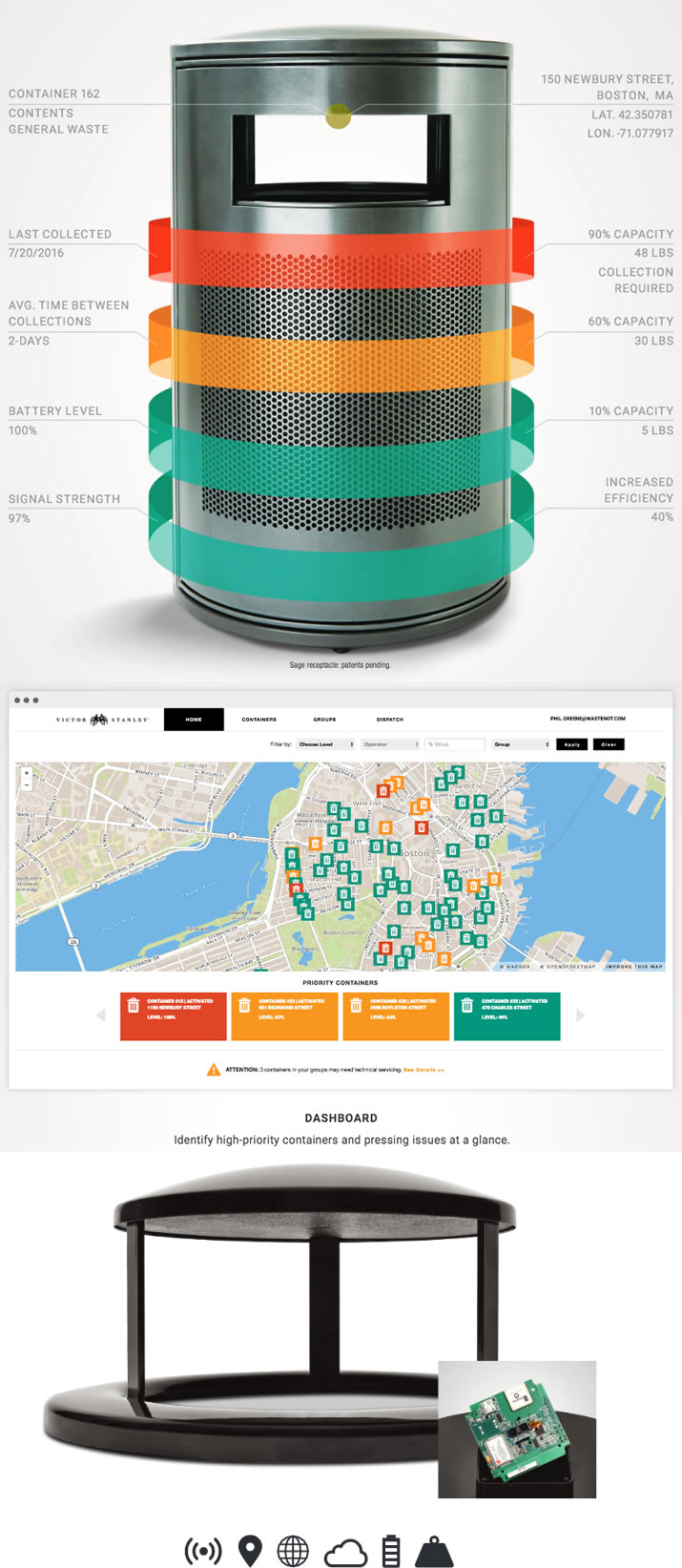 Victor Stanley Street Level Sensing™
An all-in-one solution, Victor Stanley Relay ™ features fully integrated sensors within new and existing Victor Stanley litter receptacles and recycling stations, wireless communications, and dedicated web portal for access to container conditions. Utilizing our 54-years of experience, we designed our proprietary Street Level Sensing ™ technology to meet the challenges site furnishings face in high-use, commercial and urban environments at the street level. This means that fill level, weight, system temperature, container location, and collection status are continuously monitored — and real‐time container conditions are automatically transmitted to the Victor Stanley Relay ™ Service using standard cellular networks. To maintain aesthetics, Victor Stanley Relay ™ Sensors can be hidden within any Victor Stanley side loading litter receptacle or recycling station. But smart design is only part of the story because our sensors are designed and built to remain reliable and accurate even in harsh environmental conditions. And they work with any type of waste (general trash, mixed recyclables, paper, glass, metals, etc.) while remaining out of sight, economical, and ecologically friendly
Company: Victor Stanley
Product: Litter Receptacles
Source: http://www.victorstanley.com/product/relay/
Tags: Landscape Design | Recycling | Safety
---

Your deck project is considered one of the best places to spend your home improvement dollars. Investment motives aside, our decks provide hours of enjoyment with friends and family, so it should no longer be at the bottom of your home improvement wish list.
Define the Entrance
While you may do most of your walking on and off your deck from your home's patio door, if your deck has stairs down to the backyard, make that second entryway as inviting as possible. Create a defined walkway with gravel and pavers, and plant bushed and/pr flowers on each side of the stairs for an inviting path onto your deck.
A Built-In Bench
A built-in bench not only provides visual appeal, but some practical advantages as well. It efficiently utilizes your space for extra seating. It can also provide extra storage space underneath the seating. Make sure to include comfortable cushions that can be stored below when the weather is bad.
Fuller Sound
While various conventional music solutions may do the job for your outdoor entertaining needs, you can create a fuller and more sophisticated experience with a weatherproof built-in sound system. Whether they are hung above or blended into the scenery as "speaker rocks," you can have your deck or your entire backyard wired with your favorite music.
Water Feature
Take your relaxation to the next level with the soothing sounds of a water feature. if your deck isn't large enough to feature a fountain to your liking, you can consider a small table top version or install a bigger one nearby where you can still enjoy its visual and audible beauty.
Cover a Portion of Your Deck
Covering an area of your deck, whether it's simply an umbrella on your table or a wooden pergola partially covering your deck, can make it easier to entertain when the weather isn't perfect, or if you just want to provide a little respite from the heat of the sun.
Cable Railing
All decks more than a couple feet off the ground have to come with railing to be up to code. But that doesn't mean you have to settle for the conventional route. If you are a DIY-er, You can cut your cost by ordering a kit and installing it yourself
Grow Herbs
If you love to cook and may be interested in growing some of your own ingredients, growing herbs can be fun, while providing extra visual appeal to your deck. more importantly, it will add a little fragrance backyard.
Stain Your Deck
There are a number of wood staining options for your deck. They vary base on color, opacity, to fit your stylistic needs. Not only will it visually transform your deck, but it will provide protection from the elements and help your deck last for many years.
Company: Stainless Cable & Railing Inc.
Source: http://site.stainlesscablerailing.com/blog/smart-ways-to-upgrade-your-deck/
Tags: Landscape Design | Railing System
---
Introducing the NuTone Haven™ Backyard Lighting & Mosquito Repellent System
Don't let biting mosquitoes keep you from enjoying time outdoors with family and friends! The NuTone Haven™ Backyard Lighting & Mosquito Repellent System features innovative landscape fixtures that provide season-long, effective protection from mosquitoes without the hassle of sprays, messy traps to clean, or fuels to deal with. Each fixture provides 110 square feet of coverage and is safe to use in any outdoor environment.
Light and Mosquito Repellent Fixture
Haven Backyard Light & Mosquito Repellent Fixture combines attractive, efficient LED lighting with mosquito repellency, to enhance your patio, deck or yard. Includes one repellent cartridge.
EFFECTIVE: Haven's patented mosquito protection system provides protection within 15 minutes of use and is effective against all types of mosquitoes, including the Aedes aegypti mosquito, a known carrier of the Zika virus.
CONVENIENT: Odorless, silent, invisible during use – no smelly oils, smoke, or zapping sounds to disturb you.
SAFE: Child-resistant fixture opens with screwdriver. Repellent won't harm plants, flowers, shrubs or lawns.
SIMPLE TO USE: As easy as turning on the lights to say goodbye to biting mosquitoes.
EASY TO INSTALL: Each fixture is designed for easy insertion into cable connectors and comes with adaptors to fit most existing wiring systems and transformers.
Mosquito Repellent Fixture
The Haven Mosquito Repellent Fixture can be used to repel mosquitoes where lighting is not needed. Easily added to an existing low voltage lighting installation, the Haven Mosquito Repellent fixture offers the same patented mosquito protection system in a discreet, low-profile design that blends in to any landscape. Includes one repellent cartridge.
Timer/Control
The timer/control allows programming of two circuits of up to four fixtures for automatic operation, either by time of day or by Solar Sensor. (For example: set lights to turn on at dusk and remain on for 5 hours; set repellent to turn on at 7 pm and off at 9 pm.)
Repellent Cartridge
Easily replaceable cartridges are available in single and four packs. Each repellent cartridge provides season-long mosquito protection and lasts 90 days when used 2.4 hours per day, providing convenient protection from mosquitoes: no batteries, candles, butane, or external fuels required, no spraying to schedule, no messy traps to empty.
Company: Broan-NuTone LLC
Source: http://www.nutone.com/haven
Tags: Landscape Design | Lighting | Safety
---
The 2015 Houzz Landscaping & Garden Trends Study [1] revealed that renovating outdoor living spaces continues to be a high priority for homeowners: "Over half of homeowners who are upgrading their outdoor spaces spend six or more hours there per week (51%). Relaxing, gardening and entertaining are the top three uses of the space." Given these facts, the rise of outdoor lighting is no surprise!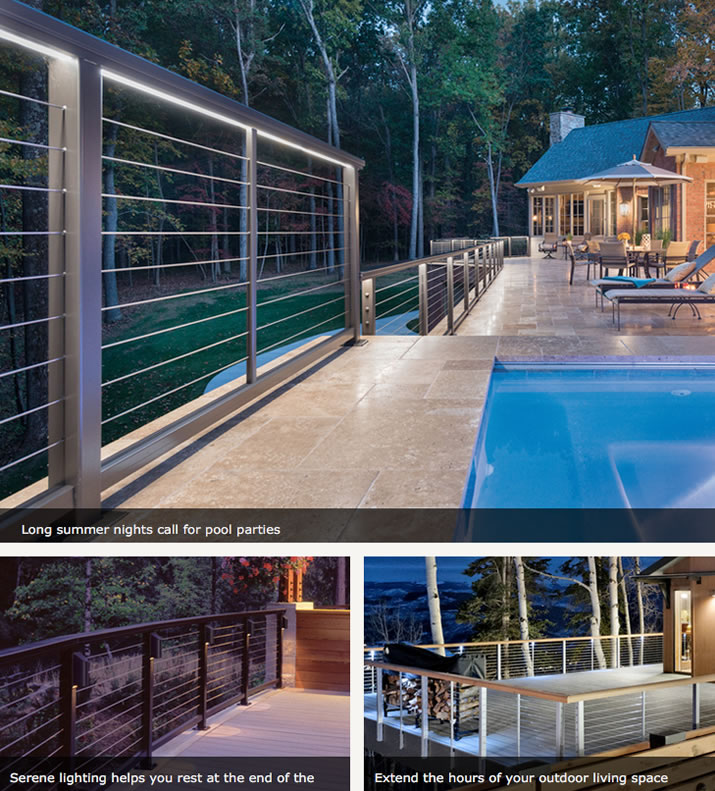 The 2015 Houzz Landscaping & Garden Trends Study[1] revealed that renovating outdoor living spaces continues to be a high priority for homeowners: "Over half of homeowners who are upgrading their outdoor spaces spend six or more hours there per week (51%). Relaxing, gardening and entertaining are the top three uses of the space."
This finding is no surprise, really. As our lives get busier, we tend to want places in our homes where we can unwind, with nature often the conduit.
The Houzz report further noted that as outdoor living continues to be a high priority, a trend taking center stage is outdoor lighting. The report says, "Outdoor lighting is the most common [system] upgrade, whether it is LED (28%), solar (23%) or other (17%)."
The rise of outdoor lighting is motivated by a rising interest in aesthetics and in home entertainment.
Outdoor Lighting: Enhancing Aesthetics & Landscape Design
Gone are the days of one light fixture at the front door and another at the back. Today's luminary options are practically endless. Artisan gas fire pit tables and beautiful rope-lit water features serve as backyard focal points in neighborhoods across the country, while string lighting under the pergola and lighting integrated within the flower beds can serve as a soft and subtle backdrop.
Outdoor Lighting: Extending Entertainment
Integrating outdoor lighting into a landscape design allows homeowners to enjoy their beautiful outdoor space for an extended period of time. These innovative designs provide folks the ability to enjoy their space even when the sun goes down.
Even where no landscape lighting exists, post accent lights, as seen in the photo, can create the perfect ambiance for evening entertainment. Often, these lights are compatible with third-party dimmers and switches, so you can create the perfect level of lighting for any situation.
What's next on the horizon for outdoor living? Only time will tell. However, we predict the rise of outdoor lighting is not fading anytime soon. This is due, in part, to advancements in LED technology and people's desire to create beautiful outdoor spaces, increase home safety and security and find more ways to utilize their outdoor space – no matter the season.
[1] Source: 2015 Houzz Landscaping Study
Company: Feeney, Inc
Source: http://media.feeneyinc.com/blog/the-rise-of-outdoor-lighting-enhancing-aesthetics-and-extending-entertainme
Tags: Landscape Design | Lighting
---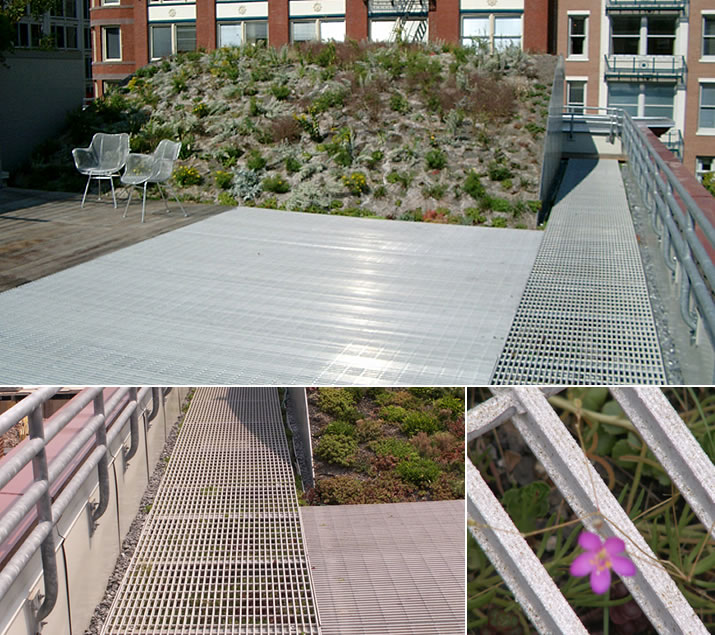 The Situation:
A general contractor was chosen by the American Society of Landscape Architects (ASLA) to provide grating for ASLA's green roof at their headquarters in Washington D.C. The green roof is a part of the ASLA's commitment to promote environmentally friendly designs to make green roofs a more widely accepted option for architects and contractors. The 3,000 sq. ft. green roof will grow a variety of plants and also have a viewing area for the public. The ASLA was looking for a walking surface that would allow plants to grow up and through the floor surface to maximize the roof space, allow people to walk on the space without damaging the plants and for a product that would remain slip resistant against transpiration from the growing plants. The general contractor contacted Ohio Gratings for a flooring solution.
The Solution:
SlipNOT®slip resistant aluminum grating was chosen as the optimal grating for the project. Slip resistant aluminum was the ideal substrate because it is a light weight material that reduced the overall weight of the grating on the roof while still being extremely durable. The aluminum coating also remains slip resistant against transpiration from plants and other outdoor elements providing a safe walking area for pedestrians. SlipNOT® slip resistant aluminum grating is corrosion resistant and will be able to withstand installation in an outside environment with minimal maintenance. Ohio Gratings worked extensively with the general contractor to provide the appropriate dimensions for the project.
The Impact:
SlipNOT® aluminum grating has provided the American Society of Landscape Architects with an aesthetically pleasing slip resistant walking surface for the green roof. The aluminum grating has proven to be the ideal solution to help the ASLA's showcase their green roof.
Download this case study as a PDF
Company: SlipNOT® Metal Safety Flooring Div.
Source: http://www.slipnot.com/industries/commercial/case-studies/
Tags: Landscape Design | Metal | Safety | Sustainability
---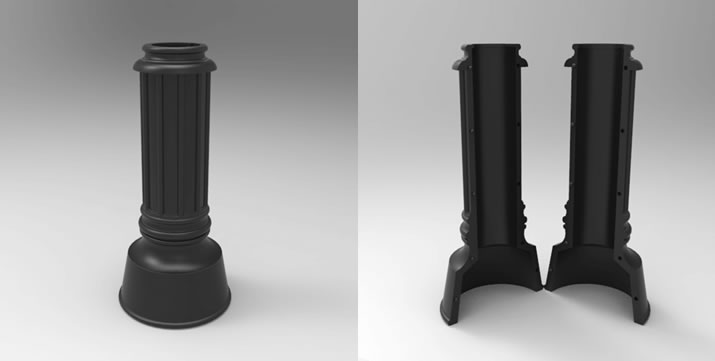 Are your light poles looking old, ugly and worn down? Instead of replacing light poles, you can restore them to like new by adding a decorative base. As we like to say, if you can't replace it, re-base it!
Light posts are susceptible to all kinds of damage, and many common materials used to manufacture light posts are not good at standing up to these elements without incurring obvious signs of wear and tear.
Generally the worst of the damage forms at the base of the pole, which is right where everyone looks. The top of the pole may look just fine, but since all people really see is the middle to bottom portion of the pole it looks overdue for replacement. This can impact the first impression people gather about a location. If the lighting fixtures appear rusted and old, people may assume all kinds of things.
Our special resin-blend is made from Linear Low Density Polyethylene. This material is specially formulated to resist rust, corrosion, impact damage and many more things typical light post materials are damaged by. Our decorative bases offer the perfect solution to removing an eyesore and preventing it from happening again, all without actually having to replace your light poles.
How To Fix Unsightly Light Poles Without Replacing
Time and time again we meet with clients that don't want to replace their entire collection of light poles, but are faced with some serious eyesores. Our decorative resin bases for light poles offer the perfect cost-effective solution.
Decorative bases can be fit to any standard sized pole, with a diameter no larger than 7.25". As a result the light post looks like new despite the fact it originally looked like it needed to retire.
Why TerraCast Decorative Bases?
Our decorative bases are made from a unique material that outlasts the competition and provides a high-end look made to fit with your exact style and vision.
Our light pole bases are:
Strong
Eco-friendly
Cost Effective
Maintenance-free
Resistant to graffiti
Guaranteed for up to 10-years
Lightweight
Durable
UV stabilized to resist fading
Resistant to chips and cracks
The Importance Of Resin
It all starts with the materials we use to craft all our products, including our decorative light pole bases. There are no other light poles on the market as durable as our resin fixtures. Our manufacturing process creates a lightweight material that is very difficult to damage, and is resistant to rust, corrosion and stains. As a result, our products outlast many popular materials including aluminum, fiberglass and polyurethane foam.
If the base of light poles are showing signs of rust, discoloration, chips or other damages it is likely because they are: a) really old, or, b) not made from materials meant to withstand the elements for more than a couple of seasons. You might be surprised to discover just how many residential and commercial light poles are made to look good but only for a limited time.
Strength Matters
Light posts are susceptible to all kinds of wear and tear, regardless if they are located in the middle of a grassy field or on the side of the street. Resin is made to stand up to all of the elements standard materials are not.
Light fixtures positioned in grass are susceptible to being hit by weed whackers. This is a pretty common way for the base of poles to get chipped, allowing damage to set in. Water, animal urine and anything else can get right inside the post through these cracks, even if the chip is too small to see with the naked eye. As a result, corrosion, rust and discoloration may take place.
Our resin is highly resistant to cracks, even from fast moving weed whackers. That means your light posts are no longer in danger from landscapers.
If your light posts are situated on a busy street they are susceptible to being hit by vehicles or golf carts. Brittle materials often used to manufacture light posts are not able to withstand impact damage, cracking or completely splitting on contact.
Our unique material is made to bend with impact so that it can expand and retract without the same risks for cracking and breaking.
Eco-Friendly & Made In The USA
Our products are proudly made in the USA with eco-friendly practices. We can provide product with up to 100% recycled material. Plus, our products are recyclable.
UV Stabilized
Thanks to the UV stabilizers we add to the product makeup our light poles are far less susceptible to fading than the competition. This keeps your light poles looking great longer.
Graffiti Resistant
Adding a resin base to your light pole adds new life and value, but what happens if someone comes and puts graffiti on it? Thankfully, our non-porous material does not absorb the stain past the first layer. As a result, it's incredibly easy to wipe away graffiti without enlisting the help of professional or costly supplies.
Urine Resistant
How often do dogs pee on your light poles? Maybe you think never, but chances are some animal, domesticated or wild, is peeing around your property. The unique content of urine creates extensive damage to poles made from most materials, except for our specially formulated resin.
Score the look of new light poles for a fraction of the cost by adding our durable decorative bases to old, rusting, or rundown fixtures. There is nothing else on the market like our resin products, and our light poles and decorative bases stand in bright proof of that.
Company: TerraCast Products LLC
Source: http://www.terracastproducts.com/how-to-upgrade-light-poles-with-decorative-bases/
Tags: Landscape Design | Lighting
---

DesignRail® Rail Kits for Level and Stair Railings
DesignRail® Aluminum Rail Kits are designed for fast and easy installation of railings with CableRail stainless steel infill between a customer's posts.
CableRail Ready: Pre-drilled picket to support 1/8 inch CableRail by Feeney stainless steel cables (sold separately)
Easy Field Assembly: Rails and pickets can be trimmed and assembled on-site using pre-engineered components that snap and screw together: no welding, grinding or special finishing
Level rail kits are designed for residential railings up to 42 inches high with up to 6-foot spacing between posts
Stair rail kits can accommodate up to 6-foot maximum length stairways with slopes between 29 and 34 degrees and a height of 36 inches
Each 6ft. kit contains a top rail, bottom rail, pre-drilled intermediate picket, snap caps, and installation screws
Company: Feeney, Inc
Source: http://www.feeneyinc.com/Architectural/DesignRail-Kits
Tags: Landscape Design
---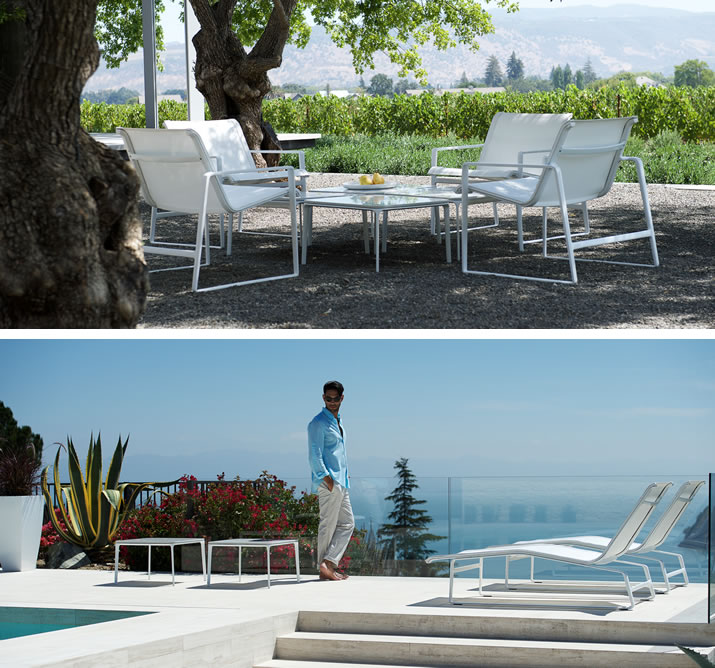 Landscape Forms is pleased to introduce the Cochran group, relaxed outdoor furniture designed by award-winning landscape architect Andrea Cochran. The new product joins the Terrace Life group, Landscape Forms lifestyle furniture for sophisticated, high-value outdoor spaces. Landscape Forms President, Richard Heriford, explains, "We chose to partner with Andrea Cochran because we like the architectural sensibility of her landscape work. The Cochran group has the Zen-like quality of her landscapes. We set out to design a modern classic and I think that's what we have. It's furniture for protected public spaces that is so elegant, you might want to take it home."
Cochran includes a lounge, side chair with arms and low table that give the term "casual elegance" fresh meaning. Cochran is a natural for outdoor spaces where cache, comfort, and camaraderie are prized, from the corporate campus to refined hospitality settings. Andrea Cochran explains the spirit behind the design: "This is about how people live today. They would rather sit comfortably in a low chair or lounge with their phone or laptop than at a high table. In that spirit we designed the chair to be wider than typical, so it feels generous and a little expansive."
The Cochran elements have subtly sculpted cast aluminum frames that support engineered mesh fabric seats and Landscape Forms proprietary Meldstone™ tabletops. Kirt Martin, Landscape Forms Vice President of Design and Marketing, explains, "The design is very clean, modern and, like Andrea's landscape architecture, it is timeless. The Cochran pieces are stripped of any unnecessary noise. This is design that allows you to get comfortable and simply experience being outdoors."
Cochran is engineered to meet the demands of today's active commercial environments. The lounge and chair's strong continuous-loop cast frame supports a cast aluminum rail that stretches and holds the mesh seating fabric and is secured to the frame with discreet connections. The replaceable fabric is Phifertex® Plus, a nylon weave that has strength, color, stain and mildew resistance, and UV protection. A ¼" reveal between the structural frame and fabric rail is repeated on the table between frame and top – giving all pieces a "floating" quality. The complementary 24" Cochran table with legs and polished MeldStone™ ultra high-performance cast concrete tops can be used singly or grouped effectively to create sociable settings. Cochran group elements are manufactured using sustainable materials and processes. Aluminum frames contain 100% recycled material and are fully recyclable. Cast concrete is a natural material. Aluminum parts in the standard color palette are finished with Landscape Forms proprietary Pangard II ® HAPS, VOC, lead-free polyester powdercoat. Phifertex® Plus is GREENGUARD Gold Certified.
About Andrea Cochran
Andrea Cochran, FASLA, is founder and principal of Andrea Cochran Landscape Architecture, based in San Francisco. The firm, which has earned wide acclaim for its public, commercial and residential work, is recipient of numerous awards including the 2014 ASLA Design Medal, the 2104 National Design Award in Landscape Architecture from the Smithsonian's Cooper Hewitt National Design Museum, and multiple regional and national ASLA awards. The work of Andrea Cochran Landscape Architecture sculpts and navigates space through a seamless integration of landscape, art and architecture. The work draws boundaries with a controlled palette of materials, creating permeable edges that blur the line between the natural and built environment. Spare geometry applied to vibrant plant life results in sharp compositional order. This exercise in restraint heightens a sense of the elements—texture, light and movement.
About Landscape Forms
Landscape Forms is the industry leader in integrated collections of high-design site furniture and advanced LED lighting. Since its founding in 1969 Landscape Forms has earned a reputation for excellent design, high quality products and exceptional service. The Landscape Forms U.S. headquarters and manufacturing facility is located in Kalamazoo, Michigan with sales representatives throughout North America, South America, the United Kingdom, Australia, the United Arab Emirates and Asia. Landscape Forms collaborates with renowned industrial designers and consultancies, landscape architects, and architects to design and develop integrated collections of products that address emerging needs and help create a sense of place. Additionally, the company has formed global marketing partnerships with select companies that share its commitment to design. Landscape Forms has an installed base of products around the world. Clients include municipalities, transit centers, corporate, college and health care campuses; and familiar brand leaders such as Boeing, Cisco Systems, Disney, Sprint, American Airlines, Herman Miller and Nike. The company was recently named by the Wall Street Journal as one of the Top 15 Small Workplaces in the US.
Company: Landscape Forms Inc.
Source: http://www.landscapeforms.com/en-US/products/Pages/Cochran-Group.aspx
Tags: Design | Furniture | Landscape Design
Green Building Tips: How To Create Eco-Friendly Landscaping (April 25, 2016), Lakeside Planter (March 4, 2016), Safety Bollards Protect Storefronts (February 9, 2016), Importance Of Outdoor Garden Planter Materials (January 22, 2016), Designing Outdoor Public Spaces is Vital to the Future of our Cities (December 28, 2015), 10 Major Benefits To Installing LED Tree Ring Lighting (December 9, 2015), Reeder Illuminated Sign (November 23, 2015), Stop unauthorized parking using Reliance Foundry's Fold-Down Bollards (November 16, 2015), Please be Seated: New York City expands its CityBench program and grows 'Street Seat' parklets in Brooklyn (October 23, 2015), Flexible Bollards: Traffic & Parking Lot Posts (September 9, 2015), MultipliCITY wins a 2015 IDEA Goldaward (August 25, 2015), Plastic Bollard Covers: Security Post Sleeves (August 7, 2015), Benefits of Precast Concrete Bollards (July 10, 2015), The FGP Collection by Francisco Gomez Paz (July 6, 2015), How To Create The Best Large Flower Pots On The Block (June 22, 2015), Introducing a whole new personalized approach to site furnishing... (June 15, 2015), Must watch video! Landscape design and the history of ASLA-NY (May 22, 2015)