architecture - engineering - construction

Landscape Design
---
There are two fundamental reasons TerraCast Products is known for making one of the most durable custom outdoor planters on the market: 1) Materials, and 2) Process.
Stone, concrete, metal—there are many different materials used to create planters. Most of these materials are prone to cracking, staining, or rusting in a matter of one to several years. There's one material that rules supreme in terms of long-term durability, and that's our unique Resin-blend.
Custom Outdoor Planters Made From LLDPE
We use a type of resin known as Linear Low Density Polyethylene (LLDPE). It's a form of plastic that is lightweight, durable, and recyclable. Additionally, it offers a more eco-friendly and cost-effective alternative to other materials. Resin is pretty much a superhero—it doesn't rust, corrode, or stain, and it's not prone to cracks caused by freeze/thaw cycles.
What is a Freeze/Thaw Cycle?
Freeze and thaw cycles can impact everything from brick walls to stone planters—in fact, it can impact any solid porous material. Porous materials absorb water through the first layer, which means water can get trapped beneath the surface. When the temperature dips below 32 degrees F (the freeze point), moisture freezes into a solid—expanding and pushing on surrounding materials, say for instance the inner walls of a planter. When the weather heats back up again, the ice thaws back into a liquid, reducing its mass and subsequent pressure. This happens repeatedly each winter and over the course of years, and ultimately leads to the development of cracks and breaks.
How to prevent the freeze/thaw cycle from ruining your custom planters
You need a planter made from a non-porous material that does not readily absorb moisture. By keeping moisture out from the get-go, our planters proactively prevent freeze-thaw cycles from happening in the first place.
Not only are TerraCast's resin-based planters non-porous and non-hydroscopic, but they can withstand temperatures ranging between -40 degrees and 140 degrees F.
The issue with dense non-porous materials
Many non-porous (and porous) materials used to create planters are dense—and dense things break easily upon impact. The great thing about our resin-based planters is that they are flexible enough to withstand a surprising impact load without breaking.
Other benefits of our non-porous and non-hydroscopic planters:
More resistant to stains from dirt and debris and graffiti, just about anything can be cleaned off using at home cleaning products. In the most extreme cases, a pressure washer will remove the stain.
Less prone to leaks
Helps keep moisture and nutrients necessary for plants to thrive inside of the planter
Boosted by the addition of UV-12 inhibitors to maintain longer lasting colors
Our Process Matters Too
Our roto-molding process is proven to offer procession from rims to corners, and all around. Planters start off as two mirror-image metal molds that are fit together with a hollow center. Before being turned into a powder, resin begins in pellet form of Linear Low Density Polyethylene.
Once in powder form, it gets its coloring in a blend machine. Pick from a range of solid colors, from white to black, or custom order any shade. During this process, we add UV inhibitors into the resin to maintain long lasting color for many years to come. We also offer six unique faux stone blends so you can enjoy the look of stone planters without the drawbacks. Want a planter that looks like granite? We know just how to mix and match the right colors.
Next, it's time to pour the resin into a clamshell mold and bake it. The closed and locked mold is placed in one of our natural-gas powered ovens. It rotates 360-degrees the entire time it cooks to give it an even coat. The resin melts and solidifies into the shape of the mold.
When the mold is done, it is rinsed with reclaimed water for 15 minutes so that it cools at the right rate for long term durability.
It's Not Just About High Quality Products, We Care About America Too
From reclaimed water to natural gas, we do whatever it takes to produce materials with as little impact to the planet as possible. We also care about supporting local Americans, which is why we produce our products right here in the USA using locally and sustainably sourced materials whenever possible. Depending on color choice, some colors, such as black, can be made using up to 100% post-consumer recycled material.
Company: TerraCast Products LLC
Product: Planters
Source: http://www.terracastproducts.com/custom-outdoor-planters-durable-market-find/
Tags: Landscape Design | Planters
---
Cal Poly Dexter Patio Design
Educational design is evolving and a trend to more flexible learning spaces is evident. The learning environment is moving beyond the classroom walls and emphasis has been put on the quality of and access to outdoor spaces, to create balance between the indoors and out.
"Studies show that classrooms with views to natural elements such as trees and shrubs greatly increase the occupants' cognitive ability. One study measured that a person who spends 15 minutes walking through a park-like setting increased memory and attention performance by 20 percent. In addition, access to nature can lower stress levels, improve a student's ability to focus and improve mood".1
Maglin Site Furniture has worked with many post-secondary institutions to develop indoor and outdoor spaces. Jill Roberts, Maglin's Sales Manager states "Students are our future customers. It's always exciting to see how campuses are evolving over time and Maglin's goal is to evolve our products to fit these sites. We want to provide amenities that make campuses inviting and encourage students to enjoy campus life...outside!" In addition, Maglin also sees value in building relationships outside of this realm.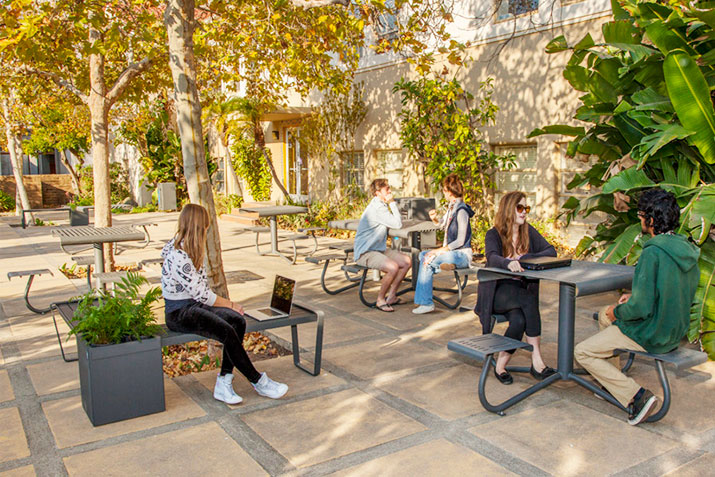 CalPoly students enjoying Maglin's furniture
In 2015, while visiting Chicago for the annual American Society of Landscape Architects (ASLA) trade show, Ian McAskile (President and CEO of Maglin Site Furniture) met Omar Faruque, the Chair of California Polytechnic State University's (Cal Poly) Landscape Architecture Department. With a common interest in the natural and built environments, the two saw opportunity for Maglin and Cal Poly to collaborate in a way that would benefit the school and the learning experience – a design contest challenge.
McAskile says, "Maglin is always looking for unique opportunities."
Cal Poly's Dexter Patio sits between the Walter F. Dexter Building and the Dexter Lawn, a major student hub on campus. In need of an update, McAskile and Faruque saw the patio as an opportunity to create a hands-on project for students. By providing project specs and design constraints, Maglin Site Furniture would challenge Cal Poly students to design a new exterior floorplan for the Dexter Patio. McAskile described the contest as "An opportunity to give students entering the landscape architecture profession a different slant on projects by working with specific requirements as they would in the industry."
Studies show that classrooms with views to natural elements such as trees and shrubs greatly increase the occupants' cognitive ability.
The challenge was accepted! Maglin Site Furniture would donate $25,000 in product to a redesigned Dexter Patio, using Maglin's flexible Lexicon series. Cash prizes would be awarded for the top three submissions and the floorplan designs would be displayed in Maglin's tradeshow booth at ASLA 2017, in Los Angeles.
By utilizing Maglin's online product resources, and reaching out to Maglin Sales and Design representatives, students created floorplans that reflected budget constraints and use of multiple Lexicon components, as well as recognition of pre-existing patio features. After careful consideration, the judging committee selected the top 3 winners: third place, Sofie Assi and Christina Du Mont; second place, Isaiah Rapko; and first place, Piper Tulley.
Tulley's design was selected for its "careful consideration of pedestrian traffic, successful intermingling of new furniture with existing pieces and the use of rectangular and circular forms." As a second year Landscape Architecture student, Piper Tulley is excited about her work right now. After seeing the final installation of the Lexicon components in the Dexter Patio, Tulley said, "Today I got to see my design, actually installed! It was so absolutely incredible, I can't put it to words!"
Maglin Site Furniture is always looking for new and unique opportunities to enrich educational experiences. Create a collaborative approach to active learning by transforming your exterior campus with Maglin's Standard product offerings, or create a design distinctive to your site.
[1] Educational design taking lessons from tech firms
Company: Maglin Site Furniture
Source: http://maglin.com/eNews/January2018.html
Tags: Architecture | Furniture | Landscape Design
---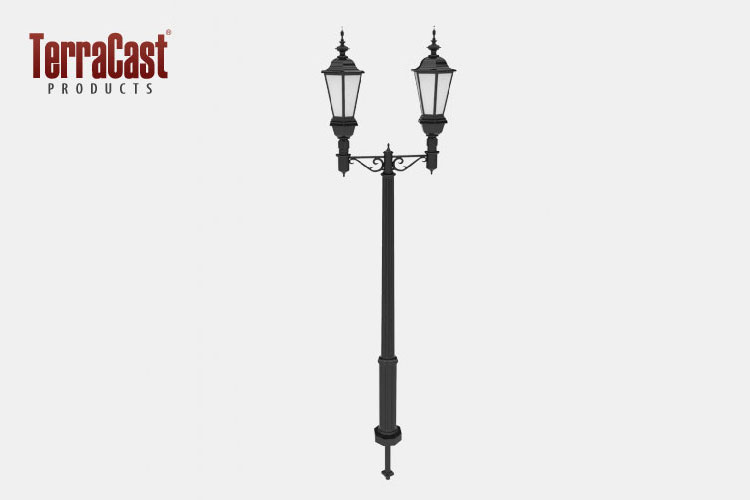 Salt resistant outdoor lighting fixtures are life changing, especially in coastal environments with high salinity levels. Moisture and salinity are incredibly harsh on lighting fixtures and other outdoor furnishings, especially those made of porous materials. Moisture creates enough issues for lighting fixtures, but add salt to the mix and corrosion sets in even faster. Without salt resistant outdoor lighting fixtures, you'll be replacing lighting poles and other fixtures in no time.
Why is Salt So Corrosive?
Freshwater causes rust, but at a much slower rate than salt water. Even fresh water enables oxidation of iron, but salt water accelerates the process because it is such a good conductor due to a flurry of dissociated ions. Coastal areas are exposed to higher salinity levels which leads to an increased production of rust and corrosion. As a result, lighting fixtures often break down faster than you can say, "Look at my new landscape lighting!"
It's not just coastal lighting fixtures at risk of corrosion, even inland lighting posts eventually rust and corrode. Although, rust and corrosion sink in much faster when exposed to high salinity. That's because rust and corrosion occur when electrons start moving around. Since salt is a good conductor, the movement of electrons is greatly increased in salt water compared to fresh water.
A simple science experiment that'll show how this works includes trying to get a current to flow through clean water (it won't). Now add salt to the mix and the current flows through easily.
Porous lighting fixtures made from a mixture of aluminum and metal erode the fastest. When salt water encounters iron and another metal like aluminum it creates a battery effect that speeds up corrosion. The secret to salt resistant outdoor lighting fixtures boils down to non-porous fixtures.
The Problem with Porous Materials for Salt Resistant Outdoor Lighting
Many outdoor fixtures are made from porous materials which means they are NOT salt resistant outdoor lighting. Porous materials allow everything from stains to moisture and salt in the air to penetrate beyond the first layer. Think of it like a sponge that soaks water up into its deepest layers. When this salt-ridden water gets inside it can cause a whole lot of damage from the inside out.
Some materials may be susceptible to freeze-thaw cycles. While porous materials can breathe out water just like they can breathe it in, oftentimes too much moisture gets trapped inside. As a result, when temperatures dip below a certain point the moisture expands and freezes. When temperatures increase again, moisture thaws and decreases in size. This puts pressure on lighting fixtures and may result in cracks and other damages.
Furthermore, the salt itself is highly corrosive to interior features like metal and aluminum. It will start corroding the base of lighting fixtures in no time. You won't see the damage taking hold at first but before long the fixture will start to show signs of corrosion and salt water damage.
Non-Porous Materials Offer Truly Salt Resistant Outdoor Lighting
Non-porous outdoor lighting fixtures are here to save the day. TerraCast's resin-based commercial lighting fixtures are non-porous so salt and moisture don't stand a chance.
Our lampposts, for example, start as an inner core of galvanized steel. This crucial layer is wrapped up tight and secured within a thick layer of polyurethane foam. This foam goes to work securing steel against corrosion and rust by keeping out corrosive elements like moisture and salt. Additionally, we add a non-porous quarter-inch thick outer layer of Linear Low Density Polyethylene resin.
Shop Our Complete Collection of Non-Porous Lighting Poles & Fixtures
Tree Ring Lighting Fixtures
You might be surprised to find out many lighting fixtures designed to live up in the trees are not truly prepared to endure the elements. Think about all the water that reaches a fixture posted up in a tree. That's why it's so important for tree ring lighting fixtures to be non-porous and ultra-durable.
Shop Non-Porous, Rust Resistant Tree Ring Lighting Fixtures
Salt Resistant Outdoor Lighting Fixtures by TerraCast
TerraCast Products has the solution to rusted and corroded lampposts caused by high salinity and moisture. The answer is non-porous salt resistant outdoor lighting fixtures made to pass the test of time. You no longer need to replace your lighting fixtures on a regular basis due to unsightly rust, corrosion, or breaking down of materials. From Bullet Lights to LED Rock Lights and everything in between, we have top-notch products that can withstand a wide variety of temperatures and elements, including high-salinity moisture.
Company: TerraCast Products LLC
Product: Classic Lamps Posts
Source: http://www.terracastproducts.com/guide-salt-resistant-outdoor-lighting-fixtures/
Tags: Landscape Design | Lighting
---
Complete landscape lighting should include a variety of fixtures with unique intended purposes, including path lighting, up lighting, shadow lighting, and so forth. We offer every type of landscape lighting you could think of—plus, our fixtures are durable, long lasting, and made right here in the USA!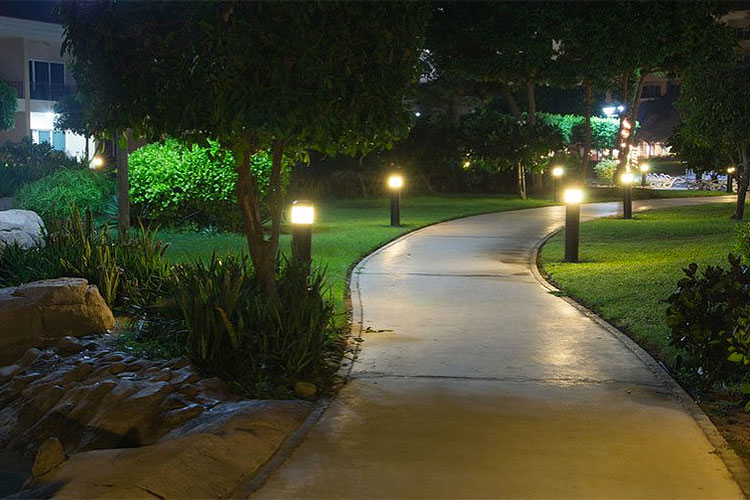 Landscape Lighting Your Property Could Benefit From
1. Path Lighting
Some lighting fixtures are meant to be somewhat discreet, with the light showing but not the fixture. That's not the case with path lighting. Lighting fixtures used to highlight pathways can offer stand-out style and an aesthetically appealing display.
Path lighting is the most common type of landscape lighting. Hey, you can't get around any property without pathways! Path lights can be used for more than just lighting up a walkway; they can also be used to frame certain features or spaces. Picture this: a collection of scattered lighting fixtures that pour light over a brightly-colored fish pond, water fountain, seating area, or other feature.
2. Up Lighting
Next up on the list is up lighting; another important type of landscape lighting. As its name suggests, up lights are pointed up at a tree or taller structure to create a dramatic effect. Play around with fixtures to get just the right angle of light.
3. Silhouette Lighting
This type of landscape lighting involves placing a light behind an object to create a glowing outline. With silhouetted lighting, the goal is for the lighting fixture to go unseen; the light itself does all the talking.
4. Shadow Lighting
The opposite of silhouetting is shadowing, which brings us to yet another common type of landscape lighting. Shadow lighting involves placing a light in between the ideal vantage point and the feature a light is focused on. To create a shadow effect, the light needs to be focused on a wall or other object that will catch light and cast a shadow.
5. Natural Moon Lighting
If you have large trees with sprawling canopies or other tall elements dotting landscaping, you have an opportunity to create an awesome effect with natural moon lighting. Simply place our Tree Ring Lights in the tip-tops of trees, and aim the lights to face downwards. This creates an effect in which the tree, its branches, and the ground below become flooded in a bath of lights.
6. Wall Wash Lighting
There are two ways to illuminate a wall or other solid object—wash lighting (wallwashing) or wall grazing. The main distinction between these two methods is the distance between the lighting fixture and the object being illuminated. Wash lighting fixtures are typically located at least 12 inches from the wall. This offers a flat and even layer of light with some texturing as well.
Wash lighting provides additional ambient lighting. It is often used to add extra pizazz to entertainment spaces, it looks great on living walls and hedges.
Tip: Employ a wide-beamed light situated in between the ideal vantage point and the surface you're lighting up. This creates a nice gentle light with a more natural look.
7. Wall Grazing Lighting
The other option to illuminate a wall is to use grazing lights, which are placed in closer proximity to the wall, typically around 12-inches or less from the wall. Lights virtually sit right up against a flat surface. As opposed to smooth lighting, this creates a more dramatic shadow, while also highlighting texture, color, and design after dark. Wall grazing lights create an upscale look, hence why this tactic is often employed at nice restaurants, office buildings, and so forth.
When lighting up a wall, keep in mind:
The human eye can naturally process vertical surfaces easier than it can horizontal surfaces.
Illuminated walls are considered "indirect" light sources, and work best when the surface illuminated has a light-color and/or matte finish.
It's more difficult to successfully illuminate darker walls or surfaces.
Beware that without proper execution, wall lighting can lead to glare.
Quality Landscape Lighting Fixtures
Investing in quality landscape lighting fixtures is important to the long-term success of any project. Lighting fixtures made from materials prone to rusting, corroding, or cracking are sure to cause problems down the road. After all, exterior lighting fixtures are constantly exposed to the elements—sun, water, weed whackers; occasional dog urine.
Lampposts, tree-ring lights, bullet lights, rock lights, and bollards too; you name the fixture and chances are, we have it! Our lighting fixtures are specially formulated to resist rust, graffiti, water damage, and even corrosive environments, such as coastal landscaping. Did we mention all our products are made right here in the USA, using sustainable manufacturing processes with superior oversight and quality control?
Check out our huge selection of unbeatable Landscape Lighting Fixtures
Company: TerraCast Products LLC
Product: Bollards
Source: http://www.terracastproducts.com/7-types-landscape-lighting-property-benefit/
Tags: Landscape Design | Lighting
---
If you've visited the U.S. Capitol recently, you may have overlooked an understated, yet significant, architectural feature – the 150-acre Capitol Hill campus is ringed by about 7,000 waist-high steel posts, or security bollards. The bollards blend well with their surroundings, but their real purpose is security. Installed shortly after 9/11, they can stop an eight-ton truck from plowing into them at 50 mph.
Bollards have been around for centuries. What started as a way to moor boats evolved into an effective means to control traffic and protect property and pedestrians from vehicle-ramming incidents, whether intentional (vandalism, robbery, terrorism) or accidental.
Following 9/11, many U.S. cities quickly installed security bollards and other physical barriers at major landmarks and capitol buildings. Some barriers, deemed excessive, were later removed. But recent vehicle-related attacks across Europe and in the U.S., notably New York City, have prompted a resurgence.
Traditionally, military, government and other high-security facilities have made widespread use of bollards. More and more, however, you'll find these and other security barriers protecting popular tourist destinations, parks, pedestrian plazas, bike lanes, educational and business campuses, hospitals and more.
Do security barriers make sense for your facilities? As you examine your risk profile, take a look at the different types available, their cost and installation considerations, as well as how to balance safety with aesthetics.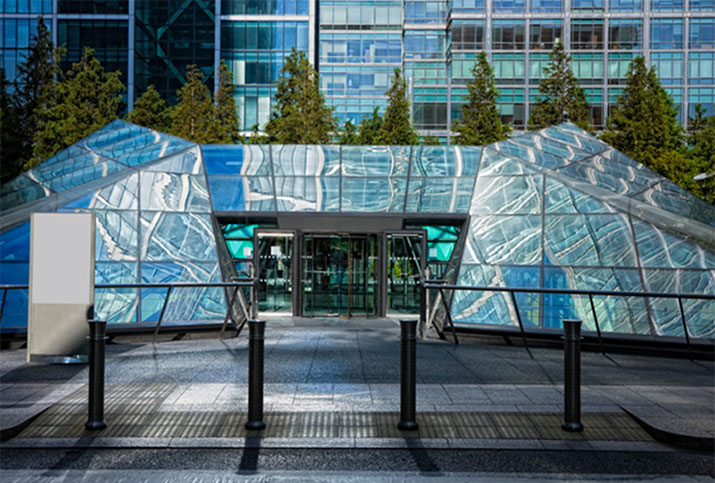 Types of Security Barriers and Tips for Bollard Placement
To find the right fit, consider the areas you're protecting – one building, multiple facilities, pedestrian spaces, parking lots? Then, consider how often they need protection.
Do you host a variety of outdoor special events? Portable, temporary barriers can be towed within minutes to barricade parking lots or streets for sporting events, street fairs and other short-term events. Mobile deployable vehicle crash barriers, which run on their own power systems, can stop 7.5-ton vehicles traveling 40 mph. Lighter units can be towed by a golf cart and set up easily to decelerate and stop a ramming vehicle over a short distance.
Are you looking for a more long-term solution? Fixed bollards, embedded in concrete footings, serve as permanent fixtures. But manual versions offer more flexibility since they can be raised and lowered, or even removed from their footings, to protect pedestrian areas, but allow authorized vehicles to gain access as needed (grounds maintenance, for example). Either way, keep the following in mind as you weigh your options
Costs for security bollards
Costs for bollards can vary widely, depending on the materials and crash ratings. Bollards made of solid plastic used to define spaces and deter vehicle access can cost less than $100 per barrier. Concrete or concrete-filled steel bollards can run hundreds to thousands of dollars a piece, depending on their performance specifications and decorative accents. That doesn't include bollard installation costs.
Bollard Installation & Bollard Placement Standards
Each bollard, whether fixed or manual, requires a footing, so your installers will have to survey the location to avoid interference with utility and other underground lines. The positioning of your bollards will also have to comply with fire department codes for emergency exiting, local building codes, as well as accessibility codes to accommodate disabled visitors. Placement standards follow the Americans with Disabilities Act, which requires bollards placed in areas with pedestrian traffic to be spaced a minimum of three feet apart to allow safe passage for wheelchairs and motorized chairs. Bollards should never be placed more than five feet apart, however, to protect against vehicle traffic.
How Do I Maintain a Secure, Yet Welcoming Environment?
Heavy-duty security barriers work well for high-risk government facilities (think FBI Headquarters), but many businesses, municipalities and other organizations want a more aesthetically pleasing solution.
In fact, many local and city governments across the country have turned to alternative means, using CPTED (crime prevention through environmental design) principles as their guide, according to Dr. Erroll Southers, managing director for counter-terrorism and infrastructure protection at TAL Global. They create more welcoming environments by using large planters, berms and trees as secure barriers.
The good news is bollards aren't a one-style-fits-all product. Manufacturers offer a variety of colors, finishes and shapes – even lighted models – to blend in with and even enhance your surrounding architecture.
Consider how bollards transformed a once intimidating stretch of Pennsylvania Avenue near the White House from a militarized barricade following 9/11 to a now popular public space. "What they indirectly did was create a people street," explained Gabe Klein, former D.C. Transportation Commissioner. "…I find it to be a nice, peaceful place to hang out…"
Company: Total Security Solutions Inc
Source: http://tssbulletproof.com/security-bollards-barriers-protect-property-pedestrians/
Tags: Landscape Design | Security
---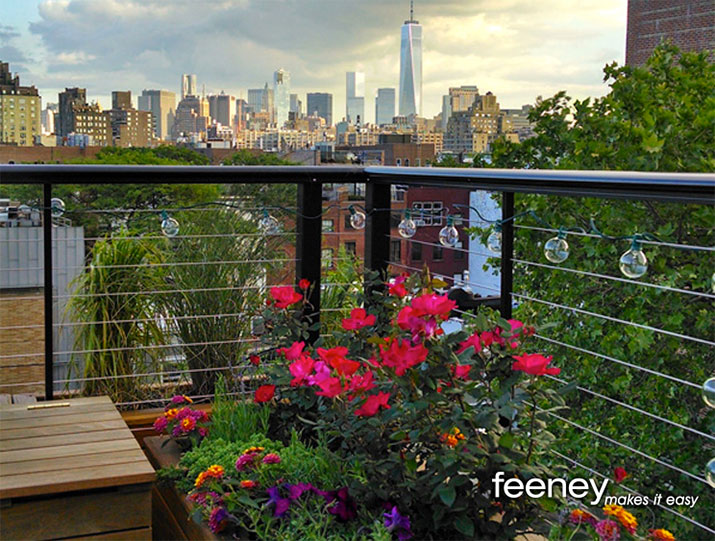 Black railing lets the eye focus on the foliage and the cityscape
In a previous post, we examined the pros and cons of railing infill alternatives. If an unobstructed view is a priority, the railing in-fill is usually glass or cable. Glass has its fans, but frequent cleaning can be a turn-off to some. Cable rail requires much less effort to keep up a fresh appearance.
However, both in-fill systems are identical in one respect: An attractive, durable railing system is required. In most applications, the strength, affordability, and beauty of long-lasting aluminum is the preferred railing choice. Aluminum also works well in interior or exterior applications.
But what about aluminum railing color?
Feeney offers 14 standard colors and over 200 custom colors for its DesignRail® aluminum railing system. To make sure the color holds up, especially in exterior projects, the aluminum railing receives a power-coated finish to the AAMA-2604 standard. That helps ensure color retention, impact resistance, and harsh weather protection.
With so many color choices, is there a one that especially supports an unobstructed view?
Absolutely, say Jason Russell, Tacoma, Wash.-based deck contractor and aka Dr. Decks®. In the doctor's professional opinion, one color stands out for an outstanding viewing prognosis.
"It's black," Russell says. "When you're sitting on your deck, admiring your view of the water, mountains, field, trees, or your neighbor's place, the less obstructed the better.
"You tend to look past darker colors, minimizing visual conflict. Lighter colors, like white, tend to draw the eye and distract. If you're framing glass or cable, all you see is that white aluminum frame." Says the 21-year deck-building veteran, "black helps avoid the distraction."
"I've heard some homeowners say, 'Okay, but won't a black railing look funny with my house?' I know curb appeal is important. But many homeowners become attracted to a railing color without thinking through what they'll really see when they're sitting on their lounge chair or the view from the kitchen. A black railing is better than being penned-in by a white or light-colored railing."
Russell cites another reason for his recommendation: "I live on the West Coast and black and other dark colors are trending hot. Black is my number one, go-to color."
Feeney customers agree. Black and Bronze Matte (another darker shade) top the popular colors list for the DesignRail® aluminum railing line of colors.

Company: Feeney, Inc
Product: DesignRail® Aluminum Railings
Source: http://media.feeneyinc.com/blog/railing-color-a-hidden-choice
Tags: Color | Exterior Design | Landscape Design | Railing System | Safety
---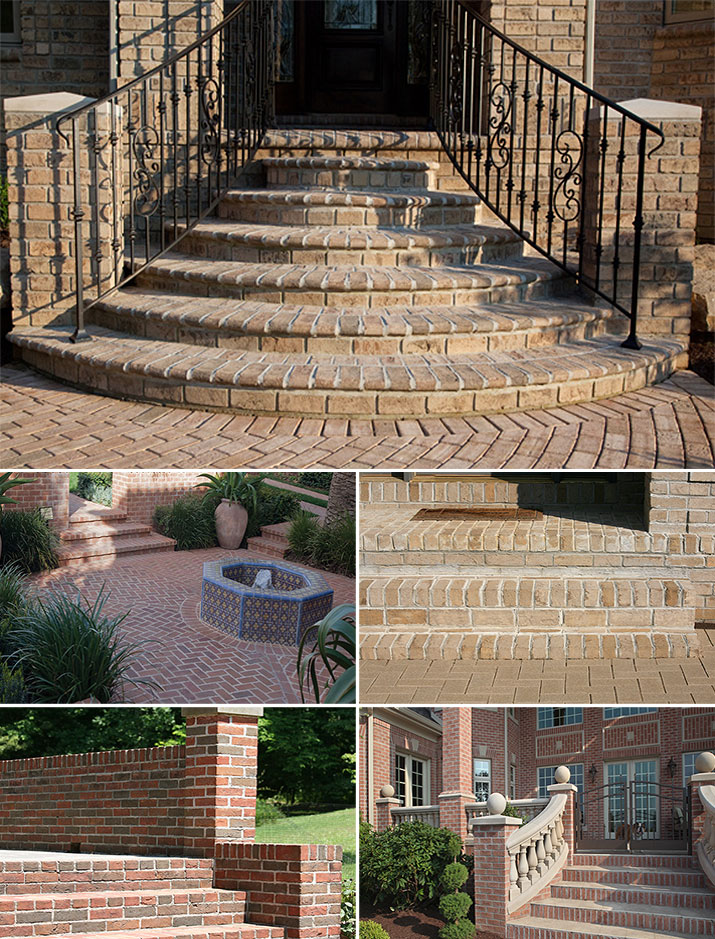 Alamo Blend, Belcrest 530, Harbour Mist Blend, Rosewood Blend, St Anne Clear - The Belden Brick Company
It is a well-known fact that first impressions are lasting. Belden Brick adds an elegant touch to your project's entryway and represents a classic look of beauty and grace. The addition of a brick stairway leaves your guests with an indelible impression of rich tradition.
Stairway design has become an art form in itself and for those who appreciate the finest in craftsmanship, Belden Brick is the perfect solution to all your landscaping ideas. Paving brick can be used in any number of different ways. Talk to your landscape architect about the alternative uses of color and patterns to create a one-of-a-kind entryway design. As you look through the sample pages provided here, you will see how versatile brick can be when it comes to creating a personalized look for your home or commercial project. If you need additional information about the options available for your particular plan, please contact one of our Belden Brick distributors.
Company: Belden Brick Co.
Product: Paving Brick
Source: http://www.beldenbrick.com/
Tags: Brick | Landscape Design | Masonry
---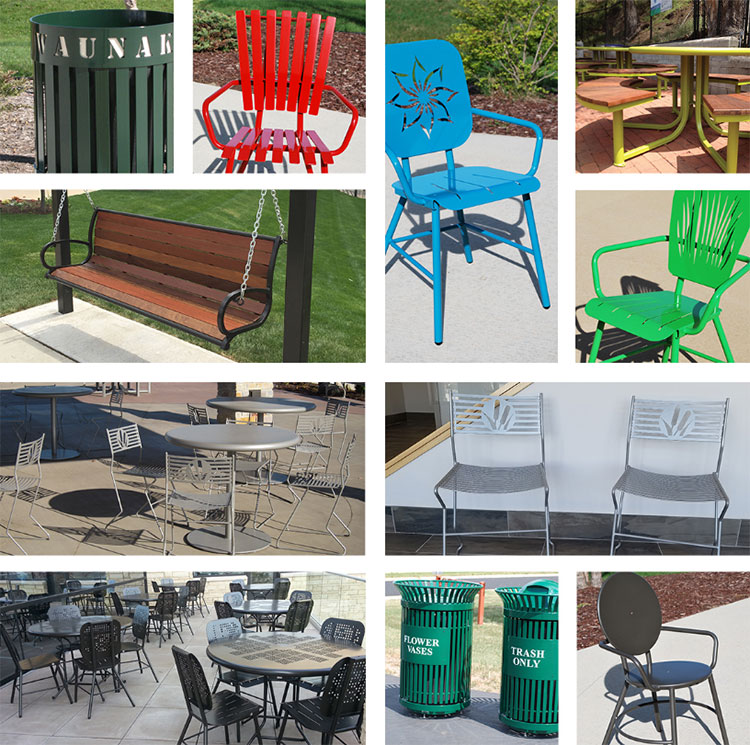 Let Thomas Steele help make your vision come alive
Your project requires more than generic, mass-produced site furnishings—it yearns for handcrafted custom outdoor furniture products that are as innovative and unique as your vision. Bringing your vision to life requires hard work and dedication to ensure that every particular aspect of your design is met to your exact specifications.
Our passion is to take your vision from concept to creation by custom designing site furnishings that aren't completed on an assembly line, but shaped, welded, assembled, and finished one at a time by our skilled and experienced team. Our custom outdoor furniture is fabricated with care from the finest materials available, and we offer a unique e-Steele™ technology that you can choose for your custom project for a durable finish and backed by an unsurpassed 5-year warranty.
For more than a decade, we have helped hundreds of clients develop custom designs that are not only unique but also functional, durable, and striking in appearance. We have built our reputation on our ability to provide our clients with custom site furnishings that bring their vision and design project to life. Located in Waunakee, Wisconsin, we take pride in our efficient ordering, local manufacturing, and speedy shipping processes that get you your products right on time.
Contact a Thomas Steele site furnishings expert at 608-849-1080 or at sales@thomas-steele.com with questions or custom design needs.
Company: Thomas Steele
Source: https://www.thomas-steele.com/custom-outdoor-furniture/
Tags: Color | Design | Furniture | Landscape Design
---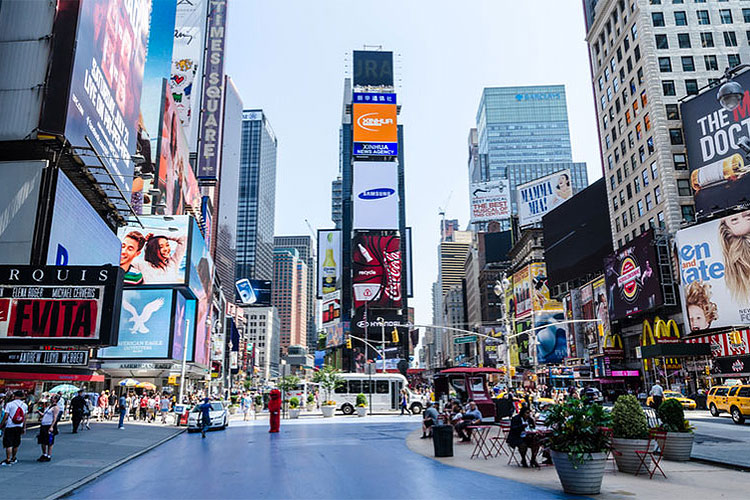 Innovative public square design can improve neighborhood morale, increase home values, generate more retail sales, plus so much more. No space needs to go wasted, not with these great public square design ideas implemented in some of the world's most highly trafficked locations, such as Times Square in New York City.
TerraCast played a role in the development of all projects listed below. TerraCast durable planters were used to complete each picture-perfect public square. There's a reason our planters are continually chosen for high traffic areas:
They are impervious to the elements.
They can withstand impact damage, drastic temperature fluctuations, and just about anything else thrown their way.
Thanks to their resin-based non-porous material, graffiti does not stain planters. You can wipe surfaces clean using a little elbow grease and a Mr. Clean® Magic Eraser® Wipe.
They are lightweight + easy and affordable to transport.
Our products are made right here in the USA using sustainably sourced materials and earth-conscious manufacturing processes.
5 Pedestrian Plazas Created With Our Planters
1. Times Square Plaza in Manhattan, New York
Times Square is one of the most popular tourist destinations on the planet and as a result it's congested with people every single second of every single day. The famous Square's previous design left it highly crowded with cars and pedestrians. The redesigned Times Square is a much more functional space with wider pedestrian walkways and a plaza complete with seating.
"We saw retail sales soar along the corridors where we put bus lanes and bike lanes and pedestrian plazas," Janette Sadik-Khan, New York City's transportation commissioner between 2007 and 2013, told NPR station KCR. Shortly after renovations were complete, Times Square was awarded as one of Crain's Top 10 Retail Locations around the globe.
TerraCast planters are used throughout Times Square to beautify the space. Our planters were specifically chosen for their durability—you can hit, throw and even mark our planters with graffiti, and yet still, they remain in supreme condition.
2. Pearl Street Triangle Plaza, in Brooklyn, New York
Pearl Street was the first public square redevelopment project Ms. Sadik-Khan worked on in NYC. The success of this project helped fuel the redevelopment of other sections of New York, such as Times Square. Back in the day, Pearl Street contained small sidewalks, roadways and an awkward collection of parking spots. Post renovation, Pearl Street offers a nice public square for people to congregate, hail an Uber, jump on the bus, or just enjoy the neighborhood.
Our planters are proudly featured at this public space, because what's a square without some pretty pops of color from plants and trees?
3. 6 ½ Avenue in Manhattan
This revamped public square earned itself a street marker that reads 6 ½ Avenue, a tribute to Harry Potter's Platform 9 ¾. The renovation included the expansion of pedestrian space and the addition of large TerraCast planters overflowing with greenery.
4. Baruch College
Baruch College had a largely unused road running between campus buildings and so they decided to turn it into a public square for students. The renovated student plaza includes TerraCast commercial planters, which are used as a beautiful barrier to outline the space.
5. Sunset Triangle Plaza
In Los Angeles, the City Planning Commission turned a generic street in Silver Lake into a pedestrian plaza that features TerraCast step planters. The planters provide a barrier between Sunset Boulevard and the people walking and dining outside.
What Do These Successful Public Squares Have in Common?
1. Public Square Planters
First and foremost, we are proud to point out they all include TerraCast planters!
2. A Place to Sit
If a public square is large enough, add at least one or two areas where people can sit and enjoy the space, wait for a friend or the next bus. This will encourage people to congregate here, as opposed to just passing through.
3. Something Worth Talking About
Maybe it's a unique name like 6 ½ Avenue, or a fun installation people can climb inside of, whatever is, the best public squares have something unique to offer. Give people something worth talking about, something that sets your square apart from the rest.
4. Sustainability
A successful public square must pass the test of time. It's important to consider the longevity of each feature and product used to outfit public squares. Maintenance is something else you want to avoid as much as possible. Go with native plants, rust-free furniture and no-maintenance planters– or else run the risk of spending a fortune on maintenance all the time.
Sustainability also relates to how products, labor and materials are sourced. Public squares are all about brightening areas for everyone, we believe this level of care should be engrained into everything about a project. That's why we make all our planters right here in the USA using sustainable materials and earth-conscious manufacturing processes.
5. New Opportunities
Most importantly, public squares should breathe new life to a location. For instance, Baruch College turned a hardly-used street into a popular student plaza. Utilize every inch of space to your advantage and watch the benefits pour in. We are here to help any way we can; shop our vast selection of planters: http://www.terracastproducts.com/our-shop/planters/
Company: TerraCast Products LLC
Product: Planters
Source: http://www.terracastproducts.com/5-innovative-public-square-design-ideas/
Tags: Furniture | Landscape Design | Planters | Sustainability
---
Ogden offers flexible curved, circular or straight bench options to configure any style that you visualize. Available in a variety of radii, various seat material and leg options for you to design your individual creation.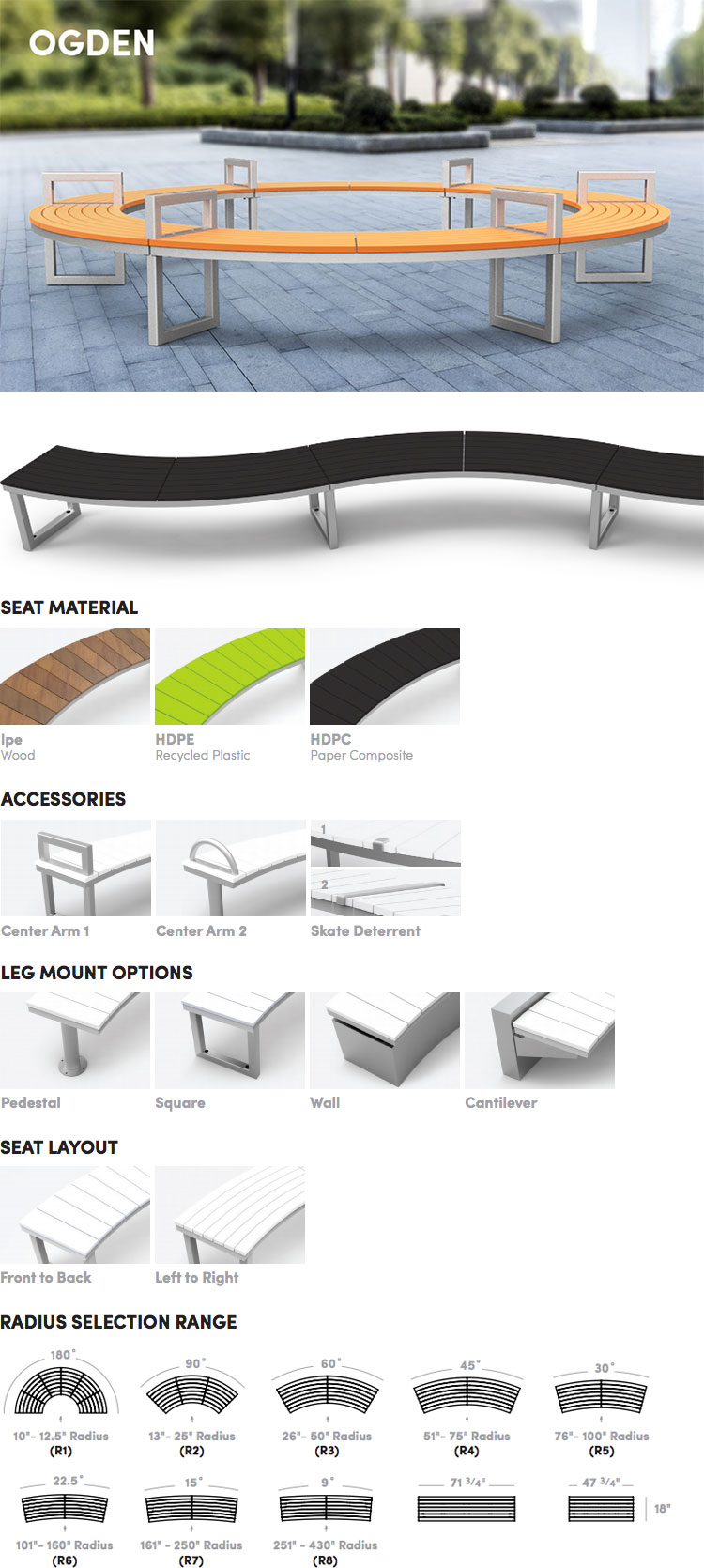 Company: Maglin Site Furniture
Product: OGDEN
Source: http://www.maglin.com/products/OGDEN/index.html
Tags: Color | Design | Furniture | Landscape Design
---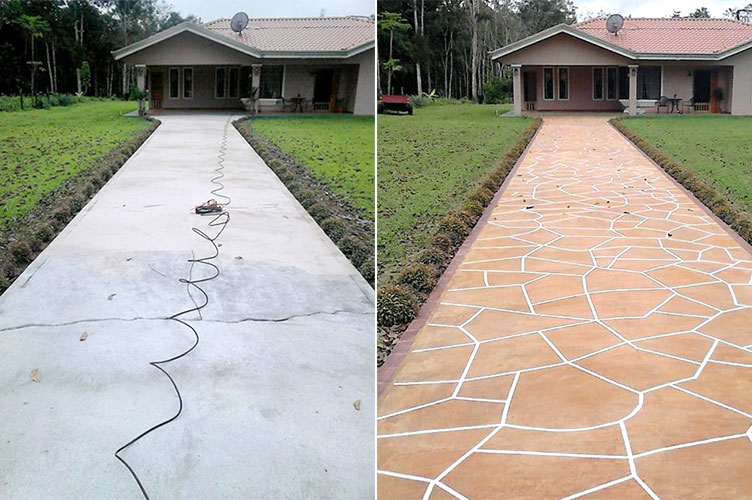 Before & After: Concrete surface restoration using THIN-FINISH™ Pre-Mixed Overlay
When unsightly, old and damaged concrete is no longer acceptable the option for concrete resurfacing should be your top choice. Concrete floors over time will often develop cracks, show surface spalling, stain, and begin to deteriorate.
Typically the structural concrete slab will be fine but its surface is in need of repair and concrete resurfacing. Elite Crete Systems has been leading the concrete resurfacing industry for decades and has a wide variety of products and systems to choose from.
Once it has been determined that something needs to be done about the old concrete, the fun begins! Concrete resurfacing systems open the door to wide range of design and decor options. There are purely functional concrete resurfacing products that will look and feel similar to standard grey concrete floor, but for those who want to take their concrete flooring to whole new level, decorative concrete systems should be considered.
Here are some common concrete resurfacing systems with overviews of what the look and design can be expected from each:
Broom Finish Concrete - Skim, Bond or Broom Coat
This system is designed to resurface concrete with a very thin layer of polymer modified cement. This thin layer can be squeegeed and smoothed out at 1/8th inch thick or less to provide a vibrant new surface to damaged concrete. Because of its thin nature, the concrete should be patched and leveled prior to the application so that any imperfections are corrected. This product can be colored and applied with a variety of textures to create a cost effective and limitless design to beautify concrete slabs and floors.
Splatter Texture - Splatter, Knock down, Sprayed texture concrete
Often found around pool decks and large outdoor patios and walkways. This functional concrete resurfacing system provides a textured, slip resistant finish that can be efficiently applied with a hopper spray gun. The final look is that similar to a splattered wall finish standard in many homes. The texture helps the surface stay cool for bare feet in the hot sun and creates a functional anti-slip surface for wet areas. This texture is most often installed on top of a skim or bond coat and can then be coated in any color similar to a painted surface top while providing a sealed, consistent floor finish.
Thin Stamped Overlay - Stamped topping, Stamped concrete overlay, Texture Pave
When a natural custom look is what you are after, a thin stamped overlay will provide a new surface to your concrete that resembles stone, rock, slate or wood. When resurfacing concrete with a thin stamped overlay, you can expect to cover the concrete with 3/16" to 5/8" of material and then imprint or stamp a pattern into the freshly placed material. When using thin stamped materials you are limited to thin, or shallow stamp mats that require only minimal material displacement. These systems are ideal for interior and exterior spaces where a textured finish is desired that resembles a natural material or paver.
Design Options for Concrete Resurfacing:
Color Choices:
Integral Color, Stains, Dyes, Solid Coatings
Sealers:
Matte, Satin, High Gloss
Surface Textures:
Stone, Brick, Rock, Wood, Pavers.
Also includes a range of anti-slip additives that can be incorporated in to the sealer system.
For more information about concrete resurfacing, please feel free to contact Elite Crete Systems with any questions.
Company: Elite Crete Systems, Inc. (Headquarters)
Product: Concrete Surface Restoration
Source: https://www.elitecrete.com/concrete-resurfacing/
Tags: Concrete | Finishes | Floor | Landscape Design
---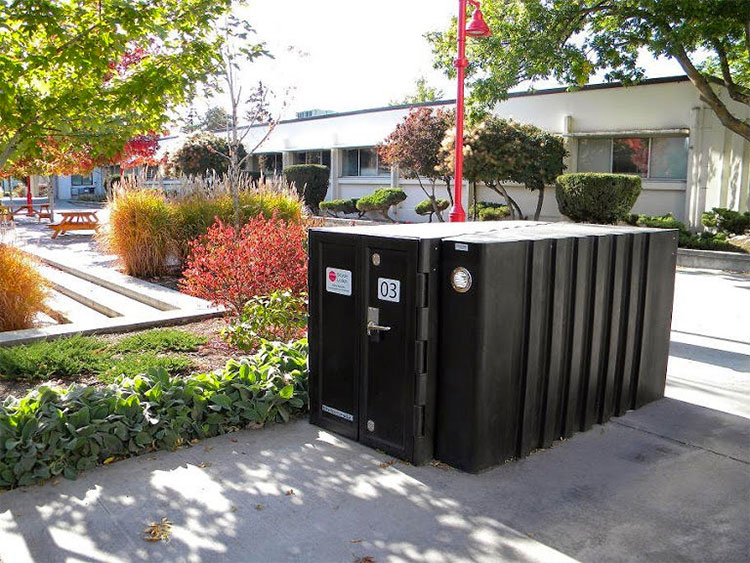 Bicycle lockers offer ideal protection against weathering and thieves
Keep your bicycles safe from thieves—and other threats you may not have considered
Because of the health benefits and cost savings it provides, cycling continues to grow as a form of transportation. But as the number commuters who cycle increases, so too does the demand for secure bike parking. Providing safe options will increase traffic to your location, but there are a lot of considerations to make when choosing what form is right for your building. Whether you are managing a business park, apartment complex, or office tower, you must recognize the vulnerabilities present at your site. There are more threats than just thieves out there, and in many situations, providing the optimal level of security will require more than a traditional bike rack can offer.
When deciding on the appropriate level of bike security required, the first questions that should be asked are how long the bikes need to be stored for and how frequently they will have eyes on them. These two questions address the two potential threats to bicycle security most commonly forgotten when deciding what type of bike storage unit to install: the elements and vandalism.
Damp weather can quickly wear at a bike's mechanisms and finish, and bikes stored in areas not regularly frequented are not only more likely stolen but also defaced. This means in high-traffic areas where bicycles are only secured for a few minutes at a time, like a store front, a traditional bike rack will provide an adequate level of security. But in isolated areas where bicycles are stored for long periods of time out of public view, such as schools, gyms, transit terminals, and theatres, a higher level of protection is recommended.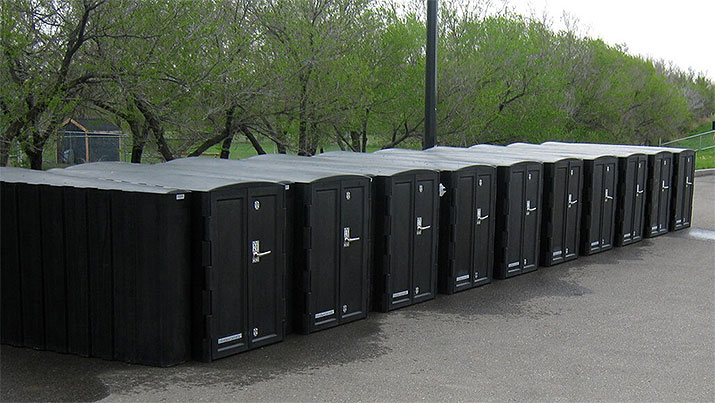 The wedge-shaped design allows individual bike locker units to fit together easily.
A fully enclosed bike parking infrastructure is best for these settings; bike lockers offer the optimal level of security. A bike locker is a compact and durable storage unit with box-like construction that prohibits contact from would-be thieves and vandals. Bike lockers can be considered "mini garages" for bicycles and they providepeace of mind in ways a standard bike rack cannot. Many models are also designed to prevent moisture entering. Most models feature a solid door-locking mechanism and feature enough room to protect additional equipment such as helmets, lights, water bottles, and pannier bags.
While bike lockers have been popular in urban cities across Europe and parts of Asia for some time, the market has just started to grow in North America. Bike lockers are now available in many designs, ranging from the rectangular box-type, to the triangle-shaped type, where the widest part accommodates the bicycle's handlebars. Many designs also feature components that allow multiple lockers to be formed into a modular arrangement.
Installation requires very little in terms of mechanical ability, and if a concrete base or footing is available, it can usually be completed within minutes. Bike lockers are generally held in place with washers and bolts that pass through the locker's floor and into a concrete anchor that sits in a hole drilled into the concrete base or footing. In most cases, all that is required to secure a bike locker is a drill with masonry bit and a wrench to tighten the lug bolts. Bike locker maintenance is also very easy. Polyethylene units can endure any weather nature throws their way with minimal wear-and-tear to the bike locker. Both plastic and powder-coated metal units can usually be cleaned with only warm soap and water.
Bike lockers are not only good for people and the environment, but they are good for business. They do require a more substantial initial investment than traditional bike racks, but the peace-of-mind security they provide also attracts the business cyclists. Some facility managers have even offset the initial purchase cost of bike lockers by renting the units.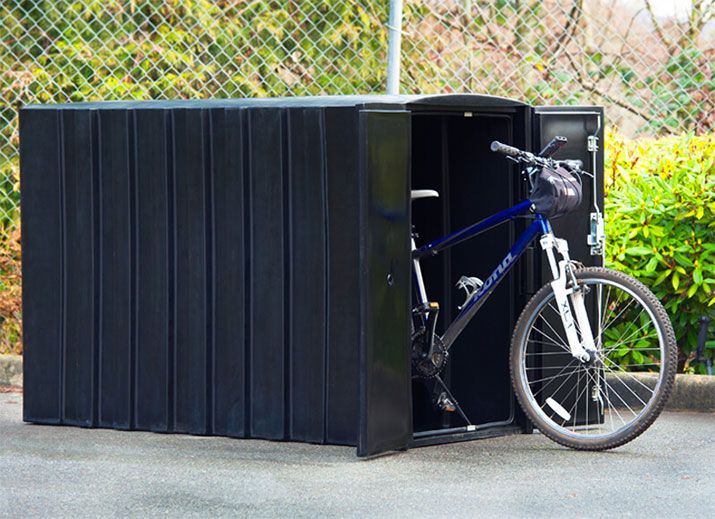 These low-maintenance bicycle lockers are made with low-density durable polyethylene.
As the urban landscape changes and an increasing number of urbanites eschew driving a vehicle in favour of a bicycle, the demand for storage solutions that are both weather and vandal proof will continue to grow. Traditional racks may be the right solution for many applications but many vulnerable areas require the increased level of protection that can only be provided by bike lockers. Keeping building occupants happy, easing vehicle parking demand, and preventing property damage will require the correct decision by facility managers.
Company: Reliance Foundry Co. Ltd.
Product: Bike Lockers
Source: http://www.reliance-foundry.com/
Tags: Exterior Design | Furniture | Landscape Design | Safety
---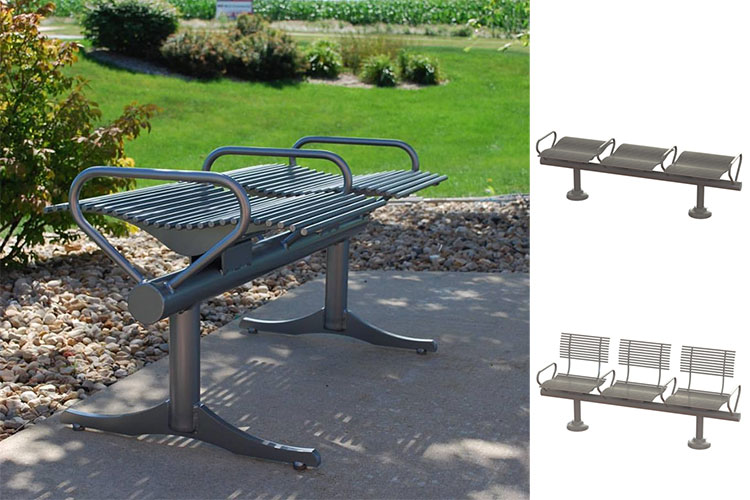 If you're looking for comfortable, durable, and beautiful seating, look to Thomas Steele for a wide selection of handcrafted outdoor benches. Pick the perfect piece for your project from a variety of styles, finishes, and customization options. Browse our current selection of commercial and outdoor park benches, or contact a Thomas Steele site furnishings expert at 608-849-1080 or at sales@thomas-steele.com with your questions and unique design needs.
Volare modular benches in addition with the modular tables will create several unique seating arrangements. The modular benches are available with 1, 2, 3, or 4 seats. Volare is constructed of 5/8" round steel rod. The frame is made with 3" Steel Tube with all welded construction. The bench is available with three installation methods: free standing, in-ground, and surface mount.
Volare flat benches in addition with the modular tables will create several unique seating arrangements. The benches are available with 1, 2, 3, or 4 seats. Volare is constructed of 5/8" round steel rod. The frame is made with 3" Steel Tube with all welded construction. The bench is available with three installation methods: free standing, in-ground, and surface mount.
Company: Thomas Steele
Product: Benches
Source: http://www.thomas-steele.com/ShopSiteFurnishings/Benches/tabid/212/ProductID/77/Default.aspx
Tags: Furniture | Landscape Design | Metal
---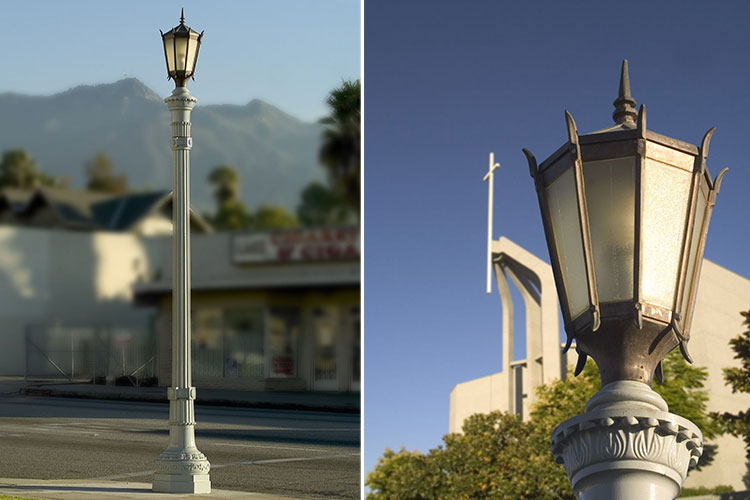 Niland's in-house pattern and machine shop recreated the cast iron foundry tooling needed for an exact replication
This light pole was originally installed in the City of Pasadena in the early 1920s. Its design consists of intricately detailed cast iron sections. After 85 years of service the need for additional light poles down Pasadena's famous Lake Avenue Drive became apparent. Representatives with the city expressed a desire to duplicate this early design and provide a period luminaire cast in solid bronze. Our in-house pattern and machine shop recreated the cast iron foundry tooling needed for an exact replication. Each section of the iron casting was sand blasted and several layers of paint removed revealed the raw iron casting.
Secrets of the early artisans that created the original tooling began to surface. The master journeyman of that era indeed had a story to tell and their work and creative ingenuity came to light. We estimated the original carvings in the original all wood tooling to be just over 4,000 man-hours back in 1920. Each individual section of detail had to be individually hand carved back then. The use of pillow blocks and triple radii shrink ratios allowed for a tight level uniform fit with an "as cast" casting. We came to discover this "trick of the trade" through careful analyzing the core prints after the old paint layers had been completely removed. We pulled sections of original detail out of the castings with a high performance non-shrinking reproduction polymer resin. The shrink ratios were added back to the wood turnings and the detail added back to the top of the pattern to bring the castings back into original tolerance. With the use of reproduction polymer resins and fine dental tools we were able to complete all the tooling on this job in less than 1,000 man-hours, allowing us the luxury of winning this work and learning from the master craftsmen of a bygone era.
Innovations in the casting process have come along way in the last century. One hundred years ago, wet "green sand" was the standard method of production. Erratic shrinks and tooling pulls would justify the use of triple radii shrink and pillow blocks. Today modern chemistry has given the age old foundry process the ability to control shrink more accurately. The use of chemically bonded "dry sand" to cast the individual parts allowed us to tighten up the tolerances and ensured a crisp detail throughout every pour. Very little machine time was spent preparing these castings for their final end use, yet the rich grain texture of fine iron castings gives each pole an individuality unique to itself. High performance acrylic primers and finish coatings completed this pole which will provide a maintenance free finish for at least 20 years.
The luminaire itself was also duplicated, only Niland was able to cast this tool in bronze, keeping with the original design from 85 years ago. Over the years most of the luminaires had been replaced with cast aluminum recreations. Our ability to cast this luminaire in bronze got the design back to its original historical intention. The light source recommended to the city utilizes electronic ballasts fully enclosed and potted in resin. This ballast allows increased life of the lamp and increased performance due to the decreased light loss factor associated with these high performance products.
Company: Niland Co.
Source: http://www.nilandco.com/project-gallery/lake-avenue-restoration
Tags: Design | Landscape Design | Lighting
---

Step Planters NYC
TerraCast Products dazzle reclaimed public spaces with installations of planter pots across various pedestrian plazas in New York City. Following in the wake of the NYC Department of Transportation's success, other municipalities have taken to tactical urbanism utilizing the loose guidelines which help their citizens safely hang outside more.
The New York Department of Transportation (DOT) in collaboration with the NYC Plaza Program, along with Baruch College in NYC, and the Los Angeles City Planning Commission launched independent projects to transform community spaces utilizing innovative resin based planters. Designed by Florida-based TerraCast Products, an American owned and operated company; the planters are manufactured in the United States from a durable resin blend that resists sun and salt as well as the abuses of both vehicular and pedestrian traffic. The lightweight material allows for easy relocation during events or with seasonal changes.
"Areas all over the country are utilizing tactical urbanism for emerging public spaces, such as pedestrian plazas, streetscapes and parklets," said Brad Goldring, TerraCast Products' CEO. "We are incredibly excited to have worked with NYDOT, many colleges, business improvement districts and the LA City Planning Commission to help design these new sites. We hope they highlight distinct approaches to public space management, and that these projects initiate other entities to succeed in creating thriving public spaces in their communities."
Successful public spaces require modernization, acceptance and maintenance: These projects implement all three. Under NYDOT and the NYC Plaza Program, Union Square, Madison Square and Times Square all feature TerraCast planters, which adhere to New York City's exacting design requirements while ensuring the areas to be energetic centers of activity.
Baruch College introduced TerraCast commercial planters to convert a road located between two of their campus buildings into a student plaza. The planters were chosen as decorative barriers which best met the needs of the college because they are maintenance free and durable. The LA City Planning Commission accomplished something similar at Sunset Triangle Plaza when they renovated a street in Silver Lake into a pedestrian plaza utilizing TerraCast Products step planters. These planters separated Sunset Boulevard from people walking and dining outside.
"In the last decade, these initiatives have breathed new life into the spaces within these cities," stated Lou Blondin, TerraCast Products' CMO. "In collaboration with these organizations, we are reimagining public spaces in a more pioneering and comprehensive way, and our products align with these concepts."
TerraCast Products' modern resin planters contribute to this new approach to city building that integrates the reinforcing benefits of vibrant public spaces with tactical urbanism. TerraCast Planters last longer than products made from other materials, and they are cost-effective for project budgets. Constructed to not require any maintenance, TerraCast planters can withstand a variety of weather, including intense heat and harsh winter climates. The lightweight planters can be moved and loaded by hand, which allow for easy shipping and transporting on the job site.
Community organizations and cities are invited to find more information about TerraCast Products at http://www.terracastproducts.com.
Company: TerraCast Products LLC
Product: Planters
Source: http://www.terracastproducts.com/terracast-products-featured-in-innovative-city-redevelopment-projects/
Tags: Design | Furniture | Landscape Design
---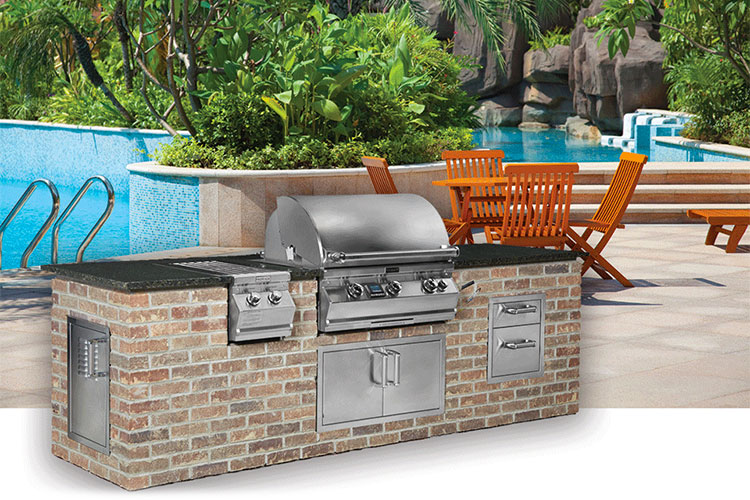 Transform your yard, patio, or outdoor cafe into majestic gathering places with these beautiful brick outdoor entertainment pieces. Crafted from quality and made to stand up to the elements, these distinctive furnishings are meant to be enjoyed season after season. Choose from a variety of rich-color tones and eye-catching textures for your uniquely manufactured outdoord living product.
Fire Pits
Mailboxes
Outdoor Grills
Trash Containers
Fence Posts
Pizza Ovens
Custom Laser Cut Signs
Fireplaces
Company: Belden Brick Co.
Product: BrickScapes Outdoor Living Products
Source: http://www.brickscapes.co/outdoor-living-products/
Tags: Exterior Design | Landscape Design
---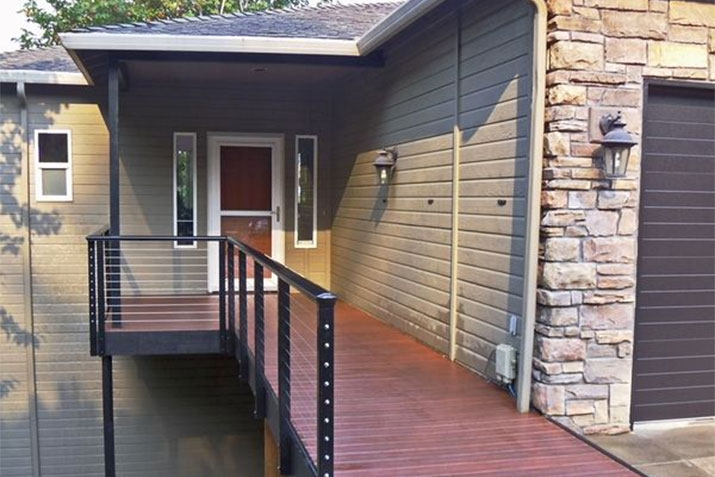 The shaped Aluminum Top Rail used in this photo captures the perfect look for this home in Happy Valley, OR.
Signature line of uniquely reinforced aluminum posts, matching top rails, and inline handrails. All aluminum products are available in five color options: black, bronze, white, natural, and clay.
These uniquely designed aluminum posts and top rails offer an economical alternative to our stainless steel and premium wood frame options, without compromising architectural resilience. Designed specifically for cable railing applications, these products are reinforced to have greater strength and durability than standard aluminum posts. With two top rail options, a handrail that can double as support for a wood top rail, and five color options, this line offers the greatest number of options.
Five powder-coat color options: black, bronze, natural, clay, and white
Two top rail design options: rectangular or shaped
Posts are available for 36", 42", and custom height systems and can be deck, fascia, or core mounted
Posts are compatible with any of our assemblies and can be ordered pre-drilled. Grommets are recommended to keep the stainless steel cables from reacting with the aluminum.
The aluminum handrail runs between posts for use in any system regardless of shape or slope. Can be used as a standalone, inline, or stair handrail.
Handrail can also be used as inline support for a wood top rail.
Company: Stainless Cable & Railing Inc.
Product: CableView® Aluminum Cable Railing System
Source: http://stainlesscablerailing.com/cable-railing-happy-valley-oregon.html
Tags: Aluminum | Exterior Design | Landscape Design | Railing System
---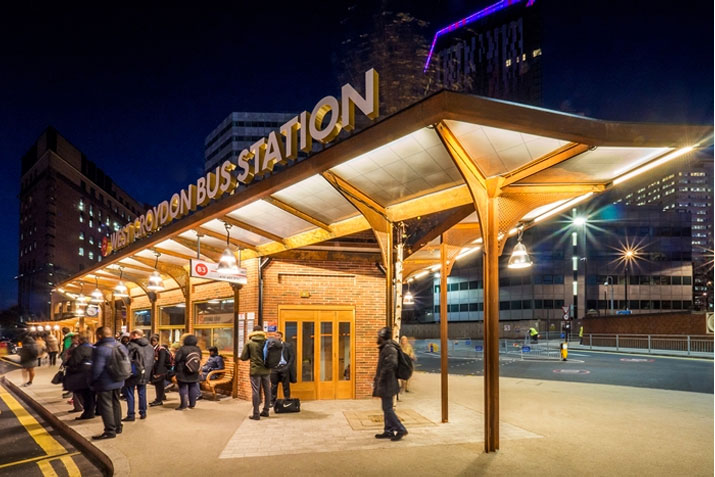 The architects of London's remodeled West Croydon Bus Station were looking for a way to give the busy transport station a brighter and more aesthetically appealing look when it began its remodeling project two years ago. The introduction of Kalwall translucent sandwich panels for the station's canopy helped achieve that goal. And, in the process, earned the project one of England's highest honors in architectural design.
Transport for London (TfL)'s in-house design team was recently presented a 2017 RIBA Regional Award by the Royal Institute of British Architects and TfL architect Martin Eriksson won a 2017 RIBA London Project Architect of the Year Award.
RIBA Awards aim to "celebrate the best architecture in the UK and around the world." London has over 12,000 RIBA members and 1,000 chartered practices. Regional winners are eligible for the RIBA National Award for architectural excellence.
In jury comments, the station is described as a "charming and creative building." Kalwall panels not only provided an aesthetic beauty, but their lightweight properties factored into the design of the building. The ability to eliminate shadows, hotspots and glare made Kalwall preferable to traditional glazing. Additionally, the translucent panels create an ethereal glow at night, making it a beacon for travelers.
The ability to reduce maintenance expenditures also made Kalwall a great choice. Soil and detritus are less obvious on Kalwall panels than on glass, and cleaning is much simpler because access scaffolding is not required and maintenance staff can safely walk across its surface.
Company: Kalwall Corporation
Product: Wall Systems
Source: https://www.kalwall.com/2017/05/30/winning-2017-riba-london-award-project/
Tags: Award | Landscape Design | Wall Panels
---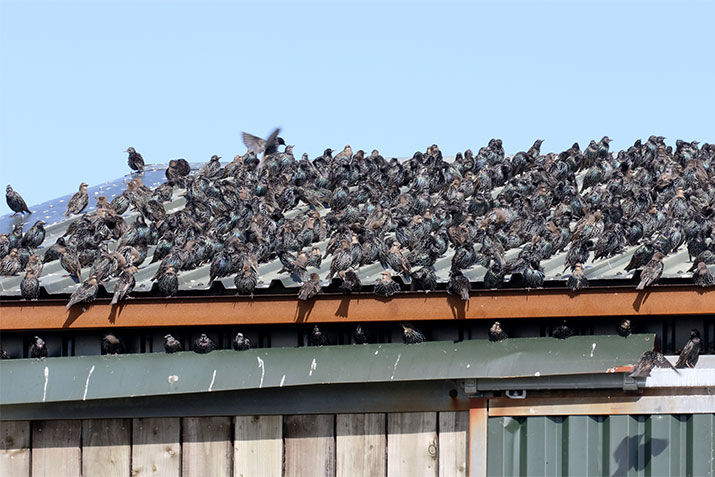 European starlings cost growers as much as $800 million in the US annually. The loud, obnoxious, destructive birds steal grain, ravage crops and crowd out native bird species. The problem is that starlings move in vast numbers, which often descend on a field, orchard or grain area. A migrating flock of starlings can number 100,000 birds. Another problematic factor is that starlings now have fewer natural predators to keep their numbers in check.
Attacking Grain Fields
As highly aggressive omnivores, European starlings compete with native fauna for food. Open bill probing is most commonly used to feed on ground invertebrates, which is their preferred food. In new grain fields, starlings will pull up young plants and eat the seeds.
Extensive Fruit Damage
Starlings will typically assault a wide range of crops, including strawberries, blueberries, grapes, tomatoes, peaches, figs, apples and cherries. Fruit damage is often caused by younger birds, which have underdeveloped probing skills. It is not uncommon for a flock of 4,000 starlings to cause major loss of revenue in a large vineyard in a week's time.
Problems Around Livestock & Poultry
Starlings create formidable problems for livestock and poultry facilities, congregating at feed troughs and diminishing supplies of livestock feed—1,000 birds can consume 100 pounds of grain a day. Starlings can contaminate food and water sources with their droppings, carrying parasites and diseases, including E coli, from farm to farm. These diseases are transmissible to livestock and people, including TGE (transmissible gastroenteritis—a swine disease), blastomycosis and salmonella. Starling droppings can also contain the fungus histoplasma capsulatum, the cause of histoplasmosis in humans.
Nesting Problems
Starling nests built into building cavities can pose a fire hazard. New nests are typically added to old, compounding this combustible materials hazard. When starlings enter buildings to roost and nest, they create sanitation problems; when they nest in farm equipment, they create fire hazards. Their droppings carry ticks and mites, and they are highly acidic, eating into paint and degrading the strength and structural integrity of many materials, including infrastructures and roof linings. The sheer amount of droppings together with their chemical action can damage and kill trees and any vegetation underneath.
Humane, Effective Starling Deterrents
Getting rid of flocking birds can pose a challenge, since many birds are protected by law and cannot be killed or injured. Growers and farmers have found that the only viable solution is to use humane, proven effective bird repellents. This is where the bird control pros at Bird B Gone can help.
Agrilaser® Lite for Farms, Fields, Warehouses
Employing advanced, patented optical laser-beam technology, the Agrilaser® Lite harmlessly repels flocking birds over great distances—up to 2,500 meters. Developed with the help of farmers and ornithologists, the Agrilaser® Lite is animal friendly and ideal for repelling a variety of birds. It is most effective during sunrise and sunset, and in overcast, rainy or foggy weather conditions. The Agrilaser® Lite comes with two rechargeable batteries and a power charger.
Heavy Duty Bird Netting
Ideal for sealing out birds from specific areas around a warehouse or storage facility, Bird B Gone's Bird Net 2000 Heavy Duty Bird Netting is made of a tough UV-stabilized polyethylene mesh. This durable netting is rot proof, water proof and flame resistant. It's also ISO 1806 and 9001 Protocol mesh tested, temperature stable (-250F to 270F), and non-conductive. It comes in stock sizes and custom cuts up to 200 ft. The ¾" mesh is ideal for blocking out small birds like starlings. The netting is backed by a 10-year guarantee and comes in black, stone or white to blend in with its background.
Solar Bird Chase Super Sonic
This weatherproof sound deterrent is recommended for deterring birds from large open spaces. It broadcasts pre-recorded distress and predator calls that intimidate as many as 22 species of birds. Ideal for deterring birds from lofty or hard to reach areas—like rooftops, trees and open fields, the device is programmable and comes with a built-in speaker that will cover up to an acre (additional speakers can be added to boost range). Because it's solar powered, no AC access is needed, so it can be placed wherever pest birds gather most often.
Ask the Experts
If you're unsure about which product would work best for your specific situation, Bird B Gone has over 100 years of combined experience in the field of bird control. We can help you with product selection, installation and cleanup. Just call us at (888) 570-0360 for a catalog, pricing, or product samples or email us at nobirds@birdbgone.com. We also work with a network of authorized installers, call today for a trained bird control professional in your area.
Company: Bird-B-Gone, Inc.
Product: Bird Netting
Of: Alex Kecskes
Source: https://www.birdbgone.com/blog/starlings-grainagriculture-industry/
Tags: Exterior Design | Landscape Design | Roof | Safety
---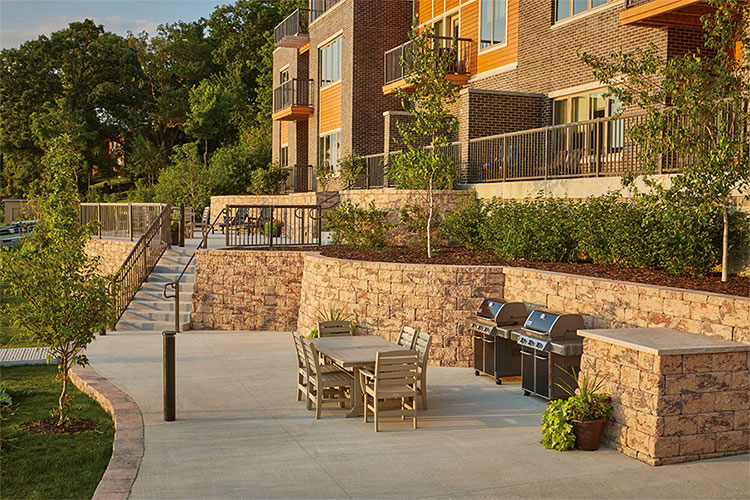 The innovation and beauty of County Materials' hardscape products were recognized at the 2017 Wisconsin Masonry Alliance Excellence in Hardscape Awards. Five projects with concrete pavers, slabs and retaining walls manufactured by County Materials received awards at the 2017 gala, hosted at Lambeau Field in Green Bay, WI.
A panel of industry judges selected winners from an entry pool of many exceptional landscape projects located in Wisconsin and Michigan's Upper Peninsula. Landscape projects were judged on their overall excellence in design, creativity, functionality, selection and quality of hardscape materials, installation techniques, craftsmanship and finished appearance.
Three projects featuring County Materials' pavers, slabs and retaining walls took top honors with Gold Awards in different categories.
Church Mutual
In the category for Best Concrete Paver Commercial Application Over 2,500 sq ft, Gold went to the patio at the Church Mutual office in Mosinee, Wis. completed by CW Terramaster.
Lake Edge Apartments
Also earning the top Gold Award was the Madison, Wis. Lake Edge Apartments in the Best Structural Retaining Wall Commercial Application Over 2,500 sq ft completed by TMS Landscape Inc.
Menasha Corporation
Finally, the Neenah, Wis. Menasha Corp earned the Best Permeable Paver Commercial Application category, completed by Miron Construction.
Smoke Tree Pass Residence
In the Best Driveway Application category, Wolfrath's Nursery & Landscaping of Hortonville, Wis. earned the Silver Award for their Smoke Tree Pass residential driveway project in Appleton, Wis.
Shawano Lawn and Stone
The Bronze Award was given for Best Permeable Paver Residential Application to Shawano Lawn and Stone for their work on the lakeside Emile Court residence in Gillett, Wis.
County Materials is a leading supporter of the Wisconsin Masonry Alliance and the Excellence in Hardscape Award competition, and partner with professional landscape installers and designers. We congratulate each of the winners for their excellence in the industry.
Company: County Materials Corporation
Product: Landscaping
Source: https://www.countymaterials.com/en/news/item/2017-eih
Tags: Concrete | Landscape Design
The Art of Profitable Deck Building (April 25, 2017), Bicycle security solutions (April 14, 2017), Deck Railing Ideas (April 7, 2017), 6 Ways To Overcome Coastal Landscape Installation Challenges (March 3, 2017), The evolution of the educational landscape (February 17, 2017), New from Thomas Steele: Monona benches, chairs, side tables and litter receptables (February 13, 2017), Waldorf™ Benches (January 12, 2017), How To Avoid The Most Common Problems With Commercial Lampposts (December 30, 2016), New designs from Victor Stanley: Camille Table & Benches (November 29, 2016), 8 Questions You Need Answered Before Buying Commercial Grade Outdoor Furniture (October 24, 2016), Battery Life: introducing a new way to energize your outdoor space (October 12, 2016), An orderly revolution in waste control (August 3, 2016), Smart Ways to Upgrade Your Deck (July 8, 2016), Turn your backyard into a haven (June 15, 2016), The Rise of Outdoor Lighting: Enhancing Aesthetics and Extending Entertainment (May 26, 2016), Slip Resistant Aluminum Grating Utilized on ASLA Green Roof (May 23, 2016), How To Upgrade Light Poles With Decorative Bases (May 19, 2016), New Colors for DesignRail® Kits! (May 2, 2016), Cochran Expands and Enhances Landscape Forms Lifestyle Furniture for Terrace Life (April 29, 2016), Green Building Tips: How To Create Eco-Friendly Landscaping (April 25, 2016), Lakeside Planter (March 4, 2016), Maglin has collaborated with Philips Lumec to offer a design-integrated line of sustainable site furniture (February 17, 2016), Safety Bollards Protect Storefronts (February 9, 2016), Importance Of Outdoor Garden Planter Materials (January 22, 2016), Designing Outdoor Public Spaces is Vital to the Future of our Cities (December 28, 2015), 10 Major Benefits To Installing LED Tree Ring Lighting (December 9, 2015), Reeder Illuminated Sign (November 23, 2015), Stop unauthorized parking using Reliance Foundry's Fold-Down Bollards (November 16, 2015), Please be Seated: New York City expands its CityBench program and grows 'Street Seat' parklets in Brooklyn (October 23, 2015), Flexible Bollards: Traffic & Parking Lot Posts (September 9, 2015), MultipliCITY wins a 2015 IDEA Goldaward (August 25, 2015), Plastic Bollard Covers: Security Post Sleeves (August 7, 2015), Benefits of Precast Concrete Bollards (July 10, 2015), The FGP Collection by Francisco Gomez Paz (July 6, 2015), How To Create The Best Large Flower Pots On The Block (June 22, 2015), Introducing a whole new personalized approach to site furnishing... (June 15, 2015), Must watch video! Landscape design and the history of ASLA-NY (May 22, 2015)