architecture - engineering - construction

Walls
---
LuxCore FRP Panels are the newest part of the Fusion line and it offers many unique features. The translucent panels pass sanitary codes and are easy to clean. Therefore it is suitable for wet environments such as commercial kitchens and baths. LuxCore resists scratching and is highly durable, making it perfect Wall protection in high traffic areas. The panels can be used as wainscot or to cover an accent wall. When left as a translucent panel it makes beautiful room dividers and modesty panels and can be back-lit. If a backing is added the colors become even more vibrant and LuxCore makes an excellent wainscoting or wall covering.
DCT's Fusion program allows you to create any custom design by submitting your own art work or choosing from our stock line. Design options for these translucent laminates are only limited by your imagination.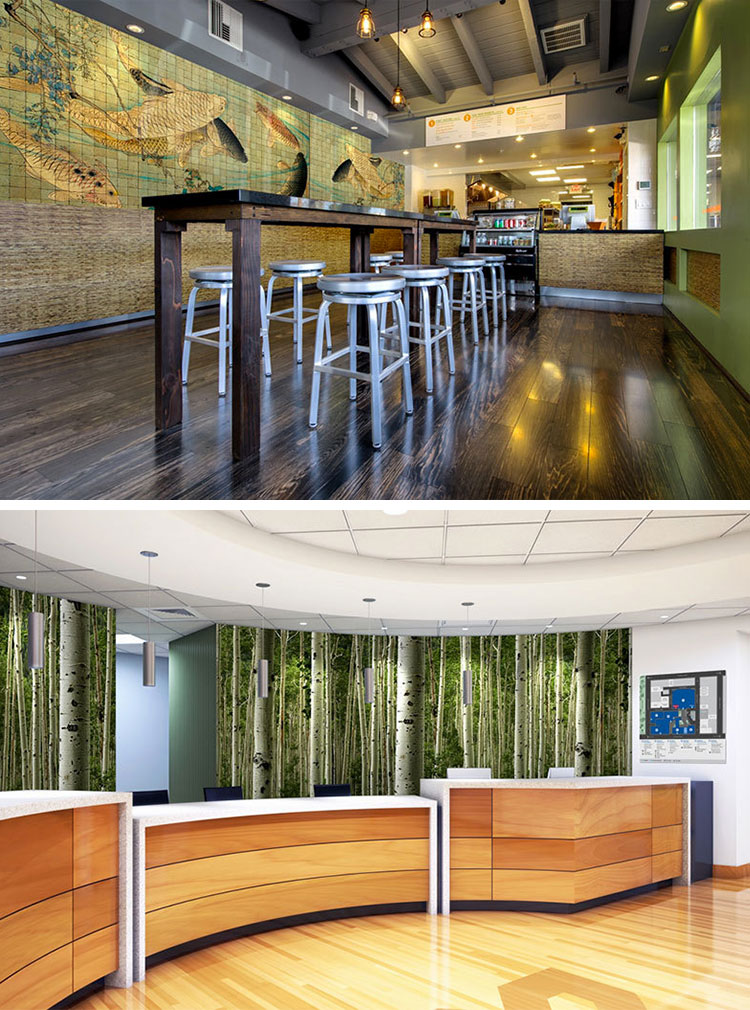 LuxCore are translucent panels that pass sanitary codes and are easy to clean. Therefore, it is suitable for wet environments such as commercial kitchens and baths. LuxCore resists scratching and is highly durable, making it perfect Wall protection in high traffic areas.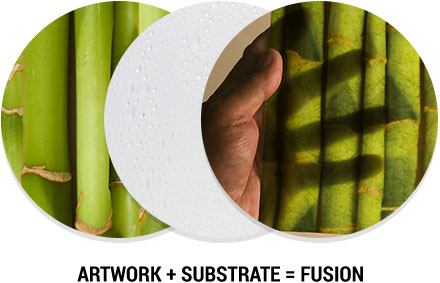 Why Choose Fusion?
Easy-to-Install Directly Over Most Surfaces
No Counterbalancing Required for Unbacked Metals
High Impact, Abrasion, & Chemical Resistant Properties
Over a Dozen Substrate Options Available
Hundreds of Stock Images Available
Custom Capabilities
Low Minimum Order Quantities
Short Lead Times
What is your formula for success?
Fusion offers solutions for the commercial interior design industry and provides architectural elements for use in healthcare, institutional, hospitality, educational, and retail installations. With over a dozen substrate options, we can help create a custom decorative surfacing solution for your application that can be used as wall art, decorative wall protection, large-scale murals, wall dividers, custom millwork, or point of purchase displays. Fusion works for all projects big or small with our low minimum order quantities and short lead times. With Fusion, your imagination is the limit.
Fulfilling your vision
To make sure you are satisfied, DCT's in-house services will seamlessly assist you through design development to fabrication to installation. One of the most unique advantages of Fusion is the ability to use your own artwork. Simply upload your art for technical review and our Fusion Specialists will guide you through the process. Large format digital printing is also available.
Company: Decorative Ceiling Tiles, Inc.
Source: https://www.decorativeceilingtiles.net/translucent-frp-120-thickness-48x120-luxcoreplus-fusion/
Tags: Design | Interior Design | Lighting | Wall Panels | Walls
---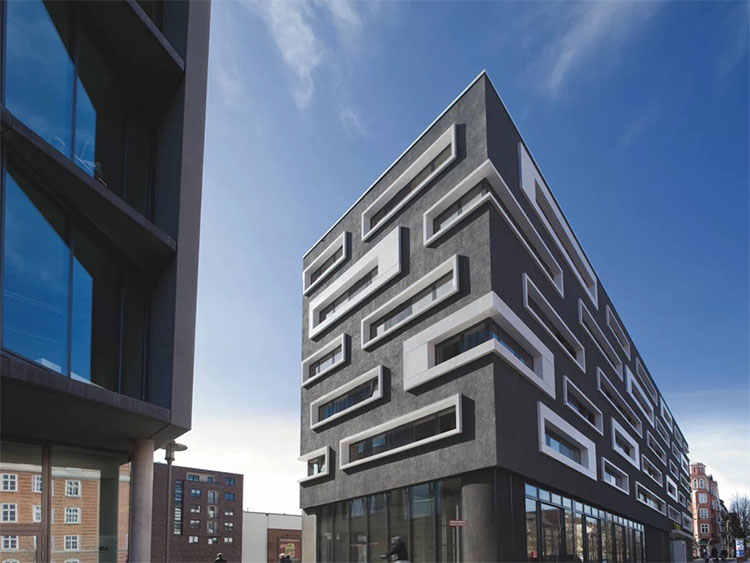 High performance insulated wall systems like the innovative StoTherm® ci XPS provide the air, weather and thermal tightness required for today's most energy-efficient architecture, but are also cost-effective and provide designers with a wide range of aesthetic options.
Sto Corp. has joined forces with insulation specialists Owens Corning and Dow to produce one of the most technically advanced exterior wall systems available. The innovative StoTherm® ci XPS wall system is designed to provide the air, weather and thermal tightness required for today's most energy-efficient architecture, but also makes for exterior walls that look good, and are cost-effective.
One of the first things architects will notice about the product is its design flexibility. The multi-layered system offers a wide range of finishes from the natural look of raw materials to boldly colored finishes, allowing for a variety of looks from traditional textured surfaces to limestone, concrete, metal and many more.
Hidden behind the beautiful outer skin, are important energy efficient properties; StoTherm® ci XPS meets rigorous sustainable design standards, including ASHRAE 90.1-2010, the new International Green Construction Code (IGCC), and the International Energy Conservation Code (IECC) requirements for continuous insulation.
This smart architectural product combines high quality, technologically advanced materials, including Dow and Owens Corning insulation with a closed cell structure which helps prevent liquid movement through the material and provides exceptional thermal performance with an R-value of 5.0 per 1". The final result is a combination of layers that delivers exceptional air and moisture control, that also meets the latest building code requirements for energy efficient continuous insulation and fire testing. The highly durable system also provides significant impact resistance that exceeds IBC and IECC codes.
How can such a high-performance product, also be economical? The high R-value of Sto's system (R5/inch) makes for a thinner wall, reducing the overall weight and cost-per-square foot for the building envelope. Add this to lifetime savings from superior energy-efficiency, and you have a product that offers both short- and long-term cost benefits to the client.
StoTherm® ci XPS is truly a system designed with the architect in mind –its versatile and seamless combination of energy-efficient qualities and aesthetically pleasing finishes provide a true "end-to-end" solution for architects.
Company: Sto Corp.
Product: ci Systems
Source: http://blog.stocorp.com/
Tags: Architecture | Insulation | Walls
---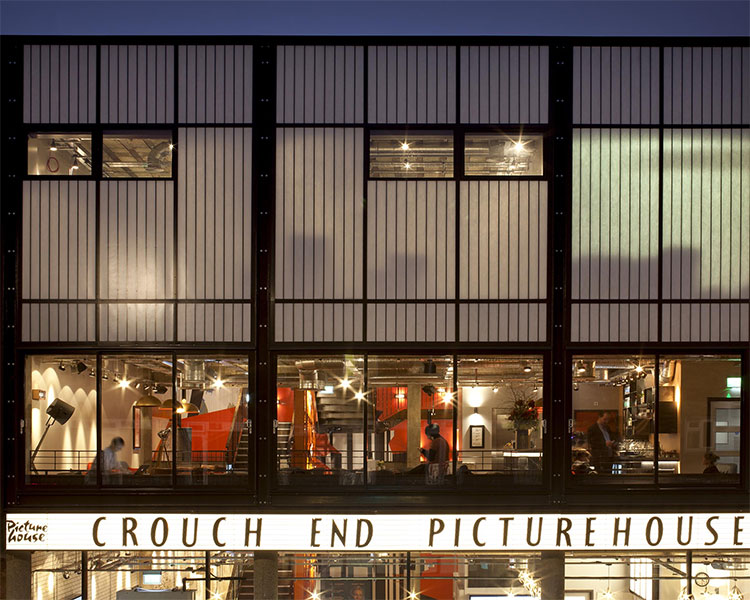 The design challenges facing architects and builders when renovating older buildings are considerable from increasing energy efficiency, to navigating inherited structural and building code changes. Here are five projects highlighting how such issues were solved, and illustrate some incredible transformations.
Charles H. Shaw Technology & Learning Center
Chicago, Illinois, U.S.A
Farr Associates converted a century-old industrial powerhouse into a modern learning center filled with natural diffuse daylight, while preserving key structural elements, including brick walls and floor tile, as well as some of the original machinery.

Buurtsporthal Parkloods
Antwerp, Belgium
This neighborhood sports park utilized Kalwall for its ability to provide balanced daylight and line of sight for athletes inside. The translucent panels help ensure the safety & security of athletes with visual privacy and impact resistance. As an extremely lightweight option in retrofit design, Kalwall offered large clear spans and accommodated the existing brick walls of a historical munitions factory.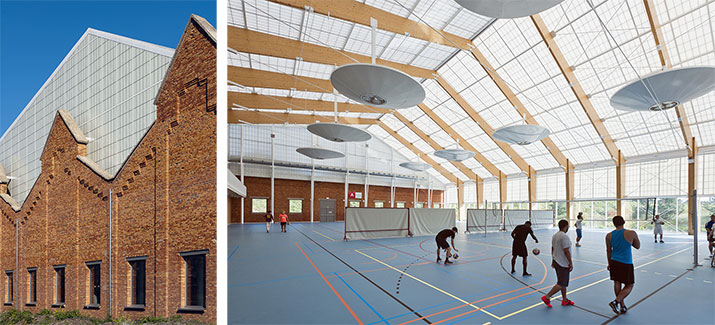 Crouch End Picturehouse
London, UK
VertiKal™ panels were factory unitized with sash, for a sleek, energy efficient recladding of the Crouch End Picturehouse – a renovated 1950s factory building. The Panter Hudspith design, which won three industry awards, uses the curtainwall to create gentle backlighting at night as a visual marquis.

1060 Redwood Office Building
Mill Valley, California, U.S.A.
An ordinary commercial box building was transformed by adding top-lighting from Kalwall skylights. This modern workspace is now filled with natural, diffuse daylight, creating an ambiance that ensures a healthy work environment that boosts productivity. The OSHA fall-through compliant (`man-safe') translucent skylights enable effective and easy maintenance without the need for safety cages.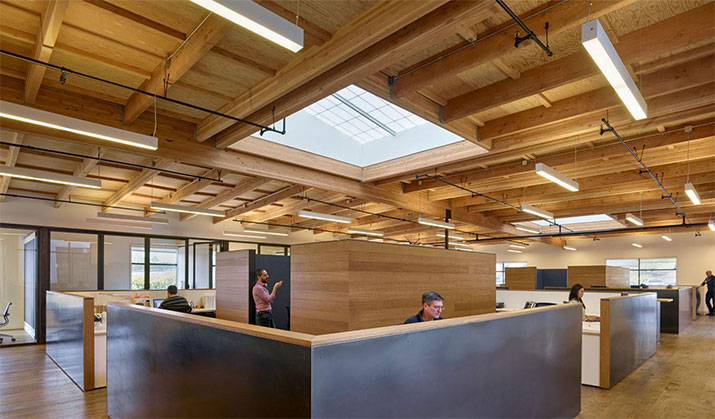 Featherstone High School
London, UK
Kalwall window replacements were an economical energy upgrade for an old school building that was failing due to decay and ingress of water. The highly-insulated translucent sandwich panels bathe the classrooms in diffuse natural daylight while reducing HVAC and artificial lighting costs. Unitized construction allowed for fast installation and minimal disruption to school operation.

Company: Kalwall Corporation
Product: Wall Systems
Source: https://www.kalwall.com/2017/11/02/visual-blog-kalwall-retrofit/
Tags: Architecture | Design | Skylights | Walls | Windows
---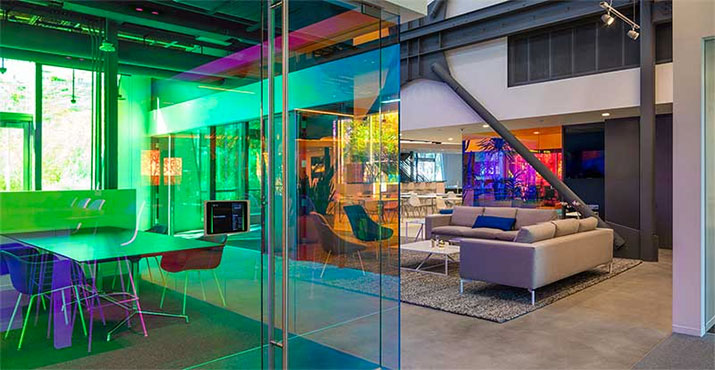 As the use of glass in offices and workspaces grows in popularity the world over, its many uses are being discovered and put to use in the most modern buildings and retail locations everywhere from Beijing to London, Barcelona to Zurich, and of course Los Angeles to New York City. From colored glass to sliding glass, textured glass to ceiling glass and much more, one thing is clear: glass interiors are on-trend and have the stylish staying power that will keep your office from needing a facelift forever.
Moveable Glass Walls: Creating More Spacious Settings as Needed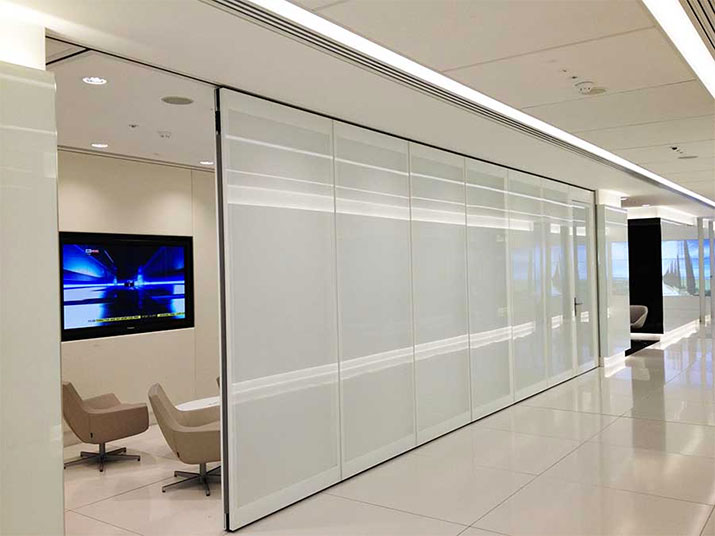 View Partition System: Movable Walls
When you have a large, open office layout, you have a great way of inviting in natural light and making people more accessible to one another. Open layouts are increasingly popular. However, drawbacks can occur as a result. Sometimes, workers need to break off into groups, or clients come in for a meeting and needs discretion, but also needs to meet with a group too large to fit into an office suite. The only other option is a conference room, which many workspaces with open layouts don't have, or may seem too large for the size of the group — this creates an awkward physical imbalance and disturbs the mood or flow of the meeting.
With the advent of the sliding glass wall, companies can work with architects or remodeling professionals to decide how many glass walls they want, where they will be placed, and the various sizes of spaces they can create. Glass walls move quickly, easily, and quietly, so different groups can create different-sized spaces throughout the day or week. This transformation of the workspace suits the needs of the team from a meeting to a breakout session, or from a meeting that requires discretion to a single-person project that requires a level of placidity.
Large, Ultramodern Interior Glass Doors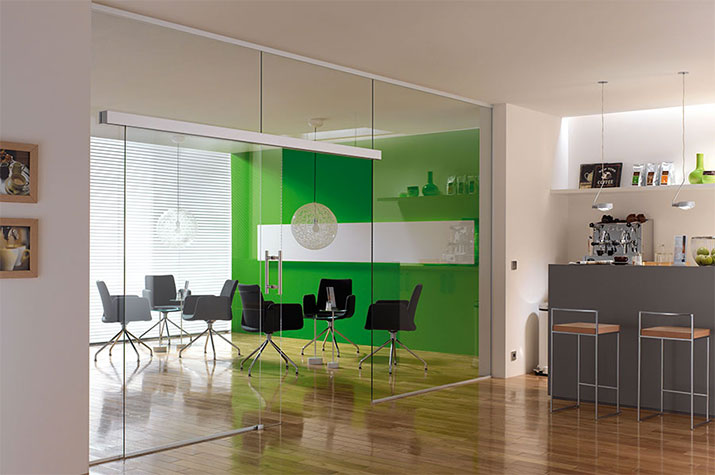 View Door System: Assisted Close
Glass doors have been around in offices for quite a while, but the glass doors of today are much more innovative in their style, design, and utility. For example, as part of the interior design motif in some offices in Japan, glass doors that lead to different offices and rooms are colored in different vivid hues. In American offices, the CEO's corner suite might have a larger glass door than those of others in the office as a show of their station as well as a way to accommodate higher foot traffic and meetings where multiple team members converge each morning.
Large glass doors add pop to the interior of the workspace and also create a more inviting atmosphere. For progressive companies that have an open-door policy, the translation is a literal one. Workers are more likely to take advantage of such a policy when their superiors have glass doors as opposed to wood doors that isolate senior executives inside. A closed solid wood door is intimidating, and makes the idea of knocking scary for junior associates.
Glass Meeting Rooms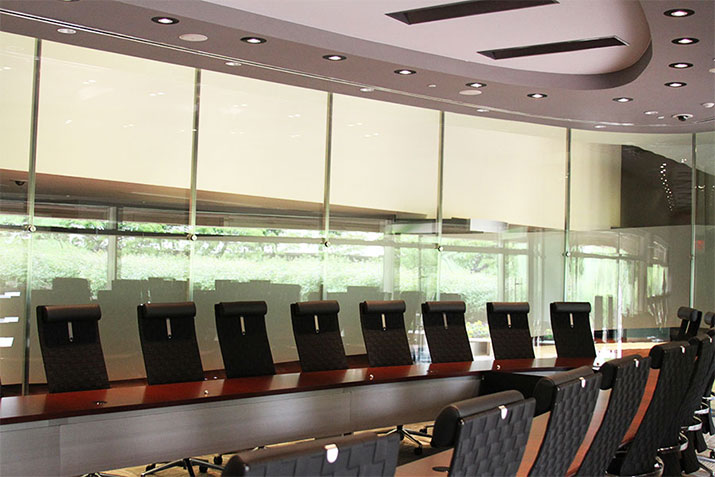 Partition System – Solare Double Glazed : View Verizon Case Study
Glass meeting rooms are a beautiful addition to any office space, and are usually comprised of glass walls, which may or may not be on sliding tracks and glass doors, which may open in the conventional way or operate on sliding tracks. Glass meeting rooms have replaced the solid, walled-off conference rooms of the past, and offer an inviting ambiance for newcomers and regular clients. Glass meeting rooms can be large enough to accommodate a partition or sliding glass wall — this turns one meeting room into two for busy days when the company is double-booked, or to create a smaller, more intimate space for a quiet meeting retreat.
Glass Floors and Ceilings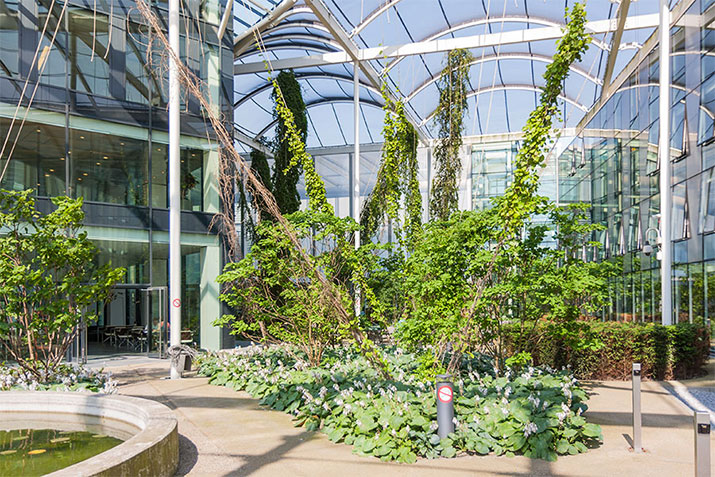 Creating suites using glass as the primary building material really opens up the atmosphere of the entire office. Allowing in more light, allowing workers to see whether or not the person inside is on a call or otherwise preoccupied, and creating the appearance of a more expansive floor plan are just some of the perks of glass office suites. Of course, for occasions that require privacy, beautiful custom shades can be added in any variety of colors that pair well with other office decor. Many glass office suites in Japan are interconnected with sliding glass walls: this allows inhabitants of each office to literally open up to one another. On days when no clients are expected, the whole office becomes one large space where everyone can hear each other and enjoy open, out loud communication and the ability to walk to each person's desk free of any encumbrances.
Glass Office Suites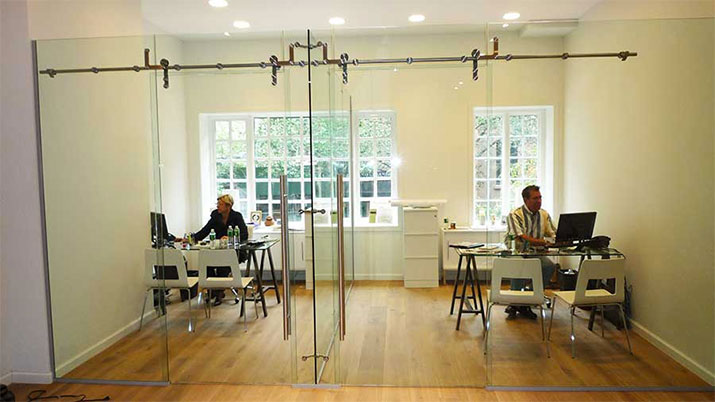 Elite Freestanding with Eclipse Sliding Barn Door
Today's ultra-progressive offices might incorporate glass floors or ceilings. In some instances, glass floors may be opaque or completely solidly colored to appear like wood or another material, while in other instances, glass floors may be left clear or translucent, which creates an even more modern interior design.
Glass ceilings are an incredible way to add a whole new perspective, as it adds the dimension of the outside world and draws it right into the office. This makes workers feel more in touch with their outdoor surroundings, and provides an incredible amount of light into the interior world. This is actually healthier for people who spend the majority of their time indoors, because glass ceilings provide natural sunlight, which is also proven to improve mental and physical health and make people more productive. Buildings with glass ceilings also have a shade, usually on the building's exterior, which allows the amount of light let into the space below to be controlled. In this way, everyone can benefit from natural light but also shutter some of it out on particularly bright days, in the morning, or when the workday is over.
Colored or Textured Glass for Privacy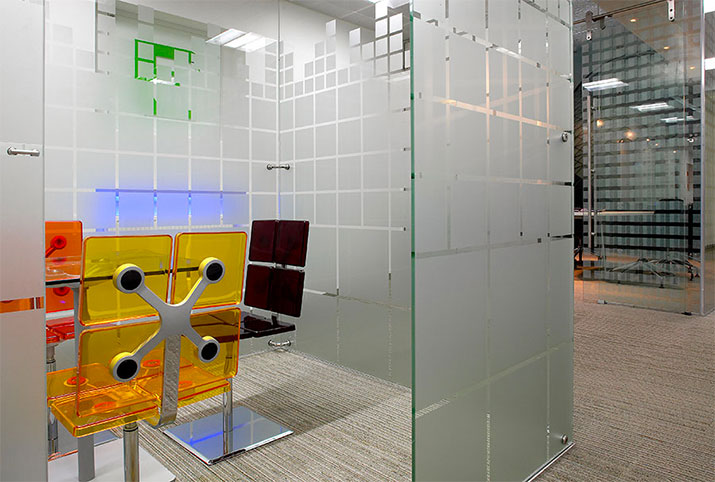 For offices that provide one-on-one therapy, physical examinations, or law firms and other workplaces where client privacy is paramount to the services rendered, colored glass is an excellent choice. It creates the same level of discretion that any heavier, thicker material will, and can be glazed to keep out any prying eyes. Most offices with glass doors and walls will choose one uniform color, though at a place like a pediatrician's office, different glass walls and doors might be a variety of fun, brilliant hues. When glazed glass is used, it actually lowers the cost of heating and cooling, lowers the carbon footprint of the structure, and does away with drywall, sheetrock, and old-fashioned insulation that can all cause allergy flare-ups and other discomforts. Office that utilize thick, opaque colored glass contain excellent spaces for confidential meetings and other dealings that protect the best interests of both clients and your enterprise.
Company: Avanti Systems USA
Product: Elite Free Standing
Source: https://www.avantisystemsusa.com/using-glass-creatively-office-interiors/
Tags: Glass | Interior Design | Office | Walls
---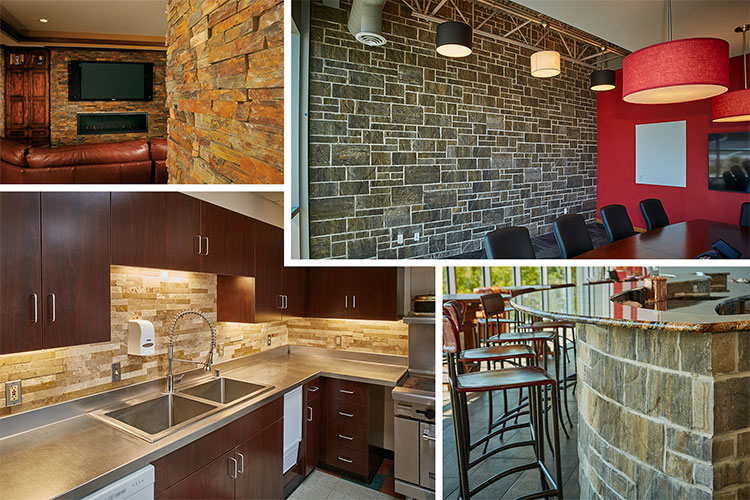 Masonry veneers used on exteriors continue to gain market share in the construction industry. However, more recently, their use is trending inside new residential and business construction because they offer stunning visual appeal and many economic benefits. As manufacturers offer a variety of full and thin veneer masonry product options, it's easier than ever to create stunning features for new home and business construction or remodels, all at an affordable price. In addition, masonry veneer applications can increase home and property values, all while reducing insurance costs due to their high fire and moisture resistance. With County Materials' many full and thin masonry veneer offerings and color choices, there are many ways to incorporate masonry veneers into your next project. Below are several popular ways our company is seeing customers build and renovate with masonry veneers.
Accent Walls
An accent wall can transform the whole look and feel of a home or commercial building by adding a timeless and natural aesthetic at an affordable price. Accent walls create a focal point or appealing backdrop for other unique design elements that are being showcased. Additionally, accent walls withstand bumps and scrapes in heavily trafficked areas. With many color and texture options available, you'll be sure to find the perfect statement making accent you are looking for.
Fireplaces, Chimneys, and Mantels
A fireplace, chimney, or mantel clad with masonry veneers becomes a stand-out feature for any room or gathering space. Concrete veneers are crafted to resemble natural stone, and veneers also come in natural stone panels for an earthy, natural aesthetic that enhances the timeless appeal fireplaces add to a room. Masonry veneers are the ideal building material for fire features because of their high fire-resistance and insulating characteristics.
Kitchen and Bathroom Backsplashes
Utilizing masonry veneers for kitchen or bathroom backsplashes will take these rooms to the next level. An attractive backsplash made of a masonry veneer requires little maintenance; any cleaning can be accomplished by wiping the backsplash with water and soap similar to other porous surfaces. The impact and high fire-resistance of masonry veneers is also an important factor when installed near cooking appliances.
Finished Basements
If you're looking to upgrade a basement into a more inviting living area, masonry veneers are a simple solution that meet the many challenges of remodeling. A masonry veneer can be directly applied to most wall surfaces, reducing preparation and construction time. Masonry veneers also help with sound insulation and temperature extremes which is beneficial in most basement applications. Many basements are damp spaces, with little air flow, that causes many materials to mold or become food sources for pests. Concrete masonry, on the other hand, does not rot, and is resistant to insects and other pests that can plague basements.
Exceptional Design Freedom
County Materials offers several collections of decorative masonry veneers, each with their own distinct features, aesthetics, and benefits. Reflection Stone™ Masonry Units Masonry Units and County Stone® Masonry Units offer a natural look with the benefits of concrete manufacturing. Their modular sizes and shapes make installation easy. Additionally, they are offered in full (nominal 4") and thin (nominal (1") thicknesses for increased versatility. Align International Natural Stone are natural stone panels that come precut and assembled in ready to use panels. Measuring only 3/8" – 1-1/4" wide, the thin veneer panels are lightweight and suitable for use on most interior applications. Premier Ultra® Burnished Masonry Units are manufactured by grinding the surfaces down to reveal a natural mix of aggregates. Premier Ultra is a popular choice for schools, government, and professional office settings because their high strength easily resists abuse. Lastly, Heritage Collection Designer Concrete Brick™ offers the classic look of traditional brick, but are more readily available and significantly more affordable than alternative options. Heralding back to the warehouses and factories of the gilded age, revealing brick veneers inside is an increasingly popular choice for many office spaces and even homes seeking a rugged look.
Company: County Materials Corporation
Product: Masonry
Source: https://www.countymaterials.com/en/news/item/top-interior-design-ideas-for-masonry-veneers
Tags: Interior Design | Masonry | Walls
---
This visual blog highlights how architects incorporate Kalwall® as a centerpiece in projects across a wide range of industries.
Buckeye-Woodhill Rapid Transit Station
Cleveland, Ohio, U.S.A.
The canopy covering the platform area for waiting passengers adds a backlit feature at night to define the space and acts as a waypoint for travelers.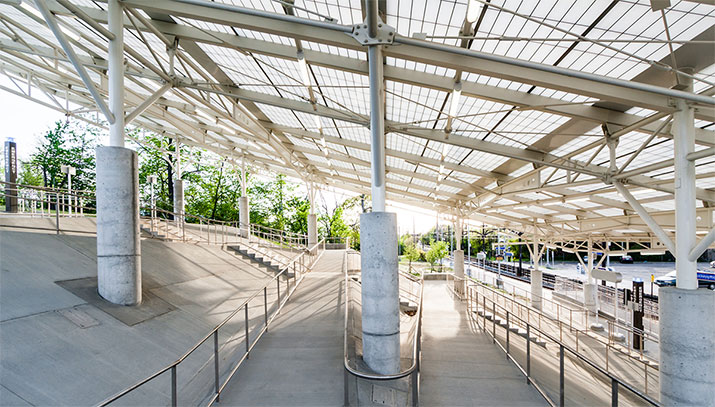 Translink
Belfast, Northern Ireland
The train depot utilizes energy efficient, balanced daylighting and low contrast ratios for high visual acuity for maintenance crews working on the resting trains.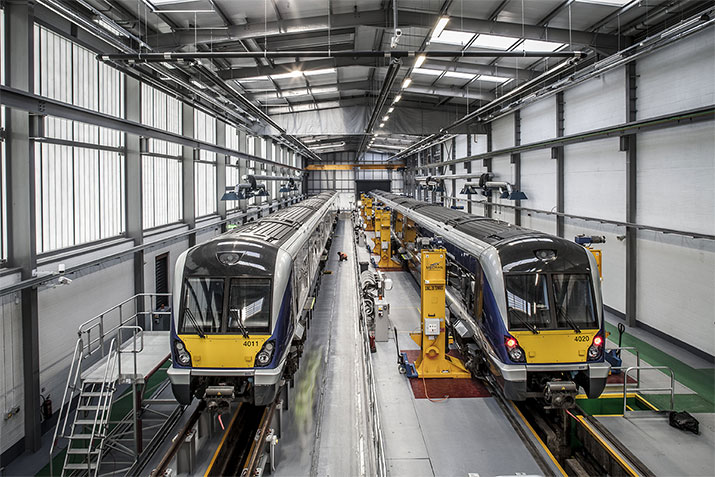 Glasgow International Airport
Glasgow, Scotland
Passenger safety and security was at the heart of the design goal for this airport terminal, which was the target of a horrific car bombing in 2007. Kalwall was specifically called for in the new terminal design because of its anti-terrorism force protection/blast resistance.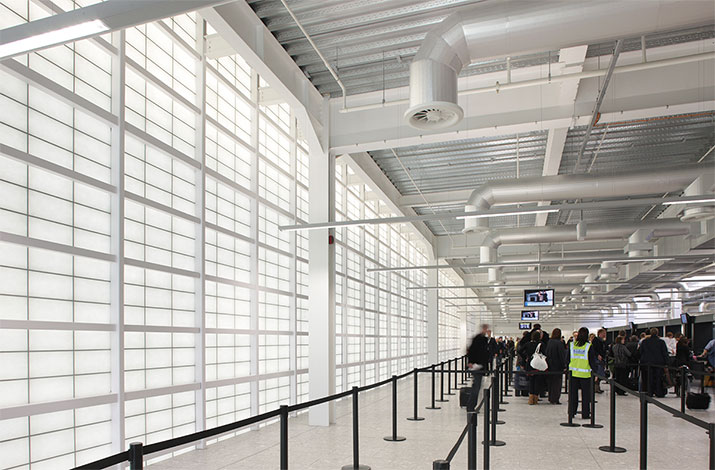 Southbend Regional Airport
South Bend, Indiana, U.S.A.
The large Skyroof® is a signature feature of the airport terminal. In addition to superb solar heat gain control, the Skyroof bathes the grand hall in diffuse usable light and offers low maintenance and easy cleaning, in addition to masking rooftop debris and bird droppings that are more visible on glass.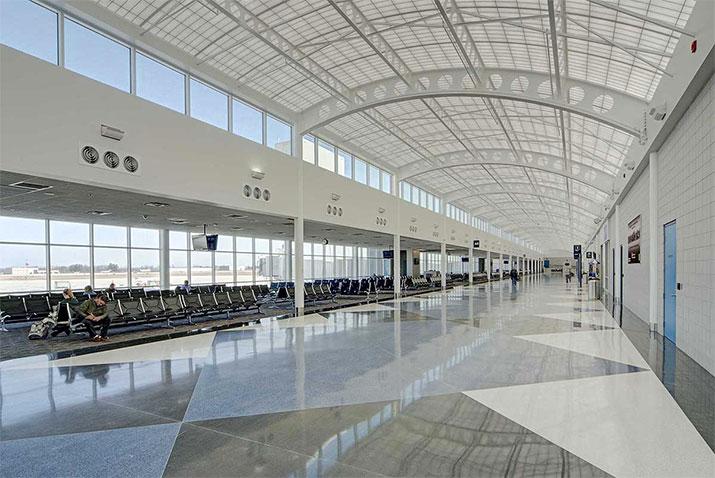 Raleigh-Durham International Airport
Morrisville, North Carolina, U.S.A.
The nationally-renowned architectural firm of Clark Nexsen won several awards for its Terminal 1 renovation. A re-clad and re-imagined landside building elevation features Kalwall panels and provides a light-filled interior space that not only provides privacy, but gives off a soft glowing lantern effect at night that enhances the airport landscape.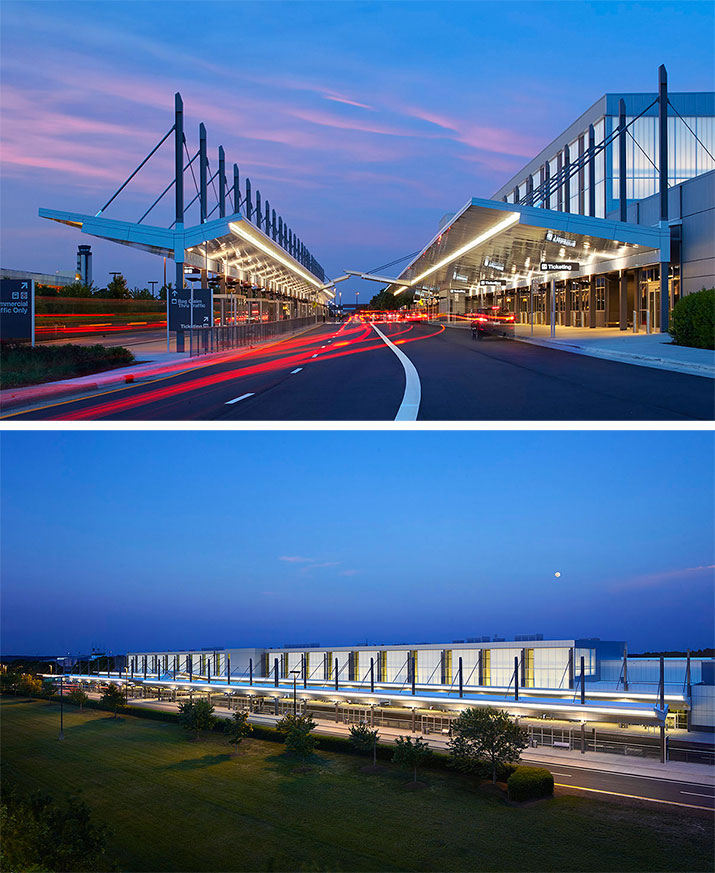 Company: Kalwall Corporation
Product: Roofs — Specialty Applications
Source: https://www.kalwall.com/2017/06/14/visual-blog-transportation/
Tags: Architecture | Louvers | Skylights | Walls
---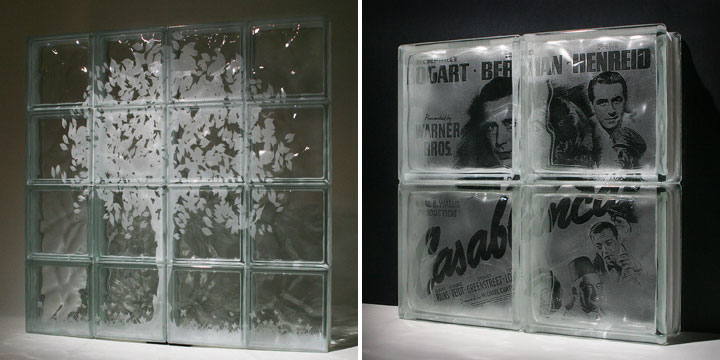 Laser etched glass block can turn an ordinary window or wall into a one of a kind work of art. Our sealed beam laser process can etch up to 256 different shades of gray and 600 dots per inch of resolution. Not only does this process surpass standard lasers, engraving, and sandblasting – it is available at cost effective prices on a block building material that is also a structural window or wall. You can even personalize a gift of a vase, bank, or glass block light.
Uses and Benefits of Etched Glass Blocks
Intricate details and custom designs
Our carbon dioxide laser can be controlled down to .001" diameter (100 times smaller than the period at the end of a sentence) providing details and shading not possible with other methods.
Free deliver and no minimum order quantities
Order one unit or thousands – we'll ship to you free of charge and work to produce a finished product that will excite you.
Select stock patterns or create a one of kind
If you have a favorite hobby or want to match an architectural style in one block or develop a mural over multiple units it's all possible.
One stop shopping you can trust
Our company can etch an entire prefabricated window, wall, or glass block shower and even install it for you (installations are in selected areas) and have earned the Better Business Bureau Accreditation and Consumers Choice Service Awards.
Multiple uses including signs and logos
If you're looking for a unique sign in a wall or lobby for your business we can etch your logo or directional sign into a single or multiple grouping of glass blocks. Since our products are either 3 1/8" or 3 7/8" thick they are very difficult to break (Note: if one unit is broken our computer controlled equipment can create an exact replica of that specific block).
Company: Innovate Building Solutions
Product: Etched glass window
Source: http://innovatebuildingsolutions.com/products/glass-block/etched-glass-block-window-wall
Tags: Glass | Interior Design | Walls | Windows
---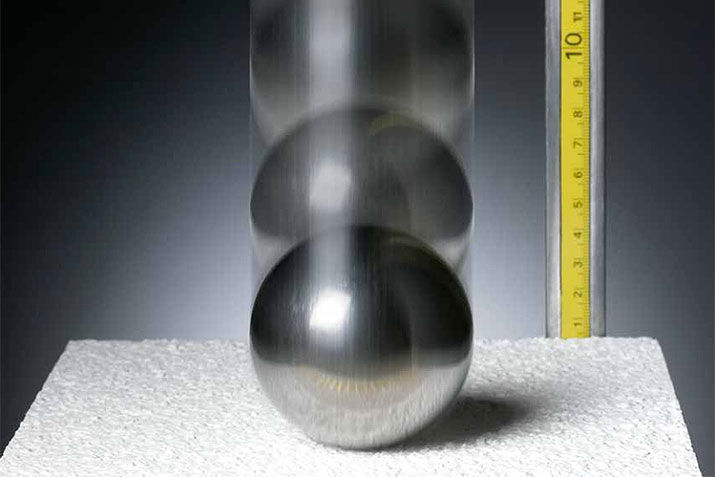 Sto is pleased to announce the formal launch of its Impact Resistance Program designed to provide information about its leading impact- and hurricane-resistant, continuous insulation wall systems.
StoTherm ci has a proven history of delivering impact resistance for code-approved buildings in storm-prone, coastal areas, such as Florida's Miami-Dade County, as part of its Hurricane Impact System Program (see our website and brochure for more information). A variety of prominent projects across the country designed to stand up to both extreme weather and everyday abuse provide even more examples.
While these systems are built to withstand the most severe weather conditions, StoTherm ci can also be configured to meet various impact levels consistent with the everyday requirements of a specific location or type of use. Employed in entryways, staircases, lower-level, street-facing walls and many more applications, Sto's Impact Resistant System can provide an excellent solution for keeping exterior wall surfaces intact, clean and fresh.
Impact Resistance is just one of many benefits offered by StoTherm ci Systems. Please also refer to our HP Colorant Program to find out more about our unique finish designs, Sto Studio design services and the superior fade-resistance that characterizes the entire line of Sto finishes.
For more information, see our program brochure and video.
Company: Sto Corp.
Product: ci Systems
Source: http://www.stocorp.com/sto_news/sto-sponsors-exhibits-at-fwcca-convention-2/
Tags: Hurricane | Insulation | Walls