architecture - engineering - construction

Windows
---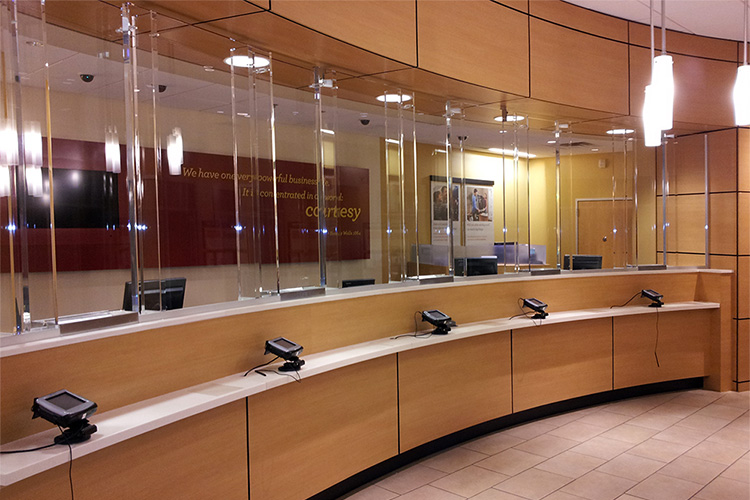 As 2017 draws to a close and we look forward to the promise of a new year, we thought it might be a perfect time to pause and reflect on something very important to us – the do's and don'ts of cleaning your bulletproof glass. While that might not make the top three on most people's list of resolutions for 2018, here's why it should. Bulletproof glass is an investment and at Total Security Solutions, we want to protect that investment. We know that more than bullets, the thing that most often spoils a beautiful, crystal-clear sheet of bullet proof glass is an unlikely culprit: Windex.
When bullet proof polycarbonate or acrylic are cut, drilled, or flame-polish, microscopic fractures form in the plastic. These are not visible to the naked eye, and are structurally inconsequential. "But Windex attacks the edges of those fractures," Jim Richards, CEO of Total Security Solutions explains, "and it will look like there's cracks going into the glass. It's what's called crazing, and it makes the material look terrible," even though it has no impact on the material's bullet resistance.
With proper maintenance, bulletproof glass will look great for years, but crazing creates a haze that penetrates the surface and according to Jim, "when it's done, it's done."
Another important tip, skip the paper towel! One downside of polycarbonates is that they are prone to scratches. This scratch potential is why you'll get a cleaning cloth with eyeglasses or sunglasses you purchase, and why computer and TV screens have special cleaning products as well. Should a scratch occur on your bulletproof glass, it can often be buffed out, but it's best to avoid them all together and stick to a soft cloth for cleaning.
Proper Care and Cleaning of Bullet Proof Glass
Gently dust with a soft lint-free cloth (like an old t-shirt).
Wash with a solution of warm water and mild soap or detergent, using a soft cloth or natural sponge. Keep the sponge sopping wet. Blot dry with clean soft cloth.
Remove grease and oil using hexane, kerosene, or naphtha, not aromatic compounds like benzene.
Surface scratches can be buffed out of acrylic by hand.
Polish acrylic or polycarbonate with quality commercial wax. This fills minor scratches, restoring the original smooth surface.
Never use paper towels on bullet proof glass.
Never use scouring compounds or abrasive cloth.
NEVER USE WINDEX®!
Company: Total Security Solutions Inc
Product: Bullet Resistant Barriers
Source: http://www.tssbulletproof.com/securing-bulletproof-glass-investment-2017/
Tags: Bullet Resistant | Security | Windows
---
When we talk about daylighting, the first thing that comes to mind is often the image of natural light pouring into a space... but what happens when you need to bring light to a area that also demands privacy?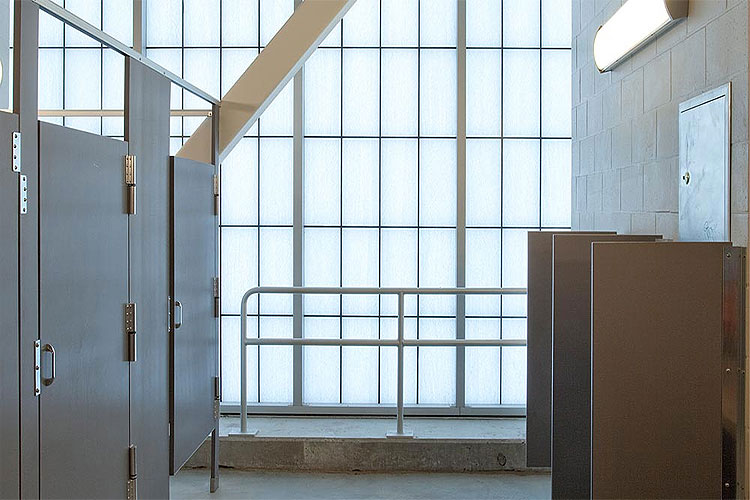 HDR/TD Ameritrade Park, Omaha, NE - Guardian 275® Wall System - Mix Natural Light and Privacy!
Translucent panel systems, like the Guardian 275® wall system above, allow for building occupants to enjoy controlled, glare-free light while eliminating direct lines of sight from the exterior and maintaining a feeling of safety and security. This can be a great asset to traditionally dark and window-less areas like public restrooms, hallways, in waiting areas in medical centers and hospitals (for patient confidentiality), or in secure facilities where it's of up-most importance to maintain a certain level of secrecy.
Translucent systems can also benefit schools as they allow students the advantages of natural light while affording them privacy from outside eyes. And while there are other options in the market such as fritted or channel glass, these systems are often on the higher end of the cost scale. Electrochromic glass options are also available, but can cost even more and may require additional maintenance and upkeep.
Their versatility, light weight and design flexibility make translucent panel systems a great choice for letting light in and keeping prying eyes out. From simple wall panels to curved systems to our Verti-Lite™ option that has an appearance similar to channel glass, we have a system that will fit your needs.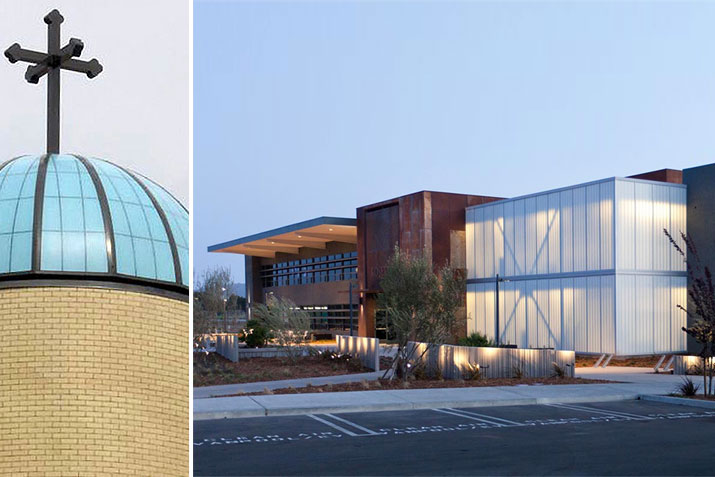 Bruns General Contracting/St. Mina and St. Abanoub Church/Miamisburg, OH - Guardian 275® TransCURVE® Dome; Garcia Architecture and Design/Rosetta/San Luis Obispo, CA - Guardian 275® with Verti-Lite™ Grid Pattern
For additional information on our full line of daylighting systems, as well as thermal performance and testing information, visit our website.
Company: Major Industries Inc.
Product: Guardian 275® - Translucent Panel Skylights & Curtainwall
Source: https://majorskylights.com/products/wall-systems/guardian-275/
Tags: Architecture | Design | Lighting | Wall Panels | Window Shades | Windows
---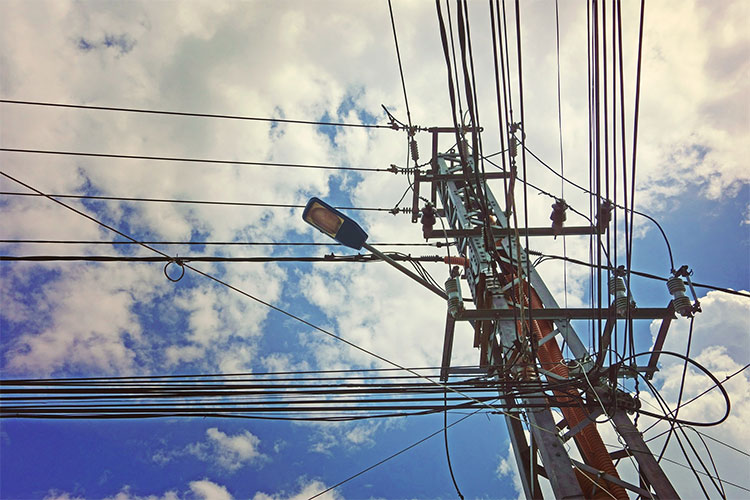 Remote locations, wide service areas, and lots of cash on hand presents unique security challenges for customer service staff.
While electrical cooperatives are a relatively small part of the total electricity market (about 15 percent of the U.S. population is part of a co-op) they're responsible for maintaining close to half of the nation's electric distribution lines. Remote locations, wide service areas, and lots of cash on hand present unique security challenges for their customer service staff. Recently TSS has helped design and install several bulletproof barriers for utility and electric co-op offices.
Over the years Total Security Solutions sales manager Bob George has worked with a large number of electrical cooperatives. He recently noted, "I don't think people really appreciate the challenges co-ops face. They might have only 1/10th or 1/100th as many customers as a big publicly traded power company. But that co-op has just as big a service area. They end up maintaining 8 to 10 times as much equipment per customer. It's a real case of 'Do twice as much with half the resources'. But they consistently rise to and exceed those challenges."
Electrical cooperatives and other small utilities face challenges beyond the economics of narrow margins, high costs, and large territories. They also face security challenges that are unique to their mission.
Unique Threats to Utility and Electric Cooperatives
Unlike the bigger investor-owned companies, co-ops serve small and mid-sized communities. They tend to be very spread out geographically. This means that they often need several small branch offices in addition to their headquarters. These satellite offices are a special concern, as they are often in remote locations with very few staff members on hand throughout the day. It's not unusual to see just a single clerk behind the counter during business hours when the line workers are out on the road. These offices often have a great deal of cash on hand (especially if their clientele are older or live within limited financial means). That lone clerk is now seen as the face of the company to irate customers who have missed a payment or want to dispute their bill.
"With the climate we're in right now," Bob George explains, "with these awful incidents that just keep happening every couple weeks, people are being more proactive. With a lot of cash on hand, and irate customers, there's a tendency to want to make sure your people are protected. And I hate to bring up gender, but it's just a fact that in most of these isolated offices it is women working behind the counter, and the level of abuse that some people will aim at a female worker, it's just hard to believe."
This was certainly a key concern for Clark Energy when they contacted TSS in 2014, following an incident at another local utility co-op office near their Winchester, KY headquarters. As Holly Eades, Clark Energy vice president of finance, explained at that time: "When a big man is standing at the counter, screaming and cussing at a female customer service rep who's five-foot-four, there's something wrong with him…You just don't know what's going to happen."
Electric and Utility Co-op Security Essentials
No two utility co-op offices are alike—even in the same cooperative. That said, there are a few key considerations for bullet resistant barrier systems designed for small utility co-ops. In general, a utility co-op should have a system that:
Protects against common handguns calibers (i.e., a "Level 1 or 3" system). This would include appropriate bullet resistant glass and framing, as well as bullet resistant fiberglass to reinforce the counter front.
Has two to three transaction windows (one of which should be ADA compliant, to accommodate customers with limited mobility)
Includes a bullet resistant door with an electric strike or sturdy pushbutton Simplex lockset
Will be installed with absolutely no business disruption (TSS, for example, installs barrier systems overnight or on the weekend)
Many builders, renovators, and security companies treat custom design work as an extra. TSS has built custom design, fabrication, and installation into their foundations—every job is a custom job to TSS.
"What's key here," notes TSS CEO Jim Richards, "Is that there's no unending up-sell. We don't live on change orders, and we don't treat custom work like it's a hassle or price it like it's luxury. Doing custom work, making that system fit your office as though it was built in from day one, that is where we shine."
Company: Total Security Solutions Inc
Product: Bullet Resistant Barriers
Source: http://www.tssbulletproof.com/bulletproof-barriers-utility-electric-co-op-offices/
Tags: Bullet Resistant | Security | Windows
---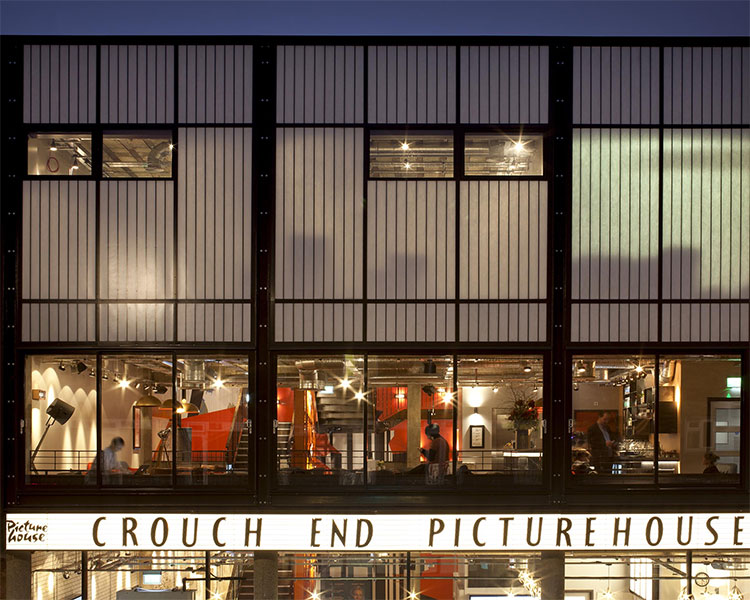 The design challenges facing architects and builders when renovating older buildings are considerable from increasing energy efficiency, to navigating inherited structural and building code changes. Here are five projects highlighting how such issues were solved, and illustrate some incredible transformations.
Charles H. Shaw Technology & Learning Center
Chicago, Illinois, U.S.A
Farr Associates converted a century-old industrial powerhouse into a modern learning center filled with natural diffuse daylight, while preserving key structural elements, including brick walls and floor tile, as well as some of the original machinery.

Buurtsporthal Parkloods
Antwerp, Belgium
This neighborhood sports park utilized Kalwall for its ability to provide balanced daylight and line of sight for athletes inside. The translucent panels help ensure the safety & security of athletes with visual privacy and impact resistance. As an extremely lightweight option in retrofit design, Kalwall offered large clear spans and accommodated the existing brick walls of a historical munitions factory.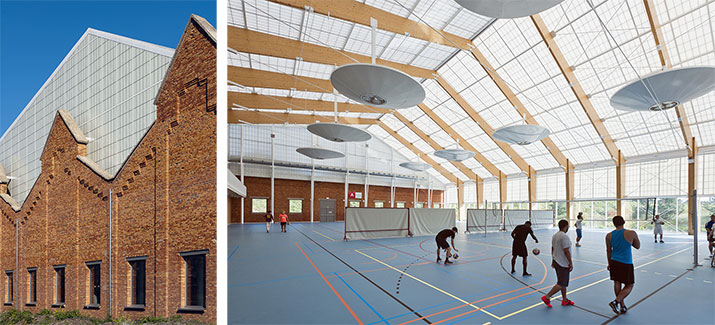 Crouch End Picturehouse
London, UK
VertiKal™ panels were factory unitized with sash, for a sleek, energy efficient recladding of the Crouch End Picturehouse – a renovated 1950s factory building. The Panter Hudspith design, which won three industry awards, uses the curtainwall to create gentle backlighting at night as a visual marquis.

1060 Redwood Office Building
Mill Valley, California, U.S.A.
An ordinary commercial box building was transformed by adding top-lighting from Kalwall skylights. This modern workspace is now filled with natural, diffuse daylight, creating an ambiance that ensures a healthy work environment that boosts productivity. The OSHA fall-through compliant (`man-safe') translucent skylights enable effective and easy maintenance without the need for safety cages.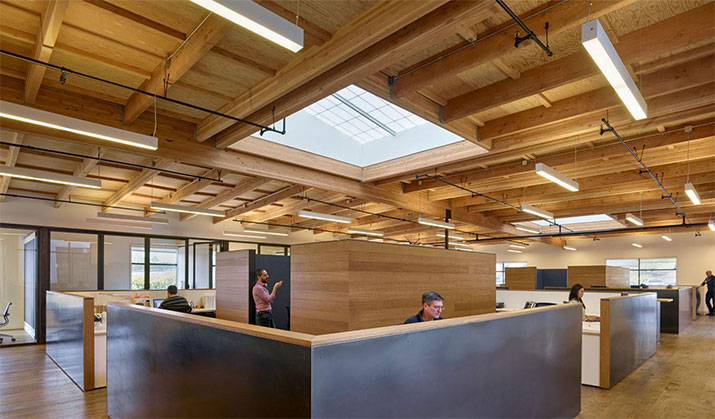 Featherstone High School
London, UK
Kalwall window replacements were an economical energy upgrade for an old school building that was failing due to decay and ingress of water. The highly-insulated translucent sandwich panels bathe the classrooms in diffuse natural daylight while reducing HVAC and artificial lighting costs. Unitized construction allowed for fast installation and minimal disruption to school operation.

Company: Kalwall Corporation
Product: Wall Systems
Source: https://www.kalwall.com/2017/11/02/visual-blog-kalwall-retrofit/
Tags: Architecture | Design | Skylights | Walls | Windows
---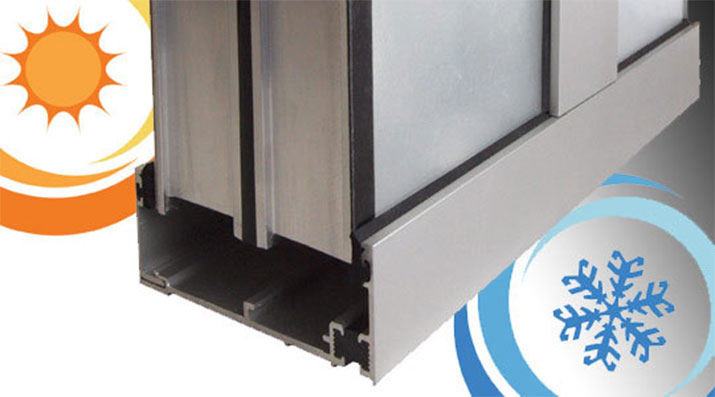 Heat conduction, or the transfer of heat through a solid material at the molecular level, is a problem that occurs in aluminum framing. Providing a thermal break in the aluminum is the most common solution for disconnecting the exterior and interior of the aluminum frame. The frame is literally split into two components and must be connected by a structural material that is of significantly less conductivity as the aluminum. Simultaneously the thermal break material must bond the two components together.
There are many ways to thermally break glazing materials and the frames that house the glazing. Insulated glazing generally uses multiple panes of glazing separated by air, gas or other fill. The glazing is then bonded at the edges with a material of low conductivity. The aluminum frame, most commonly used for storefront framing, skylights, and windows, is a highly dense material with great strength. Yet, aluminum is light in weight and durable. It is also a widely recyclable material and is readily available.
Aluminum, however, is highly conductive of heat and cold. For many decades thermal breaks have been a common and economical means of lowering temperature conductance in aluminum framing. Thermal breaks have taken numerous forms over the years, from plastic and Styrofoam to wood and nearly any material that had a lower thermal conductivity than aluminum.
The 1970s marked the beginning of the high performance, chemically manufactured and engineered thermal breaks that we see today. Standard to the storefront, window, skylight and curtainwall industry is the poured and debridged polyurethane thermal break. This material provides significant structural strength in shear, compression and tension, as well as integrity and resilience. The polyurethane polymer has a very low conductivity, allowing it to bridge the gap between the interior and exterior aluminum components of a frame. Due to polyurethane's structural strength, longer spans are capable and the integrity of the aluminum frame is not compromised.
The method for manufacturing the polyurethane thermal break has become standardized in the aluminum framing industry. A strategically placed open cavity is extruded as part of the aluminum frame. The cavity may be grooved or extruded in a way as to act as a lock when bonded with the polyurethane polymer. The liquid polymer is poured into the cavity, and upon solidifying, the bottom of the cavity is then removed, or debridged, creating the perfect thermal break for all forces of extreme weather conditions.
So where are thermal breaks necessary? The short answer is that they are necessary in all climates where there is a difference in temperature from exterior to interior. Cold climates benefit from aluminum thermal breaks by providing protection from cold temperatures entering the building and causing condensation build-up on the interior face. In these situations, aluminum frames can also become very cold to the touch and uncomfortable to be near. Hot climates benefit from aluminum thermal breaks by providing protection from hot temperatures entering the building. Not only does a thermal break affect air temperature and cooling demands on HVAC systems, but aluminum frames can become very hot to the touch, causing issues for people, plants, animals, and objects nearby.
While thermal breaks add some up-front costs, technological advances have made them an economical solution. This is especially true when you consider that they can prolong the lifespan of materials around them and provide a more comfortable environment for building occupants. Whether you're in a hot or cold climate, thermal breaks are well worth it.
For more information on our thermally broken system options, visit us online. Our Clima-Tite™ system with pultruded fiberglass framing, is also available and provides an even higher level of thermal performance and condensation resistance.
Company: Major Industries Inc.
Product: Clima-Tite™
Of: Courtesy of Amy Stalbosky, National Corporate Architect, Major Industries, Inc.
Source: http://majorskylights.com/
Tags: Aluminum | Climate | HVAC | Skylights | Sustainability | Windows
---
ViuLite® is a system of blinds that are permanently sealed within a double-glazed cavity for a completely dust-free and maintenance-free environment. ViuLite® ensures total protection against dirt, germs and weather conditions.
ViuLite® provides protection from solar radiation and can quickly regulate the internal environmental lighting levels. It filters light transmission and controls the effects of daylight with a simple tilting of the blinds. Heat and visual comfort are easily adjusted to accommodate the changing seasonal conditions.
Hermetically sealed, ViuLite® Venetian blinds are produced with 1/2" (12.5mm) wide aluminum slats featuring a choice of colors. The versatility of both product choice and control mechanisms makes ViuLite® suitable for all types of framing systems.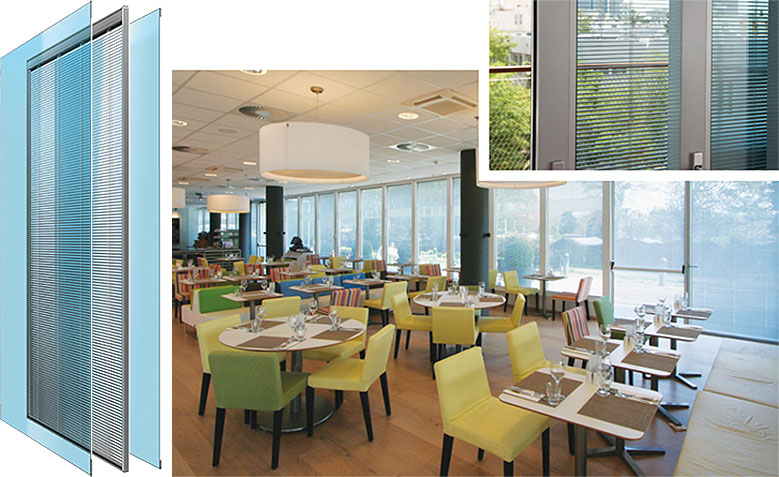 Ideally suited for healthcare, commercial, educational and residential building or renovation projects
Applications
Unicel provides various aluminum framing systems, glass stops, and door trim kit options to glaze Viulite® in:
Interior partitions
Sidelights
Doors
Windows
Curtain walls
Benefits
Blinds are sealed in an insulating glass unit for a germ-free, hygienic environment with reduced risk of infection and allergies
Enhanced solar shading features, blocks unwanted glare, heat, and harmful UV rays
Blinds can tilt and raise (tilt-only also available)
No cleaning or maintenance required
Protected from damage unlike exterior blinded systems
Variable control of vision (the blinds can be angled such that vision is permitted from one area to another, but limited in the opposite direction)
Esthetically pleasing design element for daylight and vision control
Features
Made with industry-leading ScreenLine® technology, 100% original Pellini Design
Custom-manufactured with any glazing types (tempered, heat-strengthened, tinted, laminated, wired, polycarbonate, leaded, glass-clad polycarbonate, and more)
Warm-edge spacers for enhanced energy efficiencies
Argon filled airspace for up to 25% in U-value improvements
27/32" (21.4mm) airspace to fit into tighter glass pocket depths
Between-glass-blinds can be readily installed in exterior and interior applications
SL20A/SL20C/SL20P/SL20B/SL20S/SL20M models available
Options for both external and internal motors
Electric accessories are available for control networks
Standard warranty: 5 years on blinds (10 years with premium), 2 years on electrical accessories
Supported by Unicel's 50+ years record of exemplary customer service
Company: UNICEL Architectural Corp.
Product: ViuLite™
Source: http://viulite.com/
Tags: Blinds | Design | Health | Windows
---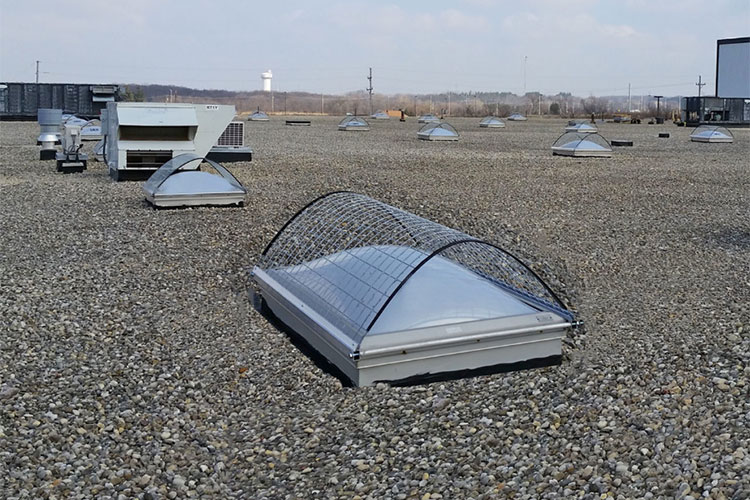 SRC Skylight Screens
Skylight Screens often are the most economical solution for guarding skylights. They fit a variety of dome-shaped skylights and don't take up any space on the roof.
Best of all, they do not require any penetrations to the roof, curb, or skylight. Our unique compression-fit design locks the screen onto the aluminum frame of the skylight. Federal OSHA and CalOSHA compliant.
Features
Economical
Compression-fit — no penetrations
Galvanized finish
Sizes available for skylights up to 61" wide x 120" long (up to 53" wide x 120 " long for CalOSHA)
Perfect for high wind areas
Company: Safety Rail Company
Product: Skylight Guarding
Source: http://www.safetyrailcompany.com/skylight-guarding-with-src-skylight-screens/
Tags: Glass | Metal | Roof | Safety | Windows
---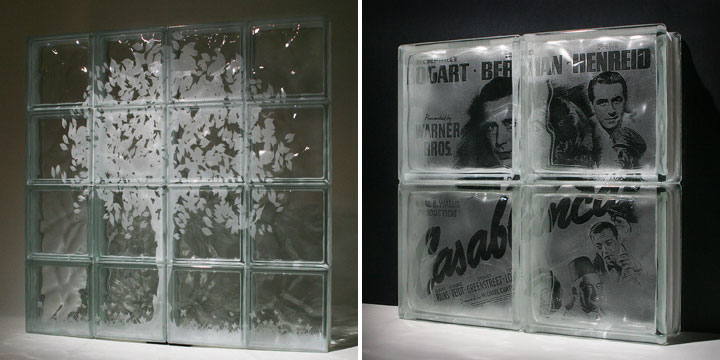 Laser etched glass block can turn an ordinary window or wall into a one of a kind work of art. Our sealed beam laser process can etch up to 256 different shades of gray and 600 dots per inch of resolution. Not only does this process surpass standard lasers, engraving, and sandblasting – it is available at cost effective prices on a block building material that is also a structural window or wall. You can even personalize a gift of a vase, bank, or glass block light.
Uses and Benefits of Etched Glass Blocks
Intricate details and custom designs
Our carbon dioxide laser can be controlled down to .001" diameter (100 times smaller than the period at the end of a sentence) providing details and shading not possible with other methods.
Free deliver and no minimum order quantities
Order one unit or thousands – we'll ship to you free of charge and work to produce a finished product that will excite you.
Select stock patterns or create a one of kind
If you have a favorite hobby or want to match an architectural style in one block or develop a mural over multiple units it's all possible.
One stop shopping you can trust
Our company can etch an entire prefabricated window, wall, or glass block shower and even install it for you (installations are in selected areas) and have earned the Better Business Bureau Accreditation and Consumers Choice Service Awards.
Multiple uses including signs and logos
If you're looking for a unique sign in a wall or lobby for your business we can etch your logo or directional sign into a single or multiple grouping of glass blocks. Since our products are either 3 1/8" or 3 7/8" thick they are very difficult to break (Note: if one unit is broken our computer controlled equipment can create an exact replica of that specific block).
Company: Innovate Building Solutions
Product: Etched glass window
Source: http://innovatebuildingsolutions.com/products/glass-block/etched-glass-block-window-wall
Tags: Glass | Interior Design | Walls | Windows
---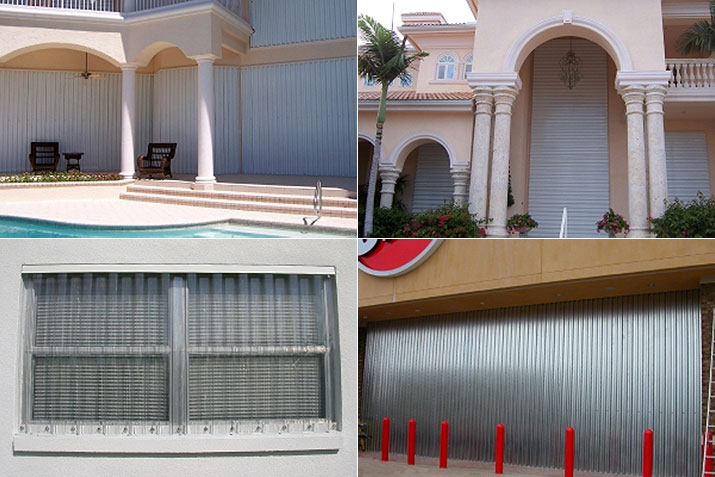 Removable storm shutters and panels are designed to be 'put up' in the event of a hurricane or storm by placing them into a pre-installed panel mounting system over a window, door, or other area to be protected. The mounting system may incorporate a 'direct mount' hardware combination, or a more convenient, header and sill track.
Economical and easy to use, these products protect against flying debris and water penetration associated with hurricane force winds. Additionally, panels are available in various materials to suit application and budget. They are typically taken down and stowed away when not in use. Designed with convenience and storage in mind, removable storm shutters and panels are a huge advantage and recommended alternative to cumbersome "homemade", plywood shutters.
Panels come in aluminum, galvanized steel or see-thru polycarbonate materials. Aluminum panels are typically used in residential applications for the inherent light weight. Steel panels are more commonly used on very large commercial applications such as storefronts. Where needed, Willard provides a clear polycarbonate alternative to allow light to pass though the storm shutter. While effective, clear panels pose some limitations over other materials available, and consultation is recommended before specifying.
Panels may be installed using washer wing-nuts or spring clips. Spring clips are made of ¾ hard, 304 stainless spring-steel. Preferred track mounting hardware is a 410 stainless steel, ¼" diameter Tapcon® typically provided with tracks. In direct mount or removable track applications, hardware shall be nickel-plated brass, or stainless steel machine screw in conjunction with brass insert.
In all cases, header and sill tracks are mill extruded, heavy duty, 6063-T6 aluminum alloy, and cut to specified lengths based on the number of panels to be used per opening. They are typically provided with pre-determined, "factory drilled" mounting holes to facilitate simple and accurate installation. The extruded aluminum tracks are mill coated with a modified, acrylic/polyester enamel and cured at 400°F. All mill coated finishes pass recommended ASTM and AAMA standards testing.
Key Features
Economical and simple
Can be made entirely removable
Easy to carry, put up, and store
Multiple materials and gages available to suit application and budget
Company: Willard Shutter Co., Inc.
Product: Removable Storm Shutters
Source: http://www.willardshutterco.com/products/removeable-storm-shutters.aspx
Tags: Exterior Design | Hurricane | Louvers | Safety | Windows
---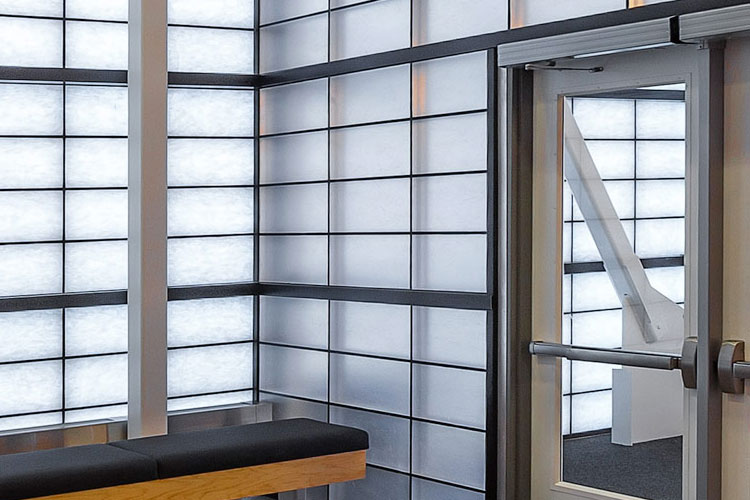 Explosives have become the weapon of choice for terrorists around the world, and the force of these blasts can wreak havoc on standard building materials. As an explosion impacts your building, a flying debris field is created which can cause a variety of injuries to your building's occupants. In fact, studies show that lacerations due to high-speed flying glass fragments are responsible for a significant number of injuries sustained in explosions. Less flying debris equals less chance of injury, and because they're designed to "flex" with the force of an explosive blast while remaining intact and secure in the opening, Guardian 275® Translucent Daylighting Panels can reduce the amount of dangerous fragments created by an explosion.
Guardian 275® translucent daylighting systems also shield occupants from a direct line of sight. Potential terrorists observing from busy streets and other uncontrolled locations are offered few clues to the activity within occupied spaces while interior spaces are enhanced with glare-free, energy-saving daylighting.
Tested, Abused – and Performance Verified
During a series of tests conducted by Baker Engineering and Risk Consultants Inc., a world-renowned engineering and testing firm, a variety of Guardian 275® panels were attached to a large shock tube, a test device that creates specific pressures and applied impulses (an applied impulse, measured in psi-msec, is equal to the net force on the panel times the time period over which this force is applied) to simulate the effects of an actual explosive device.
Guardian 275® panel configurations were put through a range of pressures and impulses in order to thoroughly evaluate their blast resistance and safety. A machine-generated blast pressure range of 5 to 6 psi, with applied impulses between 41 and 69 psi-msec, was chosen to test commonly specified blast loads for anti-terrorism protection of buildings in the United States. To put these numbers into a real-world scenario, a similar blast load of 5 psi could snap a wooden utility pole. A larger applied pressure of 10 psi with an applied impulse of 90 psi-msec was used to generate a medium level blast load that studies show could cause significant structural damage and serious health risks. Testing conducted in the 5 to 6 psi range showed that Guardian 275® panels resisted the applied loads over a range of impulses and retained their structural integrity. The largest applied pressure, used to recreate a devastating medium level blast, was 10 psi with an applied impulse of 90 psi-msec. The Guardian 275® panel once again "flexed" with the pressure and remained intact.
Please view below for high-speed video of a Guardian 275® panel "flexing" with the force of a blast.
Department of Defense (DoD) Minimum Anti-terrorism Standards for Buildings (UFC 4-010-01) for conventional building standoff distances and ISC Security Design Criteria Level C loadingGuardian 275® panels, after going through the most punishing blast tests in the translucent daylighting industry, meet or exceed the following related performance requirements:
US General Services Administration (GSA) Standard Test Method for Glazing and Window Systems Subject to Dynamic Overpressure Loadings – Condition "1", Hazard Level "None"
ASTM F 1642-04 Standard Test Method for Glazing and Glazing Systems Subject to Airblast Loading
AAMA 510-06 Voluntary Specification Guide for Blast Hazard Mitigation for Fenestration Systems
Since specific system configurations are dependent on a variety of factors, including stand-off distances and additional conditions, please contact us at 888-759-2678 or sales@majorskylights.com for more information.
Pressure Release Systems
For test laboratories, research facilities and other high risk areas, Guardian 275® systems can also be fitted with third-party certified fasteners that relieve sudden pressure surges by releasing the panels before structural damage occurs. Stainless steel safety lanyards keep the panels attached to the framing, minimizing the risk to people and property.
Company: Major Industries Inc.
Product: Guardian 275® - Translucent Panel Skylights & Curtainwall
Source: http://majorskylights.com/products/specialty-applications/blast-protection-pressure-relief-systems/
Tags: Glass | Safety | Security | Skylights | Wall Panels | Windows
---
The right light is essential to experience and enhance the viewing of art, and Kalwall® has become the preferred choice of architects to provide museum-quality daylighting™ for cultural projects worldwide.
Calder Foundation Gallery
New York, New York, U.S.A.
The diffuse daylight of Kalwall panels cleverly showcase the unique sculptures and mobiles of Alexander Calder and the other artists on display. Softly balanced, glare-free light envelops the art from every angle. The use of Kalwall turns what was once three disparate rooftop sheds into a breathtaking space.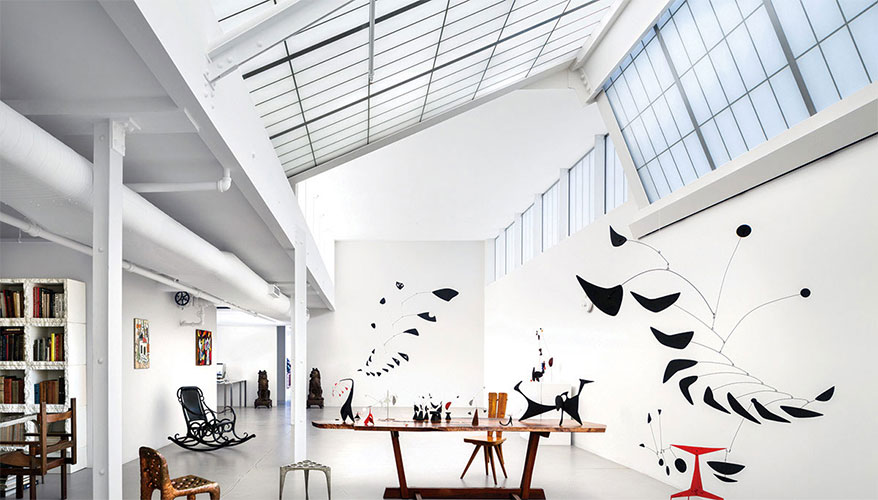 Luxembourg Freeport
Niederanven, Luxembourg
The ability to provide necessary temperature control, along with safety and security, made Kalwall the choice for this duty-free storage unit where wealthy art investors can store their valuable collections. Kalwall provides museum-quality daylighting for viewing artwork as well as privacy and superior structural integrity that allows peace of mind.
Elgin Artspace Lofts
Elgin, Illinois, U.S.A.
A centerpiece Kalwall skylight was reintegrated into a 1908 Sears building being converted to a mixed-use space. Kalwall panels with .10 U values were chosen to provide exceptional thermal performance and low solar heat gain. The skylight provides diffuse daylight to both levels of this historic building and beautifully highlights the central gallery.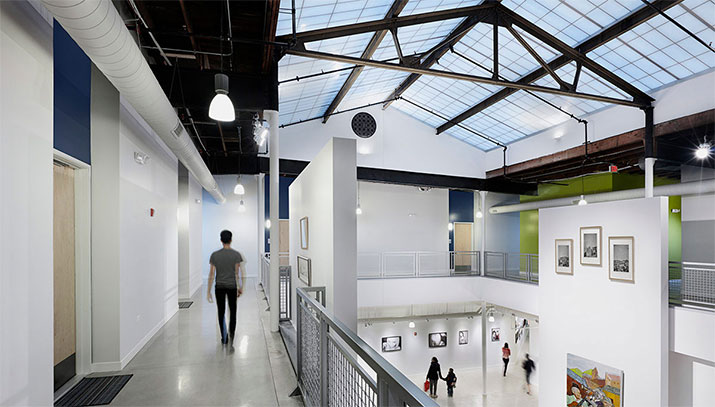 Crocker Art Museum
Sacramento, California, U.S.A.
Perfectly diffuse top lighting by Kalwall allows the vibrant colors of the artwork below to come through naturally, as opposed to the harsh effects of artificial lighting.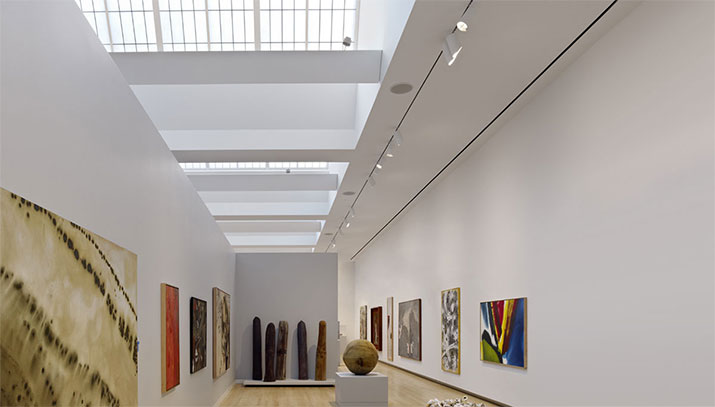 Blackfoot Crossing Historical Park
Sisika, Alberta, Canada
The architect of this breathtaking building viewed his design as "a reinterpretation of a vast range of Blackfoot cultures," and Kalwall is a dominant feature in that design. Kalwall panels are used to create the central teepee that greets visitors as they enter this historical center that promotes and preserves the culture of the Siksika Nation Peoples. The panels emit an ethereal glow at night reminiscent of traditional lanterns created by ancient cooking fires, reflecting the functionality of teepees as well as a connectedness to earth and sky.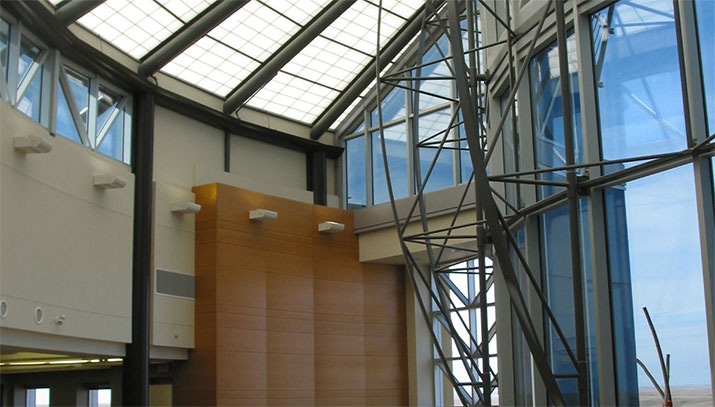 Company: Kalwall Corporation
Source: https://www.kalwall.com/2017/08/09/visual-blog-kalwall-in-the-cultural-market/
Tags: Design | Lighting | Skylights | Window Shades | Windows
---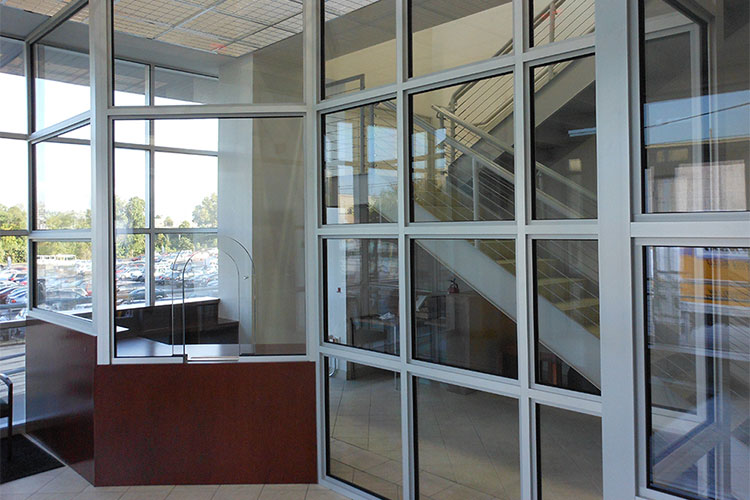 Today Total Security Solutions is a major nationwide bullet resistant barrier component manufacturer—but that wasn't always the case. TSS started out exclusively sub-contracting, supplying contractors and glaziers. Although TSS does a great deal of "tier 1" direct client work now, roughly 60 percent of their business is still in subcontracting. "We really value keeping that balance," TSS CEO Jim Richards says. "We can be as hands-on as the contractor needs, without getting between them and their client."
Designing and Implementing the Right Bullet Resistant Barrier for the Project
In contrast to many bullet resistant component suppliers, even as they've grown TSS has avoided punching out cookie-cutter mix-n-match pieces. They specialize in complete, end-to-end bullet resistant barrier systems, each of which is custom designed, engineered, and fabricated to meet a specific client's needs.
"Every barrier," Jim notes, "Is a specific solution for a specific situation. And because we have a lot of experience handling the full client experience—not just sub-contracting—we're sensitive to all the places something can start to go off the rails: A mismatch in hardware when the client needs discreet security, tolerance stack-ups creating installation issues, miscommunications that can drive up costs or slow down delivery."
Framing is a perfect example. Most bullet proof companies are still using un-rated frames. This helps keep their quote low, but it is a big security trade off. It's troubling to imagine a bullet resistant barrier with a UL-rated window held in place with framing someone ran out and grabbed at Home Depot.
"We can help you with clients who are having trouble coming to grips with the gap between what they want, what they need, and what they can afford."
Helping Contractors Through the Hard Conversations
TSS has a lot of experience helping manage sticker shock. As TSS Sales Manager Bob George explains, "Many clients come in saying 'We want Level 8, we want the highest.' Yes, Level 8 is going to protect your from some pretty heavy-duty stuff, but the windows will be 2.5" thick—double the thickness of Level 3, and almost triple the weight, nearly 30 pounds per square foot. It's a very difficult material to work with. The material itself is more expensive, and much more difficult to fabricate. The added weight means you need to beef up walls and counters, and make special arrangements to bring the material in and position it. Two guys aren't going to put a thousand pound window in place on their own. Going up to Level 8 drives up labor costs significantly. Do you need that extremely high level of protection?"
Jim adds, "They often can't fathom that this material is at least double what normal glass costs. Depending on the scope of work, it can climb from there to three times, even five times more. Talking someone down in this situation, that might not be comfortable for you—after all, we're talking about people's safety here. But these are conversations we have every day. We're ready to drill down and figure out what they really need and how we can get that to them within their budget."
Giving Contractors No-Drama Installations
Jim and his team pride themselves on "silent installations"—an installation that's so hassle-free it's almost like magic. For TSS, the proof is in the testimonials:
"They were here when they said they were going to be, with the estimates and the drawings, they showed up when they were supposed to, and everything was just as neat as a pin. We were really, really tickled with their work."—Holly Eades, Clark Energy vice president of finance
"It was very easy for us, very easy to deal with TSS. We just had no issues at all. … They did all their work at night. I made sure they were set up, they came and talked to me beforehand, told me what they needed, and made sure the alarms were good and gave them time frames, and they were in and out, totally cleaned up when the left—it was seamless. … It looks great. We love it."—Gina Mims, facilities supervisor for the Health Plan of San Joaquin
"Sure, we like the 'wow factor,'" Jim says. "We're really pleased when a client walks in and says, 'Wow! This looks so good, so much better than we'd hoped!' But I've gotta say, that silence—when something went so smoothly they don't even think to remark on it until you ask—that's when we know we really made a contractor look good."
Company: Total Security Solutions Inc
Product: Bullet Resistant Barriers
Source: http://www.tssbulletproof.com/getting-contractors-right-bullet-resistant-barrier/
Tags: Glass | Security | Windows
---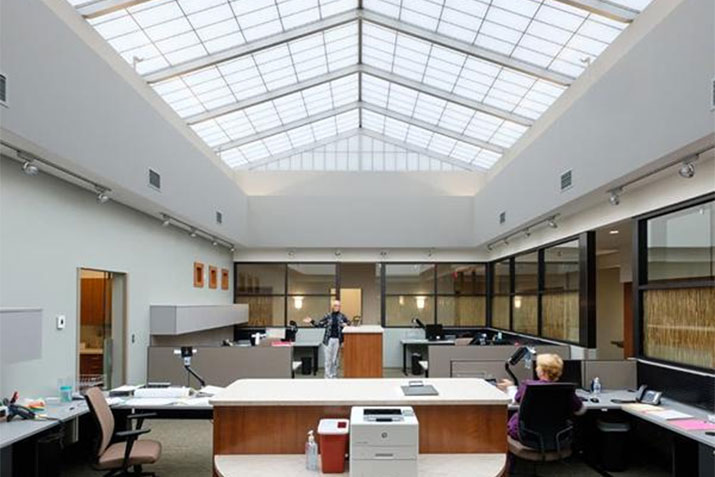 Images courtesy of DSGW Architects and Weston Imaging
Daylighting can be dramatic… and it can also be a hassle. Too much direct light can cause glare and hot-spots, leading to eye strain and an uncomfortable environment for building occupants. But there is a way to control solar heat gain and diffuse direct sunlight, making for a bright, evenly lit space that welcomes visitors and creates a more comfortable work and learning environment. What's the solution? Translucent panel daylighting systems!
When designing the new Lac Vieux Desert Health Center in Watersmeet, Michigan, DSGW Architects met with Indian Health Service staff, tribal community members, clinic staff and providers, clinic task force members and the Tribal Council to help define and create a health center that includes 12 exam rooms, two procedure rooms, a nine-chair dental suite with lab services, retail pharmacy, imaging suite, clinical lab, chiropractic and physical therapy department, optical department, behavior health and family services, a community gathering room and more.
An integral part of the space is natural light – from both windows and skylights. A Guardian 275® skylight, as shown in the image above, helps bring light to a nurse's station where uncontrolled light could cause an uncomfortably hot work environment and wreak havoc on computer screens. It also lessens the need for artificial light sources and makes for an inviting and welcoming space. (Not to mention the numerous studies that show access to natural light is beneficial to both staff and patients in healthcare environments.)
What can a translucent skylight do for your space? Call and talk with one of our staff members for more information @ 888-759-2678.
Company: Major Industries Inc.
Product: Guardian 275® - Translucent Panel Skylights & Curtainwall
Source: http://majorskylights.com/2017/06/project-spotlight-work-friendly-daylight/
Tags: Exterior Design | Interior Design | Skylights | Windows
---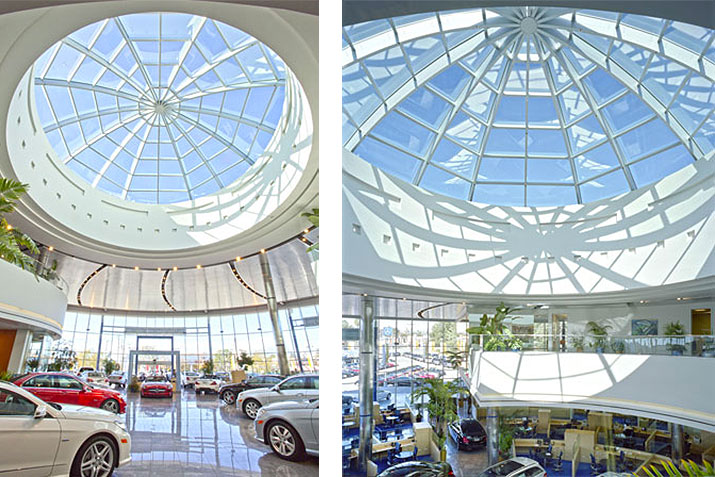 Photos by: William Lemke, courtesy of Super Sky Products Enterprises, LLC
Commercial Architecture magazine's June Portfolio section spotlights California's Keyes Automotive's European Mercedes-Benz Dealership featuring a 41-foot-diameter, custom, multi-slope dome skylight from Super Sky Products. The skylight's durable finishes were applied by Linetec to the aluminum framing members. The finish's resilient attributes combine with daylight, views and high thermal performance glass to support the dealership's LEED® Silver certification.
Designed by Dennis J. Flynn Architects, the skylight's fluid, circular design respects the European Bauhaus style of design highlighted within the dealership's 235,000-square-foot facility. "As a highly visible property on a major auto row that is back-dropped with residences, the owners' sensitivity to the community and commitment to state-of-the-art design solution is displayed in this space," described Flynn. "Crisp finishes complement a work environment that's equal parts private office and open plan, reflecting the Mercedes-Benz brand in all aspects."
Contributing to the project's sustainable, high-end design, Linetec applied a 70 percent PVDF resin-based, two-coat, liquid, mica coating to the skylight's aluminum framing members. The resulting appearance emphasizes a metallic aesthetic befitting the luxury vehicles sold and serviced at Keyes European.
These painted coatings applied by Linetec meet the American Architectural Manufacturers Association's (AAMA) 2605 industry standards, as well as minimize buildings' maintenance costs and maximize long lifecycles. These high-performance architectural coatings exhibit outstanding resistance to humidity, color change, chalk, gloss loss and chemicals. They will ensure a long-lasting, durable finish. No other coating system can withstand the rigors of nature and time like these."
As a recognized, innovative and environmentally responsible finisher, Linetec captures the liquid paints' volatile organic compounds (VOCs) content using a 100 percent air capture system and safely destroys the VOCs with a regenerative thermal oxidizer.
Enhancing thermal performance for Keyes European, the skylight's 1,650 square feet glass area is composed of insulated glass units with Solarban® 80 low-e coating. The low-e coating mitigates unwanted solar heat gain that could make potential car buyers uncomfortably warm and minimizes fading caused by damaging ultraviolet radiation.
Click here to learn more about Linetec's durable painted finishing.
Company: Linetec
Source: https://linetec-blog.com/2017/07/03/in-the-news-keyes-dealership/
Tags: Aluminum | Finishes | Glass | Roof | Sustainability | Windows
---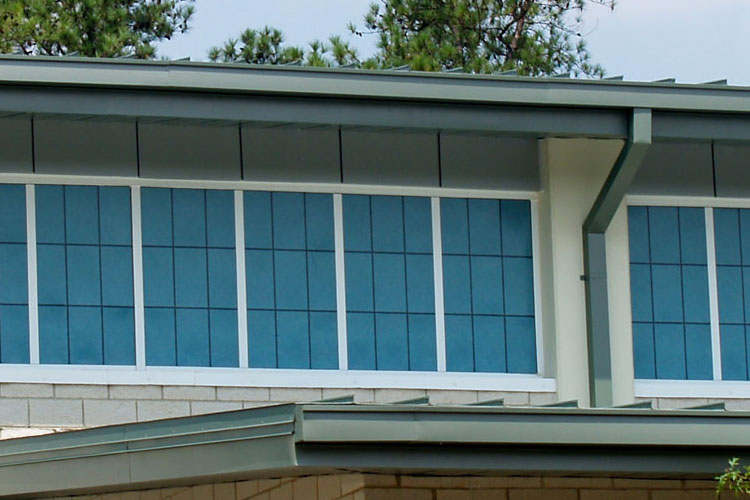 Clima-Tite™ is a unique – the only translucent panel system that features pultruded fiberglass framing for better thermal performance, including enhanced u-factors and better condensation resistance than similar aluminum-framed systems. Pultruded fiberglass also has other advantages over aluminum, including dimensional stability and increased corrosion resistance, making it a great choice for harsh environments like water treatment plants or aquatic facilities.
Utilizing fiberglass is also an environmentally sound choice, as the manufacturing processes require less energy compared to aluminum (about 80% less embodied energy). The main ingredient in fiberglass is silica sand, an abundant natural material. Once properly converted, the inherent thermal properties of fiberglass allow for reduced HVAC loads, which can reduce greenhouse emissions. The long lifespan and durability of pultruded fiberglass also delivers reduced costs over the lifetime of the system.
Company: Major Industries Inc.
Product: Clima-Tite™
Source: http://majorskylights.com/products/wall-systems/clima-tite/
Tags: Design | Energy | Glass | Lighting | Windows
---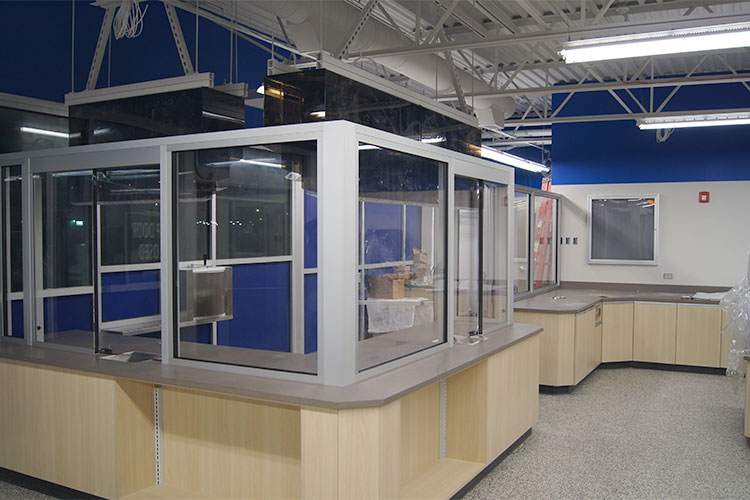 Glaziers are often a little reluctant to pick up that first bullet proof security job. The stakes are high, the materials are expensive, and the challenges are unknown. Total Security Solutions has helped many glaziers work with bulletproof glass. Let's start with three basic concepts that are important to know:
It's Not Glass and It's Not Bullet Proof:
Given enough bullets and enough time, a determined attacker can chew through anything. "Bullet proof glass" is technically "bullet resistant" and either made from monolithic acrylic or laminated layers of polycarbonate and tempered glass.
It's Not a Window—It's a System:
A bullet resistant window that can stop an AR-15 is useless if it's mounted in a wall that can't stop a .22 pistol. Take five minutes to check out our crash course in bullet resistant barrier systems.
Help is Out There:
We are ready to support you through the installation—but these three tips will prevent common problems.
Total Security Solutions Helps Glaziers Work With Bulletproof Glass
Most glaziers are reasonably hesitant to bring in a big, full-service national bullet proofing company. "A client who needs a barrier is good business for a local glazier," Total Security Solutions CEO Jim Richards explains. "Bullet resistant materials are a cut above the norm. Naturally, that glazier is worried that we want to take their customers. I totally understand where they're coming from. But this is where we started: Supplying contractors and glaziers. We're very comfortable pulling way back into the shadows so that glaziers can really shine."
Once you gather all of the information from your client (primarily measurements, but also some insights into how the facility is used, peak business hours, known or suspected threats, etc.) Total Security Solutions will design and engineer a barrier system customized for your client. TSS can help you with approval drawings for permits, managing client expectations, and so on, so you can get this job moving.
Once approved, Total Security Solutions will supply you all the materials, fully fabricated, as assembled as possible. "We design it and fabricate it, you install it, you reinforce that good relationship with your client. We'll supply you exactly what you need, and help you behind the scenes to get that install perfect. If anything comes up, any uncertainty, you give us a call."
How to Score a Big Win with your First Bullet Resistant Barrier
The important thing to remember is that regardless of how much experience you have, it is almost always the first time the client has considered adding a bullet resistant barrier to their business. They're on uncertain ground, and this is a big investment.
"This is a great time to prove to them how valuable your expertise is," Jim adds. He has found that most clients come in asking for much more bullet proof security than they need. They also may make very specific requests for very specific components. Do they really need that style door or window, or is it just what they've seen elsewhere? "Start the conversation with questions," Jim suggests. "Why do they want a BP barrier now? Has there been a local incident? What type of incident are they concerned about?What types of firearms? Why?"
These questions will give you a sense of how extensive the barrier needs to be and what UL level they should consider.
"Then follow up with some questions about their business: What needs to pass through the barrier? Will it be paperwork or cash or packages? How often do staff need to come and go? Finally, ask 'What do you want to accomplish?' Because sometimes I find that folks are limited by what they already know," Jim notes. "For example, they may have a 12-foot long hole in the wall, with the idea they'll install three transaction windows in there and fill between. In that conversation, I'd say 'Well, what about making it a single system?'And they ask 'What's a system?' Because most end users aren't familiar with custom systems, and the fact that a system can be more cost effective than cobbling together a bunch of generic drop-in pieces—not to mention more secure and look a lot nicer."
Company: Total Security Solutions Inc
Product: Ballistic Security Glass
Source: http://www.tssbulletproof.com/glaziers-working-bullet-proof-glass-client/
Tags: Glass | Safety | Security | Windows
---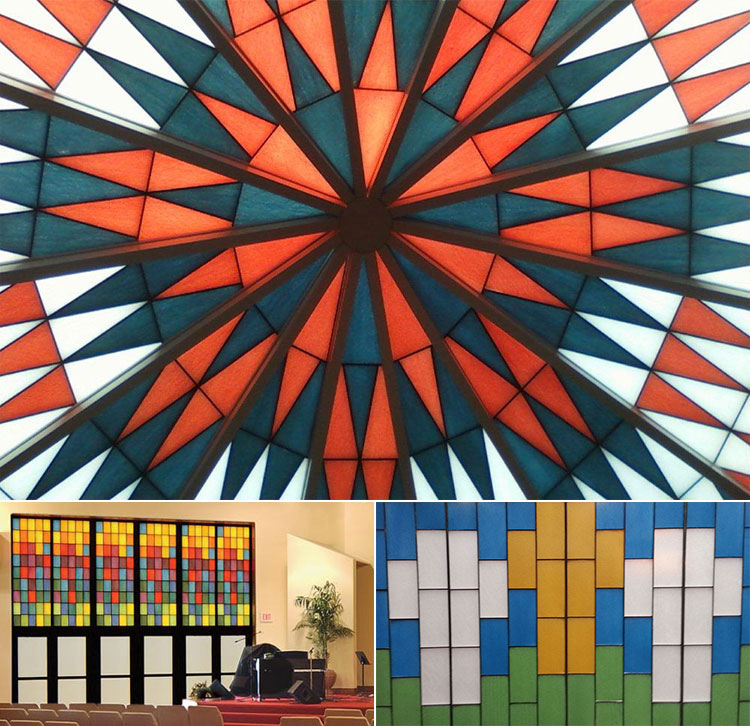 Looking for a unique way to incorporate school colors into an education facility, or perhaps you're in need of high thermal performance but want the look of stained glass? Energize your next daylighting design with Spectra-Grid™.
Spectra-Grid™ is an eye-catching color option for our translucent panel systems. Colored insulation allows for bright, vibrant hues to illuminate when light shines through. You can even light the panel from behind during nighttime hours to announce a building's entryway, or mix in company logo colors in a lobby skylight – the options are nearly endless. If you are looking to create a certain mood or colorful visual effect for your building, Spectra-Grid™, with its limitless color options, offers a cost-effective solution.
No matter what the function – from retail space to athletic facilities – let Spectra-Grid™ bring the power of color to your next design. Call 888-759-2678 or email sales@majorskylights.com for more details.
Company: Major Industries Inc.
---
The University of Iowa (UI) School of Music in Iowa City celebrated its 110th anniversary with a new home – Voxman Music Building. Designed for durability, sustainability and the highest acoustic performance, the 190,000-square-foot project features energy-efficient window and curtainwall systems, finished and thermally improved by Linetec.
The $152 million project is targeting LEED® for New Construction Gold certification. Wausau Window and Wall Systems worked closely with glazing contractor Architectural Wall Systems (AWS) to achieve the design intent set by LMN Architects and Neumann Monson Architects. Mortenson Construction served as the construction manager agent for UI.
"We conceived the project as a means of extending the public space inside the building, and we do that with glass," says LMN partner and project designer, Stephen Van Dyck, AIA, LEED AP. "The window systems play a huge part in creating the visual transparency between the public and the performers, and the connection from within and without of this educational and cultural building."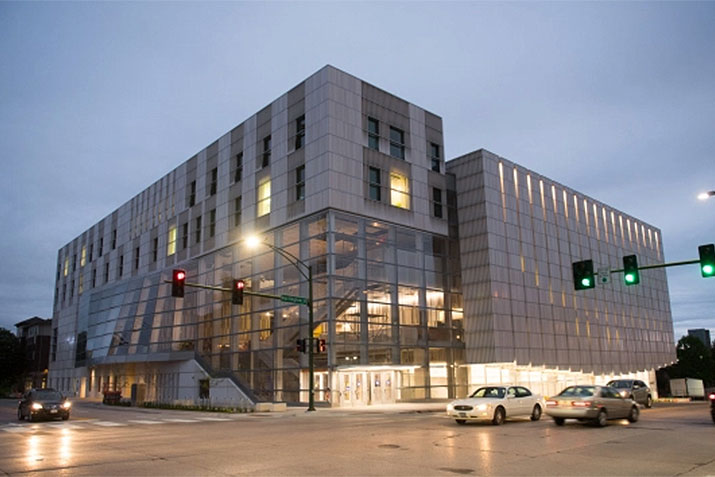 A Highly Anticipated New Home for the UI Music Department
Linetec Products Support Project Sustainability Goals
Linetec's thermal improvement services and anodize finishing are key contributors to the window systems' energy-efficiency, visual appeal and durability. The anodizing process produces a uniform, hard and protective finish. Linetec's anodize finishes meet the requirements of the American Architectural Manufacturers Association's stringent Class I specification standard, AAMA 611-14. The anodized aluminum resists the ravages of time, temperature, corrosion, humidity and warping, for a long product life cycle. Anodized aluminum may be specified with recycled content and is 100 percent recyclable.
In addition to durable finishes and recyclable materials, Linetec helped support the project's sustainable and LEED goals for thermal comfort and energy performance by providing thermal barriers for Wausau's window and curtainwall systems. Both Linetec and Wausau also are considered local suppliers, as they are located within a 500-mile radius of the UI campus.
Unique Window Systems Supply Natural Light and Visual Appeal
Wausau's systems also contribute to recognized benefits of daylight and views, and are a main visual feature of the building. The glass exterior begins beneath the concert hall, wraps around and up to the main entrance and continues over the recital hall, reaching heights of 50 feet.
One of the building's most unique features is the shingled curtainwall – called the "warped wall" – overlaying the recital hall, in which construction of glass and metal units are layered to create an undulating slope that appears to gently pour from the building's roof to its base. On the interior, a central atrium funnels natural light into the building.
Large-scale window systems are rare in musical spaces due to the acoustic challenges they can present. By choosing a low-iron glass with a low roller wave and horizontal orientation, acoustic and visual distortion was minimized. Large panes of glass diffuse sound at different rates on the shingled wall, and tall and narrow windows minimize vibration throughout.
Prioritizing Acoustic Isolation and Performance
"The acoustic requirements for this project are of utmost relevance," emphasizes Chucho Loria, AIA, with Neumann Monson Architects. "Wausau's team looked at the various conditions in the project. They developed details, during the shop drawing review process, to ensure that their system would meet the design intent of the project. It was apparent in those details that Wausau was taking efforts to make their system interact with the rest of the building."
"We prefer an integrated, whole building approach – especially with complicated engineered projects," says Doug Laffin, Wausau's architectural sales representative serving Iowa. "Our systems may be just one part of that whole, but everything must work together to successfully deliver the architectural vision and critical functionality."
"Almost all of the job was acoustically sensitive," says Lee Ebel, AWS project manager. "Wausau produced and had tested units that verified the system would meet the necessary STC ratings at the corresponding frequency."
Sound Transmission Class (STC) is a single-number rating system for acoustical performance, where a higher number indicates better performance. The Voxman Music Building's design specified an STC 55, which is suitable for blocking loud noises including musical instruments.
"Almost every room is acoustically isolated," explains Van Dyck. "This means that instead of the usual one wall, one floor between each room, there are two or three walls and two floors to separate most of the rooms and keep sound from transferring between them. We're also trying to keep the sound from passing from the outside into the building's interior. The windows are a big part of that equation."
Adding glazing mass, increasing air space and improving damping by the addition of a laminated interlayer achieve improvement in acoustical performance. Of course, maintaining an airtight assembly to reduce "flanking" noise is critical, especially at high frequency. All three approaches were used to meet the acoustic requirements of the Voxman Music Building.
"The goal was to have virtually no outside noise in the recital hall," says Randy Arneson, Wausau's senior estimator on the project. "There's 5-inch airspace between the inside and outside glass lites of our curtainwall to decrease sound transmittance. For the majority, we used Viracon's 1-5/16-inch OptiWhite laminated, insulating, specialty glass."
In the concert hall, the glass was glazed into the window system's interior-facing plane with a 3-inch airspace. On the exterior-facing plane, electrochromic SageGlass was installed. Electrochromic (EC) glass darkens or clears when a low-voltage DC current is applied. Wausau incorporated the necessary wiring paths to connect the windows' EC glass with a user-controlled switch. This enhanced functionality allows the faculty and students to reversibly control the sunlight entering their space and to maintain their outside view without shades or blinds.
"Wausau provided these elegant, tall, thin windows with EC glass. They're really cool. When the windows are turned 'on' and tinted, they produce this really nice, diffused light," says Van Dyck.
"They're very narrow – some are only 1 foot wide, but 40 feet tall. The smaller span actually helps with the acoustics. The stiffer it is, the less it wants to vibrate."
Ensuring Quality, Durability and Sustainability
Beyond acoustic performance, Ebel says, "The curtainwall system went through a rigorous performance mock-up test at a certified laboratory in Miami, Florida. The testing included air, water, dynamic, structural, seismic racking and thermal cycling."
Ebel adds, "The typical LEED requirements applied to this project." The window systems' high performance features contribute to quiet, comfortable spaces that promote concentration and creativity, as well as a whole building approach to energy-efficiency, daylighting and outside views.
AWS installed Wausau's SuperWall™ curtainwall, custom-engineered fixed and operable windows, and nearly 23,000 square feet of INvision™ 1050i-UW Series unitized curtainwall. Glazing and sealing in a factory-controlled environmental ensures that conditions are maintained to achieve the intended performance required for the project. Shipped one lite wide by one floor tall, the interlocking, pre-assembled units make the system easy to install on the job site. This saves labor, time and associated costs.
The curtainwall and window systems' installation was finished on time and on budget. "It took a lot of coordination between all parties, and modeling of the curtainwall and structure to ensure that everything would fit correctly in the field once installation started," Ebel says.
"Aesthetically, the project looks great," concluded Van Dyck. "But, let's face it, for this project, it wouldn't matter how great it looks if doesn't sound great, too. The window systems are a critical part of that success."
UI's new music facility replaces its former location, which was damaged by the 2008 flood. Programming and schematic design began in 2011. In 2014, the new building's essential structure was completed and the building envelope could begin taking shape.
The Voxman Music Building was substantially completed in July 2016 and welcomed its 450 music students and 60 full-time faculty on Aug. 22, 2016. The grand opening and ribbon-cutting event was held on Oct. 21, 2016. The 324-room space includes classrooms, teaching studios, a library, offices, recital spaces, a rooftop terrace, a 700-seat concert hall and a 200-seat recital hall.
David Gier is the first to serve as the UI School of Music's director in the Voxman Music Building. The facility's name honors one of his predecessors, the late clarinetist Himie Voxman who served as the school's director from 1954-1980. Gier and the School of Music have eagerly awaited their new home.
Company: Linetec
Source: https://linetec-blog.com/2017/05/16/designed-for-resiliency-and-acoustic-performance-university-of-iowa-voxman-music-building-features-linetecs-anodize-finishing-and-thermal-improvement-services/
Tags: Acoustics | Aluminum | Energy | Glass | Sustainability | Wall Panels | Windows
---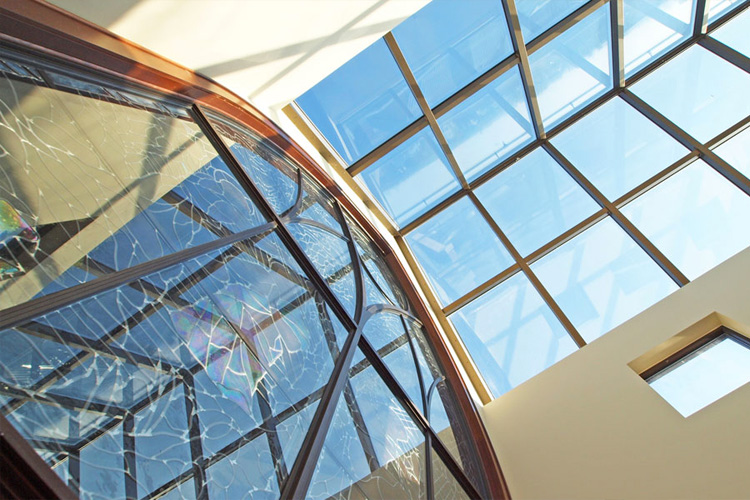 Auburn® skylights are designed and engineered for long-term performance, and make a great daylighting choice if you're looking for the durability and longevity of glass, or simply enjoy dramatic views of the sky. They're available in custom and pre-engineered configurations, and also offer mixed glazing options as they can also incorporate polycarbonate multi-wall and acrylic glazing as well as Guardian 275® translucent panels.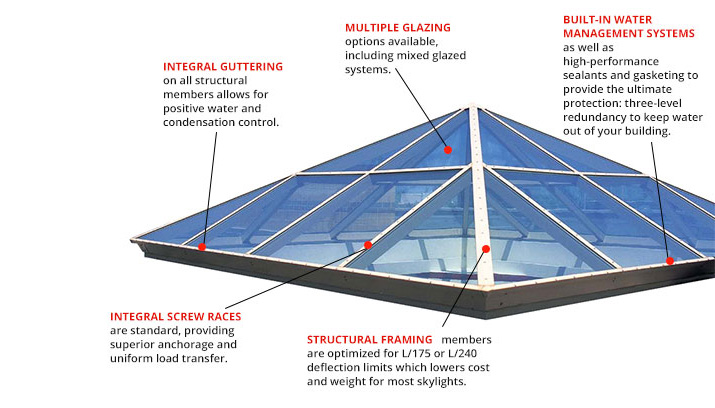 Auburn® systems aren't designed to span the largest openings; they're optimized for small and medium projects and are engineered to save time, money, and weight in your next daylighting project. Auburn® engineered skylights feature high-performance sealants, built-in water management, and time-proven EPDM gasketing to provide the ultimate protection: three-level redundancy to keep water out of your building. In addition, they are available in a wide variety of configurations, along with numerous glass and finish options.
New single slope skylights with thermal strut technology!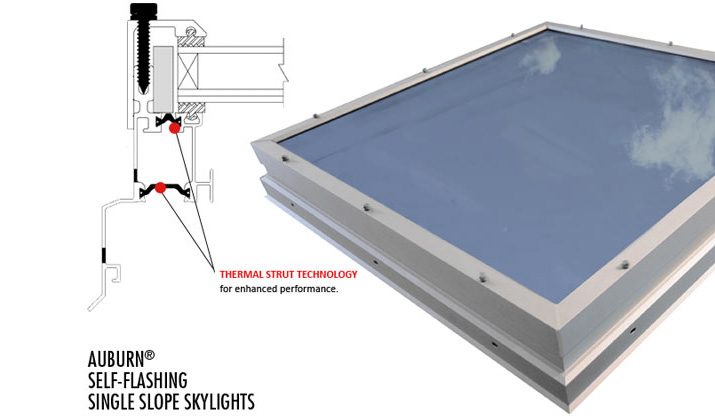 For smaller openings and standard sizes, consider our newly updated Auburn® Self-flashing Single Slope skylights, available in sizes up to 25 square feet, with pre-assembled options available for ease of installation and quick lead times. These new single slope skylights feature thermal strut technology in the framing, allowing for a versatile combination of strength and high thermal performance, including improved condensation resistance and U-factors over traditional aluminum framed systems.
No matter which option is right for you – custom or pre-engineered – Auburn® skylights are a smart choice to solve your daylighting challenges. Other benefits include:
Low initial cost and long-term energy savings.
Possible LEED® credit opportunities for both new construction and existing buildings.
High-performance gaskets and sealants provide peace of mind and long-term performance.
Auburn® Engineered custom systems feature universal "slope adapters" fit all standard rafters, creating precise slope control.
Auburn® Engineered custom systems come standard with tubular rafters that frequently eliminate the need for support tubes.
Guaranteed against defective materials and construction for one year from date of purchase (exclusions apply – see final warranty for details).
Company: Major Industries Inc.
Product: Auburn® Engineered Glass, Polycarbonate Multi-wall and Acrylic Skylights
Source: http://majorskylights.com/products/skylights/auburn/
Tags: Design | Glass | LEED Certification | Windows
---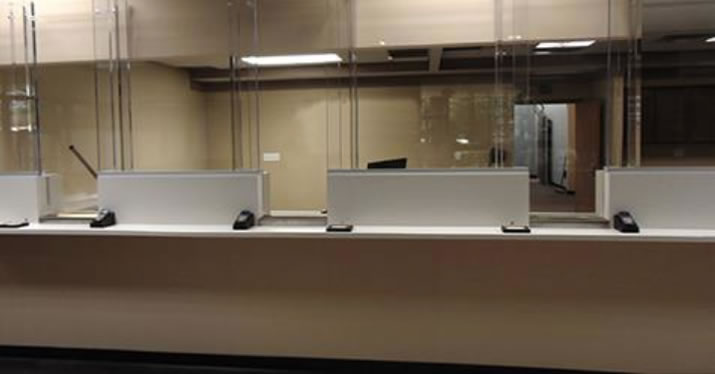 Because most banks have similar needs—a secured teller line with bullet resistant windows, secured ballistic doors, and bulletproof fiberglass to reinforce counters—many security companies try and push a one-size-fits-all solution.
With decades of experience designing, engineering, fabricating, and installing custom bandit barriers in banks and credit unions, Total Security Solutions knows how rarely this turns out well.
Bullet Proof Barriers Attuned to the Banker's Needs
"Banks can be pretty ornate, so were used to having to adjust what we do to match a given location." Total Security Solutions CEO Jim Richards explains, "That's our speciality, that sort of customization. Even when we're doing many locations for the same chain, in different parts of the country each office looks a little bit different. It's like housing, in that it has this regional component. So we don't try to come up with a single one-size solution we can just keep punching out."
Total Security Solutions isn't limited to just shuffling around pre-fabricated pieces. They can customize down to the individual component level: curved ballistic transparency, special communication and ventilation solutions, all-glass and completely custom high-security doors, and so on.
In contrast to many security companies—especially local glazers—Total Security Solutions is sensitive to how important relationships are in banking. Jim puts special emphasis on clear sight lines and communication in such settings. Gina Mims, a facilities manager, recently coordinated with Total Security Solutions to secure several offices for the Health Plan of San Joaquin: "I love the fact that … it doesn't look like the old school [barrier] with that metal plate [and talk hole]. It all looks very nice. Our buildings, both of them, are very modern, so I wanted to make sure that they stayed along those lines."
ATMs: An Evolving Security Challenge
ATMs pose obvious risks to customers, both in terms of their physical safety and fraud exposure. They are also proving to be a significant and unpredictable liability to financial institutions. For example, within the last several years European banks have been increasingly plagued by teams of thieves who attack ATMs in the night, flood the machines with a mixture of oxygen and acetylene (gases usually used to fuel welding torches), and then ignite the volatile mixture, blowing the machines open. These attacks don't just result in significant monetary losses (both in damage to the unit and building, as well as money stolen)—they're also incredibly dangerous, as you can see here (the ATM is at the far right edge of the frame, in a mostly blue enclosure with a red top half):
This could easily result in injuries not just to the thieves, but also to passersby, staff, and even people in adjacent buildings. Although there have been no reported ATM "gas bombings" in the United States as of yet, the US currently leads the world in losses resulting from insecure ATM locations.
According to Jim Richards, "There are a lot of different ways that ATMs are deployed, but we have yet to see one we couldn't secure." In many cases Total Security Solutions favors a design similar to their bulletproof vestibule system used in schools, replacing the outer glass and doors of the ATM vestibule with bullet-resistant transparency and framing, and securing access to the ATM with a ballistic door outfitted with a card swipe-actuated computer-controlled electric strike. "Customers swipe their ATM card to gain access, and then the door latches behind them–just like any other security door. These are really easy retrofits for situations where the ATM is installed in the bank vestibule or outer lobby, but the same idea works with exterior-wall ATMs: You build a bulletproof glass curtain wall around an exterior wall-mounted ATM, with the same sort of card-swipe entry system. What's key is that this solves both the skimmer/fraud/vandalism problem, as well as protecting customers."
Painless Bandit Barrier Installation
Most importantly, owing to their decades of experience, Total Security Solutions has optimized their prep, design, fabrication, and installation processes. "It can be two teller stations or 15; we're able to move on the project as quickly as the operations or facilities manager are ready."
Bullet resistant barrier system installations are designed to absolutely minimize any business interruptions. Most installations can be completed overnight, with even the most challenging retrofits installed in under a weekend.
"I just returned from see[ing] the install and boy what nice work!" Holly Eades, vice-president of finance for Clark Energy wrote after having several payment offices secured by TSS. "They were here when they said they were going to be, … showed up when they were supposed to, and everything was just as neat as a pin. We were really, really tickled with their work."
Company: Total Security Solutions Inc
Product: Bullet Resistant Barriers
Source: http://www.tssbulletproof.com/high-function-custom-bullet-resistant-solutions-banks/
Tags: Glass | Safety | Security | Windows
Sun Control Sunshades (January 5, 2017), Case study: Otterbein University's STEAM Innovation Center featuring Extech's Lightwall 3000 series curtain wall system (December 15, 2016), Solutions for the entire building façade (December 9, 2016), Kalwall Featured in Major Award-Winning College Project (November 28, 2016), Major announces new Auburn® skylight option (November 25, 2016), Rigorous Testing Standards Ensure Effective Security (November 16, 2016), Ace Hotel New Orleans restores historic Art Deco exterior and updates performance with Winco Windows finished by Linetec (October 14, 2016), Isabel Bader Center (August 17, 2016), Peace-of-Mind for Rural Utility Offices - Bulletproof barrier security tips & news (August 8, 2016), The Sir John A MacDonald Building (June 3, 2016), School Security and Access Control for Architects (May 9, 2016), Premium Ballistic Frames Offer Huge Boosts in Sustainability and Multi-Threat Risk Mitigation (April 12, 2016), Guardian 275® translucent skylights provide a wide range of color, thermal performance and specialty application options (April 6, 2016), Great Glazing: Rogers Memorial Hospital Brown Deer (February 8, 2016), Partnering with Architects to Make BulletProof Beautiful (February 3, 2016), Kalwall Featured: Guide Dogs for the Blind New Student Residence (December 30, 2015), Optically Clear Aluminum Provides Bulletproof Protection (June 5, 2015), April Showers Bring May Flowers… And Eco-Friendly Smart Glass (May 18, 2015), Suitable for framing: Kalwall brings distinct lighting to award-winning design (May 15, 2015), A World Without Windows (April 24, 2015), How to Choose the Right Type of Vinyl Replacement Windows (March 25, 2015)