architecture - engineering - construction

Windows
---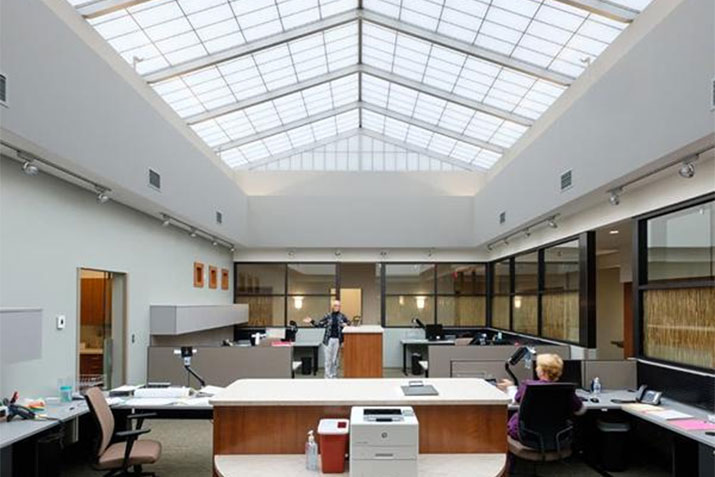 Images courtesy of DSGW Architects and Weston Imaging
Daylighting can be dramatic… and it can also be a hassle. Too much direct light can cause glare and hot-spots, leading to eye strain and an uncomfortable environment for building occupants. But there is a way to control solar heat gain and diffuse direct sunlight, making for a bright, evenly lit space that welcomes visitors and creates a more comfortable work and learning environment. What's the solution? Translucent panel daylighting systems!
When designing the new Lac Vieux Desert Health Center in Watersmeet, Michigan, DSGW Architects met with Indian Health Service staff, tribal community members, clinic staff and providers, clinic task force members and the Tribal Council to help define and create a health center that includes 12 exam rooms, two procedure rooms, a nine-chair dental suite with lab services, retail pharmacy, imaging suite, clinical lab, chiropractic and physical therapy department, optical department, behavior health and family services, a community gathering room and more.
An integral part of the space is natural light – from both windows and skylights. A Guardian 275® skylight, as shown in the image above, helps bring light to a nurse's station where uncontrolled light could cause an uncomfortably hot work environment and wreak havoc on computer screens. It also lessens the need for artificial light sources and makes for an inviting and welcoming space. (Not to mention the numerous studies that show access to natural light is beneficial to both staff and patients in healthcare environments.)
What can a translucent skylight do for your space? Call and talk with one of our staff members for more information @ 888-759-2678.
Company: Major Industries Inc.
Product: Guardian 275® - Translucent Panel Skylights & Curtainwall
Source: http://majorskylights.com/2017/06/project-spotlight-work-friendly-daylight/
Tags: Exterior Design | Interior Design | Skylights | Windows
---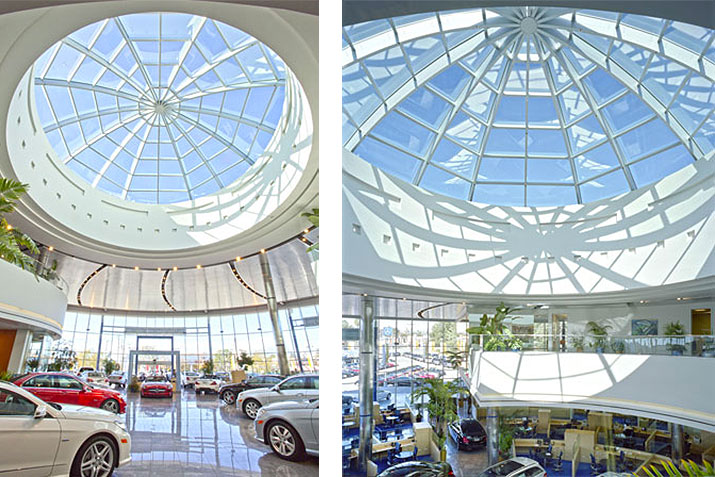 Photos by: William Lemke, courtesy of Super Sky Products Enterprises, LLC
Commercial Architecture magazine's June Portfolio section spotlights California's Keyes Automotive's European Mercedes-Benz Dealership featuring a 41-foot-diameter, custom, multi-slope dome skylight from Super Sky Products. The skylight's durable finishes were applied by Linetec to the aluminum framing members. The finish's resilient attributes combine with daylight, views and high thermal performance glass to support the dealership's LEED® Silver certification.
Designed by Dennis J. Flynn Architects, the skylight's fluid, circular design respects the European Bauhaus style of design highlighted within the dealership's 235,000-square-foot facility. "As a highly visible property on a major auto row that is back-dropped with residences, the owners' sensitivity to the community and commitment to state-of-the-art design solution is displayed in this space," described Flynn. "Crisp finishes complement a work environment that's equal parts private office and open plan, reflecting the Mercedes-Benz brand in all aspects."
Contributing to the project's sustainable, high-end design, Linetec applied a 70 percent PVDF resin-based, two-coat, liquid, mica coating to the skylight's aluminum framing members. The resulting appearance emphasizes a metallic aesthetic befitting the luxury vehicles sold and serviced at Keyes European.
These painted coatings applied by Linetec meet the American Architectural Manufacturers Association's (AAMA) 2605 industry standards, as well as minimize buildings' maintenance costs and maximize long lifecycles. These high-performance architectural coatings exhibit outstanding resistance to humidity, color change, chalk, gloss loss and chemicals. They will ensure a long-lasting, durable finish. No other coating system can withstand the rigors of nature and time like these."
As a recognized, innovative and environmentally responsible finisher, Linetec captures the liquid paints' volatile organic compounds (VOCs) content using a 100 percent air capture system and safely destroys the VOCs with a regenerative thermal oxidizer.
Enhancing thermal performance for Keyes European, the skylight's 1,650 square feet glass area is composed of insulated glass units with Solarban® 80 low-e coating. The low-e coating mitigates unwanted solar heat gain that could make potential car buyers uncomfortably warm and minimizes fading caused by damaging ultraviolet radiation.
Click here to learn more about Linetec's durable painted finishing.
Company: Linetec
Source: https://linetec-blog.com/2017/07/03/in-the-news-keyes-dealership/
Tags: Aluminum | Finishes | Glass | Roof | Windows
---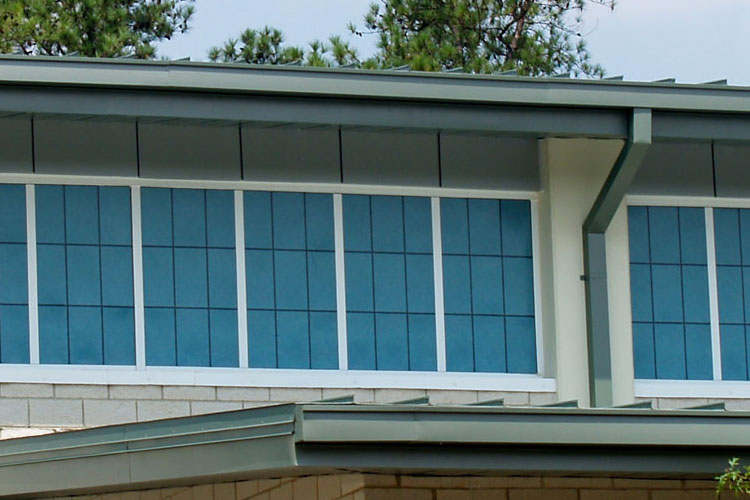 Clima-Tite™ is a unique – the only translucent panel system that features pultruded fiberglass framing for better thermal performance, including enhanced u-factors and better condensation resistance than similar aluminum-framed systems. Pultruded fiberglass also has other advantages over aluminum, including dimensional stability and increased corrosion resistance, making it a great choice for harsh environments like water treatment plants or aquatic facilities.
Utilizing fiberglass is also an environmentally sound choice, as the manufacturing processes require less energy compared to aluminum (about 80% less embodied energy). The main ingredient in fiberglass is silica sand, an abundant natural material. Once properly converted, the inherent thermal properties of fiberglass allow for reduced HVAC loads, which can reduce greenhouse emissions. The long lifespan and durability of pultruded fiberglass also delivers reduced costs over the lifetime of the system.
Company: Major Industries Inc.
Product: Clima-Tite™
Source: http://majorskylights.com/products/wall-systems/clima-tite/
Tags: Design | Energy | Glass | Lighting | Windows
---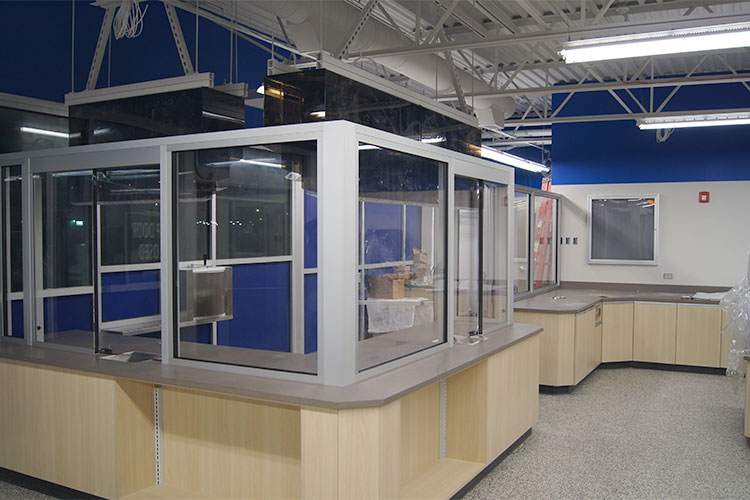 Glaziers are often a little reluctant to pick up that first bullet proof security job. The stakes are high, the materials are expensive, and the challenges are unknown. Total Security Solutions has helped many glaziers work with bulletproof glass. Let's start with three basic concepts that are important to know:
It's Not Glass and It's Not Bullet Proof:
Given enough bullets and enough time, a determined attacker can chew through anything. "Bullet proof glass" is technically "bullet resistant" and either made from monolithic acrylic or laminated layers of polycarbonate and tempered glass.
It's Not a Window—It's a System:
A bullet resistant window that can stop an AR-15 is useless if it's mounted in a wall that can't stop a .22 pistol. Take five minutes to check out our crash course in bullet resistant barrier systems.
Help is Out There:
We are ready to support you through the installation—but these three tips will prevent common problems.
Total Security Solutions Helps Glaziers Work With Bulletproof Glass
Most glaziers are reasonably hesitant to bring in a big, full-service national bullet proofing company. "A client who needs a barrier is good business for a local glazier," Total Security Solutions CEO Jim Richards explains. "Bullet resistant materials are a cut above the norm. Naturally, that glazier is worried that we want to take their customers. I totally understand where they're coming from. But this is where we started: Supplying contractors and glaziers. We're very comfortable pulling way back into the shadows so that glaziers can really shine."
Once you gather all of the information from your client (primarily measurements, but also some insights into how the facility is used, peak business hours, known or suspected threats, etc.) Total Security Solutions will design and engineer a barrier system customized for your client. TSS can help you with approval drawings for permits, managing client expectations, and so on, so you can get this job moving.
Once approved, Total Security Solutions will supply you all the materials, fully fabricated, as assembled as possible. "We design it and fabricate it, you install it, you reinforce that good relationship with your client. We'll supply you exactly what you need, and help you behind the scenes to get that install perfect. If anything comes up, any uncertainty, you give us a call."
How to Score a Big Win with your First Bullet Resistant Barrier
The important thing to remember is that regardless of how much experience you have, it is almost always the first time the client has considered adding a bullet resistant barrier to their business. They're on uncertain ground, and this is a big investment.
"This is a great time to prove to them how valuable your expertise is," Jim adds. He has found that most clients come in asking for much more bullet proof security than they need. They also may make very specific requests for very specific components. Do they really need that style door or window, or is it just what they've seen elsewhere? "Start the conversation with questions," Jim suggests. "Why do they want a BP barrier now? Has there been a local incident? What type of incident are they concerned about?What types of firearms? Why?"
These questions will give you a sense of how extensive the barrier needs to be and what UL level they should consider.
"Then follow up with some questions about their business: What needs to pass through the barrier? Will it be paperwork or cash or packages? How often do staff need to come and go? Finally, ask 'What do you want to accomplish?' Because sometimes I find that folks are limited by what they already know," Jim notes. "For example, they may have a 12-foot long hole in the wall, with the idea they'll install three transaction windows in there and fill between. In that conversation, I'd say 'Well, what about making it a single system?'And they ask 'What's a system?' Because most end users aren't familiar with custom systems, and the fact that a system can be more cost effective than cobbling together a bunch of generic drop-in pieces—not to mention more secure and look a lot nicer."
Company: Total Security Solutions Inc
Product: Ballistic Security Glass
Source: http://www.tssbulletproof.com/glaziers-working-bullet-proof-glass-client/
Tags: Glass | Safety | Security | Windows
---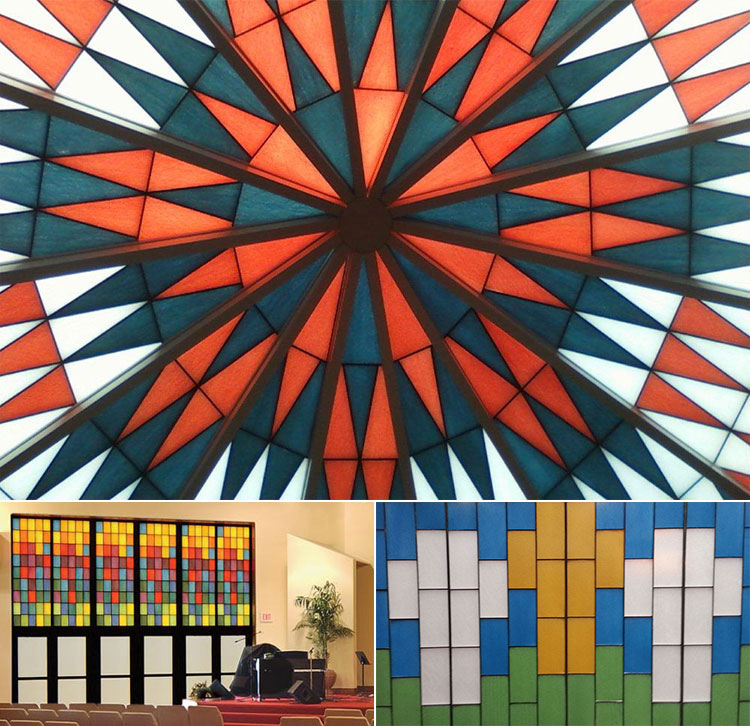 Looking for a unique way to incorporate school colors into an education facility, or perhaps you're in need of high thermal performance but want the look of stained glass? Energize your next daylighting design with Spectra-Grid™.
Spectra-Grid™ is an eye-catching color option for our translucent panel systems. Colored insulation allows for bright, vibrant hues to illuminate when light shines through. You can even light the panel from behind during nighttime hours to announce a building's entryway, or mix in company logo colors in a lobby skylight – the options are nearly endless. If you are looking to create a certain mood or colorful visual effect for your building, Spectra-Grid™, with its limitless color options, offers a cost-effective solution.
No matter what the function – from retail space to athletic facilities – let Spectra-Grid™ bring the power of color to your next design. Call 888-759-2678 or email sales@majorskylights.com for more details.
Company: Major Industries Inc.
---
The University of Iowa (UI) School of Music in Iowa City celebrated its 110th anniversary with a new home – Voxman Music Building. Designed for durability, sustainability and the highest acoustic performance, the 190,000-square-foot project features energy-efficient window and curtainwall systems, finished and thermally improved by Linetec.
The $152 million project is targeting LEED® for New Construction Gold certification. Wausau Window and Wall Systems worked closely with glazing contractor Architectural Wall Systems (AWS) to achieve the design intent set by LMN Architects and Neumann Monson Architects. Mortenson Construction served as the construction manager agent for UI.
"We conceived the project as a means of extending the public space inside the building, and we do that with glass," says LMN partner and project designer, Stephen Van Dyck, AIA, LEED AP. "The window systems play a huge part in creating the visual transparency between the public and the performers, and the connection from within and without of this educational and cultural building."

A Highly Anticipated New Home for the UI Music Department
Linetec Products Support Project Sustainability Goals
Linetec's thermal improvement services and anodize finishing are key contributors to the window systems' energy-efficiency, visual appeal and durability. The anodizing process produces a uniform, hard and protective finish. Linetec's anodize finishes meet the requirements of the American Architectural Manufacturers Association's stringent Class I specification standard, AAMA 611-14. The anodized aluminum resists the ravages of time, temperature, corrosion, humidity and warping, for a long product life cycle. Anodized aluminum may be specified with recycled content and is 100 percent recyclable.
In addition to durable finishes and recyclable materials, Linetec helped support the project's sustainable and LEED goals for thermal comfort and energy performance by providing thermal barriers for Wausau's window and curtainwall systems. Both Linetec and Wausau also are considered local suppliers, as they are located within a 500-mile radius of the UI campus.
Unique Window Systems Supply Natural Light and Visual Appeal
Wausau's systems also contribute to recognized benefits of daylight and views, and are a main visual feature of the building. The glass exterior begins beneath the concert hall, wraps around and up to the main entrance and continues over the recital hall, reaching heights of 50 feet.
One of the building's most unique features is the shingled curtainwall – called the "warped wall" – overlaying the recital hall, in which construction of glass and metal units are layered to create an undulating slope that appears to gently pour from the building's roof to its base. On the interior, a central atrium funnels natural light into the building.
Large-scale window systems are rare in musical spaces due to the acoustic challenges they can present. By choosing a low-iron glass with a low roller wave and horizontal orientation, acoustic and visual distortion was minimized. Large panes of glass diffuse sound at different rates on the shingled wall, and tall and narrow windows minimize vibration throughout.
Prioritizing Acoustic Isolation and Performance
"The acoustic requirements for this project are of utmost relevance," emphasizes Chucho Loria, AIA, with Neumann Monson Architects. "Wausau's team looked at the various conditions in the project. They developed details, during the shop drawing review process, to ensure that their system would meet the design intent of the project. It was apparent in those details that Wausau was taking efforts to make their system interact with the rest of the building."
"We prefer an integrated, whole building approach – especially with complicated engineered projects," says Doug Laffin, Wausau's architectural sales representative serving Iowa. "Our systems may be just one part of that whole, but everything must work together to successfully deliver the architectural vision and critical functionality."
"Almost all of the job was acoustically sensitive," says Lee Ebel, AWS project manager. "Wausau produced and had tested units that verified the system would meet the necessary STC ratings at the corresponding frequency."
Sound Transmission Class (STC) is a single-number rating system for acoustical performance, where a higher number indicates better performance. The Voxman Music Building's design specified an STC 55, which is suitable for blocking loud noises including musical instruments.
"Almost every room is acoustically isolated," explains Van Dyck. "This means that instead of the usual one wall, one floor between each room, there are two or three walls and two floors to separate most of the rooms and keep sound from transferring between them. We're also trying to keep the sound from passing from the outside into the building's interior. The windows are a big part of that equation."
Adding glazing mass, increasing air space and improving damping by the addition of a laminated interlayer achieve improvement in acoustical performance. Of course, maintaining an airtight assembly to reduce "flanking" noise is critical, especially at high frequency. All three approaches were used to meet the acoustic requirements of the Voxman Music Building.
"The goal was to have virtually no outside noise in the recital hall," says Randy Arneson, Wausau's senior estimator on the project. "There's 5-inch airspace between the inside and outside glass lites of our curtainwall to decrease sound transmittance. For the majority, we used Viracon's 1-5/16-inch OptiWhite laminated, insulating, specialty glass."
In the concert hall, the glass was glazed into the window system's interior-facing plane with a 3-inch airspace. On the exterior-facing plane, electrochromic SageGlass was installed. Electrochromic (EC) glass darkens or clears when a low-voltage DC current is applied. Wausau incorporated the necessary wiring paths to connect the windows' EC glass with a user-controlled switch. This enhanced functionality allows the faculty and students to reversibly control the sunlight entering their space and to maintain their outside view without shades or blinds.
"Wausau provided these elegant, tall, thin windows with EC glass. They're really cool. When the windows are turned 'on' and tinted, they produce this really nice, diffused light," says Van Dyck.
"They're very narrow – some are only 1 foot wide, but 40 feet tall. The smaller span actually helps with the acoustics. The stiffer it is, the less it wants to vibrate."
Ensuring Quality, Durability and Sustainability
Beyond acoustic performance, Ebel says, "The curtainwall system went through a rigorous performance mock-up test at a certified laboratory in Miami, Florida. The testing included air, water, dynamic, structural, seismic racking and thermal cycling."
Ebel adds, "The typical LEED requirements applied to this project." The window systems' high performance features contribute to quiet, comfortable spaces that promote concentration and creativity, as well as a whole building approach to energy-efficiency, daylighting and outside views.
AWS installed Wausau's SuperWall™ curtainwall, custom-engineered fixed and operable windows, and nearly 23,000 square feet of INvision™ 1050i-UW Series unitized curtainwall. Glazing and sealing in a factory-controlled environmental ensures that conditions are maintained to achieve the intended performance required for the project. Shipped one lite wide by one floor tall, the interlocking, pre-assembled units make the system easy to install on the job site. This saves labor, time and associated costs.
The curtainwall and window systems' installation was finished on time and on budget. "It took a lot of coordination between all parties, and modeling of the curtainwall and structure to ensure that everything would fit correctly in the field once installation started," Ebel says.
"Aesthetically, the project looks great," concluded Van Dyck. "But, let's face it, for this project, it wouldn't matter how great it looks if doesn't sound great, too. The window systems are a critical part of that success."
UI's new music facility replaces its former location, which was damaged by the 2008 flood. Programming and schematic design began in 2011. In 2014, the new building's essential structure was completed and the building envelope could begin taking shape.
The Voxman Music Building was substantially completed in July 2016 and welcomed its 450 music students and 60 full-time faculty on Aug. 22, 2016. The grand opening and ribbon-cutting event was held on Oct. 21, 2016. The 324-room space includes classrooms, teaching studios, a library, offices, recital spaces, a rooftop terrace, a 700-seat concert hall and a 200-seat recital hall.
David Gier is the first to serve as the UI School of Music's director in the Voxman Music Building. The facility's name honors one of his predecessors, the late clarinetist Himie Voxman who served as the school's director from 1954-1980. Gier and the School of Music have eagerly awaited their new home.
Company: Linetec
Source: https://linetec-blog.com/2017/05/16/designed-for-resiliency-and-acoustic-performance-university-of-iowa-voxman-music-building-features-linetecs-anodize-finishing-and-thermal-improvement-services/
Tags: Acoustics | Aluminum | Energy | Glass | Wall Panels | Windows
---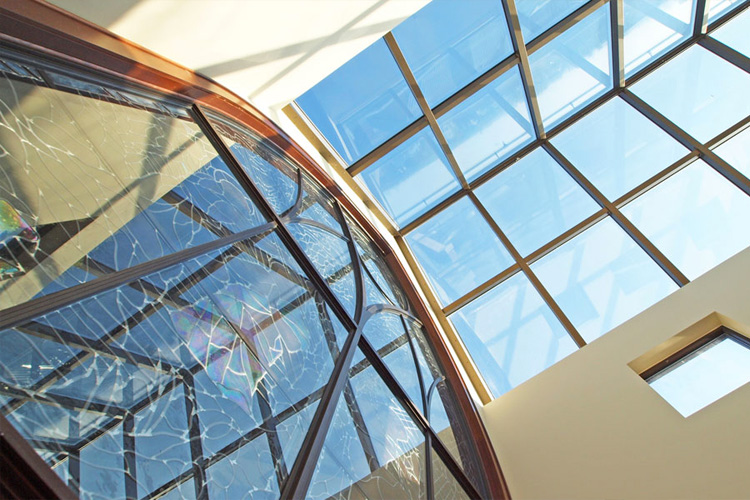 Auburn® skylights are designed and engineered for long-term performance, and make a great daylighting choice if you're looking for the durability and longevity of glass, or simply enjoy dramatic views of the sky. They're available in custom and pre-engineered configurations, and also offer mixed glazing options as they can also incorporate polycarbonate multi-wall and acrylic glazing as well as Guardian 275® translucent panels.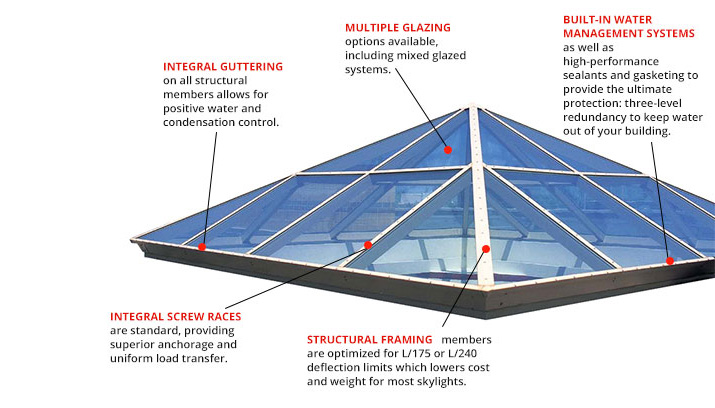 Auburn® systems aren't designed to span the largest openings; they're optimized for small and medium projects and are engineered to save time, money, and weight in your next daylighting project. Auburn® engineered skylights feature high-performance sealants, built-in water management, and time-proven EPDM gasketing to provide the ultimate protection: three-level redundancy to keep water out of your building. In addition, they are available in a wide variety of configurations, along with numerous glass and finish options.
New single slope skylights with thermal strut technology!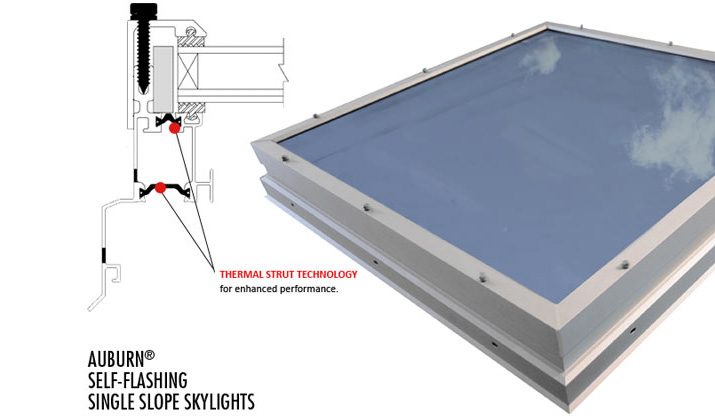 For smaller openings and standard sizes, consider our newly updated Auburn® Self-flashing Single Slope skylights, available in sizes up to 25 square feet, with pre-assembled options available for ease of installation and quick lead times. These new single slope skylights feature thermal strut technology in the framing, allowing for a versatile combination of strength and high thermal performance, including improved condensation resistance and U-factors over traditional aluminum framed systems.
No matter which option is right for you – custom or pre-engineered – Auburn® skylights are a smart choice to solve your daylighting challenges. Other benefits include:
Low initial cost and long-term energy savings.
Possible LEED® credit opportunities for both new construction and existing buildings.
High-performance gaskets and sealants provide peace of mind and long-term performance.
Auburn® Engineered custom systems feature universal "slope adapters" fit all standard rafters, creating precise slope control.
Auburn® Engineered custom systems come standard with tubular rafters that frequently eliminate the need for support tubes.
Guaranteed against defective materials and construction for one year from date of purchase (exclusions apply – see final warranty for details).
Company: Major Industries Inc.
Product: Auburn® Engineered Glass, Polycarbonate Multi-wall and Acrylic Skylights
Source: http://majorskylights.com/products/skylights/auburn/
Tags: Design | Glass | LEED Certification | Windows
---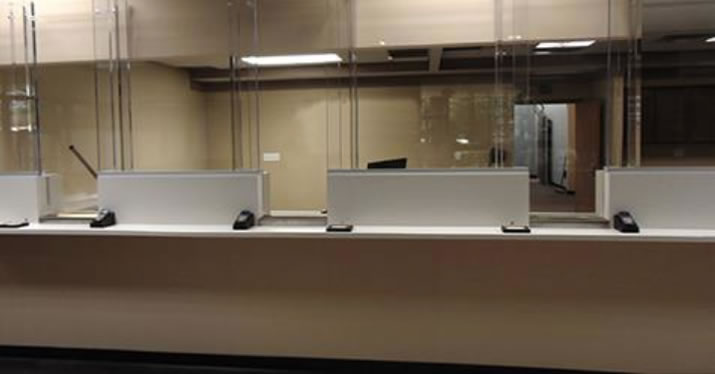 Because most banks have similar needs—a secured teller line with bullet resistant windows, secured ballistic doors, and bulletproof fiberglass to reinforce counters—many security companies try and push a one-size-fits-all solution.
With decades of experience designing, engineering, fabricating, and installing custom bandit barriers in banks and credit unions, Total Security Solutions knows how rarely this turns out well.
Bullet Proof Barriers Attuned to the Banker's Needs
"Banks can be pretty ornate, so were used to having to adjust what we do to match a given location." Total Security Solutions CEO Jim Richards explains, "That's our speciality, that sort of customization. Even when we're doing many locations for the same chain, in different parts of the country each office looks a little bit different. It's like housing, in that it has this regional component. So we don't try to come up with a single one-size solution we can just keep punching out."
Total Security Solutions isn't limited to just shuffling around pre-fabricated pieces. They can customize down to the individual component level: curved ballistic transparency, special communication and ventilation solutions, all-glass and completely custom high-security doors, and so on.
In contrast to many security companies—especially local glazers—Total Security Solutions is sensitive to how important relationships are in banking. Jim puts special emphasis on clear sight lines and communication in such settings. Gina Mims, a facilities manager, recently coordinated with Total Security Solutions to secure several offices for the Health Plan of San Joaquin: "I love the fact that … it doesn't look like the old school [barrier] with that metal plate [and talk hole]. It all looks very nice. Our buildings, both of them, are very modern, so I wanted to make sure that they stayed along those lines."
ATMs: An Evolving Security Challenge
ATMs pose obvious risks to customers, both in terms of their physical safety and fraud exposure. They are also proving to be a significant and unpredictable liability to financial institutions. For example, within the last several years European banks have been increasingly plagued by teams of thieves who attack ATMs in the night, flood the machines with a mixture of oxygen and acetylene (gases usually used to fuel welding torches), and then ignite the volatile mixture, blowing the machines open. These attacks don't just result in significant monetary losses (both in damage to the unit and building, as well as money stolen)—they're also incredibly dangerous, as you can see here (the ATM is at the far right edge of the frame, in a mostly blue enclosure with a red top half):
This could easily result in injuries not just to the thieves, but also to passersby, staff, and even people in adjacent buildings. Although there have been no reported ATM "gas bombings" in the United States as of yet, the US currently leads the world in losses resulting from insecure ATM locations.
According to Jim Richards, "There are a lot of different ways that ATMs are deployed, but we have yet to see one we couldn't secure." In many cases Total Security Solutions favors a design similar to their bulletproof vestibule system used in schools, replacing the outer glass and doors of the ATM vestibule with bullet-resistant transparency and framing, and securing access to the ATM with a ballistic door outfitted with a card swipe-actuated computer-controlled electric strike. "Customers swipe their ATM card to gain access, and then the door latches behind them–just like any other security door. These are really easy retrofits for situations where the ATM is installed in the bank vestibule or outer lobby, but the same idea works with exterior-wall ATMs: You build a bulletproof glass curtain wall around an exterior wall-mounted ATM, with the same sort of card-swipe entry system. What's key is that this solves both the skimmer/fraud/vandalism problem, as well as protecting customers."
Painless Bandit Barrier Installation
Most importantly, owing to their decades of experience, Total Security Solutions has optimized their prep, design, fabrication, and installation processes. "It can be two teller stations or 15; we're able to move on the project as quickly as the operations or facilities manager are ready."
Bullet resistant barrier system installations are designed to absolutely minimize any business interruptions. Most installations can be completed overnight, with even the most challenging retrofits installed in under a weekend.
"I just returned from see[ing] the install and boy what nice work!" Holly Eades, vice-president of finance for Clark Energy wrote after having several payment offices secured by TSS. "They were here when they said they were going to be, … showed up when they were supposed to, and everything was just as neat as a pin. We were really, really tickled with their work."
Company: Total Security Solutions Inc
Product: Bullet Resistant Barriers
Source: http://www.tssbulletproof.com/high-function-custom-bullet-resistant-solutions-banks/
Tags: Glass | Safety | Security | Windows
---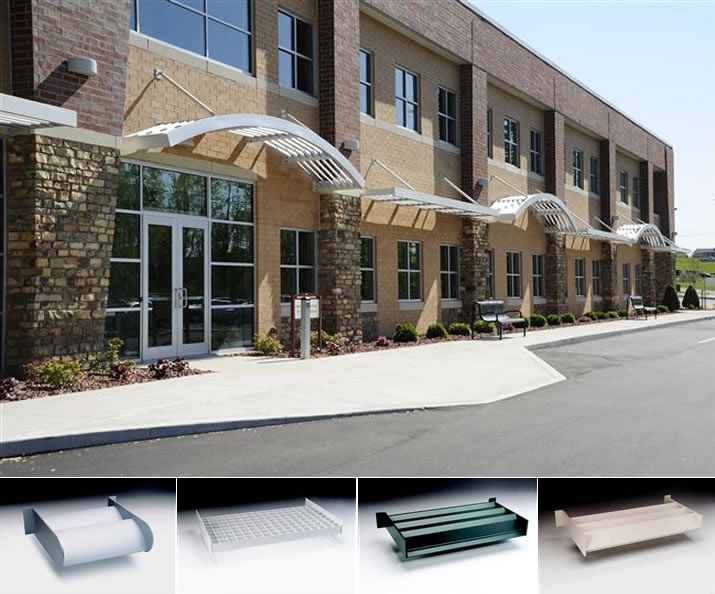 Aluminum Airfoil Blade Sunshade, Eggcrate Blade Sunshade, Louver Blade Sunshade, Rectangular Tube Blade Sunshade
Ruskin Sunshades offer energy savings by reducing solar heat gained through glazing. With a wide variety of available blade styles and configurations, they also provide aesthetic appeal to the building exterior.
Ruskin Sunshade models include airfoil, louver, tube and eggcrate blade styles. Custom Sunshade designs are also available. Ruskin Sunshades are constructed of extruded and/or formed aluminum components for reduced weight and excellent corrosion resistance. All models are available with a variety of Kynar or Anodize finishes.
Company: Ruskin
Product: Louvers
Source: http://www.ruskin.com/catalog/category/481~Sun-Control-Sunshades
Tags: Energy | Entrances | Exterior Design | LEED Certification | Windows
---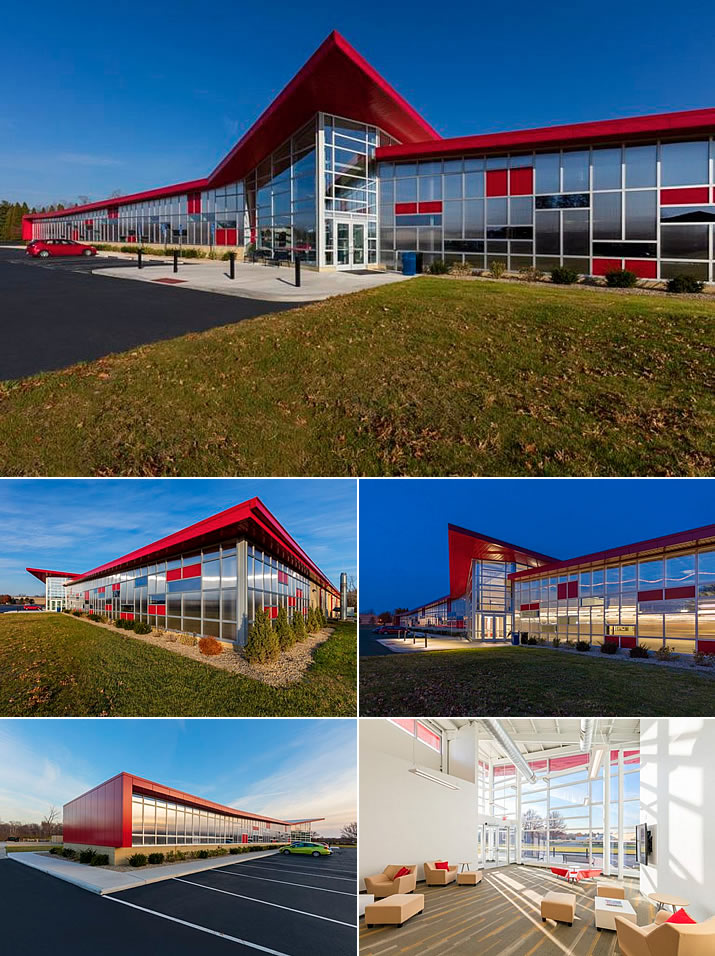 Images by Andy Spessard Photography
A State-of-the-Art Renovation in Central Ohio
Project: Otterbein University's STEAM Innovation Center
Location: Westerville, OH
Architect: Moody Nolan
General Contractor: Corna Kokosing
System: LIGHTWALL 3000
In a world where factory jobs are being replaced with smart technology and globalization has made the manufacturing industry increasingly competitive, Otterbein University saw an opportunity. The plan was to partner with leading organizations from the private and public sectors in central Ohio to build a hands-on curriculum focused on teaching – and innovating – cutting-edge skills in engineering, technology, science, and math. To achieve this, a laboratory that fostered experimentation and possessed state-of-the-art tools was necessary. To further complement the innovative facility, a state-of-the-art architectural design was developed.
The decision was made to renovate an older campus building in time for the 2016 fall semester, and with groundbreaking delayed into early 2016, the project timeline would be tight. Moody Nolan architects had a unique design in mind – a multi-paneled, geometric façade that would deliver daylighting with minimized solar heat gain and glare. Their plan was to use a curtain wall that could incorporate metal, polycarbonate, and glass that delivered diffused daylight with visual clarity in key locations.
EXTECH's LIGHTWALL 3000 series curtain wall system was selected for the project because it is one of the few that properly accommodates both polycarbonate and glass glazing within the same system. This is accomplished by using deep glazing pockets and low friction gaskets that allow for the thermal movement of polycarbonate, while still providing superior water and air infiltration performance.
To create Moody Nolan's distinctive geometric design, EXTECH fabricated a new horizontal mullion that allowed for the inclusion of non-continuous vertical framing members. The new mullion "flushed out" the interior surface of the system and allowed it to span up to 8 feet between vertical mullions – typical span lengths are only 4-5 feet. It also allowed for the application of point loads from vertical framing members without additional structural reinforcing - horizontals typically deliver their loads to verticals.
The STEAM Innovation Center's "wire-cutting" (a technology pun on "ribbon-cutting") was just in time for Otterbein's fall semester. All told, the center is a 61,000 square foot building that provides classes and training in areas such as 3D printing, advanced electronics, metal and machinery, and also provides office space for lease. If you would like to learn more about this project or EXTECH's LIGHTWALL 3000, please contact us.
Company: EXTECH/Exterior Technologies, Inc.
Product: Translucent Walls
Source: https://extechinc.com/case-study-photos-otterbein-universitys-steam-innovation-center/
Tags: Design | Glass | Wall Panels | Windows
---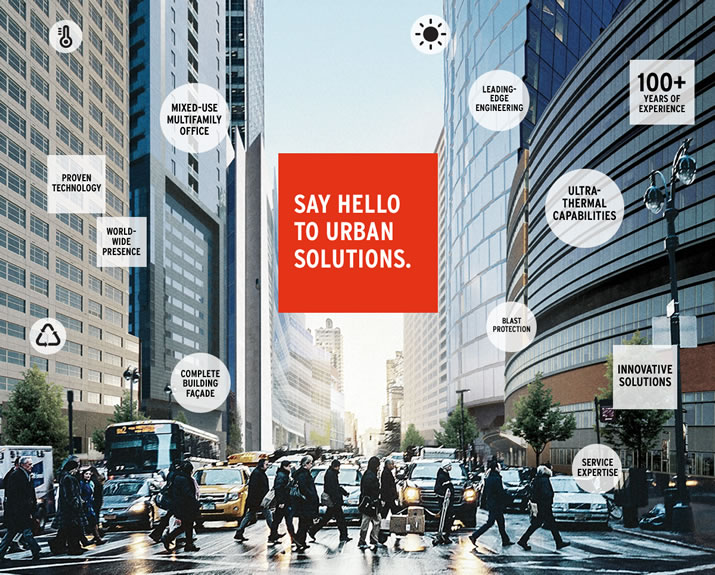 Say hello to urban solutions
Wherever you look, you will find us. Out of an office window. Walking into a shop. Looking up at an apartment building. Our range of solutions – from curtain walls and windows, to entrances, framing systems and architectural panels – are everywhere you need them to be, offering infinite possibilities in design, development and performance. We are here.
Explore our dynamic array of innovative solutions for new construction and renovation, like the all new MetroView™ window wall. Learn more about Kawneer and Traco windows featuring the high-performing OptiQ™ windows, GLASSvent™ UT windows and the Traco NX-4000 series. Wrap your imagination around the stylish and functional exterior/interior cladding design solutions of Reynobond/Reynolux panels.
ARCHITECTURAL ALUMINUM SYSTEMS | ENTRANCES + FRAMING | CURTAIN WALLS | WINDOWS | ARCHITECTURAL PANELS | INNOVATIVE FINISHES
Company: Kawneer Co., Inc.
Source: http://www.kawneer.com/bcs/aap_kawneer/en/urbanbrands.asp
Tags: Design | Entrances | Wall Panels | Windows
---

Lauded for its use of space and light that includes an eye-catching string of skylights featuring Kalwall translucent sandwich panels, the $44 million student life center at SUNY Cortland is one of the two main winners of the American School and University Magazine's Educational Interiors Showcase awards.
The SUNY Cortland project, led by Hastings + Chivetta Architects of St. Louis, Mo., was awarded AS&U's prestigious College Citation by a panel of three judges.
"Great use of space, light, and color," the judges said. "Aesthetically pleasing and notable. Architecturally outstanding."
The student life center includes a common area, café, and sports and workout areas. The skylights that feature the Kalwall panels flood the athletics portion of the building in diffuse natural light that spills into the common area. The Kalwall panels also fit into the facility's design to consume less energy and earn a LEED Gold certification.
"Sustainability and energy efficiency have been at the core of Kalwall for 60 years," says Amy Keller, one of the principals of Kalwall. "We're honored educational institutions and other environmentally-conscious organizations continue to utilize Kalwall for their daylighting projects."
Company: Kalwall Corporation
Source: https://www.kalwall.com/2016/11/21/kalwall-featured-in-major-award-winning-college-project/
Tags: Ceiling | Glass | Windows
---
Major Industries, in conjunction with Greenbuild 2016, announced the release of a new line of Auburn® single slope skylights. These new high-performance glass skylights feature thermal strut technology for enhanced thermal performance, including better condensation resistance. These new Auburn® skylights are available in a variety of custom sizes and configurations, with custom finish options and more, and will also soon be available to purchase online at shopmajorskylights.com in select standard sizes.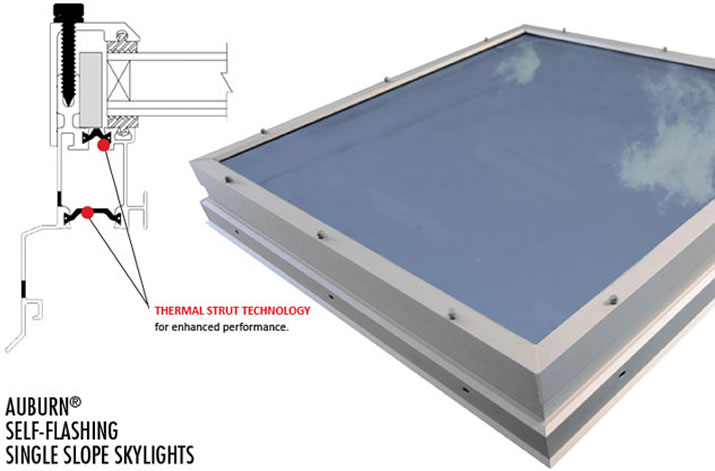 Easy to install high performance glass skylights
Auburn® glass single slope skylights have always been a dependable, low-maintenance daylighting solution, but Major Industries has enhanced these versatile skylights with thermal strut technology for enhanced thermal performance and improved condensation resistance. Now you can get the best of both worlds - energy-saving daylighting and a glass skylight with performance designed to handle any environment.
Auburn® self-flashing single slope skylights are available with a variety of glass configurations and numerous finish color options from anodized to Kynar®.
Features & benefits
THERMAL STRUT TECHNOLOGY provides improved thermal performance and condensation resistance
DESIGNED for smaller openings up to 25 square feet
TESTED to ASTM E283/330/331 standards
.27 - .29 center of glass u-factor with SHGC of .22-.39 (varies with glazing selection - check with Major for additional options)
PRE-ASSEMBLED options available for quicker lead times and simple installation
Company: Major Industries Inc.
Product: Auburn® Quick Ship™ Single Slope Glass Skylights
Source: http://majorskylights.com/2016/10/major-announces-new-auburn-skylight-option/
Tags: Design | Energy | Windows
---
Total Security Solutions is dedicated to producing high-quality bullet-resistant products that effectively secure your company's most valuables assets, from the employees behind the counter to the cash in the drawer. We manufacture our bulletproof barriers in-house to stringent specifications, the most demanding in the industry, guaranteeing superior quality. In addition, all of our system components pass rigorous testing, often conducted by multiple standards agencies, including UL (Underwriter's Laboratory).
Security Ratings for Bulletproof Systems
Security levels for bullet-resistant systems have been established by UL, the primary testing organization for materials used in these systems. There are eight levels of bullet resistance for bulletproof glass. These ratings are designated by the UL to determine the type of protection each level offers. They conduct extensive tests on bullet-resistant glass, which determines what kinds of firearms each can withstand. The most basic protection comes with levels one and two where you're protecting yourself from small caliber handguns all the way up to level eight glass that protects against assault weapons.
We're confident that our bulletproof barriers will not be compromised by the type of projectiles they are rated to withstand, ensuring the safety of your employees. But when you're the employee standing behind the bullet resistant glass during an armed robbery, it can often be difficult to trust your life to the protection of something you can see through. Watch as we test components of our bullet-resistant barrier systems, including bulletproof glass with UL rating from 1 through 4, as well as UL Level 8.
Custom Bulletproof Systems
We can work with you to design a custom bulletproof security system that meets your unique facility needs, from a high profile ballistic barrier for additional deterrent factor to a more low profile solution that seamlessly integrates with the aesthetics of your facility without compromising protection. If you're a business owner who's already chosen to install a bulletproof barrier in your facility, then you're probably aware of how security products can contribute to maintaining consistent operations and a profitable revenue stream, as well as a greatly reduced risk of armed robbery.
While bullet-resistant barriers are often enough of a deterrent to prevent a robbery, for the sake of your employees, you should feel confident in the performance of your system during a actual event. We can work with you to determine what level of bullet resistance your facility requires as well as provide tips on developing a comprehensive security plan, of which bulletproof barriers are just one component.
Company: Total Security Solutions Inc
Source: http://www.tssbulletproof.com/rigorous-testing-standards-ensure-effective-security/
Tags: Glass | Safety | Security | Windows
---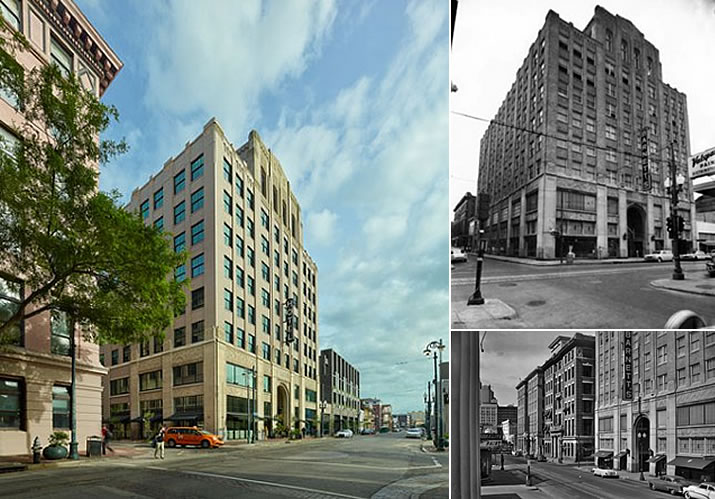 Opened in March 2016, Ace Hotel New Orleans has transformed the 1928 Art Deco, nine-story Barnett's Furniture building into a 234-room boutique hotel with dining, retail, event and meeting spaces plus a rooftop pool. The 184,000-square-foot, mixed-use hotel and retail center is situated in the middle of New Orleans' Warehouse District at the corner of Carondelet and Lafayette Streets.
Part of the city's South Market District development, the property combines two historic buildings with a new, four-story structure. Eskew+Dumez+Ripple led the project's unified design. Roman and Williams carried through the Art Deco and Dadaist-inspired aesthetic to the interiors. Guided by the construction manager joint venture of Broadmoor LLC and Palmisano Contractors, DeGeorge Glass Company installed Winco Windows throughout the property.
Developed by The Domain Companies, the project's financing included federal and state historic tax credits. To restore the historic portion's exterior, a total window replacement was required.
Originally designed by Weiss, Dreyfous and Seiferth Architects, the property was first known as the Maison Blanche Building. Unfortunately, its 1920s wood-framed hung windows were replaced in the 1980s with fixed windows that did not reflect the building's historic character. Eskew+Dumez+Ripple located several sources to help determine the former windows' proportions and styling.
Replicating the original windows' appearance with modern, hurricane code performance, Winco Windows manufactured the replacement units using aluminum framing with a thermal break and historically appropriate grid profiles. Linetec finished the windows' aluminum framing and grid in a traditional black color.
To ensure the Ace Hotel New Orleans maintains its intended historic look for many years to come, Linetec applied a 70 percent polyvinylidene fluoride (PVDF) resin-based coating to Winco Series 4410S and 3250 windows. "These architectural coatings exhibit outstanding resistance to humidity, color change, chalk, gloss loss and chemicals. They will ensure a long-lasting, durable finish. No other coating system can withstand the rigors of nature and time like these," said Linetec's senior marketing specialist, Tammy Schroeder, LEED® Green Associate.
The 70 percent PVDF coatings meet the industry's stringent requirements set by the American Architectural Manufacturers Association – AAMA 2605. Further demonstrating its industry leadership, Linetec is a recognized, environmentally responsible finisher. It captures the liquid paints' volatile organic compounds (VOCs) content using a 100 percent air capture system and safely destroys the VOCs with a regenerative thermal oxidizer, so there is no adverse environmental impact. Linetec then re-uses its heat energy byproduct to improve process energy efficiency. This process of re-use is completed before the material exits the paint line.
Beyond the behind-the-scenes environmental advantages that Linetec provides customers and their projects, Winco's windows protect against extreme temperatures to help keep guests comfortable in the hot Louisiana climate. Thermal performance also contributes to energy efficiency and helps reduce associated heating and cooling costs.
In addition to thermal performance, the windows needed to meet the area's hurricane codes. To help the existing structure handle the fastener loads of these heavy-duty units, additional metal framing was required to reinforce the jambs without affecting the overall window sightline.
"The advanced research, partnership, design and testing allowed for a final installation that was able to restore the building to its original glory and design, while meeting the current stringent, high-performance window and hurricane codes," said Winco's technical sales and business development manager, Kurtis Suellentrop, EIT.
Ace Hotel's welcome message expresses a similar sentiment, "Work can be a beautiful thing when done beautifully, and it's a lot more fun done together than apart."
Arriving in person at the New Orleans location, guests and their pets are greeted in a lobby that feels more like a living room filled with curios, mementos and a well-stocked bar. They are offered a choice of restaurants with menus by James Beard Award-winning chefs, near-nightly entertainment, and a gallery of original artwork by local artists and friends of the hotel.
Ace Hotel New Orleans joins the growing Ace Hotel network of modern eye-catching designs with a vintage feel. Its locations in New York, Los Angeles, Pittsburgh and Seattle, as well as in Portland, Oregon, and Palm Springs, California, are all conversions of existing historic buildings. The company also has locations in London and Panama City.
Ace Hotel describes itself as:"…a collection of individuals — multiple and inclusive, held together by an affinity for the soulful. We are not here to reinvent the hotel, but to readdress its conventions to keep them fresh, energized, human. We accept the hotel as a potential for real, fluid community. We believe that hospitality is compassion, that it is not servility but genuine concern for others' well-being and the ability to live with empathy." These inspiring words strike a chord resonating with the people and places they represent. They convey an organization with deep consideration for each element – and every window – that creates its guests' experiences.
Ace Hotel New Orleans; 600 Carondelet, New Orleans, Louisiana 70130; https://www.acehotel.com/neworleans
Company: Linetec
Source: https://linetec-blog.com/2016/09/22/ace-hotel-new-orleans-restores-historic-art-deco-exterior-and-updates-performance-with-winco-windows-finished-by-linetec/
Tags: Exterior Design | Windows
---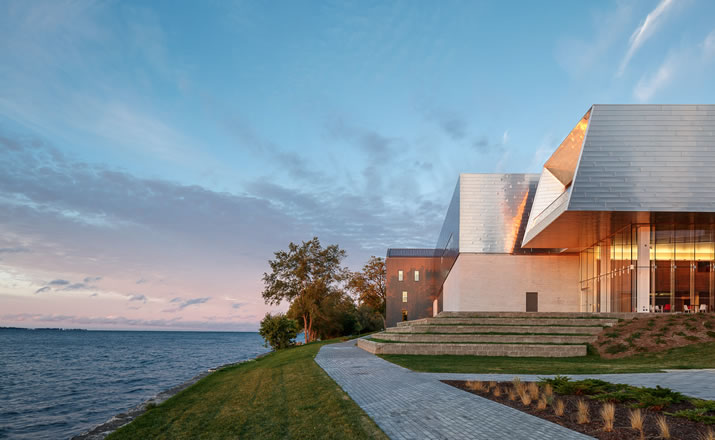 Recently, AMBICO has designed and supplied nearly 100 acoustic (both wood and steel) doors and frames for the new Isabel Bader Centre for the Performing Arts at Queen's University in Kingston, ON, Canada. AMBICO has been involved from the very beginning (the early design stages of the project) right through to the installation.
Due to the nature of the building (a performance hall), the architects had to rely on AMBICO's acoustic material to block the sound from room to room. AMBICO produced STC 40 (steel and wood) doors and STC 51 (steel) doors for the project, plus some unequal pairs of STC 59 (steel). There won't be any sound travel in this building!
Although still undergoing construction, the Centre promises to be impressive. A $63 million project; $22 million was generously donated by Drs. Alfred and Isabel Bader. The Centre is named in honor of Isabel Bader, for her love of music and theater.
Concealed behind this incredible building and its benefactors is a truly romantic love story: Isabel met Alfred aboard a ship, the two courted and more than 400 love letters were exchanged. After their relationship ended prematurely, Alfred went on to marry someone else and have a family. Years later, when Alfred was divorced, he and Isabel rekindled their romance and the two got married and remain happily married today.
Company: Ambico
Of: Alison Capuano
Source: https://www.ambico.com/isabel-bader-center/
Tags: Acoustics | Doors | Windows
---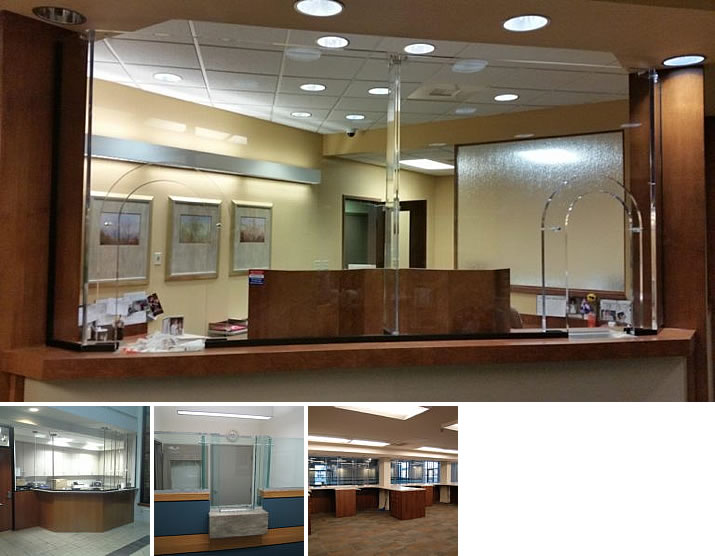 Clark Energy Utility Office
For Clark Energy—a regional utility cooperative serving 19,000 customers and maintaining 3,000 miles of line in 11 counties—it began when a customer attacked a worker at the nearby water utility office. As Holly S. Eades, vice president of finance for Clark Energy, explains, "There was a utility here in Winchester [Kentucky], and I had gone down there because we'd heard that one of their office people, a customer had slapped her in the head. And we were like, 'Oh, boy.' Because we have some customers that come in, and they get kind of irate."
Worker Safety in Utility Offices
Workplace violence is a serious problem, with roughly 2 million American workers assaulted each year. Clerks and customer service reps at utility offices are especially at risk, as their work includes several of the high-risk factors identified by OSHA (the Occupational Safety and Health Administration): handling money, fielding disputes about billing, and denying delinquent customers service. As a rule, when you are forced to cut off someone's electricity, water, cable TV, or other service, they are not happy, and they are not calm.
To Holly and her customer service reps at Clark Energy, it very much felt like just a matter of time: "Sometimes, [in] both [our] offices, there'll be just one office lady there. The men are out in the field, and she's just completely by herself. It wasn't probably two, three weeks later . . . some man comes in and he's cussing and screaming, and another customer actually stayed, saying 'There wasn't a way I'm leaving with this person acting like that.' When a big man is standing at the counter, screaming and cussing at a female customer service rep who's five-foot-four, there's something wrong with him . . . You just don't know what's going to happen."
Inviting, Professional Bullet Proof Barriers
Many utility companies and service providers worry that added security will both bog down business and give the customers the impression that workers are trying to separate themselves from their clientele.
Even Clark Energy had hesitated, despite harrowing first-hand experiences. "A lot of it was the way it needed to look... We'd actually tried to get somebody local [to install a bullet resistant barrier], but we couldn't find anybody in this area that would even come close to the product that Total Security Solutions has. Not as pleasing... I think a lot of times, when you put that up [a security barrier], customers get the feeling that you're trying to shield yourself, and I don't mean from robbers."
Jim Richards, Total Security Solutions CEO, has heard this often. "What we actually do and what everyone's perception is are two totally different things. The people at Clark Energy were more than ecstatic when they saw the other utility offices we've done, because it's not what people typically visualize when they think of bullet proof glass. They think of steel frames, big, thick glass, you can't talk through it. It's not aesthetically pleasing. It gets in the way of getting work done. But when they saw what we did at the other utility, it's like 'Oh, well we want one of those, too, if that's what it's gonna look like.'"
Positive Results with a Well-Designed Bullet Proof System
"We are tickled to death," Holly says, "It looks very nice, and when the customers came in... We had some customers saying, 'You know, y'all should have done that a long time ago.'"
While Holly is gratified to hear these positive responses from customers, she's even more pleased by the improvement to her employees' work day:
"It's really amazing, just the sense of security the girls feel. You know, now you get there and you've got somebody screaming at you, and there's some distance between you and their emotions. When you're turning people's electric off, you just don't know. You have 'em come in pretty upset. This felt 10 times better, at least knowing the girls are behind locked doors and behind bullet resistant glass. Because, I tell you, every day all you hear about is another incident somewhere."
Company: Total Security Solutions Inc
Source: http://www.tssbulletproof.com/peace-of-mind-rural-utility-offices
Tags: Entrances | Safety | Security | Windows
---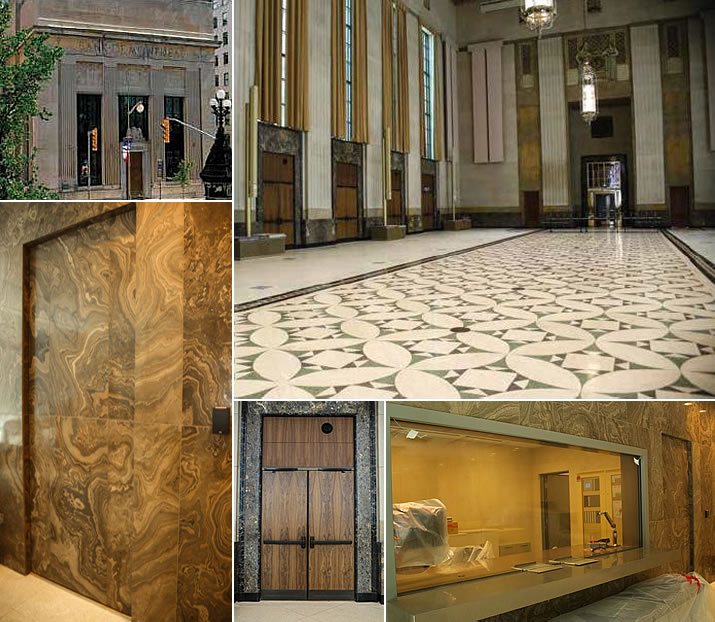 AMBICO Limited was delighted to play a key role in the renovation of this beautiful and highly regarded heritage property right in our home town, Canada's capital city. If you've ever been to Ottawa then you might recognize this building just from its picture—it's the Sir John A MacDonald Building, the former flagship branch of the Bank of Montreal originally built over 80 years ago.
Situated at the heart of Ottawa's Parliamentary Precinct, it hosts Parliamentary and Senate meetings and functions, international gatherings, special ceremonies and state events. AMBICO had the opportunity in 2012 to meet with the architectural team charged with the development of the $1 billion retrofit of the entire Parliamentary Precinct. Working closely with our long-time & valued distributor, Upper Canada Hardware, we developed STC door and frame products able to meet the unique demands of the project. This project was featured in DHI Magazine as a Case Study.
Company: Ambico
Source: http://www.ambico.com/the-sir-john-a-macdonald-building/
Tags: Doors | Interior Design | Windows
---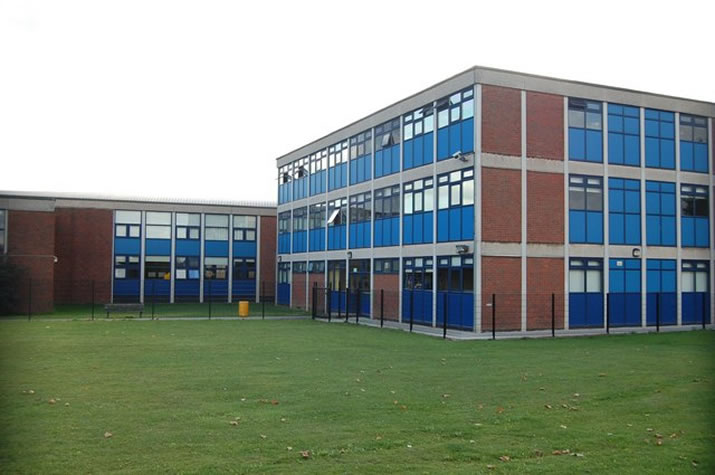 While most school architects are fairly well versed in CPTED (crime prevention through environmental design), many are fairly new to bullet resistant materials and design. With active shooter scenarios increasingly top-of-mind for education clients considering new construction and renovations, now is a good time to spend a few minutes coming up to speed.
A School Architect's Introduction to Bullet Resistant Materials and Barrier Systems
At one time "bullet proof glass" was indeed made from thick panes of layered, laminated glass. Today, almost all "bullet proof glass" is made from solid or layered plastics (usually acrylic for solid windows, and layers of polycarbonate and glass for laminated glazing).
More importantly, the "bullet proof windows" that most clients fixate on are a relatively small part of the barrier, which is an integrated system consisting of:
bullet resistant windows and framing
bullet resistant doors
bullet resistant fiberglass to reinforce surrounding counters and walls
some form of communications system
The communications system can be as simple as the voice portal and backer in a bus-station ticket window, or may include multiple sub-systems: an intercom, a deal tray for passing papers, a bullet resistant drawer or passers for larger items, etc.
For best results–in terms of aesthetics, usability, and security–every bullet resistant barrier should be treated as a custom job. Every piece of the system needs to seamlessly integrate with both the other elements of the barrier system and with the existing structure, mechanicals, building use patterns, and so on.
Bullet proof materials are rated according to a set of standards set by Underwriters Laboratory (i.e., UL-752). Both individual materials and complete components and sub-systems are tested by OSHA-designated nationally recognized testing laboratories (NRTL) in order to confirm they perform according to the appropriate UL standard.
Best Practices in School Bulletproof Barrier Systems
For most schools, the best security solution is a bullet resistant vestibule entryway system with integrated access control. These systems are a fairly straightforward example of CPTED, and can almost always be easily retrofit into existing buildings, or worked into new construction with few alterations.
As Bob George, Total Security Solutions sales manager, explains: "We do our best work when we connect with architects early on in the design process. The best case scenario is when we can get in there early to help with design recommendations, and guide the school officials toward a good solution."
Schools often come in initially asking about very extensive Level 5 to 8 systems (which explicitly address the threat of high-powered ammunition and assault weapons). A level 5 to 8 system would likely include blast-rated and bullet resistant exterior windows capable of stopping very powerful ammunition and blasts, bullet proof doors throughout the facility, and so on.
Such high-level systems are prohibitively expensive, and also entirely unnecessary: Most schools are very well served with a Level 1 hardened entryway with access control. There are two reasons for this. First and foremost, the primary goals of a barrier system in a school are deterrence and delay. Anything that gives an active shooter pause or makes him think twice about his actions is often sufficient to prevent an attack. If that deterrence fails, then simply slowing an attack can buy enough time for first responders to successfully intercede before anyone is injured.
Second, top-tier bullet proof companies like TSS over-engineer their systems and materials as a mater of course. For example, you'll note in the following video that the Level 2 door at 1:35 is rated to stop three shots from a .357 Magnum, yet stops five with no problem. Likewise, the Level 3 window at 2:59 is rated for three shots from .44 Mag, but stops 13, while the Level 3 door shown at 4:17–likewise rated to stop three shots from a .44 Magnum–actually catches 115 shots from a variety of handguns and assault rifles without a single bulge on the protected side.
Access Control and School Security
Access control is an especially important–and often tricky–aspect of a school's bullet resistant barrier. Over the last several years a large portion of schools have adopted security procedures that include locking doors during schools hours. Unfortunately, locked doors slow first responders during an emergency. While active shooter events are top-of-mind, it's much more likely that an in-school emergency will be related to a fire, extreme weather, or something as mundane as a child having a bad allergic reaction or being injured in gym class. All of these require quick access to the building. Modern access control systems–including centrally controlled electric strikes–are a great improvement over older key-and-lock systems. They offer many administrative advantages, in addition to speeding entry for emergency responders.
TSS is sensitive to how a design must balance access control and accessibility, especially in schools, where National Fire Protection Association (NFPA) egress codes, the Americans with Disabilities Act (ADA), and International Fire Code can all come into play.
"We can work with any mix of access control and accessibility requirements," Bob George notes. "We always build to suit, and have lots of experience prepping doors for specialized hardware, as well as installing basic electric strikes, magnetic locks, panic bars–all the standard pieces for access control. More importantly, as Eric [Malzahn] said, TSS works with other security vendors as equals to get the job done right. That includes working with access control specialists to get all the details right for a complex access control system."
Company: Total Security Solutions Inc
Source: http://www.tssbulletproof.com/school-security-access-control-architects/
Tags: Safety | Security | Windows
---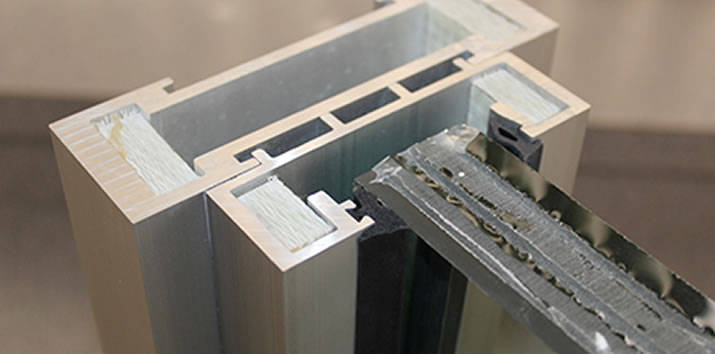 Client performance goals continue to evolve, growing more complex every year. At one time, a client was either very concerned with security, or very concerned with sustainability. It was rare for a client to be equally concerned with both.
But the increasing need for ballistic materials in all sorts of construction has collided with the increased stringency of building codes, specifications, and energy performance standards. Old-line ballistic framing systems—which are still the industry standard—are simplistic. They are fabricated from a grab-bag of materials to a variety of standards. Many aren't even UL-rated to stop bullets. Instead, they are cobbled together from standard aluminum frames packed with chunks of bullet resistant fiberglass glued in place. Enhanced R-values, thermal breaks, gas fills, and insulation are just not an option with traditional bullet resistant window and door frames.
Today, advancements in designs and fabrication techniques have resulted in not only standard, true UL-rated door and window frame systems, but also premium systems offering new levels of thermal and ballistic performance.
Thermally Enhanced High-Security Ballistic Door and Window Frame Systems
A security-conscious end-user might be interested in earning a LEED Platinum certificate, or might be passionate about daylighting, or might just want to keep the energy bills down—in any case, having a solid aluminum frame conducting heat directly through the building envelope doesn't serve any of those goals. The TSS Thermal Frame System does.
"We developed this ballistic frame system specifically because architects were asking for it," Jim Richards, CEO of Total Security Solutions (TSS), explains. "I don't know if you know, but buildings use more than half the energy on earth."
As one architect recently put it "for all practical purposes, all other issues are subservient to sustainability now." That's been beyond challenging with old-style exterior bullet resistant windows, since the windows themselves are solid—no gas fills—and the frames are rarely built with any sort of thermal break. For example, here's a cross-section of a traditional window frame:
The old-style frames are solid steel or aluminum members all the way around the window or door, penetrating the exterior wall. As Jim Richards is quick t point out, "Think about what that means in certain regions of the United States: In the summer it could be in the 90s, and in the winter it could be 30 below, but the inside of that building is always 72 degrees with 40 percent humidity. Your HVAC is fighting heat leaking in all summer, heat leaking out all winter. You're not just going to have cold spots and drafts. You're going to get condensation, even frost."
TSS's thermally improved, Kevlar-reinforced bullet resistant exterior aluminum door and window frame system is calculated to optimize R value, given the needs of a bullet resistant materials. It offers bullet resistance up through UL Level 8, and can accommodate a wide variety of acrylic, polycarbonate, and laminated bullet resistant glazings. "It's an enormous performance boost, in terms of energy, and ballistic—a true 'best of both worlds' scenario."
All-in-One Multi-Threat Ballistic Window Frames
"This isn't your everyday, run-of-the-mill frame," Jim says of the TSS AIO (All-In-One) Frame. The AIO is a modular, multi-threat glazing frame optimized for higher-threat situations, especially government applications. It can accept any glazing between .75 and 2.5 inches thick—that's everything from UL Level 1 acrylic (i.e., which stops three shots from a .9mm pistol) to Level 8 glass-clad polycarbonate (for blocking full-auto bursts from assault rifles). The frame itself is rated through Level 8, and also has forced entry and blast-resistance characteristics. The AIO Frame has a broad security and safety profile that encompasses all sorts of threats to life and property, from break-ins and riots to lone gunmen, terror attacks, and even extreme weather.
Rather than using a lighter aluminum backed with strips of Kevlar-based fiberglass paneling, Jim and his team opted for all-aluminum construction and a design that takes full advantage of the edge-on resilience of the glazing itself. The front-wall of this frame is hearty enough to deflect most calibers, and designed to capture and hold any high-power rounds that do penetrate the frame itself.
Of course, not every job calls for premium ballistic door and window frames. TSS continues to offer their full line of standard UL-rated and non-rated frames to meet your client's performance goals.
Company: Total Security Solutions Inc
Source: http://www.tssbulletproof.com/premium-ballistic-frames-offer-huge-boosts-sustainability-multi-threat-risk-mitigation/?utm_content=32383407&utm_medium=social&utm_source=twitter
Tags: Glass | Safety | Security | Windows
Guardian 275® translucent skylights provide a wide range of color, thermal performance and specialty application options (April 6, 2016), Great Glazing: Rogers Memorial Hospital Brown Deer (February 8, 2016), Partnering with Architects to Make BulletProof Beautiful (February 3, 2016), Kalwall Featured: Guide Dogs for the Blind New Student Residence (December 30, 2015), Optically Clear Aluminum Provides Bulletproof Protection (June 5, 2015), April Showers Bring May Flowers… And Eco-Friendly Smart Glass (May 18, 2015), Suitable for framing: Kalwall brings distinct lighting to award-winning design (May 15, 2015), A World Without Windows (April 24, 2015), How to Choose the Right Type of Vinyl Replacement Windows (March 25, 2015)