architecture - engineering - construction

Railing System
---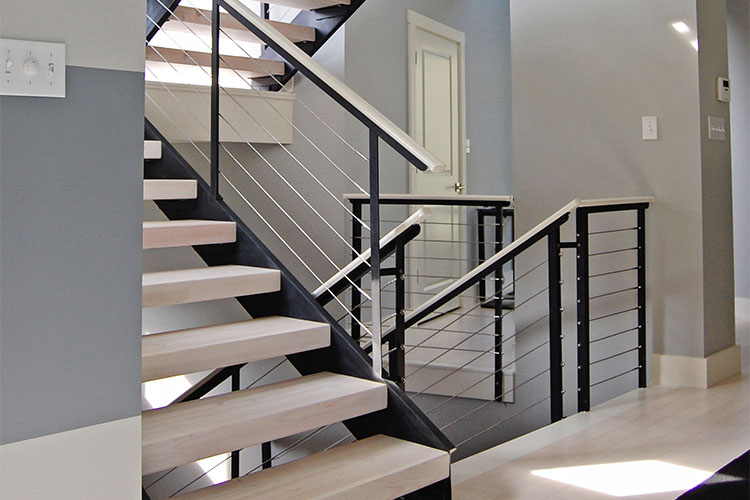 Cable Infill & Fittings for Stylish Contemporary Stairway by Stainless Cable & Railing Inc.
Finding the right railing for a new staircase, loft, or other indoor area can be difficult. Most traditional railings take up and break up space. The minimal design of a cable railing system instead keeps your layout open and expansive. Offered in a variety of color, material, and shape options, you'll be sure to find the perfect system for your home. Even if you already have a frame in mind, fill it with our marine-grade stainless steel cable infill and fittings for a stylish and near-invisible end result.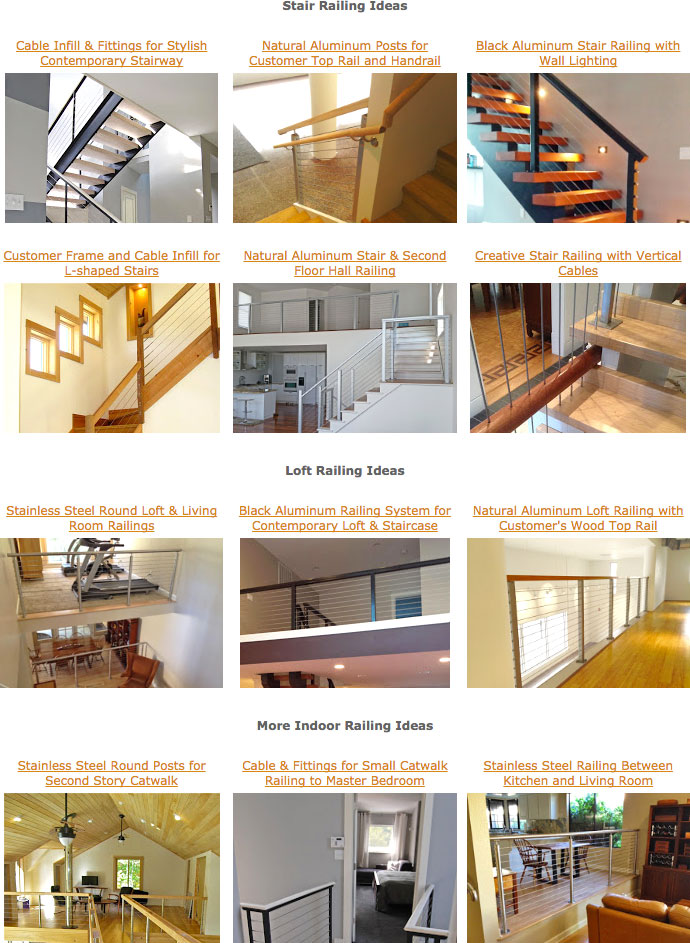 Company: Stainless Cable & Railing Inc.
Product: CableView® Aluminum Cable Railing System
Source: http://stainlesscablerailing.com/indoor-cable-railing-ideas.html
Tags: Interior Design | Railing System | Safety
---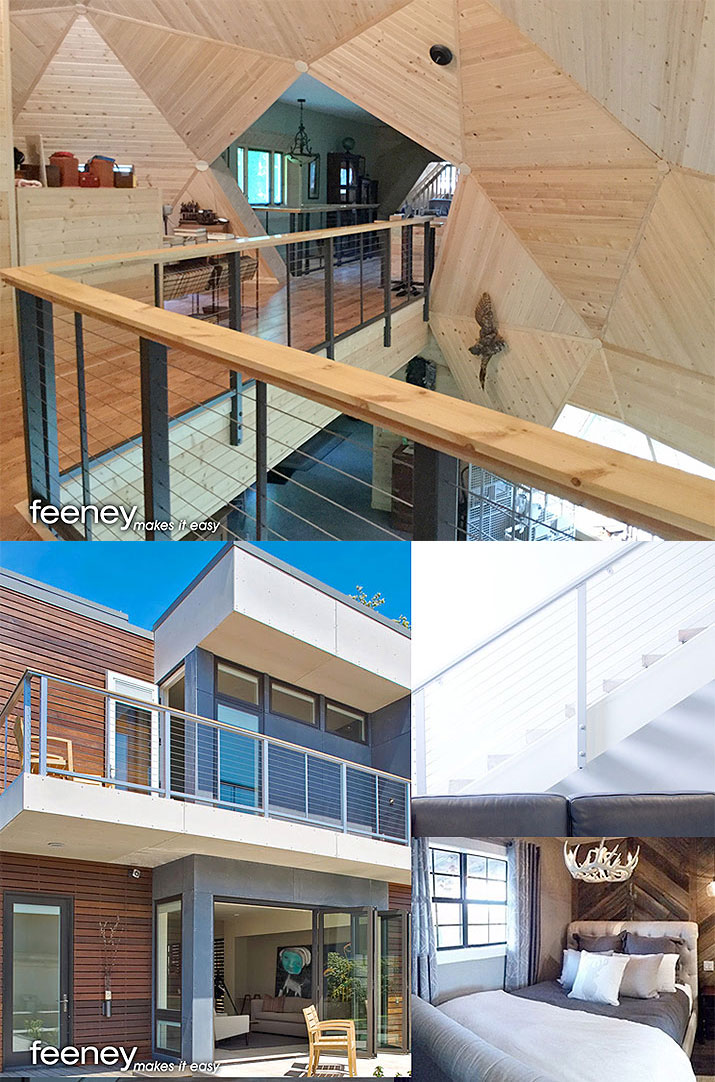 Solar panel arrays. Reclaimed wood. Ultra low-flow toilets. Smart thermostats.Continuous insulation. Volatile organic compound (VOC)-free paint. Recyclable railings. The list of ways American home designers, developers, builders, and owners slash energy expense, promote household comfort and health, and embrace green building practices grows by the day.
The U.S. Green Building Council (USGBC) is carefully monitoring these practices, too. The people behind the widely known LEED (Leadership in Energy and Environmental Design) certification program for commercial and residential structures say more than 121,900 residential units have now earned LEED certification worldwide.
USGBC research also indicates more than of half of consumers rank green and energy-efficiency as top requirements for their next home. Even renters say a LEED-certified property is topped only by a prime central business district location as a desirable feature, according to USGBC studies. Today the USGBC predicts a whopping 84 percent of all 2018 residential construction will have sustainable features.
High on that list of sustainable features are the Feeney's CableRail stainless steel cable infill and DesignRail® aluminum railing systems.
"All of our architectural products are made from stainless steel and/or aluminum which are among the most recycled materials on the planet," says Brad Adsit, Feeney's Product Development/Engineering Manager. "But that's just the beginning of how we support a green building ethic."
Feeney may have one of the most comprehensive, earth-friendly manufacturing programs in the architectural products business. Points of proof:
The grade 316 stainless steel cable used with Feeney CableRail products contains 70 percent pre-consumer recycled content.
The aluminum extrusions used in the DesignRail® railing system contain 40% pre-consumer and 30% post-consumer recycled content.
Low maintenance requirements mean no treatments, stains, solvents, varnishes, or preservative that may contain harmful chemicals.
CableRail fittings and cables use less raw material and allow easier handling, lower shipping costs, and less transit fuel consumption.
Feeney's California manufacturing facility is nearly energy self-sufficient thanks to an immense 5,000 square foot solar panel array.
Feeney's powder coating facility in Nebraska emits no V.O.C.s or heavy metal waste, uses a non-chromium pre-treatment wash, and reclaims 93 percent of the wastewater.
This is only a partial list. As you consider railing system options as part of a green homebuilding project, keep Feeney in mind as a LEED-friendly supplier.
"Feeney contributes points to the various LEED version 4 rating systems in the Materials and Resources credit category, by disclosing product ingredients to demonstrate raw material optimization," according to Adsit.
"We work hard to be thoughtful stewards of our natural resources," notes Adsit. "Improving our ability to deliver greener building solutions is a continuous, relentless priority."
To learn more, read the Feeney Environmental Statement and Feeney LEED info.
Company: Feeney, Inc
Product: CableRail Stainless Steel Standard Assemblies
Source: http://media.feeneyinc.com/blog/the-color-that-became-a-building-philosophy
Tags: Design | LEED Certification | Metal | Railing System
---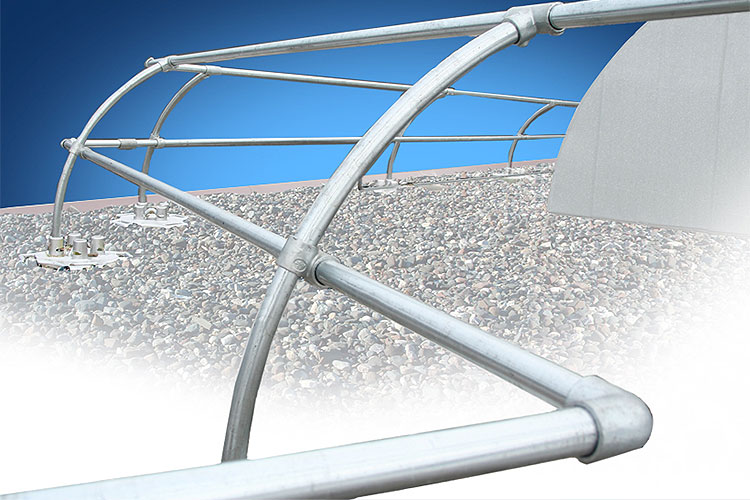 The BlueWater Architectural Series combines our OSHA compliant non-penetrating guardrail system with an aesthetically pleasing architectural appeal. Full protection with visual appeal. Optional Straight and Incline Stanchions available.
The Architectural Series combines our non-penetrating guardrail system with an architectural appeal for those applications where appearance of the railing is important. The Architectural Series has a pleasing sightline and can enhance the overall appearance of your building while maintaining a fall protection barrier around the roof edge that meets OSHA Regulations. Since the Architectural Series utilizes the same patented, non-penetrating base as the SafetyRail 2000, your roof system will maintain its integrity and not be compromised by having to penetrate the roof surface for installation. The Architectural Series is ideal for new building construction, adding passive fall protection to an existing building or as an addition to existing guardrails.
More pleasing sightlines
No holes need to be drilled
Three uprights available: Curved, Incline or Straight
Meets and exceeds OSHA Regulations for Fall Protection
No intermediate counterweights required
Up to 10 foot spacing between uprights
Special orders for powder coated rail sections
Custom engineering / manufacturing available for special applications
Architectural Series has been tested by a nationally-known engineering firm and found to be in accordance with OSHA regulations
These regulations are in fall protection for guardrail; sections 1910.23 and sections 1926.500 -1926.503
Company: BlueWater Mfg
Product: SafetyRail 2000 Architectural Series
Source: http://bluewater-mfg.com/product/safetyrail-2000-architectural-series/
Tags: Design | Railing System | Roof | Safety
---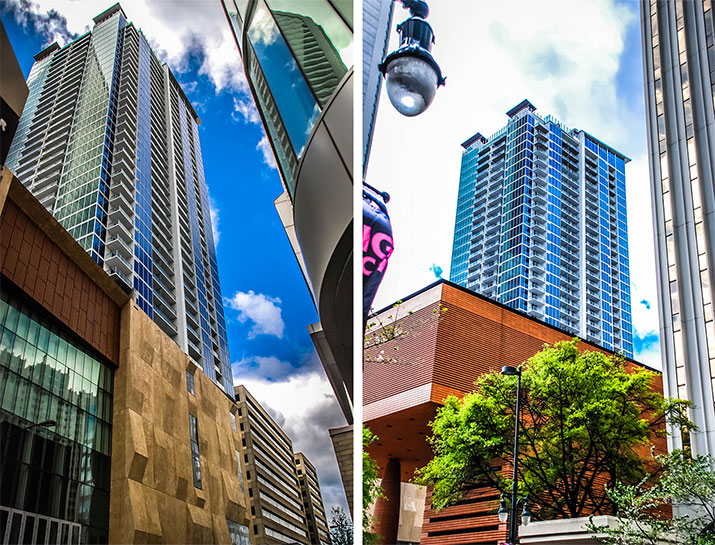 This 40+ story tower sitting atop the Mint Museum utilized 2-Line aluminum and glass balcony railing offering incredible city views, and double-sided acid etched dividers adding privacy between residences
Though the structural support for Museum Tower apartments was already in place by 2009, the recession and a stalled residential sales market indefinitely halted construction. Then, in late 2015, the tower began to rise – at a pace of one floor every four days, in fact! In just a year-and-a-half, we have witnessed Museum Tower come to life in Charlotte, North Carolina. [1]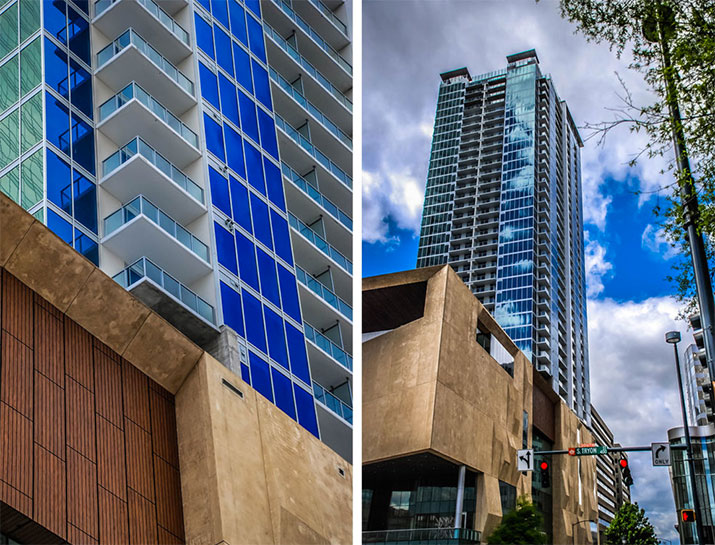 SC Railing provided over 8,000 combined lf of railing, windscreen and balcony dividers to this LEED Silver project
Owner/Developer, Childress Klein, had long planned for this 394-unit apartment tower to be constructed some 43 stories above the existing Mint Museum Uptown Charlotte. Juxtaposed with the luminous Duke Energy Center, Museum Tower apartments inherited a hefty responsibility; as any building sharing space with the Duke Energy skyscraper had better be worthy of the real estate it occupies. We believe Museum Tower earns that appointment, and then some!
SC Railing Company provided more than 8,000 combined linear feet of 2-line aluminum and glass balcony railing, along with balcony dividers and custom rooftop windscreen. Museum Tower marries a refined interior design aesthetic and floor-to-ceiling windows with glass balcony railings, for sweeping city views. Balcony railings were constructed using 3/8" clear tempered glass, and 1/4" tempered, double-sided acid etched balcony dividers for added privacy between residences.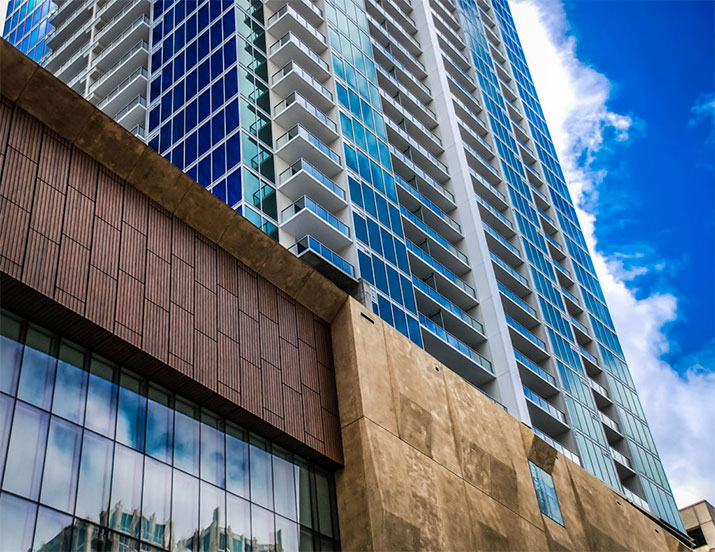 Mint Museum features 2-Line Glass and aluminum balcony railing with glass dividers
Museum Tower's rooftop lounge includes a heated saltwater pool with cabanas, indoor and outdoor fireplaces, and a game room. The amenity area's perimeter is wrapped with 8' high, 1/2" clear tempered glass panels, for which SC Railing Company provided custom aluminum segmented base shoe mounts. Transporting these panels, weighing upwards of 125 pounds, was one of the challenges of this high-rise project. Getting glass to the project safely became an issue early on, as one of our glass delivery trucks was struck by another vehicle on I-77, a mere couple of miles from the jobsite. Fortunately, there were no injuries, but we lost nearly an entire shipment of glass in the collision. For an already fast-tracked project, this threw us into high gear. We worked very hard to adhere to rigid timelines, replacing damaged glass, and getting all materials to the Museum Tower safely. Hurdle by hurdle, we endured!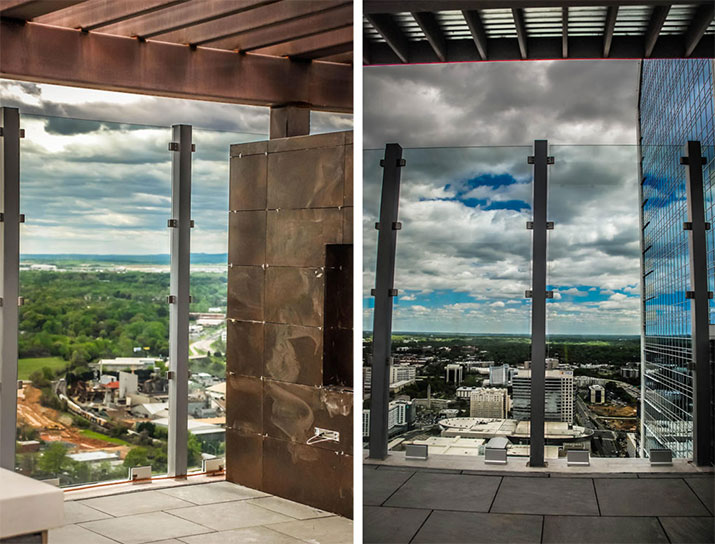 A post supported windscreen with custom aluminum segmented base shoe mounts secures 125-pound, 8-foot tall glass panels surrounding the pool and amenity area located on the 42nd floor
Bringing the Museum Tower project to a close has us coming full-circle, as this was the final phase of construction of the Mint Museum Uptown Charlotte project, which we provided railings for in 2010. This builiding's completion has been more than seven years in the making! SC Railing Company is pleased to have partnered with General Contractor, Batson-Cook, in providing our glass railing products for this LEED Silver project, a veritable crowning jewel of the Queen City skyline.
Architect: Rule Joy Trammell + Rubio
Owner/Developer: Childress Klein
General Contractor: Batson-Cook
---
[1] How is the Mint Museum apartment tower going up so fast?!?
Click Here for Project Information!
Company: Architectural Railings & Grilles, Inc.
Product: Civic 2-Line
Source: http://www.sc-railing.com/news/sc-railing-company-offering-view-top/
Tags: Architecture | Design | Glass | LEED Certification | Railing System | Safety
---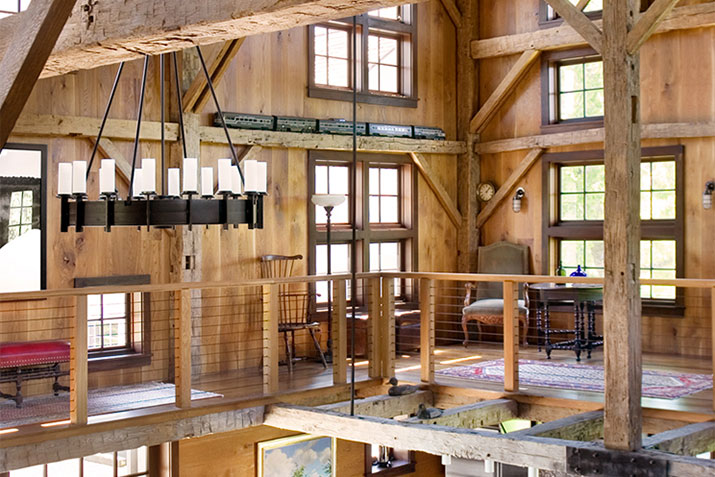 Paul Gleicher, acclaimed architect and published author, is a man of exceptional taste. Owners of high-end residential properties, including townhouses, penthouses, apartments, and houses seek out the New York City-based architect for his sophisticated, award-winning design sense. There are even Gleicher-designed barns.
"I think there's a growing interest in barns," Gleicher says. "There's a real sense of history when you step into these structures. They're large, open spaces that favor today's lifestyle."
Four Barns Farm Project
Take Gleicher's Four Barns Farm project in rural Millbrook, N.Y., about a 90-minute drive outside of New York City. A prominent investment industry executive and his family took Gleicher's advice to look at Millbrook for their weekend retreat. Within short order, the executive purchased a 40-acre estate formerly owned by composer Marvin Hamlisch. The property included a cluster of four dilapidated barns from the mid-1800s.
Gleicher remembers the initial chat with the new owner well. "'Paul, let's turn these barns into a family compound.' It was my first barn project," says the recipient of The Franklin Report's top five-star rating.
Architectural Counterpoint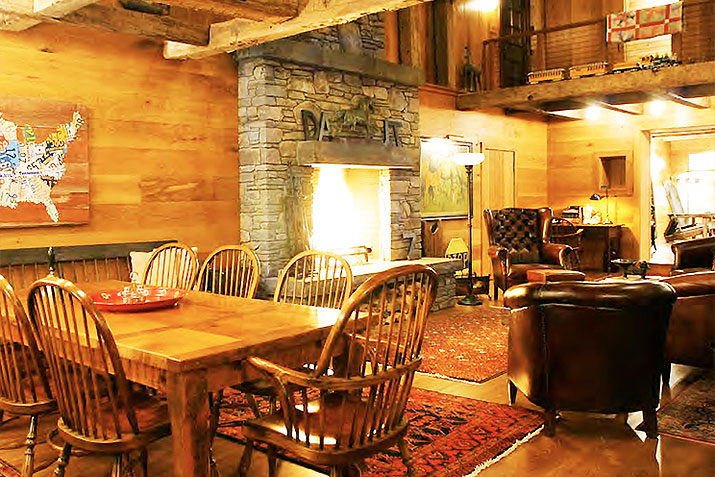 The interior scale offered Gleicher a rich palette to showcase beautifully-restored oak and pine floors, ceilings, and walls. To help dramatize the interior, Gleicher turned to CableRail by Feeney after considering traditional wood balustrades.
"CableRail is a really nice counterpoint to all the wood. Wood has warmth, but timber also has a certain heaviness to it. CableRail became a natural component. It made a lot of sense," Gleicher says.
Gleicher liked the idea of setting off the balcony spaces with a light, open look. "CableRail afforded that visual connection from the upper stories to the lower stories and vice-versa. It's really important to maintain that if you have a lot of people in the space. It helps communication," he observes.
Uparalleled Support
Gleicher notes this was his "first go-around with CableRail" and the experience didn't disappoint him in any respect. Feeney proved to be exceptionally helpful and easy to work with. In fact, Gleicher is quick to contrast his Feeney experience with another buildings products manufacturer. He was researching ceiling fans for another project and had a couple technical questions. He was told by the manufacturer 'That's up to you. It's your responsibility.' In contrast, Feeney's friendly technical staff were on call to answer all of his CableRail questions.
Installation proved to be a snap. "We just had the general contractor install the in-fill system. It's not complicated at all," says Gleicher.
Dream Come True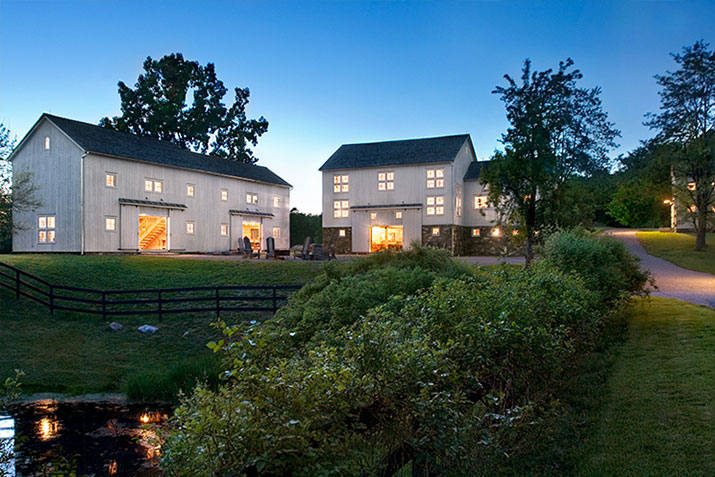 The owner "absolutely loves" the Four Barns Farm project Gleicher delivered. "They take every opportunity to talk about the project, invite people over. For the family, it's a dream come true," he reports.
It has also won its share of fans on Houzz. Gleicher states that the Four Barns Farm is one of the firm's most popular projects on the renovation website, generating over 30,000 views and added to more than 250 Ideabooks.
The idea of blending the open lightness of CableRail in stylish interior settings is now a top consideration for the award-winning architect. "I'm very happy with the product and will always keep it in mind." Who says you can't mix classy urban sophistication with friendly down-home charm? Just ask Paul Gleicher.
To Learn More:
Company: Feeney, Inc
Product: CableRail Stainless Steel Standard Assemblies
Source: http://media.feeneyinc.com/blog/top-nyc-architect-selects-feeney-for-notable-barn-project
Tags: Architecture | Interior Design | Railing System
---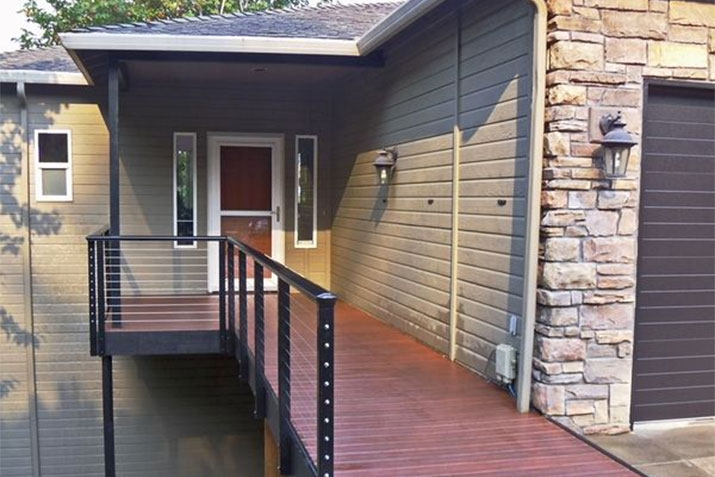 The shaped Aluminum Top Rail used in this photo captures the perfect look for this home in Happy Valley, OR.
Signature line of uniquely reinforced aluminum posts, matching top rails, and inline handrails. All aluminum products are available in five color options: black, bronze, white, natural, and clay.
These uniquely designed aluminum posts and top rails offer an economical alternative to our stainless steel and premium wood frame options, without compromising architectural resilience. Designed specifically for cable railing applications, these products are reinforced to have greater strength and durability than standard aluminum posts. With two top rail options, a handrail that can double as support for a wood top rail, and five color options, this line offers the greatest number of options.
Five powder-coat color options: black, bronze, natural, clay, and white
Two top rail design options: rectangular or shaped
Posts are available for 36", 42", and custom height systems and can be deck, fascia, or core mounted
Posts are compatible with any of our assemblies and can be ordered pre-drilled. Grommets are recommended to keep the stainless steel cables from reacting with the aluminum.
The aluminum handrail runs between posts for use in any system regardless of shape or slope. Can be used as a standalone, inline, or stair handrail.
Handrail can also be used as inline support for a wood top rail.
Company: Stainless Cable & Railing Inc.
Product: CableView® Aluminum Cable Railing System
Source: http://stainlesscablerailing.com/cable-railing-happy-valley-oregon.html
Tags: Aluminum | Exterior Design | Landscape Design | Railing System
---
Contemporary architectural styles are on the rise, but for those that don't want to lose that traditional feel, consider a rustic design complemented by modern touches. In the design world, this style is called transitional. The experts at Fresh Home define transitional design as the blending of modern and traditional elements; the result is a cohesive design.
Transitional design can be applied in many different ways in most every room in the house as well as outdoors. Case and point below.
This kitchen embodies all the charm of a rustic space with its large, weathered beams grounded by wide wooden plank flooring. However, the sleek stainless steel appliances, industrial lighting, and brightly colored bar stools and give this room a more modern touch. The addition of the CableRail stair and loft railing opens up the space, making the interior more dramatic.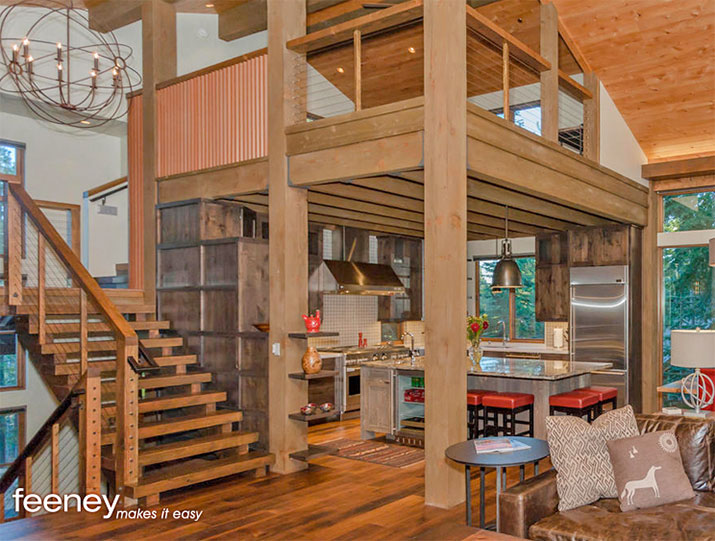 Here's another great example of a transitional design that incorporates a more natural, rustic feel but is balanced with contemporary components. This home was featured on the FOX television show HOME FREE. Feeney's CableRail was utilized as an alternative to traditional wood railing to create a sleek look complemented by the nature-inspired color palette. In addition, the patterned plywood accent wall with cylindrical concrete sconces adds depth to the space, resulting in a bucolic, simple design.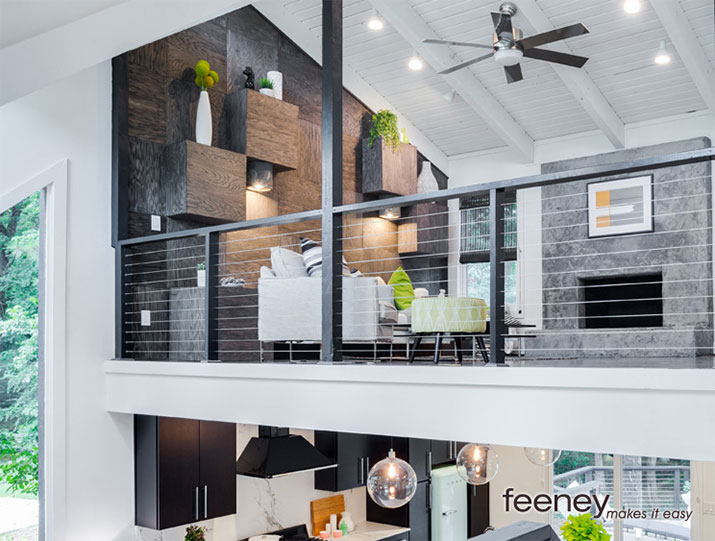 When it comes to exterior spaces, Feeney's CableRail and DesignRail® systems are just one of the many ways to transform a rustic-style design into a more contemporary one. A cable rail infill paired with a wooden railing offers a warm yet sleek look. The railing allows the homeowners enjoy what is certainly a lush wooded view from their Adirondack chairs. The outdoor area also incorporates a beautiful natural stone accent wall giving it a cabin-like appearance, and the additional exterior walls have a dark tone to them providing a more modern feel. While each of the design elements has a distinct style, the "mix and match" approach and blends cohesively and beautifully with the environment.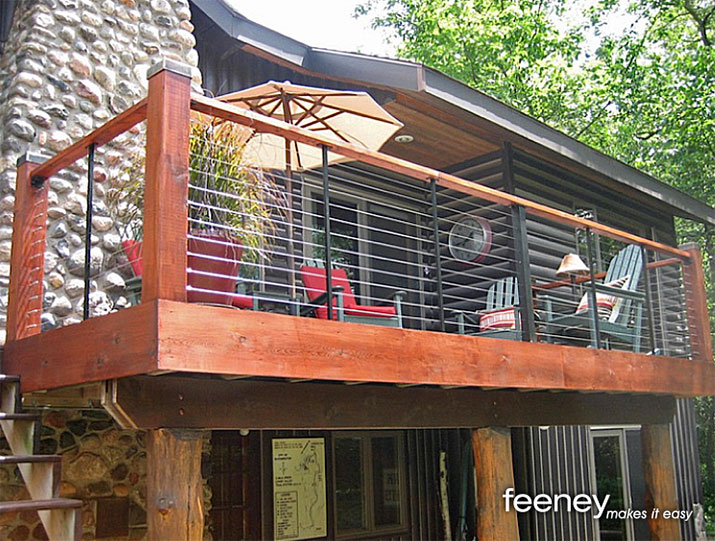 Company: Feeney, Inc
Source: http://media.feeneyinc.com/blog/rustic-meets-modern-transitional-design-style
Tags: Exterior Design | Interior Design | Railing System
---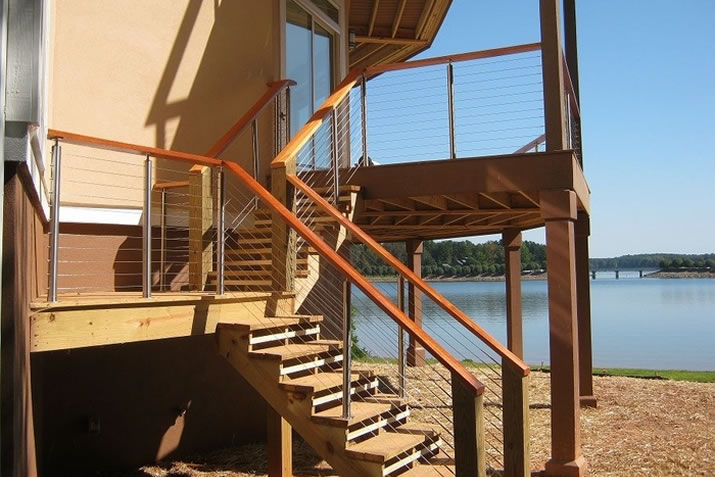 Need inspiration for a deck railing? Look no further than cable railing systems by Stainless Cable & Railing Inc. Available across a spectrum of material, shape, and color options, you're sure to find the right posts and top rail for the job. Even if you plan to supply your own frame, cable infill and fittings work with any architecture style or décor.
The images below provide a small sample of completed cable railing projects submitted by our customers, all of which include our marine grade stainless steel cable and cable end fittings. For more images organized by materials used, see our Photo Gallery. Think one of our railings will be perfect for your deck? Give Stainless Cable & Railing Inc. a call or fill out our Estimate Request Form to get started.
Contemporary Deck Railing Ideas

Black Aluminum Railing for Entrance Stairs and Deck / Natural Aluminum Posts for Elevated Porch
Traditional Deck Railing Ideas

Customer Frame with Cable Infill for Balcony Over Pool / White Aluminum Railing For Deck Covering Patio
Rustic Deck Railing Ideas

Bronze Aluminum Cable Railing for Covered Deck / Stainless Steel Round Posts & Infill for Log Cabin
Tropical Deck Railing Ideas

Beachside Stainless Steel Square Posts with Wood Top Rail / Bronze Aluminum Posts for Curved Railing
CableView® railing systems are defined by the craftsmanship, value, and enjoyment they provide
Craftsmanship
We build quality products, using durable, low-maintenance materials, including marine grade 316L stainless steel. Our state of the art in-house fabrication ensures quality control and allows us to accommodate the specific needs of any project.
Value
As both manufacturer and retailer, we skip the middleman entirely. This allows us to offer our customers economical, factory-direct prices for premium products. Our durable systems will stand the test of time, providing dependable safety.
Enjoyment
Your deck, loft, staircase, or porch railing is an integral part of your home, providing safety, visual appeal, and a great view. Simply give us a call or fill out our estimate request form, and we'll handle the rest. The clean lines and versatility of cable railing emphasize your view.
Company: Stainless Cable & Railing Inc.
Product: CableView® Aluminum Cable Railing System
Source: http://stainlesscablerailing.com/cable-deck-railing-ideas.html
Tags: Exterior Design | Landscape Design | Railing System
---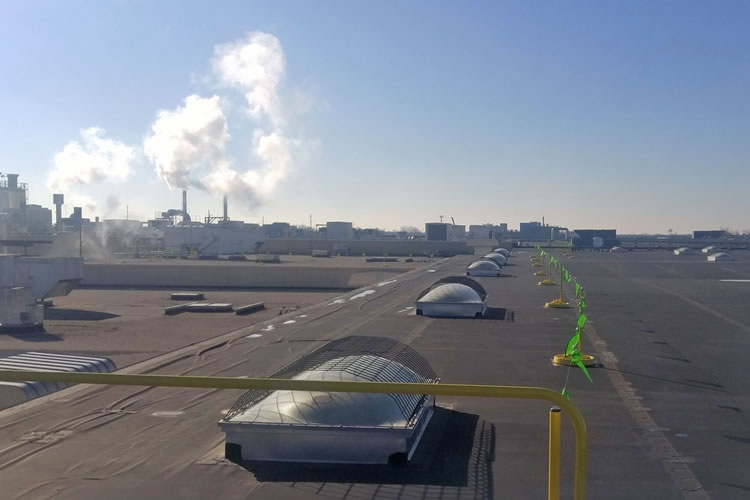 Enduraline warning lines installed at 15 feet from leading edge
EnduraLine Mobile is Safety Rail Company's most robust warning line system yet for permanent demarcation of hazardous areas. Cast iron base plates, steel stanchions, and plastic-coated galvanized cable with aluminum pennants means the EnduraLine warning line system is built for long-term exposure to the elements.
The EnduraLine Mobile system goes a step further. This non-penetrating warning line system is also designed to integrate perfectly with our SRC-360 Mobile railing system. The minimum OSHA requirement for warning line is that they be placed 15' feet or more away from a leading edge. Any closer to the leading edge, and fall protection railings or other fall protection devices must be provided. EnduraLine combined with our SRC 360 Mobile Rail answer both requirements and provide a complete, comprehensive, OSHA-compliant perimeter guarding solution.
When personnel need access to ladders or equipment within 15' of the edge, install the SRC 360 Mobile Railing system from the 15' mark out toward the leading edge and around the area that needs access. Attach the EnduraLine Mobile Warning Line System to the SRC 360 Mobile rail at the 15' mark and continue along perimeter to the next area that needs access. This configuration offers a cost-effective solution to 100% perimeter protection, designed to keep workers away from areas they shouldn't be and protected in areas where they need to be.
Features:
104 lb. base plate
25' stanchion spacing
Powder-coated yellow or galvanized finish
39" flag height per OSHA
100' galvanized cable with aluminum pennants
Safety Railing Solutions - Smarter. Better. Easier.
Safety Rail Company makes OSHA-compliant fall protection safety railings and guard rail systems that are durable and innovative, but still affordable. With years of industry experience, our fall protection products are engineered first and foremost to save lives! Beyond the primary goal of safety, we take our products a step further, making them easier to assemble, configure, use, and store.
Service Beyond Compare
Our team of safety experts takes pride in our 100% American-made fall protection systems and the personal service we give to our customers. We are firmly committed to providing:
Dedicated one-on-one customer service
Free in-depth consultations to ensure you have the exact system you need
Free, fast 3D CAD project plan modeling
100% OSHA-compliant & made in the USA products
Full installation services with factory trained, in-house personnel
Ongoing partnerships that you can depend on for years to come
Let Safety Rail Company be your turn-key provider. Project design, engineering, testing, manufacturing, and installation from one trusted source.
Company: Safety Rail Company
Product: Visual Warning Line Systems
Source: http://www.safetyrailcompany.com/enduraline-mobile-permanent-warning-line-system/
Tags: Railing System | Roof | Safety
---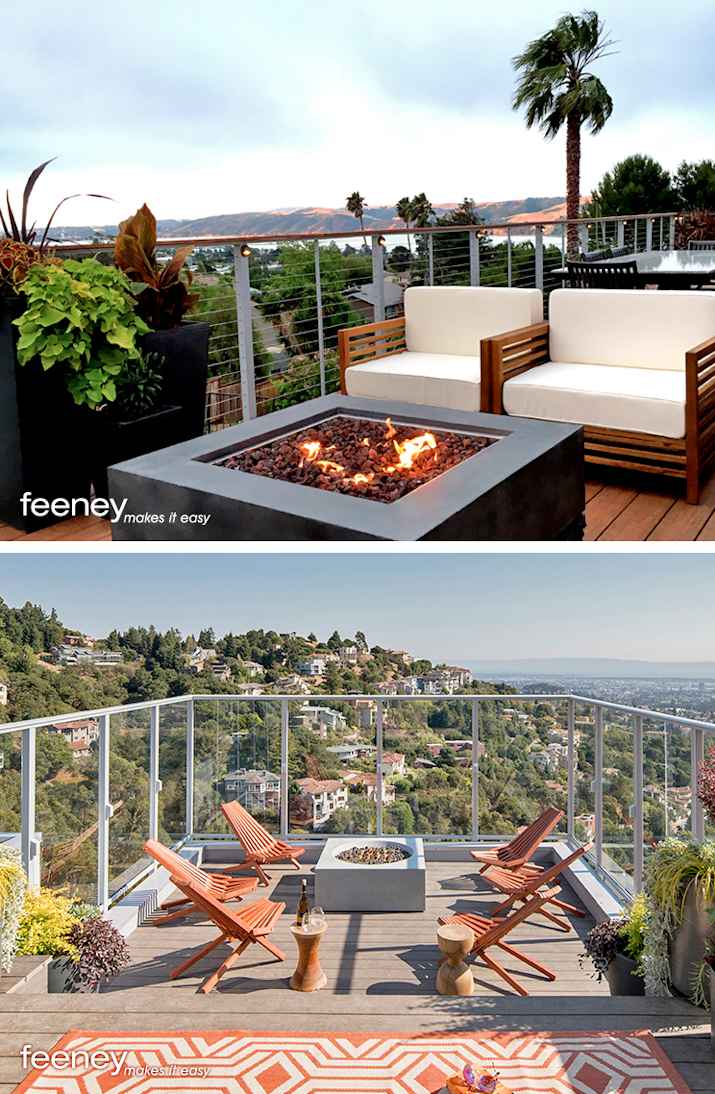 With all the direct work we do with residential and commercial architects, we know meeting your design vision is at the heart of our business. That's why we offer a premium palette of posts, top rails, frame colors, and infill options for your specification needs.
When that interior or exterior aesthetic calls for maximum transparency, as it often does, the usual railing infill defaults are a cable or a tempered glass system. It may come as a mild surprise to some to learn our DesignRail® system offers designers both view-friendly systems. Yes, we're a single-source, infill agnostic when it comes to meeting your project goals and budget.
Both glass and cable railing systems offer style, proven performance, and unfettered sight lines for interior or exterior applications. As you consider the best infill solution for your project, keep this in mind:
Cable Infill
Wind
Allows full air flow across the deck or balcony area.
Installation
CableRail is easy to install with patented automatic locking jaw Quick-Connect® fittings. No crimp tools or wedge-type compression fittings required.
Sustainability
Stainless steel cables contain 70% pre-consumer content and 0% post-consumer content.
Safety
Compliant with the International Building Code and International Residential Code when vertical or horizontal cable spacing is 3 inches or less.
Maintenance
Minimal. Periodic treatment with a stainless steel cleaner and protectant is recommended. Occasional cable tightening is a routine procedure.
Tempered Glass Infill
Wind
Offers a full or partial wind break, which can be a consideration in coastal projects.
Transparency
Can be modulated from clear to custom tinted, helping manage light flow and privacy.
Environmental impact
Clear tempered exterior glass panels can prove to be a hazard to birds.
Durability
Tempered laminated glass can be specified for varying safety and security levels.
Maintenance
Requires periodic cleaning, though higher quality glass can help reduce cleaning time and frequency.
Tempered glass or cable... both infill msystems offer important design advantages. Feeney is at your service with winning solutions for both.
Company: Feeney, Inc
Source: http://media.feeneyinc.com/blog/railing-infill-face-off-cable-vs.-glass
Tags: Exterior Design | Glass | Metal | Railing System | Safety
---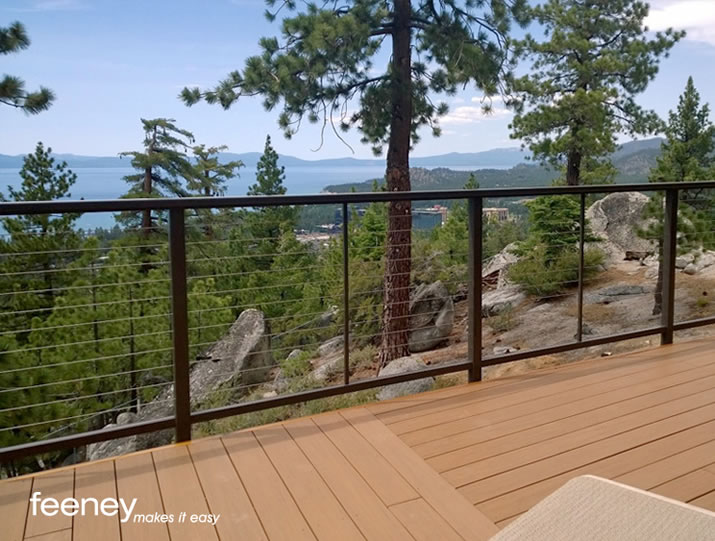 Composite decks are on the rise, with more options for consumers than ever before. Photo: DesignRail® aluminum railing on composite deck
What happened to the great backyard star, the deck? Today more and more decking contractors, remodelers, and dealers have quietly morphed into outdoor lifestyle specialists. While the deck still plays a leading role, it's now supported by a large backyard cast.
So reports Charlie Wardell, a contributing editor at Hanley Wood, the folks behind widely-read trade publications like PROFESSIONAL DECK BUILDER, BUILDER, and REMODELER. Recently Wardell shared his 2017 decking and railing outlook, gained from observations and exclusive interviews at the Deck Expo. The big takeaway: "A lot of companies are switching their marketing focus from decking and railing to outdoor living," Wardell told us in a private chat. "They're selling lifestyle rather than product."
The idea isn't new, of course, but the speed of transition may be. Mike Beaudry, executive director of NADRA (North American Deck and Railing Association), told Wardell their annual deck design award candidates used to be "deck after deck." Beaudry says "… it's now patios with connected decks and pools, screened-in porches, arbors, and outdoor kitchens." It's not your grandfather's backyard anymore. The new normal features LED lighting, pergolas, weather-proof storage cabinets, and other indoor amenities.
What else to look for this year:
Composite Decking
This year watch for composite boards that mimic distressed wood flooring, complete with variegated streaking. The rough-hewn rustic look appears in patterns won't repeat for up to 12 feet. Homeowners have never had so many composite choices for color, texture, installation ease, and price points.
User-Friendly
One composite flooring manufacturer says their boards have conquered a new frontier: They're bare-foot friendly … or at least, friendlier. They say the new composites don't give you the hot foot like standard composites. A special capstock technology reduces heat absorption by up to 35 percent. Even a cool new feature like this isn't always obvious to pros, much less consumers. "At first glance, most the composite decking products look very similar," Wardell tells us. "You have to ask questions to understand the differences."
Railings
"Buyers also want classier railings, which is reflected in the explosion of railing products," his states. Notable among them are cable rails, which Wardell says were especially prominent at the Expo. Lighting also features prominently in outdoor spaces, and is a great add-on to any railing.
Wardell likes the direction of industry innovation and rush to serve a mushrooming outdoor lifestyle segment. But, as he quickly adds, repositioning yourself in an evolving marketplace doesn't guarantee success. That still comes down to old-fashioned service, quality, and performance.
Company: Feeney, Inc
Product: DesignRail® Aluminum Railings
Source: http://media.feeneyinc.com/blog/backyard-2.0-2017-deck-and-railings-forecast
Tags: Design | Railing System | Safety
---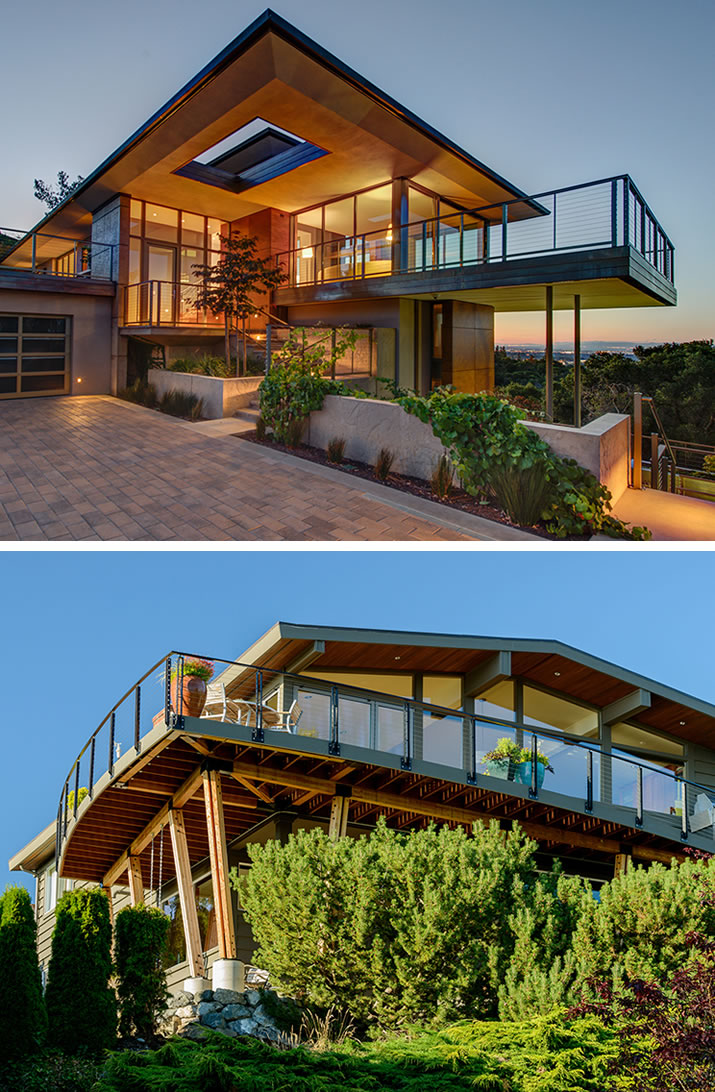 Project/photo credits: First Place Award: DesignRail® in Portola Valley residence, cantilevered deck (2M Architecture, Mattarozzi-Pelsinger Builders, Treve Johnson Photography). Second Place Award: Seattle area deck, custom deck railing and structural hardware (Dave Pelletier Architect, Jeff Ruud of Peak Builders, Gary Perreault, fabricator, Will Austin Photography)
Feeney Wins NADRA 2016 Deck Competition - Manufacturer Project Category
Each year the North American Deck and Railing Association (NADRA) holds its National Deck Competition. Prizes are awarded in a number of different categories, such as Wood Decks under $25,000, Porches, Illumination, and Manufacturer Projects, to name a few.
Projects were judged on the following criteria:
Use of Space / Functionality

Creativity / Innovation

Evidence of Craftsmanship / Degree of Difficulty

Overall Visual Appeal
All entries were judged anonymously - no identifying information could be included in the project photos. The contest was open to current NADRA members for decks completed during 2015 or 2016.
Every year the winners are announced at the Remodeling | Deck Expo | JLC Live show, and that ceremony is one of the show highlights! This year's ceremony took place at the Hard Rock Cafe in Baltimore on the first night of the event.
Feeney was proud to take home first and second place in the Manufacturer Projects category.
This year NADRA also included a People's Choice Award, using Facebook to collect votes on the best decks. Votes are still being tallied as we speak, but we are all crossing our fingers for a win with the people as well.
Learn more about: DesignRail® CableRail
Company: Feeney, Inc
Product: DesignRail® Aluminum Railings
Source: http://media.feeneyinc.com/blog/feeney-wins-nadra-2016-deck-competition-manufacturer-project-category
Tags: Exterior Design | Railing System | Safety
---
Feeney has teamed up with Kelly Edwards, television host, designer and lifestyle expert, on an elegant new container home project. The finished tiny home was featured on the Hallmark Channel's "Home & Family" show on July 26. The tiny house movement has gained significant momentum this past year, and container homes are leading the charge. More people are finding out how tiny home living can reduce costs, while still affording the comfort they enjoy.
Embracing the trend, Edwards and her contractor Art Steedle, co-owner of Steedle Brothers Construction in Long Beach, California, have transformed a 160 square-foot container into a fully-functional, compact dwelling featuring a living room with a hidden bed, bathroom and kitchen. To complete the project, the home includes a rooftop deck with Feeney's DesignRail® railing system, in a black powder coat finish with CableRail infill.
"Our first choice was using Feeney's rail system to make this possible. I can't even begin to tell you how it changed the look of the container," said Edwards. "It's sleek, modern, durable, and easy to install; everything we wanted this container to be."
Edwards and Steedle designed the home with outdoor living in mind, with the rooftop deck as the focal point of the project. "By incorporating this space, the home just feels much larger," explained Edwards.
Feeney's DesignRail® system combines the durability of aluminum with innovative design details to ensure lasting beauty, structural integrity, and affordability while drastically reducing long term maintenance expenses. All rails and stanchions are made from high-strength 6000-series aluminum extrusions that can be cut and assembled on site using pre-engineered components that snap and screw together.
"Tiny homes are definitely trending among homeowners right now, and our DesignRail® is a perfect addition to these spaces because of its versatile and low-maintenance qualities," said Andy Penny, Feeney's vice president of marketing and advertising.

Company: Feeney, Inc
Product: DesignRail® Aluminum Railings
Source: http://media.feeneyinc.com/blog/kelly-edwards-tiny-home-shipping-container-elegant-living-rooftop-deck
Tags: Design | Railing System
---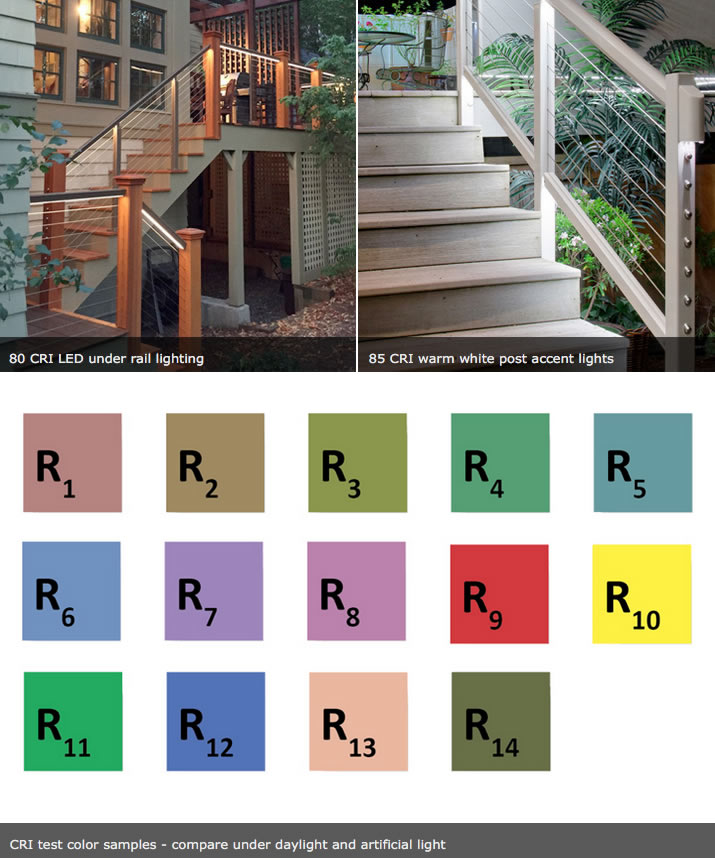 When it comes to design, the Color Rendering Index (CRI) is an important aspect of any lighting consideration. Different light bulbs emit different colors of light – ranging from cool tones to warm. The CRI of a bulb is determined by comparing the appearance of a colored object under an artificial light source to its appearance under natural light. The higher the CRI, the truer the color presentation.
Why is CRI important in outdoor lighting?
When you select lighting options with high CRI, colors will pop, textures will stand out, and finishes have depth and luster. As such, many architects refer to lighting as the fourth element of good design.
Selecting a high CRI is important when designing outdoor spaces, too, because it allows us to create the desired ambiance – whether it be warm and inviting for entertainment or a tranquil niche for relaxing after a long day. With the onset of the vast capabilities of LEDs, outdoor features within a space can be accented by focusing the position of the light, as pictured here with post accent lights – and it all starts with the right bulb that shines a natural (high-CRI) light.
Great outdoor lighting design, however, is more than just varying the warmth of color coming from a bulb. A high CRI allows designers to create layers and textures of light. Outdoor LEDs can be used to create complex layers of light throughout your garden. Some of the more popular lighting techniques include spotlighting, highlighting, silhouetting, shadowing and grazing (with lights mounted at or above the ceiling). Using light to designate what's most important intuitively draws attention to specific spaces. For instance, a home may be lit on the outside, but good lighting design will incorporate layers of light to clearly denote the pathway to the entrance.
The right lighting can turn a potential hazard, such as steps and walkways, into areas that are more easily navigated after dark. This is especially important for businesses that provide services for older individuals who have poor eyesight. In fact, more and more thought is being given to the type of lighting used in parking lots, parking garages and pedestrian walkways. Facilities that install high-CRI lighting feel more secure to pedestrians and drivers, and as more institutions, such as educational, medical and commercial, run operations after dark, this is an important consideration to creating a secure and welcoming environment.
As lighting technology continues to advance, we expect awareness to grow and the importance of the Color Rendering Index to continue to be a key element in outdoor lighting design.
Company: Feeney, Inc
Source: http://media.feeneyinc.com/blog/color-rendering-index-why-its-important-in-outdoor-lighting
Tags: Color | Design | Lighting | Railing System
---
AvantiSystemsUSA supplies and installs a family of architectural glass wall and glass door systems. Inspired by European interior design, Avanti glass systems profile a slim line appearance with frame-less panels and sleek metallic hardware.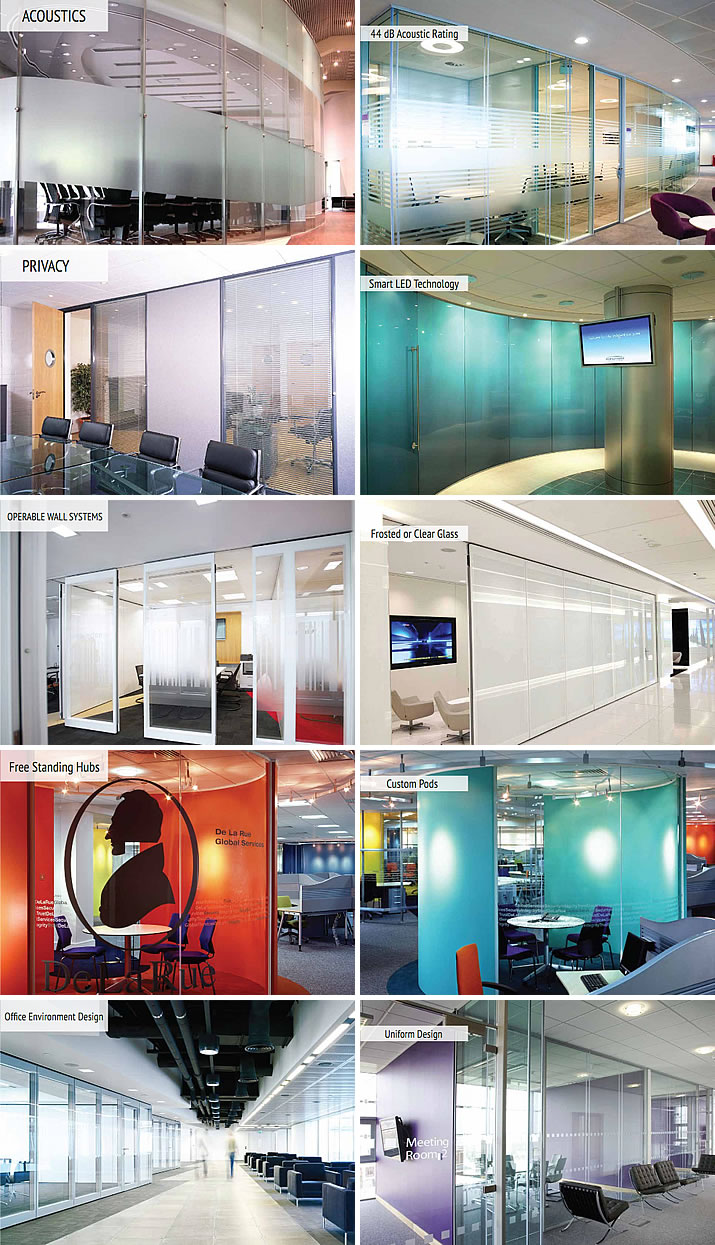 Company: Avanti Systems USA
Source: http://files.avantisystemsusa.com/architects_inspiration_handbook_avanti.pdf
Tags: Acoustics | Interior Design | Railing System | Wall Panels | Window Shades
---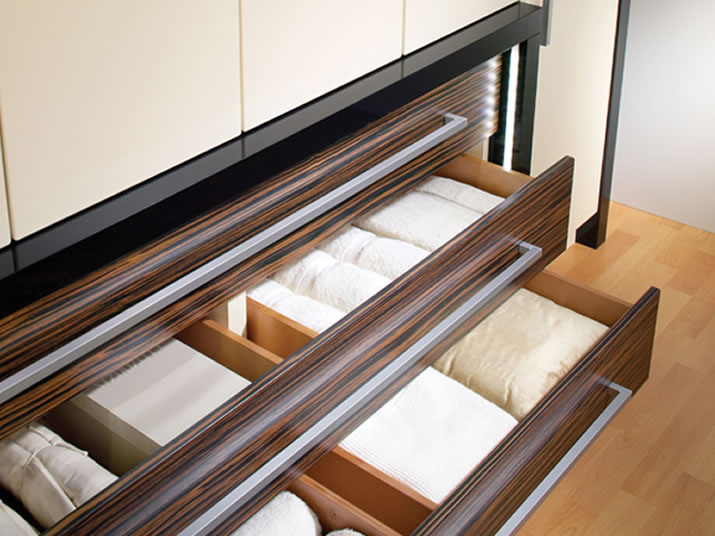 Tough enough for commercial use, model 3135EC Eclipse Undermount Easy-Close slide delivers flawless movement, easy adjustment, and superior soft-close action for jobs up to 30" wide.
Reliable soft-close action
Multiple drawer front adjustment make installation easy
Up to 100 lb. load rating
ADA compliant with 4.8 lbs. of pull force
Quiet and smooth operation
Robust design prevents drawer sagging and dragging for better movement
Even lengths 12"–28", 15" and 21"
This product creates exciting new possibilities for retail, commercial, medical, and high-end residential customers. Learn more using the links below:
Company: Accuride International
Product: Medium Duty Slides » 3135EC Eclipse Easy-Close
Source: https://www.accuride.com/en-us/products/3135ec-eclipse-easy-close
Tags: Interior Design | Railing System
---

Your deck project is considered one of the best places to spend your home improvement dollars. Investment motives aside, our decks provide hours of enjoyment with friends and family, so it should no longer be at the bottom of your home improvement wish list.
Define the Entrance
While you may do most of your walking on and off your deck from your home's patio door, if your deck has stairs down to the backyard, make that second entryway as inviting as possible. Create a defined walkway with gravel and pavers, and plant bushed and/pr flowers on each side of the stairs for an inviting path onto your deck.
A Built-In Bench
A built-in bench not only provides visual appeal, but some practical advantages as well. It efficiently utilizes your space for extra seating. It can also provide extra storage space underneath the seating. Make sure to include comfortable cushions that can be stored below when the weather is bad.
Fuller Sound
While various conventional music solutions may do the job for your outdoor entertaining needs, you can create a fuller and more sophisticated experience with a weatherproof built-in sound system. Whether they are hung above or blended into the scenery as "speaker rocks," you can have your deck or your entire backyard wired with your favorite music.
Water Feature
Take your relaxation to the next level with the soothing sounds of a water feature. if your deck isn't large enough to feature a fountain to your liking, you can consider a small table top version or install a bigger one nearby where you can still enjoy its visual and audible beauty.
Cover a Portion of Your Deck
Covering an area of your deck, whether it's simply an umbrella on your table or a wooden pergola partially covering your deck, can make it easier to entertain when the weather isn't perfect, or if you just want to provide a little respite from the heat of the sun.
Cable Railing
All decks more than a couple feet off the ground have to come with railing to be up to code. But that doesn't mean you have to settle for the conventional route. If you are a DIY-er, You can cut your cost by ordering a kit and installing it yourself
Grow Herbs
If you love to cook and may be interested in growing some of your own ingredients, growing herbs can be fun, while providing extra visual appeal to your deck. more importantly, it will add a little fragrance backyard.
Stain Your Deck
There are a number of wood staining options for your deck. They vary base on color, opacity, to fit your stylistic needs. Not only will it visually transform your deck, but it will provide protection from the elements and help your deck last for many years.
Company: Stainless Cable & Railing Inc.
Source: http://site.stainlesscablerailing.com/blog/smart-ways-to-upgrade-your-deck/
Tags: Landscape Design | Railing System
---

Outdoor spaces are pretty popular these days; you'll want to make sure yours isn't just usable, but enjoyable. If you're considering updating your deck or railing system, we have a suggestion for what wood to use. It's called Ipe (pronounced e-pay), also known as Ironwood or Brazilian Walnut, and it comes from responsibly harvested forests in South America and parts of Central America. What's so special about Ipe? A few things.
Ipe is some sweet-lookin' eye candy
The long planks, tight grain, and lack of knots create refined, clean lines. It's reddish walnut color is rich, warm, and sophisticated. Or, if you prefer something more subtle, skip the UV-protection finish, allowing the color to fade naturally to soft silver with a lovely patina. Ipe's beauty isn't just grain-deep, though. Aesthetics and practicality are sometimes at odds with each other, but not in the case of this ridiculously durable hardwood. Which brings us to our next point:
In addition to beauty, Ipe's got more than enough brawn
In fact, it's one of the hardest wood species in the world. Hardwoods are tested to make sure they are appropriate for flooring using the Janka hardness test. This test involves pressing a steel ball into the wood with increasing force until it makes a significant indentation. For the sake of comparison, let's toss around some stats. Western Red Cedar, one of the woods typically used for decking, is indented at 580 pounds. Pressure-treated lumber, another popular choice, is indented at 690 pounds. Ipe, however, takes 3,600 pounds to be indented. It also has triple the bend strength of Western Red Cedar, and is more resistant to shrinking, splintering(!), twisting, cupping, and checking than traditional decking materials. Additionally, Ipe is remarkably resistant to rot and insects, and has been given a Class-A fire resistance rating, which is usually awarded to materials like concrete and steel.
There's only one problem with a wood this strong: installation. Ipe's so hard and dense that the average saw or drill ain't gonna cut it… literally. Carbide tipped saw blades and stainless steel screws are a must, and posts need to be pre-drilled by your supplier for fastening and cable assemblies.
Once you have your beautiful deck installed, though, you can look forward to decades of luxurious outdoor entertainment. A deck and railing system made with Ipe can be expected to last at least 25 years, with some proponents claiming it can last up to 75 years! Only minimal maintenance is required, which may include sweeping as necessary and periodic oil treatments.
Company: Stainless Cable & Railing Inc.
Source: http://site.stainlesscablerailing.com/blog/why-we-love-ipe-and-you-will-too
Tags: Exterior Design | Railing System | Safety
---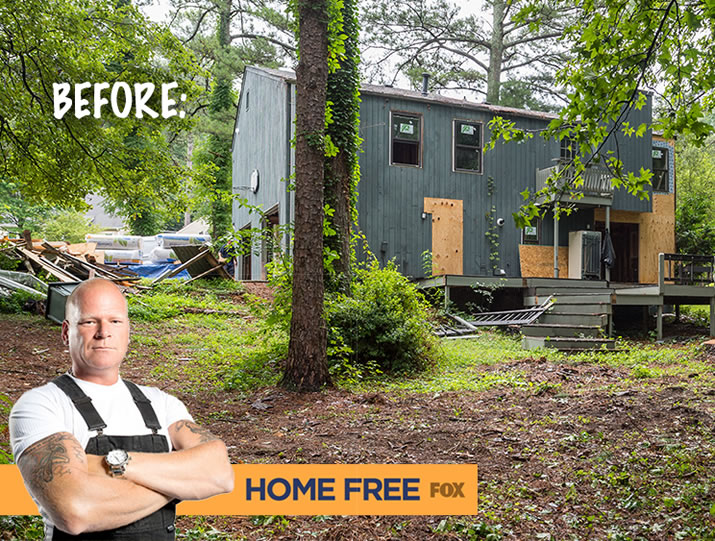 We are a proud partner of the latest reality show on FOX: Home Free! On this show, couples are competing to win their dream home. Each week they face challenges while working to restore a house for a deserving family, and each week a couple is eliminated from the competition.
But there's a twist: the couple that "loses" actually wins the house they helped renovate that week!
This week, the contestants will be installing Feeney CableRail on exterior and interior railings as part of their projects. We hope you tune in to see the results:
WEDNESDAY - September 3rd - 9/8c on FOX
You can watch all six previous episodes online: http://www.fox.com/home-free/full-episodes
Company: Feeney, Inc
Product: CableRail Stainless Steel Standard Assemblies
Source: http://media.feeneyinc.com/blog/home-free-the-reality-show-with-a-heart-features-feeney-cablerail
Tags: Exterior Design | Railing System
---
Are you planning to build a new deck or deck railing and looking at your material options? While many homeowners and deck builders prefer to work with wood, the use of synthetic and composite decking materials has grown in popularity. Today, one in five homeowners selects composite decking over wood, since a deck made of synthetic or composite materials requires little regular maintenance and still looks nice year after year.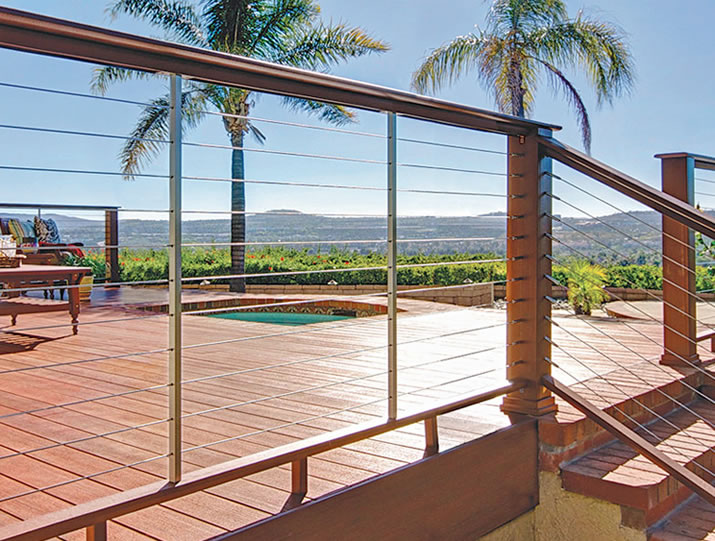 The Popularity of Composite and Synthetic Decking
Combining the best qualities of wood and plastic, synthetic and composite decking and railing are long-lasting, insect resistant and low maintenance products that do not crack, warp or separate due to varying weather cycles. They do not require water repellant or stain to hold up under extreme weather conditions. Composites are made of a blend of materials, including polyethylene (low-density or high-density), polyvinyl chloride and polypropylene—plus wood flour and additives that stabilize the plastic and protect it from damaging UV rays.

Environmentally-Friendly and Sustainable
Composite decking and railing is environmentally-friendly and sustainable, as well. ThisOldHouse.com reports that every 20 feet of traditional wood decking contains about 30 pounds of material destined for the landfill. The manufacture of composite deck and railing products uses millions of pounds of recycled plastic every year.

Careful Selection is Critical
Today's composite deck and railing products are much improved over the original products introduced to the market years ago. Concerns about deterioration, mildew and staining in products manufactured during the 90's and early 2000's motivated many local building code officials to revise the codes to now require synthetic deck and railing materials to have a valid Evaluation Service Report (ESR) to be considered as approved for use in the municipality. Careful selection of high quality composite deck and railing product is critical, and the use of reliable reviews and ratings such as the ESR report, which provides test results for moisture absorption, abrasion resistance, fastener spacing and allowable spans—is advised.

Each of the three main types of composite deck and railing--wood and recycled plastic composites, polyvinylchloride (PVC) vinyl and capped composite, have distinctive qualities.

Wood and Recycled Plastic Composite Decking
Wood and recycled plastic composite deck and railing products are made of a blend of materials, including 30 to 50 percent recycled plastic blended with wood fibers to establish skid and stain resistance. Trex, TimberTech, ChoiceDek and DuraWood are popular wood and recycled plastic composite decking manufacturers offering warranties that range from 10 to 25 years.

Polyvinyl Chloride (PVC) Decking
Polyvinyl chloride (PVC) deck and railing is made of new plastic resin, with deck planks that have good spanning ability. PVC decking is light weight in comparison to composite decking, and low maintenance, stain and mold resistant and scratch resistant. Three of the primary manufacturers, Kroy, DreamDeck and EZ Deck, offer limited lifetime warranties.

Capped Composite or Capstock Decking
Capped composite or capstock decking is a hybrid of composite decking and PVC decking. Typically, a composite wood flour and plastic core is wrapped with a thin veneer of PVC-like material. Capstock has the same advantages as PVC in comparison to composites, and is less expensive than PVC. Three popular manufacturers include Fiberon, Trex and TimberTech.

See more composite deck photos in our photo gallery.
Company: Feeney, Inc
Source: http://media.feeneyinc.com/blog/composite-and-synthetic-decking-and-deck-railing-materials
Tags: Exterior Design | Floor | Railing System
Mid-century modern design in Los Angeles (April 27, 2015), Aluminum Railing Frame Systems (January 28, 2015)