architecture - engineering - construction

Railing System
---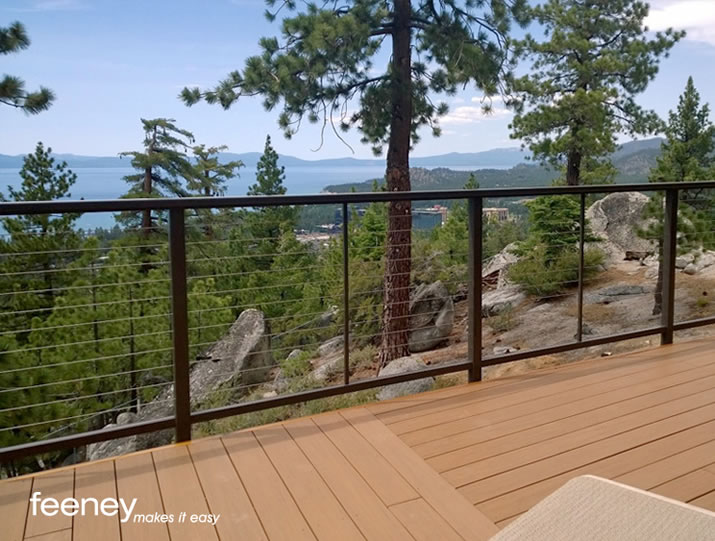 Composite decks are on the rise, with more options for consumers than ever before. Photo: DesignRail® aluminum railing on composite deck
What happened to the great backyard star, the deck? Today more and more decking contractors, remodelers, and dealers have quietly morphed into outdoor lifestyle specialists. While the deck still plays a leading role, it's now supported by a large backyard cast.
So reports Charlie Wardell, a contributing editor at Hanley Wood, the folks behind widely-read trade publications like PROFESSIONAL DECK BUILDER, BUILDER, and REMODELER. Recently Wardell shared his 2017 decking and railing outlook, gained from observations and exclusive interviews at the Deck Expo. The big takeaway: "A lot of companies are switching their marketing focus from decking and railing to outdoor living," Wardell told us in a private chat. "They're selling lifestyle rather than product."
The idea isn't new, of course, but the speed of transition may be. Mike Beaudry, executive director of NADRA (North American Deck and Railing Association), told Wardell their annual deck design award candidates used to be "deck after deck." Beaudry says "… it's now patios with connected decks and pools, screened-in porches, arbors, and outdoor kitchens." It's not your grandfather's backyard anymore. The new normal features LED lighting, pergolas, weather-proof storage cabinets, and other indoor amenities.
What else to look for this year:
Composite Decking
This year watch for composite boards that mimic distressed wood flooring, complete with variegated streaking. The rough-hewn rustic look appears in patterns won't repeat for up to 12 feet. Homeowners have never had so many composite choices for color, texture, installation ease, and price points.
User-Friendly
One composite flooring manufacturer says their boards have conquered a new frontier: They're bare-foot friendly … or at least, friendlier. They say the new composites don't give you the hot foot like standard composites. A special capstock technology reduces heat absorption by up to 35 percent. Even a cool new feature like this isn't always obvious to pros, much less consumers. "At first glance, most the composite decking products look very similar," Wardell tells us. "You have to ask questions to understand the differences."
Railings
"Buyers also want classier railings, which is reflected in the explosion of railing products," his states. Notable among them are cable rails, which Wardell says were especially prominent at the Expo. Lighting also features prominently in outdoor spaces, and is a great add-on to any railing.
Wardell likes the direction of industry innovation and rush to serve a mushrooming outdoor lifestyle segment. But, as he quickly adds, repositioning yourself in an evolving marketplace doesn't guarantee success. That still comes down to old-fashioned service, quality, and performance.
Company: Feeney, Inc
Product: DesignRail® Aluminum Railings
Source: http://media.feeneyinc.com/blog/backyard-2.0-2017-deck-and-railings-forecast
Tags: Design | Railing System | Safety
---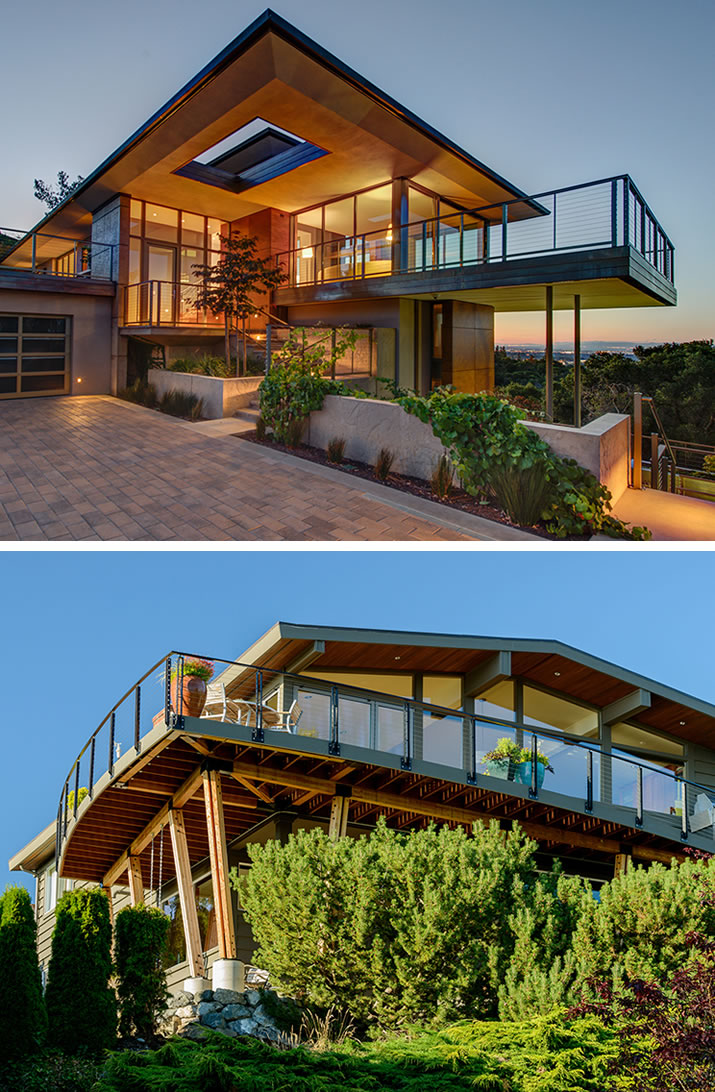 Project/photo credits: First Place Award: DesignRail® in Portola Valley residence, cantilevered deck (2M Architecture, Mattarozzi-Pelsinger Builders, Treve Johnson Photography). Second Place Award: Seattle area deck, custom deck railing and structural hardware (Dave Pelletier Architect, Jeff Ruud of Peak Builders, Gary Perreault, fabricator, Will Austin Photography)
Feeney Wins NADRA 2016 Deck Competition - Manufacturer Project Category
Each year the North American Deck and Railing Association (NADRA) holds its National Deck Competition. Prizes are awarded in a number of different categories, such as Wood Decks under $25,000, Porches, Illumination, and Manufacturer Projects, to name a few.
Projects were judged on the following criteria:
Use of Space / Functionality

Creativity / Innovation

Evidence of Craftsmanship / Degree of Difficulty

Overall Visual Appeal
All entries were judged anonymously - no identifying information could be included in the project photos. The contest was open to current NADRA members for decks completed during 2015 or 2016.
Every year the winners are announced at the Remodeling | Deck Expo | JLC Live show, and that ceremony is one of the show highlights! This year's ceremony took place at the Hard Rock Cafe in Baltimore on the first night of the event.
Feeney was proud to take home first and second place in the Manufacturer Projects category.
This year NADRA also included a People's Choice Award, using Facebook to collect votes on the best decks. Votes are still being tallied as we speak, but we are all crossing our fingers for a win with the people as well.
Learn more about: DesignRail® CableRail
Company: Feeney, Inc
Product: DesignRail® Aluminum Railings
Source: http://media.feeneyinc.com/blog/feeney-wins-nadra-2016-deck-competition-manufacturer-project-category
Tags: Exterior Design | Railing System | Safety
---
Feeney has teamed up with Kelly Edwards, television host, designer and lifestyle expert, on an elegant new container home project. The finished tiny home was featured on the Hallmark Channel's "Home & Family" show on July 26. The tiny house movement has gained significant momentum this past year, and container homes are leading the charge. More people are finding out how tiny home living can reduce costs, while still affording the comfort they enjoy.
Embracing the trend, Edwards and her contractor Art Steedle, co-owner of Steedle Brothers Construction in Long Beach, California, have transformed a 160 square-foot container into a fully-functional, compact dwelling featuring a living room with a hidden bed, bathroom and kitchen. To complete the project, the home includes a rooftop deck with Feeney's DesignRail® railing system, in a black powder coat finish with CableRail infill.
"Our first choice was using Feeney's rail system to make this possible. I can't even begin to tell you how it changed the look of the container," said Edwards. "It's sleek, modern, durable, and easy to install; everything we wanted this container to be."
Edwards and Steedle designed the home with outdoor living in mind, with the rooftop deck as the focal point of the project. "By incorporating this space, the home just feels much larger," explained Edwards.
Feeney's DesignRail® system combines the durability of aluminum with innovative design details to ensure lasting beauty, structural integrity, and affordability while drastically reducing long term maintenance expenses. All rails and stanchions are made from high-strength 6000-series aluminum extrusions that can be cut and assembled on site using pre-engineered components that snap and screw together.
"Tiny homes are definitely trending among homeowners right now, and our DesignRail® is a perfect addition to these spaces because of its versatile and low-maintenance qualities," said Andy Penny, Feeney's vice president of marketing and advertising.

Company: Feeney, Inc
Product: DesignRail® Aluminum Railings
Source: http://media.feeneyinc.com/blog/kelly-edwards-tiny-home-shipping-container-elegant-living-rooftop-deck
Tags: Design | Railing System
---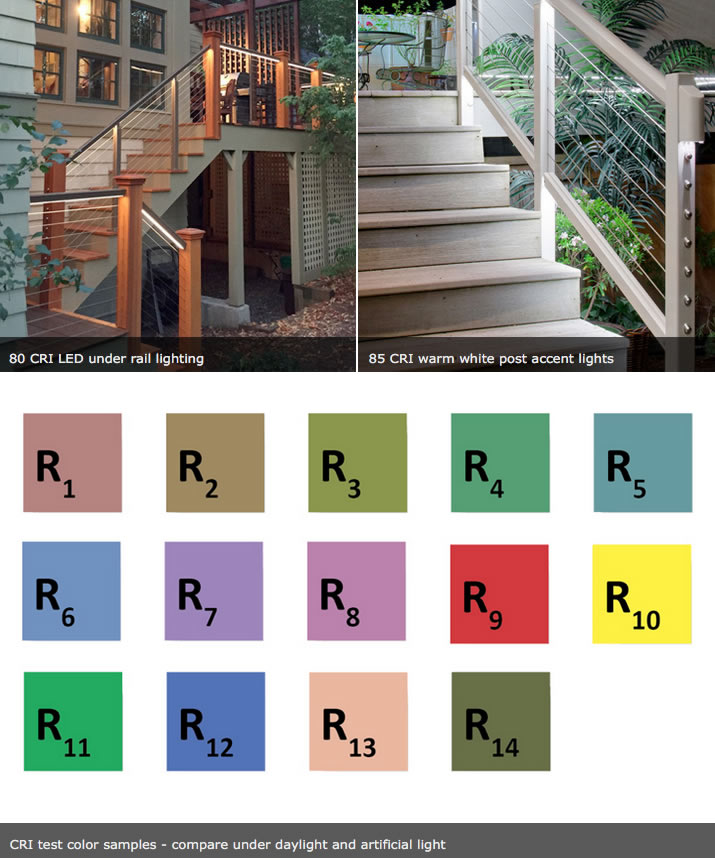 When it comes to design, the Color Rendering Index (CRI) is an important aspect of any lighting consideration. Different light bulbs emit different colors of light – ranging from cool tones to warm. The CRI of a bulb is determined by comparing the appearance of a colored object under an artificial light source to its appearance under natural light. The higher the CRI, the truer the color presentation.
Why is CRI important in outdoor lighting?
When you select lighting options with high CRI, colors will pop, textures will stand out, and finishes have depth and luster. As such, many architects refer to lighting as the fourth element of good design.
Selecting a high CRI is important when designing outdoor spaces, too, because it allows us to create the desired ambiance – whether it be warm and inviting for entertainment or a tranquil niche for relaxing after a long day. With the onset of the vast capabilities of LEDs, outdoor features within a space can be accented by focusing the position of the light, as pictured here with post accent lights – and it all starts with the right bulb that shines a natural (high-CRI) light.
Great outdoor lighting design, however, is more than just varying the warmth of color coming from a bulb. A high CRI allows designers to create layers and textures of light. Outdoor LEDs can be used to create complex layers of light throughout your garden. Some of the more popular lighting techniques include spotlighting, highlighting, silhouetting, shadowing and grazing (with lights mounted at or above the ceiling). Using light to designate what's most important intuitively draws attention to specific spaces. For instance, a home may be lit on the outside, but good lighting design will incorporate layers of light to clearly denote the pathway to the entrance.
The right lighting can turn a potential hazard, such as steps and walkways, into areas that are more easily navigated after dark. This is especially important for businesses that provide services for older individuals who have poor eyesight. In fact, more and more thought is being given to the type of lighting used in parking lots, parking garages and pedestrian walkways. Facilities that install high-CRI lighting feel more secure to pedestrians and drivers, and as more institutions, such as educational, medical and commercial, run operations after dark, this is an important consideration to creating a secure and welcoming environment.
As lighting technology continues to advance, we expect awareness to grow and the importance of the Color Rendering Index to continue to be a key element in outdoor lighting design.
Company: Feeney, Inc
Source: http://media.feeneyinc.com/blog/color-rendering-index-why-its-important-in-outdoor-lighting
Tags: Color | Design | Lighting | Railing System
---
AvantiSystemsUSA supplies and installs a family of architectural glass wall and glass door systems. Inspired by European interior design, Avanti glass systems profile a slim line appearance with frame-less panels and sleek metallic hardware.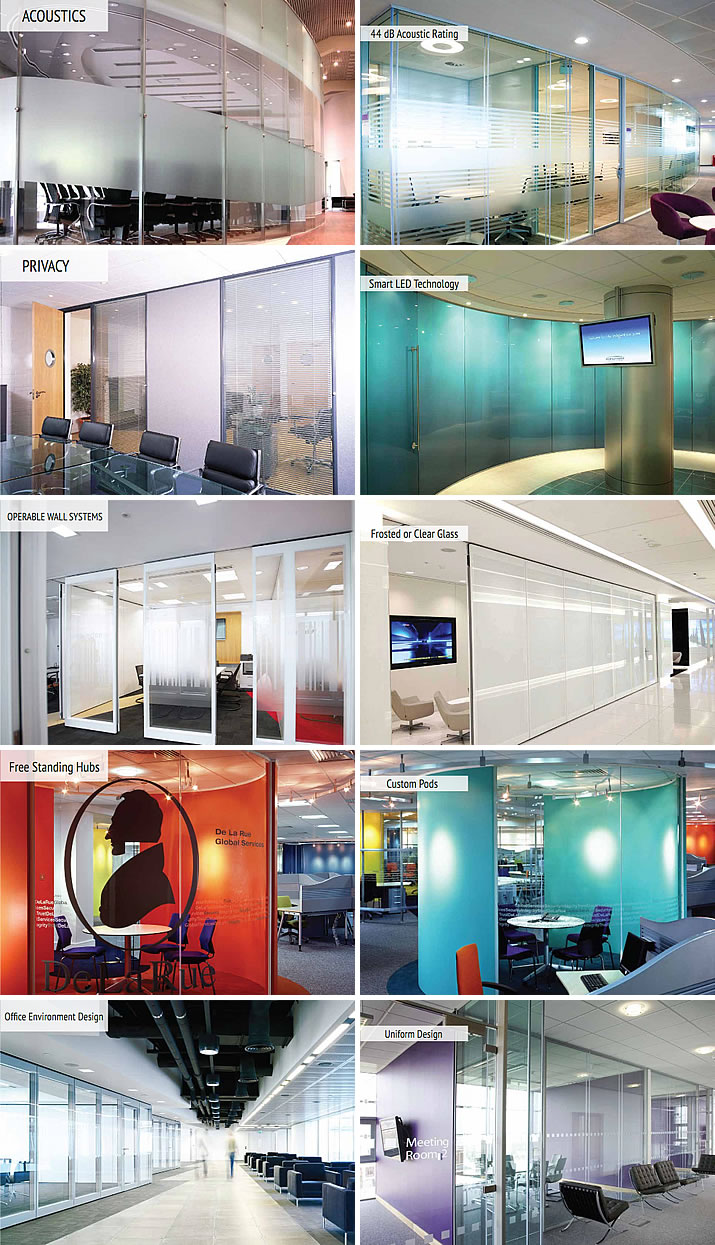 Company: Avanti Systems USA
Source: http://files.avantisystemsusa.com/architects_inspiration_handbook_avanti.pdf
Tags: Acoustics | Interior Design | Railing System | Wall Panels | Window Shades
---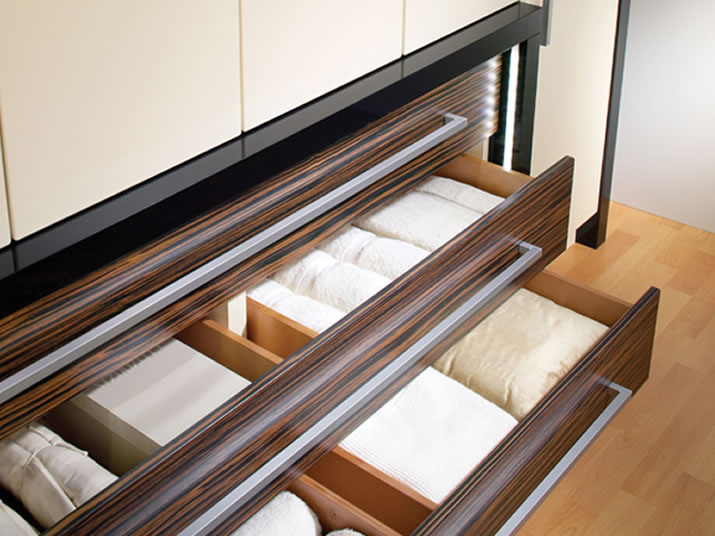 Tough enough for commercial use, model 3135EC Eclipse Undermount Easy-Close slide delivers flawless movement, easy adjustment, and superior soft-close action for jobs up to 30" wide.
Reliable soft-close action
Multiple drawer front adjustment make installation easy
Up to 100 lb. load rating
ADA compliant with 4.8 lbs. of pull force
Quiet and smooth operation
Robust design prevents drawer sagging and dragging for better movement
Even lengths 12"–28", 15" and 21"
This product creates exciting new possibilities for retail, commercial, medical, and high-end residential customers. Learn more using the links below:
Company: Accuride International
Product: Medium Duty Slides » 3135EC Eclipse Easy-Close
Source: https://www.accuride.com/en-us/products/3135ec-eclipse-easy-close
Tags: Interior Design | Railing System
---

Your deck project is considered one of the best places to spend your home improvement dollars. Investment motives aside, our decks provide hours of enjoyment with friends and family, so it should no longer be at the bottom of your home improvement wish list.
Define the Entrance
While you may do most of your walking on and off your deck from your home's patio door, if your deck has stairs down to the backyard, make that second entryway as inviting as possible. Create a defined walkway with gravel and pavers, and plant bushed and/pr flowers on each side of the stairs for an inviting path onto your deck.
A Built-In Bench
A built-in bench not only provides visual appeal, but some practical advantages as well. It efficiently utilizes your space for extra seating. It can also provide extra storage space underneath the seating. Make sure to include comfortable cushions that can be stored below when the weather is bad.
Fuller Sound
While various conventional music solutions may do the job for your outdoor entertaining needs, you can create a fuller and more sophisticated experience with a weatherproof built-in sound system. Whether they are hung above or blended into the scenery as "speaker rocks," you can have your deck or your entire backyard wired with your favorite music.
Water Feature
Take your relaxation to the next level with the soothing sounds of a water feature. if your deck isn't large enough to feature a fountain to your liking, you can consider a small table top version or install a bigger one nearby where you can still enjoy its visual and audible beauty.
Cover a Portion of Your Deck
Covering an area of your deck, whether it's simply an umbrella on your table or a wooden pergola partially covering your deck, can make it easier to entertain when the weather isn't perfect, or if you just want to provide a little respite from the heat of the sun.
Cable Railing
All decks more than a couple feet off the ground have to come with railing to be up to code. But that doesn't mean you have to settle for the conventional route. If you are a DIY-er, You can cut your cost by ordering a kit and installing it yourself
Grow Herbs
If you love to cook and may be interested in growing some of your own ingredients, growing herbs can be fun, while providing extra visual appeal to your deck. more importantly, it will add a little fragrance backyard.
Stain Your Deck
There are a number of wood staining options for your deck. They vary base on color, opacity, to fit your stylistic needs. Not only will it visually transform your deck, but it will provide protection from the elements and help your deck last for many years.
Company: Stainless Cable & Railing Inc.
Source: http://site.stainlesscablerailing.com/blog/smart-ways-to-upgrade-your-deck/
Tags: Landscape Design | Railing System
---

Outdoor spaces are pretty popular these days; you'll want to make sure yours isn't just usable, but enjoyable. If you're considering updating your deck or railing system, we have a suggestion for what wood to use. It's called Ipe (pronounced e-pay), also known as Ironwood or Brazilian Walnut, and it comes from responsibly harvested forests in South America and parts of Central America. What's so special about Ipe? A few things.
Ipe is some sweet-lookin' eye candy
The long planks, tight grain, and lack of knots create refined, clean lines. It's reddish walnut color is rich, warm, and sophisticated. Or, if you prefer something more subtle, skip the UV-protection finish, allowing the color to fade naturally to soft silver with a lovely patina. Ipe's beauty isn't just grain-deep, though. Aesthetics and practicality are sometimes at odds with each other, but not in the case of this ridiculously durable hardwood. Which brings us to our next point:
In addition to beauty, Ipe's got more than enough brawn
In fact, it's one of the hardest wood species in the world. Hardwoods are tested to make sure they are appropriate for flooring using the Janka hardness test. This test involves pressing a steel ball into the wood with increasing force until it makes a significant indentation. For the sake of comparison, let's toss around some stats. Western Red Cedar, one of the woods typically used for decking, is indented at 580 pounds. Pressure-treated lumber, another popular choice, is indented at 690 pounds. Ipe, however, takes 3,600 pounds to be indented. It also has triple the bend strength of Western Red Cedar, and is more resistant to shrinking, splintering(!), twisting, cupping, and checking than traditional decking materials. Additionally, Ipe is remarkably resistant to rot and insects, and has been given a Class-A fire resistance rating, which is usually awarded to materials like concrete and steel.
There's only one problem with a wood this strong: installation. Ipe's so hard and dense that the average saw or drill ain't gonna cut it… literally. Carbide tipped saw blades and stainless steel screws are a must, and posts need to be pre-drilled by your supplier for fastening and cable assemblies.
Once you have your beautiful deck installed, though, you can look forward to decades of luxurious outdoor entertainment. A deck and railing system made with Ipe can be expected to last at least 25 years, with some proponents claiming it can last up to 75 years! Only minimal maintenance is required, which may include sweeping as necessary and periodic oil treatments.
Company: Stainless Cable & Railing Inc.
Source: http://site.stainlesscablerailing.com/blog/why-we-love-ipe-and-you-will-too
Tags: Exterior Design | Railing System | Safety
---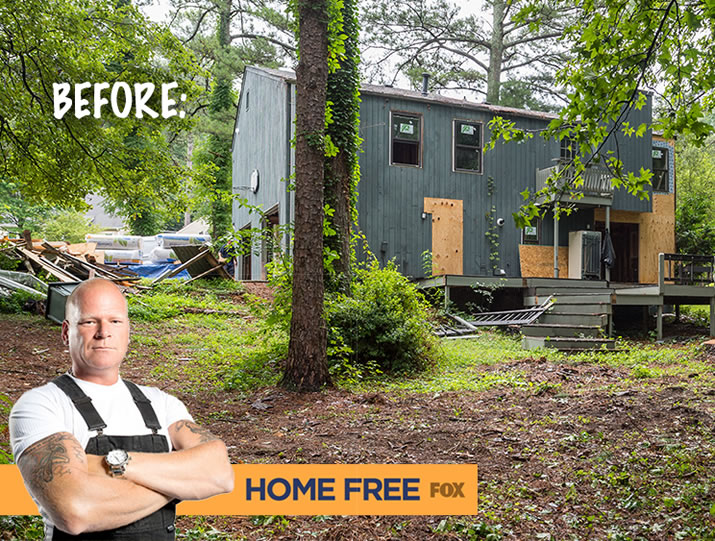 We are a proud partner of the latest reality show on FOX: Home Free! On this show, couples are competing to win their dream home. Each week they face challenges while working to restore a house for a deserving family, and each week a couple is eliminated from the competition.
But there's a twist: the couple that "loses" actually wins the house they helped renovate that week!
This week, the contestants will be installing Feeney CableRail on exterior and interior railings as part of their projects. We hope you tune in to see the results:
WEDNESDAY - September 3rd - 9/8c on FOX
You can watch all six previous episodes online: http://www.fox.com/home-free/full-episodes
Company: Feeney, Inc
Product: CableRail Stainless Steel Standard Assemblies
Source: http://media.feeneyinc.com/blog/home-free-the-reality-show-with-a-heart-features-feeney-cablerail
Tags: Exterior Design | Railing System
---
Are you planning to build a new deck or deck railing and looking at your material options? While many homeowners and deck builders prefer to work with wood, the use of synthetic and composite decking materials has grown in popularity. Today, one in five homeowners selects composite decking over wood, since a deck made of synthetic or composite materials requires little regular maintenance and still looks nice year after year.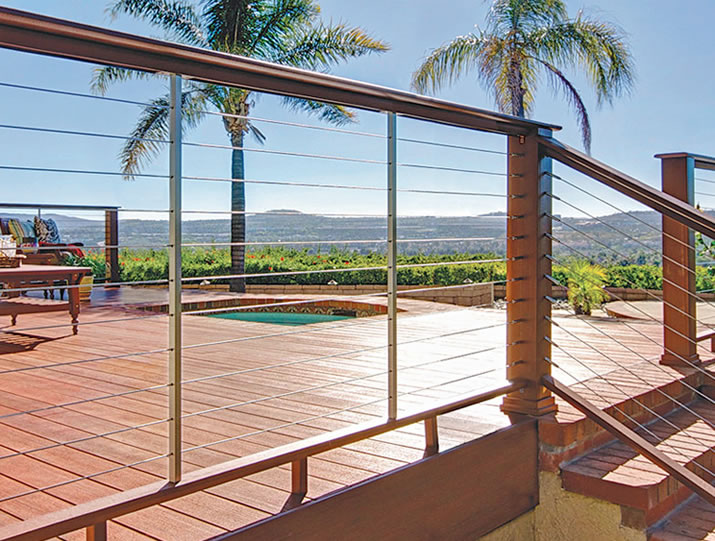 The Popularity of Composite and Synthetic Decking
Combining the best qualities of wood and plastic, synthetic and composite decking and railing are long-lasting, insect resistant and low maintenance products that do not crack, warp or separate due to varying weather cycles. They do not require water repellant or stain to hold up under extreme weather conditions. Composites are made of a blend of materials, including polyethylene (low-density or high-density), polyvinyl chloride and polypropylene—plus wood flour and additives that stabilize the plastic and protect it from damaging UV rays.

Environmentally-Friendly and Sustainable
Composite decking and railing is environmentally-friendly and sustainable, as well. ThisOldHouse.com reports that every 20 feet of traditional wood decking contains about 30 pounds of material destined for the landfill. The manufacture of composite deck and railing products uses millions of pounds of recycled plastic every year.

Careful Selection is Critical
Today's composite deck and railing products are much improved over the original products introduced to the market years ago. Concerns about deterioration, mildew and staining in products manufactured during the 90's and early 2000's motivated many local building code officials to revise the codes to now require synthetic deck and railing materials to have a valid Evaluation Service Report (ESR) to be considered as approved for use in the municipality. Careful selection of high quality composite deck and railing product is critical, and the use of reliable reviews and ratings such as the ESR report, which provides test results for moisture absorption, abrasion resistance, fastener spacing and allowable spans—is advised.

Each of the three main types of composite deck and railing--wood and recycled plastic composites, polyvinylchloride (PVC) vinyl and capped composite, have distinctive qualities.

Wood and Recycled Plastic Composite Decking
Wood and recycled plastic composite deck and railing products are made of a blend of materials, including 30 to 50 percent recycled plastic blended with wood fibers to establish skid and stain resistance. Trex, TimberTech, ChoiceDek and DuraWood are popular wood and recycled plastic composite decking manufacturers offering warranties that range from 10 to 25 years.

Polyvinyl Chloride (PVC) Decking
Polyvinyl chloride (PVC) deck and railing is made of new plastic resin, with deck planks that have good spanning ability. PVC decking is light weight in comparison to composite decking, and low maintenance, stain and mold resistant and scratch resistant. Three of the primary manufacturers, Kroy, DreamDeck and EZ Deck, offer limited lifetime warranties.

Capped Composite or Capstock Decking
Capped composite or capstock decking is a hybrid of composite decking and PVC decking. Typically, a composite wood flour and plastic core is wrapped with a thin veneer of PVC-like material. Capstock has the same advantages as PVC in comparison to composites, and is less expensive than PVC. Three popular manufacturers include Fiberon, Trex and TimberTech.

See more composite deck photos in our photo gallery.
Company: Feeney, Inc
Source: http://media.feeneyinc.com/blog/composite-and-synthetic-decking-and-deck-railing-materials
Tags: Exterior Design | Floor | Railing System
---
Located in Brentwood, California, the Kearsarge Residence is a stunning triumph in mid-century design. Architect: Kurt Krueger. Features: Feeney CableRail.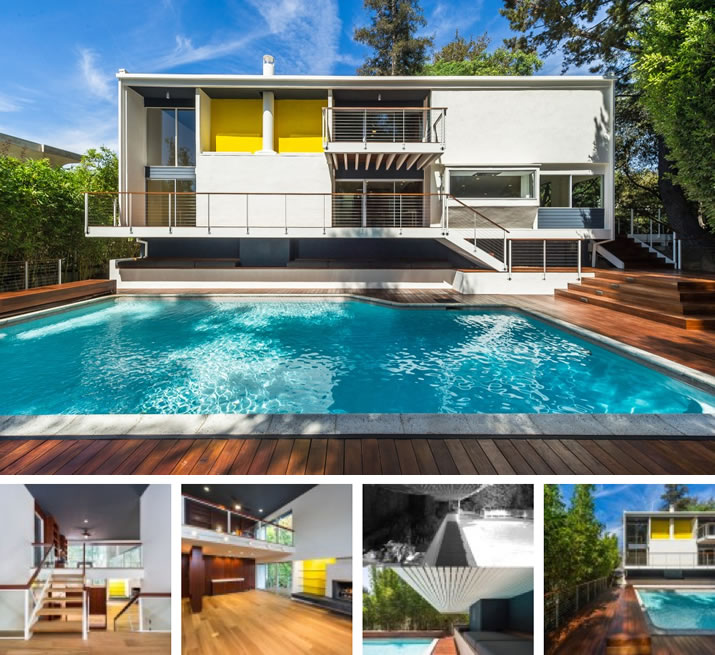 Photographs: Unlimited Style Photography
Company: Feeney, Inc
Product: CableRail Stainless Steel Standard Assemblies
Source: http://www.archdaily.com/431384/kearsarge-residence-kurt-krueger-architect/
Tags: Design | Railing System
---
DesignRail® Aluminum Railing Frame Systems combine the durability of aluminum with innovative design details to ensure lasting beauty, structural integrity, and affordability while drastically reducing long term maintenance expenses. All rails and stanchions are made from high strength 6000-series aluminum extrusions that can be cut and assembled on site using pre-engineered components that snap and screw together. DesignRail® Aluminum Railing Systems are easily adaptable to any project: interior or exterior, commercial or residential. Simply choose the style options that are best for your project to custom design your railing.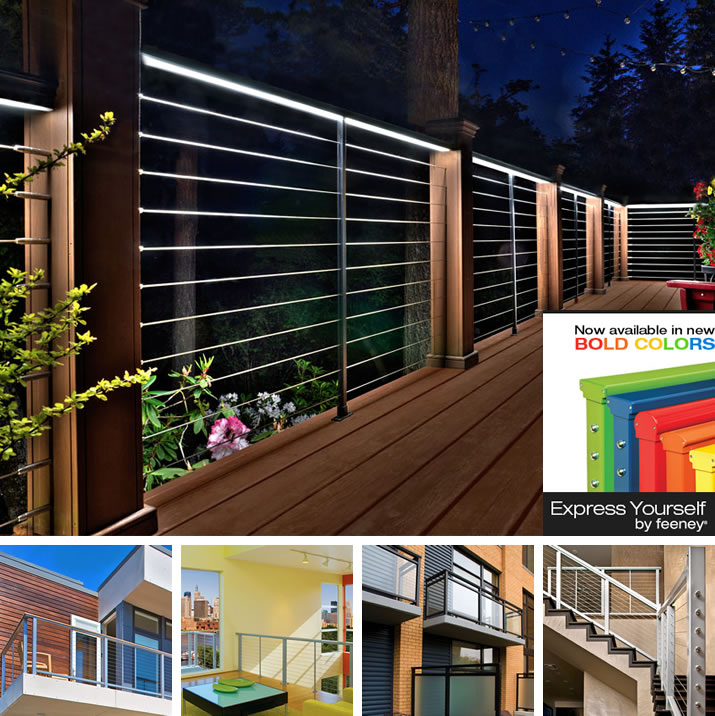 Durable powder-coated finishes offer superior color retention, impact resistance, and weather protection.
Available in an assortment of colors that meet rigorous AAMA-2604 coating specifications
Low maintenance with long use cycle: no rusting, cracking, peeling, or repainting
Detail drawings and 3-part specifications available, along with toll-free design assistance and technical support
Product contains recycled materials
Express Yourself Now DesignRail® comes in BOLD beautiful colors:

Red Hot Red, Orange You Sassy,
Not a Mellow Yellow, Margarita Green and Blazing Blue
Company: Feeney, Inc
Product: DesignRail® Aluminum Railings
Source: http://www.feeneyinc.com/Architectural/DesignRail-Railings
Tags: Design | Railing System