architecture - engineering - construction

Railing System
---
December 30, 2020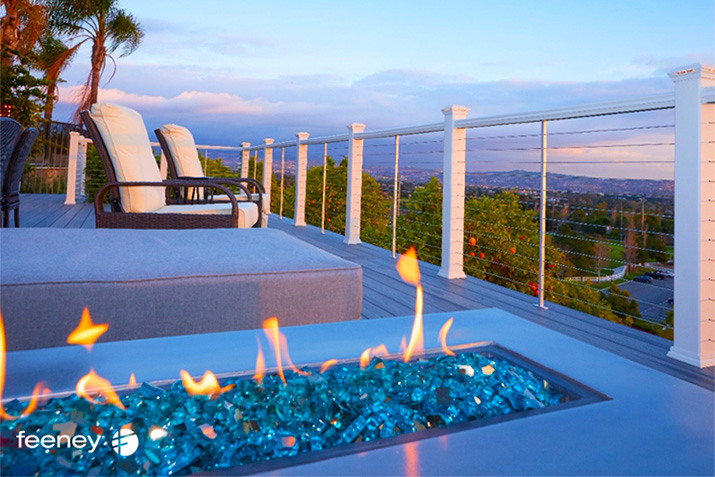 Homeowners have always enjoyed their outdoor spaces. What was once simply a back patio or deck is now an entertainment area, where homeowners and their friends and families congregate to socialize, relax and recharge. The following are five elements that will transform an outdoor space to an area ideal for entertaining while keeping maintenance to a minimum.
---
December 21, 2020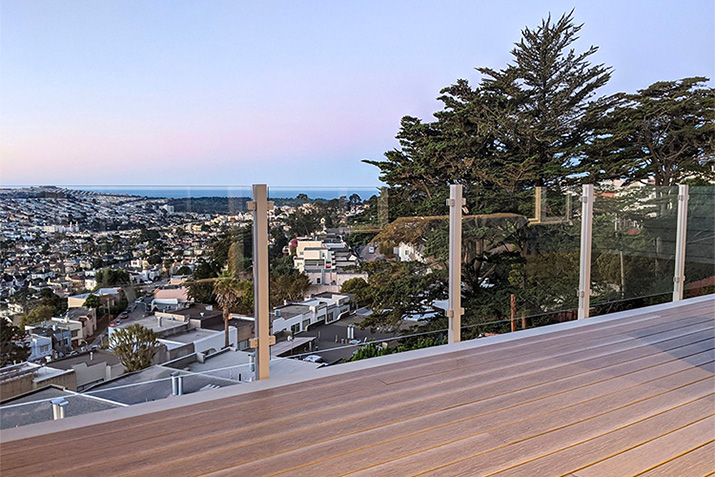 This silver aluminum glass railing shines bright on this deck in San Francisco, CA. The eGlass Vision™ system inspires an impression of invisibility. Offering the least obstructed view, this frameless glass railing option replaces traditional horizontal rails with small clamps attached to aluminum posts. Designed to keep your focus on an uninterrupted view, eGlass Vision™ removes the top and bottom rails from your sightline, creating a view that is like having no railing at all.
---
November 24, 2020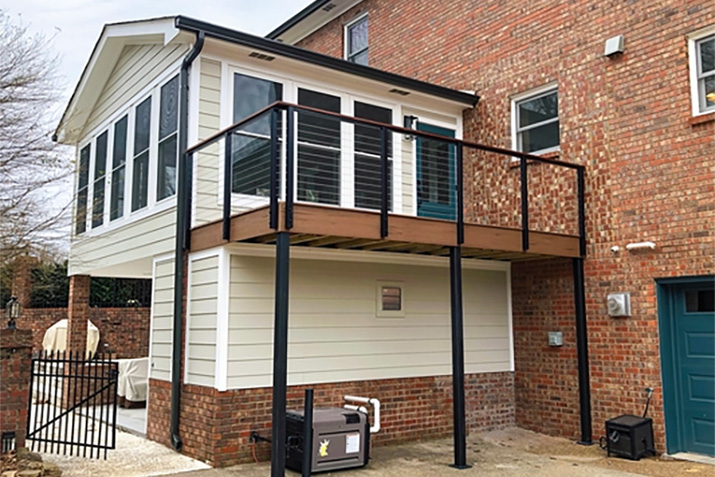 Old-fashioned meets contemporary at this Clarksville home. The ipe wood rail blends nicely with the brick façade while the black posts stand out dramatically against it. The end result elegantly updates this brick home. The reinforced aluminum system withstands the tension of cable infill without bending.
---
October 23, 2020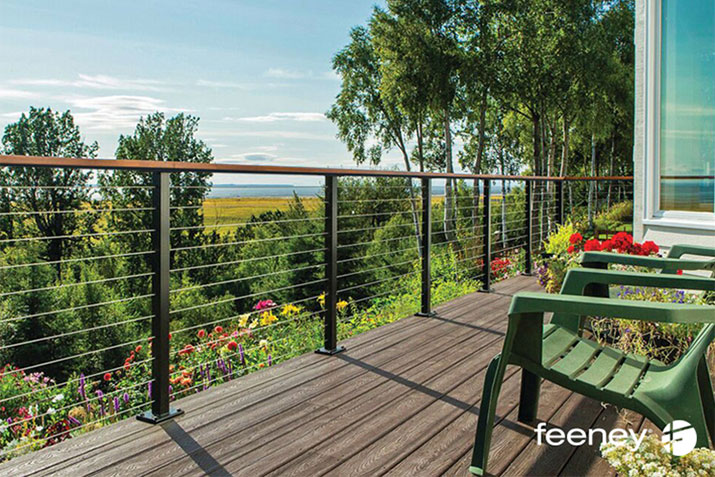 Cable railing can turn an ordinary deck into a statement-making space that enhances the view. Following are some things to keep in mind when incorporating cable rail in an exterior setting.
---
October 12, 2020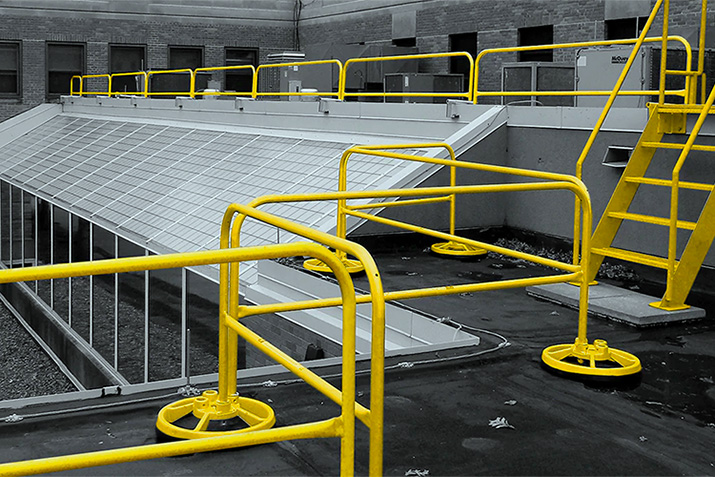 Safety Rail Company makes OSHA-compliant fall protection safety railings and guard rail systems that are durable and innovative, yet affordable. With years of industry experience, Safety Rail Company fall protection products are engineered first and foremost to save lives.
---
October 9, 2020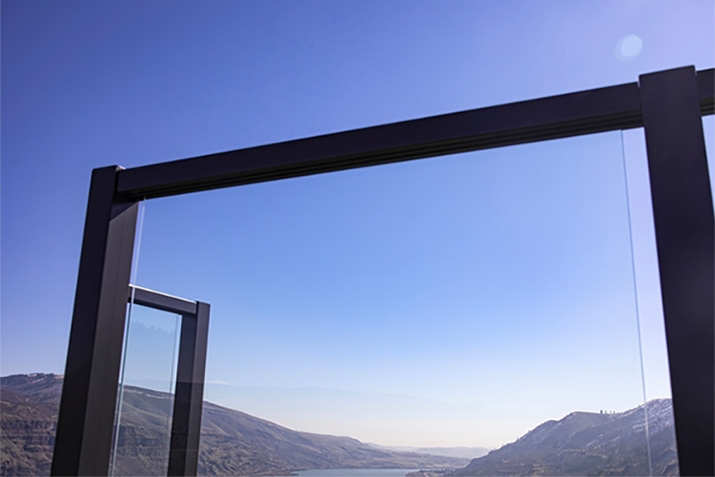 Offering the thinnest top rail and combined with full glass panels, this glass railing option focuses on a beautiful view while providing the safety and durability you expect from a railing system. Designed for minimal view obstruction, eGlass Element™ exposes the splendor of your surroundings, whether indoors or outdoors.
---
September 11, 2020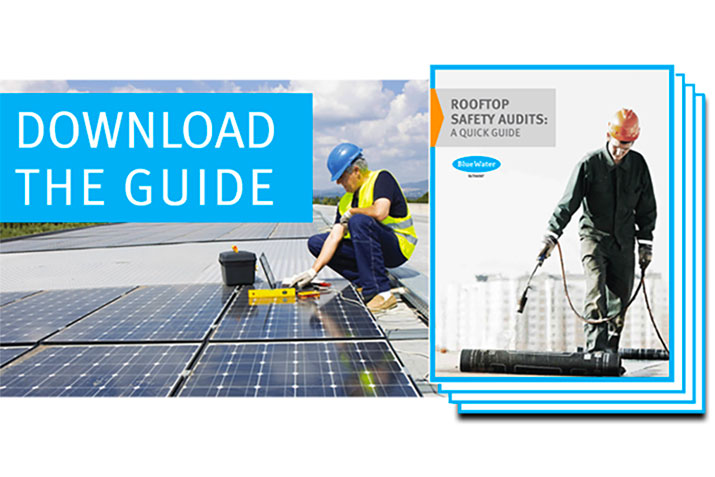 Now more than ever, it is important to protect employees, contractors, and anyone else who accesses your facility's roof. Making rooftop safety a priority at your facility can help reduce the risk of injurious or fatal falls – a major goal for all safety and facility managers in 2019 and beyond. A comprehensive rooftop safety audit can address many of these safety concerns, as well as overall compliance and other OSHA regulatory issues. Download this guide to learn about the Five Areas of Concern for Rooftop Safety:
---
August 19, 2020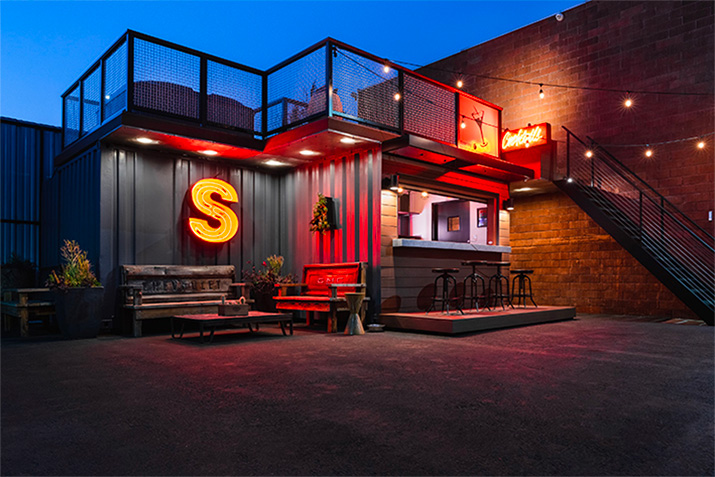 Art Steedle, owner of Steedle Brothers Construction, used several of Feeney's products, including DesignRail® Panel Infill, on a container bar that he recently constructed at his company site located in the Los Angeles harbor area close to Long Beach. Art's goal with the project was to create a space at his shop where his team could unwind at the end of the day and enjoy the bar, sit in the hot tub or lawn chairs, and chat about the day.
---
May 29, 2020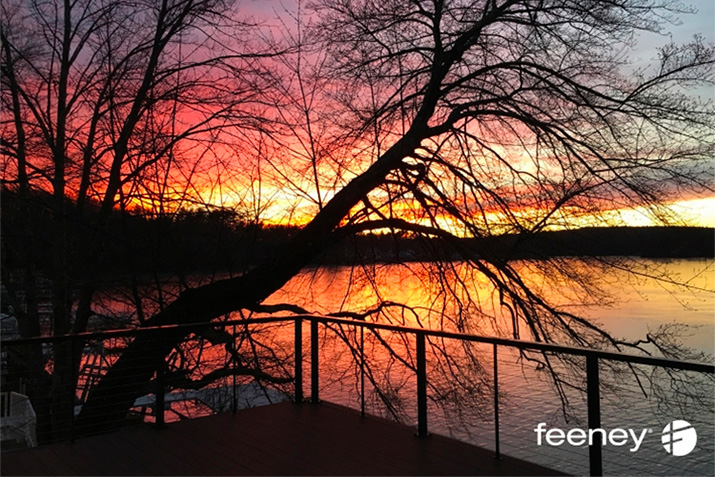 What's a dream home without the perfect view? If your idea of a welcoming space is open, expansive views and lots of natural lighting, you should consider incorporating stainless steel cable railing into your deck, stairs and other outdoor – and indoor – spaces. Minimalist, modern and fully recyclable, stainless steel cable railing is a great option for homeowners looking to make deck or room more spacious and inviting.
---
April 24, 2020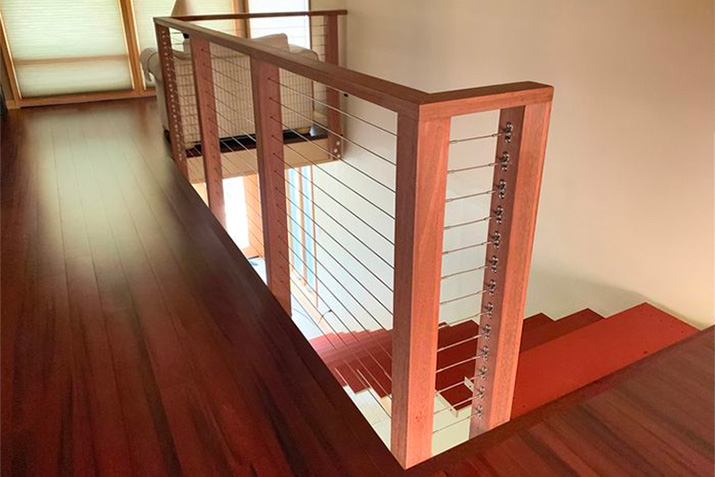 Exuding elegance, this stairwell and living area in Angwin, CA combine creamy walls with richly colored hardwood. The red balau railing frame fits in perfectly, while cable infill keeps the area open and spacious.
---
April 1, 2020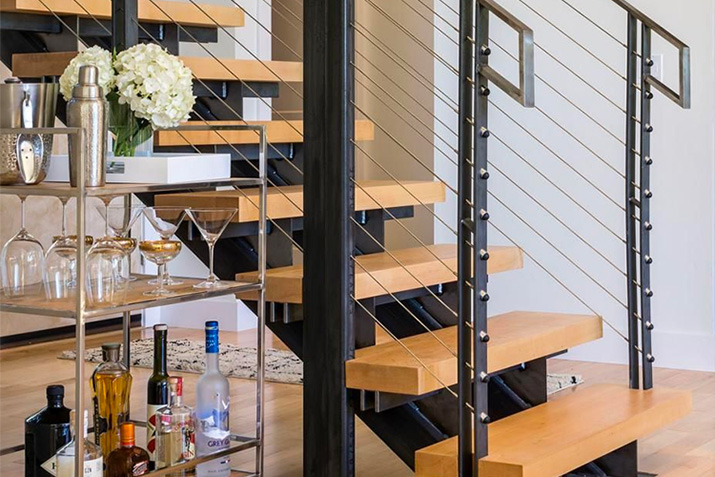 The integration of outdoor and indoor living spaces is a growing design trend. A concept first popularized by Frank Lloyd Wright, organic architecture aims to intertwine the spaces of a home by creating a seamless aesthetic between the interior and the exterior. While this can be accomplished in many ways, utilizing design elements that are consistent both inside and outside the home can create a perfectly unified living space.
---
January 29, 2020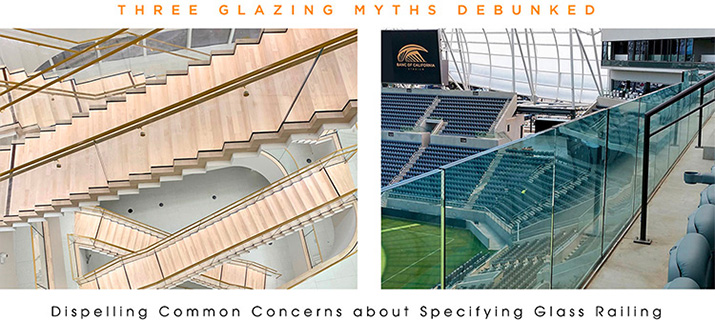 No matter how you look at it – or through it – glass is a clear choice among today's commercial architects and designers. From sports arenas and shopping malls to hotels and healthcare facilities, savvy specifiers are increasingly looking to incorporate glass into their project designs, presenting a huge growth opportunity for contract glaziers. However, taking on projects involving glass railing can be challenging due to lack of familiarity with the products or concerns related to engineering.
---
January 22, 2020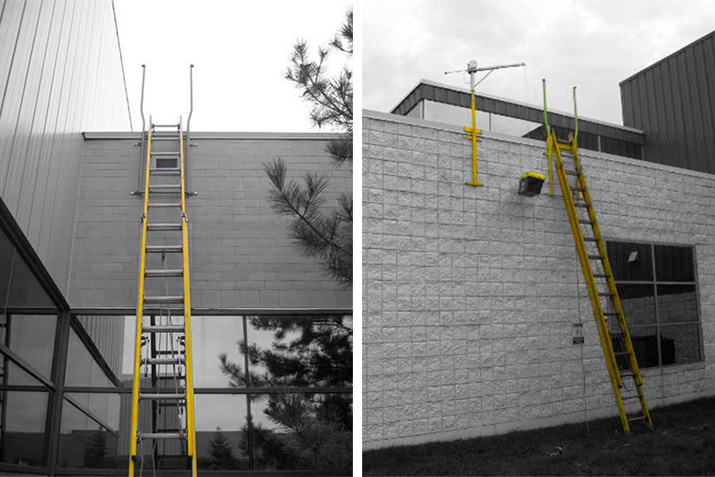 Almost everyone that has ever used an extension ladder, roof hatch or permanently mounted vertical ladder has some type of "scary" story to tell. After years in the commercial heating and air conditioning business, climbing up and down many different types of ladders and hearing all of those stories, the inventor/developer of LadderPort™ decided to find a safer way for all construction trades to access roofs when using an extension ladder.
---
January 17, 2020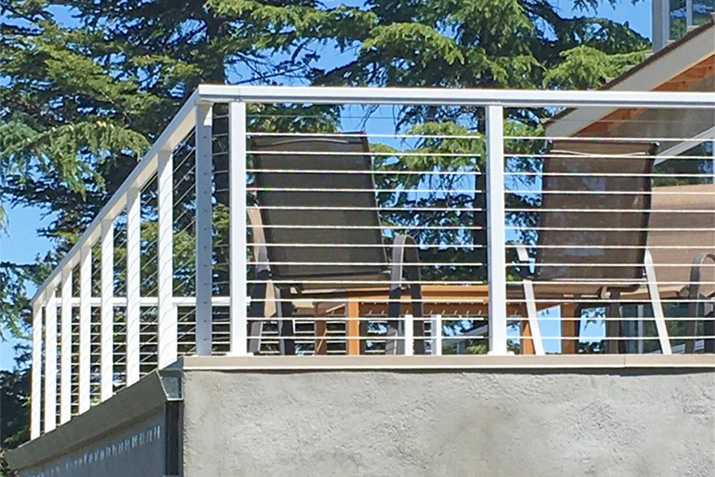 This Bay Area home had recently undergone a yard and deck renovation to update the outdoor space into something more modern and open. The customers wanted a railing solution that fit this contemporary theme while maintaining an open view of their newly landscaped yard.
---
November 11, 2019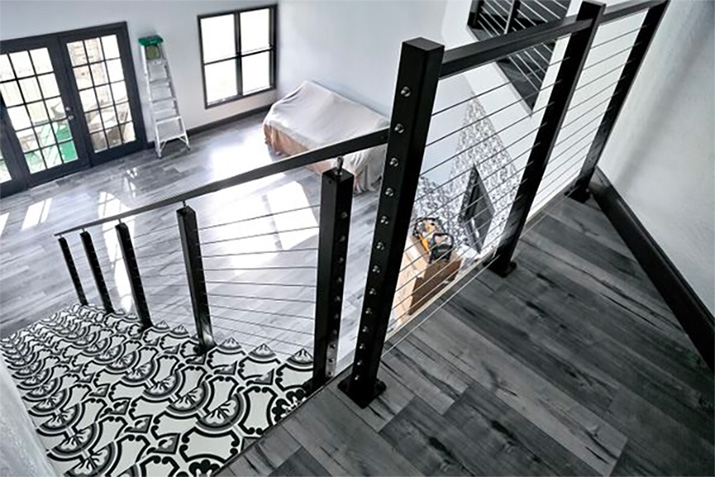 Sporting a stark black-and-white color scheme and eye-catching tile designs, this interior certainly makes a statement. Our black aluminum cable railing is the perfect accent. Black aluminum cable railing looks amazing against the intricate design of these tiles.
---
October 23, 2019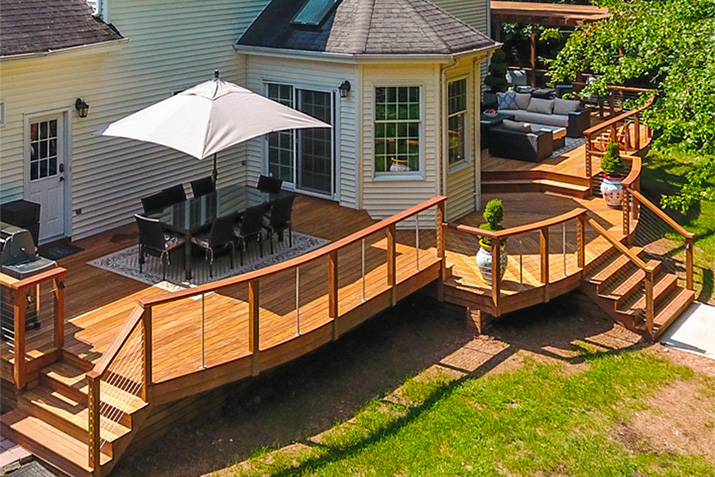 Cable railing can be particularly striking when combined with wood frames. However, it's crucial to take care when constructing the frames to reduce the chance for bowing and possible failure – and accompanying callbacks.
---
August 16, 2019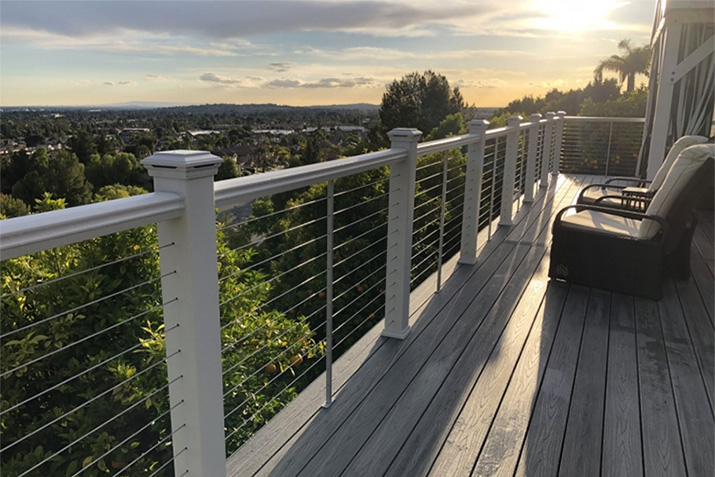 CableRail and Trex, together in one fantastic residential deck! Nestled in the hills of Anaheim, California, this deck more than doubled the homeowner's outdoor living and entertaining space. The contractor, Michael Walter of MLW Construction had this to say:
---
August 14, 2019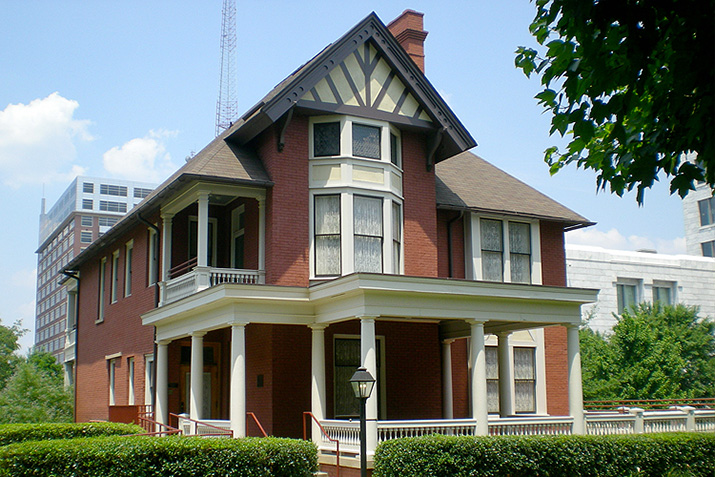 Stains specifically engineered to enhance the textures of brick and stone. Wide range of solutions from translucent stains allowing surface textures to show, to opaque stains covering flaws beautifully. Ideal for blending new additions, covering graffiti, even restoring historic buildings.
---
July 10, 2019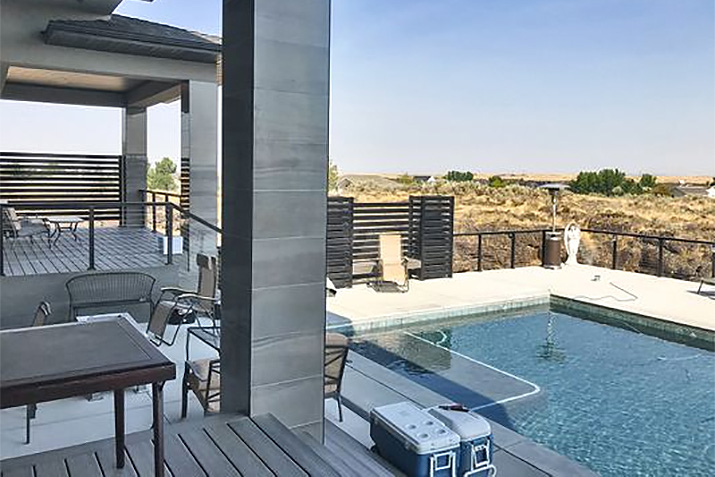 With mirror-finish columns, geometric shapes, and dark rails, this backyard patio and pool area has a strong contemporary presence that stands out dramatically against fields of grass and stone.
---
June 7, 2019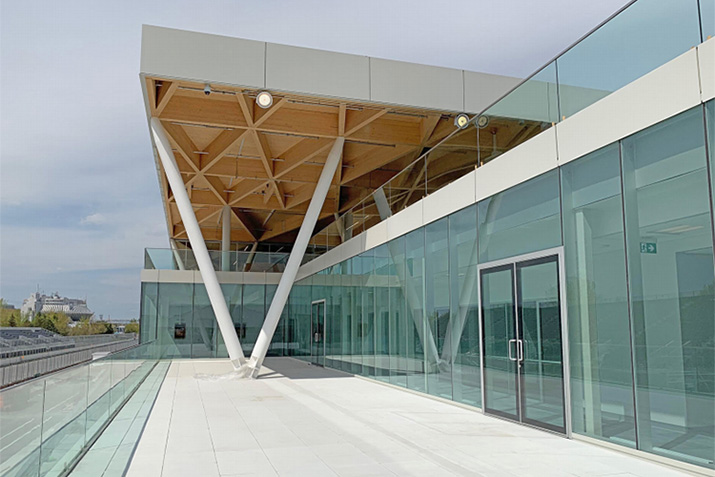 Learn how Unicel Architectural Corp. supplied 32,500 sq. ft. of curtain wall, skylights and 1 km of glass railing during a tight 10-month construction timeline over a tough winter season.