architecture - engineering - construction

Railing System
---
February 2, 2023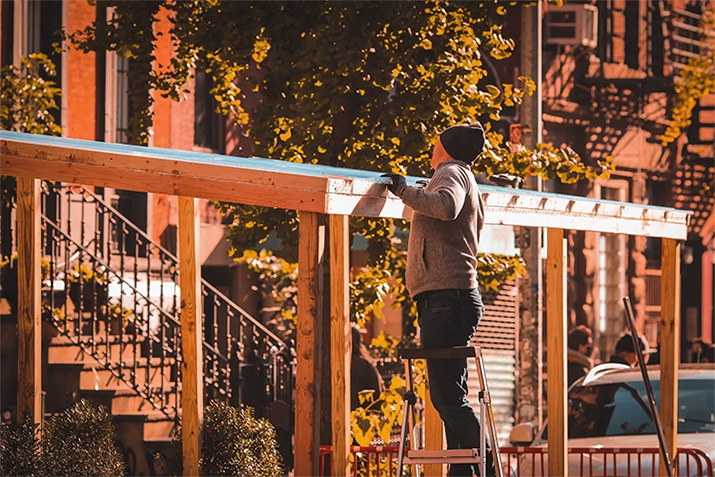 Installing horizontal cable deck railing systems is one of the best ways to maximize the space on your deck while giving it a contemporary look. With its modern, minimalistic aesthetic, you can boost the curb appeal of your deck and, at the same time, provide an unimpeded view of the beach, the mountains, or your garden. But while horizontal cable systems can undoubtedly upgrade your deck's design, it can also be a potential safety hazard if the tension on the cable loosens. Our easy maintenance procedures will ensure proper cable tension is maintained, keeping your guardrail safe.
---
January 26, 2023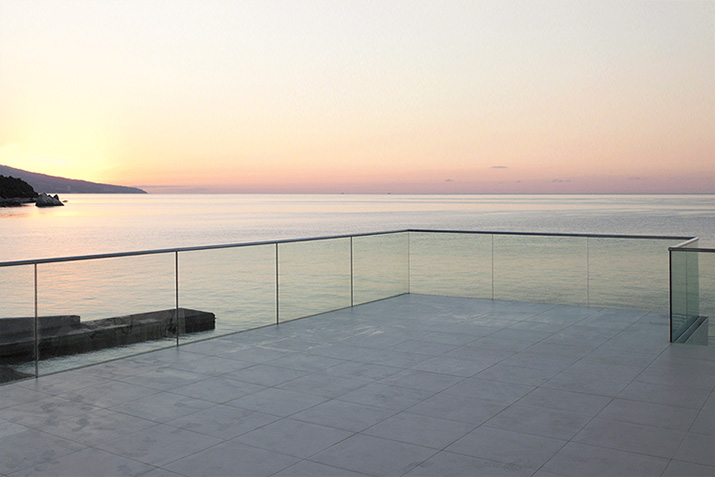 Structural glass railings systems have no posts and thin, optional cap rails. Enjoy your view with zero visual obstruction! If a minimal, clean look is what you desire Base Shoe and Standoff Systems look polished in both indoor and outdoor applications.
---
January 18, 2023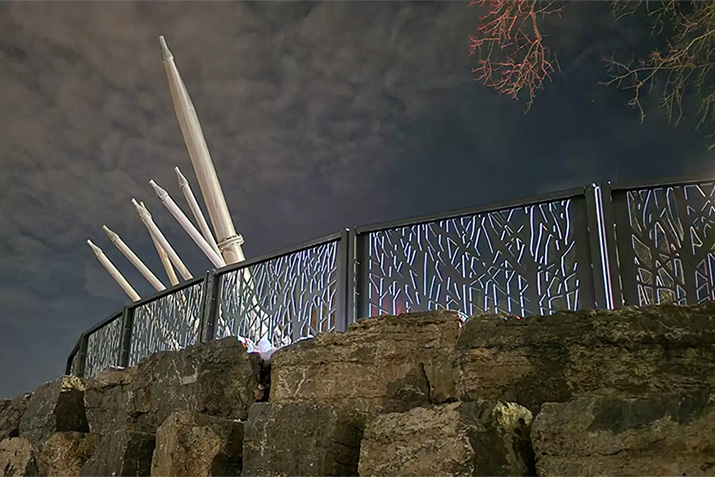 In 2021, Maglin Site Furniture introduced the FLEXX Collection, and they were eager to see how designers and landscape architects would use these versatile outdoor panels. Designed as a way to balance togetherness and privacy in shared spaces, FLEXX panels allow a single space to be divided into beautifully segmented areas.
---
January 4, 2023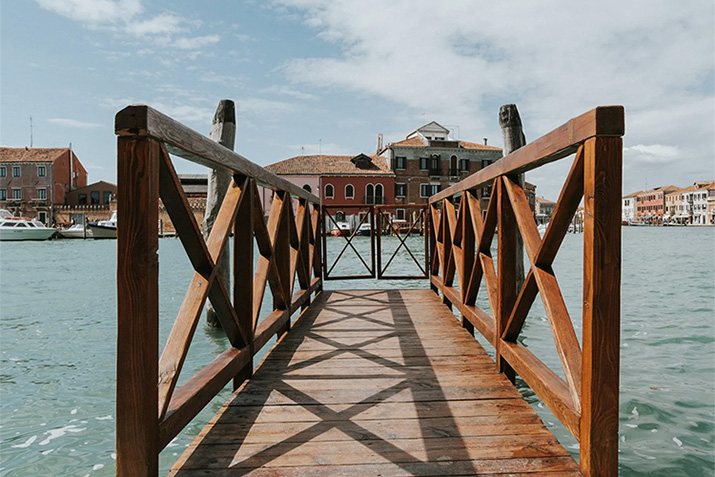 ---
December 21, 2022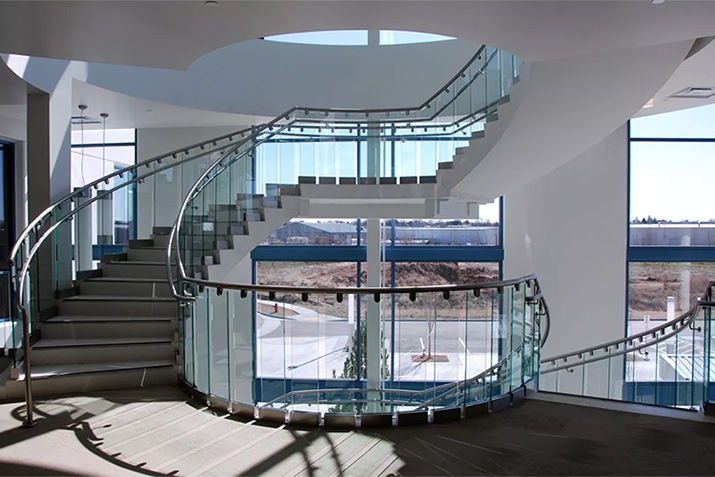 ---
November 9, 2022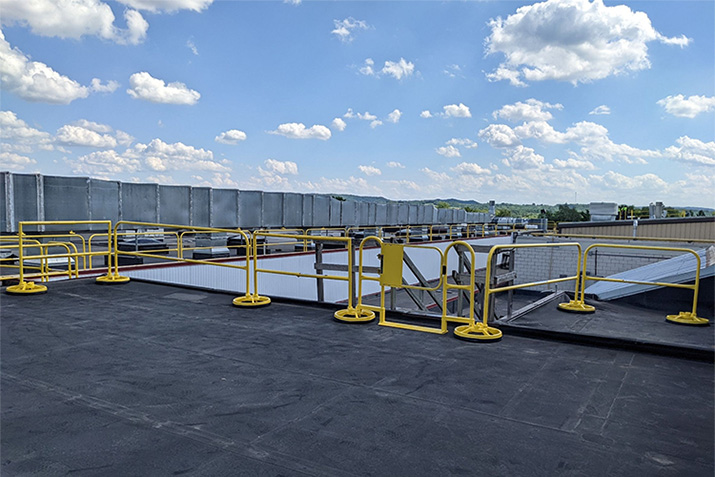 Did you know for the 12th consecutive year, OSHA has identified Fall Protection General Requirements (1926.501) as the most cited violation of the year with 5,260 infractions — more than double the second ranking violation.
Prevent these costly citations by being proactive. Check out SRC's diverse lineup of rooftop safety solutions to see how we can help you achieve total compliance!
---
November 4, 2022
Posts and clamps suspend glass panels without the use of horizontal rails
eGlass Vision™ frameless glass railing system has no top or bottom rails, glass panels are attached by metal clamps. This system will make your patio or deck vision a reality.
Best glass railing kit if you're looking for the least obstructed view.
Replaces traditional rails with small clamps attached to aluminum posts.
No top or bottom rails reduces shipping costs.
Perfect for commercial or residential installs.
3 mount design options: fascia, deck mount & top mount.
Easy to clean panels repel water and oil, resist dirt, etching, and staining.
---
September 28, 2022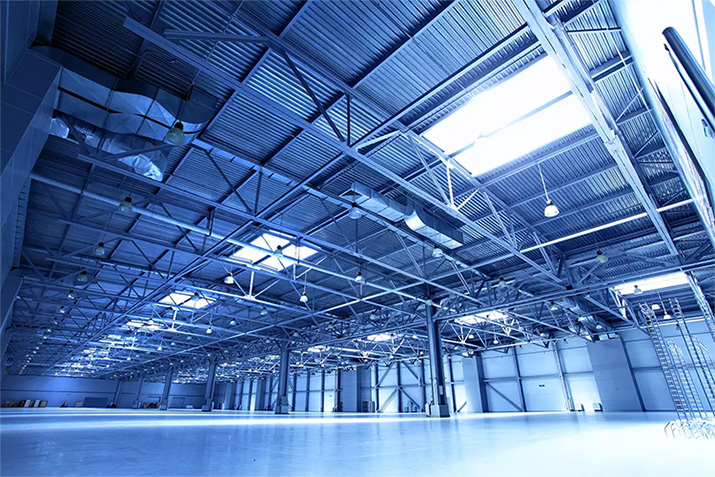 When you look at your industrial facility rooftop, the fall hazard you immediately notice is likely the leading edge. In fact, you probably already have fall protection equipment like guardrails in place at your roof edge to protect workers. However, its important to recognize that other fall hazards exist on your rooftop that require specialized roof safety equipment ranging from a roof hatch safety rail to skylight fall protection cages.
---
September 16, 2022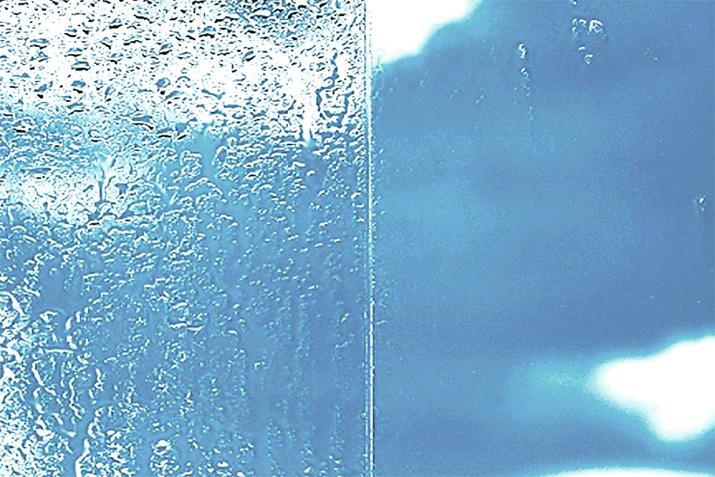 One of the biggest concerns people have when considering glass railings is how difficult it will be to maintain the glass panels. No one wants to spend hours cleaning glass. Fortunately, at eGlass Railing™, all glass panels are manufactured to be Carefree Clean™. During the manufacturing process, the glass is treated with an ultra-thin transparent coating that repels both water and oil, and protects against dirt, grime, etching and staining.
---
August 15, 2022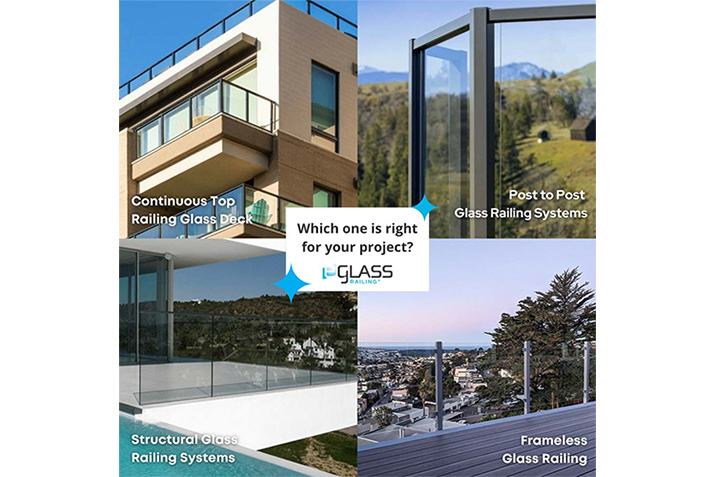 Continuous Top Railing Glass Deck
- eGlass Solid™ has a consistent top rail wide enough to place a drink on. One solid, easy to install top rail makes for a smooth finish.
Structural Glass Railing Systems
- Our structural glass railings are designed with with no rails at all offering maximum, uninterrupted view.
Frameless Glass Railing
- eGlass Vision™ frameless glass railing system has no top or bottom rails, glass panels are attached by metal clamps.
Post to Post Glass Railing Systems
- eGlass Element™ features our thinnest top rail that runs between our post to post system. Segmented railing pieces make this system able to be shipped for a lower price.
---
July 25, 2022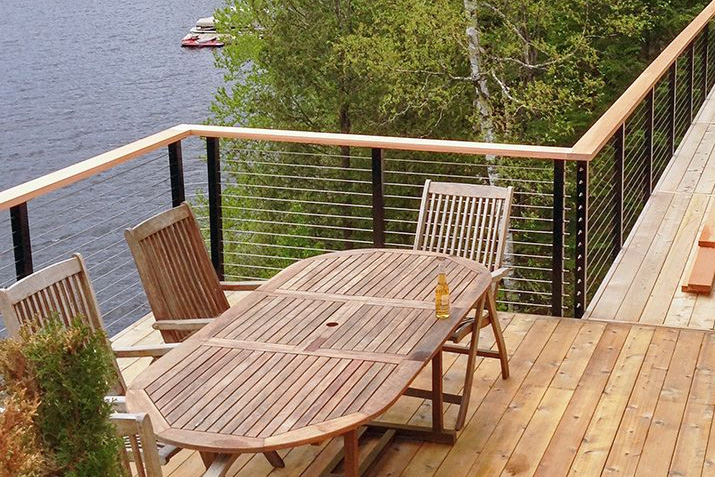 Dangling over a serene lake in Quebec, Canada, this deck required an open railing design for its remodel. The black aluminum posts and thin cable disappear against a view of trees and water, and contrast nicely with the fresh wood deck and top rail.
---
July 11, 2022
One of the most important things to consider when installing glass railings is the building code for your area. If you are planning to install your eGlass Railing™ system yourself, knowing the building code for your project will help you to avoid costly repairs in order to be in compliance. It can be a challenge trying to figure out what codes and standards to follow, as there are codes that address fire and electrical hazards (NFPA), codes that relate to work environments (OSHA), and codes that address accessibility for persons with disabilities (ADA), as well as model building codes (IRC and IBC) and local building codes.
---
June 29, 2022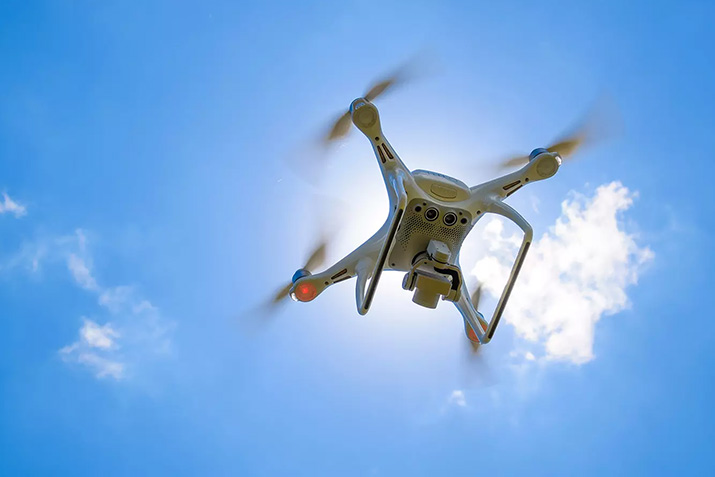 As an employer, you're obligated to provide a safe workplace for your people. And among your top priorities is fall protection for anyone working at heights of 4' or more. If an OSHA inspector were to enter your facility right now, they would want to see that you're using an OSHA compliant guardrail, gates, and other fall protection equipment where appropriate within your facility. And while you may also be using OSHA-compliant roof fall protection, it may not be so easy for the inspector's to see at first glance.
---
May 11, 2022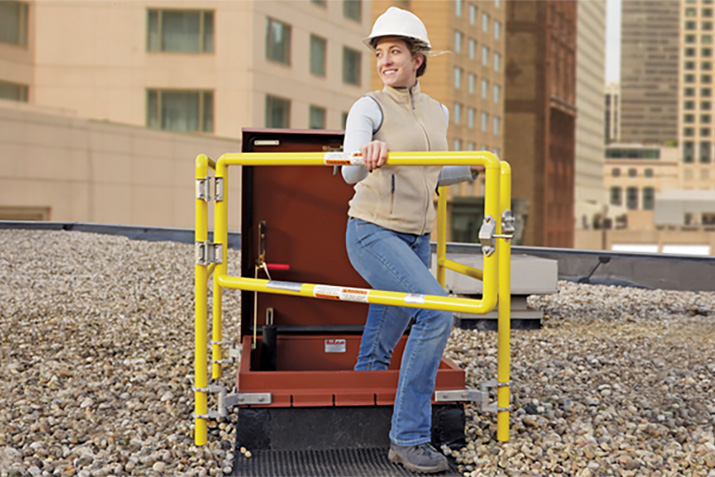 The Bil-Guard 2.0 is designed with worker safety in mind. The product provides a permanent means of fall protection for roof hatch openings. Watch this video to learn more:
---
April 1, 2022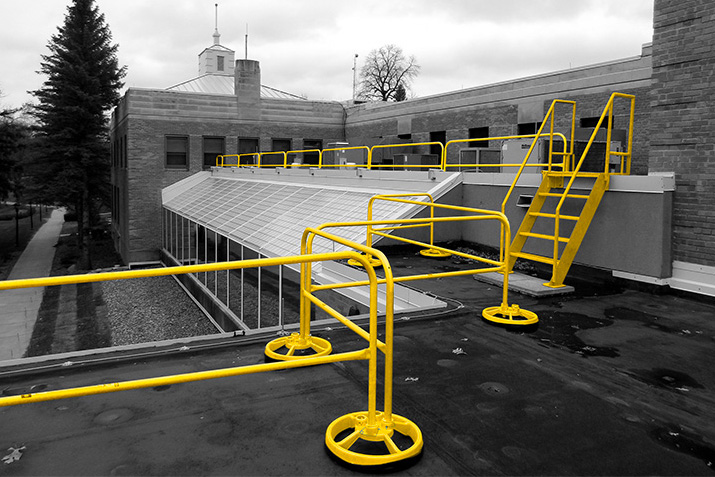 Railing and guardrail systems from Safety Rail Company have modular, non-penetrating designs, can be personalized to fit any project requirements and always meet or exceed OSHA regulations and ensure that your jobsite is safe, secure, and productive.
---
February 16, 2022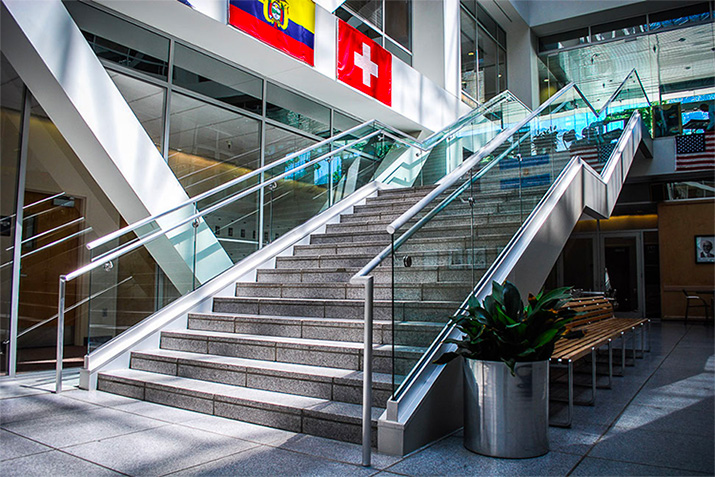 Glass railings lend an effortlessly modern visual appeal to both exteriors and interiors. However, glass railing code requirements need to be met in order to comply with safety guidelines and earn inspection approval. In this post Morse Architectural will list some of the codes you'll need to consider for your glass railing project to ensure you get the most value from your railing installation.
---
February 14, 2022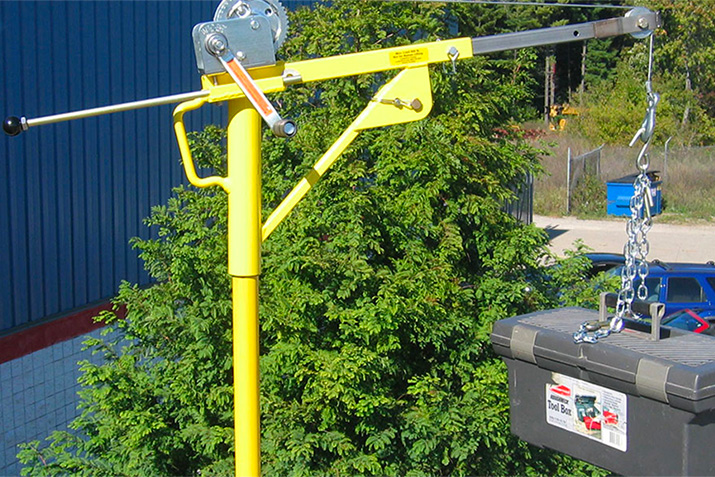 Cranky Portable Winch is the safe (and easy!) way to lift heavy objects - such as compressors and motors - directly through the roof hatch or up a vertical ladder.
---
February 4, 2022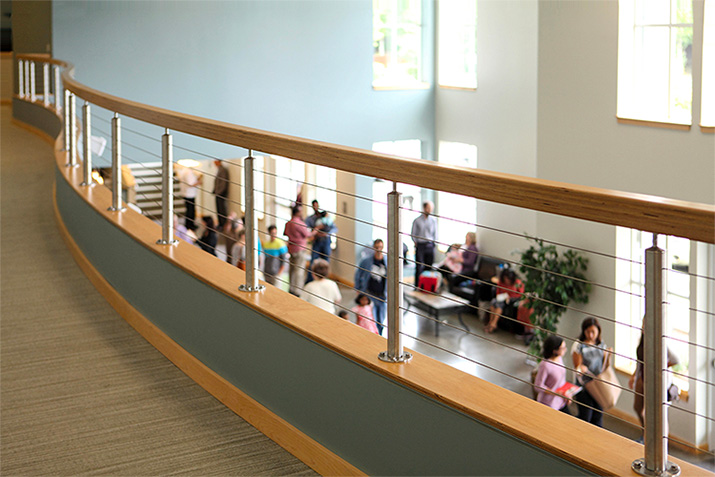 Stainless steel round cable railing stands out on the upper floor inside a building in Bellevue, WA. The brushed finish enhances the natural luster of stainless steel.
---
January 28, 2022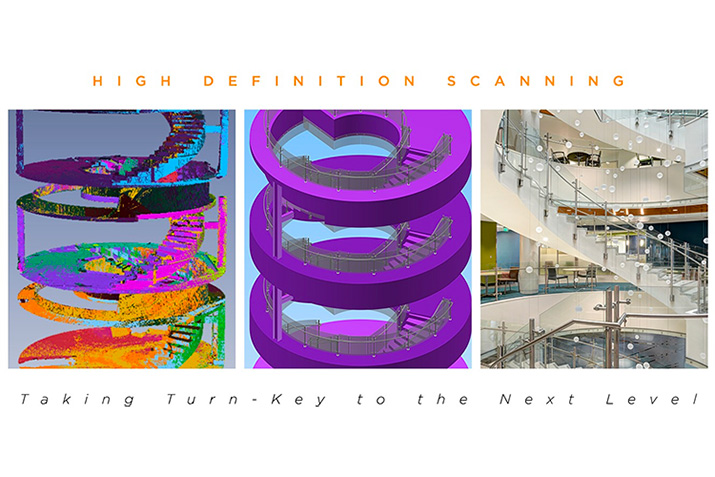 From preconstruction through final inspection, 3-D scanning and measurement is an integral element of architecture, engineering and construction. It's an innovative solution that continues to gain momentum on job sites for its ability to collect highly accurate information in a very short period of time.
---
January 21, 2022
Glass railings are increasingly popular for decks, stairs, balconies and numerous other uses. It's easy to see why — they're modern, elegant, and understated. On the other hand, these products are also notoriously tricky to install. However, the innovation of adjustable dry glaze railing systems has removed the hassle from railing installation to make the whole process cleaner and easier.