architecture - engineering - construction

2017 January
---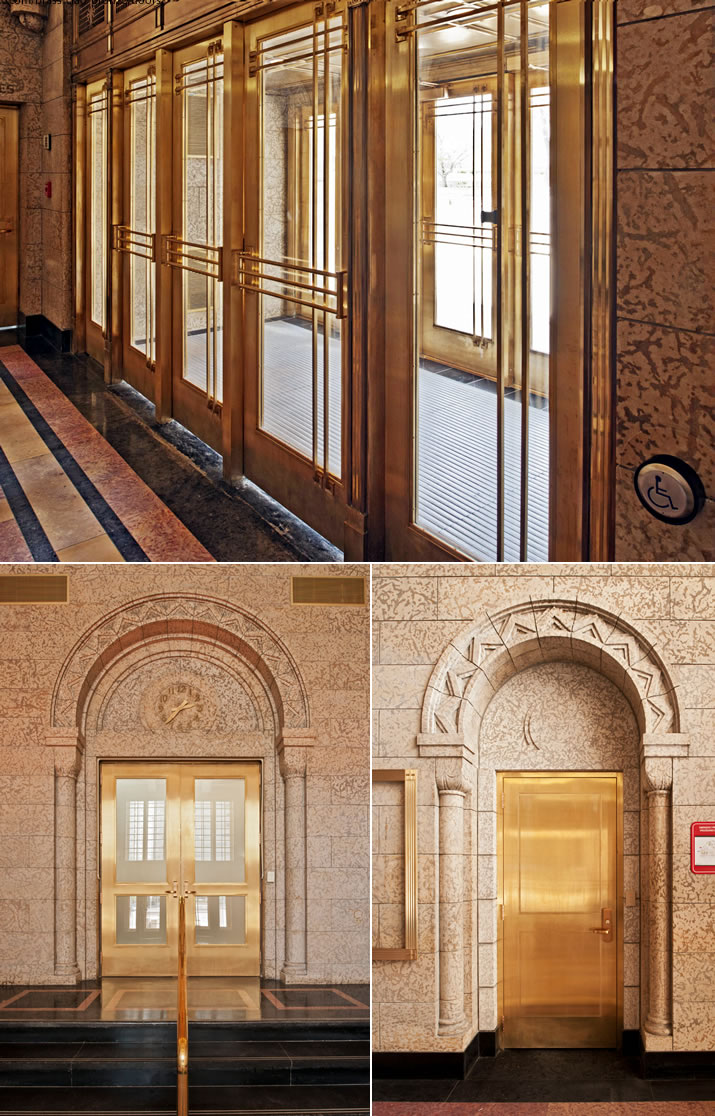 Ambico Limited was involved in retrofitting the Victory Building, a well-known piece of Winnipeg's downtown core that was constructed in the 1930s. Ambico was approached by the owner of the building to manufacture and retrofit doors at the entrance and lobby. Heritage architects of the Public Works Department of the Canadian government worked with AMBICO engineers to replicate doors that would complement the original design intent of the building's design team. This project was featured in DHI Magazine as a Case Study. Read the full case study.
Ambico decorative brass clad and bronze clad doors and frames combine outstanding visual appeal with rugged performance in the field. Products are designed in consultation with our project design team to meet the unique requirements of each job. Brass clad or bronze frame cladding is fastened to a heavy gauge steel sub-frame with a touch of craftsmanship. Decorative door face material is fastened to a rugged steel core with care and old world attention to detail. Door face can be manufactured in a stile and rail configuration or in a one piece seamless construction. Gleaming appearance of polished brass or bronze clad products projects an exclusive image at a surprisingly moderate cost. Antique finish of satin brass or bronze clad products suits the design requirements of historical renovation projects.
Company: Ambico
Product: Decorative Doors and Frames
Source: https://www.ambico.com/brass-clad-bronze-doors/
Tags: Design | Doors | Entrances | Metal
---
Flexible bollards are more than just traffic pylons. Rigid on their own, flexible bollards are designed to bend under vehicles—flexing up to 90 degrees—repeatedly, without losing their shape or form.
Flexible plastic minimizes damage
Prevent collision damage to vehicles, bollards and road surfaces
Save time and money
No need for upkeep or replacement—even after multiple impacts
Removable hardware available
View compatible bollards and hardware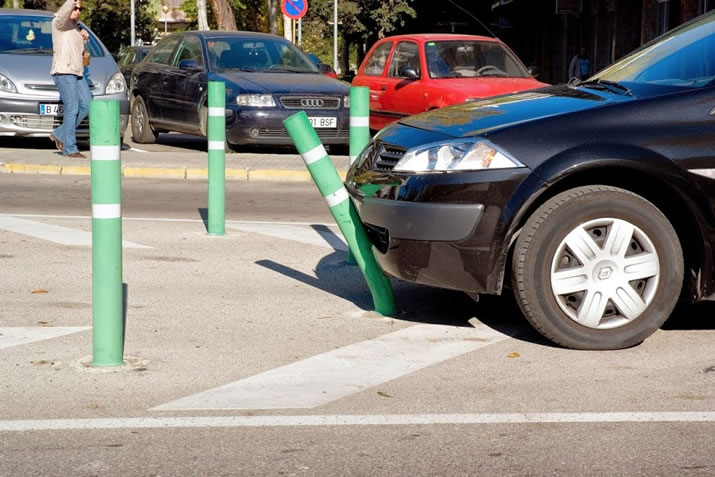 Flexible bollards
Flexible bollards indicate traffic boundaries and off-limit areas, while minimizing vehicle damage in case of collision. Install flexible bollards with inground mountings—fixed or removable—to avoid tampering or theft.
Flexible plastic bollards provide strong visual indicators, standing at an ideal height for drivers. While standard traffic cones are easily damaged or kicked out of place, quality bollards withstand heavy use in high-traffic environments for extended periods of time. Use flexible posts with other traffic-calming infrastructure such as medians, extended sidewalks and crosswalks.
Versatile installation
Flexible bollards can be installed with fixed or removable mounting hardware. For fixed installations, embed bollards in new concrete or bolt down into existing concrete surfaces. Removable hardware can be embedded into concrete to allow quick installation and removal. See individual item pages for installation options, or view all flexible bollards with removable features.
Durable plastic materials
Flexible bollards are made from durable polyurethane plastic to ensure lasting performance—tested to withstand full 90-degree flexion up to 50 impacts and partial 45-degree flexion up to 500 impacts. Coloring permeates throughout internal structures, so any scratches, scrapes or dents from extended use or impacts will show minimal markings. All bollards feature UV protection to minimize maintenance and prevent fading in sunlight.
High visibility
Flexible bollards ship in standard black to complement any contemporary or traditional architectural and landscape design. A selection of alternative colors are available—see individual item pages for details. All flexible bollards feature optional reflector strips in 1 of 4 colors.
Company: Reliance Foundry Co. Ltd.
Product: Flexible Bollards
Source: http://www.reliance-foundry.com/bollard/flexible-bendable
---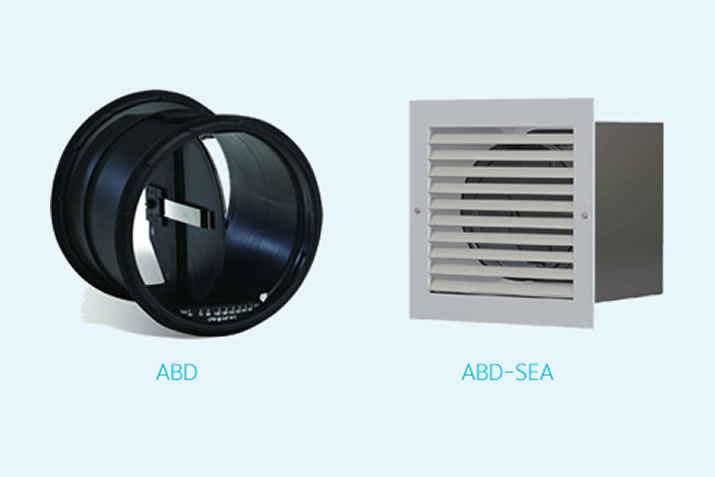 Ruskin® pressure-independent automatic balancing dampers – ABD (left), ABD-SEA (with grille and steel enclosure box)
A new series of pressure - independent automatic balancing dampers (ABDs) from Ruskin - the ABD, ABD-SEA (with grille and steel enclosure box) and ABD-SEA-E (with grille and steel collar) - automatically regulate damper positioning for precise and automatic airflow in both supply and exhaust applications. The result is energy-saving performance that mitigates stack effect in high-rise buildings and improves comfort for building occupants. The dampers will be shown at booth C3334 during AHR Expo , Jan. 30–Feb. 1 at the Las Vegas Convention Center. Visitors can conduct simulations and demos on the dampers.
"Drawing on nearly 60 years of experience in the air control industry, we've developed a product that raises the bar in terms of making buildings more comfortable and healthy," said Tim Vogel, director of air control solutions at Ruskin. "That's because the Ruskin ABD is perfect for balancing supply ducts or more precisely controlling exhaust/supply ventilation requirements, improving indoor air quality and saving energy in the process, as it does not require electricity."
The factory-assembled dampers also reduce installation, maintenance and labor costs by providing a single and simple, bi-directional design that works across the full pressure range in both exhaust and supply applications. Contractors and facility managers will find the dampers easy to install and manage, thanks to tool-free CFM adjustment - and up to 20 set point positions - with access through the damper grille, eliminating the need for the access door typically required with manual dampers. A universal Quick-Connect Adapter Ring further facilitates installation of the ABD, as it fits most adapter plates, and a Ruskiprene™ "T" seal ensures long-lasting durability.
The ABD also features a unique-to-the-industry, antimicrobial agent that mitigates the growth of mold and bacteria and contribute s to improved indoor air quality. As a result, the dampers lend themselves to restroom and healthcare applications, along with hospitality, commercial/retail, clean room and office building installations, and can be installed in horizontal or vertical applications.
The dampers are UL 2043 listed with a UL94V-0 flame and smoke spread rating. The ABDs are also qualified for use in all FAA, FHWA, FRA, AMTRAK and FTA projects. To download a brochure about these innovative new dampers, visit www.ruskin.com/ABDnews.
Company: Ruskin
Product: Control Dampers
Source: http://www.ruskin.com/landing/abd/
Tags: HVAC
---
Proven Mantrap Portal Solutions Cost-Effectively Replace "Do-It-Yourself" Vestibules
Today, many companies build their own mantrap vestibules. However, they often overlook how expensive and difficult it can be to achieve consistent, error-free piggybacking prevention. They don't know that an alternative solution already exists - Boon Edam security portals!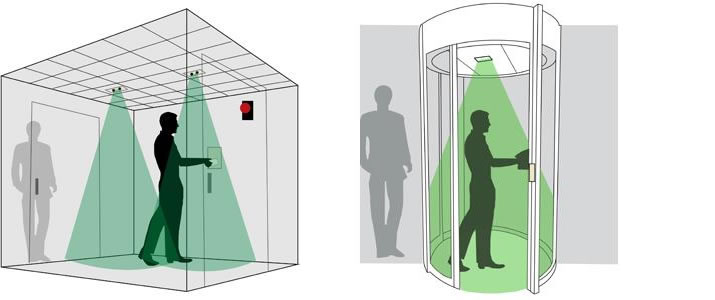 Do-It-Yourself Vestibule

Inability to measure false acceptance risks
Unpredictable false rejection rates
Must be manned and monitored at all times
High operational costs
Large footprint
Constant testing and troubleshooting

Mantrap Portal Solution

Proven solution with measurable false acceptance risks
Predictable and manageable false rejection rates
Completely unmanned solution
One-time investment with minimal operating costs
Space efficient
Quick and simple installation
Company: Boon Edam Inc.
Product: Security Doors & Portals
Source: http://www.boonedam.us/mantrap-portal-solutions-eliminate-piggybacking
Tags: Doors | Entrances | Safety | Security
---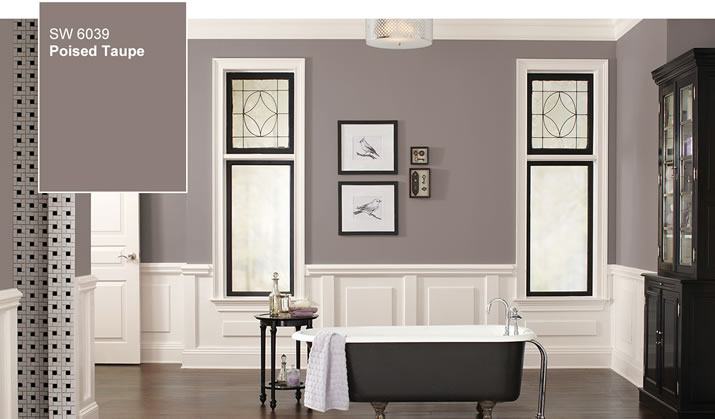 2017 Color of the Year
Sherwin-Williams doesn't usually like to play color favorites, but in this case we can't resist. The color we anticipate defining 2017 is Poised Taupe SW 6039. Here's why: This timeless neutral is modern, classic and a beautiful balance of warm and cool.
The 2016 industry shows revealed a surprising transition from grey to taupe. Both contract and consumer color and products have been focused on grey as the key neutral — although grey is still important, we have seen a significant shift in materials and finish color to warmer expressions of neutral.
Using the Sherwin-Williams ColorSnap® Visualizer, you can explore the Color of the Year, and with the swipe of a finger see it on any wall.
Tag your Poised Taupe Twitter and Instagram posts with #SWCOLORLOVE or upload a photo.
2017 Key color combinations featuring Poised Taupe…
In addition to the "warming up" of neutrals in general, 2017 will see several key colors emerge in combination with taupe.
Cornflower Hues
Faded indigo and lighter cornflower hues pair with modern white and Poised Taupe for a charming palette, reminiscent of the French countryside.

Organic Re-imagined
Vegetal green, citrus green, weathered bronze and mustard yellow pair with Poised Taupe to create a contemporary organic palette — re-imagined for the modern world.

Vintage Pastels
Pastels take on a vintage vibe with dusty ink, amber, Poised Taupe, sage and oxidized yellow.

Wine & Taupe
Deep wine, purple and Poised Taupe bring warmth to the dark tones favored in 2017. Silvery grey and intense teal provide balance and drama to this rich, mysterious palette.

Eroded
Red and coral are vibrant and ore rich when combined with Poised Taupe and dusky rose. There is a natural feel to this palette, reminiscent of silt, clay and red stained bedrock.

Yellow POP
Yellow takes bold direction when paired with black, white, Poised Taupe and deep teal for a super graphic look.

Company: The Sherwin-Williams Company
Source: https://www.sherwin-williams.com/architects-specifiers-designers/color-forecast/2017-color-forecast/2017-color-of-the-year
Tags: Coating | Color | Finishes | Interior Design
---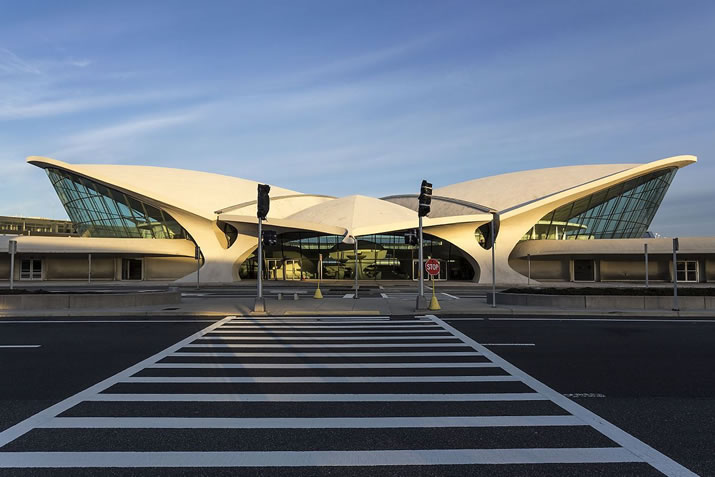 The TWA Flight Center at John F. Kennedy International Airport. Photo: Acroterion
After sitting vacant for 15 years, the Trans World Airlines (TWA) Terminal, located at New York's John F. Kennedy International Airport, will receive new life as a 505-room hotel. It will be the first on-site hotel for the JFK Airport and is set to open in 2018.
The TWA terminal originally opened its doors in 1962 and was designed by architect Eero Saarinen to resemble a bird in flight. Its layout, featuring a central main terminal with clusters of gates that branch out, was one of the first of its kind. The TWA terminal also featured enclosed passenger jetways, baggage carousels and electronic flight schedule boards. The main terminal is constructed of four curved steel-reinforced concrete shells that radiate out from a central point. Two of the curved concrete shells, the "wings of the bird," feature purple-tinted glass windows that angle out as they extend upward toward the roof line and offer views of planes landing and departing. The interior spaces maintain the same fluidity as the curved exterior with floors that swoop into stairwells and walls that curve seamlessly into the floors.
Despite its architectural beauty, the functionality of the TWA Terminal was hindered by its ability to accommodate the development of larger airplanes and an increase in passenger traffic. In 1994, the building was voted as an official landmark by the Landmarks Preservation Commission, but after continued financial trouble, TWA filed bankruptcy and the original terminal was shut down in 2001. While ideas were proposed to repurpose the building, most were rejected or failed and the building was left dormant. It was listed on the National Register of Historic Places in 2005 and efforts later began to restore the building to its original beauty.
The iconic main TWA terminal will remain intact and become a showcase element in the development of the new TWA Hotel. It will be flanked by two crescent-shaped buildings, which will be home to guest rooms, eight restaurants, and conference rooms. A new cocktail bar and nightclub will also be incorporated into the original building. The ambitious project plans to incorporate technology which will enable the building to generate its own power and is expected to be LEED-certified.
Company: Total Security Solutions Inc
Source: http://www.tssbulletproof.com/iconic-twa-terminal-receives-life/
Tags: Building | Design | Security
---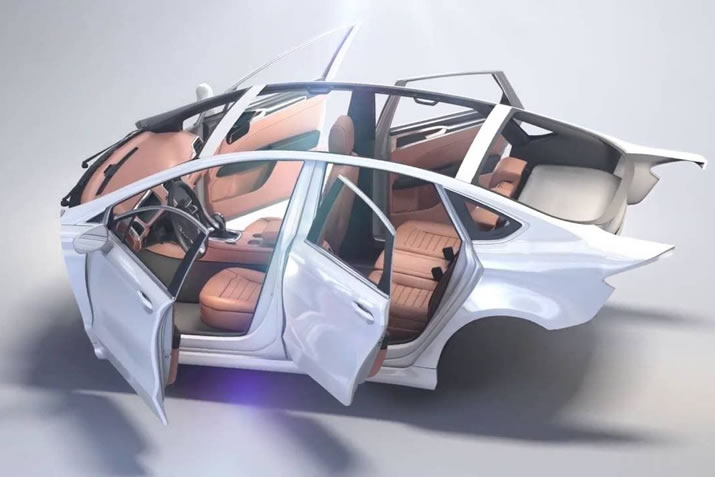 Accuride movement solutions can be found everywhere, but especially in automobiles. This video uses 3D modeling to show how those movement solutions are seamlessly applied into passenger vehicles. Accuride slide applications can be found in glove compartments, under-seat compartments, moveable armrests, and more.
Accuride International designs and manufactures precision ball-bearing drawer slides for industrial, commercial, or residential needs. All our slides are engineered in-house by our excellent R&D team so we can continue to develop innovative movement solutions.
GM • Nissan • Volvo • Mercedes-Benz • Skoda • Ford • BMW • Jaguar • and More
Accuride is a development partner and Tier 2 supplier of automotive and transportation sliding systems that are incorporated into millions of vehicles. We work closely with manufacturers, interior suppliers, and design and engineering specialists to develop solutions that enhance comfort, increase access, optimize space, and expand storage options. Applications are varied, including solutions such as:
Sliding armrests
Variable-height consoles
Seat cushion adjustment
Under-seat storage
Cargo trays
Loading platforms
Secured storage
Refined Functionality
Special features such as self-closing, soft-close, touch release, and electronic locking to control access add another layer of refinement to designs. Be sure to check out the automotive application solutions to find out more about the benefits Accuride products bring to designs.
Moving Interiors –Automotive Sliding Systems
See how Accuride slides can be used to add a sense of luxury throughout automotive interiors. Our slides stay secure even while in motion and hold up to daily use even in extreme conditions such as changes in temperature, vibration, and more.
Additional Automotive Solutions:
Company: Accuride International
Source: https://www.accuride.com/en-us/markets-innovation/automotive-transportation
Tags: Furniture | Interior Design
---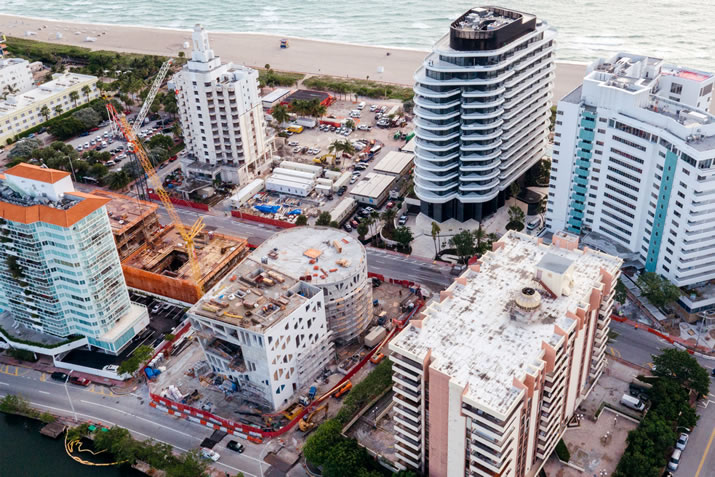 Miami Beach is back: Built on the site of the famed postwar Saxony Hotel, the foundation of the new Faena Hotel Miami Beach is treated with PENETRON technology.
Faena Hotel Miami Beach, which opened in August of 2016, is built on a concrete foundation treated with PENETRON ADMIX SB, a crystalline admixture in soluble bags. This project is the starting shot for a remarkable new Miami neighborhood: the Faena Arts District.
The new Faena Hotel Miami Beach is built on the shell of the 1950s Saxony Hotel, a well-known postwar Miami Beach hotel. The revamped oceanfront hotel has been reinvented in a glamourous Hollywood style and architecture, including an ocean view restaurant under an arching dome that was formed by layering concrete on a balloon. There are 169 guestrooms, which include 111 suites, two haute-cuisine restaurants, a 150-seat cabaret theater, and a spa.
"The restoration and transformation of the art deco Saxony Hotel into the modernist Faena Hotel Miami Beach has become a focal point for the whole district of Mid-Beach Miami," says Christopher Chen, Director of The PENETRON Group.
The new hotel is a central part of the massive $1 billon Faena Arts District development (and renewal of Miami's Mid-Beach district) that features not only the new Faena Hotel but also luxury condo towers, one of which is home to a record-setting $60 million residence, as well as an expansive shopping area and an arts/performance center – all yet to open. Alan Faena, the Argentinian real estate developer, enlisted world famous architects Rem Koolhaas and Norman Foster to create a stylish city-within-a-city.
The beachfront project benefits from PENETRON's waterproofing and corrosion-mitigating properties needed for a location adjacent to the ocean and the area's high water table. PENETRON ADMIX SB – in soluble bags – was used throughout the foundation to treat all the concrete in the expanded footprint of the hotel.
"PENETRON technology ensures an absolutely waterproof and durable structure in one of the most desirable locations in the Miami Beach district," adds Mr. Chen. "It's a showcase project for the city."
Company: Penetron International
Source: http://www.penetron.com/news-media/media-releases/view/From-Art-Deco-to-Modernist-with-PENETRON
---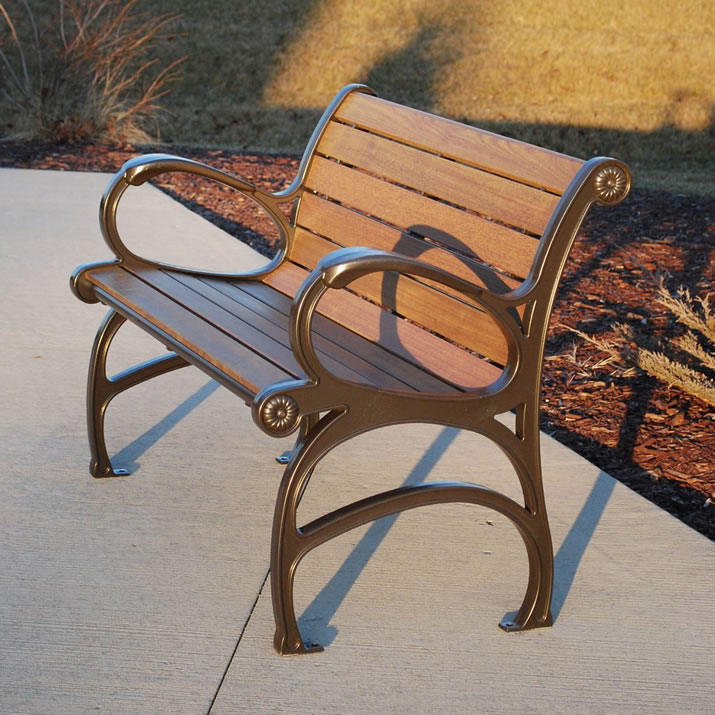 Isn't she a beauty?! Thomas Steele's Waldorf bench is a great and classic piece that we know you will love!
The new Waldorf bench is elegant with sensible function. It features top-notch materials and construction. The Waldorf™ bench frames are made of durable cast, and come with a wide variety of seating materials. The Waldorf™ bench seating materials feature 5/8" Diameter Steel Rod or ¼ x 1 ½" Steel Bar or 1 x 2 1/2 and 1 x 3 Board Profiles. The frame is constructed of 3 ½" Wide Cast. The benches are available in lengths of 2, 4, 5, 6, and 8 feet. The 8 foot bench has an optional center arm and leg. Seating material choices include Steel Rod, Horizontal Straps, Vertical Straps, Ipe Wood, and Recycled Plastic, with powder coat finish in a wide choice of colors.
Company: Thomas Steele
Product: Benches
Source: http://www.thomas-steele.com/ShopSiteFurnishings/Benches/tabid/212/ProductID/89/Default.aspx
Tags: Exterior Design | Furniture | Landscape Design
---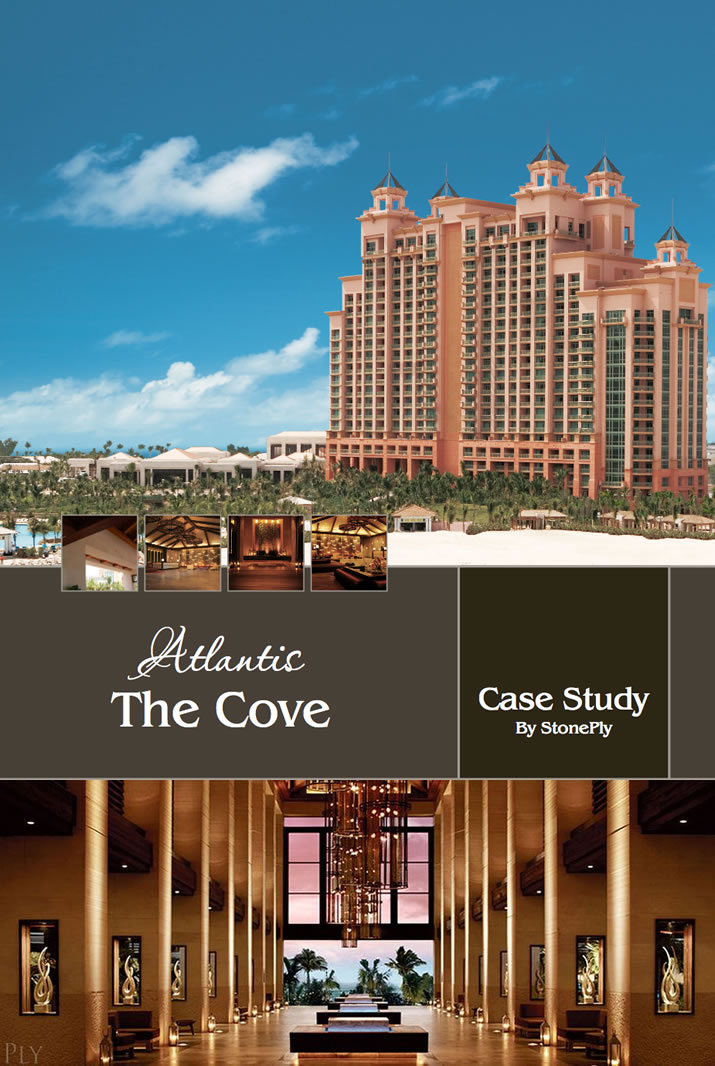 The largest stone clad building in the Caribbean meets the challenges of fast track schedule and hurricane proof construction
Sol Kerzner, resort entrepreneur, created a beautiful themed resort that features the lost city of Atlantis. StonePly was able to fabricate, deliver, and install over 144,000 square feet of custom exterior natural stone panels in The Cove Atlantis and The Reef Atlantis. These panels feature custom sawn and bush hammered textures to give the cladding depth and beauty.
Part of the reason for selecting StonePly for The Cove Atlantis was the success of the earlier cladding we supplied for Atlantis which survived numerous hurricanes, including one of which was a category 5, and has survived with minimal to no damage.
Customer's Needs
The customer needed a cladding that could both be used on the exterior and interior of the building, that matched the beauty of the resort, and added a high class feel to the resort. They were looking for a cladding that was easy to install, blended with the tropical feel of the resort, and minimized the disruption of the existing resort. The biggest challenge was to find a cladding that was impact resistant due to the weather that is inherent to the country.
StonePly Solution
StonePly was able to provide an impact resistant cladding that met the Miami requirements of hurricane resistance. The travertine was bonded to an aluminum honeycomb panel and attached using both Z-Clip extrusions and concealed screw attachments. All the attachments were attached in the field using #10 stainless steel TEK screws. Installation was completed on time and on budget by our qualified installation team.
StonePly was able to supply and install limestone panels that provided:
A luxurious stone cladding
Quick and easy installation
60X the impact strength of slab stone
Low maintenance
Impact resistant
Project Details
Client: Kerzner International
Date: December 2007
Download Case Study
Company: StonePly Co.
Product: StonePly Curtain Walls
Source: https://www.stoneply.com/en/projects/atlantis/
Tags: Design | Entrances | Safety | Wall Panels
---

Now homeowners have the freedom to choose the color they really want for painting their vinyl siding. Thanks to its strength, durability, versatility and ease of maintenance, vinyl siding is the No. 1 choice of exterior covering for homes across the country. According to U.S. Census Bureau statistics, twice as many homeowners side their homes with vinyl than with any other material.
However, vinyl siding colors traditionally range from white to sandstone, with maybe a Wedgewood blue thrown in for variety. In the past, if a homeowner wanted to change the color of his or her vinyl siding by painting, color choice was limited to the same range as or lighter than the existing color. Why? Because darker colors absorb more heat, causing the plastic vinyl to warp, buckle and distort.
But thanks to Sherwin-Williams new VinylSafe® colors, which ensures that darker colors don't absorb heat, this is no longer the case. Innovative VinylSafe® paint colors solve that problem by allowing you the freedom to choose from 100 colors options, including darks such as Ground Hog and Green Mountain, and brights named Frilly and Nikko Blue formulated to resist warping or buckling when applied to sound, stable vinyl siding. Plus, they can get custom matches by using Sherwin-Williams ColorSnap® Precision, our exclusive technology for ensuring exceptional color accuracy and consistency. Each vinyl siding color is available in Sherwin-Williams SuperPaint® Exterior and Duration® Home Exterior product lines. With the new VinylSafe® color palette, you can offer your customers both an economical way to achieve fresh curb appeal and a world of color choices.
Company: The Sherwin-Williams Company
Product: Exterior Paints
Source: https://www.sherwin-williams.com/architects-specifiers-designers/education/paint-and-color-technology/sw-art-pro-vinylsafecolortech
Tags: Coating | Color | Exterior Design | Finishes
---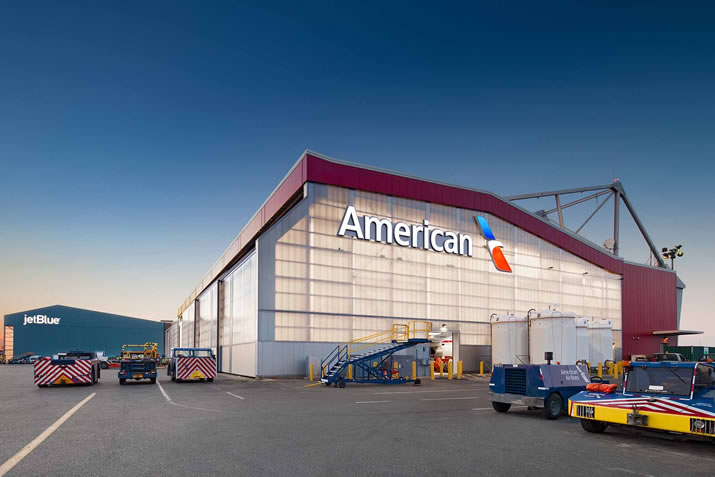 Sign-up for a Toolkit to take EXTECH's registered CES course. Earn 1 LU and 1 HSW by completing. The Toolkit also lets you track and save downloads, easily order samples, and delivers a collection of tools from around the web in your sidebar.
Innovative Daylighting Solutions
Harness the power of natural light
EXTECH/Exterior Technologies, Inc. is an award-winning manufacturer and designer of wall, window, skylight, canopy, and custom façade systems. We deliver solutions for a variety of industries and applications, and are committed to collaboration, innovation, and exceptional engineering.
Company: EXTECH/Exterior Technologies, Inc.
Source: https://extechinc.com/register/
Tags: Energy | Lighting | Wall Panels
---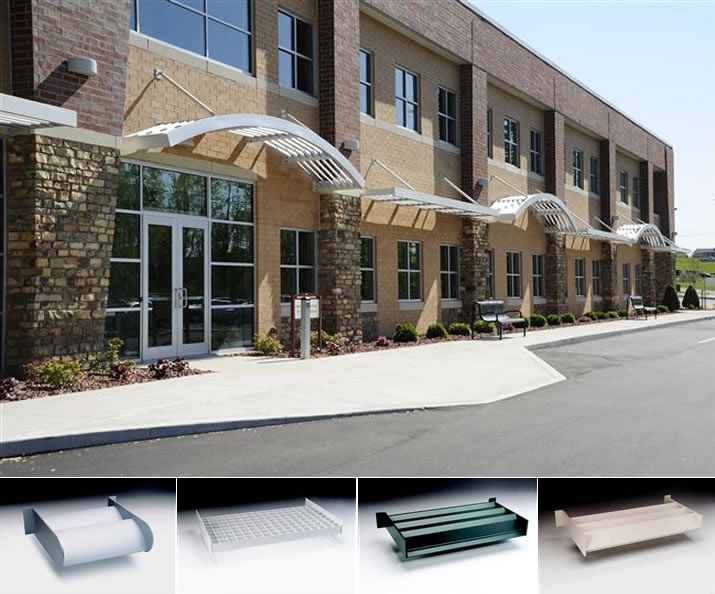 Aluminum Airfoil Blade Sunshade, Eggcrate Blade Sunshade, Louver Blade Sunshade, Rectangular Tube Blade Sunshade
Ruskin Sunshades offer energy savings by reducing solar heat gained through glazing. With a wide variety of available blade styles and configurations, they also provide aesthetic appeal to the building exterior.
Ruskin Sunshade models include airfoil, louver, tube and eggcrate blade styles. Custom Sunshade designs are also available. Ruskin Sunshades are constructed of extruded and/or formed aluminum components for reduced weight and excellent corrosion resistance. All models are available with a variety of Kynar or Anodize finishes.
Company: Ruskin
Product: Louvers
Source: http://www.ruskin.com/catalog/category/481~Sun-Control-Sunshades
Tags: Energy | Entrances | Exterior Design | LEED Certification | Windows
---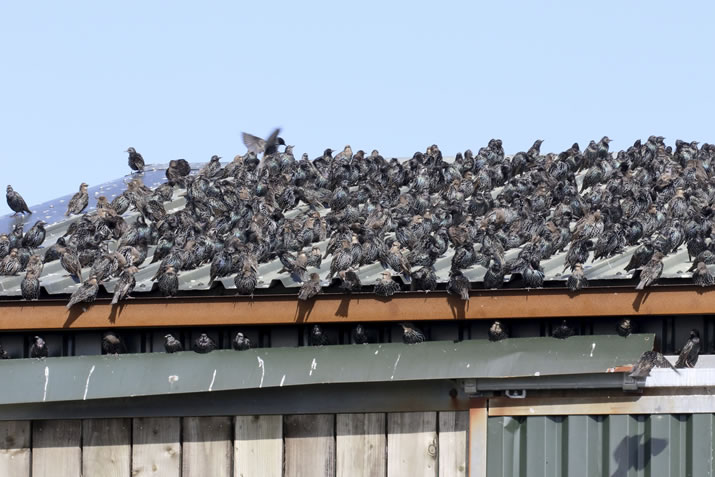 Ask property owners and they'll tell you: Nuisance birds can cause many costly problems. Pest birds like pigeons, starlings and gulls can damage solar panels, rooftop ventilators, security cameras, lighting systems, AC units and water runoff systems. Getting rid of nuisance birds can pose a challenge, for not all bird deterrents work equally well for all birds. So it makes sense to choose the right deterrent or repellent to the nuisance bird that can damage and/or deface your property. That's where the bird control pros at Bird B Gone can help.
Most Complete Line of Bird Control Solutions
Bird B Gone's comprehensive line of bird deterrents is designed to solve a wide range of nuisance bird problems in commercial, industrial and residential settings. To keep nuisance birds from loafing on edges and ledges, we have Bird Gels, Bird Spikes, Bird Spiders/Repellers and Electric Tracks. To exclude birds from under overhangs and semi-enclosed areas, we offer Bird Netting and Bird Slope. To keep nuisance birds from ruining your solar panels, we have an entire Solar Panel Deterrent Kit. If you only have problems with occasional nuisance birds, there are Bird Hazers, Laser Deterrents and harmless Chemical Repellents that will do the job. To cut down on the nuisance birds flocking to an area, we offer a full line of Humane Bird Traps and Mist Netting. The point is, Bird B Gone will make sure you have the right product for the job. Our products address not only the type of bird but where they land and what they do.
Experience, Knowledge, and Expertise
The industry leader for over 22 years, Bird-B-Gone has the experience, knowledge, and expertise to help you select the right bird control product for the nuisance bird that's causing you so many headaches. Our bird control engineers lead the industry with more than 90 years of combined hands-on experience. We can help you with installation, and that includes locating a professional bird control product installer in a specific geographical area. Our team "goes the extra mile" to solve your nuisance bird problem as quickly and cost effectively as possible.
"Made in the USA" Means Quality Guaranteed
To get rid of nuisance birds, you need a bird control product you can count on. Bird B Gone products manufactured in the United States meet the highest standards of quality in the industry. All products go through an extensive quality control process before being shipped. And each product is hand inspected and signed as it's packaged. This allows us to offer the industry's longest guarantees—as long as 10 years on some products. It's no wonder our products are specified bird control products by architects and government agencies. And why Bird B Gone is a GSA Advantage Approved Vendor.
Training & Customer Service That's Second to None
Using the right product against nuisance birds also means learning how to choose and use that product or products. Bird B Gone offers training and support for all aspects of bird control, including on-site training and technical support. We regularly host a free training course through Bird B Gone University. Classes are taught by our bird control specialists at the Bird B Gone training facility in Santa Ana, California. This ensures our customers get the real answers they need in effectively solving pest bird problems. Bird B Gone Customer service is second to none. Our customer support team is just a phone call away to help find the best solution for your budget.
Company: Bird-B-Gone, Inc.
Of: Alex Kecskes
Source: https://www.birdbgone.com/blog/how-to-choose-the-right-product-for-a-nuisance-bird/
---


Water-based Stain, Acid Stain
Concrete stains are a quick, easy and cost effective way to transform a dull slab. While most decorative concrete contractors opt for water-based stains (and for good reason), acid stains still have their place in the market. Water-based stains offer numerous advantages from environmental, aesthetic and functional standpoints.
Environmental Benefits
Simply put, water-based stains are better for environment. Acid stains contain potentially hazardous materials and require additional containment cleanup in regulated areas such as California where there is extra attention paid to storm water runoff. Water-based stains are environmentally safe and do not require special handling during application, nor do they carry disposal concerns.
Aesthetic Outcomes
Water-based stains typically have a larger color palette and offer versatility to the applicator with the ability to blend or dilute colors. Vibrancy can be achieved with water-based stains, while acid stains are typically in the natural, earth tone range. Water-based stains allow the applicator to decide how solid or opaque the color will become based on the amount of water used. With an acid stain, you really are at the mercy of the reaction that occurs. To achieve deeper tones with acid stain, multiple applications may be required, or you may need to bring in other products.
Functionality
Water-based stains possess additional functional benefits that are attractive to both the applicator and end-user. For instance, they do not discolor or fade over time, or radically change color due to UV rays. When applied to properly prepared concrete substrates, water-based stains will not exhibit cracking, crazing, spalling, delamination, softening or other deteriorating effects.
Since acids chemically react with concrete, and because no two concretes are the same, an acid stain reaction yields a different look or color on different batches of concrete. Contractors who are familiar with acid stains are comfortable explaining to their clients that they may not exactly get the intended appearance when using an acid stain. Various shades will be produced based on the concrete matrix, it's age, it's porosity or density, chemicals it has been exposed to, etc. The anticipated variation can be exciting to some. While to others, it can be disastrous. For those looking for something totally unique and custom, acid stain may be the solution. For those conservative folks who prefer a 'what you see is what you get' kind of outcome, water-based stains are the way to go.
Acid stains require the extra steps of cleaning and neutralizing after 24 hours, then additional time for the concrete to dry prior to sealing. Water-based stains don't require neutralizing or cleaning after the stain has been applied, so sealers may be installed the following day.
When Acid Stains Make Sense
Acid stains are predominantly used out of habit these days. The exception would be that water-based stains cannot be used in conjunction with polished concrete. Acid stains can.
Acid stains do become a permanent part of the concrete, and therefore will not fade, peel or crack over time.
Both types of topical stains can be applied to interior and exterior surfaces, as they are ultraviolet light stable. As with all stains, acid and water-based stains are translucent in appearance and therefore the concrete slab's surface textures and variations are visible.
Some installers actually prefer to use a blend of both materials. Often, acid stains are used as a base color and a water-based stain is then used to antique or create additional mottling.
Regardless which type of stain, always remember the importance of sealing these products with a protective sealer that will endure the chemicals, UV and traffic that a decorative stained surface is exposed to.
Of: Tracey Lackovich & Paul Scheidmantel
Source: http://www.super-krete.com/the-benefits-of-water-based-concrete-stains/
Tags: Color | Concrete | Design | Finishes | Floor