architecture - engineering - construction

Window Shades
---
April 26, 2019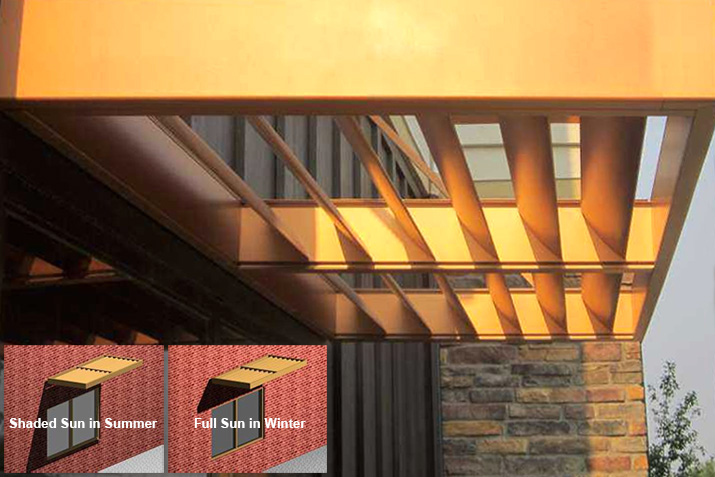 The primary purpose of a sunshade is to control the amount of direct sunlight through your building's windows. The benefits can be found in so many articles that we will not go into them here. The intent of this page is to show you how it works and give you insight into designing a louvered sunshade system that is right for your building, whether it is to be located in Houston, TX or Minneapolis, MN. The explanation can be as simple or as complicated as we want to make it. We opted for simple, yet effective. We will cover these topics: Where to shade How to shade Southern exposures How to shade Southeastern/Southwestern exposures How to shade Eastern and Western exposures
---
March 25, 2019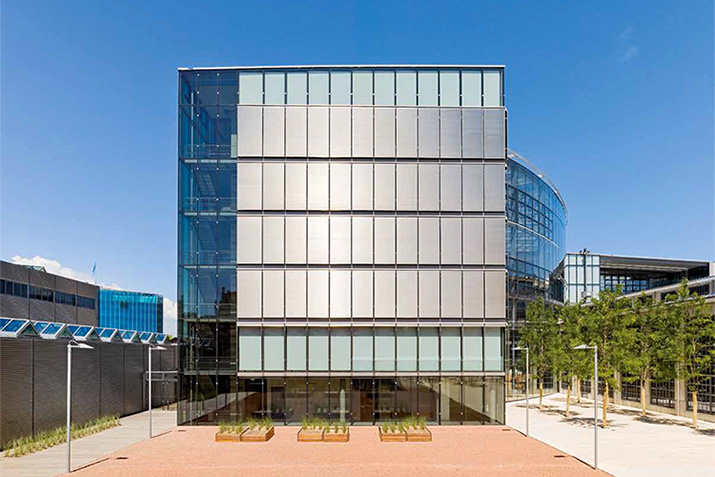 The creative use of metal has become a modern design and construction trend. In addition to advantages such as recyclability and versatility, the aesthetic created by incorporating metal is a big reason for the increased use. Here are four ways Draper helps you incorporate the metallic look into a building, while also dealing with glare and solar heat gain as part of an overall daylighting strategy:
---
February 25, 2019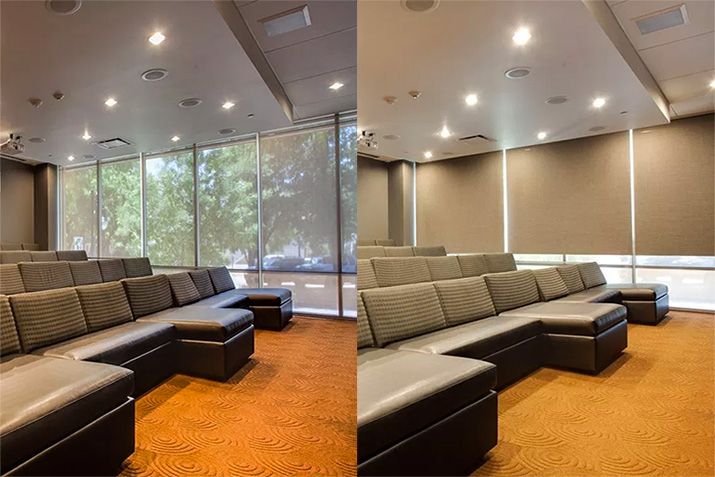 Privacy vs. daylighting: Who says you have to choose? Balancing the need for privacy with the positives of natural light doesn't have to mean choosing one or the other. Here are four ways you can have privacy and enjoy the benefits of daylighting in the same window opening.
---
December 17, 2018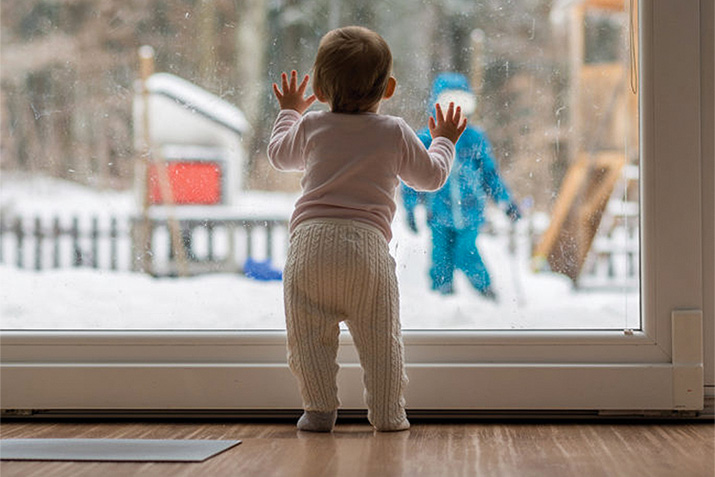 A new safety standard took effect on December 15 for window coverings with operable cords that are located in areas accessible by small children. The new standard, ANSI/WCMA A100.1-2018, was developed by the Window Coverings Manufacturer's Association and the Consumer Product Safety Commission.
---
July 23, 2018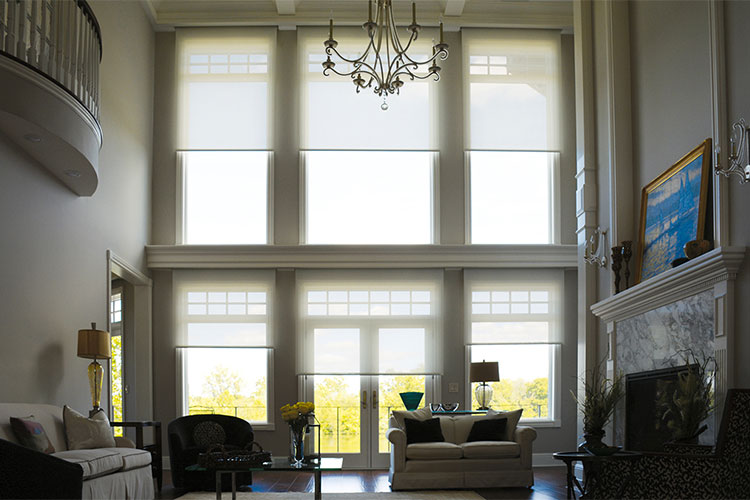 A plethora of choices exist when it comes to customizing window shades. From color combinations and openness factor to panels built to fit individual window specs and environmental benefits, window shades are one of the most customizable design solutions you can find. And they add a personalized touch, especially when it comes to their controls. Control systems give users the ability to personalize shades to their needs and preferences. Here are just a few examples of how the right shade control system can create a custom experience.
---
April 27, 2018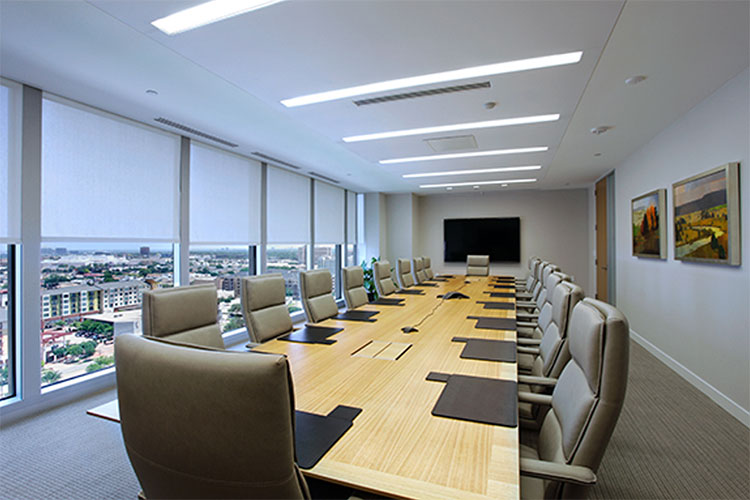 Window shades have been the preferred daylighting control system of choice for several reasons. Shades allow natural light to enter the room while controlling unwanted, uncomfortable glare. They can provide a view to the outside world – even when the shades are down. Heating and cooling cost savings can be substantial and employee productivity improved with the right daylighting control strategy. And to get the most out of solar control shading, motorization and automation are key.
---
December 2, 2017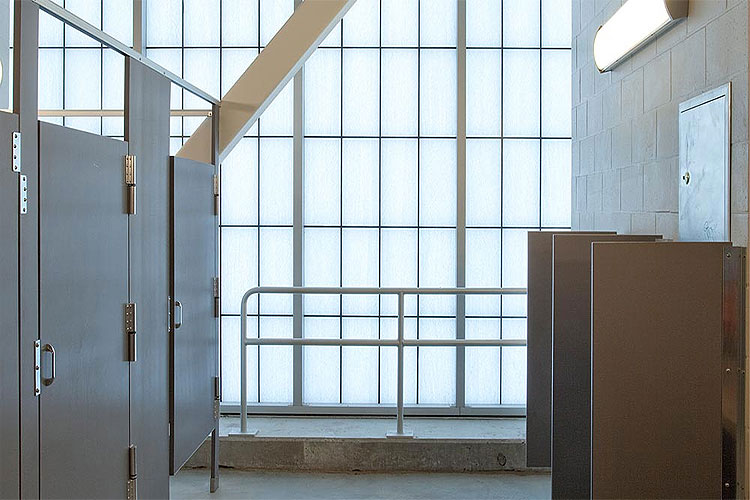 When we talk about daylighting, the first thing that comes to mind is often the image of natural light pouring into a space... but what happens when you need to bring light to a area that also demands privacy?
---
November 3, 2017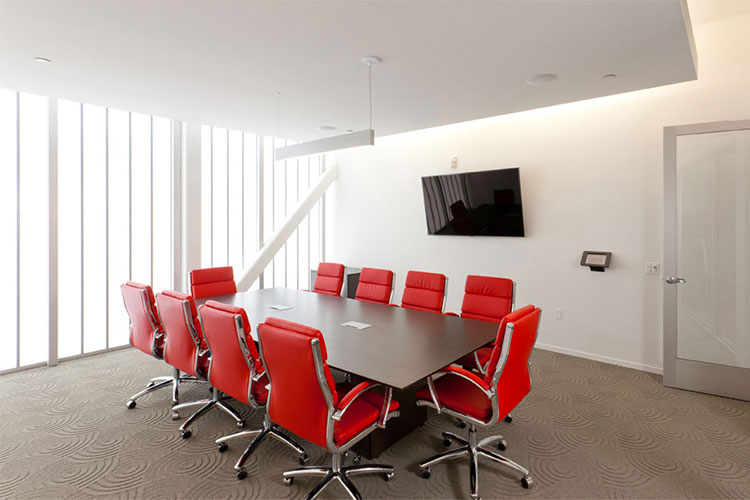 Major offers a wide range of glazing options, but even within translucent panel systems there are numerous ways to add customization to meet your project's needs.
---
October 30, 2017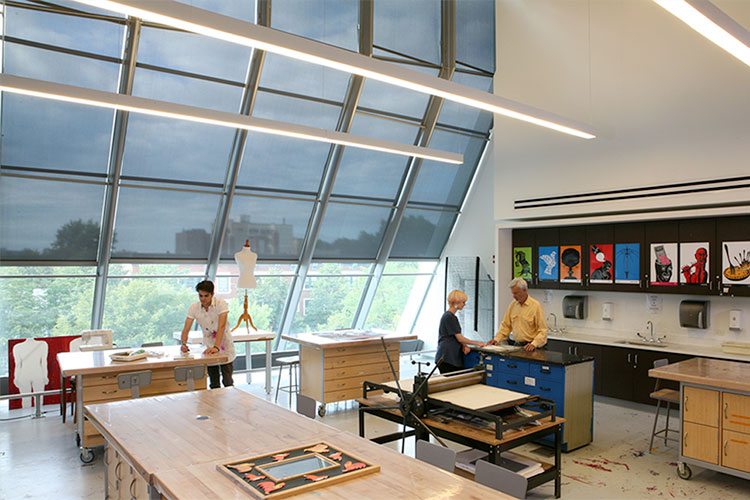 Gordon Parks Arts Hall at the U of Chicago Lab School's unique sloped facade called for a unique shading solution.
---
September 28, 2017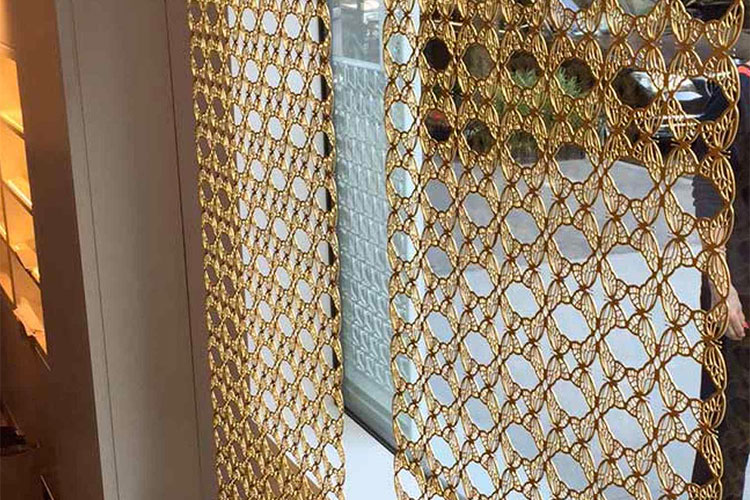 The Challenge: a down to the wire Boutique request to have two large, intricate, decorative metal screens completed in just 4 days. These laser cut panels also received custom plating.
---
September 21, 2017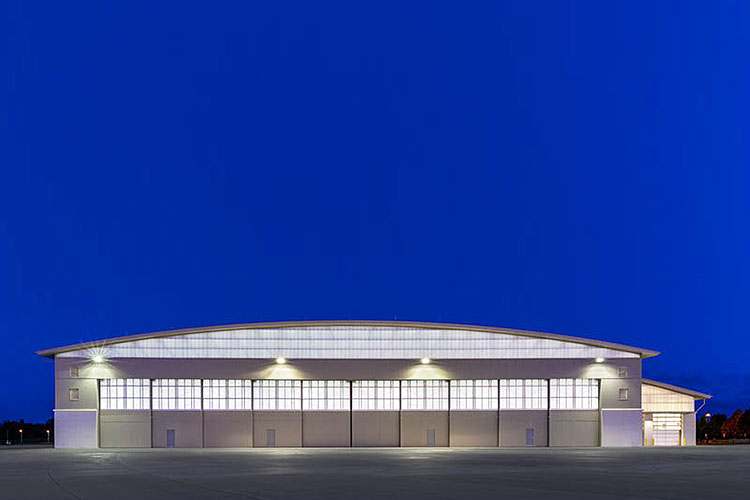 The new 31,000-square-foot hangar at Chicagoland's DuPage Airport spans 244 feet wide by 134 feet deep with 29-foot-high doors. It features EXTECH's LIGHTWALL 3440 and SKYGARD 3300 polycarbonate systems.
---
August 22, 2017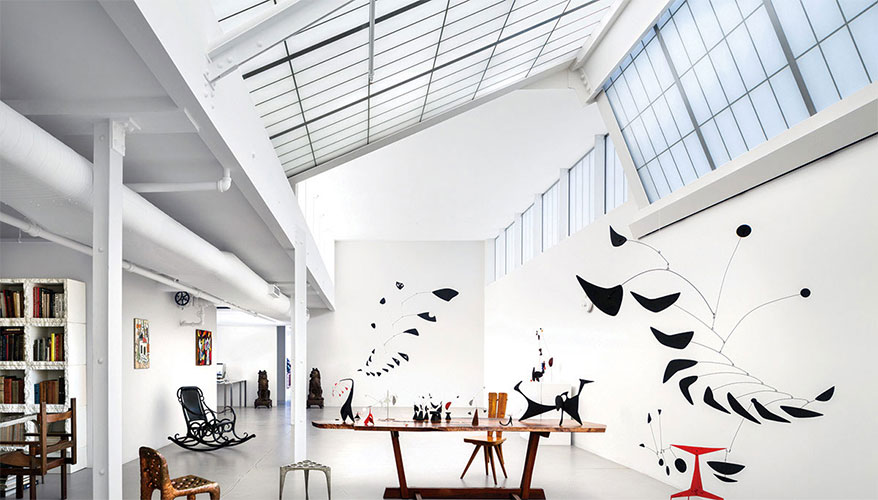 The right light is essential to experience and enhance the viewing of art, and Kalwall® has become the preferred choice of architects to provide museum-quality daylighting™ for cultural projects worldwide.
---
August 14, 2017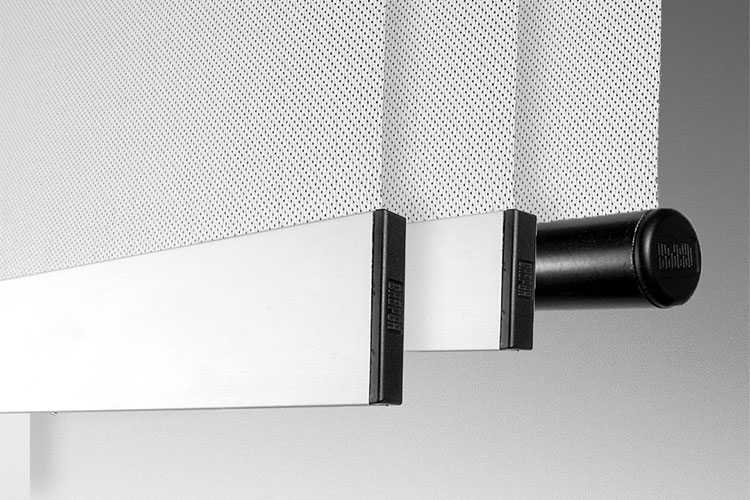 Sometimes the smallest detail can make a huge difference in our perception of interior design—even something as small as the pocket and hem bar on window shades. That's why we have a hem bar solution for every design need.
---
May 29, 2017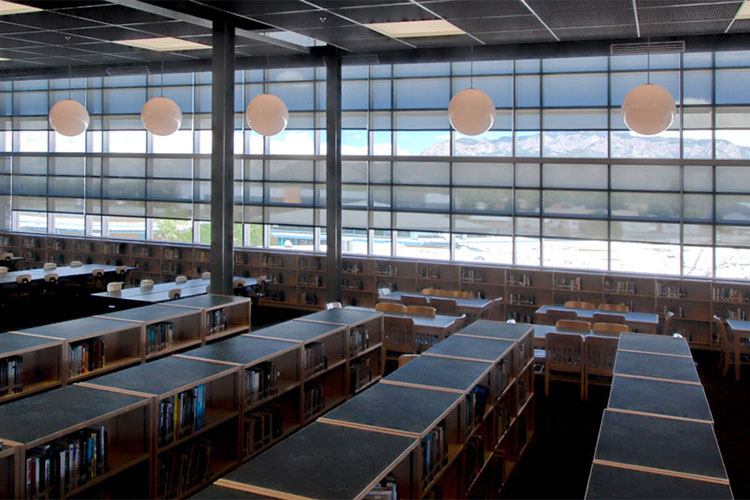 Draper has announced EchoControl, an innovative acoustical treatment that improves the acoustics within rooms by utilizing sound-absorptive materials.
---
May 10, 2017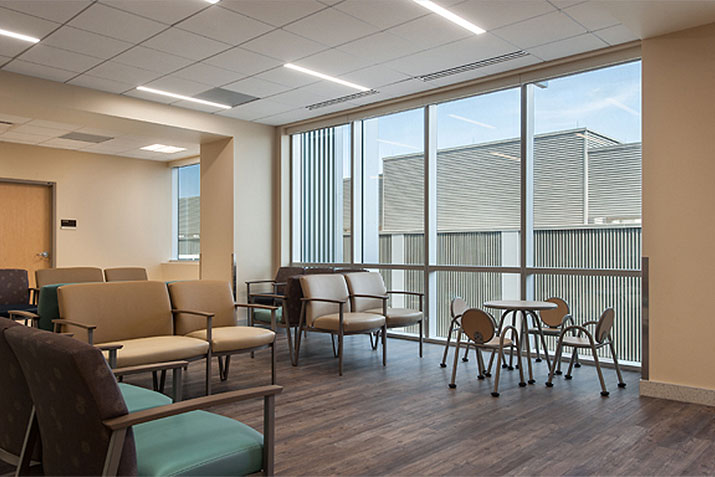 There are four basic benefits most often used to promote solar control: reducing glare, solar heat and light pollution, while increasing privacy. While these are great reasons to employ solar control, they only scratch the surface. Here are four new compelling arguments to consider.
---
May 3, 2017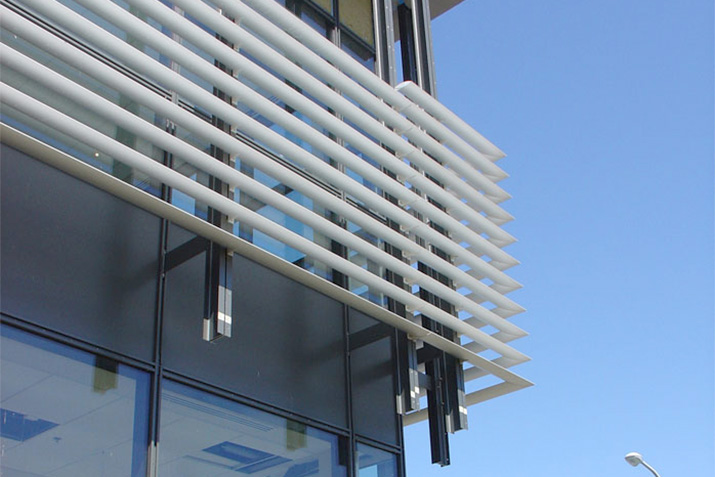 ---
April 5, 2017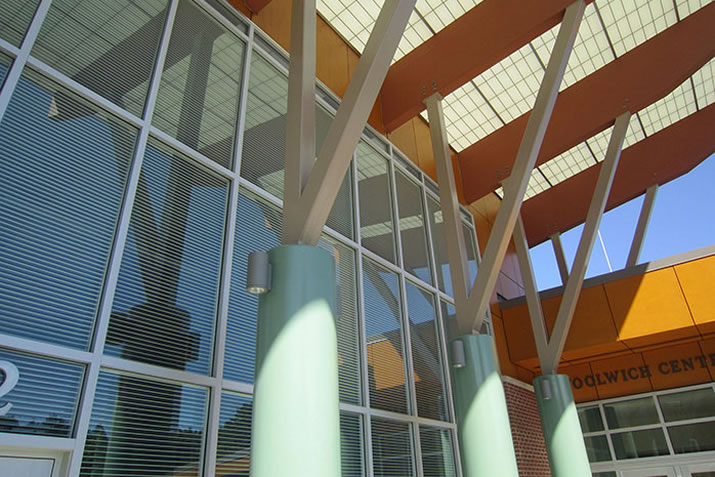 Unicel Architectural's Vision Control® Integrated Louvers Contribute to LEED Green Building Certification. The leading manufacturer of vision and daylight control solutions, today outlined how its Vision Control® integrated louvers can help attain multiple credits for high-performance green building certification through optimized energy performance, thermal comfort, acoustic performance, daylighting and more. Leadership in Energy and Environmental Design (LEED) is the foremost program for the design, construction and operation of green buildings.
---
November 14, 2016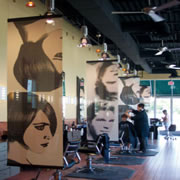 In a recent CEPro article entitled "6 Steps to Isolate Rooms for Sound," Home Theatre Designer Scott Bourquin discusses how to make a room quieter. Bourquin points out that "the quieter you make a room, the greater impression it gives of quality workmanship." So making rooms quieter can have benefits beyond the technical aspects.
---
October 19, 2016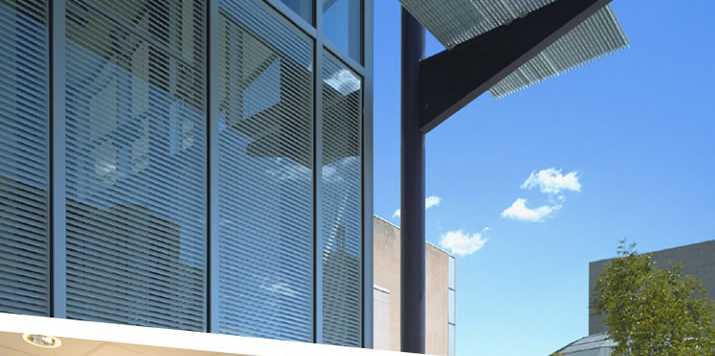 Unicel Architectural, manufacturer of vision and daylight control solutions, published an industry white paper entitled: "Integrated Louvers VS. Integrated Blinds - Picking the Right Privacy and Shading Solution for Your Design Project". This white paper tackles the differences and advantages of each solution and how these factor into a building's specific privacy and shading requirements.
---
August 29, 2016

AvantiSystemsUSA supplies and installs a family of architectural glass wall and glass door systems. Inspired by European interior design, Avanti glass systems profile a slim line appearance with frame-less panels and sleek metallic hardware.
E2JS thin line louver used on Reptile House at the Cincinnati Zoo (August 22, 2016), Blackout & mesh shades in the same window? Dual Roller Shades are the solution! (July 5, 2016), Cut solar energy getting into buildings by up to 92% - stop it before it hits the glazing (June 17, 2016), Hurricane Roof Equipment Screens (June 10, 2016), Custom shade brackets solve big headache (May 11, 2016), Custom Pocket Headboxes (April 20, 2016), Decorative Panels & Screens (April 4, 2016), Maximize views with generous exterior glazing, while ensuring privacy and thermal efficiencies (February 19, 2016), Amager Resource Center (January 13, 2016), Print custom graphics on window shades (December 2, 2015), Sun Control Sunshades offer energy savings (September 28, 2015), Specialty Glazing (August 20, 2015), Sealed Blinds from Unicel Offer Flexibility, Low Maintenance (June 24, 2015), 10 Key Questions about Exterior Shading - free white paper (April 15, 2015), Sunshades provide aesthetic appeal to the building exterior (March 23, 2015), Bottom-Up FlexShades Offer Privacy (February 2, 2015)