architecture - engineering - construction

Window Shades
---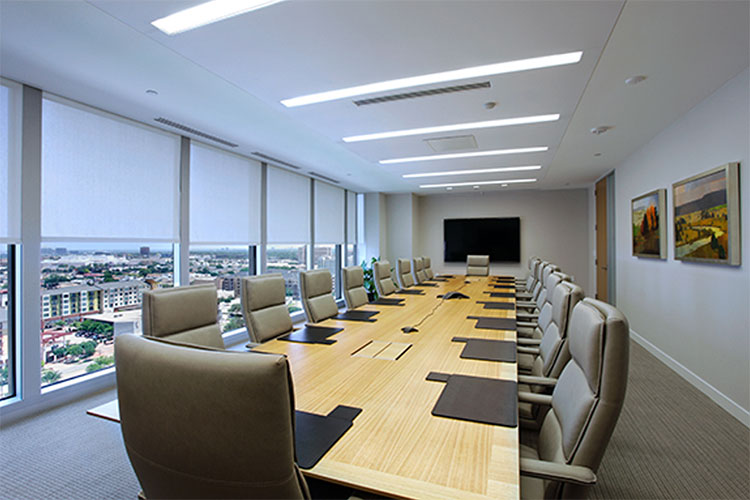 Window shades have been the preferred daylighting control system of choice for several reasons. Shades allow natural light to enter the room while controlling unwanted, uncomfortable glare. They can provide a view to the outside world – even when the shades are down. Heating and cooling cost savings can be substantial and employee productivity improved with the right daylighting control strategy. And to get the most out of solar control shading, motorization and automation are key.
Below are just a few of the benefits of motorized window shades:
Maximized energy savings
If shades are operated manually and left up to individual discretion they may be up or down when it is least beneficial, allowing heat and brightness into the room. This leads to increased air conditioner use and creates unwanted, uncomfortable glare on computers, televisions, and other work surfaces.
Motorized shades controlled by automation systems maximize energy savings and glare control. When the sun is burning brightly, and moving across the sky, shades can move automatically to uniform, preset degrees of closure. These intermediate, preset stopping locations provide the owner with control over heat build-up during the day. They can be controlled locally by a wall switch or from a central location, such as the building manager's office. Shade operation can also be programmed to occur automatically at predetermined times based on the angle of the sun. This type of system controls heat gain while permitting a degree of natural light that doesn't create glare on desks, computer screens, and other work surfaces.
More shading solutions
Motorized shades are available in much larger sizes than manual units, and allow you to provide shading solutions in places where it would be impossible to control them through manual operation. Covering large windows with a single shade, rather than multiple smaller shades, is more efficient, more attractive, and provides substantially better control over heat and glare. Openings as large as 28' wide or 40' tall can be covered by one motorized shade.
Better durability and easier maintenance
Another factor in motorization's favor is durability. Even though all shades are durable and easy to maintain, motorized shades will have even greater longevity because they are hands free.
Maximizing efficiency while providing long-lasting practical shading and glare control contributes to a healthy, productive work environment. The up-front investment for motorized shades should include serious consideration of this important factor.
For more information on Draper's various motorized options, click here.
Product: Window Shades
Of: Terry Coffey
Source: http://blog.draperinc.com/2018/04/the-benefits-of-motorized-window-shades/
Tags: Interior Design | Solar control | Window Shades
---
When we talk about daylighting, the first thing that comes to mind is often the image of natural light pouring into a space... but what happens when you need to bring light to a area that also demands privacy?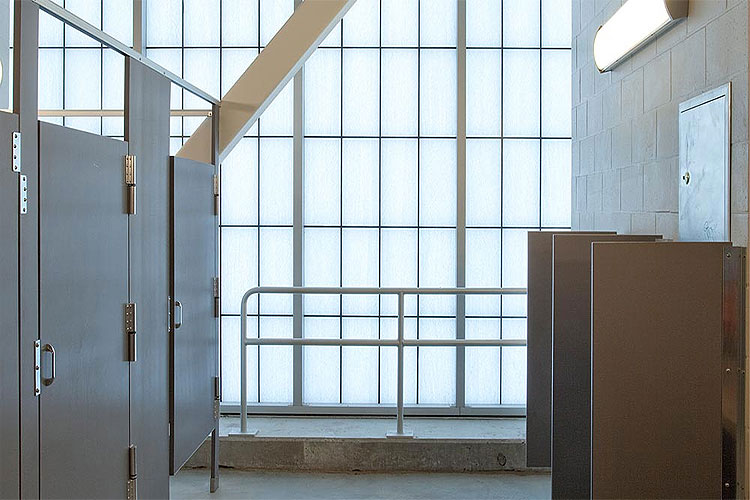 HDR/TD Ameritrade Park, Omaha, NE - Guardian 275® Wall System - Mix Natural Light and Privacy!
Translucent panel systems, like the Guardian 275® wall system above, allow for building occupants to enjoy controlled, glare-free light while eliminating direct lines of sight from the exterior and maintaining a feeling of safety and security. This can be a great asset to traditionally dark and window-less areas like public restrooms, hallways, in waiting areas in medical centers and hospitals (for patient confidentiality), or in secure facilities where it's of up-most importance to maintain a certain level of secrecy.
Translucent systems can also benefit schools as they allow students the advantages of natural light while affording them privacy from outside eyes. And while there are other options in the market such as fritted or channel glass, these systems are often on the higher end of the cost scale. Electrochromic glass options are also available, but can cost even more and may require additional maintenance and upkeep.
Their versatility, light weight and design flexibility make translucent panel systems a great choice for letting light in and keeping prying eyes out. From simple wall panels to curved systems to our Verti-Lite™ option that has an appearance similar to channel glass, we have a system that will fit your needs.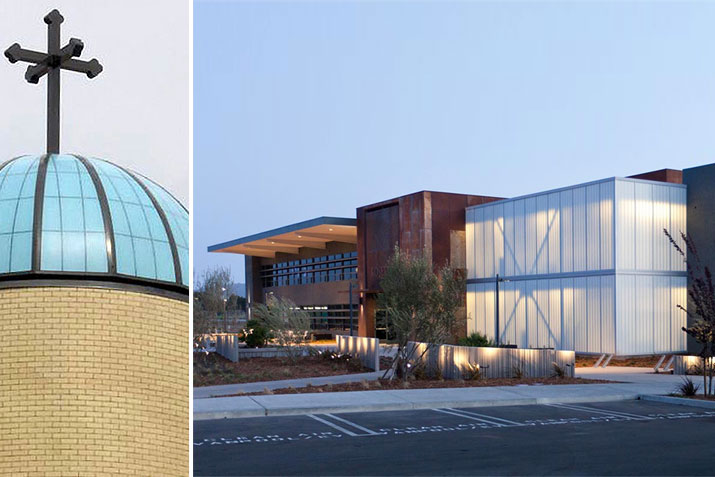 Bruns General Contracting/St. Mina and St. Abanoub Church/Miamisburg, OH - Guardian 275® TransCURVE® Dome; Garcia Architecture and Design/Rosetta/San Luis Obispo, CA - Guardian 275® with Verti-Lite™ Grid Pattern
For additional information on our full line of daylighting systems, as well as thermal performance and testing information, visit our website.
Company: Major Industries Inc.
Product: Guardian 275® - Translucent Panel Skylights & Curtainwall
Source: https://majorskylights.com/products/wall-systems/guardian-275/
Tags: Architecture | Design | Lighting | Wall Panels | Window Shades | Windows
---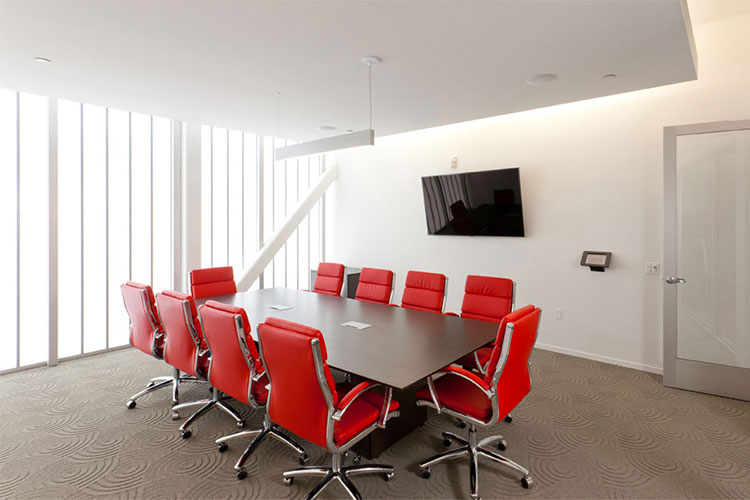 Major offers a wide range of glazing options, but even within translucent panel systems there are numerous ways to add customization to meet your project's needs.
In the shop recently was a project that utilized a 7″ x 7″ grid pattern (left side of image left), giving the panels a distinct geometric look. If you'd prefer to see less grid in the panel, choosing a white face sheet and opting for a larger grid pattern or our Verti-Lite™ option is the way to go. Verti-Lite™ (image) features vertical grids only, providing a channel glass look but with numerous insulation options as well as a lower cost.
Don't forget that we can also custom color insulation for a unique way to incorporate school colors into a building (or to mimic stained glass), and we can match finish colors as well if you're looking to tie the daylighting system into another part of the building. Contact our sales team today at 888-759-2678 to find out how we can customize your daylighting experience.
Company: Major Industries Inc.
Product: Guardian 275® - Translucent Panel Skylights & Curtainwall
Source: http://majorskylights.com/2017/09/lines-grids-aesthetics/
Tags: Design | Glass | Wall Panels | Window Shades
---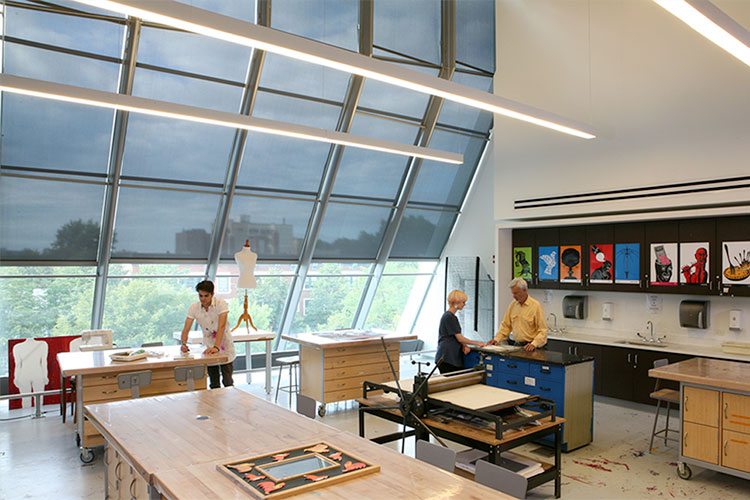 The University of Chicago Lab School had a problem. The school was building a brand new arts facility, the Gordon Parks Arts Hall, funded in part by a donation from the George Lucas Family Foundation. It was a high-profile project, making use of daylighting.
"They had a beautiful facade design with unique angles and breaks in the glass," Clint Childress, LEED®AP, solar control solutions product manager at Draper, Inc. "With this design, they had a problem with finding any solar shading that would work."
Bryan B. Biggers III, the president of Beverly Venetian Blind Company, agrees it was a complex project.
"We weren't the only people asked to bid on this project but we seemed to be the only ones that were willing to take on the complexity of this project with its unique angled windows," Biggers said. "It's something we had never done before but I felt that it would be a great opportunity to do something very special even though we really didn't know how we were going to accomplish it."
Biggers and his team talked to the designers in charge of the project to share some ideas on how to approach a solution for the project.
"This is where my thoughts went straight to Draper, Inc.," he said. "I knew that if anyone could help pull this off, it would be Draper."
Biggers' request came to Draper's Solar Control Solutions (SCS) division, which designs and manufactures custom solutions for customers around the globe.
"SCS is about bringing solutions to solar shading problems," Childress said. "There may be too much heat gain, a unique glazing design, an operation which is not standard, or anything that makes standard products not an ideal option."
Draper's designers discussed the project with Biggers and, after several conversations, proposed a solution. After some back-and-forth exchange of ideas and on-site meetings, a final design was agreed upon: a custom motorized shade system on tracks, with re-directional rollers to help the shades follow the changes in slope. The shades would be operated via wall switch, and feature Mermet E Screen Charcoal/Gray with a 3% openness factor.
To read the rest of this case study, and download a free pdf copy, click here.
Product: Window Shades
Of: Terry Coffey
Source: http://blog.draperinc.com/2017/10/draper-university-chicago-lab-school/
Tags: Design | LEED Certification | Solar control | Window Shades
---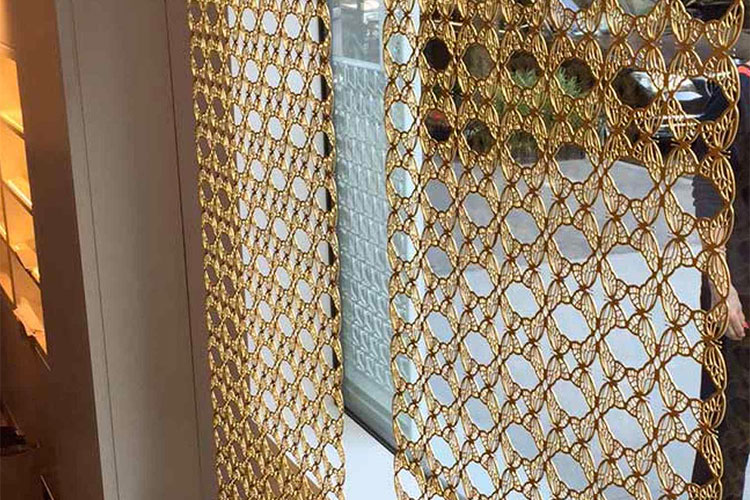 Boutique
A down to the wire request to have two large, intricate, decorative metal screens completed in just 4 days. These laser cut panels also received custom plating.
Complex issues
An intensely intricate and delicate decorative pattern repeated throughout the piece
The maximum thickness of the material was limited to 1/16"
These decorative metal panels have many fine and narrow filigree characteristics that could not be cut quickly on the laser
The metal screen panels were very large; 113" x 36"
The Solution
Artistry in Architectural Grilles' engineering team programed the pattern in several hours and immediately went into production by 4 PM the first day.
The laser ran throughout the night continuing on the panels.
Due to the intricacy of the pattern and light material gauge, the cutting sequence had to be randomly arranged to ensure the material wasn't melted.
The grille pattern required over 60 hours of cutting time.
Success
The contractor and Boutique owner were thrilled we could meet an impossible deadline. Their words:
"They look amazing."
At a glance
TYPE: Custom Laser Cut
STYLE: Custom Pattern
DETAIL: Specialized Cut Sequence
MATERIAL: 1/16″ Steel
Company: Artistry in Architectural Grilles by Advanced Arch Grilles
Product: Perforated Grilles
Source: http://aagrilles.com/custom-laser-cut-decorative-metal-screen/
Tags: Grilles | Interior Design | Metal | Window Shades
---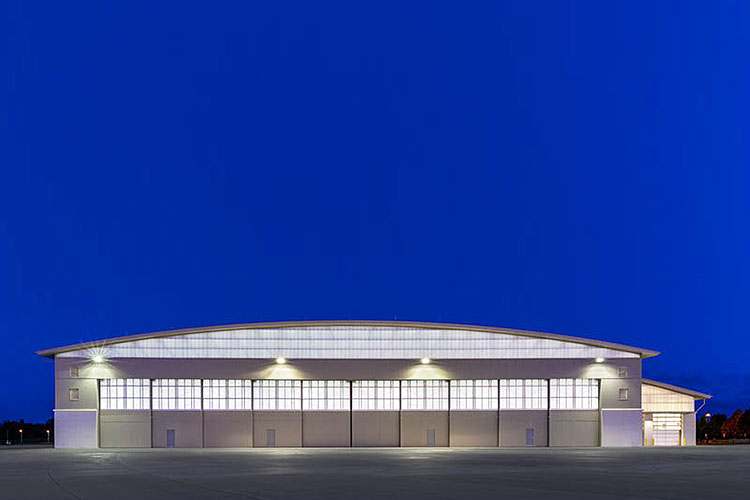 Images ©balloggphoto.com
Chicagoland's DuPage Airport Authority is home to the largest concentration of corporate aircraft in Illinois. It supports more than 400 based aircraft and is the only general aviation airport in Illinois with four active runaways, two instrument landing system approaches and a 24-hour FAA Air Control Tower, U.S. Customs and 24-hour onsite rescue and firefighting capabilities.
In addition to the aircraft on site, the airport receives daily transient aircraft. To better accommodate their aviation needs, the DuPage Airport Authority opened a new hangar in August 2017, reflecting its goal to build and maintain a world-class facility in the heart of the United States.
The new 31,000-square-foot hangar spans 244 feet wide by 134 feet deep with 29-foot-high doors. It features EXTECH's LIGHTWALL 3440 and SKYGARD 3300 polycarbonate systems. Mark Doles, the Director of Aviation Facilities and Properties and DuPage Flight Center, says of the new facility and EXTECH's systems: "We chose EXTECH's systems to give us the architecturally attractive look we wanted and the translucent polycarbonate lets us take advantage of the borrowed light. With the natural light, we usually will not have to utilize any electric lighting at all during the day. When we do illuminate the hangar, it's stunning to see at night."
Company: EXTECH/Exterior Technologies, Inc.
Product: Custom Facades
Source: https://extechinc.com/see-photos-dupage-airport-chicago/
Tags: Design | Skylights | Wall Panels | Window Shades
---
The right light is essential to experience and enhance the viewing of art, and Kalwall® has become the preferred choice of architects to provide museum-quality daylighting™ for cultural projects worldwide.
Calder Foundation Gallery
New York, New York, U.S.A.
The diffuse daylight of Kalwall panels cleverly showcase the unique sculptures and mobiles of Alexander Calder and the other artists on display. Softly balanced, glare-free light envelops the art from every angle. The use of Kalwall turns what was once three disparate rooftop sheds into a breathtaking space.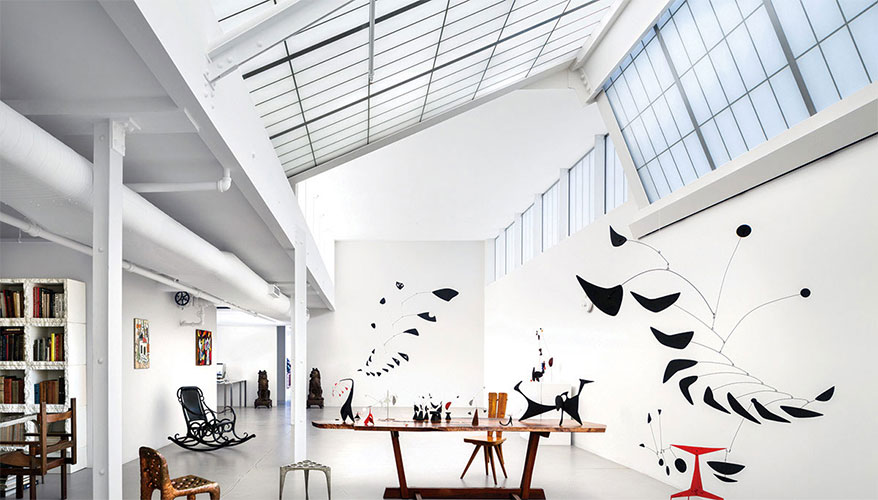 Luxembourg Freeport
Niederanven, Luxembourg
The ability to provide necessary temperature control, along with safety and security, made Kalwall the choice for this duty-free storage unit where wealthy art investors can store their valuable collections. Kalwall provides museum-quality daylighting for viewing artwork as well as privacy and superior structural integrity that allows peace of mind.
Elgin Artspace Lofts
Elgin, Illinois, U.S.A.
A centerpiece Kalwall skylight was reintegrated into a 1908 Sears building being converted to a mixed-use space. Kalwall panels with .10 U values were chosen to provide exceptional thermal performance and low solar heat gain. The skylight provides diffuse daylight to both levels of this historic building and beautifully highlights the central gallery.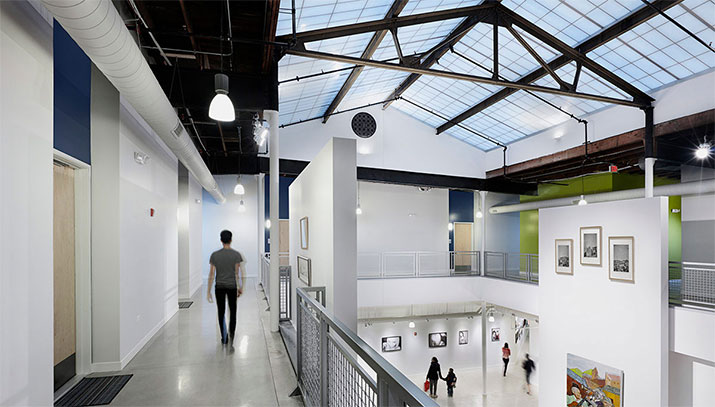 Crocker Art Museum
Sacramento, California, U.S.A.
Perfectly diffuse top lighting by Kalwall allows the vibrant colors of the artwork below to come through naturally, as opposed to the harsh effects of artificial lighting.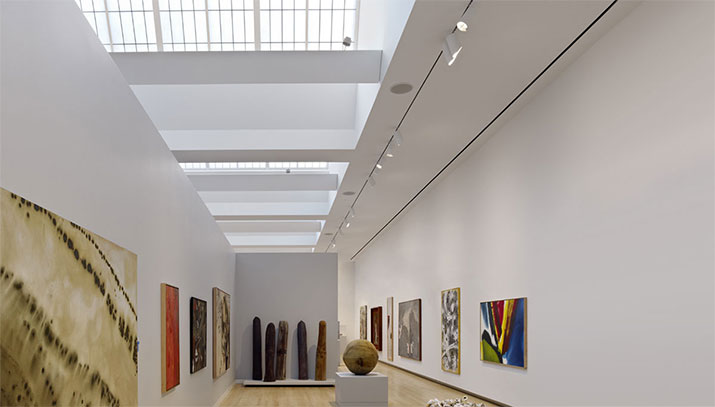 Blackfoot Crossing Historical Park
Sisika, Alberta, Canada
The architect of this breathtaking building viewed his design as "a reinterpretation of a vast range of Blackfoot cultures," and Kalwall is a dominant feature in that design. Kalwall panels are used to create the central teepee that greets visitors as they enter this historical center that promotes and preserves the culture of the Siksika Nation Peoples. The panels emit an ethereal glow at night reminiscent of traditional lanterns created by ancient cooking fires, reflecting the functionality of teepees as well as a connectedness to earth and sky.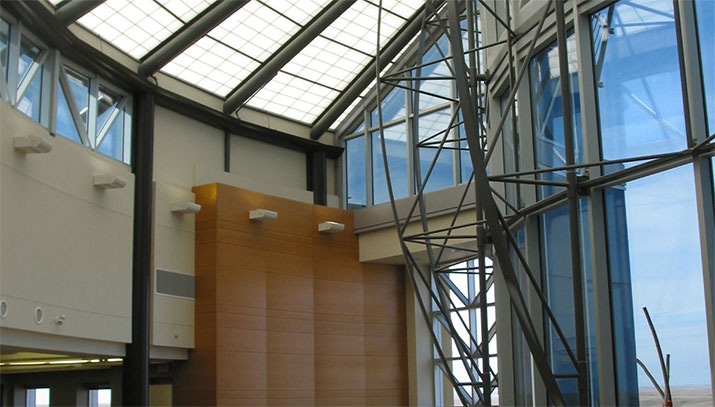 Company: Kalwall Corporation
Source: https://www.kalwall.com/2017/08/09/visual-blog-kalwall-in-the-cultural-market/
Tags: Design | Lighting | Skylights | Window Shades | Windows
---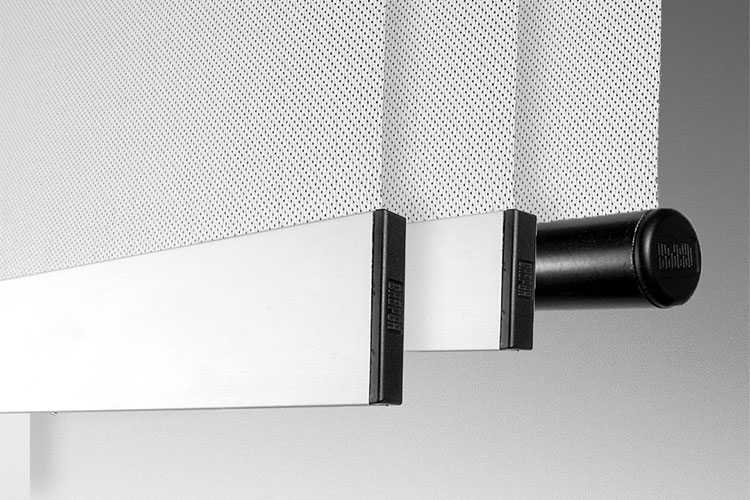 Draper's exposed hem bar options
Sometimes the smallest detail can make a huge difference in our perception of interior design—even something as small as the pocket and hem bar on window shades. That's why we have a hem bar solution for every design need.
Since introducing Draper's shade line at the 2016 CEDIA Expo, reaction has been overwhelmingly positive. But one comment we've noticed on occasion is that our standard hem bar option has too much of an "industrial" look.
Truth be told, we have several options to choose from. Yes, we have some options that have a more industrial look, but whatever your personal design preference, Draper has a hem bar solution for you.
Our standard hem bar is low profile, and designed to blend in with the shade. We'll provide it with a 1″ elliptical slat inside the 1-5/8″ heat seamed pocket, with heat sealed ends, or with open pocket ends and decorative end caps on the hem bar. These options do look more "industrial" to some of our dealers—especially on the residential side. These are often found in commercial settings.
If you want the hem bar to be a more visible and elegant part of your design, we also have three options for exposed hem bars:
A 1-1/2 inch x 5/16 inch rectangular hem bar with end caps. A
A 7/8 x 5/16 inch version that brings the same clean look in a smaller package to residential and well-designed commercial applications.
A ¾ inch round hem bar with end caps for another elegant alternative.
All three of these options are available in our five standard colors. For an upgrade, we can provide custom powder coat.
These hem bar options give our dealers a wider variety of cosmetic choices, so our shades can better compliment many various room styles. There is also a functional benefit when using a shade with side channels. With the open hem pocket or flat hem bar, the fabric and hem bars are the same width, allowing more bar to travel in the side channel.
These hem bar options are available on Draper Motorized, Clutch, Clutch XD, and Techmatic FlexShades. They are not available on Spring Roller or Bottom-Up FlexShades.
Click here for more information on our shades, and all the various options to give them that special look you want..
Product: Window Shades
Of: Amy Madden
Source: http://blog.draperinc.com/2017/08/little-things-make-a-big-difference/
Tags: Design | Window Shades
---
Draper has announced EchoControl, an innovative acoustical treatment that improves the acoustics within rooms by utilizing sound-absorptive materials. Draper's EchoControl will "officially" debut at InfoComm 2017, June 14 – 16 in Orlando.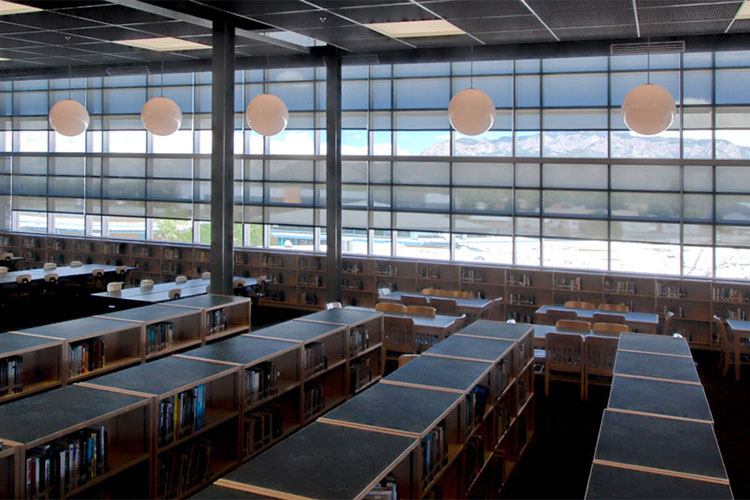 Draper is proud to introduce a new line of acoustical shading products
Draper's new line of acoustical shading, EchoControl, is designed to address one of the most pervasive pollutants we battle today – noise.
According to the Noise Pollution Clearinghouse, a national non-profit organization with extensive online noise-related resources, (www.nonoise.org), "Noise is among the most pervasive pollutants today…Noise negatively affects human health and well-being. Problems related to noise include hearing loss, stress, high blood pressure, sleep loss, distraction and lost productivity, and a general reduction in the quality of life and opportunities for tranquility."
As commercial design trends continue to lean toward the contemporary – open spaces and sleek surfaces with the use of more glass and exposed ceilings – and with LEED objectives in mind, architects have been met with new acoustical challenges. Draper's EchoControl addresses acoustical needs within the commercial and office environment. It has been shown to display increased absorption among human speech frequencies, making it even more effective at controlling sound in environments, such as office settings, in which privacy and noise reduction are key.
Why should we use sound absorbents?
To reduce reverberation inside a room (echo)
To reduce the overall level of sound
Acoustic treatments are used to improve the acoustics within a room by using sound-absorptive materials, like our EchoControl, to reduce echoing caused by sound reflecting off hard surfaces (like windows).
Walls, especially those with windows, offer good surfaces to install acoustic absorbers. This fabric offers a unique combination of acoustic and lighting control and comfort! Available on both motorized and manual shades.
Echocontrol fabric features:
Light-filtering – diffuses light, reduces glare
Controls solar heat gain
Reduces fading of interior furnishings
Certified to GREENGUARD GOLD standards
Infused with Micorban® antimicrobial product protection
NRC*: 0.60
*The noise reduction coefficient astm c423-90a (NRC) rates the effectiveness of a material to absorb sound. The NRC scale ranges between 0 and 1 (0 being completely reflective and 1 being completely absorptive). This is calculated by averaging the frequencies of 250, 500, 1000, 2000, and 4000 hz (rounded to the nearest multiple of 0.05).
Source: http://residentialtechnology.draperinc.com/acoustical-shading/
Tags: Acoustics | Interior Design | Window Shades
---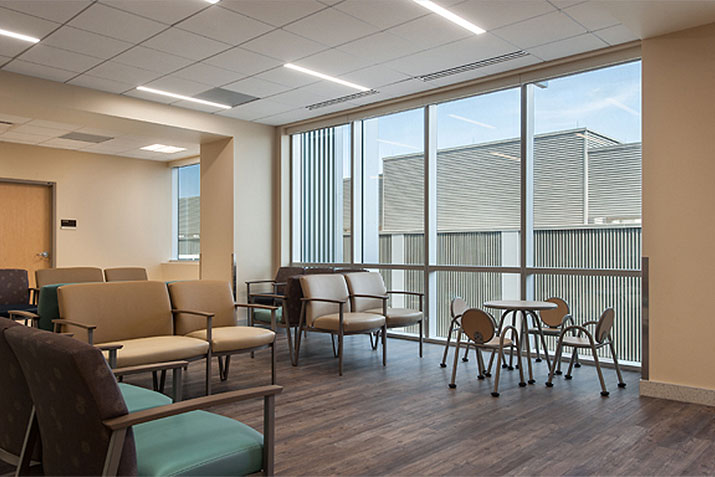 There are four basic benefits most often used to promote solar control: reducing glare, solar heat and light pollution, while increasing privacy. While these are great reasons to employ solar control, they only scratch the surface. Here are four new compelling arguments to consider.
Productivity
According to the National Institute of Building Sciences' Whole Building Design Guide, "Buildings can be more effective, exciting places to work, learn, and live by encouraging adaptability, improving comfort, supporting sense of community, and by providing connections to the natural environment, natural light, and view."
But, bringing more natural light and views of the outside creates additional problems. Glare, solar heat gain, and direct sun on workers' eyes or workspaces make it harder to perform basic work functions and lower productivity. So, the Whole Building Design Guide states, "Solar control solutions, including both exterior and interior shading systems, are … an important part of designing a productive building." For a more detailed look at how solar control can have a positive impact on productivity—and on the bottom line—click here.
Security
When the Glen Ellyn Elementary School District in Illinois decided it was time to build four new schools, the architects specified that classroom windows in the new schools had to be furnished with motorized shades. The main reason for this is rather sobering.
"One of the concerns is that should there ever be a need to lock down a school, they wanted to be able to quickly throw a switch to lower the shades so your movements can't be seen," said Al Marx of Shadeology, who installed the Draper shades. "You don't have time to be running to the windows to pull chains, while you're trying to take care of a classroom of elementary children."
There's also more and more need to shade not just the exterior windows but also the inside windows, according to Marx, again citing the safety concerns about masking movement inside the classroom. For a case study illustrating how shades can contribute to a school safety plan, click here.
Home Health
More people are deciding to design and build homes where they can stay in their own home and age on their own terms. The design strategy for aging in pace includes more natural light, especially with dementia patients. Having access to natural daylight and being able to see outside views has been shown to reduce patient stays in healthcare facilities, reduce needed pain medication, and improve mood and productivity. Unshaded windows, however, can also introduce problems such as discomfort, glare, and heat gain.
Draper offers many solutions for handling these issues. For instance, our Bottom-Up FlexShade lets you enjoy natural light through the top of the window opening, while providing protection from glare—or even privacy, depending on the fabric—on the lower portion of the window. For more information on the role of shades in aging in place, click here.
Noise Reduction
The non-profit group Noise Pollution Clearinghouse calls noise one of the most pervasive pollutants in today's built environment. "Noise negatively affects human health and well-being," according to their website. "Problems related to noise include hearing loss, stress, high blood pressure, sleep loss, distraction and lost productivity, and a general reduction in the quality of life and opportunities for tranquility."
To mitigate these problems, we offer EchoControl, a line of acoustical shading solutions. EchoControl reduces reverberation—echo—inside a room, as well as the overall level of sound in a space. Acoustic treatments are already used to improve the acoustics within a room by using sound-absorptive materials. With EchoControl, echoing caused by sound reflecting off windows can also now be addressed, even as glare and solar heat gain are reduced. To learn more about EchoControl, click here. To find out how window shades and solar control can help your project, contact your Draper representative. Click here to go to our online contact page.
Product: Solar Control Solutions
Of: Terry Coffey
Source: http://blog.draperinc.com/2017/04/new-ways-solar-control/
Tags: Window Shades
---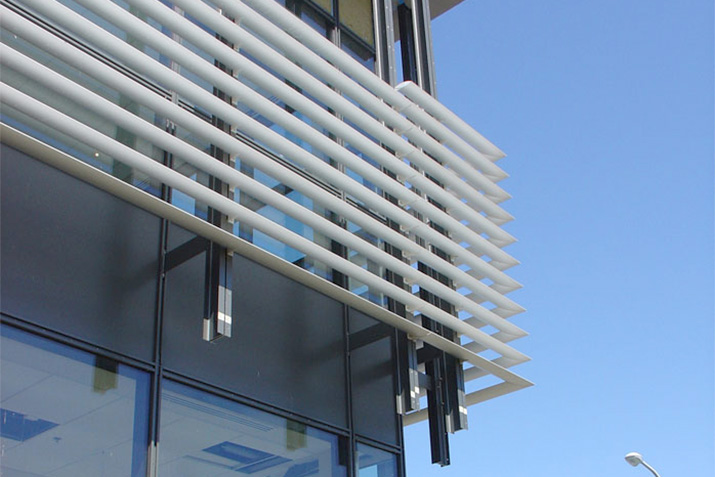 North American weather ranges from extreme cold to extreme heat, with many variations in-between. Today's design approaches need to consider weather patterns and how to best maximize energy efficiencies to address these. Unicel's solar shading systems provide optimal weather protection for the harshest climates and temperature extremes, while ensuring interior comfort and desired levels of vision.
Key Solar Shading Benefits:
Daylight control - Glare reduction and greater comfort
Heat control - Optimal solar heat gain and energy efficiency
Sound control - Acoustic insulation and enhanced tranquility
Visual appeal - State of the art aesthetic features that enhance overall design
Low maintenance - Durable and easy to maintain
Flexibility - Adaptable to many building and architectural designs
Solar Shading Features:
6063-T5 aluminum alloy extrusions
Hardware fits aluminum blade solutions
Custom colors in painted or anodized finishes
Fixed or mobile blades
Available in vertical , horizontal and cantilevered configurations
Remote controlled system
The fixed or motorized louvers can be installed as an independent structure or connected to the main facade system. Additionally, they can be painted in any color to enhance their visual impact.
When designing an architectural envelope, interior and exterior design requirements need to work together as a dynamic system to respond to variations in temperature, daylight and vision requirements. Unicel's solar shading solutions complement almost any design and are highly adaptable to the most rigorous heat and vision control requirements.
Company: UNICEL Architectural Corp.
Product: Louvers
Source: http://www.unicelarchitectural.com/en/louvers.html
Tags: Design | Energy | Louvers | Window Shades
---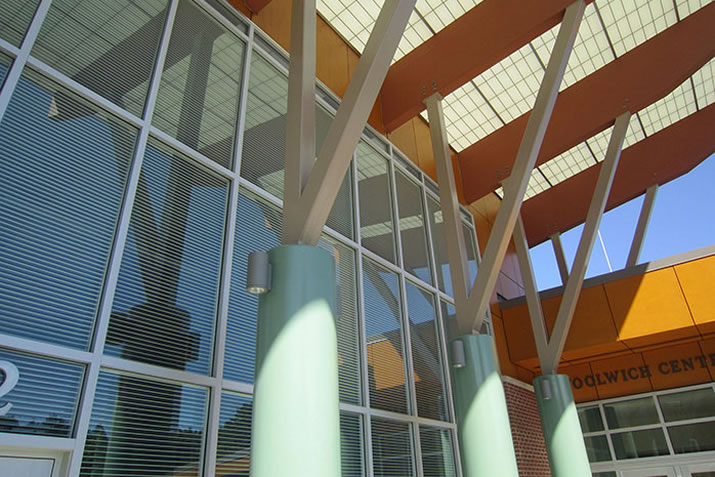 Unicel Architectural, the leading manufacturer of vision and daylight control solutions, today outlined how its Vision Control® integrated louvers can help attain multiple credits for high-performance green building certification through optimized energy performance, thermal comfort, acoustic performance, daylighting and more. Leadership in Energy and Environmental Design (LEED) is the foremost program for the design, construction and operation of green buildings.
"The operation of a building has a huge impact on the environment," said Samuel Doyon-Bissonnette, Engineer and LEED Accredited Professional at Unicel Architectural. "Our Vision Control® integrated louvers can contribute significantly toward obtaining LEED certification and/or improving a building's LEED score. In addition to environmental benefits, this also means long-term cost savings which are especially important for commercial and institutional spaces that need to optimize efficiencies and operations."
LEED is a third-party verification system for green buildings developed by the U.S. Green Building Council (USGBC). The operation of buildings and the construction of new buildings have had a negative impact on the environment for years. As a result, builders and building owners alike are now turning to LEED to assist them in retrofitting and designing more environmentally conscious buildings and communities.
Use of Vision Control® integrated louvers can contribute to LEED certification credits as follows:
Energy & Atmosphere (EA) a. Optimize energy performance (up to 18 points)
Indoor Environmental Quality (IEQ)
a. Thermal comfort (up to 1 point)
b. Interior lighting (up to 2 points)
c. Daylight (up to 3 points)
d. Quality Views (up to 1 point)
e. Acoustic performance (up to 1 point)
Innovation (IN)
a. Intelligent control of louver tilt angle is used for controlling solar heat gain and enhancing daylighting (up to 5 points)
For more information, visit: http://www.unicelarchitectural.com/en/specialty-glazing.html
Company: UNICEL Architectural Corp.
Product: Specialty Glazing
Source: http://www.unicelarchitectural.com/en/specialty-glazing.html
Tags: Glass | LEED Certification | Window Shades
---

Draper's 3% openness solution provides both echo and solar control
In a recent CEPro article entitled "6 Steps to Isolate Rooms for Sound," Home Theatre Designer Scott Bourquin discusses how to make a room quieter. Bourquin points out that "the quieter you make a room, the greater impression it gives of quality workmanship." So making rooms quieter can have benefits beyond the technical aspects. You can read the full article here.
While in his piece Bourquin offers ways to make a room "super quiet," it did get us thinking about how our EchoControl Acoustical Shading can contribute to an overall plan to reduce noise.
The first and most obvious way to use EchoControl is on the windows—including skylights. Acoustical shading addresses the reverberation of sound off of the glass, and also helps with sound from the outside. EchoControl has a Noise Reduction Coefficient of 0.60. The Noise Reduction Coefficient (ASTM C423-90a) rates the ability of a material to absorb sound. Zero is completely reflective, and one is completely absorptive. The NRC is calculated by averaging the frequencies of 250, 500, 1000, 2000, and 4000 Hz (rounded to the nearest multiple of 0.05).
By the way, don't forget—in addition to its sound absorption properties, Draper EchoControl brings with it the advantages inherent in light filtering window shades. It diffuses light, reduces glare, controls solar heat gain, and reduces fading of interior furnishings.
Another way EchoControl can help is in reducing echo off of the headbox or fascia behind which the motor and roller mechanism is hidden. That's because one of our hardware finish options is to wrap the headbox/fascia with the EchoControl fabric.
Of course, there's nothing that says a shade fabric is useful only on a window. Draper EchoControl with custom printed graphics can also be used in other areas in the space—especially in a commercial space where they can be used as signage or to add to the décor. When used in this way, the fabric panels can help provide added reverb dampening.
In Bourquin's article, he discusses placing a felt curtain over a door. Instead of the felt curtains, why not an EchoControl roller shade. It can easily be retracted to allow easy ingress and egress through the door, then lowered to provide echo reduction assistance.
For more information on Draper's EchoControl Acoustical Shading, click here. Or, if you have a project where you think EchoControl might be able to help, contact your Draper sales rep to discuss the details of making rooms quieter.
Of: Terry Coffey
Source: http://blog.draperinc.com/2016/11/making-rooms-quieter/
Tags: Acoustics | Interior Design | Window Shades
---
Understanding differences and benefts of internal louvers versus internal blinds ensures optimal results
Unicel Architectural, manufacturer of vision and daylight control solutions, published an industry white paper entitled: "Integrated Louvers VS. Integrated Blinds - Picking the Right Privacy and Shading Solution for Your Design Project". This white paper tackles the differences and advantages of each solution and how these factor into a building's specific privacy and shading requirements.
"When specifying glazing solutions for vision, sound, light and heat control, architects and designers often come down to a choice between integrated louvers and integrated blinds," said Jean-Francois Couturier, CEO of Unicel Architectural. " While the solutions share many similarities, they also have very distinct qualities and strengths that need to be considered to get the best design results. To help specifiers, this white paper examines all the requirements – both by building type and performance objectives – to recommend the most appropriate approach."
Integrated louvers are typically hermetically sealed glass units combining louvers within glass that commonly eliminate strings and cords, ensure alignment, require no maintenance and provide the ideal daylighting or privacy solution for many building types. Integrated blinds are usually a system of blinds that are permanently sealed within a double-glazed cavity for a dust-free environment.
The "Integrated Louvers VS. Integrated Blinds - Picking the Right Privacy and Shading Solution for Your Design Project" white paper closely examines functional needs - like thermal efficiencies, sound attenuation, adjustable visibility and more - to assess the optimal values of each solution. It further delves into the unique needs of building types (i.e. hospitals, schools, correctional facilities, commercial buildings etc.) to ascertain a preferred design approach.
To read the white paper, visit: http://www.unicelarchitectural.com/en/download/literature/Unicel-IntLouversVSIntBlinds.pdf
About Unicel Architectural
For over 50 years, Unicel Architectural has built a reputation for the most advanced aluminum and glass solutions. These solutions encompass louvered glazing, skylights and more, to enhance major global construction initiatives with utmost quality and reliability. With its proprietary technology, Unicel's Vision Control® delivers unprecedented comfort and control of vision, light, temperature and sound with a patented combination of louvers between glass that are hermetically sealed and cordless. Unicel's solutions are guaranteed for longevity, optimized for energy efficiency, and customizable to any design, environmental or cultural requirements. Unicel combines its market leading know-how with great design to ensure optimal aesthetics and sustainable performance. For more information visit: www.unicelarchitectural.com.
Company: UNICEL Architectural Corp.
Source: http://www.unicelarchitectural.com/en/download/literature/Unicel-IntLouversVSIntBlinds.pdf
Tags: Interior Design | Sustainability | Window Shades
---
AvantiSystemsUSA supplies and installs a family of architectural glass wall and glass door systems. Inspired by European interior design, Avanti glass systems profile a slim line appearance with frame-less panels and sleek metallic hardware.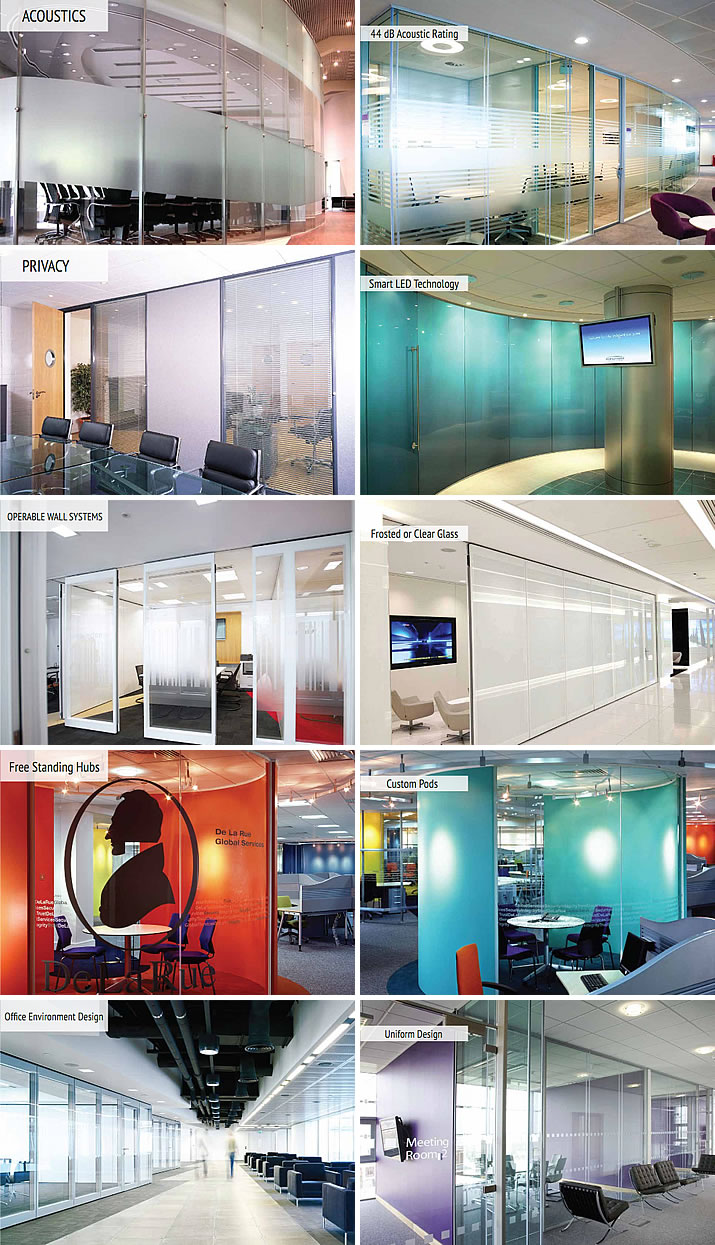 Company: Avanti Systems USA
Source: http://files.avantisystemsusa.com/architects_inspiration_handbook_avanti.pdf
Tags: Acoustics | Interior Design | Railing System | Wall Panels | Window Shades
---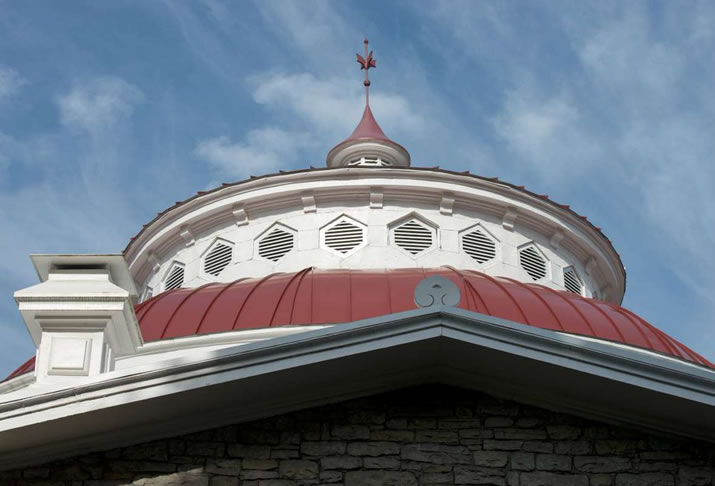 Recently, Architectural Louver's model E2JS louver was used during the renovation of the Reptile House at the Cincinnati Zoo. E2JS is a 2" deep thin line louver with a standard blade. This louver style is ideal for a clean architectural appearance at a low cost. If you are intending the louvers to be used for general ventilation or air exhaust, this is the right choice. Deeper framed models are also available (E4JS). Louvers with a higher performance rating - more free area and lower pressure drop - are also available (E4JP, E6JP).
Features:
Made to order in sizes 8" wide x 8" high up to unlimited size
Made from heavy gauge 0.063" thickness aluminum extrusion
2" frame depth, channel frame
2" blade spacing
Standard blade
Internal Screen (Bird Screen)
Specs:
48.7% free area for a 48" wide x 48" high louver
725 fpm first point of water penetration
30 psf wind load rating
Options:
A variety of metal finishes including paint and anodizing
Insect Screen (replaces bird screen)
Mounting: flange frame, glazing channel frame, "J" channel frame
Special shapes for architectural appeal
Higher wind load ratings
Company: Architectural Louvers
Source: http://www.archlouvers.com/Louver_E2JS.htm
Tags: Access Covers | Exterior Design | Metal | Window Shades
---
Draper offers the finest commercial window coverings providing almost unlimited flexibility in solar control. Since 1902 when we made our first school window shade we have continually led the industry in the development of new technology and products. Every window shade is checked and tested before it leaves the factory to make sure it meets the high quality standards for which Draper is known.
Motorized FlexShade®
The motorized FlexShade® by Draper offer the ultimate in high-tech convenience in a functional shading system. The simplicity of shades with the versatility of motorized operation.
Motorized FlexShades Installed at Moriarty Middle School in NM
Draper Motorized Flexshades installed at Moriarty Middle School in New Mexico. These shades have Phifer's SW2920 Oyster Beige with a 5% openness. The openness allows for energy saving solar control while preserving the view.
Source: http://www.draperinc.com/windowshades/productdetail.aspx?detail=3
Tags: Design | Window Shades
---
Offering Solar Control Solutions for Every Application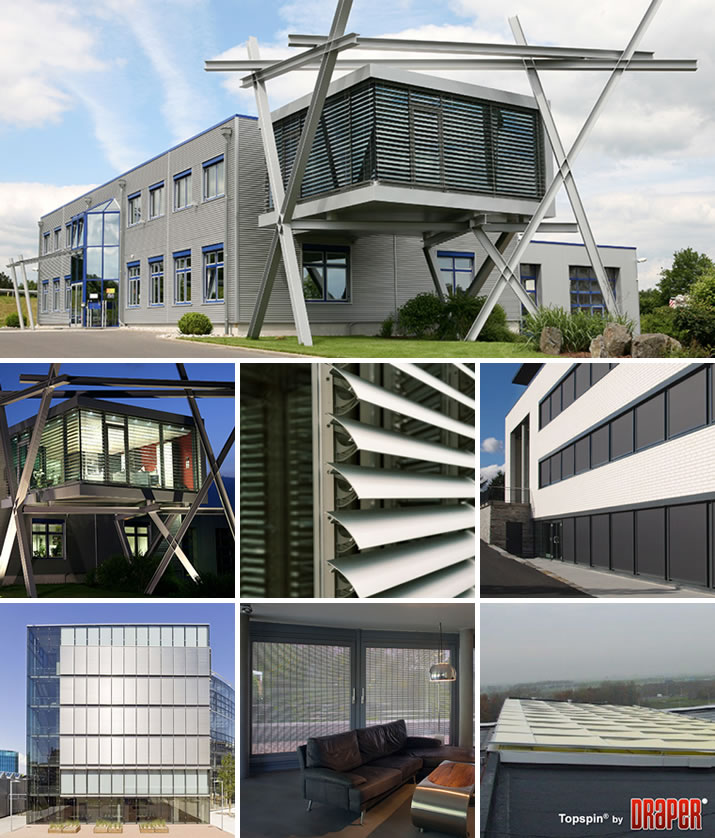 Solar Control Solutions provide precision control over the natural daylight entering the building, excellent energy savings and interesting façade design options. A wide range of custom products complements our traditional window coverings to meet all your needs for interior and exterior shading.
Exterior shading is the most efficient way to keep solar heat gain outside the building envelope. Draper can help develop a system that utilizes both interior and exterior shading to maximize efficiency and occupant comfort, and reduce energy consumption. Each custom solution we provide has specific benefits and features to enhance your overall building design and daylighting needs.
Draper's Solar Control Solutions allow you to control daylight and manage solar heat gain. Using an exterior shading system such as the Omega venetian blind can significantly reduce the heat gain entering the building, allowing the use of smaller more cost effective HVAC systems. Additionally, artificial lighting can account for more than 40% of a building's electrical load. Balancing daylight and artificial light through the use of the right shading system can lead to significant savings in energy consumption.
Source: http://www.draperinc.com/solarcontrolsolutions/
Tags: Design | Energy | Window Shades
---


All louvered panels open for full access to the air handling unit. Sight proof from horizontal and below.
Hurricane louvers can be used as vision barriers to hide mechanical equipment and other unsightly items. These Florida Miami-Dade certified louvers are impact and high wind tested louvers that attach directly to structural framing (by others) on a rooftop or other locations where you need view blocking.
Since the typical line of sight is from the ground on most buildings, a horizontal blade equipment screen will have the blades inverted to eliminate all sight-through from ground level. A variety of finishes are available from our Equipment Screens Finishes selection chart. Roof screens can be painted with a baked enamel or Kynar 500 finish, or anodized aluminum. A variety of standard colors are available. Custom colors can be selected by sending us a color chip. We will use our computer color match system to precisely match the equipment screen color to other building facade components.
Company: Architectural Louvers
Source: http://www.archlouvers.com/Hurricane_Equipment_Screens.htm
Tags: Roof | Safety | Wall Panels | Window Shades
---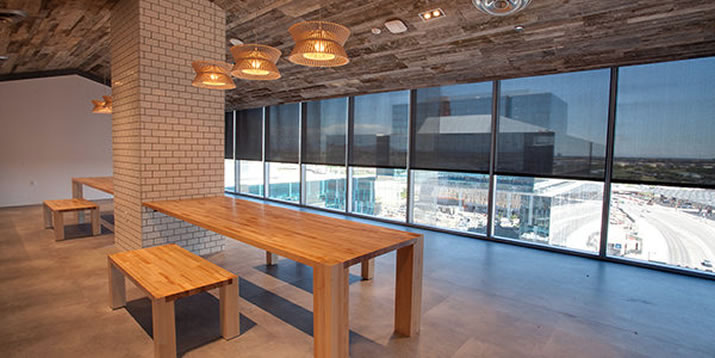 More and more, we are finding customers in need of custom solutions. An ongoing project-a very large project-serves as a perfect illustration of Draper's custom capabilities. It's the subject of a new case study entitled "Custom Shade Brackets Solve Big Headache."
When Steve Hawes, the Principal at Progressive Commercial Interiors, LLC., in Tempe, Arizona got the job providing window shades to the Marina Heights project, he knew it was going to be big.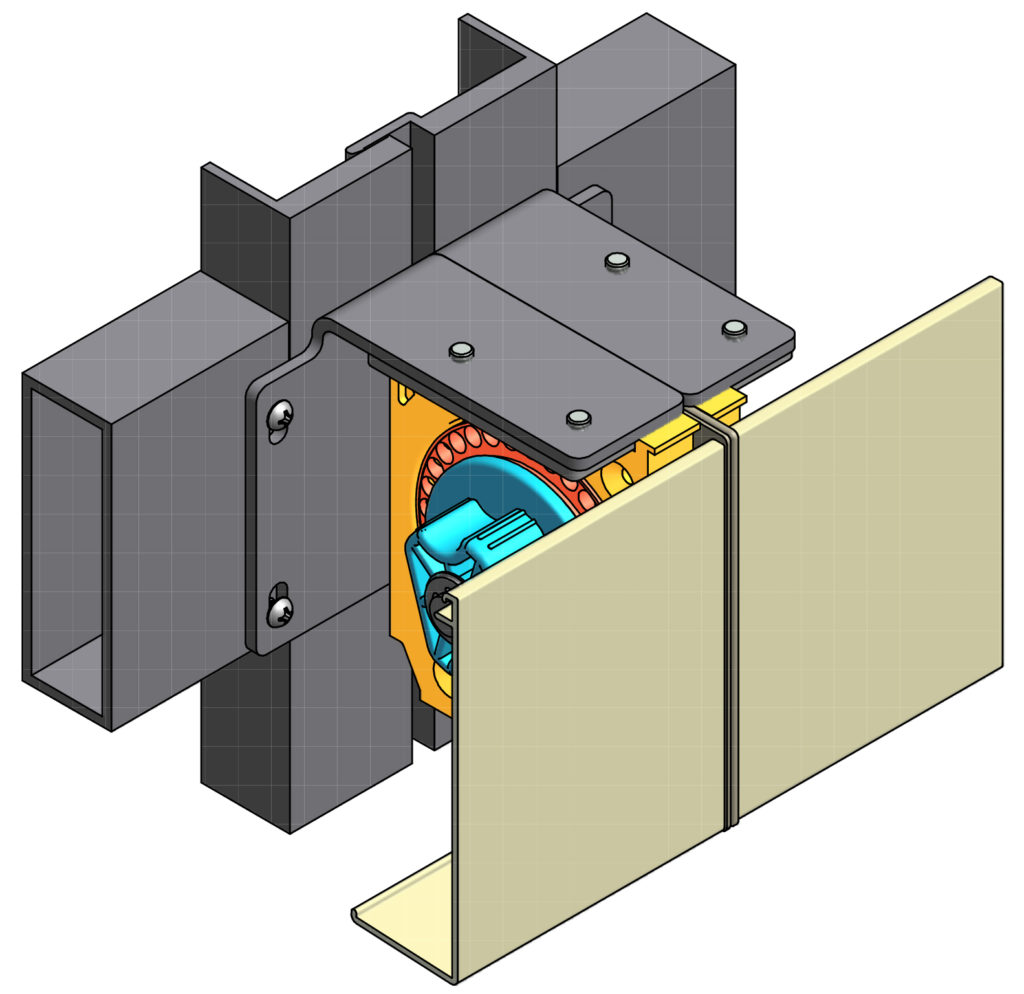 The buildings, home to State Farm Insurance, required more than 8600 Draper XD Clutch FlexShades to be delivered and installed during the 19 month-long construction process.
"The sheer number of shades made this a big project," Hawes says, "but there were other factors as well. There were five buildings, 47 floors, multiple floors often requiring simultaneous installation, plus these shades are 10 feet high so there's the need for scaffolds and ladders."
But those problems weren't the worst of it. At a pre-construction meeting with the general contractor after being awarded the first part of the job, Building D, Hawes got the news.
"Custom brackets were required to avoid impacting the moveable storefront, which was designed to flex with building movement," according to Hawes. "Attachments had to be made to horizontal mullions only, and they could not attach to vertical mullions."
After discussions with Walters and Wolf, the company which designed the moveable storefront, Hawes' next move was to contact Draper. He quickly brought Solar Control Solutions Technical Manager Clint Childress (LEED® AP) up to speed. Clint spearheads Draper's custom solar control solutions efforts.
"It's fairly straightforward in situations like this," Childress says. "A problem is identified to us—in this case the shades, which are designed to mount side by side at a vertical mullion, cannot be attached to the vertical mullion. Our first step, as always, was to get a detail drawing of the mullion."
To read the rest of this case study, or to download a free PDF copy of "Custom Shade Brackets Solve Big Headache," click here.
Of: Jeff Miller
Source: http://blog.draperinc.com/2016/05/custom-shade-brackets/
Tags: Interior Design | Window Shades
Custom Pocket Headboxes (April 20, 2016), Decorative Panels & Screens (April 4, 2016), Maximize views with generous exterior glazing, while ensuring privacy and thermal efficiencies (February 19, 2016), Amager Resource Center (January 13, 2016), Print custom graphics on window shades (December 2, 2015), Sun Control Sunshades offer energy savings (September 28, 2015), Specialty Glazing (August 20, 2015), Sealed Blinds from Unicel Offer Flexibility, Low Maintenance (June 24, 2015), 10 Key Questions about Exterior Shading - free white paper (April 15, 2015), Sunshades provide aesthetic appeal to the building exterior (March 23, 2015), Bottom-Up FlexShades Offer Privacy (February 2, 2015)