architecture - engineering - construction

Access Covers
---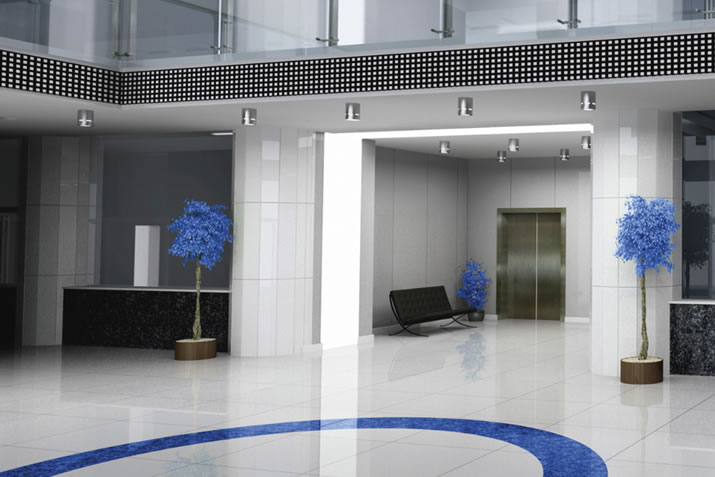 Contemporary architecture strives to be seamless, high performance and flexible. As a result this requires intelligent and creative solutions to servicing these spaces. Integrated strategies for the provision of power, communication, data and HVAC are essential. Howe Green products enable this integration to happen.
Served vs Servant - a concept first coined by AIA and RIBA gold medalist Louis Khan, a great 20th century architect.
Our raison d'être
Here at Howe Green we take inspiration from Khan and have a range of products which enable the architectural greats of today to realize their vision. Contemporary architecture strives to be seamless, high performance and flexible. As a result this requires intelligent and creative solutions to servicing these spaces. Integrated strategies for the provision of power, communication, data and HVAC are essential. Howe Green products enable this integration to happen. The introduction of innovative solutions to building services such as voids, suspended ceilings, raised floors, false walls, service chases and service cores are a direct result of the commercial incentive of maximizing the usable space within a building. However these strategies require access, which is where Howe Green's products are used.
Types of access cover
The access covers generally fall under three types, those mounted on walls, those fitted in a ceiling system and floor based products. These systems can be used internally and externally. Howe Green products are used across the globe in challenging environments, the products have been put to use in commercial offices, transport hubs, public spaces, retail and residential architecture. It is a versatile family of products that address the requirement for high quality, accessible service space.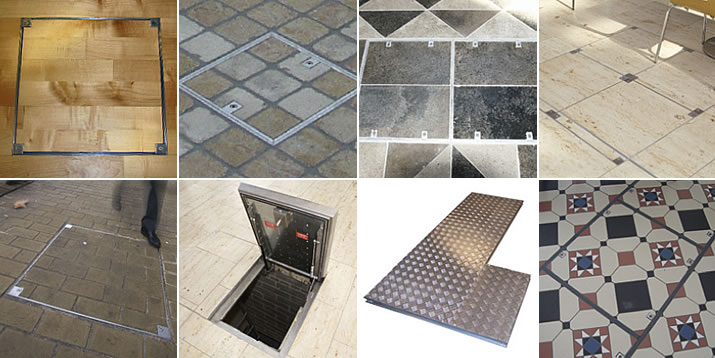 What can we do for you?
"Design for the present with an awareness of the past, for a future which is essentially unknown" Norman Foster. Howe Green's systems aim to add value to the architecture in which it is installed; they allow for flexibility in future demands by allowing ease of access for service updates and ease of maintenance for existing service infrastructure.
Ease of use
Howe Green Access Covers are supplied with clear and legible installation guides ideal for contractors unfamiliar with our products. The "Buildability Factor" is considered at every stage. Crucial in installation, where the access covers have a low level of complexity, are generally built to standardized construction dimensions and reduce the level of risk for the contractors fitting the product - a responsibility that must be upheld by the principle designer, client and suppliers under HSE and CDM 2015 regulations.
Responsiveness
Howe Green is a responsive company that understands the design, construction and operational process and just how fast changes occur. As an established company we have the resources invested in cutting edge C.N.C. equipment to respond to these changes rapidly; Howe Green stock products are dispatched the same day, whilst bespoke items have a 7-10 day lead time.
Precision
The fabrication and manufacture of our products is heavily influenced by sustainability; the process minimizes waste material and guarantees a precise tolerance finish for a high performance product. This ensures a quality product is delivered to the correct level of specification every time.
Integration
Howe Green's products are integrated into the BIM workflow for architects, specifiers, clients, contractors and even facilities management. This allows for the products to be introduced at concept design stage through to retrospective fittings in operation and management, which has happened recently for one of our client's – the Eagle Church Campus situated in Indiana, USA.
This high level of integration allows for costing, schedules, performance analysis all to be undertaken and documented through the whole lifespan of the design, procurement, facilities management and operation and maintenance of Howe Green's products.
Company: Howe Green US
Source: http://www.howegreen.us/howegreen/news/introduction-to-access-covers.php
Tags: Access Covers | Ceiling | Floor | Wall Panels
---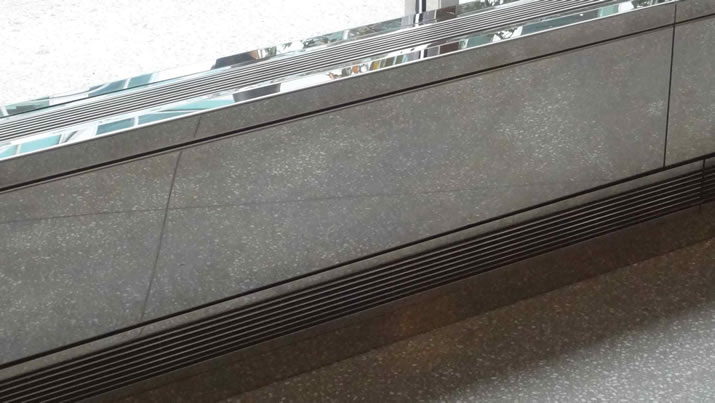 Our customer's objective was to have a stainless steel, linear bar grille manufactured to match the finish and style of a newly installed mirror polished stainless steel radiation enclosure within a renovated hospital lobby. Due to security and safety concerns, the grilles had to not only be structurally strong, but also firmly secured to the unit to prevent unintended removal.
Artistry in Architectural Grilles' engineering and manufacturing team designed a custom "C" style frame allowing for secure fastening as well as professional removal to access the unit's controls. This was accomplished with mechanically fastened frames in concert with mechanically fastened removable cores. All of which were given a #8 mirror polish finish to perfectly match the existing convector enclosure.
Grille Details
At a Glance
Type: Linear Bar Grille
Style: AAG100
Frame: Custom C Frame
Detail: Removable Cores
Material: Stainless Steel
Finish: Mirror Polish
Company: Artistry in Architectural Grilles by Advanced Arch Grilles
Source: http://www.aagrilles.com/project/nyc-hospital-lobby
Tags: Access Covers | Entrances | Floor | Interior Design | Metal
---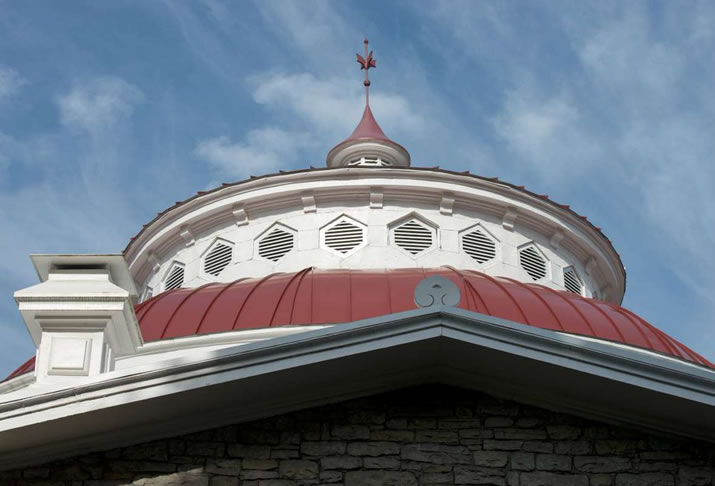 Recently, Architectural Louver's model E2JS louver was used during the renovation of the Reptile House at the Cincinnati Zoo. E2JS is a 2" deep thin line louver with a standard blade. This louver style is ideal for a clean architectural appearance at a low cost. If you are intending the louvers to be used for general ventilation or air exhaust, this is the right choice. Deeper framed models are also available (E4JS). Louvers with a higher performance rating - more free area and lower pressure drop - are also available (E4JP, E6JP).
Features:
Made to order in sizes 8" wide x 8" high up to unlimited size
Made from heavy gauge 0.063" thickness aluminum extrusion
2" frame depth, channel frame
2" blade spacing
Standard blade
Internal Screen (Bird Screen)
Specs:
48.7% free area for a 48" wide x 48" high louver
725 fpm first point of water penetration
30 psf wind load rating
Options:
A variety of metal finishes including paint and anodizing
Insect Screen (replaces bird screen)
Mounting: flange frame, glazing channel frame, "J" channel frame
Special shapes for architectural appeal
Higher wind load ratings
Company: Architectural Louvers
Source: http://www.archlouvers.com/Louver_E2JS.htm
Tags: Access Covers | Exterior Design | Metal | Window Shades
---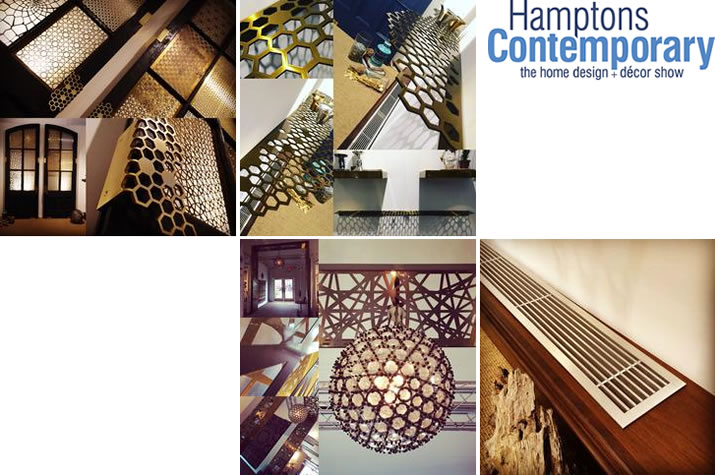 ARCHITECTURAL GRILLE was excited to exhibit our Linear Bar Grilles as well as Custom Metalwork at the inaugural Hamptons Contemporary: The Home Design + Decor Show earlier this summer. The first ever luxury design show staged at the Elks Fairground in Southampton, NY brought together designers, exhibitors and local homeowners interested in products reflecting high end design and architecture.
Collaborating with designer, Kenneth Nilson, we were able to exhibit custom designed pieces such as the below (left to right): Entrance Doors showcasing Custom Design Panels/Screens in Brass and Stainless Steel with a variety of finishes and Honeycomb/Hex Door Pulls Hardware in Solid Brass; Honeycomb/Hex Shelving in Stainless Steel with Brass powdercoat finish; Bugeye Bauble Light Fixture in Brass suspended on Custom Design Truss in Stainless Steel with Brass powdercoat finish by Kenneth Nilson; Linear Bar Grille inset into Walnut Woodwork.
If you're interested in purchasing any of the featured Custom Design Pieces, please contact Stephen Giumenta directly at sjgiumenta@archgrille.com for further information. If you would like to order custom lighting, please contact Kenneth Nilson at ken@kennethnilson.com
Company: Architectural Grille
Source: http://www.archgrille.com/blogs/news/summer-in-the-hamptons
Tags: Access Covers | Design | HVAC | Metal
---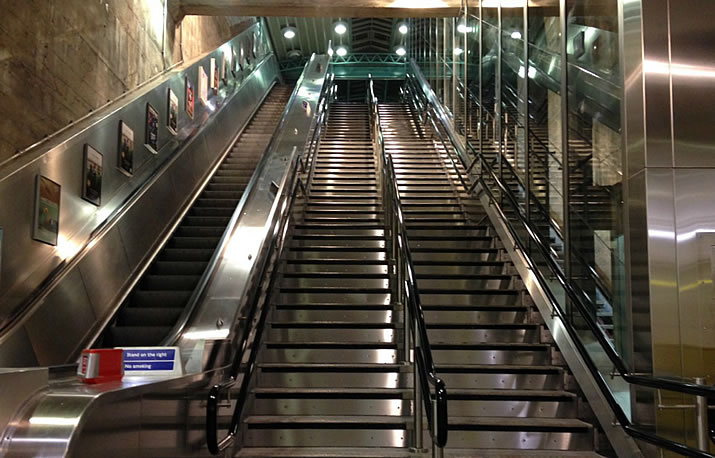 Work has been well underway since 2007 on the $4.45 billion project which is set to transform New York City Subways into the 21st Century. The Metropolitan Transport Authority (MTA) reported 1.75 billion trips were made using the overcrowded, outdated subway system in 2014. This number was set to rise year on year making updates to the system vital.
Much like the subway systems in New York, the London Underground has been an integral part of London's transportation system for 150 years. With a reported 1.3 billion passengers of the Tube each year, regular updates and refurbishment works to the circuit of stations are crucial.
Manufacturer Howe Green, best known for high-quality access covers for floor, walls and ceilings, also creates bespoke metal work solutions for a variety of applications. The company recently supplied custom-fabricated staircase risers for refurbishment works at London Underground's Greenford Station, home of the original step-free access project which was re-established with the opening of an innovative inclined elevator in October 2015.
Howe Green supplied over 100 bespoke risers for specialist contractor D&D Rail to install. The competitively priced solution was made to their specification from 316-grade stainless steel and delivered within days.
Howe Green are continually investing in design software and machinery, which enables the accurate and cost-effective manufacture of special purpose access covers, corner guards and trims in unique sizes and shapes.
"Our experience and manufacturing capabilities make it possible for us to not have to charge a premium for bespoke work," commented Richard Centa, Sales and Marketing Director at Howe Green. "From simple metal risers like those at Greenford to complex tree grilles at One Hyde Park, we provide solutions that fit perfectly, helping to save time and money at the installation stage and creating the best result for aesthetics and performance."
Company: Howe Green US
Source: http://www.howegreen.us
Tags: Access Covers