architecture - engineering - construction

Access Covers
---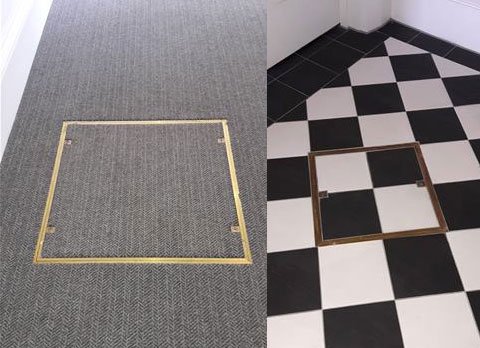 Floor access covers at Lews Castle - the Isle of Lewis
Lews Castle, on the Isle of Lewis in the Outer Hebrides has an interesting past. It was built between 1844 and 1851 for Sir James Matheson, who made his fortune from the Chinese opium trade. Designed by Glasgow architect Charles Wilson the Mock Tudor Castle was intended as a country house for Sir Matheson.
In 1918 industrialist William Lever bought the castle and gave it to the people of Stornoway parish in 1923. During the Second World War the castle was used as hospital and then as a college and a school before being declared unsafe and closed down for twenty five years.
The Castle reopened in July 2016 following a £19 million refurbishment. The Category-A listed building is now a museum and cultural centre owned by the local council - Comhairle nan Eilean Siar, and a wedding venue and five star accommodation operated through Natural Retreats.
The council awarded the major refurbishment contract to the Scotland Division of GRAHAM Construction. Their remit included the repair and restoration of the interior of the ground and upper floors of the Castle, the construction of a new museum and cultural centre and centre café.
The Light Duty 5000 Series Aluminium Floor Access Covers from Howe Green were specified to provide access to the underfloor services, located in the corridors on the first floor of the Castle. Sixteen covers were supplied, in various standard sizes. The covers were specified with the option of a brass show edge. They were installed by GRAHAM Construction and then infilled with carpet or ceramic tiles, depending on their location.
The Howe Green 5000 Series offers a pedestrian loading and is suitable for pedestrian footfall, wheeled trolleys and sack trucks.
The brass show edge with matching lifting points, which are anchored to the inner frame, give an even higher level of aesthetic appeal than the standard aluminium show edge. The brass finish fits perfectly with the historic surroundings of the Castle. The show edge is continuously secured which means there are no fasteners to rust or break. The seamless fit with the floor finish reduces the risk of slips and trips.
The Light Duty 5000 Series Aluminium Floor Access Cover can be supplied with a double seal and a top edge seal to help prevent dirt and water ingress. There is also an option to have a 1 hour fire rating to BS 476: Part 20: 1987 if required.
When there is a chill in the air the team at Lews Castle know they have the best chance of keeping the Castle cosy as the floor access covers provide easy access to the central heating. Should any maintenance be required the covers can be removed safely, quickly and easily with the use of lifting keys, keeping disruption to the running of this premier tourist attraction to a minimum.
Find out more:
5000 Series Light Duty Floor Access covers >
Company: Howe Green US
Product: Light Duty Floor Access Covers
Source: https://www.howegreen.com/access-covers/projects/lews-castle-isle-of-lewis.php
Tags: Access Covers | Floor
---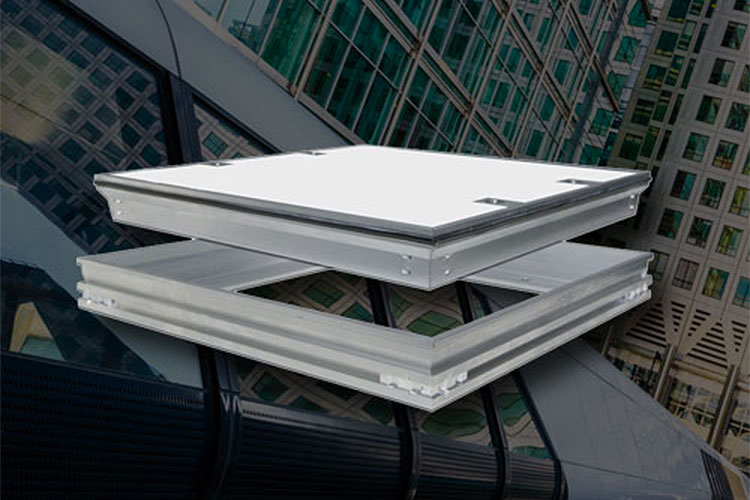 When it comes to solving the problem of accessing concealed services under floors, behind walls or above ceilings there are an abundance of products on the market that could do the job. However, if your requirement is for a quality access cover or panel that will provide quick and easy access to concealed services safely then those 'cheap' foreign imports are unlikely to make the grade!
In the world of construction the old adage, 'You get what you pay for' definitely rings true. Of course the majority of building services professionals involved in the specification process clearly understand that principle. A building component, such as an access cover, is just one of hundreds of constituent parts that make up a building. However insignificant the component to the overall structure it still has to possess certain attributes, satisfy stringent criteria and integrate positively with the other products being used.
As a busy architect or specifier how do you determine the best solution to the access scenario in your particular project?
PERFORMANCE
The level of performance required from an access cover is generally dictated by the type of environment where the concealed services are to be located.
Is it internal or external?
Loading requirement - will it be used by pedestrian traffic only or vehicular traffic?
Is access required frequently or just occasionally?
What size of aperture is needed to access the concealed services?
What type of material will cover the services?
How important is security?
At Howe Green we offer a wide range of floor, wall and ceiling access solutions designed to satisfy all of these performance criteria.
Need a single access panel for emergency access to a stopcock in a ceramic tiled bathroom wall? Or a duct run of floor access covers for regular maintenance of underfloor drainage systems beneath vinyl flooring in a hospital?
Whatever your performance specification Howe Green can provide the solution.
AESTHETICS
Whether you are working on a new build or refurbishment project the impact that an access solution has on the overall look and feel of the building is a consideration for the vast majority of projects.
By using the latest CNC and CAD technology access covers can be precision engineered to your exact specification. A perfectly sized access cover removes any hassle from the installation process and ensures that the cover fits seamlessly into the flooring, reducing the risk of slips and trips.
With options available for all types of hard floor finishes and the Visedge flexible floor access cover, Howe Green can be specified whatever the flooring finish.
STANDARD OR BESPOKE?
Many of the projects that cross your desk may well require a standard size access solution. At Howe Green standard size floor, wall and ceiling covers are available to order from stock, ensuring a speedy delivery to site when required.
Other projects may require a bespoke solution. This is where over 35 years of experience combined with continual investment in equipment, technology and processes ensures that whatever bespoke solution is required it can be supplied. If you need to specify a custom size, loading or finish Howe Green can accommodate your requirements without cost or time penalty.
MAKING THE DECISION
Whether you have most of the knowledge and information you need to prepare your specification or you are looking at our product ranges from scratch, the team at Howe Green are available to help.
The quality and performance of our products, flexibility of our service and the expertise of the team is what sets Howe Green access covers apart from our competition. Architects, specifiers, building engineers, flooring and tiling specialists and contractors have put their trust in Howe Green to deliver a tried and tested access solution since 1983.
If you are looking for an access solution to concealed services look no further than the industry standard and you will soon discover that "Not all Access Covers are created equal".
For more information about any of our products or for assistance with your specification please call 01920 463 230, we are always happy to help.
Company: Howe Green US
Source: https://www.howegreen.com/howe-green/news/not-all-access-covers-created-equal.php
Tags: Access Covers | Design | Safety | Security
---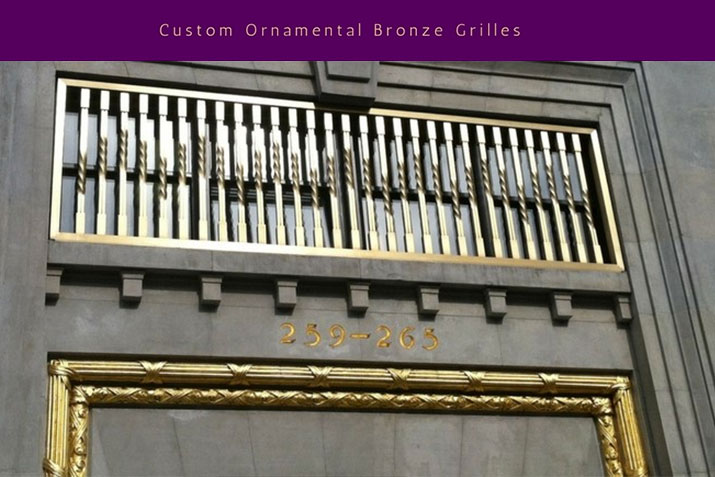 Coco Architectural offers custom fabrications for ornamental grilles and other products. In a recent project located at 80 8th Ave, in New York City, we created several custom pieces for the client, including a custom ornamental bronze grille over the entrance, a bronze header and jamb assembly for the Newsstand, and a custom bronze radiator enclosure with bronze bar grilles in the lobby.
Here at Coco Architectural, we offer upscale custom metal fabrications for a variety of different industries. In the 80 8th Ave project, our craftsmen created a custom ornamental bronze grille to protect the windows over the entrance of the business (shown above). The unique decorative twist on the custom bronze bars added a grand entrance feel to the business.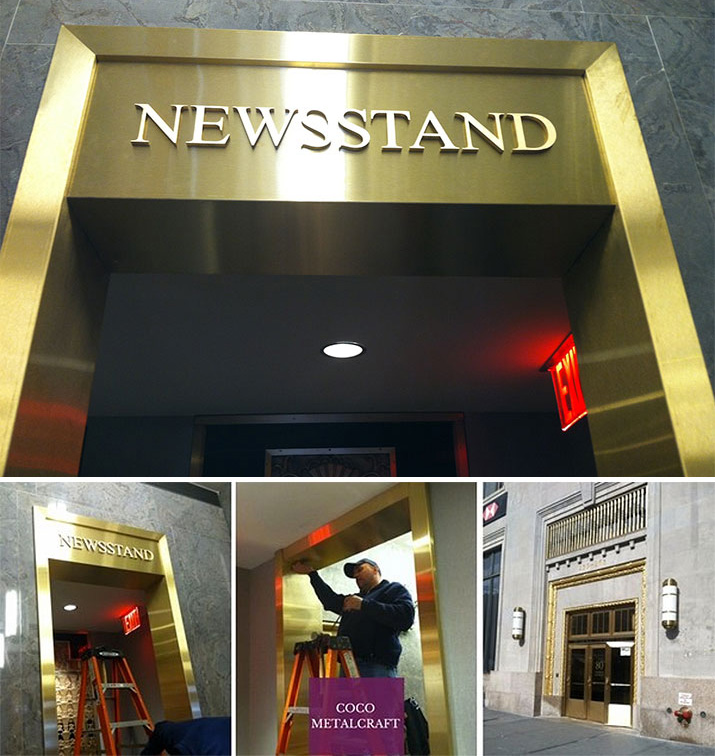 Our specialized CNC Waterjet services allow us to offer unlimited possibilities for any metal work on custom orders. Waterjet cutting is often used during fabrication of machine parts but can also be used for custom-perforated metal sheets and other architectural metalwork. In this project, we created custom waterjet lettering for the newsstand area and cut the brake formed bronze header and jamb assembly to complete the look.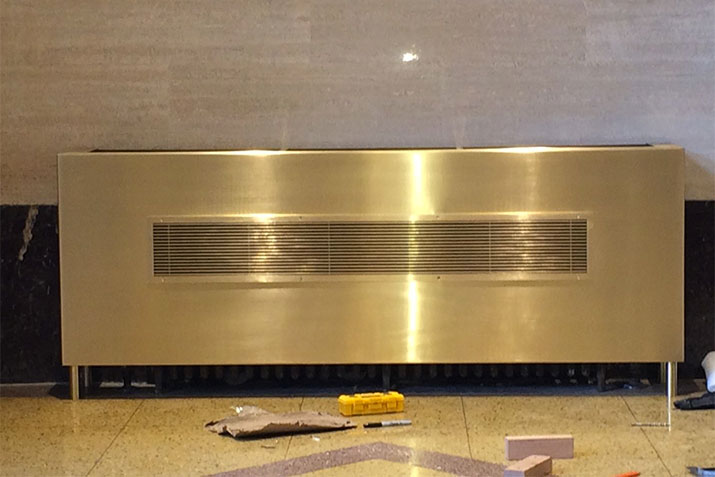 Finally, as all of our work is custom for each project, we provided a satin bronze radiator enclosure with custom linear bar grilles in the main lobby, rather than your basic cookie cutter HVAC products. The aesthetic impact on the space and functional performance of the grille is very important to us, so we leave no detail untouched to provide our clients with a flawless, functional piece.
If you're interested in custom ornamental grilles for your project, we can help your ideas come to life. From choosing metals for your project to matching unique designs with our waterjet and laser technology, we can add unique details to your commercial business or home to make your space feel complete.
Company: Coco Architectural Grilles & Metalcraft
Product: Custom Metal Fabrication Products
Source: http://www.cocometalcraft.com/custom-ornamental-bronze-grilles
Tags: Access Covers | Grilles | HVAC | Ventilation
---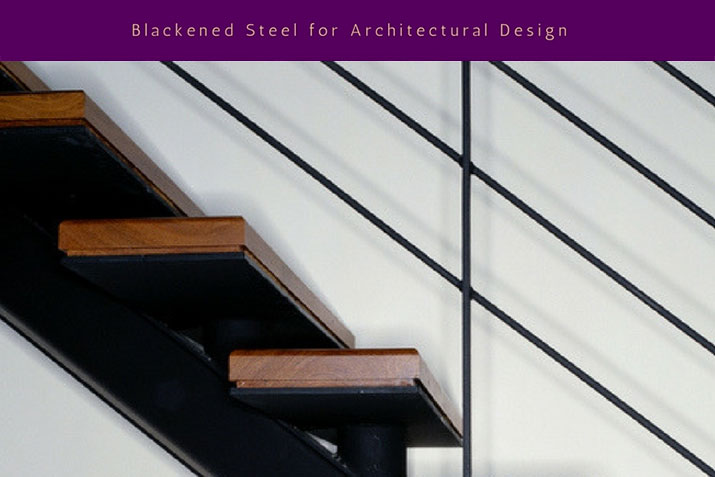 Some say the beauty is in the details. Along with custom metal work for your projects, Coco Architectural Grilles & Metalcraft offers a variety of finish options like antiqued, brushed, mirrored and even blackened finishes to bring the project together for a complete look.
What is a blackened finish
Black oxide or blackening is a conversion coating for various materials like stainless steel, copper and copper based alloys, zinc, powdered metals and silver solder. It is used to add mild corrosion resistance for appearance and to minimize light reflection. The process includes a series of chemical baths or heat until it reaches the desired color.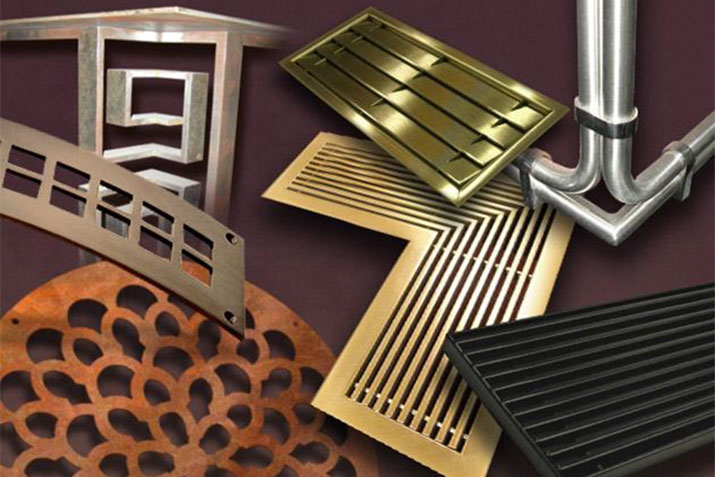 How it works
The process of blackening is done in primarily two different ways. Cold blackening is a process we use here at Coco Architectural. We add a cold finish on mechanically polished metals and then submerged it in a blackening chemical. We also add a clear lacquer to the metal to add an extra layer of protection. Hot blackening is the process of using a machine that spreads a thin layer of black oxide onto a product's surface and is heated to the desired black finish.
Why blackened steel
Blackening not only protects the steel from rusting, but the look is undeniably chic. The blackened finish also gives projects an industrial, edgy look in commercial or high-end residential projects.You may have seen black accents on a fireplace or stairwell or blackened pieces that complement large commercial facilities to create unique architectural elements.
We can create customized fabrication options for unique installations. Our offerings are adaptable to all of your job requirements including new construction, remodeling, and historic renovations.
Like the Linear Bar Grilles and Perforated Grilles, our custom metal products are manufactured with the same standard of excellence and our commitment to total customer satisfaction. If you're thinking about adding blackened steel to your project, download our catalog and request a free quote.
Company: Coco Architectural Grilles & Metalcraft
Source: http://www.cocometalcraft.com/blackened-steel-for-architectural-design
Tags: Access Covers | Grilles | HVAC | Metal | Ventilation
---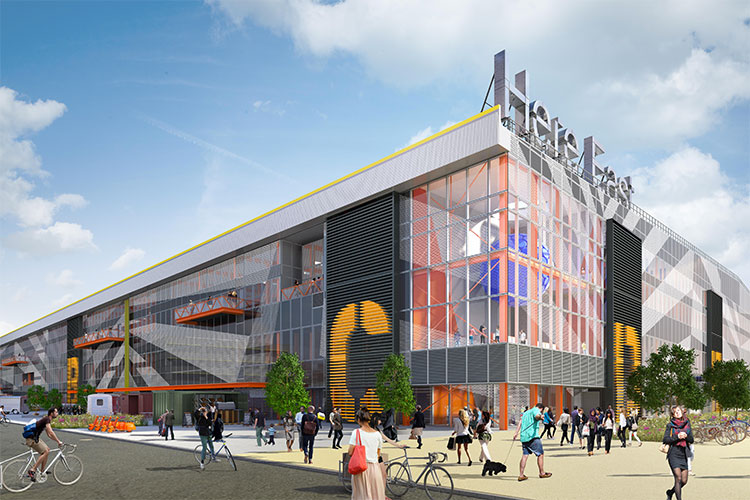 During the 2012 London Olympics and Paralympic Games the International Press and Broadcast Centre played host to the world's media. 20,000 journalists were at the heart of the action, reporting the latest triumphs and Olympian feats to a global audience estimated to be over 4 billion people.
Fast forward to 2017 and these key buildings continue to form a central element of the Queen Elizabeth Olympic Park. The Centre is undergoing a commercial redevelopment to become Here East – the exciting digital quarter for East London.
The transformation of the International Press and Broadcast Centre has created 1.2 million square feet for business, media, tech, education and data and over 7500 jobs on the site and in the local area. Dozens of businesses have already taken up residence in this digital heartland, including BT Sport, Infinity, Loughborough University and UCL.
Howe Green floor access covers were specified by architect Hawkins\Brown for one of the office spaces within BT Sport. Howe Green supplied twelve Medium Duty 7500 Series Stainless Steel Access Covers for the project.
The 7500 Series is Howe Green's flagship access cover and has evolved from the original 750 Series supplied to supermarkets when the company first started trading in 1983.
The covers specified for Here East were to be installed into a raised floor system. They were ordered with stainless steel Z profiles to provide support to the access cover within the raised floor.
The covers were installed in corridors throughout the building to provide safe and easy access to access junctions in the drainage systems. The 7500 Series was specified to match the existing raised floor system appearance. The access covers were initially covered with plywood and were then infilled with a vinyl flooring finish.
Whilst fitting access covers into a raised floor may at first appear counter intuitive it is no longer an unusual scenario. Historically a raised floor system provided access to a wide variety of mechanical and electrical services, data and connectivity cabling and underfloor air distribution concealed within the void created between the raised floor and the floor slab. Making it ideal for use in renovating existing buildings or retrofitting spaces for different uses.
In a traditional raised floor environment, such as a data centre, where functionality featured ahead of aesthetics, heavy duty removable floor panels could be removed with a tile lifter to allow access to underfloor services.
Over the years the use of raised floor systems has extended to commercial offices, educational institutions and hospitals. Aesthetics, security and flexibility are more important in these environments. The demand for different floor finishes, improved security and the ability to easily reconfigure space has led to an increase in demand for Howe Green access covers installed in raised flooring.
The 7500 Medium Duty Stainless Steel Access Covers provide safe and easy access to the drainage services located below the flooring. Supplied with a double seal they address the need for a secure solution in an office setting with relatively high pedestrian footfall. The vinyl infill offers a seamless floor finish which will reduce the slip or trip hazard.
The 7500 Series can be supplied as a single cover, a configuration of duct covers or multipart covers in standard sizes and loadings from stock, or can be precision made to order.
If you are looking to "raise the bar" with your raised flooring system installation, get in touch to see how Howe Green can help.
Find out more: 7500 Series Medium Duty Floor Access covers >
Company: Howe Green US
Product: Medium Duty Floor Access Covers
Source: https://www.howegreen.com/access-covers/projects/international-press-broadcast-centre-london.php
Tags: Access Covers | Entrances | Floor
---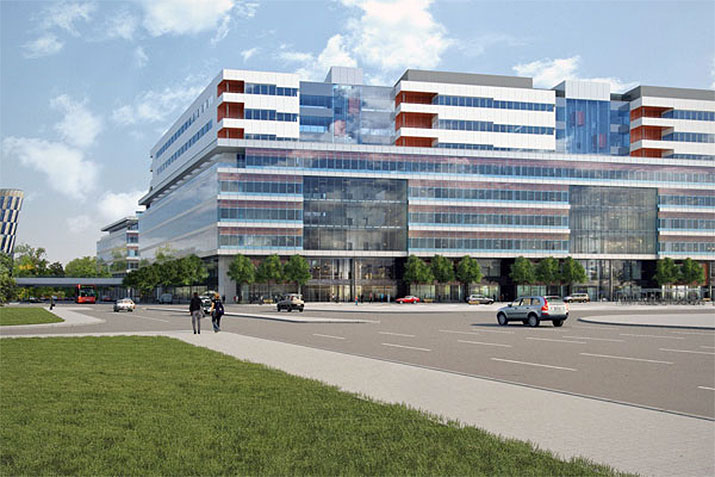 The New Karolinska Solna University Hospital (NKS) in Stockholm has been hitting the headlines for over a decade. The original Karolinska University Hospital was founded in 1930. Since the 1930's the hospital campus has expanded to cover a vast area with an estate of over 40 separate buildings.
In 2005 Stockholm County Council, who are responsible for delivering healthcare in the city, ran a design competition inviting "visionary thinking, modern design and unconventional ideas to form the basis of the creation of the new hospital". The competition was won by White Architects from Sweden with their 'Forum Karolinska'.
In 2008 Stockholm County Council took the decision to go ahead with the new hospital. They were the first Swedish healthcare project to adopt the Public Private Partnership (PPP) framework to finance, build and manage a hospital. In 2010 the PPP agreement was made between the County Council and the project company - Swedish Hospital Partner AB, a consortium of Skanska and their investment partner UK based Innisfree.
Skanska employed White Architects and Tengbom Architects to execute the design and coordinate the construction of the £1.5 billion facility.
A significant aim of the project was to create a purpose built environment with a strong focus on energy efficiency and sustainability. Phase One of the building has attained LEED Gold and the Swedish system "Miljöbyggnad" Gold certification
The ethos is to put the patient first and the list of facilities is impressive. It has 730 in-patient beds, 100 rooms for day care, 36 operating theatres, 168 out-patient clinic rooms and 8 radiation treatment rooms.
Howe Green Ltd supplied a number of HSE75 Hinged Aluminium Floor Access Covers for the hospital through their Swedish distributor, Elkington AB. From their base in Stockholm, Elkington have been distributing Howe Green access covers for projects across Sweden since 1999.
The gas assisted hinged HSE75 hatches provide easy and safe access to the underground power stations and escape routes located underneath the hospital. They have been installed in the various areas of the hospital and infilled with both concrete and tiled flooring to provide a seamless, flush floor finish.
The hinged access hatches are ideal for environments where regular access to concealed services is required for maintenance purposes and in public places where health and safety is crucial.
The HSE75 can be infilled with ceramic tiles, marble, terrazzo, concrete, resin, wood or parquet floors and is suitable for pedestrian and vehicle traffic up to a 5 tonne pneumatic tyre wheel load. Supplied as a single cover or a configuration of duct covers in standard sizes from stock or precision made to order.
Options include a top and underside release latch, for added security and safety, a double seal and fire rating up to 3 hours BS 476: Part 20: 1987.
The Howe Green range of access covers are tried and tested in a healthcare setting. They have been specified in hospitals around the world including Southmead Hospital in Bristol, Queen's Hospital in Romford, Great Ormond Street Hospital and the Lennox Addington Hospital in Ontario, Canada.
Company: Howe Green US
Product: Hinged Access Cover
Source: https://www.howegreen.com/access-covers/projects/nks-hospital-stockholm.php
Tags: Access Covers | Building | Design | Floor
---
Howe Green Ltd supplied specially manufactured floor access covers for Sweden's premier art and design museum. The Nationalmuseum of Art in Stockholm is currently closed whilst undergoing an extensive restoration programme.
Despite being adapted and repurposed over the years the museum, which opened in 1866, had fallen behind with meeting operational and regulatory standards. The aim of the renovation is to create a more modern environment that will enhance the overall visitor experience whilst retaining the museum's architectural heritage.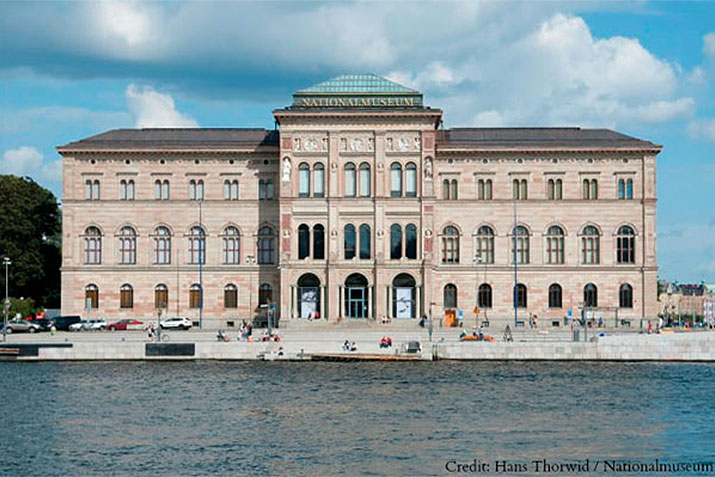 The renovations began in 2015 and the new museum is expected to open in 2018. In the meantime the exhibits have been temporarily relocated to local museums throughout Sweden.
The transformation will include the installation of a state-of-the-art climate control system to regulate the internal environment; the reinstating of bricked up windows to flood the space with natural light; new security technology and the expansion of the public spaces to house exhibits and visitor amenities.
The National Property Board of Sweden, a Swedish state agency who are responsible for the preservation of state-owned cultural heritage sites, are the developers. They are working with Swedish architects Wingårdh Arkitektkontor AB and Wikerstål Arkitekter AB.
Howe Green's Swedish distributor, Elkington AB, was contracted to supply floor access covers for the project. Elkington have worked with Howe Green since 1999. As well as extensive knowledge of the range of standard access covers that can be supplied the team has a full understanding of the bespoke access solutions that Howe Green can design and manufacture.
Otto von Platen, Managing Director for Elkington comments,
"We are always happy to recommend Howe Green access covers, especially in situations where the client requires a finish that is visually appealing and of superior quality. Buildings with a high level of pedestrian traffic, such as museums, hospitals and airports, require an access solution that can deliver on aesthetics, security and quality. After 18 years of working together we are confident that Howe Green covers fulfil those requirements."
Howe Green's 7500 Series Medium Duty Floor Aluminium Access Covers were fitted as duct runs in the museum. The majority of the covers were infilled with limestone floor tiles to provide a virtually invisible finish. The remaining units have a visible concrete finish. All the covers were supplied double sealed to ensure the highest performance and quality.
Health and safety is paramount within any public area. The seamless fit of the floor access covers will help to reduce the risks of slip and trip hazards.
In addition to the way they blend into the flooring the covers are highly functional, providing easy and safe access to the cabling and services concealed underneath the ducts. Once the renovation work is complete and the museum is open the covers will ensure that services can be accessed with the minimum of disruption to the daily operation of the museum.
Suitable for internal and external use the 7500 Series Medium Duty Floor Access Cover has been used in many museums including the V&A and the British Museum in London and the National Waterfront Museum in Swansea.
Find out more:
7500 Series Medium Duty Floor Access covers >
Company: Howe Green US
Product: Medium Duty Floor Access Covers
Source: https://www.howegreen.com/access-covers/projects/nationalmuseum-of-art-stockholm.php
Tags: Access Covers
---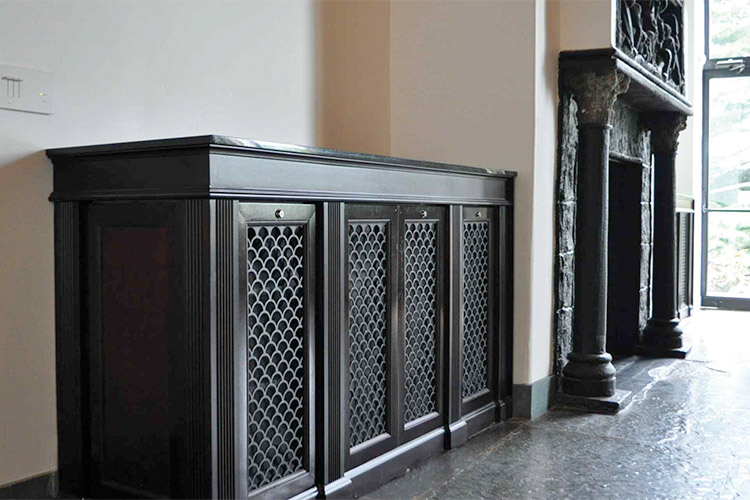 Fireplace
Historic House Restored To Former Glory
This stately fieldstone mansion, built in the mid-1800's, was a vacation home to famous Presidents and Authors. Artisans at Advanced Arch Grilles, working alongside our architect and contractor partners, assisted in the renovation that helped restore its rooms and pay homage to its historical and cultural significance.
Custom fabricated bronze perforated grilles blended nicely with the rich mahogany woodwork that has stood for over 100 years.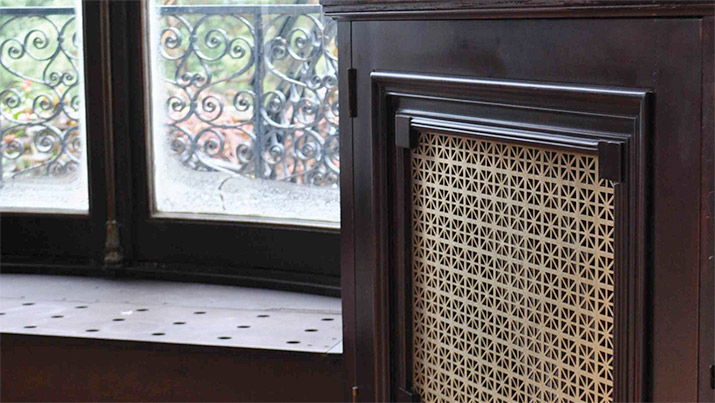 Cabinet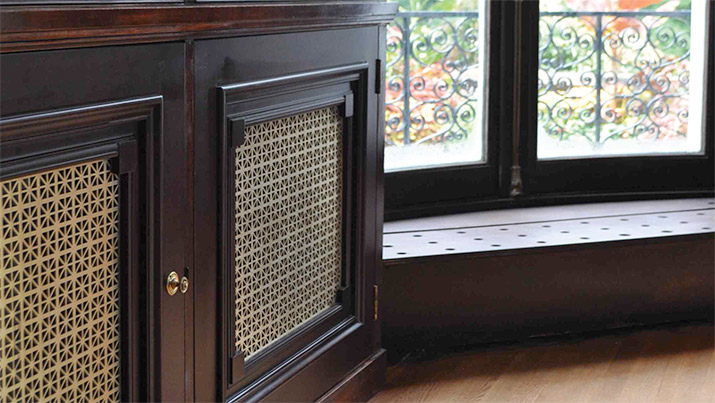 Custom built-in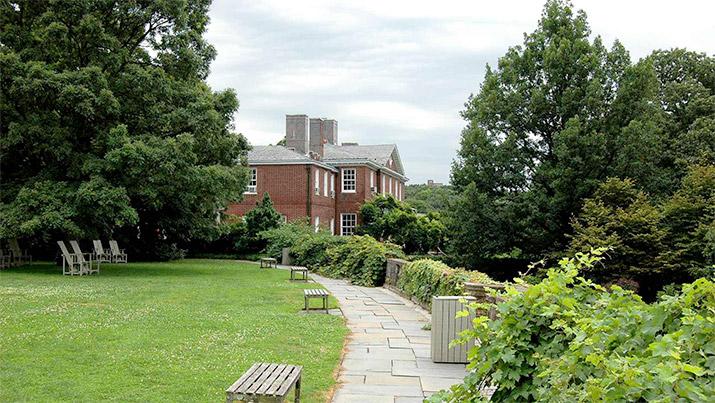 The house
Company: Artistry in Architectural Grilles by Advanced Arch Grilles
Source: http://aagrilles.com/custom-period-matched-perforated-grilles/
Tags: Access Covers | Aluminum | HVAC | Interior Design | Wood
---
Nystrom introduces a 1 inch Pan Architectural Floor Door as part of the non-drainable Floor Door product line. The new floor door cover is designed to accept a variety of infill, including terrazzo, tile, concrete or wood panels. The narrow-reveal design allows for seamless integration into the surrounding floor.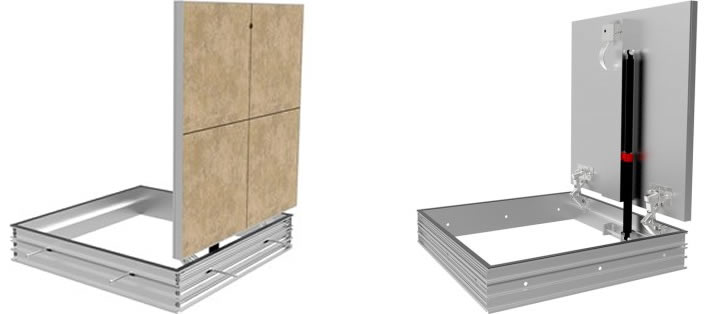 Tile Filled Pan Cover – Cast-In Installation, Inside View – Retrofit Installation
Features:
The aluminum access door is fully gasketed to prevent both water and odor penetration.
The concealed hinge design allows for a 1/8 inch reveal.
Designed for pedestrian traffic with a 300psf load.
Gas spring with integral hold open with quick release
Can be installed as cast-in or bolt-in for new construction or renovation.
Available with a single door configuration with sizes up to 36 inches by 36 inches.
For more information or to request a quote, please visit www.Nystrom.com or call 1.800.547.2635.
Company: Nystrom
Product: Floor Doors
Source: https://news.nystrom.com/2017/03/16/nystrom-launches-1-inch-pan-floor-door/
Tags: Access Covers | Interior Design
---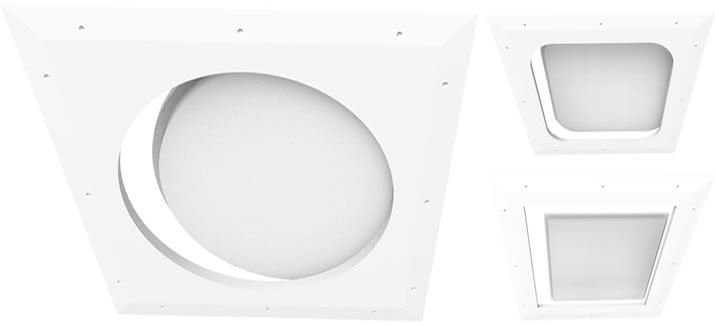 Concealed Drop In Access Door - Circular/Radius/Square Corner
Nystrom Inc announces the release of the Concealed Access Doors, a high-end architectural panel. The addition of the glass fiber reinforced (GFR) access panels adds another option for architectural applications, such as hotel lobbies, casinos, multi-tenant housing and government buildings.
The Concealed Access Doors are available in either a drop-in or hinged design with a square or radius corner or a circle for drop-in applications. The hinged design can be installed in ceiling and wall applications and is available with a cam latch or keyed lock.
Features:
Blends seamless into surrounding drywall
Eco Friendly
Reduced labor costs
Optional concealed hinge and lock options
Tapered edge for joint tape
Paint and texture ready
No shrinking, cracking, sagging or rusting
Mold and moisture resistant
For specialty applications, more information or to request a quote, please visit https://www.nystrom.com/products/access-doors.
Company: Nystrom
Product: Access Doors
Source: https://news.nystrom.com/2017/03/20/new-upscale-gfr-access-doors/
Tags: Access Covers | Interior Design | Wall Panels
---
A Howe Green 7500 Series Medium Duty Aluminum Floor Access Cover was recently installed at the Lennox Addington County General Hospital in Napanee, Ontario.
The hospital, which first opened in 1966, provides General Medicine and General Surgery, a 24 hour emergency service and an increasing number of outpatient clinics to the population of Lennox and Addington and the surrounding towns.
Over 270 people are employed at the busy hospital and they provide high quality health care for around 24,000 patients a year. The safety and comfort of patients is paramount.
Howe Green is one of the world's leading manufacturers of fabricated metal floor, wall and ceiling access covers, panels and hatches. Established in 1983 the company has a long pedigree when it comes to supplying access solutions for the healthcare sector.
Notable healthcare projects include the supply of over 100 Visedge Series Flexible Floor Access Covers for the state of the art Southmead Hospital in Bristol and 200 Visedge floor covers for the Queen's Hospital in Romford.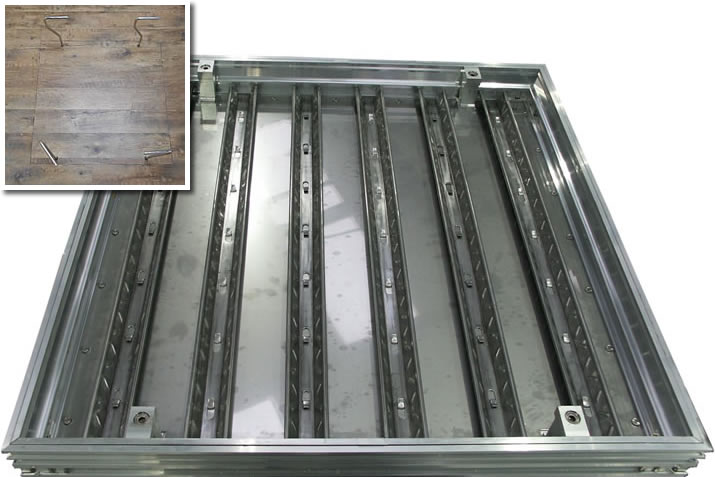 The access challenge:
Ensuring the smooth operation of mechanical and electrical services 24/7 is a challenge in any environment. Within a hospital the demands on providing an ambient temperature for patients, reducing the risk of infections and ensuring that systems are energy efficient adds greater complexity to daily maintenance schedules.
The Building Trades Coordinator Lennox and Addington County General Hospital required easy access to a shaft that concealed mechanical and electrical services running through the underfloor void of the building. With heavy footfall of patients, visitors and staff it was imperative that the access solution was secure but could be easily and quickly removed when required.
After direct discussions with Howe Green's Canadian distributor - FF Systems in Ontario - it was agreed that the 7500 Series was the perfect solution for the challenge in hand.
Why the 7500 Series Medium Duty Access Cover was ideal for this project:
Suitable for heavily trafficked pedestrian areas, cars and light delivery vehicles as it will accept up to a 5 ton pneumatic wheel load
Can be used with all types of hard flooring including terrazzo, ceramic tiles, marble, resin, concrete, wood and parquet floors. In this case the access cover was filled with concrete ready for a wood floor to be laid over the top.
Available in a range of standard size access covers from stock. Where a non-standard size is required this can be manufactured to order to meet the exact specification
The cover provides easy access to the mechanical and electrical services located underneath the floor. It can be safely removed, with the minimum of disruption, using a set of lifting keys
Option for a double seal to provide a tamper proof solution with enhanced levels of security
The cover fits flush into the surrounding wooden floor removing the risk of slips and trips.
Over to the customer for the last word…
"I chose to work with FF Systems because they were able to supply a product that met our specific requirements. The Access Panels are of superior quality and easy to install. I look forward to working with FF Systems in the future." - Bill Harrison, Building Trades Coordinator, Lennox and Addington County General Hospital, Napanee, Ontario
Find out more:
Visit the Howe Green US website or call Howe Green's distributor - FF Systems Inc in the US on 239 689 5334 or for Canada 519 896 0888.
Company: Howe Green US
Product: Medium Duty Floor Access Covers
Source: https://howegreen.us/
Tags: Access Covers | Aluminum | Floor
---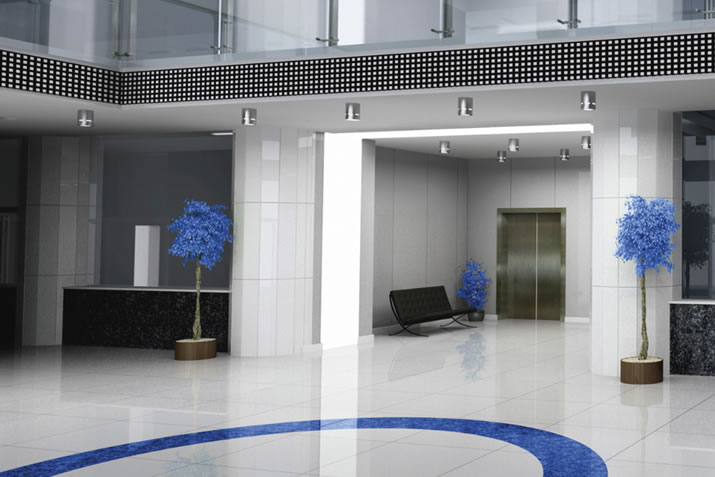 Contemporary architecture strives to be seamless, high performance and flexible. As a result this requires intelligent and creative solutions to servicing these spaces. Integrated strategies for the provision of power, communication, data and HVAC are essential. Howe Green products enable this integration to happen.
Served vs Servant - a concept first coined by AIA and RIBA gold medalist Louis Khan, a great 20th century architect.
Our raison d'être
Here at Howe Green we take inspiration from Khan and have a range of products which enable the architectural greats of today to realize their vision. Contemporary architecture strives to be seamless, high performance and flexible. As a result this requires intelligent and creative solutions to servicing these spaces. Integrated strategies for the provision of power, communication, data and HVAC are essential. Howe Green products enable this integration to happen. The introduction of innovative solutions to building services such as voids, suspended ceilings, raised floors, false walls, service chases and service cores are a direct result of the commercial incentive of maximizing the usable space within a building. However these strategies require access, which is where Howe Green's products are used.
Types of access cover
The access covers generally fall under three types, those mounted on walls, those fitted in a ceiling system and floor based products. These systems can be used internally and externally. Howe Green products are used across the globe in challenging environments, the products have been put to use in commercial offices, transport hubs, public spaces, retail and residential architecture. It is a versatile family of products that address the requirement for high quality, accessible service space.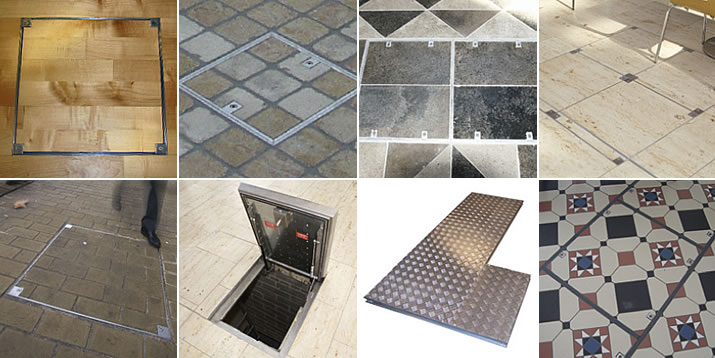 What can we do for you?
"Design for the present with an awareness of the past, for a future which is essentially unknown" Norman Foster. Howe Green's systems aim to add value to the architecture in which it is installed; they allow for flexibility in future demands by allowing ease of access for service updates and ease of maintenance for existing service infrastructure.
Ease of use
Howe Green Access Covers are supplied with clear and legible installation guides ideal for contractors unfamiliar with our products. The "Buildability Factor" is considered at every stage. Crucial in installation, where the access covers have a low level of complexity, are generally built to standardized construction dimensions and reduce the level of risk for the contractors fitting the product - a responsibility that must be upheld by the principle designer, client and suppliers under HSE and CDM 2015 regulations.
Responsiveness
Howe Green is a responsive company that understands the design, construction and operational process and just how fast changes occur. As an established company we have the resources invested in cutting edge C.N.C. equipment to respond to these changes rapidly; Howe Green stock products are dispatched the same day, whilst bespoke items have a 7-10 day lead time.
Precision
The fabrication and manufacture of our products is heavily influenced by sustainability; the process minimizes waste material and guarantees a precise tolerance finish for a high performance product. This ensures a quality product is delivered to the correct level of specification every time.
Integration
Howe Green's products are integrated into the BIM workflow for architects, specifiers, clients, contractors and even facilities management. This allows for the products to be introduced at concept design stage through to retrospective fittings in operation and management, which has happened recently for one of our client's – the Eagle Church Campus situated in Indiana, USA.
This high level of integration allows for costing, schedules, performance analysis all to be undertaken and documented through the whole lifespan of the design, procurement, facilities management and operation and maintenance of Howe Green's products.
Company: Howe Green US
Source: https://www.howegreen.us/howegreen/news/introduction-to-access-covers.php
Tags: Access Covers | Ceiling | Floor | Wall Panels
---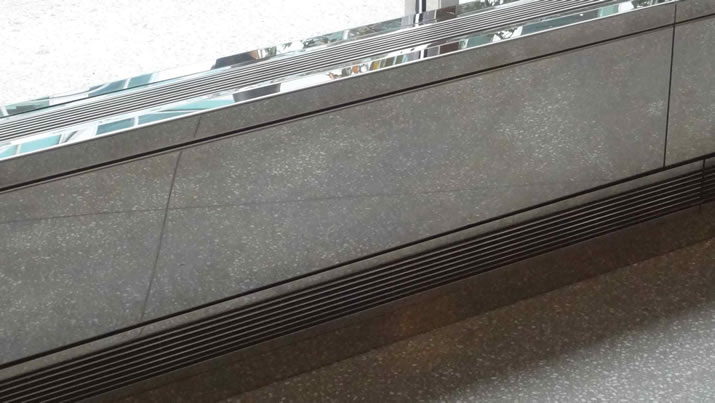 Our customer's objective was to have a stainless steel, linear bar grille manufactured to match the finish and style of a newly installed mirror polished stainless steel radiation enclosure within a renovated hospital lobby. Due to security and safety concerns, the grilles had to not only be structurally strong, but also firmly secured to the unit to prevent unintended removal.
Artistry in Architectural Grilles' engineering and manufacturing team designed a custom "C" style frame allowing for secure fastening as well as professional removal to access the unit's controls. This was accomplished with mechanically fastened frames in concert with mechanically fastened removable cores. All of which were given a #8 mirror polish finish to perfectly match the existing convector enclosure.
Grille Details
At a Glance
Type: Linear Bar Grille
Style: AAG100
Frame: Custom C Frame
Detail: Removable Cores
Material: Stainless Steel
Finish: Mirror Polish
Company: Artistry in Architectural Grilles by Advanced Arch Grilles
Source: http://www.aagrilles.com/project/nyc-hospital-lobby
Tags: Access Covers | Entrances | Floor | Interior Design | Metal
---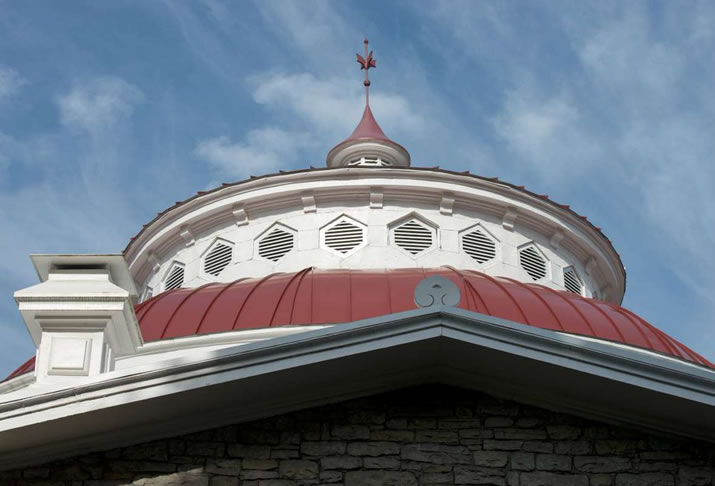 Recently, Architectural Louver's model E2JS louver was used during the renovation of the Reptile House at the Cincinnati Zoo. E2JS is a 2" deep thin line louver with a standard blade. This louver style is ideal for a clean architectural appearance at a low cost. If you are intending the louvers to be used for general ventilation or air exhaust, this is the right choice. Deeper framed models are also available (E4JS). Louvers with a higher performance rating - more free area and lower pressure drop - are also available (E4JP, E6JP).
Features:
Made to order in sizes 8" wide x 8" high up to unlimited size
Made from heavy gauge 0.063" thickness aluminum extrusion
2" frame depth, channel frame
2" blade spacing
Standard blade
Internal Screen (Bird Screen)
Specs:
48.7% free area for a 48" wide x 48" high louver
725 fpm first point of water penetration
30 psf wind load rating
Options:
A variety of metal finishes including paint and anodizing
Insect Screen (replaces bird screen)
Mounting: flange frame, glazing channel frame, "J" channel frame
Special shapes for architectural appeal
Higher wind load ratings
Company: Architectural Louvers
Source: http://www.archlouvers.com/Louver_E2JS.htm
Tags: Access Covers | Exterior Design | Metal | Window Shades
---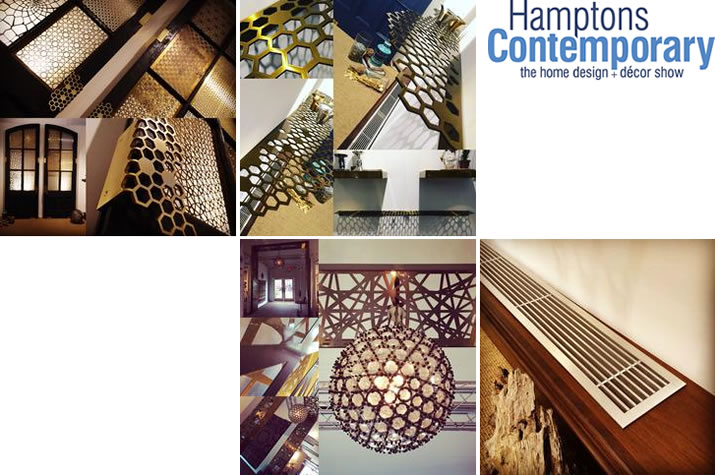 ARCHITECTURAL GRILLE was excited to exhibit our Linear Bar Grilles as well as Custom Metalwork at the inaugural Hamptons Contemporary: The Home Design + Decor Show earlier this summer. The first ever luxury design show staged at the Elks Fairground in Southampton, NY brought together designers, exhibitors and local homeowners interested in products reflecting high end design and architecture.
Collaborating with designer, Kenneth Nilson, we were able to exhibit custom designed pieces such as the below (left to right): Entrance Doors showcasing Custom Design Panels/Screens in Brass and Stainless Steel with a variety of finishes and Honeycomb/Hex Door Pulls Hardware in Solid Brass; Honeycomb/Hex Shelving in Stainless Steel with Brass powdercoat finish; Bugeye Bauble Light Fixture in Brass suspended on Custom Design Truss in Stainless Steel with Brass powdercoat finish by Kenneth Nilson; Linear Bar Grille inset into Walnut Woodwork.
If you're interested in purchasing any of the featured Custom Design Pieces, please contact Stephen Giumenta directly at sjgiumenta@archgrille.com for further information. If you would like to order custom lighting, please contact Kenneth Nilson at ken@kennethnilson.com
Company: Architectural Grille
Source: http://www.archgrille.com/blogs/news/summer-in-the-hamptons
Tags: Access Covers | Design | HVAC | Metal
---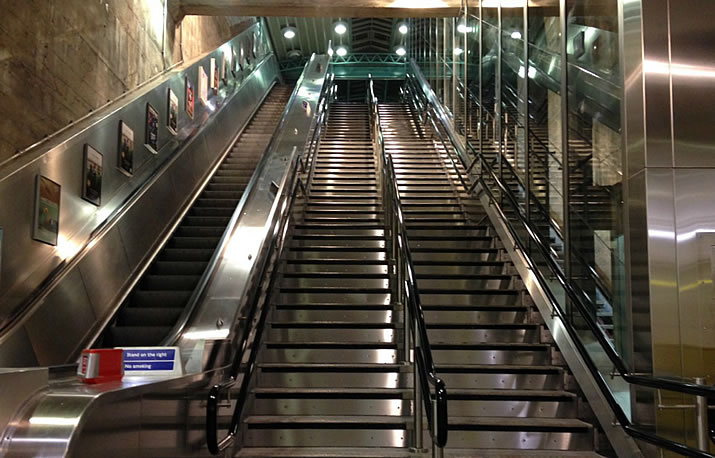 Work has been well underway since 2007 on the $4.45 billion project which is set to transform New York City Subways into the 21st Century. The Metropolitan Transport Authority (MTA) reported 1.75 billion trips were made using the overcrowded, outdated subway system in 2014. This number was set to rise year on year making updates to the system vital.
Much like the subway systems in New York, the London Underground has been an integral part of London's transportation system for 150 years. With a reported 1.3 billion passengers of the Tube each year, regular updates and refurbishment works to the circuit of stations are crucial.
Manufacturer Howe Green, best known for high-quality access covers for floor, walls and ceilings, also creates bespoke metal work solutions for a variety of applications. The company recently supplied custom-fabricated staircase risers for refurbishment works at London Underground's Greenford Station, home of the original step-free access project which was re-established with the opening of an innovative inclined elevator in October 2015.
Howe Green supplied over 100 bespoke risers for specialist contractor D&D Rail to install. The competitively priced solution was made to their specification from 316-grade stainless steel and delivered within days.
Howe Green are continually investing in design software and machinery, which enables the accurate and cost-effective manufacture of special purpose access covers, corner guards and trims in unique sizes and shapes.
"Our experience and manufacturing capabilities make it possible for us to not have to charge a premium for bespoke work," commented Richard Centa, Sales and Marketing Director at Howe Green. "From simple metal risers like those at Greenford to complex tree grilles at One Hyde Park, we provide solutions that fit perfectly, helping to save time and money at the installation stage and creating the best result for aesthetics and performance."
Company: Howe Green US
Source: https://www.howegreen.us
Tags: Access Covers