architecture - engineering - construction

2015 August
---
A successful bulletproof barrier ensures that aesthetics, building function, and security are all addressed in a balanced way.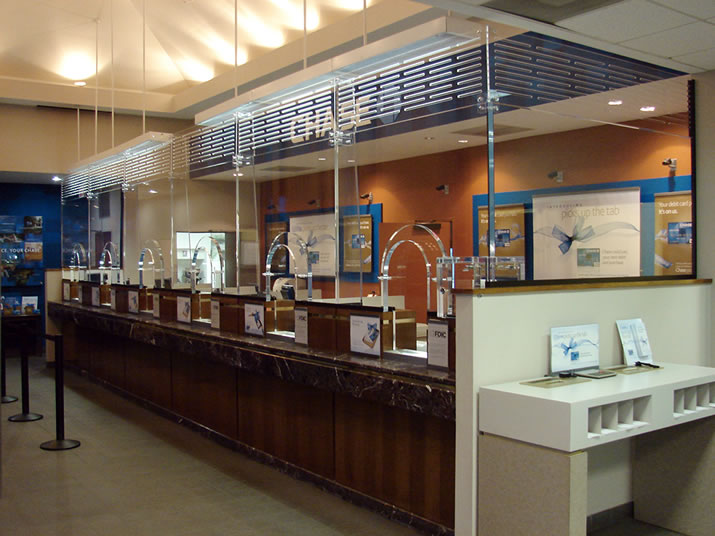 A bandit barrier is a grim necessity for both the protection of employees and prevention of criminal interest. According to the FBI's Bank Crime Statistics, there were 3,961 bank robberies across the United States in 2014. A firearm was used in more than 23% of these robberies, and over 95% of 2014's bank robberies involved action at the counter. But addressing your bandit barrier can be tough: The best physical security solution might cause big problems with the HVAC system or it might look unappealing. A more attractive solution might work fine from a facilities perspective, but cause headaches for tellers and customers.
"We see this a lot," Jim Richards, Total Security Solutions CEO explained, "Because physical security at a bank is this set of overlapping responsibilities, with a huge impact on the building's aesthetics, the building's mechanicals, and everyone's safety. The trick is to make sure that aesthetics, building function, and security are all addressed in a balanced way."
Bandit Barriers are Physical Security Systems
Banks and credit unions come to Total Security Solutions for physical security solutions when:
• they have experienced a robbery or attempt at robbery
• the perceived threat level in their area increases
• they are renovating their building and want to install or replace a bulletproof barrier
The traditional "bandit barrier" seems fairly straightforward: a large expanse of bulletproof glass with cutaways at the wickets and steel cash trays at each station. But in reality, even these straightforward ballistic barriers are interlocking systems of bullet resistant components that include transparency and cash trays, a drawer or large passer, and bulletproof counters. Many people outside of the bulletproof barrier industry may not realize that ballistic counters are quite common. Ballistic counters from TSS are available in stainless steel, wood, laminate, and Corian, defying the gritty image associated with bulletproof products sourced elsewhere. But a bullet resistant counter with holes cut in it for wire runs and data cables somewhat defeats its purpose — to increase security.
TSS Bridges the Facilities/Security Gap
When it comes to banks, bulletproof glass occupies the intersection of two important roles for management of a successful financial institution: physical security and facilities. Problems occur when the job of installing the bulletproof glass is handed off to one group without input from the other.
Bank security officers and facility managers need a complete solution when it comes to installing bulletproof glass barriers. It should not be security's job to think of the HVAC, electrical, and other systems when installing what amounts to a transparent, sound-transmitting wall in the middle of a room. Facility managers, who are likely concerned with how a wall of bulletproof glass will affect the building's heating, cooling, and electric, won't necessarily know what UL protection level is required for physical security measures, or be familiar enough with bank operations to be sure that a system is specified properly.
"That's a benefit of working with TSS," says Jim Richards, "we've worked with all these roles within the bank–the facilities people, the architects, the bank security officers–and we've dealt with all of the building trades, helping them sort out the details. We know what to look out for and not just blindly follow one perspective on what's important."
Security experts at TSS will work with you to assess the threat level and choose the appropriate materials and protection level for your building. We're staffed by experienced tradesmen committed to making sure that the installation is clean and tight, and well-integrated with HVAC and all other building systems."
Financial institutions that work with TSS to improve physical security get the complete package: bulletproof barriers that suit both the physical security needs of the bank as well as the building's daily function. Call TSS today to get started on a plan to improve your bank's bandit barriers.
Company: Total Security Solutions Inc
Source: http://www.tssbulletproof.com/bank-security-balancing-priorities-security-managers-architects-facilities/
Tags: Interior Design | Safety | Security
---

Architectural design firms primarily focused on commercial design and commercial construction can discover how to 'future proof' design approaches from the sometimes confusing requirements they encounter. The latest Icynene Building Genius presented by Icynene VP Engineering, Paul Duffy explains continuous insulation and weather barriers. Watch the webinar for free below by clicking the link.
About the Webinar
Recent changes to Building Codes such as the IBC and IRC have been significant and substantial. Over the last 10 years we have witnessed the "Codification" of new requirements for Continuous Insulation, Air Barriers, Vapor Retarders and Water Resistive Barriers plus a proliferation of new materials, tests and quality assurance procedures. What does this mean for design? What does this mean for construction? Where are we going and why? Starting from a Building Science and Materials Science basis, this presentation will attempt to sort through the sometimes confusing requirements, suggesting design approaches with a view to simplifying and improving the likelihood of successful projects.
Company: Icynene
Source: http://www.icynene.com/en-us/blog/future-proofing-your-design-approaches-webinar
Tags: Building | Insulation
---
Tune into Bloomberg International as sponsored programming on Sunday, August 30, 2015. See market by market listings below.
MMP (USA) announces a Modern Living with kathy ireland exclusive interview with Broan-NuTone. Although most people appreciate the feeling of breathing in crisp morning air, many don't regularly think about the quality of the air in their homes.
The EPA says that the air inside people's homes tends to be an average of 5 times more polluted than the air on the street. Broan-NuTone develops residential ventilation products to help customers rid their home's air of pollutants. For example, ventilation fans can have a tremendous impact on the quality of indoor air. Kitchen ranges can also be very beneficial for ridding the home of airborne pollutants caused by cooking. Broan-NuTone produces exhaust ventilation, range hood ventilation, whole home ventilation, and central VACs systems and they work to make these products with the latest technology and the highest standard.
The indoor air quality of a home is dependent upon several factors, including humidity, chemicals, and the levels of particulates in the air. As these factors increase, they pose an increasing threat to people breathing in the air.
"Although people often speak of the dangerous of outdoor air pollution, most do not regularly think about the quality of the air inside their homes. We are excited to feature the range of available products with Broan-NuTone," says JL Haber, Vice President of Programming of Modern Living with kathy ireland.
Tune in to see Broan-NuTone's interview on Bloomberg International as sponsored programming on August 30, 2015 at 3:00pm HKT.
Company: Broan-NuTone LLC
Source: http://www.pressreleaserocket.net/modern-living-with-kathy-ireland-discusses-the-importance-of-indoor-air-quality-with-broan-nutone/296039/
Tags: Interior Design
---
Ruskin's Commercial Air Doors provide protection against undesirable environments passing through door openings thus protecting indoor air quality. With a wide range of sizes, Ruskin Air Doors are perfectly suited for your service and entry doorways, conveyor openings or anywhere you desire to save energy. Ruskin Air Doors eliminate door drafts, reduce heat losses and gains, allow traffic flow while maintaining comfort levels and can provide insect control.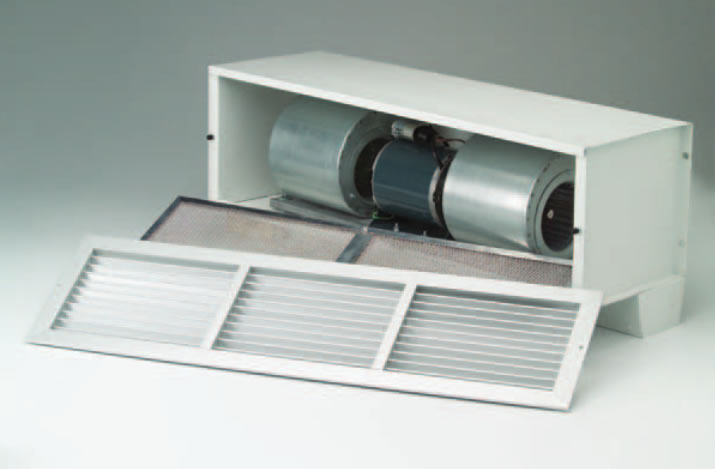 Ruskin's Commercial Air Doors provide protection against undesirable environments passing through door openings thus protecting indoor air quality. With a wide range of sizes, Ruskin Air Doors are perfectly suited for your service and entry doorways, conveyor openings or anywhere you desire to save energy. Ruskin Air Doors eliminate door drafts, reduce heat losses and gains, allow traffic flow while maintaining comfort levels and can provide insect control.
Ruskin's Commercial Air Doors are your solution for employee and customer comfort. Ruskin Air Doors are designed to maintain a clean and healthy environment by reducing dirt, dust, fumes, insects, pollen and odors from entering your facility. When used on exterior doors, windows and walk-in refrigeration units, Ruskin Air Doors are effective in controlling temperatures of the space as well.
Company: Ruskin
Source: http://www.ruskin.com/NewsArticles/tabid/770/entryid/549/Ruskin-Air-Doors-Protect-Indoor-Air-Quality.aspx
Tags: Entrances | Interior Design
---
Would you swim in this glass 'sky pool'? Ten stories above ground with an all-glass bottom.

A new luxury apartment development in London is planning on adding a "sky pool" to the list of amenities the up-scale building will feature. (Photo: Ballymore Group)
If you're scared of heights, this might not be the pool for you.
A new luxury apartment development in London is planning on adding a "sky pool" to the list of amenities the upscale building will feature.
The all-glass pool will act as a bridge between two apartment buildings in Embassy Gardens, a 2,000-home complex in London's Nine Elms neighborhood. It will allow residents to access the opposite side of the building by swimming laps ten stories above the ground.
Designed by Arup Associates with Eckersley O'Callaghan, the pool is 90 feet long and nine feet deep with a water depth of four feet, according to a statement from Ballymore Group, the organization responsible for the development of the complex.
The pool is expected to give swimmers the feeling of "floating through the air in central London," according to the statement.
The luxurious development is located next to the new U.S. Embassy, and from the deck residents will have views of the London Eye and House of Parliament.
With units costing around $940,000, the pool is out of reach for many. In the past year, housing prices have risen 10% in the city.
On Twitter, the response to the pool has been somewhat mixed. One person tweeted, "a sky pool, so the millionaires in their Nine Elms penthouses can literally look down on you." Another posted, "as gimmicks go, this one is pretty cool."
Company: Total Security Solutions Inc
Of: Mary Bowerman, USA TODAY Network
Source: http://www.usatoday.com/story/news/nation-now/2015/08/21/glass-sky-pool-coming-london/32115445/
Tags: Exterior Design | Glass
---
If you've ever been subjected to an in-home sales presentation from a hard-selling acrylic shower or tub wall salesmen – you know some of the "facts" surrounding grout free shower and tub wall panels "spun" quite a few ways. These reps may tell you their system is the only right one for your bathroom, or they have the only "one-piece" system or that it's not possible to install grout free shower and tub wall panels yourself. As the owner of Innovate Building Solutions (we wholesale and install 5 different lines of tub and shower wall panels) I can tell you choosing the right system for your project is not a "one size fits all" situation. There is no one product which is "the best" (note – if there was one best solution we would not offer 5 lines ourselves!).
My goal in this article is to shatter some of the myths and half-truths being told by high pressure sales people who have one goal in mine for your project….their commission! Read on to uncover some of the mysteries regarding grout free wall panels.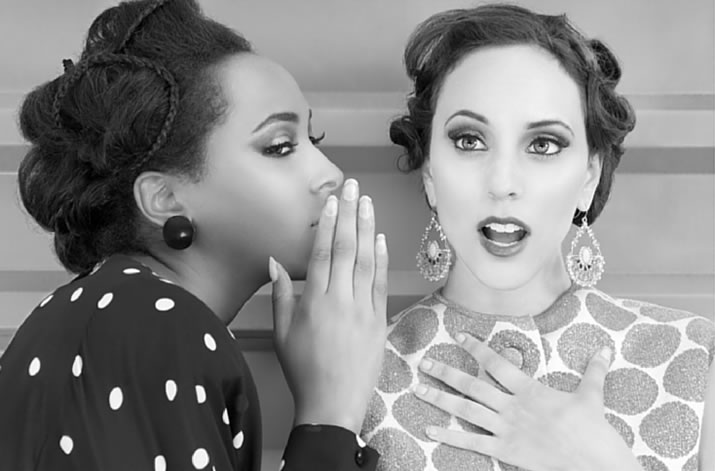 Myth #1 – Grout free panels must be professionally installed
This is a half-truth if there ever was one! While it's best to have standard acrylic shower and tub wall panels professionally installed (the reason for this is the material can dimensionally change due to expansion and contraction and the black butyl tape installation adhesive is difficult to work with) there are 4 other systems I'll outline below which are quite DIY friendly and can be cut and drilled with common woodworking tools:
• PVC backed composite faux stone walls – These walls look like natural stone and are the easiest to cut.
• Solid surface walls – Although they are the thickest at 3/8" they are not tough to cut and are available with a large array of accessories.
• Serica composite walls– Offering a natural look and textured wall options this system offers innovative storage and pattern designs.
• Optical grade high gloss wall panels – Offering the look of back painted glass (without the cost) these panels are popular for those wanting a sleek contemporary Euro style bathroom.
Myth #2 – The only panels worth using is a "one piece" system
While it is true you can buy (and home builders often use) inexpensive one piece shower and tub surrounds in-home companies who sell "one piece" acrylic shower and tub panels systems are frequently deluding the general public. The "one piece" is not one piece at all – it includes trim pieces around shower and tub surrounds. The other problem with these "one piece" systems is if your shower/tub is not dimensionally square (which most are not) the caulk joints around the one piece section will be inconsistent. The best systems we've seen are those with unique panels for each wall (which can be fit or trimmed to your exact size) and have sound waterproofing methods to ensure a tight fit and seal at the seams and corners.
Myth #3 – Thickness matters
While it's certainly not bad to have thicker wall panels (the thickest ones we use are the 3/8" solid surface panels) in most cases once the wall panels are properly adhered to a wall backer the thickness of the material will have little bearing on long term performance (note – if the wall panels are not adhered with the right adhesives all bets are off. From our experience it is critical to use the adhesive recommended by the wall panel manufacturing company).
Myth #4 – You can only do standard sized showers and tubs with grout free panels
This is a myth you might hear in a big box store which only inventories stock sized enclosures. It is possible to get large panels for custom showers (in solid surface walls you can actually get a panel as big as 144" x 100") or there are easy to cut and seam systems in the PVC and Serica composites which can be designed to work with any sized shower stall. You are not limited to a grouted tile shower even if you have a custom size anymore.
Myth #5 – You need custom tools to do the installation
The facts is in most cases (with the exception of some intricate acrylic wall projects where a custom bending tool can be helpful) you can use standard woodworking equipment (like jig saws, routers, table saws and drills) for a DIY wall panel project.
Which of these myths have you heard before? If you want more information, or a free estimate on materials or the installation of grout free tub and shower wall panels comment or call us on one of the numbers below.
For regional installation service call The Bath Doctor in Cleveland (216-531-6085), Columbus (614-252-7294) or for nationwide material supply Innovate Building Solutions (877-668-5888).
Company: Innovate Building Solutions
Of: Mike Foti
Source: http://blog.innovatebuildingsolutions.com/2015/06/20/5-tells-shower-tub-wall-panels/
Tags: Interior Design | Wall Panels
---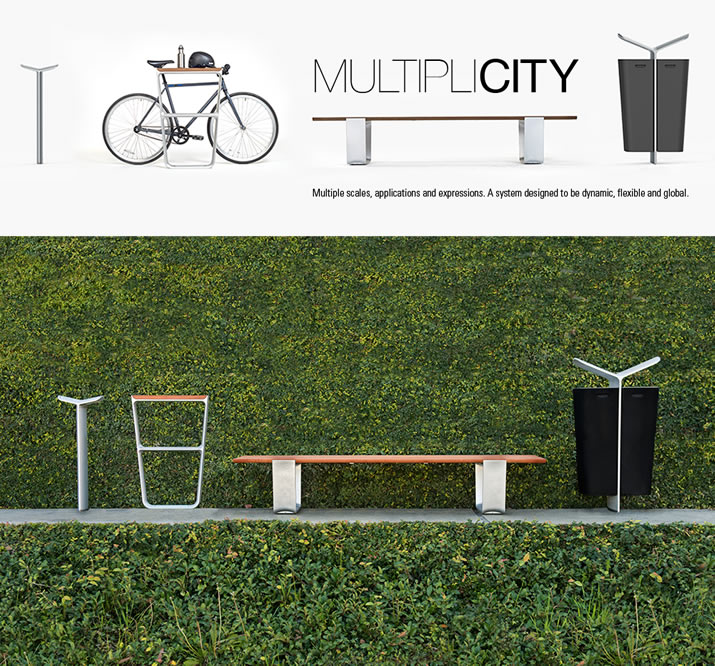 In a red carpet ceremony at stunning Benaroya Hall in Seattle, WA on August 22, 2015, the Industrial Designers Society of America (IDSA) unveiled the Gold, Silver and Bronze winners of the 2015 International Design Excellence Awards (IDEA). Among more than 1,700 entries from around the world, the Gold winner of IDEA 2015, category Outdoor & Garden, is MultipliCITY.
MultipliCITY is an international collection of outdoor public furniture elements that gives new meaning to the term "global design." MultipliCITY pioneers the integration of mass production and custom materials and configurations for the world market. The flexible, dynamic system addresses multiple scales, applications and creative expressions and includes six elements: a backed and backless bench; table; bike rack; LED path light; and litter container. Structural parts are manufactured by Landscape Forms; seating and table surfaces are produced from hardwoods sourced in markets outside North America; and flat shipping and local assembly to international locations supports carbon-reducing sustainability. MultipliCITY is a citizen of the world— equally at home in Buenos Aires, Barcelona or Boston.
Designed by: Yves Béhar, IDSA and fuseproject; and Landscape Forms Industrial Design Group
Contact: cindyc@landscapeforms.com
Company: Landscape Forms Inc.
Source: http://www.idsa.org/news/top-news/big-reveal
Tags: Landscape Design | Sustainability
---
Fort Lauderdale's newest luxury apartment complex, The Manor: Lauderdale by the Sea, features a stylish infinity pool & terrace. PENETRON technology was used to keep the parking garage and the pool – directly above the garage – completely dry and waterproof.


Concrete treated with PENETRON ADMIX and all construction joints sealed with PENEBAR SW-55 ensures no water will seep into the parking area from above.
The Manor: Lauderdale by the Sea is a 363,000 square foot, eight-story mid-rise luxury apartment complex with 264 units (1-3 bedrooms) built atop a single story parking garage with room for 158 cars. The complex includes an infinity pool, spa, sun deck areas, fitness center, café, club room and event meeting/dining room.
Situated directly on top of the parking area, the full-sized swimming pool shell and surrounding terrace area were treated with PENETRON ADMIX and all resulting construction joints were sealed with PENEBAR SW-55 to ensure a durable structure that would never leak water into the parking area.
"The option to position the pool area directly above the garage gave the designers at RLC Associates the flexibility to create an efficient layout," explains Christopher Chen, Director of The PENETRON Group.
As the world's most efficient and economic permeability-reducing concrete admixture, PENETRON ADMIX was utilized by the Suffolk Construction Company in the concrete mix to provide comprehensive protection against concrete deterioration, even with high hydrostatic pressure.
"Easy to mix during batching and unaffected by climatic conditions, PENETRON ADMIX has been proven to significantly increase concrete durability and service life," adds Mr. Chen. "PENETRON ADMIX is now an integral part of the concrete matrix at The Manor – in both the pool and garage – and will last during the life of the concrete."
The PENETRON Group is a leading manufacturer of specialty construction products for concrete waterproofing, concrete repairs and floor preparation systems. The Group operates through a global network, offering support to the design and construction community through its regional offices, representatives and distribution channels.
For more information on PENETRON crystalline technology solutions, please visit http://www.penetron.com, email: CRDept(at)penetron(dot)com or contact our Corporate Relations Department at 631-941-9700.
Company: Penetron International
Source: http://www.penetron.com/news-media/media-releases/view/-Staying-dry-and-wet-with-PENETRON-Technology
Tags: Building | Exterior Design
---
As college students prepare to head back to school, what do architects need to know when planning mailbox design for college and university installations? Our latest blog post has helpful information to keep you in the know for your own school projects.

Laptops, organizers, pencils, pens, notebooks … Students everywhere are gearing up to go back to school. And for design professionals out there, we've got some helpful information to keep you in the know for your own school projects. Today we'll tell you what you need to know when planning mailbox installations for colleges and universities. So, grab your drafting pencil and let's get to it!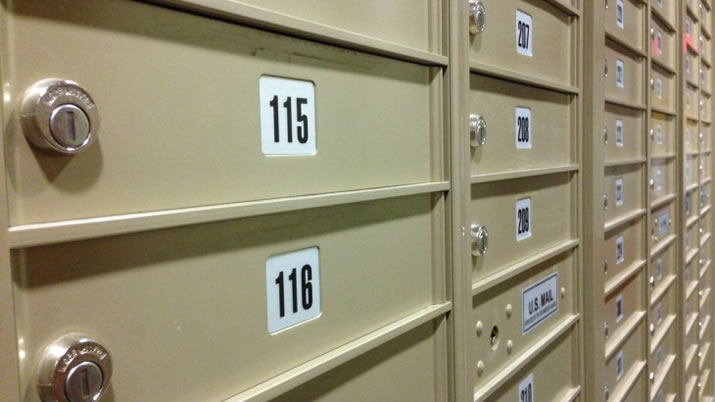 Are there any special considerations for campus mailboxes?
Yes. One of the main distinctions that colleges and universities typically have is private delivery.
Private delivery is when someone other than a USPS carrier delivers mail to individual mailboxes. (Other private delivery applications include office mailrooms, financial institutions, military housing, and health care facilities.)
Our neighbors at Kansas State University shared how this works at their campus.
"Both campus and USPS mail goes through Central Mail Services, who then distributes it to the individual halls," said Nick Lander, Assistant Director for Residence Life, K-State Housing & Dining Services. "UPS, FedEx, etc., all deliver directly to our (residence) halls."
Mailboxes are installed in the lobby of each residence hall, he explained, and each university apartment complex also has a central mailroom.
"It is convenient for students since they can pick up mail where they live as opposed to a central location on campus," he said.
What types of mailboxes are ideal for these settings?
Mailboxes used for private delivery installations have more flexibility in terms of layout. Because the USPS does not deliver directly to the mailboxes, they are not subject to USPS regulations.
This helps colleges and universities accommodate more mailboxes in a given area. (Lander says their residence halls hold as many as 300 mailboxes!)
K-State uses the horizontal style of mailboxes, he added.
Standard 4C, or STD-4C, are the current standard for indoor, mounted mailboxes. They feature horizontal mailboxes, which protect mail from bending and damage. They are also more secure and durable than their predecessors, the Standard 4B+ mailboxes.
"We have replaced many of our boxes in the last few years, so we don't have many maintenance issues," Lander said.
Are the specs any different?
Yes. Because of the flexibility afforded by private delivery, specifying STD-4C mailboxes for colleges and universities is a little different. First and foremost, you should update your master specs to ensure you are specifying the current standard instead of obsolete equipment.
(You can even import the current specs directly into BIM Revit.)
You can also fully configure the mailbox installation — from installation height to mailbox sizes — to match your project's specifications.
Mailboxes for private delivery also have the option of using a combination lock (only available for private delivery) or a standard lock and key (USPS compliant) as well as the option for vision windows so residents don't have to open their mailbox to see if the mail is there.
What do I need to know about planning for packages?
Adequate space for packages is crucial today. Growth in shipping volume has increased dramatically over the past few years — a trend that will continue into the future.
And for college and university students, package management is even more important because not only are parents shipping precious items forgotten at home, but students are also taking advantage of greater purchasing power afforded by their first credit card offers and the ease of ordering textbooks and other supplies online.
"We definitely get more packages now with many students shopping online," Lander said.
Not all schools use built-in package lockers. For those that do, we recommend having one package locker for every six mailboxes — a ratio that will help ensure delivery needs are met now and into the future.
Congratulations! You're now an ace in university mailbox installations!
To start planning your next mailbox installation, visit our online configurator to explore your options and design an installment specific to your project.
Company: Florence Manufacturing Company
Source: http://www.florencemailboxes.com/wordpress/university-housing-101/
Tags: Interior Design | Security
---
An interesting fact - integrated louvers with a 2" airspace have a Sound Transmission Class (STC) rating on par with drywall and concrete block walls for superior attenuation capabilities. Perfect for hospitals, educational facilities, board rooms and more!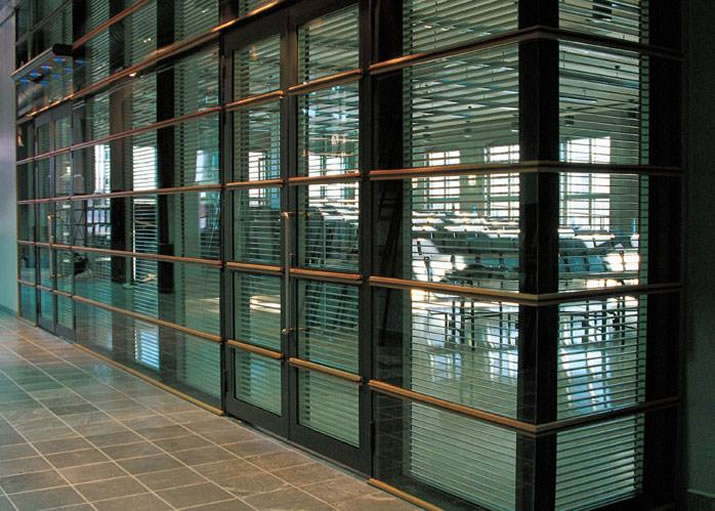 Company: UNICEL Architectural Corp.
Source: http://www.unicelarchitectural.com/en/specialty-glazing.html
Tags: Interior Design | Window Shades
---
This is not a wood deck patio. It is a thin concrete overlay/coating made to look like wood. Much stronger than wood though...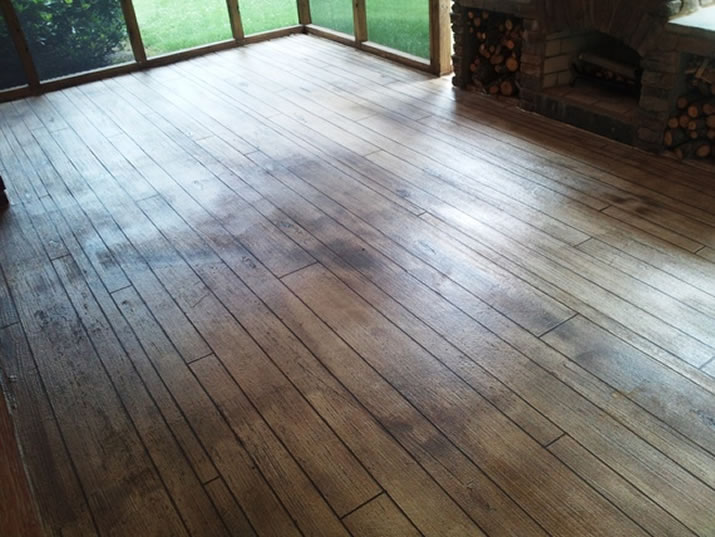 When unsightly, old and damaged concrete is no longer acceptable the option for concrete resurfacing should be your top choice. Concrete floors over time will often develop cracks, show surface spalling, stain, and begin to deteriorate.
Typically the structural concrete slab will be fine but its surface is in need of repair and concrete resurfacing. Elite Crete Systems has been leading the concrete resurfacing industry for decades and has a wide variety of products and systems to choose from.
Once it has been determined that something needs to be done about the old concrete, the fun begins! Concrete resurfacing systems open the door to wide range of design and decor options. There are purely functional concrete resurfacing products that will look and feel similar to standard grey concrete floor, but for those who want to take their concrete flooring to whole new level, decorative concrete systems should be considered.
Here are some common concrete resurfacing systems with overviews of what the look and design can be expected from each:
Broom Finish Concrete – Skim, Bond or Broom Coat: This system is designed to resurface concrete with a very thin layer of polymer modified cement. This thin layer can be squeegeed and smoothed out at 1/8th inch thick or less to provide a vibrant new surface to damaged concrete. Because of its thin nature, the concrete should be patched and leveled prior to the application so that any imperfections are corrected. This product can be colored and applied with a variety of textures to create a cost effective and limitless design to beautify concrete slabs and floors.
Splatter Texture- Splatter, Knock down, Sprayed texture concrete: Often found around pool decks and large outdoor patios and walkways. This functional concrete resurfacing system provides a textured, slip resistant finish that can be efficiently applied with a hopper spray gun. The final look is that similar to a splattered wall finish standard in many homes. The texture helps the surface stay cool for bare feet in the hot sun and creates a functional anti-slip surface for wet areas. This texture is most often installed on top of a skim or bond coat and can then be coated in any color similar to a painted surface top while providing a sealed, consistent floor finish.
Thin Stamped Overlay – Stamped topping, Stamped concrete overlay, Texture Pave: When a natural custom look is what you are after, a thin stamped overlay will provide a new surface to your concrete that resembles stone, rock, slate or wood. When resurfacing concrete with a thin stamped overlay, you can expect to cover the concrete with 3/16" to 5/8" of material and then imprint or stamp a pattern into the freshly placed material. When using thin stamped materials you are limited to thin, or shallow stamp mats that require only minimal material displacement. These systems are ideal for interior and exterior spaces where a textured finish is desired that resembles a natural material or paver.
Design Options for Concrete Resurfacing:
Color Choices: Integral Color, Stains, Dyes, Solid Coatings
Sealers: Matte, Satin, High Gloss
Surface Textures: Stone, Brick, Rock, Wood, Pavers. Also includes a range of anti-slip additives that can be incorporated in to the sealer system.
Company: Elite Crete Systems, Inc. (Headquarters)
Source: http://elitecrete.com/concrete-resurfacing/
Tags: Exterior Design | Floor | Interior Design
---
Did you know that more than 40% of energy loss escaping the average American home is through air leakage? Gaps and cracks in the home's walls, roof and floors can impact monthly cooling costs during summer due to increased output from air conditioning systems. The following infographic highlights some key insights and tips how energy efficient HVAC systems and spray foam insulation can work together to improve efficiency, minimize air leaks and allow homeowners to enjoy the summer without hurting their wallet.

Company: Icynene
Source: http://www.icynene.com/en-us/blog/curb-air-leakage-spray-foam-insulation-summer
Tags: Insulation
---
Comparing installation of traditional housewraps to fluid-applied membranes on single family residential homes.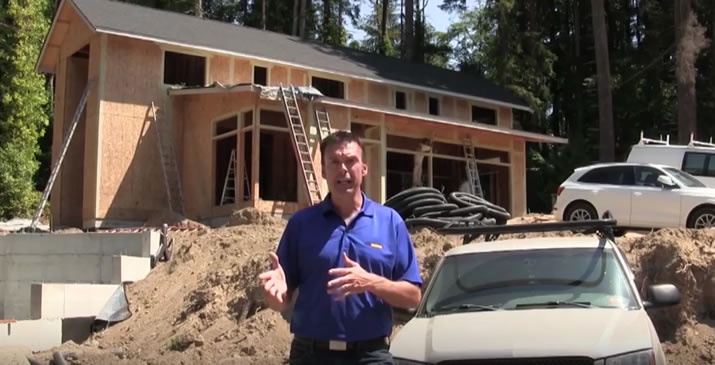 In this video, we demonstrate the ease of installing a superior weather resistive barrier versus the use of traditional house wrap.
Company: Sto Corp.
Source: https://www.youtube.com/watch?v=cR_u8KsPH38&feature=youtu.be
Tags: Building
---
NEW Flashing/Talking Interactive Signs! These signs ensures your safety message is seen and heard with motion sensor control that alerts any passerby.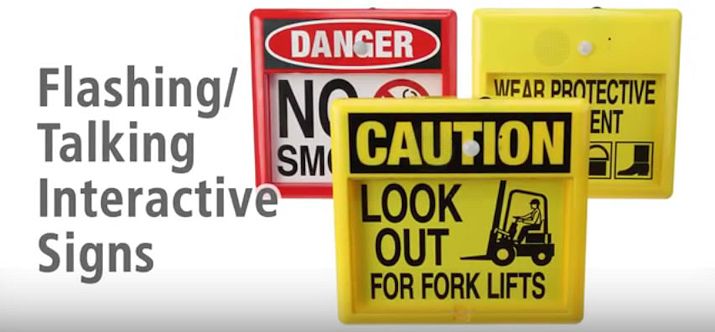 Seton's new Flashing/Talking Interactive Signs are an improvement over ordinary safety signs. By using built-in flashing LED lights, and a recorded audio warning message, these innovative signs make it virtually impossible for your safety message to be missed by your employees.
Company: Seton
Source: https://www.youtube.com/watch?v=LM0oGGum9K8
Tags: Exterior Design | Safety
---
Provide energy, comfort and healing for patients, staff and families with our healthcare color palettes.

Today's largest manufacturers of healthcare furnishings and equipment consult regularly with our in-house certified color experts on the latest trends in healthcare interiors and hospital colors. This extensive coordination between hospital colors and hospital products gives you all the tools you need to create healing environments that transform the acute care experience.
Our in-house certified color experts are partnering with major healthcare systems and furnishing manufacturers to lead the delivery of color for this new senior care environment.
Company: The Sherwin-Williams Company
Source: http://www.sherwin-williams.com/property-facility-managers/facility-solutions/healthcare/healthcare-color-palettes/
Tags: Color | Interior Design
---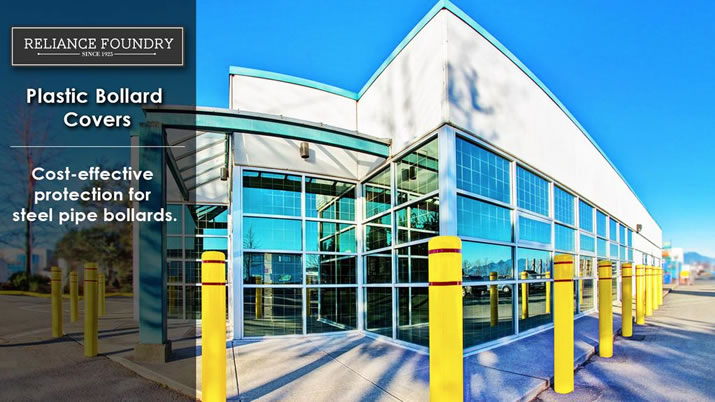 Protect steel pipe bollards from weathering and corrosion—while improving visibility and appearance.
Plastic bollard covers (also referred to as "sleeves" or "bumper post covers") provide cost-effective protection for steel pipe bollards. Plastic bollard covers keep security posts in their best condition, extending their service life and replacing the need for regular painting. Plastic bollard covers are available in a range of colors and styles to ensure the best visibility and design for existing buildings and landscapes.
Aesthetic design
Plastic covers ensure perimeter security doesn't detract from site aesthetics. Standard steel-pipe security bollards offer minimal visibility or decorative appeal and require regular painting to protect from weathering and rust—especially in areas with regular exposure to moisture and high-saline conditions where bollards are exposed to salt-water spray or de-icing salts.
A range of colors and styles are available in sizes designed to fit all steel pipe diameters. Choose from utility or decorative designs to enhance visibility or match existing building and landscape decor.
Traffic management
Security bollards perform best when they are highly visible—providing visual guidance as well as physical protection. When drivers can't see them, inconspicuous steel posts can do more harm than good.
Plastic covers increase safety by providing better visual presence for vehicles, bikes and pedestrians—clearly identifying roadways, parking spaces and off-limit areas. Plastic covers are especially suitable for industrial and high-traffic commercial areas. Due to their height and physical presence, bollards provide ideal traffic guidance to avoid collisions and maintain site walkability.
Reflective strips are available for utility covers to increase visibility in low-light and adverse weather conditions.
Durable and easy to install
Plastic covers are made from durable polyethylene and won't fade or chip. Covers resist physical marking from collisions and chemical wear from solvents and de-icing salts. They are fully recyclable and will last up to 5 to 15 years depending on the environment.
Easily install plastic covers with foam compression strips to ensure they remain securely fastened. Covers can be trimmed to suit individual bollard heights or surface gradients. Upon request, Reliance Foundry will trim plastic covers to specified lengths.
Company: Reliance Foundry Co. Ltd.
Source: http://www.reliance-foundry.com/bollard/post-covers-plastic
Tags: Landscape Design | Safety
---
Projection or flat panel? The answer might surprise you.


When not in use, screens like Draper's Ultimate Access remain hidden away out of sight. Dealer: Station Earth. Photography © Terry Scott White Photography, Kitchener, Ontario.
I recently read what I felt was a rather short-sighted blog post concerning the pros and cons of projection versus screens. The premise of the post—that projection is only an attractive option if you "want to watch movies"—is extremely limiting. I do agree that the only way to make an informed decision is to weigh the pros and cons; however, I believe that there's more to this list than what was originally presented.
While it's true that setting up a good quality video projection system may be more involved than simply buying a flat-screen TV, this discussion is about so much more than price. But let's go ahead and look at price. The cost of your panel depends on where you buy it (Costco vs. the custom integrator who will truly get you a system which fits the needs of your family), size, warranty, and features said panel includes, plus the installation of that panel. If you are a DIY'er, do you know how to color balance and add your inputs? Are you hooking up a separate audio system (because we all know that the factory speakers tend to be awful)? Do you need three or four remotes to work your TV? Are you satisfied with a big black and grey rectangle hanging on your wall…all the time?
A two piece projection system typically includes the installation of a projector on the ceiling (or perhaps recessed in a lift), but the plethora of screen models and projection surfaces available allow you to be infinitely creative with your screen install. If you are contemplating a dedicated home theater or media room, chances are that you will install a fixed frame screen. It will be the focus of your room, and it will dwarf the size of currently available flat panels. If you are mounting the screen in a multi-purpose space, you can decide to hide the technology when not in use (no more black rectangle on the wall) or leave it visible for everyone to admire. You're not forced to mount the screen above the fireplace because it's the only flat wall in the room, nor do you have to use an articulating mount so that everyone has the opportunity to view the screen (because we know the viewing angles on these panels is limited). We can recess the projection screen in the ceiling or wall mount behind that decorative beam in the ceiling, finding the perfect spot for everyone to view a great image.
And let's talk size! 90" flat panels are available, but they are pricey! I found the Samsung 85" and LG 84" on sale today for $9999 MSRP. Are you truly able to install a panel this size by yourself? Is your wall built to support the weight?
The argument for a flat panel is not as straightforward as it seems.
I'm pretty confident that you could install a two piece system for around the same cost … and get a much larger screen! Flat panels do tend to be brighter in high ambient light situations, but that brightness comes at the cost of decreased contrast. There are screen surfaces available today, like Draper's TecVision XH900X and MS1000X Greys, that will enhance contrast and reject ambient light, making projection an option where perhaps it wouldn't have worked before. These surfaces are 4K ready and are ISF certified—no color balance necessary! Unlike other ambient light rejecting screens, the TecVision surfaces are available on manual, motorized, fixed, and even portable screen models.
Both flat panel TVs and projection screens have a place in our homes. However, don't dismiss projection as too complicated or too expensive, or assume that flat panels will be inexpensive and easy. You might be surprised...
Of: Amy Madden
Source: http://blog.draperinc.com/2015/07/projection-versus-flatscreens/
Tags: Interior Design
---
Check out this parking booth installed in the parking lot at the Warhol Museum. The booth was painted with blue polyurethane paint at the factory and was later wrapped with custom signage to match the infamous "Brillo" art piece by Andy Warhol.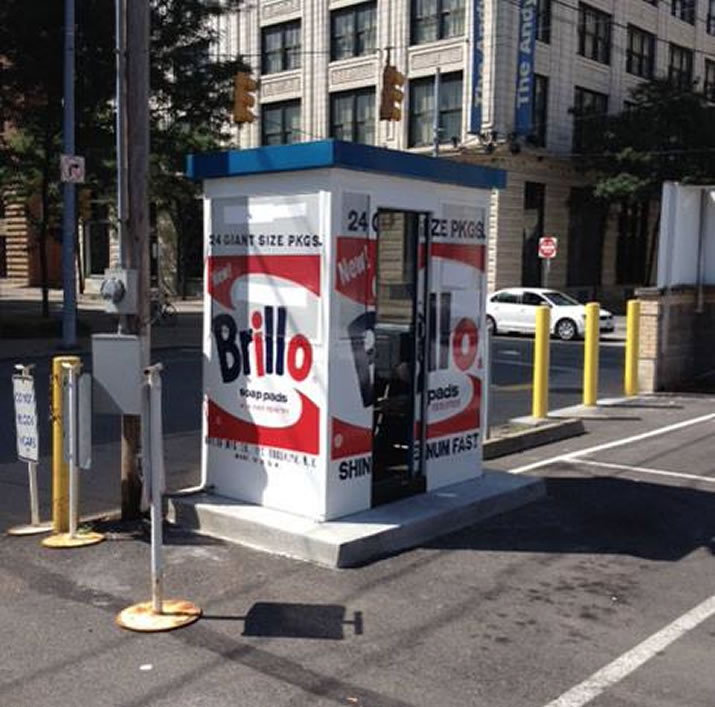 This major parking operator in Pennsylvania manages locations all over the downtown areas in Pittsburgh. This booths is a two door Par-Kut Model #64, our 4′ x 6′ standard welded steel booth. Each door is modified to include a vertical sliding transaction window plus a pad lock hasp. Further options include quad outlets (4), heavy duty heater, and 3′ x 6″ canopy overhang with rain water drain pipe. The booth was painted with blue polyurethane paint at the factory and was later wrapped with custom signage to match the infamous "Brillo" art piece by Andy Warhol since this booth was installed in the parking lot at the Warhol Museum.
Company: Par-Kut International, Inc.
Source: http://www.parkut.com/booths/applications/parking-booths/
Tags: Exterior Design | Security