architecture - engineering - construction

Furniture
---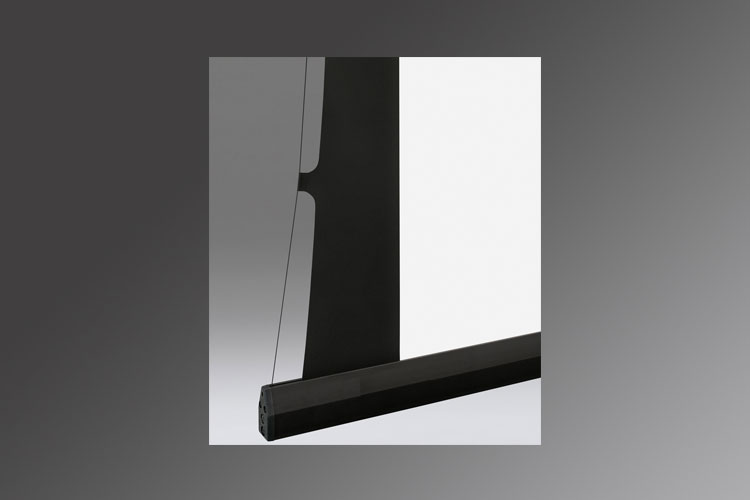 Who knew a series of small tabs could be so important to having a beautiful picture, and a durable product?
One of the most important elements of creating the ultimate projected image is having the flattest viewing surface possible. Great contrast, brightness, and vivid and correct colors are important, but without a perfectly flat surface those attributes of a great picture don't matter.
Fixed frame projection screens are one way to ensure the flattest viewing surface possible. Not everyone wants a huge screen hanging on the wall all the time, though, so they need a motorized screen. With motorized screens, however, the problem is how to keep the surface taut from the sides.
That's where Draper's innovative tab tensioning system is so important. A tab tensioning system uses a very thin cord running down each side of the screen through tabs, attached to the roller at the top and the dowel at the bottom. The cords are tightened, creating a flat viewing surface.
Most other manufacturers use adhesive to attach these tabs. This can lead to problems when the constant tension proves too much for the adhesive to handle, and it give way, creating "popped" tabs.
With Draper, you never have to worry about "popped" tabs. Here's why.
All of our tab tensioned screen surfaces—including the tabs—are cut on Computer Numerical Control (CNC) cutting tables, which means every cut is made with digital precision. CNC represents the highest level of precision available in the manufacturing process.
The tabs are then folded to the backside of the screen and Radio Frequency (RF) welded. In this RF heat sealing (AKA dielectric sealing) process, the tabs are folded back and placed between two dies (electrodes). The RF produces heat by exciting the molecules to the point that they melt and create the bond. We use the same technology to create seamed projection screens. The strength of the seal is determined by three factors-
Sealing current (radio frequency power)
Sealing time
Pressure
The result is a much stronger tab, with no possibility of separation, as the tab and surface are fused into a single layer of material. In-house laboratory testing of our tabs shows that this RF seal is in most cases stronger than the material itself.
Our tab tensioning system is also nicer looking. Making a tab tensioned surface in this manner eliminates the puckering that can characterized the edges of tab tensioned screens made using adhesives.
When we introduced this new system several years ago, it represented a unique and significant improvement in tab tensioned screen design. It still does. We were so confident of our system that we decided to warrant all Draper tab tensioned screens against tab separation for five years from date of manufacture. We still do.
Click here to find the perfect tab tensioned projection solution for your next project. Whatever model you choose, the perfectly flat surface will create the perfect image you want, and for a long time to come.
Company: Draper, Inc.
Product: Projection Screens
Of: Terry Coffey
Source: http://blog.draperinc.com/2017/07/flat-viewing-surface/
Tags: Audio Visual | Color | Furniture | Interior Design | Lighting | Office
---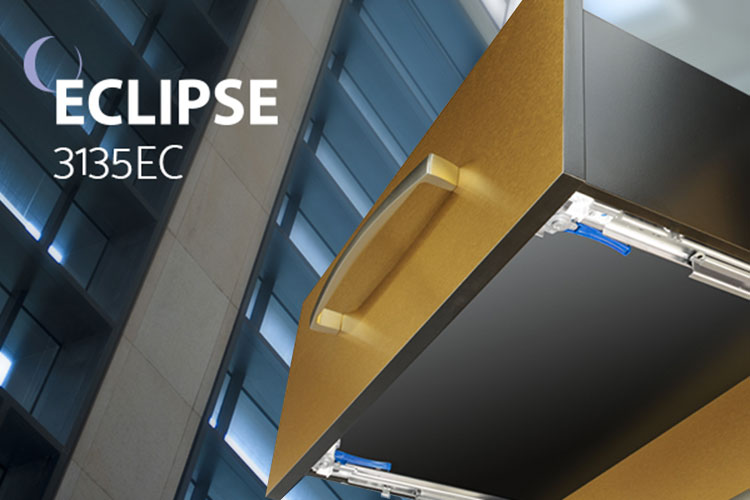 The 3135EC Eclipse is here! We re-engineered this undermount slide with a series of changes to offer premium performance. We've made a series of changes to this slide to make a big difference in the overall performance of this fully-concealed undermount slide.
Equipped with soft–close functionality, these slides won't bounce back even when you slam them. Say you find yourself in a rush to get to work and you slam the drawer. Hard. Harder than you would if you weren't in a rush.
With the 3135EC, you don't have to worry about the contents inside getting thrashed around. The 3135EC's soft-close action brings drawers to a gentle close every time. And we mean every time.
But how have we achieved this soft-close feature?
We've added an internal fluid dampener that catches the drawer in the last two inches and brings it to a gentle close over and over again. This feature also reduces the envelope of the slide. All of this with just 4.8 lbs. of pull force. Talk about easy!
When you open this drawer, you'll notice how effortless it is to open it. That effortlessness is thanks to new lower spacer clips. These clips now carry additional ball bearings that help provide extra lateral support, reducing migration.
The 3135EC slide is great for retail display cabinets because of how easy it is to conceal. This slide will allow you to keep a drawer in an open position and have no visible functional hardware.
Additional features include a front lever disconnect for easy drawer removal and improved full extension. And, like many Accuride products, the 3135EC is manufactured in compliance with the Restriction of Hazardous Substances (RoHS) Directive.
Visit 3135EC Product Information Page
Company: Accuride International
Product: Medium Duty Slides » 3135EC Eclipse Easy-Close
Of: Claudia Tuttle
Source: https://www.accuride.com/blog/news/3135ec-eclipse-undermount-slide/
Tags: Furniture | Interior Design | Metal
---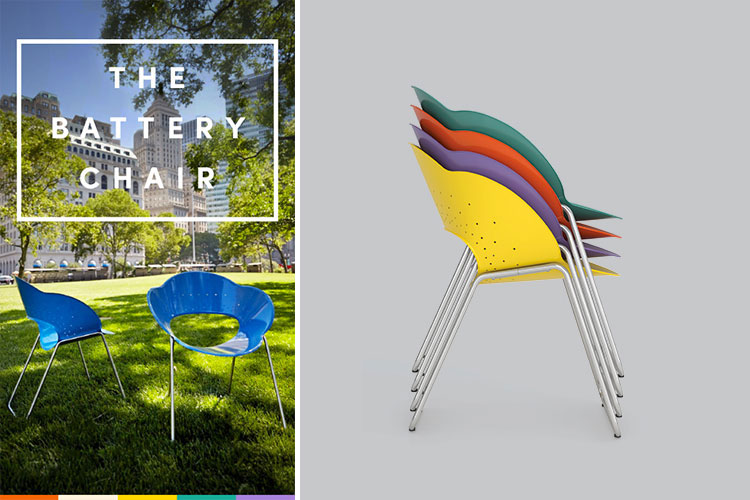 The Battery Oval
In June 2016, the Battery Conservancy of New York City proudly cut the ribbon and opened the Battery Oval; the revitalized grand lawn in The Battery (formerly Battery Park), one of Manhattan's most historic public spaces. The Oval's new signature outdoor furniture was also debuted. Formed into the shape of a blooming flower, hundreds of blue Battery Chairs filled the Oval that day.
Manufactured by Maglin Site Furniture, the Battery Chair was unlike typical New York City outdoor seating. These chairs were moveable, stackable and suitable for people of all abilities. Visitors to the park could easily pick up and reposition a chair anywhere within the Oval. The moveable chairs gave park visitors a chance to create their own outdoor space within the country's most heavily populated city.
The Past
For hundreds of years The Battery played an important role in the growth of New York City, and the United States. In fact, The Battery was the country's first immigrant receiving center, pre-dating Ellis Island and the Statue of Liberty. But over the years the historic space had fallen into disrepair. "(T)his park was not a destination; it was the bleak area you hurried through to get to the ferries going to the Statue of Liberty and Ellis and Staten Islands.1 In 1994 things started to change for The Battery. Warrie Price, a veteran of New York City's government and community planning boards, founded The Battery Conservancy; a not–for–profit educational corporation to rebuild and revitalize The Battery.
Price stated, "I was drawn to The Battery because it is the first or second impression people around the world have of New York City. This is a birthplace park—the park land most continuously in use in all of the five boroughs.2 The Battery was on its way to becoming a newly invigorated and sustainable public space in Lower Manhattan.
The Battery Contest
Four years before the Battery Chair's debut, the Battery Conservancy put a call out to designers across the Americas to "Draw Up A Chair." The contest challenged them to "Design an iconic moveable outdoor seat for The Battery." The chair was going to be a major element in The Battery's journey to becoming an outdoor space where "Downtown will come to rest, eat, and enjoy live performances.3 Nearly 700 submissions to the "Draw Up A Chair" challenge arrived from across North and South America. The entries were narrowed down to 50, and then to 5. The public was invited to a "See, Sit and Select" exhibit within the park, to give feedback on the five chair prototypes. Finally, an internationally renowned jury, with members from the Museum of Modern Art and the New York Times, chose Canadian designer Andrew Jones' submission.
Jones' design for the iconic chair was inspired by "imagining how a field of chairs could poetically respond to the lawn of the Battery Oval, a major meeting ground for Lower Manhattan. Using a single chair in repetition, the view across the Battery Oval is transformed by the whimsical suggestion of sun-loving flowers.4 About the chair, Warrie Price proudly stated, "The Battery Conservancy is known for design excellence. This award-winning design helps us build the brand for The Battery."
Maglin's Role
With the design in place, Maglin Site Furniture was brought on to manufacture the Battery's iconic blue chairs. Price stated, "We have Maglin as the manufacturer, known for extraordinarily well designed and well-constructed furniture."
Working closely with Jones, the Maglin team efficiently streamlined the design for production purposes. "At first glance the chair may appear as more of an ornamental piece," said Aaron Dawson, Maglin's Director of Manufacturing, "but the slightly reclined seat and single piece stainless steel frame form an extremely comfortable and durable product." A total of 300 chairs were built in three shades of blue exclusive to The Battery.
Once the Oval chairs were complete, Maglin Site Furniture moved forward as the sole manufacturer and distributor of the Battery Chair. Keeping the signature shades of blue exclusive to the park, Maglin introduced their Battery line in a variety of colors: orange, green, purple, yellow and ivory. The line was expanded to include Café and Lounge Tables that kept with Jones' design properties. Upon introducing the collection, Ian McAskile, president and founder of Maglin Site Furniture, stated, "The Battery Collection is not only a new line for Maglin, it is a fresh new approach to thinking about the ways that color and ornamental aspects can bring a touch of playfulness to the whole (site furniture) industry."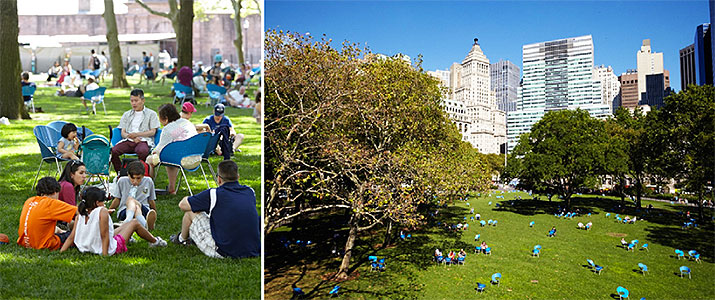 The Future
Since its launch, the story of the Battery Collection has captured the attention of the design community. About the journey from concept to completion, Warrie Price says, "For Maglin and ourselves the focus was on bringing great design to the public, to use freely and openly in a public park – and the fact that now it is offered to others is thrilling. It belongs in terraces, balconies, backyards, front yards, (and) sunrooms.5
By satisfying the needs of New York City's Battery Oval, the Battery Chair proved its worth in any public environment. From campuses to courtyards, the clean design and solid construction of the Battery Collection lends itself to an endless variety of styles and spaces.
For more information on The Battery Conservancy and Battery Oval, visit http://www.thebattery.org/
For more information on Maglin's Battery Collection visit http://www.maglin.com/products/battery/batterycollection.html
1 https://womensvoicesforchange.org/warrie-price-a-woman-whos-made-a-difference.htm
2 https://womensvoicesforchange.org/warrie-price-a-woman-whos-made-a-difference.htm
3 http://www.thebattery.org/wp-content/uploads/2014/11/TBC-RFEI-Battery-Chair.pdf
4 http://www.thebattery.org/about-fleurt/
5 Maglin Site Furniture. (2016). Introducing The Battery Collection: Maglin Site Furniture launches exclusive competition-winning design from famed Manhattan park [Press Release]
Company: Maglin Site Furniture
Product: The Battery Collection
Source: http://www.maglin.com/products/battery/batterycollection.html
Tags: Color | Design | Furniture
---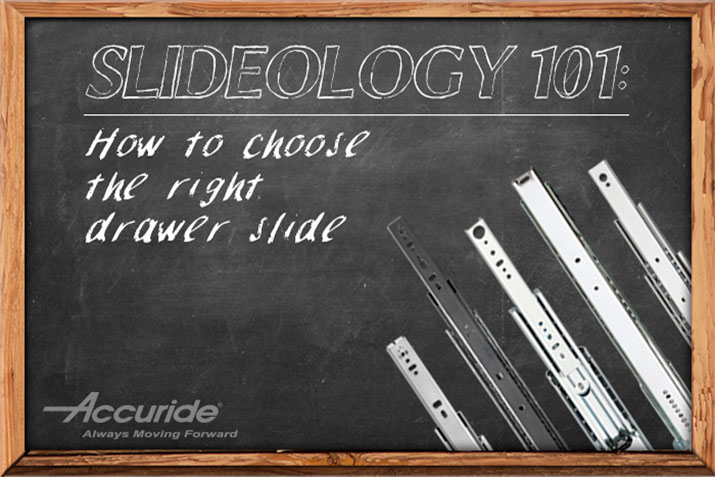 A good drawer slide means the difference of years of headaches versus years of convenience. Unless you have a lifetime's supply of aspirin, you want the latter. But what goes into a good drawer slide and how do you figure the right one for your need?
Here's a brief guide to help you understand the basics of a drawer slide and how to choose the right one for your application.
The Basics
Accuride manufactures ball bearing slides. These slides feature lubricated bearings that move drawers and the like in a linear direction, allowing smooth opening and closing action. The bearings, secured within metal ball retainers, fit between the members.
A simple drawer slide has two members: a drawer (inner) member that attaches to the side of a drawer box, and a cabinet (outer) member that attaches to the cabinet's inner wall surface, within the drawer opening. Only one of the slide members (drawer) moves when opening a drawer.
A more complex slide structure will include three members, with an intermediate member located between the cabinet and drawer members. Only the drawer and intermediate members move; while the cabinet member remains fixed to its location within the cabinet structure.
Additionally, slides can come in two arrangements: side mount and undermount. Most Accuride drawer slides are side mount, meaning they're mounted on the side of the drawer and within the cabinet structure. A undermount slide, such as the 3135EC Eclipse, mounts in a position that allows a specially designed drawer to sit on top of the suspension, unlike a side mount slide. An undermount slide is often used where it's desirable to conceal the drawer slide components from view.
Ball bearing drawer slides are also known as rails, runners, and sliders, but they are not the same as glides. A glide uses thin rails on both mounting surfaces, and include plastic wheels on the drawer side allowing movement. Glides are often found on discount furniture; while inexpensive, their movement is much less smooth and the rails are prone to misalignment.
Lengths and Extensions
Accuride slides come in many lengths, from as little as 6 in. to as long as 60 in. Length refers to the total length of the slide assembly, when collapsed in the closed position.
How far a slide extends or moves, is called extension or travel. A simple slide that uses just two members, an inner and an outer, generally provides ¾ (or partial) travel. That means the moving drawer member travels at ¾, or 75%, of the slide's length. The Accuride 2132 is an example of a ¾-travel slide, where an 18-in. slide has approximately 13 in. of travel. These types of slides are common in residential uses, such as in kitchen cabinetry, or in office furniture, where direct full access to the drawer's contents is not desired.
Three-member slides have two moving components, the drawer and intermediate members. In combination, these members tend to extend either the full (100%) length of the drawer slide assembly or even beyond that. Those that exceed the length are called "over-travel" slides because they travel over 100% of the length of the drawer slide assembly. Full-extension slides, such as the Accuride 3832E Classic, are useful if you need easy access to contents, as with kitchen utensil drawers, and point of sale trays. Over-travel slides, such as the Accuride 3834E, which has 1 in. of over-travel, are ideal when additional drawer access is needed, requiring the drawer to be opened beyond the front face of the cabinet.
There are also two-way travel slides, such as the Accuride 0363, which can extend the full-length, of the slide, in either direction. These are useful for kitchen islands or entertainment bars, where direct access is needed on either side of the unit.
With that said, let's look at some factors that can help you choose the right slide for your application.
Load Capacities
Determine how much weight your application is likely to see when in use. Accuride slides' load capacities fall into three ranges: light-, medium-, and heavy-duty. A light-duty slide, such as the Accuride 2132, handles loads up to 75 lbs. Light-duty applications often include kitchen and office drawers. A medium-duty slide, such as the Accuride 3832E Classic, handles loads up to 100 lbs., while an Accuride 4032 is a rated up to 150 lbs. Medium-duty applications include larger kitchen drawers and office furniture. Load capacities for some of Accuride's heavy-duty drawer slides can reach up to 1,300 lbs. The Accuride 9301E is an example of a heavy-duty slide, which has a load rating of up to 600 lbs. Heavy-duty applications include pull-out trays on emergency or recreational vehicles, ATM machines, and utility/service trucks.
Disconnect versus Non-Disconnect*
Decide if you want your drawer to be removable from the cabinet structure. If so, choose a slide with a disconnect feature that lets you separate the drawer member from the cabinet, or intermediate member, allowing the removal of the drawer (to clean for example). There are slides with rail disconnect features (such as the Accuride 4032), which allow rails that are attached to the sides of drawers, to be released and lifted off the corresponding drawer members.
A disconnect feature is useful for furniture manufacturers with multiple assembly lines. One line may assemble hardware to drawers, while another may assemble hardware to cabinets. With a disconnect slide, manufacturers can simply mount the separate members in the assembly phases and then join them together in the final stage. Connecting a drawer member with a cabinet member can be as simple as align, engage and push closed.
Usually, you want to avoid a disconnect option with heavy-duty applications, such as those utilizing an Accuride 9301E. With most heavy-duty applications, it's impractical (and a safety concern) to remove a fully loaded drawer. Regardless of whether you use a disconnect feature with light- or medium-duty slide, consider whether you can safely handle the drawer and its contents before disconnecting the members.
* Read more about Accuride disconnect features from our first installment of Slideology:101 – The Art of Disconnect
Locks & Detents
Do you want your drawer to be secured in position? In that case, you may want your slide to include a detent or a locking feature. There are two types of drawer slide detents: detent-in and detent-out.
A detent-in slide has an engagement feature formed on the drawer member and a rubber-like molding secured at the rear of the cabinet member. These two features cooperate to frictionally hold a closed drawer in that position, preventing the drawer from drifting open. You can overcome the detent with a pull on the drawer when opening.
A detent-out slide includes cooperating components that holds the slide in the fully extended position, until you are ready to retract the drawer or a working platform, such as a keyboard tray. Deactivating a detent-out slide requires a simple "bump" of the extended unit to release the engagement features before pushing it back inside the cabinet.
There are two types of drawer slide locking features: lock-in or lock-out. Both features include a latching mechanism that secures a drawer open or closed. You can disengage, or unlock, the drawer by pressing a latch or lever (depends on the model). Some slides are just lock-out equipped, while a slide such as the Accuride 9308E has both features, ideal for mobile applications such as emergency vehicles.
Special Features
Additionally, slides can come with features that make opening or closing a drawer more convenient. These include:
Easy-Close
Self-Close
Touch Release
An Easy-Close slide includes a closing device, equipped with a damping cylinder, and cooperating springs that engages with the drawer member and assists the final inches of the drawer closing action. Easy-Close (sometimes-called Soft-Close) slides provide assurance that the drawer will close quietly and smoothly every time.
A Self-Close slide, also includes a closing device, with springs, but does not include a damping cylinder. The engagement of the drawer member is similar, and once engaged with the device, the drawer quickly closes at the last inches of closing distance. Self-close slides are noisier than Easy-Close slides, and sometimes are used as "stay-closed" devices for mobile cart applications.
A Touch Release slide allows opening of the drawer, without the need for a drawer pull. Activation of a Touch Release slide like the Accuride 3832ETR, is accomplished by simply pressing against the drawer front, which releases a spring activated device to "spring" the drawer out of the cabinet approximately 2 in. Closing is just a matter of pushing the drawer closed completely, which resets the device for the next opening activity.
Choice of Finish
Accuride slides come in three coated finishes placed over carbon steel slide members: zinc, black electroplate, or white electro-coat. Some slides utilize stainless steel or aluminum material as needed for specific applications. Zinc is most common plating finish for Accuride; it features an environmentally friendly base layer of zinc, with either a clear or a black chromate coating over the top. A clear zinc coating (the most common coating used by Accuride) resists moderate levels of corrosion, typically for slides used in non-corrosive environments, like office furniture. Electro-white (a paint) or black chromate-coated slides offer greater corrosion resistance that is eight-times that of clear zinc. Stainless steel and aluminum material slides offer even greater corrosion-resistant but are available only on select models.
Conclusion
This brief guide should shed some more light on what makes an Accuride slide and how it can best serve your needs. You can browse our vast selection of movement solutions at www.accuride.com.
Company: Accuride International
Source: https://www.accuride.com/blog/news/choosing-right-drawer-slide-slideology/
Tags: Furniture | Interior Design
---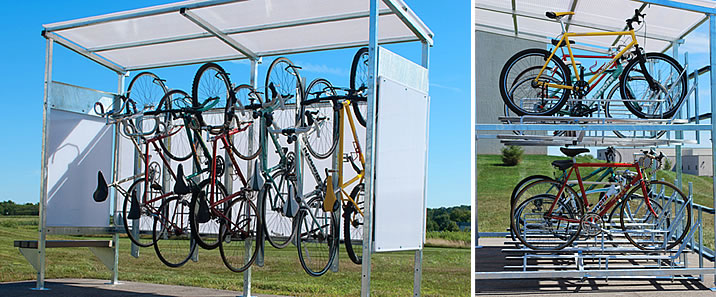 The new Bike Sheds offer protection from the elements and versatility in their many applications. Whether you need covered bike parking or a place to sit and wait for the bus, these new sheds can be customized to complete your vision.
Bike Sheds are constructed of 2 X 2" steel leg tubing for the base, and a 16MM thick polycarbonate opal color top. The bike shed has many additional options available, including optional side panels and various bike parking combinations.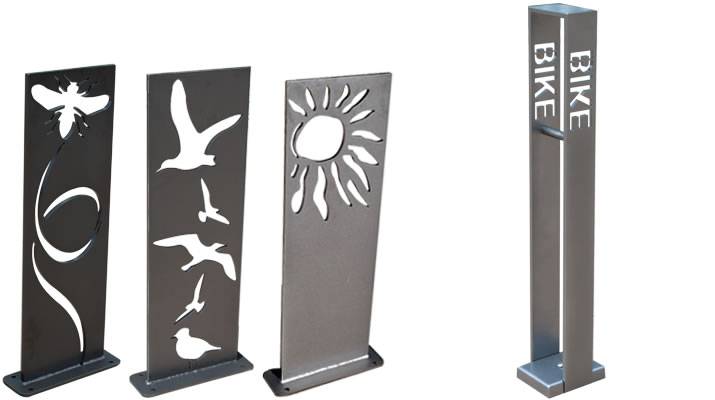 The Shadow™ Rack plays on the natural elements of its environment. The sculpted steel creates silhouettes on the pavement, while providing secure parking for your bike.
New! Pierce™ Rack is not your ordinary bike rack. This edgy art piece doubles as a functional and secure bike parking solution.

Whether you are seeking to transform your environment, promote your organization, or just express your creativity, our custom bicycle racks are your best resource. We will work with your idea, your sketch, or your blueprint to bring your vision to life.
Company: Madrax Bike Racks
Product: Bike Shelters
Source: http://www.madrax.com
Tags: Design | Furniture | Landscape Design
---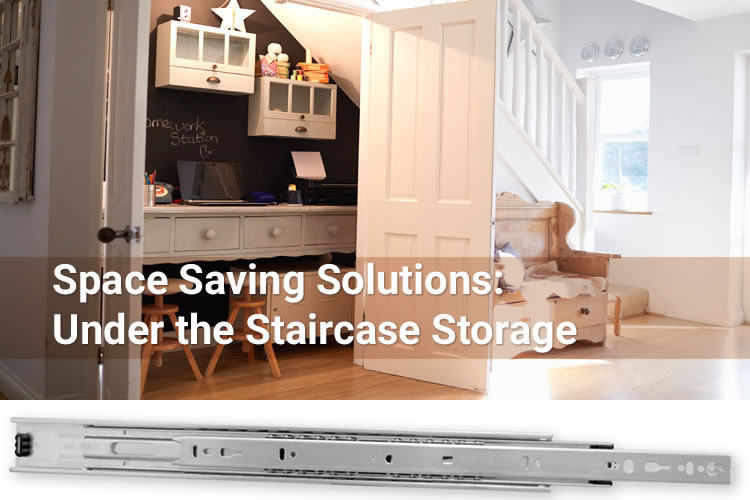 3832E full extension slides are suitable for drawers and pull-out shelves enhanced for better strength and more reliable movement.
Accuride Drawer Slides Maximizing Space
Micro living has been gaining a mainstream following throughout North America lately. Though it's been the European norm for ages, many North Americans are making the choice to sacrifice the comfort of a large living space. Whatever the reason, micro living or living in small spaces doesn't mean you have to be limited when it comes to your storage space. Micro-living simply requires innovative use of space—and it doesn't get much more innovative than under-stair storage.
The brilliance of Touchwood Designs' under-staircase solution was creating a functional storage space. A pair of full extension drawer slides is mounted at the base of the unit and a single slide is mounted at the top to stabilize and guide the movement of the pullout units. These unique storage drawers can also have enhanced features such as Touch Release (held closed until the front is pressed open) and Self-Close (closes drawers and keeps them closed).
Touch Release Mechanism
Self-Close Mechanism
Touchwood Designs founder Paul O'Regan—who has been a successful carpenter in Ireland since 1992—claims the challenge was not only the length of telescopic drawer runners but also the weight.
"The best solution for my initial under-staircase storage drawers was the 5321SC self-close heavy-duty slide."
Paul stated. "They're load rated up to 120kg and provide full-extension." The 5321SC slide solved the fitting and load problems, plus it also prevented the units from creeping out as the self-close mechanism holds the units closed. On some of the larger units, Paul utilized the heavy-duty 9301 runners.
"Accuride slides greatly improve the quality and performance of my under-staircase storage system"
Paul said. "The product provides confidence and peace of mind that the runners will work time and time again."
Accuride has a number of recommended movement solutions for just these kinds of applications. Take our newly enhanced 3800 slide family for example. The addition of longer ball retainers and added ball bearings make these slides smoother and more resilient than before. Also, a face-frame mounting hole has been added to make installation easier. Perfect for your next staircase storage space project.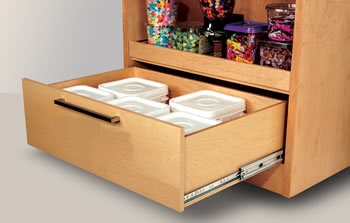 What about wider drawer applications to accommodate dry goods and cookware? Accuride has an answer for that, too—the 7957 Full Extension Slide. It's a great heavy-duty alternative that can handle drawers up to 42" wide in a .75" cross-section slide space and has a load rating of 350 lbs.
Whatever your storage application, visit our website to learn more. Together, we'll find just the right solution to ensure your project is a sliding success.
Company: Accuride International
Product: Heavy Duty Slides » 7957
Source: https://www.accuride.com/blog/news/space-saving-ideas-under-staircase-storage-slides/
Tags: Furniture | Interior Design
---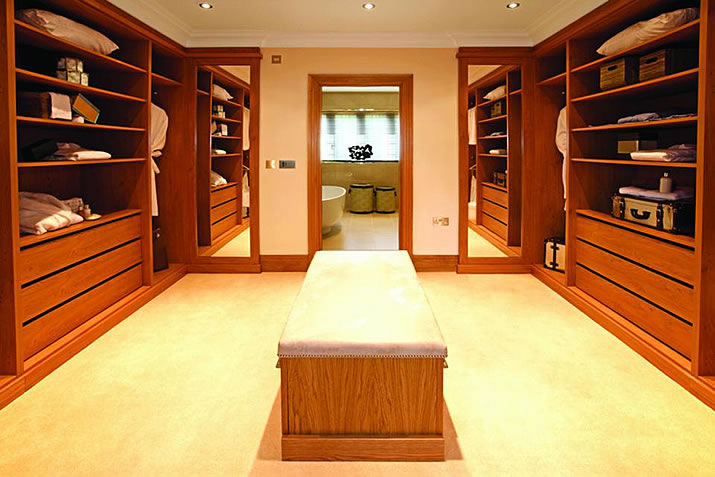 Beautiful cabinetry in high-end closets no longer has to be marred by ugly, burglar-enticing locks. Thanks to an innovative smart-locking system invented for cabinetry in upscale commercial environments, luxury homeowners can attractively protect their valuables in closets and cabinets.
Jerry Wilson, president of Florida-based Bespoke Design & Consulting, was seeking an effective but unobtrusive locking system to integrate into custom furnishings in walk-in closets in an addition to the master wing of a high-end South Florida home.
"The homeowners needed commercial-strength security to protect the husband's watch collection and the wife's jewelry, but wanted to avoid keyholes because they alert thieves to valuable items, are unsightly, and require finding the right key," Wilson says.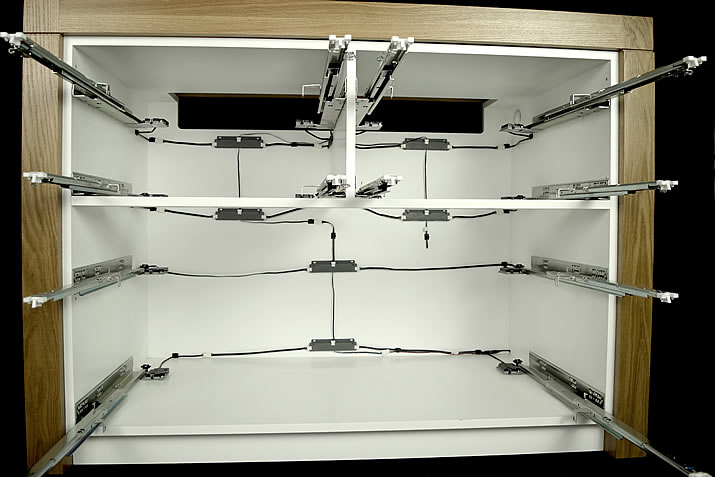 Inside the installation of the Senseon RFID-powered system
The Senseon Secure Access Control System, an RFID-powered system that Wilson had seen demonstrated at a trade show, proved to be the perfect solution. "Senseon enhances the safety of luxury goods and gives homeowners peace of mind," he says. "In addition, the plug-and-play system was easy to install, and Senseon customer support was great in helping me coordinate with the cabinetmaker, electrician and installer."
"Everything is completely invisible," Wilson notes. E-locks were installed on the side of a cabinet in the husband's closet, as well as under the top of a velvet-lined, multi-drawered jewelry case in the wife's closet.
"They love the new system," Wilson adds. "It's state-of-the-art, they know their valuables are safe, and they don't have to fumble around for a key or hide a key. They use a smart card for access."
Wilson, whose firm provides upscale residential interior design and general contracting, said he is incorporating Senseon into all projects requiring locks in closets or cabinets.
Editor's Note: Sean Jordan is a Business Development Specialist for Senseon.
Company: Accuride International
Of: Sean Jordan
Source: http://www.woodworkingnetwork.com/closets/how-create-thief-proof-closets
Tags: Furniture | Interior Design | Security
---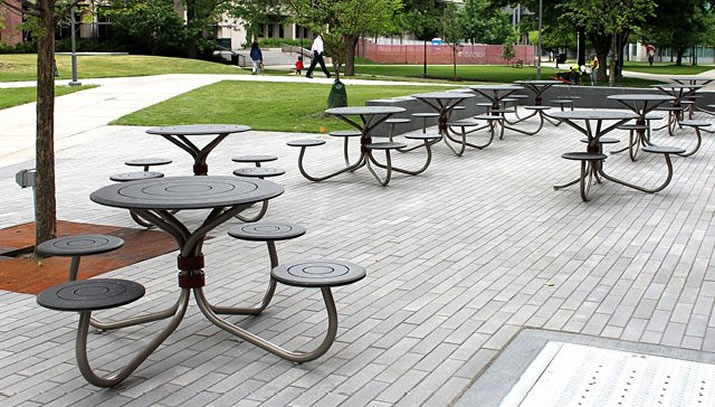 Photo credit: Maglin Site Furniture
From the first formal lectures held in medieval universities, to the online mobile classrooms of today, learning spaces are always growing to meet the needs of society; a study lounge can be a classroom; a cafeteria can become a library. Students can work from almost any location, on or off campus. Educational facilities strive to keep students engaged with their campus, and are embracing the notion of flexible learning environments. Single purpose spaces are becoming obsolete, and many facilities have moved closer to building comfortable and versatile environments that foster collaboration for their students.
An example of a school that has taken student requirements to heart is the University of Chicago. "They recognized the need to redesign their learning environments to meet the needs of today's students by creating learning spaces outside the walls of the lecture hall, library cubicles, and classrooms."i The flexible and customizable products that Maglin Site Furniture provides have played a part in helping the University reach this goal. "We needed specially designed cluster seating for a project, and I just wasn't finding what I wanted in the market, so I called (Maglin Sales Manager) Jill Roberts and we began working on the design," said Richard Bumstead, Associate Director for Campus Environment at the University of Chicago. "The final product ended up being a home run! It's fun, innovative, and works so well in the location."
Maglin provided custom versions of their MLPT1100B-W cluster seating to "jazz up" a prominent location in the heart of the University of Chicago campus. "We did a twist on the standard model and literally twisted the frame and used HDPC (high density paper composite) to create circular table tops and seats," explains Jill Roberts. ADA compliance was also required, so a matching 3-seat cluster unit was created. When asked why he wanted to work with Maglin on this project, Bumstead said, "The Maglin team is great fun to work with — the entire group is engaged in the work they do and more than willing to take a look at all requests for special orders or customization of products."
"The Maglin team is great fun to work with"
With regard to working on school campuses, Roberts stated, "Maglin loves to be involved in education projects! They give us the opportunity to assist in the creation of spaces and overall environments. Campuses have changed over time. Students and learning facilities don't just demand seating and trash collection anymore — they look for innovative spaces that promote collaboration, engagement, and community."
In order to keep up in today's mobile world, learning spaces must be able to adapt quickly and easily. The flexibility of Maglin Site Furniture's products, as well as their readiness to take on special projects, makes Maglin the right partner for your education plans.
Company: Maglin Site Furniture
Product: Tables and Seating
Of: Article originally written for and distributed by Maglin Site Furniture
Source: https://www.linkedin.com/pulse/evolution-educational-landscape-camilla-hansen
Tags: Exterior Design | Furniture | Landscape Design
---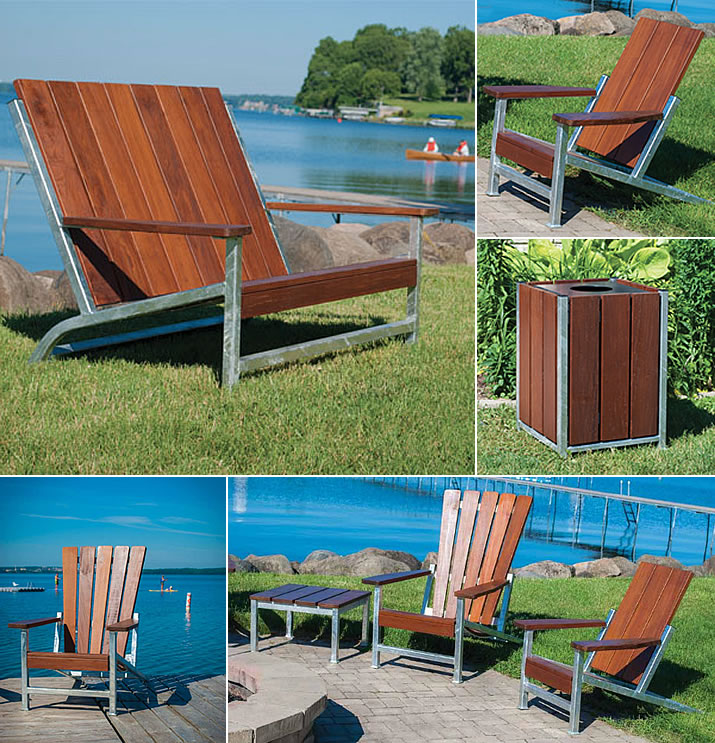 The Monona bench is perfect for any relaxed outdoor space. It features top-notch materials and has a fully welded steel tubular frame. The Monona™ bench seating materials features Accoya, Ipe Wood, and Recycled Plastic profiles. The Steel frame can be finished with powder coat paint or hot dip galvanize.
The new Monona chair is perfect for any relaxed outdoor space. It features top-notch materials and has a fully welded steel tubular frame. The Monona™ chair seating materials features Accoya, Ipe Wood, and Recycled Plastic profiles. The Steel frame can be finished with powder coat paint or hot dip galvanize.
The Monona youth chair is perfect for any relaxed outdoor space. It features top-notch materials and has a fully welded steel tubular frame. The Monona™ youth chair seating materials features Accoya, Ipe Wood, and Recycled Plastic profiles. The Steel frame can be finished with powder coat paint or hot dip galvanize.
The Monona™ litter receptacles are durable with a fresh clean design. Relax and let Monona™ receptacles do your dirty work. Monona receptacles are constructed with the following materials; 1 X 6" wood profiles and a steel plate all welded frame.
Architects/Engineers
Whether your area of expertise is residential, commercial, industrial, or landscape architecture or engineering, Thomas Steele products offer you creative, innovative, site furnishing solutions to meet your clients' needs. Our six different family styles are the perfect complement to any setting. We can help you provide the best possible combinations to suit your and your clients' requirements. Spending a few minutes on our web site can save you hours of research. Cut your specification time while getting site amenities that set the standard for craftsmanship, durability, and aesthetics. Partner with Thomas Steele for site furnishings that reflect your vision.
Company: Thomas Steele
Product: Monona Series
Source: http://www.thomas-steele.com/
Tags: Exterior Design | Furniture | Landscape Design
---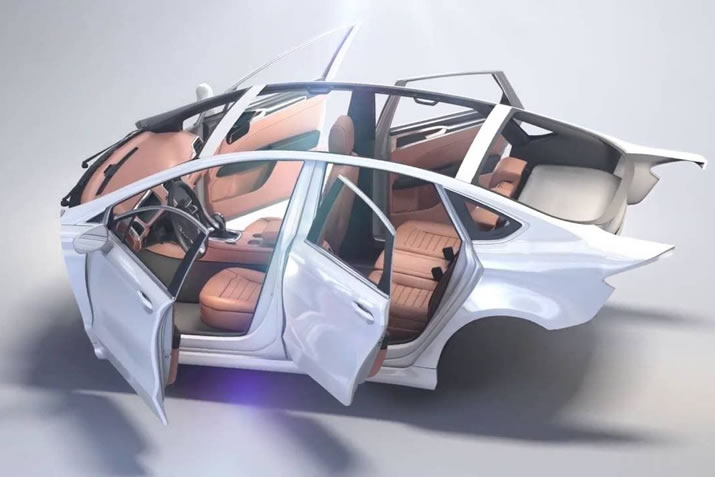 Accuride movement solutions can be found everywhere, but especially in automobiles. This video uses 3D modeling to show how those movement solutions are seamlessly applied into passenger vehicles. Accuride slide applications can be found in glove compartments, under-seat compartments, moveable armrests, and more.
Accuride International designs and manufactures precision ball-bearing drawer slides for industrial, commercial, or residential needs. All our slides are engineered in-house by our excellent R&D team so we can continue to develop innovative movement solutions.
GM • Nissan • Volvo • Mercedes-Benz • Skoda • Ford • BMW • Jaguar • and More
Accuride is a development partner and Tier 2 supplier of automotive and transportation sliding systems that are incorporated into millions of vehicles. We work closely with manufacturers, interior suppliers, and design and engineering specialists to develop solutions that enhance comfort, increase access, optimize space, and expand storage options. Applications are varied, including solutions such as:
Sliding armrests
Variable-height consoles
Seat cushion adjustment
Under-seat storage
Cargo trays
Loading platforms
Secured storage
Refined Functionality
Special features such as self-closing, soft-close, touch release, and electronic locking to control access add another layer of refinement to designs. Be sure to check out the automotive application solutions to find out more about the benefits Accuride products bring to designs.
Moving Interiors –Automotive Sliding Systems
See how Accuride slides can be used to add a sense of luxury throughout automotive interiors. Our slides stay secure even while in motion and hold up to daily use even in extreme conditions such as changes in temperature, vibration, and more.
Additional Automotive Solutions:
Company: Accuride International
Source: https://www.accuride.com/en-us/markets-innovation/automotive-transportation
Tags: Furniture | Interior Design
---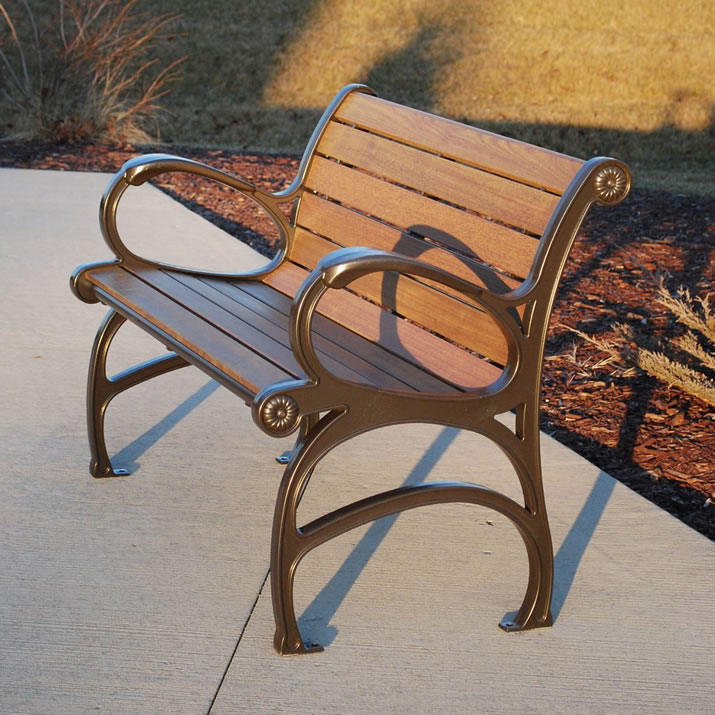 Isn't she a beauty?! Thomas Steele's Waldorf bench is a great and classic piece that we know you will love!
The new Waldorf bench is elegant with sensible function. It features top-notch materials and construction. The Waldorf™ bench frames are made of durable cast, and come with a wide variety of seating materials. The Waldorf™ bench seating materials feature 5/8" Diameter Steel Rod or ¼ x 1 ½" Steel Bar or 1 x 2 1/2 and 1 x 3 Board Profiles. The frame is constructed of 3 ½" Wide Cast. The benches are available in lengths of 2, 4, 5, 6, and 8 feet. The 8 foot bench has an optional center arm and leg. Seating material choices include Steel Rod, Horizontal Straps, Vertical Straps, Ipe Wood, and Recycled Plastic, with powder coat finish in a wide choice of colors.
Company: Thomas Steele
Product: Benches
Source: http://www.thomas-steele.com/ShopSiteFurnishings/Benches/tabid/212/ProductID/89/Default.aspx
Tags: Exterior Design | Furniture | Landscape Design
---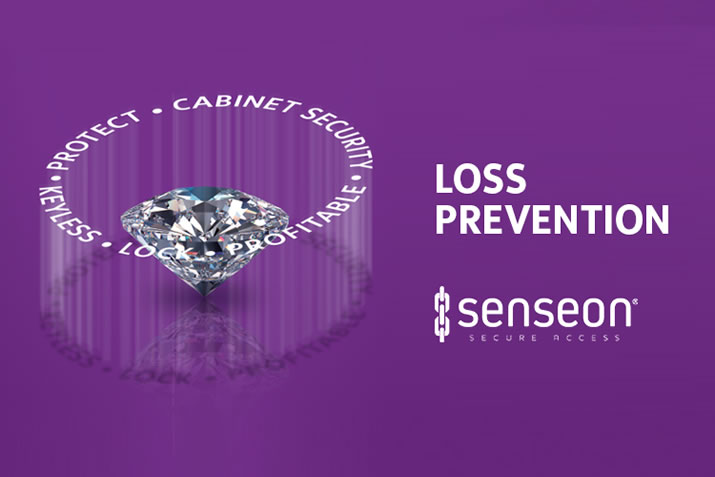 The season of giving is upon us, and with that comes an increase in sales–as well as an increase in shrinkage across the retail industry. Shrinkage is the loss of inventory often attributed to theft. That's especially so in the holiday season, as indicated by loss prevention specialist Ernie Deyle's holiday season forecast. As Deyle explains, the holiday season is a time when "people tend to rationalize immoral behavior like shoplifting. It's much easier to do so when a child's Christmas present is at stake rather than an extra bathing suit for the summer."
According to Deyle's research, shrinkage increases to about 38% during the holiday season from 22% the previous quarter. With that in mind, loss prevention managers and operations managers everywhere are constantly looking for solutions to reduce shrinkage and increase profit. Deyle's report advises retailers employ technology to stabilize inventory loss and ensure shelf availability while enhancing retail display security.
With how fast technology is advancing, it's no surprise that loss prevention technology is evolving at such an exponential rate. Even small convenience stores are capable of running facial recognition technology. According to Tyco Integrated Security's director of business development, Lee Pernice, "RFID is something else that is not new to retail, but it has come a long way in both cost and use cases."
How Senseon Can Help?
Senseon Secure Access is one of the ways RFID technology has evolved over the years. Senseon systems lock and unlock up to 15 doors or cabinet drawers simultaneously with the tap of an RFID card or fob. This inconspicuous, easy-to-install secure access system can be the solution to a wide array of retail shrinkage troubles.
Senseon Secure Access can be programmed to support up to 100 users, including five administrators. Employees thus have ready access to merchandise on the sales floor, rather than having to wait for a manager with a key to retrieve customer's items. In addition, a lost or missing key is no problem: an administrator can program or delete card/fob access instantly.
Loss prevention has the potential to move forward as a cost-saver and a time-saver for retailers across the world. With Senseon Secure Access retailers can be sure that all their inventory will be secure this busy shopping season.
For more information on how Senseon Secure Access System can be tailored to fit your needs, visit http://www.senseonsecure.com/ or call us at 800.688.8242.
Company: Accuride International
Product: Senseon Secure Access Control
Source: https://www.accuride.com/senseon/loss-prevention-retail-security-for-the-holidays/
Tags: Furniture | Interior Design | Security
---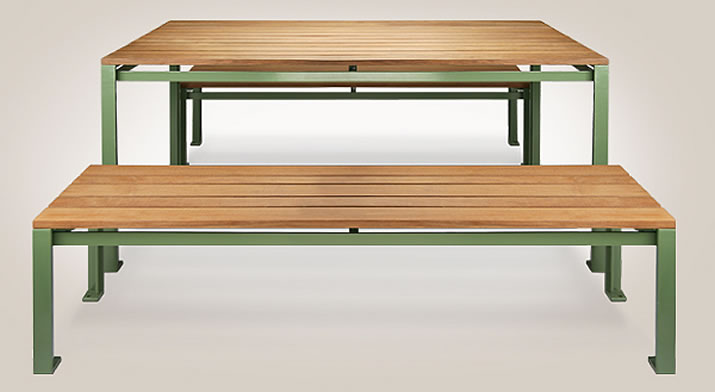 In the true spirit of the Reverie collection, Camille provides functionality with a minimalistic design aesthetic. Its slim profile, solid steel frame with exceptionally high recycled content, and use of genuine IPE wood slats, makes for sleek design, with longevity in mind.
The 31 in (787 mm) tall tables are available with either a 3 x 3 ft (.91 x .91 m), 4 x 3 ft (1.2 x .91 m), 6 x 3 ft (1.8 x .91 m) or 8 x 3 ft (2.4 x .91 m) rectangle table top. 8 ft (2.4 m) length includes center leg.
Backless bench is available in 2, 4, 6 or 8 ft (.61, 1.2, 1.8 or 2.4 m) length. 8 ft (2.4 m) length includes center leg.
Company: Victor Stanley
Source: http://www.victorstanley.com/product/camt/
Tags: Furniture | Landscape Design
---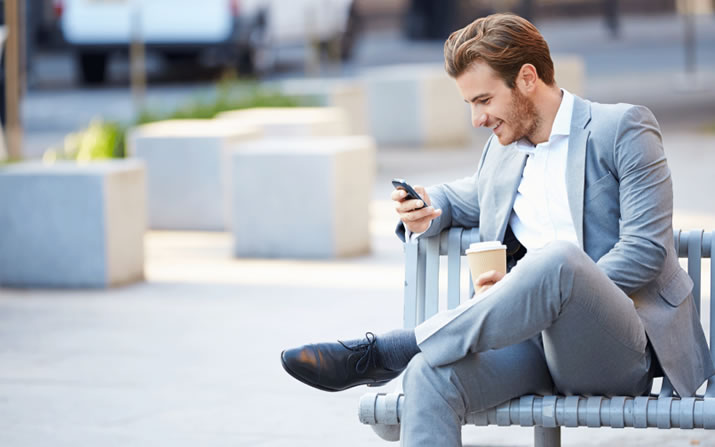 Durability, strength, appearance, and overall maintenance are some of the most important things to consider before purchasing just any outdoor commercial grade furnishings.
There is a difference between residential furniture and commercial furniture. Commercial site furnishings get a lot more wear and tear, and as a result need to be much stronger. After all, you could be held liable if something happens to one of your customers while using furniture at your place of business.
Commercial grade furnishings need to be strong enough to support all sizes of people. The last thing you want is for someone to fall and become injured due to an improperly made bench or chair.
Ask These Questions When Buying Commercial Grade Outdoor Furniture
1. How Durable Is It?
Quality commercial furniture should be highly durable. While a regular old plastic chair may last a few years in someone's backyard, it may not last more than a week at a commercial location. For one, it will get consistent use day in and day out. Secondly, people are much harder on commercial furniture than on their furniture at home. Commercial furniture must be prepared to take on constant hits, knocks and stains.
2. Is The Design Functional And Representative Of Your Clientele?
What age group does your establishment serve? A preschool is going to need different site furnishings than a retirement home or trendy restaurant. The outdoor furniture you purchase must align with the needs of your target audience. For instance, benches are available in different heights and sizes; some are backless while others offer additional back support.
Know all of your options and ask yourself: Which is going to be the most comfortable, safe and overall effective option for the people that'll use it most?
Do you want chairs attached to benches or welded into the ground? Or, do you prefer more portable options? If your business is located in an area with theft concerns, you may want to consider the attached option to help prevent potential criminal activity.
3. Is It Made From Recycled Materials?
Going green is on everyone's radar right now, which means you're in luck when it comes to finding quality commercial furnishings made from recycled materials. Our products are recyclable and they are made from recycled materials. Our darkest furnishings can be made from 100% post-consumer recycled materials. We value the American economy, which is why we manufacture all of our products right here in the States with a focus on eco-friendly and sustainable practices.
4. How Much Weight Can Furniture Withstand?
Commercial furniture must be able to withstand more weight than your typical residential furniture. It's always a good idea to inquire about weight limits to ensure there are no issues.
5. Is 5% Of Your Seating Wheelchair Accessible?
The Americans with Disabilities Act enforces the implementation of wheelchair and handicapped accessible facilities for all businesses. This important Act covers everything from movie theaters to restaurants to grocery stores. Regardless of business size or location, if it's in the US and open to the public, it must comply with the laws outlined by the ADA. This applies to restaurants, playgrounds, patios, picnic areas and so forth.
There are no "grandfather provisions" that can get existing facilities around these regulations, which includes doors, entrances, parking lots and many other aspects of your business, including fixed seating and tables.
If your business provides tables, benches or other seating that is affixed to the wall or floor, you must ensure that 5% are wheelchair accessible. If there are less than 20 tables provided, you must have at least one that is wheelchair accessible. One way to accomplish this is to use portable chairs that can be moved out of the way in exchange for a wheelchair.
A wheelchair-accessible table is no more than 34-inches tall and no shorter than 28-inches tall. The distance between the floor and the underside of the table must measure at least 27-inches. If you have multiple wheelchair-friendly site furnishings, they must be evenly distributed. It's illegal to segregate people with disabilities to one section of your establishment.
6. How Much Maintenance Will It Require?
Maintenance will vary based upon the materials used to craft outdoor furniture. Some materials require a lot more maintenance than others. For instance, wood furniture is going to require regular coats of protective sealant and consistent inspections to ensure it is not splintering or rotting.
On the other hand, our specially formulated resin made from LLDPE is one of the lowest maintenance materials on the market. There is virtually nothing you have to do to preserve it, and it'll last a long time without any additional effort or maintenance. Not to mention, it can be made to imitate a wide variety of materials, such as stone, without the added maintenance concerns.
7. How Long Will It Last?
The average life expectancy of commercial grade outdoor furnishings will clue you in to when you'll have to replace furniture. Outfitting a business in all new furniture is no small expense, so it's better for your bank account if furniture lasts a long time. Inquire about warranties in order to get a good idea of how long furniture really lasts. For instance, if a company claims a certain chair can last 10-years, but it is only covered by a 3-month warranty, it's time to get suspicious.
8. Is It Made By TerraCast?
TerraCast Products remain the proud leaders of long-lasting, sustainable commercial site furnishings for outdoors or indoors. All of our products are made in the US using the highest quality materials and most sustainable manufacturing processes. We take great pride in the long-term durability of our unmatched resin-based products.
Company: TerraCast Products LLC
Source: http://www.terracastproducts.com/8-questions-need-answered-buying-commercial-grade-outdoor-furniture/
Tags: Exterior Design | Furniture | Landscape Design
---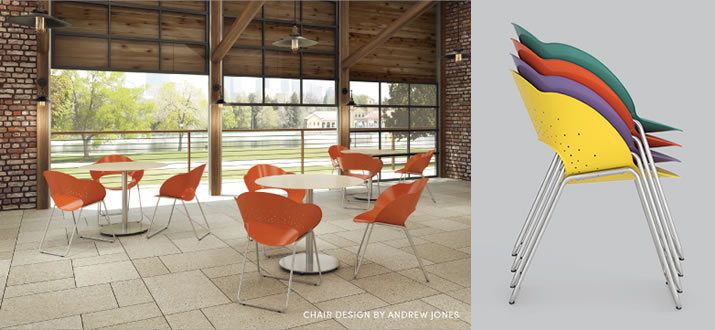 Energize your outdoor space with The Battery Collection from Maglin. Featuring the exclusive chair design of New York's The Battery Conservancy, this collection delivers the perfect combination of fresh, unique design and comfortable ease.
Comfort and style go hand in hand- The Battery Collection lets guests mingle, move around and gather in arrangements of any size, from solitary to sociable.
Recharge your space with a splash of color
Available in five vibrant colors, The Battery Collection lets you mix and match for the effect you want. (Also available in Maglin standard colors.)
Flower Power
Chairs Designer Andrew Jones created The Battery Chair in response to The Conservancy's need for moveable outdoor seating on the Oval Lawn. His model was crowned the winner of The Conservancy's chair design competition, having been selected out of 679 entries from 15 countries. Imagining a field of chairs creating a changeable, exciting landscape, he developed a design that is poised to become a contemporary icon: playful yet refined, comfortable yet elegant.
Contact Maglin today to learn more about The Battery Collection.
Company: Maglin Site Furniture
Source: http://www.maglin.com/products/battery/batterycollection.html
Tags: Design | Furniture | Landscape Design
---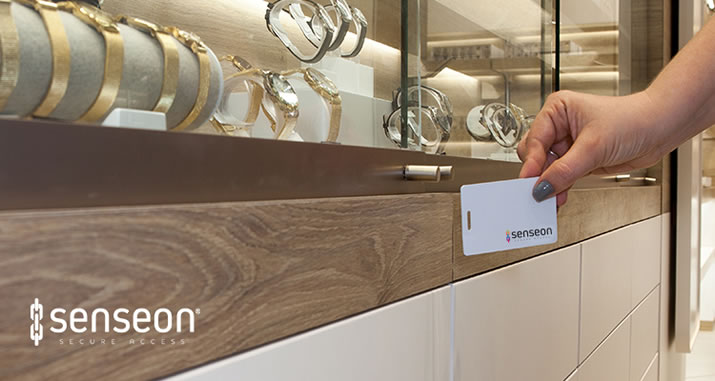 Invisible Access Control. Security without restrictions.
The new Senseon Secure Access Control System is an invisible electronic lock security access system. Utilizing radio-frequency identification (RFID), Senseon can achieve greater levels of security, efficiency, and reliability than traditional lock and key systems. Senseon is a commercial-grade system that is easy to program, install and use. Senseon will adapt to the way you do business. No integration or modification to your business' existing security system is required. Comprised of several modular components, Senseon requires no electrical or wiring knowledge.
The smart successor to the traditional lock and key is here. Find out how Senseon can streamline your business operation, reduce theft, and enhance the customer experience during our FREE webinar! Attendees will learn:
What is Senseon
How Senseon works
How your customers and your business can profit from Senseon
How it uses proven RFID technology
Company: Accuride International
Source: https://www.accuride.com/senseon/webinar/
Tags: Furniture | Interior Design | Security
---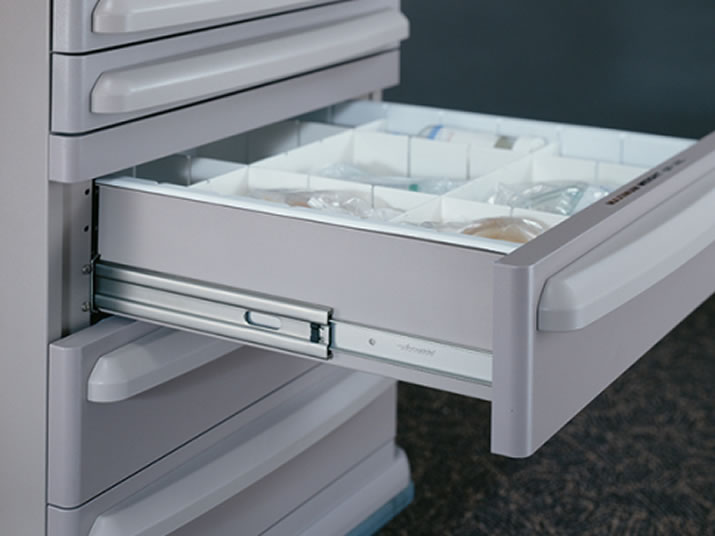 New Enhanced 3800 Slides
The 3800 slide series family is a staple in the Accuride line of world-class slides. The 3800 series has load ratings up to 100 lbs., features a lever disconnect, and is offered in up to 3 different finishes. Accuride recently enhanced and re-engineered some of the 3800 models for better strength and fluid movement.
The following 8 models make up Accuride's 3800 Series:
Hold-in Detent prevents drawers from unwanted roll-outs
Offered in even lengths from 6" to 28"
Production Packaging for lengths 10" to 28"
Recently enhanced
Brings drawers to a quiet, gentle close
Offered in even lengths from 14" to 28"
Recently enhanced
Closes drawers and keeps them closed
Offered in even lengths from 12" to 28"
Pull-out shelves and drawers are opened with touch activation.
Offered in even lengths from 12" to 28"
Special detent out holds drawers or pull out shelves in an open position.
Offered in even lengths from 10" to 28"
Special coating provides 8x more protection than standard zinc plating
Ball retainer, ball bearings and rivets are made of stainless steel
Offered in even lengths from 10" to 28"
Authorized Accuride Distributor
This year, bisco became the newest authorized Accuride distributor stocking hundreds of slides in our 7 distribution centers. bisco's e-commerce site allows you to shop for slides based on slide type, load bearing limits and series numbers. Visit bisco online today to learn more and check price and availability.
Company: Accuride International
Source: http://htl.li/AtLx3021BJR
Tags: Furniture | Interior Design
---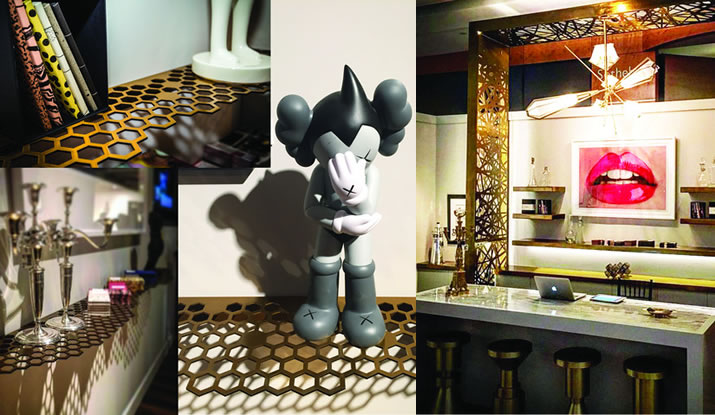 Top Left Hand Photo above courtesy of Harrison I. Epstein of HIE Photography
Architectural Grille recently collaborated with Kenneth Nilson and Christi Rogers of CRD Associates on custom metalwork for the Sotheby's 2016 Designer Showhouse + Auction.
Christi Rogers curated and designed a spectacular room designated as the "Pantry Bar" which incorporated whimsical elements into a "traditional" space making it one of the most popular rooms within the Showhouse! Artwork by Andy Warhol and Keith Haring as well as several fun Kaws pieces along with a specialty bar serving Bourbon and Absinthe libations and DJ spinning tunes for guests.
Architectural Grille fabricated "honeycomb" or hex-shaped shelves from steel with a clear metallic brass powder coat finish - what do you think?
The intricate "Pantry Bar" metalwork structure consisted of "twigs" steel panels finished in the same clear metallic brass powder coat finish as the "honeycomb" hex-shelves - these panels had concealed lights built-into the structure to add shadows onto the bar and overall space adding an extra design dimension to the room.
Contact Details for Designers mentioned in this blog:
Christi Rogers: https://www.facebook.com/CRDassociates
Kenneth Nilson: https://www.facebook.com/kenneth.nilson
Company: Architectural Grille
Source: http://www.archgrille.com/blogs/news/97262145-sothebys-2016-designer-showhouse-auction
Tags: Furniture | Interior Design | Metal
---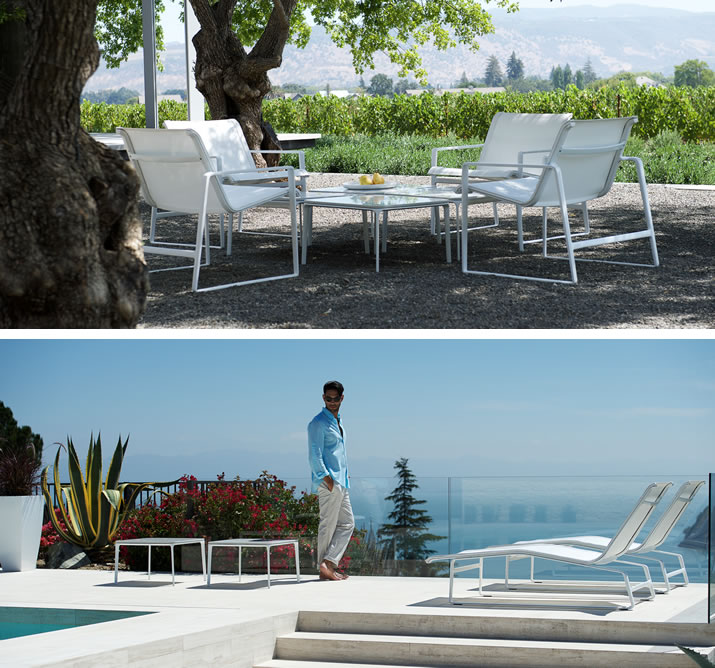 Landscape Forms is pleased to introduce the Cochran group, relaxed outdoor furniture designed by award-winning landscape architect Andrea Cochran. The new product joins the Terrace Life group, Landscape Forms lifestyle furniture for sophisticated, high-value outdoor spaces. Landscape Forms President, Richard Heriford, explains, "We chose to partner with Andrea Cochran because we like the architectural sensibility of her landscape work. The Cochran group has the Zen-like quality of her landscapes. We set out to design a modern classic and I think that's what we have. It's furniture for protected public spaces that is so elegant, you might want to take it home."
Cochran includes a lounge, side chair with arms and low table that give the term "casual elegance" fresh meaning. Cochran is a natural for outdoor spaces where cache, comfort, and camaraderie are prized, from the corporate campus to refined hospitality settings. Andrea Cochran explains the spirit behind the design: "This is about how people live today. They would rather sit comfortably in a low chair or lounge with their phone or laptop than at a high table. In that spirit we designed the chair to be wider than typical, so it feels generous and a little expansive."
The Cochran elements have subtly sculpted cast aluminum frames that support engineered mesh fabric seats and Landscape Forms proprietary Meldstone™ tabletops. Kirt Martin, Landscape Forms Vice President of Design and Marketing, explains, "The design is very clean, modern and, like Andrea's landscape architecture, it is timeless. The Cochran pieces are stripped of any unnecessary noise. This is design that allows you to get comfortable and simply experience being outdoors."
Cochran is engineered to meet the demands of today's active commercial environments. The lounge and chair's strong continuous-loop cast frame supports a cast aluminum rail that stretches and holds the mesh seating fabric and is secured to the frame with discreet connections. The replaceable fabric is Phifertex® Plus, a nylon weave that has strength, color, stain and mildew resistance, and UV protection. A ¼" reveal between the structural frame and fabric rail is repeated on the table between frame and top – giving all pieces a "floating" quality. The complementary 24" Cochran table with legs and polished MeldStone™ ultra high-performance cast concrete tops can be used singly or grouped effectively to create sociable settings. Cochran group elements are manufactured using sustainable materials and processes. Aluminum frames contain 100% recycled material and are fully recyclable. Cast concrete is a natural material. Aluminum parts in the standard color palette are finished with Landscape Forms proprietary Pangard II ® HAPS, VOC, lead-free polyester powdercoat. Phifertex® Plus is GREENGUARD Gold Certified.
About Andrea Cochran
Andrea Cochran, FASLA, is founder and principal of Andrea Cochran Landscape Architecture, based in San Francisco. The firm, which has earned wide acclaim for its public, commercial and residential work, is recipient of numerous awards including the 2014 ASLA Design Medal, the 2104 National Design Award in Landscape Architecture from the Smithsonian's Cooper Hewitt National Design Museum, and multiple regional and national ASLA awards. The work of Andrea Cochran Landscape Architecture sculpts and navigates space through a seamless integration of landscape, art and architecture. The work draws boundaries with a controlled palette of materials, creating permeable edges that blur the line between the natural and built environment. Spare geometry applied to vibrant plant life results in sharp compositional order. This exercise in restraint heightens a sense of the elements—texture, light and movement.
About Landscape Forms
Landscape Forms is the industry leader in integrated collections of high-design site furniture and advanced LED lighting. Since its founding in 1969 Landscape Forms has earned a reputation for excellent design, high quality products and exceptional service. The Landscape Forms U.S. headquarters and manufacturing facility is located in Kalamazoo, Michigan with sales representatives throughout North America, South America, the United Kingdom, Australia, the United Arab Emirates and Asia. Landscape Forms collaborates with renowned industrial designers and consultancies, landscape architects, and architects to design and develop integrated collections of products that address emerging needs and help create a sense of place. Additionally, the company has formed global marketing partnerships with select companies that share its commitment to design. Landscape Forms has an installed base of products around the world. Clients include municipalities, transit centers, corporate, college and health care campuses; and familiar brand leaders such as Boeing, Cisco Systems, Disney, Sprint, American Airlines, Herman Miller and Nike. The company was recently named by the Wall Street Journal as one of the Top 15 Small Workplaces in the US.
Company: Landscape Forms Inc.
Source: http://www.landscapeforms.com/en-US/products/Pages/Cochran-Group.aspx
Tags: Design | Furniture | Landscape Design