architecture - engineering - construction

Furniture
---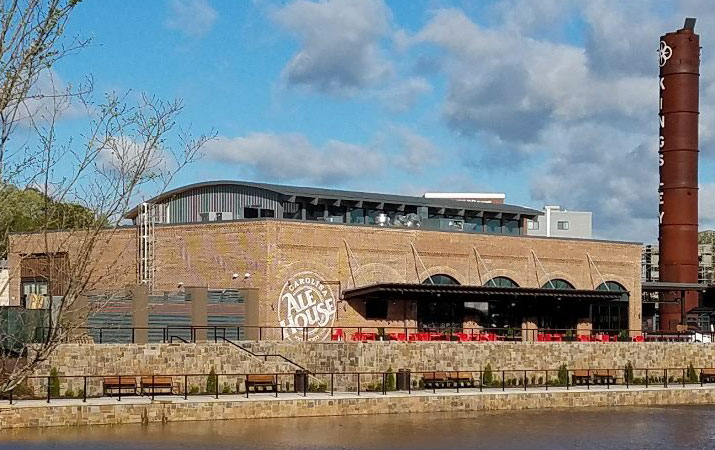 What is old is cool again! Mixed-use development had fallen out of favor during the twentieth century with the rise of the automobile facilitating widespread suburbanization in North America. Now the pendulum of style is swinging back.
While the suburban model continues to proliferate, many communities are experiencing a resurgence of mixed-use developments, which offer a more walkable community, shorter commute times, and holistic spaces that support the growing "work, live, and play" approach that both major generational influencers—Millennials and Baby Boomers—are embracing. Adaptive reuse of historical buildings and land is a growing trend in mixed-use development because it saves local history and is friendlier on timelines, budgets, and on the environment.1
The Close family—one of South Carolina's largest landowning families—are descendants of Samuel Elliot White, who founded Fort Mill Manufacturing Company in 1887 and served as its first president. The company evolved into Springs Industries, one of the largest textile manufacturers in the world. Over twenty years ago, the Close family founded Clear Springs Development and "began devising a long-term plan to direct the development and use of 7,000 acres of family land around their Upstate South Carolina hometown of Fort Mill".2
Maglin Site Furniture pieces punctuate the walkways and hardscapes surrounding the lake at The Yard—inviting visitors to gather together, rest, and contemplate the natural space.
The Close family was patient with their property, which they envisioned as an economic launchpad for Fort Mill. The time was right in 2014 and Clear Springs Development engaged 505Design, an architectural firm from Charlotte, NC, to draw up plans. The result is Kingsley—a 660-acre blend of retail businesses, apartments, hotels, dining, offices, and even hospitals. The first phase of the project, Kingsley Town Center, broke ground in 2017.

The center of this community is dubbed "The Yard". "Activated by bustling restaurants, this lush space is the place for festivals, interactive play, relaxing or just gazing across the lake….With contemporary styling and a lush landscape palette, The Yard is THE gathering place in Fort Mill."3
Maglin Site Furniture pieces punctuate the walkways and hardscapes surrounding the lake at The Yard—inviting visitors to gather together, rest, and contemplate the natural space. Maglin's 720 Chaise Loungematches the warm brown hues of the brick buildings and the iconic smokestack that bears the name of this new development. The Ipe wood complements the vibrant green bushes surrounding the chairs and invokes the calmness of being close to Mother Nature. Maglin 970 Series benches encircle the lake and the generous use of 500 Series bollards help ensure safety near parking and intersections dense with foot traffic.
We at Maglin aren't the only ones happy with the result; so is Daniel P. Mummey, Senior VP of Development & Construction for Clear Springs Development Company (the developers of Kingsley). Mr. Mummey appreciates the style, quality and overall appeal of the Maglin products featured at Kingsley. He enthused, "Maglin is classically contemporary. Their style and quality are very synergistic with our design intent and quality of development."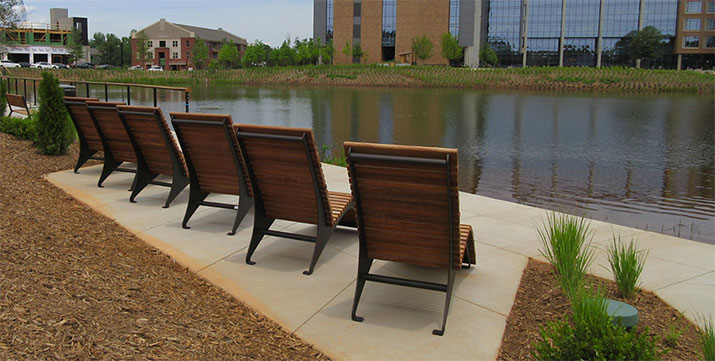 1 https://www.hotel-online.com/press_releases/release/adaptive-reuse-a-growing-trend-in-high-density-markets
2 http://www.clearspringsdevelopment.com/
3 http://www.kingsleyfortmill.com/places/#theyard
Company:
Maglin Site Furniture
Product: MCL720 Series
Source: http://maglin.com/eNews/June2018.html
Tags: Architecture | Furniture | Landscape Design
---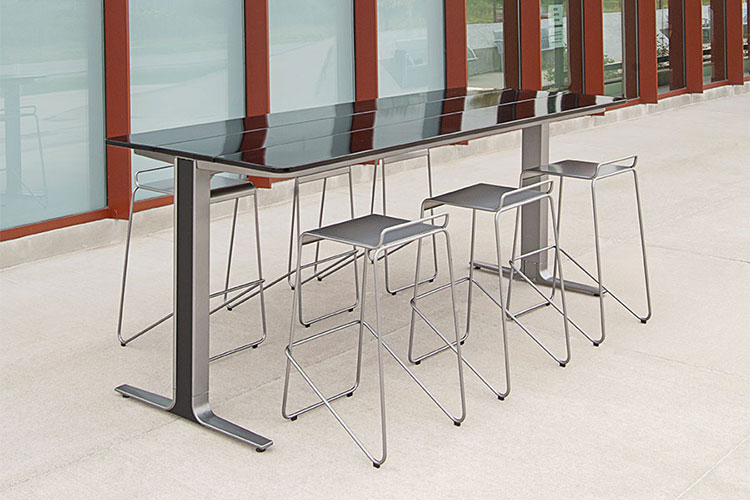 Connect with Ancora
Bring people together where ideas, insight and inspiration can be shared with the new Ancora table by Maglin. This bar height table is available in 6 FT and 8 FT lengths and pairs well with Bar Height Foro and Kontur Stools. Available in steel and recycled plastic, this modern table leaves a lasting impression.
Ancora
Bar Height Table
6 FT and 8 FT Lengths
Free Standing or Surface Mount Installation
Metal or HDPE (orange peel appearance) Table Top
Company:
Maglin Site Furniture
Source: http://www.maglin.com/products/ancora/ancora.html
Tags: Design | Furniture | Landscape Design
---
Once relegated to storing console televisions and video cassettes, flipper and pocket doors have made a resurgence in space-saving designs. If you haven't considered or may be totally unfamiliar with, these types of entries, you could be missing out.
Here's a quick overview.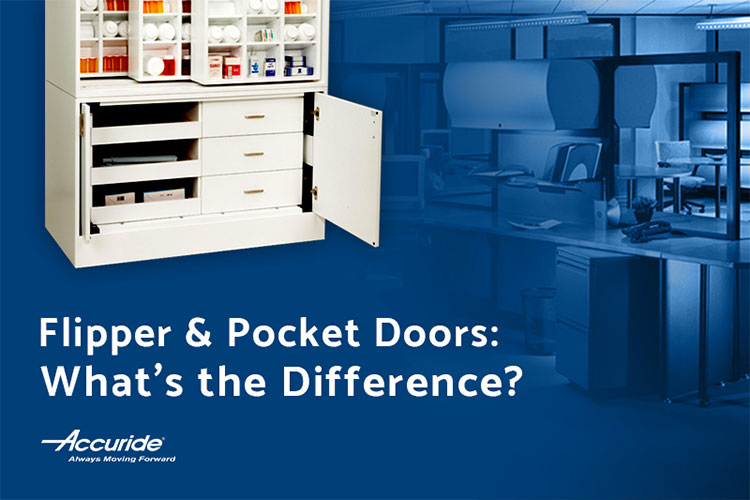 Flipper Doors
A flipper door is a hinged cabinet-level entry with a door that lifts ("flips") open and retracts out of view—like a garage door. Like conventional drawer slides, these openings use ball bearing systems to slide open or closed. This retractable opening allows for easy access to contents and keeps the door from being in the way. Unlike many conventional drawer slides, however, the members on these slides don't disconnect.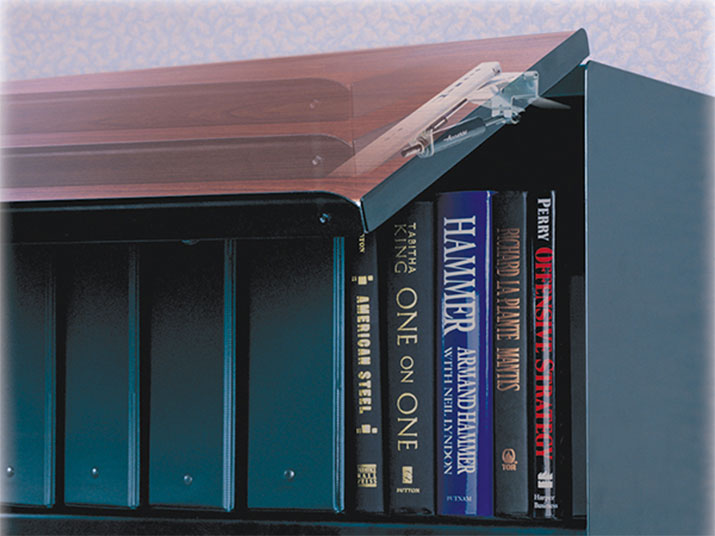 Flipper doors are commonly used as overhead storage in kitchens, media centers, garages, and offices.
Flipper doors are often used for overhead storage in homes and offices, but some innovative designers have used them to help conceal appliances to craft a clean space without exposed hardware. The 1155 Easy-Down is an example of a flipper door slide with a mechanism that brings doors to a gentle close.
Pocket Doors
Similar to a flipper door, a pocket door uses a ball bearing or track system to slide doors out of view. The difference is that pocket doors open outward, like a traditional door, but then retract into the cabinet space. Because pocket doors retract into cabinetry, they don't occupy space that traditional pull-out doors do when they're open.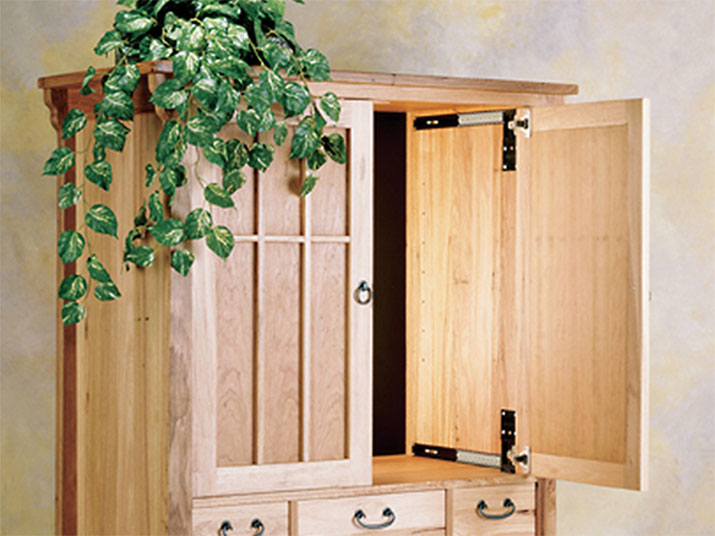 Pocket doors are commonly used on armoires, display cabinets, and entertainment centers.
Pocket doors can be used in pantries, media centers, armoires—virtually any casework or millwork with a door application that opens outward. The Accuride 1234 is an example of a ball bearing slide for pocket doors.
Specs & Options
Pocket and flipper door slides come in a wide array of specs, sizes, and variants.
Some models, such as the 1145 Flipper Door Slide, may offer polymer bearings instead of steel for silenced movement. Some models of flipper or pocket door slide may also offer optional features, such as soft-close (as with the 1155 Easy-Down Flipper Slide) or push-to-open mechanisms.
Cabinet-level pocket and flipper door slides tend to be light-duty. Accuride models, for instance, generally support doors weighing 20 to 30 lbs., with max vertical (for pocket) and horizontal (for flipper) sizes up to 42 in.
The exceptions are the 1332 and 1432: These pocket door slides use an innovative cable system to maintain stability and support doors up to 78 in. tall and weighing 75 lbs.
This 3D video shows how Accuride movement solutions, including flipper and pocket door slides, can create a space-saving environment.
Regardless of which movement solution you choose, pocket and flipper doors provide you with a great space-saving solution for your kitchen, living room, or office.
Accuride offers a full range pocket and flipper door slides, as well as accessories. Whether your application is a light duty or one that needs soft-close, visit Accuride's Pocket and Flipper Door Page to see a full range of solutions.
Company:

Accuride International
Source: https://www.accuride.com/blog/products/flipper-doors-pocket-doors-difference/
Tags: Doors | Furniture | Interior Design | Sliders
---
Cal Poly Dexter Patio Design
Educational design is evolving and a trend to more flexible learning spaces is evident. The learning environment is moving beyond the classroom walls and emphasis has been put on the quality of and access to outdoor spaces, to create balance between the indoors and out.
"Studies show that classrooms with views to natural elements such as trees and shrubs greatly increase the occupants' cognitive ability. One study measured that a person who spends 15 minutes walking through a park-like setting increased memory and attention performance by 20 percent. In addition, access to nature can lower stress levels, improve a student's ability to focus and improve mood".1
Maglin Site Furniture has worked with many post-secondary institutions to develop indoor and outdoor spaces. Jill Roberts, Maglin's Sales Manager states "Students are our future customers. It's always exciting to see how campuses are evolving over time and Maglin's goal is to evolve our products to fit these sites. We want to provide amenities that make campuses inviting and encourage students to enjoy campus life...outside!" In addition, Maglin also sees value in building relationships outside of this realm.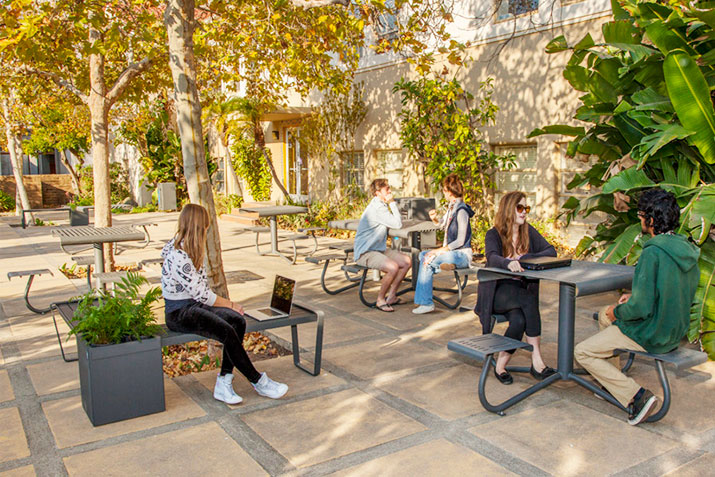 CalPoly students enjoying Maglin's furniture
In 2015, while visiting Chicago for the annual American Society of Landscape Architects (ASLA) trade show, Ian McAskile (President and CEO of Maglin Site Furniture) met Omar Faruque, the Chair of California Polytechnic State University's (Cal Poly) Landscape Architecture Department. With a common interest in the natural and built environments, the two saw opportunity for Maglin and Cal Poly to collaborate in a way that would benefit the school and the learning experience – a design contest challenge.
McAskile says, "Maglin is always looking for unique opportunities."
Cal Poly's Dexter Patio sits between the Walter F. Dexter Building and the Dexter Lawn, a major student hub on campus. In need of an update, McAskile and Faruque saw the patio as an opportunity to create a hands-on project for students. By providing project specs and design constraints, Maglin Site Furniture would challenge Cal Poly students to design a new exterior floorplan for the Dexter Patio. McAskile described the contest as "An opportunity to give students entering the landscape architecture profession a different slant on projects by working with specific requirements as they would in the industry."
Studies show that classrooms with views to natural elements such as trees and shrubs greatly increase the occupants' cognitive ability.
The challenge was accepted! Maglin Site Furniture would donate $25,000 in product to a redesigned Dexter Patio, using Maglin's flexible Lexicon series. Cash prizes would be awarded for the top three submissions and the floorplan designs would be displayed in Maglin's tradeshow booth at ASLA 2017, in Los Angeles.
By utilizing Maglin's online product resources, and reaching out to Maglin Sales and Design representatives, students created floorplans that reflected budget constraints and use of multiple Lexicon components, as well as recognition of pre-existing patio features. After careful consideration, the judging committee selected the top 3 winners: third place, Sofie Assi and Christina Du Mont; second place, Isaiah Rapko; and first place, Piper Tulley.
Tulley's design was selected for its "careful consideration of pedestrian traffic, successful intermingling of new furniture with existing pieces and the use of rectangular and circular forms." As a second year Landscape Architecture student, Piper Tulley is excited about her work right now. After seeing the final installation of the Lexicon components in the Dexter Patio, Tulley said, "Today I got to see my design, actually installed! It was so absolutely incredible, I can't put it to words!"
Maglin Site Furniture is always looking for new and unique opportunities to enrich educational experiences. Create a collaborative approach to active learning by transforming your exterior campus with Maglin's Standard product offerings, or create a design distinctive to your site.
[1] Educational design taking lessons from tech firms
Company:
Maglin Site Furniture
Source: http://maglin.com/eNews/January2018.html
Tags: Architecture | Furniture | Landscape Design
---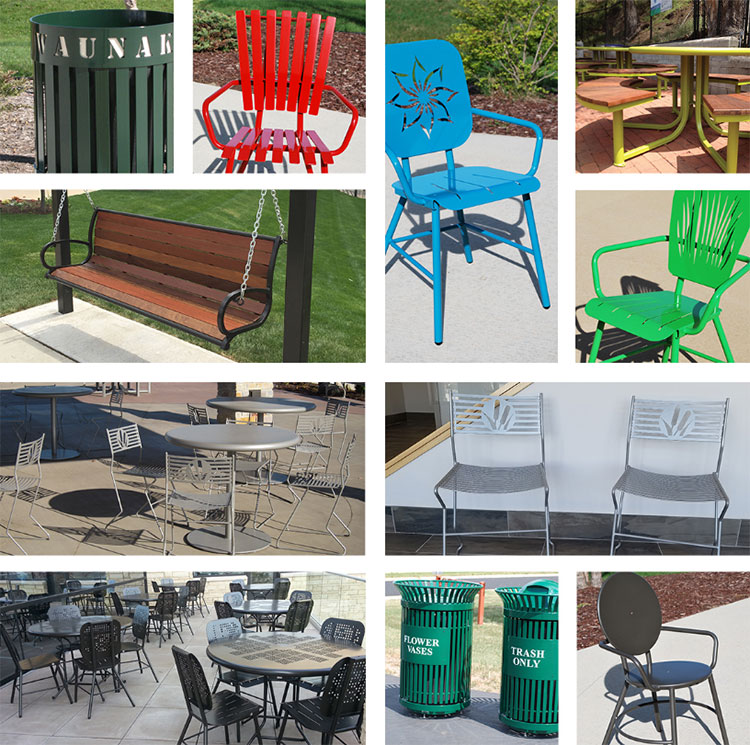 Let Thomas Steele help make your vision come alive
Your project requires more than generic, mass-produced site furnishings—it yearns for handcrafted custom outdoor furniture products that are as innovative and unique as your vision. Bringing your vision to life requires hard work and dedication to ensure that every particular aspect of your design is met to your exact specifications.
Our passion is to take your vision from concept to creation by custom designing site furnishings that aren't completed on an assembly line, but shaped, welded, assembled, and finished one at a time by our skilled and experienced team. Our custom outdoor furniture is fabricated with care from the finest materials available, and we offer a unique e-Steele™ technology that you can choose for your custom project for a durable finish and backed by an unsurpassed 5-year warranty.
For more than a decade, we have helped hundreds of clients develop custom designs that are not only unique but also functional, durable, and striking in appearance. We have built our reputation on our ability to provide our clients with custom site furnishings that bring their vision and design project to life. Located in Waunakee, Wisconsin, we take pride in our efficient ordering, local manufacturing, and speedy shipping processes that get you your products right on time.
Contact a Thomas Steele site furnishings expert at 608-849-1080 or at sales@thomas-steele.com with questions or custom design needs.
Company:

Thomas Steele
Source: https://www.thomas-steele.com/custom-outdoor-furniture/
Tags: Color | Design | Furniture | Landscape Design
---
LumiSplash is a patent pending, multilayered, ultra-thin 1/4″ (6mm) decorative laminate that emits light evenly across its surface and has impressive impact, scratch, chemical, and abrasion resistant properties. LumiSplash is:
The first ultra-thin, lighted laminate system with no air gap required for LEDs. This system uses a Light Bar and Light Guide Panel to produce luminance across a translucent surface.
A one-of-a-kind product that combines art with lighting in a durable laminate, creating a unique focal point for any home or business.
A low-voltage system that comes with the necessary electrical components to simply plug into a 110-volt receptor. LumiSplash can also be hardwired for permanent installations by a local electrician.
Suitable for most vertical and horizontal applications where other decorative laminates could be used.
Easily fabricated with standard woodworking tools such as routers, saws, and drills.
Easily used to backlight your own stone, acrylic, or other translucent materials with it's Light Guide Panel.
Lumisplash Idea Library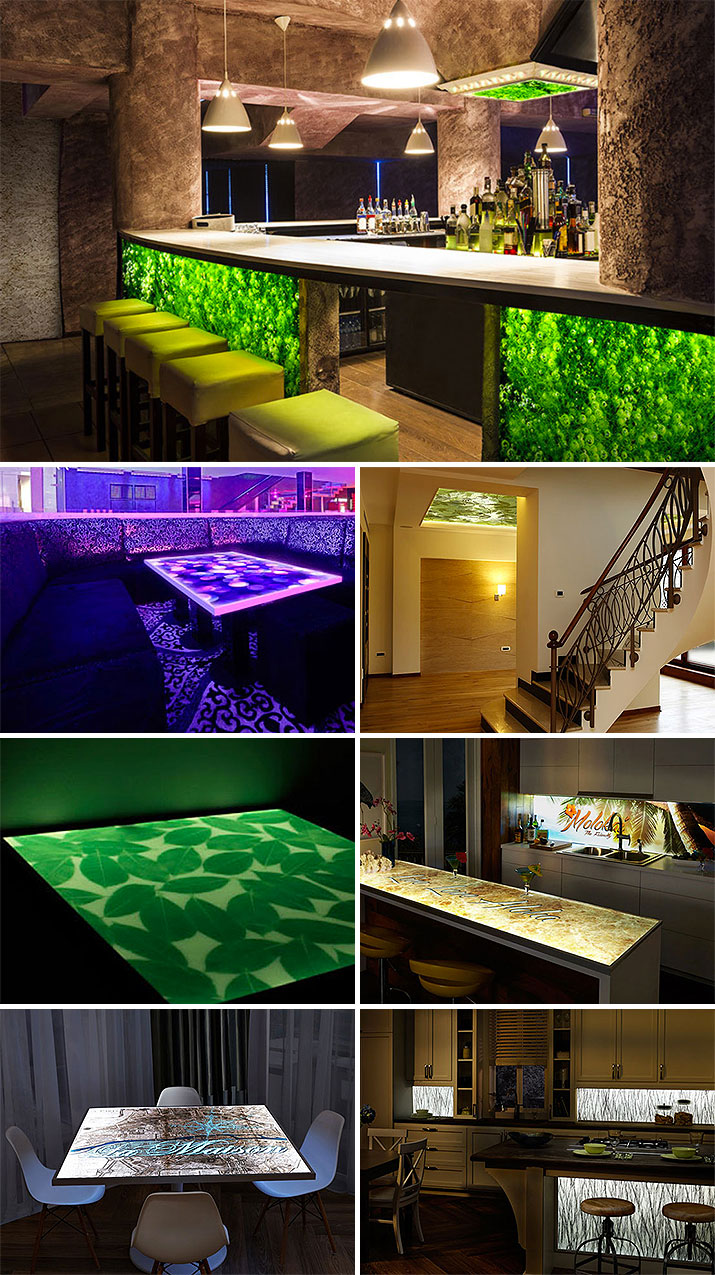 The "Lumisplash Top" includes printed artwork and a protective surface. It has the option of extra graphics. The "Lumisplash Kit" includes ATI light guide panel, LED lights, and a decorative graphic panel. It also has the option of different molding configurations and extra graphics.
Company:
Decorative Ceiling Tiles, Inc.
Source: https://www.decorativeceilingtiles.net/idea-library/by-material-lumisplash-idea-library/#prettyPhoto
Tags: Color | Furniture | Interior Design | Lighting | Wall Panels
---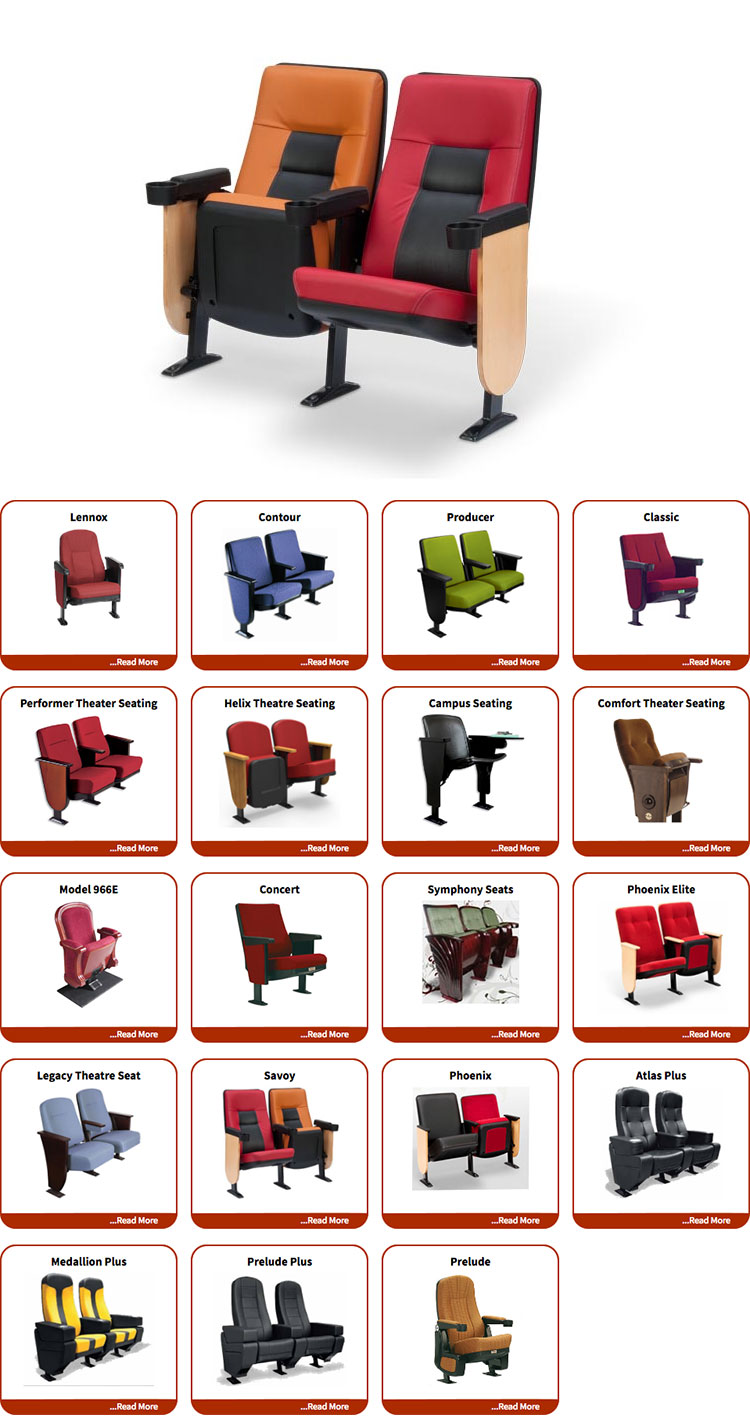 The comfort of well-designed theater seating is essential to the enjoyment of productions that often last several hours. With this in mind, we provide theater seats which are made to be durable and comfortable, utilizing the latest materials to enhance the patron's experience. Our high-quality theater seating is designed with gravity assisted spring mechanisms that retract the seat quietly, so as not to disturb other patrons. Preferred theater seats are virtually indestructible and are built to withstand years of use.
We also restore and renovate theater seating and offer used theater seating for sale at a lower price than new.
Company: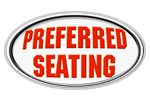 Preferred Seating
Product: Theater Seating
Source: http://www.preferred-seating.com/theater-seating.html
Tags: Furniture | Interior Design
---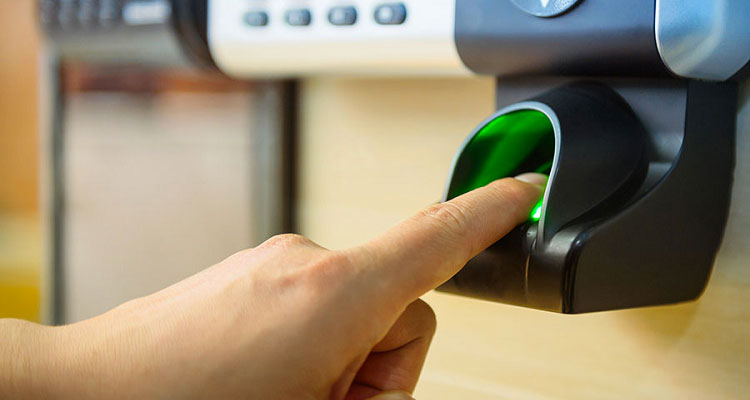 Senseon Solutions Marketing Director, Greg Rewers, discusses four Cross-Departmental Benefits of electronic access control in Security Magazine.
To date, the shift from traditional locks and keys to electronic access control systems for cabinets has focused on mitigating security vulnerabilities and risks.
There's no doubt that best-in-class electronic locking systems surpass mechanical predecessors in safeguarding such items as jewelry, medications, cash and confidential records stored in cabinets. Innovative solutions can deliver up to four times more reliable protection than traditional CAM locks, and locks can be hidden from thieves.
But the value of upgrading to cabinet electronic access control extends beyond stronger security – potentially affecting an entire enterprise. By carefully selecting and directing a transition to a smart, discreet locking system, a CSO can orchestrate positive multi-departmental business results leading to higher efficiencies, sales, and profits.
The move helps an enterprise abandon inefficiencies of traditional locks and keys, and replace them with streamlined processes favoring employees and customers or other users.
Here are four cross-departmental advantages of switching to an innovative electronic cabinet-locking system, powered by radio-frequency identification (RFID) technology:
Facilities management and finance: Greater operational efficiencies, due to labor and maintenance savings
Operations employees forgo time-consuming, costly installation, maintenance and use of outmoded locks and keys. New plug-and-play locks are simple to install, integrate with existing or new cabinets, and don't require callbacks or expensive repairs. Employees no longer have to contend with hard keys being lost, stolen, broken or copied, requiring re-keying.
A RFID-driven system can be installed twice as quickly as its predecessor. Employees typically don't need special knowledge or training to operate an electronic locking system, and technical support and customization are available. Some solutions can be incorporated into cabinet drawer slides or installed inside cabinet doors. They also work with existing alarm and video surveillance systems, reducing total cost of ownership.
System administration is convenient. Access privileges can be added, changed or deleted in seconds. Employees don't need multiple key cards, and an electronic access control token can be affixed to an existing ID badge.
Automatic relocking cuts down on management monitoring, as well as susceptibility to theft.
Sales and customer service: Faster transactions – boosting customer experience and sales
Employees traditionally have wasted time searching for metal keys or calling on supervisors to unlock cabinets containing valuable merchandise, medications, cash, sensitive records, and the like. Employees have had to retreat to back rooms for these items. Almost half (46%) of consumers say the retail process takes too long, 32% dislike waiting for a sales associate to unlock a cabinet, and 17% are uncomfortable when a salesperson uses a key, a UCLA Executive MBA Retail Consumer Study found.
An electronic locking system lets a sales associate, nurse, or bank teller unlock a cabinet immediately to show jewelry, dispense medications or provide cash, respectively.
Stocking and product retrieval time decrease and customer service improves. Loyalty, sales, and profitability stand to benefit.
Interior design and human resources: A more attractive, pleasant environment for customers and employees
Visible locks and keyholes not only invite thieves, but they also undermine the sleek, relaxed look becoming increasingly desirable for stores, healthcare organizations, financial institutions, hotels, schools and other establishments.
Concealed electronic access control enables clean cabinet fronts that contribute to elegant décor.
In addition, a new system with auto-open, touch-release, and soft-close features makes locking and unlocking furnishings quiet and unobtrusive, all of which bolsters employee and customer satisfaction.
Legal and finance: Reduced risks of penalties for noncompliance
Employees commonly forget to relock drawers as they move from one cabinet to another. Accidentally leaving a drawer open exposes an enterprise to two major risks: theft, and, for certain kinds of establishments, such as healthcare providers, government fines. In turn, public knowledge of those penalties can erode trust in an institution.
A system that locks a drawer automatically after a given time period solves the problem.
In summary, upgrading to an advanced, invisible electronic access control system offers an opportunity to break free from expensive constraints and significantly improve enterprise-wide operations. Along with enhancing loss prevention, such a system has the power to help an organization spur productivity, control costs, enhance the customer experience, raise employee satisfaction, and boost sales and profits – ultimately increasing business viability.
With a unique focus on solutions for enterprise security leaders, Security Magazine provides security industry news and trends on video surveillance, cyber security, physical security, security guards, risk management, and access control.
This post was first published on Security Magazine. Read the post
Company:

Accuride International
Product: Senseon Secure Access Control
Source: https://www.accuride.com/senseon/blog/4-cross-departmental-benefits-of-electronic-access-control/
Tags: Access Control | Furniture | Management | Security
---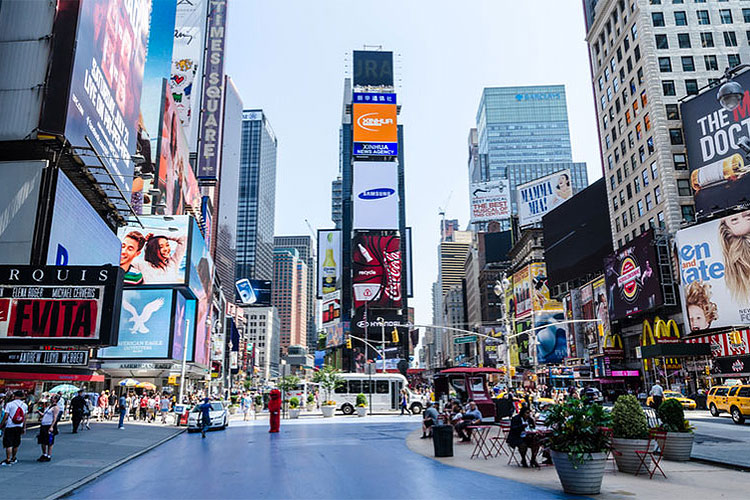 Innovative public square design can improve neighborhood morale, increase home values, generate more retail sales, plus so much more. No space needs to go wasted, not with these great public square design ideas implemented in some of the world's most highly trafficked locations, such as Times Square in New York City.
TerraCast played a role in the development of all projects listed below. TerraCast durable planters were used to complete each picture-perfect public square. There's a reason our planters are continually chosen for high traffic areas:
They are impervious to the elements.
They can withstand impact damage, drastic temperature fluctuations, and just about anything else thrown their way.
Thanks to their resin-based non-porous material, graffiti does not stain planters. You can wipe surfaces clean using a little elbow grease and a Mr. Clean® Magic Eraser® Wipe.
They are lightweight + easy and affordable to transport.
Our products are made right here in the USA using sustainably sourced materials and earth-conscious manufacturing processes.
5 Pedestrian Plazas Created With Our Planters
1. Times Square Plaza in Manhattan, New York
Times Square is one of the most popular tourist destinations on the planet and as a result it's congested with people every single second of every single day. The famous Square's previous design left it highly crowded with cars and pedestrians. The redesigned Times Square is a much more functional space with wider pedestrian walkways and a plaza complete with seating.
"We saw retail sales soar along the corridors where we put bus lanes and bike lanes and pedestrian plazas," Janette Sadik-Khan, New York City's transportation commissioner between 2007 and 2013, told NPR station KCR. Shortly after renovations were complete, Times Square was awarded as one of Crain's Top 10 Retail Locations around the globe.
TerraCast planters are used throughout Times Square to beautify the space. Our planters were specifically chosen for their durability—you can hit, throw and even mark our planters with graffiti, and yet still, they remain in supreme condition.
2. Pearl Street Triangle Plaza, in Brooklyn, New York
Pearl Street was the first public square redevelopment project Ms. Sadik-Khan worked on in NYC. The success of this project helped fuel the redevelopment of other sections of New York, such as Times Square. Back in the day, Pearl Street contained small sidewalks, roadways and an awkward collection of parking spots. Post renovation, Pearl Street offers a nice public square for people to congregate, hail an Uber, jump on the bus, or just enjoy the neighborhood.
Our planters are proudly featured at this public space, because what's a square without some pretty pops of color from plants and trees?
3. 6 ½ Avenue in Manhattan
This revamped public square earned itself a street marker that reads 6 ½ Avenue, a tribute to Harry Potter's Platform 9 ¾. The renovation included the expansion of pedestrian space and the addition of large TerraCast planters overflowing with greenery.
4. Baruch College
Baruch College had a largely unused road running between campus buildings and so they decided to turn it into a public square for students. The renovated student plaza includes TerraCast commercial planters, which are used as a beautiful barrier to outline the space.
5. Sunset Triangle Plaza
In Los Angeles, the City Planning Commission turned a generic street in Silver Lake into a pedestrian plaza that features TerraCast step planters. The planters provide a barrier between Sunset Boulevard and the people walking and dining outside.
What Do These Successful Public Squares Have in Common?
1. Public Square Planters
First and foremost, we are proud to point out they all include TerraCast planters!
2. A Place to Sit
If a public square is large enough, add at least one or two areas where people can sit and enjoy the space, wait for a friend or the next bus. This will encourage people to congregate here, as opposed to just passing through.
3. Something Worth Talking About
Maybe it's a unique name like 6 ½ Avenue, or a fun installation people can climb inside of, whatever is, the best public squares have something unique to offer. Give people something worth talking about, something that sets your square apart from the rest.
4. Sustainability
A successful public square must pass the test of time. It's important to consider the longevity of each feature and product used to outfit public squares. Maintenance is something else you want to avoid as much as possible. Go with native plants, rust-free furniture and no-maintenance planters– or else run the risk of spending a fortune on maintenance all the time.
Sustainability also relates to how products, labor and materials are sourced. Public squares are all about brightening areas for everyone, we believe this level of care should be engrained into everything about a project. That's why we make all our planters right here in the USA using sustainable materials and earth-conscious manufacturing processes.
5. New Opportunities
Most importantly, public squares should breathe new life to a location. For instance, Baruch College turned a hardly-used street into a popular student plaza. Utilize every inch of space to your advantage and watch the benefits pour in. We are here to help any way we can; shop our vast selection of planters: http://www.terracastproducts.com/our-shop/planters/
Company: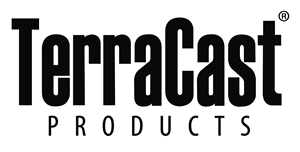 TerraCast Products LLC
Product: Planters
Source: http://www.terracastproducts.com/5-innovative-public-square-design-ideas/
Tags: Furniture | Landscape Design | Planters | Sustainability
---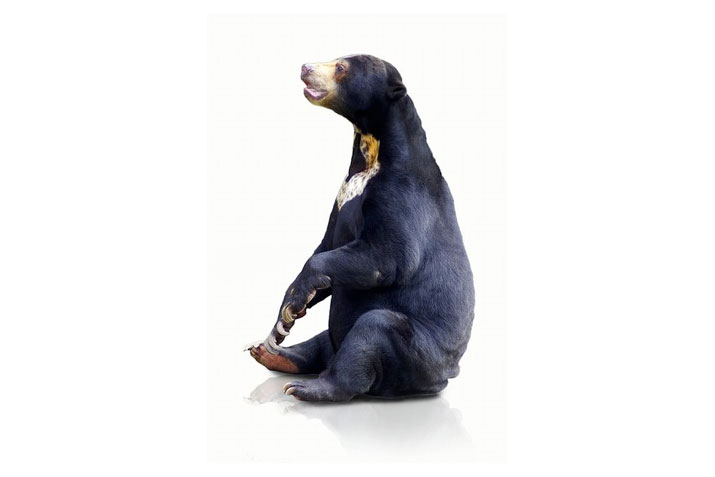 The average grizzly bear weighs 272 kg - a perfect fit for the new 9300 range
Accuride wanted to strengthen this slide range for today's tougher applications. That is why we have increased the material gauge for both the inner and outer members, increased the number of ball bearings and improved the ball retainer design.
Now we can announce that the new 9301 (DZ and DP) and 9308 slides can take loads up to 272 kg for a pair of side mounted slides. (See datasheets dated 08/17 for loads per slide length and loads for specific applications and mounting options.)
Redesigned for improved movement
Inching or ball migration is a condition where the ball retainers in the slides move at different speeds and distances, causing them to get out of sync with each other and with the slide members that they support. This is a common problem with all ball bearing slides.
To overcome this, Accuride has redesigned the 9300 bridge retainer to keep the spacer parallel and so reduce ball migration.
Bumpers have also been added to the spacer ends to improve the general movement and feel.
The boxes are clearly labelled with the new "-E" part number for easy identification:
DZ9301-00xxU-E DP9301-00xxU-E DZ9308-00xxL-E DZ9308-00xxR-E
Company:

Accuride International
Product: Heavy Duty Slides » 9301
Source: https://www.accuride-europe.com/news/477/9300-slides-for-the-heavier-bear
Tags: Furniture | Interior Design
---
Ogden offers flexible curved, circular or straight bench options to configure any style that you visualize. Available in a variety of radii, various seat material and leg options for you to design your individual creation.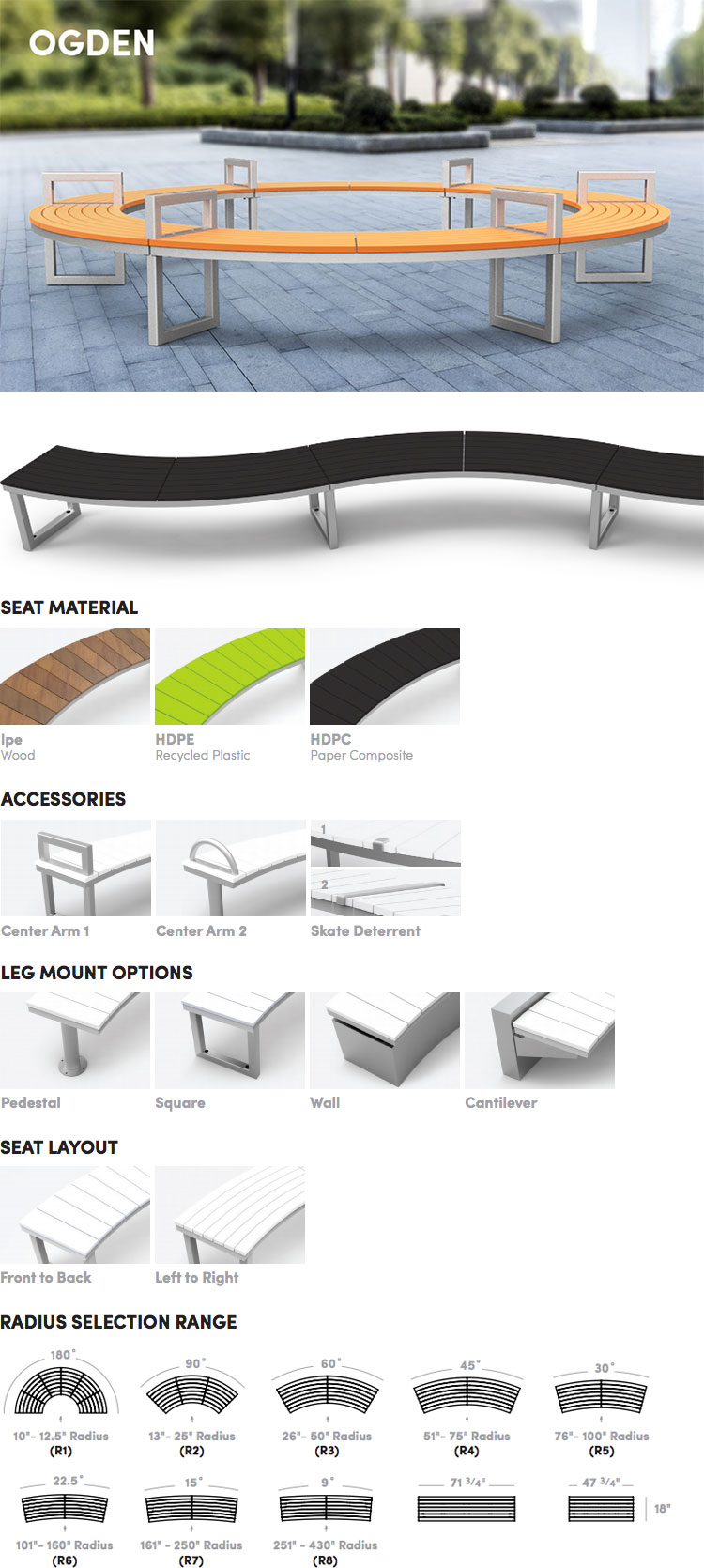 Company:
Maglin Site Furniture
Product: OGDEN
Source: http://www.maglin.com/products/OGDEN/index.html
Tags: Color | Design | Furniture | Landscape Design
---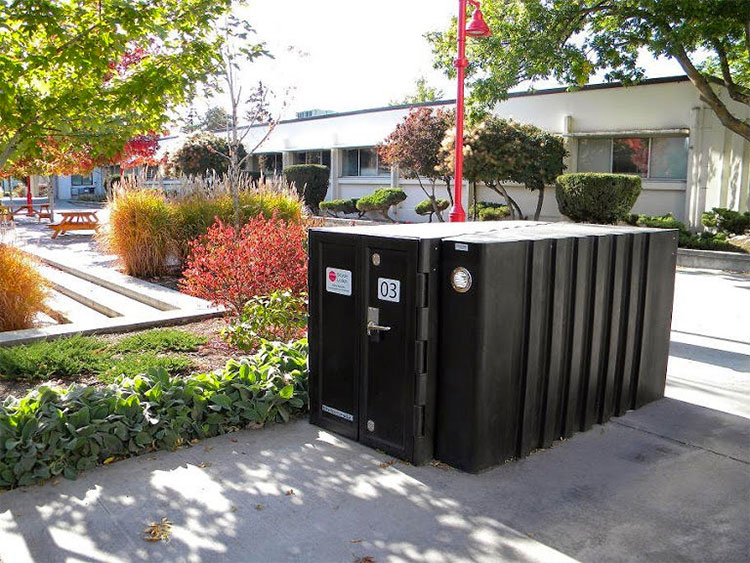 Bicycle lockers offer ideal protection against weathering and thieves
Keep your bicycles safe from thieves—and other threats you may not have considered
Because of the health benefits and cost savings it provides, cycling continues to grow as a form of transportation. But as the number commuters who cycle increases, so too does the demand for secure bike parking. Providing safe options will increase traffic to your location, but there are a lot of considerations to make when choosing what form is right for your building. Whether you are managing a business park, apartment complex, or office tower, you must recognize the vulnerabilities present at your site. There are more threats than just thieves out there, and in many situations, providing the optimal level of security will require more than a traditional bike rack can offer.
When deciding on the appropriate level of bike security required, the first questions that should be asked are how long the bikes need to be stored for and how frequently they will have eyes on them. These two questions address the two potential threats to bicycle security most commonly forgotten when deciding what type of bike storage unit to install: the elements and vandalism.
Damp weather can quickly wear at a bike's mechanisms and finish, and bikes stored in areas not regularly frequented are not only more likely stolen but also defaced. This means in high-traffic areas where bicycles are only secured for a few minutes at a time, like a store front, a traditional bike rack will provide an adequate level of security. But in isolated areas where bicycles are stored for long periods of time out of public view, such as schools, gyms, transit terminals, and theatres, a higher level of protection is recommended.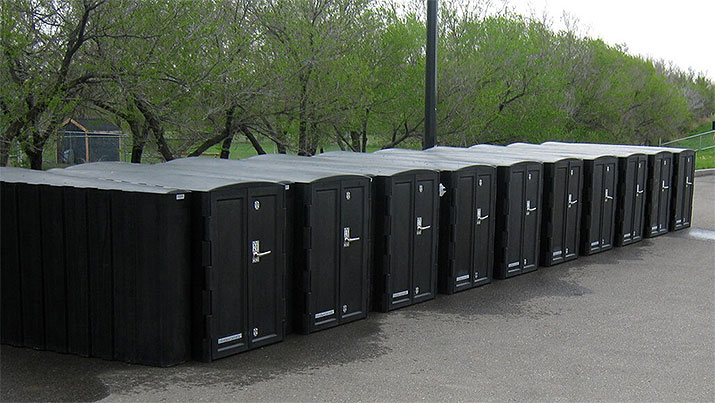 The wedge-shaped design allows individual bike locker units to fit together easily.
A fully enclosed bike parking infrastructure is best for these settings; bike lockers offer the optimal level of security. A bike locker is a compact and durable storage unit with box-like construction that prohibits contact from would-be thieves and vandals. Bike lockers can be considered "mini garages" for bicycles and they providepeace of mind in ways a standard bike rack cannot. Many models are also designed to prevent moisture entering. Most models feature a solid door-locking mechanism and feature enough room to protect additional equipment such as helmets, lights, water bottles, and pannier bags.
While bike lockers have been popular in urban cities across Europe and parts of Asia for some time, the market has just started to grow in North America. Bike lockers are now available in many designs, ranging from the rectangular box-type, to the triangle-shaped type, where the widest part accommodates the bicycle's handlebars. Many designs also feature components that allow multiple lockers to be formed into a modular arrangement.
Installation requires very little in terms of mechanical ability, and if a concrete base or footing is available, it can usually be completed within minutes. Bike lockers are generally held in place with washers and bolts that pass through the locker's floor and into a concrete anchor that sits in a hole drilled into the concrete base or footing. In most cases, all that is required to secure a bike locker is a drill with masonry bit and a wrench to tighten the lug bolts. Bike locker maintenance is also very easy. Polyethylene units can endure any weather nature throws their way with minimal wear-and-tear to the bike locker. Both plastic and powder-coated metal units can usually be cleaned with only warm soap and water.
Bike lockers are not only good for people and the environment, but they are good for business. They do require a more substantial initial investment than traditional bike racks, but the peace-of-mind security they provide also attracts the business cyclists. Some facility managers have even offset the initial purchase cost of bike lockers by renting the units.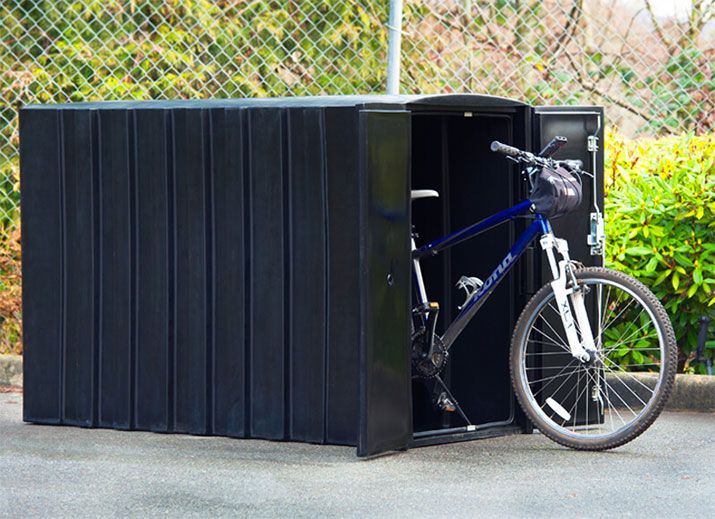 These low-maintenance bicycle lockers are made with low-density durable polyethylene.
As the urban landscape changes and an increasing number of urbanites eschew driving a vehicle in favour of a bicycle, the demand for storage solutions that are both weather and vandal proof will continue to grow. Traditional racks may be the right solution for many applications but many vulnerable areas require the increased level of protection that can only be provided by bike lockers. Keeping building occupants happy, easing vehicle parking demand, and preventing property damage will require the correct decision by facility managers.
Company: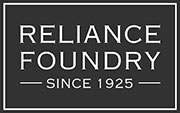 Reliance Foundry Co. Ltd.
Product: Bike Lockers
Source: http://www.reliance-foundry.com/
Tags: Exterior Design | Furniture | Landscape Design | Safety
---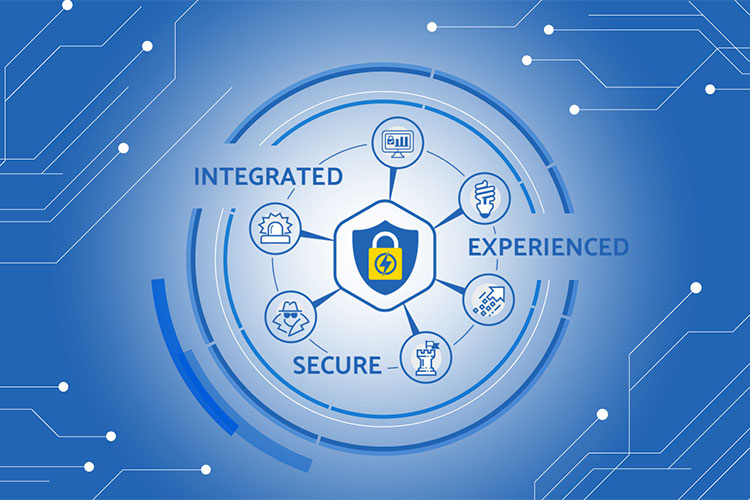 Accuride Integrated Access Solutions: The New Frontier of Access Control
While known for premium drawer slides, Accuride is also a major leader in access control solutions. Our electronic locking systems are found in many cabinet-level applications, from medical carts to inventory systems, and in countless industries, from automotive to healthcare.
Accuride Integrated Access Solutions (AIAS) feature "Intelligent Subversion Protection": multi-sensor systems that utilize onboard logic and two-way communication. These advanced systems verify that an application, such as a parcel locker or a CSA schedule drug cart, is truly secure.
Better still: Accuride access solutions are energy-efficient, silent, and emit little heat.
An Adaptable Solution

Another great aspect of Accuride Integrated Access Solutions is their adaptability. Each solution is tailored to fit a customer's needs, fitting all sorts of ancillary systems: RFID, biometric, keypad, retinal scanning, etc.
We've found our customers often need their solutions to comply with strict standards and certifications, such as those from the FDA, FAA, and HIPPA. Luckily, Accuride's global team of specialists are thoroughly experienced in compliance.
A Compact Wonder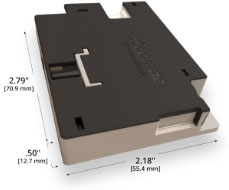 Cutting-edge electronic locks are a key component of Accuride Integrated Access Solutions. Each e-lock is the embodiment of efficiency, utilizing a lean, compact, low-profile design and consuming no more than 50mA per 200mS on 12v of power.
Don't let their size fool you: Accuride e-locks can resist hundreds of pounds of break-force.
Subtlety is Key
Another key aspect of Accuride Integrated Access Solutions is their subtlety. Each solution is meant to become part of the application, not an addition to it. Whether that application is a DNA analysis machine or a tool checking system, each Accuride solution works as part of the core design.
Download FREE Case Study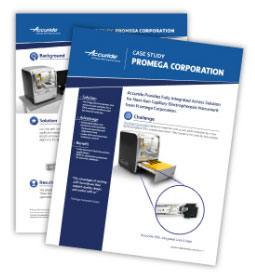 Learn how Accuride brought a new measure of access control and efficiency to a Next-Gen medical system
That's because Accuride engineers work closely with partners to achieve that seamless integration. From the conceptual stage to final production, Accuride technicians are there to make sure everything works flawlessly.
For more on Accuride Integrated Access Solutions, visit our dedicated page and speak to one of our experts today.
Company:

Accuride International
Source: https://www.accuride.com/blog/access-control/accuride-integrated-access-solutions-the-new-frontier-of-access-control/
Tags: Access Control | Furniture | Interior Design | Management | Office | Safety
---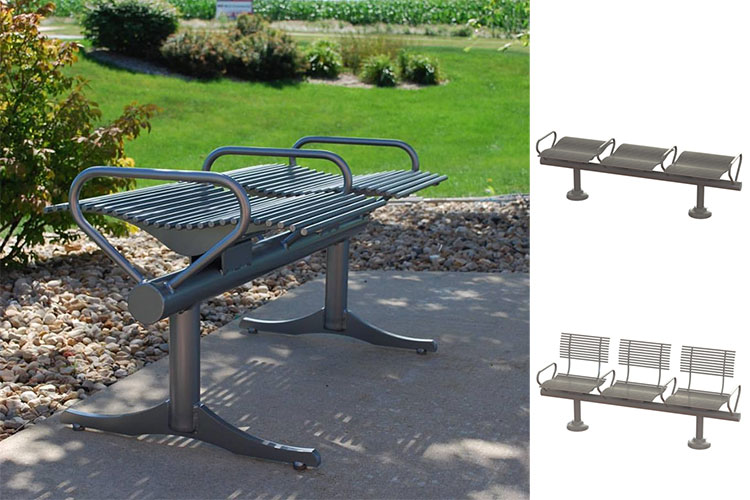 If you're looking for comfortable, durable, and beautiful seating, look to Thomas Steele for a wide selection of handcrafted outdoor benches. Pick the perfect piece for your project from a variety of styles, finishes, and customization options. Browse our current selection of commercial and outdoor park benches, or contact a Thomas Steele site furnishings expert at 608-849-1080 or at sales@thomas-steele.com with your questions and unique design needs.
Volare modular benches in addition with the modular tables will create several unique seating arrangements. The modular benches are available with 1, 2, 3, or 4 seats. Volare is constructed of 5/8" round steel rod. The frame is made with 3" Steel Tube with all welded construction. The bench is available with three installation methods: free standing, in-ground, and surface mount.
Volare flat benches in addition with the modular tables will create several unique seating arrangements. The benches are available with 1, 2, 3, or 4 seats. Volare is constructed of 5/8" round steel rod. The frame is made with 3" Steel Tube with all welded construction. The bench is available with three installation methods: free standing, in-ground, and surface mount.
Company:

Thomas Steele
Product: Benches
Source: http://www.thomas-steele.com/ShopSiteFurnishings/Benches/tabid/212/ProductID/77/Default.aspx
Tags: Furniture | Landscape Design | Metal
---

Step Planters NYC
TerraCast Products dazzle reclaimed public spaces with installations of planter pots across various pedestrian plazas in New York City. Following in the wake of the NYC Department of Transportation's success, other municipalities have taken to tactical urbanism utilizing the loose guidelines which help their citizens safely hang outside more.
The New York Department of Transportation (DOT) in collaboration with the NYC Plaza Program, along with Baruch College in NYC, and the Los Angeles City Planning Commission launched independent projects to transform community spaces utilizing innovative resin based planters. Designed by Florida-based TerraCast Products, an American owned and operated company; the planters are manufactured in the United States from a durable resin blend that resists sun and salt as well as the abuses of both vehicular and pedestrian traffic. The lightweight material allows for easy relocation during events or with seasonal changes.
"Areas all over the country are utilizing tactical urbanism for emerging public spaces, such as pedestrian plazas, streetscapes and parklets," said Brad Goldring, TerraCast Products' CEO. "We are incredibly excited to have worked with NYDOT, many colleges, business improvement districts and the LA City Planning Commission to help design these new sites. We hope they highlight distinct approaches to public space management, and that these projects initiate other entities to succeed in creating thriving public spaces in their communities."
Successful public spaces require modernization, acceptance and maintenance: These projects implement all three. Under NYDOT and the NYC Plaza Program, Union Square, Madison Square and Times Square all feature TerraCast planters, which adhere to New York City's exacting design requirements while ensuring the areas to be energetic centers of activity.
Baruch College introduced TerraCast commercial planters to convert a road located between two of their campus buildings into a student plaza. The planters were chosen as decorative barriers which best met the needs of the college because they are maintenance free and durable. The LA City Planning Commission accomplished something similar at Sunset Triangle Plaza when they renovated a street in Silver Lake into a pedestrian plaza utilizing TerraCast Products step planters. These planters separated Sunset Boulevard from people walking and dining outside.
"In the last decade, these initiatives have breathed new life into the spaces within these cities," stated Lou Blondin, TerraCast Products' CMO. "In collaboration with these organizations, we are reimagining public spaces in a more pioneering and comprehensive way, and our products align with these concepts."
TerraCast Products' modern resin planters contribute to this new approach to city building that integrates the reinforcing benefits of vibrant public spaces with tactical urbanism. TerraCast Planters last longer than products made from other materials, and they are cost-effective for project budgets. Constructed to not require any maintenance, TerraCast planters can withstand a variety of weather, including intense heat and harsh winter climates. The lightweight planters can be moved and loaded by hand, which allow for easy shipping and transporting on the job site.
Community organizations and cities are invited to find more information about TerraCast Products at http://www.terracastproducts.com.
Company: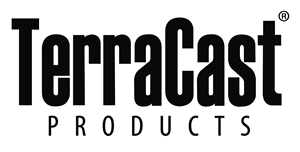 TerraCast Products LLC
Product: Planters
Source: http://www.terracastproducts.com/terracast-products-featured-in-innovative-city-redevelopment-projects/
Tags: Design | Furniture | Landscape Design
---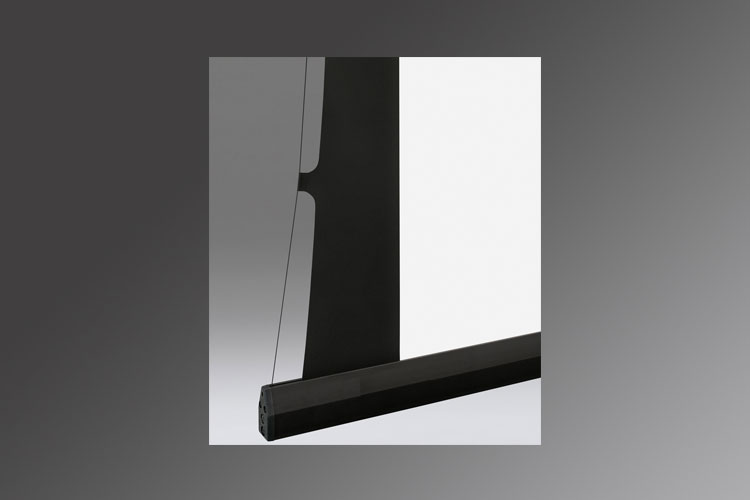 Who knew a series of small tabs could be so important to having a beautiful picture, and a durable product?
One of the most important elements of creating the ultimate projected image is having the flattest viewing surface possible. Great contrast, brightness, and vivid and correct colors are important, but without a perfectly flat surface those attributes of a great picture don't matter.
Fixed frame projection screens are one way to ensure the flattest viewing surface possible. Not everyone wants a huge screen hanging on the wall all the time, though, so they need a motorized screen. With motorized screens, however, the problem is how to keep the surface taut from the sides.
That's where Draper's innovative tab tensioning system is so important. A tab tensioning system uses a very thin cord running down each side of the screen through tabs, attached to the roller at the top and the dowel at the bottom. The cords are tightened, creating a flat viewing surface.
Most other manufacturers use adhesive to attach these tabs. This can lead to problems when the constant tension proves too much for the adhesive to handle, and it give way, creating "popped" tabs.
With Draper, you never have to worry about "popped" tabs. Here's why.
All of our tab tensioned screen surfaces—including the tabs—are cut on Computer Numerical Control (CNC) cutting tables, which means every cut is made with digital precision. CNC represents the highest level of precision available in the manufacturing process.
The tabs are then folded to the backside of the screen and Radio Frequency (RF) welded. In this RF heat sealing (AKA dielectric sealing) process, the tabs are folded back and placed between two dies (electrodes). The RF produces heat by exciting the molecules to the point that they melt and create the bond. We use the same technology to create seamed projection screens. The strength of the seal is determined by three factors-
Sealing current (radio frequency power)
Sealing time
Pressure
The result is a much stronger tab, with no possibility of separation, as the tab and surface are fused into a single layer of material. In-house laboratory testing of our tabs shows that this RF seal is in most cases stronger than the material itself.
Our tab tensioning system is also nicer looking. Making a tab tensioned surface in this manner eliminates the puckering that can characterized the edges of tab tensioned screens made using adhesives.
When we introduced this new system several years ago, it represented a unique and significant improvement in tab tensioned screen design. It still does. We were so confident of our system that we decided to warrant all Draper tab tensioned screens against tab separation for five years from date of manufacture. We still do.
Click here to find the perfect tab tensioned projection solution for your next project. Whatever model you choose, the perfectly flat surface will create the perfect image you want, and for a long time to come.
Company: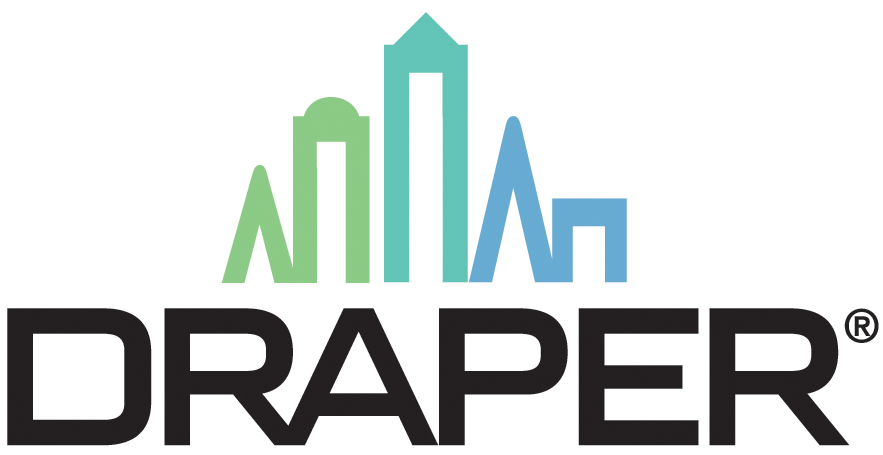 Draper, Inc.
Product: Projection Screens
Of: Terry Coffey
Source: http://blog.draperinc.com/2017/07/flat-viewing-surface/
Tags: Audio Visual | Color | Furniture | Interior Design | Lighting | Office
---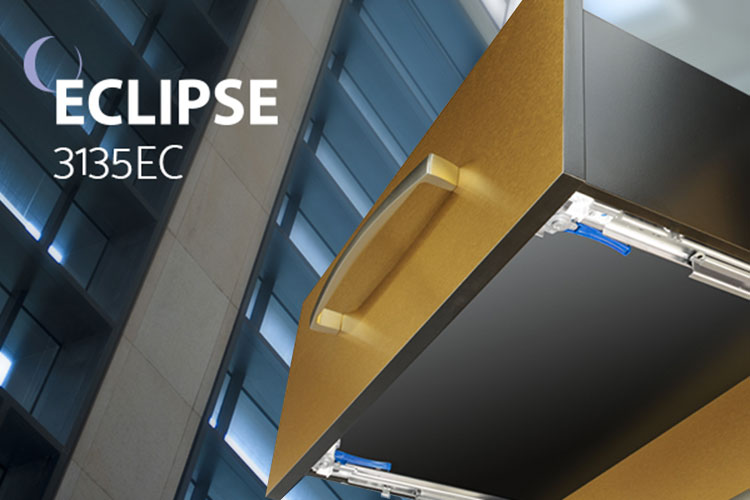 The 3135EC Eclipse is here! We re-engineered this undermount slide with a series of changes to offer premium performance. We've made a series of changes to this slide to make a big difference in the overall performance of this fully-concealed undermount slide.
Equipped with soft–close functionality, these slides won't bounce back even when you slam them. Say you find yourself in a rush to get to work and you slam the drawer. Hard. Harder than you would if you weren't in a rush.
With the 3135EC, you don't have to worry about the contents inside getting thrashed around. The 3135EC's soft-close action brings drawers to a gentle close every time. And we mean every time.
But how have we achieved this soft-close feature?
We've added an internal fluid dampener that catches the drawer in the last two inches and brings it to a gentle close over and over again. This feature also reduces the envelope of the slide. All of this with just 4.8 lbs. of pull force. Talk about easy!
When you open this drawer, you'll notice how effortless it is to open it. That effortlessness is thanks to new lower spacer clips. These clips now carry additional ball bearings that help provide extra lateral support, reducing migration.
The 3135EC slide is great for retail display cabinets because of how easy it is to conceal. This slide will allow you to keep a drawer in an open position and have no visible functional hardware.
Additional features include a front lever disconnect for easy drawer removal and improved full extension. And, like many Accuride products, the 3135EC is manufactured in compliance with the Restriction of Hazardous Substances (RoHS) Directive.
Visit 3135EC Product Information Page
Company:

Accuride International
Product: Medium Duty Slides » 3135EC Eclipse Easy-Close
Of: Claudia Tuttle
Source: https://www.accuride.com/blog/news/3135ec-eclipse-undermount-slide/
Tags: Furniture | Interior Design | Metal
---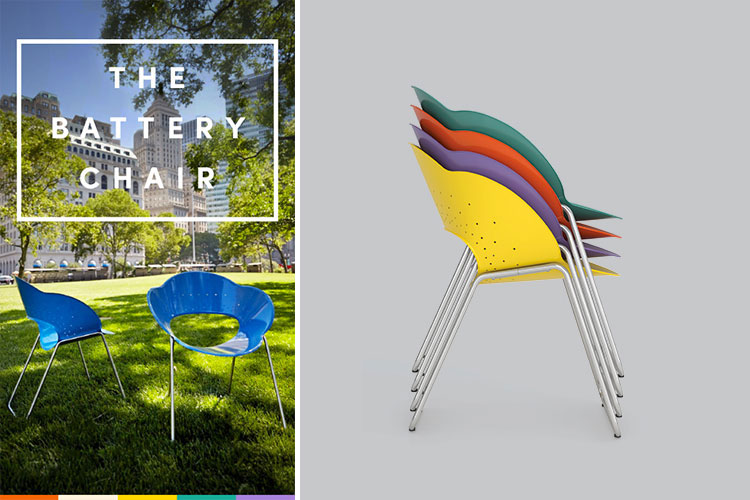 The Battery Oval
In June 2016, the Battery Conservancy of New York City proudly cut the ribbon and opened the Battery Oval; the revitalized grand lawn in The Battery (formerly Battery Park), one of Manhattan's most historic public spaces. The Oval's new signature outdoor furniture was also debuted. Formed into the shape of a blooming flower, hundreds of blue Battery Chairs filled the Oval that day.
Manufactured by Maglin Site Furniture, the Battery Chair was unlike typical New York City outdoor seating. These chairs were moveable, stackable and suitable for people of all abilities. Visitors to the park could easily pick up and reposition a chair anywhere within the Oval. The moveable chairs gave park visitors a chance to create their own outdoor space within the country's most heavily populated city.
The Past
For hundreds of years The Battery played an important role in the growth of New York City, and the United States. In fact, The Battery was the country's first immigrant receiving center, pre-dating Ellis Island and the Statue of Liberty. But over the years the historic space had fallen into disrepair. "(T)his park was not a destination; it was the bleak area you hurried through to get to the ferries going to the Statue of Liberty and Ellis and Staten Islands.1 In 1994 things started to change for The Battery. Warrie Price, a veteran of New York City's government and community planning boards, founded The Battery Conservancy; a not–for–profit educational corporation to rebuild and revitalize The Battery.
Price stated, "I was drawn to The Battery because it is the first or second impression people around the world have of New York City. This is a birthplace park—the park land most continuously in use in all of the five boroughs.2 The Battery was on its way to becoming a newly invigorated and sustainable public space in Lower Manhattan.
The Battery Contest
Four years before the Battery Chair's debut, the Battery Conservancy put a call out to designers across the Americas to "Draw Up A Chair." The contest challenged them to "Design an iconic moveable outdoor seat for The Battery." The chair was going to be a major element in The Battery's journey to becoming an outdoor space where "Downtown will come to rest, eat, and enjoy live performances.3 Nearly 700 submissions to the "Draw Up A Chair" challenge arrived from across North and South America. The entries were narrowed down to 50, and then to 5. The public was invited to a "See, Sit and Select" exhibit within the park, to give feedback on the five chair prototypes. Finally, an internationally renowned jury, with members from the Museum of Modern Art and the New York Times, chose Canadian designer Andrew Jones' submission.
Jones' design for the iconic chair was inspired by "imagining how a field of chairs could poetically respond to the lawn of the Battery Oval, a major meeting ground for Lower Manhattan. Using a single chair in repetition, the view across the Battery Oval is transformed by the whimsical suggestion of sun-loving flowers.4 About the chair, Warrie Price proudly stated, "The Battery Conservancy is known for design excellence. This award-winning design helps us build the brand for The Battery."
Maglin's Role
With the design in place, Maglin Site Furniture was brought on to manufacture the Battery's iconic blue chairs. Price stated, "We have Maglin as the manufacturer, known for extraordinarily well designed and well-constructed furniture."
Working closely with Jones, the Maglin team efficiently streamlined the design for production purposes. "At first glance the chair may appear as more of an ornamental piece," said Aaron Dawson, Maglin's Director of Manufacturing, "but the slightly reclined seat and single piece stainless steel frame form an extremely comfortable and durable product." A total of 300 chairs were built in three shades of blue exclusive to The Battery.
Once the Oval chairs were complete, Maglin Site Furniture moved forward as the sole manufacturer and distributor of the Battery Chair. Keeping the signature shades of blue exclusive to the park, Maglin introduced their Battery line in a variety of colors: orange, green, purple, yellow and ivory. The line was expanded to include Café and Lounge Tables that kept with Jones' design properties. Upon introducing the collection, Ian McAskile, president and founder of Maglin Site Furniture, stated, "The Battery Collection is not only a new line for Maglin, it is a fresh new approach to thinking about the ways that color and ornamental aspects can bring a touch of playfulness to the whole (site furniture) industry."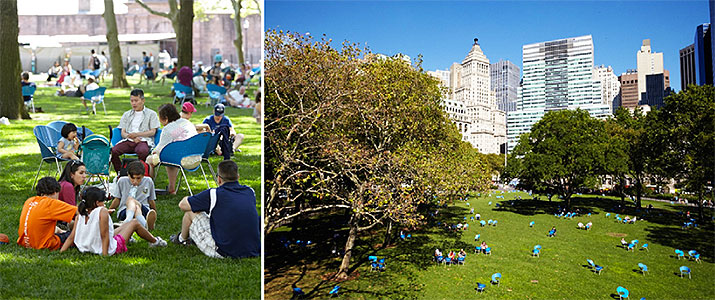 The Future
Since its launch, the story of the Battery Collection has captured the attention of the design community. About the journey from concept to completion, Warrie Price says, "For Maglin and ourselves the focus was on bringing great design to the public, to use freely and openly in a public park – and the fact that now it is offered to others is thrilling. It belongs in terraces, balconies, backyards, front yards, (and) sunrooms.5
By satisfying the needs of New York City's Battery Oval, the Battery Chair proved its worth in any public environment. From campuses to courtyards, the clean design and solid construction of the Battery Collection lends itself to an endless variety of styles and spaces.
For more information on The Battery Conservancy and Battery Oval, visit http://www.thebattery.org/
For more information on Maglin's Battery Collection visit http://www.maglin.com/products/battery/batterycollection.html
1 https://womensvoicesforchange.org/warrie-price-a-woman-whos-made-a-difference.htm
2 https://womensvoicesforchange.org/warrie-price-a-woman-whos-made-a-difference.htm
3 http://www.thebattery.org/wp-content/uploads/2014/11/TBC-RFEI-Battery-Chair.pdf
4 http://www.thebattery.org/about-fleurt/
5 Maglin Site Furniture. (2016). Introducing The Battery Collection: Maglin Site Furniture launches exclusive competition-winning design from famed Manhattan park [Press Release]
Company:
Maglin Site Furniture
Product: The Battery Collection
Source: http://www.maglin.com/products/battery/batterycollection.html
Tags: Color | Design | Furniture | Sustainability
---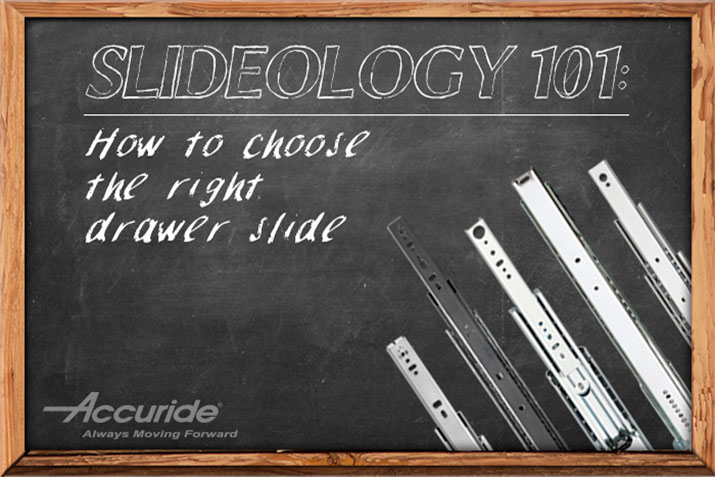 A good drawer slide means the difference of years of headaches versus years of convenience. Unless you have a lifetime's supply of aspirin, you want the latter. But what goes into a good drawer slide and how do you figure the right one for your need?
Here's a brief guide to help you understand the basics of a drawer slide and how to choose the right one for your application.
The Basics
Accuride manufactures ball bearing slides. These slides feature lubricated bearings that move drawers and the like in a linear direction, allowing smooth opening and closing action. The bearings, secured within metal ball retainers, fit between the members.
A simple drawer slide has two members: a drawer (inner) member that attaches to the side of a drawer box, and a cabinet (outer) member that attaches to the cabinet's inner wall surface, within the drawer opening. Only one of the slide members (drawer) moves when opening a drawer.
A more complex slide structure will include three members, with an intermediate member located between the cabinet and drawer members. Only the drawer and intermediate members move; while the cabinet member remains fixed to its location within the cabinet structure.
Additionally, slides can come in two arrangements: side mount and undermount. Most Accuride drawer slides are side mount, meaning they're mounted on the side of the drawer and within the cabinet structure. A undermount slide, such as the 3135EC Eclipse, mounts in a position that allows a specially designed drawer to sit on top of the suspension, unlike a side mount slide. An undermount slide is often used where it's desirable to conceal the drawer slide components from view.
Ball bearing drawer slides are also known as rails, runners, and sliders, but they are not the same as glides. A glide uses thin rails on both mounting surfaces, and include plastic wheels on the drawer side allowing movement. Glides are often found on discount furniture; while inexpensive, their movement is much less smooth and the rails are prone to misalignment.
Lengths and Extensions
Accuride slides come in many lengths, from as little as 6 in. to as long as 60 in. Length refers to the total length of the slide assembly, when collapsed in the closed position.
How far a slide extends or moves, is called extension or travel. A simple slide that uses just two members, an inner and an outer, generally provides ¾ (or partial) travel. That means the moving drawer member travels at ¾, or 75%, of the slide's length. The Accuride 2132 is an example of a ¾-travel slide, where an 18-in. slide has approximately 13 in. of travel. These types of slides are common in residential uses, such as in kitchen cabinetry, or in office furniture, where direct full access to the drawer's contents is not desired.
Three-member slides have two moving components, the drawer and intermediate members. In combination, these members tend to extend either the full (100%) length of the drawer slide assembly or even beyond that. Those that exceed the length are called "over-travel" slides because they travel over 100% of the length of the drawer slide assembly. Full-extension slides, such as the Accuride 3832E Classic, are useful if you need easy access to contents, as with kitchen utensil drawers, and point of sale trays. Over-travel slides, such as the Accuride 3834E, which has 1 in. of over-travel, are ideal when additional drawer access is needed, requiring the drawer to be opened beyond the front face of the cabinet.
There are also two-way travel slides, such as the Accuride 0363, which can extend the full-length, of the slide, in either direction. These are useful for kitchen islands or entertainment bars, where direct access is needed on either side of the unit.
With that said, let's look at some factors that can help you choose the right slide for your application.
Load Capacities
Determine how much weight your application is likely to see when in use. Accuride slides' load capacities fall into three ranges: light-, medium-, and heavy-duty. A light-duty slide, such as the Accuride 2132, handles loads up to 75 lbs. Light-duty applications often include kitchen and office drawers. A medium-duty slide, such as the Accuride 3832E Classic, handles loads up to 100 lbs., while an Accuride 4032 is a rated up to 150 lbs. Medium-duty applications include larger kitchen drawers and office furniture. Load capacities for some of Accuride's heavy-duty drawer slides can reach up to 1,300 lbs. The Accuride 9301E is an example of a heavy-duty slide, which has a load rating of up to 600 lbs. Heavy-duty applications include pull-out trays on emergency or recreational vehicles, ATM machines, and utility/service trucks.
Disconnect versus Non-Disconnect*
Decide if you want your drawer to be removable from the cabinet structure. If so, choose a slide with a disconnect feature that lets you separate the drawer member from the cabinet, or intermediate member, allowing the removal of the drawer (to clean for example). There are slides with rail disconnect features (such as the Accuride 4032), which allow rails that are attached to the sides of drawers, to be released and lifted off the corresponding drawer members.
A disconnect feature is useful for furniture manufacturers with multiple assembly lines. One line may assemble hardware to drawers, while another may assemble hardware to cabinets. With a disconnect slide, manufacturers can simply mount the separate members in the assembly phases and then join them together in the final stage. Connecting a drawer member with a cabinet member can be as simple as align, engage and push closed.
Usually, you want to avoid a disconnect option with heavy-duty applications, such as those utilizing an Accuride 9301E. With most heavy-duty applications, it's impractical (and a safety concern) to remove a fully loaded drawer. Regardless of whether you use a disconnect feature with light- or medium-duty slide, consider whether you can safely handle the drawer and its contents before disconnecting the members.
* Read more about Accuride disconnect features from our first installment of Slideology:101 – The Art of Disconnect
Locks & Detents
Do you want your drawer to be secured in position? In that case, you may want your slide to include a detent or a locking feature. There are two types of drawer slide detents: detent-in and detent-out.
A detent-in slide has an engagement feature formed on the drawer member and a rubber-like molding secured at the rear of the cabinet member. These two features cooperate to frictionally hold a closed drawer in that position, preventing the drawer from drifting open. You can overcome the detent with a pull on the drawer when opening.
A detent-out slide includes cooperating components that holds the slide in the fully extended position, until you are ready to retract the drawer or a working platform, such as a keyboard tray. Deactivating a detent-out slide requires a simple "bump" of the extended unit to release the engagement features before pushing it back inside the cabinet.
There are two types of drawer slide locking features: lock-in or lock-out. Both features include a latching mechanism that secures a drawer open or closed. You can disengage, or unlock, the drawer by pressing a latch or lever (depends on the model). Some slides are just lock-out equipped, while a slide such as the Accuride 9308E has both features, ideal for mobile applications such as emergency vehicles.
Special Features
Additionally, slides can come with features that make opening or closing a drawer more convenient. These include:
Easy-Close
Self-Close
Touch Release
An Easy-Close slide includes a closing device, equipped with a damping cylinder, and cooperating springs that engages with the drawer member and assists the final inches of the drawer closing action. Easy-Close (sometimes-called Soft-Close) slides provide assurance that the drawer will close quietly and smoothly every time.
A Self-Close slide, also includes a closing device, with springs, but does not include a damping cylinder. The engagement of the drawer member is similar, and once engaged with the device, the drawer quickly closes at the last inches of closing distance. Self-close slides are noisier than Easy-Close slides, and sometimes are used as "stay-closed" devices for mobile cart applications.
A Touch Release slide allows opening of the drawer, without the need for a drawer pull. Activation of a Touch Release slide like the Accuride 3832ETR, is accomplished by simply pressing against the drawer front, which releases a spring activated device to "spring" the drawer out of the cabinet approximately 2 in. Closing is just a matter of pushing the drawer closed completely, which resets the device for the next opening activity.
Choice of Finish
Accuride slides come in three coated finishes placed over carbon steel slide members: zinc, black electroplate, or white electro-coat. Some slides utilize stainless steel or aluminum material as needed for specific applications. Zinc is most common plating finish for Accuride; it features an environmentally friendly base layer of zinc, with either a clear or a black chromate coating over the top. A clear zinc coating (the most common coating used by Accuride) resists moderate levels of corrosion, typically for slides used in non-corrosive environments, like office furniture. Electro-white (a paint) or black chromate-coated slides offer greater corrosion resistance that is eight-times that of clear zinc. Stainless steel and aluminum material slides offer even greater corrosion-resistant but are available only on select models.
Conclusion
This brief guide should shed some more light on what makes an Accuride slide and how it can best serve your needs. You can browse our vast selection of movement solutions at www.accuride.com.
Company:

Accuride International
Source: https://www.accuride.com/blog/news/choosing-right-drawer-slide-slideology/
Tags: Furniture | Interior Design
---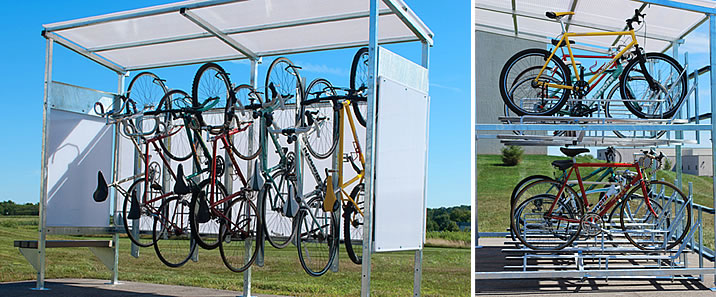 The new Bike Sheds offer protection from the elements and versatility in their many applications. Whether you need covered bike parking or a place to sit and wait for the bus, these new sheds can be customized to complete your vision.
Bike Sheds are constructed of 2 X 2" steel leg tubing for the base, and a 16MM thick polycarbonate opal color top. The bike shed has many additional options available, including optional side panels and various bike parking combinations.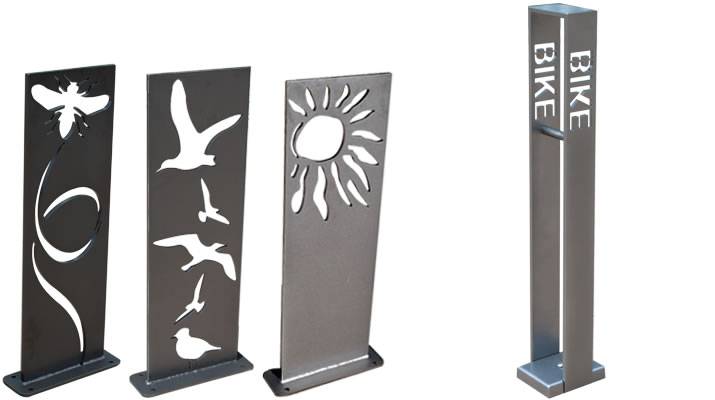 The Shadow™ Rack plays on the natural elements of its environment. The sculpted steel creates silhouettes on the pavement, while providing secure parking for your bike.
New! Pierce™ Rack is not your ordinary bike rack. This edgy art piece doubles as a functional and secure bike parking solution.

Whether you are seeking to transform your environment, promote your organization, or just express your creativity, our custom bicycle racks are your best resource. We will work with your idea, your sketch, or your blueprint to bring your vision to life.
Company:

Madrax Bike Racks
Product: Bike Shelters
Source: http://www.madrax.com
Tags: Design | Furniture | Landscape Design
Space Saving Solutions: Under the Staircase Storage (April 12, 2017), How to create theft-proof closets (March 8, 2017), The evolution of the educational landscape (February 17, 2017), New from Thomas Steele: Monona benches, chairs, side tables and litter receptables (February 13, 2017), Moving Interiors - Automotive Sliding Systems (January 16, 2017), Waldorf™ Benches (January 12, 2017), Loss Prevention: Ramping Up Retail Security for the Holidays (December 21, 2016), New designs from Victor Stanley: Camille Table & Benches (November 29, 2016), 8 Questions You Need Answered Before Buying Commercial Grade Outdoor Furniture (October 24, 2016), Battery Life: introducing a new way to energize your outdoor space (October 12, 2016), Register for a FREE Senseon Secure Access webinar: transforming lock and key systems for commercial environments (October 7, 2016), Accuride's flagship 3800 series slides are now available from bisco (August 12, 2016), Sotheby's 2016 Designer Showhouse + Auction (June 8, 2016), Cochran Expands and Enhances Landscape Forms Lifestyle Furniture for Terrace Life (April 29, 2016)