architecture - engineering - construction

Furniture
---
January 20, 2021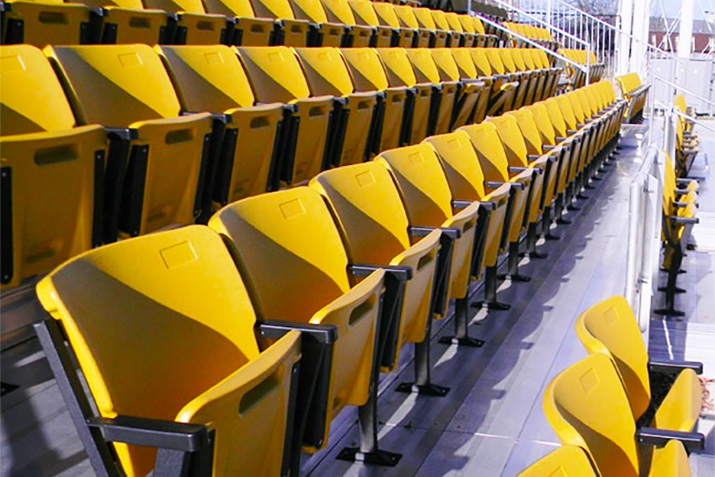 The popularity of bleachers in football stadiums, high school gyms and fire stations can be explained by pure economics. Businesses that rely on high attendance and accessibility to concessions use bleachers to increase their profits. Aluminum and steel bleachers may not be as comfortable as padded chairs, but they allow sports teams to drive up attendance numbers.
---
December 18, 2020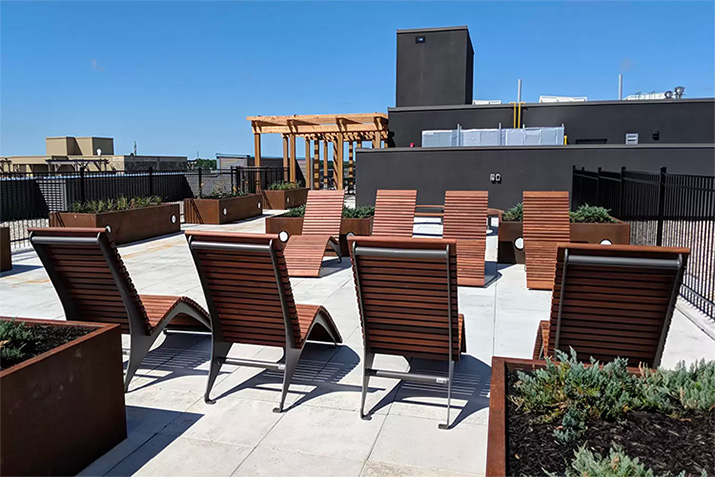 Rooftop decks have emerged as highly coveted and beloved spaces for residents of dense urban areas during the COVID-19 pandemic. However, outdoor rooftop spaces will remain desirable for current and prospective residents beyond the global health crisis. Access to the outdoors positively impacts mental health, provides space to create community, exercise and meditate, plant gardens and grow food. In cities where street-level greenspace and parkland are scarce or at-a-premium, rooftop decks can be lifelines for people living in mid and high-rise buildings. However, they require some special consideration because of their location.
---
November 20, 2020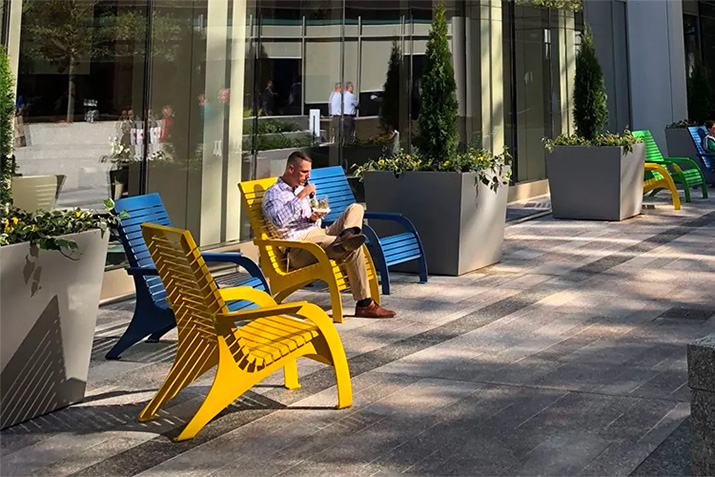 The owners of Bank of America Plaza wanted to offer their tenants even more than a prime location in an iconic building and so, beginning in 2016, they invested in a complete redesign of their street-level presence. "We have created a more pedestrian-friendly area with smaller shop fronts, outdoor seating areas, and a new, extended main building entry to engage the public plaza," 1 says Redline Design Groups lead designer Richard Boswell. One section of the exterior courtyard had an existing fountain but was largely under-utilized open space with no seating available. The initial vision to incorporate wall mounted curved benches into the fountain surround led to conversations between Architect, Richard Boswell and Maglin's CEO, Ian McAskile and Territory Manager, Andrew Coen. Bank of America Plaza owners, TIER REIT wanted a variety of table and seating configurations and embraced color to enliven the space.
---
September 25, 2020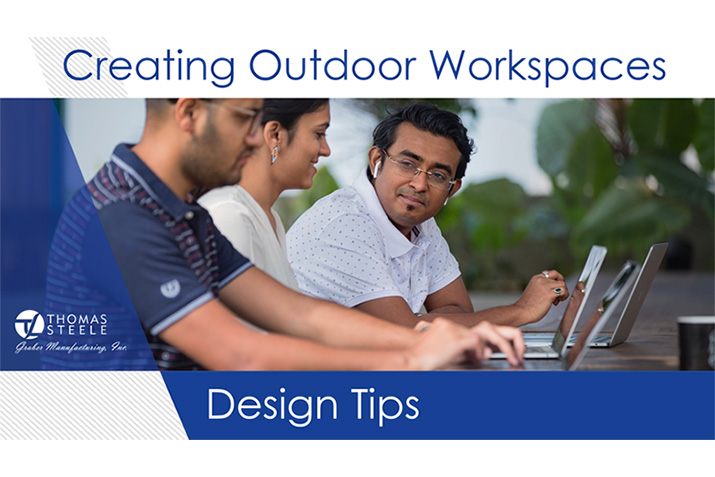 A better office environment exists on your property. It has better lighting. Better décor. Better health benefits for workers.
---
September 21, 2020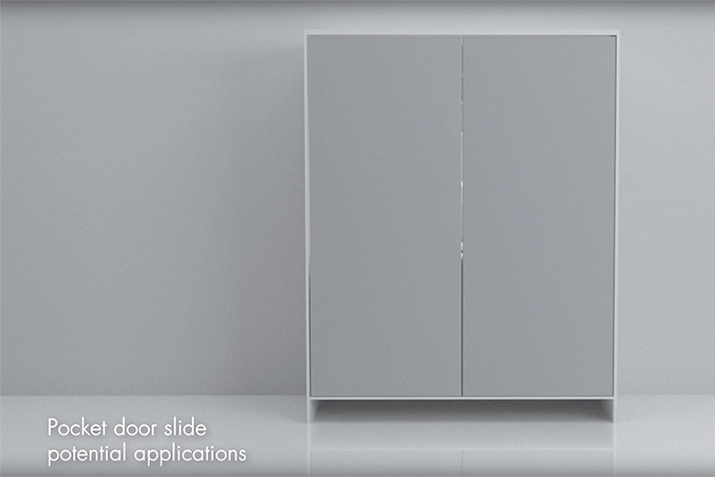 Searching for a solution to household clutter? #Accuride pocket doors can help create a more peaceful, organized home with clean, concealed storage for kitchen cabinets, media centers and so much more. Find the right #pocketdoor for your next project:
---
August 26, 2020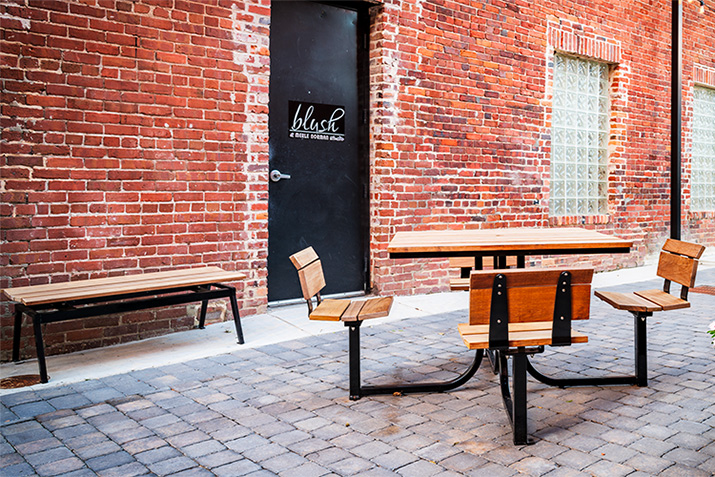 Many times, trash receptacles look beat up & yucky - the EXCLUSIVE Lofty Series offers a sleek option to enhance beauty of your space & help to keep it clean #loftyseries #thomassteele #exclusivedesign #trashreceptacle #architecturalproducts #landscapearchitecture #sitefurniture
---
May 1, 2020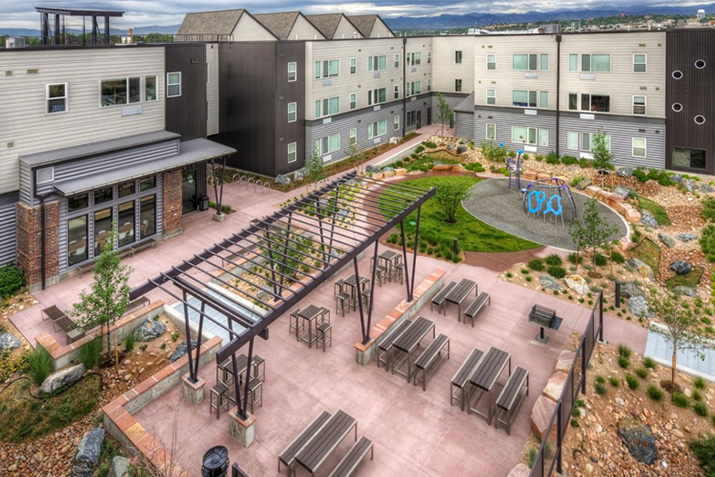 Furniture is just one component in the design of the public realm. As designers and manufacturers, we have to take into consideration the function and goals of the site when designing products and the places they end up shaping. Navigation patterns and intent to use the elements (amenities) within a space are just as important as the aesthetics of the product itself. We focus on people who will use the site – how and when they will do so. A flexible product provides countless layout opportunities and can adapt to the site's functional goals. Follow our design considerations, and learn how to turn your spaces into places.
---
June 25, 2019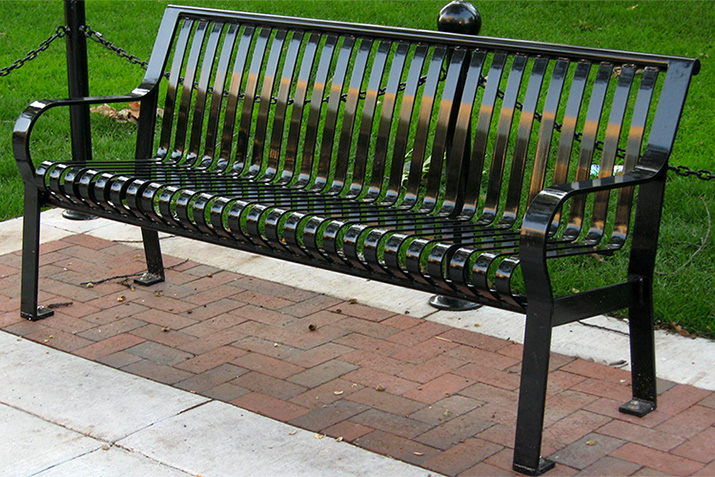 When it comes to ensuring the long-lasting beauty and durability of your commercial site furnishings, the e-Steele™ metal finishing process used on Thomas Steele products stands apart from others. The process used on almost every single piece of steel used by Thomas Steele produces a finish that resists corrosion for a longer period of time and improves the overall appearance. The result is Thomas Steele's ability to produce outdoor commercial benches, tables, litter receptacles and planters with smooth, uniform finishes that are able to withstand scratching, impact, chemicals, humidity and high levels of corrosion from salt.
---
May 27, 2019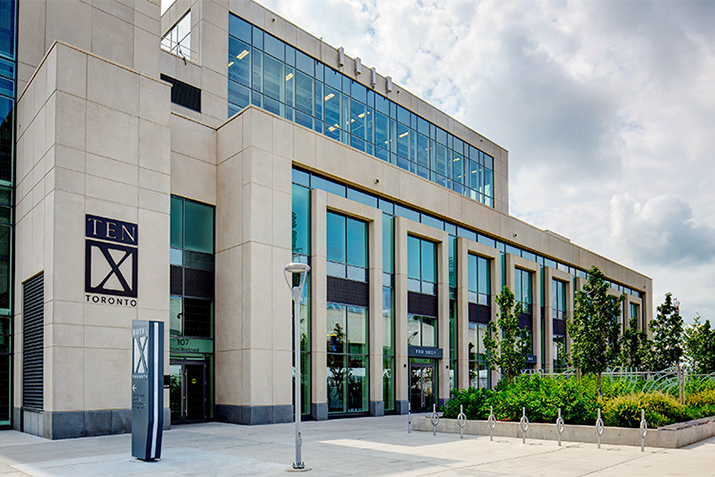 High style and eco-conscious design are often perceived as mutually exclusive. Hotel X Toronto—the latest addition to the Library Hotel Collection's portfolio of international boutique hotel properties—boldly challenges this assumption.
---
March 13, 2019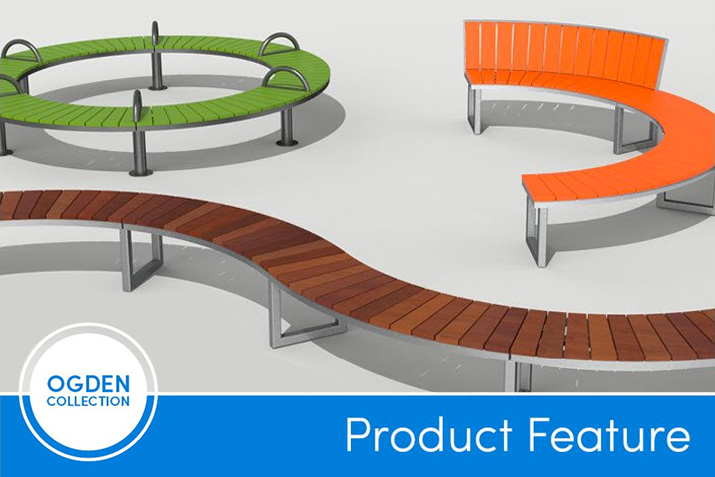 Think you can handle unlimited curves? We're talking curved to virtually any radii in one-inch increments! The Ogden Collection offers all this flexibility with four mounting options, gorgeous & durable seat material options, and it's a standard product!
---
March 11, 2019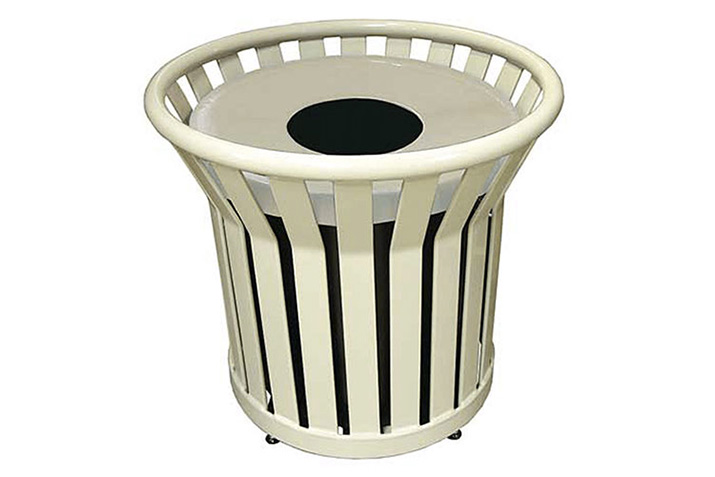 Is your business constantly covered in litter? Commercial trash receptacles can help fix littering issues and promote recycling. In fact, one of the biggest contributors to littering is a lack of trash receptacles. If people cannot find a place to throw away their garbage, and most people won't look that hard, they will toss it wherever they can. Some may assume there is no consequence for littering and that someone else will pick it up as part of their job. You can help make the decision to responsibly dispose of trash easy by ensuring there are plenty of commercial trash cans and receptacles around your property.
---
February 11, 2019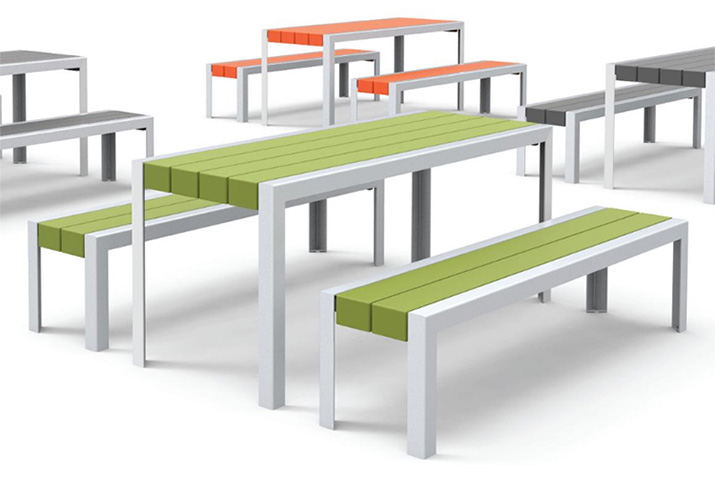 Maglin Site Furniture offers recycled High-Density Polyethylene in two textures: wood grain and orange peel. This creates a durable environmentally friendly alternative to traditional lumber that is perfect for most outdoor applications.
---
December 24, 2018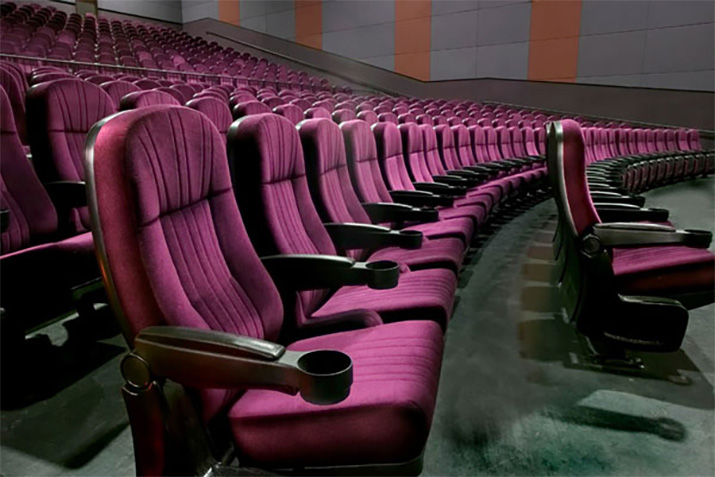 From theatrical productions to business presentations, seating always impacts communication. Some seating concepts, like theatre-style layouts, better focus audience attention on performers and presenters. To optimize communication emanating from the stage, fixed theater seating focuses attention forward and away from nearby attendees.
---
December 19, 2018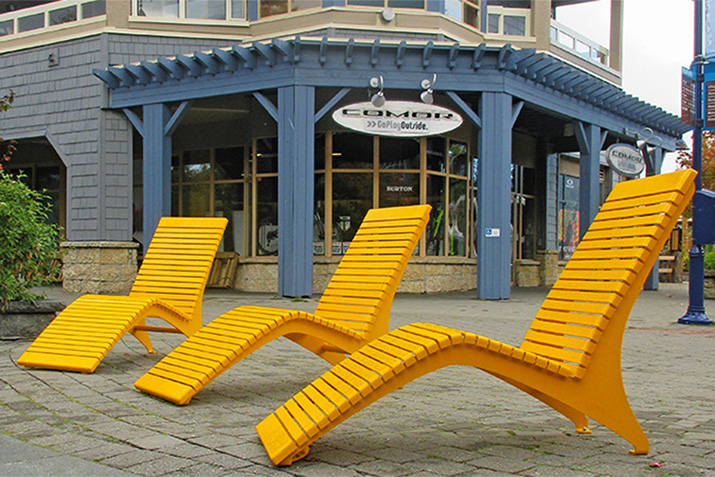 In 2014, as the Resort Municipality of Whistler was planning for the future, they began by looking back at the past. They wanted to highlight another side of their resort town, one that invited people to slow down and appreciate the natural beauty and unexpected history of the breathtaking location...
---
November 14, 2018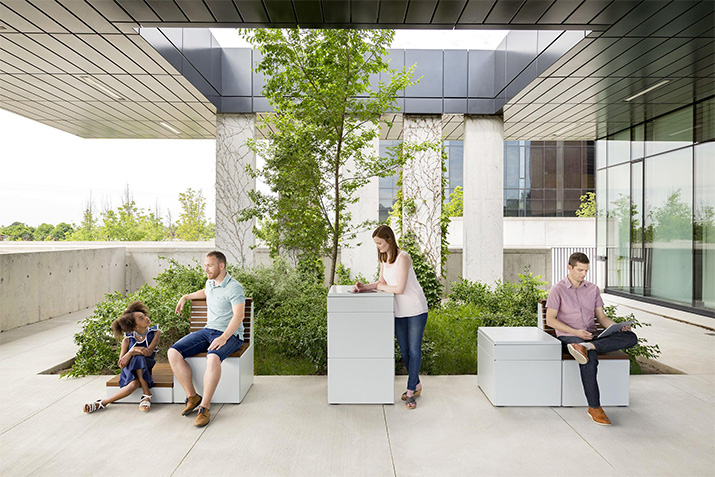 Maglin Site Furniture's new Pixel Collection is the perfect solution with its innovative and highly customizable line of modular site furnishings. Inspired by the concept of a pixel and how its square shape allows for near-limitless possibilities in placement and design, the Pixel Collection comprises an interchangeable series of blocks and tops that can be used to create everything from large-scale platform seating to lounge chairs, garden planters, tables, and more. Wired and wireless charging stations can be integrated into the design to support mobile devices. Whether used as an alternate work area or a place for a quick break, Pixel can offer the feeling of privacy through a strategically-placed planter, opposite oriented seating, or incorporating a standing tower into the configuration.
---
June 25, 2018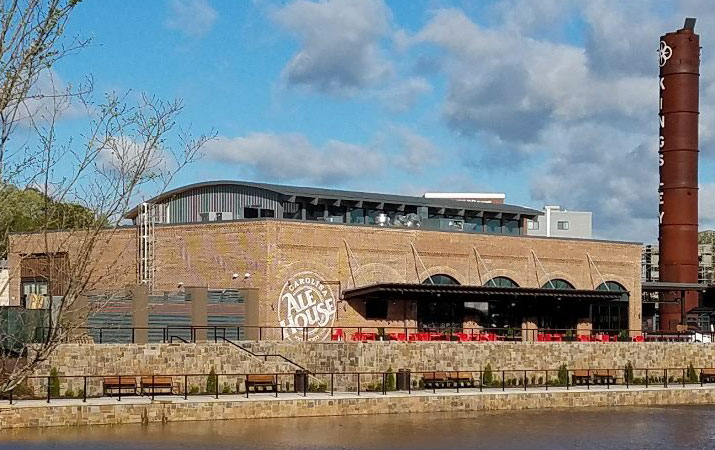 What is old is cool again! Mixed-use development had fallen out of favor during the twentieth century with the rise of the automobile facilitating widespread suburbanization in North America. Now the pendulum of style is swinging back.
---
June 4, 2018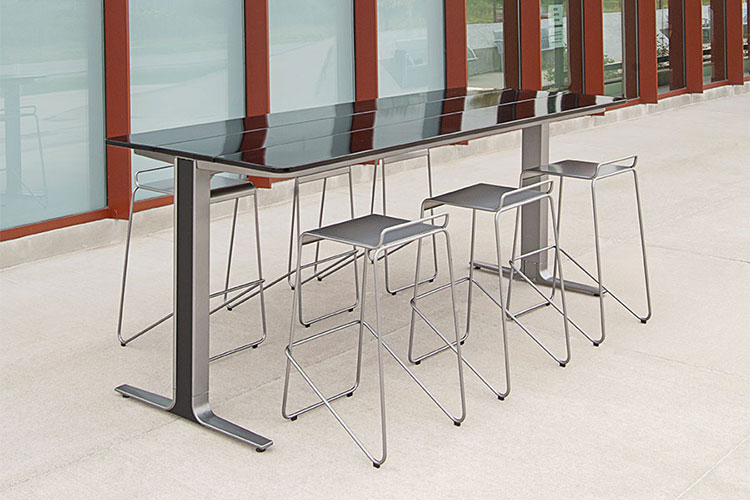 Bring people together where ideas, insight and inspiration can be shared with the new Ancora table by Maglin. This bar height table is available in 6 FT and 8 FT lengths and pairs well with Bar Height Foro and Kontur Stools. Available in steel and recycled plastic, this modern table leaves a lasting impression.
---
March 29, 2018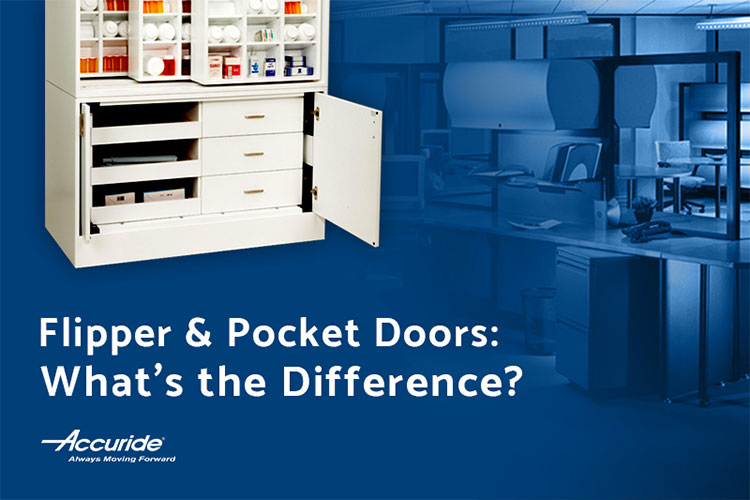 Once relegated to storing console televisions and video cassettes, flipper and pocket doors have made a resurgence in space-saving designs. If you haven't considered or may be totally unfamiliar with, these types of entries, you could be missing out. Here's a quick overview.
---
March 28, 2018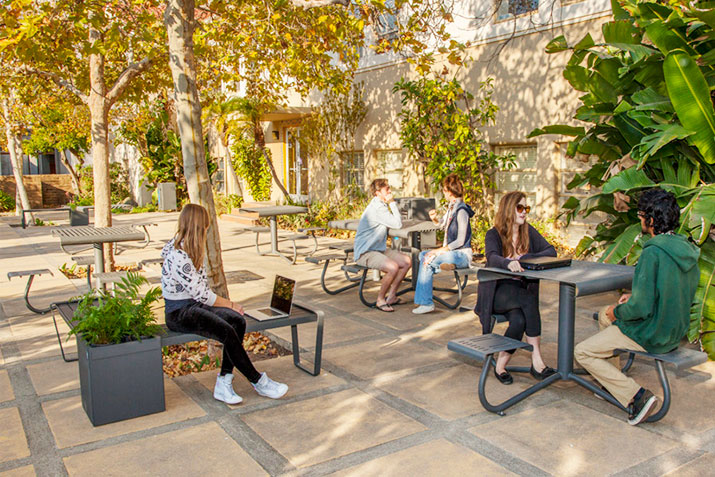 Cal Poly Dexter Patio Design - Educational design is evolving and a trend to more flexible learning spaces is evident. The learning environment is moving beyond the classroom walls and emphasis has been put on the quality of and access to outdoor spaces, to create balance between the indoors and out.
---
November 10, 2017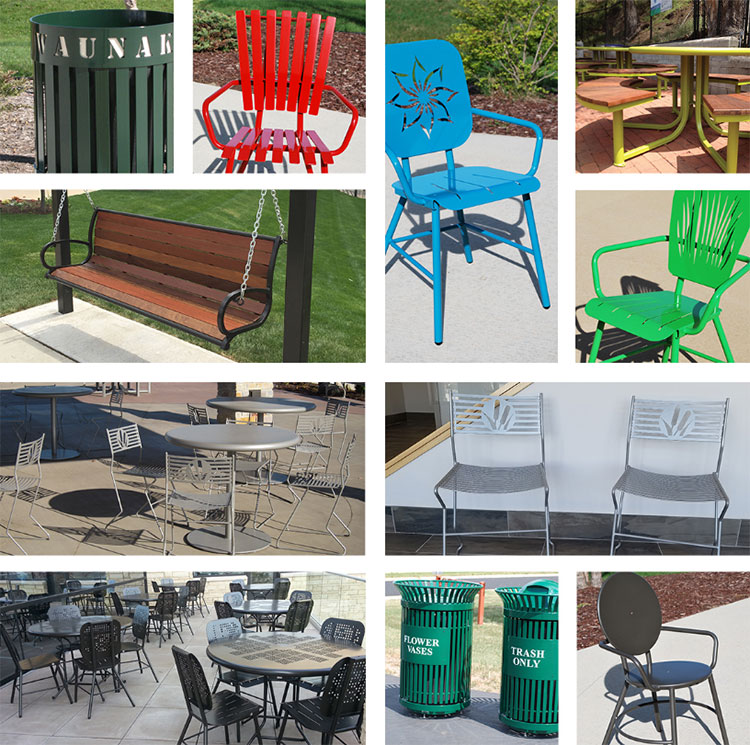 Your project requires more than generic, mass-produced site furnishings—it yearns for handcrafted custom outdoor furniture products that are as innovative and unique as your vision. Let Thomas Steele help make your vision come alive.