architecture - engineering - construction

Audio Visual
---
Ambient light rejection (ALR) projection screen technology has been around for a while now. Despite this, there is some confusion in the AV marketplace as to how ALR works. Some of this confusion is caused by manufacturers making inaccurate claims or promoting non-ALR surfaces as a solution. To help clear the confusion, here are some things to remember about ambient light rejection: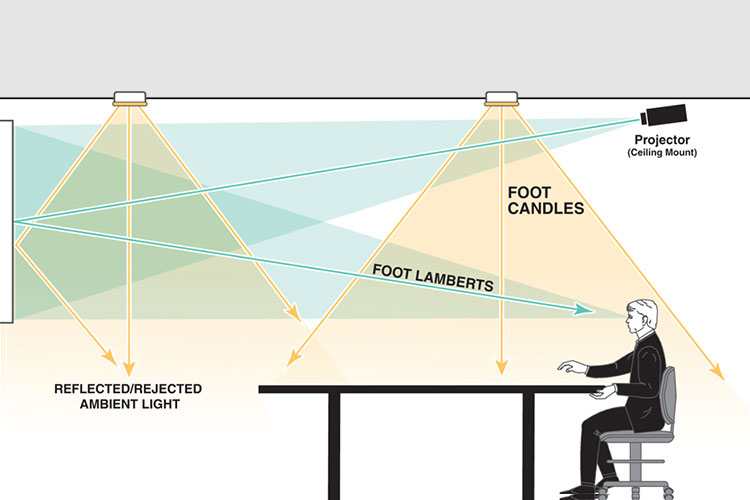 All screens have varying reflective characteristics
Every screen has a certain percentage of diffuse reflection and specular reflection. Diffuse reflection is when light hits a surface and is reflected at all angles. Specular reflection is when light hits a surface and is reflected away at the opposite angle. The amount of specular reflection is the indicator of ALR performance.
For example, Draper's Matt White XT1000E has 80% diffuse reflection and 20% specular reflection characteristics. This is definitely not the solution for ambient light since it is mostly a diffuser. Most ALR screen surfaces have a high percentage of specular reflection and reject 60% or more of ambient light while some—such as TecVision CS1200X ALR—has a high percentage of specular reflection at 82%, and a percentage of diffuse reflection at 18%.
Just because a manufacturer assigns an ALR value to a screen material doesn't mean that solution is right for ambient light. Draper only publishes ALR information for screens designed to be an ALR solution.
A grey tint doesn't make it ALR
Most grey screens have a grey tint, but are still mostly diffuse reflective surfaces. The grey tint only helps to improve contrast in moderate ambient light conditions. But that does not make it an ALR screen surface.
How an ALR screen works
ALR screen surfaces work to keep non-projector light from reflecting back to viewers. Most do this by using specular reflective elements in the screen formulation. These elements reflect off axis light away from viewers. As with everything else, there can be trade-offs. The more specular reflective a surface is, the more ambient light it will reject, but the narrower the optimal viewing cone will typically be.
The real numbers Matter
Draper frequently tests our own projection materials to make sure they are within our reported specifications. We also test those of our competitors, and unfortunately, as noted in a previous post, they often fail to verify the numbers they publicly use. This includes ALR performance. While differences in testing conditions and equipment could have some effect on the numbers, they are usually too far off for that to be the only factor.
There are two ways ambient light rejection is communicated: by reporting how much ambient light gets through or how much is rejected. Draper uses the amount of ambient light being rejected to communicate ALR performance. Whatever number is used, though, one thing you can be certain of: our numbers reflect what we actually make. Or you don't see that product.
For more information on choosing the ambient light-rejecting solution that's right for you, click here.
Product: Projection Screens
Of: Terry Coffey
Source: http://blog.draperinc.com/2018/03/alr-clearing-confusion/
Tags: Audio Visual | Lighting | Office
---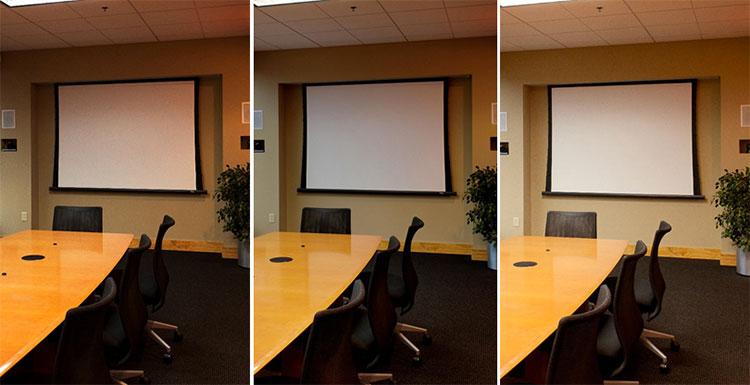 Over the past few years, the science of projection screens has made several major advances. Research and development of new methods and solutions have made the process of choosing a projection screen much different than it was just a few years ago.
To help architects and AV consultants keep up, Draper has released an updated version of our class on projection screen technology. Projection Screens 301: Updated Science of Projection Screens (PS301) contains the latest information on specifying the right screen solution.
The course objective is to provide a clear understanding of the various factors to consider when choosing a projection screen.
Among the factors taken into consideration are:
Content/Use of system
Seating Configuration
Ambient Light Levels
Room Dimensions
One of the biggest updates in screen science has been the ability to deal with ambient light conditions.
In the past, the majority of viewing surfaces had mostly diffuse reflection. These typically matte materials are best for extremely wide off-axis viewing, blending, and short throw projection. They reflect as much projected light as possible out to viewers at all angles. While this is great for spaces with low or no ambient light, if there is ambient light it will also be reflected out to viewers at all angles, "washing out" the image.
For a time, screen companies tackled ambient light with grey screens. While a grey tint can help improve contrast and absorb unwanted stray light scatter, it isn't a true ALR solution. Many grey screens are diffusive, so they are still reflecting ambient light to the viewers.
ALR surfaces are specular reflective. They reflect the projection light back to the viewers, but reflect off-axis ambient light away from the viewers. Most ambient light hits the surface and reflects at an opposite angle of incidence. For example, off-axis light at 65 degrees will mostly bounce 65 degrees in the opposite direction. The amount of light it reflects away from the viewer is dependent on the amount of reflective properties in the surface's formulation. The more specular reflective in performance, the better the ALR properties. However, this typically reduces off axis viewing performance. For instance, Draper offers screen surfaces that reflect 60%, 73%, and 82% of ambient light.
PS301 also covers contrast. Image contrast affects how well you can read, which means it affects detail and resolution. Low contrast reduces image detail and resolution, while high contrast increases detail and resolution. Image contrast is even more critical when the application involves high resolution graphics, medical imaging, control rooms, and CAD applications.
System contrast is an average of measurements of black at different locations on the screen, compared to white at different locations on the screen. This is measured in the existing lighting conditions of the application. Ambient light will affect the measurement of black. When measuring system contrast an ANSI checkerboard pattern is used.
Other subjects covered and updated include gain, hotspotting, throw distance, sizes, formats, and solution design using online calculators.
Updated Science of Projection Screens earns one AIA learning unit for architects, or one learning unit toward CTS renewal for those in the AV industry.
To learn more about all of Draper's continuing education offerings, and to register for in-house presentations, click here.
Product: Projection Screens
Source: http://blog.draperinc.com/2017/12/updated-projection-screen-science/
Tags: Audio Visual | Office
---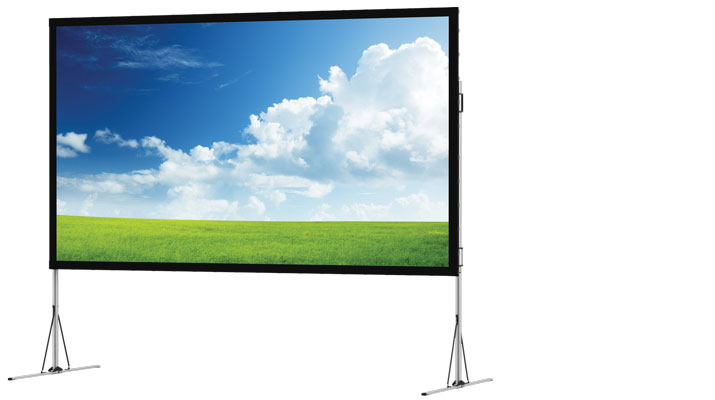 Fast-Fold NXT is a stronger, faster and simpler screen system for rental and staging environments. The re-invented design features a stronger extrusion, hinge and corner as well as new height adjustment that allows the viewing area to be raised and lowered easily. A new case design upgrades the storage and transport capabilities, and a foldable 4K-ready surface is the first and only available on the market.
Key Features
New Extrusion
More aluminum means a slightly larger frame and more strength
Channels give additional strength where you need it and prevent bowing
Shape improves aesthetic of frame and streamlines accessories by centralizing the location of all attachments
Fly any model with fly kit
New Hinge
Internal hinge improves durability and aesthetic
Increased strength in design that uses epoxy instead of exposed rivets
Push Button release for easy tear down
New Corner
Push Button release for easy tear down
Fixed corner design improves durability
Welded insert for additional reinforced strength
Surface alignment that is the same every time
New Legs
No speedy cranks. Easily adjust screen height while screen is assembled and upright with micro-tooth height adjustment
Easily add height adjustment sections when additional height is needed
Latch-attach to frame
Independently leveling feet for uneven floors
New Reinforced Case
Reinforced for increased strength
Updated internal organization to protect surface and components
New design featuring 4 wheels
Designed to be stored upright or stacked horizontally
New Surface Binding
New vinyl binding design replaces a woven binding and allows for easier attachment and flexibility
Smaller 1" white binding wrap-around option for borderless viewing area
RF Weld for clean lines
Easy attachment with new clip design
Company: Da-Lite
Product: Fast-Fold®Portable Screens
Source: https://www.milestone.com/en/products/da-lite/screens/fastfold_portable_screens/fastfold_screen_systems/fastfold_nxt_screen_system
Tags: Audio Visual | Design
---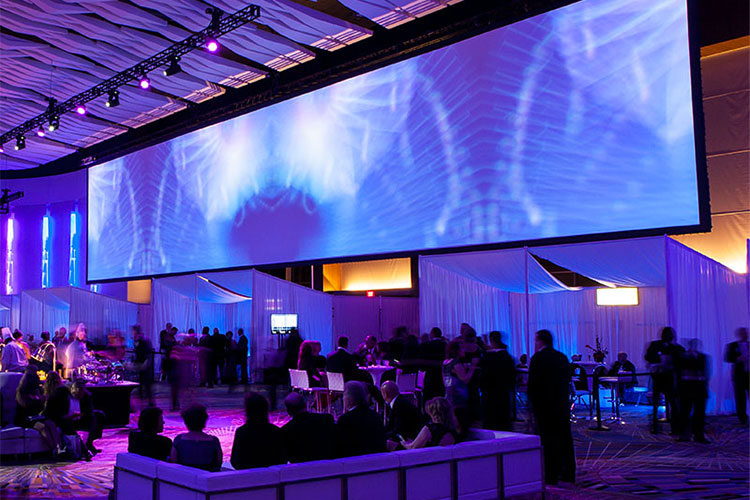 In response to requests from leading AV rental dealers, the StageScreen® is a totally new concept in projection screen design. It is designed specifically to be flown, but can also be used with legs. Either way, it is the strongest and most rigid screen on the market.
The truss system is completely modular. All available sizes of StageScreen® are built from combinations of the same 6 standard color-coded frame sections pictured in the images above. Not only does this make screen assembly faster and easier, but if a frame section should ever become damaged you can replace it in seconds without tools.
AV rental dealers can easily streamline their inventory with the StageScreen®. You can change a Multiformat to an NTS.
The StageScreen® utilizes an 8" truss that is significantly stronger than traditional truss folding screens
It is engineered to hold tolerance after repeated usage.
Color coded frame sections ensure fast and easy assembly.
Draper performed in-house testing of the strength of the StageScreen® truss compared to a folding truss screen. The results were dramatic: StageScreen® proved to be over 60% stronger, holding strong long after the folding truss failed.
The image area of each screen is exact and true to format.
StageScreen® can be assembled in about half the time of a comparable truss folding screen. See video below.
No hinges, no snaps, and no Handy Cranks are required.
Frame sections are connected with permanently attached threaded links and guide pins. No lost handy cranks.
Easy to follow color-coded assembly instructions are included with each StageScreen®
StageScreen® features a revolutionary new viewing surface attachment method. Using the attached DuraLoop™ bungee cord loops with handy nylon pull-tabs, simply hook the surface to the posts on the frame. DuraLoops are longer lasting than traditional snaps, and provide even self-centering tension for the viewing surface. You'll never want to use snaps again.
The viewing surface is stretched perfectly flat, resulting in the highest picture quality.
Sizes available are listed in charts below and depend on surface selected.
Product: Projection Screens
Source: https://innovative.draperinc.com/projectionscreens/productdetail.aspx?detail=581
Tags: Audio Visual | Color | Design | Lighting
---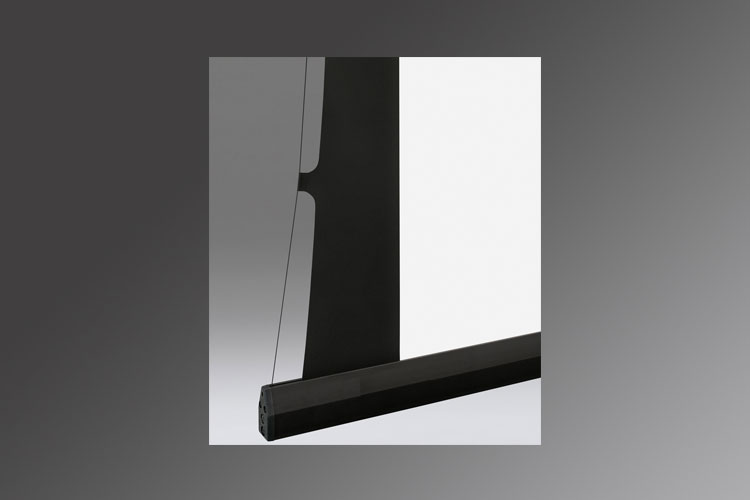 Who knew a series of small tabs could be so important to having a beautiful picture, and a durable product?
One of the most important elements of creating the ultimate projected image is having the flattest viewing surface possible. Great contrast, brightness, and vivid and correct colors are important, but without a perfectly flat surface those attributes of a great picture don't matter.
Fixed frame projection screens are one way to ensure the flattest viewing surface possible. Not everyone wants a huge screen hanging on the wall all the time, though, so they need a motorized screen. With motorized screens, however, the problem is how to keep the surface taut from the sides.
That's where Draper's innovative tab tensioning system is so important. A tab tensioning system uses a very thin cord running down each side of the screen through tabs, attached to the roller at the top and the dowel at the bottom. The cords are tightened, creating a flat viewing surface.
Most other manufacturers use adhesive to attach these tabs. This can lead to problems when the constant tension proves too much for the adhesive to handle, and it give way, creating "popped" tabs.
With Draper, you never have to worry about "popped" tabs. Here's why.
All of our tab tensioned screen surfaces—including the tabs—are cut on Computer Numerical Control (CNC) cutting tables, which means every cut is made with digital precision. CNC represents the highest level of precision available in the manufacturing process.
The tabs are then folded to the backside of the screen and Radio Frequency (RF) welded. In this RF heat sealing (AKA dielectric sealing) process, the tabs are folded back and placed between two dies (electrodes). The RF produces heat by exciting the molecules to the point that they melt and create the bond. We use the same technology to create seamed projection screens. The strength of the seal is determined by three factors-
Sealing current (radio frequency power)
Sealing time
Pressure
The result is a much stronger tab, with no possibility of separation, as the tab and surface are fused into a single layer of material. In-house laboratory testing of our tabs shows that this RF seal is in most cases stronger than the material itself.
Our tab tensioning system is also nicer looking. Making a tab tensioned surface in this manner eliminates the puckering that can characterized the edges of tab tensioned screens made using adhesives.
When we introduced this new system several years ago, it represented a unique and significant improvement in tab tensioned screen design. It still does. We were so confident of our system that we decided to warrant all Draper tab tensioned screens against tab separation for five years from date of manufacture. We still do.
Click here to find the perfect tab tensioned projection solution for your next project. Whatever model you choose, the perfectly flat surface will create the perfect image you want, and for a long time to come.
Product: Projection Screens
Of: Terry Coffey
Source: http://blog.draperinc.com/2017/07/flat-viewing-surface/
Tags: Audio Visual | Color | Furniture | Interior Design | Lighting | Office
---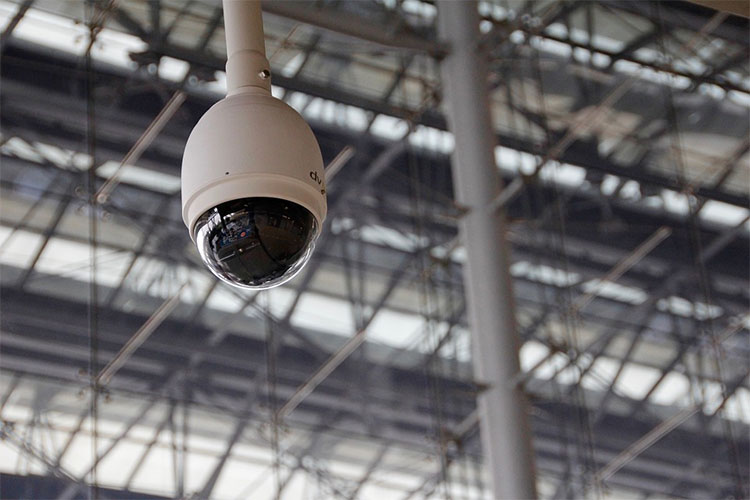 Photo credit: Pixabay
Video surveillance systems have, for years, been excellent tools to protect the safety of your staff and your clients. Updates in technology have served to make them more effective and less expensive at the same time. Newer video systems have capabilities that were only dreamed of in the past. Is it time to update your video surveillance system? Keep these developments in mind:
1. Many sectors need a video surveillance update
The publication Business Systems reports that 80% of hospitals, for instance, need to update their video surveillance systems. These systems can help organizations cut their liability in cases like slip and fall accidents. They can also significantly extend the capabilities of overstretched nursing staff; video cameras can capture events when it is not possible for an individual to be in the room. Other industries with similar liabilities and risks can mitigate them through the use of video surveillance. Newer technology and lower prices mean that you can afford to provide more coverage throughout your buildings to keep a better eye on what is going on.
2. Analog is out; IP is in
Still using analog tapes for your security footage? Experts report that the tipping point has come and that IP cameras are now the more common option, and with good reason. IP cameras that send surveillance video to digital storage offers the ability to store far more footage. These cameras are far easier to place in your facility than older, bulkier models. They offer much higher resolutions, with high definition cameras becoming far more affordable. These can be much more useful if there is a need to identify someone in the face of an act of theft, violence or another security issue.
3. Biometrics and smart cameras will play a bigger part
Instead of an individual buzzing in personnel, what if the camera could recognize an individual and provide access? Face recognition has long been used to identify criminals; now, it can also be used for tasks like access control in your buildings.
New cameras with intelligence embedded will be able to offer analytics that can be used not just for security but for business purposes. For instance, a system can help you analyze foot traffic into a business during specific times of day.
4. There will be a strong focus on cyber security
With the growth of the internet of things and a large number of recent high-profile cyber incursions, security of the data that is collected will be as important as the physical security in the building. To ensure that your clients and staff continue to enjoy privacy and safety, it is vital that the data from your cameras be well-secured. Experts in the field recommend keeping up to date on cyber security issues, such as newly discovered vulnerabilities in operating systems and commonly used software. By attending to these, you can reduce the chances that your video will be improperly accessed.
Video camera technology continues to improve, offering more to concerned facility runners and business owners at a lower cost than ever. Look into the latest upgrades available for your video surveillance system to ensure that you are offering the best possible protection to the people who work for you and the people who come to your location.
Company: Total Security Solutions Inc
Product: Accessories
Source: http://www.tssbulletproof.com/things-know-video-surveillance/
Tags: Audio Visual | Safety | Security
---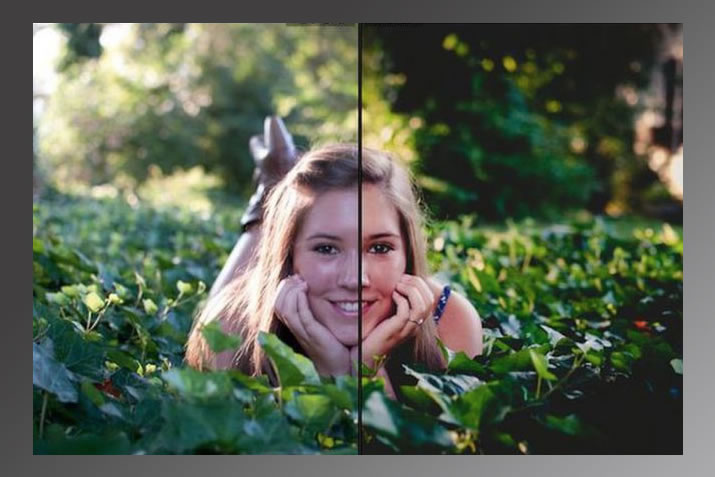 When looking for an ambient light rejecting projection screen, don't forget to consider color accuracy as well as ALR properties
Color balance plays a vital role throughout the world around us. So don't sacrifice color accuracy when it comes to ambient light rejecting (ALR) projection screens.
The majority of ALR projection screens on the market today play with color balance in order to reject as much light as possible away from the eyes of the viewer. In doing so, this creates an image that doesn't look quite right, although it's hard to say why—at least, until you do a side-by-side comparison with an ALR screen that is reflecting colors accurately. Then you notice how blue the typical ALR screen image is.
We depend on the correct colors not only to visualize, but also to understand our world. It's believed that our ability to see in color evolved, so we can sense emotion or health on the skin of others. Getting the wrong color signal could lead to misreading an enemy's intentions or being exposed to illness. Color balance can even mean the difference between right or wrong diagnoses using a microscope in the lab.
In nature, showing off the correct brilliant color warns possible predators that a South American arrow poison frog isn't a good idea for dinner. Being the right color to blend in with tree branches gets the mantis its insect meals. If a male peacock's tail feathers are bright and colorful then females know he's healthy.
So why is this need for proper color accuracy sacrificed when choosing an ALR projection screen?
Draper was the first screen manufacturer to make ALR screens that are certified by the Imaging Science Foundation (ISF) for color accuracy. All of our ALR screens have this certification, which means they are proven to have no impact on the image color.
When used in conjunction with an ISF-certified (or correctly calibrated) projector, the colors you see are as they are meant to be, so you can have confidence that no matter how mission-critical the situation, there won't be any mistakes due to bad color balance.
To find out more about our 8K-ready, ISF-certified TecVision screen viewing surfaces, including our ALR solutions, click here.
Of: Terry Coffey
Source: http://blog.draperinc.com/2017/04/color-balance-alr-screens/
Tags: Audio Visual | Color | Design
---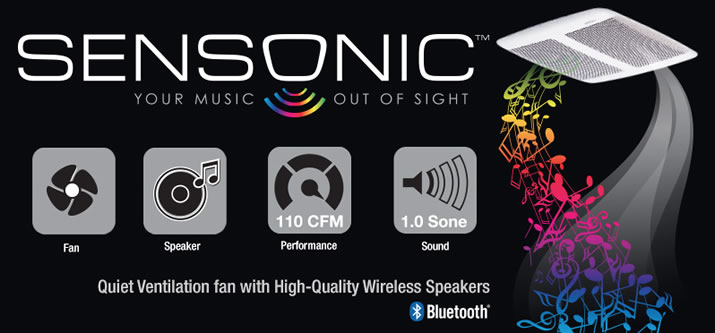 It's your music-out of sight. Unlike wireless speakers that require counter space, Sensonic™ speakers with Bluetooth® wireless technology fill your room with rich sound from above. From hard rock to news talk, play any audio through the dual high-fidelity speakers and enjoy entertainment and privacy at the touch of a button.
Enjoy entertainment and privacy at the touch of a button
Dual High-Fidelity Sensonic™ Speakers
Bluetooth® wireless technology
Brilliant audio performance concealed behind your fan grille
Play any audio through most Bluetooth®-enabled devices
Quiet, powerful QT ventilation fan
Effective, extremely quiet ventilation clears humidity and odors quickly
ENERGY STAR® qualified
Motor engineered for continuous operation
UL Listed for use over bathtub or shower when installed with a GFCI protected branch circuit
Type IC for use in direct contact with thermal insulation
Fits 2"x 8" ceiling construction
Includes unique spacer for easy I-joist mounting
Mounts between joists with optional QTHB1 Hanger Bar Kit (sold separately)
Features + Benefits | Videos | Models + Specs
Company: Broan-NuTone LLC
Source: http://www.broan.com/sensonic
Tags: Audio Visual | Design | HVAC
---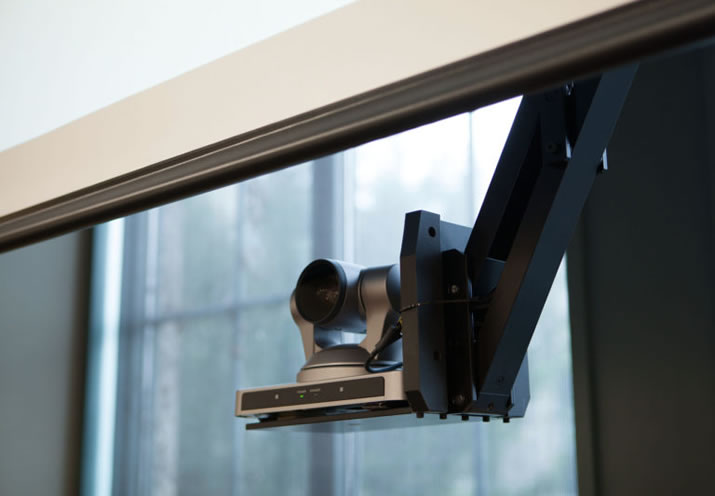 With security and privacy in the news seemingly every day, people are becoming more mindful of safeguarding personal information. A lesser-known privacy issue is the possibility of a hacker gaining control of the videoconferencing camera in your laptop, or even in conference rooms. In addition to gaining access to the computer network in this way, hackers can also eavesdrop and watch through the camera. Draper has developed a new white paper entitled "Is Someone Watching" which details this issue, and offers some solutions to deal with it.
Could someone potentially be watching and listening to you conduct business via the videoconferencing camera in your conference room—even when it isn't supposed to be on? The importance of keeping videoconferencing cameras out of the room when not in use is underscored by at least two incidents in recent years.
The first came in January of 2012 when HD Moore—a security officer for the company Rapid7 which looks for security weaknesses in Internet of Things devices—was able to hack into videoconferencing equipment. He was able to control the cameras, panning and zooming all around the room. According to a New York Times article, Moore found his way into venture capital, oil, law, and pharmaceutical companies. He even got into a courtroom remotely through the camera.
The second warning shot came at the 2013 Black Hat Europe, a security conference. During a presentation at Black Hat, Moritz Jodeit showed how to gain root access to video conferencing devices which could allow, among other things, a remote user to take control of the devices—including cameras and microphones.
Does it Really Matter?
Of course, hijacking a webcam on someone's personal computer and watching in the privacy of a home or office is obviously an intrusion on personal privacy. Even the FBI director and the founder of Facebook are known to put pieces of tape over their laptop webcams for security. But peering into an empty meeting room through a videoconferencing camera isn't that big a deal, you might think.
Or is it? Much damage can result from overheard business conversations. One might also feel the possibility of a hacker gaining control of a video conferencing camera too remote to think about. However, there are many instances where privacy issues mean that any possibility is too much.
To read the complete white paper "Is Someone Watching," and to download a free PDF copy, click here.
Of: Terry Coffey
Source: http://blog.draperinc.com/2016/07/is-someone-watching/
Tags: Audio Visual | Security | Software
---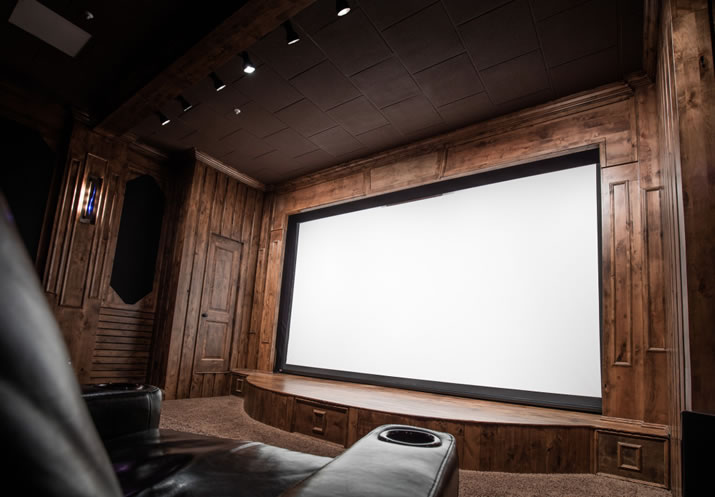 Matthew Irvin knew he had his work cut out for him when he was approached by a very particular client for a special home cinema job in Park City, Utah.
"The customer needed more "wow" in the room, according to Irvin, who is the president of Audioworks in Salt Lake City, Utah. "The screen before was 163" diagonal, but didn't fill the space. He wanted every inch of the opening filled while still having a nice background for stage performances."
That's because the space in question is more than your basic dedicated home theatre. It's also a performance space. In addition to private viewing, Irvin says the customer uses it for their own mini Sundance-style film festival for kids, as well as for huge karaoke parties.
"We were working with the tightest tolerances and HAD to meet the customer's expectations," Irvin says. "First of all, because he wanted every inch of the opening filled, we decided the only way to accommodate was with a motorized screen."
Irvin went with the Draper Premier, a tab-tensioned surface mounted screen which is often also built in to soffits or concealed behind a decorative, finished wall. But what viewing surface to go in the Premier case? Because of the customer's high expectations, and the need for an acoustically transparent material, Irvin recommended 4K-ready TecVision Nano Perf XT1300X White, with an extra wide viewing cone, typical contrast, and on-axis gain of 1.3. To fill the opening as required took a 227.25 inch 16:9 format screen.
To read more, or to download a free pdf copy of the complete case study "TecVision Stuns in Utah Home Cinema," please click here.
Of: Terry Coffey
Source: http://blog.draperinc.com/2015/11/tecvision-stuns/
Tags: Audio Visual | Interior Design
---
When Draper Dealer Wayne Wagner was approached to work on a PointCloud Media project for the Sheraton Waikiki in Honolulu, Hawaii, he knew immediately that it was no ordinary job. "PointCloud Media was doing something that nobody had done before," recalls Wagner, the founder and owner of Wagner Media. "They were projection mapping a swimming pool in 4D. That is, the effect had to be visible vertically as well as horizontally."
No Ordinary Job
When Draper Dealer Wayne Wagner was approached to work on a PointCloud Media project for the Sheraton Waikiki in Honolulu, Hawaii, he knew immediately that it was no ordinary job.
"PointCloud Media was doing something that nobody had done before," recalls Wagner, the founder and owner of Wagner Media. "They were projection mapping a swimming pool in 4D. That is, the effect had to be visible vertically as well as horizontally."
"Pools have some distinct advantages as platforms for 3D mapping projections," according to Jack Hattingh from PointCloud Media. "The water reflections from pools and the ambiance around pools add a new element of reality to mapping projections. 3D projections on water are also typically cheaper, since they require fewer projectors than 3D building projections. Pools are also more conducive to projection mapping because of their low ambient lighting, color, and ubiquity."
Hattingh approached Wagner to work on projectors and support structure needs. To get the desired effect, five Barco HDQ 2k40 and two Barco HDX-W20 projectors were to be used. But, where to deploy them, and how? The pool is part of a large outside area, with no overhanging structures on which to mount and hide projectors. He had to figure out where to put the projectors, and likely have custom mounting structures designed and built—all within 45 days.
To get a better idea of the challenge before them, PointCloud Media built a three-dimensional "point cloud" of the entire area—including the surrounding buildings. "It was determined the only way we could do it was to aim the projectors down from the side of the hotel tower—300 feet in the air," according to Wagner. "The only question was how to get the projectors into place, and keep them there, safe and secure."
It was decided to place the projectors inside metal housings to be located on the roof of the hotel, knock holes in the parapet wall surrounding the roof, and project down using projector support structures and mirrors.
Wagner immediately sent the 3D drawing to Draper.
"I wanted to work with Draper because there are clear lines of communication," according to Wagner. "I could tell them exactly what I wanted to accomplish, and I knew that Draper would understand and provide me with a viable solution."
The solution Draper came up with not only needed to handle the weight of the projectors, it also needed to be something that could hold up in 30 mile-per-hour prevailing winds, could be transported up through the building and onto the roof, and keep as low a profile as possible so the holes in the parapet walls could be kept as small as possible.
"We used the Draper RPX stand as a basis to start with," according to Jim Hoodlebrink, IDS Manager for Draper, Inc. "But we had to do a lot of fancy footwork in customizing that design for this project. The mirrors had to be much smaller than normal because the openings in the parapet wall could only be so big."
Draper designed a structure with long steel support arms holding a small glass mirror, and with adjustment platforms that allowed the projectors to be tilted to 22 degrees. The custom structures were shipped in pieces to be assembled on the roof. To address the windy conditions, Draper reinforced the mirror support arms with 14 gauge steel.
"The timeline to address everything was very difficult," Hoodlebrink recalls, "so many things were changed or addressed at time of installation. There was considerable thought put into how to move the product in and setting the proper angle for the projected light beforehand."
To meet a tight deadline imposed by the needs of the Sheraton Waikiki, Wagner and three crew members had seven days to get the structures assembled and installed, while Hattingh and PointCloud got the projection mapping squared away. And then to make matters even worse, something very unusual happened.
"We were in the middle of installation when we had word that there was a Hurricane coming," according Wagner, which is a rare occurrence for that area.
But wait, as the saying goes: there's more.
"Actually there were two hurricanes on the way," Wagner adds. "So we had to tear down the partially-built structures and get everything off the roof to a safe place until the storms blew over."
As soon as the weather cleared Hattingh and his crew were up on the roof working.
"It was an amazingly difficult project made to look very simple"
"One thing that helped the process was being able to pre-mount the projectors onto the adjustment shelves," Wagner says. "We also added wheels to the structures so they could be wheeled nearly into place, then rotated over and mounted."
On a scale of one to 10, Wagner says the job had numerous tasks in the "10" category.
"It was an amazingly difficult project made to look very simple," he says. "But in the end it worked out great. We were able to meet the Sheraton's deadline, keep the installation relatively low profile, and PointCloud's projection map right down to the bottom of the pool was awesome."
To see just how the PointCloud Raylight 4D (patent pending) pool projection worked out here's a link to a cool YouTube Video
MORE INFO - Rear Mirror Systems
Download Case Study (PDF)
Source: http://www.draperinc.com/Education/CustomSupportStructures_cs.aspx
Tags: Audio Visual | Exterior Design | Lighting