architecture - engineering - construction

Audio Visual
---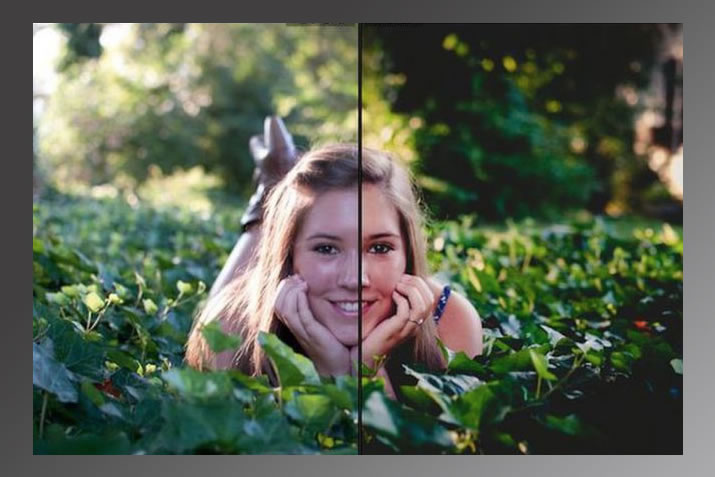 When looking for an ambient light rejecting projection screen, don't forget to consider color accuracy as well as ALR properties
Color balance plays a vital role throughout the world around us. So don't sacrifice color accuracy when it comes to ambient light rejecting (ALR) projection screens.
The majority of ALR projection screens on the market today play with color balance in order to reject as much light as possible away from the eyes of the viewer. In doing so, this creates an image that doesn't look quite right, although it's hard to say why—at least, until you do a side-by-side comparison with an ALR screen that is reflecting colors accurately. Then you notice how blue the typical ALR screen image is.
We depend on the correct colors not only to visualize, but also to understand our world. It's believed that our ability to see in color evolved, so we can sense emotion or health on the skin of others. Getting the wrong color signal could lead to misreading an enemy's intentions or being exposed to illness. Color balance can even mean the difference between right or wrong diagnoses using a microscope in the lab.
In nature, showing off the correct brilliant color warns possible predators that a South American arrow poison frog isn't a good idea for dinner. Being the right color to blend in with tree branches gets the mantis its insect meals. If a male peacock's tail feathers are bright and colorful then females know he's healthy.
So why is this need for proper color accuracy sacrificed when choosing an ALR projection screen?
Draper was the first screen manufacturer to make ALR screens that are certified by the Imaging Science Foundation (ISF) for color accuracy. All of our ALR screens have this certification, which means they are proven to have no impact on the image color.
When used in conjunction with an ISF-certified (or correctly calibrated) projector, the colors you see are as they are meant to be, so you can have confidence that no matter how mission-critical the situation, there won't be any mistakes due to bad color balance.
To find out more about our 8K-ready, ISF-certified TecVision screen viewing surfaces, including our ALR solutions, click here.
Company: Draper, Inc.
Of: Terry Coffey
Source: http://blog.draperinc.com/2017/04/color-balance-alr-screens/
Tags: Audio Visual | Color | Design
---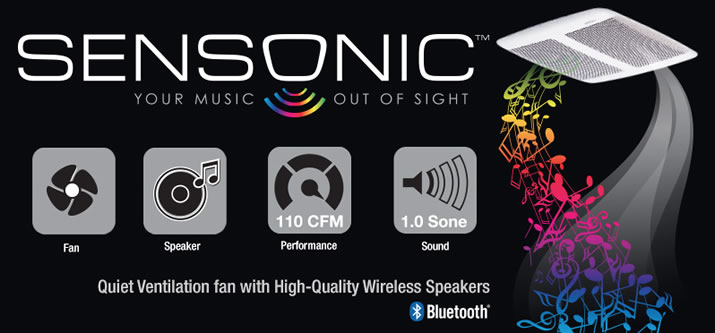 It's your music-out of sight. Unlike wireless speakers that require counter space, Sensonic™ speakers with Bluetooth® wireless technology fill your room with rich sound from above. From hard rock to news talk, play any audio through the dual high-fidelity speakers and enjoy entertainment and privacy at the touch of a button.
Enjoy entertainment and privacy at the touch of a button
Dual High-Fidelity Sensonic™ Speakers
Bluetooth® wireless technology
Brilliant audio performance concealed behind your fan grille
Play any audio through most Bluetooth®-enabled devices
Quiet, powerful QT ventilation fan
Effective, extremely quiet ventilation clears humidity and odors quickly
ENERGY STAR® qualified
Motor engineered for continuous operation
UL Listed for use over bathtub or shower when installed with a GFCI protected branch circuit
Type IC for use in direct contact with thermal insulation
Fits 2"x 8" ceiling construction
Includes unique spacer for easy I-joist mounting
Mounts between joists with optional QTHB1 Hanger Bar Kit (sold separately)
Features + Benefits | Videos | Models + Specs
Company: Broan-NuTone LLC
Product: Bath and Ventilation Fans
Source: http://www.broan.com/sensonic
Tags: Audio Visual | Design | HVAC
---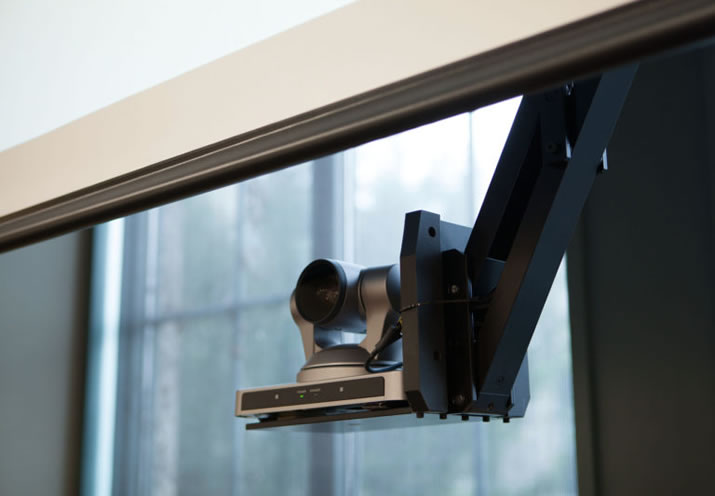 With security and privacy in the news seemingly every day, people are becoming more mindful of safeguarding personal information. A lesser-known privacy issue is the possibility of a hacker gaining control of the videoconferencing camera in your laptop, or even in conference rooms. In addition to gaining access to the computer network in this way, hackers can also eavesdrop and watch through the camera. Draper has developed a new white paper entitled "Is Someone Watching" which details this issue, and offers some solutions to deal with it.
Could someone potentially be watching and listening to you conduct business via the videoconferencing camera in your conference room—even when it isn't supposed to be on? The importance of keeping videoconferencing cameras out of the room when not in use is underscored by at least two incidents in recent years.
The first came in January of 2012 when HD Moore—a security officer for the company Rapid7 which looks for security weaknesses in Internet of Things devices—was able to hack into videoconferencing equipment. He was able to control the cameras, panning and zooming all around the room. According to a New York Times article, Moore found his way into venture capital, oil, law, and pharmaceutical companies. He even got into a courtroom remotely through the camera.
The second warning shot came at the 2013 Black Hat Europe, a security conference. During a presentation at Black Hat, Moritz Jodeit showed how to gain root access to video conferencing devices which could allow, among other things, a remote user to take control of the devices—including cameras and microphones.
Does it Really Matter?
Of course, hijacking a webcam on someone's personal computer and watching in the privacy of a home or office is obviously an intrusion on personal privacy. Even the FBI director and the founder of Facebook are known to put pieces of tape over their laptop webcams for security. But peering into an empty meeting room through a videoconferencing camera isn't that big a deal, you might think.
Or is it? Much damage can result from overheard business conversations. One might also feel the possibility of a hacker gaining control of a video conferencing camera too remote to think about. However, there are many instances where privacy issues mean that any possibility is too much.
To read the complete white paper "Is Someone Watching," and to download a free PDF copy, click here.
Company: Draper, Inc.
Of: Terry Coffey
Source: http://blog.draperinc.com/2016/07/is-someone-watching/
Tags: Audio Visual | Security | Software
---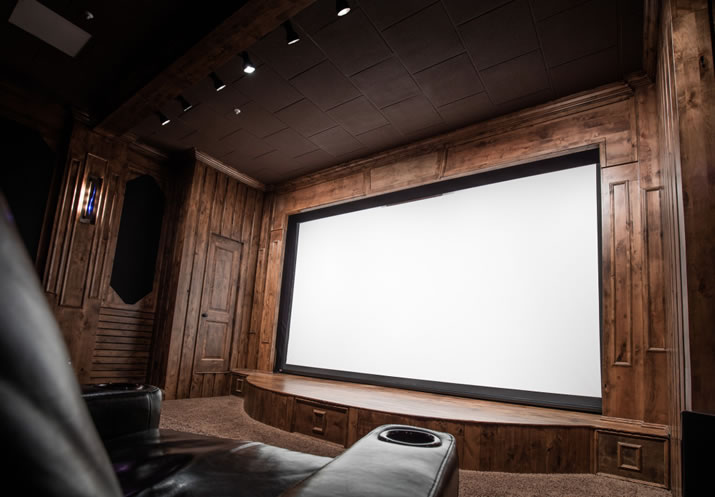 Matthew Irvin knew he had his work cut out for him when he was approached by a very particular client for a special home cinema job in Park City, Utah.
"The customer needed more "wow" in the room, according to Irvin, who is the president of Audioworks in Salt Lake City, Utah. "The screen before was 163" diagonal, but didn't fill the space. He wanted every inch of the opening filled while still having a nice background for stage performances."
That's because the space in question is more than your basic dedicated home theatre. It's also a performance space. In addition to private viewing, Irvin says the customer uses it for their own mini Sundance-style film festival for kids, as well as for huge karaoke parties.
"We were working with the tightest tolerances and HAD to meet the customer's expectations," Irvin says. "First of all, because he wanted every inch of the opening filled, we decided the only way to accommodate was with a motorized screen."
Irvin went with the Draper Premier, a tab-tensioned surface mounted screen which is often also built in to soffits or concealed behind a decorative, finished wall. But what viewing surface to go in the Premier case? Because of the customer's high expectations, and the need for an acoustically transparent material, Irvin recommended 4K-ready TecVision Nano Perf XT1300X White, with an extra wide viewing cone, typical contrast, and on-axis gain of 1.3. To fill the opening as required took a 227.25 inch 16:9 format screen.
To read more, or to download a free pdf copy of the complete case study "TecVision Stuns in Utah Home Cinema," please click here.
Company: Draper, Inc.
Of: Terry Coffey
Source: http://blog.draperinc.com/2015/11/tecvision-stuns/
Tags: Audio Visual | Interior Design
---
When Draper Dealer Wayne Wagner was approached to work on a PointCloud Media project for the Sheraton Waikiki in Honolulu, Hawaii, he knew immediately that it was no ordinary job. "PointCloud Media was doing something that nobody had done before," recalls Wagner, the founder and owner of Wagner Media. "They were projection mapping a swimming pool in 4D. That is, the effect had to be visible vertically as well as horizontally."
No Ordinary Job
When Draper Dealer Wayne Wagner was approached to work on a PointCloud Media project for the Sheraton Waikiki in Honolulu, Hawaii, he knew immediately that it was no ordinary job.
"PointCloud Media was doing something that nobody had done before," recalls Wagner, the founder and owner of Wagner Media. "They were projection mapping a swimming pool in 4D. That is, the effect had to be visible vertically as well as horizontally."
"Pools have some distinct advantages as platforms for 3D mapping projections," according to Jack Hattingh from PointCloud Media. "The water reflections from pools and the ambiance around pools add a new element of reality to mapping projections. 3D projections on water are also typically cheaper, since they require fewer projectors than 3D building projections. Pools are also more conducive to projection mapping because of their low ambient lighting, color, and ubiquity."
Hattingh approached Wagner to work on projectors and support structure needs. To get the desired effect, five Barco HDQ 2k40 and two Barco HDX-W20 projectors were to be used. But, where to deploy them, and how? The pool is part of a large outside area, with no overhanging structures on which to mount and hide projectors. He had to figure out where to put the projectors, and likely have custom mounting structures designed and built—all within 45 days.
To get a better idea of the challenge before them, PointCloud Media built a three-dimensional "point cloud" of the entire area—including the surrounding buildings. "It was determined the only way we could do it was to aim the projectors down from the side of the hotel tower—300 feet in the air," according to Wagner. "The only question was how to get the projectors into place, and keep them there, safe and secure."
It was decided to place the projectors inside metal housings to be located on the roof of the hotel, knock holes in the parapet wall surrounding the roof, and project down using projector support structures and mirrors.
Wagner immediately sent the 3D drawing to Draper.
"I wanted to work with Draper because there are clear lines of communication," according to Wagner. "I could tell them exactly what I wanted to accomplish, and I knew that Draper would understand and provide me with a viable solution."
The solution Draper came up with not only needed to handle the weight of the projectors, it also needed to be something that could hold up in 30 mile-per-hour prevailing winds, could be transported up through the building and onto the roof, and keep as low a profile as possible so the holes in the parapet walls could be kept as small as possible.
"We used the Draper RPX stand as a basis to start with," according to Jim Hoodlebrink, IDS Manager for Draper, Inc. "But we had to do a lot of fancy footwork in customizing that design for this project. The mirrors had to be much smaller than normal because the openings in the parapet wall could only be so big."
Draper designed a structure with long steel support arms holding a small glass mirror, and with adjustment platforms that allowed the projectors to be tilted to 22 degrees. The custom structures were shipped in pieces to be assembled on the roof. To address the windy conditions, Draper reinforced the mirror support arms with 14 gauge steel.
"The timeline to address everything was very difficult," Hoodlebrink recalls, "so many things were changed or addressed at time of installation. There was considerable thought put into how to move the product in and setting the proper angle for the projected light beforehand."
To meet a tight deadline imposed by the needs of the Sheraton Waikiki, Wagner and three crew members had seven days to get the structures assembled and installed, while Hattingh and PointCloud got the projection mapping squared away. And then to make matters even worse, something very unusual happened.
"We were in the middle of installation when we had word that there was a Hurricane coming," according Wagner, which is a rare occurrence for that area.
But wait, as the saying goes: there's more.
"Actually there were two hurricanes on the way," Wagner adds. "So we had to tear down the partially-built structures and get everything off the roof to a safe place until the storms blew over."
As soon as the weather cleared Hattingh and his crew were up on the roof working.
"It was an amazingly difficult project made to look very simple"
"One thing that helped the process was being able to pre-mount the projectors onto the adjustment shelves," Wagner says. "We also added wheels to the structures so they could be wheeled nearly into place, then rotated over and mounted."
On a scale of one to 10, Wagner says the job had numerous tasks in the "10" category.
"It was an amazingly difficult project made to look very simple," he says. "But in the end it worked out great. We were able to meet the Sheraton's deadline, keep the installation relatively low profile, and PointCloud's projection map right down to the bottom of the pool was awesome."
To see just how the PointCloud Raylight 4D (patent pending) pool projection worked out here's a link to a cool YouTube Video
MORE INFO - Rear Mirror Systems
Download Case Study (PDF)
Company: Draper, Inc.
Source: http://www.draperinc.com/Education/CustomSupportStructures_cs.aspx
Tags: Audio Visual | Exterior Design | Lighting