architecture - engineering - construction

Construction
---
Earth Shield® has solved a long-standing problem for engineered concrete structures with circular protrusions, such as columns, pipes, piers, and pilasters. The problem: how to permanently seal the concrete joint when cast-in-place concrete is formed against an existing circular member.
The Earth Shield® system functions as an internal dam, centrally located within the cast concrete, to stop aggressive chemicals, solvents and hot petroleum oils from penetrating the joint. By preventing the passage of hazardous liquids the Earth Shield® provides facility owners, engineers, and contractors with the necessary EPA-mandated containment compliance (EPA Title 40 CFR 265.193). Of course, the system prevents the passage of water as well. The mechanical properties of the polymer, plus the tear-web design of the JP320L and JP621L profiles, enable the waterstop to function equally well in isolation and construction joints.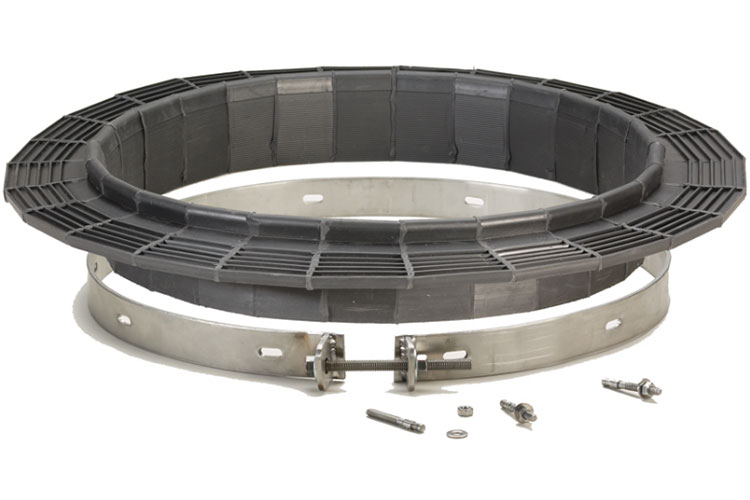 Earth Shield® Part No. JP329LC1
Company: JP Specialties, Inc.
Source: https://www.clearslide.com/view/new/mail?iID=gns2KKbH7drC4P25PKww
Tags: Building | Concrete | Construction | Engineering | Waterproofing
---
Vegas is all about the wow factor, especially in well-known casinos like Caesar's Palace. Stromberg was commissioned to produce themed elements on both the exterior and interior of the hotel.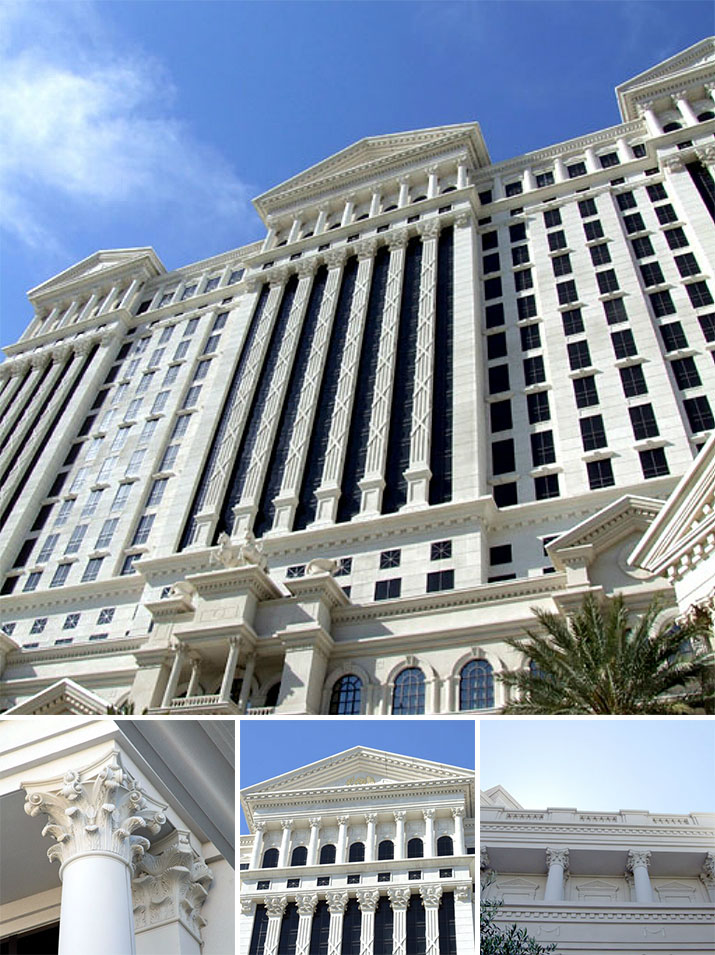 Some elements of note include:
Exterior Themed Elements
The world's largest columns and pilasters
Custom sculpted Roman statuary and bas relief panels
Fountains of GFRC (glass fiber reinforced concrete) and FRP (fiberglass)
Hundreds of assorted roman themed elements including massive brackets, trim, moldings, medallions, panels, etc, each elaborately detailed and skillfully molded
Custom cast finishes, including limestone, travertine, bronze, copper, wood and marble
Interior Themed Elements
In addition to the exterior GFRC and FRP, we produced artistically sculpted and molded interior cast elements including
Ceilings. GRG ceiling panels and intricately detailed ornamentation
Columns. Roman Corinthian, Tuscan and ionic columns in GRG
Domes. Beautifully crafted GRG domes and coffers
Sculptures in GFRG (glass fiber reinforced gypsum) and FRP, in keeping with the intricately detailed Roman style
About Casinos and Gaming
Stromberg has work featured in some of the world's best known casinos. Caesars Palace, MGM, the Mirage, the Venetian, Twin Rivers, Hollywood, Atlantis, Ameristar, etc. Over 80% of our business is with repeat clients who have come to depend on us for fast service, quality products and fair pricing. If you are an owner, architect, contractor or anyone involved in the design or construction of a gaming facility, we are here to help. We can provide preconstruction assistance with costing, design details, value engineering, art direction, mock ups, simplified attachment and custom finishing methods to make your job easier.
About Themed Construction
Doing themed construction the right way requires good design, quality materials and professional execution. While the designer creates the general scope and design, a quality themed contractor and fabricator ensures that all the little details work with the architects design intent. With 30 years of themed construction experience, we know that no matter how massive the project, the small details matter. From original concept to completion, our team will work with you to make the vision a reality. Whether your needs are a single themed element, or a massive themed project, we are here to help. Themed construction and themed elements are provided for casinos, themed resorts, museums, aquariums, zoos, themed exhibits, buildings, water parks, restaurants, etc.
Themed Services
Preconstruction Services
Budget estimates
Design development
Samples and mock ups
Scale models and maquettes
Value engineering
Art direction and design assistance
Themed Production and Construction Services
Shop drawings and engineering
Custom Sculpting
Models
Molds
Casting
Custom finishes. Stone, metal, stucco, wood, etc.
Installation
Project profile
Name: Caesar's Palace
Location: Las Vegas, NV
Dates: 1997
Materials: Glass Fiber Reinforced Polymer (GFRP)
Products: Exterior theming elements, including Fiberglass (GFRP) and glass fiber reinforced concrete (GFRC) Corinthian capitals, columns
Type: New construction
Company: Stromberg Architectural Products, Inc.
Product: Columns
Source: http://www.strombergarchitectural.com/projects/caesar-s-palace
Tags: Architecture | Construction | Exterior Design
---
What you need to know to be compliant with the New OSHA Crystalline Silica Rule
The previous OSHA Crystalline Silica standard had not been updated in over 40 years. The agency determined that silica dust exposure at the previous levels resulted in a significant health risk of developing silicosis and other lung or kidney diseases. The new OSHA silica standard for PEL limits exposures to 50 micrograms of Respirable Crystalline Silica (RCS) per cubic meter of air, averaged over an 8-hour work day.
In order to keep exposure at or below the PEL, using engineering controls and work practices such as local exhaust ventilation systems or wet cutting is recommended. If these practices do not sufficiently lower RCS levels, the use of respirators is required. As industry leaders Seton offers a full range of safety product including warning signs, barricades, and respirators to help you work safely with silica and keep your workplace OSHA compliant.
Have more questions? See FAQs on seton.com/osha-silica.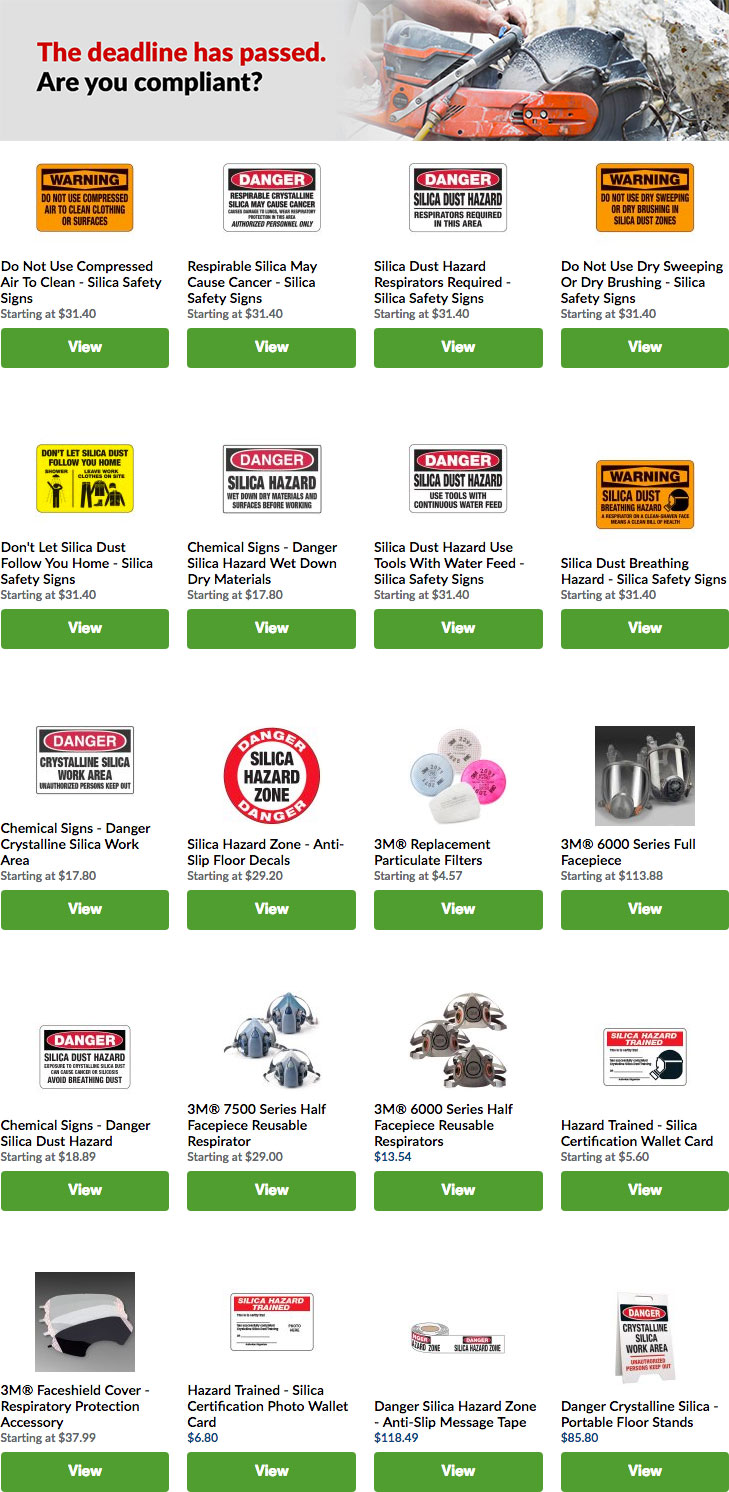 Company: Seton
Product: Signs
Source: https://www.seton.com/osha-silica.html
Tags: Color | Construction | Management | Safety
---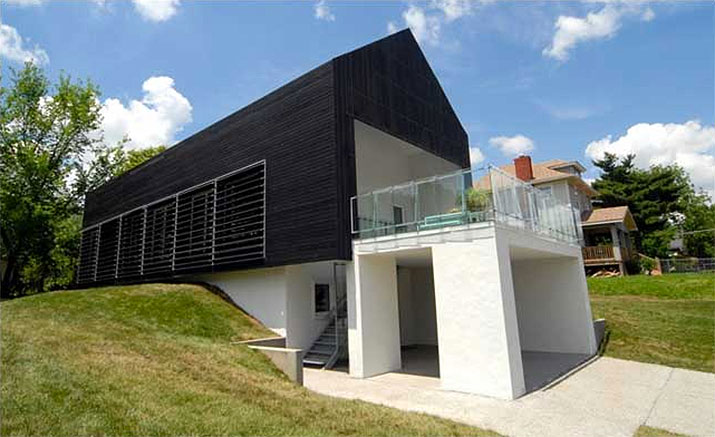 Project: Prescott Passivhaus
Architect: Studio 804
Engineer: Norton & Schmidt
LEED: Platinum
Designed to use minimal energy through affordable, passive means, this 1,700-square-foot house in the Prescott, Kansas neighborhood, is just minutes from downtown Kansas City. To achieve its goal of a 90-percent reduction in heating and cooling costs, strategies including louvers, thermal mass, high-performance windows, super insulation, southern orientation and an airtight building envelope were employed. National Gypsum's Gold Bond® BRAND eXP® Interior Extreme® Gypsum Panels are components of this project.
Company: National Gypsum
Product: Gold Bond® XP® Fire-Rated 5/16" Radius Wall
Source: http://designcenter.nationalgypsum.com/design-center/category/project-profiles/detail/prescott-passivhaus-prescott-ks
Tags: Construction | Energy | LEED Certification | Wall Panels
---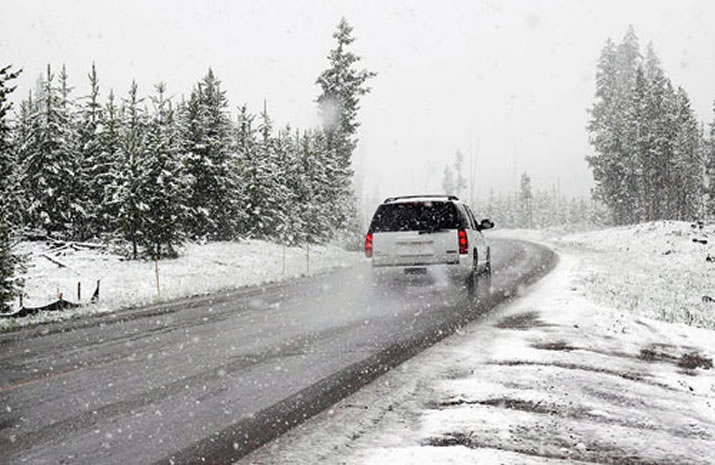 Concrete damage caused by freeze-thaw cycles is one of the main reasons for concrete deterioration. Water trapped in the capillaries and micro-cracks of concrete expands when it freezes. Without any free space to compensate for this expansion, internal pressure builds, slowly widening existing capillaries and creating new cracks in concrete. When temperatures rise, the frozen water in the concrete thaws and travels deeper into the capillary matrix, where the process is repeated during the next freeze cycle.

Freezing water in the capillaries and micro-cracks of concrete exerts an internal, expansive pressure; this leads to cracking of the concrete.
Freeze-thaw damage negatively affects durability and the service life of concrete since it increases permeability over the course of repeated freeze-thaw cycles.
Some symptoms of freeze-thaw damage include spalling and scaling of the concrete surface, exposure of the aggregates, parts of the concrete coming off as well as D-cracking. Such damage accelerates the penetration of additional water and harmful chemicals into the concrete matrix, increasing the deterioration of the concrete.
The problem is significant and costly. The United States alone spends tens of millions of dollars every year to repair and maintain concrete structures affected by freeze-thaw damage.
In order to enhance concrete's resistance against freeze-thaw damage, air entrainment additives are commonly applied. While these additives create additional voids in concrete to compensate for the expansion of freezing water, they also increase the concrete's permeability and subsequently, reduce its compressive strength and durability.
A more effective way to combat freeze-thaw damage is the inclusion of PENETRON ADMIX into the concrete mix. Not only does PENETRON ADMIX seal existing capillaries, voids and cracks, it also enables self-healing of future cracks once they occur. This prevents water from entering the concrete in the first place.
Recent durability studies have shown that PENETRON ADMIX-treated concrete samples (without air entrainment admixtures) significantly reduce the risk of freeze-thaw damage and stay well below the limits for concrete exposed to severe environments (see diagram below), which completely eliminates the need for air entrainment additives. Click here to read more.
Company: Penetron International
Product: Penetron Admix
Source: http://www.penetron.com/newsletter/feb17/images/Freeze-Thaw.pdf
Tags: Concrete | Construction | Waterproofing
---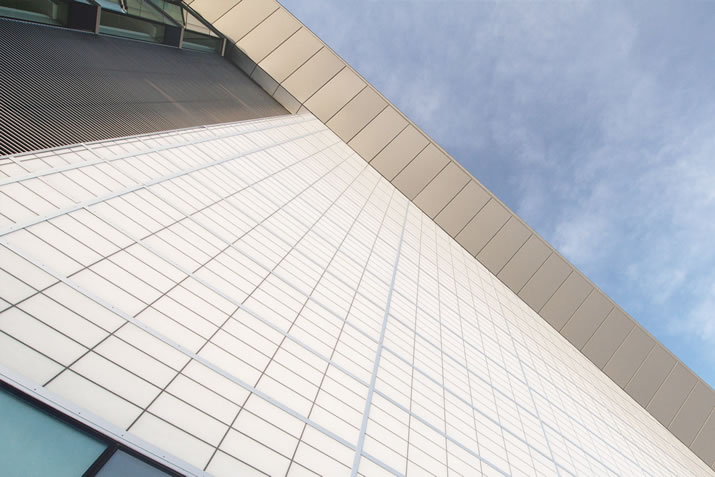 What happens when you bring together 250,000 people from around the world for six days in Munich, Germany?
Ideas are exchanged.
Best practices are shared.
Deeper levels of understanding are reached.
That was, in a nutshell, BAU 2017, the world's leading trade fair for architecture, materials and systems with the 2,210 exhibitors from 45 countries. More than 80,000 people had, like us, travelled overseas.
From our vantage point at the Kalwall® exhibit – our first time exhibiting at BAU (German for `construction') – we could see how much the world beyond the borders of the United States is changing and this was a chance to see how architects, owners, contractors and other business people are responding to those changes.
Here are three key takeaways from BAU 2017 affecting daylighting and fenestration globally.
1. Safety and security is no longer just about airports and government buildings
The safety, security and privacy of guests at hotels, students at schools and employees at banks and high finance institutions are becoming harder to ensure. While airport administrators and government facilities have been working with Kalwall for years to find solutions to similar problems, it was interesting to see the volume of private business owners looking for similar answers.Kalwall's specialty systems meet UFC 4-010-01 blast requirements and can, for example, provide an extra level of safety for guests in a hotel lobby from a car bombing in the street outside. The translucent panels also afford more privacy while providing museum-quality daylighting™ for interior spaces.
2. Canopies need to be rugged and resistant to pollution
Pollution and heat in certain regions of the world take their toll on canopies meant to provide shelter and shade, leaving architects and construction managers searching for alternatives to less durable polycarbonates.The ruggedness and capacity to resist fading in intense heat, along with its ability keep clean where pollution is a concern made Kalwall canopies an appealing option to business people in desert climates as well as industrial cities.
3. Energy is expensive and daylighting solutions are more important than ever
Technology was a dominant part of the conversation at BAU and a major reason why the world is seeking better ways to produce and store energy. I think my grandfather, Kalwall founder Robert R. Keller, would have been smiling. After all, energy efficiency was one of the reasons he developed his translucent sandwich panel in 1955.
Our technology, with its best in industry thermal and solar heat gain performance, was a conversation starter for business people concerned with the high cost of energy and the ways to be efficient. Renovations, in particular, present cladders the challenge of finding energy efficient solutions.
BAU 2017 was an opportunity to expose more people globally to the benefits of Kalwall. They came looking for the latest advancements, but some technology stands the test of time. This was re-affirmation of a technology we developed 62 years ago.
Company: Kalwall Corporation
Of: Amelia Keller
Source: https://www.kalwall.com/2017/02/13/a-kellers-bau-insights/
Tags: Building | Construction | Design | Energy | Lighting | Safety | Security
---
With construction spending continuing on an upward trajectory, 2016 can be considered a successful year for the nonresidential building sector. For the coming year, the American Institute of Architects (AIA) semi-annual Consensus Construction Forecast is projecting growth in overall nonresidential building spending of almost 6%, just below the pace of growth for 2016. The commercial construction sectors – retail, office, and hotel – will continue to lead the building recovery, while industrial construction is projected to see almost no increase this year. For 2018, the institutional construction sectors will generate much of the growth, particularly the large education structures market.
"Though most conditions look favorable, virtually every segment of the design and construction market is reporting that recruiting and retaining qualified staff is a growing issue," said AIA Chief Economist, Kermit Baker, PhD, Hon. AIA. "Many workers left the industry during the downturn, and others left the workforce entirely, and rebuilding a competent and productive workforce is a challenge, particularly when the national unemployment rate is below five percent."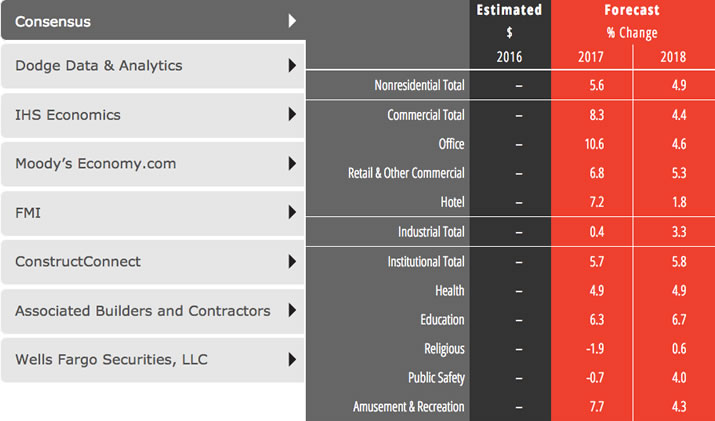 You can learn more about the Consensus Construction Forecast here: https://www.aia.org/articles/26666-even-with-uncertainties-looming-healthy-gain
About the AIA Consensus Construction Forecast Panel
The AIA Consensus Construction Forecast Panel is conducted twice a year with the leading nonresidential construction forecasters in the United States including, Dodge Data & Analytics, Wells Fargo Securities, IHS-Global Insight, Moody's economy.com, CMD Group, Associated Builders & Contractors and FMI. The purpose of the Consensus Construction Forecast Panel is to project business conditions in the construction industry over the coming 12 to 18 months. The Consensus Construction Forecast Panel has been conducted for 18 years.
About The American Institute of Architects
Founded in 1857, the American Institute of Architects consistently works to create more valuable, healthy, secure, and sustainable buildings, neighborhoods, and communities. Through nearly 300 state and local chapters, the AIA advocates for public policies that promote economic vitality and public wellbeing. Members adhere to a code of ethics and conduct to ensure the highest professional standards. The AIA provides members with tools and resources to assist them in their careers and business as well as engaging civic and government leaders and the public to find solutions to pressing issues facing our communities, institutions, nation and world. Visit www.aia.org.
Company: AIA (American Institute of Architects)
Source: https://www.aia.org/press-releases/49306-despite-economic-uncertainties-healthy-outlo
Tags: Construction | Sustainability