architecture - engineering - construction

Doors
---
February 15, 2021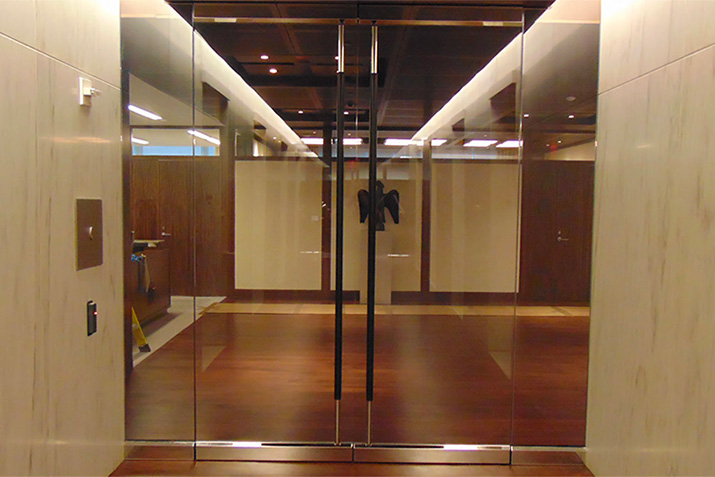 'Frameless' all-glass doors are broad and inviting—practically the standard for modern offices. It's important to know, however, that startlingly few glass door security options both fit and meet aesthetic demands while still providing significant safety.
---
January 18, 2021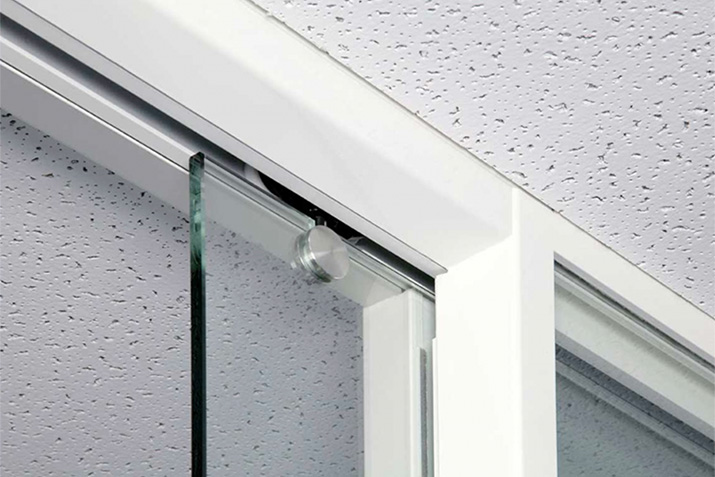 A modern office deserves modern conveniences. One modern convenience is the integration of tempered glass sliding doors. Offering safety and ease of installation and use, sliding glass doors are the perfect choice for your office.
---
November 9, 2020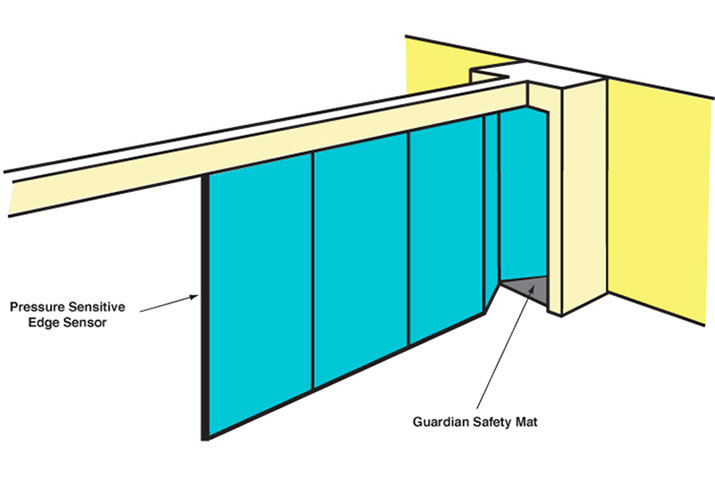 Safe Buildings Begin with Safe Designs. Sliding doors and moveable partition walls are found in a variety of projects ranging from school gymnasiums to conference center facilities. Miller Edge products help you comply with relevant safety standards and building codes for such installations. Partition walls create a potential hazard point along the leading edge as the door is closing and a potential entrapment area in the pocket as the door is opening. Miller Edge manufactures products to guard against injury in both areas.
---
June 29, 2020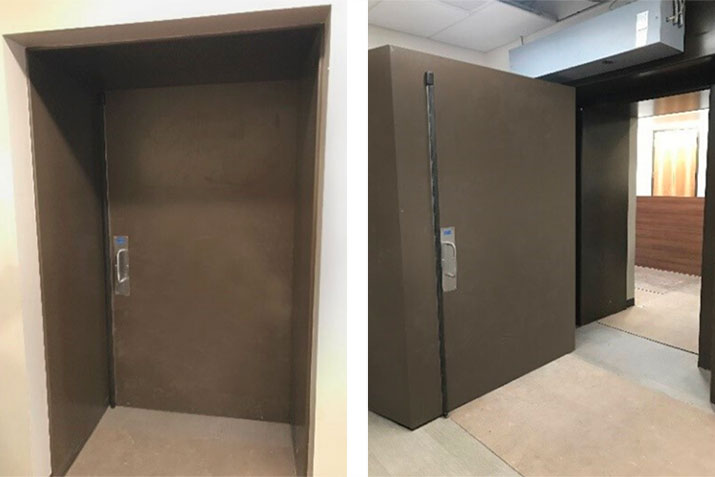 Mars Metal was contracted by a large commercial construction company to build accelerator doors for a cancer care facility in Washington, USA. We were brought on board due to our expertise in fabricating and installing accelerator doors. What made this particular project unique was that one door was to be installed immediately to get an accelerator room operational and the second door was to be installed at a later date. We began the fabrication process working with the physics report provided by the customer to custom design a set of doors. Adjustments were made on our approval drawings and the doors were designed to the customer's exact specifications to ensure installation on-site would be smooth.
---
June 22, 2020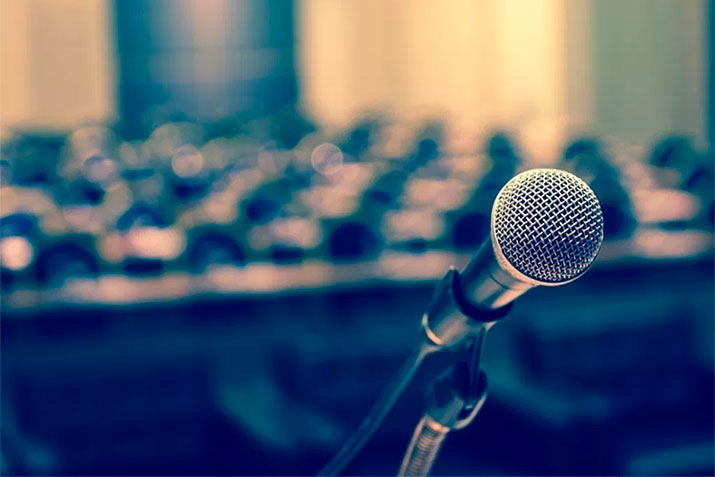 Did you know Ambico's Acoustic Door and Frame Assemblies are tested by independent laboratories to comply with the most up-to-date standards on the continent? Learn more about our range of Acoustic products.
---
February 14, 2020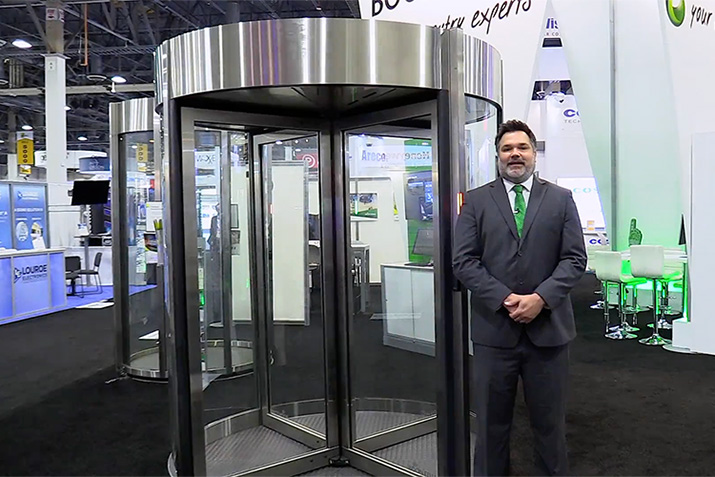 Are you looking at different types of security entrances and trying to compare which one is right for you? Security revolving doors have been gaining in popularity over the past 10 years. Why? In this quick video, I'll share with you the top 5 features of a security revolving door that make it one of the most desirable security solutions for many types of facilities.
---
July 29, 2019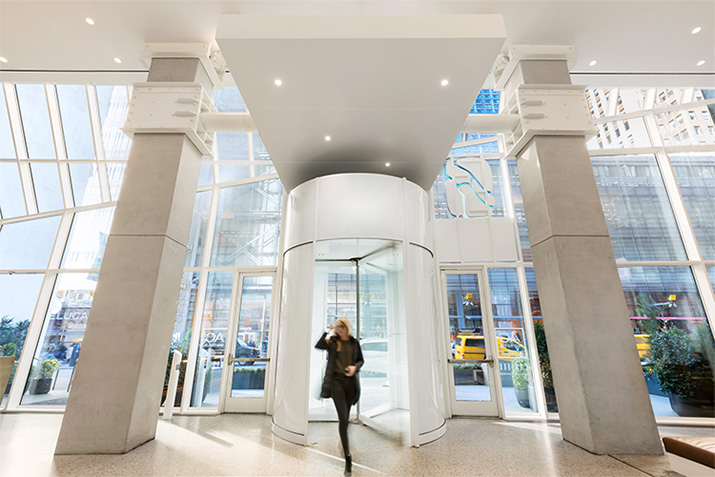 Revolving doors create modern entrances that reduce energy and save businesses space. But, as with any entrance that is used by the public, there are some implications to consider for creating the safest experience possible. Consider 5 safety tips for the safest revolving door entry.
---
June 28, 2019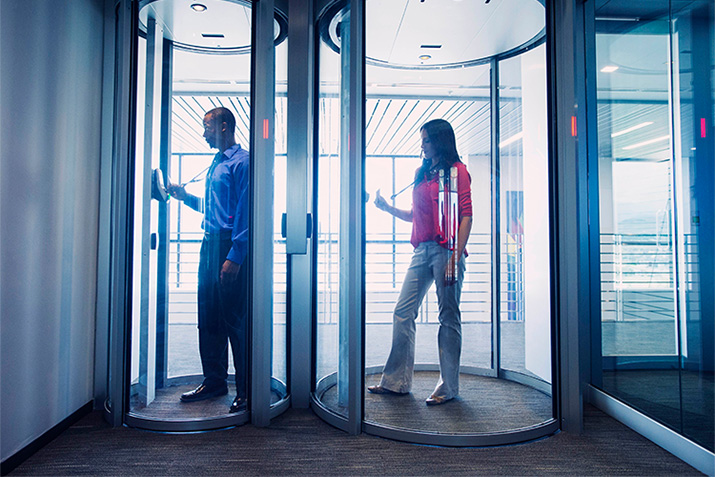 Boon Edam Inc., a global leader in security entrances and architectural revolving doors, recently published a whitepaper for security professionals. Titled 'The Advanced Analytics of Security Entrances', the whitepaper provides information and guidance about the data that can be extracted from security entrances. By delivering important insights into user traffic at the entry and in some cases, predictive metrics on the potential for a breach, this data provides higher value than traditional swinging or sliding doors and access control systems alone.
---
May 3, 2019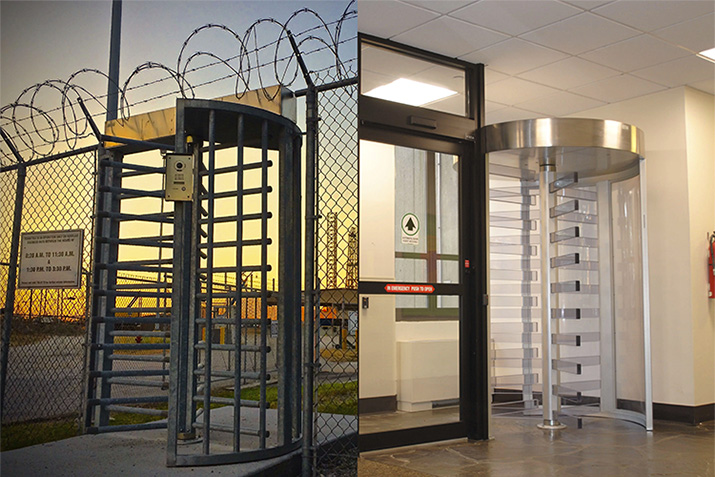 You have a team of security guards, an ID card system in place, and a top-notch video surveillance system. Your facility is secure, right? Not so fast. While those security solutions are solid and necessary to help you to mitigate security risks, it is important to ensure that your entrances are secure, as well. After all, every door or entrance is an opportunity for someone to get in to your facility and cause harm.
Security entrances have become an essential tool to secure people, property and assets. This is true whether they are used indoors or outdoors, but not all entrances can handle both applications. Here are some types of security entrance solutions that can function indoors, outdoors – or both.
---
April 10, 2019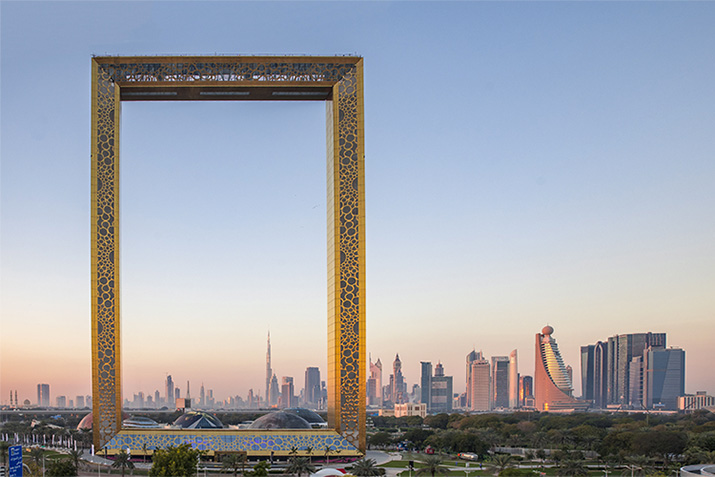 Nearly 1000 teams of architects from around the world competed to design an important new building – a "Tall Emblem Structure" that would promote "the new face of Dubai". The selected winner was the iconic Dubai Frame, and when its doors opened to the public in January 2018, those doors were automatic revolving doors from Boon Edam.
---
February 22, 2019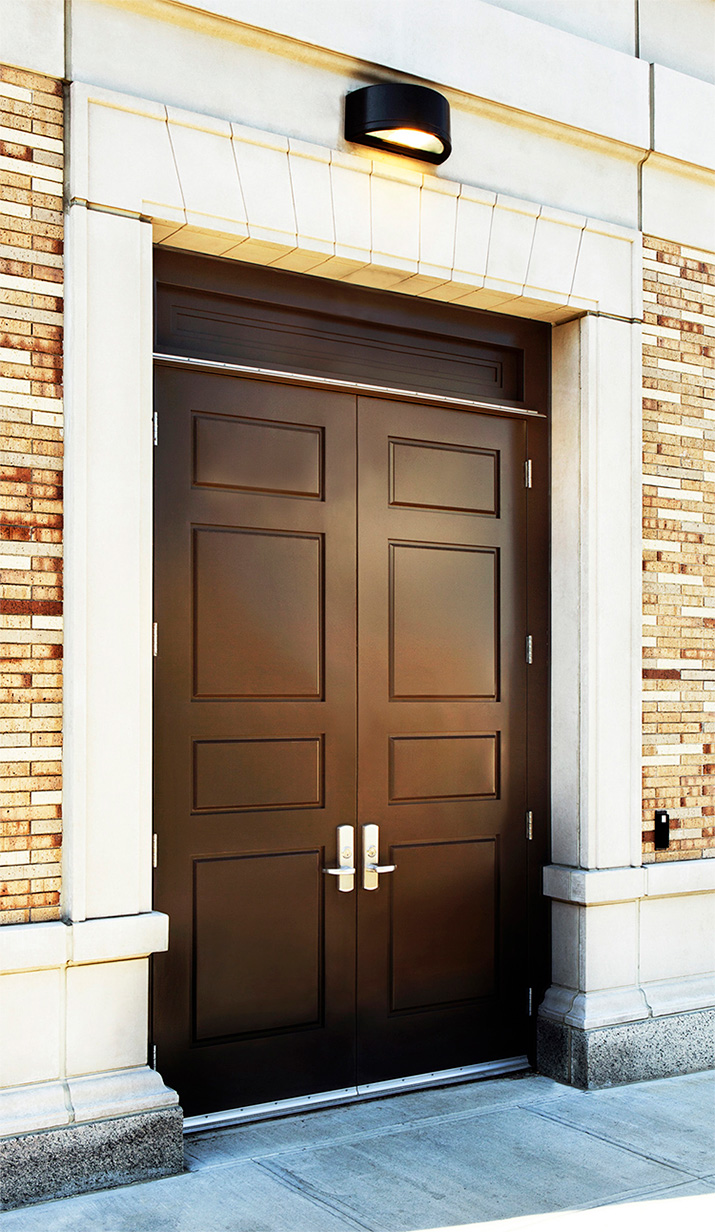 After more than 50 years in operation Bronx Community College was in need of modernization. Learn about how #AMBICO provided Recessed Panel Doors to return this historically significant site to its former glory.
---
February 7, 2019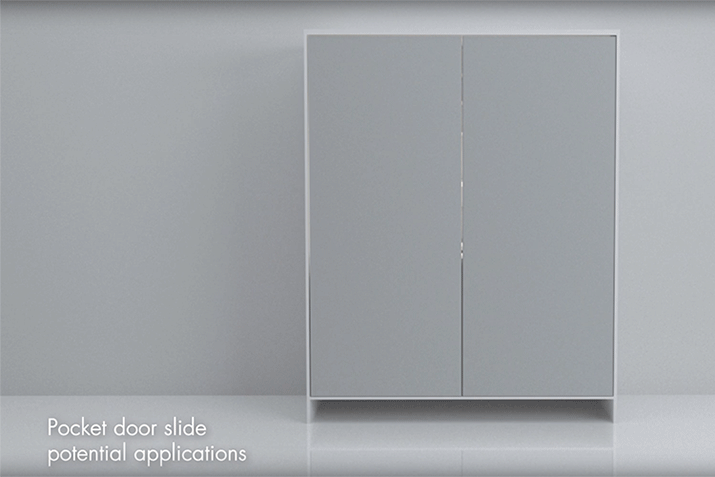 Pocket and flipper doors are a great solution to saving space while maintaining clean esthetics. These innovative openings have pull-out doors that fold into the cabinet structure. This feature keeps open cabinet doors concealed and safely out of the way.
---
January 14, 2019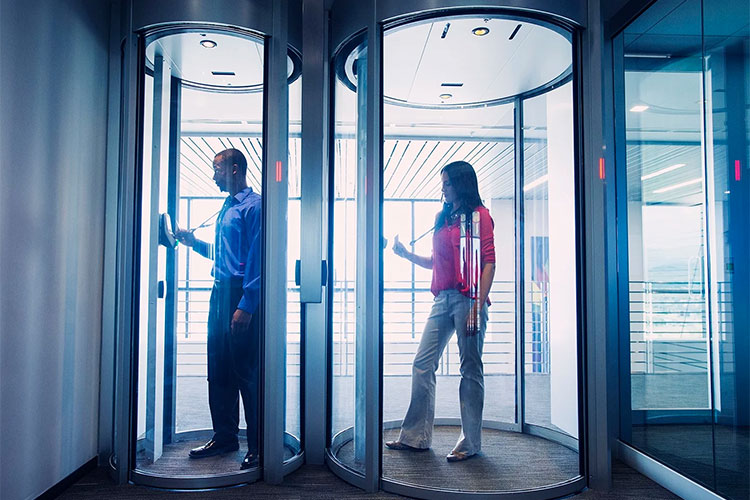 Your physical security system must comply with regulations specific to your industry. A regulation that is of major concern to security managers is the requirement to restrict physical access to a building. A failure to comply with this regulation could result in a number of associated liabilities, ranging from physical harm to an employee or guest, to hefty fines and bad press. Managing the entry to the best of your ability is key to compliance regulations.
---
November 7, 2018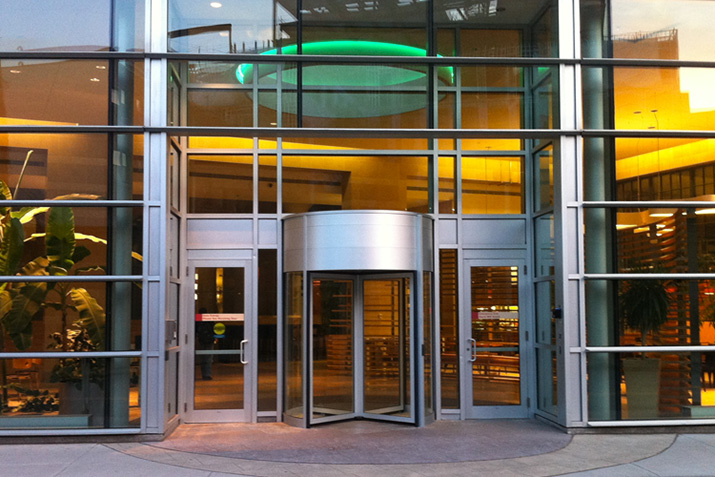 Safety. This vital component of the security entrance selection process is often missing from the conversation upfront. A failure to consider the safety features of security entrances could quickly and tragically undermine the effectiveness and success of the entire project, negatively affecting your ROI.
---
August 24, 2018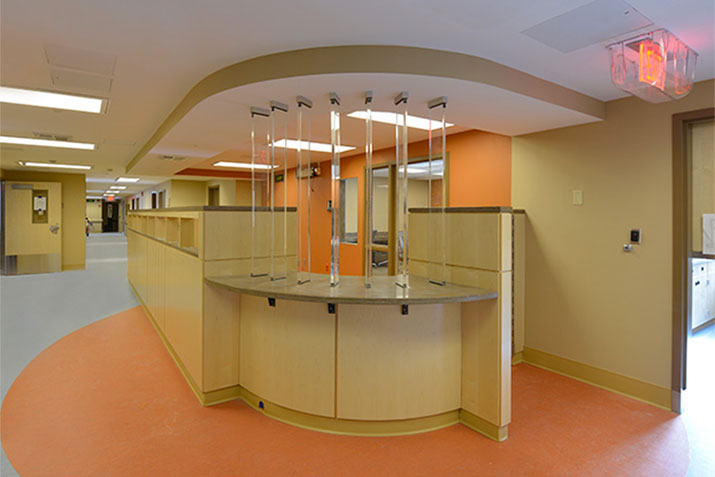 Balancing the need for strength and security along with patient comfort is an important goal of behavioral health facility managers and their building design teams. The desire to develop a wood door robust enough to satisfy the physical abuse requirements of behavioral health patients has been an exhausting challenge to concerning architects. At the architect's request, AMBICO has stepped forward with our latest product to satisfy this demand.
---
August 20, 2018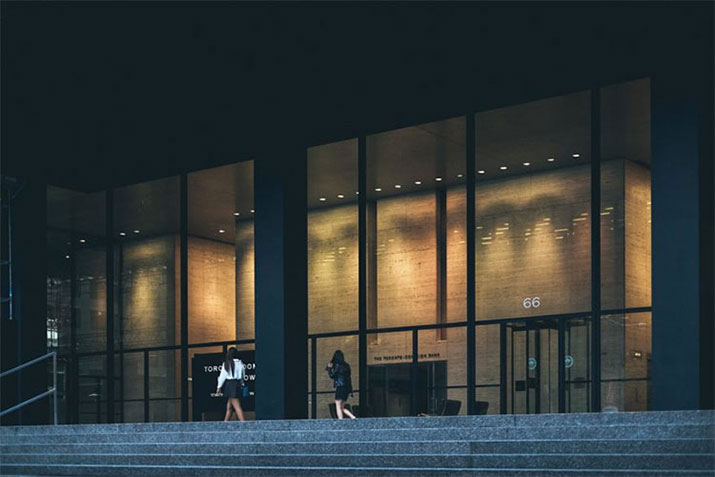 "Since the start of the year, we're finding that physical security for C-level executives is more of a focus," notes Total Security Solutions CEO Jim Richards. "That's nothing really new. The guy in the corner office has always had a little more to worry about when it comes to security. But at one time, corporate security like this was only top-of-mind for companies that were dealing with things that they knew people aren't happy with. There was bad press, or actual threats. Now, we find that these customers are rarely responding to a specific threat. This is about staying ahead of the game."
---
August 15, 2018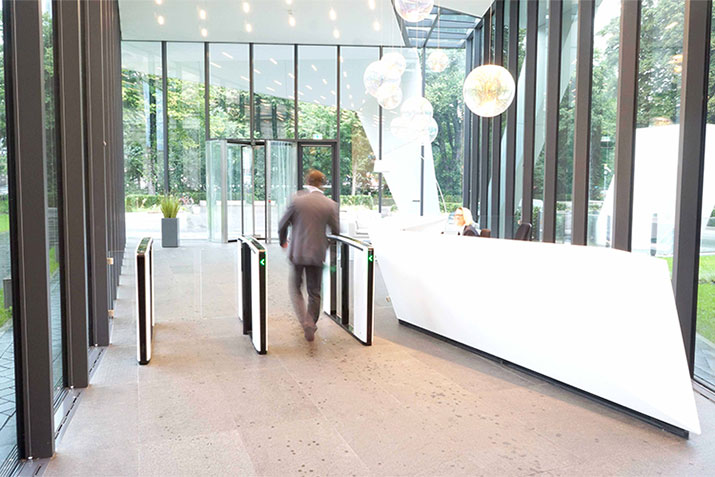 Google the term "best looking offices" and you'll find no shortage of results, with photos of interiors featuring beautiful design, materials, light and color. But do office space aesthetics actually have an effect on companies and their people? And how do aesthetics fit into the equation when it comes to how secure an office space is?
---
June 26, 2018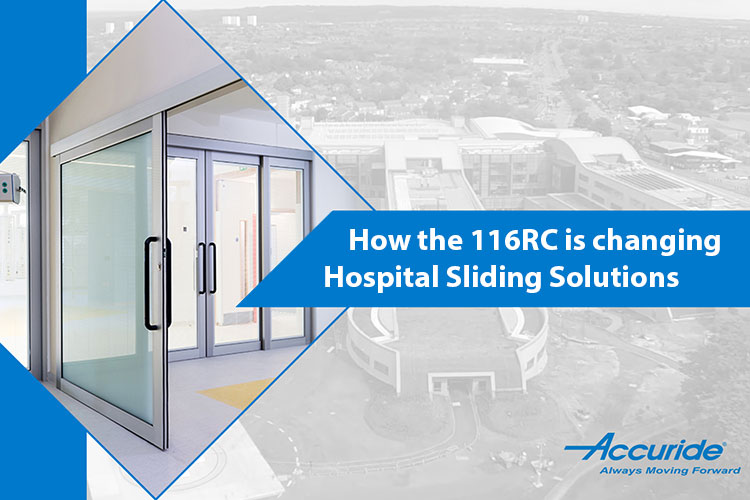 Staying true to the tagline of Always Moving Forward, we've released an innovative product that exemplifies the strength and reliability Accuride has produced for over 50 years: The 116RC, a heavy-duty linear track system.
---
June 9, 2018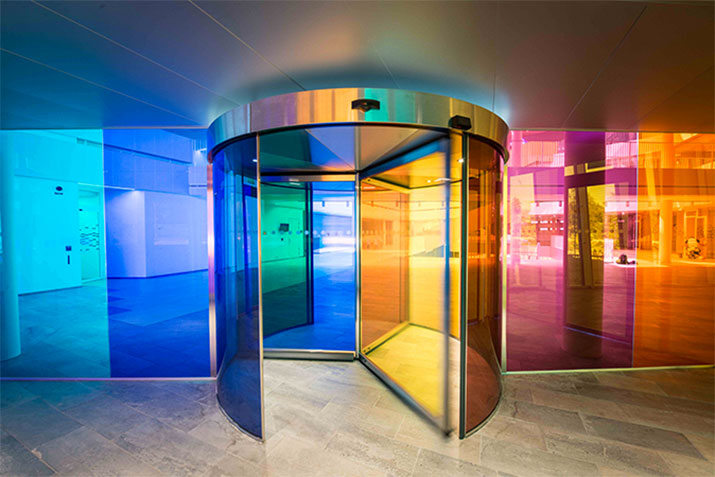 When entering the new Segerstedthuset building at the Uppsala University in Sweden – guests, students and employees alike are cheerfully greeted by a colourful revolving door. This unique door is an art installation by renowned American artist Spencer Finch (http://www.spencerfinch.com/) and is aptly named 'The Colour Wheel'. The artist is best known for installations that visualise his experience of the nature of light, colour, memory.
---
April 13, 2018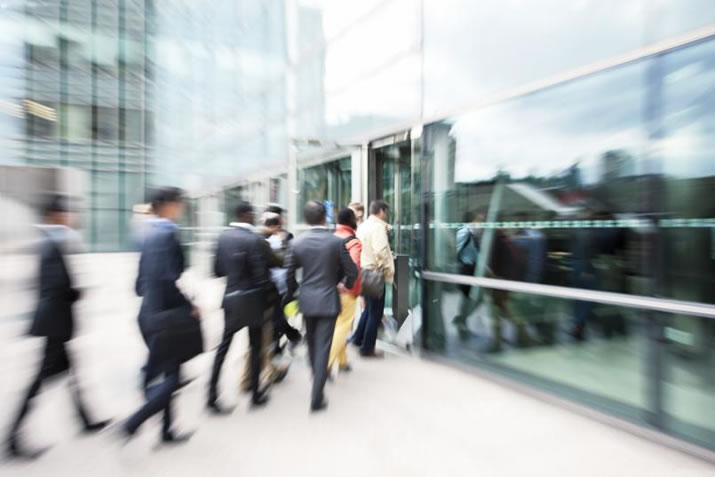 Many organizations spend a great deal of time and financial resources in making the entrances to their buildings artistic and beautiful, with designs and materials that inspire awe. They may work with an architect, engineer, or building contractor and ensure compliance to NFPA safety and fire guidelines regarding egress, along with the desire for user convenience and an overall aesthetic design. Often, they select standard swinging doors to make it more convenient for employees, visitors and vendors to enter. For security, they employ security officers to stand guard.