architecture - engineering - construction

Doors
---
Many organizations spend a great deal of time and financial resources in making the entrances to their buildings artistic and beautiful, with designs and materials that inspire awe. They may work with an architect, engineer, or building contractor and ensure compliance to NFPA safety and fire guidelines regarding egress, along with the desire for user convenience and an overall aesthetic design. Often, they select standard swinging doors to make it more convenient for employees, visitors and vendors to enter. For security, they employ security officers to stand guard.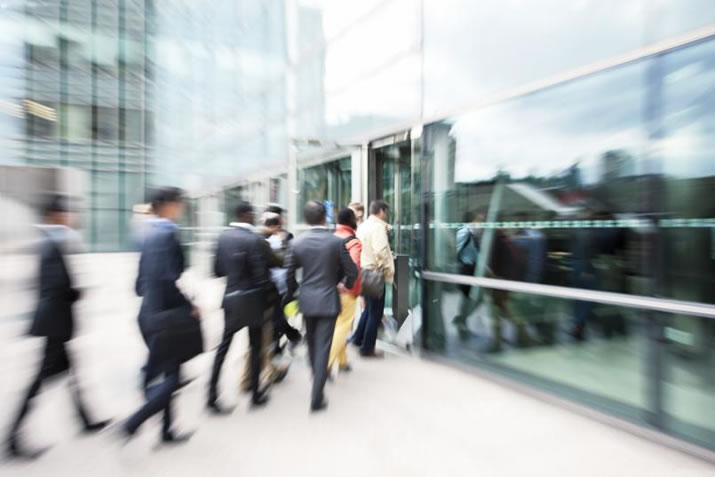 Standard Swinging Doors Introduce Risk
Unfortunately, there are a number of troubling issues surrounding the strategy mentioned above. Security officers are human and subject to distractions, absenteeism, fatigue, being spread too thin or overwhelmed during busy periods. No security officer can reliably "prevent" an intrusion incident at all times and in all locations – in fact, the term "social engineering" was coined to refer to commonly used techniques for getting around security officers. That introduces risk to the enterprise.
And a standard swinging door is often the choice when organizational management is under-informed of the security implications of that selection. The decision makers may also not have any security background. Swinging doors do not, and cannot, prevent unauthorized intrusions, and thus they place an organization squarely in the chain of liability should an intruder cause harm or physical or data loss.
Failure to Meet Physical Security Regulations Results in Fines and Penalties
The lack of clarity around how an entrance is designed and secured not only increases physical and cybersecurity risks, it also places a company at risk of liability that can lead to crippling fines and penalties. Laws and regulations such as HIPAA, HITRUST, PCI Data Security Standard, NERC CIP, FERC, FISMA, ISO, FDA, TAPPA and others have maintained a cyber-heavy emphasis. However, today virtually all regulations mandate some form of physical controls that address unauthorized entry and the control of access into a facility. Non-compliant firms may be subject to significant fines and other actions. Below are a few examples:
NERC Violation
As an example, electric utilities are subject to NERC CIP 14 5-6, which works to ensure the reliability of the North American power system. One utility was recently fined $1.7 million when NERC found a number of violations, including three perimeter doors that had been altered so they didn't lock "so people could enter without the burden of security," among other issues.
HIPAA Violation
Healthcare businesses must comply with HIPAA regulations regarding the protection of patient health information, including limiting physical access to the data. Individuals that knowingly obtain or disclose such information face criminal penalties including jail time. Even if a firm violates HIPAA rules unknowingly, they are still subject to fines up to $50,000 per violation, up to an annual maximum of $1.5 million. Firms that are negligent in protecting their physical points of entry could be found responsible for disclosures perpetrated by intruders.
GLBA Violation
Any firm that involves financial services, from banks to mortgage lenders to car dealers, has to comply with the Gramm-Leach-Bliley Act, or GLBA, which requires firms to take steps to protect the privacy of customers' financial data, including the development of a written security plan and "a thorough risk analysis" to protect the data. Non-compliance carries a fine of $100,000 per violation and includes potential jail time of 5 years. As is the case for HIPAA, firms that are negligent in their physical security could be found non-compliant.
Security Entrances Mitigate Risks and Liabilities
Security entrances are designed to prevent unauthorized intrusion and meet regulatory compliance. They provide for a range of assurance levels, from models designed to support guarded entrances all the way up to unstaffed entrances with very high security levels. High security entrances actually eliminate tailgating while ensuring, through biometric authorization, that the individual entering the facility is the one who is authorized – and not another person carrying their credentials. In every case, security entrances mitigate unauthorized entry while allowing for two-way traffic and emergency exit. When unauthorized entry is addressed, several risks are mitigated at once – including both the physical and cyber security threats. From a liability standpoint, blocking intruders reduces the risks to the personal safety and security of staff, visitors, and anyone else in the facility.
The entrances of your facility must be considered as part of your whole security solution, in the planning phase and then in an ongoing way. This is the best way to address and mitigate risk and avoid any potential liabilities, compliance violations, and expensive fines.
Written by Pierre Bourgeix
Pierre has over 20 years of solutions selling and consulting experience in the security industry, most recently as the owner of his own consulting company, ESICONVERGENT LLC. Pierre has an MBA in Business Administration from UCLA Anderson School of Management and resides in Cleveland, Ohio.
Company: Boon Edam Inc.
Of: Pierre Bourgeix
Source: http://blog.boonedam.us/regulatory-compliance-how-the-lack-of-clarity-around-the-entry-leads-to-fines
Tags: Access Control | Doors | Entrances | Safety | Security
---
Once relegated to storing console televisions and video cassettes, flipper and pocket doors have made a resurgence in space-saving designs. If you haven't considered or may be totally unfamiliar with, these types of entries, you could be missing out.
Here's a quick overview.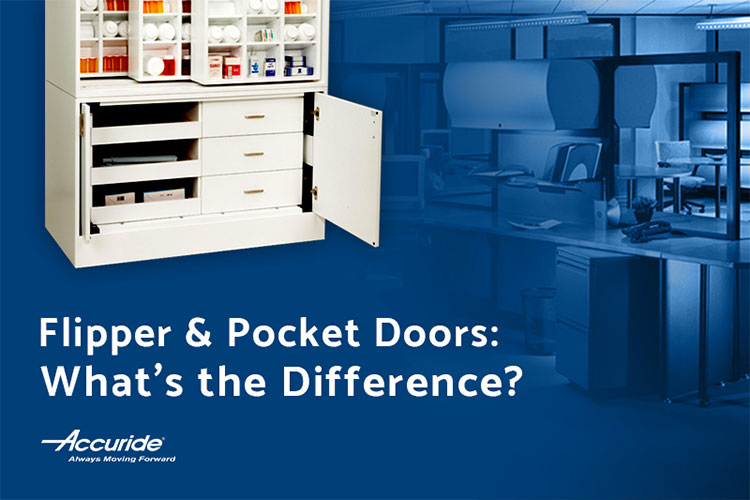 Flipper Doors
A flipper door is a hinged cabinet-level entry with a door that lifts ("flips") open and retracts out of view—like a garage door. Like conventional drawer slides, these openings use ball bearing systems to slide open or closed. This retractable opening allows for easy access to contents and keeps the door from being in the way. Unlike many conventional drawer slides, however, the members on these slides don't disconnect.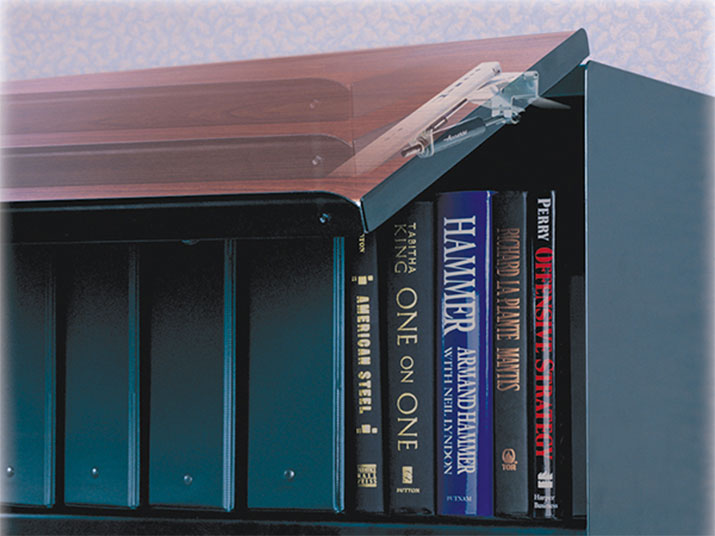 Flipper doors are commonly used as overhead storage in kitchens, media centers, garages, and offices.
Flipper doors are often used for overhead storage in homes and offices, but some innovative designers have used them to help conceal appliances to craft a clean space without exposed hardware. The 1155 Easy-Down is an example of a flipper door slide with a mechanism that brings doors to a gentle close.
Pocket Doors
Similar to a flipper door, a pocket door uses a ball bearing or track system to slide doors out of view. The difference is that pocket doors open outward, like a traditional door, but then retract into the cabinet space. Because pocket doors retract into cabinetry, they don't occupy space that traditional pull-out doors do when they're open.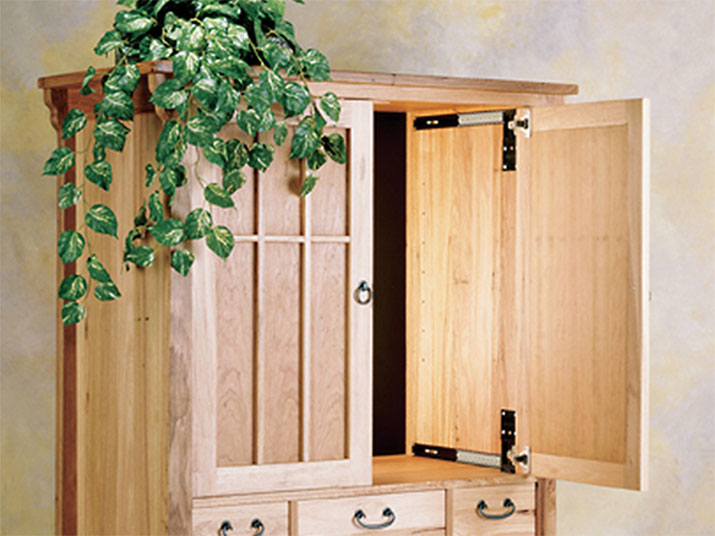 Pocket doors are commonly used on armoires, display cabinets, and entertainment centers.
Pocket doors can be used in pantries, media centers, armoires—virtually any casework or millwork with a door application that opens outward. The Accuride 1234 is an example of a ball bearing slide for pocket doors.
Specs & Options
Pocket and flipper door slides come in a wide array of specs, sizes, and variants.
Some models, such as the 1145 Flipper Door Slide, may offer polymer bearings instead of steel for silenced movement. Some models of flipper or pocket door slide may also offer optional features, such as soft-close (as with the 1155 Easy-Down Flipper Slide) or push-to-open mechanisms.
Cabinet-level pocket and flipper door slides tend to be light-duty. Accuride models, for instance, generally support doors weighing 20 to 30 lbs., with max vertical (for pocket) and horizontal (for flipper) sizes up to 42 in.
The exceptions are the 1332 and 1432: These pocket door slides use an innovative cable system to maintain stability and support doors up to 78 in. tall and weighing 75 lbs.
This 3D video shows how Accuride movement solutions, including flipper and pocket door slides, can create a space-saving environment.
Regardless of which movement solution you choose, pocket and flipper doors provide you with a great space-saving solution for your kitchen, living room, or office.
Accuride offers a full range pocket and flipper door slides, as well as accessories. Whether your application is a light duty or one that needs soft-close, visit Accuride's Pocket and Flipper Door Page to see a full range of solutions.
Company: Accuride International
Source: https://www.accuride.com/blog/products/flipper-doors-pocket-doors-difference/
Tags: Doors | Furniture | Interior Design | Slides
---
Organizations around the globe are looking for ways to reduce the risk of unauthorized entry due to tailgating and piggybacking. If not addressed appropriately, that risk can quickly turn into a liability, costing a company added time and expense, a bruised reputation and even the removal of members of the leadership team.
So how do you safeguard your building from the risk of intrusion? Security entrances are designed to provide a range of assurance levels, from guard assistance all the way up to very high security levels that are effective even when unstaffed. We'll be discussing the latter – the unmanned, high security mantrap portal.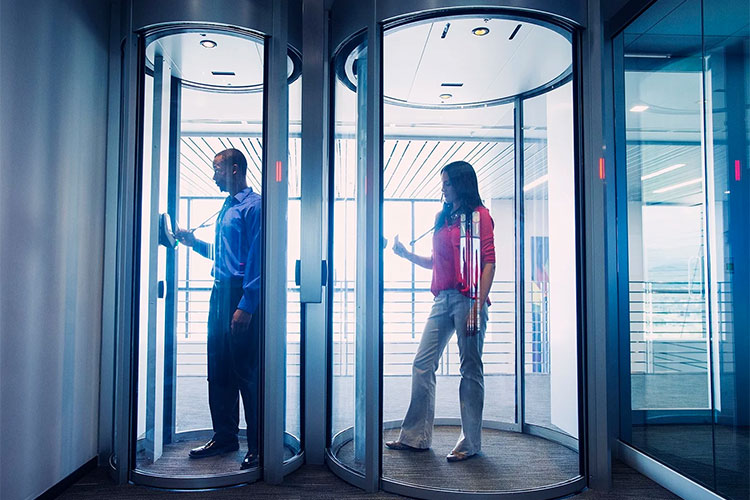 Risk Mitigation by Sheer Design
Offering the highest level of security available in an entrance, the portal was designed to completely prevent the wrong person from gaining access to a building. These doors are so good at what they do, that Fortune 500 technology, financial and insurance companies are using them to secure the confidential information stored at their data centers and corporate headquarters.
Here's how a security mantrap portal works:
Upon presenting a valid credential, the first door opens and the user steps inside.
An overhead system scans the compartment to ensure the user is alone.
Optional secondary verification: a biometric device (such as facial recognition) verifies the user's identity.
The second door opens to allow entry into the secure area.

But, what if someone tries to follow the authorized user into the compartment? What if an angry spouse or irate customer steals a credential and tries to pass through the portal? Let's take a deeper look into the integrated technologies that work alongside the portal to secure the most sensitive of assets.
Only One Person at a Time
It's understood that what makes a swinging door with an access device weak is that an authorized user can hold the door open for a number of others to enter. Security portals take the pressure off employees by completely preventing more than one person from passing through at a time.
Boon Edam mantrap portals enforce single entry using an overhead sensor system called StereoVision 2®. Once a user presents their credentials and the door opens, the StereoVision system begins an initial scan of the compartment, verifying the user is alone. Once the doors close completely behind the user, the system conducts a secondary scan, confirming that someone didn't jump into the portal at the last minute, as the door was closing.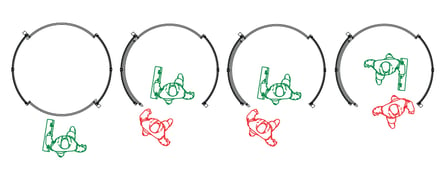 StereoVision during entry (inbound into the secure area) is a standard feature on Boon Edam mantrap portals, but organizations looking to closely monitor who is in the secure area at all times can select StereoVision for both inbound and outbound traffic.
Not Just One Person, But the Right Person
A user has presented a valid credential at the outside of the portal. A sensor system has confirmed they are inside the door alone. The next step involves the installation of an interior biometric device for secondary authentication. Why is this necessary?
Imagine this scenario: An employee's husband decides to drive to your facility. He is determined to confront one of his wife's colleagues. With his wife's access badge in hand, he steps up to the portal, presents her credentials, and enters the door. The portal verifies that he is alone. An interior biometric device is the difference between this unauthorized person getting to his wife's colleague, and not. How does it work?
The biometric device is capable of detecting two things in this scenario: (1) the husband isn't enrolled in the biometric system and (2) even if he was enrolled, his biometrics do not match the on-file biometrics of the badge owner. In short, it is much harder for the husband to steal his wife's eyes, fingerprint, face, etc. to gain access to the building.
To support two-factor authentication, Boon Edam's mantrap security portals can be equipped with a special internal post that can house virtually any biometric device made by any company.
Two-Factor Authentication in Action
A video is worth a thousand words. Watch the clip below to see how a mantrap portal coupled with a biometric device can mitigate security risk at your facility.
Company: Boon Edam Inc.
Product: Security Doors & Portals
Source: http://blog.boonedam.us/how-are-mantrap-portals-designed-to-mitigate-security-risk
Tags: Access Control | Doors | Entrances | Security
---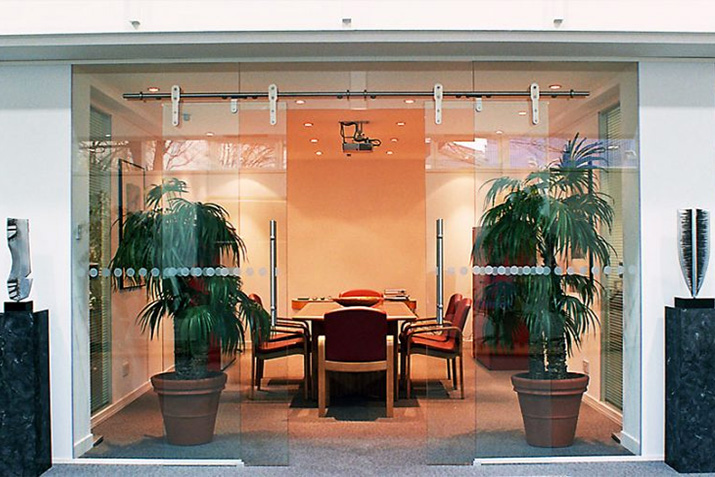 The typical point of entry into an interior environment tends to be simple, boring, and often mediocre. The primary purpose is to allow access, paying no attention to any crucial design attributes Avanti Eclipse sliding glass doors are a collection of quality Sliding Glass Door Systems that provide a contemporary solution to applying design and seamless flexibility.
Integrated Sliding Glass System
The Eclipse Sliding Glass Door incorporates a series of functional components, creating a unique system that fuses stainless steel hardware and single pane glass. This creates a simple sliding system that may be integrated with corresponding glass wall systems such as Elite or Solare Single Glazed. We also now carry the Eclipse Plus Sliding Glass Doors that functions with our Double Glazed Wall Systems. Eclipse utilizes a series of module and glass panel mounted stainless steel hardware components.
The Eclipse Sliding Glass Door system can be fixed on glass partitions and even solid walls. This provides a high degree of flexibility, creating practical solutions which satisfy specific requirements. This system provides a unique "floating" look, as the rollers glide on a track. Each Eclipse Sliding Glass Door System comes standard with a 4 Foot Stainless Steel Handle and includes other locking and pull options.
Single Elevation – Integrated with Solare Single Glazed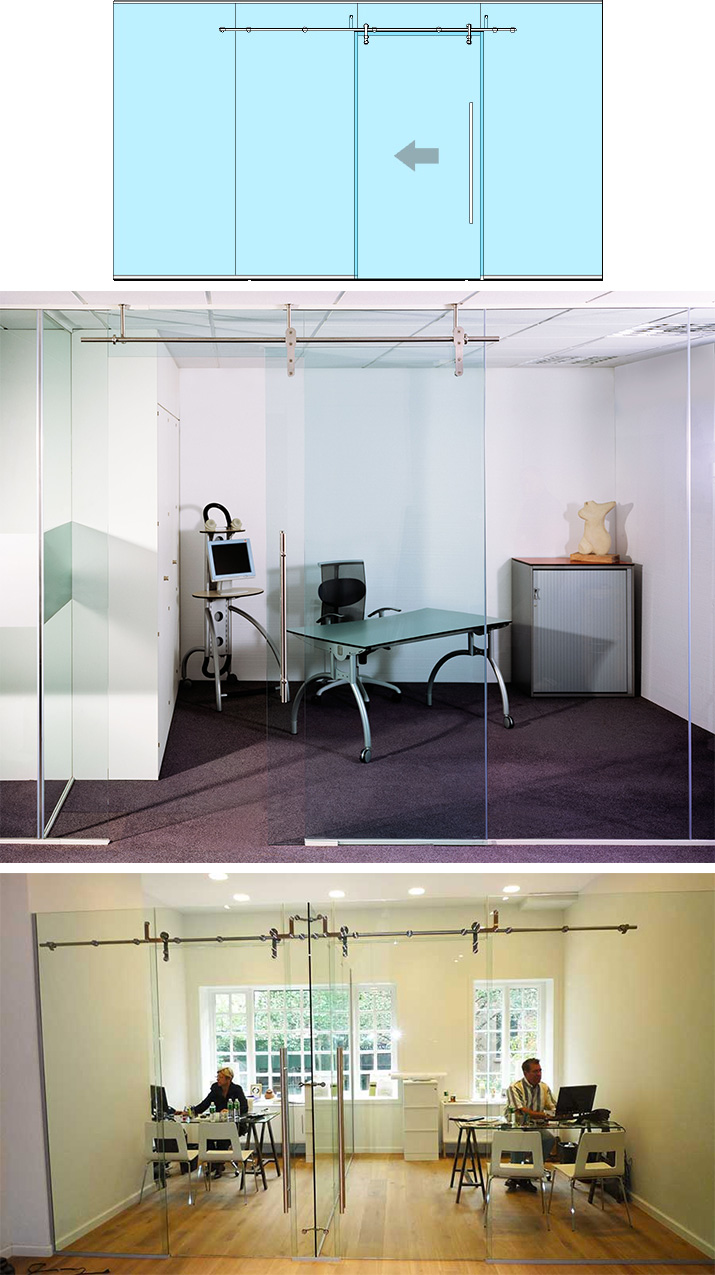 Pair Elevation (Barn Doors) – Integrated with Solare Single Glazed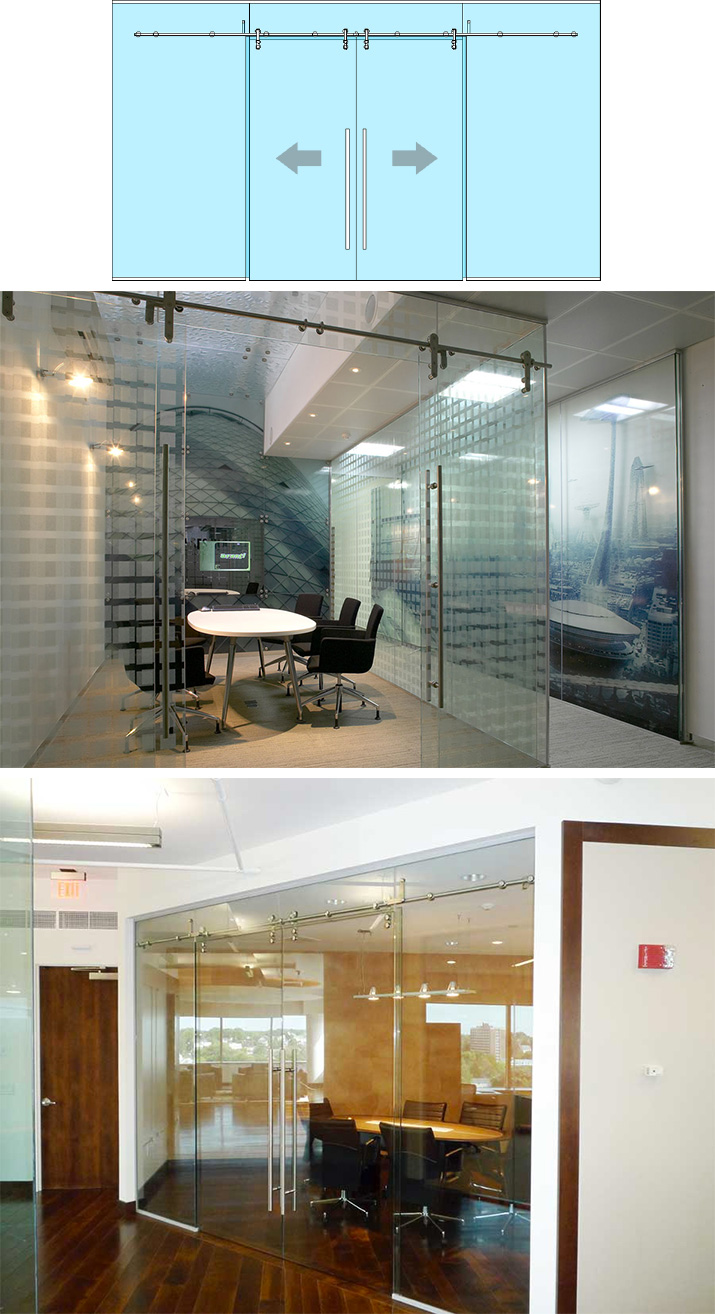 Assisted Close Glass Systems
Glide the Eclipse Sliding Glass Door System to the closed position and you will see a halo right before your eyes. This halo consists of a 1 1/2'' overlap at the top, left, and right of the system. The Eclipse Sliding Glass Door is a gateway to a translucent space, and is also a gateway to promoting a sustainable environment. Eclipse is compliant with LEED sections including recycled content, daylight and views, acoustic performance, and regional material.
Company: Avanti Systems USA
Product: Eclipse Standard Doors
Source: https://www.avantisystemsusa.com/sliding-glass-doors/
Tags: Acoustics | Doors | Glass | Interior Design | LEED Certification | Office
---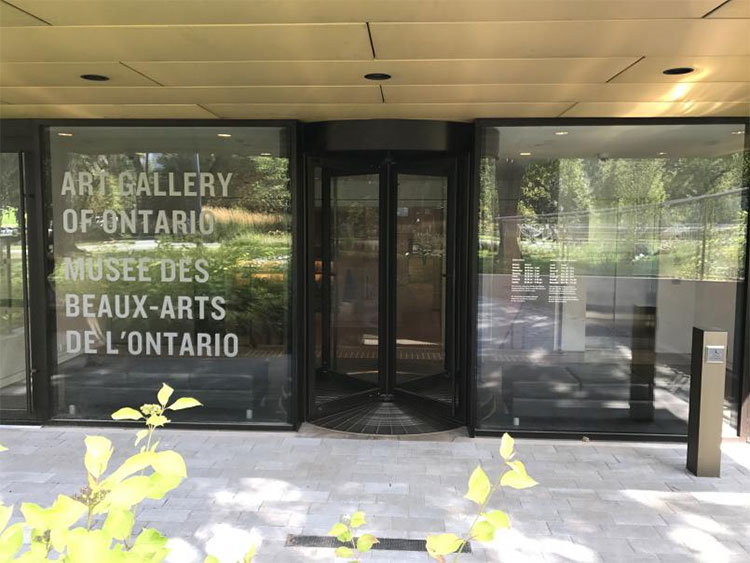 Located in Toronto, Canada's largest city of 6.5 million, the AGO is one of the largest art museums in North America. The AGO's collection of close to 95,000 works ranges from cutting-edge contemporary art to European masterpieces; from the vast collection by the Group of Seven to works by established and emerging Indigenous Canadian artists; with a photography collection that tracks the impact of the medium and with focused collections in Gothic boxwood miniatures and Western and Central African art. A major expansion designed by Frank Gehry in 2008 with lead support from the family of Ken Thomson makes the AGO a highly-photographed architectural landmark.
The AGO has been undergoing improvements and renovations for a number of years and the most recent project was an ambitious one. In a joint effort with the City of Toronto and the local community, the AGO worked to revitalize Grange Park, a 4.5 acre green space located behind the Gallery. Where there was only an emergency exit into the park before, the AGO and its architect, Harari Pontarini, devised a plan to tear out the existing interior stairwell and room and the double doors to create a new space with a 6 ½ foot diameter, 4-wing BoonAssist TQ revolving door that opens the Gallery to the park.
"We definitely had some space constraints in creating this new entrance," explained Warren Wilson, Manager of Facilities Services. "There was no room for a vestibule, so we decided on a revolving door configuration, and the Boon Edam entrance was recommended by our architects."
Boon Edam's BoonAssist TQ is a manual revolving door that has three distinct features: a "push and go" power assist drive that reduces user effort by up to 50%, automatic positioning of the door wings at the end posts upon completion of rotation, and speed control that prevents rotation faster than 12 rpm to help ensure safe operation.
Wilson explained that the park is one of the few green spaces surrounding the AGO and space is at a premium. "We're very conscious of our effect on the neighborhood and the fact that we could locate the entire door inside the building with its opening attached to the exterior wall minimized the impact on the surrounding area. I also really like the 'smart' feature of the door—after use it positions itself to close the opening to the outside automatically."
From Grange Park, one enters the South entrance through the BoonAssist door and travels 11 feet to a downward staircase that connects the entrance directly to the AGO's Weston Family Learning Centre. The space adjacent to the door also features prominently displayed artwork. "The South entrance is now our fourth entrance to the gallery, but it's unique in that it offers an additional art space while opening us to the park, offering our staff and visitors a new way to interact with this beautiful new green space."
Company: Boon Edam Inc.
Product: Revolving Doors
Source: https://www.boonedam.us/news/art-gallery-ontario-enjoys-more-space-and-comfort-boonassist-tq-revolving-door-entrance
Tags: Architecture | Doors | Entrances
---
FROM BROWNFIELD TO SHINING STAR: "LEED"-ING THE WAY IN LITTLE ROCK
A non-profit organization dedicated to relieving global hunger and poverty, Heifer International provides livestock and plants, as well as education in sustainable agriculture, to financially disadvantaged families around the world. Based in Little Rock, Arkansas, the organization was faced with the need for larger headquarters, but wanted the project to remain true to the earth's resources. Heifer identified a long abandoned railroad yard in the city's old warehouse district, an environmentally dirty site known as a brownfield, and made the decision to transform it – the "green" way. One of the first of its kind in the area, the project was designed with careful consideration for the U.S. Green Building Council's Leadership in Energy and Environmental Design (LEED®*) certification standards.
Polk Stanley Rowland Curzon Porter Architects, Ltd., developed the building's design, capturing every opportunity to achieve LEED points and reflect the overall mission. Glazing contractor ACE Glass Company, Inc. and product manufacturer/design engineering team from Kawneer North America were called in to collaborate on the project. Completed in March 2006, the project is expected to receive its LEED certification in 2007.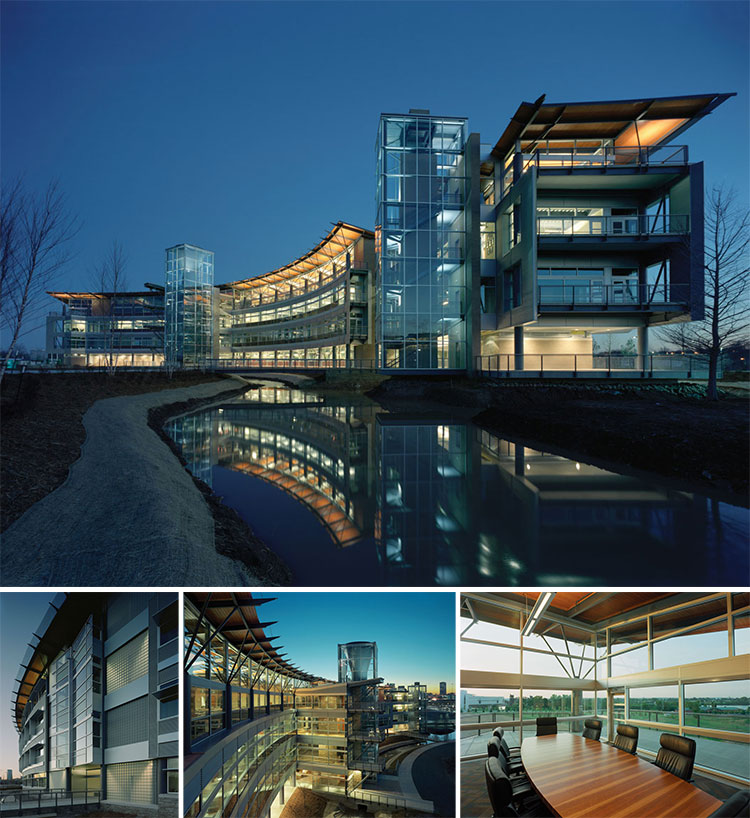 Photography: ©Timothy Hursley
Design Highlights
The curved shape of the building served to take advantage of the solar orientation by stretching in an east/west direction and maximizing sun exposure. To block excessive sunlight, the team integrated sunshades into the exterior, while Kawneer's InLighten™ Light Shelves were installed on the interior of the wall to "bounce" natural light up to the ceiling and reflect it into the building.
Deeper, custom sun shades were created to be hung vertically between the punchouts, a unique design feature that served to be both aesthetically pleasing and functional, as they protect the interior from both east and west sun exposure.
The combination of the building's narrow floor plate and the curtain wall allows natural light to penetrate to the center of every floor, while strategic interior glazing continues the indoor/outdoor aesthetic and keeps individual offices bright and open. Fixed and storefront framing systems, in conjunction with swing and sliding entrances, were used throughout the interior offices and conference rooms. In addition, clean glass, white frost and green glass added a light and modern aesthetic.
Challenges
The complex design required the customization of several existing Kawneer products, and the curved building footprint complicated fabrication.
The increased focus on recycled materials (per the Materials & Resources category under LEED required the coordination of a sizeable order of secondary aluminum billet necessary for the project. In fact, 97 percent of the building materials used for the project contain recycled content.
Featured products
Architect
Polk Stanley Rowland Curzon Porter Architects,
Ltd., Little Rock, Arkansas, USA
Glazing contractor
ACE Glass Co., Inc.
Little Rock, Arkansas, USA
Company: Kawneer Co., Inc.
Product: Curtain Wall
Source: https://www.kawneer.com/kawneer/north_america/en/products/project_detail.asp?project=heifer_kna&bus=north_america&pc=Commercial_Office_Space
Tags: Doors | Entrances | Glass | LEED Certification | Sustainability | Wall Panels
---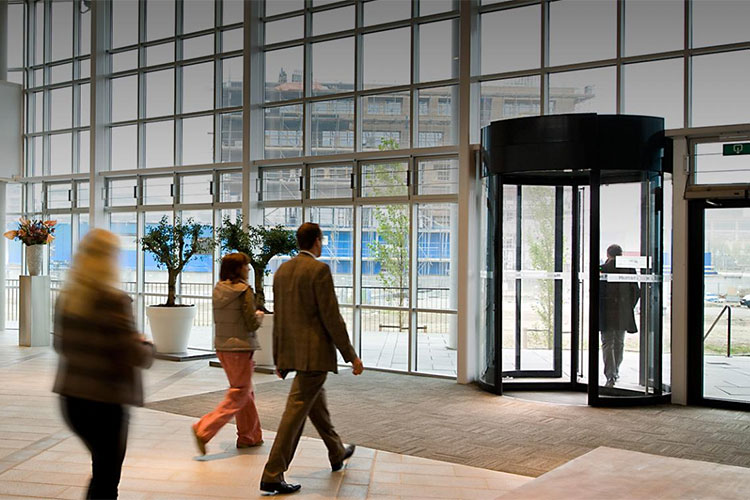 It is no secret that we're living in a time of great unrest. The news is laden with headlines publicizing 'lives matter' and 'occupy Wall Street' movements, political protests, active shooter incidents… the list goes on. As a result, businesses are seeing an urgent need to protect their customers and staff from the impacts of these disruptive, destructive, and even deadly acts.
You may have seen it on the news, a Fortune 500 financial firm fell victim to a smart mob after the firm provided funding to an unpopular project, bringing into question their stance on environmental sustainability, among other topics. Angry protestors walked right through the front door of one of the firm's offices and, with signs in tow, hooked arms in front of an elevator bank to prevent employees from getting to work. It wasn't until 4 hours later that the protestors finally vacated the lobby.
Tangible and Intangible Impacts of Unauthorized Entry
What could be the impacts of such an incident? The tangible, bottom line impacts include bad press, a loss of productivity, and potential property damage if things turn sour. There can also be some intangibles, like physical pain and suffering, and a feeling of anxiety, stress, and insecurity among employees as they wonder what could happen tomorrow. According to a study conducted by SHRM in 2016, over 88% of those surveyed stated that "feeling safe in the work environment" was either important or very important to their overall job satisfaction.
An Unlikely Solution to a Likely Problem
While these types of incidents are happening regularly across the nation, it shouldn't take the prospect of hundreds of picketing protestors outside your door, or looting and fire wielding on your street after sunset, to get you to start thinking about increased building protection. And, that protection starts right at the front doors. Could a plain old, manual revolving door provide that first layer of protection against unwanted building infiltration? The answer is "yes!"
While revolving doors are typically known for providing energy and space efficiency, certain manual revolving doors can be equipped with security features. These doors are being deployed in urban locations to safeguard residents in high-rise apartment buildings located near neighborhoods with more incidents of crime. They are popping up in both urban and rural areas where management wants to keep outside altercations from coming inside. Revolving doors are providing comfort to staff members entering office buildings or public spaces such as museums, afterhours, often alone and at night.
Four Security Features of Manual Revolving Doors
Take a look at what's new for manual revolving doors in these distressing times. These features are more applicable today than ever and some require electrical power to operate:
Exterior night locking doors. Perfect when you want to convey "this establishment is closed!" A set of bi-parting doors slide over the revolving door opening, closing off its compartments. The exterior doors act as a visual deterrent against infiltration afterhours.
Security lockdown. During normal business hours, in the event of an immediate security threat, facility or reception staff can electrically lock the door wings immediately, in any position, at the push of a remotely located button.
Remote locking. Door wings can be locked manually at the push of a remotely located button, or locked automatically at say, 5:00pm by an access control system. This method is different from the security lockdown feature, though. Overhead anti-entrapment sensors scan the compartments for user presence. If someone is inside the door while the lock is engaged, the door will continue to rotate until the compartments are clear rather than stopping on a dime. The door will stop in the "x" position, with its wings pointed at the end posts and then lock in place until unlocked.
Access control integration. Secure afterhours access is possible via an access control device mounted on the outside of the door. Upon valid authorization, usually by means of an access card reader, the door wings will unlock and the user can push to enter the facility. Once the user is clear, the door positions itself and locks.
It's a crazy world out there, but there is something that you can do today to safeguard your business, and it can begin right at the front door. Ask your revolving door provider which models are equipped with these security features (ours is called BoonAssist TQ).
Company: Boon Edam Inc.
Product: Revolving Doors
Of: Amy Coulter
Source: http://blog.boonedam.us/mitigating-protests-smart-mobs-and-crime-with-manual-revolving-doors
Tags: Design | Doors | Entrances | Security | Sustainability
---
Executives must handle large security decisions that affect the entire organization – and these choices are rarely easy.
One reason is that there are often competing goals – balancing security vs. convenience, or allocating budget to one priority area vs. another. To make it worse, these decisions – for example, on how to deal with potential security risks – can rely on data that the organization is not tracking.
That may sound hard to believe, but it's the exact problem Boon Edam found when we conducted a survey on tailgating, drawing responses from hundreds of end users, security integrators and consultants. Most respondents stated that the cost of a physical breach caused by tailgating could range from $150,000 to millions of dollars – even though the overwhelming majority (84%) of respondents weren't tracking tailgating or didn't know if they were.
While most businesses know the basic purpose of entrance solutions, many don't realize the huge number of benefits they can provide – from business analytics to the bottom line.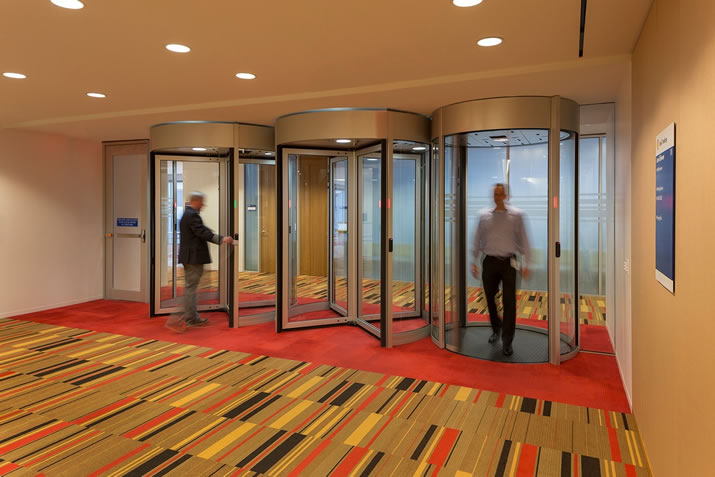 Cost-Effective Security and Efficient Access
Security entrances can range in purpose from simple crowd control all the way up to comprehensive detection/prevention. With regard to selection, many companies find simpler turnstiles attractive due to the relatively lower capital expenditures and reduced need for user training. While such systems can be an effective deterrent to threats, organizations should consider other costs the system may necessitate, such as those from guard staff or supplemental security systems. For this reason, often companies can achieve greater savings by opting for a security revolving door system: while the initial capital expenditure may be higher than a simpler turnstile system, the business can end up saving a great deal in annual operations costs by reducing the need for supplemental security staff.
In terms of access efficiency, organizations have multiple options as well. For example, a mantrap system may be ideal for a business that requires high security but generally has only a few people going through an entrance at a time. Meanwhile, if the business requires high security but must also accommodate a higher throughput at times (such as during lunch hours), a security revolving door system may end up being the better choice.
Impressive Business Intelligence
To maximize the effectiveness of your security program, it is helpful to remember the old adage: what can be measured can be managed. To that end, security entrances can help
achieve specific security objectives through relevant KPIs. Generally speaking, the level of intelligence received depends on how sophisticated the entrance system is. Simpler waist high turnstiles are useful for basic tracking, such as the number of people entering the facility, though the system may still be vulnerable to turnstile-hoppers. While guard staff can provide supplemental information (visitor data, infraction reports, etc.), data gathered through this approach may be affected by social engineering, including distractions or favoritism on the part of security staff. Ultimately this type of security entrance is best suited to lower-security areas of a facility.
On the opposite end of the spectrum, the sophisticated tailgating and piggybacking detection systems in security revolving doors and mantrap portal solutions provide a wealth of valuable data. These include a great deal of granular information that replaces what a guard could be asked to provide manually – e.g., number of passages, inbound/outbound tailgating and piggybacking rejections, biometric access control rejections, emergency button rejections and so on. Such information is very useful in providing very accurate intelligence on throughput, user education needs, etc.
The most provocative data is predictive data that can tell you your chances of being infiltrated. Security revolving doors and mantrap portals include anti-piggybacking detection technology sophisticated enough to provide a probability, expressed as a small percentage, that two people could piggyback through the door successfully. This capability is new territory for the security industry and allows executives a high degree of confidence that the places these doors protect are secure from infiltration.
Strengthening Corporate Image: Inside and Outside
Let's face it: perceptions matter. Organizational leaders are responsible for ensuring that their businesses are perceived as safe. And while actual safety and perceived safety are inter-related, they are not always identical. This is seen in other areas of life as well: for example, one YouGov poll showed that people believed that New York City is the second most dangerous city in the US, even though data shows that NYC is in fact the least dangerous large city in the United States.
While harder to measure, aesthetic perceptions matter for businesses as well. To that end, the perception-building process begins the moment a person walks through the door (and oftentimes before that). With that in mind, security entrances should foster confidence for all parties who rely on them: the system must not only protect employees but also help them feel safe on a day to day basis. Beyond actual safety, security entrances also create a feeling of prestige for the facility that impacts personnel and visitors alike. A new visitor's first interaction with your brand may be with the security system. That first interaction and every one after should foster a feeling of competence, sophistication, efficiency and safety. The more effective companies are at building a positive image in smaller ways, the more effective they'll be when doing so in bigger ways.
Company: Boon Edam Inc.
Product: Security Doors & Portals
Source: http://blog.boonedam.us/security-entrances-protect-your-bottom-line-and-more
Tags: Doors | Entrances | Security
---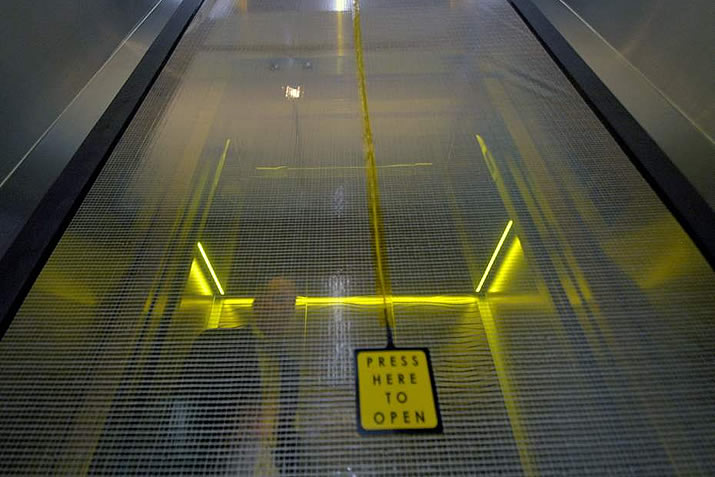 When it comes to elevator protectives, Smoke Guard is the "original orange smoke curtain". With over 20 years of installed product, our transparent orange colored polyimide film is iconic. Our orange transparent fabric is unparalleled when it comes to providing the smoke protection you require with the ease of install that you have come to expect.
Available in a variety of dimensions to fit various applications, Smoke Guard Systems for elevators are made from a translucent orange smoke resistant material that provides a line of sight for anyone caught in an elevator during an emergency or for emergency personnel. In addition to the screen mounted retract button, the magnetic side guides allow these smoke curtains to be easily pushed aside when access to or from the elevator is required.
When it comes to elevator safety, don't substitute for anything other than the original orange elevator curtain. Smoke Guard started with this product for a reason and continues to innovate to provide the best possible solution for your smoke safety needs.
Company: Smoke Guard, Inc.
Product: Model 4000 Smoke Curtain
Source: http://www.smokeguard.com/blog/2017/january/08/the-original-orange-elevator-smoke-curtain
Tags: Doors | LEED Certification | Safety
---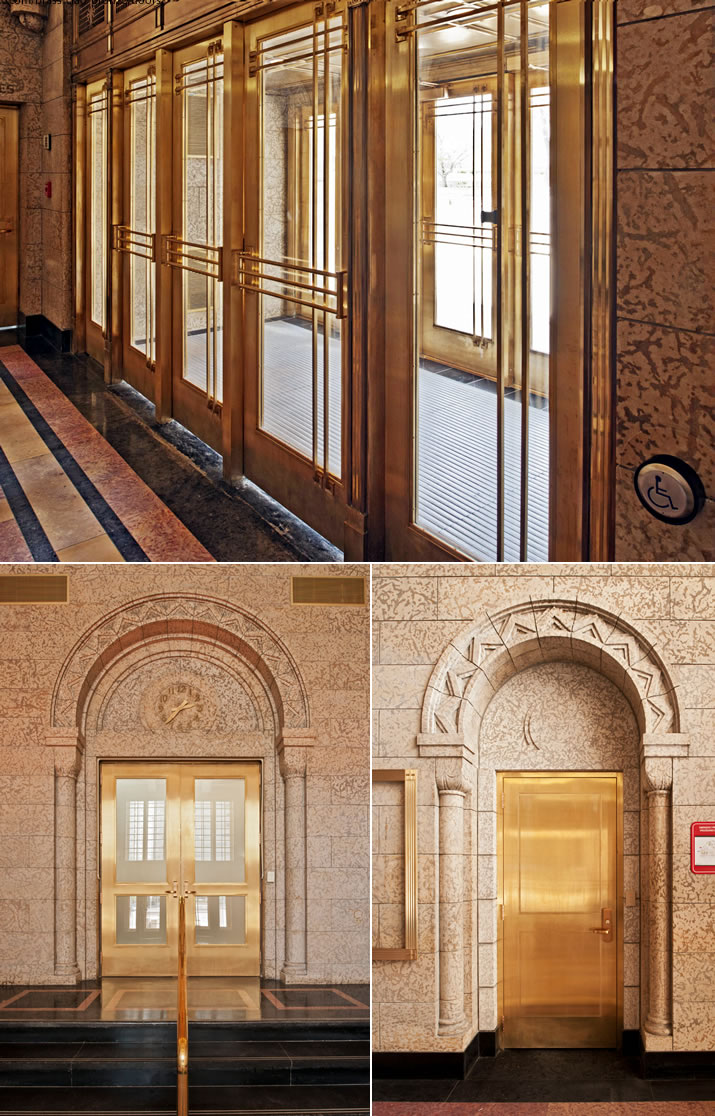 Ambico Limited was involved in retrofitting the Victory Building, a well-known piece of Winnipeg's downtown core that was constructed in the 1930s. Ambico was approached by the owner of the building to manufacture and retrofit doors at the entrance and lobby. Heritage architects of the Public Works Department of the Canadian government worked with AMBICO engineers to replicate doors that would complement the original design intent of the building's design team. This project was featured in DHI Magazine as a Case Study. Read the full case study.
Ambico decorative brass clad and bronze clad doors and frames combine outstanding visual appeal with rugged performance in the field. Products are designed in consultation with our project design team to meet the unique requirements of each job. Brass clad or bronze frame cladding is fastened to a heavy gauge steel sub-frame with a touch of craftsmanship. Decorative door face material is fastened to a rugged steel core with care and old world attention to detail. Door face can be manufactured in a stile and rail configuration or in a one piece seamless construction. Gleaming appearance of polished brass or bronze clad products projects an exclusive image at a surprisingly moderate cost. Antique finish of satin brass or bronze clad products suits the design requirements of historical renovation projects.
Company: Ambico
Product: Decorative Doors and Frames
Source: https://www.ambico.com/brass-clad-bronze-doors/
Tags: Design | Doors | Entrances | Metal
---
Proven Mantrap Portal Solutions Cost-Effectively Replace "Do-It-Yourself" Vestibules
Today, many companies build their own mantrap vestibules. However, they often overlook how expensive and difficult it can be to achieve consistent, error-free piggybacking prevention. They don't know that an alternative solution already exists - Boon Edam security portals!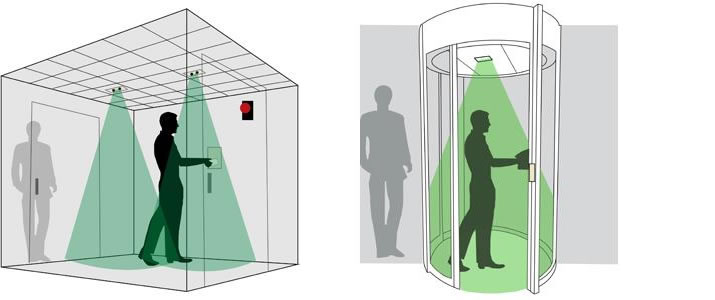 Do-It-Yourself Vestibule

Inability to measure false acceptance risks
Unpredictable false rejection rates
Must be manned and monitored at all times
High operational costs
Large footprint
Constant testing and troubleshooting

Mantrap Portal Solution

Proven solution with measurable false acceptance risks
Predictable and manageable false rejection rates
Completely unmanned solution
One-time investment with minimal operating costs
Space efficient
Quick and simple installation
Company: Boon Edam Inc.
Product: Security Doors & Portals
Source: http://www.boonedam.us/mantrap-portal-solutions-eliminate-piggybacking
Tags: Doors | Entrances | Safety | Security
---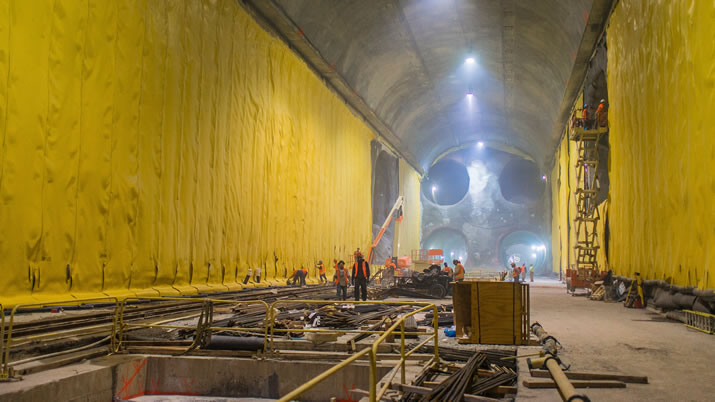 Photo © Metropolitan Transportation Authority / Patrick Cashin
AMBICO's state-of-the-art pressure resistant door and frame assemblies will keep New York City commuters safe on the city's brand new commuter rail system
Fourteen stories below the bustling streets of New York City, a massive infrastructure construction project is in full swing. Tunnel-boring machines carve through acres of rock, shaping tunnels and platforms that are slated to carry an estimated 160,000 commuters a day between Queens and Manhattan.
The $10 billion project is known as East Side Access and includes a six-mile-long tunnel, underground subway stations and an impressive rail hub directly beneath the iconic Grand Central Station. Construction on the massive transportation venture began in 2007 and is slated to be completed in 2022.
It's a marathon project, and AMBICO Limited has been involved since near the beginning of the historic undertaking, working closely with the project architects at the Metropolitan Transportation Authority (MTA) in New York City to design and fabricate some 275 pressure-resistant door and frame assemblies calculated to keep commuters safe in the event of an emergency situation such as a fire or bomb blast. The doors protect the openings to "areas of refuge," specially designed rooms set up between the tunnels to offer safety if a major emergency leaves commuters stranded.
An area of refuge has become a common requirement; transportation authorities need to be able to get people to safe areas if something happens, and the doors that protect the rooms are situated deep in the subway tunnels. The door assembly product that AMBICO developed is, therefore, highly specialized.
Background
AMBICO was the logical choice to develop the pressure-resistant door and frame assemblies for East Side Access project. The company's expertise is already known in New York City, where its expert team has been involved for 20 years with various transportation-tunnel projects. With the Holland Tunnel retrofit in the late 1990s, for example, AMBICO's team of engineers and machine operators worked hand in hand with the New York and New Jersey Port Authority transportation professionals to design and fabricate doors designed to protect mechanical areas, as well as areas of refuge.
The East Side Access project enabled AMBICO to extend that expertise to a significantly more demanding project. Tim Berry, Senior Engineer at AMBICO, likens it to building a skyscraper in reverse—instead of overseeing a massive build above the ground, the MTA is undertaking an epic construction project deep beneath the cityscape.
The challenging environment means these particular pressure-resistant door and frame assemblies have unique performance requirements. Subway tunnels are narrow, so the door assemblies must be designed to withstand the unique, cyclical, pressure load resulting from each passing subway car that runs 24/7 with fast-moving trains, while the water that seeps through the walls is saline, so they must resist corrosion as well. And it's essential that these doors meet rigorous NFPA fire performance standards. The challenges are immense as these doors are one vital item in an ongoing transformation that has thousands of moving parts to it. AMBICO must be ready to fabricate the required doors on demand as the tunnels, platforms, and stations slowly take shape. That means that the AMBICO team has had to be ever-ready since 2007, planning the required pressure-resistant door and frame assemblies to exacting specifications and being prepared to supply them as construction targets come into focus.
What AMBICO Supplied
AMBICO has a reputation as an innovator in the specialized door market, a skill-set very much in demand for this particular project. However, working hand-in-glove with Deutscher and Daughter, a New York City-based distri bution firm over 100 years in business was an absolutely essential component of the project's success. Not only was a local distributor's presence essential to connect AMBICO to the broader project team, but according to company President Becky Deutscher, the small firm's installation and preventive maintenance services maintained over the lengthy warranty period were a key portion of the value-add that AMBICO and Deutscher proposed to the project owner.
Steve Peterman, AMBICO's Director of Marketing, outlined some of the significant achievements incorporated into the design:
The doors were modeled by AMBICO's licensed engineers using structural stainless-steel sub-cores and fully welded door faces. The doors were then finished to the owner's exacting standards.
Fire labels are very common in the industry, however there is not a lot of design flexibility when you plan for fire-rated products. For this project, AMBICO had to prototype door assemblies that would withstand significant air pressure and provide them with a fire-resistant certification. The combination makes for very challenging engineering requirements.
AMBICO ran comprehensive field tests of the product prototypes before the doors were released to the job site. Working closely with specialized multi-point lock manufacturers was a key part of AMBICO's value-add.
The entire assembly of the hardware, doors, and frames was certified by an independent fire laboratory.
The assembly was supplied as a complete unit, including the door, frame, glazing, lock, and hinges. It's guaranteed with a five-year warranty.
The end result is an extremely robust design that enables flexibility of the product in the field.
AMBICO'S International Expertise
Because AMBICO has built its reputation over 60 years, the company is trusted by an international list of clients that includes both governments and private companies. That breadth of experience has led to contracts with many American concerns and a firm knowledge of American regulations and expectations. This particular contract for the East Side Access project stipulated that AMBICO comply with Buy America regulations.
AMBICO's experienced professionals were well-versed in these provisions so they could quickly coordinate with the top suppliers in the United States for both the procurement of materials, the manufacturing of these unique products and the quality control necessary to assure 100 percent compliance with AMBICO's design and manufacturing process makes working with an experienced supplier a simple process.
The Value of Time
A transit project is a long-term proposition and few have been in progress longer than East Side Access, an idea that was first presented in 1968. Shovels hit the ground in 2007 for the current incarnation of that long-ago plan, with completion planned for late 2022.
That's a very, very long timeline. An established and focused company like AMBICO has decades of experience in the business and can look decades to the future, providing a seamless and hands-on approach to massive infrastructure projects with changeable timelines.
Judah Silverman, Vice-President at AMBICO, says the company excels at projects that involve a high level of coordination and service. The AMBICO team builds in travel and inspection visits, anticipating that high-level projects entail a very high level of care. Their commitment to East Side Access is nine years and counting, with AMBICO's creative engineering team continually fine-tuning manufacturing and delivery requirements to match the client's changing needs. It's an approach that has already caught the eye of transit planners around the country who have contacted the company to discuss similar ideas as they study updates to their own transportation and security systems.
Meanwhile, deep, deep below the teeming streets of New York, the work continues apace. When the doors finally open in six years, revealing glamorous shopping con - courses, sparkling platforms, miles of elevators and escalators, and a commuting shortcut between Manhattan and Queens, AMBICO's pressure-resistant door and frame assemblies will all be in place, keeping commuters safe in the event of an emergency.
"Our 'tunnel vision,'" says Silverman, "is one that is both advanced and forward-looking, a model for future transportation projects around the globe."
Company: Ambico
Product: Engineered Doors and Frames
Of: Jack Shinder
Source: https://www.ambico.com/east-side-access-case-study/
---
Does your security system only detect tailgating? What if someone is determined to infiltrate your building? Would you be interested in a truly preventative solution?
As you enter the exhibits hall at ASIS or ISC West, take a moment to pause and scan the exhibits on the floor. I find that about 80% of the floor space and displays seem focused on video surveillance and access control and related products. Every year, there are new technologies and improvements that make surveillance more accurate at identification, and access control more integrated with other building technologies. Biometric technologies are no longer science fiction but instead are maturing and becoming a feasible option for more and more businesses.
Surveillance and access control systems have been essential for decades. Yet despite great strides in these technologies, we have seen time and time again security breaches where these systems are not enough. If someone is truly determined to get into a building, what will it take to prevent them from gaining access?
A great example of a determined individual happened a few years ago: a 16-year-old boy from New Jersey gained unauthorized entry at about 4 am to One World Trade Center, in New York, and roamed the premises for two hours before being caught. The building had a security system estimated to cost $20 million when it was installed. But none of that mattered when the security guard on duty fell asleep and the young man took the elevator up to the top floor to access the roof, take photos, and then brag on social media.
It was a big wake-up call because everyone realized that even after a significant investment, this landmark building was still vulnerable, and it could very easily have been someone other than a teenaged parkour addict looking for a thrill. Building owners and senior executives very often don't realize how vulnerable they are to infiltration—that they have a dangerous gap in prevention.
I use the word "prevent" very purposefully. If you have surveillance and access control systems, even biometrics, are you preventing infiltration? If the building has swinging doors at its access points the answer is, "No." Indeed, this is a deterrent situation, but it is not a preventative one. One of the most common methods of gaining unauthorized entry to a building is known as "piggybacking" or "tailgating." Many of us have badged into our building, and then held the door open for someone who looks like they also work there. You just created a serious security breach and you put yourself, your colleagues, the business and its future at risk. The best access control systems in the world can be defeated by exploiting the fact that people are nice and will often allow others to follow them through a door they've unlocked.
When we surveyed security professionals about tailgating, we asked them to estimate the potential costs of a physical breach from unauthorized entry: 54% believed the cost would range from $150,000 to "too high to measure." It doesn't take much imagination to think about the worst case scenario—sadly, they happen about every week. Without prevention, you are relying on human beings to remain vigilant, never get distracted or tired, remain at their post, follow the rules and never let anyone tailgate behind them. You are also assuming that no one is determined to get into your building. So, when a physical breach occurs, how will you know it happened and how quickly could you respond? One of our survey respondents put it this way, "[You] cannot depend on one technical solution to mitigate the risk...you need barriers, followed by surveillance, and appropriate response plans."
Only a small percentage of the exhibits at ASIS or ISC West offer such "barriers," also known as pedestrian security entrances, or turnstiles and security doors. I strongly encourage you to evaluate your current risk of infiltration and to learn more about the various types of barriers available. Some will need human supervision and will provide an alarm if breached. Others can physically prevent tailgating and operate without manned supervision, creating quicker ROI.
What is your stance on tailgating: do you want to detect it or prevent it?
Company: Boon Edam Inc.
Of: Mark Borto
Source: http://www.boonedam.us/blog/what-if-someone-determined-get-your-building
Tags: Doors | Entrances | Safety | Security
---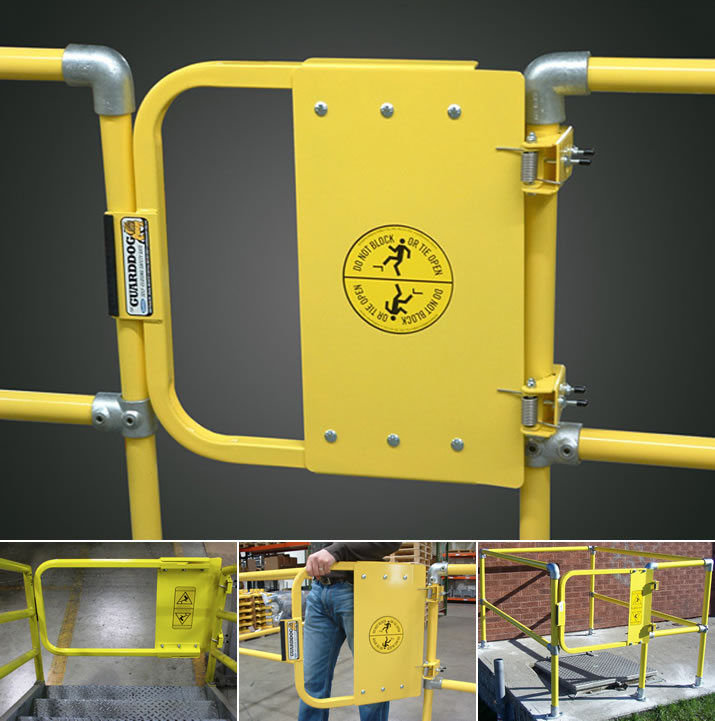 The GuardDog Self-Closing Gate is tough, durable and easy to install. Featuring a unique self-closing design with two stainless steel torsion springs, the GuardDog industrial safety gate can open in any direction. To meet diverse application requirements, the gate is available in 5 nominal sizes and is adjustable laterally to 6" (-3 to +3 of the nominal size).
The GuardDog Self-Closing Gate arm is dimensioned to match top- and mid-rail heights of an OSHA-compliant guardrail. When the gate is installed and the top of the gate is at the OSHA's recommended nominal height of 42", the bottom of the gate is positioned at a height of 21".
Gate comes fully assembled and includes securing hardware for standard installation on pipe
Requires only one 1/2'' wrench and a few minutes to install
Available in powder coat safety yellow, hot-dip galvanized or 316 stainless steel; Special colors available upon request
Our standard Hinge Assembly fits round pipe or square tubing measuring up to 2'' O.D, or it can also mount on angle iron or flat surfaces. For railings which are larger than 2" O.D, contact BlueWater Manufacturing and we will have an adapter kit available to use or provide a solution to mount the gate safely.
Applications range from ladder ways, mezzanines, pedestrian traffic, machine guarding, universal mount is designed to fit any hand post angle and direction. BlueWater's industrial safety gate is available in food grade stainless steel, carbon steel powder coated and galvanized.
Company: BlueWater Mfg
Source: http://bluewater-mfg.com/product/guarddog-self-closing-gate/
Tags: Doors | Entrances | Roof | Safety | Security
---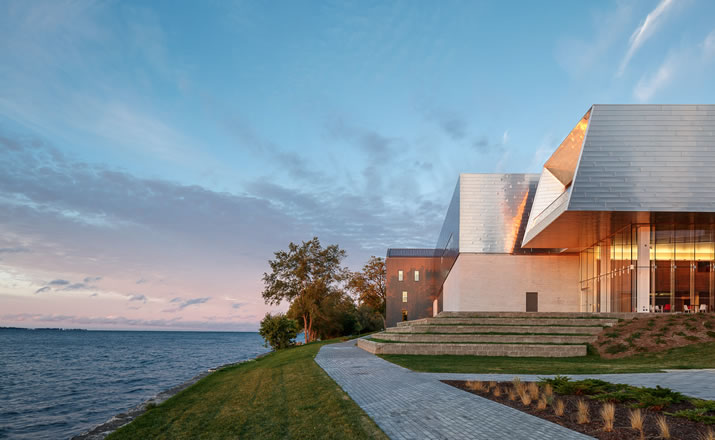 Recently, AMBICO has designed and supplied nearly 100 acoustic (both wood and steel) doors and frames for the new Isabel Bader Centre for the Performing Arts at Queen's University in Kingston, ON, Canada. AMBICO has been involved from the very beginning (the early design stages of the project) right through to the installation.
Due to the nature of the building (a performance hall), the architects had to rely on AMBICO's acoustic material to block the sound from room to room. AMBICO produced STC 40 (steel and wood) doors and STC 51 (steel) doors for the project, plus some unequal pairs of STC 59 (steel). There won't be any sound travel in this building!
Although still undergoing construction, the Centre promises to be impressive. A $63 million project; $22 million was generously donated by Drs. Alfred and Isabel Bader. The Centre is named in honor of Isabel Bader, for her love of music and theater.
Concealed behind this incredible building and its benefactors is a truly romantic love story: Isabel met Alfred aboard a ship, the two courted and more than 400 love letters were exchanged. After their relationship ended prematurely, Alfred went on to marry someone else and have a family. Years later, when Alfred was divorced, he and Isabel rekindled their romance and the two got married and remain happily married today.
Company: Ambico
Of: Alison Capuano
Source: https://www.ambico.com/isabel-bader-center/
Tags: Acoustics | Doors | Windows
---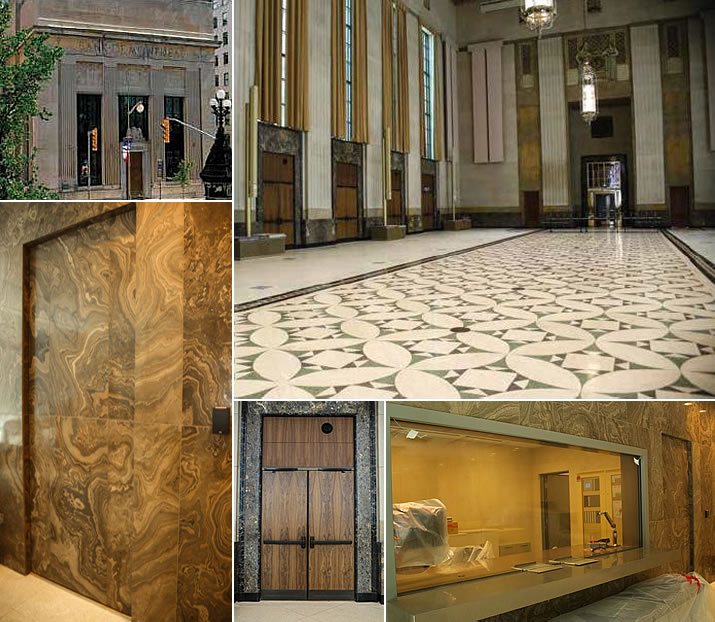 AMBICO Limited was delighted to play a key role in the renovation of this beautiful and highly regarded heritage property right in our home town, Canada's capital city. If you've ever been to Ottawa then you might recognize this building just from its picture—it's the Sir John A MacDonald Building, the former flagship branch of the Bank of Montreal originally built over 80 years ago.
Situated at the heart of Ottawa's Parliamentary Precinct, it hosts Parliamentary and Senate meetings and functions, international gatherings, special ceremonies and state events. AMBICO had the opportunity in 2012 to meet with the architectural team charged with the development of the $1 billion retrofit of the entire Parliamentary Precinct. Working closely with our long-time & valued distributor, Upper Canada Hardware, we developed STC door and frame products able to meet the unique demands of the project. This project was featured in DHI Magazine as a Case Study.
Company: Ambico
Source: http://www.ambico.com/the-sir-john-a-macdonald-building/
Tags: Doors | Interior Design | Windows
---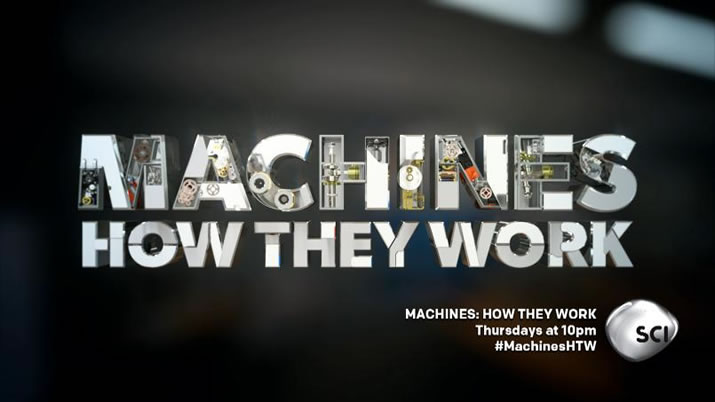 Boon Edam Inc., a global leader in security entrances and architectural revolving doors, today announced that its Turnlock 100 full height turnstile will be a featured technology in an upcoming episode of "Machines: How They Work" on the Discovery Science Channel.
About the Show
Each 30-minute episode of "Machines: How They Work" specializes in revealing the fascinating hidden workings of our everyday world using incredible photo-realistic CGI to explode everyday objects into their component parts. The show also films in live action at real locations to show how objects are manufactured and operate in their installed environment.
About the Episode
The episode featuring the Boon Edam Turnlock full height turnstile will air in the United States at 10:30 pm on Thursday, May 12th. That episode seeks to reveal the answers to the following questions about three featured products:
• How does a frozen yogurt maker convert gallons of liquid into fluffy frozen dessert?
• How does a turnstile allow authorized people to enter, but stop intruders in their tracks?
• How can the office chair keep the world's workforce comfortable?
The turnstile segment was filmed in North Carolina at Boon Edam's Lillington manufacturing plant to show how the components of a turnstile are built and assembled. Turnstiles installed at Cree Research in Research Triangle Park (NC) were filmed to illustrate how turnstiles operate in a real-world environment, and stop intruders from entering a secure area.
"What an honor to be selected by Discovery Channel to be featured on this program," said Mark Borto, Boon Edam CEO. "For many, a turnstile is nothing special, but the way this program explains the manufacture and use of the humble turnstile demonstrates there is a lot more going on than meets the eye."
Company: Boon Edam Inc.
Source: http://www.boonedam.us/news/turnstiles-appear-discovery-channel-show
Tags: Design | Doors | Entrances
---
Since 1959 the Bronx campus has stood proudly in New York City but after more than 50 years it was in need of some touching up. Our recent project at Bronx Community College was all about helping to retrofit the building by providing AMBICO's Recessed Panel Doors & Frames. And it's amazing what some new technology can do to revive an older building.
AMBICO, for its part, supplied 12 – 16 gauge, seamless edge, Recessed Panel doors and 6 – 14 gauge double frames. Eight decorative doors were ordered with two panels and four decorative doors were ordered with four panels. In the photo you see here, there is a steel recessed panel transom. However, not all doors for this building were ordered with steel transoms, some were provided with glazing to match the panel design.
Each panel is individually manufactured and then recessed deeply into the door face to create a prominent "shadow" around the perimeter of each rectangular panel. In addition, the panel sizes have been customized in quantity and shape to meet the unique job requirements of this project. The wonderful thing about this decorative style is that it integrates an "old world" recessed panel motif with modern security materials and up-to-date insulating products.
Our Recessed Panel doors offer a unique modern solution to an old problem. AMBICO thrives on helping buildings regain their former glory so that they can continue to stand proud for years to come!
Company: Ambico
Source: http://ambico.com/2015/04/16/bronx-community-college-2/