architecture - engineering - construction

Recycling
---
Introducing the Victor Stanley Relay™ Sensor and Service, which continuously monitors fill level. But that's just the beginning. Powered by Street Level Sensing™ technology, Relay also…
Street Level Sensing™
Continuously monitors fill level, weight, location and collection status
Tracks location via GPS, so you always know where receptacles were moved and where they belong
Allows you to log on and view collection data in real-time and historically
Boosts efficiency in planning, scheduling and routing collections
Saves an estimated 20-40% in collection expenses
Is built for reliability and durability, along with everything we manufacture
Victor Stanley Relay™ uses technology, sensors and web services which we designed, built, and own, so you can rely on our product whether you retrofit Relay or make it part of your new receptacle orders. Make a statement about the way your community handles waste. Talk to your Victor Stanley rep today.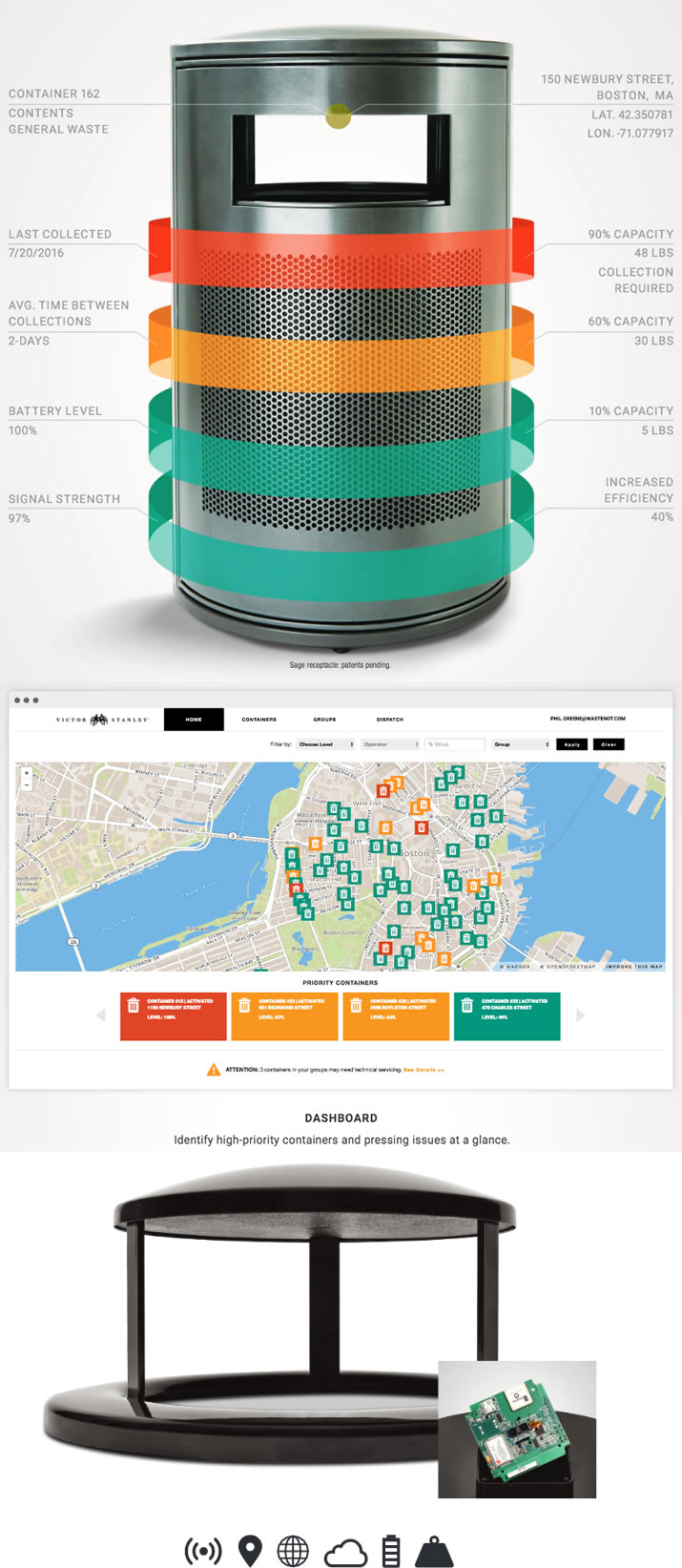 Victor Stanley Street Level Sensing™
An all-in-one solution, Victor Stanley Relay ™ features fully integrated sensors within new and existing Victor Stanley litter receptacles and recycling stations, wireless communications, and dedicated web portal for access to container conditions. Utilizing our 54-years of experience, we designed our proprietary Street Level Sensing ™ technology to meet the challenges site furnishings face in high-use, commercial and urban environments at the street level. This means that fill level, weight, system temperature, container location, and collection status are continuously monitored — and real‐time container conditions are automatically transmitted to the Victor Stanley Relay ™ Service using standard cellular networks. To maintain aesthetics, Victor Stanley Relay ™ Sensors can be hidden within any Victor Stanley side loading litter receptacle or recycling station. But smart design is only part of the story because our sensors are designed and built to remain reliable and accurate even in harsh environmental conditions. And they work with any type of waste (general trash, mixed recyclables, paper, glass, metals, etc.) while remaining out of sight, economical, and ecologically friendly
Company: Victor Stanley
Source: http://www.victorstanley.com/product/relay/
Tags: Landscape Design | Recycling | Safety
---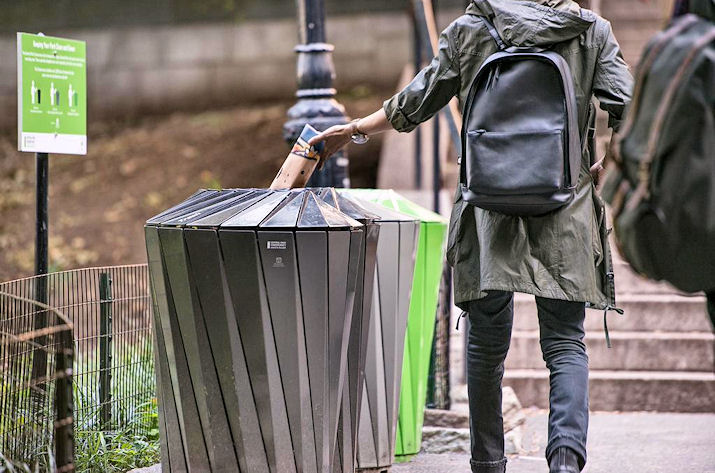 The Central Park Conservancy Recycling System combines high form and humble function. The leading design and branding firm Landor designed it as a custom solution for the non-profit Central Park Conservancy to advance environmental stewardship at the world's most famous urban park. The three-unit system, first developed and produced by Landscape Forms Studio 431, has proven itself on the job, earned multiple design awards, and been adopted as a Landscape Forms standard product. Inspired by the classic 1930s Central Park bench, the vibrant design cleverly turns the hooped arms and seat slats of the original on end, re- envisioning them for a new purpose. Cast aluminum units are identical in size and shape, different in color and the size of top openings that identify receptacles for cans and bottles, paper, and waste. Designed by Landor Associates. U.S. Patent D712110, D709660, D705513.
Company: Landscape Forms Inc.
Source: http://www.landscapeforms.com/