architecture - engineering - construction

2016 June
---

This interactive mobile app lets you explore the areas where high performance Icynene spray foam insulation can be applied throughout your home. Plus, you can:
learn about the immediate and long-term benefits of Icynene
get answers to some of the more commonly asked questions
understand more about the installation process and much more!
This free app is available for download on the Google Play Store and Apple's App Store.
Company: Icynene
Source: http://info.icynene.com/download-icynene-homeowner-app?utm_campaign=Homeowner%20APP&utm_content=32256318&utm_medium=social&utm_source=twitter
Tags: Building | Insulation
---
The world-class building-science experts at Sto continue to lead the way in advancing energy efficiency, durability and aesthetic appeal. Today's energy codes and regulations reflect many of the design principles embodied in our Continuous Insulation (ci) Systems, and the proven performance of Sto's next-generation EIFS appeals to designers, contractors and owners alike.
StoTherm® ci Wall Systems (EIFS)
Integrated Wall Systems that deliver the best in performance, sustainability and design flexibility
Sto's next-generation StoTherm® ci systems integrate the following key elements: continuous insulation (ci), an air/moisture barrier, drainage and a variety of textured finish options to create a superior, sustainable wall cladding. This high-performing, eye-catching system saves energy and stays attractive for years. StoTherm® ci improves indoor comfort and air quality while maintaining maximum curb appeal and lowering overall life-cycle costs.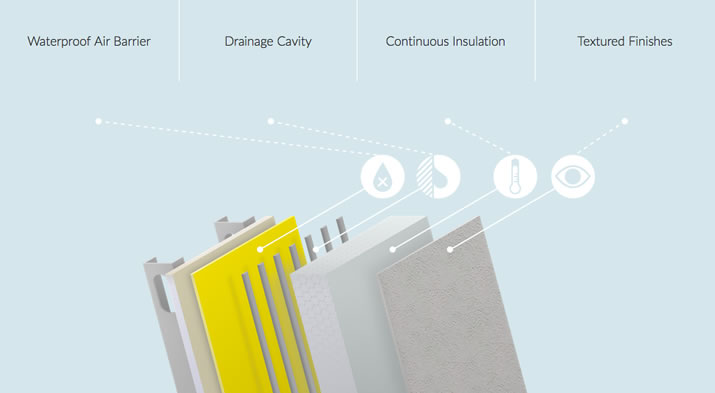 Key Components of the Sto Continuous Insulation (ci) System
System Features
High R-Value
Continuous insulation with high R-values provides significant energy cost savings by eliminating thermal bridging.
Code Approved
Complies with both ICC and IECC code requirements for continuous insulation.
Outbound Dew Point
Prevents condensation and freeze damage by placing the dew point outside the stud wall cavity.
Reduced Structural Loads
StoTherm® claddings are very lightweight, resulting in reduced structural cost requirements.
No Mechanical Fasteners
No penetrating nails or screws to attach the insulation means no thermal bridging.
Low Maintenance Cost
Coatings and finishes with advanced acrylic and Lotus-Effect technologies resist dirt pickup, peeling and cracking.
Lowest Life-Cycle Cost
StoTherm® ci claddings have the lowest life cycle costs compared to non-insulated brick and stucco claddings.
Premium Finishes & Coatings
Sto high performance finishes and coatings provide superior weatherability and resistance to UV fading, mold and mildew.
Explore the Continuous Insulation Configuration Tool to help guide you to what products are right for your project.
Company: Sto Corp.
Source: http://www.stocorp.com/continuous-insulation-systems/
Tags: Energy | Insulation | Sustainability | Wall Panels
---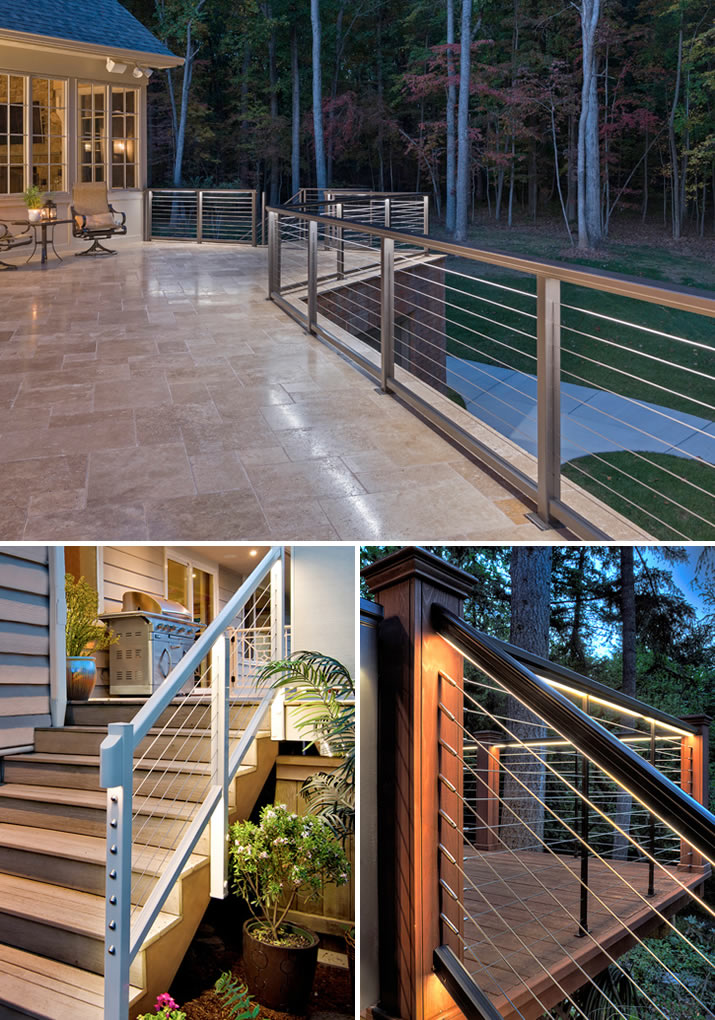 As we reported in our earlier blog post, The Rise of Outdoor Lighting, homeowners continue to place a high priority on renovating outdoor living spaces. Taking center stage in these renovations is outdoor lighting. The report says, "Outdoor lighting is the most common [system] upgrade, whether it is LED (28%), solar (23%) or other (17%)."
The emergence of LED lighting has been a game-changer in outdoor design. Unlike their conventional counterparts, LEDs do not have a filament that will burn out or break, and they have a significantly longer lifespan (50,000 hours or more, compared to 15,000 to 35,000 hours for conventional HID lighting ) – which make them extremely energy efficient.
Because LEDs are so durable and energy efficient, they've become the leader in outdoor lighting. They can be used anywhere on your property, from lighting walkways and steps to illuminating patios and outdoor living spaces. Here are a few ways high efficiency LEDs are playing a significant role in outdoor lighting design.
Lighting the Way – In outdoor landscaping design, lighting can be a visual cue for defining the entrance to a home. It can be as simple as additional walkway lighting to as multifaceted as using many options to create a dramatic illuminated pathway to the front door.
Marking the Perimeter – If you have a deck, LED rail lighting can offer a modest amount of light that can set the ambiance for an evening gathering while still marking the deck's perimeter. Also, LED rope lighting is often used to outline raised flower beds and water features.
Adding a Layer of Safety – Once the sun sets, outdoor areas can be a bit more dangerous to navigate; however, LED lighting as a design element will add a layer of safety to steps. Lighting is often added to hardscape stairs, or as seen below with the LED Post Accent Light . In this scenario, the accent light attaches to the post face to create a warm, white light.
Putting Functionality into Outdoor Kitchens – To add more functionality to outdoor kitchens, LED flexible strips are being integrated into outdoor bar and cooking areas. These strips position nicely under cabinets or along the underside of countertops and provide the perfect accent lighting, as well as make the outdoor kitchen much more functional after dark.
Accenting Landscaping Elements – One of the key benefits of using LEDs in landscape design is that they can be positioned to emit light in specific directions. Up-lighting under trees, for instance, creates interesting shadows, sometimes referred to the "Frankenstein Effect." Alternately, strategic positioning of up-lights allows them to illuminate an architectural detail of the home, or even a piece of outdoor artwork or sculpture.
As LEDs continue to extend their foothold into landscape design, so will technological advances – bringing with it creativity and inspiring ideas for all to enjoy.
Company: Feeney, Inc
Source: http://media.feeneyinc.com/blog/the-role-of-leds-in-outdoor-lighting-design
Tags: Energy | Exterior Design | Lighting | Safety
---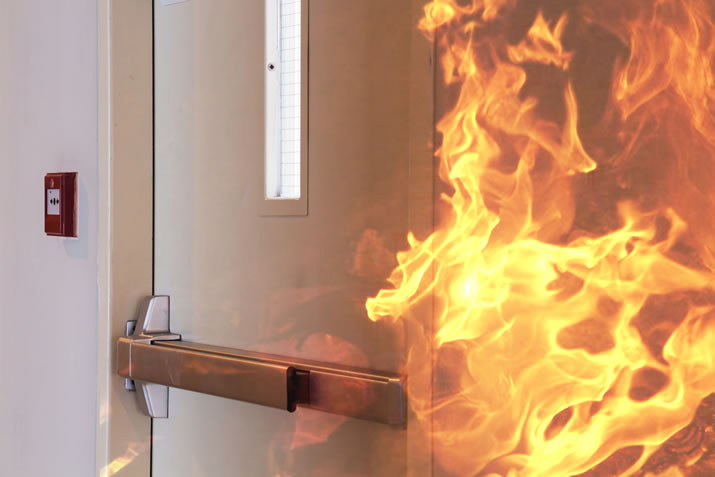 One of the last things you and your company want to deal with is a devastating fire. While you can't prevent any disaster from happening, prevention is one way in which you have some control.
To help prevent fires from occurring in your workplace, OSHA (Occupational Safety and Health Association) suggests creating a fire prevention plan. A written fire prevention plan should contain these elements, according to OSHA:
A list of all major fire hazards, proper handling and storage procedures for hazardous materials, potential ignition sources and their control, and the type of fire protection equipment necessary to control each major hazard.
Procedures to control accumulations of flammable and combustible waste materials.
Procedures for regular maintenance of safeguards installed on heat-producing equipment to prevent the accidental ignition of combustible materials.
The name or job title of employees responsible for maintaining equipment to prevent or control sources of ignition or fires.
The name or job title of employees responsible for the control of four source hazards.
Be prepared if a fire or other emergency does happen in your building, and you have to get people out of the facility as quickly as possible.
Count on Seton for the signage you need to guide people in an emergency. From fire and exit signs to evacuation signs and fire equipment and extinguisher signs, Seton has everything you need to keep your facility safe and compliant. Give us a call at 877-859-2155 or visit http://www.seton.com to find the best fire and exit signage solutions for your business.
Company: Seton
Of: Marji McClure
Source: http://www.seton.com/blog/2016/06/create-your-fire-prevention-plan
Tags: Safety
---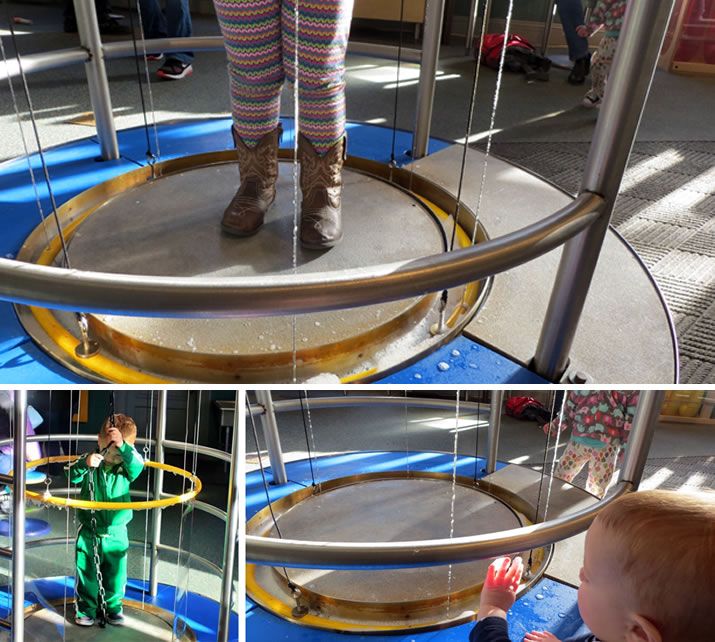 The Situation
For over 30 years, the Ann Arbor Hands-On Museum has been on a mission to encourage people of all ages to ignite their imaginations through scientific, technological, art, math, and engineering activities. To keep doors open to over 250,000 people a year, Hands-On relies on the generosity from their donors, which include individuals, corporations, government agencies, and foundations. The museum with over 250 interactive exhibits, opened their doors in 1982 after being renovated from the city's historic brick firehouse.
One of the more popular attractions within the facility is the bubble capsule. The capsule is a circular platform in which you can lift a thin bubble, enclosing you inside of it, trying not to let it pop on the way up. Due to the popularity of the apparatus, Hands-On wanted to seek out options to keep their patrons on their feet when using the slippery and soapy footpad.
The Solution
SlipNOT® Metal Safety Flooring was contacted by an exhibit technician for this specific application. With the Ann Arbor museum being environmentally conscious, SlipNOT® products have a minimum recycled content of 40% and a maximum of 83% which seemed like a striking option for them. The museum shipped SlipNOT® their ¼" x 26-¾" diameter aluminum base and ¼" x 15-⅝" x 38-11/16" tread to be coated with Grade 2 6061 aluminum. Once SlipNOT® received the material, it was coated and shipped out the next day.
The Impact
SlipNOT®'s aluminum floor plates are designed for lightweight applications where complete slip resistant coverage, durability, and safety are vital. Though the nature of the bubble capsule is entertaining to all ages, younger children seem to be the main foot traffic coming through. Installing a slip resistant base to the capsule keeps the kids happy and on their feet. Resulting in a day full of fun without ever realizing they're actually gaining knowledge at the same time.
LOCATION Ann Arbor, MI
INDUSTRY Recreational
PROJECT OVERVIEW High traction flooring on base of popular museum attraction
SOLUTION ¼" x 26 ¾" aluminum base & ¼" x 15 ⅝" x 38 11/16" tread to be coated
WEBSITE www.aahom.org
Company: SlipNOT® Metal Safety Flooring Div.
Source: http://www.slipnot.com/case-studies/slip-resistant-aluminum-flooring-in-bubble-capsule/
---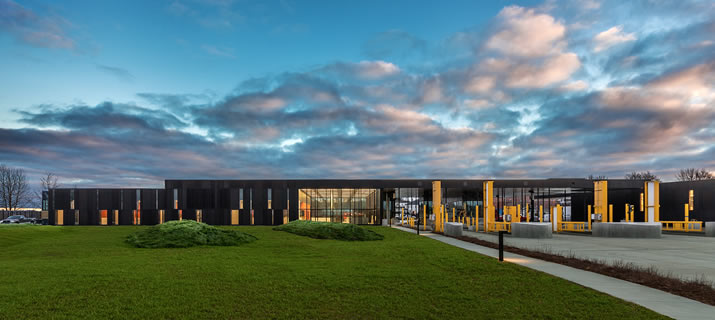 Photo courtesy of www.coenpartners.com
There is a recurring theme in the design and integration of bulletproof barriers into banks, schools and municipal buildings – the art of striking a fine balance between form and function, creating both a warm, inviting environment that is physically secure. In some situations, it does make sense to install an over-the-top ballistic barrier that truly makes itself known. And for clients who want this approach, Total Security Solutions can certainly handle the job. But our specialty is focused more on custom installations, where beauty is as essential as security. We work with architects and designers to help realize their design vision while ensuring the security needs of the end user are met.For most schools and government buildings, an over-the-top bulletproof barrier is not what is required. Individuals with a true need to enter the building should feel welcome to do so and children should not feel intimidated upon entering their school. A clean, minimalist approach to the integration of security features into a building's design, however, does not insinuate a lack of security.
Bulletproof Security at U.S. Ports of Entry
There are more than 300 land, air, and sea ports of entry into the United States. Serving as a lawful means of entry into the US, these locations are used to check passports and search luggage to ensure that contraband is not imported. Passing through these checkpoints can often be stressful for individuals due to the high level of security and while properly securing a port of entry is imperative, the need to establish a warm, welcoming environment is equally as important.
Standing at the border between Maine and New Brunswick, Canada, the U.S. Land Port of Entry in Van Buren, Maine opened its doors in April 2013 and has since received many awards for striking the desired balance between form and function. While its design is not necessarily breakthrough and is even reminiscent of other federal buildings, it has been argued that subtle details make it feel transparent and even welcoming. Its design meets the requirements for the U.S. Green Building Council's LEED® Gold criteria and among other recognitions, it most recently received a 2016 AIA Honor Award.
Designed by Julie Snow Architects, the U.S. Land Port of Entry is described as fusing "an abstraction of the cultural and landscape context with concepts essential to port operations: surveillance and camouflage." Making up a Z-shaped form from above, the buildings feature aluminum panels that alternate with silk-screened bullet-resistant glazing in a pattern meant to emulate the surrounding tree-lined environment. The use of a bold orange color on the interior walls serves to brighten the space, creating a warm, inviting atmosphere. The Van Buren, MN Port of Entry demonstrates how careful thought and seamless integration can ensure a building is both secure and aesthetically pleasing.
Company: Total Security Solutions Inc
Source: http://www.tssbulletproof.com/balancing-bulletproof-security-design/
Tags: Design | Safety | Security
---
Offering Solar Control Solutions for Every Application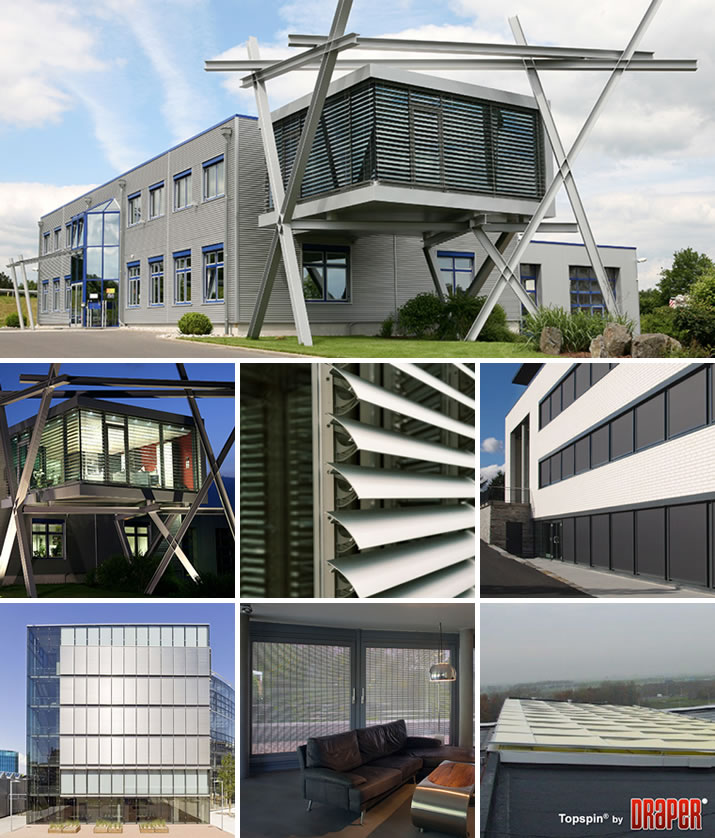 Solar Control Solutions provide precision control over the natural daylight entering the building, excellent energy savings and interesting façade design options. A wide range of custom products complements our traditional window coverings to meet all your needs for interior and exterior shading.
Exterior shading is the most efficient way to keep solar heat gain outside the building envelope. Draper can help develop a system that utilizes both interior and exterior shading to maximize efficiency and occupant comfort, and reduce energy consumption. Each custom solution we provide has specific benefits and features to enhance your overall building design and daylighting needs.
Draper's Solar Control Solutions allow you to control daylight and manage solar heat gain. Using an exterior shading system such as the Omega venetian blind can significantly reduce the heat gain entering the building, allowing the use of smaller more cost effective HVAC systems. Additionally, artificial lighting can account for more than 40% of a building's electrical load. Balancing daylight and artificial light through the use of the right shading system can lead to significant savings in energy consumption.
Source: http://www.draperinc.com/solarcontrolsolutions/
Tags: Design | Energy | Window Shades
---
Introducing the NuTone Haven™ Backyard Lighting & Mosquito Repellent System
Don't let biting mosquitoes keep you from enjoying time outdoors with family and friends! The NuTone Haven™ Backyard Lighting & Mosquito Repellent System features innovative landscape fixtures that provide season-long, effective protection from mosquitoes without the hassle of sprays, messy traps to clean, or fuels to deal with. Each fixture provides 110 square feet of coverage and is safe to use in any outdoor environment.
Light and Mosquito Repellent Fixture
Haven Backyard Light & Mosquito Repellent Fixture combines attractive, efficient LED lighting with mosquito repellency, to enhance your patio, deck or yard. Includes one repellent cartridge.
EFFECTIVE: Haven's patented mosquito protection system provides protection within 15 minutes of use and is effective against all types of mosquitoes, including the Aedes aegypti mosquito, a known carrier of the Zika virus.
CONVENIENT: Odorless, silent, invisible during use – no smelly oils, smoke, or zapping sounds to disturb you.
SAFE: Child-resistant fixture opens with screwdriver. Repellent won't harm plants, flowers, shrubs or lawns.
SIMPLE TO USE: As easy as turning on the lights to say goodbye to biting mosquitoes.
EASY TO INSTALL: Each fixture is designed for easy insertion into cable connectors and comes with adaptors to fit most existing wiring systems and transformers.
Mosquito Repellent Fixture
The Haven Mosquito Repellent Fixture can be used to repel mosquitoes where lighting is not needed. Easily added to an existing low voltage lighting installation, the Haven Mosquito Repellent fixture offers the same patented mosquito protection system in a discreet, low-profile design that blends in to any landscape. Includes one repellent cartridge.
Timer/Control
The timer/control allows programming of two circuits of up to four fixtures for automatic operation, either by time of day or by Solar Sensor. (For example: set lights to turn on at dusk and remain on for 5 hours; set repellent to turn on at 7 pm and off at 9 pm.)
Repellent Cartridge
Easily replaceable cartridges are available in single and four packs. Each repellent cartridge provides season-long mosquito protection and lasts 90 days when used 2.4 hours per day, providing convenient protection from mosquitoes: no batteries, candles, butane, or external fuels required, no spraying to schedule, no messy traps to empty.
Company: Broan-NuTone LLC
Source: http://www.nutone.com/haven
Tags: Landscape Design | Lighting | Safety
---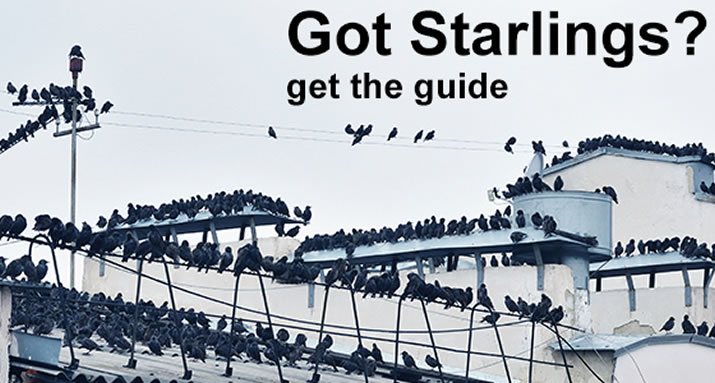 Spring is when huge flocks of these birds come looking for nesting sites, food and water. Most buildings provide everything these birds need for survival and nesting. Sprinkler systems create water puddles, open trash containers provide food, and rooftops offer all sorts of nooks and crannies for starlings to nest.
Act Now to Prevent Costly Damage
Don't let starlings settle in and make a mess of your building
Once starlings have settled in, they can damage and deface many areas of a building. Their huge flocks can rain down massive amounts of droppings, which are unsightly and affect the image of your business. Employees and visitors could slip on bird droppings and become injured. Bird droppings at this volume can also affect AC units, vents, lighting and even solar panel efficiency. If your business stores, processes or serves food, bird droppings can become a major issue because droppings can carry diseases. Starlings nesting in rain gutters can clog the gutters, causing roof leaks.
Fortunately, the bird control pros at Bird B Gone have a number of ways to keep small birds off buildings.
Starling Facts: Download the guide now.
Company: Bird-B-Gone, Inc.
Source: http://www2.birdbgone.com/e/63162/63162-91445-Starling-Facts-pdf/2j2ys6/204999911
---


All louvered panels open for full access to the air handling unit. Sight proof from horizontal and below.
Hurricane louvers can be used as vision barriers to hide mechanical equipment and other unsightly items. These Florida Miami-Dade certified louvers are impact and high wind tested louvers that attach directly to structural framing (by others) on a rooftop or other locations where you need view blocking.
Since the typical line of sight is from the ground on most buildings, a horizontal blade equipment screen will have the blades inverted to eliminate all sight-through from ground level. A variety of finishes are available from our Equipment Screens Finishes selection chart. Roof screens can be painted with a baked enamel or Kynar 500 finish, or anodized aluminum. A variety of standard colors are available. Custom colors can be selected by sending us a color chip. We will use our computer color match system to precisely match the equipment screen color to other building facade components.
Company: Architectural Louvers
Source: http://www.archlouvers.com/Hurricane_Equipment_Screens.htm
Tags: Roof | Safety | Wall Panels | Window Shades
---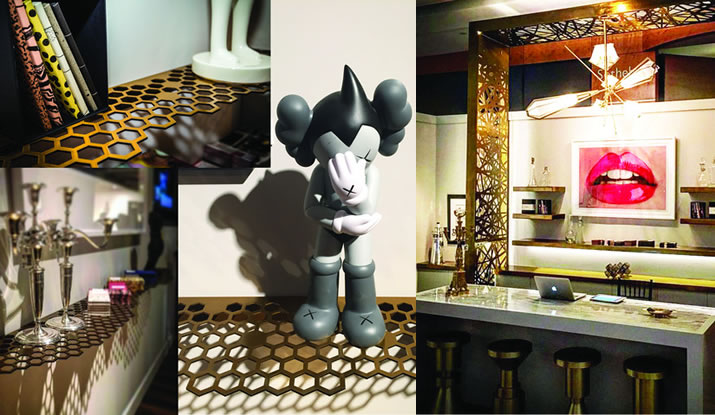 Top Left Hand Photo above courtesy of Harrison I. Epstein of HIE Photography
Architectural Grille recently collaborated with Kenneth Nilson and Christi Rogers of CRD Associates on custom metalwork for the Sotheby's 2016 Designer Showhouse + Auction.
Christi Rogers curated and designed a spectacular room designated as the "Pantry Bar" which incorporated whimsical elements into a "traditional" space making it one of the most popular rooms within the Showhouse! Artwork by Andy Warhol and Keith Haring as well as several fun Kaws pieces along with a specialty bar serving Bourbon and Absinthe libations and DJ spinning tunes for guests.
Architectural Grille fabricated "honeycomb" or hex-shaped shelves from steel with a clear metallic brass powder coat finish - what do you think?
The intricate "Pantry Bar" metalwork structure consisted of "twigs" steel panels finished in the same clear metallic brass powder coat finish as the "honeycomb" hex-shelves - these panels had concealed lights built-into the structure to add shadows onto the bar and overall space adding an extra design dimension to the room.
Contact Details for Designers mentioned in this blog:
Christi Rogers: https://www.facebook.com/CRDassociates
Kenneth Nilson: https://www.facebook.com/kenneth.nilson
Company: Architectural Grille
Source: http://www.archgrille.com/blogs/news/97262145-sothebys-2016-designer-showhouse-auction
Tags: Furniture | Interior Design | Metal
---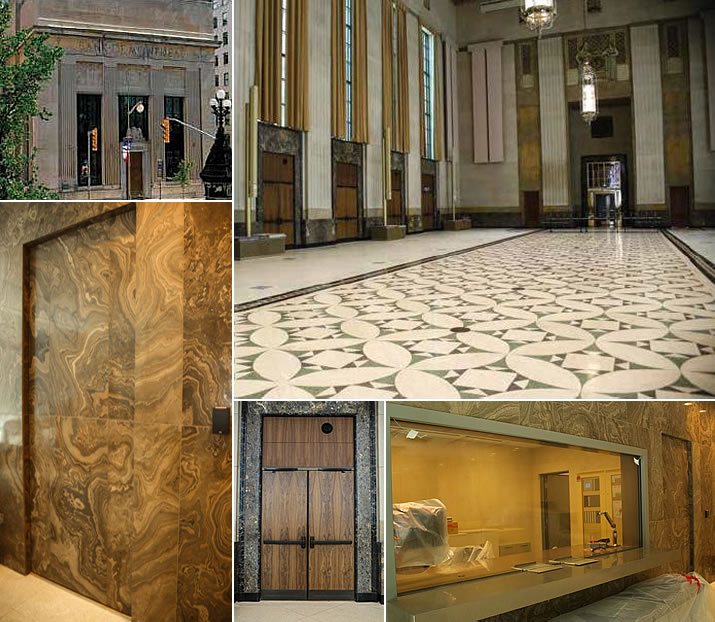 AMBICO Limited was delighted to play a key role in the renovation of this beautiful and highly regarded heritage property right in our home town, Canada's capital city. If you've ever been to Ottawa then you might recognize this building just from its picture—it's the Sir John A MacDonald Building, the former flagship branch of the Bank of Montreal originally built over 80 years ago.
Situated at the heart of Ottawa's Parliamentary Precinct, it hosts Parliamentary and Senate meetings and functions, international gatherings, special ceremonies and state events. AMBICO had the opportunity in 2012 to meet with the architectural team charged with the development of the $1 billion retrofit of the entire Parliamentary Precinct. Working closely with our long-time & valued distributor, Upper Canada Hardware, we developed STC door and frame products able to meet the unique demands of the project. This project was featured in DHI Magazine as a Case Study.
Company: Ambico
Source: http://www.ambico.com/the-sir-john-a-macdonald-building/
Tags: Doors | Interior Design | Windows
---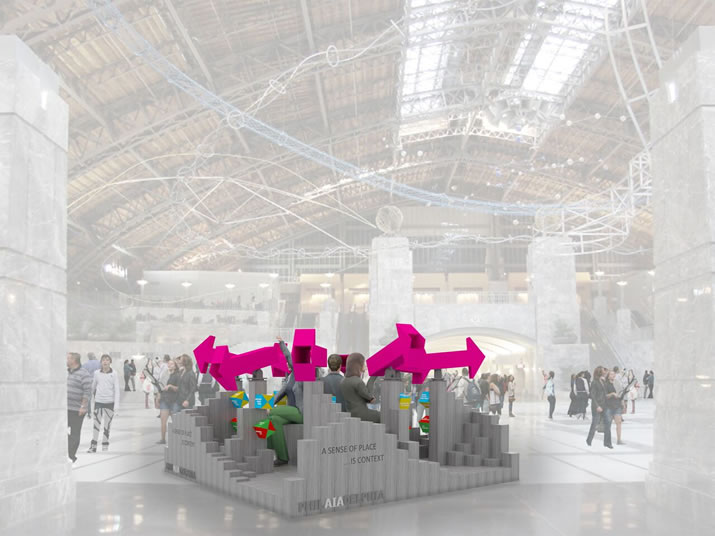 The AIA Small Project Practitioners Knowledge Community developed this year's pop-up design competition to address the importance of architecture in establishing a sense of place. The design competition challenged the design community to activate a small footprint and create a space for people to enjoy, play and converse. Submitters were asked to create a temporary space within a 10' x 10' x 10' area, using environmentally responsible materials.
The selected project, "A Sense of Place. . . Is Context", designed by Michael Wacht, AIA, allows users to sit inside the installation and view the surrounding environment through an oversized "prop" arrows in single frame views to determine whether destinations are inviting or discouraging to a potential user.
"Frequently, we [architects] create diagrams with abundant arrows to indicate how a design fits into the existing and proposed circulation network," said Wacht. "The installation asks architects to embody the arrows we use in diagrams and drawings when we design. Those arrows aren't just contextual cues and visual linkages, they are actual people standing in those positions, being inspired or discouraged by the environments we build."
Wacht is the President of IntuArch, a Los Angeles based architecture firm which focuses on developing innovative geometries in response to research in programmatic, environmental, circulatory, and contextual analysis. You can view a diagram of the exhibit here.
About The American Institute of Architects
Founded in 1857, the American Institute of Architects consistently works to create more valuable, healthy, secure, and sustainable buildings, neighborhoods, and communities. Through nearly 300 state and local chapters, the AIA advocates for public policies that promote economic vitality and public wellbeing. Members adhere to a code of ethics and conduct to ensure the highest professional standards. The AIA provides members with tools and resources to assist them in their careers and business as well as engaging civic and government leaders and the public to find solutions to pressing issues facing our communities, institutions, nation and world. Visit www.aia.org.
Company: AIA (American Institute of Architects)
Source: http://www.aia.org/press/AIAB108867
Tags: Design | Sustainability