architecture - engineering - construction

2016 April
---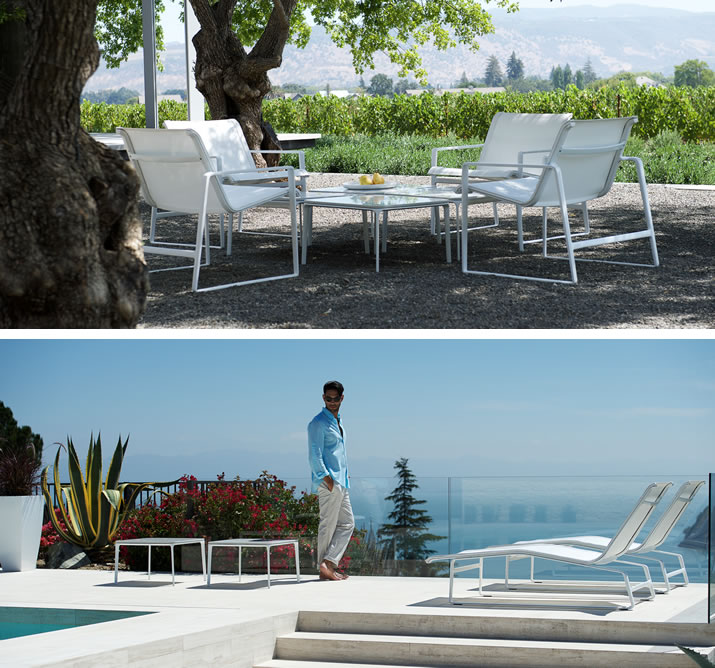 Landscape Forms is pleased to introduce the Cochran group, relaxed outdoor furniture designed by award-winning landscape architect Andrea Cochran. The new product joins the Terrace Life group, Landscape Forms lifestyle furniture for sophisticated, high-value outdoor spaces. Landscape Forms President, Richard Heriford, explains, "We chose to partner with Andrea Cochran because we like the architectural sensibility of her landscape work. The Cochran group has the Zen-like quality of her landscapes. We set out to design a modern classic and I think that's what we have. It's furniture for protected public spaces that is so elegant, you might want to take it home."
Cochran includes a lounge, side chair with arms and low table that give the term "casual elegance" fresh meaning. Cochran is a natural for outdoor spaces where cache, comfort, and camaraderie are prized, from the corporate campus to refined hospitality settings. Andrea Cochran explains the spirit behind the design: "This is about how people live today. They would rather sit comfortably in a low chair or lounge with their phone or laptop than at a high table. In that spirit we designed the chair to be wider than typical, so it feels generous and a little expansive."
The Cochran elements have subtly sculpted cast aluminum frames that support engineered mesh fabric seats and Landscape Forms proprietary Meldstone™ tabletops. Kirt Martin, Landscape Forms Vice President of Design and Marketing, explains, "The design is very clean, modern and, like Andrea's landscape architecture, it is timeless. The Cochran pieces are stripped of any unnecessary noise. This is design that allows you to get comfortable and simply experience being outdoors."
Cochran is engineered to meet the demands of today's active commercial environments. The lounge and chair's strong continuous-loop cast frame supports a cast aluminum rail that stretches and holds the mesh seating fabric and is secured to the frame with discreet connections. The replaceable fabric is Phifertex® Plus, a nylon weave that has strength, color, stain and mildew resistance, and UV protection. A ¼" reveal between the structural frame and fabric rail is repeated on the table between frame and top – giving all pieces a "floating" quality. The complementary 24" Cochran table with legs and polished MeldStone™ ultra high-performance cast concrete tops can be used singly or grouped effectively to create sociable settings. Cochran group elements are manufactured using sustainable materials and processes. Aluminum frames contain 100% recycled material and are fully recyclable. Cast concrete is a natural material. Aluminum parts in the standard color palette are finished with Landscape Forms proprietary Pangard II ® HAPS, VOC, lead-free polyester powdercoat. Phifertex® Plus is GREENGUARD Gold Certified.
About Andrea Cochran
Andrea Cochran, FASLA, is founder and principal of Andrea Cochran Landscape Architecture, based in San Francisco. The firm, which has earned wide acclaim for its public, commercial and residential work, is recipient of numerous awards including the 2014 ASLA Design Medal, the 2104 National Design Award in Landscape Architecture from the Smithsonian's Cooper Hewitt National Design Museum, and multiple regional and national ASLA awards. The work of Andrea Cochran Landscape Architecture sculpts and navigates space through a seamless integration of landscape, art and architecture. The work draws boundaries with a controlled palette of materials, creating permeable edges that blur the line between the natural and built environment. Spare geometry applied to vibrant plant life results in sharp compositional order. This exercise in restraint heightens a sense of the elements—texture, light and movement.
About Landscape Forms
Landscape Forms is the industry leader in integrated collections of high-design site furniture and advanced LED lighting. Since its founding in 1969 Landscape Forms has earned a reputation for excellent design, high quality products and exceptional service. The Landscape Forms U.S. headquarters and manufacturing facility is located in Kalamazoo, Michigan with sales representatives throughout North America, South America, the United Kingdom, Australia, the United Arab Emirates and Asia. Landscape Forms collaborates with renowned industrial designers and consultancies, landscape architects, and architects to design and develop integrated collections of products that address emerging needs and help create a sense of place. Additionally, the company has formed global marketing partnerships with select companies that share its commitment to design. Landscape Forms has an installed base of products around the world. Clients include municipalities, transit centers, corporate, college and health care campuses; and familiar brand leaders such as Boeing, Cisco Systems, Disney, Sprint, American Airlines, Herman Miller and Nike. The company was recently named by the Wall Street Journal as one of the Top 15 Small Workplaces in the US.
Company: Landscape Forms Inc.
Source: http://www.landscapeforms.com/en-US/products/Pages/Cochran-Group.aspx
Tags: Design | Furniture | Landscape Design | Sustainability
---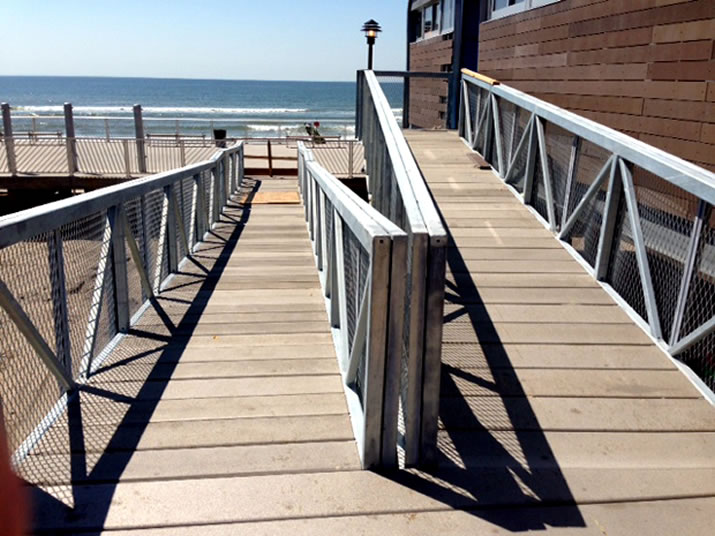 Non-slip stainless steel plate walkway and stairs at comfort station
For decades, diamond plate has been a default safety plate for many designers. Today's applications have shown this material to be inadequate in creating productive work environments. Once the raised pattern becomes wet, it could become hazardous.
Customers are able to ship previously purchased diamond plate to SlipNOT® for coating, although SlipNOT® prefers to apply its coating to smooth floor plate due to superior performance and longevity. SlipNOT® does not supply or recommend using diamond plate, but offers this option for customers when replacement is not an option.
An excellent alternative to diamond plate is SlipNOT® slip resistant aluminum plates which are ideal for lightweight applications where corrosion resistance and durability are required. SlipNOT®'s high traction aluminum surface is three times harder than the substrate, making it economical based on its long lasting characteristics. SlipNOT® aluminum plates can be coated with a non-slip steel, stainless steel, or aluminum surface, giving it greater versatility. The plates can meet specific specifications by being cut-to-size or fabricated into products such as stair treads or nosings.
SlipNOT® aluminum plate applications consist of the following:
Vault covers
Trench covers
Stair treads and nosings
Marine docks
Door thresholds
Bridge decking
Platforms
Advantages of SlipNOT® aluminum plates:
Easily installed on project sites
Solid surface provides maximum traction area
Can retrofit over existing structures
Flexibility of design and many fabrication options
Continually meets coefficient of friction (COF) minimum requirements throughout life of product
Low maintenance and easy to clean
Naturally aesthetically pleasing
Does not absorb bacteria sustaining particles
Can be recycled, making it an environmentally friendly material
Make an investment today by choosing SlipNOT® aluminum plates which surpass ADA and OSHA recommendations for slip resistance. SlipNOT® safety flooring products remain slip resistant long after inferior products have worn or flaked off. Learn more about SlipNOT® aluminum plates.
Company: SlipNOT® Metal Safety Flooring Div.
Source: http://www.slipnot.com/blog/aluminum-walkways/
---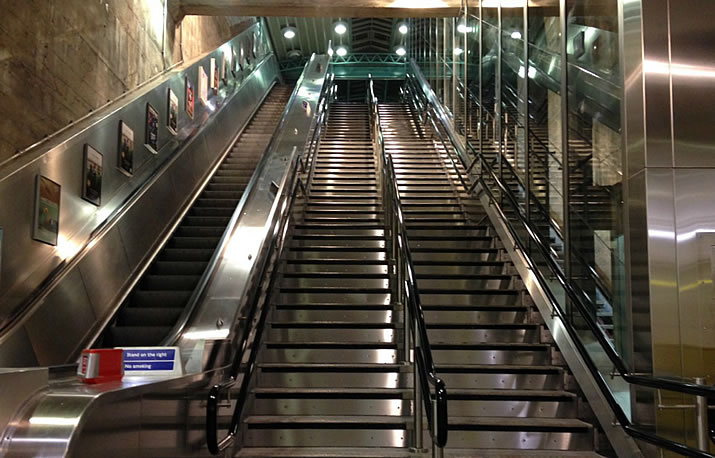 Work has been well underway since 2007 on the $4.45 billion project which is set to transform New York City Subways into the 21st Century. The Metropolitan Transport Authority (MTA) reported 1.75 billion trips were made using the overcrowded, outdated subway system in 2014. This number was set to rise year on year making updates to the system vital.
Much like the subway systems in New York, the London Underground has been an integral part of London's transportation system for 150 years. With a reported 1.3 billion passengers of the Tube each year, regular updates and refurbishment works to the circuit of stations are crucial.
Manufacturer Howe Green, best known for high-quality access covers for floor, walls and ceilings, also creates bespoke metal work solutions for a variety of applications. The company recently supplied custom-fabricated staircase risers for refurbishment works at London Underground's Greenford Station, home of the original step-free access project which was re-established with the opening of an innovative inclined elevator in October 2015.
Howe Green supplied over 100 bespoke risers for specialist contractor D&D Rail to install. The competitively priced solution was made to their specification from 316-grade stainless steel and delivered within days.
Howe Green are continually investing in design software and machinery, which enables the accurate and cost-effective manufacture of special purpose access covers, corner guards and trims in unique sizes and shapes.
"Our experience and manufacturing capabilities make it possible for us to not have to charge a premium for bespoke work," commented Richard Centa, Sales and Marketing Director at Howe Green. "From simple metal risers like those at Greenford to complex tree grilles at One Hyde Park, we provide solutions that fit perfectly, helping to save time and money at the installation stage and creating the best result for aesthetics and performance."
Company: Howe Green US
Source: https://www.howegreen.us
Tags: Access Covers
---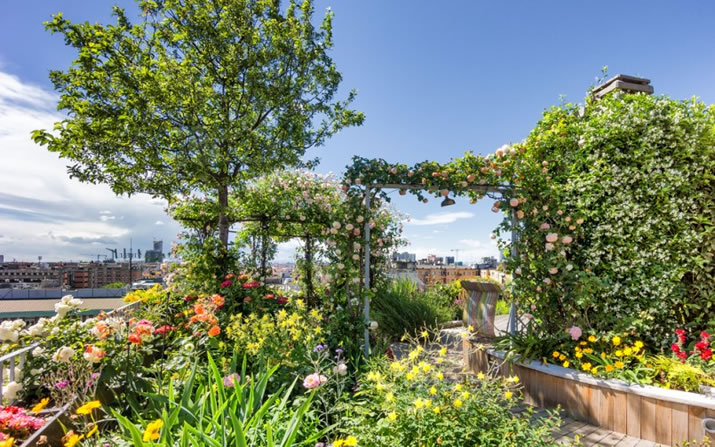 Eco-friendly landscaping is all about durability, innovation and design. As a result you score a more functional, low-maintenance space and help save the planet.
The popularity of going green is only getting stronger, but the planet hasn't taken a sigh of relief just yet. We still have a long way to go to turn around the damage we have already caused using more traditional building processes.
Traditional building and landscaping plans rely on carelessly slapping together a bunch of different materials that may or may not work well together. The end result may look good, but isn't guaranteed to last, and may harm local communities and wildlife habitats around the world.
On the other hand, eco-friendly landscaping and building methods are meant to last year after year, reduce strain on local and global habitats, as well as be low maintenance and efficient in regards to resources, such as energy and water. This sort of project requires more thought and innovation, but the results are sure to pay you back.
Here are 7 green building tips to create more eco-friendly landscaping.
Purchase Long Lasting Landscaping Materials & Site Furnishings
If you install light posts made of metal that rust within a year, you now have to replace materials you just bought. This creates a surplus of waste and additional manufacturing pollution. Save you and the planet from the hassle by sourcing products meant to last years out in the elements.
There's nothing on the market capable of enduring everything the world throws its way like TerraCast Products. We build the toughest resin-based material in the world—no, really. We've literally thrown our planters from rooftops and seen them hit by cars, and they still don't break! We are so confident in the durability of our product we even offer a 10-year limited warranty.
We strive to use green manufacturing processes in every way possible in order to create a cleaner product with less negative impact on the environment. TerraCast Products produces a 100% Post Consumer Recycled black planter, and all of the other colored Terracast Planters are recyclable once no longer in use.
For all these reasons and more, we remain the leading choice amongst green-conscious architects, cities, residential developers and more.
Build A Green Living Roof
Green roofs are not just for hippies or people living in Germany anymore. In fact, green roofs are becoming increasingly popular in the US. In order to create a green roof, you must first check with a building engineer to ensure your roof is capable of supporting the weight of a living roof. If it is, the roof will be covered in a waterproofing layer before soil and plants are added directly on top.
There are different types of living roofs, some take up a small space and others take up the entire stretch of the roof. An all sod roof could last as long as 900-years! Not to mention, living roofs help regulate indoor temperature for decreased energy usage. You could also use your living roof to capture rainwater in large barrels. This water can then be used on landscaping to reduce waste and your water bill.
Preserve Local Trees
If you are building around native trees it's important to leave as many in place as possible. Just don't forget to leave room for the roots as well. Not only do native trees add free beauty, privacy and shade to your property, but also they are good for your health. To prevent damaging extensive root systems, put up portable fencing around tree borders prior to construction, careful to give enough room for outstretched root systems.
Use Native Plants For Landscaping
Native plants are the perfect way to reduce overall maintenance and plant failure rates. Native plants are meant to grow in your area, meaning they are low maintenance and capable of withstanding pretty much anything the weather throws their way. Hardy rules supreme when you are covering a vast or small amount of space; which is why there is no better option than native plants.
Plant Appropriately
Even native plants will fail to thrive if placed in an inadequate location to their needs. If a plant needs 70% sunshine throughout the day, you don't want to put it in an area that is shaded 80% of the day. This will end in a lot of dead foliage you have to clean up and replant. There's a plant suited to every environment, just make sure to do the research up front and plant appropriately.
Get LEED Approved
If you go above and beyond sourcing eco-friendly options for your landscaping and/or building project, you have the option to apply for LEED Certification. LEED stands for Leadership in Energy & Environmental Design. In order to meet LEED requirements, a third-party is assigned to evaluate practices and materials to determine if requirements for sustainable practices are met or not.
LEED Certification is based on a point system. The smaller the disturbance to the land, the more points you receive towards your project. Every last detail is important when applying for this type of accreditation, including the way a building faces on the lot and the type of trees you plant or uproot.
The goal of LEED Certification is to reward those that create landscaping that plays well with its natural surroundings and has a minimum impact on the environment. Projects must be focused on durability and low-maintenance, as well as creating something hardy enough to withstand even the worst weather in the area. Learn More Here: www.usgbc.org
Go With TerraCast Products
TerraCast Products is leading the way with our one-of-a-kind eco-friendly site furnishings including planters, benches, light posts, receptacles and more. When you buy something from us, you know it's going to last a really long time. As a result, the environmental footprint of your project decreases—and for that, the whole world thanks you!
Learn more about going green with TerraCast here: Go Green With Resin.
Company: TerraCast Products LLC
Source: http://www.terracastproducts.com/green-building-tips-how-to-create-eco-friendly-landscaping/
Tags: Landscape Design | LEED Certification | Sustainability
---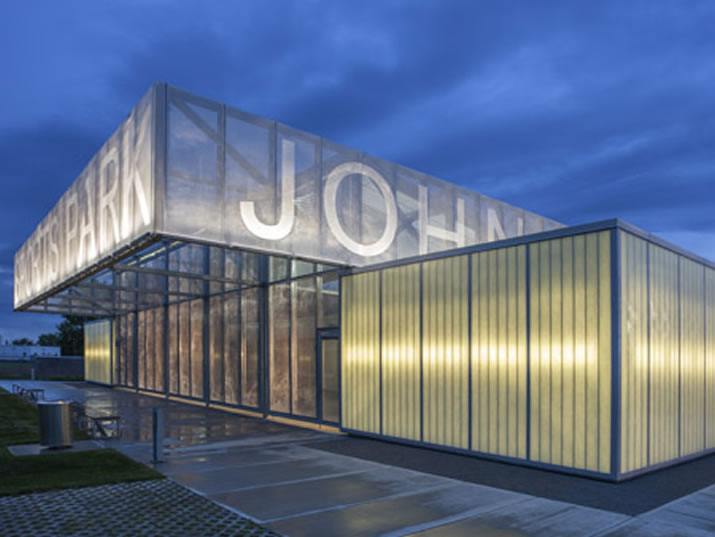 The influence of Kalwall® on the award-winning John Fry Sports Park Pavilion in Edmonton, Alberta is obvious and immediate. Verti-kal panels encase the building, allowing it to glow softly at night and bathe the locker rooms in diffuse natural daylight during the day.
The pavilion, which houses six locker rooms and a concession stand, has been described as a lantern for the players using the multiple baseball and softball fields of this sprawling complex in the southeastern corner of Edmonton. It is a distinct feature of the park and is visible from all six of the park's playing fields.
Designed by the marc boutin architectural collaborative inc., the John Fry Sports Park Pavilion was named a 2015 Urban Design Award Winner in Urban Architecture by the city of Edmonton.
We chose to use Kalwall for a number of reasons. First and foremost, we saw the diffuse light qualities that were possible in using Kalwall," says Tony Leong, M.Arch, lead architect on the project. "The nature of the program required the spaces to be well lit, but in terms of budget, performance and durability, curtain wall was not an option. The Kalwall product combined the clean aesthetic we were looking for with the performance and durability that was required."
The aesthetics of the Verti-kal pattern works nicely with the industrial theme of the building that reflects the park's neighborhood.
Company: Kalwall Corporation
Source: https://www.kalwall.com/2016/03/18/another-award-winner-verti-kal-and-the-john-fry-sports-park-pavilion/
Tags: Design | Lighting | Wall Panels
---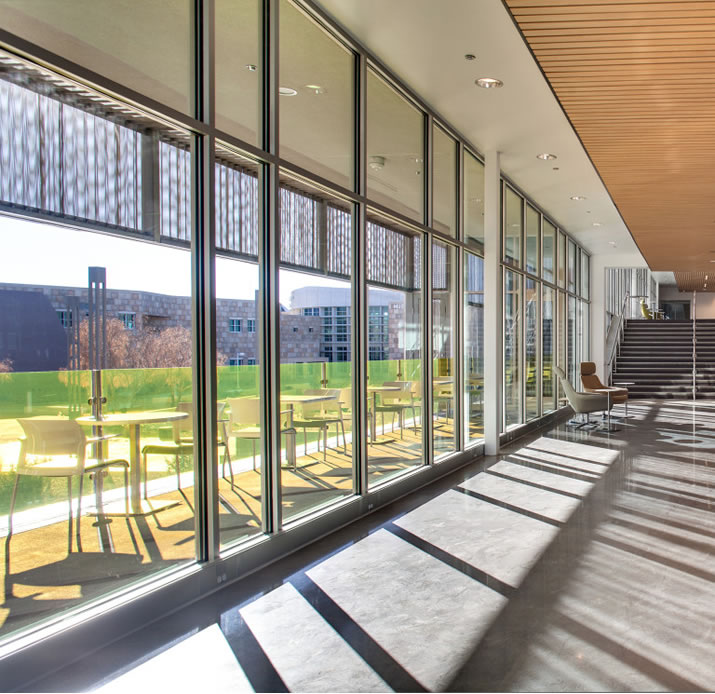 One of the services that make Draper unique among companies in all of our product areas is our custom manufacturing capabilities. This is especially useful in the solar control area. We recently completed a new white paper about our capabilities with custom shade headboxes.
Draper offers several pocket options for recessing window shades above the ceiling. Our standard boxes cover most installation situations, but what happens in those instances when a standard product doesn't work or have the right options? In such cases, Draper offers custom designed and manufactured pockets that are not only specific to the need, but also cost competitive with standard pocket options in the marketplace.
Our Options
What are your options? You have numerous options when creating a custom pocket/headbox, and the Custom Pocket Headbox submittal is the best resource for guidance in this matter. Here is a list of the selections you need to make:
Size—Width, Height;
Color—Standard sheet metal or a custom PPC RAL;
Bottom Finishing—Hemmed, wall clip, or wall clip with ceiling tile lip;
Closure Panel—Size of closure, and front, back or both; and Holes—Vent holes and mounting holes.
Select your pocket requirement for Draper to detail and price.
Issues and Solutions
Here are a few examples of real-world issues, and how Draper might provide a custom pocket/headbox in each case.
Example 1
Issue: A project requires a dual recessed pocket. The height for the pocket is limited and the gap for fabric drop is to be minimal. The pocket needs to be formed at a minimum height, with a small gap for fabric drop and holes for installation.
Solution: A Draper custom pocket will be made with a minimum height. Pre-made holes will be placed in the top at the correct diameter for the required fasteners, and closure panels will be hung from the front and back of the pocket.
To continue reading this white paper, and to download a free PDF copy, click here.
Of: Jeff Miller
Source: http://blog.draperinc.com/2016/04/custom-pocket-headboxes/
Tags: Interior Design | Window Shades
---

Outdoor spaces are pretty popular these days; you'll want to make sure yours isn't just usable, but enjoyable. If you're considering updating your deck or railing system, we have a suggestion for what wood to use. It's called Ipe (pronounced e-pay), also known as Ironwood or Brazilian Walnut, and it comes from responsibly harvested forests in South America and parts of Central America. What's so special about Ipe? A few things.
Ipe is some sweet-lookin' eye candy
The long planks, tight grain, and lack of knots create refined, clean lines. It's reddish walnut color is rich, warm, and sophisticated. Or, if you prefer something more subtle, skip the UV-protection finish, allowing the color to fade naturally to soft silver with a lovely patina. Ipe's beauty isn't just grain-deep, though. Aesthetics and practicality are sometimes at odds with each other, but not in the case of this ridiculously durable hardwood. Which brings us to our next point:
In addition to beauty, Ipe's got more than enough brawn
In fact, it's one of the hardest wood species in the world. Hardwoods are tested to make sure they are appropriate for flooring using the Janka hardness test. This test involves pressing a steel ball into the wood with increasing force until it makes a significant indentation. For the sake of comparison, let's toss around some stats. Western Red Cedar, one of the woods typically used for decking, is indented at 580 pounds. Pressure-treated lumber, another popular choice, is indented at 690 pounds. Ipe, however, takes 3,600 pounds to be indented. It also has triple the bend strength of Western Red Cedar, and is more resistant to shrinking, splintering(!), twisting, cupping, and checking than traditional decking materials. Additionally, Ipe is remarkably resistant to rot and insects, and has been given a Class-A fire resistance rating, which is usually awarded to materials like concrete and steel.
There's only one problem with a wood this strong: installation. Ipe's so hard and dense that the average saw or drill ain't gonna cut it… literally. Carbide tipped saw blades and stainless steel screws are a must, and posts need to be pre-drilled by your supplier for fastening and cable assemblies.
Once you have your beautiful deck installed, though, you can look forward to decades of luxurious outdoor entertainment. A deck and railing system made with Ipe can be expected to last at least 25 years, with some proponents claiming it can last up to 75 years! Only minimal maintenance is required, which may include sweeping as necessary and periodic oil treatments.
Company: Stainless Cable & Railing Inc.
Source: http://site.stainlesscablerailing.com/blog/why-we-love-ipe-and-you-will-too
Tags: Exterior Design | Railing System | Safety
---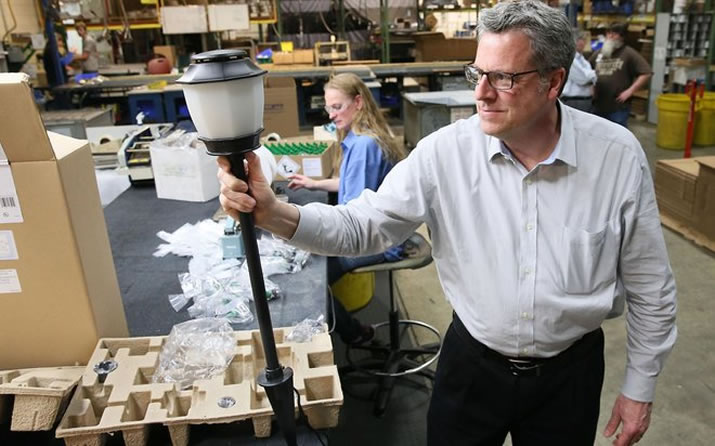 Michael Long, marketing manager of speciality products at Broan NuTone in Hartford, examines of the company's mosquito repellent lamps. Credit: Michael Sears
The folks at Broan NuTone in Hartford have decided to pick a fight with Wisconsin's unofficial state bird, the mosquito.
This month, the company has taken to market its Haven Backyard Lighting & Mosquito Repellent System, a new product the company says combines the trend of outdoor living with the ability to repel the biting airborne menace.
The process of bringing the Haven product to market has been among the longest Broan NuTone has ever undertaken. The company makes products such as ventilation fans and range hoods that are in 80 million U.S. homes.
"We've been in development on this product since 2010," said Jeff Mueller, group president of Broan NuTone. It has been tested in the laboratory and at 15 sites across North America. "We've been working on this for a long time to get it right.
"This has undergone extensive testing," Mueller added. "We've tested it heavily against different mosquito classes. The effectiveness is very strong. I have it in my yard and it's awesome."
There are no solid estimates on the total dollar value of the mosquito repellent/eradication market in the U.S.
"It's big," said Joe Conlon, a medical entomologist and technical adviser and spokesman for the New Jersey-based American Mosquito Control Association.
Market researcher IBISWorld puts the value of insect repellent manufacturing in the U.S. at $168 million. The Mosquito Control Association says the market for mosquito abatement is $300 million to $400 million, "But that's just the budget for all of the mosquito abatement districts that we know of," Conlon said.
Mueller said Broan NuTone is well aware that its new product is entering a marketplace crowded with science, junk science and folksy home remedies ranging from garlic to purple martins (neither is effective) as ways to repel or eliminate mosquitoes.
"We're very conscious of that," Mueller said. "We're very confident based on the field testing and our laboratory testing that consumers are going to be happy with the product."
Broan NuTone employs nearly 1,000 people in Hartford, roughly a third of the 3,000 people the company employs worldwide. The components for the Haven system are made around the world but final assembly, testing and distribution are all done in Hartford, Mueller said.
"Broan NuTone has called southeast Wisconsin home since 1932," he said. "We are very committed to Wisconsin."
Broan NuTone is a division of Rhode Island-based diversified manufacturing company Nortek Co.
The Haven works by using a patented system in which a heating element is enclosed within a low-wattage landscape light fixture. The heating element heats a cartridge and creates a silent, odorless, invisible vapor that contains a small amount of mosquito repellent metofluthrin.
The chemical and the Haven product are both registered with the U.S. Environmental Protection Agency, Mueller said.
The company is offering the product through landscape and green build contractors. The system can be installed in ground or directly on outdoor decks.
"We believe, given that low voltage landscape lighting is the primary vehicle for delivering the protection, that the green channel plus the electricians that install outdoor lighting are the best way to buy the system and install the system," Mueller said.
The company is focusing its marketing efforts on what Mueller calls "the mosquito belt," — areas of the U.S. where the critters tend to overwhelm the populace.
"The lights themselves are competitively priced with other similar quality lights in the market," Mueller said. "You'll see them probably from $125 to $150 per light depending on configuration."
The retail price for one of the Haven product's mosquito repellent cartridge is in the $40 to $50 range and lasts 90 days when the system is run about two hours a day, Mueller said. One device covers about 110 square feet.
The company also offers a version of the system in which homeowners who already have a landscape lighting system can add mosquito repellent fixtures without lights.
The Haven product line is hitting the market just as hype surrounding the Zika virus has dominated the news. While Zika is a legitimate threat, other mosquito borne illnesses — including La Crosse encephalitis, named for the city in southwest Wisconsin, where it was first discovered in 1963 — remain, even if they no longer dominate headlines.
While control methods and insect repellents applied directly to the skin, specifically DEET, as well as modern medicine have rendered mosquitoes little more than a nuisance to most people in the developed world, that's not so elsewhere.
"They're the most dangerous creature on the planet by orders of magnitude," Conlon said. "People are afraid of sharks. They should be afraid of mosquitoes. One of the least of God's creatures, what they've wrought on mankind, they still kill about a million people a year."
Mueller said the emergence of the Zika virus is only coincidental to the release of the Haven product. "I can't say that we planned it," Mueller said. However, the company decided to increase its inventory of the product as a result of concerns about Zika.
So what will the coming mosquito season bring?
"Impossible to tell this early because so much depends on upcoming precipitation patterns," Susan Paskewitz, University of Wisconsin-Madison entomology professor and mosquito expert, said in an email. "Except in the driest of years, mosquitoes are always bad somewhere in Wisconsin at some point in the season, but we can't pinpoint those locations with much precision. There will probably be an initial peak in June of snowmelt species, again in July as the floodwater species get going and then things may settle down ... or not."
Added Conlon: "Everyone has an innate (chemical) attractiveness for mosquitoes. It's genetically based. Some are more attractive to mosquitoes than others."
To find businesses that offer the Haven Backyard Lighting & Mosquito Repellent System, go to http://www.nutone.com/haven.
Company: Broan-NuTone LLC
Of: Joe Taschler of the Journal Sentinel
Source: http://www.jsonline.com/business/broan-nutone-invents-new-mosquito-barriers-for-decks-b99702401z1-375139231.html
Tags: Design | Lighting | Safety
---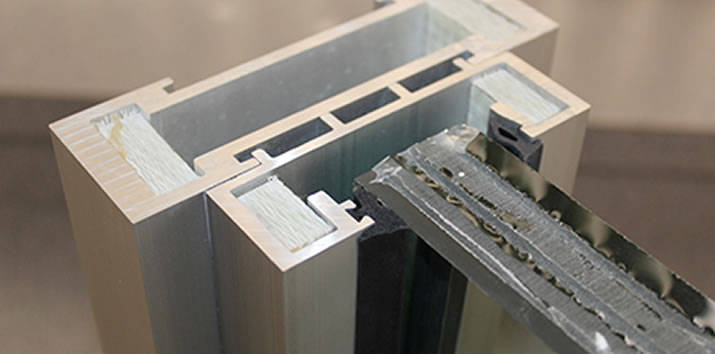 Client performance goals continue to evolve, growing more complex every year. At one time, a client was either very concerned with security, or very concerned with sustainability. It was rare for a client to be equally concerned with both.
But the increasing need for ballistic materials in all sorts of construction has collided with the increased stringency of building codes, specifications, and energy performance standards. Old-line ballistic framing systems—which are still the industry standard—are simplistic. They are fabricated from a grab-bag of materials to a variety of standards. Many aren't even UL-rated to stop bullets. Instead, they are cobbled together from standard aluminum frames packed with chunks of bullet resistant fiberglass glued in place. Enhanced R-values, thermal breaks, gas fills, and insulation are just not an option with traditional bullet resistant window and door frames.
Today, advancements in designs and fabrication techniques have resulted in not only standard, true UL-rated door and window frame systems, but also premium systems offering new levels of thermal and ballistic performance.
Thermally Enhanced High-Security Ballistic Door and Window Frame Systems
A security-conscious end-user might be interested in earning a LEED Platinum certificate, or might be passionate about daylighting, or might just want to keep the energy bills down—in any case, having a solid aluminum frame conducting heat directly through the building envelope doesn't serve any of those goals. The TSS Thermal Frame System does.
"We developed this ballistic frame system specifically because architects were asking for it," Jim Richards, CEO of Total Security Solutions (TSS), explains. "I don't know if you know, but buildings use more than half the energy on earth."
As one architect recently put it "for all practical purposes, all other issues are subservient to sustainability now." That's been beyond challenging with old-style exterior bullet resistant windows, since the windows themselves are solid—no gas fills—and the frames are rarely built with any sort of thermal break. For example, here's a cross-section of a traditional window frame:
The old-style frames are solid steel or aluminum members all the way around the window or door, penetrating the exterior wall. As Jim Richards is quick t point out, "Think about what that means in certain regions of the United States: In the summer it could be in the 90s, and in the winter it could be 30 below, but the inside of that building is always 72 degrees with 40 percent humidity. Your HVAC is fighting heat leaking in all summer, heat leaking out all winter. You're not just going to have cold spots and drafts. You're going to get condensation, even frost."
TSS's thermally improved, Kevlar-reinforced bullet resistant exterior aluminum door and window frame system is calculated to optimize R value, given the needs of a bullet resistant materials. It offers bullet resistance up through UL Level 8, and can accommodate a wide variety of acrylic, polycarbonate, and laminated bullet resistant glazings. "It's an enormous performance boost, in terms of energy, and ballistic—a true 'best of both worlds' scenario."
All-in-One Multi-Threat Ballistic Window Frames
"This isn't your everyday, run-of-the-mill frame," Jim says of the TSS AIO (All-In-One) Frame. The AIO is a modular, multi-threat glazing frame optimized for higher-threat situations, especially government applications. It can accept any glazing between .75 and 2.5 inches thick—that's everything from UL Level 1 acrylic (i.e., which stops three shots from a .9mm pistol) to Level 8 glass-clad polycarbonate (for blocking full-auto bursts from assault rifles). The frame itself is rated through Level 8, and also has forced entry and blast-resistance characteristics. The AIO Frame has a broad security and safety profile that encompasses all sorts of threats to life and property, from break-ins and riots to lone gunmen, terror attacks, and even extreme weather.
Rather than using a lighter aluminum backed with strips of Kevlar-based fiberglass paneling, Jim and his team opted for all-aluminum construction and a design that takes full advantage of the edge-on resilience of the glazing itself. The front-wall of this frame is hearty enough to deflect most calibers, and designed to capture and hold any high-power rounds that do penetrate the frame itself.
Of course, not every job calls for premium ballistic door and window frames. TSS continues to offer their full line of standard UL-rated and non-rated frames to meet your client's performance goals.
Company: Total Security Solutions Inc
Source: http://www.tssbulletproof.com/premium-ballistic-frames-offer-huge-boosts-sustainability-multi-threat-risk-mitigation/?utm_content=32383407&utm_medium=social&utm_source=twitter
Tags: Glass | Safety | Security | Sustainability | Windows
---

Gannett Fleming / LANta Bus Facility / Allentown, PA / Guardian 275® Ridge Skylight
Imagine letting soft, diffuse light fill interior spaces. Think of how happy your building's occupants will be when they're protected from hot-spots that make them feel uncomfortable or glare that limits their use of computers, cell phones and other personal devices. Guardian 275® skylights and canopies provide built-in sun control, eliminating many of the issues common with traditional glass systems. Their aluminum framing and sandwich panel construction also make them strong but lightweight, often reducing the need for additional support structure.
Guardian 275® systems feature advanced Ultimate Series™ face sheet technology for long-term dependability, and can be configured with thermal breaks as well as numerous insulation options for enhanced performance in more demanding climates. Guardian 275® panels are also available with a variety of sheet color options, and panel insulation can also be tinted to create a stained-glass look or to incorporate school or logo colors. As with our Guardian 275® wall systems, skylights and canopies are also available in our TransCURVE™ curved system configuration, providing an eye-catching design element.
Company: Major Industries Inc.
Source: http://majorskylights.com/products/skylights/guardian-275/
Tags: Ceiling | Design | Wall Panels | Windows
---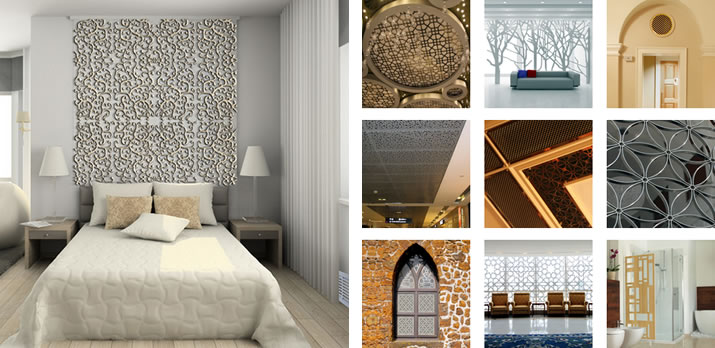 Custom laser-cut metal panels and screens have a wide scope of decorative interior and exterior applications that are only limited by your imagination. Architectural Grille can help turn your inspirational design/pattern into a sleek, contemporary panel that will complement any modern space with the right materials and finishes.
Applications:
Infill Panels: Stairways, Balconies, Railings
Ceiling and Skylight Panels
Room Divider and Partition Screens
Custom HVAC Grille Covers
Door Panel Inserts
Privacy Screens
Window Panels and Shutters
Artwork
Standard Features :
Commercial and Residential use
Interior and Exterior application (depending on material and finish)
| | |
| --- | --- |
| Material | Finish |
| Aluminum* | Satin, Mirror Polish, Primed, Anodized Colors (Clear, Black, Duranodic: Light, Medium, Dark), Powder Coating Colors |
| Brass | Satin, Mirror Polish, Statuary (US10B): Light, Medium, Dark |
| Bronze | Satin, Mirror Polish, Statuary (US10B): Light, Medium, Dark |
| Stainless Steel | Satin, Mirror Polish |
| Steel | Raw, Primed, Powder Coating Colors |
*post-consumer 94% recycled aluminum
Company: Architectural Grille
Source: http://www.archgrille.com/collections/custom/products/decorative-panels-screens
Tags: Ceiling | Interior Design | Wall Panels | Window Shades
---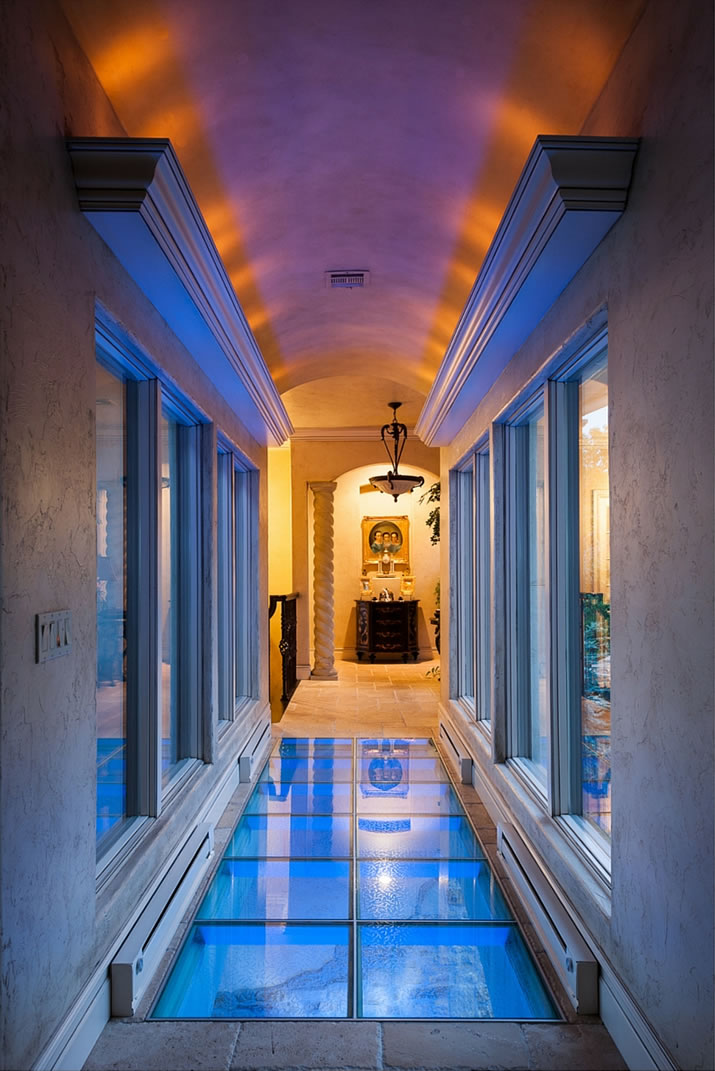 Glass flooring has made its way to Paris, putting a new spin on the classic tourist experience at the Eiffel Tower. The new glass floor installation highlights a stunning birds-eye view of the city from approximately 187 feet in the air—something that visitors are unlikely to forget. Although it is one of the latest attractions to capitalize on the glass flooring trend, the Eiffel Tower is not alone in its endeavor to give visitors a cool new view. Designers, architects, home builders and homeowners are seeking solutions for incorporating glass floor and stair systems in their spaces with the help of Innovate Building Solutions.
Innovate's modular glass floor systems are engineered to safely stand the test of time, supporting large amounts of weight with a durable aluminum grid and structural supports. These prefabricated systems can be installed within different flooring materials, including wood, tile, stone or concrete floors. They are durable and easy to install, with transparent or acid-etched design options that can be customized to meet the needs of each individual client.
Some of the most famous glass floors in the United States can be found at Willis Tower's Skydeck in Chicago, the Grand Canyon's Skywalk and at Ghostbar in Las Vegas. The design feature also adds a dramatic element with ocean views in many bungalow suites in the Caribbean and on the island of Bora Bora. Residential homeowners frequently use glass for stairways, walkways, wine cellar niches and to highlight elaborate outdoor water features.
To learn more about the functional and stylish glass floor systems available from Innovate Building Solutions, call 877-668-5888 or visit www.innovatebuildingsolutions.com. For regional installation assistance in Cleveland or Columbus, Ohio, call 216-531-6363 or 614-252-5888 respectively.
Company: Innovate Building Solutions
Tags: Floor | Glass | Interior Design