architecture - engineering - construction

2017 November
---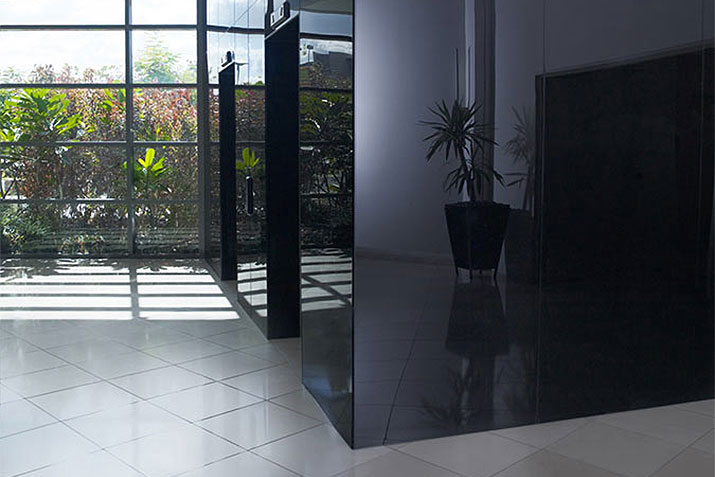 High gloss acrylic walls provide a sleek, contemporary look for bath/shower walls, kitchen backsplashes, reception desks and office areas while being light and easy to work with. Learn the many benefits of this product.
Creates a clean, contemporary look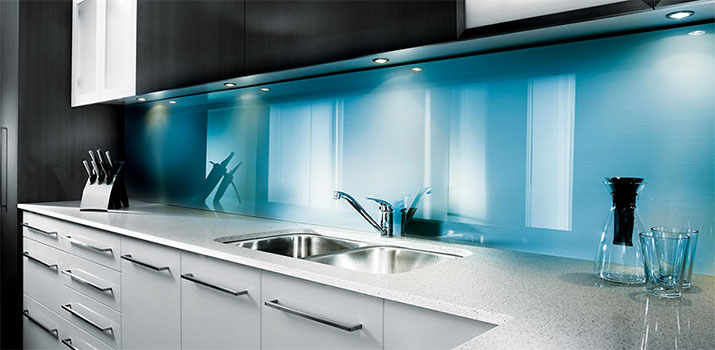 The high gloss acrylic wall panels created a fresh clean European look with a luxurious and elegant finish.
Unique colors adds a stylish touch for a backsplash or tub or shower wall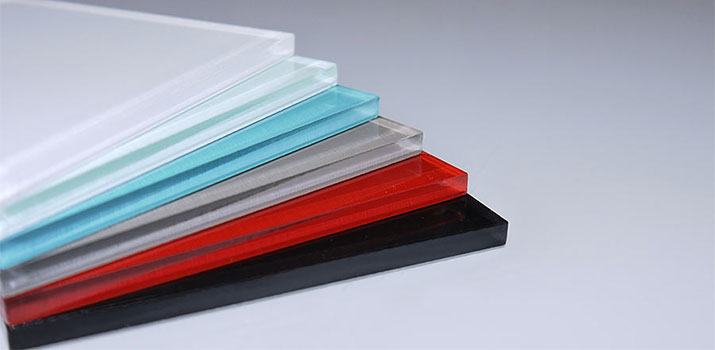 Choose from a wide range of fun colors like arctic white, blue atoll, glacier, mocha, carbon black, red rouge, and titan gray to dress up any indoor residential or commercial space.
Flexible material can be used in a wide range of remodeling and new construction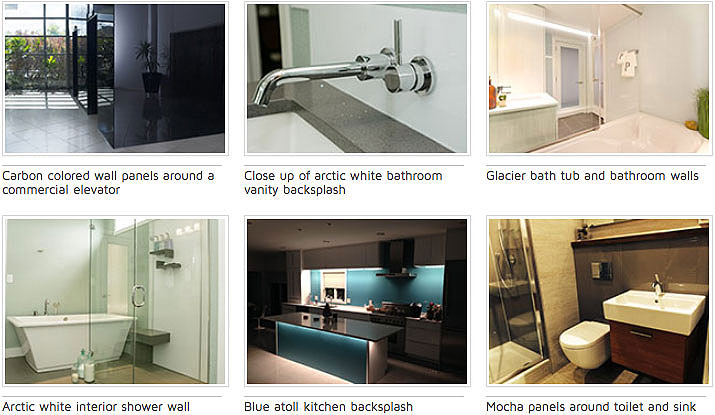 High gloss panels from Innovate Building Solutions can be used in bathrooms, bedrooms, media rooms, hallways, reception desks and commercial lobbies to name just a few rooms. Cool, eclectic and exciting are just some of the words used to describe these panels.
Easy to clean with no grout to maintain
While tile is the most commonly used material in shower and tub wall panels and kitchen backsplashes most people hate the cost and hassle of cleaning and resealing grout! With these innovative wall panels you'll get a sleek euro look and eliminate the effort and cost of maintaining grout. These smooth/non-stick walls are easily cleaned with warm water and a soft cloth.
Glass type look with the benefits of acrylic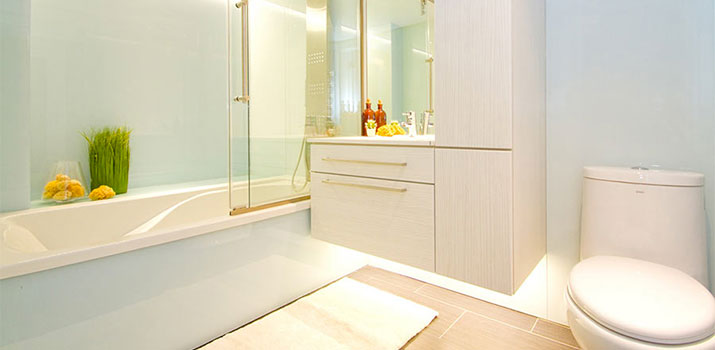 High gloss acrylic panels are 25 times tougher than glass with 1/2 the weight.
More cost effective than back painted glass
Back painted glass is also very stylish - but in most cases will be 2 times as expensive as high gloss acrylic wall panels.
Durable long lasting material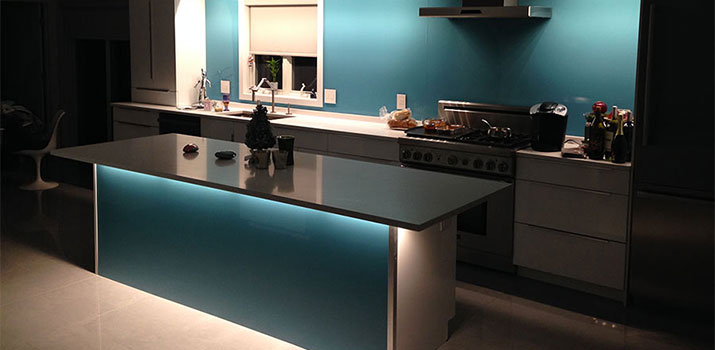 High resistance to UV light, cracking and chipping makes this is popular materials vs. glass, ceramic tiles, aluminum or wood.
Simple installation process
These high gloss acrylic panels can be cut drilled and shaped with common woodworking materials and the panels can be set with double sided foam tape and neutral cure silicone. Installation will take 1/3 of the time of a tile job.
100% waterproof
In wet applications likes showers, tubs and backsplashes it's nice to know with high gloss acrylic walls you don't have to worry about moisture growing behind the wall.
Multiple panels sizes for design flexibility
Choose either our 2 standard panel sizes (39"x96" and 60"x96") or get your panels custom made to your size through our custom cut program.
Company:

Innovate Building Solutions
Product: High Gloss Acrylic Wall Panels
Source: http://innovatebuildingsolutions.com/products/bathrooms/high-gloss-acrylic-wall-panels
Tags: Color | Interior Design | Wall Panels
---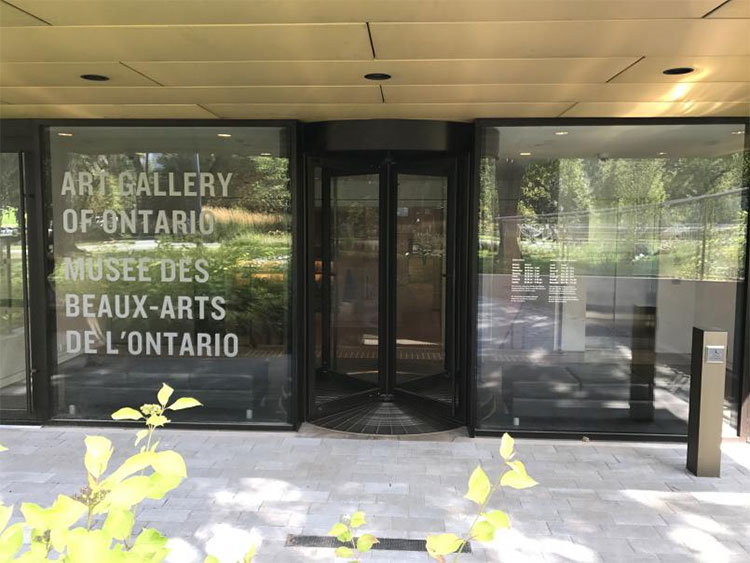 Located in Toronto, Canada's largest city of 6.5 million, the AGO is one of the largest art museums in North America. The AGO's collection of close to 95,000 works ranges from cutting-edge contemporary art to European masterpieces; from the vast collection by the Group of Seven to works by established and emerging Indigenous Canadian artists; with a photography collection that tracks the impact of the medium and with focused collections in Gothic boxwood miniatures and Western and Central African art. A major expansion designed by Frank Gehry in 2008 with lead support from the family of Ken Thomson makes the AGO a highly-photographed architectural landmark.
The AGO has been undergoing improvements and renovations for a number of years and the most recent project was an ambitious one. In a joint effort with the City of Toronto and the local community, the AGO worked to revitalize Grange Park, a 4.5 acre green space located behind the Gallery. Where there was only an emergency exit into the park before, the AGO and its architect, Harari Pontarini, devised a plan to tear out the existing interior stairwell and room and the double doors to create a new space with a 6 ½ foot diameter, 4-wing BoonAssist TQ revolving door that opens the Gallery to the park.
"We definitely had some space constraints in creating this new entrance," explained Warren Wilson, Manager of Facilities Services. "There was no room for a vestibule, so we decided on a revolving door configuration, and the Boon Edam entrance was recommended by our architects."
Boon Edam's BoonAssist TQ is a manual revolving door that has three distinct features: a "push and go" power assist drive that reduces user effort by up to 50%, automatic positioning of the door wings at the end posts upon completion of rotation, and speed control that prevents rotation faster than 12 rpm to help ensure safe operation.
Wilson explained that the park is one of the few green spaces surrounding the AGO and space is at a premium. "We're very conscious of our effect on the neighborhood and the fact that we could locate the entire door inside the building with its opening attached to the exterior wall minimized the impact on the surrounding area. I also really like the 'smart' feature of the door—after use it positions itself to close the opening to the outside automatically."
From Grange Park, one enters the South entrance through the BoonAssist door and travels 11 feet to a downward staircase that connects the entrance directly to the AGO's Weston Family Learning Centre. The space adjacent to the door also features prominently displayed artwork. "The South entrance is now our fourth entrance to the gallery, but it's unique in that it offers an additional art space while opening us to the park, offering our staff and visitors a new way to interact with this beautiful new green space."
Company:

Boon Edam Inc.
Product: Revolving Doors
Source: https://www.boonedam.us/news/art-gallery-ontario-enjoys-more-space-and-comfort-boonassist-tq-revolving-door-entrance
Tags: Architecture | Doors | Entrances
---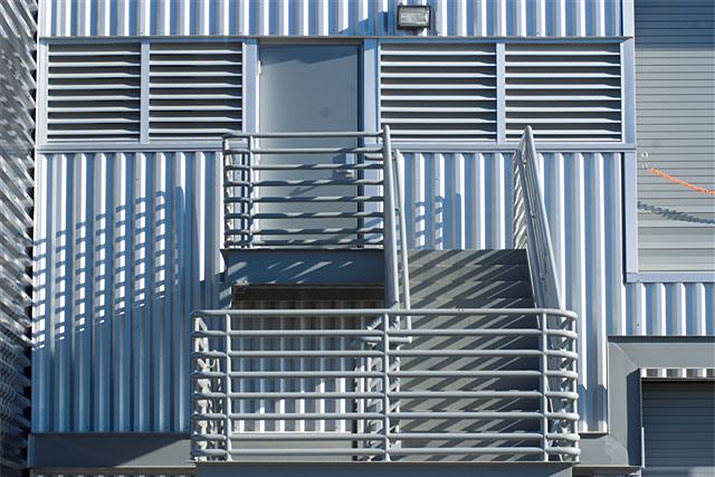 Architectural Wall Louvers are used to allow air into a building, while keeping out undesirable elements from mother nature like rain, water, dirt, and debris. They also add the extra element of aesthetic design to a building exterior. Use your air intake or ventilation requirements to improve the look of any building.
What if I want more rain protection?
Gain the utmost protection against water penetration by using one of our Wind Driven Rain Louvers. These louvers will protect your building from water damage, even under heavy wind and rain conditions.
What if I have high wind loads?
Any of our louvers can be modified to handle higher wind loads (within limits). However, if you are in Florida or other coastal states with hurricane force winds, use one of our Hurricane Louvers to gain the highest levels of protection.
Louvers are commonly specified in project documents under these divisions:
08 90 00 Louvers and Vents (sometimes listed as 08 9000, 089000)
08 91 00 Louvers (sometimes listed as 08 9100, 089100)
08 91 19 Fixed Louvers (sometimes listed as 08 9119, 089119)
Company:

Architectural Louvers
Source: http://www.archlouvers.com/Louver_Applications.htm
Tags: Architecture | Design | Louvers | Ventilation
---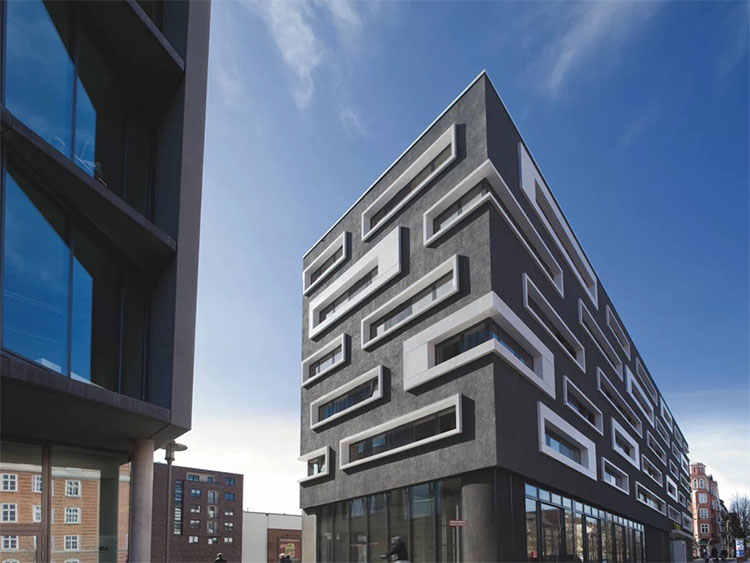 High performance insulated wall systems like the innovative StoTherm® ci XPS provide the air, weather and thermal tightness required for today's most energy-efficient architecture, but are also cost-effective and provide designers with a wide range of aesthetic options.
Sto Corp. has joined forces with insulation specialists Owens Corning and Dow to produce one of the most technically advanced exterior wall systems available. The innovative StoTherm® ci XPS wall system is designed to provide the air, weather and thermal tightness required for today's most energy-efficient architecture, but also makes for exterior walls that look good, and are cost-effective.
One of the first things architects will notice about the product is its design flexibility. The multi-layered system offers a wide range of finishes from the natural look of raw materials to boldly colored finishes, allowing for a variety of looks from traditional textured surfaces to limestone, concrete, metal and many more.
Hidden behind the beautiful outer skin, are important energy efficient properties; StoTherm® ci XPS meets rigorous sustainable design standards, including ASHRAE 90.1-2010, the new International Green Construction Code (IGCC), and the International Energy Conservation Code (IECC) requirements for continuous insulation.
This smart architectural product combines high quality, technologically advanced materials, including Dow and Owens Corning insulation with a closed cell structure which helps prevent liquid movement through the material and provides exceptional thermal performance with an R-value of 5.0 per 1". The final result is a combination of layers that delivers exceptional air and moisture control, that also meets the latest building code requirements for energy efficient continuous insulation and fire testing. The highly durable system also provides significant impact resistance that exceeds IBC and IECC codes.
How can such a high-performance product, also be economical? The high R-value of Sto's system (R5/inch) makes for a thinner wall, reducing the overall weight and cost-per-square foot for the building envelope. Add this to lifetime savings from superior energy-efficiency, and you have a product that offers both short- and long-term cost benefits to the client.
StoTherm® ci XPS is truly a system designed with the architect in mind –its versatile and seamless combination of energy-efficient qualities and aesthetically pleasing finishes provide a true "end-to-end" solution for architects.
Company:
Sto Corp.
Product: ci Systems
Source: http://blog.stocorp.com/
Tags: Architecture | Insulation | Walls
---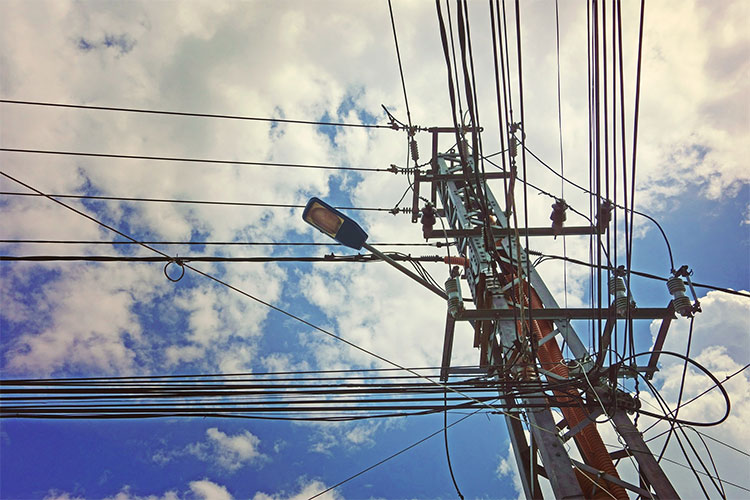 Remote locations, wide service areas, and lots of cash on hand presents unique security challenges for customer service staff.
While electrical cooperatives are a relatively small part of the total electricity market (about 15 percent of the U.S. population is part of a co-op) they're responsible for maintaining close to half of the nation's electric distribution lines. Remote locations, wide service areas, and lots of cash on hand present unique security challenges for their customer service staff. Recently TSS has helped design and install several bulletproof barriers for utility and electric co-op offices.
Over the years Total Security Solutions sales manager Bob George has worked with a large number of electrical cooperatives. He recently noted, "I don't think people really appreciate the challenges co-ops face. They might have only 1/10th or 1/100th as many customers as a big publicly traded power company. But that co-op has just as big a service area. They end up maintaining 8 to 10 times as much equipment per customer. It's a real case of 'Do twice as much with half the resources'. But they consistently rise to and exceed those challenges."
Electrical cooperatives and other small utilities face challenges beyond the economics of narrow margins, high costs, and large territories. They also face security challenges that are unique to their mission.
Unique Threats to Utility and Electric Cooperatives
Unlike the bigger investor-owned companies, co-ops serve small and mid-sized communities. They tend to be very spread out geographically. This means that they often need several small branch offices in addition to their headquarters. These satellite offices are a special concern, as they are often in remote locations with very few staff members on hand throughout the day. It's not unusual to see just a single clerk behind the counter during business hours when the line workers are out on the road. These offices often have a great deal of cash on hand (especially if their clientele are older or live within limited financial means). That lone clerk is now seen as the face of the company to irate customers who have missed a payment or want to dispute their bill.
"With the climate we're in right now," Bob George explains, "with these awful incidents that just keep happening every couple weeks, people are being more proactive. With a lot of cash on hand, and irate customers, there's a tendency to want to make sure your people are protected. And I hate to bring up gender, but it's just a fact that in most of these isolated offices it is women working behind the counter, and the level of abuse that some people will aim at a female worker, it's just hard to believe."
This was certainly a key concern for Clark Energy when they contacted TSS in 2014, following an incident at another local utility co-op office near their Winchester, KY headquarters. As Holly Eades, Clark Energy vice president of finance, explained at that time: "When a big man is standing at the counter, screaming and cussing at a female customer service rep who's five-foot-four, there's something wrong with him…You just don't know what's going to happen."
Electric and Utility Co-op Security Essentials
No two utility co-op offices are alike—even in the same cooperative. That said, there are a few key considerations for bullet resistant barrier systems designed for small utility co-ops. In general, a utility co-op should have a system that:
Protects against common handguns calibers (i.e., a "Level 1 or 3" system). This would include appropriate bullet resistant glass and framing, as well as bullet resistant fiberglass to reinforce the counter front.
Has two to three transaction windows (one of which should be ADA compliant, to accommodate customers with limited mobility)
Includes a bullet resistant door with an electric strike or sturdy pushbutton Simplex lockset
Will be installed with absolutely no business disruption (TSS, for example, installs barrier systems overnight or on the weekend)
Many builders, renovators, and security companies treat custom design work as an extra. TSS has built custom design, fabrication, and installation into their foundations—every job is a custom job to TSS.
"What's key here," notes TSS CEO Jim Richards, "Is that there's no unending up-sell. We don't live on change orders, and we don't treat custom work like it's a hassle or price it like it's luxury. Doing custom work, making that system fit your office as though it was built in from day one, that is where we shine."
Company:
Total Security Solutions Inc
Product: Bullet Resistant Barriers
Source: http://www.tssbulletproof.com/bulletproof-barriers-utility-electric-co-op-offices/
Tags: Bullet Resistant | Security | Windows
---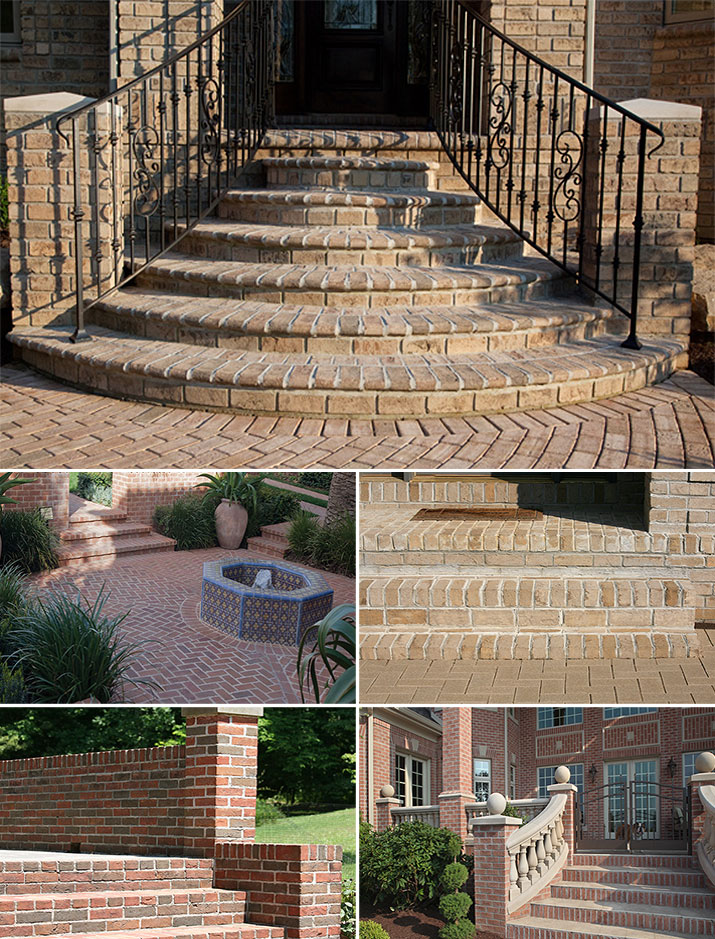 Alamo Blend, Belcrest 530, Harbour Mist Blend, Rosewood Blend, St Anne Clear - The Belden Brick Company
It is a well-known fact that first impressions are lasting. Belden Brick adds an elegant touch to your project's entryway and represents a classic look of beauty and grace. The addition of a brick stairway leaves your guests with an indelible impression of rich tradition.
Stairway design has become an art form in itself and for those who appreciate the finest in craftsmanship, Belden Brick is the perfect solution to all your landscaping ideas. Paving brick can be used in any number of different ways. Talk to your landscape architect about the alternative uses of color and patterns to create a one-of-a-kind entryway design. As you look through the sample pages provided here, you will see how versatile brick can be when it comes to creating a personalized look for your home or commercial project. If you need additional information about the options available for your particular plan, please contact one of our Belden Brick distributors.
Company:
Belden Brick Co.
Product: Paving Brick
Source: http://www.beldenbrick.com/
Tags: Brick | Landscape Design | Masonry
---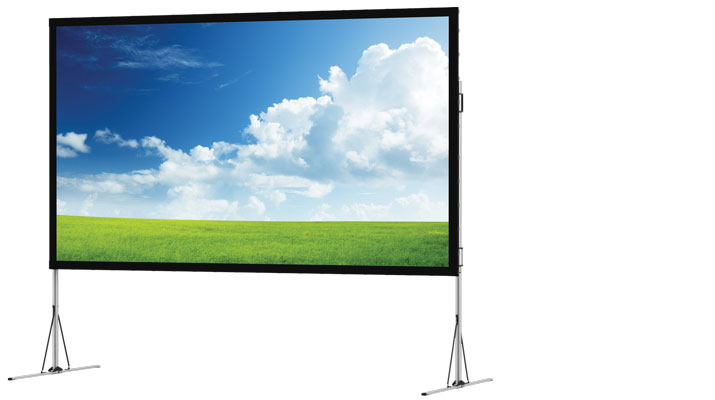 Fast-Fold NXT is a stronger, faster and simpler screen system for rental and staging environments. The re-invented design features a stronger extrusion, hinge and corner as well as new height adjustment that allows the viewing area to be raised and lowered easily. A new case design upgrades the storage and transport capabilities, and a foldable 4K-ready surface is the first and only available on the market.
Key Features
New Extrusion
More aluminum means a slightly larger frame and more strength
Channels give additional strength where you need it and prevent bowing
Shape improves aesthetic of frame and streamlines accessories by centralizing the location of all attachments
Fly any model with fly kit
New Hinge
Internal hinge improves durability and aesthetic
Increased strength in design that uses epoxy instead of exposed rivets
Push Button release for easy tear down
New Corner
Push Button release for easy tear down
Fixed corner design improves durability
Welded insert for additional reinforced strength
Surface alignment that is the same every time
New Legs
No speedy cranks. Easily adjust screen height while screen is assembled and upright with micro-tooth height adjustment
Easily add height adjustment sections when additional height is needed
Latch-attach to frame
Independently leveling feet for uneven floors
New Reinforced Case
Reinforced for increased strength
Updated internal organization to protect surface and components
New design featuring 4 wheels
Designed to be stored upright or stacked horizontally
New Surface Binding
New vinyl binding design replaces a woven binding and allows for easier attachment and flexibility
Smaller 1" white binding wrap-around option for borderless viewing area
RF Weld for clean lines
Easy attachment with new clip design
Company:

Da-Lite
Product: Fast-Fold®Portable Screens
Source: https://www.milestone.com/en/products/da-lite/screens/fastfold_portable_screens/fastfold_screen_systems/fastfold_nxt_screen_system
Tags: Audio Visual | Design
---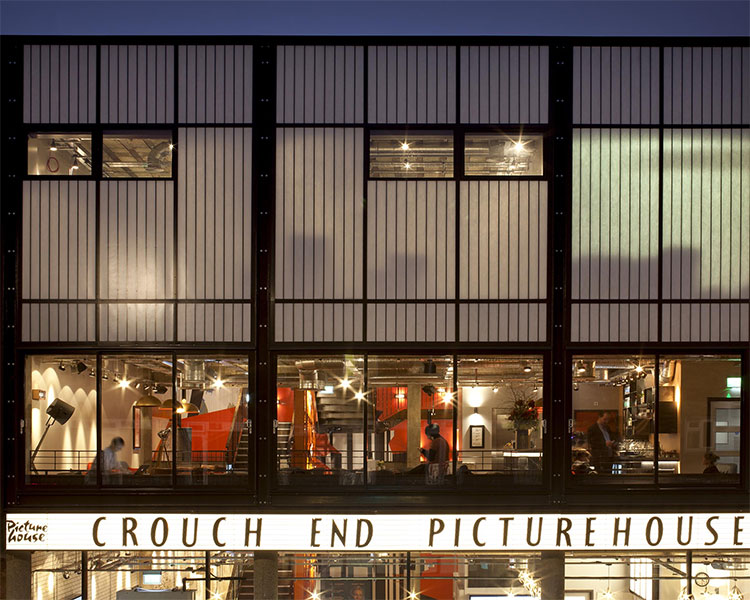 The design challenges facing architects and builders when renovating older buildings are considerable from increasing energy efficiency, to navigating inherited structural and building code changes. Here are five projects highlighting how such issues were solved, and illustrate some incredible transformations.
Charles H. Shaw Technology & Learning Center
Chicago, Illinois, U.S.A
Farr Associates converted a century-old industrial powerhouse into a modern learning center filled with natural diffuse daylight, while preserving key structural elements, including brick walls and floor tile, as well as some of the original machinery.

Buurtsporthal Parkloods
Antwerp, Belgium
This neighborhood sports park utilized Kalwall for its ability to provide balanced daylight and line of sight for athletes inside. The translucent panels help ensure the safety & security of athletes with visual privacy and impact resistance. As an extremely lightweight option in retrofit design, Kalwall offered large clear spans and accommodated the existing brick walls of a historical munitions factory.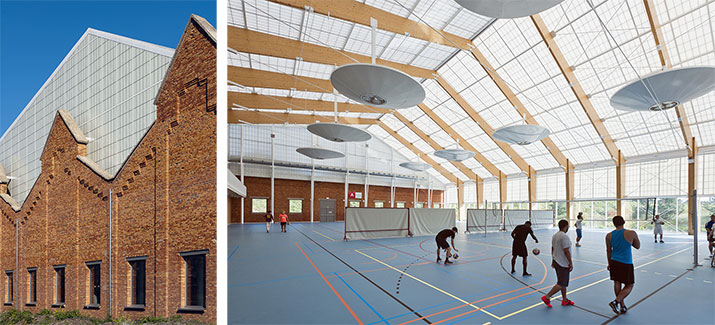 Crouch End Picturehouse
London, UK
VertiKal™ panels were factory unitized with sash, for a sleek, energy efficient recladding of the Crouch End Picturehouse – a renovated 1950s factory building. The Panter Hudspith design, which won three industry awards, uses the curtainwall to create gentle backlighting at night as a visual marquis.

1060 Redwood Office Building
Mill Valley, California, U.S.A.
An ordinary commercial box building was transformed by adding top-lighting from Kalwall skylights. This modern workspace is now filled with natural, diffuse daylight, creating an ambiance that ensures a healthy work environment that boosts productivity. The OSHA fall-through compliant (`man-safe') translucent skylights enable effective and easy maintenance without the need for safety cages.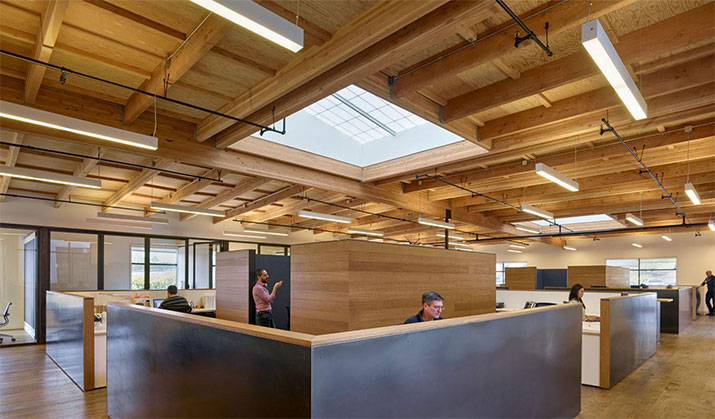 Featherstone High School
London, UK
Kalwall window replacements were an economical energy upgrade for an old school building that was failing due to decay and ingress of water. The highly-insulated translucent sandwich panels bathe the classrooms in diffuse natural daylight while reducing HVAC and artificial lighting costs. Unitized construction allowed for fast installation and minimal disruption to school operation.

Company:

Kalwall Corporation
Product: Wall Systems
Source: https://www.kalwall.com/2017/11/02/visual-blog-kalwall-retrofit/
Tags: Architecture | Design | Skylights | Walls | Windows
---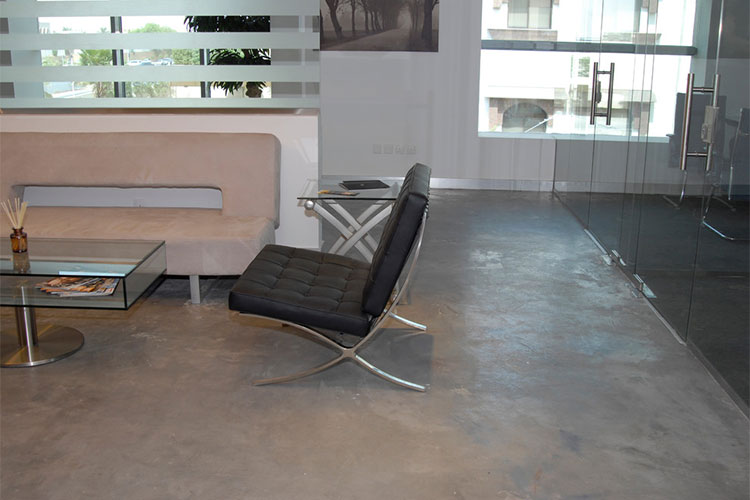 Elite Crete Systems has solutions to concrete floor problems and the design and decor experience to provide a truly unique one of a kind floor system.
REFLECTOR Enhancer Flooring Systems for a residential garage floor.
REFLECTOR Enhancer Flooring Systems in a dining room. Seamless, durable and beautiful.
Although this floor looks like traditional wood floor, it is not actually wood at all. It was created with THIN-FINISH™ Pre-Mixed Overlay and is a polymer modified cementitous topping. Because it is cement based, it is seamless and will not scratch like conventional wood floors.
Custom seamless floor created with REFLECTOR™ Enhancer Flooring System.
This beautiful and custom floor was created with THIN-FINISH™ and MICRO-FINISH™ polymer modified cementitious overlay.
This floor is not tile. It is fluid applied but made to look like stone tile. It was created with TEXTURE-PAVE™ pre-mixed overlay and colored with ULTRA-STONE™ Antiquing Stain.
Elite Crete Systems is a leading manufacturer of exterior decorative concrete finishes and custom seamless interior flooring. With a national network of trained installers and local technical support offices Elite Crete Systems is able to service individual residential clientele along with large corporate installations and construction projects.
Company:

Elite Crete Systems, Inc. (Headquarters)
Source: http://www.elitecrete.com/
Tags: Coating | Concrete | Finishes | Floor | Interior Design
---
To get an idea of Jordan Iverson's growing reputation as a world-class home designer and builder, Houzz.com is a good place to start. All 18 of his reviewers share a common verdict: A 5-star rating. Perhaps more telling is the fact his home designs, voted on by the vast Houzz community, have earned the Best of Houzz – Design Award the last five years running.
Iverson's work has appeared in print in Eugene Magazine as well as Portrait of Seattle magazine. And cable TV powerhouse HGTV also recognizes Iverson's design skills. In the popular home design channel's Faces of Design, Iverson is one of six top U.S. designers in their "Kitchen + Dining" category. As Iverson's reputation has spread worldwide, he has had to politely decline numerous commission opportunities from nearly all points across the globe, including some from as far away as Australia, Dubai, Canada, and South America. "With a wife and three kids, leaving home for a month or two at a time just wouldn't work," the owner and designer of Jordan Iverson Signature Homes quietly observes.
This is Jordan Iverson, the do-it-all home-building designer, interior designer, and builder that's rapidly emerging as Eugene, Oregon's go-to custom home builder. International praise just happens to be a well-earned by-product of delighting Eugene-area homebuyers for the last 16 years.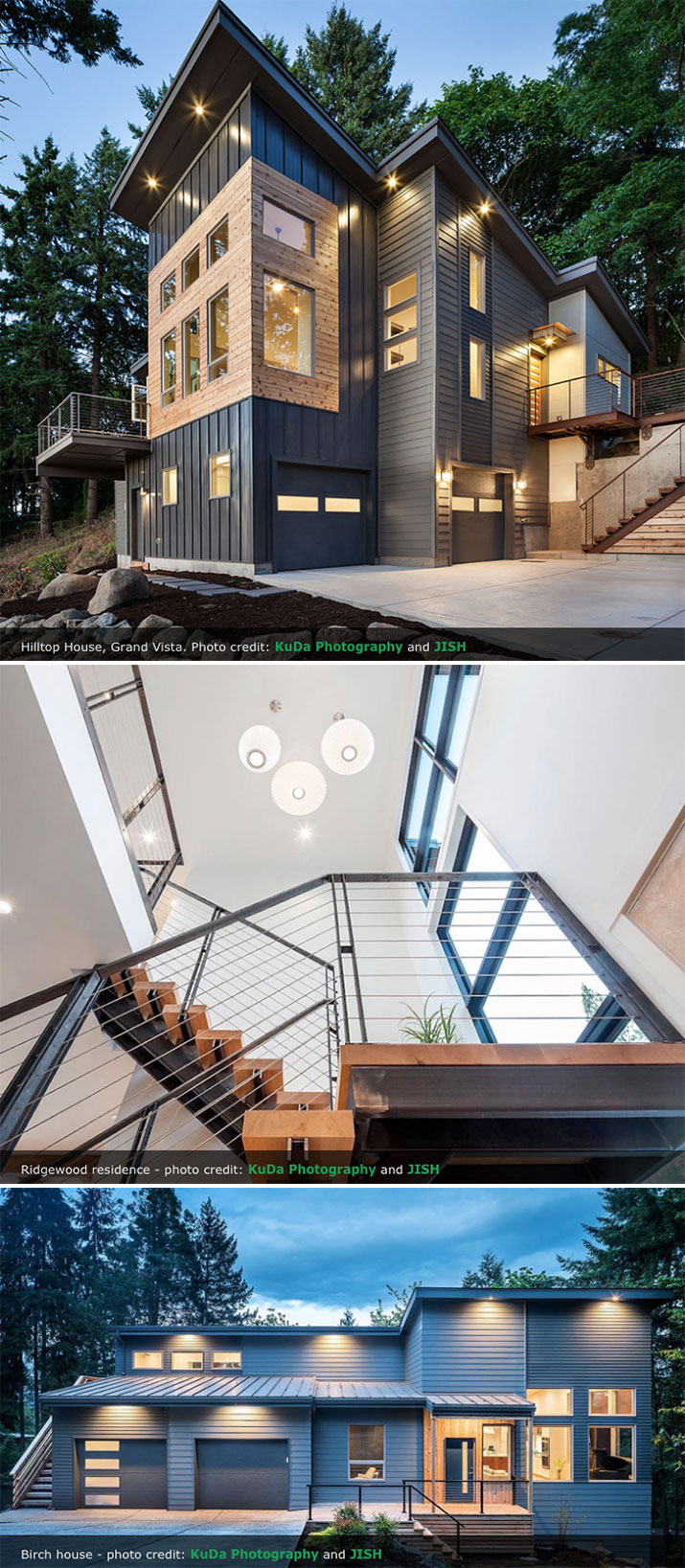 Self-Taught
"My dad was a builder so I grew up around it," Iverson explains. "When I married at 22, I decided to strike out on my own. We do every square inch of the design, inside and out. Each home we build is from the ground up. We've never built the same home twice."
If you detect a hint of pride, you wouldn't be mistaken. Iverson is a self-taught home and interior designer, claiming magna cum laude in the unforgiving school of the marketplace. Today Steve Wright, licensed architect, Driana Zehr, interior designer, and Chris Langenberg, project manager/site supervisor, round-out the Jordan Iverson Signature Homes team.
Deliberate Design
Iverson describes his design aesthetic as "warm modern" and "very Northwest inspired with warm wood materials and warmer gray colors that are never cold or harsh."
As home building auteurs, Iverson and his team work will happily honor the owner's wishes but are more accustomed to making nearly all design decisions. After all, that's what the owner is buying: A superbly-integrated design vision.
That vision routinely includes a signature design statement … the use of cable rail systems inside and out.
Feeney Makes It Easy
"Almost every design has had stainless steel cable rail of some kind. It really opens up views with a really nice, slim profile. The maintenance-free benefit is also great," Iverson says.
"Longevity and style are big benefits," he adds. "We don'''t sell upgrades or issue change orders. If it'''s right, we do it. The value of cable rail is very easy to present."
For Iverson, Feeney is more than his supplier of choice for cable rail systems. The Feeney name itself is morphing from a noun into a verb. "Feeney is the industry standard. A Feeney system has the clean look we're after. Quality and budget are also important considerations where Feeney shines.
"The Feeney name is synonymous with cable rail systems. They're the Kleenex® or Xerox® of cable rail," Iverson declares. Can 'Let's Feeney those steps' be far behind?
What's Next?
Today Iverson is broadening his brand to include four subdivisions that are expected to open later this year. "We're excited by that," Iverson says.
And so are the home buyers of Eugene, Oregon.
Company:
Feeney, Inc
Product: CableRail Stainless Steel Standard Assemblies
Source: http://media.feeneyinc.com/blog/builder-spotlight-jordan-iverson-pride-of-eugene-oregon
Tags: Design | Railing System | Safety
---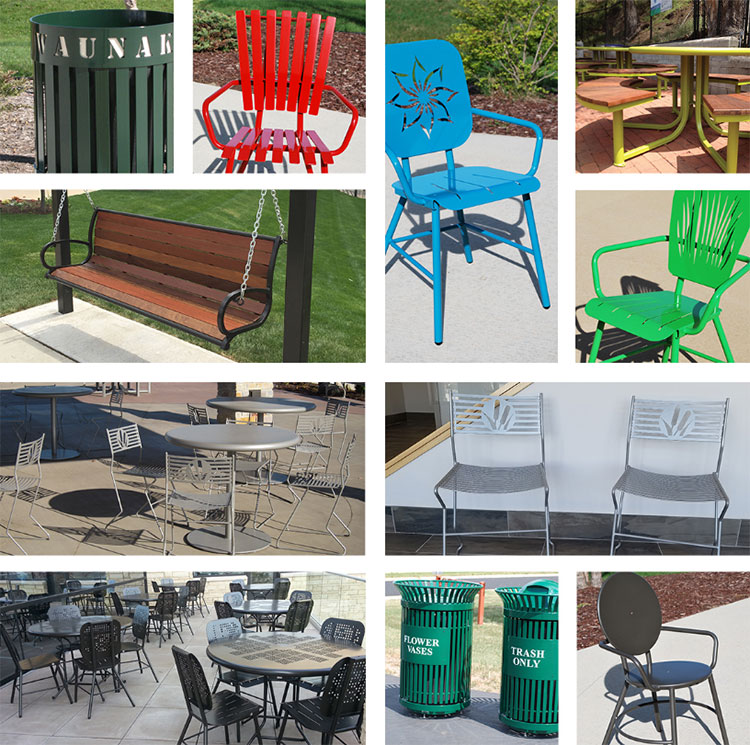 Let Thomas Steele help make your vision come alive
Your project requires more than generic, mass-produced site furnishings—it yearns for handcrafted custom outdoor furniture products that are as innovative and unique as your vision. Bringing your vision to life requires hard work and dedication to ensure that every particular aspect of your design is met to your exact specifications.
Our passion is to take your vision from concept to creation by custom designing site furnishings that aren't completed on an assembly line, but shaped, welded, assembled, and finished one at a time by our skilled and experienced team. Our custom outdoor furniture is fabricated with care from the finest materials available, and we offer a unique e-Steele™ technology that you can choose for your custom project for a durable finish and backed by an unsurpassed 5-year warranty.
For more than a decade, we have helped hundreds of clients develop custom designs that are not only unique but also functional, durable, and striking in appearance. We have built our reputation on our ability to provide our clients with custom site furnishings that bring their vision and design project to life. Located in Waunakee, Wisconsin, we take pride in our efficient ordering, local manufacturing, and speedy shipping processes that get you your products right on time.
Contact a Thomas Steele site furnishings expert at 608-849-1080 or at sales@thomas-steele.com with questions or custom design needs.
Company:

Thomas Steele
Source: https://www.thomas-steele.com/custom-outdoor-furniture/
Tags: Color | Design | Furniture | Landscape Design
---
TECTUM WALL & CEILING PANELS: A PERFECT FIT OF DURABILITY, ACOUSTICS, AND UNIQUE VISUALS
From a natural factory finish or white, to integration with COLORATIONS colors (that's 13 standard colors) or made-to-order Sherwin-Williams® colors, TECTUM panels can coordinate or complement your color palette with the sizes, shapes, and forms that make your designs happen.
Toughness and acoustics are at the heart of TECTUM interior products, ideally suited to open spaces and high traffic, high impact areas. Panels can be attached directly to walls and ceilings in forms of panels, clouds, and square or curved. TECTUM linear hanging baffles give you even more design options.
Create a signature element in a space to complement your interior design. The possibilities are endless, the look is one-of-a-kind, and the acoustic properties of TECTUM panels can help quiet the space.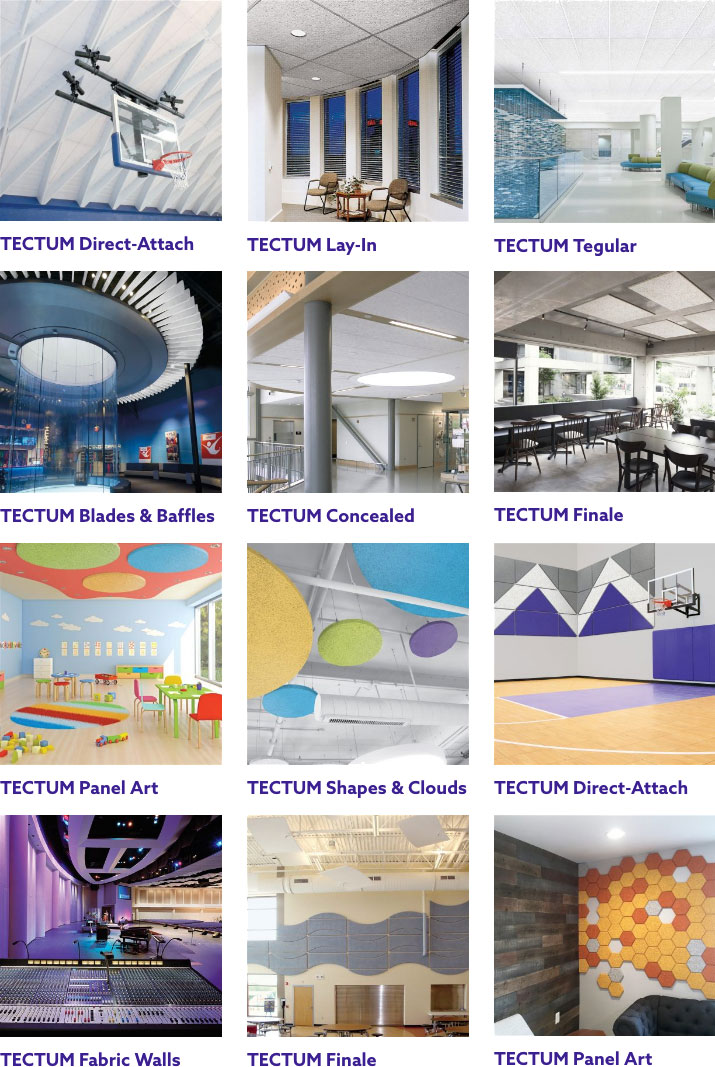 KEY FEATURES

Durable for heavy-use interiors
Sound absorption (NRC) values up to 1.0
Great acoustical retrofit solution
Color options include standard, Colorations colors, and custom Sherwin-Williams colors
Contributes to LEED credit areas including FSC certified wood
Attach to a variety of ceiling substrates
Easy to install

SPECIAL APPLICATIONS

Gymnasiums
Auditoriums
Multi-purpose Spaces
Acoustical Retrofits
Exposed Structures
Education Spaces
Company:
Armstrong Building Solutions
Product: TECTUM Ceiling & Wall Panels
Source: https://www.armstrongceilings.com/commercial/en-us/articles/tectum-part-of-armstrong-portfolio.html
Tags: Acoustics | Ceiling | Color | Interior Design | LEED Certification | Wall Panels
---
Whether a client wants a perfect neutral, refreshed trim or a bold accent wall, the new West Elm paint palette has a hue for your next project.
The Sherwin Williams Fall/Winter 2017 paint palette from west elm makes it simple to coordinate colors with their latest collections of furniture, bedding and home accessories. Whether you're picking the perfect neutral, refreshing tired trim or adding a bold accent wall, find favorite hues for every room of the house.
*Wall colors shown are Dustblu SW 9161, French Moire SW 9056, and Rocky River SW 6215.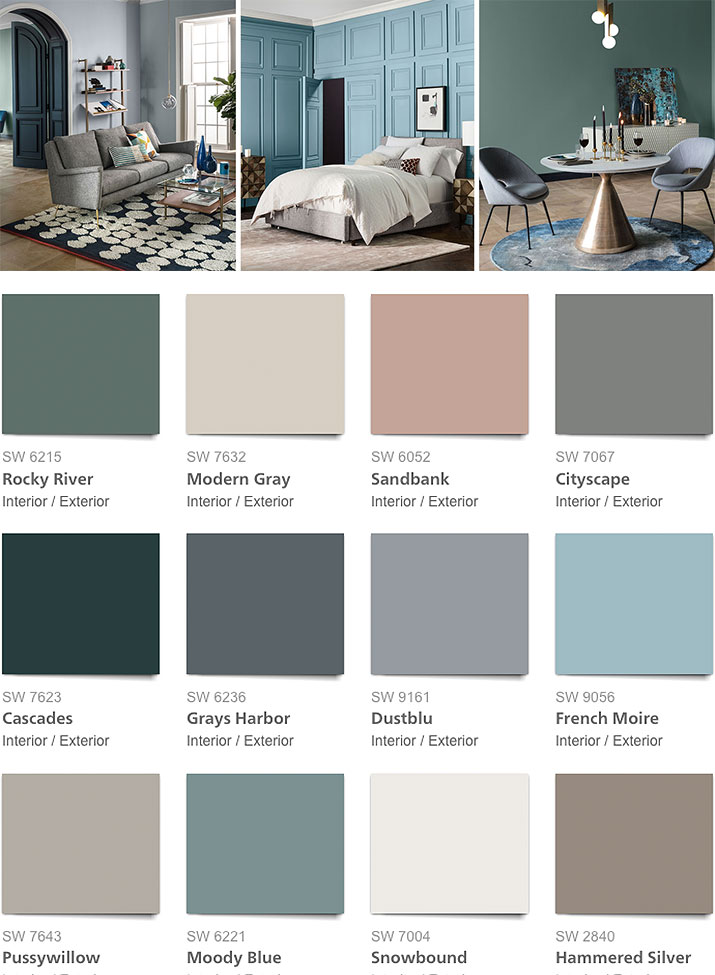 Company:
The Sherwin-Williams Company
Product: Interior Paints
Source: https://www.sherwin-williams.com/architects-specifiers-designers/inspiration/stir
Tags: Coating | Color | Finishes | Interior Design
---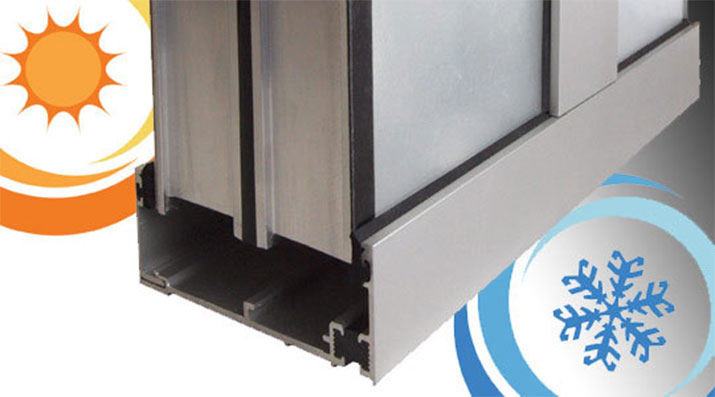 Heat conduction, or the transfer of heat through a solid material at the molecular level, is a problem that occurs in aluminum framing. Providing a thermal break in the aluminum is the most common solution for disconnecting the exterior and interior of the aluminum frame. The frame is literally split into two components and must be connected by a structural material that is of significantly less conductivity as the aluminum. Simultaneously the thermal break material must bond the two components together.
There are many ways to thermally break glazing materials and the frames that house the glazing. Insulated glazing generally uses multiple panes of glazing separated by air, gas or other fill. The glazing is then bonded at the edges with a material of low conductivity. The aluminum frame, most commonly used for storefront framing, skylights, and windows, is a highly dense material with great strength. Yet, aluminum is light in weight and durable. It is also a widely recyclable material and is readily available.
Aluminum, however, is highly conductive of heat and cold. For many decades thermal breaks have been a common and economical means of lowering temperature conductance in aluminum framing. Thermal breaks have taken numerous forms over the years, from plastic and Styrofoam to wood and nearly any material that had a lower thermal conductivity than aluminum.
The 1970s marked the beginning of the high performance, chemically manufactured and engineered thermal breaks that we see today. Standard to the storefront, window, skylight and curtainwall industry is the poured and debridged polyurethane thermal break. This material provides significant structural strength in shear, compression and tension, as well as integrity and resilience. The polyurethane polymer has a very low conductivity, allowing it to bridge the gap between the interior and exterior aluminum components of a frame. Due to polyurethane's structural strength, longer spans are capable and the integrity of the aluminum frame is not compromised.
The method for manufacturing the polyurethane thermal break has become standardized in the aluminum framing industry. A strategically placed open cavity is extruded as part of the aluminum frame. The cavity may be grooved or extruded in a way as to act as a lock when bonded with the polyurethane polymer. The liquid polymer is poured into the cavity, and upon solidifying, the bottom of the cavity is then removed, or debridged, creating the perfect thermal break for all forces of extreme weather conditions.
So where are thermal breaks necessary? The short answer is that they are necessary in all climates where there is a difference in temperature from exterior to interior. Cold climates benefit from aluminum thermal breaks by providing protection from cold temperatures entering the building and causing condensation build-up on the interior face. In these situations, aluminum frames can also become very cold to the touch and uncomfortable to be near. Hot climates benefit from aluminum thermal breaks by providing protection from hot temperatures entering the building. Not only does a thermal break affect air temperature and cooling demands on HVAC systems, but aluminum frames can become very hot to the touch, causing issues for people, plants, animals, and objects nearby.
While thermal breaks add some up-front costs, technological advances have made them an economical solution. This is especially true when you consider that they can prolong the lifespan of materials around them and provide a more comfortable environment for building occupants. Whether you're in a hot or cold climate, thermal breaks are well worth it.
For more information on our thermally broken system options, visit us online. Our Clima-Tite™ system with pultruded fiberglass framing, is also available and provides an even higher level of thermal performance and condensation resistance.
Company: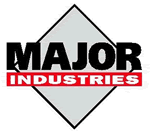 Major Industries Inc.
Product: Clima-Tite™
Of: Courtesy of Amy Stalbosky, National Corporate Architect, Major Industries, Inc.
Source: http://majorskylights.com/
Tags: Aluminum | Climate | HVAC | Skylights | Sustainability | Windows
---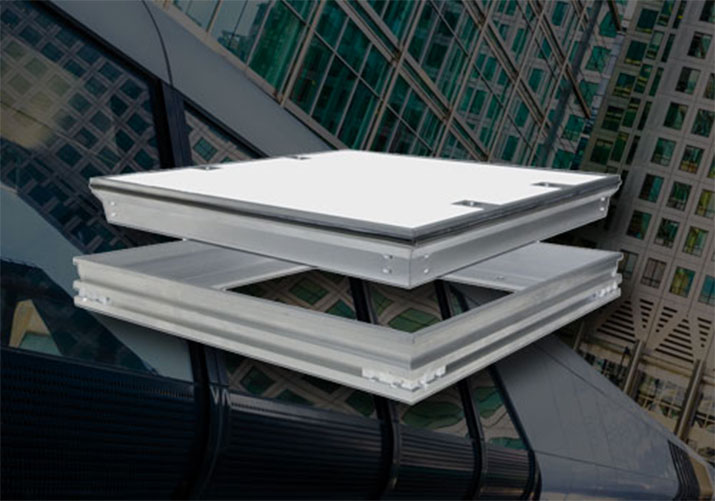 When it comes to solving the problem of accessing concealed services under floors, behind walls or above ceilings there are an abundance of products on the market that could do the job. However, if your requirement is for a quality access cover or panel that will provide quick and easy access to concealed services safely then those 'cheap' foreign imports are unlikely to make the grade!
In the world of construction the old adage, 'You get what you pay for' definitely rings true. Of course the majority of building services professionals involved in the specification process clearly understand that principle. A building component, such as an access cover, is just one of hundreds of constituent parts that make up a building. However insignificant the component to the overall structure it still has to possess certain attributes, satisfy stringent criteria and integrate positively with the other products being used.
As a busy architect or specifier how do you determine the best solution to the access scenario in your particular project?
PERFORMANCE
The level of performance required from an access cover is generally dictated by the type of environment where the concealed services are to be located.
Is it internal or external?
Loading requirement - will it be used by pedestrian traffic only or vehicular traffic?
Is access required frequently or just occasionally?
What size of aperture is needed to access the concealed services?
What type of material will cover the services?
How important is security?
At Howe Green we offer a wide range of floor, wall and ceiling access solutions designed to satisfy all of these performance criteria.
Need a single access panel for emergency access to a stopcock in a ceramic tiled bathroom wall? Or a duct run of floor access covers for regular maintenance of underfloor drainage systems beneath vinyl flooring in a hospital?
Whatever your performance specification Howe Green can provide the solution.
AESTHETICS
Whether you are working on a new build or refurbishment project the impact that an access solution has on the overall look and feel of the building is a consideration for the vast majority of projects.
By using the latest CNC and CAD technology access covers can be precision engineered to your exact specification. A perfectly sized access cover removes any hassle from the installation process and ensures that the cover fits seamlessly into the flooring, reducing the risk of slips and trips.
With options available for all types of hard floor finishes and the Visedge flexible floor access cover, Howe Green can be specified whatever the flooring finish.
STANDARD OR BESPOKE?
Many of the projects that cross your desk may well require a standard size access solution. At Howe Green standard size floor, wall and ceiling covers are available to order from stock, ensuring a speedy delivery to site when required.
Other projects may require a bespoke solution. This is where over 35 years of experience combined with continual investment in equipment, technology and processes ensures that whatever bespoke solution is required it can be supplied. If you need to specify a custom size, loading or finish Howe Green can accommodate your requirements without cost or time penalty.
MAKING THE DECISION
Whether you have most of the knowledge and information you need to prepare your specification or you are looking at our product ranges from scratch, the team at Howe Green are available to help.
The quality and performance of our products, flexibility of our service and the expertise of the team is what sets Howe Green access covers apart from our competition. Architects, specifiers, building engineers, flooring and tiling specialists and contractors have put their trust in Howe Green to deliver a tried and tested access solution since 1983.
If you are looking for an access solution to concealed services look no further than the industry standard and you will soon discover that "Not all Access Covers are created equal".
Company:

Howe Green US
Source: https://www.howegreen.com/howe-green/news/not-all-access-covers-created-equal.php
Tags: Access Covers | Design
---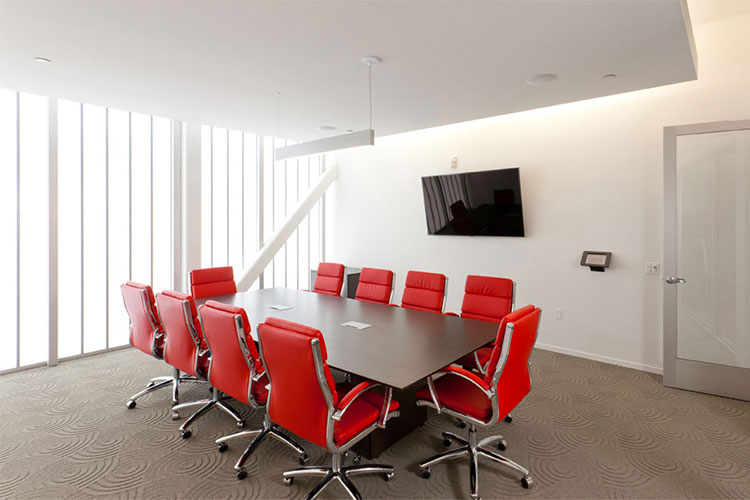 Major offers a wide range of glazing options, but even within translucent panel systems there are numerous ways to add customization to meet your project's needs.
In the shop recently was a project that utilized a 7″ x 7″ grid pattern (left side of image left), giving the panels a distinct geometric look. If you'd prefer to see less grid in the panel, choosing a white face sheet and opting for a larger grid pattern or our Verti-Lite™ option is the way to go. Verti-Lite™ (image) features vertical grids only, providing a channel glass look but with numerous insulation options as well as a lower cost.
Don't forget that we can also custom color insulation for a unique way to incorporate school colors into a building (or to mimic stained glass), and we can match finish colors as well if you're looking to tie the daylighting system into another part of the building. Contact our sales team today at 888-759-2678 to find out how we can customize your daylighting experience.
Company: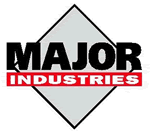 Major Industries Inc.
Product: Guardian 275® - Translucent Panel Skylights & Curtainwall
Source: http://majorskylights.com/2017/09/lines-grids-aesthetics/
Tags: Design | Glass | Wall Panels | Window Shades
---
FROM BROWNFIELD TO SHINING STAR: "LEED"-ING THE WAY IN LITTLE ROCK
A non-profit organization dedicated to relieving global hunger and poverty, Heifer International provides livestock and plants, as well as education in sustainable agriculture, to financially disadvantaged families around the world. Based in Little Rock, Arkansas, the organization was faced with the need for larger headquarters, but wanted the project to remain true to the earth's resources. Heifer identified a long abandoned railroad yard in the city's old warehouse district, an environmentally dirty site known as a brownfield, and made the decision to transform it – the "green" way. One of the first of its kind in the area, the project was designed with careful consideration for the U.S. Green Building Council's Leadership in Energy and Environmental Design (LEED®*) certification standards.
Polk Stanley Rowland Curzon Porter Architects, Ltd., developed the building's design, capturing every opportunity to achieve LEED points and reflect the overall mission. Glazing contractor ACE Glass Company, Inc. and product manufacturer/design engineering team from Kawneer North America were called in to collaborate on the project. Completed in March 2006, the project is expected to receive its LEED certification in 2007.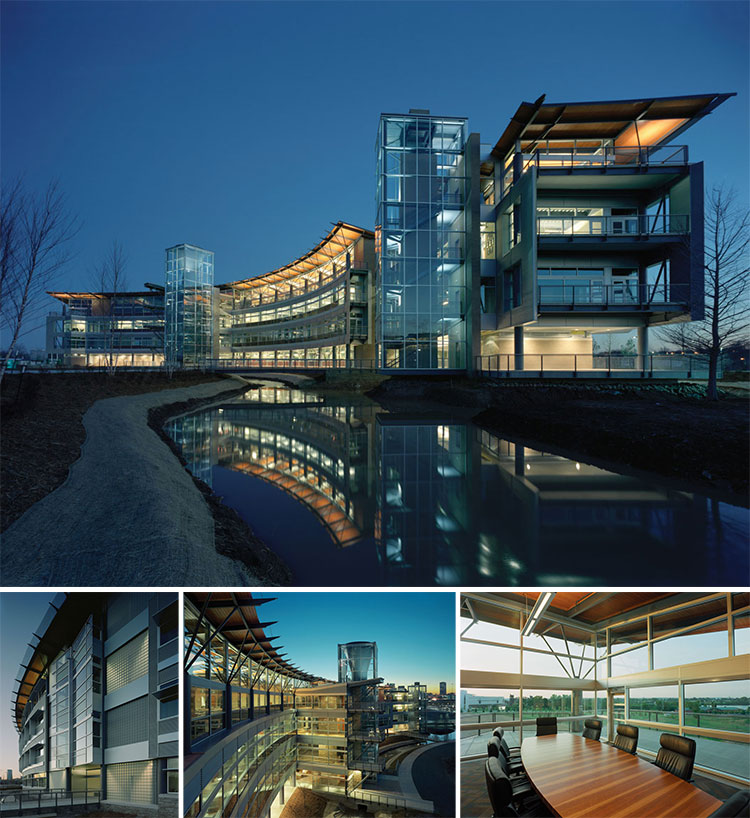 Photography: ©Timothy Hursley
Design Highlights
The curved shape of the building served to take advantage of the solar orientation by stretching in an east/west direction and maximizing sun exposure. To block excessive sunlight, the team integrated sunshades into the exterior, while Kawneer's InLighten™ Light Shelves were installed on the interior of the wall to "bounce" natural light up to the ceiling and reflect it into the building.
Deeper, custom sun shades were created to be hung vertically between the punchouts, a unique design feature that served to be both aesthetically pleasing and functional, as they protect the interior from both east and west sun exposure.
The combination of the building's narrow floor plate and the curtain wall allows natural light to penetrate to the center of every floor, while strategic interior glazing continues the indoor/outdoor aesthetic and keeps individual offices bright and open. Fixed and storefront framing systems, in conjunction with swing and sliding entrances, were used throughout the interior offices and conference rooms. In addition, clean glass, white frost and green glass added a light and modern aesthetic.
Challenges
The complex design required the customization of several existing Kawneer products, and the curved building footprint complicated fabrication.
The increased focus on recycled materials (per the Materials & Resources category under LEED required the coordination of a sizeable order of secondary aluminum billet necessary for the project. In fact, 97 percent of the building materials used for the project contain recycled content.
Featured products
Architect
Polk Stanley Rowland Curzon Porter Architects,
Ltd., Little Rock, Arkansas, USA
Glazing contractor
ACE Glass Co., Inc.
Little Rock, Arkansas, USA
Company:

Kawneer Co., Inc.
Product: Curtain Wall
Source: https://www.kawneer.com/kawneer/north_america/en/products/project_detail.asp?project=heifer_kna&bus=north_america&pc=Commercial_Office_Space
Tags: Doors | Entrances | Glass | LEED Certification | Sustainability | Wall Panels
---

Photography: Joshua Jay Elliott, courtesy: Works Progress Architecture, LLP
The 10-story, LEED® Gold certified, mixed-use, transit-oriented development known as Slate is helping revitalize the Burnside Bridgehead area in Portland, Oregon. Formerly a vacant lot called Block 75, the new building features window, entrance, unitized curtainwall and panel systems finished by Linetec. Contributing to the building's high energy-efficiency and sustainability goals, Linetec also provided the thermal improvement services for the glazing systems' aluminum framing.
Opened last year, the project spans 147,000 square feet and offers 75 market-rate apartment units on the upper six floors; 35,000 square feet of creative co-working office workspace on floors 2-4; and 7,800 square feet of retail space at street level.
Articulated Aesthetics
Designed by Works Progress Architecture for co-developers Urban Development Partners and Beam Development, the property conveys a "push and pull" theme exemplifying the location's vibrancy. The glass, metal and concrete façade consists of articulated, modulated, rectangular shapes, including some that are setback and some that project over the sidewalks below.
"The building adheres to a carefully considered, cohesive, unified design concept that promotes the building as a bold, permanent fixture of the Burnside Bridgehead, the larger Central Eastside Subdistrict, and the larger Central City Plan District," noted Portland's Design Commission.
"It creates the illusion of a shifting stack," describes Works Progress Architecture's Ian Roll. "On the North and South sides, the curtainwall has a flat, clean, crisp look that transitions to a sculpted, figural texture on the East and West elevations. The curtainwall is crucial in registering the intentional lines and visual elements."
Enhancing the aesthetics and durability of these elements, Linetec used six colors and two finishing methods. The aluminum framing members' for the curtainwall, window and entrance systems were fabricated by Wausau Window and Wall Systems, and finished in Slate Gray Fluropon® and Dark Bronze FluroponAAMA-2605 fluoropolymer paint coatings, plus AAMA-611 Class I blackanodize. In addition, Linetec painted the aluminum panel system from Firestone in AAMA-2605 fluoropolymer coatings of Stone White Duranar®, Gun Barrel Fluropon Classic II and Block 45 Silver Fluropon Classic II.
Leaders in Energy and Environmental Design
Supporting Slate, and other projects seeking the U.S. Green Building Council's LEED certification, Linetec's finishing and thermal improvement services can contribute to the building envelope's energy-efficiency, visual appeal and durability.
Supporting environmentally sound practices, Linetec's high-performance painted coatings are applied in a controlled facility that safely captures and destroys the VOCs present in liquid solvent-based paints before the finished products' arrival on the building site. Anodize finishes do not contain VOCs and process byproducts are recyclable.
The finished architectural aluminum components may be specified with recycled content and are 100 percent recyclable after its useful life on the building. The high-performance fluoropolymer painted coatings and anodize finish help protect against the intense sunlight, heavy rains, high humidity and salt spray, for a long product life cycle.
To match Portland's climate and the project's goals for energy efficiency and comfort, Wausau's anodized aluminum-framed products have beenthermally improved by Linetec using a polyamide barrier. Combining the thermal barrier with solar-control, low-e, insulating glass achieves the specified performance for low solar heat gain coefficient, low U-Factor, highcondensation resistance factor and high visible light transmittance.
There are numerous LEED credits that recognize the advantages and benefits of high-performance windows and curtainwall. Seasonal opportunities for natural ventilation also help reduce the demand on HVAC systems and associated energy use. Weather permitting, the operable windows on Slate allow tenants to enjoy fresh air, natural light and views.
Within sight are downtown Portland, the Willamette River, landmark bridges, the West Hills and Mount Hood. According to the City of Portland's Design Commission, Slate's design features floor-to-ceiling curtainwall "placed at the most important – in other words, the most visually prominent and functionally significant parts" and "aids in the success of the space by fostering a visually seamless relationship between the building's interior and the exterior environment."
Further improving the overall comfort for those living, working and shopping at Slate: Retail spaces with natural light have reported higher sales. Workplaces have documented lower absenteeism, higher productivity and greater job satisfaction . Access to light has shown to be important for biological circadian rhythm and lead to a more restful night 's sleep and daytime alertness. Having a view outside also helps people feel better connected to with their environment and their community.
Balancing Appearance and Performance
Works Progress' Roll credits the project's success, in part, to working closely with Wausau Window and Wall Systems from the project's earliest stages. He highlights Wausau's architectural sales representative Brad Glauser as his primary contact in working through the project's complexities.
"Brad assisted us with selecting the system, and fine-tuning it to achieve the building envelope's glassine openness and meet the energy code," says Roll. "With digital modeling, we were able to get inside the units before anything was built to balance where the glass and metal panels should be placed for the right performance and look."
Bringing the architectural vision to reality, Yorke & Curtis, Inc. served as the general contractor. They broke ground in Jan. 2015 and coordinated the phased construction schedule with Oregon-based glazing contractor Dallas Glass.
Dallas Glass began installing Wausau's products in April 2015 and was substantially completed by Jan. 2016. Wausau provided more than 40,000 square feet of INvision™ 7250i-HRX SSG Series unitized curtainwall and 7250 Series SuperWall™; 240 project-out awning 4250Z zero sightline windows; and 4250i-TD Series terrace doors and D5100 Series sliding patio doors. Smooth, Fast, Accurate Installation
The aluminum panels and frames, and bronze-toned and clear glass, were factory-fabricated as a unitized curtainwall helping ensure the intended appearance and performance, and to simplify and accelerate their installation.
"The curtainwall's interlocking frame design accommodates seismic, live load and thermal building movements. Low U-Factors allow broad expanses of vision glass to meet Model Energy Codes. Transmission of unwanted noise is reduced by heavy architectural glass and low air infiltration," adds Glauser.
Slate was the glazing contractor's first experience with a unitized curtainwallsystem. "We loved it," says Darand Davies, president of Dallas Glass. "I think it went really well for being our first time working with a unitized system. It was rather amazing that, on average, we have just five guys in field who were capable of completing a full floor every two weeks."
Now that Slate is open and leasing, Glauser concludes, "Along with the great location and comfortable interiors, tenants also are drawn to the building's attractive appearance. And building owners and property managers will appreciate the ease in maintaining the window systems' appearance and functionality."
Slate, 321 N.E. Couch St., Portland, OR 97232; http://www.udplp.com/slate
Company: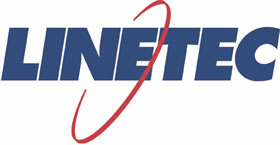 Linetec
Product: Thermal Improvement – Pour & Debridge and Thermal Strut
Source: http://www.linetec.com/Press_Release/LEED-Gold,-Slate,-features-Linetec-anodize-finish.html
Tags: Architecture | Coating | Energy | Finishes | Sustainability