architecture - engineering - construction

LEED Certification
---
The Roger A. and Helen B. Krone Engineered Biosystems Building (EBB Krone) opened in 2015. It was built with the intention of creating a space where Georgia Tech engineers and scientists can work together on new medical technologies and curing diseases. Much like bees - or Yellow Jackets - the mascot of Georgia Tech, work together in a hive.
It is possible that design architect, Lake Flato, and local architect Cooper Carry considered this when creating the building design. The EBB is a brick building with glass windows shaded by a perforated metal sunscreen surrounded by trees, walking paths, and a garden. The sunscreen, with perforated zinc panels, has a honeycomb effect close up. From a distance, the 5- story building appears to be a giant beehive of Georgia Tech Yellow Jackets busily working together to make sweet scientific discoveries.
The building is LEED Certified and has won multiple awards. (Shown below). The customer was Peachtree Protective Covers and the project manager was John DuConge from Mccarthy Building Companies Inc. Morin Corporation provided the metal panels for the sunscreen.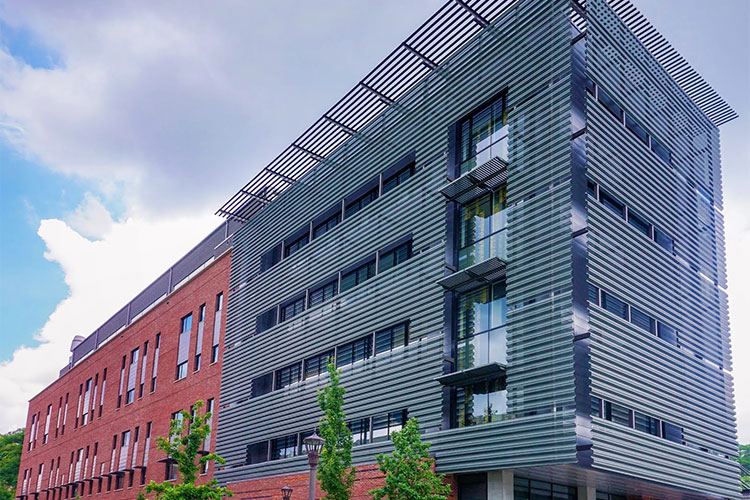 The EBB 'hive'
The sunscreen is a passive sun shading system made of perforated zinc panels. Zinc is a natural metal, it is recyclable, and has a lifespan longer than most metals at 80+ years. The zinc panels are 1.2 mm and coated with a Graphite Gray color coat. They are roll formed in Morin's O-12 panel profile.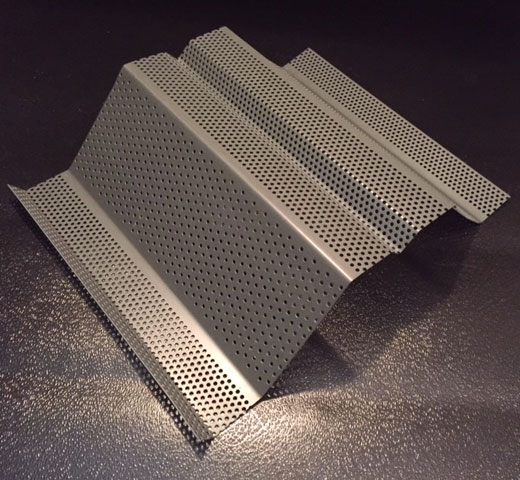 A sample of the O-12 panels with two different perforation patterns visibleUp close, the panels have a unique feature, indiscernible from a distance. Each panel has two different perforation patterns. The O-12 panels were installed horizontally. The nature of this panel shape makes it have an edge that is parallel to the building walls and windows (the face), and a sloped edge that faces either to the sky or the ground. On the panel face, the perforation pattern is ⅛" holes with 7/32" spacing, leaving a 30% open area. The other edge has ⅛" holes with ⅜" spacing, leaving only a 10% open area. This design was achieved by strip perforating each panel. By doing it this way, the bends of the panel remain solid so that there is no distortion. Sample panels were made to make sure that the perforation holes would line up on the lapping panels. Originally, there was going to be three different perforation patterns, but two was enough to satisfy the function of having varying perforation patterns per panel. Said function of this design is to effectively shade the building from Atlanta's harsh summer sun while allowing visibility from inside the building and eliminating glare off the glass windows. The façade has some spaces between the panels, breaking up the screenwall and creating some interesting horizontal lines.
In addition to the screenwall, the project also had four other Morin panel profiles on various parts of the building including solid panels on the top floor covering the penthouse, soffit areas, and wall areas. The other profiles used were VB-34, F-16, F-24, and O-24.
See the Whole GALLERY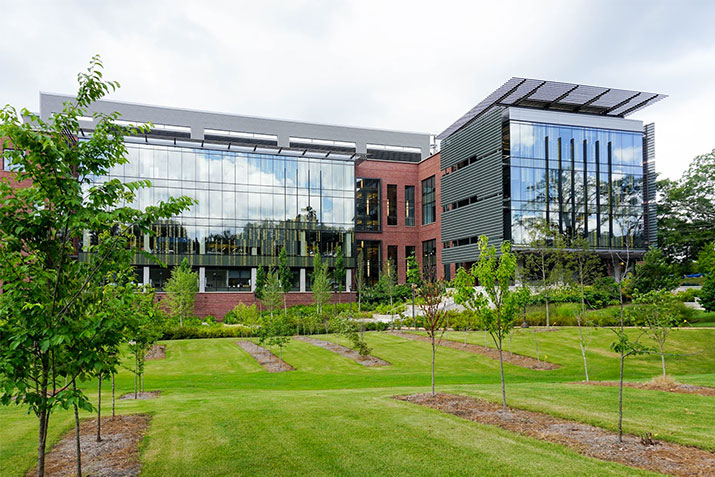 Awards
CMAA South Atlantic Chapter, Project of the Year, 2016
CMAA South Atlantic Chapter, Project Achievement Award >$100M Construction, 2016
AIA Georgia, Design Merit Award, 2016
ENR Southeast Award of Merit for Best Sustainable Building Practices, 2016
Company: Morin® - A Kingspan Group Company
Product: Screen Wall Panels
Source: http://morintranet.blogspot.nl/2018/04/varying-perforation-pattern-technique.html
Tags: Architecture | Award | LEED Certification | Wall Panels
---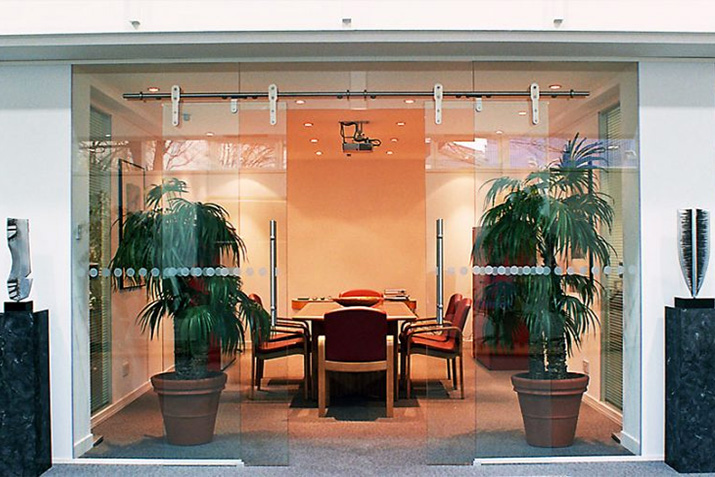 The typical point of entry into an interior environment tends to be simple, boring, and often mediocre. The primary purpose is to allow access, paying no attention to any crucial design attributes Avanti Eclipse sliding glass doors are a collection of quality Sliding Glass Door Systems that provide a contemporary solution to applying design and seamless flexibility.
Integrated Sliding Glass System
The Eclipse Sliding Glass Door incorporates a series of functional components, creating a unique system that fuses stainless steel hardware and single pane glass. This creates a simple sliding system that may be integrated with corresponding glass wall systems such as Elite or Solare Single Glazed. We also now carry the Eclipse Plus Sliding Glass Doors that functions with our Double Glazed Wall Systems. Eclipse utilizes a series of module and glass panel mounted stainless steel hardware components.
The Eclipse Sliding Glass Door system can be fixed on glass partitions and even solid walls. This provides a high degree of flexibility, creating practical solutions which satisfy specific requirements. This system provides a unique "floating" look, as the rollers glide on a track. Each Eclipse Sliding Glass Door System comes standard with a 4 Foot Stainless Steel Handle and includes other locking and pull options.
Single Elevation – Integrated with Solare Single Glazed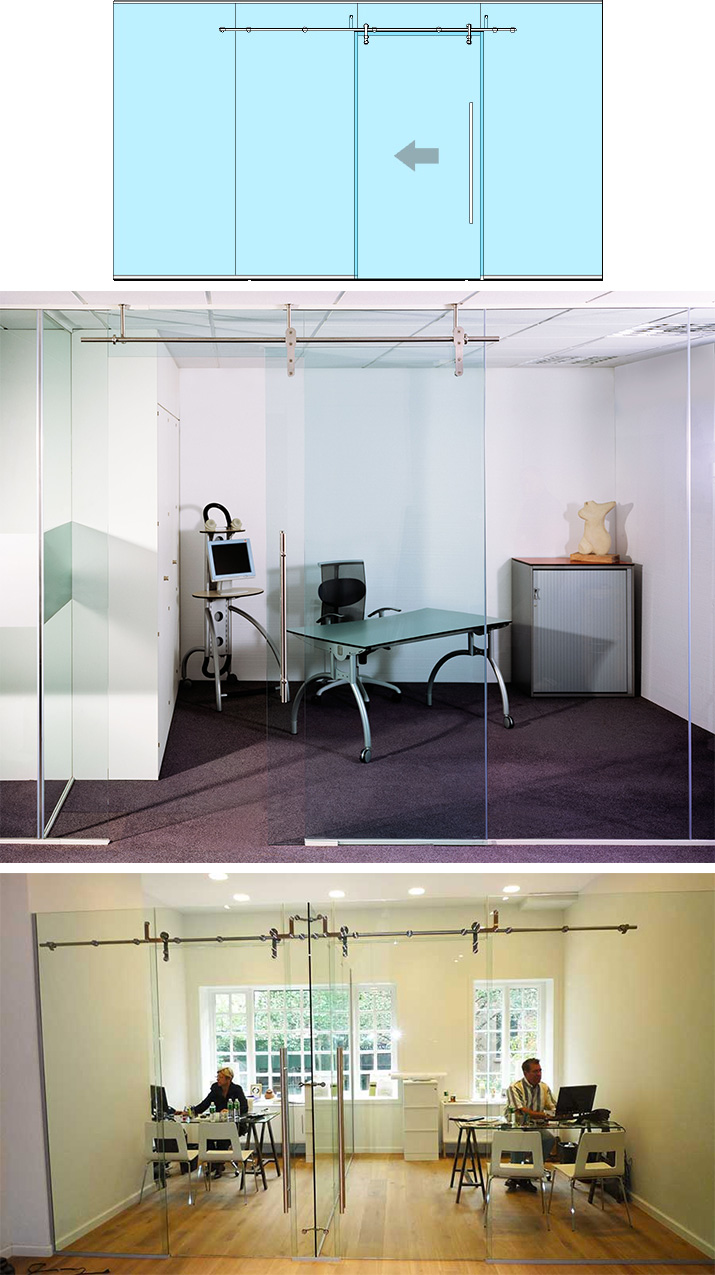 Pair Elevation (Barn Doors) – Integrated with Solare Single Glazed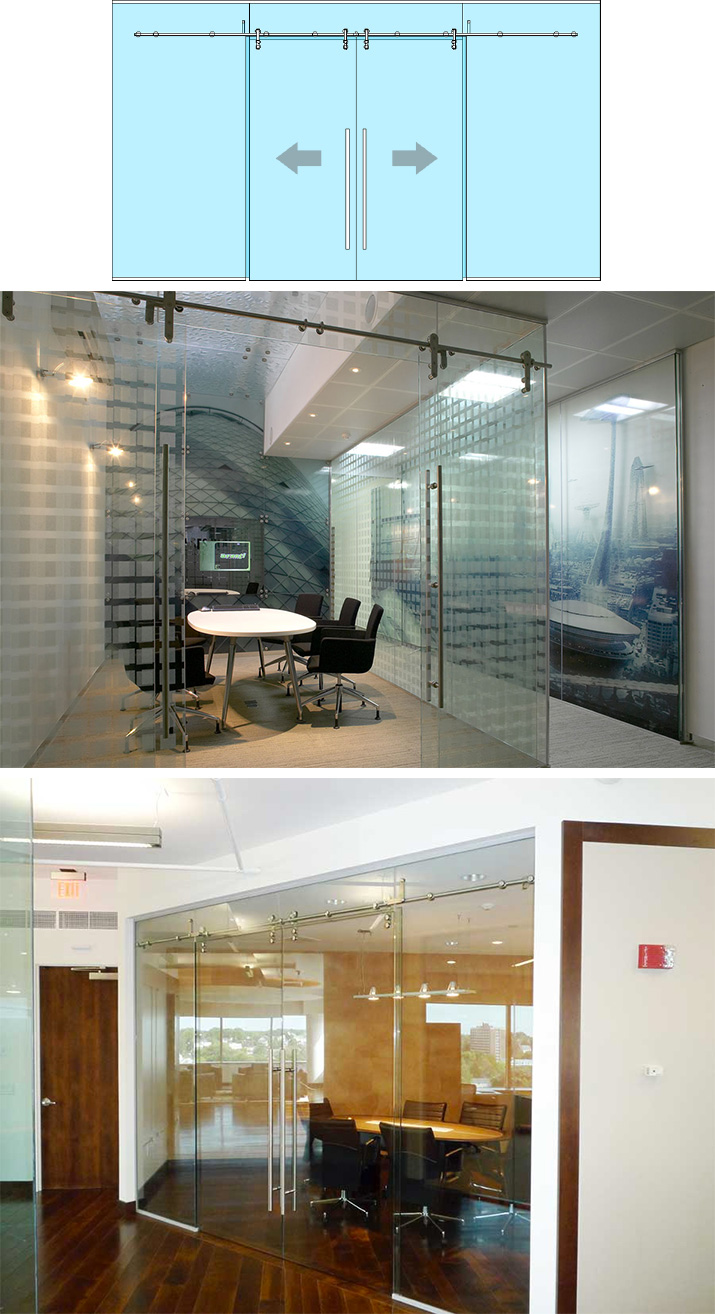 Assisted Close Glass Systems
Glide the Eclipse Sliding Glass Door System to the closed position and you will see a halo right before your eyes. This halo consists of a 1 1/2'' overlap at the top, left, and right of the system. The Eclipse Sliding Glass Door is a gateway to a translucent space, and is also a gateway to promoting a sustainable environment. Eclipse is compliant with LEED sections including recycled content, daylight and views, acoustic performance, and regional material.
Company: Avanti Systems USA
Product: Eclipse Standard Doors
Source: https://www.avantisystemsusa.com/sliding-glass-doors/
Tags: Acoustics | Doors | Glass | Interior Design | LEED Certification | Office
---
TECTUM WALL & CEILING PANELS: A PERFECT FIT OF DURABILITY, ACOUSTICS, AND UNIQUE VISUALS
From a natural factory finish or white, to integration with COLORATIONS colors (that's 13 standard colors) or made-to-order Sherwin-Williams® colors, TECTUM panels can coordinate or complement your color palette with the sizes, shapes, and forms that make your designs happen.
Toughness and acoustics are at the heart of TECTUM interior products, ideally suited to open spaces and high traffic, high impact areas. Panels can be attached directly to walls and ceilings in forms of panels, clouds, and square or curved. TECTUM linear hanging baffles give you even more design options.
Create a signature element in a space to complement your interior design. The possibilities are endless, the look is one-of-a-kind, and the acoustic properties of TECTUM panels can help quiet the space.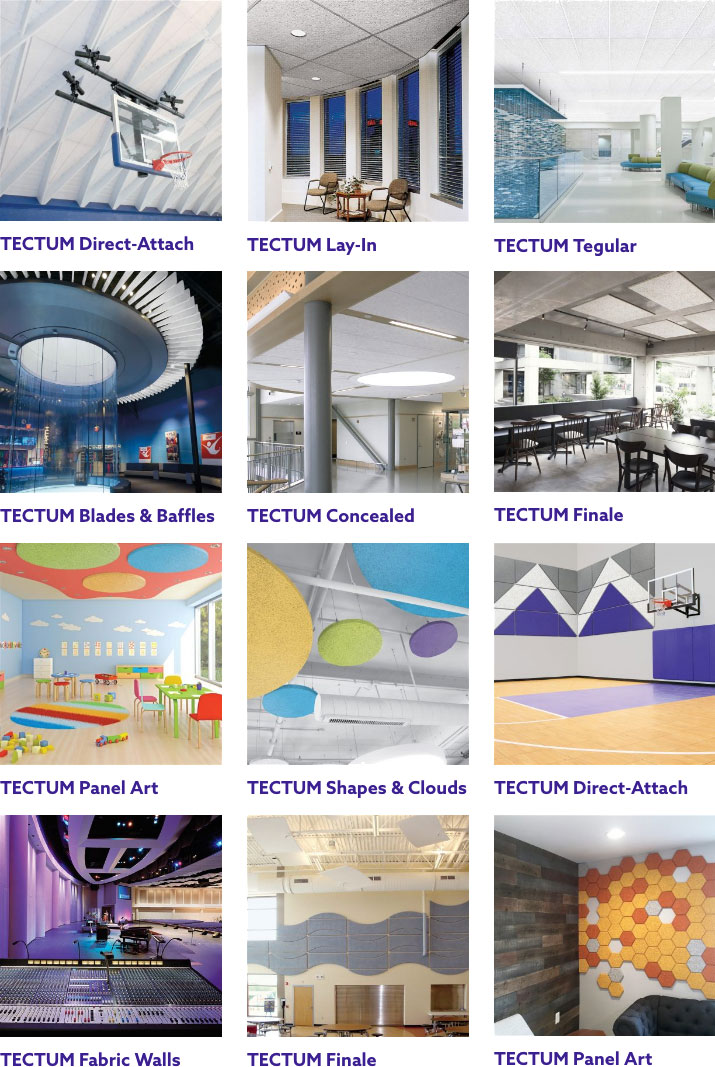 KEY FEATURES

Durable for heavy-use interiors
Sound absorption (NRC) values up to 1.0
Great acoustical retrofit solution
Color options include standard, Colorations colors, and custom Sherwin-Williams colors
Contributes to LEED credit areas including FSC certified wood
Attach to a variety of ceiling substrates
Easy to install

SPECIAL APPLICATIONS

Gymnasiums
Auditoriums
Multi-purpose Spaces
Acoustical Retrofits
Exposed Structures
Education Spaces
Company: Armstrong Building Solutions
Product: TECTUM Ceiling & Wall Panels
Source: https://www.armstrongceilings.com/commercial/en-us/articles/tectum-part-of-armstrong-portfolio.html
Tags: Acoustics | Ceiling | Color | Interior Design | LEED Certification | Wall Panels
---
FROM BROWNFIELD TO SHINING STAR: "LEED"-ING THE WAY IN LITTLE ROCK
A non-profit organization dedicated to relieving global hunger and poverty, Heifer International provides livestock and plants, as well as education in sustainable agriculture, to financially disadvantaged families around the world. Based in Little Rock, Arkansas, the organization was faced with the need for larger headquarters, but wanted the project to remain true to the earth's resources. Heifer identified a long abandoned railroad yard in the city's old warehouse district, an environmentally dirty site known as a brownfield, and made the decision to transform it – the "green" way. One of the first of its kind in the area, the project was designed with careful consideration for the U.S. Green Building Council's Leadership in Energy and Environmental Design (LEED®*) certification standards.
Polk Stanley Rowland Curzon Porter Architects, Ltd., developed the building's design, capturing every opportunity to achieve LEED points and reflect the overall mission. Glazing contractor ACE Glass Company, Inc. and product manufacturer/design engineering team from Kawneer North America were called in to collaborate on the project. Completed in March 2006, the project is expected to receive its LEED certification in 2007.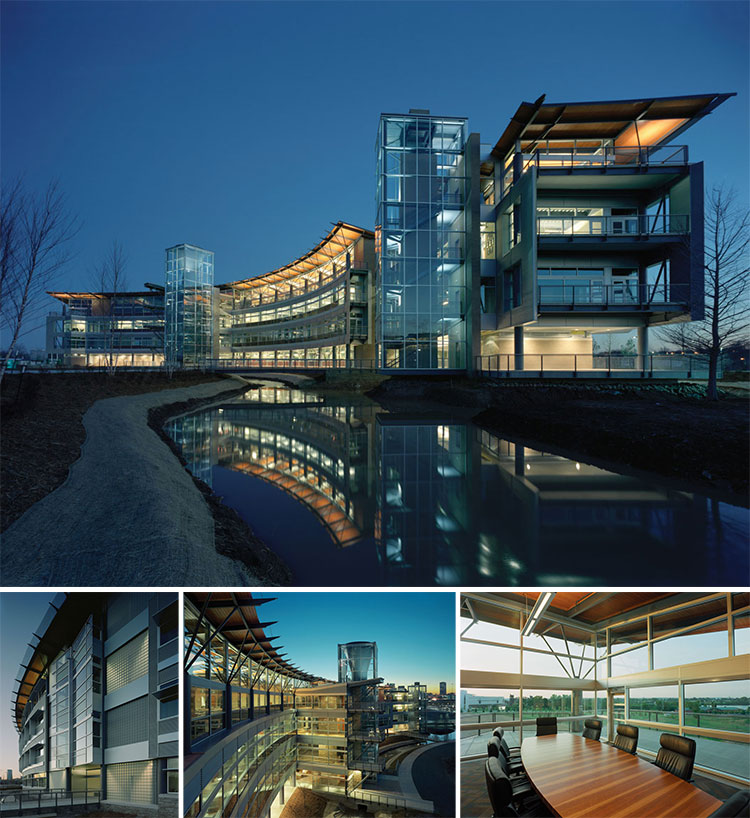 Photography: ©Timothy Hursley
Design Highlights
The curved shape of the building served to take advantage of the solar orientation by stretching in an east/west direction and maximizing sun exposure. To block excessive sunlight, the team integrated sunshades into the exterior, while Kawneer's InLighten™ Light Shelves were installed on the interior of the wall to "bounce" natural light up to the ceiling and reflect it into the building.
Deeper, custom sun shades were created to be hung vertically between the punchouts, a unique design feature that served to be both aesthetically pleasing and functional, as they protect the interior from both east and west sun exposure.
The combination of the building's narrow floor plate and the curtain wall allows natural light to penetrate to the center of every floor, while strategic interior glazing continues the indoor/outdoor aesthetic and keeps individual offices bright and open. Fixed and storefront framing systems, in conjunction with swing and sliding entrances, were used throughout the interior offices and conference rooms. In addition, clean glass, white frost and green glass added a light and modern aesthetic.
Challenges
The complex design required the customization of several existing Kawneer products, and the curved building footprint complicated fabrication.
The increased focus on recycled materials (per the Materials & Resources category under LEED required the coordination of a sizeable order of secondary aluminum billet necessary for the project. In fact, 97 percent of the building materials used for the project contain recycled content.
Featured products
Architect
Polk Stanley Rowland Curzon Porter Architects,
Ltd., Little Rock, Arkansas, USA
Glazing contractor
ACE Glass Co., Inc.
Little Rock, Arkansas, USA
Company: Kawneer Co., Inc.
Product: Curtain Wall
Source: https://www.kawneer.com/kawneer/north_america/en/products/project_detail.asp?project=heifer_kna&bus=north_america&pc=Commercial_Office_Space
Tags: Doors | Entrances | Glass | LEED Certification | Sustainability | Wall Panels
---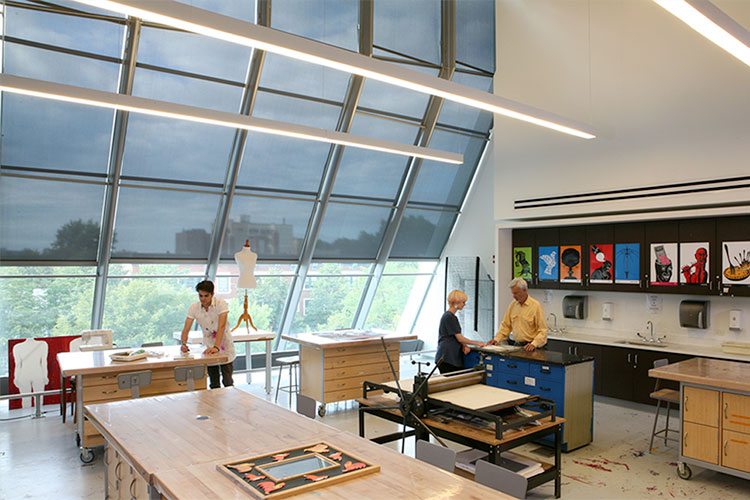 The University of Chicago Lab School had a problem. The school was building a brand new arts facility, the Gordon Parks Arts Hall, funded in part by a donation from the George Lucas Family Foundation. It was a high-profile project, making use of daylighting.
"They had a beautiful facade design with unique angles and breaks in the glass," Clint Childress, LEED®AP, solar control solutions product manager at Draper, Inc. "With this design, they had a problem with finding any solar shading that would work."
Bryan B. Biggers III, the president of Beverly Venetian Blind Company, agrees it was a complex project.
"We weren't the only people asked to bid on this project but we seemed to be the only ones that were willing to take on the complexity of this project with its unique angled windows," Biggers said. "It's something we had never done before but I felt that it would be a great opportunity to do something very special even though we really didn't know how we were going to accomplish it."
Biggers and his team talked to the designers in charge of the project to share some ideas on how to approach a solution for the project.
"This is where my thoughts went straight to Draper, Inc.," he said. "I knew that if anyone could help pull this off, it would be Draper."
Biggers' request came to Draper's Solar Control Solutions (SCS) division, which designs and manufactures custom solutions for customers around the globe.
"SCS is about bringing solutions to solar shading problems," Childress said. "There may be too much heat gain, a unique glazing design, an operation which is not standard, or anything that makes standard products not an ideal option."
Draper's designers discussed the project with Biggers and, after several conversations, proposed a solution. After some back-and-forth exchange of ideas and on-site meetings, a final design was agreed upon: a custom motorized shade system on tracks, with re-directional rollers to help the shades follow the changes in slope. The shades would be operated via wall switch, and feature Mermet E Screen Charcoal/Gray with a 3% openness factor.
To read the rest of this case study, and download a free pdf copy, click here.
Product: Window Shades
Of: Terry Coffey
Source: http://blog.draperinc.com/2017/10/draper-university-chicago-lab-school/
Tags: Design | LEED Certification | Solar control | Window Shades
---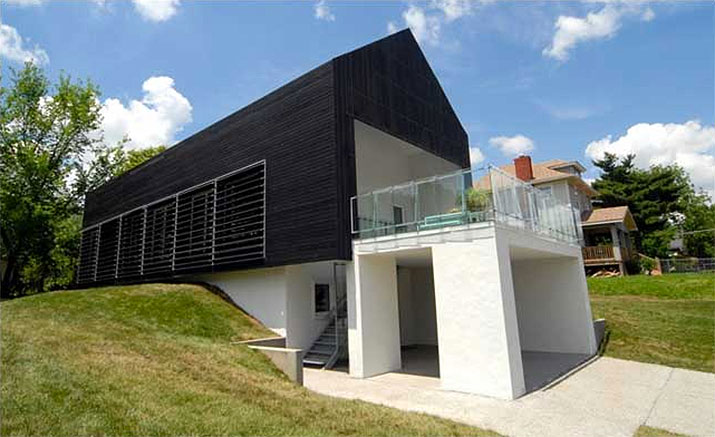 Project: Prescott Passivhaus
Architect: Studio 804
Engineer: Norton & Schmidt
LEED: Platinum
Designed to use minimal energy through affordable, passive means, this 1,700-square-foot house in the Prescott, Kansas neighborhood, is just minutes from downtown Kansas City. To achieve its goal of a 90-percent reduction in heating and cooling costs, strategies including louvers, thermal mass, high-performance windows, super insulation, southern orientation and an airtight building envelope were employed. National Gypsum's Gold Bond® BRAND eXP® Interior Extreme® Gypsum Panels are components of this project.
Company: National Gypsum
Product: Gold Bond® XP® Fire-Rated 5/16" Radius Wall
Source: http://designcenter.nationalgypsum.com/design-center/category/project-profiles/detail/prescott-passivhaus-prescott-ks
Tags: Construction | Energy | LEED Certification | Wall Panels
---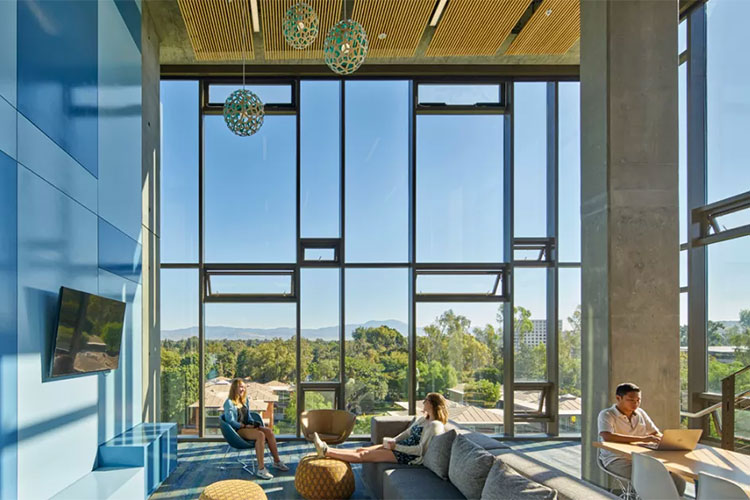 Mesa Court Towers at University of California, Irvine, a project designed by Mithun under LEED 2009 that aligns with the new integrative process for health promotion credit.
The first in a series on green building rating systems and human health examines the latest iteration of LEED
The sustainability conversation in the building industry is broadening from an intense focus on energy and resource consumption to a dialogue that actively engages individual health impacts and outcomes. Public health practitioners typically consider issues relating to social equity, community, environmental justice, and quality of life when talking about public health. Green building conversations are starting to move in that direction, as well.
While health has always been included in the green building conversation, it's been somewhat difficult to quantify when compared to energy and water consumption. But as the relationship between climate change and human health is further demonstrated—along with an interest in living healthy lives—both business owners and individuals are more mindful of fostering holistic health and well-being in their built environments. As the most well-known green building rating system, the US Green Building Council's LEED (Leadership in Energy and Environmental Design) rating system is the first stop in exploring how health and well-being are being incorporated into the green building dialogue.
Since its conception, LEED has included several strategies and metrics addressing health issues, though the health benefits at first were not as well-documented as they are now. LEED credits directly addressing physical health resided mostly in the Indoor Environmental Quality (IEQ) category and included opportunities that were obviously targeted at mitigating harmful practices, such as the Environmental Tobacco Smoke Control prerequisite and credits like Low-Emitting Materials and Indoor Chemical and Pollutant Source Control, all of which deal with the inhalation of documented noxious, harmful chemicals.
Other credits—including Thermal Comfort, Daylight and Views, Public Transportation Access, and Open Space—have also addressed health and well-being, though the impacts are often seen as "softer" than those associated with the inhalation of harmful chemicals. These credits focused more on well-being than on measurable physical health impacts, though the conversation now has almost fully integrated physical and mental health issues. Both types of credits, addressing mental and physical well-being, have been included in each of the subsequent iterations of LEED.
A project pursuing LEED certification will not get a specific focus on the health and well-being of the user, as you would from newer systems such as the WELL Building Standard.
The LEED rating system has evolved over the years to continue to help drive the market and the movement. With the implementation of LEED 2009, USGBC developed and integrated an analytical framework across the rating system to allocate points in accordance with the credits' abilities to reduce environmental problems. These impact categories were based on the Environmental Protection Agency's TRACI (Tool for the Reduction and Assessment of Chemical and Other Environmental Impacts) categories, and were adopted to include issues of health and issues particular to the built environment and the green building movement. With LEED v4, released in late 2017, this framework was updated to address social, environmental, and economic goals, resulting in the following LEED v4 Impact Categories:
Reverse Contribution to Climate Change
Enhance Human Health and Well-being
Protect and Restore Water Resources
Protect Biodiversity and Ecosystem Services
Promote Sustainable and Regenerative Resource Cycles
Build a Greener Economy
Enhance Community, Social Equity, Environmental Justice and Quality of Life
While only one of the seven LEED v4 Impact Categories specifically calls out a reference to human health, it can be easily argued that an improvement in each of the other six would provide better environments, which would then lead to improved levels of health. Enhancing the quality of life and social equity over all would certainly lead to a healthier population. Reversing climate change would absolutely improve health, as major weather events are mitigated and air quality improves. Protecting and restoring water resources would undoubtedly improve the both quality of life and health outcomes for the human population, across urban and rural, developed and underdeveloped areas.
Additionally, USGBC has developed a new Integrative Process for Health Promotion pilot credit for the LEED v4 BD+C rating system. This pilot credit encourages project teams to systematically consider the relationships between health and traditional environmental outcomes in their projects, starting in pre-design. The overall goal of the credit is for teams to systematically assess how a project's design and construction can holistically impact physical, mental, and social health. The credit requires a partnership with a public health professional, and includes analysis strategies addressing community health needs and health inequalities.
LEED is still the front-runner across the green building rating systems, and as such is the easiest to engage. However, a project pursuing LEED certification will not get a specific focus on the health and well-being of the user, as you would from newer systems such as the WELL Building Standard. It should be noted, though, that USGBC is a close friend of WELL, particularly with Rick Fedrizzi—CEO and founding chair of USGBC since 2001—recently stepping down from the helm of USGBC and becoming chairman and CEO of the International WELL Building Institute. The newer system could, ultimately, become the new IEQ section for LEED after it becomes more established, providing a stronger emphasis on health in the built environment within the familiar LEED structure.
Traci Rose Rider, Ph.D., Assoc. AIA, is the research associate at North Carolina State University's Design Initiative for Sustainability & Health and a research assistant professor of architecture at North Carolina State University's College of Design.
Image credits: Bruce Damonte.
Company: AIA (American Institute of Architects)
Of: Traci Rose Rider, Assoc. AIA
Source: https://www.aia.org/articles/142541-how-health-factors-into-green-building-rati
Tags: LEED Certification | Sustainability
---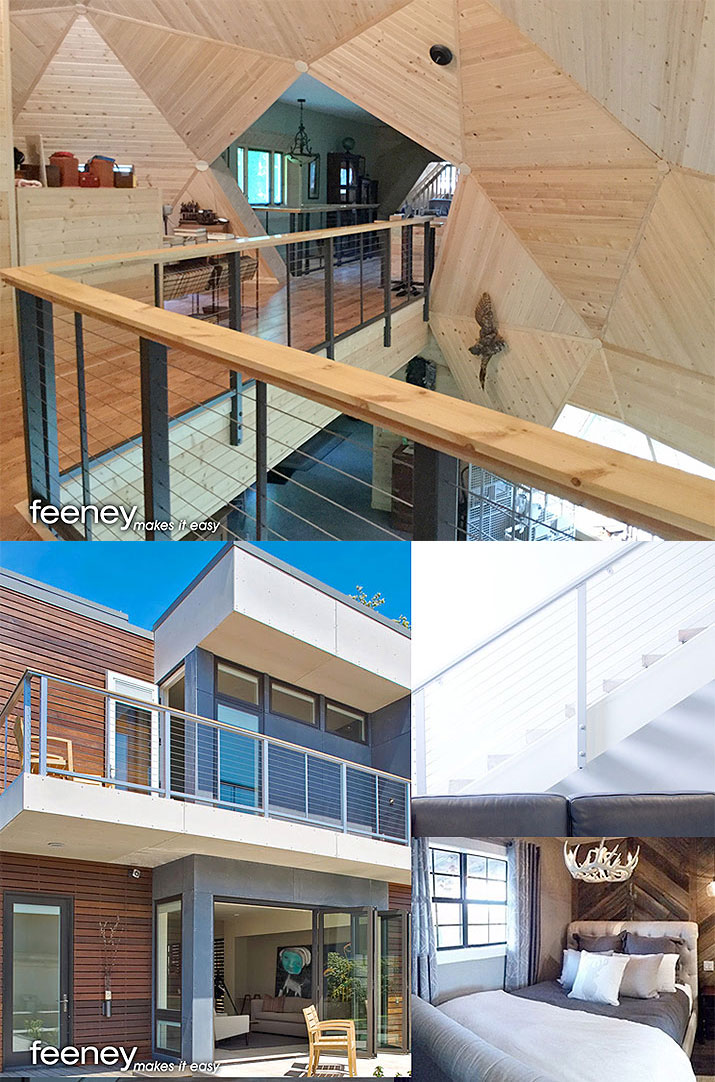 Solar panel arrays. Reclaimed wood. Ultra low-flow toilets. Smart thermostats. Continuous insulation. Volatile organic compound (VOC)-free paint. Recyclable railings. The list of ways American home designers, developers, builders, and owners slash energy expense, promote household comfort and health, and embrace green building practices grows by the day.
The U.S. Green Building Council (USGBC) is carefully monitoring these practices, too. The people behind the widely known LEED (Leadership in Energy and Environmental Design) certification program for commercial and residential structures say more than 121,900 residential units have now earned LEED certification worldwide.
USGBC research also indicates more than of half of consumers rank green and energy-efficiency as top requirements for their next home. Even renters say a LEED-certified property is topped only by a prime central business district location as a desirable feature, according to USGBC studies. Today the USGBC predicts a whopping 84 percent of all 2018 residential construction will have sustainable features.
High on that list of sustainable features are the Feeney's CableRail stainless steel cable infill and DesignRail® aluminum railing systems.
"All of our architectural products are made from stainless steel and/or aluminum which are among the most recycled materials on the planet," says Brad Adsit, Feeney's Product Development/Engineering Manager. "But that's just the beginning of how we support a green building ethic."
Feeney may have one of the most comprehensive, earth-friendly manufacturing programs in the architectural products business. Points of proof:
The grade 316 stainless steel cable used with Feeney CableRail products contains 70 percent pre-consumer recycled content.
The aluminum extrusions used in the DesignRail® railing system contain 40% pre-consumer and 30% post-consumer recycled content.
Low maintenance requirements mean no treatments, stains, solvents, varnishes, or preservative that may contain harmful chemicals.
CableRail fittings and cables use less raw material and allow easier handling, lower shipping costs, and less transit fuel consumption.
Feeney's California manufacturing facility is nearly energy self-sufficient thanks to an immense 5,000 square foot solar panel array.
Feeney's powder coating facility in Nebraska emits no V.O.C.s or heavy metal waste, uses a non-chromium pre-treatment wash, and reclaims 93 percent of the wastewater.
This is only a partial list. As you consider railing system options as part of a green homebuilding project, keep Feeney in mind as a LEED-friendly supplier.
"Feeney contributes points to the various LEED version 4 rating systems in the Materials and Resources credit category, by disclosing product ingredients to demonstrate raw material optimization," according to Adsit.
"We work hard to be thoughtful stewards of our natural resources," notes Adsit. "Improving our ability to deliver greener building solutions is a continuous, relentless priority."
To learn more, read the Feeney Environmental Statement and Feeney LEED info.
Company: Feeney, Inc
Product: CableRail Stainless Steel Standard Assemblies
Source: http://media.feeneyinc.com/blog/the-color-that-became-a-building-philosophy
Tags: Design | LEED Certification | Metal | Railing System | Sustainability
---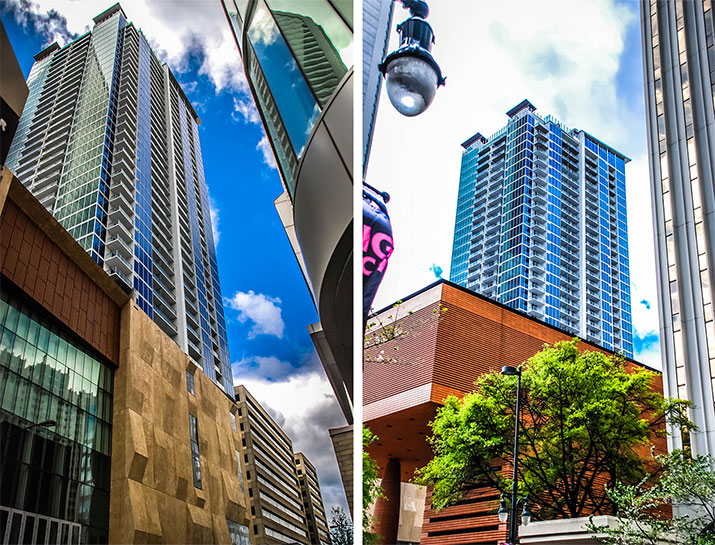 This 40+ story tower sitting atop the Mint Museum utilized 2-Line aluminum and glass balcony railing offering incredible city views, and double-sided acid etched dividers adding privacy between residences
Though the structural support for Museum Tower apartments was already in place by 2009, the recession and a stalled residential sales market indefinitely halted construction. Then, in late 2015, the tower began to rise – at a pace of one floor every four days, in fact! In just a year-and-a-half, we have witnessed Museum Tower come to life in Charlotte, North Carolina. [1]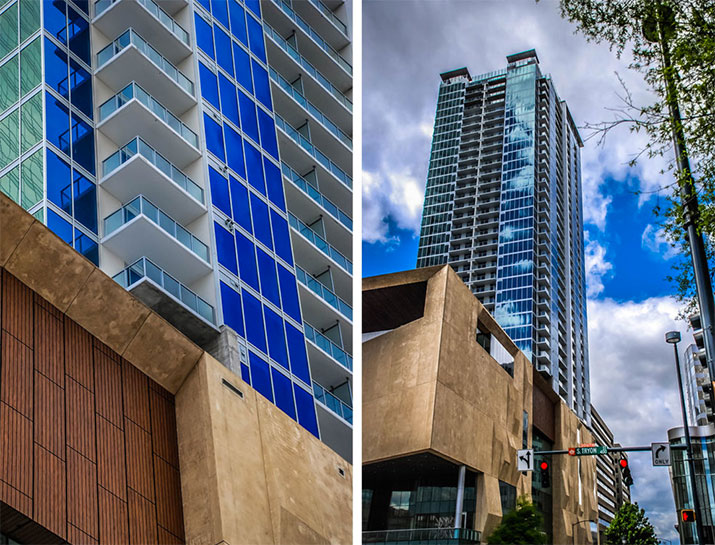 SC Railing provided over 8,000 combined lf of railing, windscreen and balcony dividers to this LEED Silver project
Owner/Developer, Childress Klein, had long planned for this 394-unit apartment tower to be constructed some 43 stories above the existing Mint Museum Uptown Charlotte. Juxtaposed with the luminous Duke Energy Center, Museum Tower apartments inherited a hefty responsibility; as any building sharing space with the Duke Energy skyscraper had better be worthy of the real estate it occupies. We believe Museum Tower earns that appointment, and then some!
SC Railing Company provided more than 8,000 combined linear feet of 2-line aluminum and glass balcony railing, along with balcony dividers and custom rooftop windscreen. Museum Tower marries a refined interior design aesthetic and floor-to-ceiling windows with glass balcony railings, for sweeping city views. Balcony railings were constructed using 3/8" clear tempered glass, and 1/4" tempered, double-sided acid etched balcony dividers for added privacy between residences.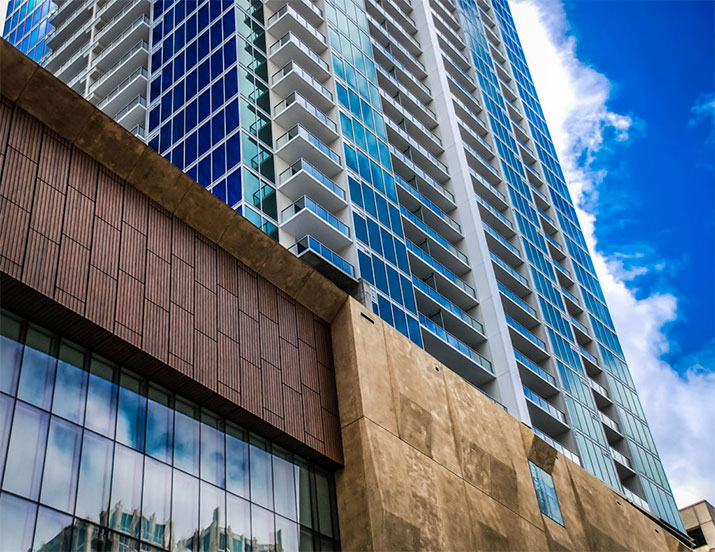 Mint Museum features 2-Line Glass and aluminum balcony railing with glass dividers
Museum Tower's rooftop lounge includes a heated saltwater pool with cabanas, indoor and outdoor fireplaces, and a game room. The amenity area's perimeter is wrapped with 8' high, 1/2" clear tempered glass panels, for which SC Railing Company provided custom aluminum segmented base shoe mounts. Transporting these panels, weighing upwards of 125 pounds, was one of the challenges of this high-rise project. Getting glass to the project safely became an issue early on, as one of our glass delivery trucks was struck by another vehicle on I-77, a mere couple of miles from the jobsite. Fortunately, there were no injuries, but we lost nearly an entire shipment of glass in the collision. For an already fast-tracked project, this threw us into high gear. We worked very hard to adhere to rigid timelines, replacing damaged glass, and getting all materials to the Museum Tower safely. Hurdle by hurdle, we endured!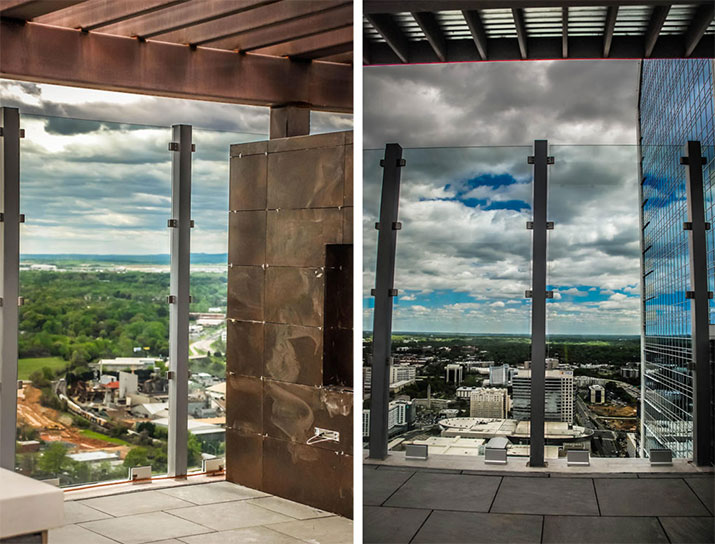 A post supported windscreen with custom aluminum segmented base shoe mounts secures 125-pound, 8-foot tall glass panels surrounding the pool and amenity area located on the 42nd floor
Bringing the Museum Tower project to a close has us coming full-circle, as this was the final phase of construction of the Mint Museum Uptown Charlotte project, which we provided railings for in 2010. This builiding's completion has been more than seven years in the making! SC Railing Company is pleased to have partnered with General Contractor, Batson-Cook, in providing our glass railing products for this LEED Silver project, a veritable crowning jewel of the Queen City skyline.
Architect: Rule Joy Trammell + Rubio
Owner/Developer: Childress Klein
General Contractor: Batson-Cook
---
[1] How is the Mint Museum apartment tower going up so fast?!?
Click Here for Project Information!
Company: Architectural Railings & Grilles, Inc.
Product: Civic 2-Line
Source: http://www.sc-railing.com/news/sc-railing-company-offering-view-top/
Tags: Architecture | Design | Glass | LEED Certification | Railing System | Safety
---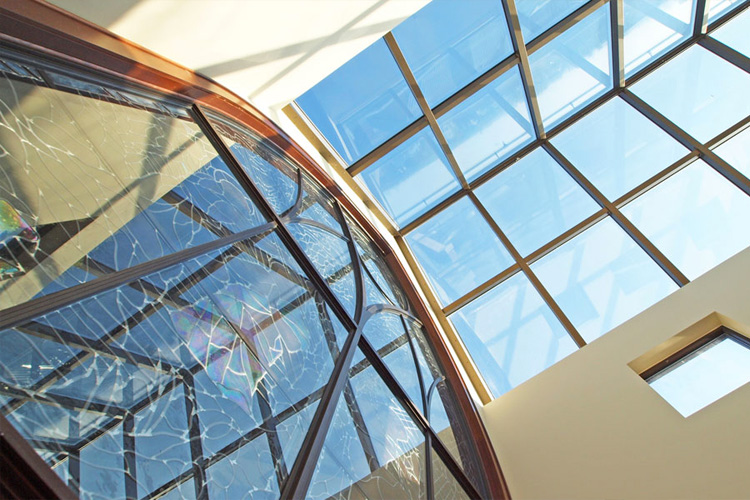 Auburn® skylights are designed and engineered for long-term performance, and make a great daylighting choice if you're looking for the durability and longevity of glass, or simply enjoy dramatic views of the sky. They're available in custom and pre-engineered configurations, and also offer mixed glazing options as they can also incorporate polycarbonate multi-wall and acrylic glazing as well as Guardian 275® translucent panels.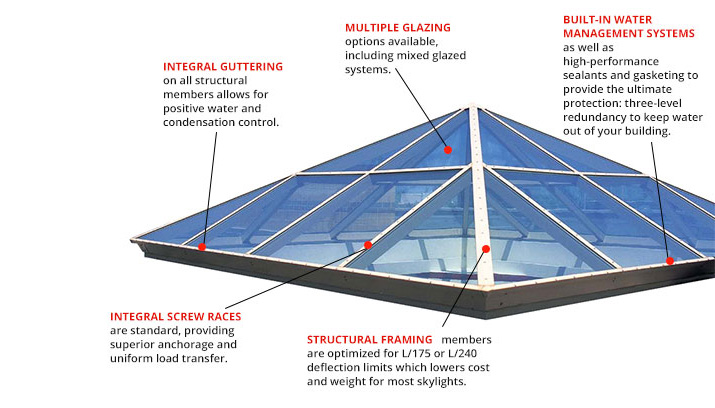 Auburn® systems aren't designed to span the largest openings; they're optimized for small and medium projects and are engineered to save time, money, and weight in your next daylighting project. Auburn® engineered skylights feature high-performance sealants, built-in water management, and time-proven EPDM gasketing to provide the ultimate protection: three-level redundancy to keep water out of your building. In addition, they are available in a wide variety of configurations, along with numerous glass and finish options.
New single slope skylights with thermal strut technology!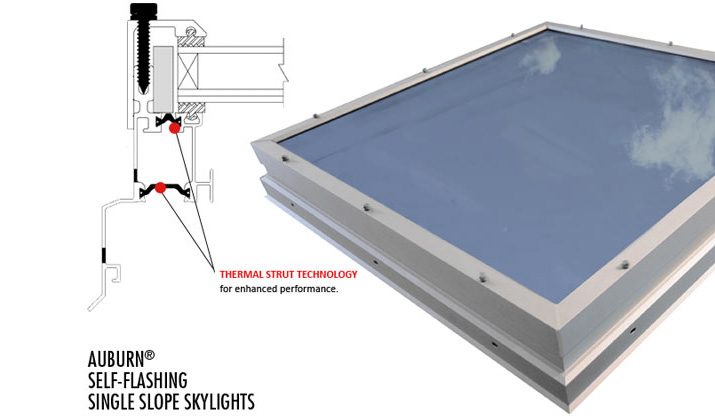 For smaller openings and standard sizes, consider our newly updated Auburn® Self-flashing Single Slope skylights, available in sizes up to 25 square feet, with pre-assembled options available for ease of installation and quick lead times. These new single slope skylights feature thermal strut technology in the framing, allowing for a versatile combination of strength and high thermal performance, including improved condensation resistance and U-factors over traditional aluminum framed systems.
No matter which option is right for you – custom or pre-engineered – Auburn® skylights are a smart choice to solve your daylighting challenges. Other benefits include:
Low initial cost and long-term energy savings.
Possible LEED® credit opportunities for both new construction and existing buildings.
High-performance gaskets and sealants provide peace of mind and long-term performance.
Auburn® Engineered custom systems feature universal "slope adapters" fit all standard rafters, creating precise slope control.
Auburn® Engineered custom systems come standard with tubular rafters that frequently eliminate the need for support tubes.
Guaranteed against defective materials and construction for one year from date of purchase (exclusions apply – see final warranty for details).
Company: Major Industries Inc.
Product: Auburn® Engineered Glass, Polycarbonate Multi-wall and Acrylic Skylights
Source: http://majorskylights.com/products/skylights/auburn/
Tags: Design | Glass | LEED Certification | Windows
---
EXTECH is incredibly honored to announce that the KINETICWALL dynamic facade system was chosen as the winner of the Architizer A+ Awards Jury prize! With entries from over 100 countries, the KINETICWALL was chosen as the best product in the Building Envelopes & Cladding category by a jury of designers, artists, architects, and business professionals. The KINETICWALL and all other winners will be honored as part of NYCxDESIGN week at the A+Awards Gala on May 11, 2017 in New York City.
We are thrilled that so many luminaries from the design and architecture communities considered the KINETICWALL a worthy competitor among so many great products. For it to be chosen as the winner in its category is truly an honor. If you would like to learn more about the KINETICWALL, you can visit the KINETICWALL product page, read the case study on the Logan Airport Parking Expansion, or contact us.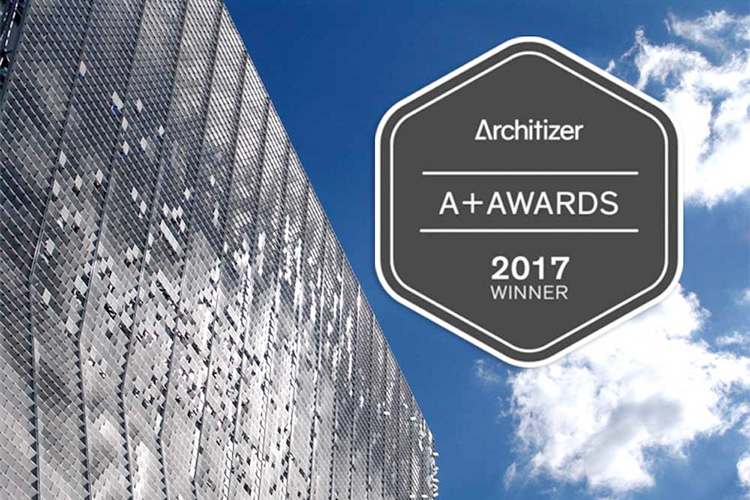 EXTECH's KINETICWALL is a dynamic moving building façade that creates an eye-catching aesthetic. Made of 6-inch flappers attached to stainless steel rods, the KINETICWALL responds to wind currents and undulates to create the look of rolling waves. The wall is customizable and can be designed to accommodate square or curved polycarbonate, glass, aluminum, or steel flappers. It is structurally designed to withstand hurricane-force winds and torrential rainfall, yet it is light enough to enable easy installation, air flow, and visibility from the inside. The KINETICWALL alsodeflects sunlight, thus preventing solar heat gain, and the spacers between the flappers remove the chance for collateral noise.
KINETICWALL can be used on small- and large-scale façades. It's a popular design choice for a wide range of uses, including cultural institutions, transit facilities, and artistic installations. Due to its aesthetic qualities, the wall can help municipalities save money on Arts in Transit and percent-for-art compliance. KINETICWALL is a state-of-the-art yet economical way to create breathtaking, beautiful designs.
Further benefits and details
Dynamic flappers move with the wind, creating an eye-catching aesthetic that lends itself to 'smart design'
Due to its aesthetic qualities, the wall can help save money on Arts in Transit and percent-for-art compliance
Customizable; can incorporate a variety of materials including polycarbonate, glass, aluminum, and steel
Can be used on small and large-scale façades
Light-weight flappers allow for easy installation
Designed to withstand hurricane force winds and rainfall
Facilitates easy air flow for ventilation
Permits interior visibility
Deflects the sun, preventing solar heat gain
Spacers between flappers prevent collateral noise
LEED credits available for 100% recyclable aluminum and stainless steel flappers and framing
Manufactured in the U.S.A.
Company: EXTECH/Exterior Technologies, Inc.
Product: KINETICWALL™ Dynamic Facade
Source: https://extechinc.com/kineticwall-wins-2017-architizer-a-award/
Tags: Design | LEED Certification | Louvers
---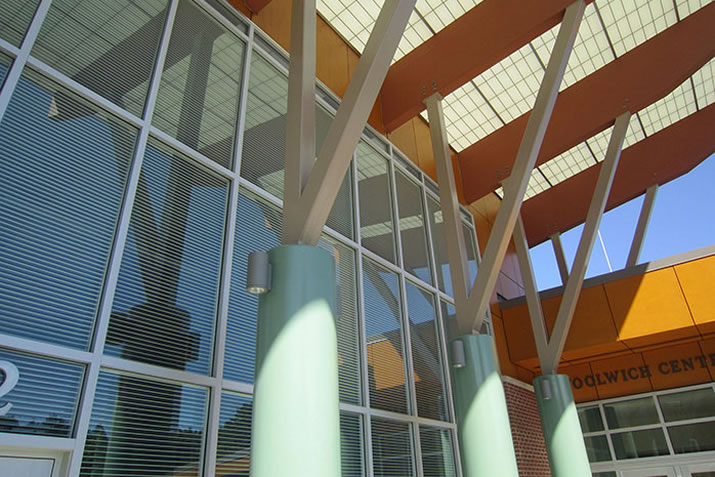 Unicel Architectural, the leading manufacturer of vision and daylight control solutions, today outlined how its Vision Control® integrated louvers can help attain multiple credits for high-performance green building certification through optimized energy performance, thermal comfort, acoustic performance, daylighting and more. Leadership in Energy and Environmental Design (LEED) is the foremost program for the design, construction and operation of green buildings.
"The operation of a building has a huge impact on the environment," said Samuel Doyon-Bissonnette, Engineer and LEED Accredited Professional at Unicel Architectural. "Our Vision Control® integrated louvers can contribute significantly toward obtaining LEED certification and/or improving a building's LEED score. In addition to environmental benefits, this also means long-term cost savings which are especially important for commercial and institutional spaces that need to optimize efficiencies and operations."
LEED is a third-party verification system for green buildings developed by the U.S. Green Building Council (USGBC). The operation of buildings and the construction of new buildings have had a negative impact on the environment for years. As a result, builders and building owners alike are now turning to LEED to assist them in retrofitting and designing more environmentally conscious buildings and communities.
Use of Vision Control® integrated louvers can contribute to LEED certification credits as follows:
Energy & Atmosphere (EA) a. Optimize energy performance (up to 18 points)
Indoor Environmental Quality (IEQ)
a. Thermal comfort (up to 1 point)
b. Interior lighting (up to 2 points)
c. Daylight (up to 3 points)
d. Quality Views (up to 1 point)
e. Acoustic performance (up to 1 point)
Innovation (IN)
a. Intelligent control of louver tilt angle is used for controlling solar heat gain and enhancing daylighting (up to 5 points)
For more information, visit: http://www.unicelarchitectural.com/en/specialty-glazing.html
Company: UNICEL Architectural Corp.
Product: Specialty Glazing
Source: http://www.unicelarchitectural.com/en/specialty-glazing.html
Tags: Glass | LEED Certification | Window Shades
---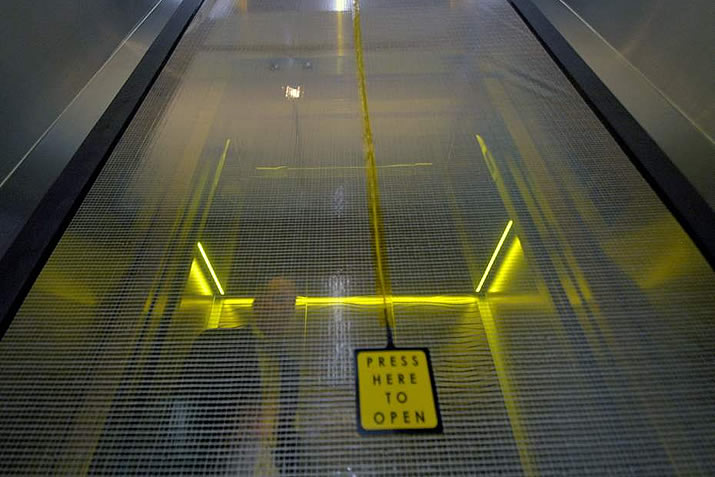 When it comes to elevator protectives, Smoke Guard is the "original orange smoke curtain". With over 20 years of installed product, our transparent orange colored polyimide film is iconic. Our orange transparent fabric is unparalleled when it comes to providing the smoke protection you require with the ease of install that you have come to expect.
Available in a variety of dimensions to fit various applications, Smoke Guard Systems for elevators are made from a translucent orange smoke resistant material that provides a line of sight for anyone caught in an elevator during an emergency or for emergency personnel. In addition to the screen mounted retract button, the magnetic side guides allow these smoke curtains to be easily pushed aside when access to or from the elevator is required.
When it comes to elevator safety, don't substitute for anything other than the original orange elevator curtain. Smoke Guard started with this product for a reason and continues to innovate to provide the best possible solution for your smoke safety needs.
Company: Smoke Guard, Inc.
Product: Model 4000 Smoke Curtain
Source: http://www.smokeguard.com/blog/2017/january/08/the-original-orange-elevator-smoke-curtain
Tags: Doors | LEED Certification | Safety
---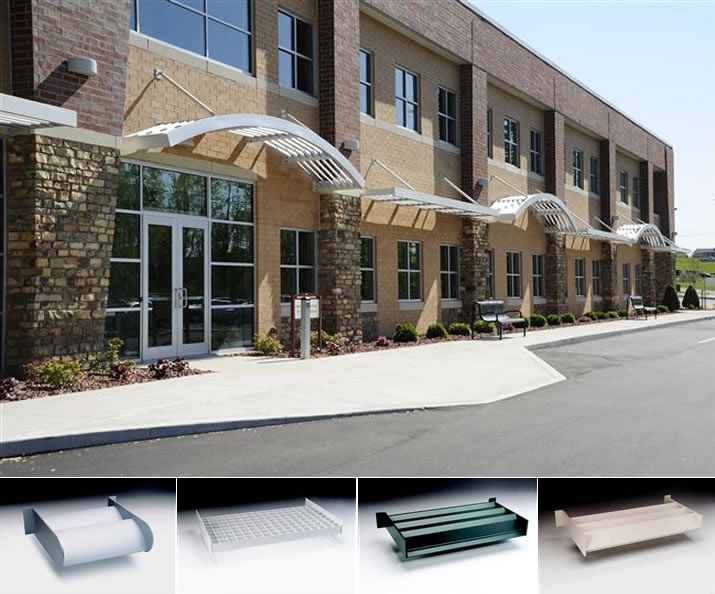 Aluminum Airfoil Blade Sunshade, Eggcrate Blade Sunshade, Louver Blade Sunshade, Rectangular Tube Blade Sunshade
Ruskin Sunshades offer energy savings by reducing solar heat gained through glazing. With a wide variety of available blade styles and configurations, they also provide aesthetic appeal to the building exterior.
Ruskin Sunshade models include airfoil, louver, tube and eggcrate blade styles. Custom Sunshade designs are also available. Ruskin Sunshades are constructed of extruded and/or formed aluminum components for reduced weight and excellent corrosion resistance. All models are available with a variety of Kynar or Anodize finishes.
Company: Ruskin
Product: Louvers
Source: http://www.ruskin.com/catalog/category/481~Sun-Control-Sunshades
Tags: Energy | Entrances | Exterior Design | LEED Certification | Windows
---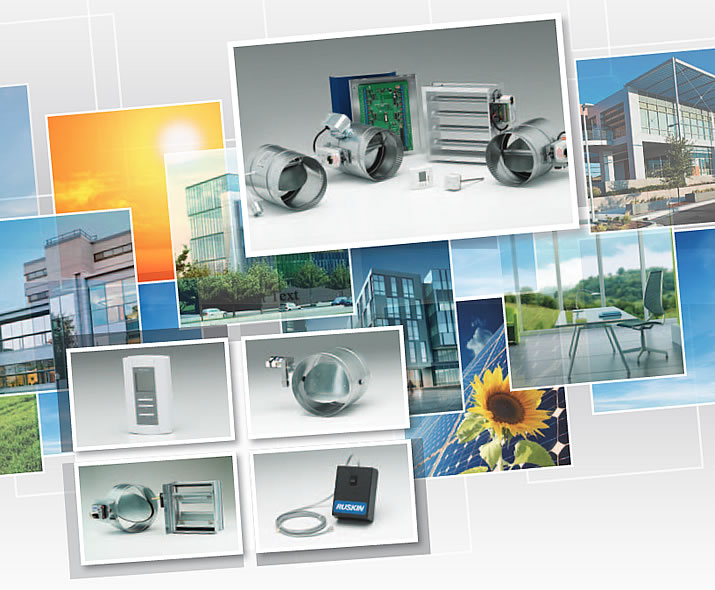 Ruskin's new Zone Control Solutions brochure highlights not only our sophisticated Z2000 Zone Comfort System but also the many individual zone control solutions as well.
Building owners can choose a complete commercial zone control system utilizing our Z2000 Control Panel System. The panel allows a single HVAC unit to control up to 20 individual zones. Each zone is controlled by its own space thermostat and a modulating or two-position zone control damper. Options include:
Discharge Air Temp Sensors
When Z2000 systems are not required, Ruskin offers many individual zone dampers that are easily installed, maintenance free and interface with our hand-held remote damper controller - Ruskin model ZRC020. The remote control is equipped with an integral 9V power supply that operates the damper motor via RJ11 wiring terminating at an RJ11 connector located either at the diffuser or wall box.
Ruskin Individual Zone Dampers also include:
Quick-Connect wall mount or diffuser mount connectors require no special tooling.
Flush mounted wall plates available in single or multiple port arrangements.
The Pulse Damper eliminates the need for cable in the "cable-drive" systems!
Ruskin Zone Systems help you achieve LEED certification for Indoor Environmental Quality (IEQ) by providing:
Minimum IAQ Performance
Increased Ventilation
Controllability of Systems - Thermal Comfort
Thermal Comfort - Design
Company: Ruskin
Source: http://www.ruskin.com/NewsArticles/entryid/618.aspx
Tags: HVAC | LEED Certification
---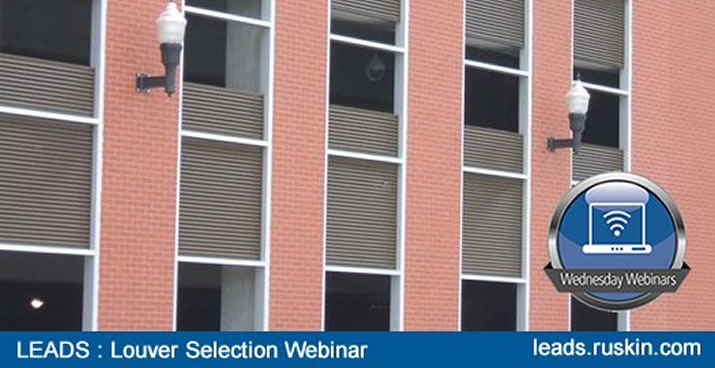 Join Ruskin on the 2nd Wednesday of every month at 2:30 CST for a discussion of relevant HVAC topics. These webinars may qualify for PDH credits. Please contact your local Ruskin representatives for more information.
August 10, 2016
Louver Selection & Application Using Ruskin's LEADS Software
September 14, 2016
Ruskin Industrial Damper Capabilities & Case Studies
October 12, 2016
Ruskin Fire/Smoke Damper Product & Code Update
November 09, 2016
Ruskin Extreme Duty Louvers - Blast Resistant, FEMA, Wind-Driven Rain, Hurricane Zone & More
December 14, 2016
Air Measuring & Control Basics - Application & Installation
Company: Ruskin
Source: http://www.ruskin.com/webinars
Tags: HVAC | LEED Certification
---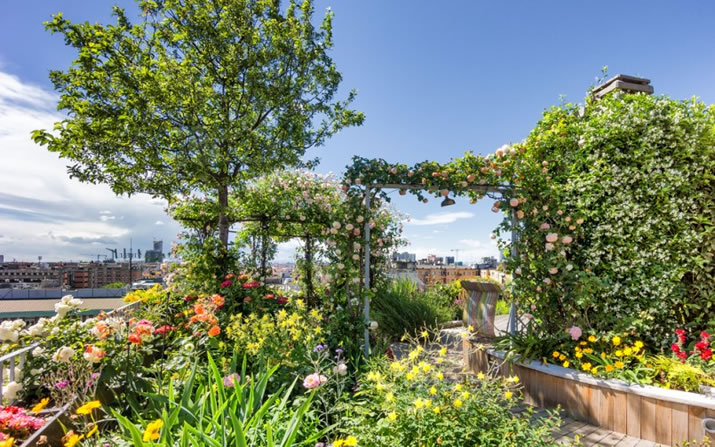 Eco-friendly landscaping is all about durability, innovation and design. As a result you score a more functional, low-maintenance space and help save the planet.
The popularity of going green is only getting stronger, but the planet hasn't taken a sigh of relief just yet. We still have a long way to go to turn around the damage we have already caused using more traditional building processes.
Traditional building and landscaping plans rely on carelessly slapping together a bunch of different materials that may or may not work well together. The end result may look good, but isn't guaranteed to last, and may harm local communities and wildlife habitats around the world.
On the other hand, eco-friendly landscaping and building methods are meant to last year after year, reduce strain on local and global habitats, as well as be low maintenance and efficient in regards to resources, such as energy and water. This sort of project requires more thought and innovation, but the results are sure to pay you back.
Here are 7 green building tips to create more eco-friendly landscaping.
Purchase Long Lasting Landscaping Materials & Site Furnishings
If you install light posts made of metal that rust within a year, you now have to replace materials you just bought. This creates a surplus of waste and additional manufacturing pollution. Save you and the planet from the hassle by sourcing products meant to last years out in the elements.
There's nothing on the market capable of enduring everything the world throws its way like TerraCast Products. We build the toughest resin-based material in the world—no, really. We've literally thrown our planters from rooftops and seen them hit by cars, and they still don't break! We are so confident in the durability of our product we even offer a 10-year limited warranty.
We strive to use green manufacturing processes in every way possible in order to create a cleaner product with less negative impact on the environment. TerraCast Products produces a 100% Post Consumer Recycled black planter, and all of the other colored Terracast Planters are recyclable once no longer in use.
For all these reasons and more, we remain the leading choice amongst green-conscious architects, cities, residential developers and more.
Build A Green Living Roof
Green roofs are not just for hippies or people living in Germany anymore. In fact, green roofs are becoming increasingly popular in the US. In order to create a green roof, you must first check with a building engineer to ensure your roof is capable of supporting the weight of a living roof. If it is, the roof will be covered in a waterproofing layer before soil and plants are added directly on top.
There are different types of living roofs, some take up a small space and others take up the entire stretch of the roof. An all sod roof could last as long as 900-years! Not to mention, living roofs help regulate indoor temperature for decreased energy usage. You could also use your living roof to capture rainwater in large barrels. This water can then be used on landscaping to reduce waste and your water bill.
Preserve Local Trees
If you are building around native trees it's important to leave as many in place as possible. Just don't forget to leave room for the roots as well. Not only do native trees add free beauty, privacy and shade to your property, but also they are good for your health. To prevent damaging extensive root systems, put up portable fencing around tree borders prior to construction, careful to give enough room for outstretched root systems.
Use Native Plants For Landscaping
Native plants are the perfect way to reduce overall maintenance and plant failure rates. Native plants are meant to grow in your area, meaning they are low maintenance and capable of withstanding pretty much anything the weather throws their way. Hardy rules supreme when you are covering a vast or small amount of space; which is why there is no better option than native plants.
Plant Appropriately
Even native plants will fail to thrive if placed in an inadequate location to their needs. If a plant needs 70% sunshine throughout the day, you don't want to put it in an area that is shaded 80% of the day. This will end in a lot of dead foliage you have to clean up and replant. There's a plant suited to every environment, just make sure to do the research up front and plant appropriately.
Get LEED Approved
If you go above and beyond sourcing eco-friendly options for your landscaping and/or building project, you have the option to apply for LEED Certification. LEED stands for Leadership in Energy & Environmental Design. In order to meet LEED requirements, a third-party is assigned to evaluate practices and materials to determine if requirements for sustainable practices are met or not.
LEED Certification is based on a point system. The smaller the disturbance to the land, the more points you receive towards your project. Every last detail is important when applying for this type of accreditation, including the way a building faces on the lot and the type of trees you plant or uproot.
The goal of LEED Certification is to reward those that create landscaping that plays well with its natural surroundings and has a minimum impact on the environment. Projects must be focused on durability and low-maintenance, as well as creating something hardy enough to withstand even the worst weather in the area. Learn More Here: www.usgbc.org
Go With TerraCast Products
TerraCast Products is leading the way with our one-of-a-kind eco-friendly site furnishings including planters, benches, light posts, receptacles and more. When you buy something from us, you know it's going to last a really long time. As a result, the environmental footprint of your project decreases—and for that, the whole world thanks you!
Learn more about going green with TerraCast here: Go Green With Resin.
Company: TerraCast Products LLC
Source: http://www.terracastproducts.com/green-building-tips-how-to-create-eco-friendly-landscaping/
Tags: Landscape Design | LEED Certification | Sustainability
---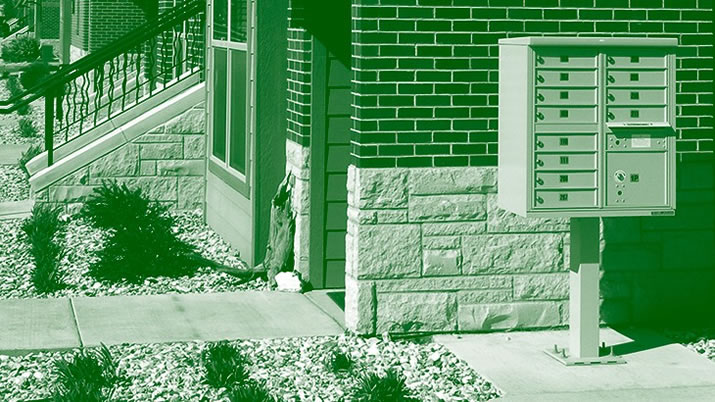 Whether you're looking for credit toward a project's Leadership in Energy and Environmental Design (LEED) certification or simply believe in the principles of green design, sustainability practices at Florence make our mailboxes a smart choice.
Earn LEED Points
By specifying Florence mailboxes, you may be eligible to earn points in the following LEED Green Building Rating System v3.0* categories:
Materials and Resources Credit 2: Florence products and packaging are 100% recyclable. This means that using Florence mailboxes may contribute to the Construction Waste Management credit.
Materials and Resources Credit 4: Florence mailboxes used for new construction are manufactured principally from aluminum, which contains approximately 20% pre-consumer and 30% post-consumer recycled content, according to conservative estimates. This means 40% of the total dollars you spend on Florence mailboxes may contribute to the Recycled Content credit.
Materials and Resources Credit 5: Florence is headquartered in Manhattan, Kansas. If you use Florence mailboxes for a project within 500 miles of Manhattan, you may be eligible for the Regional Materials credit.
Regional Priority Credit 1: Florence products may also contribute to Regional Priority bonus points, which are granted for geographically specific environmental priorities. For more information, check the LEED regional priority credits available in your project's area.
* When v4 takes affect in 2016, available LEED credits and requirements will be subject to change. We will update our documentation at that time.
Use Environmentally Conscious Products
We at Florence are proud of our commitment to preserving and protecting the environment. Through our conscientious manufacturing processes and operational practices, we create quality products with a minimal environmental impact:
Our recycling program includes reuse and/or reprocessing of:
Aluminum
Corrugate
Powder paint
Wood
Steel
Office waste
Our plant has also been presented with a Pollution Prevention Award and is an OSHA certified SHARP facility.
"We've taken extra steps not just to comply with the regulations that the state and local municipality require of us, but we've anticipated potential impacts and gone above and beyond requirements. At the end of the day, that makes us feel better about what we're doing."
- John Altstadt, President, Florence Manufacturing
Learn More
Specifying Florence is a smart choice for green design. We are an industry leader for environmentally friendly practices.
To find out how Florence's mailboxes can benefit your next project, contact Mike Travisano, Architectural Sales Manager, who is dedicated to your needs for all things green.
Company: Florence Manufacturing Company
Source: http://www.florencemailboxes.com/wordpress/earn-leed-points-with-florence-mailboxes/
Tags: Design | LEED Certification | Sustainability
---
A building originally constructed in 1993 with no real consideration to sustainable building is not the perfect candidate to target for Leed® certification, but that is exactly what Wellner Architects, Inc., of Kansas City, MO set about doing with a field maintenance building at the Kansas City International Airport.
The building at 154 Tokyo Street underwent a considerable renovation with sustainability a high priority. That goal was, in part, achieved with the introduction of Kalwall ® translucent sandwich panels to replace windows and introduce diffuse natural daylight.
The project also include a new geo-thermal heating system and the use of recycled materials, and achieved LEED Silver status, as well as being named one of the top 10 performing building in the United States Green Building Council's Central States region.
Check out this video tour of the building after completion.
Company: Kalwall Corporation
Source: https://www.kalwall.com/2015/10/30/leed-ing-the-way-in-sustainable-building/
Tags: Building | LEED Certification | Sustainability
---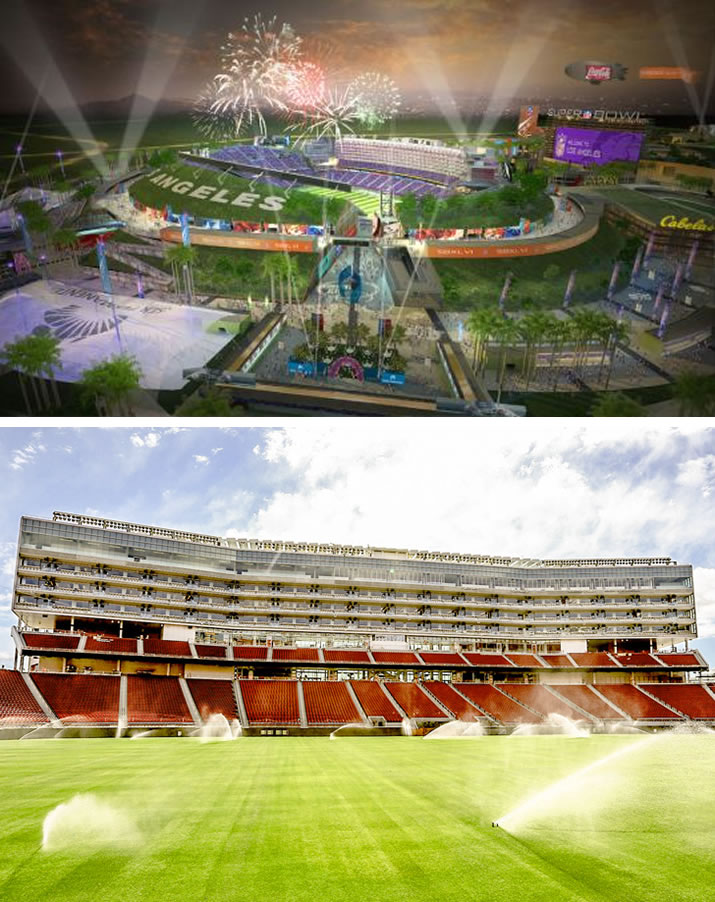 A design for the new Los Angeles NFL stadium is in the works and it is set to be the first NFL stadium ever to become LEED certified.

Levi's Stadium Becomes First Pro Football Field to Earn LEED Gold Certification as New Construction Levi's Stadium Receives LEED Gold Certification – Inhabitat – Sustainable Design Innovation, Eco Architecture, Green Building by Beverley Mitchell, 07/23/14
The phrase "green architecture" refers to the use of environmentally aware, sustainable architectural and construction methods. Today's stadiums and arenas are often designed with a full embrace of this concept. Many professional sports organizations have publicly committed to the use of sustainable practices in the construction and utilization of arenas and other venues that they use.
Green and sustainable stadium and arena design and construction often focuses on a number of definable objectives:
Reduced water consumption
Greater energy efficiency
Sustainable energy production
Waste management
Reduction in the facility's carbon footprint
These objectives are relevant during construction and as the venue is operated over the long-term. For example, even the means of transporting construction materials and heavy equipment to the site may be considered in an effort to reduce the carbon footprint of the project.
Cost/Benefit Analyses
Some may assume that the cost of environmentally-conscious design may be prohibitive. However, advances in green technology often make such an assumption incorrect. In today's world, developers need to be aware of evolving technologies and techniques that are more environmentally friendly, They also need to understand that green design and construction may be appreciated or even expected by both the public and by public servants.
Therefore, project managers should incorporate the latest sustainable concepts into all aspects of the new stadium or arena. Proper research into ever-evolving green construction techniques will allow developers to take fully advantage of new technologies. At times, more conscientious effort is required to effectively incorporate sustainable methods into the project. Initial expenses early-on may lead to long-term savings and an enhanced public image.
Design Objectives
From the outset, the design team should seek to pursue initiatives and concepts that:
Reduce energy consumption of all kinds
Reduce carbon emissions and all other emissions
Encourage local energy generation
Reduce waste of all kinds
Encourage recycling wherever possible
Again, one should not underestimate the potential for direct savings and reduced overhead over the life of the facility. This reality can prove to be very beneficial for the the operator of the venue, whether the operator be public or private.
Desirable Certifications
In the United States, LEED certification is increasingly desirable to project developers and venue operators alike. LEED certification specifies exacting standards that must be met. A successful effort results in a certification that communicates to everyone that the facility has been designed and operated with green concepts and principles at the forefront. In Europe, BREEAM certification is available to projects that are in compliance.
Oftentimes, professional sports organizations and even amateur governing bodies encourage the acquisition of such certifications as a matter of policy. Developers need to be fully aware from the outset of the environmental expectations of these organizations, as well as the expectations of local governments and the public. Then, consultants, designers and architects can work toward a common environmentral goal from the start.
Sustainability: Active and Passive Approaches
There are varied means by which sustainability goals may be achieved. Some are simply integral to good planning and design, while others employ technology to conserve energy and promote the sustainable use of resources.
Passive measures – Many passive means of achieving green goals are readily available to urban planners, project architects and others. These design ideas do not require the deployment of either technological or mechanical methods to be effective.
Examples of passive methods include shading areas from the sun through the use of screens or the special positioning of buildings, the deployment of cooling towers, the construction of thicker walls or the use of grass roofs. Once these things are done, they continue to save energy without the use of any added technology.
Active measures – Sustainability can also be promoted through the use of specific technological or mechanical systems to save energy by cooling and/or heating a structure more efficiently. Historically, energy-efficient systems have come with higher capital costs, but they have generated operational savings through lower energy cost. In turn, such systems have often successfully reduced the carbon footprint of a given facility.
Key Sustainability Concepts
Again, the maximization of sustainability benefits requires attention to solid concepts from the start. A stated emphasis on energy conservation, green architecture and sustainability should be a guiding principle from day one when a new entertainment or sports venue is being designed. Broadly speaking, concepts regarding sustainability in venue design are categorized under the headings of water, energy, materials and waste management.
Company: Preferred Seating
Source: http://preferred-seating.com/blog/stadium-design-leed-compliant/
Tags: Exterior Design | LEED Certification | Sustainability