architecture - engineering - construction

HVAC
---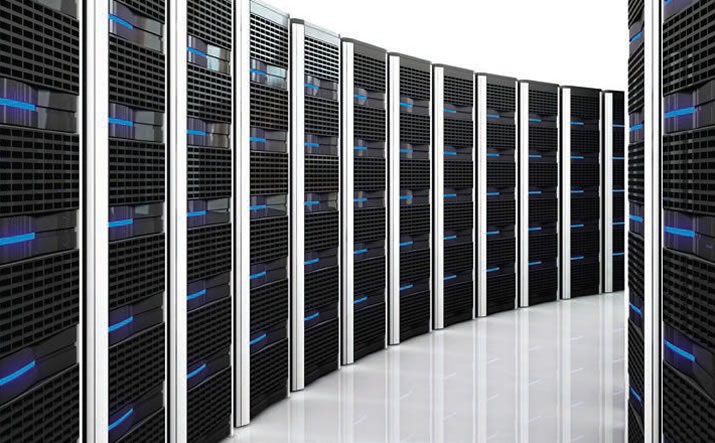 The Natural Resources Defense Council states that Data centers can be regarded as the back bone of a modern economy serving businesses and communications. Defending data means not only protecting it from Mother Nature but also giving back to her with sustainable designs. A question that must be considered during the design of a data center, is 'How likely could the facility be compromised in extreme weather conditions such as tornadoes and hurricanes?'
When evaluating potential HVAC equipment it is advisable to use FEMA rated louvers and grilles. FEMA rated grilles and hurricane-resistant louvers have been tested against high windloads and large missile impacts. Outside air control dampers can seal up the center when necessary to reduce humidity and heat.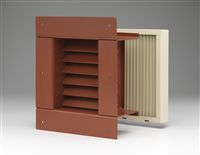 Ruskin's XP500S Extreme Weather Grille protects wall penetrations from flying debris caused by tornadoes, hurricanes, and severe storms. This type of protection is critical in the design of Community Shelters (ICC-500) and Safe Rooms (FEMA 361). It offers designers a ventilation solution for their near-absolute life safety requirements. The heavy duty grille can be mounted internally, externally, or in conjunction with other louvers providing protection and certified performance. Rated for an industry leading 266 psf windload, the XP500S Grille meets or exceeds the building envelope protection requirements while complementing the construction of data centers.
Relevant Certification
FEMA P-361
Safe Rooms for Tornadoes and Hurricanes
http://www.fema.gov/fema-p-361-safe-rooms-tornadoes-and-hurricanes-guidance-community-and-residential-safe-rooms
ICC-500
ICC/NSSA Standard for the Design and Construction of Storm Shelters
http://www.iccsafe.org/cs/standards/IS-STM/Documents/2013Dev/ICC500-2013_PC1.pdf
Company: Ruskin
Product: Louvers
Source: http://www.ruskin.com/News-Articles/entryid/705/Data-Center-Protection
Tags: Grilles | Hurricane | HVAC | Louvers | Safety
---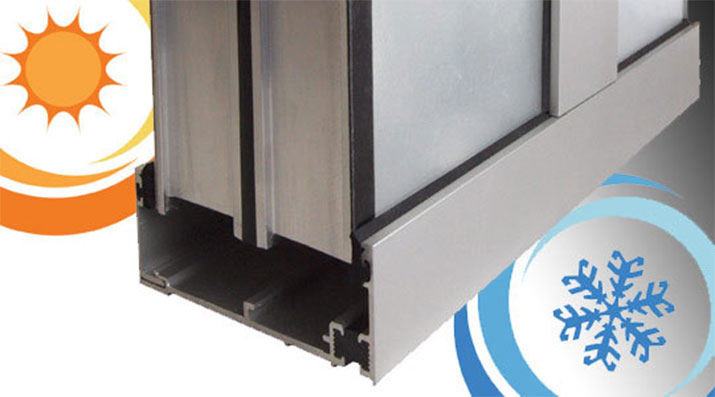 Heat conduction, or the transfer of heat through a solid material at the molecular level, is a problem that occurs in aluminum framing. Providing a thermal break in the aluminum is the most common solution for disconnecting the exterior and interior of the aluminum frame. The frame is literally split into two components and must be connected by a structural material that is of significantly less conductivity as the aluminum. Simultaneously the thermal break material must bond the two components together.
There are many ways to thermally break glazing materials and the frames that house the glazing. Insulated glazing generally uses multiple panes of glazing separated by air, gas or other fill. The glazing is then bonded at the edges with a material of low conductivity. The aluminum frame, most commonly used for storefront framing, skylights, and windows, is a highly dense material with great strength. Yet, aluminum is light in weight and durable. It is also a widely recyclable material and is readily available.
Aluminum, however, is highly conductive of heat and cold. For many decades thermal breaks have been a common and economical means of lowering temperature conductance in aluminum framing. Thermal breaks have taken numerous forms over the years, from plastic and Styrofoam to wood and nearly any material that had a lower thermal conductivity than aluminum.
The 1970s marked the beginning of the high performance, chemically manufactured and engineered thermal breaks that we see today. Standard to the storefront, window, skylight and curtainwall industry is the poured and debridged polyurethane thermal break. This material provides significant structural strength in shear, compression and tension, as well as integrity and resilience. The polyurethane polymer has a very low conductivity, allowing it to bridge the gap between the interior and exterior aluminum components of a frame. Due to polyurethane's structural strength, longer spans are capable and the integrity of the aluminum frame is not compromised.
The method for manufacturing the polyurethane thermal break has become standardized in the aluminum framing industry. A strategically placed open cavity is extruded as part of the aluminum frame. The cavity may be grooved or extruded in a way as to act as a lock when bonded with the polyurethane polymer. The liquid polymer is poured into the cavity, and upon solidifying, the bottom of the cavity is then removed, or debridged, creating the perfect thermal break for all forces of extreme weather conditions.
So where are thermal breaks necessary? The short answer is that they are necessary in all climates where there is a difference in temperature from exterior to interior. Cold climates benefit from aluminum thermal breaks by providing protection from cold temperatures entering the building and causing condensation build-up on the interior face. In these situations, aluminum frames can also become very cold to the touch and uncomfortable to be near. Hot climates benefit from aluminum thermal breaks by providing protection from hot temperatures entering the building. Not only does a thermal break affect air temperature and cooling demands on HVAC systems, but aluminum frames can become very hot to the touch, causing issues for people, plants, animals, and objects nearby.
While thermal breaks add some up-front costs, technological advances have made them an economical solution. This is especially true when you consider that they can prolong the lifespan of materials around them and provide a more comfortable environment for building occupants. Whether you're in a hot or cold climate, thermal breaks are well worth it.
For more information on our thermally broken system options, visit us online. Our Clima-Tite™ system with pultruded fiberglass framing, is also available and provides an even higher level of thermal performance and condensation resistance.
Company: Major Industries Inc.
Product: Clima-Tite™
Of: Courtesy of Amy Stalbosky, National Corporate Architect, Major Industries, Inc.
Source: http://majorskylights.com/
Tags: Aluminum | Climate | HVAC | Skylights | Sustainability | Windows
---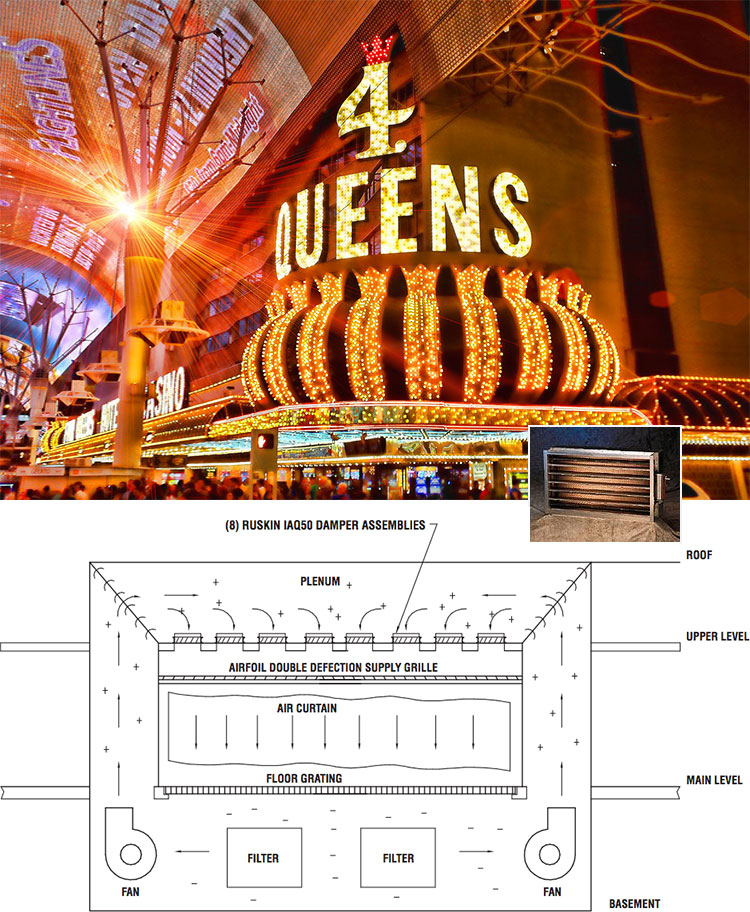 Four Queens Hotel and Casino, Las Vegas, NV
To improve access into the Four Queens Hotel and Casino in Las Vegas, Four Queens recently added a 48 foot air curtain. Built using Ruskin's IAQ50 air flow measuring and control dampers, the new air curtain efficiently and economically maintains the pressure in the building. Designed to satisfy the needs of a variety of applications, the IAQ50 air flow measuring and control damper provides the perfect solution to difficult challenges.
Downtown Las Vegas hasn't been the same since the completion of the Fremont Street Experience revived this popular gambling and tourist destination. This four-block project has successfully turned a city street into a large canopy-covered walkway that has substantially increased the tourist and gambling business in the downtown area.
The Fremont Street Experience which includes a mist evaporation system to protect the tourists from the sun and heat, and a laser light show presented several times nightly, created problems for the Four Queens Hotel and Casino.
Business at the Four Queens Hotel and Casino, located on Fremont Street, was suffering because the two existing air curtains on each end of the casino were limiting access into the hotel and casino from the sidewalk where the crowds stroll and gather to watch the light shows.
In order to share in the success of The Fremont Street Experience, the Four Queens Hotel and Casino contracted with Harris Consulting Engineers in Las Vegas to design an additional access opening. This new, 48 foot opening would be located between the existing entrances.
The hotel wanted the new entrance to open without doors. This required the design and building of an air curtain to separate the casino from the outside elements. Here's where the hotel encountered a problem. Because of the hotel's design, the air curtain would be obstructed by existing structural supports. And, in order to maintain proper building pressure, the air curtain had to provide precise control of the airflow around the obstructions and down to the return air grate which is also the walkway into the casino.
In addition to maintaining the pressure in the building to prevent the loss of conditioned air from the casino, energy consumption and comfort were significant design criteria.
With the assistance of Long & Associates, Inc., Ruskin's Las Vegas representative, the Harris team responded to the challenge by designing a custom air curtain that provides precision air flow around the existing structural supports.
Built using Ruskin's IAQ50 air flow measuring and control dampers, the new air curtain successfully provides consistent airflow. The system includes two 65,000 cfm centrifugal fans installed in the space below the return air walkway grate. The air returns through the grate into the basement plenum and passes through two 144 square foot filter and coil banks. It is then ducted up from the fans into the plenum space above the air curtain supply opening. The air then passes through the IAQ50 air flow measuring/control dampers and is directed through an adjustable deflection type grille.
The individual IAQ50 dampers measure and control the airflow between the existing structural supports. This helps guarantee the air curtain maintains the required velocity and prevents conditioned air from escaping through the opening.
"Opening up the Four Queens to the Fremont Street Experience has been a tremendous success" says Max Proctor, Four Queens Building manager. "We are exceeding our revenue projections with this improved access to our casino."
"Ruskin's IAQ50 air flow measuring and control dampers are the key to the design of this custom air curtain," says Floyd Harris, principal of Harris Consulting Engineers. "Without the precision control of the air velocity around the structural obstructions, it would result in uneven flow through the supply grille and loss of the air barrier. That means conditioned air would have escaped into Fremont Street. The support given by Ruskin and Long & Associates throughout the design, installation and commissioning of this system was outstanding."
The IAQ50 air flow measuring control damper is designed to fit the needs of a variety of applications. It is this type of versatility that helped the project succeed.
Harris Consulting Engineers once again demonstrated their commitment to providing engineered solutions for their customers by incorporating this unique product into their custom air curtain design.
The Ruskin IAQ50 air flow measuring and control damper is one of many products available through Ruskin's network of representatives. To learn more about Ruskin's complete line of dampers and louvers, or to find the nearest Ruskin representative, visit our website at www.ruskin.com or call us at (816) 761-7476.
Company: Ruskin
Product: Air Measuring
Source: http://www.ruskin.com/model/iaq50x
Tags: HVAC | Ventilation
---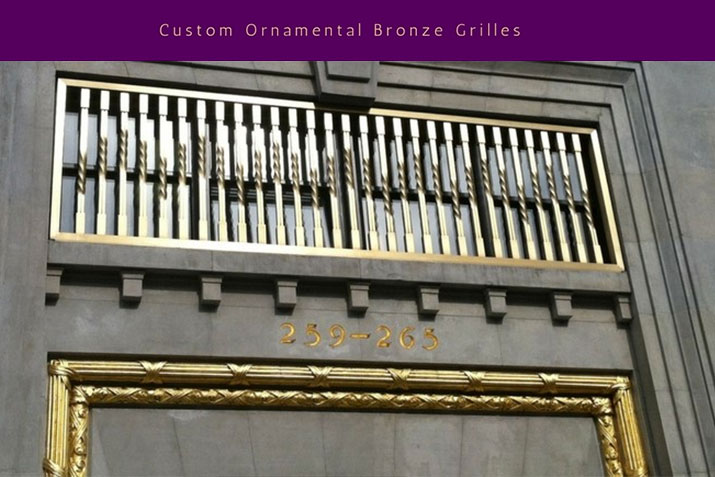 Coco Architectural offers custom fabrications for ornamental grilles and other products. In a recent project located at 80 8th Ave, in New York City, we created several custom pieces for the client, including a custom ornamental bronze grille over the entrance, a bronze header and jamb assembly for the Newsstand, and a custom bronze radiator enclosure with bronze bar grilles in the lobby.
Here at Coco Architectural, we offer upscale custom metal fabrications for a variety of different industries. In the 80 8th Ave project, our craftsmen created a custom ornamental bronze grille to protect the windows over the entrance of the business (shown above). The unique decorative twist on the custom bronze bars added a grand entrance feel to the business.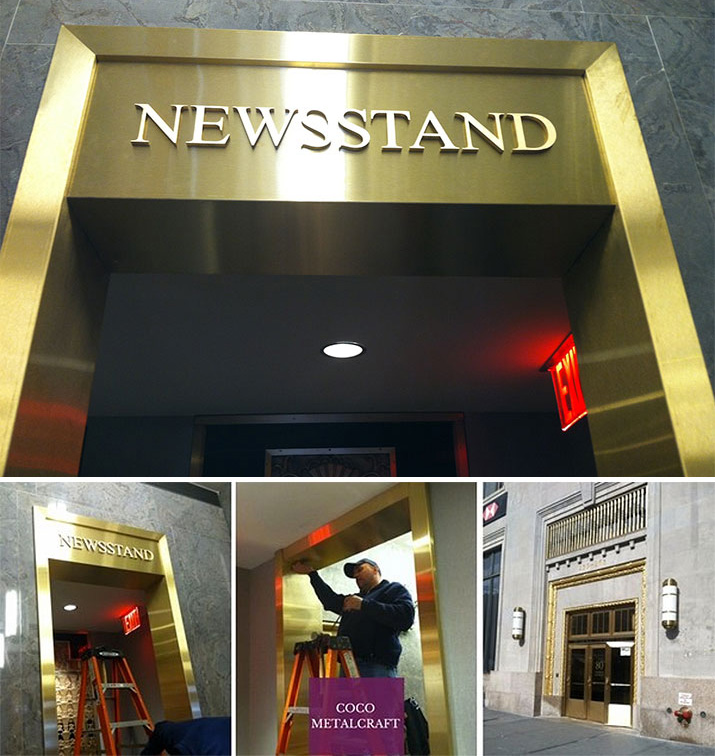 Our specialized CNC Waterjet services allow us to offer unlimited possibilities for any metal work on custom orders. Waterjet cutting is often used during fabrication of machine parts but can also be used for custom-perforated metal sheets and other architectural metalwork. In this project, we created custom waterjet lettering for the newsstand area and cut the brake formed bronze header and jamb assembly to complete the look.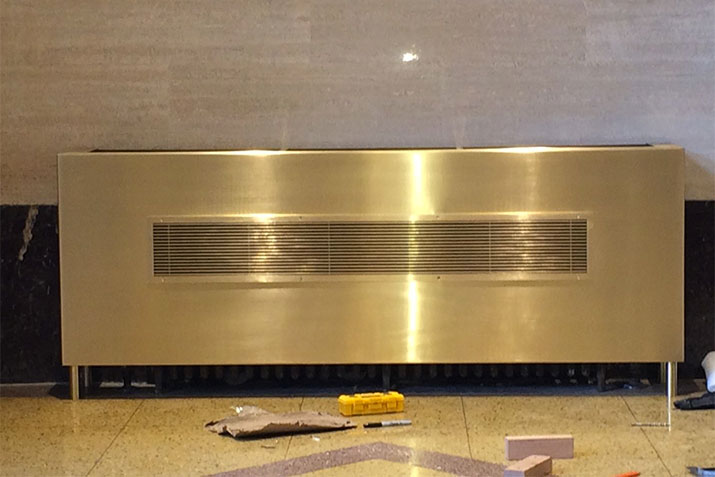 Finally, as all of our work is custom for each project, we provided a satin bronze radiator enclosure with custom linear bar grilles in the main lobby, rather than your basic cookie cutter HVAC products. The aesthetic impact on the space and functional performance of the grille is very important to us, so we leave no detail untouched to provide our clients with a flawless, functional piece.
If you're interested in custom ornamental grilles for your project, we can help your ideas come to life. From choosing metals for your project to matching unique designs with our waterjet and laser technology, we can add unique details to your commercial business or home to make your space feel complete.
Company: Coco Architectural Grilles & Metalcraft
Product: Custom Metal Fabrication Products
Source: http://www.cocometalcraft.com/custom-ornamental-bronze-grilles
Tags: Access Covers | Grilles | HVAC | Ventilation
---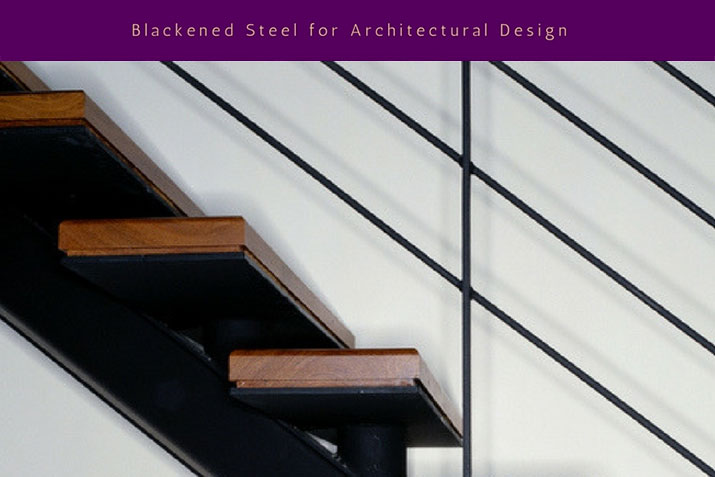 Some say the beauty is in the details. Along with custom metal work for your projects, Coco Architectural Grilles & Metalcraft offers a variety of finish options like antiqued, brushed, mirrored and even blackened finishes to bring the project together for a complete look.
What is a blackened finish
Black oxide or blackening is a conversion coating for various materials like stainless steel, copper and copper based alloys, zinc, powdered metals and silver solder. It is used to add mild corrosion resistance for appearance and to minimize light reflection. The process includes a series of chemical baths or heat until it reaches the desired color.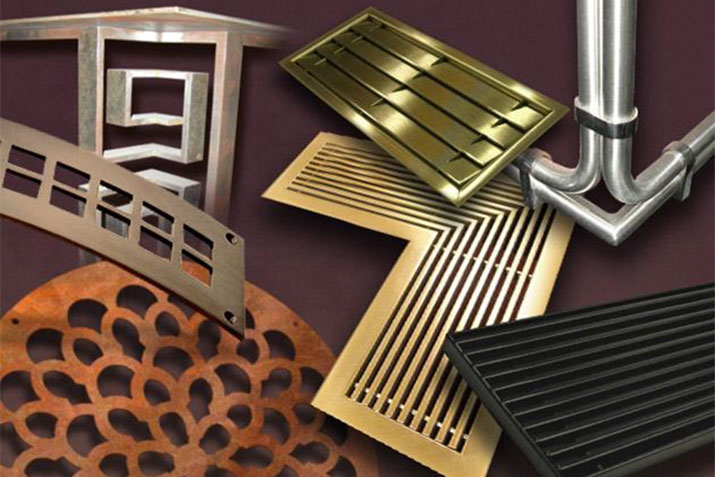 How it works
The process of blackening is done in primarily two different ways. Cold blackening is a process we use here at Coco Architectural. We add a cold finish on mechanically polished metals and then submerged it in a blackening chemical. We also add a clear lacquer to the metal to add an extra layer of protection. Hot blackening is the process of using a machine that spreads a thin layer of black oxide onto a product's surface and is heated to the desired black finish.
Why blackened steel
Blackening not only protects the steel from rusting, but the look is undeniably chic. The blackened finish also gives projects an industrial, edgy look in commercial or high-end residential projects.You may have seen black accents on a fireplace or stairwell or blackened pieces that complement large commercial facilities to create unique architectural elements.
We can create customized fabrication options for unique installations. Our offerings are adaptable to all of your job requirements including new construction, remodeling, and historic renovations.
Like the Linear Bar Grilles and Perforated Grilles, our custom metal products are manufactured with the same standard of excellence and our commitment to total customer satisfaction. If you're thinking about adding blackened steel to your project, download our catalog and request a free quote.
Company: Coco Architectural Grilles & Metalcraft
Source: http://www.cocometalcraft.com/blackened-steel-for-architectural-design
Tags: Access Covers | Grilles | HVAC | Metal | Ventilation
---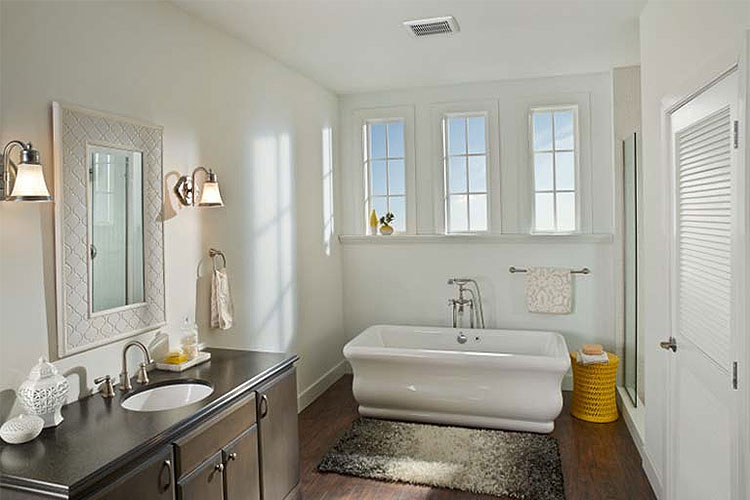 Broan® InVent™ Series now offers Humidity Sensing Fans, featuring Sensaire Sense-on-Rise Technology
Bathroom fans are great at fighting moisture which can lead to mold, but only if used properly. Broan's innovative Sensaire Sense-on-Rise Technology is now available on the InVentTM Series ventilation fans. Homeowners can now have a worry free solution for excess humidity combined with the great InVent features.
Sensaire Sense-on-Rise Technology is designed to detect humidity before condensation occurs. The humidity sensor automatically turns fans on when a rapid rise in humidity is sensed, or when humidity rises above the homeowner's pre-set humidity set point. The humidity sensing technology quickly works to eliminate fogged mirrors and manage moisture, providing exceptional indoor air quality for bathrooms, laundry rooms and mud rooms. Sensaire Sense-on-Rise technology detects an increase in humidity up to 40% faster *to automatically turn the fan on before moisture forms on mirrors.
"At Broan, we're incredibly proud of the enhanced InVent Series. Homeowners are now able to have superb ventilation and humidity sensing technology from a mid-range fan," said Ann Roever, Senior Global Marketing Director, household ventilation, for Broan. "The product line truly represents Broan's continuing tradition of superior indoor air quality products with the technology consumers want and need."
As the industry leader in residential ventilation, Broan-NuTone has a long history of developing products that provide superior indoor air quality. It is this reputation and commitment to innovation and quality that led Broan to enhance the revolutionary and easy to install InVent Series.
Broan InVent Series ventilation fans feature FoldAway mounting ears and the EzDuct Connector, which allow for easy installation. The FoldAway mounting ears allow contractors to use just one fan for both new construction or retrofit applications. The EzDuct Connector makes connecting the fan housing to the duct easier than ever before, with no attic access required.
With the new TrueSeal Damper Technology, InVent fans reduce air leakage by up to 50 percent compared to competitive models**, resulting in better home energy efficiency as measured via blower door tests.
The ENERGY STAR options provide contractors and homeowners with a full range of choices, all at a mid-range price point. In addition, the InVent Series is manufactured in the USA***, offering service levels and responsiveness that customers demand.
For more information, visit: www.Broan.com/InVent.
Company: Broan-NuTone LLC
Source: http://www.broan.com/InVent
Tags: HVAC | Interior Design | Lighting | Ventilation
---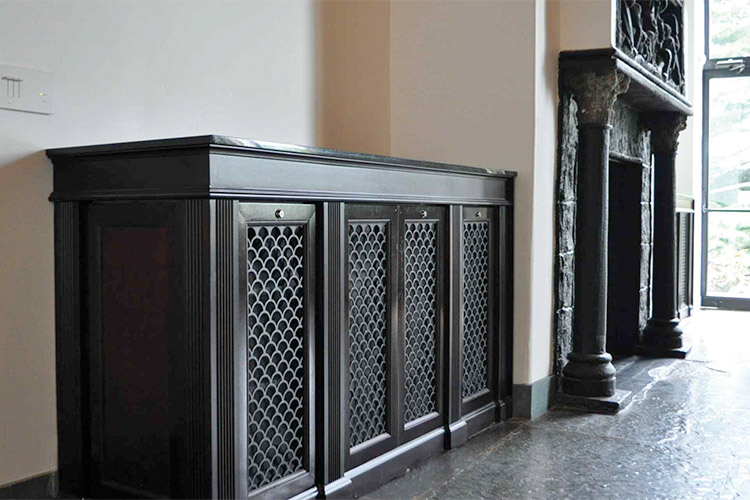 Fireplace
Historic House Restored To Former Glory
This stately fieldstone mansion, built in the mid-1800's, was a vacation home to famous Presidents and Authors. Artisans at Advanced Arch Grilles, working alongside our architect and contractor partners, assisted in the renovation that helped restore its rooms and pay homage to its historical and cultural significance.
Custom fabricated bronze perforated grilles blended nicely with the rich mahogany woodwork that has stood for over 100 years.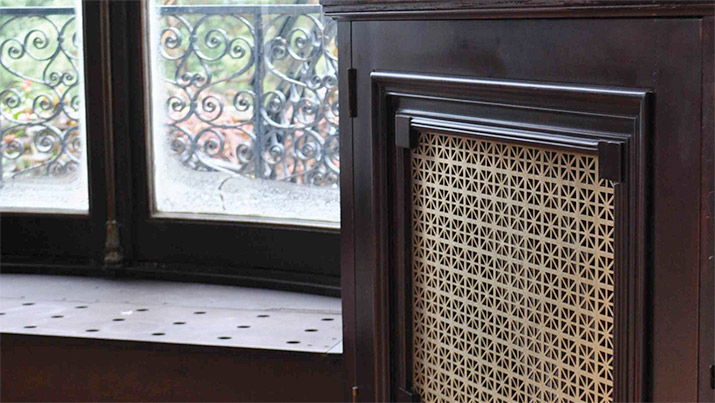 Cabinet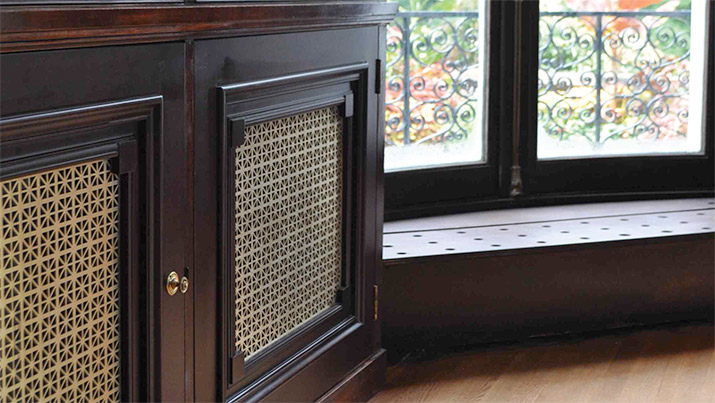 Custom built-in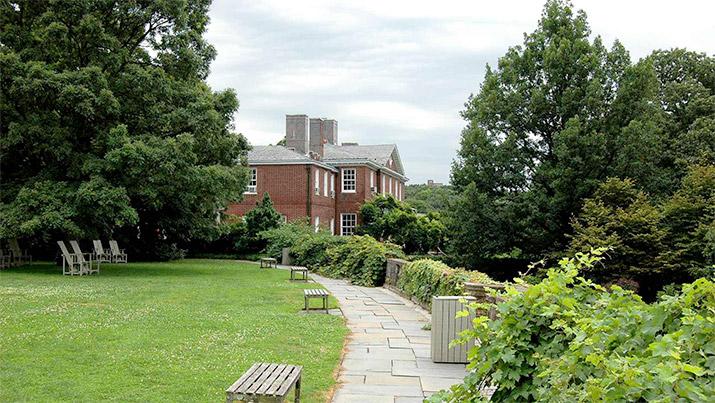 The house
Company: Artistry in Architectural Grilles by Advanced Arch Grilles
Source: http://aagrilles.com/custom-period-matched-perforated-grilles/
Tags: Access Covers | Aluminum | HVAC | Interior Design | Wood
---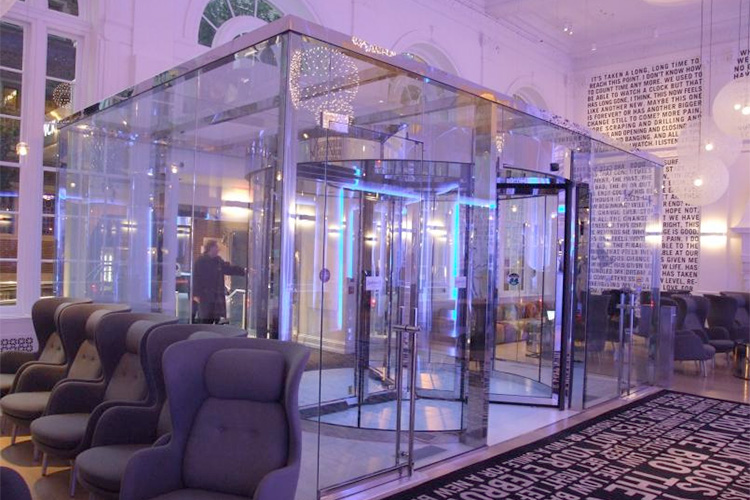 Boon Edam Inc., a global leader in security entrances and architectural revolving doors, today announced that the Warwick Hotel Rittenhouse Square in Philadelphia, PA, is quite satisfied with the functioning and cost savings of their Boon Edam Tournex revolving door. The Tournex is an example of a classic automatic revolving door and is designed to handle high capacity applications.
The historic building housing the Warwick Hotel Rittenhouse Square originally had a manual revolving door flush with the building's facade. Somewhere along the way, it was decided to remove the relatively smaller gauge revolving door and replace the entrance with a double set of sliding doors.
New Entrance Solution to Address Negative Pressure in Lobby
"Our HVAC system was designed for a revolving door entrance," said Ray Hewitt, the hotel's Director of Engineering, "we wanted to put a revolving door back in to address the negative pressure we were experiencing in the lobby." That negative pressure was pulling in cold air during the winter months, and cooled, conditioned air was escaping out the double doors in the summer.
During a complete lobby renovation project a few years back, designers worked to return to a revolving door lobby entrance. Because the Warwick is in a historic building, they could not change the facade of the building, so they pushed the entire entrance into the lobby itself. The architects and the designer chose a 12' diameter Boon Edam Tournex automatic revolving door, with three door wings and a highly polished (mirror) stainless steel finish. The Boon Edam door is enclosed in a stylish glass cube, accented with purple neon lighting.
Now, those entering the hotel first pass through a double set of sliding doors at the building envelope, leading to the revolving door. Swing doors are also available on either side of the revolving door to enter the lobby itself. The effect of the sliding doors and the revolving door in a cube is to virtually eliminate air flow from outside in, and vice versa.
The Warwick has 301 hotel rooms and 106 permanent residents. On any given day, between guests, residents, staff, and visitors, up to 1000 people are passing through the entrance. Since the installation of the new entrance, the effect has been night and day—guest and visitors utilize the lobby space longer and in greater numbers. A big community table is usually filled all day long and the lobby is accented with attractive fireplaces. The hotel lobby also offers two full service food and beverage outlets (Bluestone Lane & Prime Rib Steakhouse), with a third to be announced sometime this year.
Energy Savings Pays Off
In addition to a now grand sense of arrival and more useable, comfortable space, the new entrance is also paying dividends on energy savings. "With the old entrance, our HVAC was running constantly, it could not keep up. Now, the unit can shut down periodically; that's good for the health of the system, and we're seeing substantial savings on energy bills," said Hewitt.
The Boon Edam revolving door has an important feature for installations like a hotel or large office building—in the event of an emergency, the doors stop and the wings can be "book folded" to create wide open ingress and egress. The hotel has a maintenance contract with Advanced Door, but since installation the Boon Edam revolving door has been virtually trouble free.
Company: Boon Edam Inc.
Product: Revolving Doors
Source: http://www.boonedam.us/news/warwick-hotel-rittenhouse-square-boasts-unique-stylish-lobby-entrance-revolving-door
Tags: Design | Entrances | HVAC
---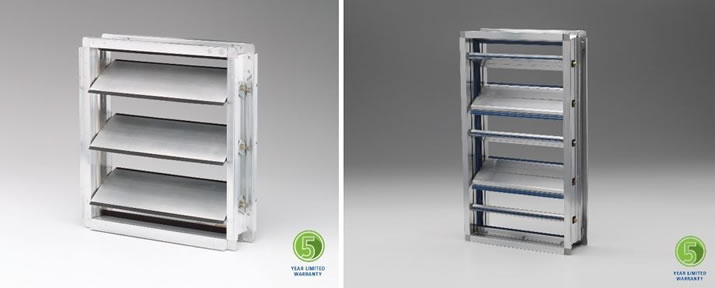 The Ruskin® CD50CE (left) and TED50CE (right) critical environment dampers combine the strength of stainless steel and protection of anodized aluminum to withstand coastal and corrosive applications.
A new critical environment damper series from Ruskin® is designed and manufactured to withstand the elements of coastal and corrosive applications. The CD50CE and TED50CE combine the strength of stainless steel and protection of anodized aluminum to combat salt water elements.
"Our reps can now easily select a damper model with features suitable for coastal or corrosive applications," said Mike Coyazo, commercial and life safety product manager at Ruskin. "Stainless steel linkage and anodized aluminum frames and blades come standard in these new models, making them perfect for harsh applications where salt water is present."
The CD50CE is Air Movement and Control Association (AMCA) licensed as Class 1A and, thanks to low-leak extruded aluminum, meets the International Energy Conservation Code (IECC). The damper features low-maintenance, non-corrosive bearings and shake-proof linkage; airfoil blades for high-velocity heating, ventilation and air-conditioning (HVAC) systems, low pressure drop and quieter performance; and mechanically-fastened blade edge seals.
The thermal-efficient TED50CE eliminates thermal transfer and the potential for condensation. The damper also meets the IECC, features the same non-corrosive bearings and shake-proof linkage as the CD50CE and includes twin seals to ensure no thermal path.
The CD50CE and TED50CE are covered under the Ruskin five-year limited warranty program. The program – recently extended from one year to five years from the date of delivery – demonstrates the company's commitment to quality and makes it easier for engineers to specify Ruskin products.
To learn more about the Ruskin CD50CE and TED50CE dampers, visit http://www.ruskin.com/catalog/category/995~critical-environment-dampers.
Company: Ruskin
Product: Control Dampers
Source: http://www.ruskin.com/NewsArticles/entryid/756/press-release-new-critical-environment-damper-series-from-lt-span-style-quot-font-style-italic-quot-gt-ruskin-174-lt-span-gt-withstands-coastal-and-corro
---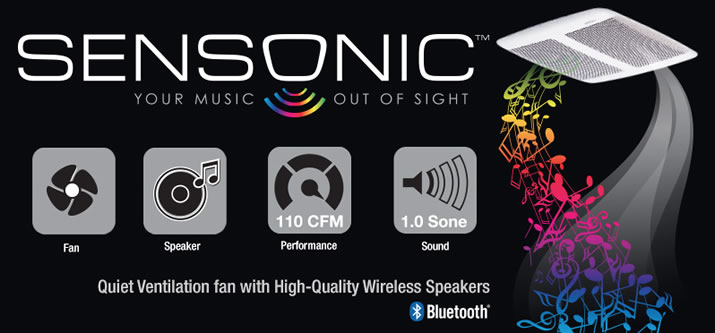 It's your music-out of sight. Unlike wireless speakers that require counter space, Sensonic™ speakers with Bluetooth® wireless technology fill your room with rich sound from above. From hard rock to news talk, play any audio through the dual high-fidelity speakers and enjoy entertainment and privacy at the touch of a button.
Enjoy entertainment and privacy at the touch of a button
Dual High-Fidelity Sensonic™ Speakers
Bluetooth® wireless technology
Brilliant audio performance concealed behind your fan grille
Play any audio through most Bluetooth®-enabled devices
Quiet, powerful QT ventilation fan
Effective, extremely quiet ventilation clears humidity and odors quickly
ENERGY STAR® qualified
Motor engineered for continuous operation
UL Listed for use over bathtub or shower when installed with a GFCI protected branch circuit
Type IC for use in direct contact with thermal insulation
Fits 2"x 8" ceiling construction
Includes unique spacer for easy I-joist mounting
Mounts between joists with optional QTHB1 Hanger Bar Kit (sold separately)
Features + Benefits | Videos | Models + Specs
Company: Broan-NuTone LLC
Source: http://www.broan.com/sensonic
Tags: Audio Visual | Design | HVAC
---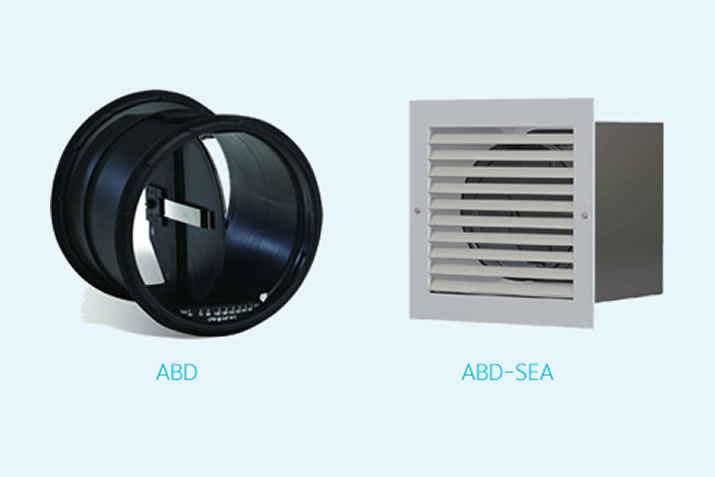 Ruskin® pressure-independent automatic balancing dampers – ABD (left), ABD-SEA (with grille and steel enclosure box)
A new series of pressure - independent automatic balancing dampers (ABDs) from Ruskin - the ABD, ABD-SEA (with grille and steel enclosure box) and ABD-SEA-E (with grille and steel collar) - automatically regulate damper positioning for precise and automatic airflow in both supply and exhaust applications. The result is energy-saving performance that mitigates stack effect in high-rise buildings and improves comfort for building occupants. The dampers will be shown at booth C3334 during AHR Expo , Jan. 30–Feb. 1 at the Las Vegas Convention Center. Visitors can conduct simulations and demos on the dampers.
"Drawing on nearly 60 years of experience in the air control industry, we've developed a product that raises the bar in terms of making buildings more comfortable and healthy," said Tim Vogel, director of air control solutions at Ruskin. "That's because the Ruskin ABD is perfect for balancing supply ducts or more precisely controlling exhaust/supply ventilation requirements, improving indoor air quality and saving energy in the process, as it does not require electricity."
The factory-assembled dampers also reduce installation, maintenance and labor costs by providing a single and simple, bi-directional design that works across the full pressure range in both exhaust and supply applications. Contractors and facility managers will find the dampers easy to install and manage, thanks to tool-free CFM adjustment - and up to 20 set point positions - with access through the damper grille, eliminating the need for the access door typically required with manual dampers. A universal Quick-Connect Adapter Ring further facilitates installation of the ABD, as it fits most adapter plates, and a Ruskiprene™ "T" seal ensures long-lasting durability.
The ABD also features a unique-to-the-industry, antimicrobial agent that mitigates the growth of mold and bacteria and contribute s to improved indoor air quality. As a result, the dampers lend themselves to restroom and healthcare applications, along with hospitality, commercial/retail, clean room and office building installations, and can be installed in horizontal or vertical applications.
The dampers are UL 2043 listed with a UL94V-0 flame and smoke spread rating. The ABDs are also qualified for use in all FAA, FHWA, FRA, AMTRAK and FTA projects. To download a brochure about these innovative new dampers, visit www.ruskin.com/ABDnews.
Company: Ruskin
Product: Control Dampers
Source: http://www.ruskin.com/landing/abd/
Tags: HVAC
---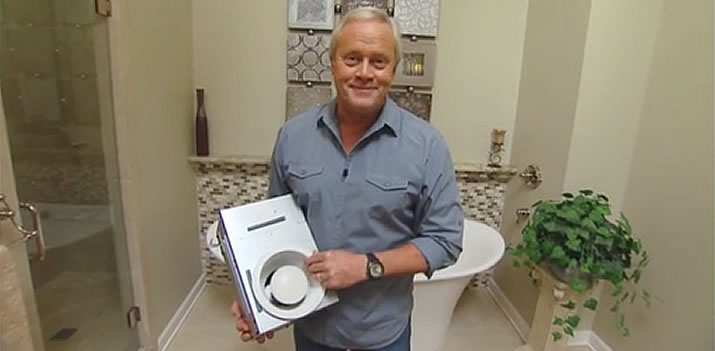 Danny Lipford with Broan recessed light vent fan
Proper home ventilation is especially important when your house is closed up during winter. Here are some tips to improve your indoor air quality this winter.
Keep Your House Clean
Using a quality vacuum to remove dust and dirt is a great way to improve indoor air quality, but unless you're using a central vacuum system, such as the PurePower™ Series from NuTone, you're just recirculating dirty air throughout your home. Unlike a canister or upright vacuum, a central vac system actually exhausts the dirt and dirty air outside your home.
Remove Moisture from Bathrooms
Too much moisture from showering and bathing can cause the growth of mold and mildew in your home. Properly installed bath vent fans, such as the new InVent™ Series from Broan, remove excess moisture and vent it to the outside. Broan fans can also come with a built-in humidistat to cut the fan on and off automatically as needed.
Add Spot Ventilation to Rooms
Bathrooms are the only room that needs good ventilation Broan also makes combination exhaust fans and recessed light fixtures, such as their 744 Series which are perfect for removing musty air in closets and laundry rooms.
Company: Broan-NuTone LLC
Of: Danny Lipford
Source: https://www.todayshomeowner.com/video/tips-to-improve-indoor-air-quality-this-winter/15/
Tags: HVAC | Interior Design
---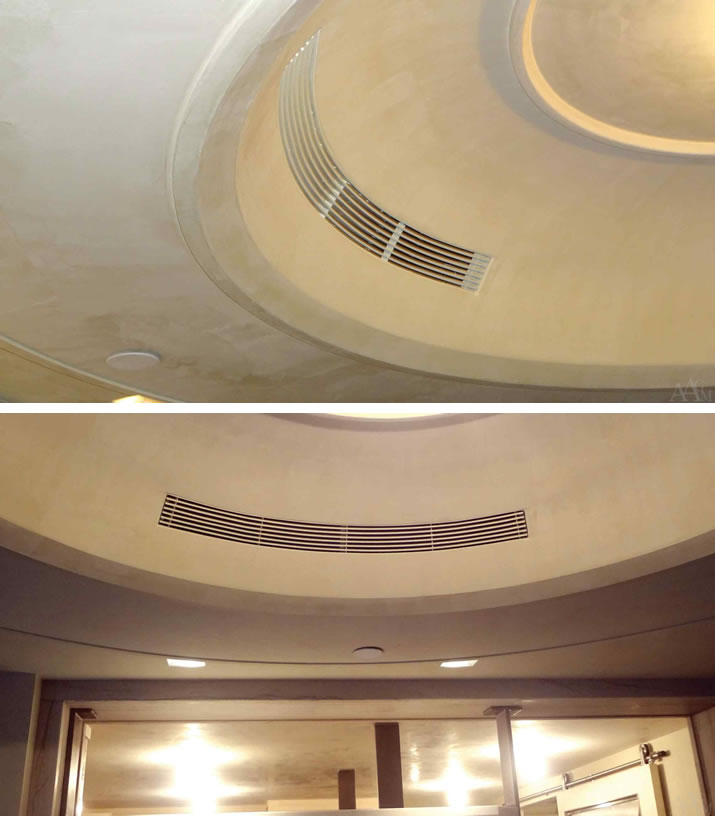 Vertical radius and horizontal curves
The Story
Recently we were approached by one of our Architect partners to assist with a very unique challenge. They designed a custom ceiling recess with a light fixture access point. To bring HVAC to that area of the room required a grille to match both the curve and the contour of the ceiling. This would mean a linear bar grille incorporating both a top-to-bottom radius and a side-to-side twist.
Our team suggested the AAG Advanced Architectural Grilleworks Plaster J-BeadTM aluminum linear bar grille frame to create a seamless installation. The Plaster J-BeadTM design is quickly fastened to the wall via the outer flange, by either screwing or nailing through the pre-drilled holes. After fastening, the flange is covered with a skim coat of plaster providing a clean, flush appearance.
Both the architect and the homeowner were very pleased with the results and how well the grille fit the contour and character of the ceiling.
At a glance
TYPE: Linear Bar Grille
STYLE: AAG10
FRAME: Plaster J-BeadTM Frame*
DETAIL: Fixed Core
MATERIAL: Aluminum
FINISH: Paint
* patent pending
Company: Artistry in Architectural Grilles by Advanced Arch Grilles
Source: http://www.aagrilles.com/aag100-plaster-j-bead-curved-linear-grille/
Tags: Ceiling | HVAC | Interior Design
---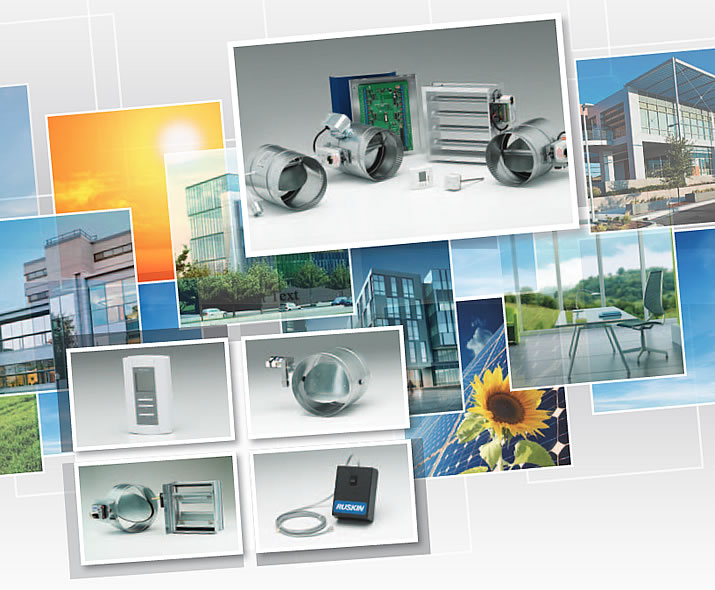 Ruskin's new Zone Control Solutions brochure highlights not only our sophisticated Z2000 Zone Comfort System but also the many individual zone control solutions as well.
Building owners can choose a complete commercial zone control system utilizing our Z2000 Control Panel System. The panel allows a single HVAC unit to control up to 20 individual zones. Each zone is controlled by its own space thermostat and a modulating or two-position zone control damper. Options include:
Discharge Air Temp Sensors
When Z2000 systems are not required, Ruskin offers many individual zone dampers that are easily installed, maintenance free and interface with our hand-held remote damper controller - Ruskin model ZRC020. The remote control is equipped with an integral 9V power supply that operates the damper motor via RJ11 wiring terminating at an RJ11 connector located either at the diffuser or wall box.
Ruskin Individual Zone Dampers also include:
Quick-Connect wall mount or diffuser mount connectors require no special tooling.
Flush mounted wall plates available in single or multiple port arrangements.
The Pulse Damper eliminates the need for cable in the "cable-drive" systems!
Ruskin Zone Systems help you achieve LEED certification for Indoor Environmental Quality (IEQ) by providing:
Minimum IAQ Performance
Increased Ventilation
Controllability of Systems - Thermal Comfort
Thermal Comfort - Design
Company: Ruskin
Source: http://www.ruskin.com/NewsArticles/entryid/618.aspx
Tags: HVAC | LEED Certification
---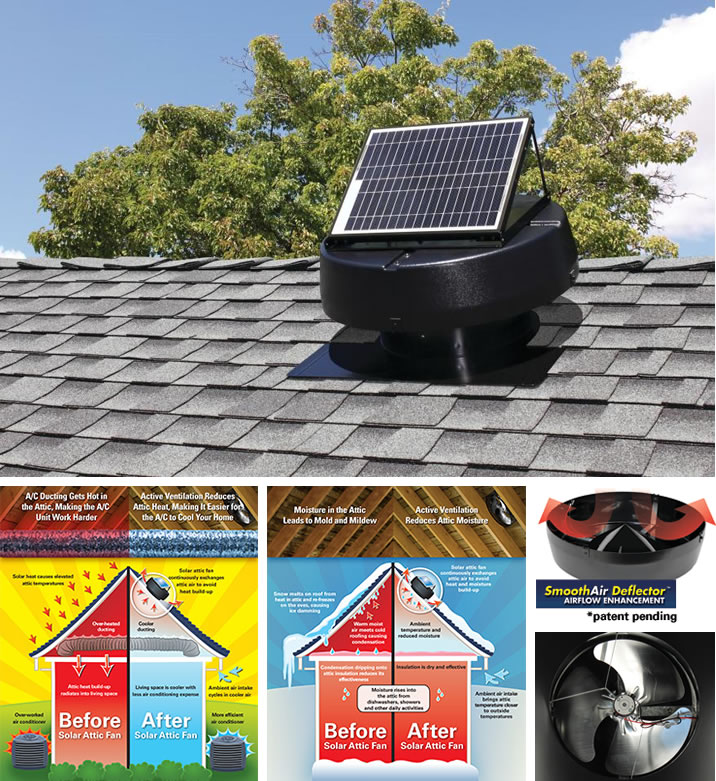 Available in 4 styles - 3 Roof Mount Designs and 1 All Purpose Interior Mount. Professional grade solar powered attic fans use no electricity. Attic Fans are designed to reduce heat build-up in your attic in the summer and remove harmful moisture in the winter.
Year-'Round Benefits!
Cools in the Summer: During the summer, the Solar Powered Attic Fan vents the hot air out of your attic and keeps it closer to the temperature outside. Your air conditioner won't have to run so long to cool the inside of your home.


Prevents mold and mildew in the winter: In the winter, warm moist air rises from the inside of your home and collides with the cold underside of the roof. The Solar Powered Attic Fan provides the air circulation that prevents the moist air from condensing on the surface. Keeping your attic drier.


Fans include a Thermal Switch. The thermal switch allows the fan to run when the temperature reaches 80 degrees and shuts the fan off when the temperature dips below 65 degrees. You can bypass the switch if you prefer the motor to run continuously during the day.
Solar Powered Roof Mount Attic Fans
Good - Ventilates up to 1100 square feet.
Solar power attic fan uses no electricity. 14 inch fan blade. Heavy duty construction. Stands up to high winds, hail, rain, and snow. 10 Watt solar panel. Quite simply the best product you can buy to reduce heat build-up in your attic in the summer and remove harmful moisture in the winter. The solar panel and fan motor have up to 25% more power than other fans, providing much better circulation and improved airflow. The advanced design provides more efficient attic ventilation while using no electricity. One fan alone can ventilate up to 1150 square feet of attic space reducing the energy needed to keep your home cooler in the summer. By running year-round, it can also remove harmful moisture in the winter months keeping your attic space drier, reducing condensation, and the potential for ice daming, mildew and mold. Download Product Brochure
Better - Ventilates up to 1350 square feet.
Professional grade solar power attic fan uses no electricity. 14 inch fan blade. Heavy duty construction. Stands up to high winds, hail, rain, and snow. Commercial grade 10 Watt solar panel. Our Better Solar Attic Fan is designed to reduce heat build-up in your attic in the summer and remove harmful moisture in the winter. It's commercial grade, heavy duty construction provides up to 25% more power than other fans, providing better circulation and improved airflow in your attic space. One fan can ventilate up to 1350 square feet and can lower the attic temperature so your air conditioning won't have to run as long and as hard to cool your home. By running year-round, it can keep your attic space drier by removing moisture in the winter, reducing condensation and preventing the growth of harmful mold and mildew. Download Product Brochure
Best - Ventilates up to 1900 square feet.
New patent pending enhanced design will ventilate up to 1900 square feet of attic space with a single fan. The new, patent pending, Smooth-air Deflector in the shroud of the fan produces a smoother air flow and increases exhaust performance by up to 30% from previous models. This next generation solar powered attic fan is our most powerful and efficient model yet. Commercial grade 15 Watt solar panel. Download Product Brochure
Solar Powered All Purpose Interior Mount Fan
Ventilates up to 1250 square feet. Installs indoors behind an existing static vent and converts vent to a powered vent. All Purpose - install into existing gable end vents, roof static or turbine vents, crawlspace vents, etc. Anywhere you want a powered vent!

Professional grade solar power attic fan uses no electricity. 14 inch fan blade. Heavy duty construction. Commercial grade 10 Watt solar panel mounts on roof, wall, soffit, etc. Stands up to high winds, hail, rain, and snow. Requires no cutting of your roof or tiles. Turbocharge any static or turbine vent. Easy do-it-yourself installation. Vent your attic through a gable or static vent.
Company: Battic Door Energy Conservation Products
Source: http://www.batticdoor.com/SolarAtticFans.htm
---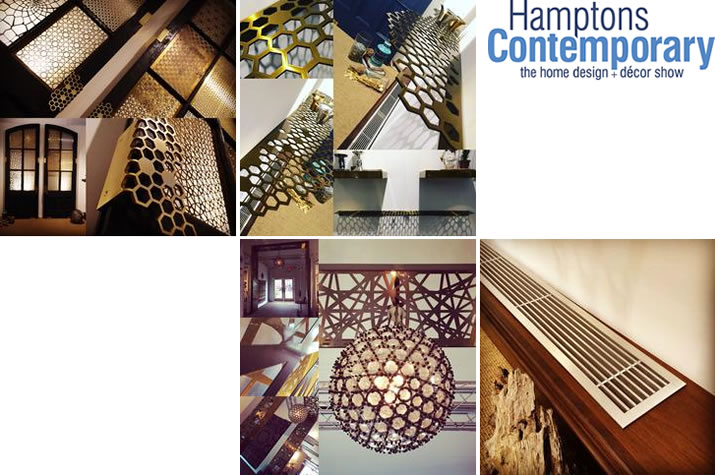 ARCHITECTURAL GRILLE was excited to exhibit our Linear Bar Grilles as well as Custom Metalwork at the inaugural Hamptons Contemporary: The Home Design + Decor Show earlier this summer. The first ever luxury design show staged at the Elks Fairground in Southampton, NY brought together designers, exhibitors and local homeowners interested in products reflecting high end design and architecture.
Collaborating with designer, Kenneth Nilson, we were able to exhibit custom designed pieces such as the below (left to right): Entrance Doors showcasing Custom Design Panels/Screens in Brass and Stainless Steel with a variety of finishes and Honeycomb/Hex Door Pulls Hardware in Solid Brass; Honeycomb/Hex Shelving in Stainless Steel with Brass powdercoat finish; Bugeye Bauble Light Fixture in Brass suspended on Custom Design Truss in Stainless Steel with Brass powdercoat finish by Kenneth Nilson; Linear Bar Grille inset into Walnut Woodwork.
If you're interested in purchasing any of the featured Custom Design Pieces, please contact Stephen Giumenta directly at sjgiumenta@archgrille.com for further information. If you would like to order custom lighting, please contact Kenneth Nilson at ken@kennethnilson.com
Company: Architectural Grille
Source: http://www.archgrille.com/blogs/news/summer-in-the-hamptons
Tags: Access Covers | Design | HVAC | Metal
---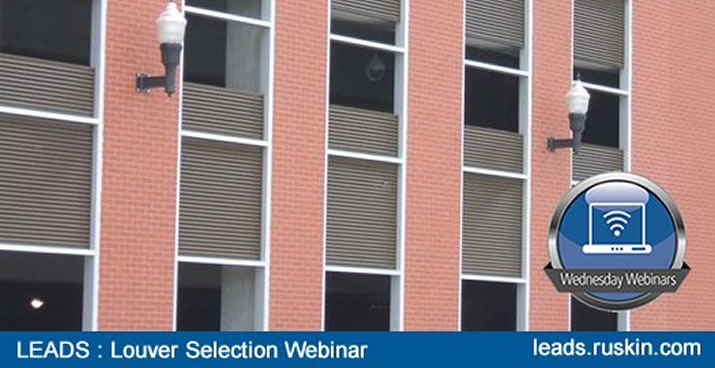 Join Ruskin on the 2nd Wednesday of every month at 2:30 CST for a discussion of relevant HVAC topics. These webinars may qualify for PDH credits. Please contact your local Ruskin representatives for more information.
August 10, 2016
Louver Selection & Application Using Ruskin's LEADS Software
September 14, 2016
Ruskin Industrial Damper Capabilities & Case Studies
October 12, 2016
Ruskin Fire/Smoke Damper Product & Code Update
November 09, 2016
Ruskin Extreme Duty Louvers - Blast Resistant, FEMA, Wind-Driven Rain, Hurricane Zone & More
December 14, 2016
Air Measuring & Control Basics - Application & Installation
Company: Ruskin
Source: http://www.ruskin.com/webinars
Tags: HVAC | LEED Certification