architecture - engineering - construction

Interior Design
---
Tectum Panel Art has become wildly popular in the past year. Interested in seeing a sample? We'd be happy to send you one.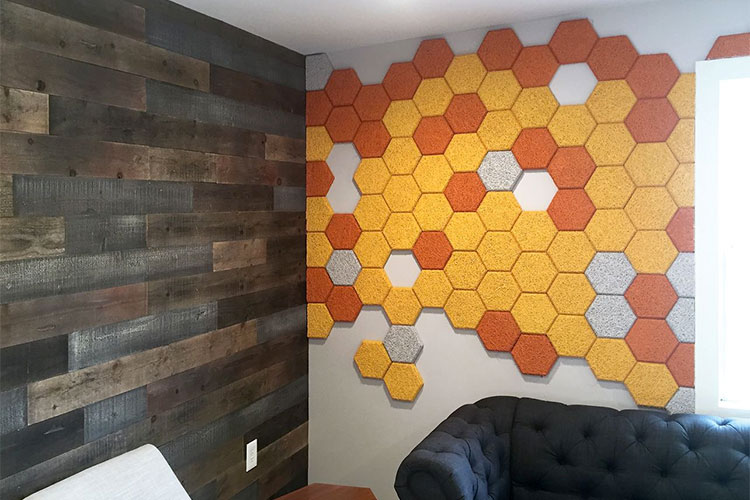 Tectum wall & ceiling panels: a perfect fit of durability, acoustics, and unique visuals
From a natural factory finish or white, to integration with Colorations colors (that's 13 standard colors) or made-to-order Sherwin-Williams® colors, TECTUM panels can coordinate or complement your color palette with the sizes, shapes, and forms that make your designs happen.
Toughness and acoustics are at the heart of TECTUM interior products, ideally suited to open spaces and high traffic, high impact areas. Panels can be attached directly to walls and ceilings in forms of panels, clouds, and square or curved. TECTUM linear hanging baffles give you even more design options.
Create a signature element in a space to complement your interior design. The possibilities are endless, the look is one-of-a-kind, and the acoustic properties of TECTUM panels can help quiet the space.
Key features
Durable for heavy-use interiors
Sound absorption (NRC) values up to 1.0
Great acoustical retrofit solution
Color options include standard, Colorations colors, and custom Sherwin-Williams colors
Contributes to LEED credit areas including FSC certified wood
Attach to a variety of ceiling substrates
Easy to install
Special applications
Gymnasiums
Auditoriums
Multi-purpose Spaces
Acoustical Retrofits
Exposed Structures
Education Spaces
Company: Tectum Inc.
Product: Interior Wall Panels
Source: https://www.armstrongceilings.com/commercial/en-us/articles/tectum-part-of-armstrong-portfolio.html
Tags: Acoustics | Color | Interior Design | Wall Panels
---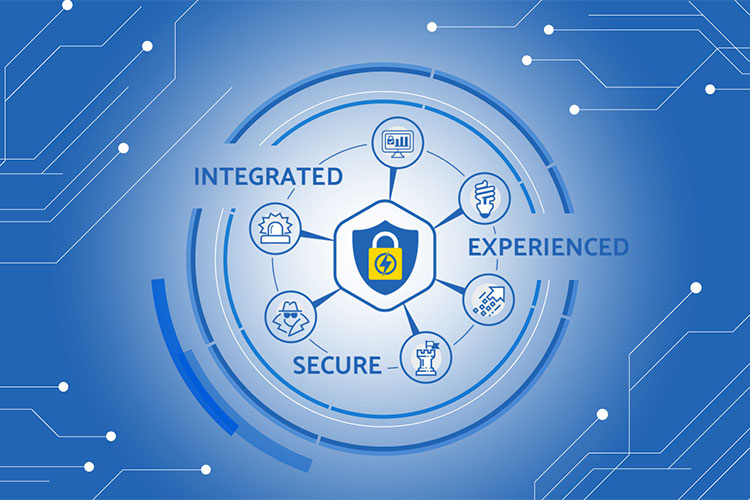 Accuride Integrated Access Solutions: The New Frontier of Access Control
While known for premium drawer slides, Accuride is also a major leader in access control solutions. Our electronic locking systems are found in many cabinet-level applications, from medical carts to inventory systems, and in countless industries, from automotive to healthcare.
Accuride Integrated Access Solutions (AIAS) feature "Intelligent Subversion Protection": multi-sensor systems that utilize onboard logic and two-way communication. These advanced systems verify that an application, such as a parcel locker or a CSA schedule drug cart, is truly secure.
Better still: Accuride access solutions are energy-efficient, silent, and emit little heat.
An Adaptable Solution

Another great aspect of Accuride Integrated Access Solutions is their adaptability. Each solution is tailored to fit a customer's needs, fitting all sorts of ancillary systems: RFID, biometric, keypad, retinal scanning, etc.
We've found our customers often need their solutions to comply with strict standards and certifications, such as those from the FDA, FAA, and HIPPA. Luckily, Accuride's global team of specialists are thoroughly experienced in compliance.
A Compact Wonder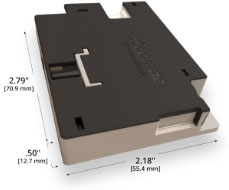 Cutting-edge electronic locks are a key component of Accuride Integrated Access Solutions. Each e-lock is the embodiment of efficiency, utilizing a lean, compact, low-profile design and consuming no more than 50mA per 200mS on 12v of power.
Don't let their size fool you: Accuride e-locks can resist hundreds of pounds of break-force.
Subtlety is Key
Another key aspect of Accuride Integrated Access Solutions is their subtlety. Each solution is meant to become part of the application, not an addition to it. Whether that application is a DNA analysis machine or a tool checking system, each Accuride solution works as part of the core design.
Download FREE Case Study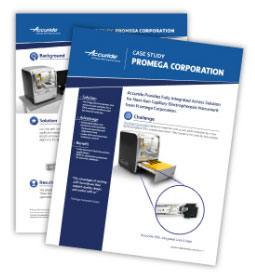 Learn how Accuride brought a new measure of access control and efficiency to a Next-Gen medical system
That's because Accuride engineers work closely with partners to achieve that seamless integration. From the conceptual stage to final production, Accuride technicians are there to make sure everything works flawlessly.
For more on Accuride Integrated Access Solutions, visit our dedicated page and speak to one of our experts today.
Company: Accuride International
Source: https://www.accuride.com/blog/access-control/accuride-integrated-access-solutions-the-new-frontier-of-access-control/
Tags: Access Control | Furniture | Interior Design | Management | Office | Safety
---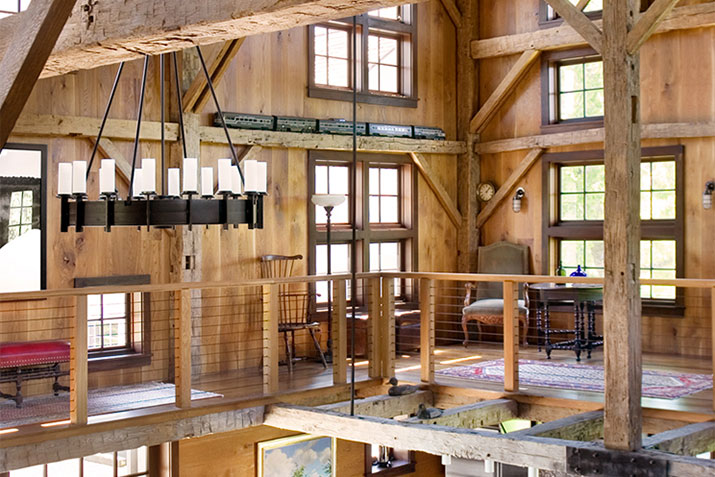 Paul Gleicher, acclaimed architect and published author, is a man of exceptional taste. Owners of high-end residential properties, including townhouses, penthouses, apartments, and houses seek out the New York City-based architect for his sophisticated, award-winning design sense. There are even Gleicher-designed barns.
"I think there's a growing interest in barns," Gleicher says. "There's a real sense of history when you step into these structures. They're large, open spaces that favor today's lifestyle."
Four Barns Farm Project
Take Gleicher's Four Barns Farm project in rural Millbrook, N.Y., about a 90-minute drive outside of New York City. A prominent investment industry executive and his family took Gleicher's advice to look at Millbrook for their weekend retreat. Within short order, the executive purchased a 40-acre estate formerly owned by composer Marvin Hamlisch. The property included a cluster of four dilapidated barns from the mid-1800s.
Gleicher remembers the initial chat with the new owner well. "'Paul, let's turn these barns into a family compound.' It was my first barn project," says the recipient of The Franklin Report's top five-star rating.
Architectural Counterpoint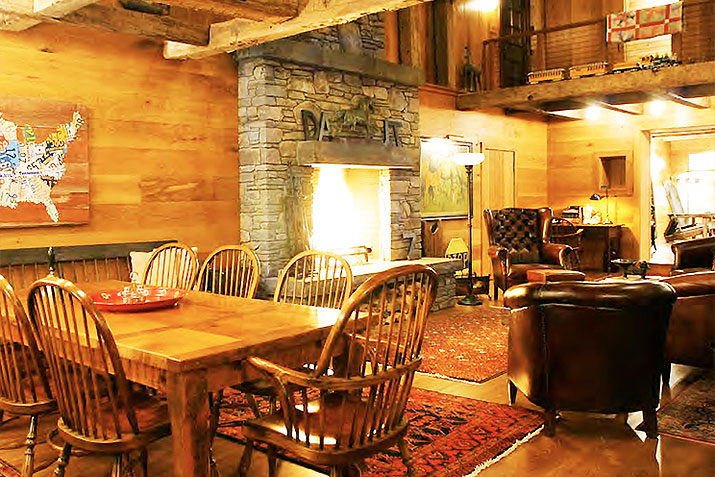 The interior scale offered Gleicher a rich palette to showcase beautifully-restored oak and pine floors, ceilings, and walls. To help dramatize the interior, Gleicher turned to CableRail by Feeney after considering traditional wood balustrades.
"CableRail is a really nice counterpoint to all the wood. Wood has warmth, but timber also has a certain heaviness to it. CableRail became a natural component. It made a lot of sense," Gleicher says.
Gleicher liked the idea of setting off the balcony spaces with a light, open look. "CableRail afforded that visual connection from the upper stories to the lower stories and vice-versa. It's really important to maintain that if you have a lot of people in the space. It helps communication," he observes.
Uparalleled Support
Gleicher notes this was his "first go-around with CableRail" and the experience didn't disappoint him in any respect. Feeney proved to be exceptionally helpful and easy to work with. In fact, Gleicher is quick to contrast his Feeney experience with another buildings products manufacturer. He was researching ceiling fans for another project and had a couple technical questions. He was told by the manufacturer 'That's up to you. It's your responsibility.' In contrast, Feeney's friendly technical staff were on call to answer all of his CableRail questions.
Installation proved to be a snap. "We just had the general contractor install the in-fill system. It's not complicated at all," says Gleicher.
Dream Come True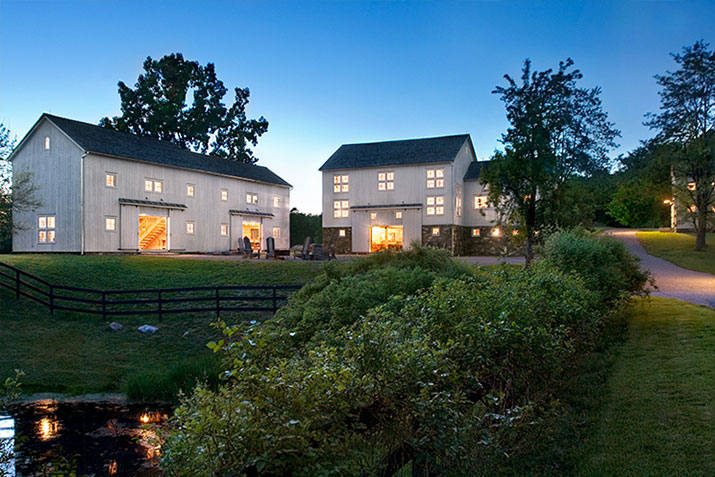 The owner "absolutely loves" the Four Barns Farm project Gleicher delivered. "They take every opportunity to talk about the project, invite people over. For the family, it's a dream come true," he reports.
It has also won its share of fans on Houzz. Gleicher states that the Four Barns Farm is one of the firm's most popular projects on the renovation website, generating over 30,000 views and added to more than 250 Ideabooks.
The idea of blending the open lightness of CableRail in stylish interior settings is now a top consideration for the award-winning architect. "I'm very happy with the product and will always keep it in mind." Who says you can't mix classy urban sophistication with friendly down-home charm? Just ask Paul Gleicher.
To Learn More:
Company: Feeney, Inc
Product: CableRail Stainless Steel Standard Assemblies
Source: http://media.feeneyinc.com/blog/top-nyc-architect-selects-feeney-for-notable-barn-project
Tags: Architecture | Interior Design | Railing System
---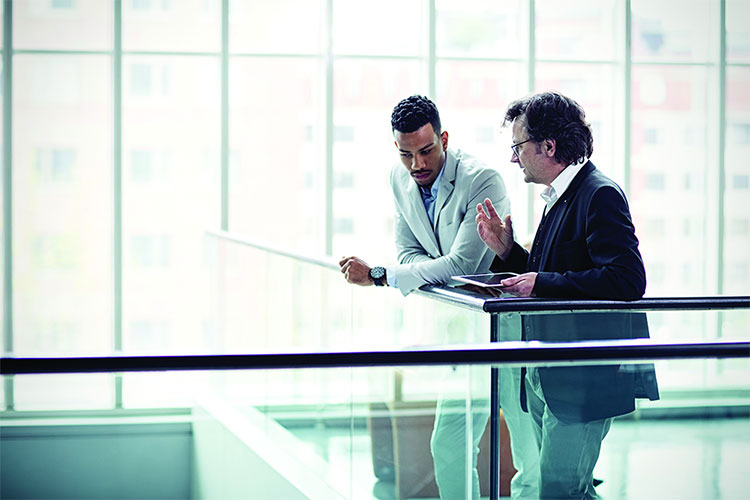 Today's security entrances can last 10 years or more, so your organization can go years without installing a single new entrance. This fact alone intensifies your need for a great experience during the buying process and beyond, so that you are assured the right entrance to meet your needs for years to come. How do you better your chances for such a great experience? Here are 10 factors a manufacturer should offer to create a stellar 360-degree customer experience.
Going global
Can the manufacturer deliver a premium service experience and quality entrance solutions on a global scale? Such a company will have manufacturing facilities around the world in strategic locations as well as subsidiaries and partners. Is there only one factory in China? How long does product delivery take compared to a regional/local manufacturing plant and how much of a premium is there on shipping everything from overseas?
Who you gonna call?
Most manufacturers have regional sales managers and that person is your initial main point of contact. Look for a manufacturer that has a large number of direct employees (not manufacturer's reps) in this role that have small territories so you get the attention you deserve. They can help you determine the right entrance for your specific security needs and even conduct a site walk in person.
Working like machines behind the scenes
The best firms have an inside sales/customer service team to manage your entire order from PO to shipment directly within the manufacturing facility. Ask if you will be assigned a dedicated representative that will communicate with you proactively, check your order for accuracy, liaise on your behalf internally about customizations, and keep you updated on production lead times and shipping timelines.
It's all about location, location, location
A manufacturer with a factory that shares the same continent with you has several advantages. They employ highly trained assembly technicians and source materials locally (lower costs than importing and lower carbon footprint). They also can conduct quality assurance in-house and will have better control over the finished product. Finally, you get faster lead times and lower freight costs.
Expect no surprises
Is there an in-house installation management team that works to ensure no surprises come up during the product installation? The best such teams will walk you through the scope of work so you are aware of exactly what the installation process entails. They also prepare the onsite contractors and installers to receive and properly install the entrance solution.
A second pair of eyes
The best companies will have a team of field service technicians around the country who are available, upon request, to check each entrance after installation for proper operation. The technician can also verify the entrance integrates properly with other components of the building, e.g., fire alarms and access control systems.
Back up and running in no time
How quickly can you get your issue resolved while potentially hundreds of people are being diverted to another entrance? Ask for an organizational chart for the Technical Support department: it should be robust, indicating investment in expertise and customer satisfaction. Ask if they measure their same-day call resolution percentage and parts fulfillment percentage.
Technical training for tuned-in teammates
The last thing you want is the repair call where, upon arrival you hear, "I've never seen this type of turnstile/door before." Where is the nearest service partner located? What kind of technical training resources does the manufacturer provide to educate and certify its service partners? Is there a dedicated full-time role or staff that educates and certifies the installer on the solution you've selected? The goal of the best training programs must be to prepare local partners for flawless installation.
Regular assessment of your investment
Look for some kind of preventive maintenance plan (PPM's). It's an optional service that brings in-house factory expertise to your site to perform annual and bi-annual maintenance checks on your entrance. PPM's ensure the longevity of your asset for maximum ROI.
Same experience, every time
With top, global manufacturers, you can save money, decrease time spent on training, and improve efficiency by planning and executing the same, high quality product line to all your building locations around the world. Being able to standardize on one manufacturer across your entire organization is a huge advantage in cost and time savings.
Company: Boon Edam Inc.
Product: Security Doors & Portals
Source: http://blog.boonedam.us/you-deserve-to-be-delighted-10-essential-elements-to-look-for-in-a-security-entrance-manufacturer
Tags: Entrances | Exterior Design | Interior Design | Security
---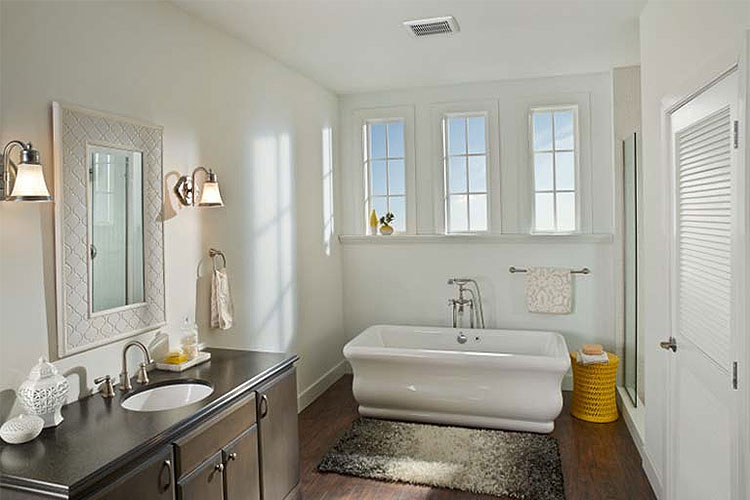 Broan® InVent™ Series now offers Humidity Sensing Fans, featuring Sensaire Sense-on-Rise Technology
Bathroom fans are great at fighting moisture which can lead to mold, but only if used properly. Broan's innovative Sensaire Sense-on-Rise Technology is now available on the InVentTM Series ventilation fans. Homeowners can now have a worry free solution for excess humidity combined with the great InVent features.
Sensaire Sense-on-Rise Technology is designed to detect humidity before condensation occurs. The humidity sensor automatically turns fans on when a rapid rise in humidity is sensed, or when humidity rises above the homeowner's pre-set humidity set point. The humidity sensing technology quickly works to eliminate fogged mirrors and manage moisture, providing exceptional indoor air quality for bathrooms, laundry rooms and mud rooms. Sensaire Sense-on-Rise technology detects an increase in humidity up to 40% faster *to automatically turn the fan on before moisture forms on mirrors.
"At Broan, we're incredibly proud of the enhanced InVent Series. Homeowners are now able to have superb ventilation and humidity sensing technology from a mid-range fan," said Ann Roever, Senior Global Marketing Director, household ventilation, for Broan. "The product line truly represents Broan's continuing tradition of superior indoor air quality products with the technology consumers want and need."
As the industry leader in residential ventilation, Broan-NuTone has a long history of developing products that provide superior indoor air quality. It is this reputation and commitment to innovation and quality that led Broan to enhance the revolutionary and easy to install InVent Series.
Broan InVent Series ventilation fans feature FoldAway mounting ears and the EzDuct Connector, which allow for easy installation. The FoldAway mounting ears allow contractors to use just one fan for both new construction or retrofit applications. The EzDuct Connector makes connecting the fan housing to the duct easier than ever before, with no attic access required.
With the new TrueSeal Damper Technology, InVent fans reduce air leakage by up to 50 percent compared to competitive models**, resulting in better home energy efficiency as measured via blower door tests.
The ENERGY STAR options provide contractors and homeowners with a full range of choices, all at a mid-range price point. In addition, the InVent Series is manufactured in the USA***, offering service levels and responsiveness that customers demand.
For more information, visit: www.Broan.com/InVent.
Company: Broan-NuTone LLC
Source: http://www.broan.com/InVent
Tags: HVAC | Interior Design | Lighting | Ventilation
---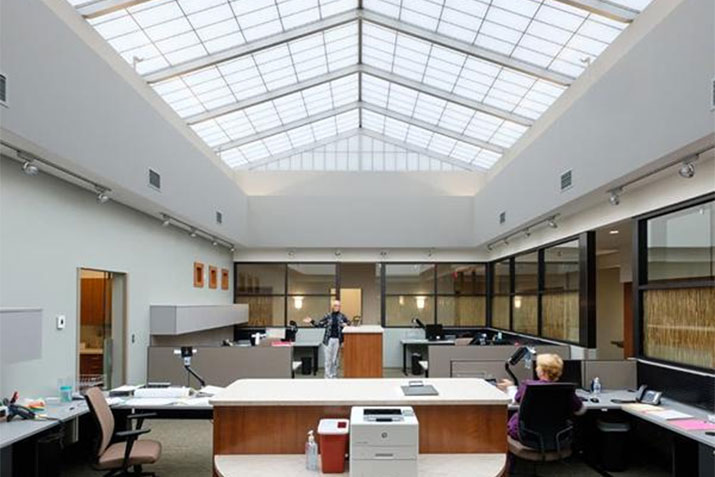 Images courtesy of DSGW Architects and Weston Imaging
Daylighting can be dramatic… and it can also be a hassle. Too much direct light can cause glare and hot-spots, leading to eye strain and an uncomfortable environment for building occupants. But there is a way to control solar heat gain and diffuse direct sunlight, making for a bright, evenly lit space that welcomes visitors and creates a more comfortable work and learning environment. What's the solution? Translucent panel daylighting systems!
When designing the new Lac Vieux Desert Health Center in Watersmeet, Michigan, DSGW Architects met with Indian Health Service staff, tribal community members, clinic staff and providers, clinic task force members and the Tribal Council to help define and create a health center that includes 12 exam rooms, two procedure rooms, a nine-chair dental suite with lab services, retail pharmacy, imaging suite, clinical lab, chiropractic and physical therapy department, optical department, behavior health and family services, a community gathering room and more.
An integral part of the space is natural light – from both windows and skylights. A Guardian 275® skylight, as shown in the image above, helps bring light to a nurse's station where uncontrolled light could cause an uncomfortably hot work environment and wreak havoc on computer screens. It also lessens the need for artificial light sources and makes for an inviting and welcoming space. (Not to mention the numerous studies that show access to natural light is beneficial to both staff and patients in healthcare environments.)
What can a translucent skylight do for your space? Call and talk with one of our staff members for more information @ 888-759-2678.
Company: Major Industries Inc.
Product: Guardian 275® - Translucent Panel Skylights & Curtainwall
Source: http://majorskylights.com/2017/06/project-spotlight-work-friendly-daylight/
Tags: Exterior Design | Interior Design | Skylights | Windows
---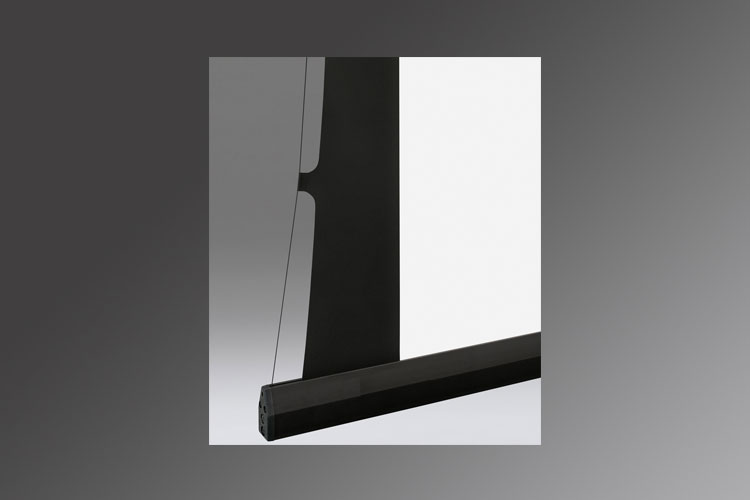 Who knew a series of small tabs could be so important to having a beautiful picture, and a durable product?
One of the most important elements of creating the ultimate projected image is having the flattest viewing surface possible. Great contrast, brightness, and vivid and correct colors are important, but without a perfectly flat surface those attributes of a great picture don't matter.
Fixed frame projection screens are one way to ensure the flattest viewing surface possible. Not everyone wants a huge screen hanging on the wall all the time, though, so they need a motorized screen. With motorized screens, however, the problem is how to keep the surface taut from the sides.
That's where Draper's innovative tab tensioning system is so important. A tab tensioning system uses a very thin cord running down each side of the screen through tabs, attached to the roller at the top and the dowel at the bottom. The cords are tightened, creating a flat viewing surface.
Most other manufacturers use adhesive to attach these tabs. This can lead to problems when the constant tension proves too much for the adhesive to handle, and it give way, creating "popped" tabs.
With Draper, you never have to worry about "popped" tabs. Here's why.
All of our tab tensioned screen surfaces—including the tabs—are cut on Computer Numerical Control (CNC) cutting tables, which means every cut is made with digital precision. CNC represents the highest level of precision available in the manufacturing process.
The tabs are then folded to the backside of the screen and Radio Frequency (RF) welded. In this RF heat sealing (AKA dielectric sealing) process, the tabs are folded back and placed between two dies (electrodes). The RF produces heat by exciting the molecules to the point that they melt and create the bond. We use the same technology to create seamed projection screens. The strength of the seal is determined by three factors-
Sealing current (radio frequency power)
Sealing time
Pressure
The result is a much stronger tab, with no possibility of separation, as the tab and surface are fused into a single layer of material. In-house laboratory testing of our tabs shows that this RF seal is in most cases stronger than the material itself.
Our tab tensioning system is also nicer looking. Making a tab tensioned surface in this manner eliminates the puckering that can characterized the edges of tab tensioned screens made using adhesives.
When we introduced this new system several years ago, it represented a unique and significant improvement in tab tensioned screen design. It still does. We were so confident of our system that we decided to warrant all Draper tab tensioned screens against tab separation for five years from date of manufacture. We still do.
Click here to find the perfect tab tensioned projection solution for your next project. Whatever model you choose, the perfectly flat surface will create the perfect image you want, and for a long time to come.
Company: Draper, Inc.
Product: Projection Screens
Of: Terry Coffey
Source: http://blog.draperinc.com/2017/07/flat-viewing-surface/
Tags: Audio Visual | Color | Furniture | Interior Design | Lighting | Office
---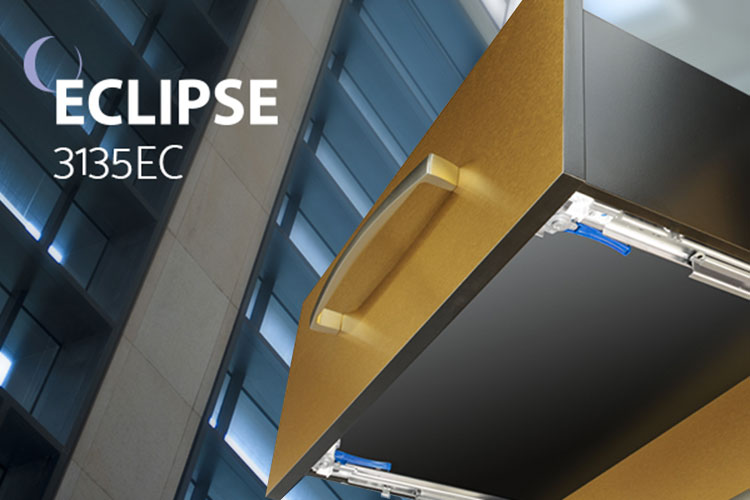 The 3135EC Eclipse is here! We re-engineered this undermount slide with a series of changes to offer premium performance. We've made a series of changes to this slide to make a big difference in the overall performance of this fully-concealed undermount slide.
Equipped with soft–close functionality, these slides won't bounce back even when you slam them. Say you find yourself in a rush to get to work and you slam the drawer. Hard. Harder than you would if you weren't in a rush.
With the 3135EC, you don't have to worry about the contents inside getting thrashed around. The 3135EC's soft-close action brings drawers to a gentle close every time. And we mean every time.
But how have we achieved this soft-close feature?
We've added an internal fluid dampener that catches the drawer in the last two inches and brings it to a gentle close over and over again. This feature also reduces the envelope of the slide. All of this with just 4.8 lbs. of pull force. Talk about easy!
When you open this drawer, you'll notice how effortless it is to open it. That effortlessness is thanks to new lower spacer clips. These clips now carry additional ball bearings that help provide extra lateral support, reducing migration.
The 3135EC slide is great for retail display cabinets because of how easy it is to conceal. This slide will allow you to keep a drawer in an open position and have no visible functional hardware.
Additional features include a front lever disconnect for easy drawer removal and improved full extension. And, like many Accuride products, the 3135EC is manufactured in compliance with the Restriction of Hazardous Substances (RoHS) Directive.
Visit 3135EC Product Information Page
Company: Accuride International
Product: Medium Duty Slides » 3135EC Eclipse Easy-Close
Of: Claudia Tuttle
Source: https://www.accuride.com/blog/news/3135ec-eclipse-undermount-slide/
Tags: Furniture | Interior Design | Metal
---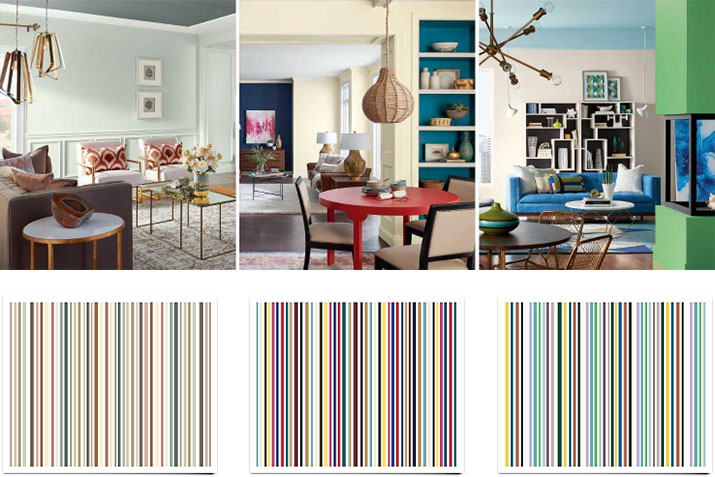 Like blue meeting yellow to make green, every color is a collision of influences - every palette a fresh chance at community.

Less is more as we're de-cluttering, moving more possessions into the cloud. Silence is no longer empty, but instead rare and rich with possibility. Our notions of what's authentic are being complicated. We're celebrating the unfiltered, yet captivated by the artfully processed. Blending in is the new standing out. Flaws are treasured. The hushed tones of this score play out in sand, complex grays and hazy botanicals.

Nationalism and globalism are in flux, challenging terrestrial boundaries. We're remapping our sense of community. Optimism persists in the form of boundary-breaking skyscrapers and commercial space travel. Even landlocked cities are becoming global hubs of crafts and gastronomy. We crave security and adventure in equal measure. Airbnb, car sharing and e-learning have created a culture of everyday nomadism. The bright folklore of this story is told in memorable pops of peacock color.

We're each moving to the beat of our own algorithm. From choosing a dry cleaner to choosing a college, data powers nearly every decision we make. In Silicon Valley, Austin, Berlin and Beijing, techies are the new hippies, full of breakthrough ideas and utopian ideals. A generation is waving the flag of color freedom, and Instagramming every moment. This high-tech palette is pixelated in orange, violets, digital greens and high-def yellow.
Company: The Sherwin-Williams Company
Product: Interior Paints
Source: https://www.sherwin-williams.com/architects-specifiers-designers/inspiration/color-forecast/2018-color-forecast
Tags: Coating | Color | Finishes | Interior Design
---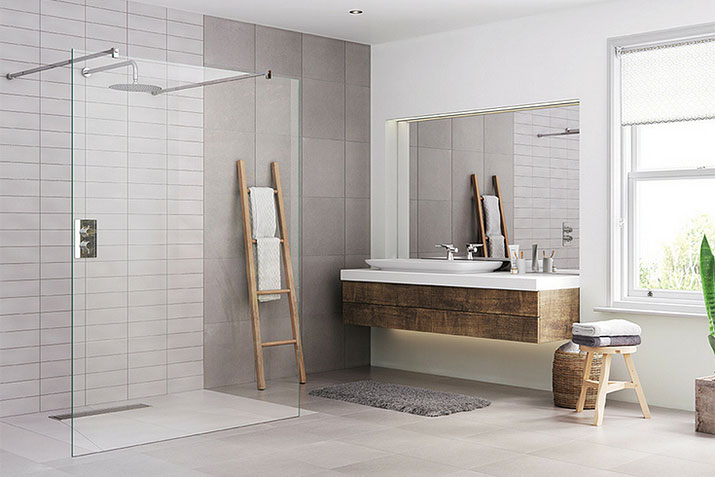 Do you have the June Cleaver throwback bathroom from the 1950's, or maybe a "modern" 1970's bathroom straight out of the Brady Bunch which are practically begging you for an update? You know you NEED a bathroom makeover so bad. It doesn't take a rocket scientist to see the partially rusted tub, pealed wood on the window sills, tired old particle board vanity with a dated laminate top and nasty looking grout in the shower. The challenge is what are you going to do about it? How can you update for a fresh, clean look? How can you create an updated design which takes advantage of the latest trends and keeps maintenance to a minimum? The question is – where do you start?
One excellent place to begin is to take a sneak peek at the products which are hot today and include these elements in your remodeled "bathroom of tomorrow." In this article, we'll look at what's hot now. At the end, I'd love to hear your "Siskel and Ebert" – two thumbs up or thumbs down on these products.
Hot bathroom trend #1 – A stylish one level "life-cycle" bathroom
Are you staring down the challenge of having to put Mom or Dad into an assisted living facility because their step-filled single family home has become too dangerous? The reality is most homes are not designed to work for family members as they age.
One important trend is the use of one level bathrooms which eliminate the curb to get into the shower. Not only are shower systems which eliminate the curb hot, they are also sleek and minimalist (more on this trend later) and will save you money, big-time.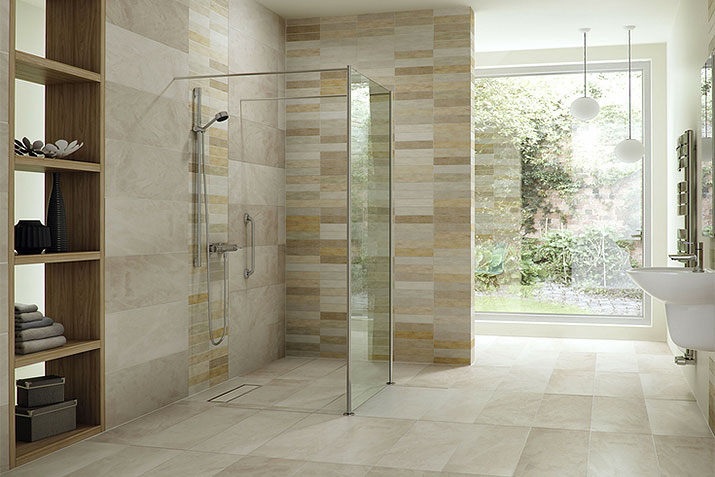 If you've priced assisted living facilities for Mom you know they can cost easily $3,000 to $4,000 per month. Using an "aging in place" (I hate this term – but many people use it anyway) solution like a one level shower can be sleek, stylish and eliminate the high cost of assisted living facilities.
Hot bathroom trend #2 – Geometry is in …at least for tile showers and bathrooms!
Although I'm sick guy and actually love math – I still didn't "get" geometry. I don't know, maybe it's because I'm more of a linear guy than a rhombus dude? Putting mathematics aside, one hot bathroom look for 2017 are geometric tiles. These tile designs not only add a feeling of shape and style – they also add drama to the bathroom. Fun and functional – that's cool.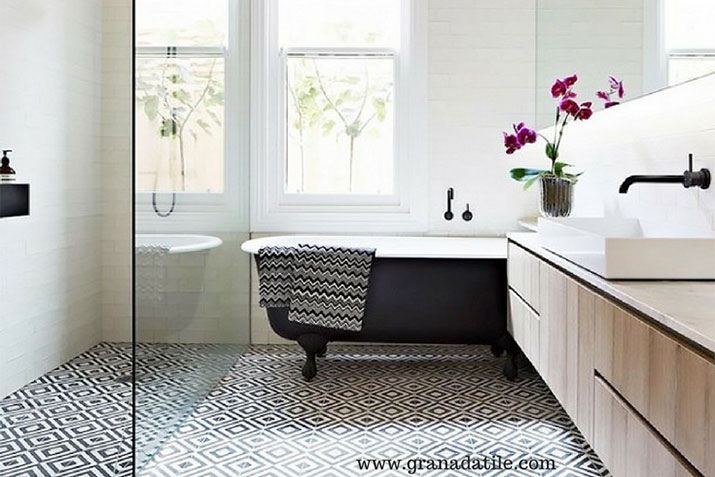 Hot bathroom trend #3 – Drop in tubs are way out – larger showers are in
Nothing says, "big hair and 1980's shoulder-pad-like" look in a bathroom quite like a gigantic soaking or jacuzzi tub in the corner flanked by two massive windows. I know this look was hot – but today you need to stay away from it like the plague. Our schedules are too crazy for bathing. Today's it's all about expansive showers. We are seeing people blow up their big tub and small 3' x 3' stand up shower next to them and convert to large open walk in showers. Sleek frameless glass walk in showers are all the rage – and why not – they get rid of the cost of the door and take less time to clean (a double benefit to you).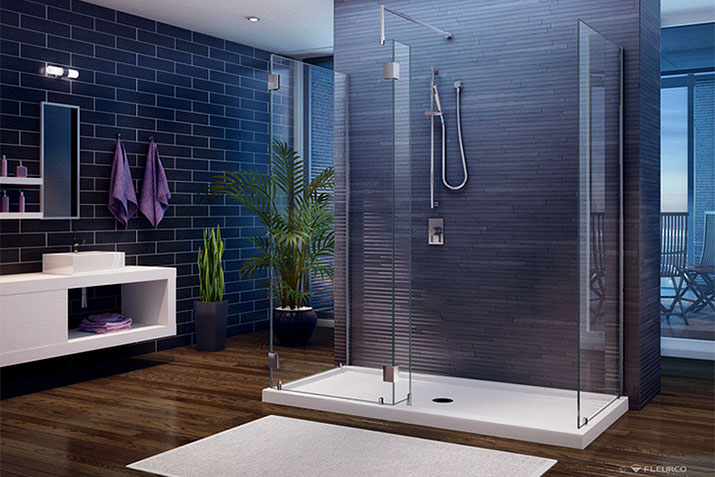 Hot bathroom trend #4 – Let's heat things up a bit
If you live in the Midwest (I live in Cleveland, but also spend a lot of time in Columbus) you know stepping on a cold bathroom floor in January can make a man out of you – even if you're a woman! It used to be in-floor heating systems where difficult to install and un-godly expensive. Not so today.
Electric and hydronic (liquid) in floor heating systems are no longer super pricey. You can even extend the heating systems inside the shower space – but I'll warn you may never want to get out if you do this! Another fun idea is to add a towel warming rack to pamper yourself when you get out. This bathroom will be so relaxing it may make you late for work!
Hot bathroom trend #5 – Sleek and minimalist is the thing
In the late 90's and early 2000's it seemed the fancier the woodwork in your bathroom the more style points you got. Today – bathroom trends are the opposite of our lives. The goal is to create a sense of calm, serenity, a place which flows with minimalist lines and flair. Think about using wall mounted cabinetry and the one level floors mentioned in trend #1 above. Take complexity out of your bathroom. You already have enough complexity in your life to go around. This will make your space stylish and simple to clean.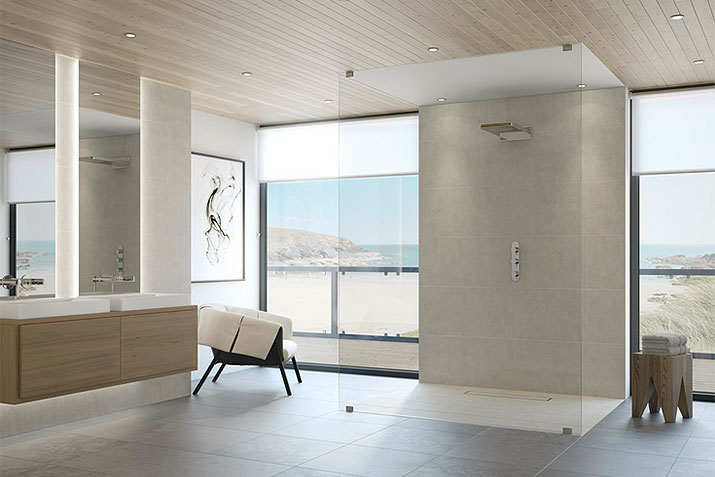 Hot bathroom trend #6 – Think like "Mrs. Thomas and her English muffins" and use your nooks and crannies
Home sizes historically kept getting bigger until the bottom fell out of the housing market in the late 2000's. Now people are stepping back and evaluating how big a house they really need. Groundbreaking books like The Not So Big House by Susan Susanka and formerly weird concepts like tiny homes, container homes and houseboats are becoming a larger part of the housing market. So, what does this have to do with Mrs. Thomas her filling the nooks and crannies of her English Muffins?
As homes have begun to scale down we now need to be more thoughtful per square foot and every room including the bathroom. This trend has certainly "washed over" (bad pun intended here) into the bathroom remodeling projects. In 2017, you'll continue to see inventive soap and shampoo niches (like this one illuminated with LED lighting below) which use the "inside of walls" to create space in a bathroom.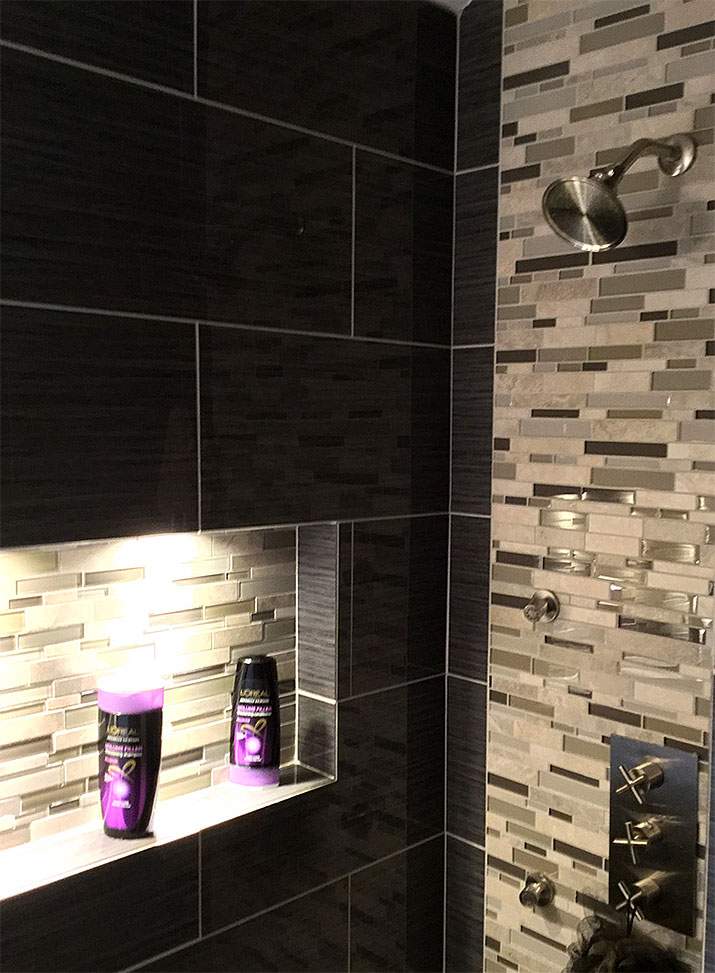 The movement to level floor showers (see trend #1) has helped because our bathrooms are now – more than ever – thought of as one continuous space. Fun ideas including vanity mirrors built into the wall are another example of superior space planning which in the years of the McMansion would have had no place – but are hot today.
Hot bathroom trend #7 – Maintenance is way out – luxury grout free shower wall panels are in
Tile looks great the day it's installed. The problem is those doggone grout joints end up sucking up your time cleaning them or needing to schedule a "Grout Dr." to come out to maintain your shower. What's hot in 2017 are cool lines of grout free shower wall products to blow up the grout cleaning challenge once and for all.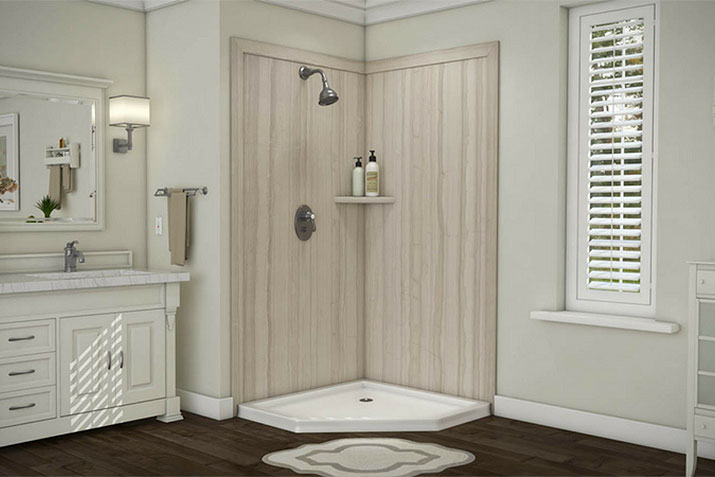 Stylish lines like these high gloss contemporary wall panel system provide the sleek, Euro contemporary (low maintenance) look. 3D wall panels are also getting hot because they add a sense of drama and texture.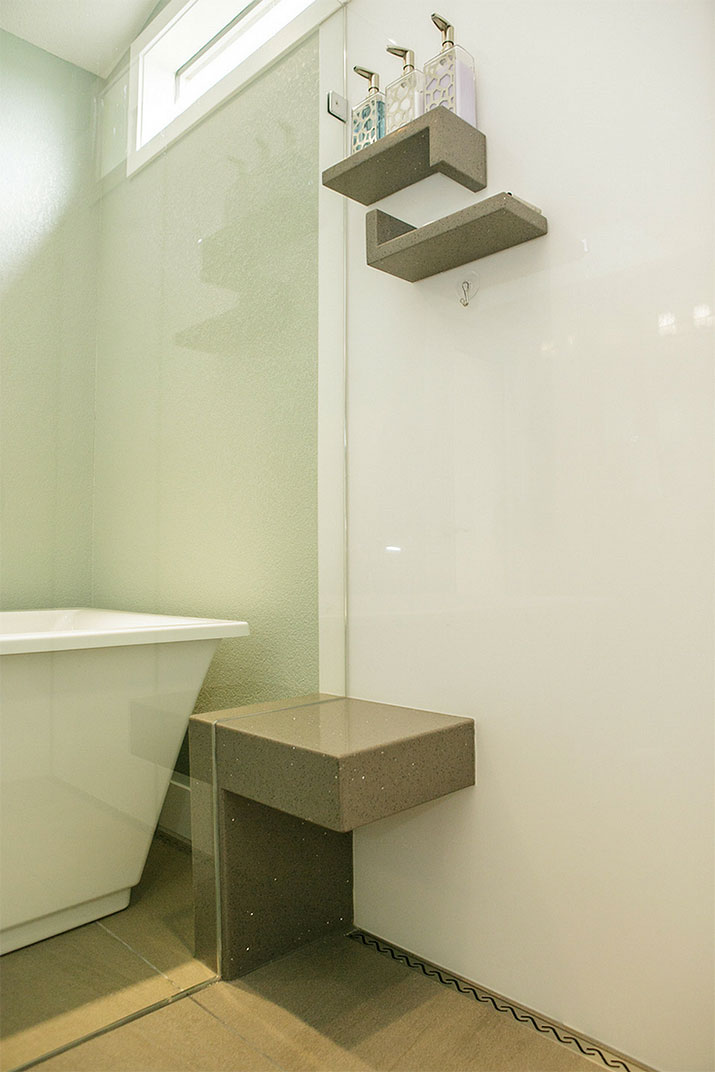 Conclusion
If you're living with your Brady Bunch or June Cleaver bathrooms of yesteryear isn't it time to blow them up for a fresh, clean, low-maintenance contemporary bathroom of today? What do you think about these 2017 hot bathroom design trends? Which do you like? Do you find any to be butt-ugly? Are there other trends you'd like to add? I'd love to see your comments, ideas and thoughts below.
How can I (or a member of my team) help you with these bathroom trends?
I know it can be challenge to put a fun and functional bathroom design together by yourself. That's why I (and the members of my team) would be delighted to assist you through your bathroom remodeling project. Whether you need nationwide factory-direct materials to save some money on doing the project yourself or professional design our Innovate Building Solutions (877-668-5888), Cleveland Design and Remodeling (216-658-1270) and Bath Doctor division in Columbus (614-252-3242) would love to help. Give us a call or click here for a Free Design Consultation.
Follow the Author on Twitter @Mike_Foti or his company @InnovateBuild.
Company: Innovate Building Solutions
Product: High Gloss Acrylic Wall Panels
Of: Mike Foti
Source: http://blog.innovatebuildingsolutions.com/2017/05/20/7-hot-2017-bathroom-design-trends-cleveland-ohio/
Tags: Floor | Glass | Interior Design | Wall Panels
---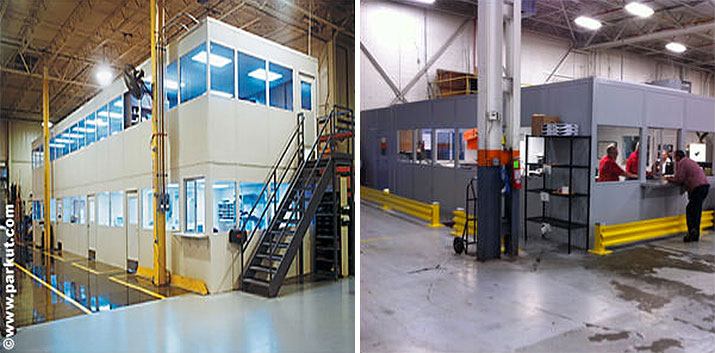 In Plant Office MODO-001, In Plant Office X11-166/ STR3020
Par-Kut supplies cost-effective in plant offices such as modular inplant offices with pre-engineered modular office systems that provide solutions for efficient space utilization. From a simple wall dividing system to a single office, multiple office or even a two-story multiple office system, no job is too small or too large.
We always seek better, faster and more economical ways to design, engineer and manufacturemodular in plant offices.
Assembly of units can be completed by the customer or Par-Kut can coordinate the assembly of the structure of the modular inplant office by an experienced crew. The panelized, site erected offices can include modular electrical systems, too.
There is also a tax advantage with an investment in in plant offices. Par-Kut's modular in plant offices can be fully dismantled, relocated, and reassembled. This mobility, under the Modified Accelerated Cost Recovery System (MACRS), allows the modular inplant office to be classified as "tangible property" with a shorter 7-year depreciable life.
The in plant office sold by Par-Kut are also available in noncombustible panel construction. The DL type panels have been tested in accordance to ASTM-E-84 (copies of the laboratory tests are available upon request). The other components of our Pre-Engineered office, i.e. suspended ceiling, dust cover, steel door and windows, are noncombustible, as well. Incorporating the DL type panels into the modular in plant office design will create a system in which all the components are noncombustible.
Go to GALLERIES to view additional Modular In Plant Offices.
Company: Par-Kut International, Inc.
Product: Custom Solutions
Source: http://www.parkut.com/products/offices/modular-in-plant-offices/
Tags: Interior Design | Office
---
Draper has announced EchoControl, an innovative acoustical treatment that improves the acoustics within rooms by utilizing sound-absorptive materials. Draper's EchoControl will "officially" debut at InfoComm 2017, June 14 – 16 in Orlando.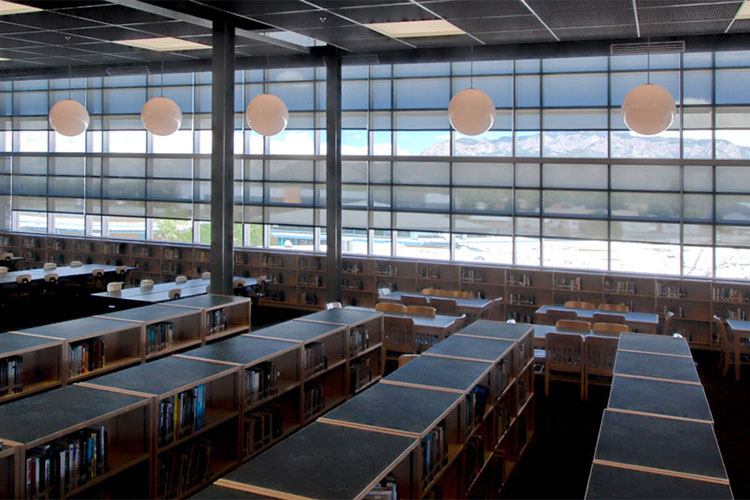 Draper is proud to introduce a new line of acoustical shading products
Draper's new line of acoustical shading, EchoControl, is designed to address one of the most pervasive pollutants we battle today – noise.
According to the Noise Pollution Clearinghouse, a national non-profit organization with extensive online noise-related resources, (www.nonoise.org), "Noise is among the most pervasive pollutants today…Noise negatively affects human health and well-being. Problems related to noise include hearing loss, stress, high blood pressure, sleep loss, distraction and lost productivity, and a general reduction in the quality of life and opportunities for tranquility."
As commercial design trends continue to lean toward the contemporary – open spaces and sleek surfaces with the use of more glass and exposed ceilings – and with LEED objectives in mind, architects have been met with new acoustical challenges. Draper's EchoControl addresses acoustical needs within the commercial and office environment. It has been shown to display increased absorption among human speech frequencies, making it even more effective at controlling sound in environments, such as office settings, in which privacy and noise reduction are key.
Why should we use sound absorbents?
To reduce reverberation inside a room (echo)
To reduce the overall level of sound
Acoustic treatments are used to improve the acoustics within a room by using sound-absorptive materials, like our EchoControl, to reduce echoing caused by sound reflecting off hard surfaces (like windows).
Walls, especially those with windows, offer good surfaces to install acoustic absorbers. This fabric offers a unique combination of acoustic and lighting control and comfort! Available on both motorized and manual shades.
Echocontrol fabric features:
Light-filtering – diffuses light, reduces glare
Controls solar heat gain
Reduces fading of interior furnishings
Certified to GREENGUARD GOLD standards
Infused with Micorban® antimicrobial product protection
NRC*: 0.60
*The noise reduction coefficient astm c423-90a (NRC) rates the effectiveness of a material to absorb sound. The NRC scale ranges between 0 and 1 (0 being completely reflective and 1 being completely absorptive). This is calculated by averaging the frequencies of 250, 500, 1000, 2000, and 4000 hz (rounded to the nearest multiple of 0.05).
Company: Draper, Inc.
Source: http://residentialtechnology.draperinc.com/acoustical-shading/
Tags: Acoustics | Interior Design | Window Shades
---
Contemporary architectural styles are on the rise, but for those that don't want to lose that traditional feel, consider a rustic design complemented by modern touches. In the design world, this style is called transitional. The experts at Fresh Home define transitional design as the blending of modern and traditional elements; the result is a cohesive design.
Transitional design can be applied in many different ways in most every room in the house as well as outdoors. Case and point below.
This kitchen embodies all the charm of a rustic space with its large, weathered beams grounded by wide wooden plank flooring. However, the sleek stainless steel appliances, industrial lighting, and brightly colored bar stools and give this room a more modern touch. The addition of the CableRail stair and loft railing opens up the space, making the interior more dramatic.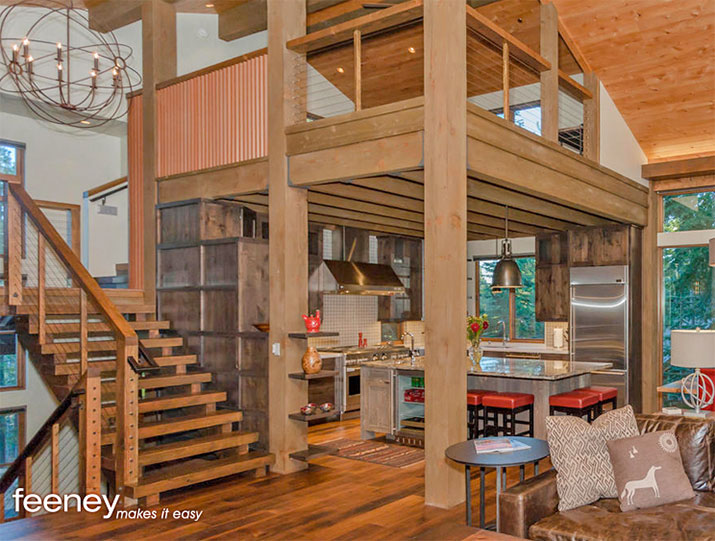 Here's another great example of a transitional design that incorporates a more natural, rustic feel but is balanced with contemporary components. This home was featured on the FOX television show HOME FREE. Feeney's CableRail was utilized as an alternative to traditional wood railing to create a sleek look complemented by the nature-inspired color palette. In addition, the patterned plywood accent wall with cylindrical concrete sconces adds depth to the space, resulting in a bucolic, simple design.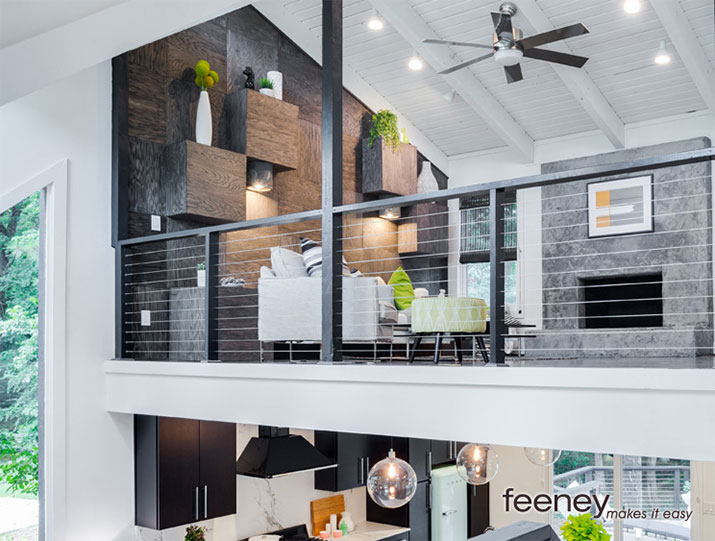 When it comes to exterior spaces, Feeney's CableRail and DesignRail® systems are just one of the many ways to transform a rustic-style design into a more contemporary one. A cable rail infill paired with a wooden railing offers a warm yet sleek look. The railing allows the homeowners enjoy what is certainly a lush wooded view from their Adirondack chairs. The outdoor area also incorporates a beautiful natural stone accent wall giving it a cabin-like appearance, and the additional exterior walls have a dark tone to them providing a more modern feel. While each of the design elements has a distinct style, the "mix and match" approach and blends cohesively and beautifully with the environment.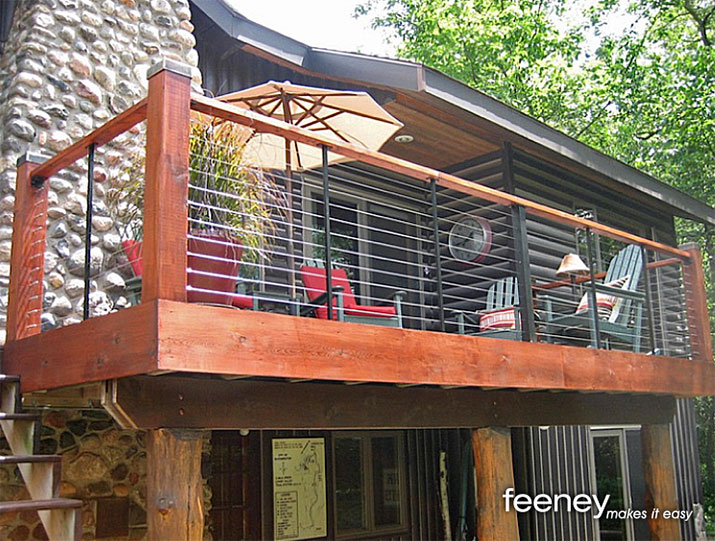 Company: Feeney, Inc
Source: http://media.feeneyinc.com/blog/rustic-meets-modern-transitional-design-style
Tags: Exterior Design | Interior Design | Railing System
---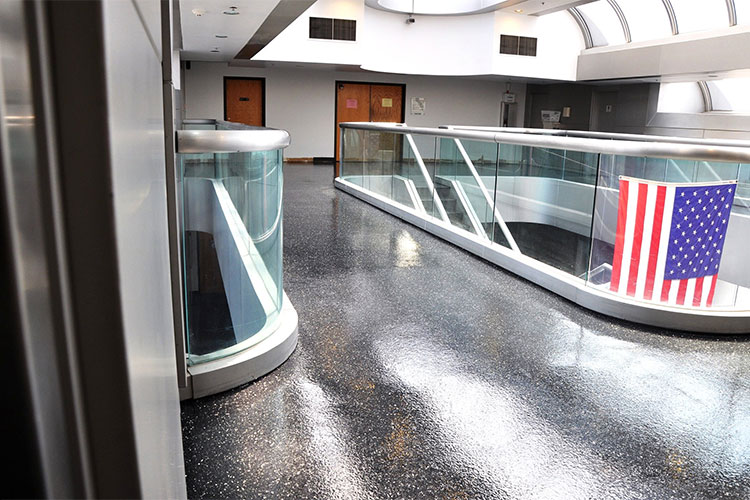 Architect specified a HERMETIC™ Flake Floor instead of terrazzo in this airport terminal. The cost savings was substantial.
HERMETIC™ Industrial Floor Coatings offer a variety of high performance flooring options for facility managers, property owners and specifiers looking for a ultra durable, easy to maintain, seamless flooring system. In fact, the choices are often so many that it becomes difficult to choose. In many cases, the right choice will be dependent upon the unique situation of the facility and what performance characteristics are required in a floor.
Industrial floor coatings are often chosen for aesthetic or financial reasons. They are a great value for medium to high impact areas where heavy traffic is expected. HERMETIC™ (epoxy resin based) Industrial Floor Coatings are available in almost any color and can be applied in thicknesses between 1/16″ to 1/2″ or more. They can easily improve the aesthetics and harden the surface of existing concrete substrate. Epoxies create a seamless, waterproof barrier, which provides a well-protected surface but demands a low-moisture substrate on which to be applied. Because an expertly installed epoxy floor provides this wall-to-wall seamless surface, it is very popular in the pharmaceutical and chemical processing industries. When chemicals cannot contaminate the concrete substrate, you are assured uncontaminated products down the line and easy clean-ups in the meantime.
HERMETIC™ (urethane based) Industrial Floor Coatings are similar to epoxies in terms of installation and function; they are installed over a concrete substrate, filling in the cracks and achieving a smooth, seamless surface. Urethane, however, is a better choice for areas that are likely to receive thermal shock, high-impact, increased abrasion or chemical exposure. Urethane is an extremely durable product that is likely to meet or exceed the physical needs of any facility. Urethanes also have aesthetic appeal similar to epoxies. The material can reflect light to a degree that influences your utility costs and improves worker productivity. For all of these reasons, urethane is a popular choice for commercial kitchens and food processing facilities.
Company: Elite Crete Systems, Inc. (Headquarters)
Product: HERMETIC™ Industrial Flooring
Source: http://elitecrete.com
Tags: Coating | Concrete | Finishes | Floor | Interior Design
---

Your building is complete and ready for occupancy. The walls are clean and free of dents. To ensure the interior remains an attractive environment for customers and clients make sure your walls and corners are protected.
Corner Guards are designed to protect corners of walls from the impact of people, carts and equipment. Architectural grade corner guards generally consist of a retainer, aluminum or vinyl, which is attached to the wall. They may be divided into two main categories as follows:
Surface Mounted. These are added to the surface of the corner, usually after the drywall is completely finished and painted.Stainless steel corner guards offer a high level of protection to your corners and provide a sleek appearance. They are commonly available in either Type 304 or Type 430 with a satin brush finish or an embossed texture finish. These are applied directly to the wall using either construction adhesive or mechanically fastened. Stainless steel corner guards are configured to the designer's requirements and are a durable solution for directly adhering to the wall.

Vinyl surface mount corner guards use a vinyl cover snapped over a retainer. Installation caps are applied to lock the profile in place and provide a finished look while keeping dust and debris from getting between the cover and retainer. The most frequently specified vinyl surface mount corner guards are the 2- and 3-inch with a square 90° radius. Coordinating 3-inch, 135° radius options are generally available as well.

A lower cost extruded vinyl corner guard is also an option. This corner guard is attached directly to the wall surface without the use of a retainer. It is an economical yet durable solution suitable for lower abuse areas.

Recess Mounted. The retainers for flush mounted corner guards penetrate the wall and are installed when the drywall is installed. This limits their application to new construction or major renovations.Recess mounted corner guards share the same standard 2- and 3-inch wing dimensions as the vinyl surface mount corner guard. They include an aluminum base for cove base mounting and are typically available in either a square 90° radius or with a 135° radius. Since recess mounted corner guards penetrate the wall, if the wall is required to be fire-rated, a fire-rated corner guard is also required.
Matching or adding color to your interior is achieved with a broad range of available colors. Often times manufacturers can color match for very specific design requirements.
Nystrom understands the importance of maintaining an attractive interior. We have designed a complete line of metal and vinyl wall protection systems including corner guards, handrails, crash rails, and bumper guards to help keep that new, fresh interior. Contact Nystrom for assistance in creating and maintaining your interior investment. For more information, please visit www.nystrom.com.
Company: Nystrom
Product: Wall + Door Protection
Source: https://news.nystrom.com/2017/03/27/interior-corner-protection/
Tags: Interior Design | Safety
---
Figuring out the right shower pan to use can be a pain. Do you get a traditional shower base with a 4 to 5" step over curb? Would a low-profile curb (which is 1 ½" tall) be the ticket or would it allow water to spill out onto the bathroom floor? Could you ditch the shower curb entirely and choose a ramped entry or one level wet room?
I've talked to thousands of homeowners over the last 20 years (wow – has it been that long?) about shower pan options, and I'll tell you the case for blowing up the shower curb (having no threshold at all) has never been stronger! In this article I'm determined to lay out 5 compelling reasons you should seriously consider going with a curbless shower for your next bathroom remodeling project. Let me know at the end of the article whether you agree with these reasons or whether I'm all wet (OK – that's a bad attempt at bathroom humor).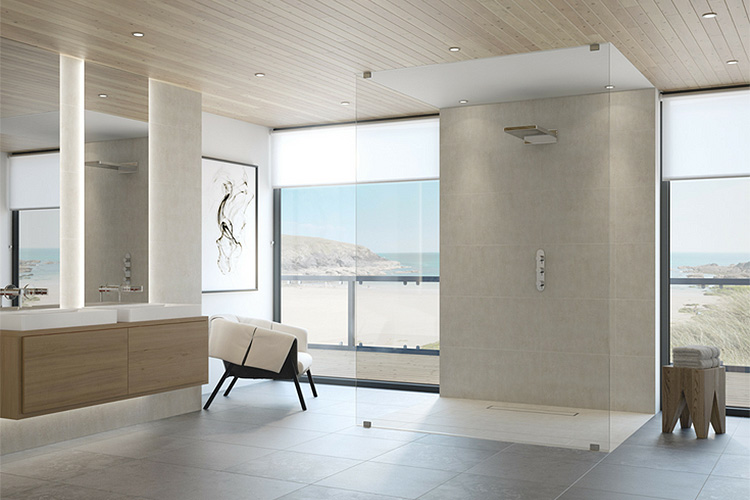 Zero clearance shower pans look nice and are safer
Compelling reason #1 to ditch the shower curb.
You're getting older.
Duh, you're probably saying…. aren't we all getting older? Yes, that is true. I would add the good news is we are living longer, but the bad news is (somedays) we're living longer. The aches and pains in the morning do stack up as those gray hairs (if you're lucky enough to get them without becoming "bulbed" as my daughter used to call bald people when she was young) start to mount. While growing older is a blessing, on some days it can also feel like a curse. I know I've asked myself why my body has "wear" parts? Why can't I look as lean as my 18 and 22-year-old sons who don't have to watch what they eat (but I digress).
When we age, the unfortunate fact is our mobility goes the wrong direction. Stepping over a shower curb can be a dangerous thing. It is the cause of many expensive and challenging hospital stays. When you have a one level shower entry there is no curb to trip over. These zero clearance shower base designs are growing rapidly in the remodeling market -even though few new home builders (even construction companies who build in 55+ lifestyle communities) incorporate them in new home designs. If you want to stay safe the one level designs are increasingly important as you age.
Compelling reason #2 to ditch the shower curb.
You'll save space.
For most people this tips doesn't seem logical but if you've ever visited Europe or Asia and stayed in a hotel room (or a friend or relatives house) you'll see lots of examples of one level bathrooms with open showers in small spaces. The reason curbless showers save space is they break down the barriers of the traditional "shower enclosure" where the space is defined by the shower pan and glass enclosure. With a waterproof curbless shower the shower and the bathroom are one continuous space. If you've got a small bathroom (possibly in an apartment, loft, tiny home, or micro-home) this can be a space-efficient way to get 'er done (as Larry the Cable guy) would say.
Compelling reason #3 to ditch the shower curb.
You'll show your cool, sleek and minimalist good taste.
Design trends have changed a ton from the super-sized mega-mansions of the 1990's with expansive soaking tubs and ornate tile designs. What's hot today is a contemporary, clean, sleek and minimalist bathroom. These spaces use large format tiles (or sleek grout free shower panels) and often have wall mounted cabinetry and open and airy designs. Curbless showers are a perfect contemporary fit with this design trend.
Compelling reason #4 to ditch the shower curb.
It's never been easier to create a one level bathroom.
In the old days making a one level bathroom was a pain in the butt. Most contractors would scratch their heads trying to figure out what to do. In most cases, they would "drop the floor" of the bathroom. What this meant was cutting your subfloor, then cutting your joists and reframing the area so they could pour concrete into the new "hole" which they would level by hand (imagine how much you're going to like have concrete poured inside your bathroom – it's not like you're doing a driveway and the concrete truck is going to have the material come down the chute!). This process is not only laborious and time-consuming to build– it's not a great system because it can compromise the structural integrity of your home.
Thank goodness there are new simple options. Today you can get a wet room kit. With these kits, you (or your contractor) cut the subfloor and install a product called a "shower base former" directly on your existing joists (no cutting of the joists and messing up the integrity of your framing anymore – see the in process image below).
Once the base former is in and plumbing hooked up, cement board will be brought to the height of the base former. Finally, the bathroom floor will be waterproofed and tile installed on the finished surface. When the entire shower is done, it will look like the image above– cool, sleek, waterproof and safe!
Compelling reason #5 to ditch the shower curb.
You'll have more flexibility.
I wish I could tell you getting rid of your shower with a threshold would give you more flexibility to climb stairs or jump as high as your cat (isn't it amazing how high they can jump?). You'll just have to enroll with your spouse in a few yoga classes (OK maybe more than a few) to make this happen. Where I do think one level wet room can help your flexibility is you will no longer have to have your space be "defined" by the shower pan and glass enclosure. So, if you decide you want to change out the glass enclosure to make the shower bigger, smaller or change its shape you can do it. How cool is that?
Conclusion
The reality is the times are 'a changing.' Construction methods are 'a changing' and your thoughts about bathroom remodeling (and what type of shower base to use) should be 'a changing' with them. If you're dealing with an old (or young) stuck-in-the-mud contractor using outdated installation methods, don't put up with it anymore (I'm guessing you're not using the same computer, you used 20 years ago. Your contractor shouldn't be using the same approach to creating one level showers they did 20 years ago.
If you're having a tough time making this project a reality call us at the number below or add your questions or comments to this post. We are looking forward to helping you! One level bathrooms aren't as difficult as some contractors make them out to be.
What questions or comments do you have about trims and borders for DIY shower and tub wall panels? Comment or call the numbers below for more information.
If you're looking for more information or an estimate on remodeling a shower or nationwide material supply for the various wall panels and shower bases mentioned above call The Bath Doctor in Cleveland (216-531-6085), Columbus (614-252-7294) or for nationwide supply Innovate Building Solutions (877-668-5888).
Connect with the author on Twitter @Mike_Foti his company @InnovateBuild
Company: Innovate Building Solutions
Of: Mike Foti
Source: http://blog.innovatebuildingsolutions.com/2017/04/01/5-reasons-wet-room-shower-system-shower-pan-threshold/
Tags: Floor | Interior Design
---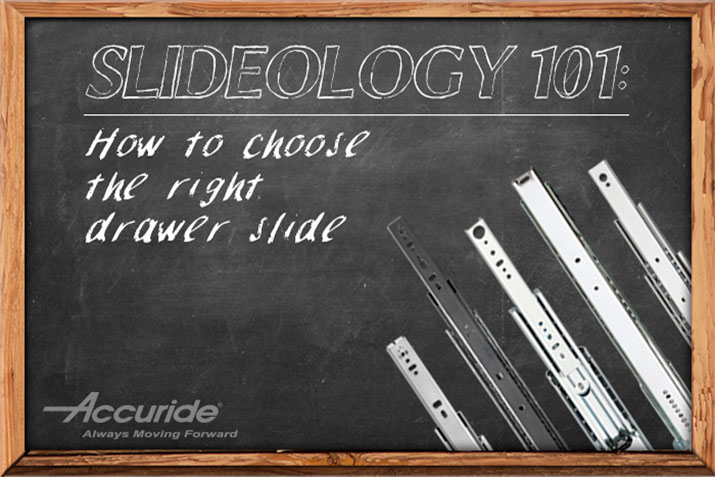 A good drawer slide means the difference of years of headaches versus years of convenience. Unless you have a lifetime's supply of aspirin, you want the latter. But what goes into a good drawer slide and how do you figure the right one for your need?
Here's a brief guide to help you understand the basics of a drawer slide and how to choose the right one for your application.
The Basics
Accuride manufactures ball bearing slides. These slides feature lubricated bearings that move drawers and the like in a linear direction, allowing smooth opening and closing action. The bearings, secured within metal ball retainers, fit between the members.
A simple drawer slide has two members: a drawer (inner) member that attaches to the side of a drawer box, and a cabinet (outer) member that attaches to the cabinet's inner wall surface, within the drawer opening. Only one of the slide members (drawer) moves when opening a drawer.
A more complex slide structure will include three members, with an intermediate member located between the cabinet and drawer members. Only the drawer and intermediate members move; while the cabinet member remains fixed to its location within the cabinet structure.
Additionally, slides can come in two arrangements: side mount and undermount. Most Accuride drawer slides are side mount, meaning they're mounted on the side of the drawer and within the cabinet structure. A undermount slide, such as the 3135EC Eclipse, mounts in a position that allows a specially designed drawer to sit on top of the suspension, unlike a side mount slide. An undermount slide is often used where it's desirable to conceal the drawer slide components from view.
Ball bearing drawer slides are also known as rails, runners, and sliders, but they are not the same as glides. A glide uses thin rails on both mounting surfaces, and include plastic wheels on the drawer side allowing movement. Glides are often found on discount furniture; while inexpensive, their movement is much less smooth and the rails are prone to misalignment.
Lengths and Extensions
Accuride slides come in many lengths, from as little as 6 in. to as long as 60 in. Length refers to the total length of the slide assembly, when collapsed in the closed position.
How far a slide extends or moves, is called extension or travel. A simple slide that uses just two members, an inner and an outer, generally provides ¾ (or partial) travel. That means the moving drawer member travels at ¾, or 75%, of the slide's length. The Accuride 2132 is an example of a ¾-travel slide, where an 18-in. slide has approximately 13 in. of travel. These types of slides are common in residential uses, such as in kitchen cabinetry, or in office furniture, where direct full access to the drawer's contents is not desired.
Three-member slides have two moving components, the drawer and intermediate members. In combination, these members tend to extend either the full (100%) length of the drawer slide assembly or even beyond that. Those that exceed the length are called "over-travel" slides because they travel over 100% of the length of the drawer slide assembly. Full-extension slides, such as the Accuride 3832E Classic, are useful if you need easy access to contents, as with kitchen utensil drawers, and point of sale trays. Over-travel slides, such as the Accuride 3834E, which has 1 in. of over-travel, are ideal when additional drawer access is needed, requiring the drawer to be opened beyond the front face of the cabinet.
There are also two-way travel slides, such as the Accuride 0363, which can extend the full-length, of the slide, in either direction. These are useful for kitchen islands or entertainment bars, where direct access is needed on either side of the unit.
With that said, let's look at some factors that can help you choose the right slide for your application.
Load Capacities
Determine how much weight your application is likely to see when in use. Accuride slides' load capacities fall into three ranges: light-, medium-, and heavy-duty. A light-duty slide, such as the Accuride 2132, handles loads up to 75 lbs. Light-duty applications often include kitchen and office drawers. A medium-duty slide, such as the Accuride 3832E Classic, handles loads up to 100 lbs., while an Accuride 4032 is a rated up to 150 lbs. Medium-duty applications include larger kitchen drawers and office furniture. Load capacities for some of Accuride's heavy-duty drawer slides can reach up to 1,300 lbs. The Accuride 9301E is an example of a heavy-duty slide, which has a load rating of up to 600 lbs. Heavy-duty applications include pull-out trays on emergency or recreational vehicles, ATM machines, and utility/service trucks.
Disconnect versus Non-Disconnect*
Decide if you want your drawer to be removable from the cabinet structure. If so, choose a slide with a disconnect feature that lets you separate the drawer member from the cabinet, or intermediate member, allowing the removal of the drawer (to clean for example). There are slides with rail disconnect features (such as the Accuride 4032), which allow rails that are attached to the sides of drawers, to be released and lifted off the corresponding drawer members.
A disconnect feature is useful for furniture manufacturers with multiple assembly lines. One line may assemble hardware to drawers, while another may assemble hardware to cabinets. With a disconnect slide, manufacturers can simply mount the separate members in the assembly phases and then join them together in the final stage. Connecting a drawer member with a cabinet member can be as simple as align, engage and push closed.
Usually, you want to avoid a disconnect option with heavy-duty applications, such as those utilizing an Accuride 9301E. With most heavy-duty applications, it's impractical (and a safety concern) to remove a fully loaded drawer. Regardless of whether you use a disconnect feature with light- or medium-duty slide, consider whether you can safely handle the drawer and its contents before disconnecting the members.
* Read more about Accuride disconnect features from our first installment of Slideology:101 – The Art of Disconnect
Locks & Detents
Do you want your drawer to be secured in position? In that case, you may want your slide to include a detent or a locking feature. There are two types of drawer slide detents: detent-in and detent-out.
A detent-in slide has an engagement feature formed on the drawer member and a rubber-like molding secured at the rear of the cabinet member. These two features cooperate to frictionally hold a closed drawer in that position, preventing the drawer from drifting open. You can overcome the detent with a pull on the drawer when opening.
A detent-out slide includes cooperating components that holds the slide in the fully extended position, until you are ready to retract the drawer or a working platform, such as a keyboard tray. Deactivating a detent-out slide requires a simple "bump" of the extended unit to release the engagement features before pushing it back inside the cabinet.
There are two types of drawer slide locking features: lock-in or lock-out. Both features include a latching mechanism that secures a drawer open or closed. You can disengage, or unlock, the drawer by pressing a latch or lever (depends on the model). Some slides are just lock-out equipped, while a slide such as the Accuride 9308E has both features, ideal for mobile applications such as emergency vehicles.
Special Features
Additionally, slides can come with features that make opening or closing a drawer more convenient. These include:
Easy-Close
Self-Close
Touch Release
An Easy-Close slide includes a closing device, equipped with a damping cylinder, and cooperating springs that engages with the drawer member and assists the final inches of the drawer closing action. Easy-Close (sometimes-called Soft-Close) slides provide assurance that the drawer will close quietly and smoothly every time.
A Self-Close slide, also includes a closing device, with springs, but does not include a damping cylinder. The engagement of the drawer member is similar, and once engaged with the device, the drawer quickly closes at the last inches of closing distance. Self-close slides are noisier than Easy-Close slides, and sometimes are used as "stay-closed" devices for mobile cart applications.
A Touch Release slide allows opening of the drawer, without the need for a drawer pull. Activation of a Touch Release slide like the Accuride 3832ETR, is accomplished by simply pressing against the drawer front, which releases a spring activated device to "spring" the drawer out of the cabinet approximately 2 in. Closing is just a matter of pushing the drawer closed completely, which resets the device for the next opening activity.
Choice of Finish
Accuride slides come in three coated finishes placed over carbon steel slide members: zinc, black electroplate, or white electro-coat. Some slides utilize stainless steel or aluminum material as needed for specific applications. Zinc is most common plating finish for Accuride; it features an environmentally friendly base layer of zinc, with either a clear or a black chromate coating over the top. A clear zinc coating (the most common coating used by Accuride) resists moderate levels of corrosion, typically for slides used in non-corrosive environments, like office furniture. Electro-white (a paint) or black chromate-coated slides offer greater corrosion resistance that is eight-times that of clear zinc. Stainless steel and aluminum material slides offer even greater corrosion-resistant but are available only on select models.
Conclusion
This brief guide should shed some more light on what makes an Accuride slide and how it can best serve your needs. You can browse our vast selection of movement solutions at www.accuride.com.
Company: Accuride International
Source: https://www.accuride.com/blog/news/choosing-right-drawer-slide-slideology/
Tags: Furniture | Interior Design
---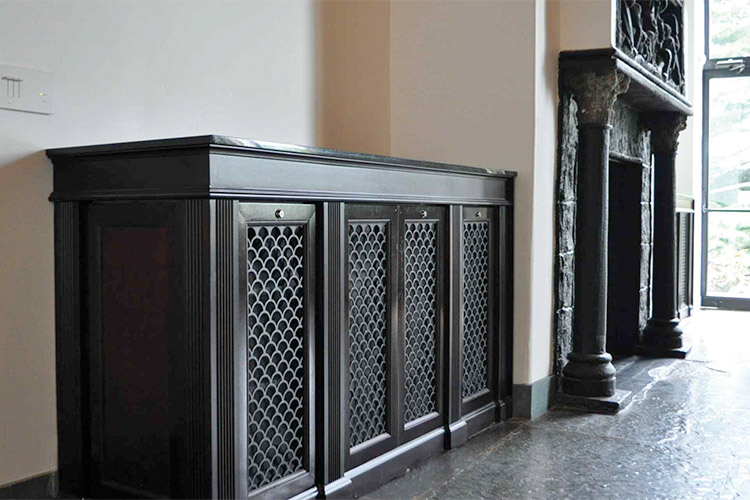 Fireplace
Historic House Restored To Former Glory
This stately fieldstone mansion, built in the mid-1800's, was a vacation home to famous Presidents and Authors. Artisans at Advanced Arch Grilles, working alongside our architect and contractor partners, assisted in the renovation that helped restore its rooms and pay homage to its historical and cultural significance.
Custom fabricated bronze perforated grilles blended nicely with the rich mahogany woodwork that has stood for over 100 years.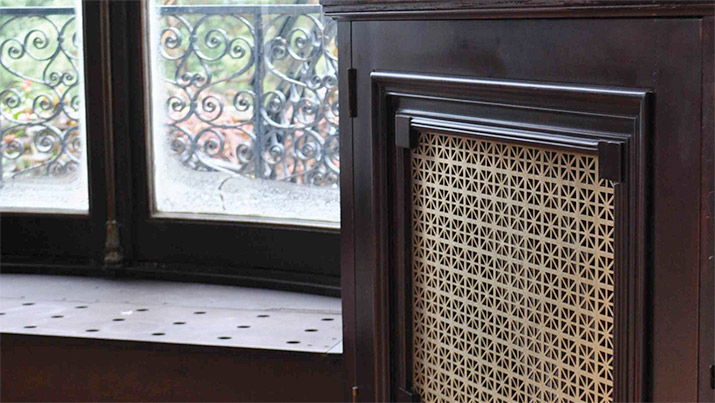 Cabinet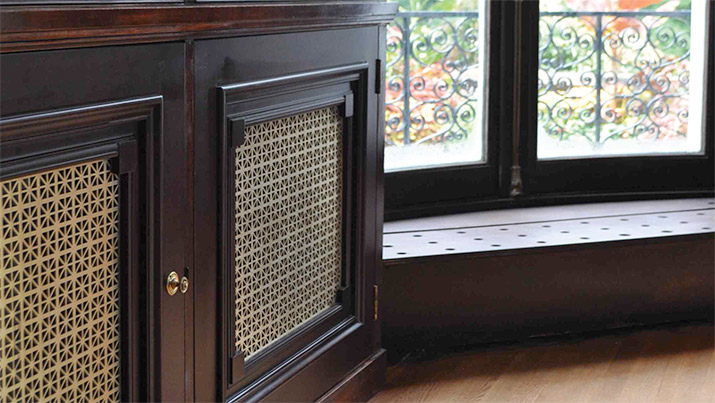 Custom built-in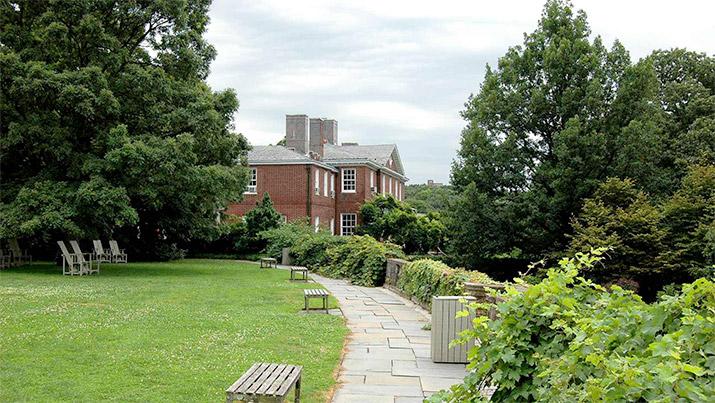 The house
Company: Artistry in Architectural Grilles by Advanced Arch Grilles
Source: http://aagrilles.com/custom-period-matched-perforated-grilles/
Tags: Access Covers | Aluminum | HVAC | Interior Design | Wood
---
Nystrom introduces a 1 inch Pan Architectural Floor Door as part of the non-drainable Floor Door product line. The new floor door cover is designed to accept a variety of infill, including terrazzo, tile, concrete or wood panels. The narrow-reveal design allows for seamless integration into the surrounding floor.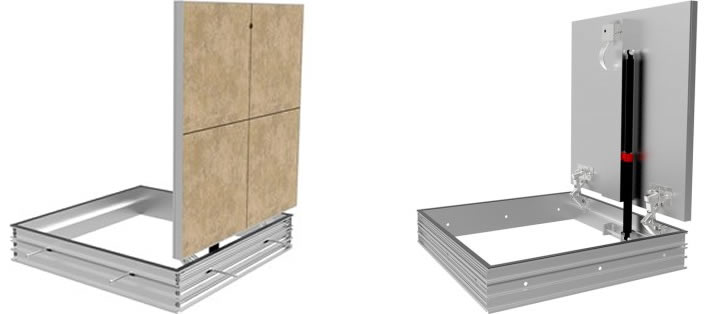 Tile Filled Pan Cover – Cast-In Installation, Inside View – Retrofit Installation
Features:
The aluminum access door is fully gasketed to prevent both water and odor penetration.
The concealed hinge design allows for a 1/8 inch reveal.
Designed for pedestrian traffic with a 300psf load.
Gas spring with integral hold open with quick release
Can be installed as cast-in or bolt-in for new construction or renovation.
Available with a single door configuration with sizes up to 36 inches by 36 inches.
For more information or to request a quote, please visit www.Nystrom.com or call 1.800.547.2635.
Company: Nystrom
Product: Floor Doors
Source: https://news.nystrom.com/2017/03/16/nystrom-launches-1-inch-pan-floor-door/
Tags: Access Covers | Interior Design
---
Architects turn to Total Security Solutions for project support
Even if you've worked with bullet-resistant components before, it can be difficult to know how to manage that part of your project. Our bullet resistant experts can help with assessment, design and installation of a complete bulletproof barrier system, or individual bullet-resistant features and accessories. We've done thousands of projects across dozens of industries throughout the country, and our turnaround time is the fastest in the industry. Our work will fit in seamlessly with your design because we do our own field measurements and hand-craft our materials at our in-house manufacturing facility.
See our architect projects gallery

Strict proven process
Our bulletproof experts follow a strict proven process so that no detail is overlooked. We'll help you select the right glazing, accessories and materials for your project and deliver and install your barrier and components in half the time of our competition.
See How We Develop Custom Barriers
Industry experts add value.
As a trusted leader in the bulletproof industry with 12,000+ installations to date, we bring more to the table than just our bulletproof products. We bring experience that will help you make better decisions, and avoid commonly-made mistakes. If your project includes bulletproof features, you're going to need a partner you can rely on whose work speaks for itself.
Resources just for architects
Our Architect Resource Center has videos, CAD drawings, specs and data sheets for every possible bulletproof item you could need. From frames to counters, doors to windows, fiberglass and beyond — get the details and information necessary to plan a successful project.
Full line of bullet-resistant products
We design and manufacture every single bulletproof product we install. TSS offers a variety of ballistic windows, doors, drawers, trays, and 8 levels of UL-rated bulletproof glass. We have everything you need right here.
Company: Total Security Solutions Inc
Product: Bullet Resistant Barriers
Source: http://www.tssbulletproof.com/industries/architects/
Tags: Entrances | Interior Design | Safety | Security
Decorative quartz flooring: choosing epoxy, urethane, or MMA resin? (April 13, 2017), Space Saving Solutions: Under the Staircase Storage (April 12, 2017), New Design Tools to Meet Green Guidelines (March 30, 2017), Project profile: flooring installation for busy bank in El Paso exceeds tight turnaround expectations while delivering a functional masterpiece (March 27, 2017), Concealed Access Doors, a high-end architectural panel (March 24, 2017), Kalwall Panels featured in "Amoeba Wall," MIT design team's award-winning project (March 20, 2017), How to create theft-proof closets (March 8, 2017), Is polycarbonate the future of architecture? (February 2, 2017), Introducing the 2017 Color of the Year (January 20, 2017), Moving Interiors - Automotive Sliding Systems (January 16, 2017), Loss Prevention: Ramping Up Retail Security for the Holidays (December 21, 2016), Tips to Improve Indoor Air Quality This Winter (December 19, 2016), Make rooms quieter with a little help from EchoControl acoustical shading (November 14, 2016), AAG100 Plaster J-Bead™ Curved Linear Grille (November 9, 2016), New Unicel white paper provides guidance for specifying privacy and shading solutions (October 19, 2016), 5 Crazy Modern Glass Wall Partition Ideas for a Loft Apartment (October 17, 2016), Reflector Designer Metallic Epoxy Flooring (October 14, 2016), Interior Acoustical Finalé Wall Panels (October 10, 2016), Register for a FREE Senseon Secure Access webinar: transforming lock and key systems for commercial environments (October 7, 2016), 4 Tips to Plan for Packages (September 26, 2016), Delray LED Circles: Uno • Dos • Cylindro I/II/III (September 14, 2016), Glass Shower & Tub Enclosures by Fleurco (September 2, 2016), First Appearances Matter: remove the dirt | absorb the moisture | preserve your floors (August 31, 2016), Architects Inspiration Handbook for Glass applications in commercial interiors (August 29, 2016), Mirror polished stainless steel enclosure top and return grilles at New York City Hospital Lobby (August 26, 2016), Accuride's flagship 3800 series slides are now available from bisco (August 12, 2016), 5 Proven Questions to Get the Size of Your Shower Opening Right (July 29, 2016), Commercial Grade Soft-Close Undermount slide (July 27, 2016), Benefits of Decorative Metal Ceilings (July 22, 2016), Designer John Gidding on Finding Color Inspiration (July 18, 2016), Restaurant Ceiling Tiles (July 1, 2016), Sotheby's 2016 Designer Showhouse + Auction (June 8, 2016), The Sir John A MacDonald Building (June 3, 2016), How to "Future-Proof" Your Bathroom (May 13, 2016), Custom shade brackets solve big headache (May 11, 2016), Custom Pocket Headboxes (April 20, 2016), Decorative Panels & Screens (April 4, 2016), Consider Glass Flooring Systems for Dramatic Design (April 1, 2016), Cabinets without keys: combine flexibility, simplicity and security without sacrificing style, performance and profit (March 25, 2016), Howe Green Provides Easy Access in Quality Hill Homes (March 21, 2016), Fleur de Sel (SW 7666) invites comfort and luxury into contemporary Atlanta home (March 18, 2016), The Noise Control Solution - When Acoustics, Style & Toughness Are Required (March 11, 2016), High Performance Coatings (March 7, 2016), Wisconsin Hospitals Use Boon Edam Revolving Doors in Special, Double Entrance Solution (February 15, 2016), Artistry in Architectural Grilles (February 10, 2016), Massive retail shopping mall (February 5, 2016), Decorative Spray-Texture Concrete Overlays (January 29, 2016), 2015 NJ DISCA Excellence in Construction Awards – Tin Ceiling Project (January 8, 2016), 7 Myths about One Level (Curbless) Showers (January 6, 2016), Commercial and Residential Ceiling Tiles (December 7, 2015), Print custom graphics on window shades (December 2, 2015), Protecting Industrial Flooring with Polyaspartic Coatings (November 30, 2015), BP Bright Lights (November 25, 2015), Colored/Stained Conventional & Polished Concrete (November 20, 2015), TecVision Stuns in Utah Home Cinema (November 11, 2015), 3 Common Misconceptions About Epoxy Floor Coatings (November 2, 2015), Advanced Arch Grilles brings Artistry to historical projects (October 28, 2015), They're here! Glass countertops from Innovate Building Solutions (October 14, 2015), As Cooler Weather Approaches, National Home Expert Danny Lipford Launches Satellite Media Event Offering Tips for Seasonal Improvements and Healthy Homes (October 7, 2015), Color of the Month: Get inspired with Black Magic SW 6991 (October 2, 2015), Hanging baffles substantially quiet this LAPD firing range - this benefits everyone who works there (September 30, 2015), Ventilation for you the music fan: brilliant audio performance concealed behind your fan grille (September 23, 2015), Log home meets contemporary (September 16, 2015), Style Squared (September 11, 2015), Bank Security: Balancing the Priorities of Security Managers, Architects, and Facilities (August 31, 2015), Modern Living with Kathy Ireland Discusses the Importance of Indoor Air Quality with Broan-NuTone (August 28, 2015), Ruskin Air Doors Protect Indoor Air Quality (August 28, 2015), 5 Things Nobody Tells You about Shower & Tub Wall Panels (August 26, 2015), University Housing 101 (August 21, 2015), Specialty Glazing (August 20, 2015), Concrete Resurfacing (August 19, 2015), Healthcare Color Palettes (August 12, 2015), Projection Versus Flatscreens (August 6, 2015), Delivering ultra-thermal performance in a unitized curtain wall system (July 31, 2015), Case Study: Sustainability without Sacrificing Beauty - the Linstroth Residence (July 22, 2015), Tectum Panel Art Wall Panels (July 20, 2015), Larger Optically Seamless TecVision Surfaces (July 8, 2015), Sealed Blinds from Unicel Offer Flexibility, Low Maintenance (June 24, 2015), REFLECTOR™ Enhancer Floors (June 19, 2015), 7 Cool Uses of Glass for Contemporary Luxury Homes (June 12, 2015), The Why of White (June 3, 2015), Find Your Color With ColorSnap Studio™ (May 20, 2015), Tectum V Acoustical Roof Deck (May 8, 2015), There's a new trend in the mailbox industry... (May 6, 2015), Concrete repair, resurfacing and epoxy flooring by Super-Krete Products (May 4, 2015), OGDEN flexible curved or circular benches (April 29, 2015), A World Without Windows (April 24, 2015), 5 Tips For How To Fill Perfect Looking Large Planters (April 22, 2015), Would you step out on this glassfloor? (April 10, 2015), L-Bead Installation: New and Improved (April 3, 2015), Create an accent wall with faux-leather wall panels (February 17, 2015), Coral Reef! Jackie Jordan on the 2015 Color of the Year (February 6, 2015), Bottom-Up FlexShades Offer Privacy (February 2, 2015), Nothing says cool quite like high gloss WallPanels (January 16, 2015)