architecture - engineering - construction

Interior Design
---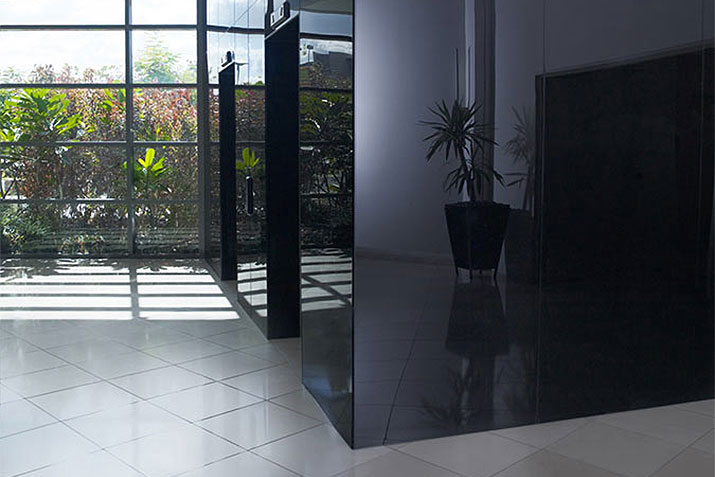 High gloss acrylic walls provide a sleek, contemporary look for bath/shower walls, kitchen backsplashes, reception desks and office areas while being light and easy to work with. Learn the many benefits of this product.
Creates a clean, contemporary look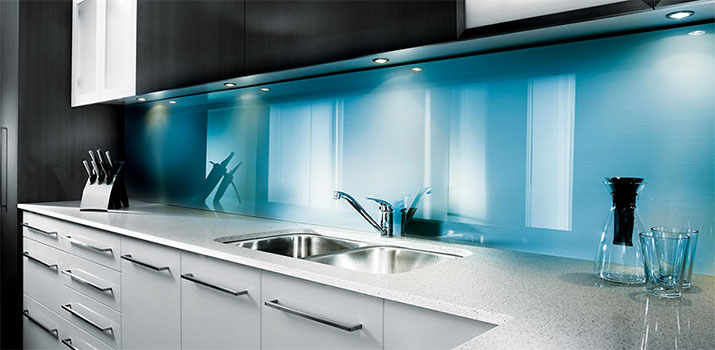 The high gloss acrylic wall panels created a fresh clean European look with a luxurious and elegant finish.
Unique colors adds a stylish touch for a backsplash or tub or shower wall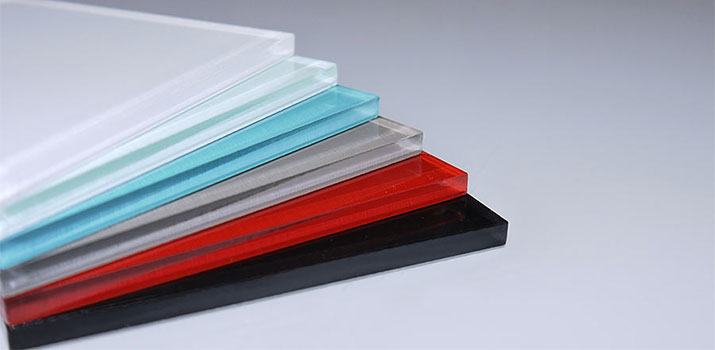 Choose from a wide range of fun colors like arctic white, blue atoll, glacier, mocha, carbon black, red rouge, and titan gray to dress up any indoor residential or commercial space.
Flexible material can be used in a wide range of remodeling and new construction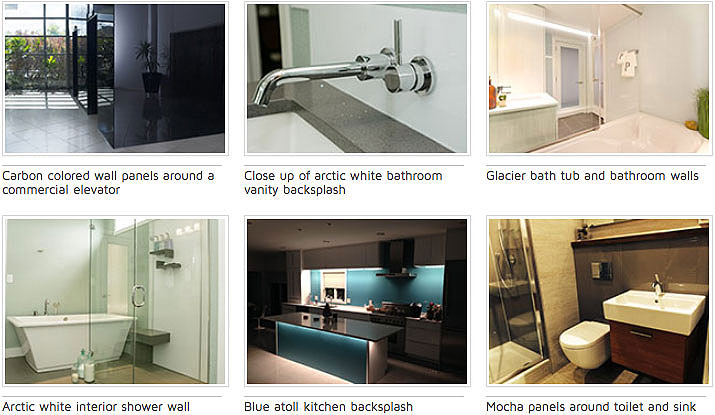 High gloss panels from Innovate Building Solutions can be used in bathrooms, bedrooms, media rooms, hallways, reception desks and commercial lobbies to name just a few rooms. Cool, eclectic and exciting are just some of the words used to describe these panels.
Easy to clean with no grout to maintain
While tile is the most commonly used material in shower and tub wall panels and kitchen backsplashes most people hate the cost and hassle of cleaning and resealing grout! With these innovative wall panels you'll get a sleek euro look and eliminate the effort and cost of maintaining grout. These smooth/non-stick walls are easily cleaned with warm water and a soft cloth.
Glass type look with the benefits of acrylic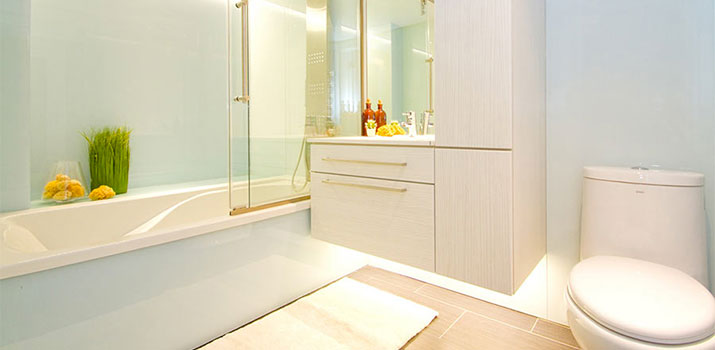 High gloss acrylic panels are 25 times tougher than glass with 1/2 the weight.
More cost effective than back painted glass
Back painted glass is also very stylish - but in most cases will be 2 times as expensive as high gloss acrylic wall panels.
Durable long lasting material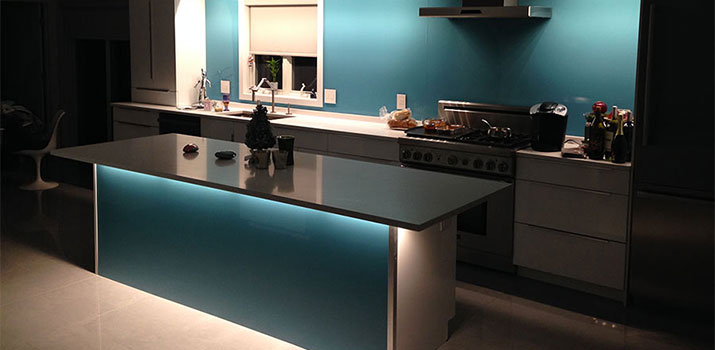 High resistance to UV light, cracking and chipping makes this is popular materials vs. glass, ceramic tiles, aluminum or wood.
Simple installation process
These high gloss acrylic panels can be cut drilled and shaped with common woodworking materials and the panels can be set with double sided foam tape and neutral cure silicone. Installation will take 1/3 of the time of a tile job.
100% waterproof
In wet applications likes showers, tubs and backsplashes it's nice to know with high gloss acrylic walls you don't have to worry about moisture growing behind the wall.
Multiple panels sizes for design flexibility
Choose either our 2 standard panel sizes (39"x96" and 60"x96") or get your panels custom made to your size through our custom cut program.
Company: Innovate Building Solutions
Product: High Gloss Acrylic Wall Panels
Source: http://innovatebuildingsolutions.com/products/bathrooms/high-gloss-acrylic-wall-panels
Tags: Color | Interior Design | Wall Panels
---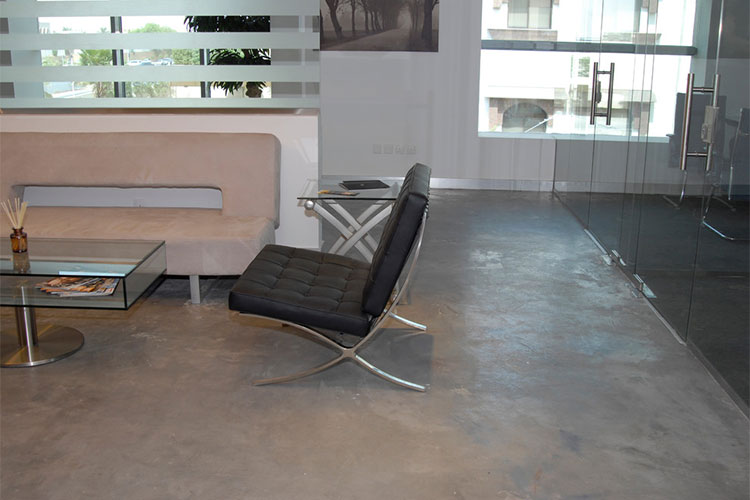 Elite Crete Systems has solutions to concrete floor problems and the design and decor experience to provide a truly unique one of a kind floor system.
REFLECTOR Enhancer Flooring Systems for a residential garage floor.
REFLECTOR Enhancer Flooring Systems in a dining room. Seamless, durable and beautiful.
Although this floor looks like traditional wood floor, it is not actually wood at all. It was created with THIN-FINISH™ Pre-Mixed Overlay and is a polymer modified cementitous topping. Because it is cement based, it is seamless and will not scratch like conventional wood floors.
Custom seamless floor created with REFLECTOR™ Enhancer Flooring System.
This beautiful and custom floor was created with THIN-FINISH™ and MICRO-FINISH™ polymer modified cementitious overlay.
This floor is not tile. It is fluid applied but made to look like stone tile. It was created with TEXTURE-PAVE™ pre-mixed overlay and colored with ULTRA-STONE™ Antiquing Stain.
Elite Crete Systems is a leading manufacturer of exterior decorative concrete finishes and custom seamless interior flooring. With a national network of trained installers and local technical support offices Elite Crete Systems is able to service individual residential clientele along with large corporate installations and construction projects.
Company: Elite Crete Systems, Inc. (Headquarters)
Source: http://www.elitecrete.com/
Tags: Coating | Concrete | Finishes | Floor | Interior Design
---
TECTUM WALL & CEILING PANELS: A PERFECT FIT OF DURABILITY, ACOUSTICS, AND UNIQUE VISUALS
From a natural factory finish or white, to integration with COLORATIONS colors (that's 13 standard colors) or made-to-order Sherwin-Williams® colors, TECTUM panels can coordinate or complement your color palette with the sizes, shapes, and forms that make your designs happen.
Toughness and acoustics are at the heart of TECTUM interior products, ideally suited to open spaces and high traffic, high impact areas. Panels can be attached directly to walls and ceilings in forms of panels, clouds, and square or curved. TECTUM linear hanging baffles give you even more design options.
Create a signature element in a space to complement your interior design. The possibilities are endless, the look is one-of-a-kind, and the acoustic properties of TECTUM panels can help quiet the space.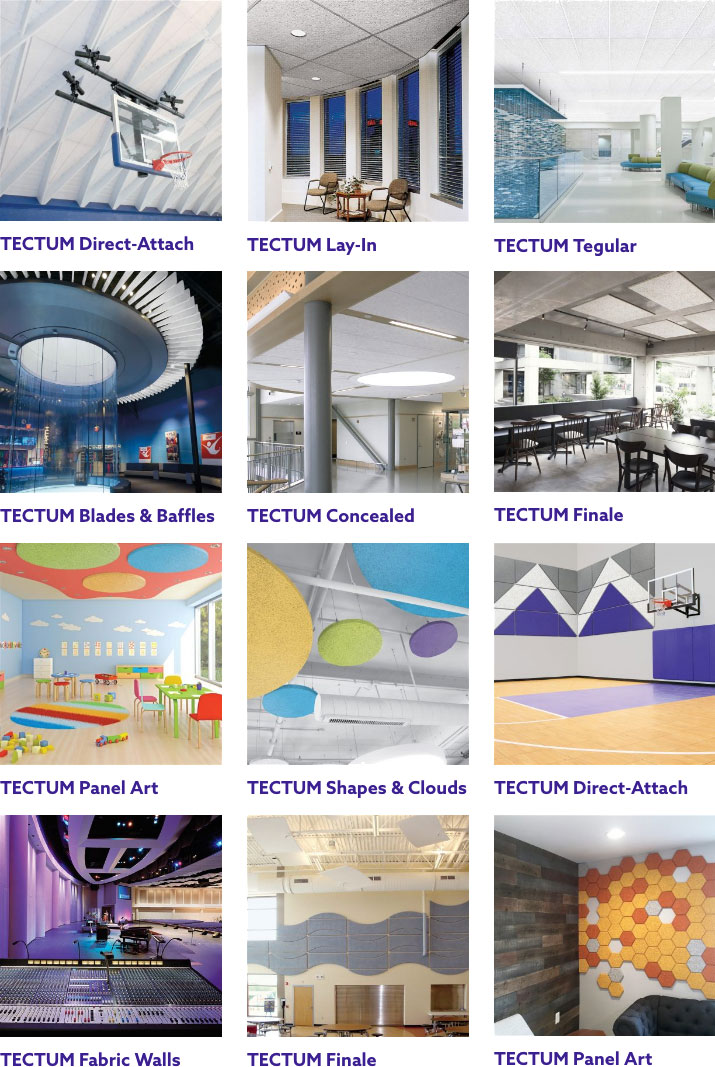 KEY FEATURES

Durable for heavy-use interiors
Sound absorption (NRC) values up to 1.0
Great acoustical retrofit solution
Color options include standard, Colorations colors, and custom Sherwin-Williams colors
Contributes to LEED credit areas including FSC certified wood
Attach to a variety of ceiling substrates
Easy to install

SPECIAL APPLICATIONS

Gymnasiums
Auditoriums
Multi-purpose Spaces
Acoustical Retrofits
Exposed Structures
Education Spaces
Company: Armstrong Building Solutions
Product: TECTUM Ceiling & Wall Panels
Source: https://www.armstrongceilings.com/commercial/en-us/articles/tectum-part-of-armstrong-portfolio.html
Tags: Acoustics | Ceiling | Color | Interior Design | LEED Certification | Wall Panels
---
Whether a client wants a perfect neutral, refreshed trim or a bold accent wall, the new West Elm paint palette has a hue for your next project.
The Sherwin Williams Fall/Winter 2017 paint palette from west elm makes it simple to coordinate colors with their latest collections of furniture, bedding and home accessories. Whether you're picking the perfect neutral, refreshing tired trim or adding a bold accent wall, find favorite hues for every room of the house.
*Wall colors shown are Dustblu SW 9161, French Moire SW 9056, and Rocky River SW 6215.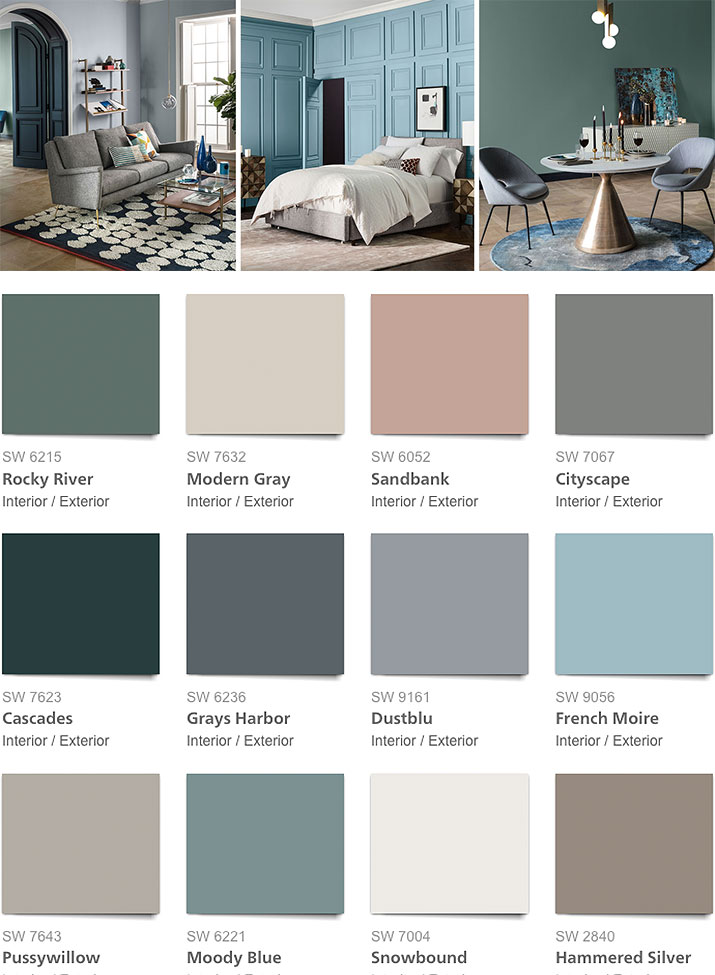 Company: The Sherwin-Williams Company
Product: Interior Paints
Source: https://www.sherwin-williams.com/architects-specifiers-designers/inspiration/stir
Tags: Coating | Color | Finishes | Interior Design
---
The challenge: heat, humidity and sea breezes infiltrating the building. The solution: revolving doors.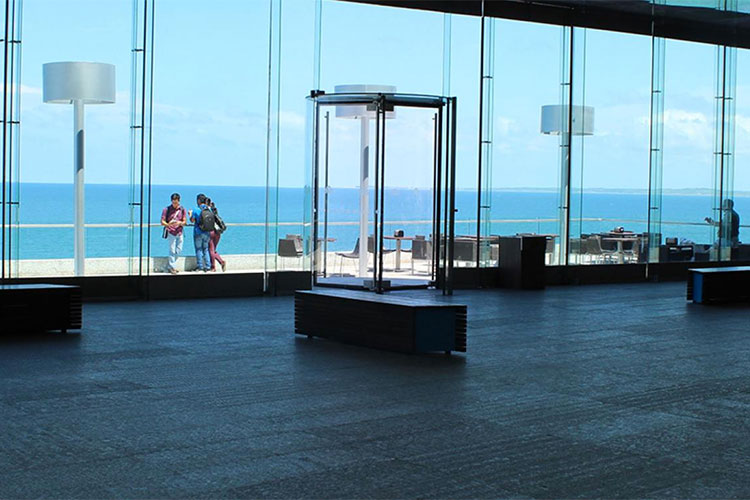 Since opening in October 2014, Andamar Lifestyle Center struggled to contain strong Veracruz winds, which consistently left its swinging doors open and exposed the facility to heat, humidity, and sea breezes. In turn, this allowed the shopping center's air conditioning to escape, resulting in a second challenge: higher electricity expenses.
Andamar Lifestyle Center is home to over 100 different stores spread throughout the nearly 2 million square feet of retail, restaurant, and lesiure space.Taking the mall's estimated 5.3 million annual visitors into account, and the fact that 40% of them are entering through the main entrance, the air infiltration and loss situation became unsustainable. As a result, Rosa María Bueno, director of Andamar, began looking for solutions.
"At first, we tried to find a way to solve the problem without getting rid of the manual doors that were already installed. So, we had about one guard at every door to make sure the doors were closed or to hold them shut against the wind. The reality is that we weren't going to solve the problem that way," Bueno explained.
Two important factors the center needed to consider were the location and use of each door. In addition to its main guest entrances, Andamar has entryways to its terraces and ocean views, which are primarily used by waiters in transit – making easy access a must. "Because we're beside the ocean, many people go outside to enjoy the air, take photos, and eat; as a result, waiters go in and out with their hands full of food, huge trays, etc. We needed to find the right entryway that wouldn't make this process any more difficult," Bueno said.
Andamar also had to consider its original architects' opinions. "The architects who designed the center were very worried that the new doors would change its visual design and obstruct the ocean views, two important points that were taken into account from the beginning. After a detailed search, we found the ideal solution with Boon Edam," the director said.
In total, the shopping center installed eight Boon Edam doors: three Crystal TQ automatic revolving doors, three Crystal TQ manual revolving doors, and two Crystal BoonAssist semi-automatic revolving doors. With the help of AVANCE Inteligente, a local door installation company, each door was installed with the specific entryway's purpose and location in mind.
Bueno affirmed that, in addition to receiving a customized analysis, the shopping center experienced nonstop assistance and dedication from Boon Edam support staff during the project's duration. This led to the right solutions, and gave the client complete confidence in the quality and adaptability of Boon Edam's team.
"We're very happy with the solution from all angles. It meets its functional and aesthetic purposes, it contributes to our positive image, and the doors have allowed for the flow of visitors to achieve a good rhythm," Bueno concluded.
Location:
Veracruz | Mexico
Products:
BoonAssist TQ
Crystal TQ
Segment:
Retail
Download Case Study Flyer:
Company: Boon Edam Inc.
Product: Revolving Doors
Source: https://www.boonedam.us/andamar-shopping-mall
Tags: Entrances | Interior Design | Security | Sustainability
---
LumiSplash is a patent pending, multilayered, ultra-thin 1/4″ (6mm) decorative laminate that emits light evenly across its surface and has impressive impact, scratch, chemical, and abrasion resistant properties. LumiSplash is:
The first ultra-thin, lighted laminate system with no air gap required for LEDs. This system uses a Light Bar and Light Guide Panel to produce luminance across a translucent surface.
A one-of-a-kind product that combines art with lighting in a durable laminate, creating a unique focal point for any home or business.
A low-voltage system that comes with the necessary electrical components to simply plug into a 110-volt receptor. LumiSplash can also be hardwired for permanent installations by a local electrician.
Suitable for most vertical and horizontal applications where other decorative laminates could be used.
Easily fabricated with standard woodworking tools such as routers, saws, and drills.
Easily used to backlight your own stone, acrylic, or other translucent materials with it's Light Guide Panel.
Lumisplash Idea Library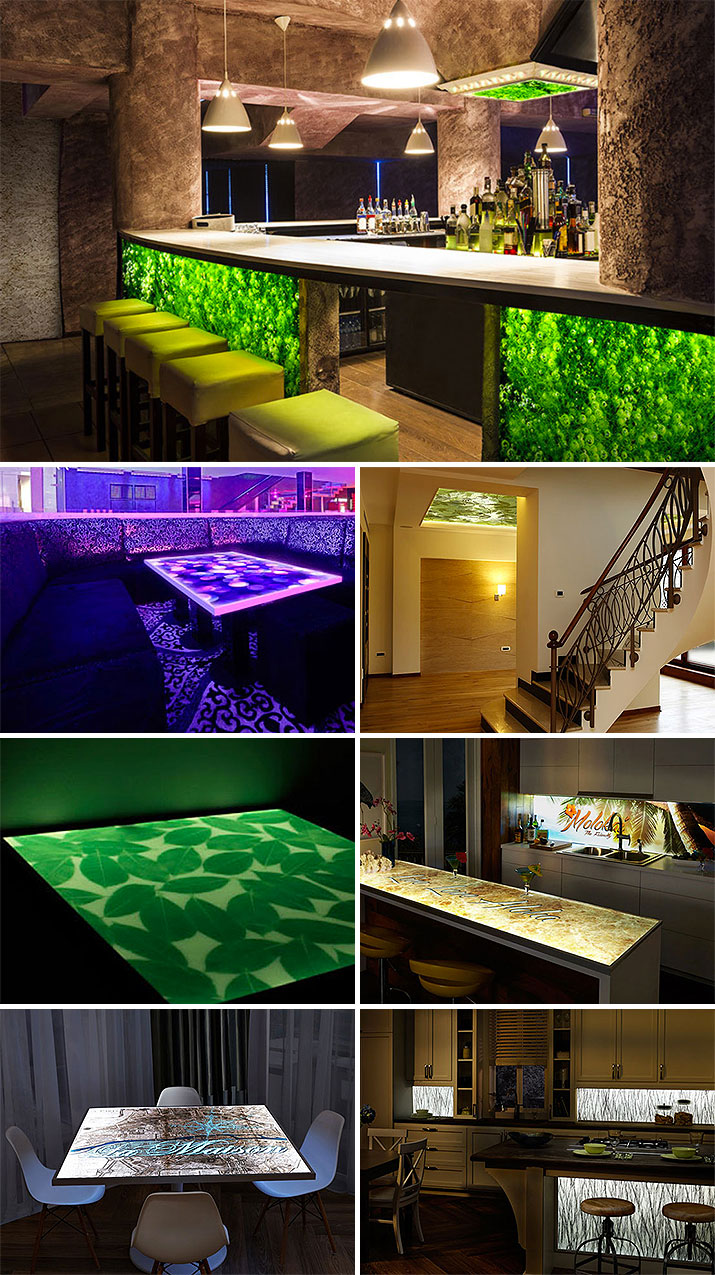 The "Lumisplash Top" includes printed artwork and a protective surface. It has the option of extra graphics. The "Lumisplash Kit" includes ATI light guide panel, LED lights, and a decorative graphic panel. It also has the option of different molding configurations and extra graphics.
Company: Decorative Ceiling Tiles, Inc.
Source: https://www.decorativeceilingtiles.net/idea-library/by-material-lumisplash-idea-library/#prettyPhoto
Tags: Color | Furniture | Interior Design | Lighting | Wall Panels
---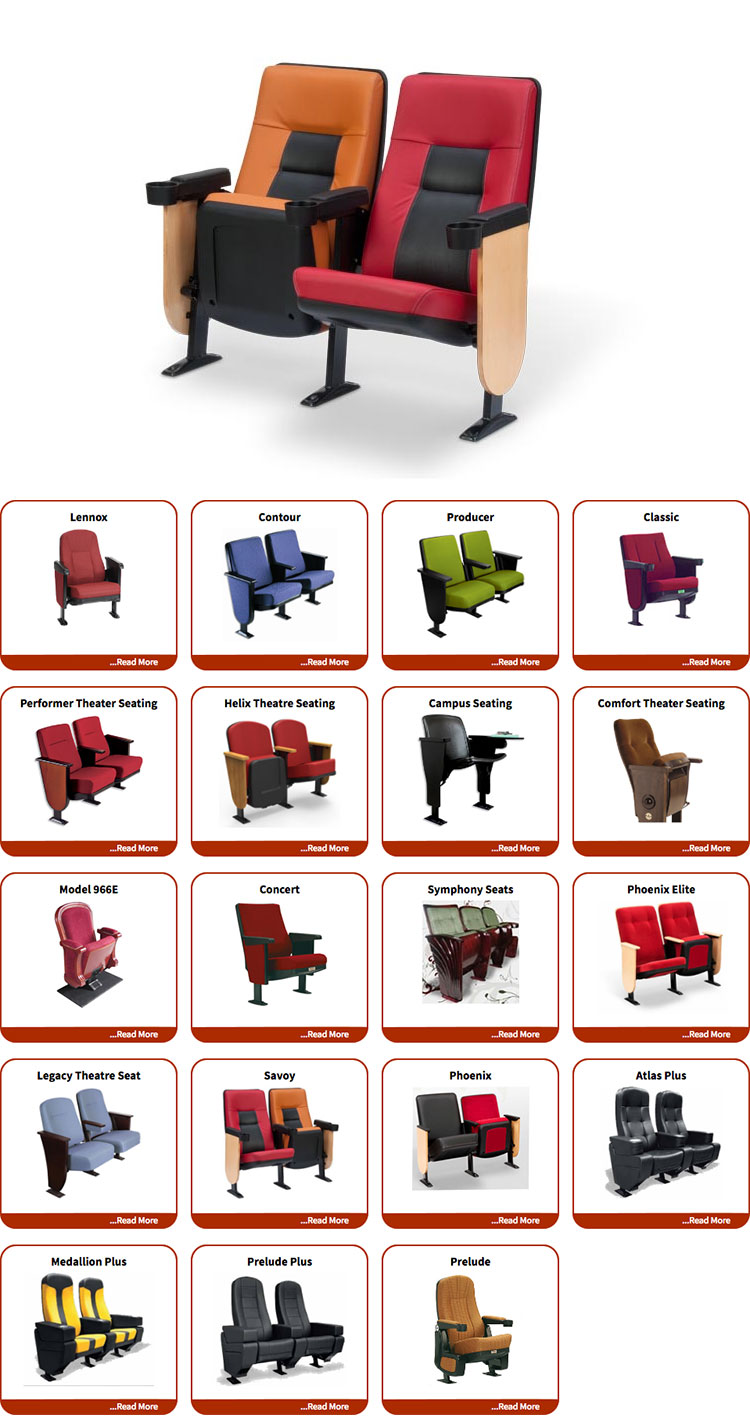 The comfort of well-designed theater seating is essential to the enjoyment of productions that often last several hours. With this in mind, we provide theater seats which are made to be durable and comfortable, utilizing the latest materials to enhance the patron's experience. Our high-quality theater seating is designed with gravity assisted spring mechanisms that retract the seat quietly, so as not to disturb other patrons. Preferred theater seats are virtually indestructible and are built to withstand years of use.
We also restore and renovate theater seating and offer used theater seating for sale at a lower price than new.
Company: Preferred Seating
Product: Theater Seating
Source: http://www.preferred-seating.com/theater-seating.html
Tags: Furniture | Interior Design
---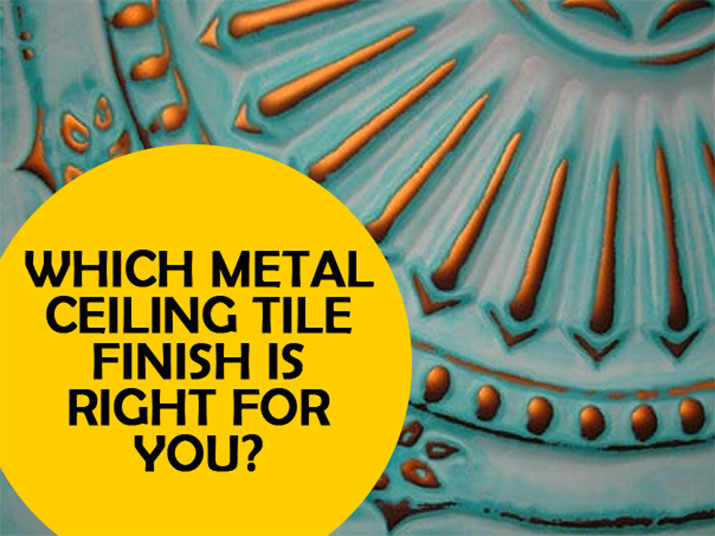 One of the most beautiful parts of metal ceiling tiles is the sheer number of options there are when selecting one. There are numerous sizes, shapes, and colors to choose from. It is practically guaranteed that you will be able to find a metal ceiling tile that fits not only the atmosphere of the room it will be in but your personal taste as well. Nothing demonstrates these options better than the different finishes available for tiles.
Benefits Of Having Different Metal Ceiling Tile Finishes
There are hundreds of different finishes available, each one unique. Finishes can be worn and weathered to shiny and bright. Some may be bold, while others may be dull. This variety is great for a few reasons.
You will be able to match existing ceiling tiles. If you are looking to replace a few ceiling tiles that are a part of an existing ceiling, there will not be a problem finding a tile to match the tiles that are already in place. This will make the replacement process much easier for you.
You will find the perfect ceiling tile for whatever aesthetic appeal you are in search of. Whether you want a vintage appearance or a modern appearance, there is no shortage of metal ceiling tile finishes. Metal ceiling tiles allow you to express your individuality. Your creativity and style can be directly seen by the metal ceiling tiles you wish to display around your home.
How Can Different Finishes Impact A Room?
The room where the metal ceiling tile will be placed can directly impact the style and feel you wish to convey. For example, you may want a bold ceiling tile for your bathroom to liven it up while preferring a more neutral ceiling tile for your bedroom. Metal ceiling tiles can fit into a room in practically any way possible. If you wish for them to be the focal point of a room, there are metal ceiling tile finishes that achieve that. If you wish for your metal ceiling tiles to compliment or blend into a room, there are finishes that will achieve that as well.
Consider using metal ceiling tiles around your home in these different ways. Obviously, the finish you choose will affect how each tile is portrayed in a room.
Ceilings – Their name says it all. Metal tiles can be used to give your current, boring ceiling more character. Ceilings made of tin tiles can make a room feel more warm and welcoming
Walls – Instead of painting, consider hanging metal ceiling tiles on your wall to provide a unique dynamic. It may be best to consider more conservative or flat-based finishes here, as a wall of shiny tin can be distracting and overwhelming. Then again, it's your room and you can decorate it as you see fit!
Wall Art – Simply using individual tiles can spice up a room. A vintage finish can make for a great piece of decorative wall art.
Backsplashes – A tin ceiling tile backsplash makes a great compliment to a laundry room or kitchen. Not only do they look good, but they provide practicality as well. Metal ceiling tiles are easy to wipe down and clean. Removing grease or detergent from paint or wallpapering is difficult, but this is not the case with metal tiles.
Memo Boards – Cork boards are outdated. Metal tiles can be used in an office or kitchen as a perfect complimentary piece.
Bookshelves – Add a vintage look to your room by replacing the backboard of a bookshelf with a metal ceiling tile that has a rustic appearance.
Popular Finishes
There are hundreds of finishes to choose from, but these are some popular choices that can fit any style of room. You can purchase a color sample of each to ensure that the tin tiles will perfectly achieve the look you are striving for.
Alaska Finish – This finish provides a very rustic and antique look. It is a hand-faux finish in transparent copper, with hints of very light blue and teal.
Key West Finish – Consider this finish the opposite of the Alaska Finish. The hints of teal that are seen in the Alaska Finish make up the base of the Key West Finish. Perfect for a sunroom or beach home, this tile comes in an antique brass, white, and green finish.
Oklahoma Finish – This tile is hand finished in Renaissance gold and ivory.
Classic Gold Finish – Much shinier than the previous three options, this tile is powder coated in white wash and transparent yellow gold with shiny gold embellishments.
So what metal ceiling tile finish did you decide on?
Company: Metal Ceiling Express
Product: Decorative Metal Ceiling Tiles
Source: http://www.metalceilingexpress.com/blog/metal-ceiling-tile-finish/
Tags: Ceiling | Interior Design | Metal | Wall Panels
---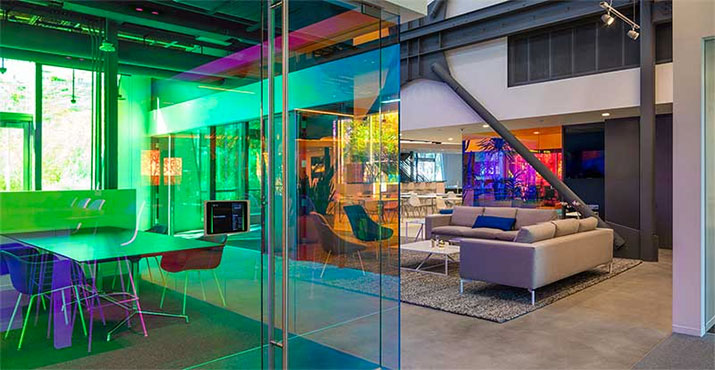 As the use of glass in offices and workspaces grows in popularity the world over, its many uses are being discovered and put to use in the most modern buildings and retail locations everywhere from Beijing to London, Barcelona to Zurich, and of course Los Angeles to New York City. From colored glass to sliding glass, textured glass to ceiling glass and much more, one thing is clear: glass interiors are on-trend and have the stylish staying power that will keep your office from needing a facelift forever.
Moveable Glass Walls: Creating More Spacious Settings as Needed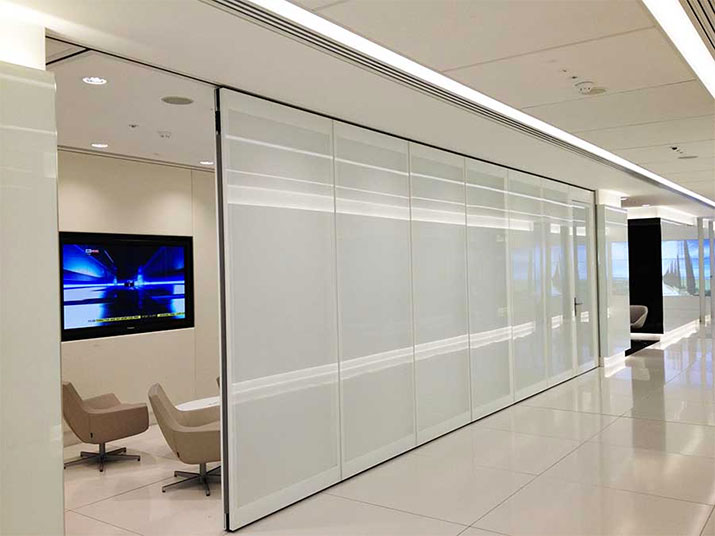 View Partition System: Movable Walls
When you have a large, open office layout, you have a great way of inviting in natural light and making people more accessible to one another. Open layouts are increasingly popular. However, drawbacks can occur as a result. Sometimes, workers need to break off into groups, or clients come in for a meeting and needs discretion, but also needs to meet with a group too large to fit into an office suite. The only other option is a conference room, which many workspaces with open layouts don't have, or may seem too large for the size of the group — this creates an awkward physical imbalance and disturbs the mood or flow of the meeting.
With the advent of the sliding glass wall, companies can work with architects or remodeling professionals to decide how many glass walls they want, where they will be placed, and the various sizes of spaces they can create. Glass walls move quickly, easily, and quietly, so different groups can create different-sized spaces throughout the day or week. This transformation of the workspace suits the needs of the team from a meeting to a breakout session, or from a meeting that requires discretion to a single-person project that requires a level of placidity.
Large, Ultramodern Interior Glass Doors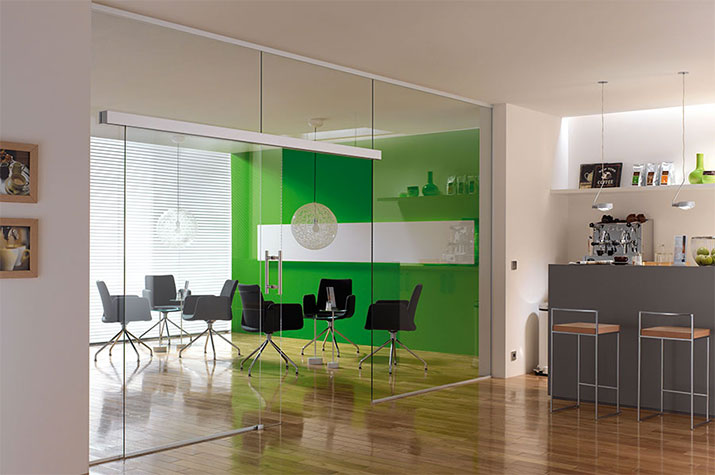 View Door System: Assisted Close
Glass doors have been around in offices for quite a while, but the glass doors of today are much more innovative in their style, design, and utility. For example, as part of the interior design motif in some offices in Japan, glass doors that lead to different offices and rooms are colored in different vivid hues. In American offices, the CEO's corner suite might have a larger glass door than those of others in the office as a show of their station as well as a way to accommodate higher foot traffic and meetings where multiple team members converge each morning.
Large glass doors add pop to the interior of the workspace and also create a more inviting atmosphere. For progressive companies that have an open-door policy, the translation is a literal one. Workers are more likely to take advantage of such a policy when their superiors have glass doors as opposed to wood doors that isolate senior executives inside. A closed solid wood door is intimidating, and makes the idea of knocking scary for junior associates.
Glass Meeting Rooms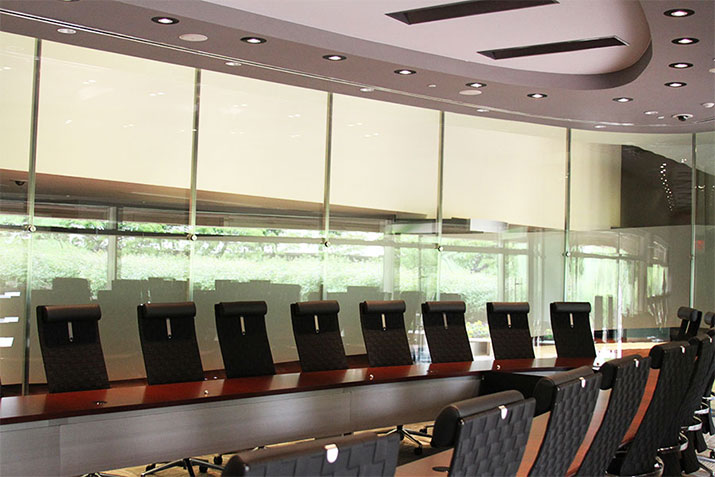 Partition System – Solare Double Glazed : View Verizon Case Study
Glass meeting rooms are a beautiful addition to any office space, and are usually comprised of glass walls, which may or may not be on sliding tracks and glass doors, which may open in the conventional way or operate on sliding tracks. Glass meeting rooms have replaced the solid, walled-off conference rooms of the past, and offer an inviting ambiance for newcomers and regular clients. Glass meeting rooms can be large enough to accommodate a partition or sliding glass wall — this turns one meeting room into two for busy days when the company is double-booked, or to create a smaller, more intimate space for a quiet meeting retreat.
Glass Floors and Ceilings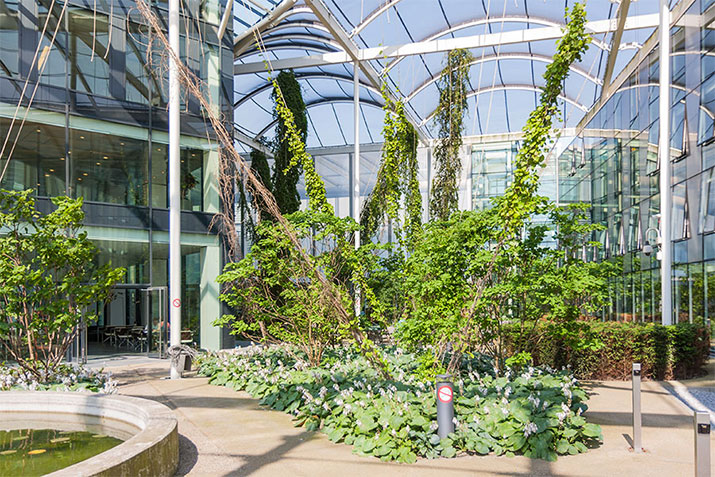 Creating suites using glass as the primary building material really opens up the atmosphere of the entire office. Allowing in more light, allowing workers to see whether or not the person inside is on a call or otherwise preoccupied, and creating the appearance of a more expansive floor plan are just some of the perks of glass office suites. Of course, for occasions that require privacy, beautiful custom shades can be added in any variety of colors that pair well with other office decor. Many glass office suites in Japan are interconnected with sliding glass walls: this allows inhabitants of each office to literally open up to one another. On days when no clients are expected, the whole office becomes one large space where everyone can hear each other and enjoy open, out loud communication and the ability to walk to each person's desk free of any encumbrances.
Glass Office Suites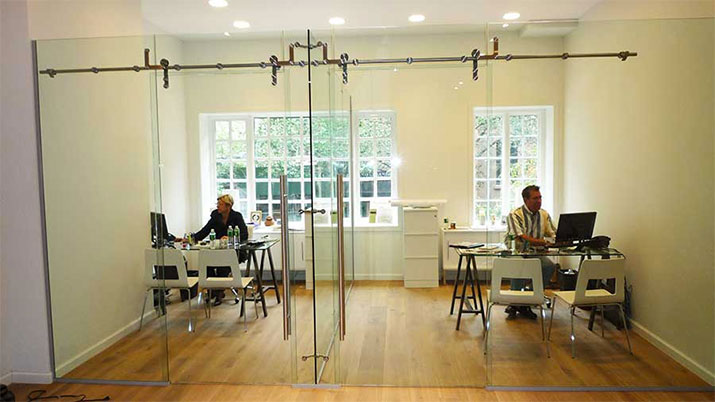 Elite Freestanding with Eclipse Sliding Barn Door
Today's ultra-progressive offices might incorporate glass floors or ceilings. In some instances, glass floors may be opaque or completely solidly colored to appear like wood or another material, while in other instances, glass floors may be left clear or translucent, which creates an even more modern interior design.
Glass ceilings are an incredible way to add a whole new perspective, as it adds the dimension of the outside world and draws it right into the office. This makes workers feel more in touch with their outdoor surroundings, and provides an incredible amount of light into the interior world. This is actually healthier for people who spend the majority of their time indoors, because glass ceilings provide natural sunlight, which is also proven to improve mental and physical health and make people more productive. Buildings with glass ceilings also have a shade, usually on the building's exterior, which allows the amount of light let into the space below to be controlled. In this way, everyone can benefit from natural light but also shutter some of it out on particularly bright days, in the morning, or when the workday is over.
Colored or Textured Glass for Privacy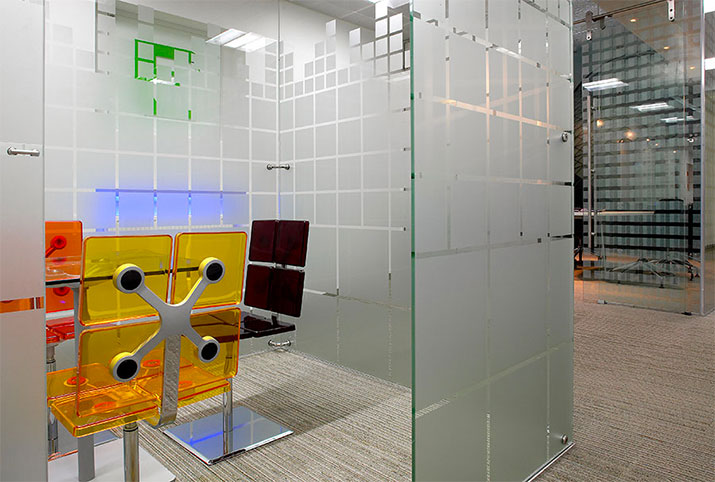 For offices that provide one-on-one therapy, physical examinations, or law firms and other workplaces where client privacy is paramount to the services rendered, colored glass is an excellent choice. It creates the same level of discretion that any heavier, thicker material will, and can be glazed to keep out any prying eyes. Most offices with glass doors and walls will choose one uniform color, though at a place like a pediatrician's office, different glass walls and doors might be a variety of fun, brilliant hues. When glazed glass is used, it actually lowers the cost of heating and cooling, lowers the carbon footprint of the structure, and does away with drywall, sheetrock, and old-fashioned insulation that can all cause allergy flare-ups and other discomforts. Office that utilize thick, opaque colored glass contain excellent spaces for confidential meetings and other dealings that protect the best interests of both clients and your enterprise.
Company: Avanti Systems USA
Product: Elite Free Standing
Source: https://www.avantisystemsusa.com/using-glass-creatively-office-interiors/
Tags: Glass | Interior Design | Office | Walls
---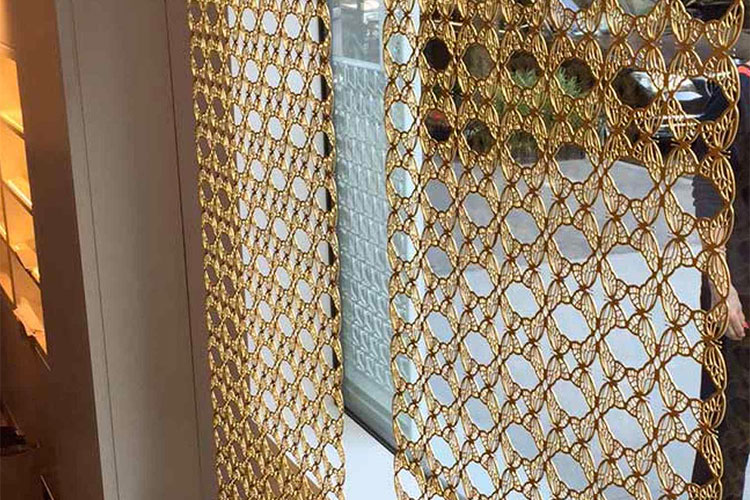 Boutique
A down to the wire request to have two large, intricate, decorative metal screens completed in just 4 days. These laser cut panels also received custom plating.
Complex issues
An intensely intricate and delicate decorative pattern repeated throughout the piece
The maximum thickness of the material was limited to 1/16"
These decorative metal panels have many fine and narrow filigree characteristics that could not be cut quickly on the laser
The metal screen panels were very large; 113" x 36"
The Solution
Artistry in Architectural Grilles' engineering team programed the pattern in several hours and immediately went into production by 4 PM the first day.
The laser ran throughout the night continuing on the panels.
Due to the intricacy of the pattern and light material gauge, the cutting sequence had to be randomly arranged to ensure the material wasn't melted.
The grille pattern required over 60 hours of cutting time.
Success
The contractor and Boutique owner were thrilled we could meet an impossible deadline. Their words:
"They look amazing."
At a glance
TYPE: Custom Laser Cut
STYLE: Custom Pattern
DETAIL: Specialized Cut Sequence
MATERIAL: 1/16″ Steel
Company: Artistry in Architectural Grilles by Advanced Arch Grilles
Product: Perforated Grilles
Source: http://aagrilles.com/custom-laser-cut-decorative-metal-screen/
Tags: Grilles | Interior Design | Metal | Window Shades
---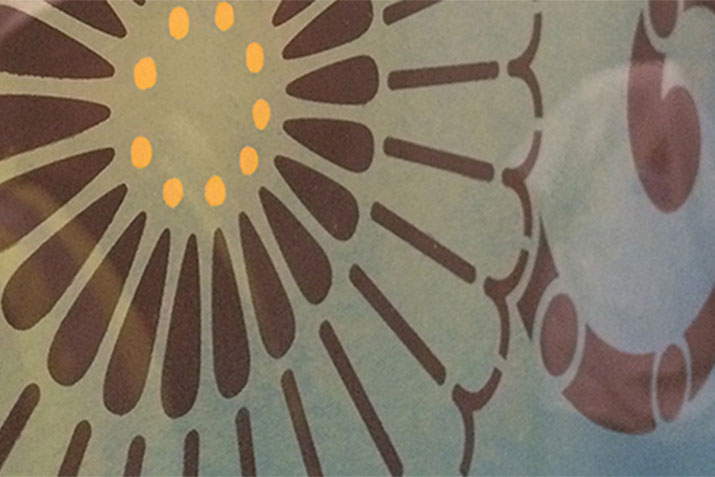 How one designer used Emerald® Interior Acrylic Latex and color to help create a LEED-certified and gorgeous apartment complex.
Sustainable. Sophisticated. Luxurious. Those words aren't often used to describe rental properties in Frederick, Maryland, but they capture the brand-new East of Market Apartments complex to a T. The five-building, 160-unit property is the first Energy Star and LEED-certified property in the area — a charming, historic community that's less than an hour from Washington, D.C. — not to mention the only one with amenities ranging from stone countertops to a pet wash station.
"It's all about quality construction — and quality of life," says Shane Pollin, director of development for The Duffie Companies, East of Market's developer. "We're a family company and we're invested for the long term. So we care about the durability of the project and its impact on the community. Sustainable building is just the right thing to do."
Pollin worked with designer Alice Sydney Minkoff of Alice Sydney, LLC, to construct a LEED-certified, yet design-conscious, complex. Throughout the buildings, Minkoff and her team used Sherwin-Williams Emerald Interior Acrylic Latex paint, which meets the most stringent VOC regulations. "Emerald was the natural choice because of the green aspects of this particular job, as well as the durability requirements," she says.
In addition, Pollin's developers used cutting-edge construction techniques and materials, first creating a tightly sealed envelope and then outfitting it with the resource-conserving systems and materials: ultra-efficient heating and cooling, water-saving fixtures, and LED lighting, to name a few. Next came the lifestyle amenities, a long list of luxuries including garages with vehicle charging stations, and a showplace clubhouse with a fitness center, pool, business center, and even a "simulation center" where you can play simulated games of golf or basketball.
"The look of the property was also very important to us," Pollin says. "We wanted it to be comfortable but elegant." Minkoff realized that vision, relying heavily on color throughout the design process. "Color is essential to creating the right mood," Minkoff says. "And in this case, we turned to paint for much of that impact."
The color palette began with a single piece of upholstery fabric. From that swatch, Minkoff built the entire palette: Moody Blue (SW 6221), Anew Gray (SW 7030) and Dovetail (SW 7018) for the walls; Wool Skein (SW 6148) for the apartment units' trim and clubhouse walls; Gingery (SW 6363) as the accent in the clubhouse; gradations of Amazing Gray (SW 7044) for the apartment building hallways; and energetic splashes of Goldenrod (SW 6677) throughout.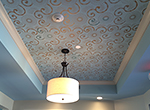 For extra "wow" factor in the clubhouse, Minkoff brought in decorative painter Laura Farrell of LMI Studios to create hand-stenciled wall borders. "Alice liked the border so much, she had us do the clubhouse ceiling, too. Then, we used a similar motif to create custom art pieces to hang in the foyers of each building," Farrell says. "We used Emerald Interior Acrylic Latex for all the decorative painting. It's really easy to work with and has a great depth of color."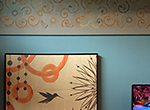 The result is a property that's unique in its market. "You'd never believe these are rental apartments," Minkoff says. "The level of finish is that high." Evidently, the locals agree: East of Market was 30 percent leased by the end of its first day of business. "It feels great to build a different kind of building," Pollin says. "People can see the difference, and we're excited to help raise the bar."
Company: The Sherwin-Williams Company
Product: Interior Paints
Of: Amanda Lecky
Source: https://www.sherwin-williams.com/architects-specifiers-designers/inspiration/inspiration-project-profiles/SW-ART-STIR-ACHIEVE-SUSTAIN
Tags: Coating | Color | Finishes | Interior Design | Sustainability
---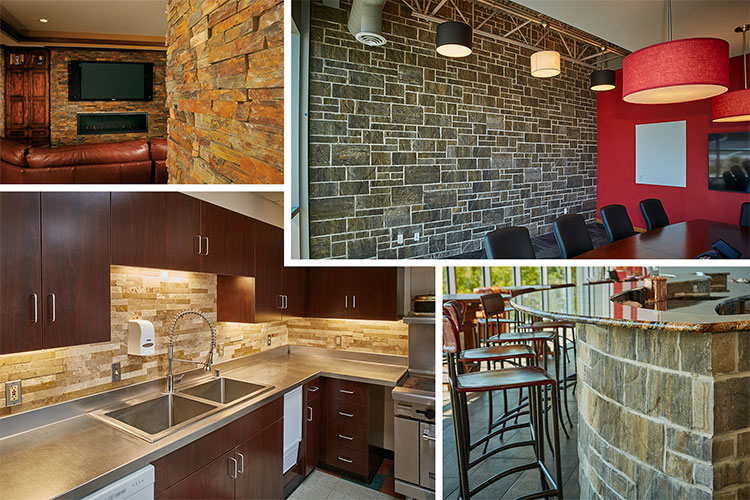 Masonry veneers used on exteriors continue to gain market share in the construction industry. However, more recently, their use is trending inside new residential and business construction because they offer stunning visual appeal and many economic benefits. As manufacturers offer a variety of full and thin veneer masonry product options, it's easier than ever to create stunning features for new home and business construction or remodels, all at an affordable price. In addition, masonry veneer applications can increase home and property values, all while reducing insurance costs due to their high fire and moisture resistance. With County Materials' many full and thin masonry veneer offerings and color choices, there are many ways to incorporate masonry veneers into your next project. Below are several popular ways our company is seeing customers build and renovate with masonry veneers.
Accent Walls
An accent wall can transform the whole look and feel of a home or commercial building by adding a timeless and natural aesthetic at an affordable price. Accent walls create a focal point or appealing backdrop for other unique design elements that are being showcased. Additionally, accent walls withstand bumps and scrapes in heavily trafficked areas. With many color and texture options available, you'll be sure to find the perfect statement making accent you are looking for.
Fireplaces, Chimneys, and Mantels
A fireplace, chimney, or mantel clad with masonry veneers becomes a stand-out feature for any room or gathering space. Concrete veneers are crafted to resemble natural stone, and veneers also come in natural stone panels for an earthy, natural aesthetic that enhances the timeless appeal fireplaces add to a room. Masonry veneers are the ideal building material for fire features because of their high fire-resistance and insulating characteristics.
Kitchen and Bathroom Backsplashes
Utilizing masonry veneers for kitchen or bathroom backsplashes will take these rooms to the next level. An attractive backsplash made of a masonry veneer requires little maintenance; any cleaning can be accomplished by wiping the backsplash with water and soap similar to other porous surfaces. The impact and high fire-resistance of masonry veneers is also an important factor when installed near cooking appliances.
Finished Basements
If you're looking to upgrade a basement into a more inviting living area, masonry veneers are a simple solution that meet the many challenges of remodeling. A masonry veneer can be directly applied to most wall surfaces, reducing preparation and construction time. Masonry veneers also help with sound insulation and temperature extremes which is beneficial in most basement applications. Many basements are damp spaces, with little air flow, that causes many materials to mold or become food sources for pests. Concrete masonry, on the other hand, does not rot, and is resistant to insects and other pests that can plague basements.
Exceptional Design Freedom
County Materials offers several collections of decorative masonry veneers, each with their own distinct features, aesthetics, and benefits. Reflection Stone™ Masonry Units Masonry Units and County Stone® Masonry Units offer a natural look with the benefits of concrete manufacturing. Their modular sizes and shapes make installation easy. Additionally, they are offered in full (nominal 4") and thin (nominal (1") thicknesses for increased versatility. Align International Natural Stone are natural stone panels that come precut and assembled in ready to use panels. Measuring only 3/8" – 1-1/4" wide, the thin veneer panels are lightweight and suitable for use on most interior applications. Premier Ultra® Burnished Masonry Units are manufactured by grinding the surfaces down to reveal a natural mix of aggregates. Premier Ultra is a popular choice for schools, government, and professional office settings because their high strength easily resists abuse. Lastly, Heritage Collection Designer Concrete Brick™ offers the classic look of traditional brick, but are more readily available and significantly more affordable than alternative options. Heralding back to the warehouses and factories of the gilded age, revealing brick veneers inside is an increasingly popular choice for many office spaces and even homes seeking a rugged look.
Company: County Materials Corporation
Product: Masonry
Source: https://www.countymaterials.com/en/news/item/top-interior-design-ideas-for-masonry-veneers
Tags: Interior Design | Masonry | Walls
---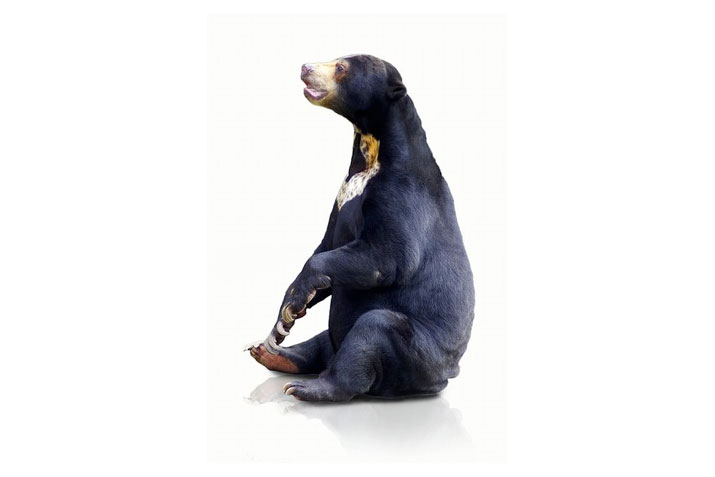 The average grizzly bear weighs 272 kg - a perfect fit for the new 9300 range
Accuride wanted to strengthen this slide range for today's tougher applications. That is why we have increased the material gauge for both the inner and outer members, increased the number of ball bearings and improved the ball retainer design.
Now we can announce that the new 9301 (DZ and DP) and 9308 slides can take loads up to 272 kg for a pair of side mounted slides. (See datasheets dated 08/17 for loads per slide length and loads for specific applications and mounting options.)
Redesigned for improved movement
Inching or ball migration is a condition where the ball retainers in the slides move at different speeds and distances, causing them to get out of sync with each other and with the slide members that they support. This is a common problem with all ball bearing slides.
To overcome this, Accuride has redesigned the 9300 bridge retainer to keep the spacer parallel and so reduce ball migration.
Bumpers have also been added to the spacer ends to improve the general movement and feel.
The boxes are clearly labelled with the new "-E" part number for easy identification:
DZ9301-00xxU-E DP9301-00xxU-E DZ9308-00xxL-E DZ9308-00xxR-E
Company: Accuride International
Product: Heavy Duty Slides » 9301
Source: https://www.accuride-europe.com/news/477/9300-slides-for-the-heavier-bear
Tags: Furniture | Interior Design
---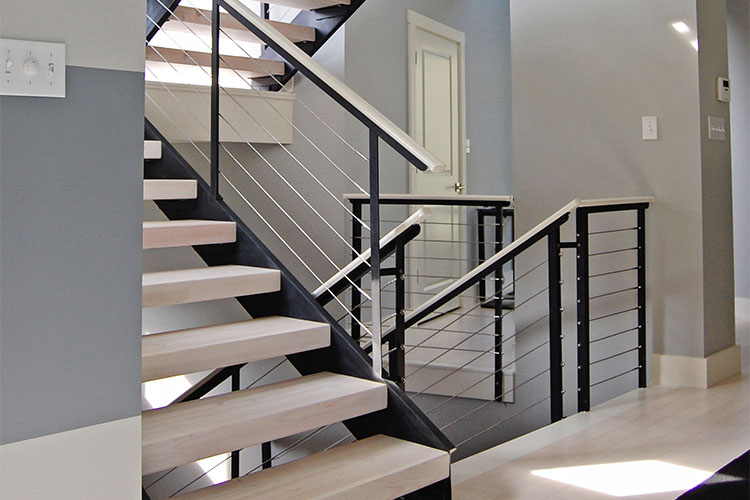 Cable Infill & Fittings for Stylish Contemporary Stairway by Stainless Cable & Railing Inc.
Finding the right railing for a new staircase, loft, or other indoor area can be difficult. Most traditional railings take up and break up space. The minimal design of a cable railing system instead keeps your layout open and expansive. Offered in a variety of color, material, and shape options, you'll be sure to find the perfect system for your home. Even if you already have a frame in mind, fill it with our marine-grade stainless steel cable infill and fittings for a stylish and near-invisible end result.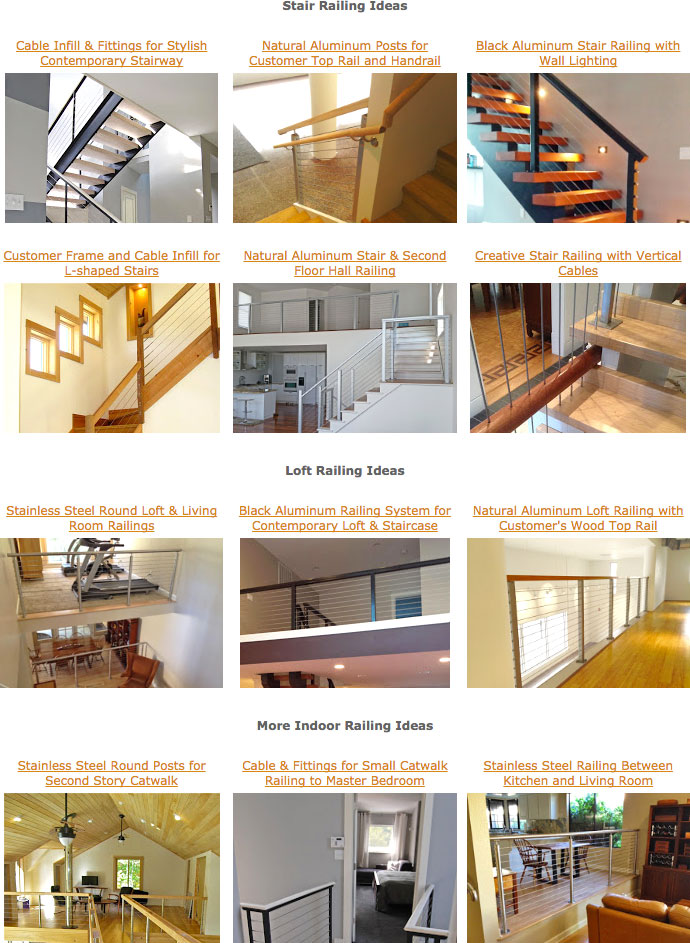 Company: Stainless Cable & Railing Inc.
Product: CableView® Aluminum Cable Railing System
Source: http://stainlesscablerailing.com/indoor-cable-railing-ideas.html
Tags: Interior Design | Railing System | Safety
---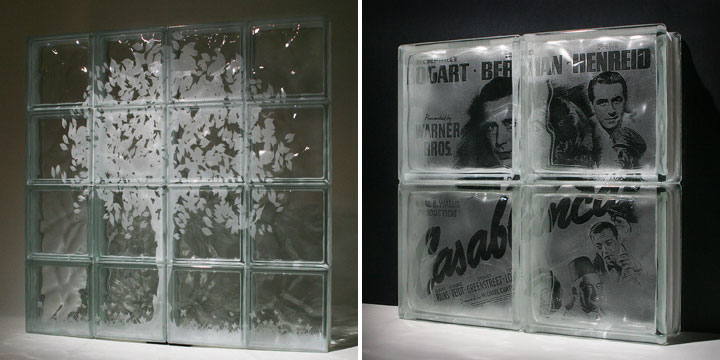 Laser etched glass block can turn an ordinary window or wall into a one of a kind work of art. Our sealed beam laser process can etch up to 256 different shades of gray and 600 dots per inch of resolution. Not only does this process surpass standard lasers, engraving, and sandblasting – it is available at cost effective prices on a block building material that is also a structural window or wall. You can even personalize a gift of a vase, bank, or glass block light.
Uses and Benefits of Etched Glass Blocks
Intricate details and custom designs
Our carbon dioxide laser can be controlled down to .001" diameter (100 times smaller than the period at the end of a sentence) providing details and shading not possible with other methods.
Free deliver and no minimum order quantities
Order one unit or thousands – we'll ship to you free of charge and work to produce a finished product that will excite you.
Select stock patterns or create a one of kind
If you have a favorite hobby or want to match an architectural style in one block or develop a mural over multiple units it's all possible.
One stop shopping you can trust
Our company can etch an entire prefabricated window, wall, or glass block shower and even install it for you (installations are in selected areas) and have earned the Better Business Bureau Accreditation and Consumers Choice Service Awards.
Multiple uses including signs and logos
If you're looking for a unique sign in a wall or lobby for your business we can etch your logo or directional sign into a single or multiple grouping of glass blocks. Since our products are either 3 1/8" or 3 7/8" thick they are very difficult to break (Note: if one unit is broken our computer controlled equipment can create an exact replica of that specific block).
Company: Innovate Building Solutions
Product: Etched glass window
Source: http://innovatebuildingsolutions.com/products/glass-block/etched-glass-block-window-wall
Tags: Glass | Interior Design | Walls | Windows
---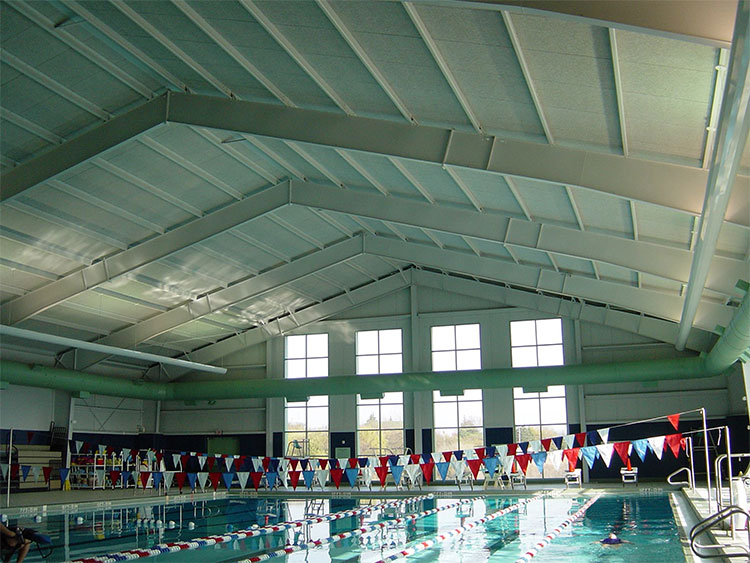 Have a sloped roof and need insulation you can nail?
Tectum III Roof Deck is the acoustical solution for you.
The Tectum III roof deck panel is a composite of a 1½" or thicker Tectum substrate, Dow Styrofoam® brand XPS (extruded polystyrene) insulation 1½" to 8" thick and 7/16" OSB (oriented strand board) sheathing with a slip-resistant surface. Tectum III panels are typically used in sloped applications where insulation and a nailable surface are required.
Tectum IIIP roof deck is made of the same components as Tectum III, but with an edge detail specifically designed for use over high-humidity applications such as swimming pools and ice arenas. The detail, when properly sealed with urethane adhesive, provides for a continuous vapor retarder from panel to panel in all directions.
All Tectum roof deck composite panels are bonded with code-listed structural adhesives.
Company: Armstrong Building Solutions
Product: Tectum III & Tectum IIIP Acoustical Roof Deck
Source: http://tectum.com/roof-deck-acoustical-panels-tectum-iii-photos.html
Tags: Acoustics | Interior Design | Roof
---
Tectum Panel Art has become wildly popular in the past year. Interested in seeing a sample? We'd be happy to send you one.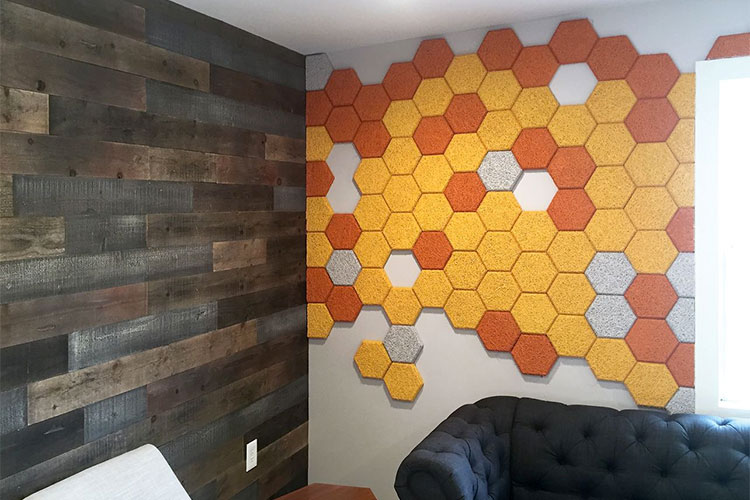 Tectum wall & ceiling panels: a perfect fit of durability, acoustics, and unique visuals
From a natural factory finish or white, to integration with Colorations colors (that's 13 standard colors) or made-to-order Sherwin-Williams® colors, TECTUM panels can coordinate or complement your color palette with the sizes, shapes, and forms that make your designs happen.
Toughness and acoustics are at the heart of TECTUM interior products, ideally suited to open spaces and high traffic, high impact areas. Panels can be attached directly to walls and ceilings in forms of panels, clouds, and square or curved. TECTUM linear hanging baffles give you even more design options.
Create a signature element in a space to complement your interior design. The possibilities are endless, the look is one-of-a-kind, and the acoustic properties of TECTUM panels can help quiet the space.
Key features
Durable for heavy-use interiors
Sound absorption (NRC) values up to 1.0
Great acoustical retrofit solution
Color options include standard, Colorations colors, and custom Sherwin-Williams colors
Contributes to LEED credit areas including FSC certified wood
Attach to a variety of ceiling substrates
Easy to install
Special applications
Gymnasiums
Auditoriums
Multi-purpose Spaces
Acoustical Retrofits
Exposed Structures
Education Spaces
Company: Armstrong Building Solutions
Product: TECTUM Ceiling & Wall Panels
Source: https://www.armstrongceilings.com/commercial/en-us/articles/tectum-part-of-armstrong-portfolio.html
Tags: Acoustics | Color | Interior Design | Wall Panels
---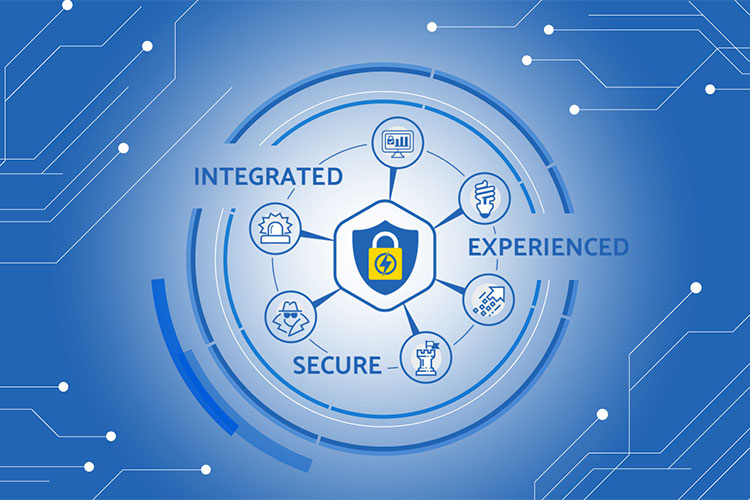 Accuride Integrated Access Solutions: The New Frontier of Access Control
While known for premium drawer slides, Accuride is also a major leader in access control solutions. Our electronic locking systems are found in many cabinet-level applications, from medical carts to inventory systems, and in countless industries, from automotive to healthcare.
Accuride Integrated Access Solutions (AIAS) feature "Intelligent Subversion Protection": multi-sensor systems that utilize onboard logic and two-way communication. These advanced systems verify that an application, such as a parcel locker or a CSA schedule drug cart, is truly secure.
Better still: Accuride access solutions are energy-efficient, silent, and emit little heat.
An Adaptable Solution

Another great aspect of Accuride Integrated Access Solutions is their adaptability. Each solution is tailored to fit a customer's needs, fitting all sorts of ancillary systems: RFID, biometric, keypad, retinal scanning, etc.
We've found our customers often need their solutions to comply with strict standards and certifications, such as those from the FDA, FAA, and HIPPA. Luckily, Accuride's global team of specialists are thoroughly experienced in compliance.
A Compact Wonder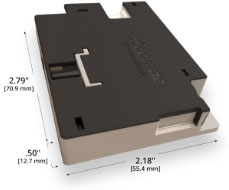 Cutting-edge electronic locks are a key component of Accuride Integrated Access Solutions. Each e-lock is the embodiment of efficiency, utilizing a lean, compact, low-profile design and consuming no more than 50mA per 200mS on 12v of power.
Don't let their size fool you: Accuride e-locks can resist hundreds of pounds of break-force.
Subtlety is Key
Another key aspect of Accuride Integrated Access Solutions is their subtlety. Each solution is meant to become part of the application, not an addition to it. Whether that application is a DNA analysis machine or a tool checking system, each Accuride solution works as part of the core design.
Download FREE Case Study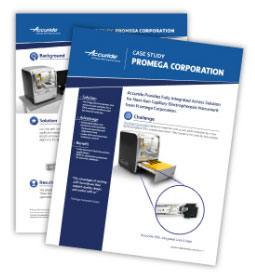 Learn how Accuride brought a new measure of access control and efficiency to a Next-Gen medical system
That's because Accuride engineers work closely with partners to achieve that seamless integration. From the conceptual stage to final production, Accuride technicians are there to make sure everything works flawlessly.
For more on Accuride Integrated Access Solutions, visit our dedicated page and speak to one of our experts today.
Company: Accuride International
Source: https://www.accuride.com/blog/access-control/accuride-integrated-access-solutions-the-new-frontier-of-access-control/
Tags: Access Control | Furniture | Interior Design | Management | Office | Safety
---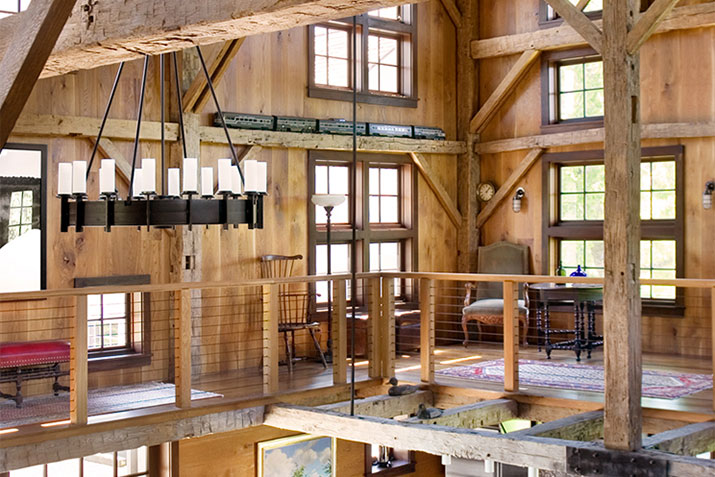 Paul Gleicher, acclaimed architect and published author, is a man of exceptional taste. Owners of high-end residential properties, including townhouses, penthouses, apartments, and houses seek out the New York City-based architect for his sophisticated, award-winning design sense. There are even Gleicher-designed barns.
"I think there's a growing interest in barns," Gleicher says. "There's a real sense of history when you step into these structures. They're large, open spaces that favor today's lifestyle."
Four Barns Farm Project
Take Gleicher's Four Barns Farm project in rural Millbrook, N.Y., about a 90-minute drive outside of New York City. A prominent investment industry executive and his family took Gleicher's advice to look at Millbrook for their weekend retreat. Within short order, the executive purchased a 40-acre estate formerly owned by composer Marvin Hamlisch. The property included a cluster of four dilapidated barns from the mid-1800s.
Gleicher remembers the initial chat with the new owner well. "'Paul, let's turn these barns into a family compound.' It was my first barn project," says the recipient of The Franklin Report's top five-star rating.
Architectural Counterpoint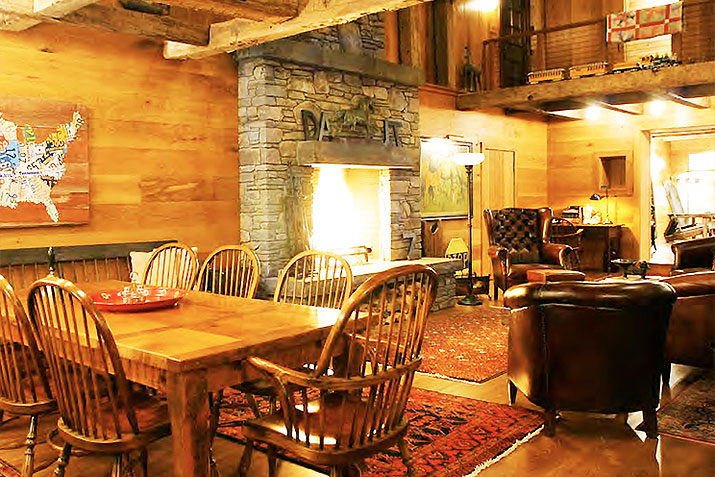 The interior scale offered Gleicher a rich palette to showcase beautifully-restored oak and pine floors, ceilings, and walls. To help dramatize the interior, Gleicher turned to CableRail by Feeney after considering traditional wood balustrades.
"CableRail is a really nice counterpoint to all the wood. Wood has warmth, but timber also has a certain heaviness to it. CableRail became a natural component. It made a lot of sense," Gleicher says.
Gleicher liked the idea of setting off the balcony spaces with a light, open look. "CableRail afforded that visual connection from the upper stories to the lower stories and vice-versa. It's really important to maintain that if you have a lot of people in the space. It helps communication," he observes.
Uparalleled Support
Gleicher notes this was his "first go-around with CableRail" and the experience didn't disappoint him in any respect. Feeney proved to be exceptionally helpful and easy to work with. In fact, Gleicher is quick to contrast his Feeney experience with another buildings products manufacturer. He was researching ceiling fans for another project and had a couple technical questions. He was told by the manufacturer 'That's up to you. It's your responsibility.' In contrast, Feeney's friendly technical staff were on call to answer all of his CableRail questions.
Installation proved to be a snap. "We just had the general contractor install the in-fill system. It's not complicated at all," says Gleicher.
Dream Come True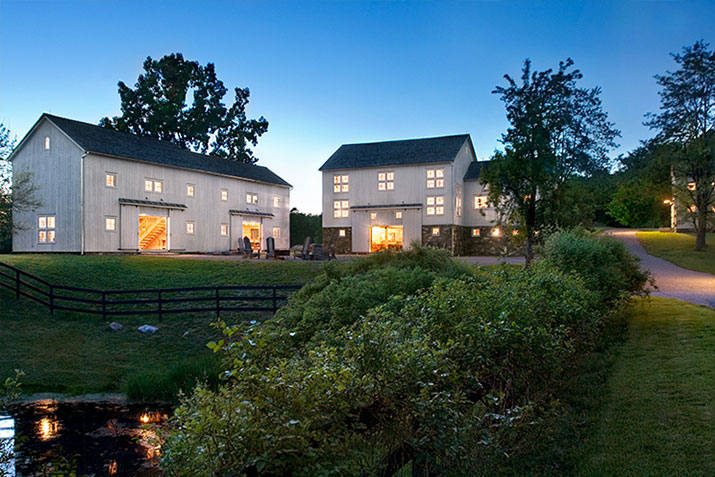 The owner "absolutely loves" the Four Barns Farm project Gleicher delivered. "They take every opportunity to talk about the project, invite people over. For the family, it's a dream come true," he reports.
It has also won its share of fans on Houzz. Gleicher states that the Four Barns Farm is one of the firm's most popular projects on the renovation website, generating over 30,000 views and added to more than 250 Ideabooks.
The idea of blending the open lightness of CableRail in stylish interior settings is now a top consideration for the award-winning architect. "I'm very happy with the product and will always keep it in mind." Who says you can't mix classy urban sophistication with friendly down-home charm? Just ask Paul Gleicher.
To Learn More:
Company: Feeney, Inc
Product: CableRail Stainless Steel Standard Assemblies
Source: http://media.feeneyinc.com/blog/top-nyc-architect-selects-feeney-for-notable-barn-project
Tags: Architecture | Interior Design | Railing System
---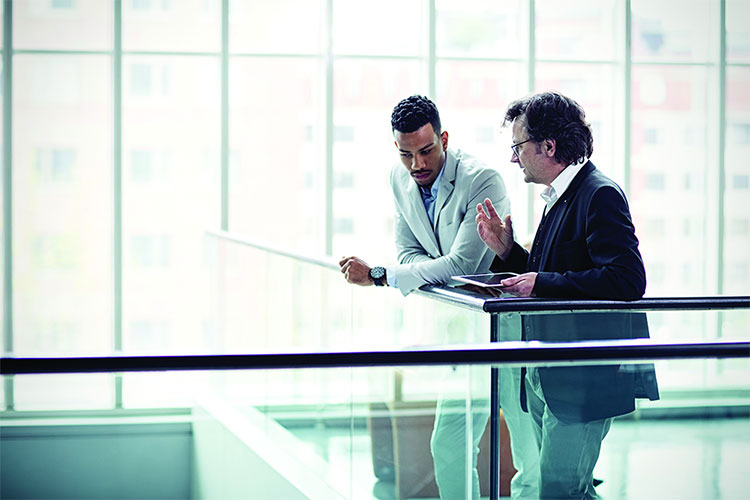 Today's security entrances can last 10 years or more, so your organization can go years without installing a single new entrance. This fact alone intensifies your need for a great experience during the buying process and beyond, so that you are assured the right entrance to meet your needs for years to come. How do you better your chances for such a great experience? Here are 10 factors a manufacturer should offer to create a stellar 360-degree customer experience.
Going global
Can the manufacturer deliver a premium service experience and quality entrance solutions on a global scale? Such a company will have manufacturing facilities around the world in strategic locations as well as subsidiaries and partners. Is there only one factory in China? How long does product delivery take compared to a regional/local manufacturing plant and how much of a premium is there on shipping everything from overseas?
Who you gonna call?
Most manufacturers have regional sales managers and that person is your initial main point of contact. Look for a manufacturer that has a large number of direct employees (not manufacturer's reps) in this role that have small territories so you get the attention you deserve. They can help you determine the right entrance for your specific security needs and even conduct a site walk in person.
Working like machines behind the scenes
The best firms have an inside sales/customer service team to manage your entire order from PO to shipment directly within the manufacturing facility. Ask if you will be assigned a dedicated representative that will communicate with you proactively, check your order for accuracy, liaise on your behalf internally about customizations, and keep you updated on production lead times and shipping timelines.
It's all about location, location, location
A manufacturer with a factory that shares the same continent with you has several advantages. They employ highly trained assembly technicians and source materials locally (lower costs than importing and lower carbon footprint). They also can conduct quality assurance in-house and will have better control over the finished product. Finally, you get faster lead times and lower freight costs.
Expect no surprises
Is there an in-house installation management team that works to ensure no surprises come up during the product installation? The best such teams will walk you through the scope of work so you are aware of exactly what the installation process entails. They also prepare the onsite contractors and installers to receive and properly install the entrance solution.
A second pair of eyes
The best companies will have a team of field service technicians around the country who are available, upon request, to check each entrance after installation for proper operation. The technician can also verify the entrance integrates properly with other components of the building, e.g., fire alarms and access control systems.
Back up and running in no time
How quickly can you get your issue resolved while potentially hundreds of people are being diverted to another entrance? Ask for an organizational chart for the Technical Support department: it should be robust, indicating investment in expertise and customer satisfaction. Ask if they measure their same-day call resolution percentage and parts fulfillment percentage.
Technical training for tuned-in teammates
The last thing you want is the repair call where, upon arrival you hear, "I've never seen this type of turnstile/door before." Where is the nearest service partner located? What kind of technical training resources does the manufacturer provide to educate and certify its service partners? Is there a dedicated full-time role or staff that educates and certifies the installer on the solution you've selected? The goal of the best training programs must be to prepare local partners for flawless installation.
Regular assessment of your investment
Look for some kind of preventive maintenance plan (PPM's). It's an optional service that brings in-house factory expertise to your site to perform annual and bi-annual maintenance checks on your entrance. PPM's ensure the longevity of your asset for maximum ROI.
Same experience, every time
With top, global manufacturers, you can save money, decrease time spent on training, and improve efficiency by planning and executing the same, high quality product line to all your building locations around the world. Being able to standardize on one manufacturer across your entire organization is a huge advantage in cost and time savings.
Company: Boon Edam Inc.
Product: Security Doors & Portals
Source: http://blog.boonedam.us/you-deserve-to-be-delighted-10-essential-elements-to-look-for-in-a-security-entrance-manufacturer
Tags: Entrances | Exterior Design | Interior Design | Security
Finally a Hands Free Solution to Stop Bathroom Mold with the New Enhanced Broan® InVent™ Series (July 14, 2017), Project Spotlight: Work-friendly Daylight (July 13, 2017), Creating the perfectly flat viewing surface (July 11, 2017), 3135EC Eclipse Undermount: Sliding under the radar (July 9, 2017), Colormix® Forecast 2018 (June 14, 2017), 7 Hot 2017 Bathroom Design Trends You Need to Add Style to Your Space (June 13, 2017), Modular In Plant Offices (May 31, 2017), Draper Launches Acoustical Shading Solution (May 29, 2017), Rustic Meets Modern: Transitional Design Style (May 26, 2017), HERMETIC Industrial Flooring (May 22, 2017), Interior Corner Protection (May 18, 2017), 5 Compelling reasons you need to eliminate your shower pan threshold (May 16, 2017), What is a Drawer Slide and How Do I Choose the Right One? (May 12, 2017), Custom Period-Matched Perforated Grilles (April 26, 2017), Nystrom Launches 1 Inch Pan Floor Door (April 21, 2017), Bulletproof Systems and Accessories for Every Building (April 18, 2017), Decorative quartz flooring: choosing epoxy, urethane, or MMA resin? (April 13, 2017), Space Saving Solutions: Under the Staircase Storage (April 12, 2017), New Design Tools to Meet Green Guidelines (March 30, 2017), Project profile: flooring installation for busy bank in El Paso exceeds tight turnaround expectations while delivering a functional masterpiece (March 27, 2017), Concealed Access Doors, a high-end architectural panel (March 24, 2017), Kalwall Panels featured in "Amoeba Wall," MIT design team's award-winning project (March 20, 2017), How to create theft-proof closets (March 8, 2017), Is polycarbonate the future of architecture? (February 2, 2017), Introducing the 2017 Color of the Year (January 20, 2017), Moving Interiors - Automotive Sliding Systems (January 16, 2017), Loss Prevention: Ramping Up Retail Security for the Holidays (December 21, 2016), Tips to Improve Indoor Air Quality This Winter (December 19, 2016), Make rooms quieter with a little help from EchoControl acoustical shading (November 14, 2016), AAG100 Plaster J-Bead™ Curved Linear Grille (November 9, 2016), New Unicel white paper provides guidance for specifying privacy and shading solutions (October 19, 2016), 5 Crazy Modern Glass Wall Partition Ideas for a Loft Apartment (October 17, 2016), Reflector Designer Metallic Epoxy Flooring (October 14, 2016), Interior Acoustical Finalé Wall Panels (October 10, 2016), Register for a FREE Senseon Secure Access webinar: transforming lock and key systems for commercial environments (October 7, 2016), 4 Tips to Plan for Packages (September 26, 2016), Delray LED Circles: Uno • Dos • Cylindro I/II/III (September 14, 2016), Glass Shower & Tub Enclosures by Fleurco (September 2, 2016), First Appearances Matter: remove the dirt | absorb the moisture | preserve your floors (August 31, 2016), Architects Inspiration Handbook for Glass applications in commercial interiors (August 29, 2016), Mirror polished stainless steel enclosure top and return grilles at New York City Hospital Lobby (August 26, 2016), Accuride's flagship 3800 series slides are now available from bisco (August 12, 2016), 5 Proven Questions to Get the Size of Your Shower Opening Right (July 29, 2016), Commercial Grade Soft-Close Undermount slide (July 27, 2016), Benefits of Decorative Metal Ceilings (July 22, 2016), Designer John Gidding on Finding Color Inspiration (July 18, 2016), Restaurant Ceiling Tiles (July 1, 2016), Sotheby's 2016 Designer Showhouse + Auction (June 8, 2016), The Sir John A MacDonald Building (June 3, 2016), How to "Future-Proof" Your Bathroom (May 13, 2016), Custom shade brackets solve big headache (May 11, 2016), Custom Pocket Headboxes (April 20, 2016), Decorative Panels & Screens (April 4, 2016), Consider Glass Flooring Systems for Dramatic Design (April 1, 2016), Cabinets without keys: combine flexibility, simplicity and security without sacrificing style, performance and profit (March 25, 2016), Howe Green Provides Easy Access in Quality Hill Homes (March 21, 2016), Fleur de Sel (SW 7666) invites comfort and luxury into contemporary Atlanta home (March 18, 2016), The Noise Control Solution - When Acoustics, Style & Toughness Are Required (March 11, 2016), High Performance Coatings (March 7, 2016), Wisconsin Hospitals Use Boon Edam Revolving Doors in Special, Double Entrance Solution (February 15, 2016), Artistry in Architectural Grilles (February 10, 2016), Massive retail shopping mall (February 5, 2016), Decorative Spray-Texture Concrete Overlays (January 29, 2016), 2015 NJ DISCA Excellence in Construction Awards – Tin Ceiling Project (January 8, 2016), 7 Myths about One Level (Curbless) Showers (January 6, 2016), Commercial and Residential Ceiling Tiles (December 7, 2015), Print custom graphics on window shades (December 2, 2015), Protecting Industrial Flooring with Polyaspartic Coatings (November 30, 2015), BP Bright Lights (November 25, 2015), Colored/Stained Conventional & Polished Concrete (November 20, 2015), TecVision Stuns in Utah Home Cinema (November 11, 2015), 3 Common Misconceptions About Epoxy Floor Coatings (November 2, 2015), Advanced Arch Grilles brings Artistry to historical projects (October 28, 2015), They're here! Glass countertops from Innovate Building Solutions (October 14, 2015), As Cooler Weather Approaches, National Home Expert Danny Lipford Launches Satellite Media Event Offering Tips for Seasonal Improvements and Healthy Homes (October 7, 2015), Color of the Month: Get inspired with Black Magic SW 6991 (October 2, 2015), Hanging baffles substantially quiet this LAPD firing range - this benefits everyone who works there (September 30, 2015), Ventilation for you the music fan: brilliant audio performance concealed behind your fan grille (September 23, 2015), Log home meets contemporary (September 16, 2015), Style Squared (September 11, 2015), Bank Security: Balancing the Priorities of Security Managers, Architects, and Facilities (August 31, 2015), Modern Living with Kathy Ireland Discusses the Importance of Indoor Air Quality with Broan-NuTone (August 28, 2015), Ruskin Air Doors Protect Indoor Air Quality (August 28, 2015), 5 Things Nobody Tells You about Shower & Tub Wall Panels (August 26, 2015), University Housing 101 (August 21, 2015), Specialty Glazing (August 20, 2015), Concrete Resurfacing (August 19, 2015), Healthcare Color Palettes (August 12, 2015), Projection Versus Flatscreens (August 6, 2015), Delivering ultra-thermal performance in a unitized curtain wall system (July 31, 2015), Case Study: Sustainability without Sacrificing Beauty - the Linstroth Residence (July 22, 2015), Tectum Panel Art Wall Panels (July 20, 2015), Larger Optically Seamless TecVision Surfaces (July 8, 2015), Sealed Blinds from Unicel Offer Flexibility, Low Maintenance (June 24, 2015), REFLECTOR™ Enhancer Floors (June 19, 2015), 7 Cool Uses of Glass for Contemporary Luxury Homes (June 12, 2015), The Why of White (June 3, 2015), Find Your Color With ColorSnap Studio™ (May 20, 2015), Tectum V Acoustical Roof Deck (May 8, 2015), There's a new trend in the mailbox industry... (May 6, 2015), Concrete repair, resurfacing and epoxy flooring by Super-Krete Products (May 4, 2015), OGDEN flexible curved or circular benches (April 29, 2015), A World Without Windows (April 24, 2015), 5 Tips For How To Fill Perfect Looking Large Planters (April 22, 2015), Would you step out on this glassfloor? (April 10, 2015), L-Bead Installation: New and Improved (April 3, 2015), Create an accent wall with faux-leather wall panels (February 17, 2015), Coral Reef! Jackie Jordan on the 2015 Color of the Year (February 6, 2015), Bottom-Up FlexShades Offer Privacy (February 2, 2015), Nothing says cool quite like high gloss WallPanels (January 16, 2015)