architecture - engineering - construction

Planters
---
March 19, 2021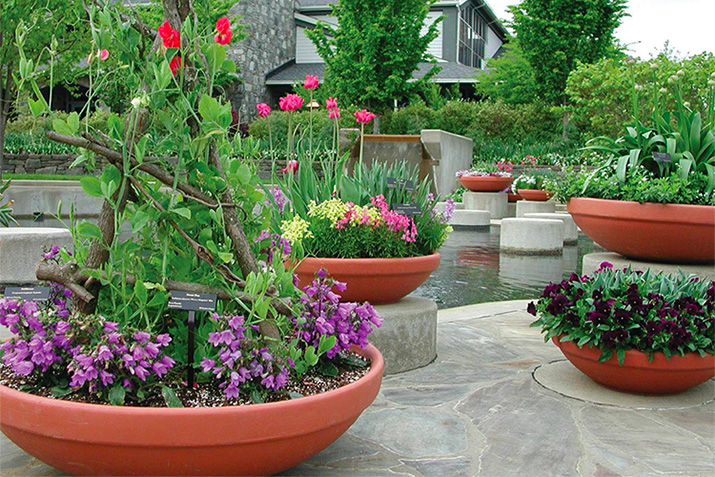 As you get ready to replant spring flowers in your containers, it is a good idea to inspect your planters. Are there any cracks or breakages? Temperature fluctuations and snow melts can have a significant impact on your containers, depending on the material. When you need to replace damaged planters, consider TerraCast® resin-based planters to minimize your future costs on replacements. One of the many benefits LLDPE resin material offers is its flexible property; it resists cracks and breakages caused by temperature fluctuations.
---
February 22, 2021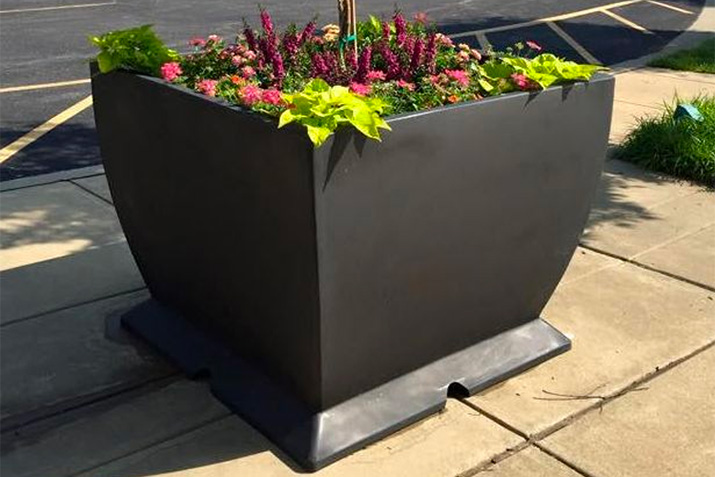 Outdoor planters should be able to withstand the UV rays of the sun and other outdoor elements. Still, most landscaping products are not made to withstand the wear and tear provoked by nature and the general public. It doesn't take long for standard planters to start fading if left in the sun day after day. TerraCast® resin planters are treated with a UV inhibitor, which means they will not need painting or refinishing because they will not fade, chip, or peel.
---
January 22, 2021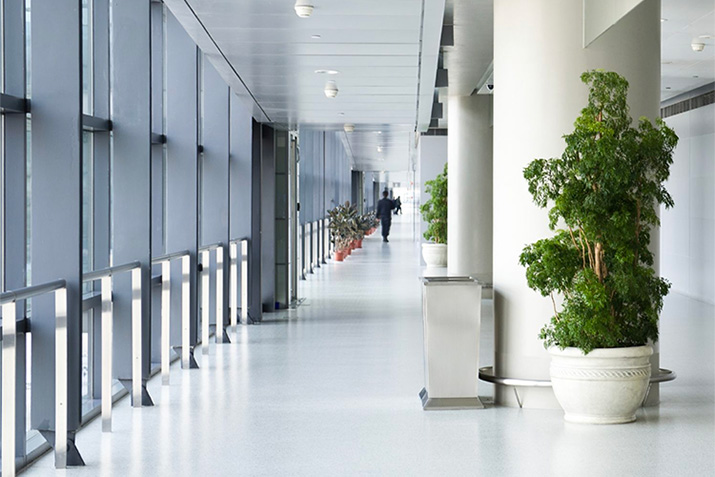 You've probably already heard of the benefits of having plants in your home, well, the same is true for your business. In fact, research shows that offices with thriving plants also thrive with enhanced performance and productivity. The truth is plants offer a number of benefits for you, your employees, and your office. Let's find out more!
---
November 30, 2020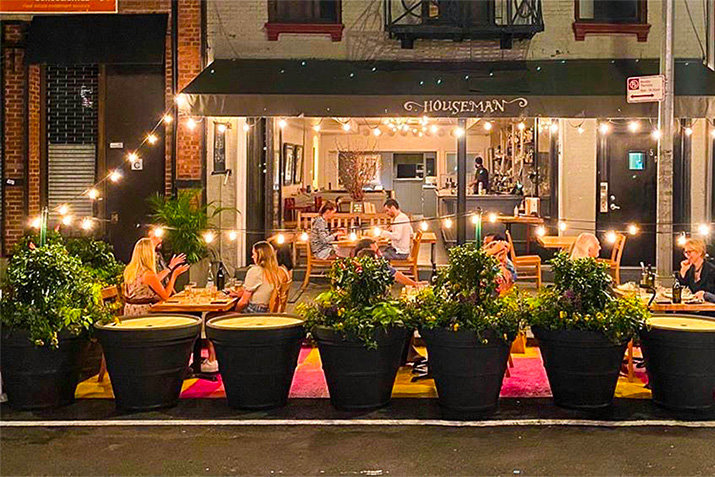 As winter approaches and temperatures drop, restaurants located in colder regions are rethinking options to keep outdoor dining open. According to USA Today, nearly half of the full-service restaurants plan to extend their outdoor dining, including adding tents and patio heaters. In New York City, the outdoor dining program was made permanent due to its popularity and effectiveness in helping businesses. With the increased demand for outdoor spaces, planning for different weather can help create cities that are more enjoyable in any season.
---
October 19, 2020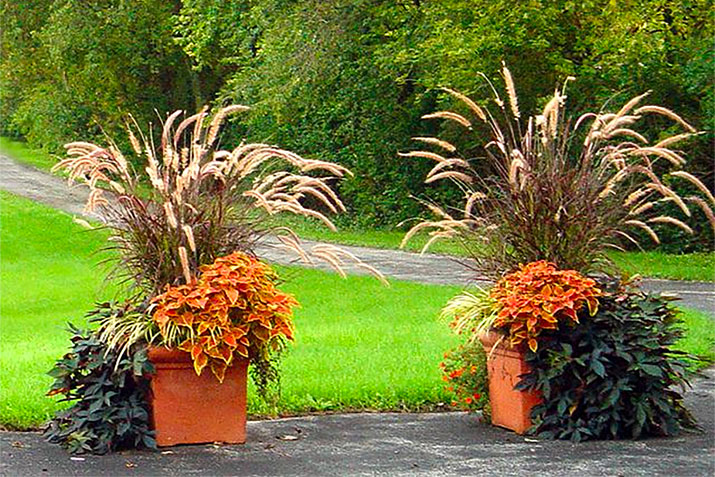 Fall is the best time to up your curb appeal and experiment with lots of colors and textures of plant combinations. Container gardens can instantly add height and depth to your fall landscape designs. Varying style and size options can complement the designs and overall atmosphere of the property. Taller planters paired with the traditional thriller, filler, and spiller plant combination will make an outstanding statement piece in any entryways or walkways.
---
June 24, 2020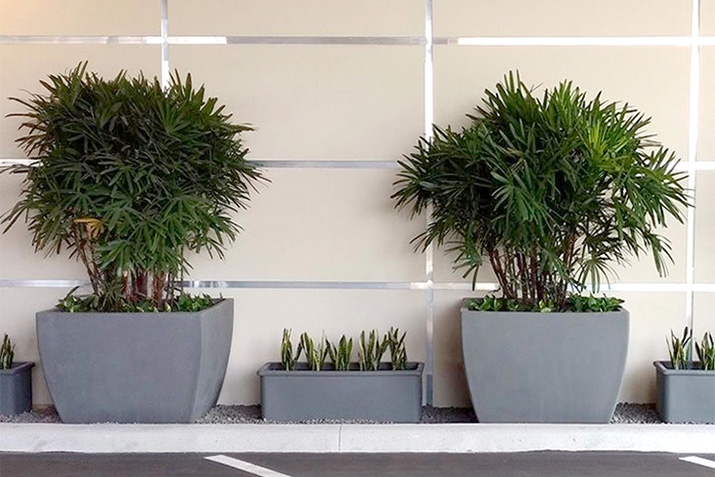 Cleanliness is one of the most critical elements for your home or business today. Public areas or high touch areas require routine cleaning and disinfecting of surfaces to minimize the risk of spreading COVID-19. While the CDC recommends using diluted bleach solutions, many materials may have a negative effect from applying bleach. The TerraCast® resin material is safe for applying bleach. Unlike other materials, our planters will not fade or degrade when disinfecting surfaces. They are a great solution to businesses to separate areas to allow for social distancing, without unsightly barriers or high maintenance work. From installing to cleaning, our planters are easy to handle!
---
April 3, 2020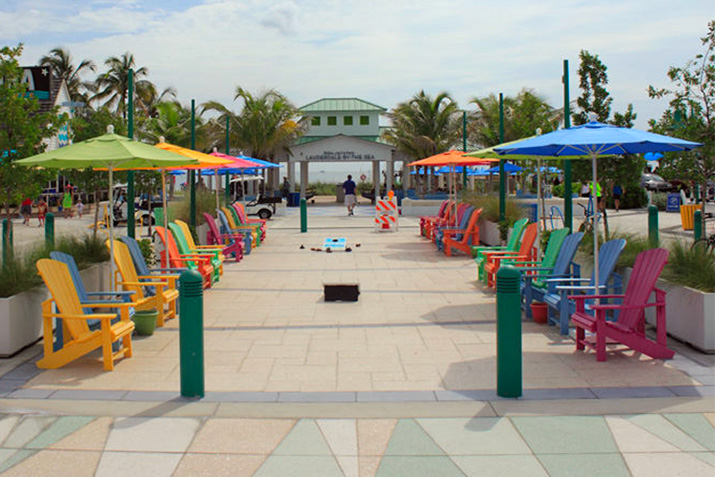 Commercial planters are commonly used to beautify a space, but there are so many other ways to put them to good use. They can segregate outdoor spaces, be used as bike lane barriers, create a serene rooftop garden that improves the energy efficiency of your building, and they can even help promote your brand or logo.
---
January 8, 2020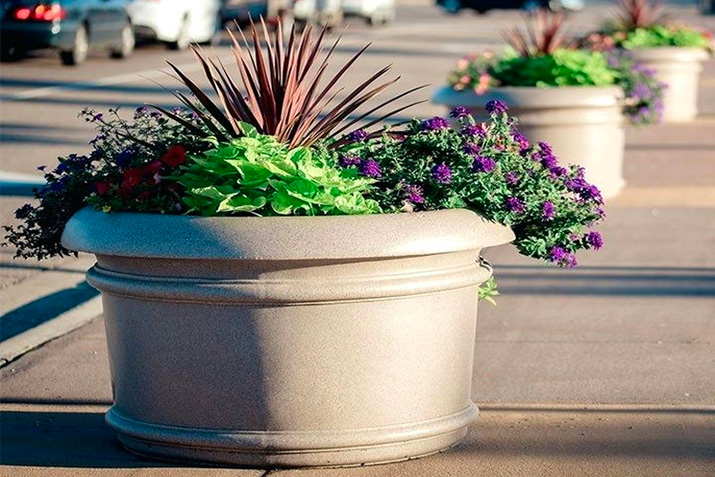 Investing in commercial planters is no small undertaking, and so the goal is always to get planters to last as long as possible. First and foremost, buying the right planters made from long lasting materials will make a huge difference in how long your planters last. In this article, we will go over the best material for planters that outlive the competition, as well as things you can do to make just about any commercial planter last longer.
---
October 30, 2019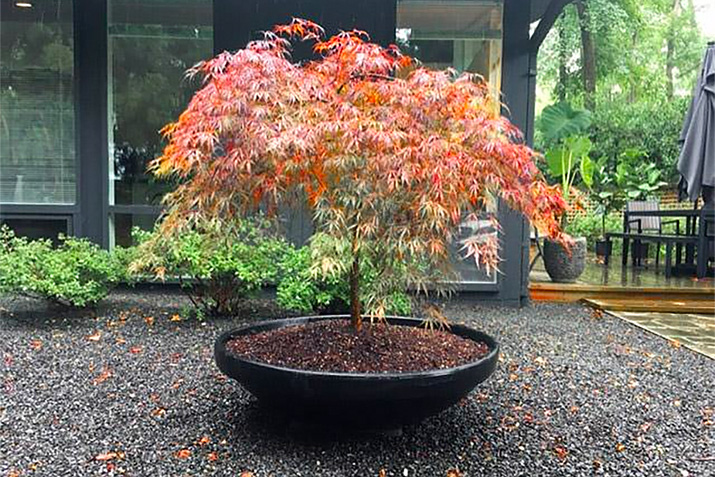 Now that the summer has ended, it is time to transition your landscape design for the autumn season. Your landscaping is ready for a revamp once your summer blooms come to an end. This season is all about spending time outdoors and enjoying the landscapes. The maintenance-free TerraCast® resin products will enable an effortless transition to autumn and even winter landscaping.
---
July 26, 2019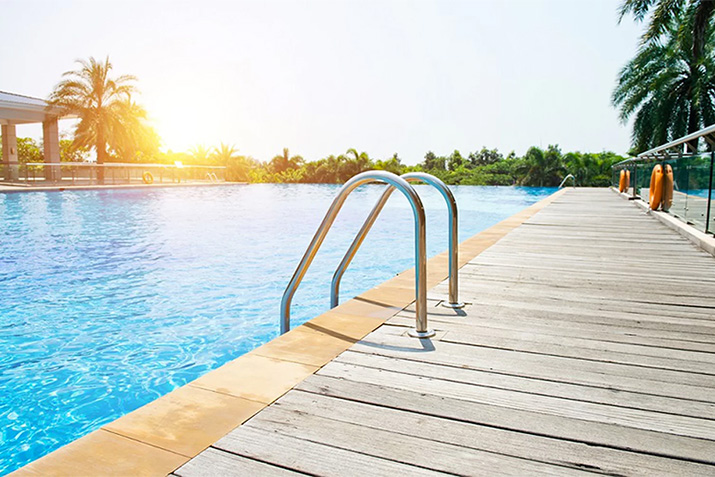 There are a lot of considerations to make when finding the best poolside planters – from plants that don't make a mess out of your pool to planters that can withstand the wear and tear of permanently residing beside a splash zone. Ideally, you want to avoid plants that clutter the outskirts of your pool with weeds and leaves that'll clog your filters, because the last thing you want is additional maintenance. But before we get into the best poolside plants, we are going to take a look at the best poolside planters. After all, where you house your plants is just as important as the plant itself.
---
June 24, 2019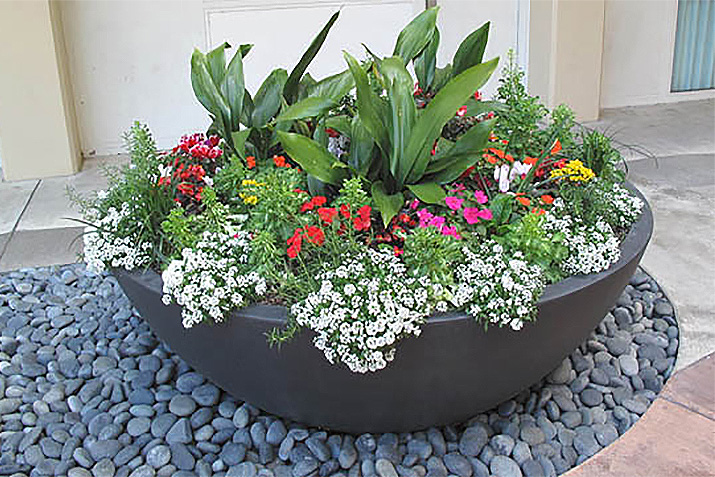 The difference is recognizable when you invest in TerraCast®'s high quality resin planters. TerraCast® Planters will withstand many years of exposure to climate changes and daily abuse in high traffic areas without problems. The picture on the left is our Californian planter installed in Wisconsin over 20 years ago. It has been hit with wheel chairs, gurneys, strollers, and exposed to ice melt and salt, snow shovels and snow blowers. The planter still looks good as new! What makes it so durable?
---
May 10, 2019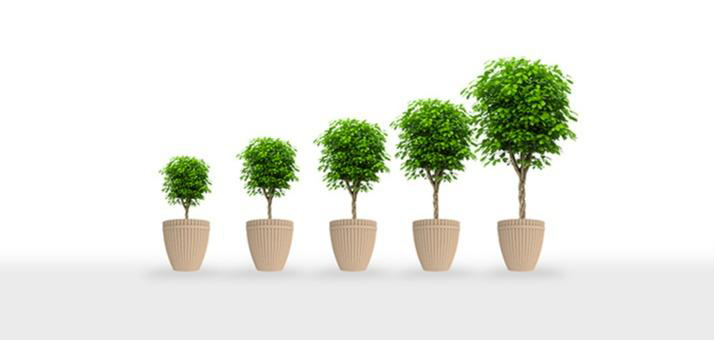 TerraCast® Products cares about the environment and supports green practices! Our line of planters are available with self watering reservoirs. Minimize the amount of water waste by utilizing our self watering system! Reduce your watering cycles from days to weeks. Our self watering system is made in the USA from the same durable and long lasting resin material our planters are made of. Keep your flowers beautifully bloomed, not over-watered and damaged.
---
April 12, 2019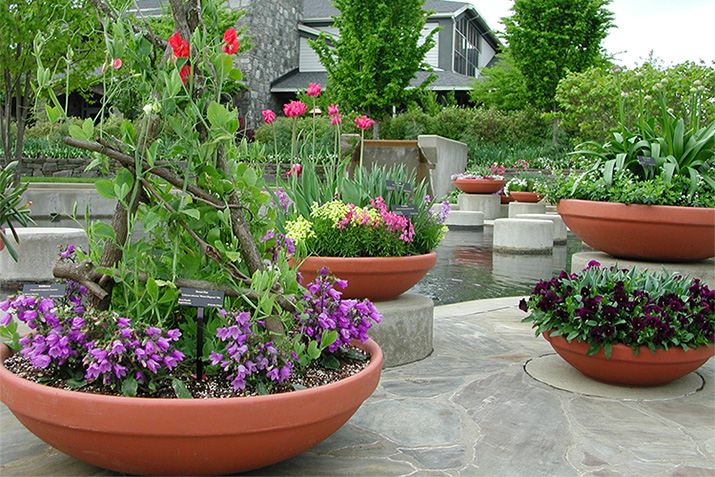 Equivalent to using a safe material for food packaging, finding planters made from safe material is the most important factor in growing edible plants. TerraCast® planters are made from Linear Low Density Polyethylene (LLDPE) resin, which is the material known to be used extensively in food packaging and other consumer products. Our planters are labeled with a 4 for recycling and they are safe to grow edible plants.
---
January 25, 2019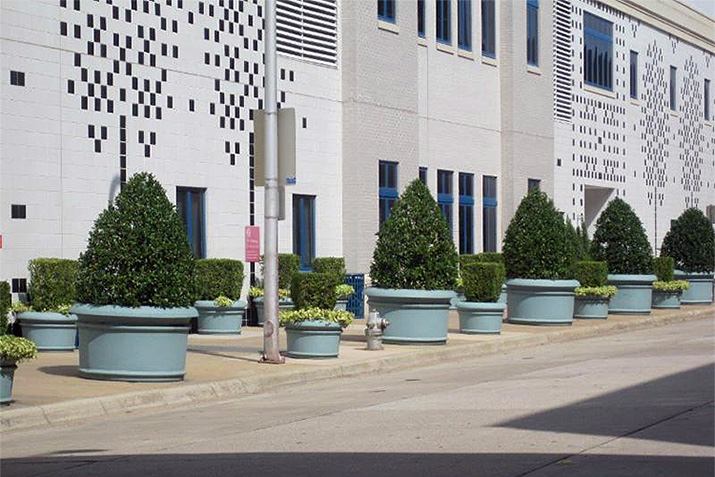 Extra-large planters are used for the instant "wow" factor in many landscaping designs. However, the cost of these heavy duty planters, shipping and handling, and installation can be astronomical. TerraCast ® creates products with usability in mind to make the process easier at the job site. With our lightweight planters, the cost of shipping is more affordable and they can be moved by hand.
---
December 12, 2018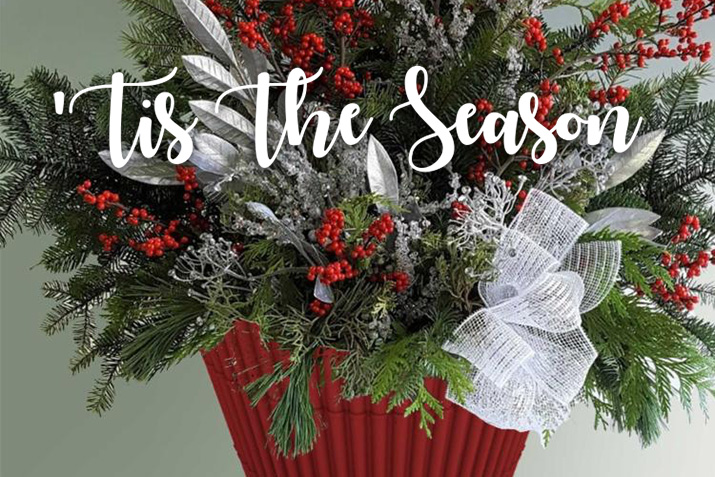 Immerse yourself in the holiday spirit! TerraCast® offers a wide selection of outdoor products that will last through extreme weathers and many winters to come! Create a statement piece for your projects by personalizing the planter with a custom graphic.
---
November 14, 2018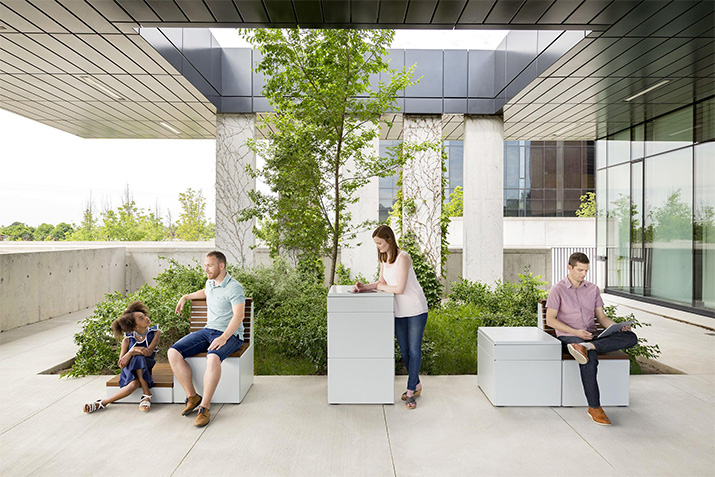 Maglin Site Furniture's new Pixel Collection is the perfect solution with its innovative and highly customizable line of modular site furnishings. Inspired by the concept of a pixel and how its square shape allows for near-limitless possibilities in placement and design, the Pixel Collection comprises an interchangeable series of blocks and tops that can be used to create everything from large-scale platform seating to lounge chairs, garden planters, tables, and more. Wired and wireless charging stations can be integrated into the design to support mobile devices. Whether used as an alternate work area or a place for a quick break, Pixel can offer the feeling of privacy through a strategically-placed planter, opposite oriented seating, or incorporating a standing tower into the configuration.
---
October 1, 2018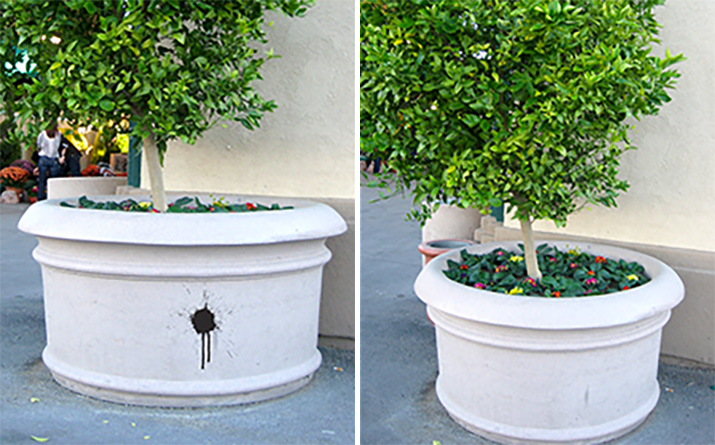 Graffiti and other materials often ruin stone and metal products. Unlike metal and stone, resin is immune to being ruined from spray-paint, gum, stickers, and even sharpie marker. Resin is formulated from a Linear Low Density Polyethylene, a non-porous, non-hydroscopic plastic. This keeps moisture and other materials from staining or discoloring it in any way.
---
August 17, 2018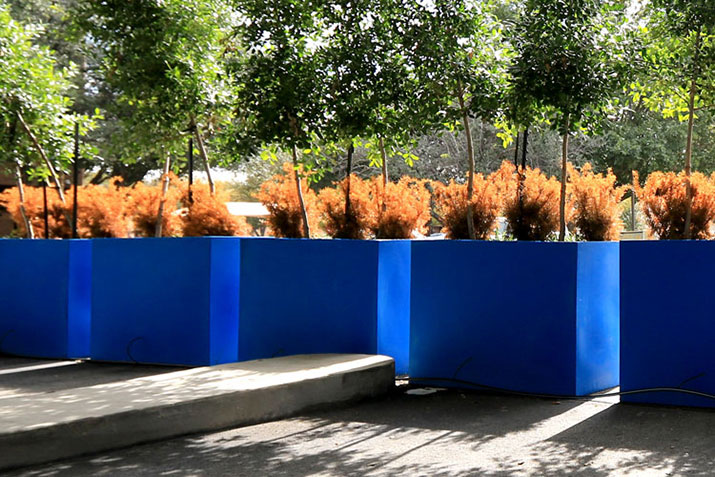 Being lightweight means a lot more than cheaper shipping. It's a total game changer - no more heavy equipment, easier handling and installation, no damage, ease of relocation, and less headaches.
---
May 14, 2018
There are two fundamental reasons TerraCast Products is known for making one of the most durable custom outdoor planters on the market: 1) Materials, and 2) Process.
---
September 29, 2017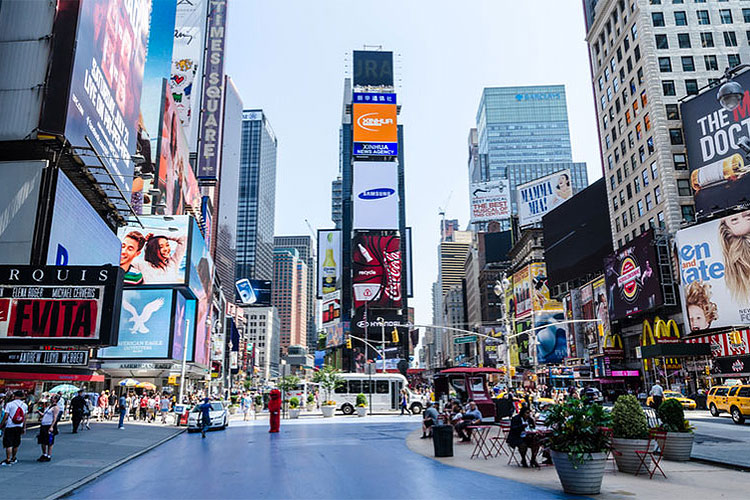 Innovative public square design can improve neighborhood morale, increase home values, generate more retail sales, plus so much more. TerraCast played a role in the development of all projects listed below. TerraCast durable planters were used to complete each picture-perfect public square.