architecture - engineering - construction

2017 October
---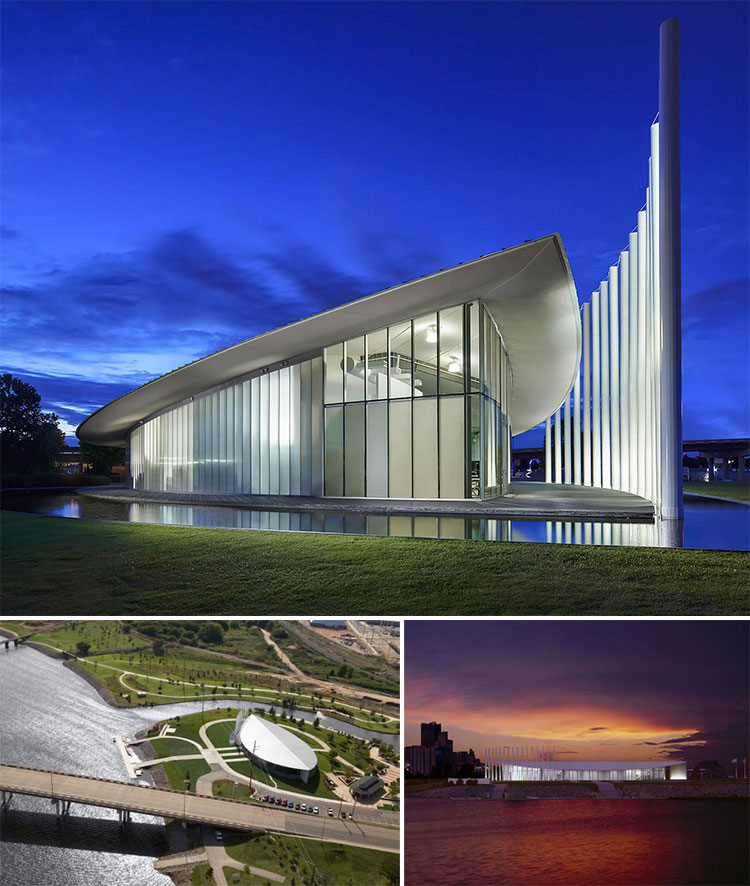 Location: Oklahoma City, OK
Architect: Elliot + Associates Architects
System: LIGHTWALL
The Chesapeake Boathouse shows the design capabilities of combining translucent cellular polycarbonate with glass vision panels. Framing systems that can accommodate both polycarbonate and glass effectively are a rare commodity, but EXTECH's systems possess this capability.
To create this sparkling facade, EXTECH's LIGHTWALL standing seam panels were connected directly to steel studs, nominally 2 feet on center. To create the smooth exterior, the standing seams were turned inward.
Due to the lightness of the polycarbonate panels, the installation time for the application was minimized. The end result not only delivered natural daylighting for the daytime hours, but it also provides a charming aesthetic by glowing like a constellation at night.
Company: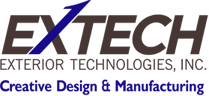 EXTECH/Exterior Technologies, Inc.
Product: Translucent Walls
Source: https://extechinc.com/project-gallery/translucent-walls/translucent-panels-chesapeake-boathouse-oklahoma-city-ok/
Tags: Architecture | Building | Design | Lighting | Wall Panels
---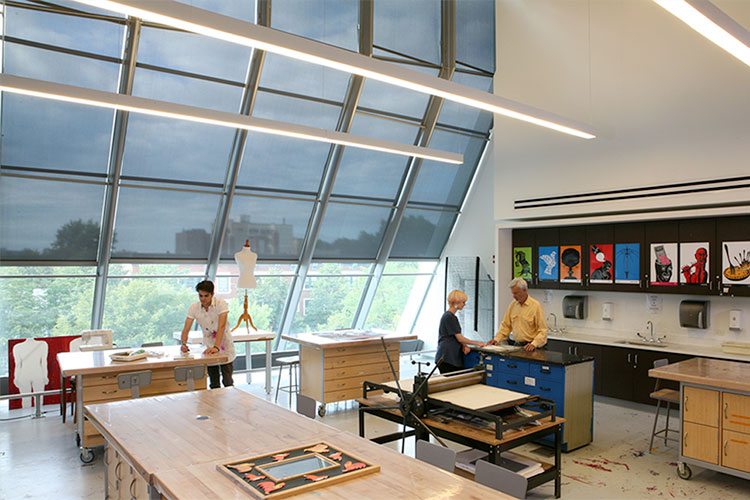 The University of Chicago Lab School had a problem. The school was building a brand new arts facility, the Gordon Parks Arts Hall, funded in part by a donation from the George Lucas Family Foundation. It was a high-profile project, making use of daylighting.
"They had a beautiful facade design with unique angles and breaks in the glass," Clint Childress, LEED®AP, solar control solutions product manager at Draper, Inc. "With this design, they had a problem with finding any solar shading that would work."
Bryan B. Biggers III, the president of Beverly Venetian Blind Company, agrees it was a complex project.
"We weren't the only people asked to bid on this project but we seemed to be the only ones that were willing to take on the complexity of this project with its unique angled windows," Biggers said. "It's something we had never done before but I felt that it would be a great opportunity to do something very special even though we really didn't know how we were going to accomplish it."
Biggers and his team talked to the designers in charge of the project to share some ideas on how to approach a solution for the project.
"This is where my thoughts went straight to Draper, Inc.," he said. "I knew that if anyone could help pull this off, it would be Draper."
Biggers' request came to Draper's Solar Control Solutions (SCS) division, which designs and manufactures custom solutions for customers around the globe.
"SCS is about bringing solutions to solar shading problems," Childress said. "There may be too much heat gain, a unique glazing design, an operation which is not standard, or anything that makes standard products not an ideal option."
Draper's designers discussed the project with Biggers and, after several conversations, proposed a solution. After some back-and-forth exchange of ideas and on-site meetings, a final design was agreed upon: a custom motorized shade system on tracks, with re-directional rollers to help the shades follow the changes in slope. The shades would be operated via wall switch, and feature Mermet E Screen Charcoal/Gray with a 3% openness factor.
To read the rest of this case study, and download a free pdf copy, click here.
Company: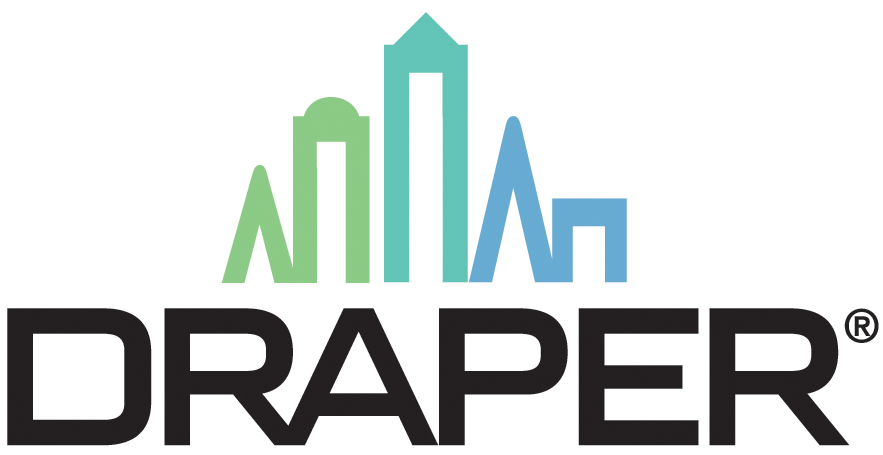 Draper, Inc.
Product: Window Shades
Of: Terry Coffey
Source: http://blog.draperinc.com/2017/10/draper-university-chicago-lab-school/
Tags: Design | LEED Certification | Solar control | Window Shades
---
Modern. Clean lines. High Visibility. Upscale. Bulletproof. Which one of these doesn't belong? While there is a strong perception that beauty and security cannot go hand-in-hand, attractive bulletproof barriers are totally possible.
In some situations, a more pronounced bulletproof barrier design is exactly what the space and company requires. If that's what your facility demands, we can achieve it. At Total Security Solutions, however, custom, detail-oriented jobs are where we truly shine.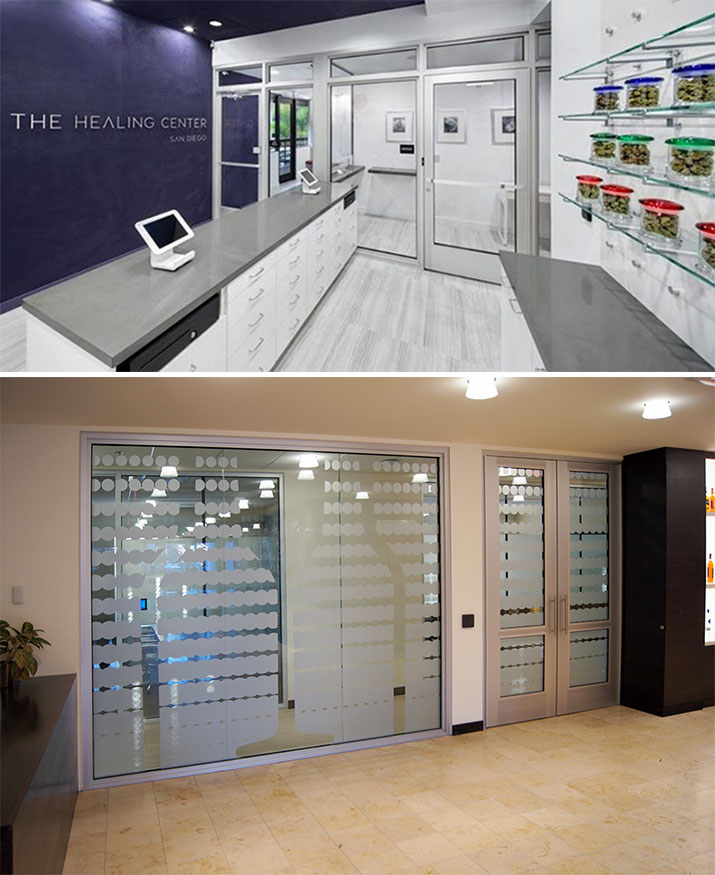 Balancing Design and Bulletproof Security
The Healing Center of San Diego challenged us to maintain a light airy feel in the design while achieving the desired security. A solid partnership with Element Construction ensured no detail was overlooked. The space features multiple access control points linking the showroom, the administrative area, and the lobby. We also supplied ballistic fiberglass for the storefront walls. The final result is a peaceful setting, both in its physical space and the peace-of-mind knowing employees and patients are secure.
The corporate headquarters of Brown-Forman are another shining example of upscale bulletproof barrier design. Oversize bullet-resistant glass panels are butt-glazed, eliminating visual barriers and conveying a more high-end appearance. Applied graphics further elevate the design. Despite the need for a bullet-resistant barrier to secure the lobby area, visitors still feel welcome thanks to the minimalist design.
Visually Enhancing Bulletproof Glass
The small design details on a project can make a major difference in the overall aesthetic. While bulletproof glass has some design limitations, it can be frosted or tinted. By adding a colored polycarbonate cap sheet as the outer layer of the security glass, the color of the glass can be changed. Similarly, a film added in between the layers achieves a frosted appearance. For outdoor use, glass-clad polycarbonate is also available with a mirror finish.
We enjoy working with architects to push the limits of bulletproof glass and achieve their vision. We are experts in bulletproof glass and the details are our specialty. Even if you have worked on a project with a bulletproof barrier before, each project is unique and we recognize that. Let us help you assess, design and install a bulletproof barrier that doesn't just secure a facility, but adds to its beauty.
Learn more about how Total Security Solutions partners with Architects and view our Architect Projects Gallery.
Company:
Total Security Solutions Inc
Product: Ballistic Security Glass
Source: http://www.tssbulletproof.com/attractive-bulletproof-barrier-design/
Tags: Bullet Resistant | Entrances | Glass | Security
---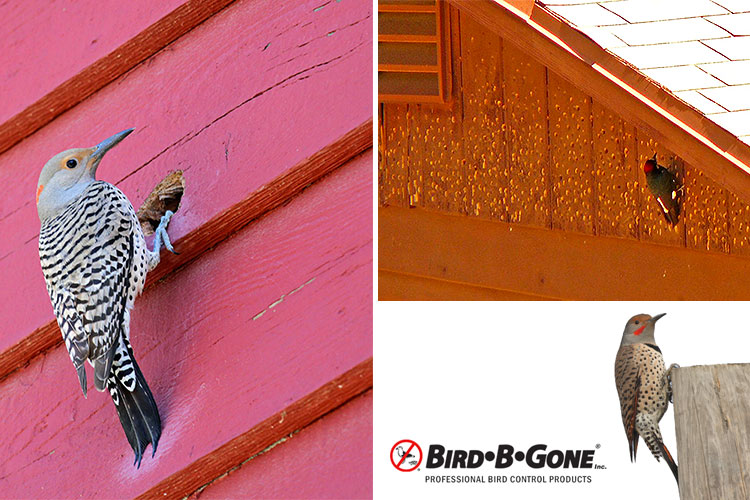 Woodpecker Deterrents
Are woodpeckers causing damage to your property? When woodpeckers target a house or property, they will drill relentlessly either in search of food or as a mating call to attract a mate. Woodpecker house damage is unsightly and is an unnecessary expense that can be avoided altogether.
Woodpecker deterrents are easy to install and are very effective at keeping woodpeckers from ruining your home.We typically think of woodpeckers as beautiful, vibrant birds that have an amazing ability of tapping their long beaks a million miles a minute; however, the truth is that woodpeckers are a nuisance to many home owners. Typically they are found in forests and wooded areas, but they are no stranger to residential areas, where they will peck on homes, telephone poles or anything wooden where they might find food.
There are several humane ways to get rid of woodpeckers. One of the easiest and most inexpensive ways to deter woodpeckers is with the Woodpecker Deterrent Kit, which is the ultimate woodpecker control solution that comes with a balloon, flash tape and installation brackets for hanging both. Installation is extremely easy and because this is a visual deterrent, there are no chemicals or anything harmful to birds. It simply scares the woodpeckers away because they see the balloon as a predator and the flash tape is a bright moving object that causes confusion and keeps the birds away.
If you prefer something a little less obvious, bird netting is an excellent woodpecker repellent. Bird netting takes a little more finesse to install than the visual deterrents but it is well worth the effort, causing a physical barrier between woodpeckers and your property. Once you get rid of the woodpeckers, the netting can always be removed and reinstalled next year if and when needed.
Get rid of woodpeckers! Dont be left with damage to your house!
How to humanely get rid of woodpeckers with Bird B Gone products.
Company:

Bird-B-Gone, Inc.
Product: Visual Bird Deterrents
Source: https://www.birdbgone.com/blog/the-best-woodpecker-control-solutions-to-avoid-house-damage/
Tags: Bird Control
---
The challenge: heat, humidity and sea breezes infiltrating the building. The solution: revolving doors.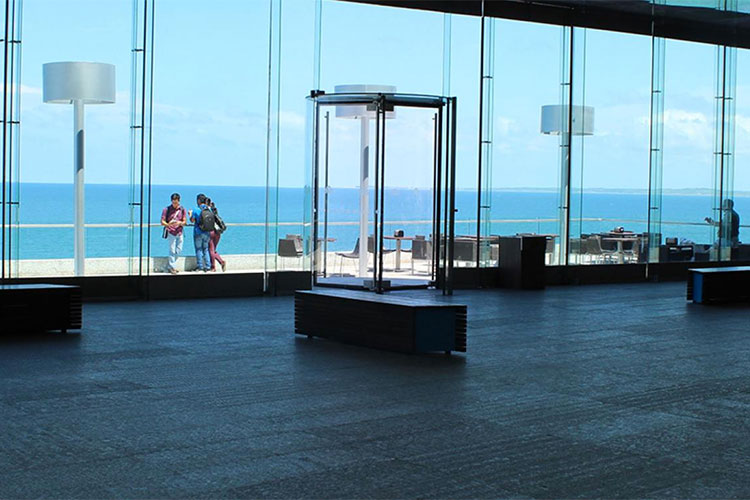 Since opening in October 2014, Andamar Lifestyle Center struggled to contain strong Veracruz winds, which consistently left its swinging doors open and exposed the facility to heat, humidity, and sea breezes. In turn, this allowed the shopping center's air conditioning to escape, resulting in a second challenge: higher electricity expenses.
Andamar Lifestyle Center is home to over 100 different stores spread throughout the nearly 2 million square feet of retail, restaurant, and lesiure space.Taking the mall's estimated 5.3 million annual visitors into account, and the fact that 40% of them are entering through the main entrance, the air infiltration and loss situation became unsustainable. As a result, Rosa María Bueno, director of Andamar, began looking for solutions.
"At first, we tried to find a way to solve the problem without getting rid of the manual doors that were already installed. So, we had about one guard at every door to make sure the doors were closed or to hold them shut against the wind. The reality is that we weren't going to solve the problem that way," Bueno explained.
Two important factors the center needed to consider were the location and use of each door. In addition to its main guest entrances, Andamar has entryways to its terraces and ocean views, which are primarily used by waiters in transit – making easy access a must. "Because we're beside the ocean, many people go outside to enjoy the air, take photos, and eat; as a result, waiters go in and out with their hands full of food, huge trays, etc. We needed to find the right entryway that wouldn't make this process any more difficult," Bueno said.
Andamar also had to consider its original architects' opinions. "The architects who designed the center were very worried that the new doors would change its visual design and obstruct the ocean views, two important points that were taken into account from the beginning. After a detailed search, we found the ideal solution with Boon Edam," the director said.
In total, the shopping center installed eight Boon Edam doors: three Crystal TQ automatic revolving doors, three Crystal TQ manual revolving doors, and two Crystal BoonAssist semi-automatic revolving doors. With the help of AVANCE Inteligente, a local door installation company, each door was installed with the specific entryway's purpose and location in mind.
Bueno affirmed that, in addition to receiving a customized analysis, the shopping center experienced nonstop assistance and dedication from Boon Edam support staff during the project's duration. This led to the right solutions, and gave the client complete confidence in the quality and adaptability of Boon Edam's team.
"We're very happy with the solution from all angles. It meets its functional and aesthetic purposes, it contributes to our positive image, and the doors have allowed for the flow of visitors to achieve a good rhythm," Bueno concluded.
Location:
Veracruz | Mexico
Products:
BoonAssist TQ
Crystal TQ
Segment:
Retail
Download Case Study Flyer:
Company:

Boon Edam Inc.
Product: Revolving Doors
Source: https://www.boonedam.us/andamar-shopping-mall
Tags: Entrances | Interior Design | Security | Sustainability
---
LumiSplash is a patent pending, multilayered, ultra-thin 1/4″ (6mm) decorative laminate that emits light evenly across its surface and has impressive impact, scratch, chemical, and abrasion resistant properties. LumiSplash is:
The first ultra-thin, lighted laminate system with no air gap required for LEDs. This system uses a Light Bar and Light Guide Panel to produce luminance across a translucent surface.
A one-of-a-kind product that combines art with lighting in a durable laminate, creating a unique focal point for any home or business.
A low-voltage system that comes with the necessary electrical components to simply plug into a 110-volt receptor. LumiSplash can also be hardwired for permanent installations by a local electrician.
Suitable for most vertical and horizontal applications where other decorative laminates could be used.
Easily fabricated with standard woodworking tools such as routers, saws, and drills.
Easily used to backlight your own stone, acrylic, or other translucent materials with it's Light Guide Panel.
Lumisplash Idea Library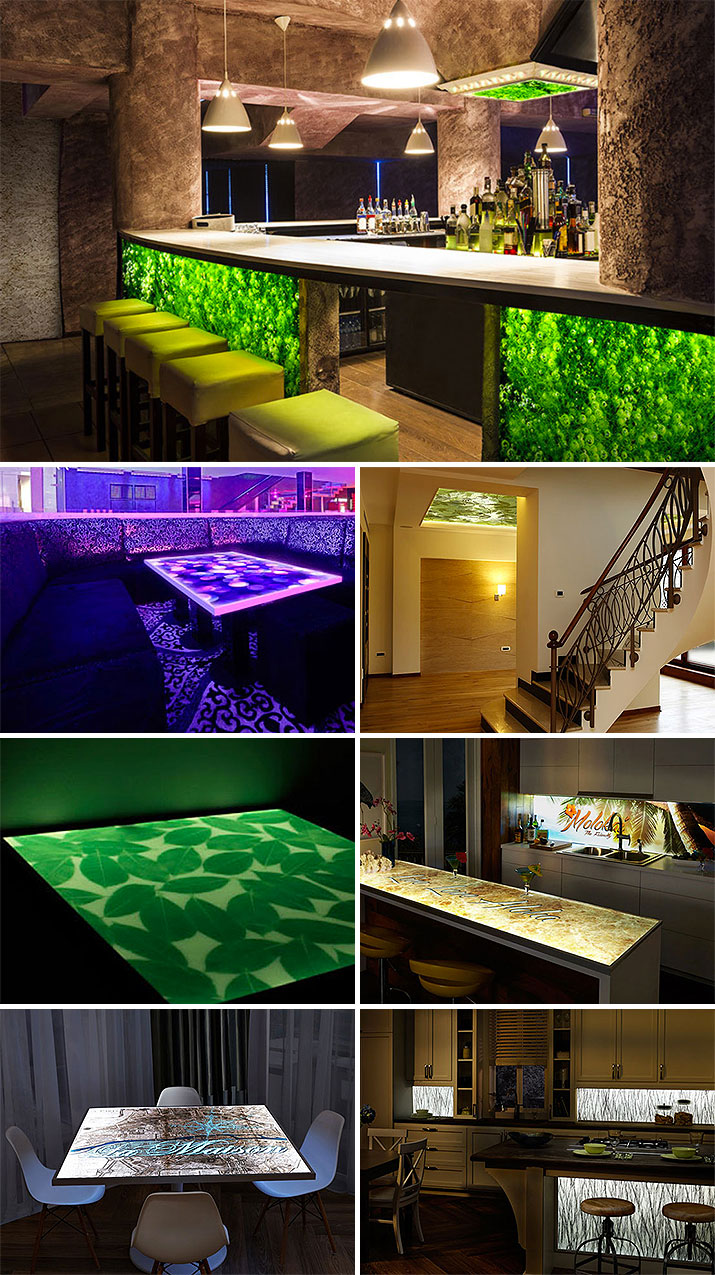 The "Lumisplash Top" includes printed artwork and a protective surface. It has the option of extra graphics. The "Lumisplash Kit" includes ATI light guide panel, LED lights, and a decorative graphic panel. It also has the option of different molding configurations and extra graphics.
Company:
Decorative Ceiling Tiles, Inc.
Source: https://www.decorativeceilingtiles.net/idea-library/by-material-lumisplash-idea-library/#prettyPhoto
Tags: Color | Furniture | Interior Design | Lighting | Wall Panels
---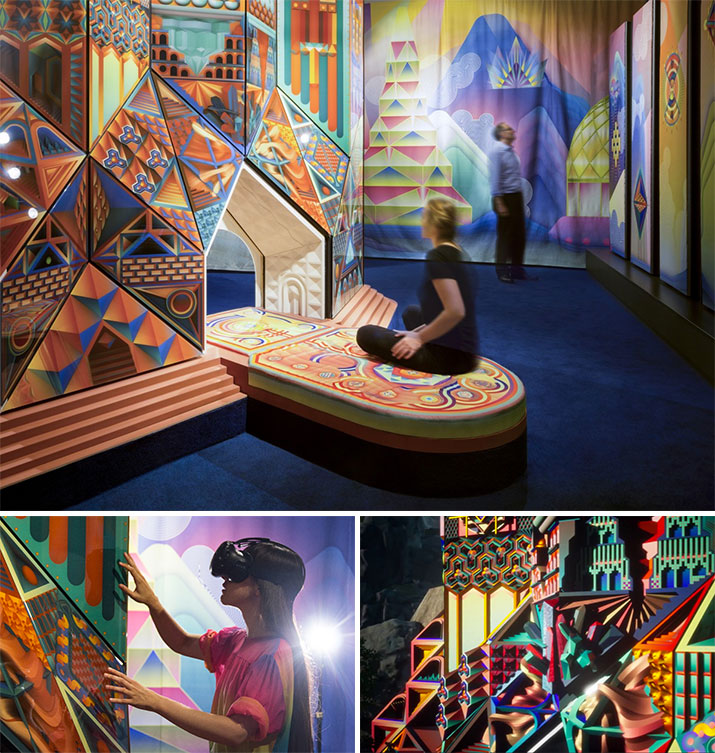 Werkstatt – which means workshop in German – is a showcase and test center in London for Sto's innovative facade and interior materials. In addition to the workshop's extensive resource library, the center offers technical consultations, exhibitions, speakers and seminars.
The current exhibit, "The Glass Chain", is by Space Popular, a Bangkok-based multidisciplinary design and research practice led by Lara Lesmes & Fredrik Hellberg. The exhibit, which will run until December 14, features StoVentec Glass that can be used as an external rain screen cladding system, and as an interior decorative option. In their UK debut at Werkstatt, Space Popular has redefined the potential of the material with its colorful and energizing installation, which encourages the imaginative use of glass in building design.
The title "The Glass Chain" is a reference to the infamous exchange of letters by a group of German architects from 1919-1920 initiated by Bruno Taut, who fantasized about the vast possibilities of an incredible new construction material: glass. He believed that all architecture, and even furniture, could be made of glass. His vision of the material was never realized, and glass simply became a solution for windows and walls.
Now, almost 100 years later, Space Popular – inspired by Taut's vision — is taking glass applications to a new level. Working with Sto technical experts, they have created a kaleidoscopic glass construction that explores different ranges of scale, playing with our visual perception of glass doorways as grand arches and small steps as giant pediments.
Curated exhibitions such as this at Sto Werkstatt are an opportunity to explore the changing nature of collaboration, between architects, materials manufacturers and applicators.
Materials on display include glass and rendered rain screen cladding, seamless acoustics, facade elements and intelligent interior and exterior paint coatings.
Company:
Sto Corp.
Product: Specialty Systems
Source: http://blog.stocorp.com/2017/10/sto-werskstatt-features-alternative-glass-architecture-by-space-popular/
Tags: Architecture | Design | Glass
---
Vegas is all about the wow factor, especially in well-known casinos like Caesar's Palace. Stromberg was commissioned to produce themed elements on both the exterior and interior of the hotel.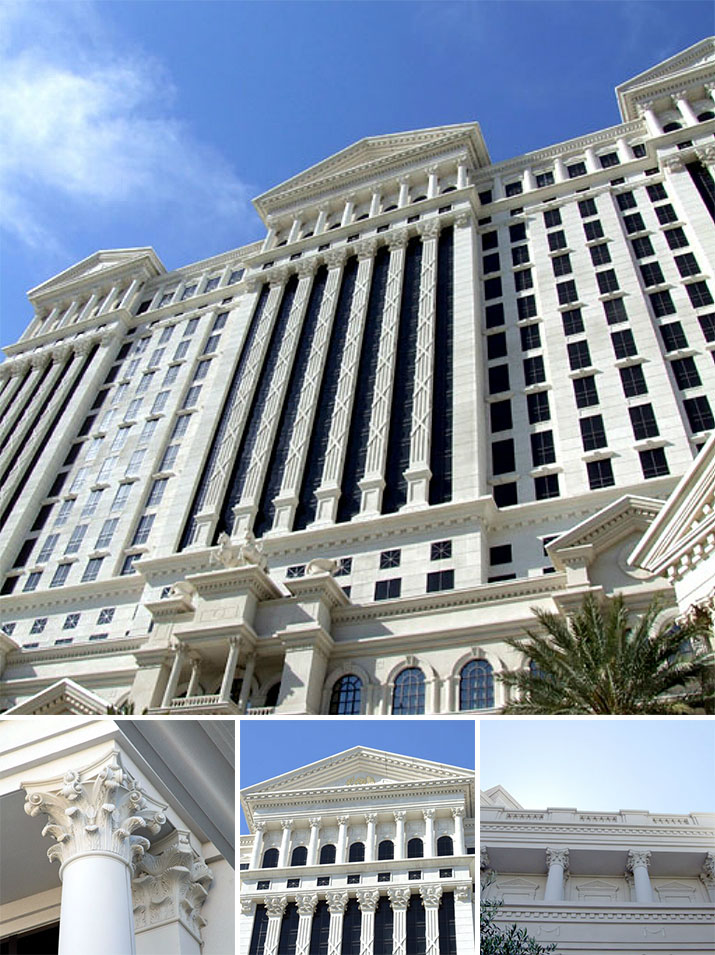 Some elements of note include:
Exterior Themed Elements
The world's largest columns and pilasters
Custom sculpted Roman statuary and bas relief panels
Fountains of GFRC (glass fiber reinforced concrete) and FRP (fiberglass)
Hundreds of assorted roman themed elements including massive brackets, trim, moldings, medallions, panels, etc, each elaborately detailed and skillfully molded
Custom cast finishes, including limestone, travertine, bronze, copper, wood and marble
Interior Themed Elements
In addition to the exterior GFRC and FRP, we produced artistically sculpted and molded interior cast elements including
Ceilings. GRG ceiling panels and intricately detailed ornamentation
Columns. Roman Corinthian, Tuscan and ionic columns in GRG
Domes. Beautifully crafted GRG domes and coffers
Sculptures in GFRG (glass fiber reinforced gypsum) and FRP, in keeping with the intricately detailed Roman style
About Casinos and Gaming
Stromberg has work featured in some of the world's best known casinos. Caesars Palace, MGM, the Mirage, the Venetian, Twin Rivers, Hollywood, Atlantis, Ameristar, etc. Over 80% of our business is with repeat clients who have come to depend on us for fast service, quality products and fair pricing. If you are an owner, architect, contractor or anyone involved in the design or construction of a gaming facility, we are here to help. We can provide preconstruction assistance with costing, design details, value engineering, art direction, mock ups, simplified attachment and custom finishing methods to make your job easier.
About Themed Construction
Doing themed construction the right way requires good design, quality materials and professional execution. While the designer creates the general scope and design, a quality themed contractor and fabricator ensures that all the little details work with the architects design intent. With 30 years of themed construction experience, we know that no matter how massive the project, the small details matter. From original concept to completion, our team will work with you to make the vision a reality. Whether your needs are a single themed element, or a massive themed project, we are here to help. Themed construction and themed elements are provided for casinos, themed resorts, museums, aquariums, zoos, themed exhibits, buildings, water parks, restaurants, etc.
Themed Services
Preconstruction Services
Budget estimates
Design development
Samples and mock ups
Scale models and maquettes
Value engineering
Art direction and design assistance
Themed Production and Construction Services
Shop drawings and engineering
Custom Sculpting
Models
Molds
Casting
Custom finishes. Stone, metal, stucco, wood, etc.
Installation
Project profile
Name: Caesar's Palace
Location: Las Vegas, NV
Dates: 1997
Materials: Glass Fiber Reinforced Polymer (GFRP)
Products: Exterior theming elements, including Fiberglass (GFRP) and glass fiber reinforced concrete (GFRC) Corinthian capitals, columns
Type: New construction
Company:

Stromberg Architectural Products, Inc.
Product: Columns
Source: http://www.strombergarchitectural.com/projects/caesar-s-palace
Tags: Architecture | Construction | Exterior Design
---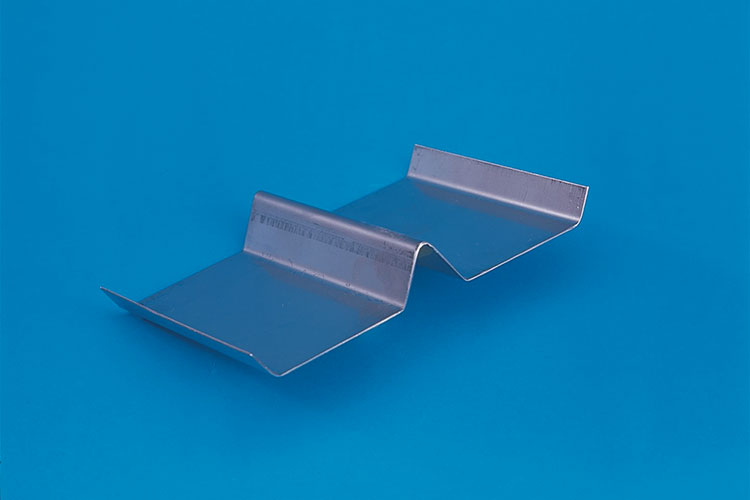 Earth Shield® Stainless Steel Waterstop can stop even the most corrosive fluids in their tracks, even at severely elevated temperatures. A variety of metals, grades, and gauges are available. Earth Shield® utilizes 20 gauge 316 low carbon as our standard alloy, which offers broad spectrum corrosion resistance to most aggressive media, and is virtually untouched by the deleterious effects of ozone, making it an ideal choice for ozone contactor structures used in modern water treatment plants.
Hydrophobic SS Waterstop
Prevents the passage of extremely corrosive fluids (even at elevated temperatures) through concrete joints by creating an internal dam, spanning both sides of and running continuously along the concrete joint.
The most difficult to install waterstop, as split-forming is always necessary (with the exception of retrofit profiles). Also, TIG or MIG welding is required.
Contains no plasticizer to leach out (unlike PVC) from exposure to hydrocarbons, acids, ozone, ultraviolet radiation, or time.
Products are available for above- or below-grade; limited-moving or non-moving applications.
Designed to last the life of the concrete structure.
Able to withstand extreme temperature conditions (high heat, LNG, etc).
Earth Shield® Stainless Steel Waterstop is available in many standard shapes and sizes, including profiles for new construction and retrofit. All change of direction fabrications can be pre-manufactured leaving only straight butt welding for the field.
Company: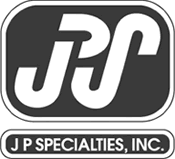 JP Specialties, Inc.
Product: Earth Shield® Stainless Steel Waterstop
Source: http://waterstopking.blogspot.nl/2017/08/stainless-steel-waterstop-for-high-heat.html
Tags: Building | Metal | Waterproofing
---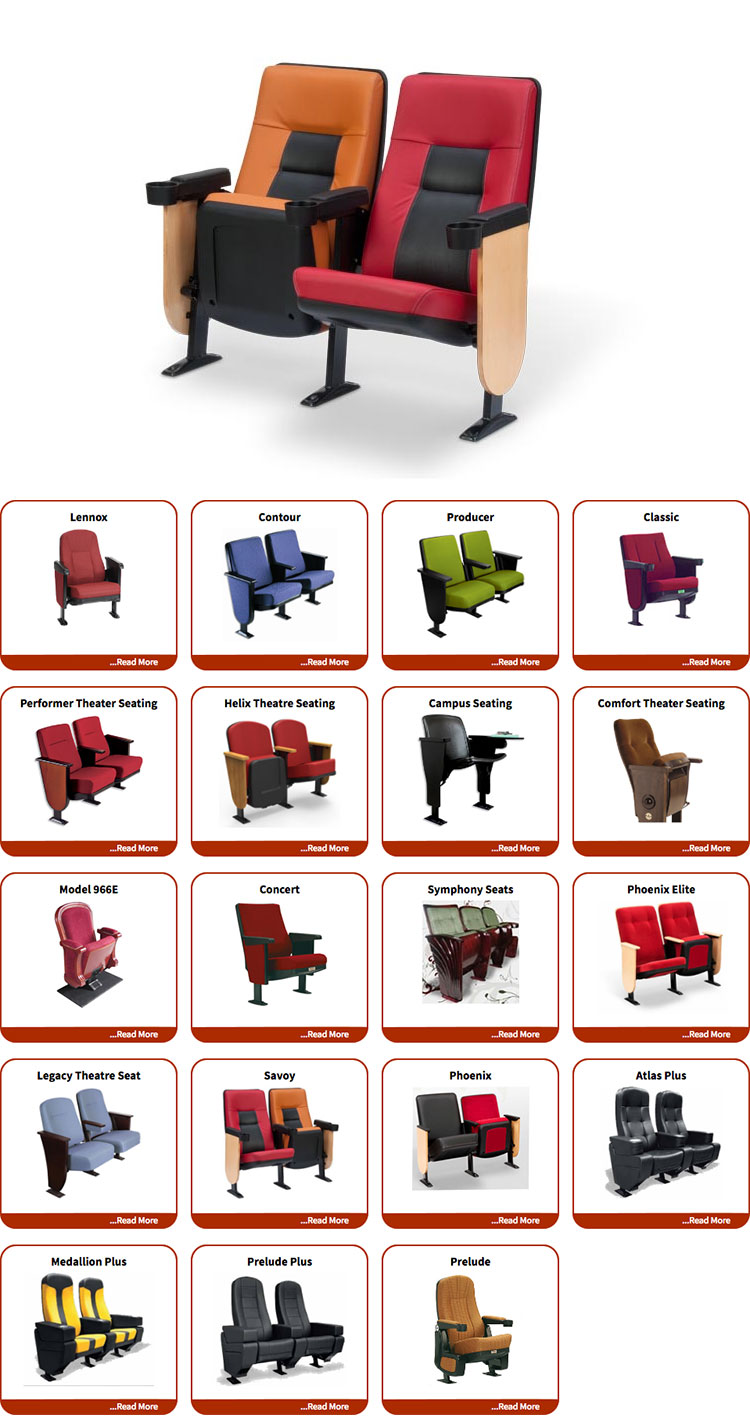 The comfort of well-designed theater seating is essential to the enjoyment of productions that often last several hours. With this in mind, we provide theater seats which are made to be durable and comfortable, utilizing the latest materials to enhance the patron's experience. Our high-quality theater seating is designed with gravity assisted spring mechanisms that retract the seat quietly, so as not to disturb other patrons. Preferred theater seats are virtually indestructible and are built to withstand years of use.
We also restore and renovate theater seating and offer used theater seating for sale at a lower price than new.
Company: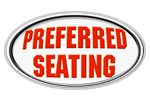 Preferred Seating
Product: Theater Seating
Source: http://www.preferred-seating.com/theater-seating.html
Tags: Furniture | Interior Design
---
ViuLite® is a system of blinds that are permanently sealed within a double-glazed cavity for a completely dust-free and maintenance-free environment. ViuLite® ensures total protection against dirt, germs and weather conditions.
ViuLite® provides protection from solar radiation and can quickly regulate the internal environmental lighting levels. It filters light transmission and controls the effects of daylight with a simple tilting of the blinds. Heat and visual comfort are easily adjusted to accommodate the changing seasonal conditions.
Hermetically sealed, ViuLite® Venetian blinds are produced with 1/2" (12.5mm) wide aluminum slats featuring a choice of colors. The versatility of both product choice and control mechanisms makes ViuLite® suitable for all types of framing systems.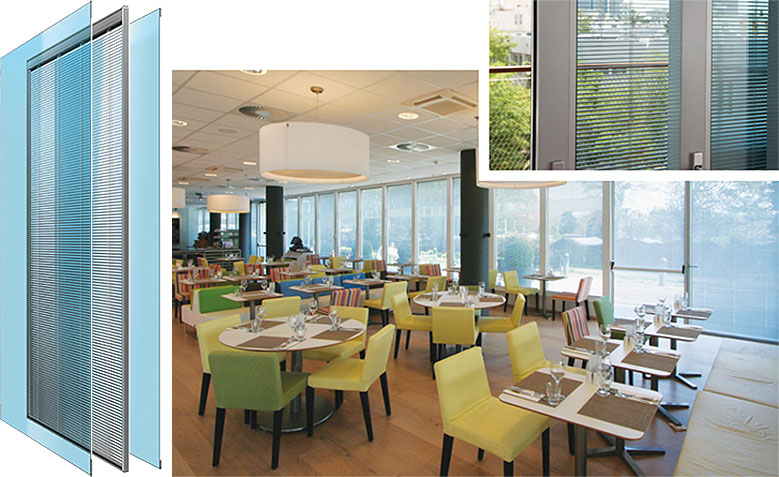 Ideally suited for healthcare, commercial, educational and residential building or renovation projects
Applications
Unicel provides various aluminum framing systems, glass stops, and door trim kit options to glaze Viulite® in:
Interior partitions
Sidelights
Doors
Windows
Curtain walls
Benefits
Blinds are sealed in an insulating glass unit for a germ-free, hygienic environment with reduced risk of infection and allergies
Enhanced solar shading features, blocks unwanted glare, heat, and harmful UV rays
Blinds can tilt and raise (tilt-only also available)
No cleaning or maintenance required
Protected from damage unlike exterior blinded systems
Variable control of vision (the blinds can be angled such that vision is permitted from one area to another, but limited in the opposite direction)
Esthetically pleasing design element for daylight and vision control
Features
Made with industry-leading ScreenLine® technology, 100% original Pellini Design
Custom-manufactured with any glazing types (tempered, heat-strengthened, tinted, laminated, wired, polycarbonate, leaded, glass-clad polycarbonate, and more)
Warm-edge spacers for enhanced energy efficiencies
Argon filled airspace for up to 25% in U-value improvements
27/32" (21.4mm) airspace to fit into tighter glass pocket depths
Between-glass-blinds can be readily installed in exterior and interior applications
SL20A/SL20C/SL20P/SL20B/SL20S/SL20M models available
Options for both external and internal motors
Electric accessories are available for control networks
Standard warranty: 5 years on blinds (10 years with premium), 2 years on electrical accessories
Supported by Unicel's 50+ years record of exemplary customer service
Company:
UNICEL Architectural Corp.
Product: ViuLite™
Source: http://viulite.com/
Tags: Blinds | Design | Health | Windows
---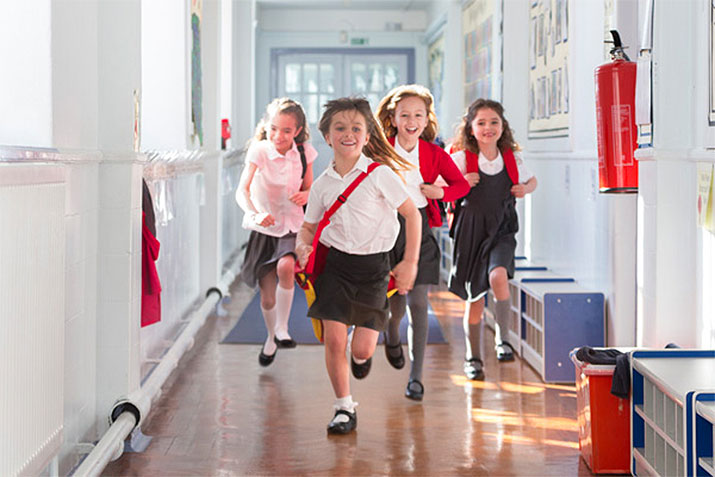 Fire retardant curtains, sometimes referred to as fire or smoke curtains, are curtains specially designed to keep building occupants safe from both heat and smoke during a fire. Fire retardant curtains are becoming increasingly popular as a passive means of fire safety. While many commercial buildings already utilize fire curtains, a growing number of schools now have these curtains installed for student and staff protection.
Choosing Fire Retardant Curtains
These curtains are made from a special type of fiberglass material and can withstand intense heat and block smoke from entering a protected room, elevator, or portion of the building. They are quite flexible, despite being very thick, which makes the curtains ideal for a number of different applications.
You can easily choose from a variety of different grades of curtains, depending on how much protection is needed or whether smoke or fire (or both) protection are required.
Being able to integrate fire retardant curtains into a school's fire or smoke alarm system is a huge advantage. Curtains deploy as soon as smoke sensors are triggered, enabling immediate protection of students and staff, without the chance of human error for releasing the curtains in a time manually.
In the event of an emergency situation where power is lost, curtains will still fall thanks to backup battery power.
Aside from giving schools additional protection in the event of an emergency, these fire or smoke curtains are some of the most effective means of compartmentalizing an open space.
Schools are often designed with large, open areas like cafeterias and gymnasiums, which makes creating a protected space difficult. The use of fire curtains means schools can easily create a safe boundary within a large, open room such as a cafeteria that will guide occupants safely out of the building without exposure to fire, smoke, or heat.
Though fire curtains can be placed in a number of different ways, there are a few areas within a school that are perfect candidates for durable fire retardant curtains.
Atrium Separation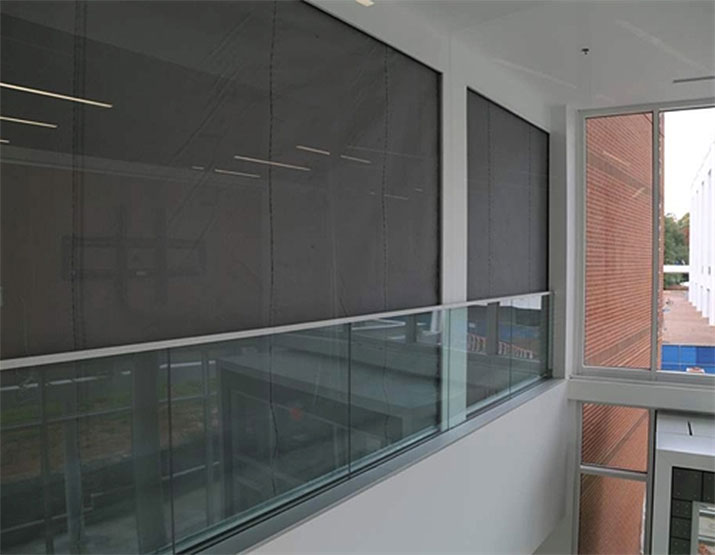 A school's atrium often serves as an open lobby of sorts, a place where visitors, students, and staff enter and exit throughout the day. Some school's atriums also serve as a hangout spot for students during breaks and lunch.
The overall openness of an atrium, especially if it is a multi-story building, makes it an ideal spot for a fire retardant curtain system. The atrium may be completely blocked from the rest of the building or a separate curtained room may be designed, depending on the structure of the atrium.
Elevator Protection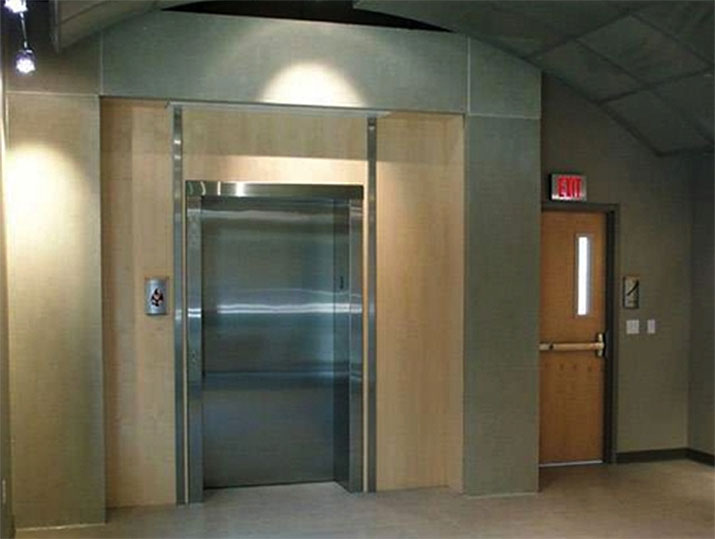 Elevators are an element of danger in an emergency situation, especially where fire and smoke are involved. An elevator shaft essentially acts as a chimney in the event of a fire, quickly moving smoke upwards throughout the building. The traditional means of elevator fire protection is the addition of a self-contained fire-rated box that surrounds the elevator, in its own enclosed elevator lobby.
International Building Code (IBC) requires architects to isolate each floor from the elevator shaft, but the typical method isn't ideal.
Smoke-rated curtains with a magnetic gasket can be used instead, to stop smoke from seeping through elevator doors, while still being compliant with IBC. This kind of curtain eliminates the need to alter the building design and saves building owners an incredible amount of space for their floor plan.
The curtains do a better job of containing smoke too. Rather than containing the smoke within a couple hundred square feet, the rolling magnetic gasketing system contains the smoke right in front of the elevator door opening.
Stair Enclosures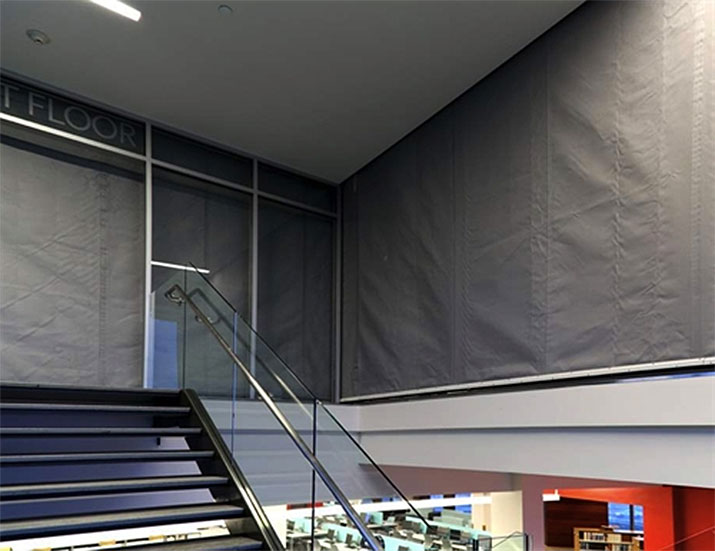 Similar to the chimney effect of elevator shafts, stair enclosures can also funnel smoke up and throughout the school.
Being able to block off stairs helps control smoke and limits exposure to those within the building on every level. These curtains can easily be hidden when not in use, which helps to maintain the aesthetic value of the building design.
Although fire protection throughout a school is mandatory, these three areas are particularly excellent choices for fire retardant curtains as they are high-risk zones, due to either high foot traffic or because of the previously mentioned chimney effect with smoke.
Fire retardant curtains are highly versatile and far easier to work with than constructing fire-rated boxes or other invasive and unattractive means of fire and smoke containment. They are an invaluable option for schools due to their easy installation. The school will have less downtime while curtains are being placed and expensive remodels aren't a concern.
Compared to the costs of a serious remodel for fire-rated boxes, fire curtains are far more affordable. Even if a school already has taken steps to contain fire and smoke, these curtains will work perfectly with whatever other system may be in place, only adding further protection from heat and smoke.
Considering cost, practicality, and overall effectiveness in both school occupant protection as well as fire and smoke control, fire retardant curtains can be an ideal solution for any school's fire safety program.
Company: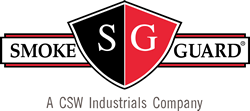 Smoke Guard, Inc.
Product: Model 4000 Smoke Curtain
Source: http://smokeguard.com/blog/2017/july/31/the-benefits-of-fire-retardant-curtains-in-schools
Tags: Fire Resistant | Safety
---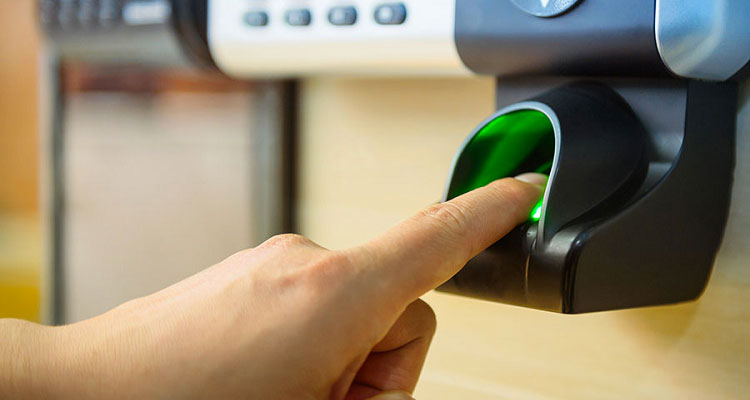 Senseon Solutions Marketing Director, Greg Rewers, discusses four Cross-Departmental Benefits of electronic access control in Security Magazine.
To date, the shift from traditional locks and keys to electronic access control systems for cabinets has focused on mitigating security vulnerabilities and risks.
There's no doubt that best-in-class electronic locking systems surpass mechanical predecessors in safeguarding such items as jewelry, medications, cash and confidential records stored in cabinets. Innovative solutions can deliver up to four times more reliable protection than traditional CAM locks, and locks can be hidden from thieves.
But the value of upgrading to cabinet electronic access control extends beyond stronger security – potentially affecting an entire enterprise. By carefully selecting and directing a transition to a smart, discreet locking system, a CSO can orchestrate positive multi-departmental business results leading to higher efficiencies, sales, and profits.
The move helps an enterprise abandon inefficiencies of traditional locks and keys, and replace them with streamlined processes favoring employees and customers or other users.
Here are four cross-departmental advantages of switching to an innovative electronic cabinet-locking system, powered by radio-frequency identification (RFID) technology:
Facilities management and finance: Greater operational efficiencies, due to labor and maintenance savings
Operations employees forgo time-consuming, costly installation, maintenance and use of outmoded locks and keys. New plug-and-play locks are simple to install, integrate with existing or new cabinets, and don't require callbacks or expensive repairs. Employees no longer have to contend with hard keys being lost, stolen, broken or copied, requiring re-keying.
A RFID-driven system can be installed twice as quickly as its predecessor. Employees typically don't need special knowledge or training to operate an electronic locking system, and technical support and customization are available. Some solutions can be incorporated into cabinet drawer slides or installed inside cabinet doors. They also work with existing alarm and video surveillance systems, reducing total cost of ownership.
System administration is convenient. Access privileges can be added, changed or deleted in seconds. Employees don't need multiple key cards, and an electronic access control token can be affixed to an existing ID badge.
Automatic relocking cuts down on management monitoring, as well as susceptibility to theft.
Sales and customer service: Faster transactions – boosting customer experience and sales
Employees traditionally have wasted time searching for metal keys or calling on supervisors to unlock cabinets containing valuable merchandise, medications, cash, sensitive records, and the like. Employees have had to retreat to back rooms for these items. Almost half (46%) of consumers say the retail process takes too long, 32% dislike waiting for a sales associate to unlock a cabinet, and 17% are uncomfortable when a salesperson uses a key, a UCLA Executive MBA Retail Consumer Study found.
An electronic locking system lets a sales associate, nurse, or bank teller unlock a cabinet immediately to show jewelry, dispense medications or provide cash, respectively.
Stocking and product retrieval time decrease and customer service improves. Loyalty, sales, and profitability stand to benefit.
Interior design and human resources: A more attractive, pleasant environment for customers and employees
Visible locks and keyholes not only invite thieves, but they also undermine the sleek, relaxed look becoming increasingly desirable for stores, healthcare organizations, financial institutions, hotels, schools and other establishments.
Concealed electronic access control enables clean cabinet fronts that contribute to elegant décor.
In addition, a new system with auto-open, touch-release, and soft-close features makes locking and unlocking furnishings quiet and unobtrusive, all of which bolsters employee and customer satisfaction.
Legal and finance: Reduced risks of penalties for noncompliance
Employees commonly forget to relock drawers as they move from one cabinet to another. Accidentally leaving a drawer open exposes an enterprise to two major risks: theft, and, for certain kinds of establishments, such as healthcare providers, government fines. In turn, public knowledge of those penalties can erode trust in an institution.
A system that locks a drawer automatically after a given time period solves the problem.
In summary, upgrading to an advanced, invisible electronic access control system offers an opportunity to break free from expensive constraints and significantly improve enterprise-wide operations. Along with enhancing loss prevention, such a system has the power to help an organization spur productivity, control costs, enhance the customer experience, raise employee satisfaction, and boost sales and profits – ultimately increasing business viability.
With a unique focus on solutions for enterprise security leaders, Security Magazine provides security industry news and trends on video surveillance, cyber security, physical security, security guards, risk management, and access control.
This post was first published on Security Magazine. Read the post
Company:

Accuride International
Product: Senseon Secure Access Control
Source: https://www.accuride.com/senseon/blog/4-cross-departmental-benefits-of-electronic-access-control/
Tags: Access Control | Furniture | Management | Security
---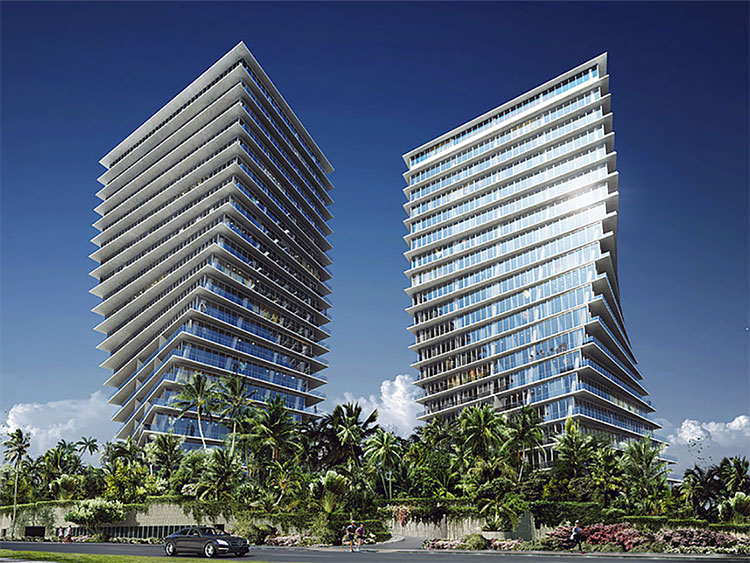 Hyper-modernist: The Grove at Grand Bay towers, designed by the Bjarke Ingels Group (BIG) architects, rest on a foundation treated with PENETRON crystalline technology
The Grove at Grand Bay luxury residential towers in the Coconut Grove neighborhood of Miami, Florida, are built on a PENETRON ADMIX-treated concrete foundation. Inaugurated in May, both of the visually distinctive towers are almost sold out.
The amazing architectural design of the towers is a notable milestone in the quickly evolving skyline of the Miami area. In a city famous for its Art Deco and Mediterranean-style architecture, the hyper-modernist design of the new Grove at Grand Bay towers was designed by the renowned Bjarke Ingels Group (BIG) architects. Both towers are 20 floors high; the 96 luxury condos (59 units in the North Tower, 37 units in the South Tower) all have breathtaking views of Biscayne Bay.

Located only 18 feet (5.2 m) above sea level and featuring a rooftop pool on both the North & South Towers, PENETRON was tapped for a durable waterproofing solution.

The originally specified conventional waterproofing system and dewatering of the job site became problematic early in the project. CEMEX offered a PENETRON ADMIX-treated concrete mix as a solution, which was used for the building foundation elements. The results were seamless.
Company:

Penetron International
Product: Penetron Admix
Source: http://www.penetron.com/press/view/Distinctive-Dual-Towers-Built-on-PENETRON/
Tags: Architecture | Building | Concrete | Waterproofing
---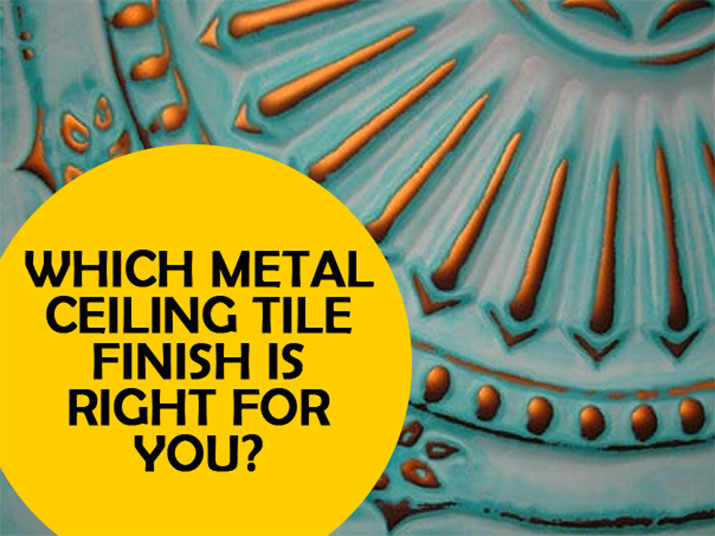 One of the most beautiful parts of metal ceiling tiles is the sheer number of options there are when selecting one. There are numerous sizes, shapes, and colors to choose from. It is practically guaranteed that you will be able to find a metal ceiling tile that fits not only the atmosphere of the room it will be in but your personal taste as well. Nothing demonstrates these options better than the different finishes available for tiles.
Benefits Of Having Different Metal Ceiling Tile Finishes
There are hundreds of different finishes available, each one unique. Finishes can be worn and weathered to shiny and bright. Some may be bold, while others may be dull. This variety is great for a few reasons.
You will be able to match existing ceiling tiles. If you are looking to replace a few ceiling tiles that are a part of an existing ceiling, there will not be a problem finding a tile to match the tiles that are already in place. This will make the replacement process much easier for you.
You will find the perfect ceiling tile for whatever aesthetic appeal you are in search of. Whether you want a vintage appearance or a modern appearance, there is no shortage of metal ceiling tile finishes. Metal ceiling tiles allow you to express your individuality. Your creativity and style can be directly seen by the metal ceiling tiles you wish to display around your home.
How Can Different Finishes Impact A Room?
The room where the metal ceiling tile will be placed can directly impact the style and feel you wish to convey. For example, you may want a bold ceiling tile for your bathroom to liven it up while preferring a more neutral ceiling tile for your bedroom. Metal ceiling tiles can fit into a room in practically any way possible. If you wish for them to be the focal point of a room, there are metal ceiling tile finishes that achieve that. If you wish for your metal ceiling tiles to compliment or blend into a room, there are finishes that will achieve that as well.
Consider using metal ceiling tiles around your home in these different ways. Obviously, the finish you choose will affect how each tile is portrayed in a room.
Ceilings – Their name says it all. Metal tiles can be used to give your current, boring ceiling more character. Ceilings made of tin tiles can make a room feel more warm and welcoming
Walls – Instead of painting, consider hanging metal ceiling tiles on your wall to provide a unique dynamic. It may be best to consider more conservative or flat-based finishes here, as a wall of shiny tin can be distracting and overwhelming. Then again, it's your room and you can decorate it as you see fit!
Wall Art – Simply using individual tiles can spice up a room. A vintage finish can make for a great piece of decorative wall art.
Backsplashes – A tin ceiling tile backsplash makes a great compliment to a laundry room or kitchen. Not only do they look good, but they provide practicality as well. Metal ceiling tiles are easy to wipe down and clean. Removing grease or detergent from paint or wallpapering is difficult, but this is not the case with metal tiles.
Memo Boards – Cork boards are outdated. Metal tiles can be used in an office or kitchen as a perfect complimentary piece.
Bookshelves – Add a vintage look to your room by replacing the backboard of a bookshelf with a metal ceiling tile that has a rustic appearance.
Popular Finishes
There are hundreds of finishes to choose from, but these are some popular choices that can fit any style of room. You can purchase a color sample of each to ensure that the tin tiles will perfectly achieve the look you are striving for.
Alaska Finish – This finish provides a very rustic and antique look. It is a hand-faux finish in transparent copper, with hints of very light blue and teal.
Key West Finish – Consider this finish the opposite of the Alaska Finish. The hints of teal that are seen in the Alaska Finish make up the base of the Key West Finish. Perfect for a sunroom or beach home, this tile comes in an antique brass, white, and green finish.
Oklahoma Finish – This tile is hand finished in Renaissance gold and ivory.
Classic Gold Finish – Much shinier than the previous three options, this tile is powder coated in white wash and transparent yellow gold with shiny gold embellishments.
So what metal ceiling tile finish did you decide on?
Company:

Metal Ceiling Express
Product: Decorative Metal Ceiling Tiles
Source: http://www.metalceilingexpress.com/blog/metal-ceiling-tile-finish/
Tags: Ceiling | Interior Design | Metal | Wall Panels
---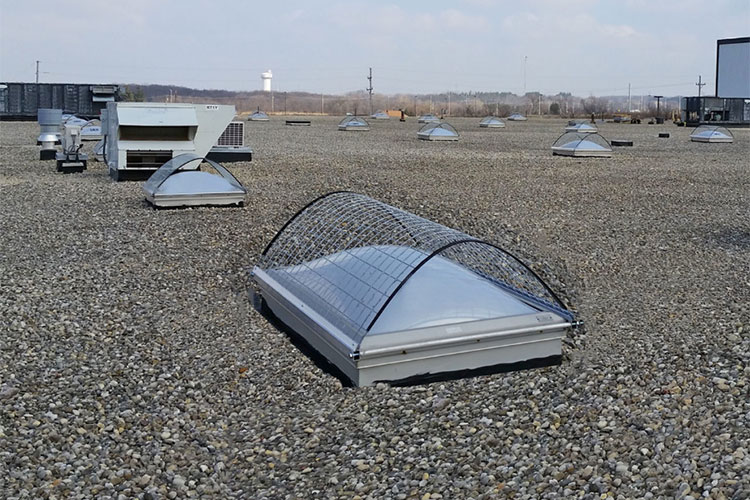 SRC Skylight Screens
Skylight Screens often are the most economical solution for guarding skylights. They fit a variety of dome-shaped skylights and don't take up any space on the roof.
Best of all, they do not require any penetrations to the roof, curb, or skylight. Our unique compression-fit design locks the screen onto the aluminum frame of the skylight. Federal OSHA and CalOSHA compliant.
Features
Economical
Compression-fit — no penetrations
Galvanized finish
Sizes available for skylights up to 61" wide x 120" long (up to 53" wide x 120 " long for CalOSHA)
Perfect for high wind areas
Company:
Safety Rail Company
Product: Skylight Guarding
Source: http://www.safetyrailcompany.com/skylight-guarding-with-src-skylight-screens/
Tags: Glass | Metal | Roof | Safety | Windows
---
What you need to know to be compliant with the New OSHA Crystalline Silica Rule
The previous OSHA Crystalline Silica standard had not been updated in over 40 years. The agency determined that silica dust exposure at the previous levels resulted in a significant health risk of developing silicosis and other lung or kidney diseases. The new OSHA silica standard for PEL limits exposures to 50 micrograms of Respirable Crystalline Silica (RCS) per cubic meter of air, averaged over an 8-hour work day.
In order to keep exposure at or below the PEL, using engineering controls and work practices such as local exhaust ventilation systems or wet cutting is recommended. If these practices do not sufficiently lower RCS levels, the use of respirators is required. As industry leaders Seton offers a full range of safety product including warning signs, barricades, and respirators to help you work safely with silica and keep your workplace OSHA compliant.
Have more questions? See FAQs on seton.com/osha-silica.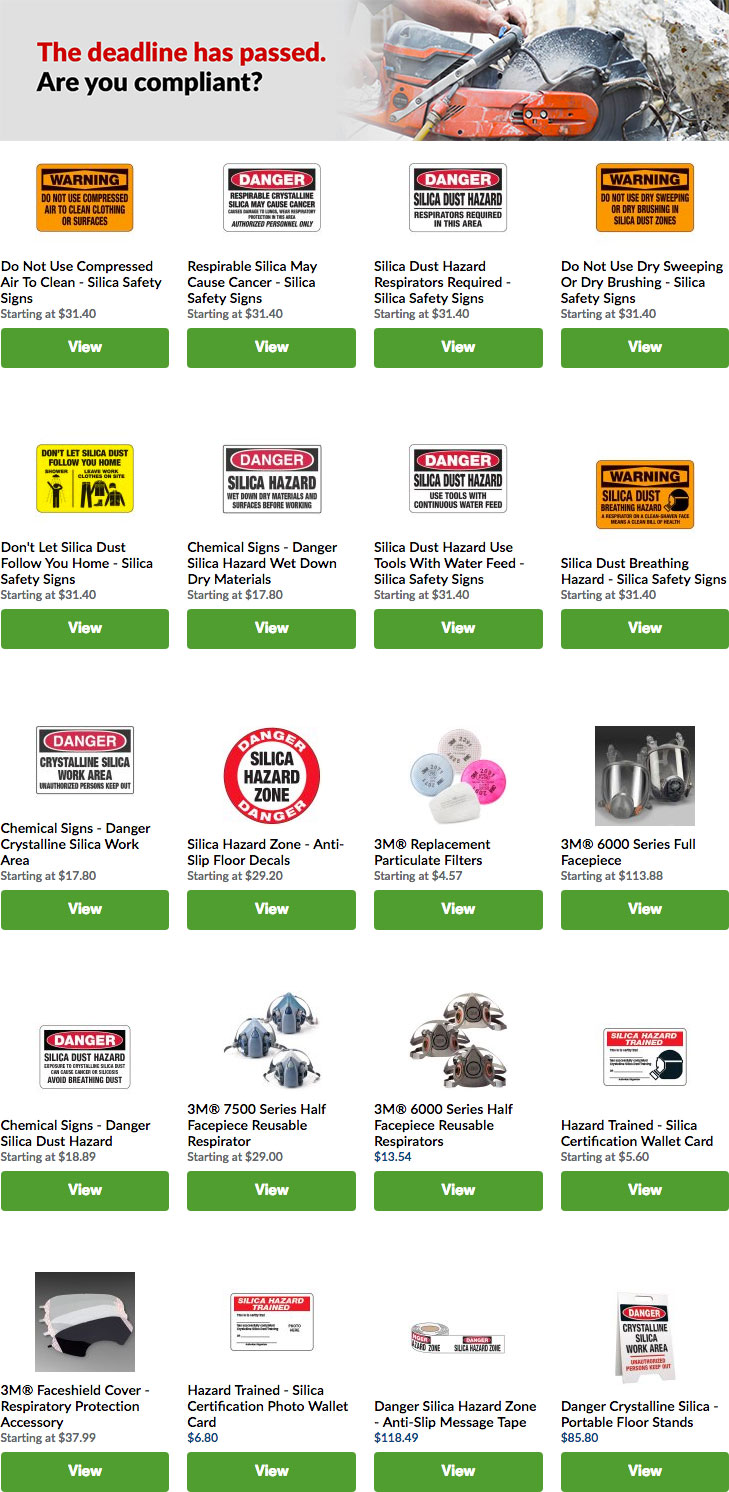 Company:

Seton
Product: Signs
Source: https://www.seton.com/osha-silica.html
Tags: Color | Construction | Management | Safety
---
This deck got a face-lift with cable railing infill from Ultra-tec®. See the improvements in the before and after photos. Are you ready to upgrade your deck with Ultra-tec® Cable Railing? Request a quote now!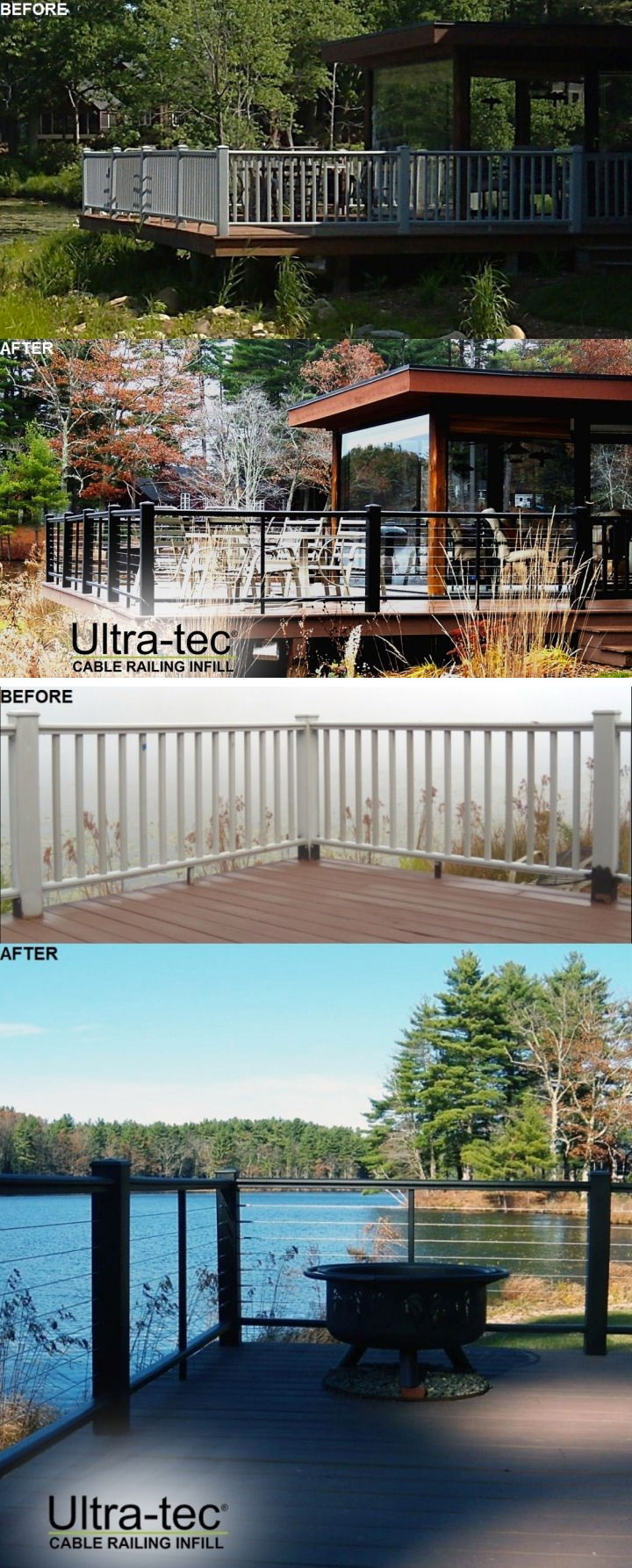 Company: The Cable Connection
Source: http://thecableconnection.com/ultra-tec/about/blog
Tags: Exterior Design | Railing System
---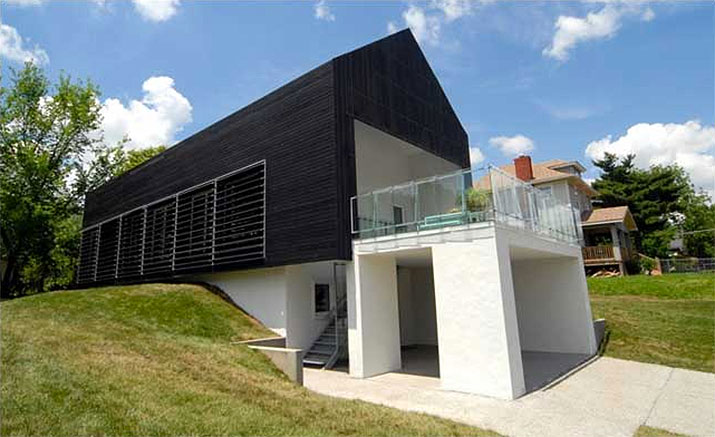 Project: Prescott Passivhaus
Architect: Studio 804
Engineer: Norton & Schmidt
LEED: Platinum
Designed to use minimal energy through affordable, passive means, this 1,700-square-foot house in the Prescott, Kansas neighborhood, is just minutes from downtown Kansas City. To achieve its goal of a 90-percent reduction in heating and cooling costs, strategies including louvers, thermal mass, high-performance windows, super insulation, southern orientation and an airtight building envelope were employed. National Gypsum's Gold Bond® BRAND eXP® Interior Extreme® Gypsum Panels are components of this project.
Company:
National Gypsum
Product: Gold Bond® XP® Fire-Rated 5/16" Radius Wall
Source: http://designcenter.nationalgypsum.com/design-center/category/project-profiles/detail/prescott-passivhaus-prescott-ks
Tags: Construction | Energy | LEED Certification | Wall Panels
---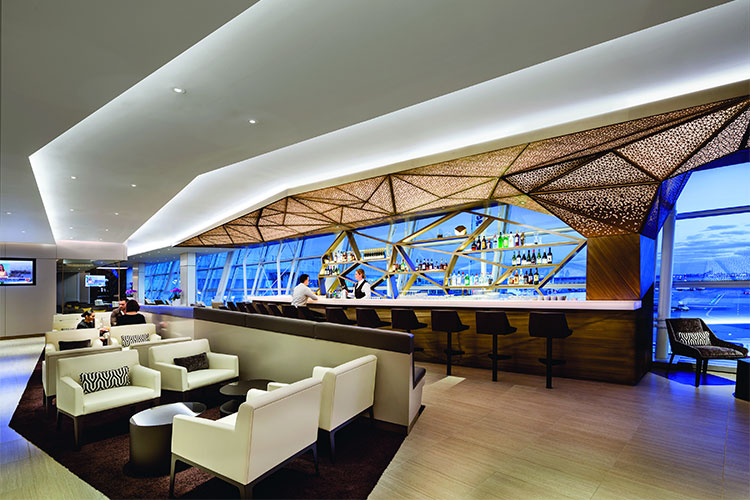 With the broadest portfolio in the industry and over a century of design and installation experience, Armstrong® Ceiling Solutions now offers more ways for architects and designers to make out-of-the-ordinary ceilings a reality.
Whether its modifying standard product shapes and sizes or creating custom sizes, shapes, colors, finishes, images, or perforations, no other ceiling manufacturer offers the broad range of options available from Armstrong Ceilings.
The You Inspire™ Solutions Center, a free service which provides collaborative design and pre-construction assistance, rounds out the full range of capabilities Armstrong taps to bring one-of-a-kind ceilings to life.
"Whatever your idea for a ceiling is — no matter how unique — bring it to us", says Nick Taraborelli, vice-president, commercial marketing, for Armstrong Ceilings. "We will do whatever we can to make it happen and help you to create your next great space."
New Capabilities
Some of the new capabilities Armstrong recently added to its portfolio include:
New cloud, striated, and other custom profiles for SoundScapes® Blades™ panels
Larger 4' x 4' sizes for MetalWorks™ Torsion Spring panels
More options in panels with Total Acoustics™ performance, including more standard Ultima sizes, FastSize™ options, and wood and metal offerings.
Colorations® Colors now for Lyra® Concealed PB (plant-based) ceiling panels.
Drywall linear lighting and intersection down lighting
To be inspired by the broad range of capabilities Armstrong offers, visit https://www.armstrongceilings.com/capabilities. There you can view "Unleash Your Imagination," a colorful, 18-page brochure that illustrates the many unique ceiling designs that have been brought to life utilizing the capabilities of Armstrong Ceilings.
Company:
Armstrong Building Solutions
Source: https://www.armstrongceilings.com/capabilities
Tags: Acoustics | Architecture | Ceiling | Design
---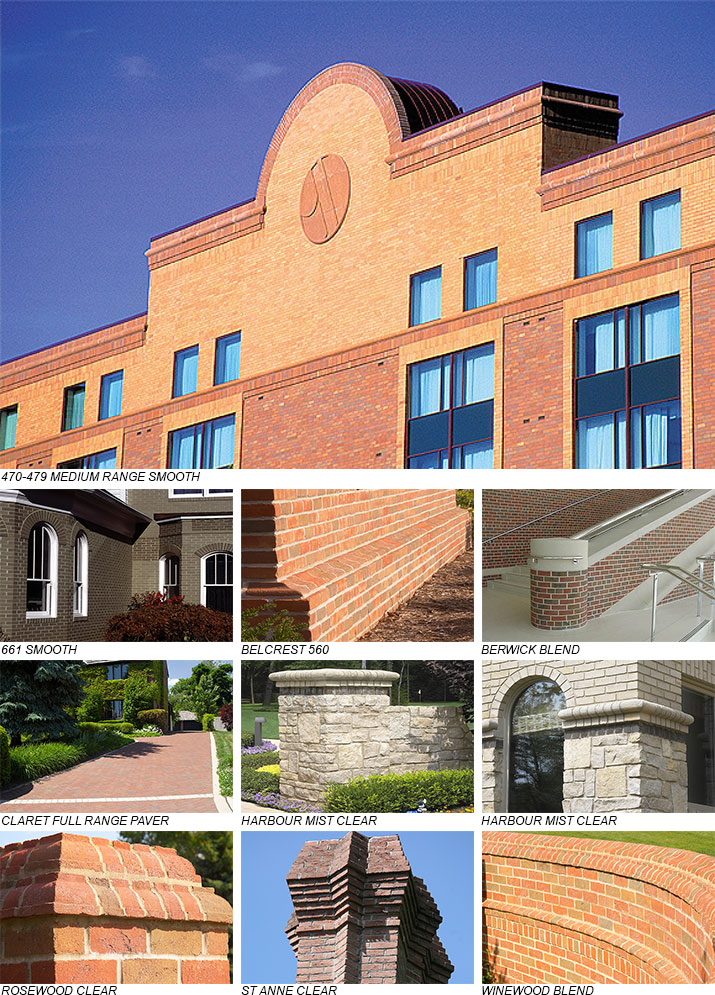 The experts at Belden Brick's Special Shapes Division are prepared to move new brick concepts from your mind to the mason's hand. Architects and designers need not let their creativity be stifled by existing ideas of what a special shape brick should look like. We invite you to explore the artistic impact that special shape brick can have on your design. We have already created an amazing array of shapes, sizes, colors and textures for projects across the country. The brick you have in mind may already be here for your use. If not, we are prepared to offer you design and production services customized to your exact needs. You can rely on our special shape brick to provide unique design elements - corners, angles, curves, slopes and other dramatic effects that go on to become signature pieces of residential and commercial architecture. We can also provide unique colors, making your next building project stand out as a one-of-a-kind structure or blend in with its surroundings or existing companion buildings. For those elements of your project that need to stand out, you require unique products like Belden Brick special shapes.
Company:
Belden Brick Co.
Product: Face bricks
Source: http://www.beldenbrick.com/Gallery/special-brick-shapes
Tags: Architecture | Design | Masonry
---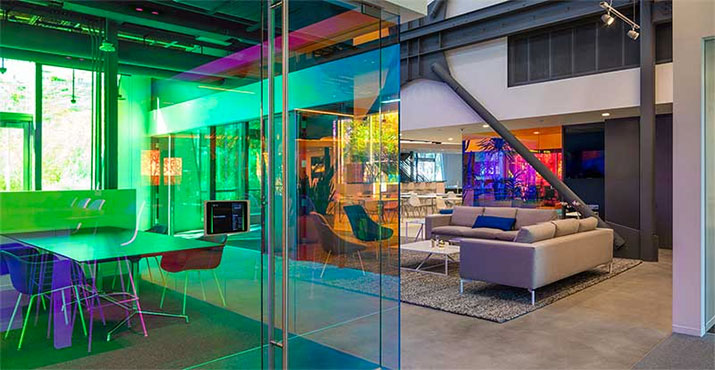 As the use of glass in offices and workspaces grows in popularity the world over, its many uses are being discovered and put to use in the most modern buildings and retail locations everywhere from Beijing to London, Barcelona to Zurich, and of course Los Angeles to New York City. From colored glass to sliding glass, textured glass to ceiling glass and much more, one thing is clear: glass interiors are on-trend and have the stylish staying power that will keep your office from needing a facelift forever.
Moveable Glass Walls: Creating More Spacious Settings as Needed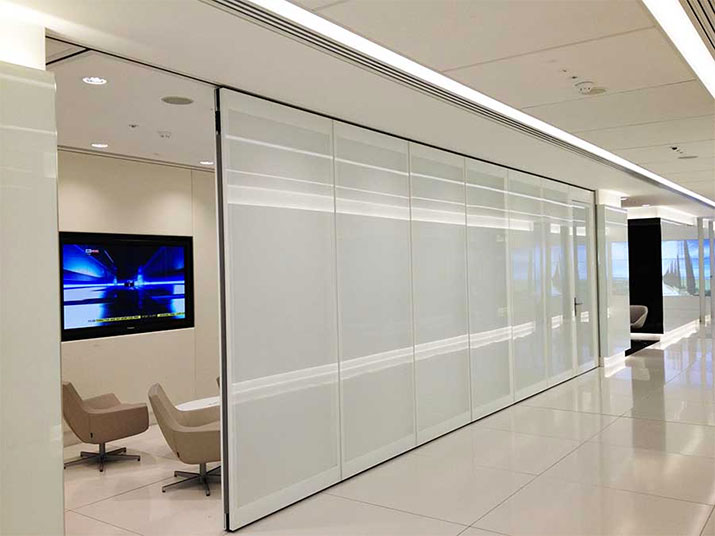 View Partition System: Movable Walls
When you have a large, open office layout, you have a great way of inviting in natural light and making people more accessible to one another. Open layouts are increasingly popular. However, drawbacks can occur as a result. Sometimes, workers need to break off into groups, or clients come in for a meeting and needs discretion, but also needs to meet with a group too large to fit into an office suite. The only other option is a conference room, which many workspaces with open layouts don't have, or may seem too large for the size of the group — this creates an awkward physical imbalance and disturbs the mood or flow of the meeting.
With the advent of the sliding glass wall, companies can work with architects or remodeling professionals to decide how many glass walls they want, where they will be placed, and the various sizes of spaces they can create. Glass walls move quickly, easily, and quietly, so different groups can create different-sized spaces throughout the day or week. This transformation of the workspace suits the needs of the team from a meeting to a breakout session, or from a meeting that requires discretion to a single-person project that requires a level of placidity.
Large, Ultramodern Interior Glass Doors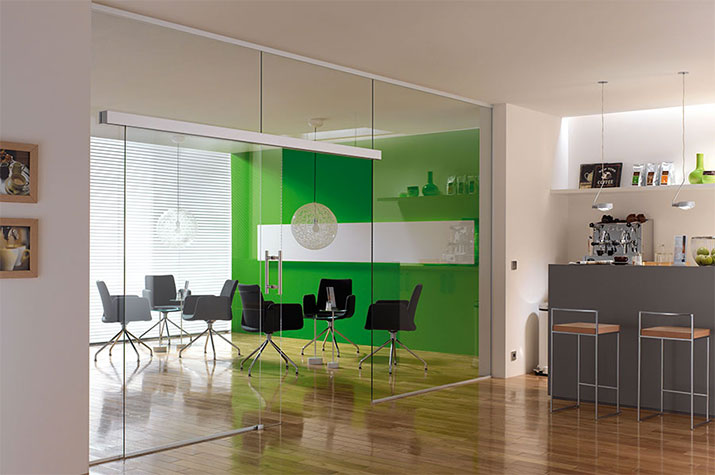 View Door System: Assisted Close
Glass doors have been around in offices for quite a while, but the glass doors of today are much more innovative in their style, design, and utility. For example, as part of the interior design motif in some offices in Japan, glass doors that lead to different offices and rooms are colored in different vivid hues. In American offices, the CEO's corner suite might have a larger glass door than those of others in the office as a show of their station as well as a way to accommodate higher foot traffic and meetings where multiple team members converge each morning.
Large glass doors add pop to the interior of the workspace and also create a more inviting atmosphere. For progressive companies that have an open-door policy, the translation is a literal one. Workers are more likely to take advantage of such a policy when their superiors have glass doors as opposed to wood doors that isolate senior executives inside. A closed solid wood door is intimidating, and makes the idea of knocking scary for junior associates.
Glass Meeting Rooms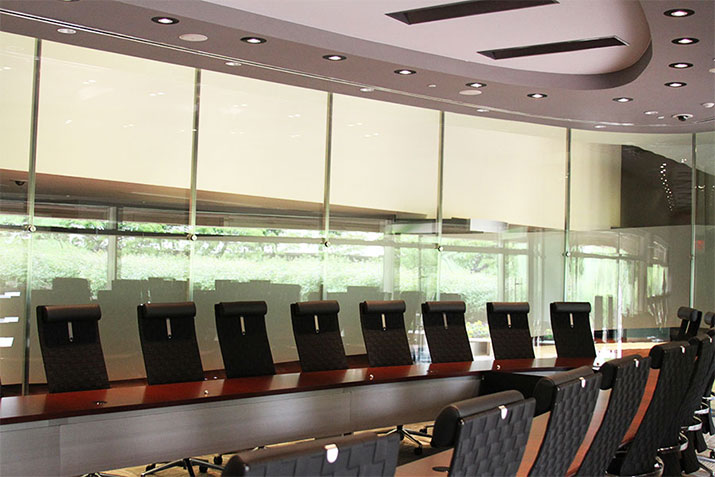 Partition System – Solare Double Glazed : View Verizon Case Study
Glass meeting rooms are a beautiful addition to any office space, and are usually comprised of glass walls, which may or may not be on sliding tracks and glass doors, which may open in the conventional way or operate on sliding tracks. Glass meeting rooms have replaced the solid, walled-off conference rooms of the past, and offer an inviting ambiance for newcomers and regular clients. Glass meeting rooms can be large enough to accommodate a partition or sliding glass wall — this turns one meeting room into two for busy days when the company is double-booked, or to create a smaller, more intimate space for a quiet meeting retreat.
Glass Floors and Ceilings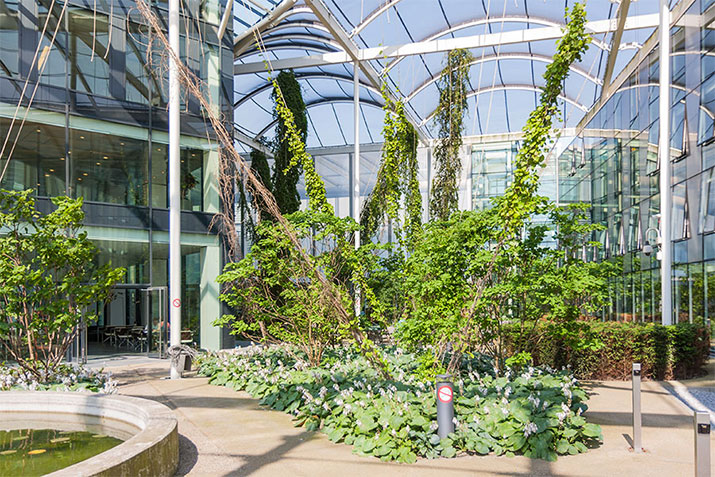 Creating suites using glass as the primary building material really opens up the atmosphere of the entire office. Allowing in more light, allowing workers to see whether or not the person inside is on a call or otherwise preoccupied, and creating the appearance of a more expansive floor plan are just some of the perks of glass office suites. Of course, for occasions that require privacy, beautiful custom shades can be added in any variety of colors that pair well with other office decor. Many glass office suites in Japan are interconnected with sliding glass walls: this allows inhabitants of each office to literally open up to one another. On days when no clients are expected, the whole office becomes one large space where everyone can hear each other and enjoy open, out loud communication and the ability to walk to each person's desk free of any encumbrances.
Glass Office Suites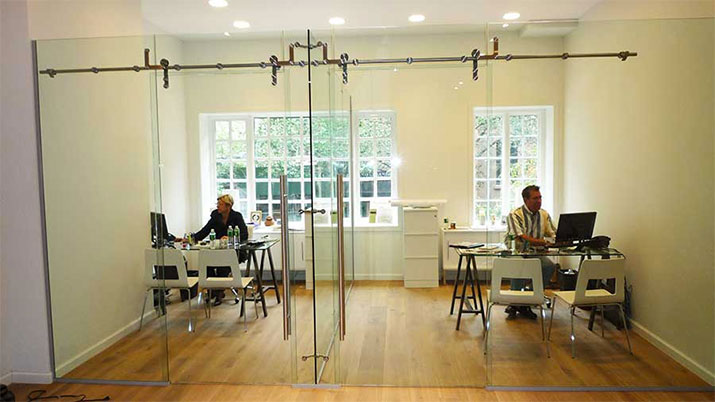 Elite Freestanding with Eclipse Sliding Barn Door
Today's ultra-progressive offices might incorporate glass floors or ceilings. In some instances, glass floors may be opaque or completely solidly colored to appear like wood or another material, while in other instances, glass floors may be left clear or translucent, which creates an even more modern interior design.
Glass ceilings are an incredible way to add a whole new perspective, as it adds the dimension of the outside world and draws it right into the office. This makes workers feel more in touch with their outdoor surroundings, and provides an incredible amount of light into the interior world. This is actually healthier for people who spend the majority of their time indoors, because glass ceilings provide natural sunlight, which is also proven to improve mental and physical health and make people more productive. Buildings with glass ceilings also have a shade, usually on the building's exterior, which allows the amount of light let into the space below to be controlled. In this way, everyone can benefit from natural light but also shutter some of it out on particularly bright days, in the morning, or when the workday is over.
Colored or Textured Glass for Privacy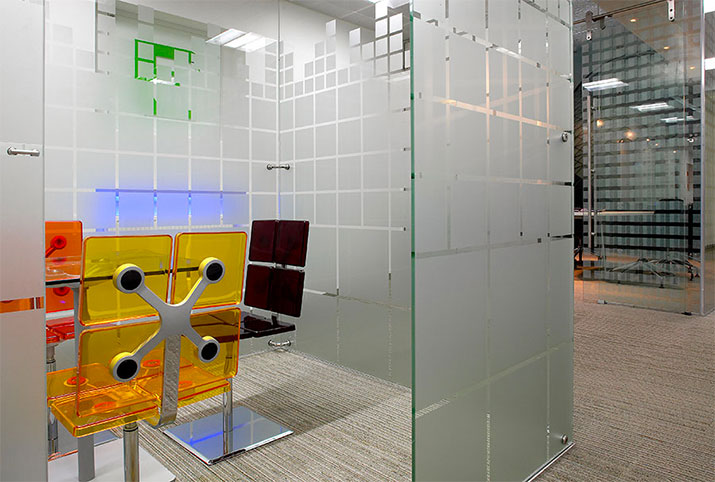 For offices that provide one-on-one therapy, physical examinations, or law firms and other workplaces where client privacy is paramount to the services rendered, colored glass is an excellent choice. It creates the same level of discretion that any heavier, thicker material will, and can be glazed to keep out any prying eyes. Most offices with glass doors and walls will choose one uniform color, though at a place like a pediatrician's office, different glass walls and doors might be a variety of fun, brilliant hues. When glazed glass is used, it actually lowers the cost of heating and cooling, lowers the carbon footprint of the structure, and does away with drywall, sheetrock, and old-fashioned insulation that can all cause allergy flare-ups and other discomforts. Office that utilize thick, opaque colored glass contain excellent spaces for confidential meetings and other dealings that protect the best interests of both clients and your enterprise.
Company:
Avanti Systems USA
Product: Elite Free Standing
Source: https://www.avantisystemsusa.com/using-glass-creatively-office-interiors/
Tags: Glass | Interior Design | Office | Walls