architecture - engineering - construction

2017 Excellence in Hardscape Awards Recognizes County Materials' Concrete Pavers, Slabs and Retaining Walls
May 4, 2017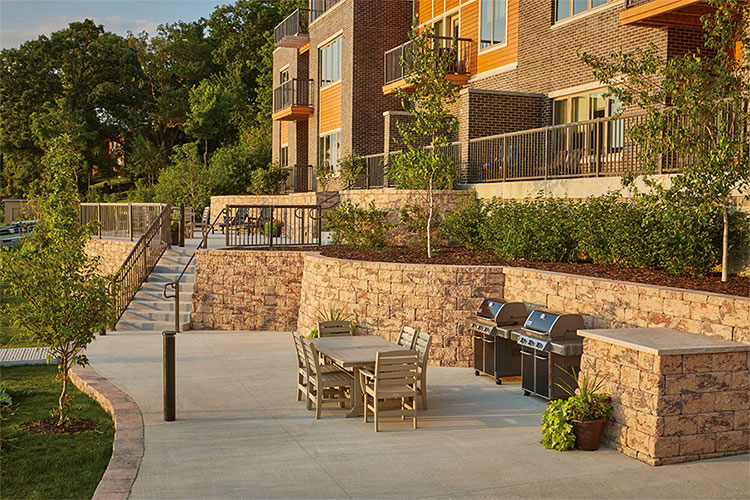 The innovation and beauty of County Materials' hardscape products were recognized at the 2017 Wisconsin Masonry Alliance Excellence in Hardscape Awards. Five projects with concrete pavers, slabs and retaining walls manufactured by County Materials received awards at the 2017 gala, hosted at Lambeau Field in Green Bay, WI.
A panel of industry judges selected winners from an entry pool of many exceptional landscape projects located in Wisconsin and Michigan's Upper Peninsula. Landscape projects were judged on their overall excellence in design, creativity, functionality, selection and quality of hardscape materials, installation techniques, craftsmanship and finished appearance.
Three projects featuring County Materials' pavers, slabs and retaining walls took top honors with Gold Awards in different categories.
Church Mutual
In the category for Best Concrete Paver Commercial Application Over 2,500 sq ft, Gold went to the patio at the Church Mutual office in Mosinee, Wis. completed by CW Terramaster.
Lake Edge Apartments
Also earning the top Gold Award was the Madison, Wis. Lake Edge Apartments in the Best Structural Retaining Wall Commercial Application Over 2,500 sq ft completed by TMS Landscape Inc.
Menasha Corporation
Finally, the Neenah, Wis. Menasha Corp earned the Best Permeable Paver Commercial Application category, completed by Miron Construction.
Smoke Tree Pass Residence
In the Best Driveway Application category, Wolfrath's Nursery & Landscaping of Hortonville, Wis. earned the Silver Award for their Smoke Tree Pass residential driveway project in Appleton, Wis.
Shawano Lawn and Stone
The Bronze Award was given for Best Permeable Paver Residential Application to Shawano Lawn and Stone for their work on the lakeside Emile Court residence in Gillett, Wis.
County Materials is a leading supporter of the Wisconsin Masonry Alliance and the Excellence in Hardscape Award competition, and partner with professional landscape installers and designers. We congratulate each of the winners for their excellence in the industry.
Company:

County Materials Corporation
Product: Landscaping
Source: https://www.countymaterials.com/en/news/item/2017-eih
---
Tags:
Decorative Concrete Can Be Gray or Colorful and is Ideal for Interior or Exterior... Take a Look (April 27, 2017), Protecting concrete against freeze-thaw damage (March 29, 2017), Project profile: flooring installation for busy bank in El Paso exceeds tight turnaround expectations while delivering a functional masterpiece (March 27, 2017), Waterproofing One of London's New iconic Buildings (March 13, 2017), Three New Waterstop Profiles for Environmental Engineered Concrete Structures (February 22, 2017), Healthcare Center Gets the PENETRON Treatment (February 6, 2017), From Art Deco to Modernist with PENETRON (January 13, 2017), The Benefits of Water-Based Concrete Stains (January 2, 2017), Waterstop for concrete joints (December 31, 2016), What are the Flooring Options for a Food Facility Washdown Area (December 28, 2016)
The Art of Profitable Deck Building (April 25, 2017), Bicycle security solutions (April 14, 2017), Deck Railing Ideas (April 7, 2017), 6 Ways To Overcome Coastal Landscape Installation Challenges (March 3, 2017), The evolution of the educational landscape (February 17, 2017), New from Thomas Steele: Monona benches, chairs, side tables and litter receptables (February 13, 2017), Waldorf™ Benches (January 12, 2017), How To Avoid The Most Common Problems With Commercial Lampposts (December 30, 2016), New designs from Victor Stanley: Camille Table & Benches (November 29, 2016), 8 Questions You Need Answered Before Buying Commercial Grade Outdoor Furniture (October 24, 2016)