architecture - engineering - construction

2019 Innovation Awards - Performative Millwork: The Coca-Cola Stage at Alliance Theatre
November 1, 2019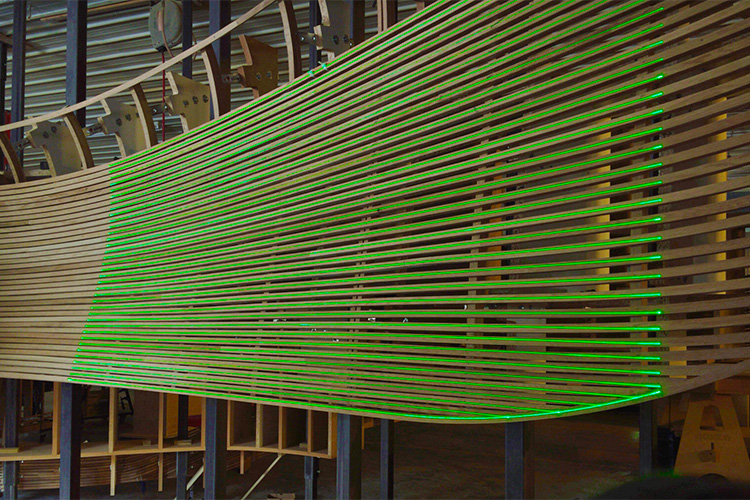 Virtual templating - projecting extremely accurate registration information on a manufactured surface as guidelines. Image credits: CW Keller.
Performative Millwork: The Coca-Cola Stage at Alliance Theatre
Architecture firm: Trahan Architects
Owner: The Woodruff Arts Center, The Alliance Theatre
Location: Atlanta, GA
Category: Development of Design or Design-Thinking
Traditional project delivery methods rely on a linear process. The flaw of this linear process is that neither Trahan Architects nor CW Keller benefits from either parties learned knowledge. It was critical for this project's success that everyone agree this process was outdated and would harm the final product. Rather than a linear work flow, our team adopted augmented reality integration. There was constant sharing and updating of information at every step of the delivery process. This circular feedback allowed CW Keller to notify Trahan Architects and the contractor of potential clashes in the field, which in turn enabled the architects to adjust the geometry of the millwork layouts to prevent those clashes. Laser scanning and projection provided the key to this process.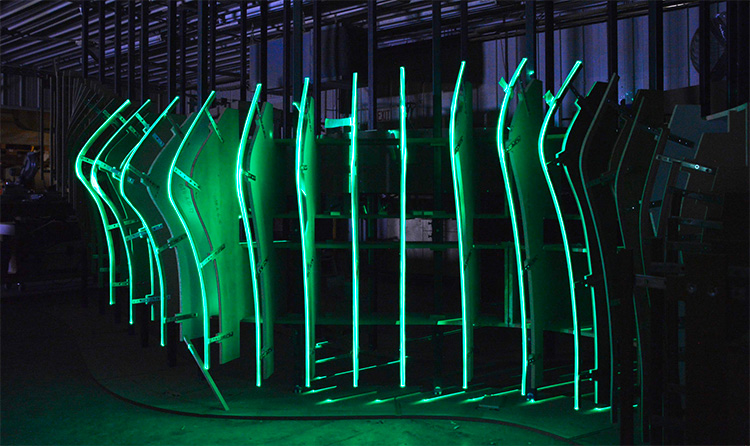 The millwork fabricator applied the tracer to panel fabrication, precisely bending and setting each white oak thread with digital precision thanks to the projected green-illuminated template. Image credits: CW Keller.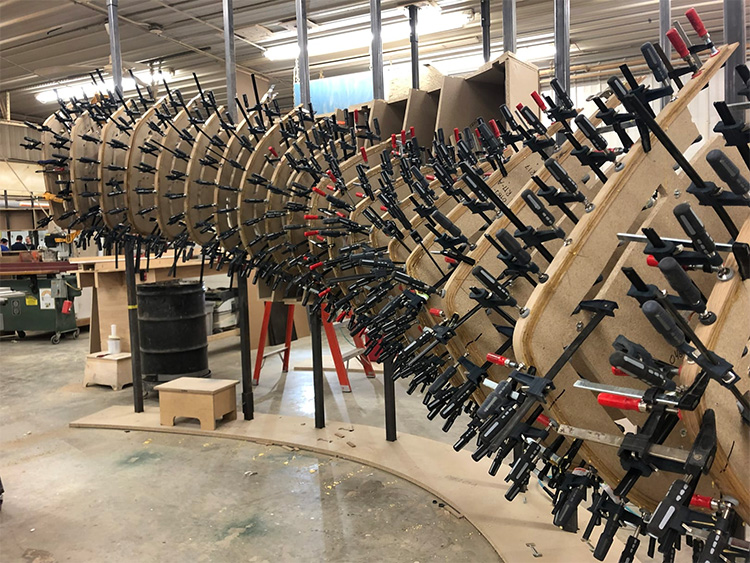 What leaves the plaistow workshop must meet a 1/32-inch tolerance at a worksite more than a 1,000 miles away. Image credits: CW Keller.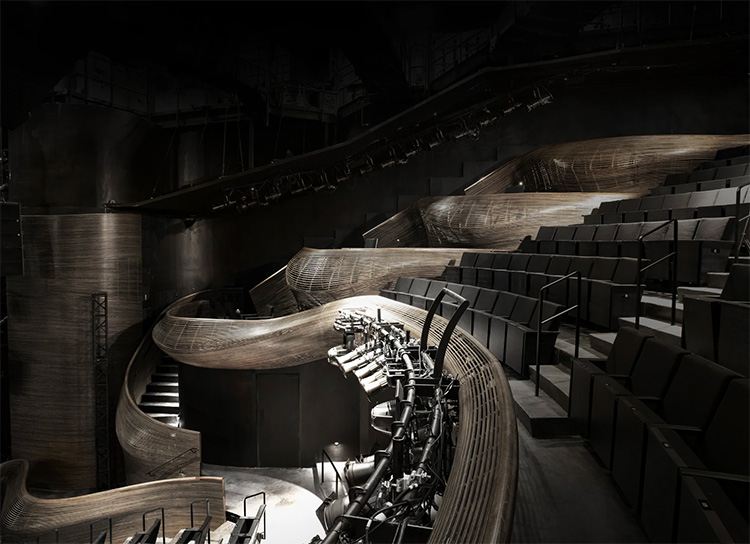 The transformation of the theatre pulls the 650 seat chamber 10 feet closer to the stage. The team felt a responsibility to remove the separation between balcony and orchestra—challenging the historic notions of racial segregation in the south east. Image credits: Greg Mooney.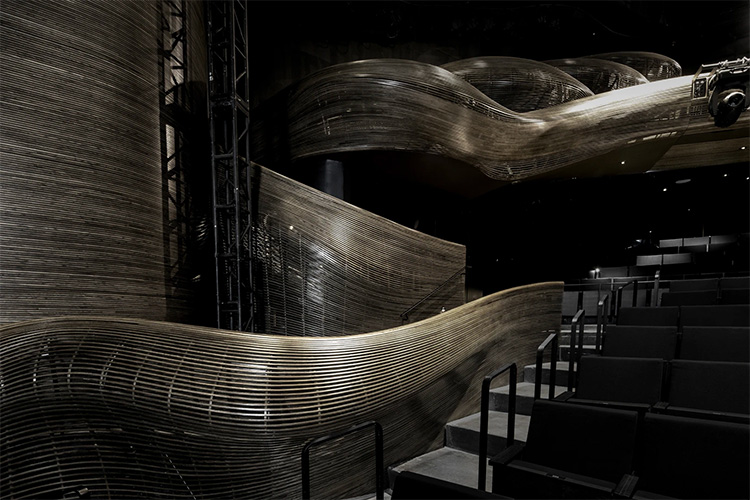 The millwork strands were scripted by the architect to follow all of the form finding information garnered from the artist while also satisfying the acoustic requirements. The result is a continuous layout of millwork strands that blurs the patchwork reality of the acoustic performance. Image credits: Greg Mooney.
The transformation of the theatre pulls the 650 seat chamber 10 inches closer to the stage. Integrated stairs provide access to all levels within the chamber allowing for actors to engage directly with the audience. Image credits: Trahan Architects.
About the millwork
The primary challenges of fabricating the millwork scope for this theater project were:
working with Matthias Pliessnig to accurately translate the material properties of hand steam-bent millwork into a digital environment
synthesizing the acoustic properties for spoken word theater
working with CW Keller to mass produce steam-bent millwork with 1/32nd tolerances and crafting a production process that minimized waste
Trahan Architects, Matthias Pliessnig, and CW Keller leveraged a series of 1:1 mockups to define a database of material behaviors, achievable curvatures, material saving jigs, and acoustic strategies. The resulting design, which synthesizes both aesthetic and acoustic properties, required a fabrication workflow which merged hand-crafted steam bending with complex 3D laser projection and laser scanning. Trahan Architects developed scripting techniques to provide layouts of over 100,000 linear feet of millwork slat centerlines to the fabricator. The result is a series of beautiful steam-bent millwork guardrails and balconies that merge handcraft with mass production. The synthesis of acoustic performance, hand-driven artistry, and sophisticated laser positioning are all carefully choreographed to execute the complex steam-bent millwork without the need for wasteful CNC molds. Delivered for $350/sq ft, the product has proven to be both economical and stunning.
Owner's statement
By Susan V. Booth, Jennings Hertz Artistic Director, Alliance Theatre
My thought was, let's dream big…and one thing we identified was a world-class theatre that welcomed everyone, that removed visible and invisible barriers. We had the courage of our aspirations. And the question became: How do we get there? The design, inherently unites each performance's audience into a fostered and connected community, and provides not simply a frame for the work we do, but a graceful conduit for the work to land in the heads and hearts of those folks.
"This project combined great use of custom, handmade techniques with integrated technology, offering an elegant blend of ancient and modern fabrication techniques applied to a functional, economical, and stunningly beautiful space." ~ Jury statement
Additional information
Project attributes
Date of construction contract: April 3, 2015
Estimated date of completion: November 1, 2019
Construction documents phase: 8 months
Building area - Total Gross Square Feet (GSF): 70,000
Building area - Net Assignable Area (NAA): approximately 43,000 sq ft
Building area - building efficiency ratio (GSF/NAA): 61 percent
Cost - estimated: $23.5 million
Cost - actual: $23.5 million
Project team
Acoustics: Talaske Group
Artist Collaboration: Matthias Pliessnig
Client Representation: The Winstead Group
Construction Manager: Hogan Construction Group
Engineer - MEP: DLB Associates Consulting Engineers
Engineer - Structural: Uzun + Case
Signage and Wayfinding: Thirst
Life Safety: Jensen Hughes
Lighting Designer: Fisher Marantz Stone
Millwork Fabrication: CW Keller Associates
Project and Cost Management: Cost+ Plus
Theater Planning: Theatre Projects Consultants
Vertical Transportation: Lerch Bates
Jury
Anthony Hauck, Chair, Hypar AEC, Waltham, Massachusetts
Phillip Bernstein, FAIA, Yale School of Architecture, New Haven, Connecticut
Desiree Mackey, GEI Consultants, Denver, CO
Sera Maloney, The Foth Companies, Lake Elmo, Minnesota
Natasha Luthra, Jacobs, Philadelphia, PA
About the Innovation Awards
The AIA Innovation Awards recognize the exemplary use and implementation of innovative technologies and progressive practices among architects and designers, their collaborators, and their clients, in support of the design, delivery and operation of buildings or research in practice and academia.
@AIANational #AIANational #architects
Company: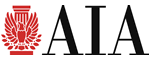 AIA (American Institute of Architects)
Source: https://www.aia.org/showcases/6202929-performative-millwork-the-coca-cola-stage-
---
Tags: