architecture - engineering - construction

3135EC Eclipse Undermount: Sliding under the radar
July 9, 2017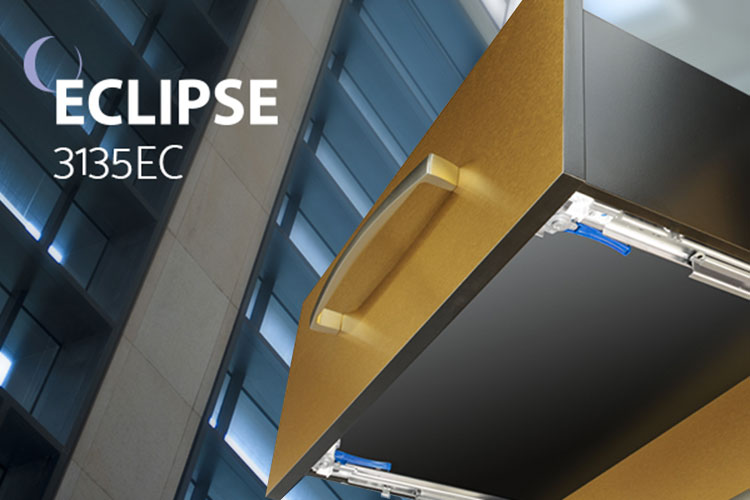 The 3135EC Eclipse is here! We re-engineered this undermount slide with a series of changes to offer premium performance. We've made a series of changes to this slide to make a big difference in the overall performance of this fully-concealed undermount slide.
Equipped with soft–close functionality, these slides won't bounce back even when you slam them. Say you find yourself in a rush to get to work and you slam the drawer. Hard. Harder than you would if you weren't in a rush.
With the 3135EC, you don't have to worry about the contents inside getting thrashed around. The 3135EC's soft-close action brings drawers to a gentle close every time. And we mean every time.
But how have we achieved this soft-close feature?
We've added an internal fluid dampener that catches the drawer in the last two inches and brings it to a gentle close over and over again. This feature also reduces the envelope of the slide. All of this with just 4.8 lbs. of pull force. Talk about easy!
When you open this drawer, you'll notice how effortless it is to open it. That effortlessness is thanks to new lower spacer clips. These clips now carry additional ball bearings that help provide extra lateral support, reducing migration.
The 3135EC slide is great for retail display cabinets because of how easy it is to conceal. This slide will allow you to keep a drawer in an open position and have no visible functional hardware.
Additional features include a front lever disconnect for easy drawer removal and improved full extension. And, like many Accuride products, the 3135EC is manufactured in compliance with the Restriction of Hazardous Substances (RoHS) Directive.
Visit 3135EC Product Information Page
Company:

Accuride International
Product: Medium Duty Slides (140 to 169 lb.)
Of: Claudia Tuttle
Source: https://www.accuride.com/blog/news/3135ec-eclipse-undermount-slide/
---
Tags:
Maglin Moves Manhattan (July 6, 2017), What is a Drawer Slide and How Do I Choose the Right One? (May 12, 2017), Bicycle security solutions (April 14, 2017), Space Saving Solutions: Under the Staircase Storage (April 12, 2017), How to create theft-proof closets (March 8, 2017), The evolution of the educational landscape (February 17, 2017), New from Thomas Steele: Monona benches, chairs, side tables and litter receptables (February 13, 2017), Moving Interiors - Automotive Sliding Systems (January 16, 2017), Waldorf™ Benches (January 12, 2017), Loss Prevention: Ramping Up Retail Security for the Holidays (December 21, 2016)
Colormix® Forecast 2018 (June 14, 2017), 7 Hot 2017 Bathroom Design Trends You Need to Add Style to Your Space (June 13, 2017), Modular In Plant Offices (May 31, 2017), Draper Launches Acoustical Shading Solution (May 29, 2017), Rustic Meets Modern: Transitional Design Style (May 26, 2017), HERMETIC Industrial Flooring (May 22, 2017), Interior Corner Protection (May 18, 2017), 5 Compelling reasons you need to eliminate your shower pan threshold (May 16, 2017), What is a Drawer Slide and How Do I Choose the Right One? (May 12, 2017), Custom Period-Matched Perforated Grilles (April 26, 2017)
FDOT Improving Bicyclist Safety with SlipNOT® (April 4, 2017), Railing Infill Face-Off: Cable vs. Glass (March 10, 2017), Brass clad & bronze clad doors & frames (January 30, 2017), The Dock Gate's custom gas struts make the vertical gate easy to open. Easy as 1, 2, 3! (September 21, 2016), Mirror polished stainless steel enclosure top and return grilles at New York City Hospital Lobby (August 26, 2016), Armortex Waterjet Cutting (August 24, 2016), E2JS thin line louver used on Reptile House at the Cincinnati Zoo (August 22, 2016), Summer 2016 in the Hamptons (August 19, 2016), Benefits of Decorative Metal Ceilings (July 22, 2016), Structural steel services for the building and construction sector (July 20, 2016)