architecture - engineering - construction

4 'Gotchas' that could derail your front entrance security upgrades
December 16, 2016
We've installed thousands of campus entry solutions, talked to end users all over the world and have developed a comprehensive process for choosing the right security entrance. That said, no process is perfect, and we've come to observe that certain organizations will consider some of the decision criteria quite well but leave out one or two factors. We call these the "Gotchas," and when forgetting or ignoring any one of the criteria, you can end up with a security entrance that doesn't address the needs of your organization.
We divide the entrance solution decision-making process into two parts: before installation and after. Before Installation, purchase decisions are often weighted towards security, aesthetics and return on investment (ROI). After installation, however, and once there is no going back, throughput, training, service and safety play a more prominent role.
While initially aesthetics or security usually jump out as paramount, all seven decision factors contribute to an effective security solution. For most decisions, the criteria before installation are relatively prominent and well understood. Where the "Gotchas" rear their less-than-pleasant heads is in the pesky factors that often don't occur to the decision-makers until the new security entrance has been installed.
After installation, it is crucial to incorporate each of the following criteria into a comprehensive decision-making process so that you'll select the right solution for your campus.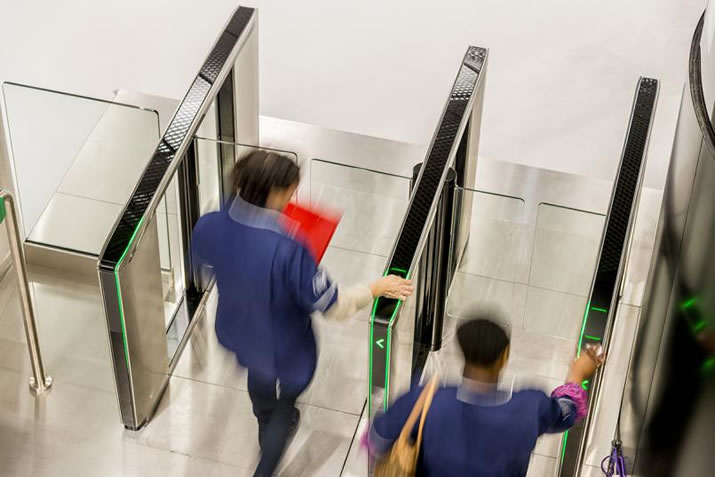 1) User Throughput
Throughput (how quickly authorized individuals can enter your facility) affects users directly on a daily basis and is critical to user acceptance of a new security entrance. Before you commit to a particular kind of entrance solution, carefully and manually calculate the throughput requirements for your entrances, ideally during a 5-minute rush hour period. Note deliveries and wheelchairs. Don't rely solely on access control numbers if you have swinging doors, as multiple tailgaters could enter on a single authorization and reduce the count. Once you have the counts, research security entrances' throughput specs. It's also worthwhile to inquire if a solution allows for card stacking, which is explained in the following example:
Example: A Houston-based company installed an array of optical turnstiles in their regional headquarters lobby. Unfortunately, they did not research throughput numbers, and the turnstiles they installed required each user to badge in, walk through the turnstile, and then for the turnstile barrier to reclose before the next user. During peak times, lines would form. Eventually, the company decided to replace the turnstiles in favor of a model that allowed multiple registrations with access control (card stacking) prior to entering and also kept its barriers open as long as all of the users were authorized. The difference was an increase in throughput from 22 to 60 people per minute per lane—and that made all the difference.
2) Technical & End User Training
Training usually isn't considered a major factor when choosing an entry product, yet it is key to long term success and customer satisfaction. Since most manufacturers do not directly install their products, they should provide a comprehensive technical training program and some form of certification to create successful service providers for end users.
Example: A financial services company purchased an array of high security portals to protect a sensitive area for records and data. A few months after installation, which had been supervised by the manufacturer, one of the portals required service because it was rejecting authorized users. When a technician from the local distributor arrived he took one look at the portal and said, "I've never seen one of these before." He then spent hours on the phone with the manufacturer to receive on-the-fly training. Clearly, there was a training disconnect between the manufacturer and the distributor.
3) Service Considerations
Service considerations typically come last or not at all when making a buying decision. Yet, during and after installation, the level of service directly impacts continued operations and ROI.
Example: A Philadelphia office tower installed two optical turnstiles in their main lobby that matched the building's aesthetics beautifully. After a few years, one of the turnstiles stopped working and a part had to be ordered from Europe — downtime was estimated at four weeks. With only two opticals in their lobby, having one out of service was unacceptable and the owner immediately began looking into replacing the turnstiles. Elsewhere in Pennsylvania, a Pittsburgh hospital had a security door that was out of service. Management was shocked to find out that the nearest authorized service provider was over eight hours away — gotcha!
Consider the negative impact of a delayed installation or service visit, or delayed parts availability on your building entrance procedures — all because service was left out of the decision-making process.
4) Product Safety
Safety, too, is rarely discussed during the bidding process. However, it is the one factor that could quickly and possibly tragically undermine the success of the project. Most security entrances use a barrier of some kind. The more sophisticated barriers use presence sensors to detect objects or users. Before buying, ask how a product prevents entrapment or contact, and how it responds to either event. The answers should then be weighed against your security vs. safety needs, your users and their ability to be trained, the product's response to an incident during peak periods (does it stop and require re-badging?), and whether large objects are typically carried or pulled behind.
Example: A California software company wanted a secure revolving door that only allowed authorized users to enter at night and also provided piggybacking prevention. During the day, however, they wanted the same door to allow the public to enter along with any children for a daycare center inside. The architect was unaware that piggybacking prevention and public use don't mix very well, especially with children involved. A security revolving door requires users to be trained. The door's small quadrants, which are ideal for a single person and piggybacking prevention, lack the trailing door wing sensors that large automatic revolvers must have for public safety. This is because such sensors would stop the door far too often. Due to frequent contact incidents, the company decided the public need was greater than the piggybacking prevention and they had to incur the expense of replacing it with a manual revolving door that had a night-locking feature with an access control system to allow off-hours employee access.
Forget Campus Culture at Your Own Peril
We've discussed seven crucial decision factors here, but there is one more factor to consider: culture. Culture permeates all the other decision factors and is critical to success. Do people care about their personal safety in Boise at the same level as those in Manhattan? Are all management stakeholders involved in the buying decision, from CEO to finance to HR to administration to residence life to the facility manager? Is there high employee turnover or students requiring recurring training? Campus safety decision makers should understand your campus or company culture and be willing to assist in implementing a culture shift through communication and training.
Example: A state university in North Carolina installed optical turnstiles with drop arm barriers at its recreational facility to prevent unauthorized access to gym equipment and reduce liability. A receptionist registers each student with the access control system and then opens the barriers. This ensures that freshman get an orientation to entrance procedures. Eventually, over several years the university will phase in a biometric access control system that will allow bypassing the receptionist. At first, it will be voluntary, rewarding those who register with an expedited entry. Eventually, it will be universal. This staged approach ensures a smooth culture shift.
Example: Another more drastic example of culture affecting the deployment of security solutions happened a few years ago at a West Coast internet company. A new CEO was hired, and he ordered the turnstiles in the front lobby to be removed because "this company isn't about barriers." So, it pays to inform the CEO of new security measures and why such measures were taken! Speaking of the West Coast, some companies allow dogs to come to work, which greatly affects which security entrances can be used safely and effectively.
The success (or failure) of a security entrance project must start and end with a comprehensive, consultative process that considers the full range of factors for the ultimate decision. As we've seen above, a conscientious leader can preside over a process that includes most of the eight essential criteria. However, forget one and even a careful, comprehensive effort can result in a big "gotcha" that brings a new security entrance project to a crashing halt.
Company:

Boon Edam Inc.
Source: http://www.boonedam.us/news/4-gotchas-could-derail-your-front-entrance-security-upgrades
---
Tags:
Case study: Otterbein University's STEAM Innovation Center featuring Extech's Lightwall 3000 series curtain wall system (December 15, 2016), Solutions for the entire building façade (December 9, 2016), Architects empowered to drive positive change at SXSW Eco (December 5, 2016), Major announces new Auburn® skylight option (November 25, 2016), Don't Make Color Decisions at Sunset (November 2, 2016), Roman Brick: for architects and homeowners aspiring for a unique look (October 26, 2016), Kelly Edwards' Tiny Home: Shipping container turned elegant living space with rooftop deck (October 21, 2016), Battery Life: introducing a new way to energize your outdoor space (October 12, 2016), Images in Concrete: Reckli Artico® (October 7, 2016), The future of insulated wall panels has arrived (September 28, 2016)
Solutions for the entire building façade (December 9, 2016), The Dock Gate's custom gas struts make the vertical gate easy to open. Easy as 1, 2, 3! (September 21, 2016), What if Someone is Determined to Get into Your Building? (September 12, 2016), GuardDog Self-Closing Gate uses two stainless steel torsion springs so the gate can open in any direction (September 9, 2016), First Appearances Matter: remove the dirt | absorb the moisture | preserve your floors (August 31, 2016), Mirror polished stainless steel enclosure top and return grilles at New York City Hospital Lobby (August 26, 2016), Peace-of-Mind for Rural Utility Offices - Bulletproof barrier security tips & news (August 8, 2016), 5 Proven Questions to Get the Size of Your Shower Opening Right (July 29, 2016), Evolution Of Revolving Door Security: Teaching Old Doors New Tricks (July 4, 2016), Turnstiles to Appear on Discovery Channel Show (May 6, 2016)
Rigorous Testing Standards Ensure Effective Security (November 16, 2016), Register for a FREE Senseon Secure Access webinar: transforming lock and key systems for commercial environments (October 7, 2016), Critical Infrastructure Protection: U.S. Data Centers and Ballistic Barriers (October 3, 2016), Videoconferencing cameras and security: Is someone watching? (September 16, 2016), What if Someone is Determined to Get into Your Building? (September 12, 2016), GuardDog Self-Closing Gate uses two stainless steel torsion springs so the gate can open in any direction (September 9, 2016), Peace-of-Mind for Rural Utility Offices - Bulletproof barrier security tips & news (August 8, 2016), Balancing Bulletproof Security and Design (June 21, 2016), School Security and Access Control for Architects (May 9, 2016), Premium Ballistic Frames Offer Huge Boosts in Sustainability and Multi-Threat Risk Mitigation (April 12, 2016)