architecture - engineering - construction

4 Reasons you should choose a resurfaced concrete floor
August 10, 2016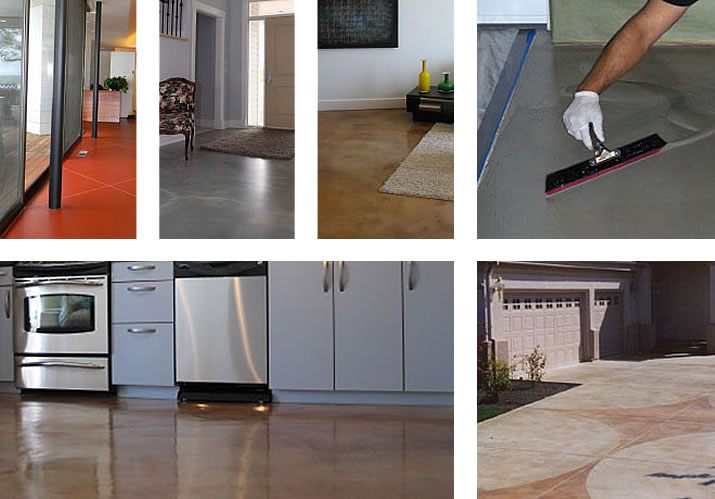 REASON 1: DESIGN OPTIONS
From polished concrete floors to matte, satin and gloss finishes, the sky's the limit for modern design options with concrete resurfacing products from Düraamen.
Our colorfast integral color is available in 34 individual colors. 68 hues can be realized depending on your choice of either a gray or white basecoat. Aesthetically stunning classic, modern, and contemporary designs can be achieved with thoughtful color selection.
REASON 2: A WISE INVESTMENT
A tough, modern resurfaced concrete floor adds dollars to your property.
New flooring using concrete resurfacing is one of the best investments you can make to your home or commercial property. This is particularly true in the case of decorative, resurfaced concrete flooring. Unlike carpeting or hardwood, resurfaced concrete will stay looking new for years to come and its appearance and durability adds value to any home or commercial property.
REASON 3: PROTECTION
Concrete resurfacing provides protection against spills, soil, scrapes & abrasions.
A resurfaced concrete floor is the most impact, scratch and abrasion resistant when compared to other types of residential flooring. Mud, dirt and spills clean up easily on a decorative concrete floor. The only maintenance required is occasional dust and conventional mopping.
REASON 4: EXPENSE
Concrete resurfacing is less expensive than replacing concrete.
Resurfaced concrete flooring is far less expensive than concrete replacement, comparably priced to carpeting and a better value than hardwood flooring. It may be applied over existing concrete, tile or plywood. When you consider it's durability and ease of maintenance it is by far the best value available in residential and commercial flooring options.
Company:
Duraamen Engineered Products Inc.
Source: http://www.concreteresurfacingproducts.com/
---
Tags:
Designer John Gidding on Finding Color Inspiration (July 18, 2016), Antimicrobial Protection for Architectural Aluminum (July 16, 2016), Wood grain finishes for aluminum (May 27, 2016), Fleur de Sel (SW 7666) invites comfort and luxury into contemporary Atlanta home (March 18, 2016), 2016 Color Forecast (February 22, 2016), Online Color Selection and Specification Tool (January 11, 2016), NOVA Effects coatings provide rich color and vibrant sparkle (December 14, 2015), Protecting Industrial Flooring with Polyaspartic Coatings (November 30, 2015), Specialty systems improve on standing architecture (November 27, 2015)
Designer John Gidding on Finding Color Inspiration (July 18, 2016), Fleur de Sel (SW 7666) invites comfort and luxury into contemporary Atlanta home (March 18, 2016), High Performance Coatings (March 7, 2016), Masonry stains can make historic restoration easier (February 24, 2016), 2016 Color Forecast (February 22, 2016), Massive retail shopping mall (February 5, 2016), Online Color Selection and Specification Tool (January 11, 2016), NOVA Effects coatings provide rich color and vibrant sparkle (December 14, 2015), Stop unauthorized parking using Reliance Foundry's Fold-Down Bollards (November 16, 2015), Linetec mimics terra cotta's look and feel in new painted finish (October 21, 2015)
"At Penetron, we're always talking about the weather" (March 23, 2016), Better than real wood planks (March 9, 2016)
SlipNOT is keeping the Indians fans at Progressive Field on their feet (August 5, 2016), Slip Resistant Aluminum Flooring in Bubble Capsule (June 22, 2016), Benefits of Slip Resistant Aluminum Plates (April 27, 2016), Consider Glass Flooring Systems for Dramatic Design (April 1, 2016), Non Slip Aluminum Plank (March 16, 2016), Better than real wood planks (March 9, 2016), High Performance Coatings (March 7, 2016), Massive retail shopping mall (February 5, 2016), Decorative Spray-Texture Concrete Overlays (January 29, 2016), Colored/Stained Conventional & Polished Concrete (November 20, 2015)