architecture - engineering - construction

A World Without Windows
April 24, 2015
Digital Windows Combat Feelings of Confinement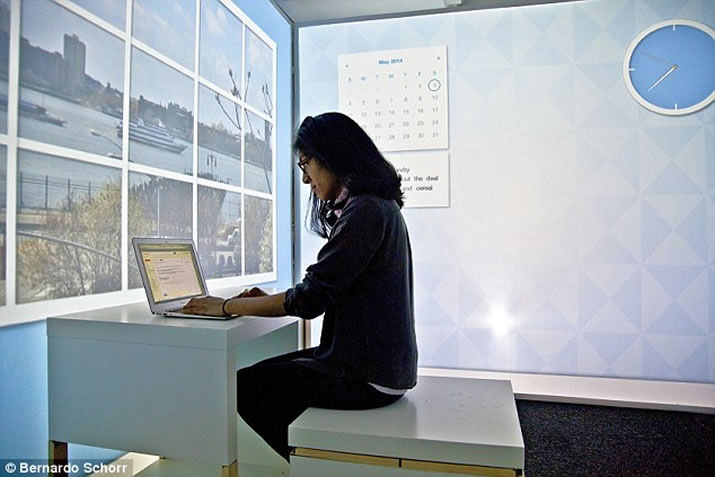 Image courtesy of https://sourceable.net/digital-windows-improve-health
The snow has finally melted and people are emerging from their homes to soak up the sun's rays. It is estimated that from December through February, many U.S. cities experience gray, cloudy days more than 50% of the time leaving some people to suffer from Seasonal Affective Disorder (SAD). Insufficient exposure to sunlight can contribute to low levels of melatonin and serotonin, carbohydrate craving, weight gain, and sleep disturbance. For most people though, these effects are truly seasonal and a few clear, sunny days of light beaming through a home's windows can boost a person's overall mood.
Windowless Living a Reality in Densely Populated Cities
In some cities, space is an expensive commodity and windows aren't always included in a living space. In a society that values natural light so highly, it can be difficult to imagine windowless living, but it has become a reality for the citizens of cities such as Hong Kong, Beijing, Paris or even New York City. Staring at a dim, blank wall all day may very well trigger the same symptoms as SAD. Despite the potential health ramifications, this type of living is expected to become even more popular due to booming populations and limited space. It is for this reason that companies like Mixed Reality Living Spaces are starting to design products targeted specifically at this style of living.
Digital Windows Combat Feelings of Confinement
Designed with the purpose of relieving the sensation of confinement, digital windows may enable people to literally project a window or other home environment onto their wall. These digital windows are built with the flexibility to change the image throughout the day, from a bedroom to office to dining room and so on.
Actual implementation of this technology still needs to be developed since a bulky front-projector system would occupy valuable space. Organic LED technology and thin form factor displays are being explored as a possible solution. Additional hurdles with bringing this technology to fruition include the heat output and energy cost. While digital windows can't replace the positive effects and Vitamin D offered by natural sunlight, it may provide the same benefits of light therapy, a common treatment recommended for SAD sufferers.
As populations continue to grow in already densely populated areas, natural light will become a luxury and windowless living could become reality. Australia has challenged what some feel as an inevitable future for space allocation by defining a 'habitable room' in their building codes, requiring a permanent access to fresh and natural daylight. Only time will tell how other countries choose to reject or embrace windowless living.
Company:
Total Security Solutions Inc
Source: http://www.tssbulletproof.com/world-windows/?utm_source=listing&utm_medium=referral&utm_campaign=aecinfo
---
Tags: