architecture - engineering - construction

Achieve Sustainability Goals with Hollowcore Roof and Floor Systems
July 5, 2019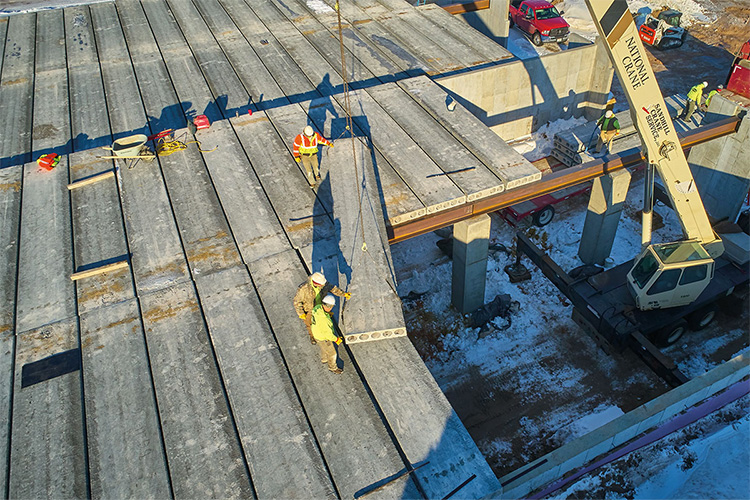 For architects and engineers, sustainable construction is no longer a buzz word – it makes sense. According to the National Precast Concrete Association, sustainable construction refers to meeting present day needs without sacrificing the needs of future generations. Following sustainable construction practices reduces our environmental impact, improves air quality for communities, and can lower operating costs for buildings. In addition, sustainability focuses on building long lasting infrastructure. The American Society of Civil Engineers' most recent report card gives America's infrastructure a D+ grade.[1]
When it comes to designing sustainable buildings, proper material choice is one of the most important factors. Hollowcore Roof and Floor Systems manufactured by County Materials Corporation are made using abundant, natural materials and offer superior strength and durability. Often Hollowcore Roof and Floor Systems are specified to help a structure meet LEED Gold standards, making it an ideal solution for sustainable building practices and achieving safe, energy efficient buildings.
Hollowcore is made of high-strength, steel reinforced concrete, providing a durable material that maintains its structural strength. Hollowcore is easy to work with and readily accommodates other building trades, even in winter conditions. It can be installed on concrete columns and beams, steel frames, and masonry or concrete walls with few additional requirements. Additionally, because hollowcore is engineered to carry loads, a structure built with hollowcore ensures maximum possible adaptability for changing space requirements and user needs over the lifetime of the building. This versatility and long-lasting performance of hollowcore attributes to its sustainability.
A key part of sustainability is long lasting buildings. Often, buildings last for decades and even centuries, however unexpected extreme weather or other destructive forces such as a fire can ravage buildings made of alternative materials such as wood. When it comes to hollowcore, buildings receive excellent fire resistance and superior wind and natural disaster protection—hollowcore plank can withstand the elements. Hollowcore manufactured by County Materials meets International Building Codes and UL fire resistance ratings for up to 3 hours of resistance.
Contact us today to learn how your next project can benefit from the sustainable aspects County Materials'Hollowcore Roof & Floor Systems, and discover how our dedicated team members work with engineers and contractors every step of the way to meet project timelines and maximize the construction process. Contact us at (800) 426-1126, or email info@countymaterials.com.
[1](2017 Infrastructure Report Card, The American Society of Civil Engineers)
@CountyMaterials #CountyMaterials #Sustainability #RoofSystem #FloorSystem
Company:

County Materials Corporation
Source: https://www.countymaterials.com/en/news/item/achieve-sustainability-goals-with-hollowcore-roof-and-floor-systems
---
Tags: