architecture - engineering - construction

Achieving Sustainability and Luxury in a Multi-Family Project
September 22, 2017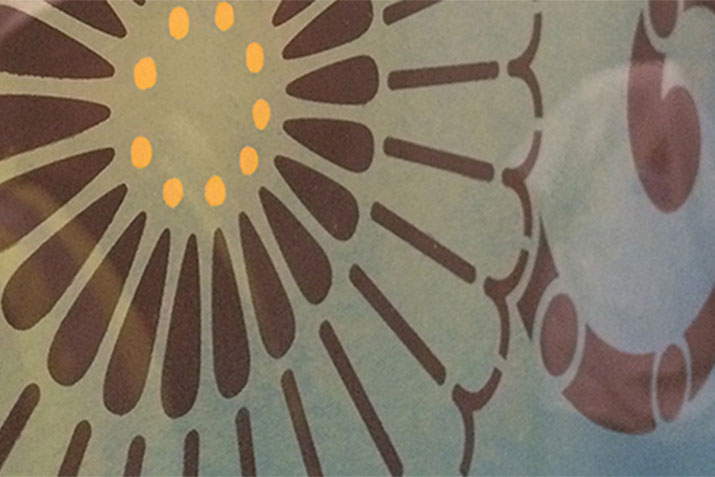 How one designer used Emerald® Interior Acrylic Latex and color to help create a LEED-certified and gorgeous apartment complex.
Sustainable. Sophisticated. Luxurious. Those words aren't often used to describe rental properties in Frederick, Maryland, but they capture the brand-new East of Market Apartments complex to a T. The five-building, 160-unit property is the first Energy Star and LEED-certified property in the area — a charming, historic community that's less than an hour from Washington, D.C. — not to mention the only one with amenities ranging from stone countertops to a pet wash station.
"It's all about quality construction — and quality of life," says Shane Pollin, director of development for The Duffie Companies, East of Market's developer. "We're a family company and we're invested for the long term. So we care about the durability of the project and its impact on the community. Sustainable building is just the right thing to do."
Pollin worked with designer Alice Sydney Minkoff of Alice Sydney, LLC, to construct a LEED-certified, yet design-conscious, complex. Throughout the buildings, Minkoff and her team used Sherwin-Williams Emerald Interior Acrylic Latex paint, which meets the most stringent VOC regulations. "Emerald was the natural choice because of the green aspects of this particular job, as well as the durability requirements," she says.
In addition, Pollin's developers used cutting-edge construction techniques and materials, first creating a tightly sealed envelope and then outfitting it with the resource-conserving systems and materials: ultra-efficient heating and cooling, water-saving fixtures, and LED lighting, to name a few. Next came the lifestyle amenities, a long list of luxuries including garages with vehicle charging stations, and a showplace clubhouse with a fitness center, pool, business center, and even a "simulation center" where you can play simulated games of golf or basketball.
"The look of the property was also very important to us," Pollin says. "We wanted it to be comfortable but elegant." Minkoff realized that vision, relying heavily on color throughout the design process. "Color is essential to creating the right mood," Minkoff says. "And in this case, we turned to paint for much of that impact."
The color palette began with a single piece of upholstery fabric. From that swatch, Minkoff built the entire palette: Moody Blue (SW 6221), Anew Gray (SW 7030) and Dovetail (SW 7018) for the walls; Wool Skein (SW 6148) for the apartment units' trim and clubhouse walls; Gingery (SW 6363) as the accent in the clubhouse; gradations of Amazing Gray (SW 7044) for the apartment building hallways; and energetic splashes of Goldenrod (SW 6677) throughout.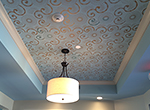 For extra "wow" factor in the clubhouse, Minkoff brought in decorative painter Laura Farrell of LMI Studios to create hand-stenciled wall borders. "Alice liked the border so much, she had us do the clubhouse ceiling, too. Then, we used a similar motif to create custom art pieces to hang in the foyers of each building," Farrell says. "We used Emerald Interior Acrylic Latex for all the decorative painting. It's really easy to work with and has a great depth of color."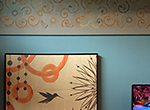 The result is a property that's unique in its market. "You'd never believe these are rental apartments," Minkoff says. "The level of finish is that high." Evidently, the locals agree: East of Market was 30 percent leased by the end of its first day of business. "It feels great to build a different kind of building," Pollin says. "People can see the difference, and we're excited to help raise the bar."
Company:
The Sherwin-Williams Company
Product: Interior Paints
Of: Amanda Lecky
Source: https://www.sherwin-williams.com/architects-specifiers-designers/inspiration/inspiration-project-profiles/SW-ART-STIR-ACHIEVE-SUSTAIN
---
Tags:
Anodize Nickel Test (August 17, 2017), How to deliver true color to your clients (August 11, 2017), An Award-Winning Project that Includes StoGuard® (August 1, 2017), Stenciled Concrete for your Pool decks, patios and driveways (July 11, 2017), Colormix® Forecast 2018 (June 14, 2017), HERMETIC Industrial Flooring (May 22, 2017), Decorative Concrete Can Be Gray or Colorful and is Ideal for Interior or Exterior... Take a Look (April 27, 2017), Decorative quartz flooring: choosing epoxy, urethane, or MMA resin? (April 13, 2017), Choosing the right finish for coastal projects (February 24, 2017), Navigating the wide selection of polymer overlays over concrete substrates (February 2, 2017)
Stagescreen Portable Projection Screen® (September 12, 2017), Manchester Blend tan bricks a hot trend in the color world (August 28, 2017), Ogden by Maglin Site Furniture offers flexible straight, curved or circular bench options to suit any style (August 25, 2017), Tectum Panel Art (August 18, 2017), How to deliver true color to your clients (August 11, 2017), 5 Little Known Facts about High Gloss Acrylic Wall Panels (July 24, 2017), Creating the perfectly flat viewing surface (July 11, 2017), Maglin Moves Manhattan (July 6, 2017), Floor Marking by Color (June 30, 2017), Colormix® Forecast 2018 (June 14, 2017)
Concrete Resurfacing (August 23, 2017), How to deliver true color to your clients (August 11, 2017), Durable skylight finishes by Linetec (July 4, 2017), 5 Things to Know About On-Site Finishing Repair and Restoration (June 15, 2017), Colormix® Forecast 2018 (June 14, 2017), HERMETIC Industrial Flooring (May 22, 2017), New Design Tools to Meet Green Guidelines (March 30, 2017), Navigating the wide selection of polymer overlays over concrete substrates (February 2, 2017), Introducing the 2017 Color of the Year (January 20, 2017), Sherwin-Williams VinylSafe® Paint Colors (January 9, 2017)
Top Interior Design Ideas with Masonry Veneers (September 19, 2017), 9300 Slides – for the heavier bear (September 18, 2017), Cable railing ideas for indoors - stairs, lofts & more (September 14, 2017), Glass Block with Etchings (September 9, 2017), Tectum III & Tectum IIIP Acoustical Roof Deck (September 7, 2017), Tectum Panel Art (August 18, 2017), Accuride Integrated Access Solutions: The New Frontier of Access Control (August 15, 2017), Top NYC architect selects Feeney for notable barn project (July 26, 2017), You Deserve to be Delighted: 10 Essential Elements to Look for in a Security Entrance Manufacturer (July 25, 2017), Finally a Hands Free Solution to Stop Bathroom Mold with the New Enhanced Broan® InVent™ Series (July 14, 2017)
How health factors into green building rating systems: LEED v4 (September 13, 2017), Mitigating Protests, Smart Mobs and Crime with Manual Revolving Doors (September 6, 2017), Green: The Color that Became a Building Philosophy (September 5, 2017), Global warming: how architects & building owners can prepare the world (July 27, 2017), What the New Urban Agenda means for architects (July 21, 2017), Maglin Moves Manhattan (July 6, 2017), Durable skylight finishes by Linetec (July 4, 2017), Swedish hospital 'takes a chance' on Howe Green (June 21, 2017), Designed for resiliency and acoustic performance (May 17, 2017), EXTECH offers LIGHTWALL 3440 translucent wall system with three new glazing options (May 15, 2017)