architecture - engineering - construction

Acoustical Walls, Ceilings and Special Applications
November 11, 2016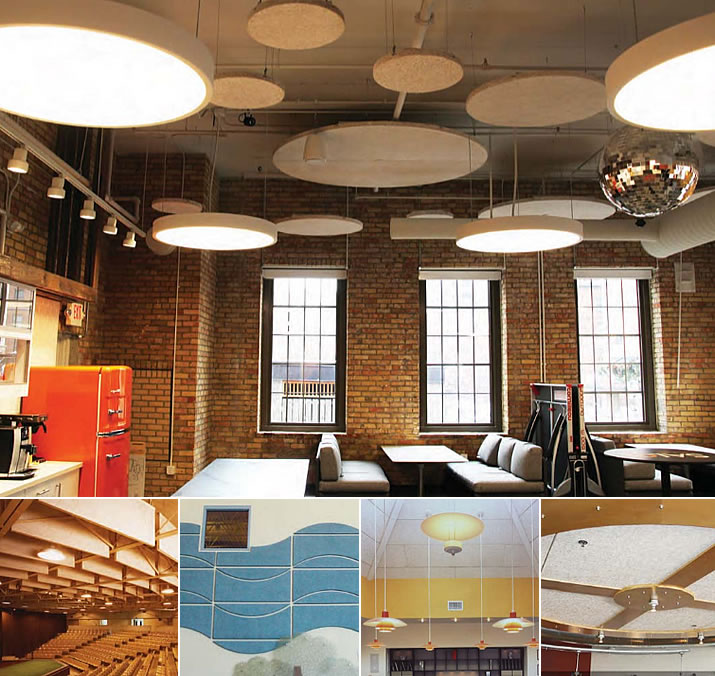 Tectum ™ Acoustical Wall and Ceiling Panels Easy to work with and install, Tectum Interior Panels are commonly used in new construction, retrofits and anywhere acoustic absorption, style and toughness are needed. They absorb sound and are tough enough to stand up to daily abuse in high-traffic, heavy-use areas. Natural, painted, printed with your gr aphics or covered in fabric, they provide an attractive, durable finish in any interior application. Manufactured at the Tectum Inc. plant in Newark, Ohio, for over 65 years, Tectum Products stand the test of time.
Tectum Acoustical Panels are composed of aspen wood fibers, bonded with an exclusive inorganic hydraulic cement binder and formed in a continuous process under heat and pressure. As a result, physical characteristics usually obtained only with a combination of several separate building materials are found in Tectum Products: excellent sound absorption, abuse resistance, a decorative textured interior finish — all in a single, structurally strong yet lightweight product. All Tectum Products are Class A/Class I, with a flame spread of 0 , in accordance with ASTM E- 84 .
Hard, reflective surfaces, multiple noise sources and the need to hear and be understood are the primary reasons that good acoustics are a critical part of any good design. All Tectum Products can be factory or field painted without impacting acoustical performance.
New Products in the Tectum Interior Line
Panel Art
A variety of pre-fabricated shapes encourage custom artistic expression. Create a unique statement wall that absorbs noise and is tough enough for schools.
Line Design
Combine all of the acoustic performance and toughness you expect from Tectum Products with the added interest of textural design options created by straight line v-cut grooves.
Tectum Acoustical Roof Deck
For an economical, environmentally responsible structural acoustical roof deck, Tectum Inc. offers a full line of Roof Deck options. To explore the design options for the building envelope, see our Roof Deck Catalog online.
Company:
Armstrong Building Solutions
Source: http://www.tectum.com
---
Tags:
Interior Acoustical Finalé Wall Panels (October 10, 2016), Architects Inspiration Handbook for Glass applications in commercial interiors (August 29, 2016), Isabel Bader Center (August 17, 2016), The Noise Control Solution - When Acoustics, Style & Toughness Are Required (March 11, 2016)
AAG100 Plaster J-Bead™ Curved Linear Grille (November 9, 2016), Benefits of Decorative Metal Ceilings (July 22, 2016), Restaurant Ceiling Tiles (July 1, 2016), Where Champions Train: Kalwall® Lights Up Broncos' Indoor Facility (May 16, 2016), Guardian 275® translucent skylights provide a wide range of color, thermal performance and specialty application options (April 6, 2016), Decorative Panels & Screens (April 4, 2016), 2015 NJ DISCA Excellence in Construction Awards – Tin Ceiling Project (January 8, 2016)
5 Crazy Modern Glass Wall Partition Ideas for a Loft Apartment (October 17, 2016), Interior Acoustical Finalé Wall Panels (October 10, 2016), The future of insulated wall panels has arrived (September 28, 2016), Make your buildings look good with uniquely designed polycarbonate products for building exteriors (September 19, 2016), Glass Shower & Tub Enclosures by Fleurco (September 2, 2016), Architects Inspiration Handbook for Glass applications in commercial interiors (August 29, 2016), The Feng Shui of Kalwall (July 11, 2016), Restaurant Ceiling Tiles (July 1, 2016), Continuous Insulation (ci) Systems (June 27, 2016), Hurricane Roof Equipment Screens (June 10, 2016)