architecture - engineering - construction

Aesthetics: When Looks and Beauty Matter for Security Entrances
August 15, 2018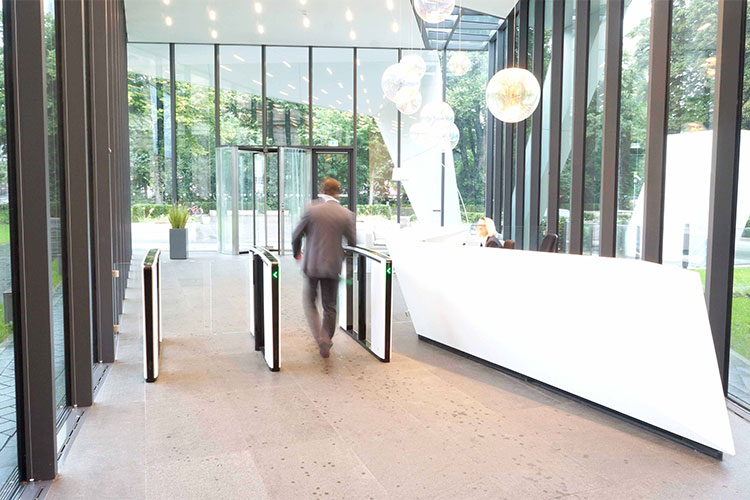 When It Comes to Physical Security, Looks Do Matter
According to a study that discusses the role of aesthetics and physical security, looks do matter. Security architecture by its nature is designed to keep people out of what would otherwise be public spaces – so it can intimidate or dissuade would-be visitors by limiting approachability. However, this is the opposite of the image desired by many organizations, who need security entrances to control access while creating an environment of both openness and prestige. The study notes, "The indirect costs of poorly designed…security architecture includes limitations on the right to assemble and, by evoking feelings of fear or anxiety, they affect the achievement of happiness itself."
Security is a necessity and a requirement to keep your employees, staff, visitors, vendors and guests safe. For users of security entrances such as turnstiles and revolving doors, security is a primary element. At the same time, the general look and feel also matters. People do judge a book by its cover, and an eye-catching, visually pleasing design sends the message that the corporation takes pride not only in its security solutions, but also in how it looks and is being used. It speaks to your company values. It shows that you're committed to offering a safe and secure work and visiting environment.
Complement Branding, Design Elements or Facade
Aesthetics are particularly important in applications such as office buildings and museums. Important aesthetic features to incorporate into your security entrance may include architectural finishes and glazing options to complement your branding, design elements or façade. There are also numerous top cover options for optical turnstiles. Depending upon what you decide, your security entrance can blend into your décor while also providing a high level of prestige, security and safety.
Aesthetics: Just One Factor of a Sound Security Decision
Based on our experiences, we've developed a comprehensive and consultative process called STARTSS®, a decision methodology with eight factors to guide you to make the best security entrance decision for the long term.
Most stakeholders believe that aesthetics are paramount during the planning stages of an entry, however, all eight of the STARTSS decision factors should be addressed to install a truly effective security solution for the long term. Your entrance may be drop-dead gorgeous, but if you have a line of employees stacking up at the entry they won't appreciate the aesthetic appeal for long.
Overall, office and entry design matters. You may not need to go as far as installing dancing waterfalls next to your reception desk, but you do need to think about how you want to be perceived, what messages you want to convey and how you want your staff to feel when they're at work. Aesthetics ultimately matter. But, remember that aesthetics are just the beginning. Your investment will truly provide maximum value for the longest period possible if you address the total solution as described by STARTSS (Security, Throughput, Aesthetics, ROI, Training, Service and Safety).
Google the term "best looking offices" and you'll find no shortage of results, with photos of interiors featuring beautiful design, materials, light and color. But do office space aesthetics actually have an effect on companies and their people? And how do aesthetics fit into the equation when it comes to how secure an office space is?
Company:

Boon Edam Inc.
Product: Security Revolving Doors & Portals
Of: Tracie Thomas
Source: http://blog.boonedam.us/aesthetics-when-looks-and-beauty-matter-security-entrances
---
Tags:
Tips for specifying postal specialties (July 30, 2018), Morintegrated - Design Like a Kid Again (July 24, 2018), How to find the perfect architect for you (July 10, 2018), Modern Heirlooms - Historic Urban Mixed-Use Developments (June 25, 2018), Art in Motion by Ethereal Light Installation Artist Spencer Finch (June 9, 2018), Design spotlight: enhancing the grid (June 3, 2018), Wind-driven rain louvers (May 21, 2018), Varying perforation pattern technique provides sun shading system (April 30, 2018), Daylight & Learning (April 20, 2018), Kalwall in the Manufacturing Market (April 10, 2018)
Razzle Dazzle Camouflage Design (August 13, 2018), Tips for specifying postal specialties (July 30, 2018), Morintegrated - Design Like a Kid Again (July 24, 2018), Using controls to personalize shading systems (July 23, 2018), Art in Motion by Ethereal Light Installation Artist Spencer Finch (June 9, 2018), Connect with Ancora (June 4, 2018), Wind-driven rain louvers (May 21, 2018), Structural glass floor pavers landings & stair treads (May 7, 2018), LuxCore FRP Fusion Wall Panels by Decorative Ceiling Tiles (May 1, 2018), Kalwall in the Manufacturing Market (April 10, 2018)
How the 116RC is changing hospital sliding solutions (June 26, 2018), Art in Motion by Ethereal Light Installation Artist Spencer Finch (June 9, 2018), Regulatory compliance: how a lack of clarity around the entry leads to fines (April 13, 2018), Flipper & Pocket Doors: What's the Difference? (March 29, 2018), How are mantrap portals designed to mitigate physical security risk? (March 12, 2018), A Gateway To A Translucent Space (December 15, 2017), Art Gallery of Ontario enjoys more space and comfort with BoonAssist TQ revolving door entrance (November 28, 2017), Kawneer Project Profile: Heifer International World Headquarters (November 2, 2017), Mitigating Protests, Smart Mobs and Crime with Manual Revolving Doors (September 6, 2017), Security Entrances Protect Your Bottom Line and More (March 31, 2017)
Art in Motion by Ethereal Light Installation Artist Spencer Finch (June 9, 2018), Regulatory compliance: how a lack of clarity around the entry leads to fines (April 13, 2018), How are mantrap portals designed to mitigate physical security risk? (March 12, 2018), Entrances & entryways - making an impact (March 2, 2018), Portable security booths (February 22, 2018), Why access control systems will never be enough to protect your premises (January 11, 2018), Art Gallery of Ontario enjoys more space and comfort with BoonAssist TQ revolving door entrance (November 28, 2017), Kawneer Project Profile: Heifer International World Headquarters (November 2, 2017), Attractive Bulletproof Barrier Design (October 27, 2017), Andamar Lifestyle Center uses revolving doors to combat wind, air infiltration (October 25, 2017)
Elevare™ Mullion High Wall System (May 16, 2018), How Ambient Light Rejection (ALR) works: clearing the confusion (March 21, 2018), Updated projection screen science (December 28, 2017), A Gateway To A Translucent Space (December 15, 2017), Using Glass Creatively In Office Interiors (October 2, 2017), Accuride Integrated Access Solutions: The New Frontier of Access Control (August 15, 2017), 5 Little Known Facts about High Gloss Acrylic Wall Panels (July 24, 2017), Creating the perfectly flat viewing surface (July 11, 2017), Modular In Plant Offices (May 31, 2017)
Buy Online & Pickup In-Store, Back to School Edition: Package Concierge® Reveals Top Tips for Retailers (August 8, 2018), Art in Motion by Ethereal Light Installation Artist Spencer Finch (June 9, 2018), Regulatory compliance: how a lack of clarity around the entry leads to fines (April 13, 2018), How are mantrap portals designed to mitigate physical security risk? (March 12, 2018), Portable security booths (February 22, 2018), Using security bollards and barriers to protect property and pedestrians (February 2, 2018), Why access control systems will never be enough to protect your premises (January 11, 2018), Securing your bulletproof glass investment in 2018 (December 18, 2017), Bullet Proof Barriers For Utility And Electric Co-Op Offices (November 21, 2017), Attractive Bulletproof Barrier Design (October 27, 2017)