architecture - engineering - construction

Aluminium security windows from Armortex
April 17, 2019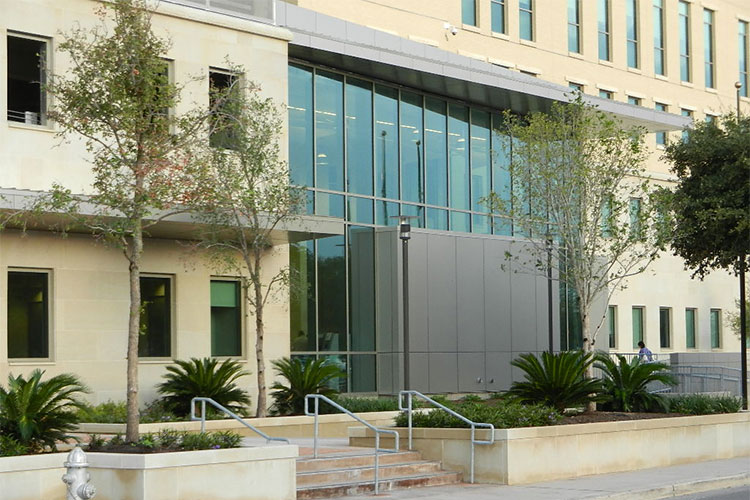 Bullet-resistant security windows are comprised of a composite system of alternating glass and polymeric layers – typically polyvinyl butyral (PVB) or ethylene-vinyl acetate (EVA). These dissipate the force of an impacting projectile before it penetrates through the other side of the window. Bullets are captured within the composite, providing effective protection for personnel from a variety of small arms fire.
The added weight of additional materials in sequential layers presents a distinct challenge for the installation of bullet-resistant glass. They require more robust window frames that are themselves resistant to lateral penetration from ballistics, without posing an unfavorable risk of bullets ricocheting and causing harm to bystanders.
Benefits of Aluminium Security Windows
Aluminum is a very favorable material for constructing the frames of security windows due to its comparatively low cost and good strength-to-weight performance. It is more cost-efficient than steel alloys and can be less invasive to install due to the lower weight profiles of aluminum security window frames. Although lighter than steel, aluminum security windows are still heavyweight products tested to the highest levels of ballistics resistance established by the Underwriter's Laboratory (UL).
Armortex aluminum security windows boast the added benefit of a non-ricochet material incorporated into the design which allows the capture of projectiles. This strengthens a potential weak-point and reduces the risk of lateral penetration into a protected environment.
Although protection and ballistic-resistance is the primary concern of security windows, they are often installed to perform a dual functionality. Aluminum frames and fixtures enable the design of a broad range of security windows suitable for active commercial environments, to ensure that security and profitability are never at odds with one another. Some of the designs available from Armortex include:
Fixed and clamp-on aluminum security windows;
Thermally-broken aluminum frames for outstanding temperature regulation in cold climates and outdoor applications, such as ticket booths;
Speak through aluminum security windows feature natural voice propagation or an embedded voice transmission device to enable easy communication from one side to the other;
Transaction frames may comprise a small aperture beneath the glass, or a hinged or sliding panel that enables restricted access from one side of the security window to the other.
Aluminium Security Windows from Armortex
Armortex specializes in bullet, blast, and forced entry protection solutions capable of withstanding even severe domestic security threats. We work closely with architects and contractors to meet both the functional and protective requirements of the end-use application. All the above aluminum security window designs are available with a choice of glazing types and thicknesses, offering the highest level regardless of additional requirements.
If you would like more information about our aluminum security windows, please do not hesitate to contact us directly.
@armortex #armortex #safety #security #bulletresistant #architect #remodel #windows
Company:

Armortex
Product: Bullet resistant windows and glazing
Source: https://www.armortex.com/2019/01/24/aluminium-security-windows-armortex/
---
Tags:
Start your summer renovation plans and customize the railing system of your dreams (April 5, 2019), Bronze Aluminum Cable Railing (January 18, 2019), Facades+ features UW NanoES building with finishing by Linetec (October 15, 2018), Black Aluminum Cable Railing (June 15, 2018), Linear Grille Wall Cladding (March 14, 2018), Thermal breaks in aluminum framing: not just a cold-weather friend (November 7, 2017), Anodize Nickel Test (August 17, 2017), ADA compliant aluminum walkway provides safe public tours at Harpoon Brewery (July 5, 2017), Durable skylight finishes by Linetec (July 4, 2017), CableView® Aluminum Cable Railing System by Stainless Cable & Railing Inc. (June 23, 2017)
Integrating security into the growing smart building market (April 15, 2019), Uses and costs for security window film vs. bulletproof glass (March 6, 2019), The all-hazards approach to ballistic barriers and physical security (December 7, 2018), What industries should utilize bullet-resistant glass? (August 28, 2018), 2018 Trend: Custom Corporate Security Systems (August 20, 2018), Securing your bulletproof glass investment in 2018 (December 18, 2017), Bullet Proof Barriers For Utility And Electric Co-Op Offices (November 21, 2017), Attractive Bulletproof Barrier Design (October 27, 2017)
Start your summer renovation plans and customize the railing system of your dreams (April 5, 2019), Spring forward with basement door maintenance: after rough winter, take steps now to evaluate and tend to your entryway (April 3, 2019), Taking it public with CableRail cable railing (March 20, 2019), Implementing Routine Fire-Risk Assessments in the Workplace (December 28, 2018), New safety standard for shades keeps kids safe (December 17, 2018), Why Choose Glass Deck Railing? (November 26, 2018), Four Elements of Security Entrance Safety that Directly Impact Your ROI (November 7, 2018), Round stainless steel railing systems (November 5, 2018), Accuride slides a safe partner for Kaso Oy (October 24, 2018), National Fire Protection Month (October 10, 2018)
Integrating security into the growing smart building market (April 15, 2019), When it came to choosing entrances for the Dubai Frame in UAE, designers selected revolving doors for security, safety and accessibility (April 10, 2019), Spring forward with basement door maintenance: after rough winter, take steps now to evaluate and tend to your entryway (April 3, 2019), Uses and costs for security window film vs. bulletproof glass (March 6, 2019), 9 Reasons Organizations Select Security Revolving Doors to Protect their Most Valuable Assets (March 1, 2019), 3 Reasons Mantrap Portals Provide the Highest Level of Security Compliance for an Entry (January 14, 2019), How security entrances can help protect data centers by controlling physical access (December 14, 2018), The all-hazards approach to ballistic barriers and physical security (December 7, 2018), Four Elements of Security Entrance Safety that Directly Impact Your ROI (November 7, 2018), Energy saving glazing options cut energy costs (October 31, 2018)
Integrating security into the growing smart building market (April 15, 2019), Skylights: bringing out the best in art (November 16, 2018), Energy saving glazing options cut energy costs (October 31, 2018), 3 Reasons to consider solar heat gain in architecture (October 19, 2018), Meeting modern trends in multifamily construction (October 17, 2018), What industries should utilize bullet-resistant glass? (August 28, 2018), Design Spotlight: Controlling Summer Sun (August 3, 2018), Daylight & Learning (April 20, 2018), Kalwall in the Manufacturing Market (April 10, 2018), Building orientation & daylighting (February 9, 2018)