architecture - engineering - construction

An introduction to waterstop
February 28, 2018
Designed to prevent the passage of fluids through concrete joints, waterstop is the leading specified construction material for waterproofing environmental engineered concrete structures.
The first waterstops used in construction were comprised of strips of lead or copper. In the early 1900s the preferred waterstop material shifted to vulcanized rubbers such as neoprene or styrene butadiene rubber (SBR). While rubber waterstops had excellent mechanical properties (high tensile strength and great elongation) they had one major weakness: they were extremely difficult to field fabricate as the rubber was vulcanized, meaning it had already taken a "set" (thermoset) and could not be heat welded together like the metals used previously.
In 1926, a new plastic compound was invented by Waldo Semon of the B. F. Goodrich Company: plasticized PVC. Semon was attempting to dehydrohalogenate (non-plasticized) PVC in a solution of boiling solvent in order to to create an unsaturated polymer that would be useful for bonding rubber to metal. The results of Semon's experiment was the creation of a thermoplastic with properties very similar to rubber.
It took many years for plasticized PVC to find suitable commercial applications, and was first used as a waterstop material in the early 1950s. Back then, the material was properly labeled as fPVC or flexible PVC. The first wide-scale test of any waterstop was performed in 1954 by the Hydro-Electric Power Commission of Ontario, Canada. The results of this test are still used by many manufacturers as a benchmark, and other than some new polymers, waterstop has not really changed that much since then.
View the complete presentation HERE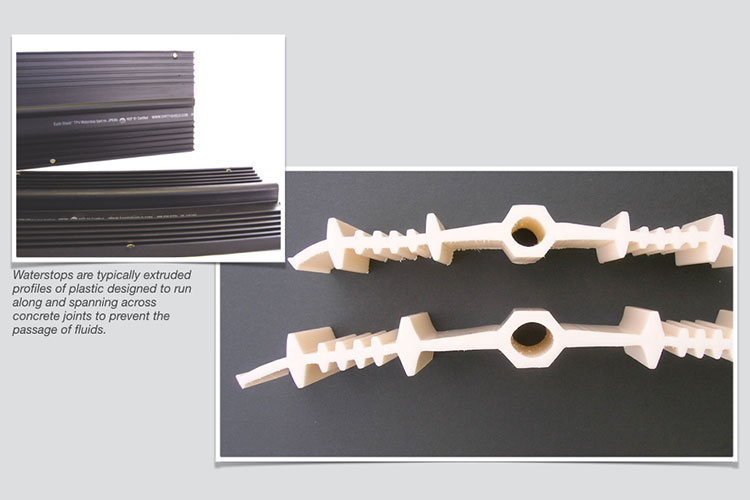 J P Specialties, Inc. is the leading manufacturer of chemical resistant waterstop and related concrete accessories. Our NSF 61 certified Earth Shield® line of chemical resistant waterstop is used throughout the world by major engineering firms and project owners for primary and secondary containment applications, as well as industrial wastewater treatment and ozone contactor structures. We invented and hold the patent on the technology used to mechanically weld thermoplastic waterstops. Services offered include free blueprint take-off and shop drawings, on-site welding certification, and individual corrosion resistance certification for the project owner.
We assist the Design Engineer and Project Owner with individual project and waterstop product specification and certification
Full takeoff service including shop drawings at no cost to customer
Waterstop Shop Drawings including 2-D CAD details and 3-D isometric
FAST job site delivery anywhere in the world
Company: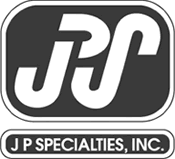 JP Specialties, Inc.
Product: TPV Waterstop
Of: David Poole
Source: https://www.clearslide.com/view/new/mail?iID=gNjmKCspTVHjhMCZgvfN
---
Tags:
Color underfoot: new design possibilities with concrete (January 17, 2018), Polished Concrete Flooring (December 13, 2017), Modern & Seamless Custom Flooring Systems (November 14, 2017), Distinctive dual towers built on Penetron (October 12, 2017), 4 Major Advantages of Decorative Concrete in Commercial Settings (September 25, 2017), Concrete Resurfacing (August 23, 2017), Stenciled Concrete for your Pool decks, patios and driveways (July 11, 2017), HERMETIC Industrial Flooring (May 22, 2017), Xypex in London (May 8, 2017), 2017 Excellence in Hardscape Awards Recognizes County Materials' Concrete Pavers, Slabs and Retaining Walls (May 4, 2017)
Stainless Steel Waterstop for High Heat Applications (October 18, 2017), Distinctive dual towers built on Penetron (October 12, 2017), An Award-Winning Project that Includes StoGuard® (August 1, 2017), Xypex in London (May 8, 2017), Decorative Concrete Can Be Gray or Colorful and is Ideal for Interior or Exterior... Take a Look (April 27, 2017), Protecting concrete against freeze-thaw damage (March 29, 2017), Waterproofing One of London's New iconic Buildings (March 13, 2017)