architecture - engineering - construction

Architectural Wall Louvers
November 23, 2017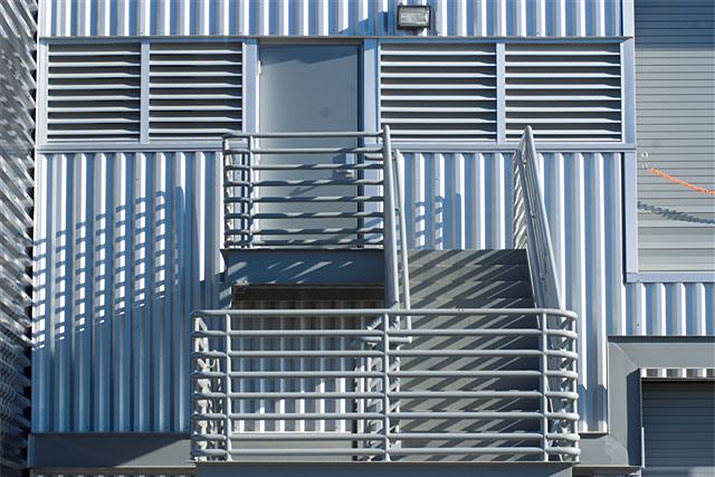 Architectural Wall Louvers are used to allow air into a building, while keeping out undesirable elements from mother nature like rain, water, dirt, and debris. They also add the extra element of aesthetic design to a building exterior. Use your air intake or ventilation requirements to improve the look of any building.
What if I want more rain protection?
Gain the utmost protection against water penetration by using one of our Wind Driven Rain Louvers. These louvers will protect your building from water damage, even under heavy wind and rain conditions.
What if I have high wind loads?
Any of our louvers can be modified to handle higher wind loads (within limits). However, if you are in Florida or other coastal states with hurricane force winds, use one of our Hurricane Louvers to gain the highest levels of protection.
Louvers are commonly specified in project documents under these divisions:
08 90 00 Louvers and Vents (sometimes listed as 08 9000, 089000)
08 91 00 Louvers (sometimes listed as 08 9100, 089100)
08 91 19 Fixed Louvers (sometimes listed as 08 9119, 089119)
Company:

Architectural Louvers
Source: http://www.archlouvers.com/Louver_Applications.htm
---
Tags:
High Performance Insulated Wall System a Game Changer for Architects (November 22, 2017), Visual Blog: Kalwall Retrofit (November 15, 2017), Slate, Portland's new, LEED Gold, mixed-use, transit-oriented development features Linetec's paint, anodize and thermal improvement services (November 1, 2017), Translucent Panels | Chesapeake Boathouse, Oklahoma City (October 31, 2017), Sto Werkstatt features alternative glass architecture by Space Popular (October 20, 2017), Upscale GFRC (Glass Fiber Reinforced Polymer) at Caesar's Palace on the Vegas strip (October 19, 2017), Distinctive dual towers built on Penetron (October 12, 2017), Armstrong® Ceilings Taps Broad Range of Capabilities To Bring One-of-a-Kind Ceiling Ideas to Life (October 4, 2017), Special Brick Shapes (October 3, 2017), Linetec finishes Loewen windows for Canada's Windermere House (September 27, 2017)
Fast-Fold NXT Screen System (November 16, 2017), Visual Blog: Kalwall Retrofit (November 15, 2017), Builder Spotlight: Jordan Iverson - Pride of Eugene, Oregon (November 13, 2017), Custom outdoor furniture that reflects your vision (November 10, 2017), Not all access covers are created equal (November 6, 2017), Lines, grids & aesthetics in translucent panel systems (November 3, 2017), Translucent Panels | Chesapeake Boathouse, Oklahoma City (October 31, 2017), Draper takes new angle to solve glare and heat gain (October 30, 2017), Sto Werkstatt features alternative glass architecture by Space Popular (October 20, 2017), ViuLite® insulating glass with integrated premium quality blinds (October 17, 2017)
Visual Blog: Kalwall in the Transportation Market (September 15, 2017), Removable storm shutters & panels (August 30, 2017), Ruskin's acoustical louvers are AMCA licensed for water penetration and air performance (August 21, 2017), Global warming: how architects & building owners can prepare the world (July 27, 2017), Econospan® Screen System (June 7, 2017), Solar shading systems: fixed & motorized louvers (May 3, 2017), KINETICWALL wins 2017 Architizer A+ Award (April 19, 2017), New critical environment damper series from Ruskin® withstands coastal and corrosive applications (April 11, 2017), Louvers Play Key Role in Passive Air Management (December 14, 2016)
Ruskin's IAQ50 air flow measuring control damper solves Las Vegas air curtain challenge (September 20, 2017), Custom Ornamental Bronze Grilles (August 4, 2017), Blackened Steel for Architectural Design (July 19, 2017), Finally a Hands Free Solution to Stop Bathroom Mold with the New Enhanced Broan® InVent™ Series (July 14, 2017)