architecture - engineering - construction

Armstrong® Ceilings Taps Broad Range of Capabilities To Bring One-of-a-Kind Ceiling Ideas to Life
October 4, 2017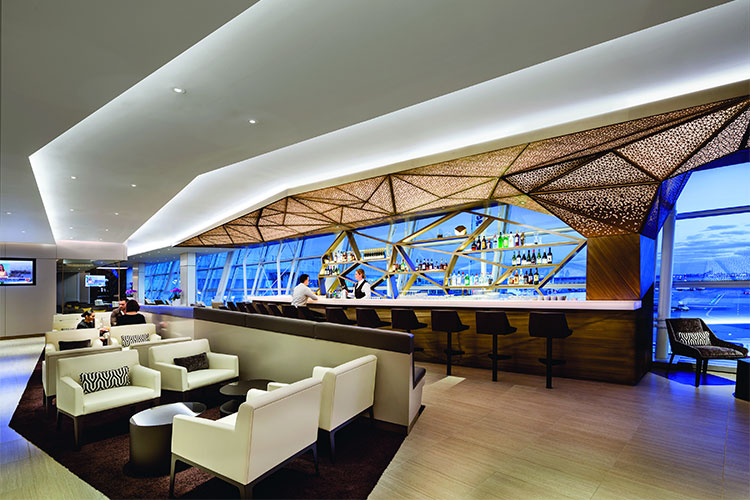 With the broadest portfolio in the industry and over a century of design and installation experience, Armstrong® Ceiling Solutions now offers more ways for architects and designers to make out-of-the-ordinary ceilings a reality.
Whether its modifying standard product shapes and sizes or creating custom sizes, shapes, colors, finishes, images, or perforations, no other ceiling manufacturer offers the broad range of options available from Armstrong Ceilings.
The You Inspire™ Solutions Center, a free service which provides collaborative design and pre-construction assistance, rounds out the full range of capabilities Armstrong taps to bring one-of-a-kind ceilings to life.
"Whatever your idea for a ceiling is — no matter how unique — bring it to us", says Nick Taraborelli, vice-president, commercial marketing, for Armstrong Ceilings. "We will do whatever we can to make it happen and help you to create your next great space."
New Capabilities
Some of the new capabilities Armstrong recently added to its portfolio include:
New cloud, striated, and other custom profiles for SoundScapes® Blades™ panels
Larger 4' x 4' sizes for MetalWorks™ Torsion Spring panels
More options in panels with Total Acoustics™ performance, including more standard Ultima sizes, FastSize™ options, and wood and metal offerings.
Colorations® Colors now for Lyra® Concealed PB (plant-based) ceiling panels.
Drywall linear lighting and intersection down lighting
To be inspired by the broad range of capabilities Armstrong offers, visit https://www.armstrongceilings.com/capabilities. There you can view "Unleash Your Imagination," a colorful, 18-page brochure that illustrates the many unique ceiling designs that have been brought to life utilizing the capabilities of Armstrong Ceilings.
Company:
Armstrong Building Solutions
Source: https://www.armstrongceilings.com/capabilities
---
Tags:
Tectum III & Tectum IIIP Acoustical Roof Deck (September 7, 2017), Ruskin's acoustical louvers are AMCA licensed for water penetration and air performance (August 21, 2017), Tectum Panel Art (August 18, 2017), Draper Launches Acoustical Shading Solution (May 29, 2017), Designed for resiliency and acoustic performance (May 17, 2017), Make rooms quieter with a little help from EchoControl acoustical shading (November 14, 2016), Acoustical Walls, Ceilings and Special Applications (November 11, 2016), Interior Acoustical Finalé Wall Panels (October 10, 2016), Architects Inspiration Handbook for Glass applications in commercial interiors (August 29, 2016), Isabel Bader Center (August 17, 2016)
Special Brick Shapes (October 3, 2017), Linetec finishes Loewen windows for Canada's Windermere House (September 27, 2017), Visual Blog: Kalwall in the Transportation Market (September 15, 2017), Manchester Blend tan bricks a hot trend in the color world (August 28, 2017), Sustainable and small: The tiny house movement (August 9, 2017), An Award-Winning Project that Includes StoGuard® (August 1, 2017), SC Railing Company: Offering a View from the Top (July 31, 2017), Top NYC architect selects Feeney for notable barn project (July 26, 2017), What the New Urban Agenda means for architects (July 21, 2017), Gorgeous Atriums that Meet Design Aesthetic and Safety Code (July 19, 2017)
An Introduction to Access Covers (December 12, 2016), Kalwall Featured in Major Award-Winning College Project (November 28, 2016), Acoustical Walls, Ceilings and Special Applications (November 11, 2016), AAG100 Plaster J-Bead™ Curved Linear Grille (November 9, 2016), Benefits of Decorative Metal Ceilings (July 22, 2016), Restaurant Ceiling Tiles (July 1, 2016), Where Champions Train: Kalwall® Lights Up Broncos' Indoor Facility (May 16, 2016), Guardian 275® translucent skylights provide a wide range of color, thermal performance and specialty application options (April 6, 2016), Decorative Panels & Screens (April 4, 2016), 2015 NJ DISCA Excellence in Construction Awards – Tin Ceiling Project (January 8, 2016)
Special Brick Shapes (October 3, 2017), Linetec finishes Loewen windows for Canada's Windermere House (September 27, 2017), 4 Major Advantages of Decorative Concrete in Commercial Settings (September 25, 2017), New facility at Dupage Airport in Chicago features Extech's systems (September 21, 2017), Stagescreen Portable Projection Screen® (September 12, 2017), Mitigating Protests, Smart Mobs and Crime with Manual Revolving Doors (September 6, 2017), Green: The Color that Became a Building Philosophy (September 5, 2017), Ogden by Maglin Site Furniture offers flexible straight, curved or circular bench options to suit any style (August 25, 2017), Visual Blog: Kalwall in the Cultural Market (August 22, 2017), Ruskin's acoustical louvers are AMCA licensed for water penetration and air performance (August 21, 2017)